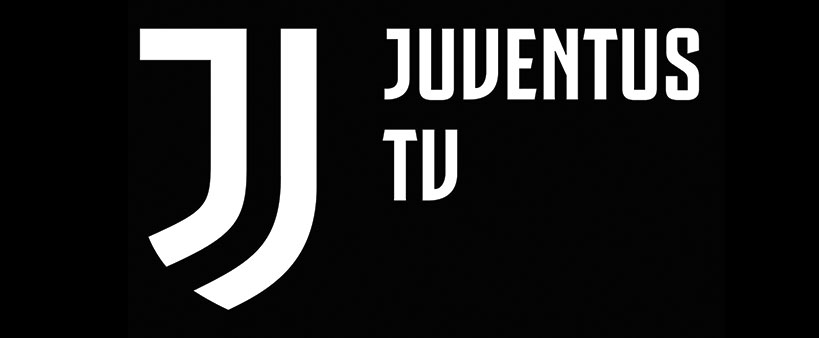 Zebre in FM20 – Juventus Football Manager 2020 Guide
By spaskecar | April 23, 2020 | 4239 Views
Today we talk about Juventus in FM20. It is one of the strongest football clubs in the world and certainly the strongest in Italy. Let's see how they are in Football Manager 2020.
Keep in mind; you won't find Juventus under that name in Italy.
In FM20, Juventus are called Zebre. I guess they were asking for too much money for the licensing, and SI didn't want to pay that. In this guide, I'll just continue using the name Juventus FM20 as that's what we know them.
When you start a new career with Juventus, you sign a three-year contract worth $78,000 per week.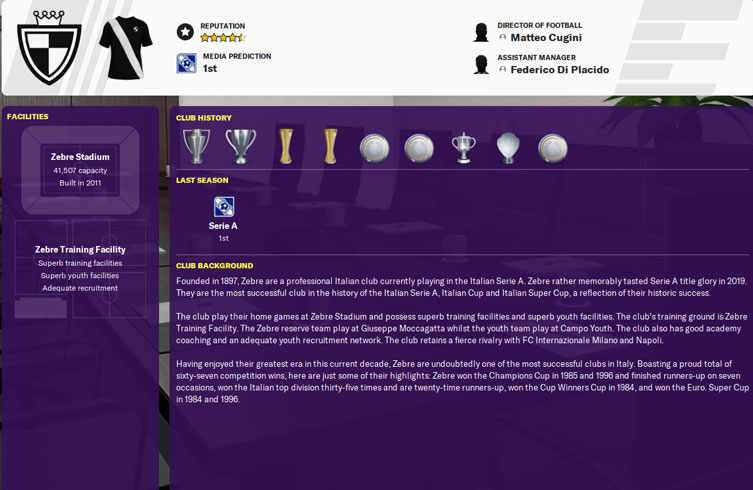 Just like the club name, all staff members don't have their correct names, so I'll ignore them for now.
Juventus Football Club, also known as Juve, is an Italian club based in Turin. They were founded in 1897, and they are having their greatest success in the current decade. They have won a total of 67 trophies since their founding.
It's worth noting that they have played the Champions League Semi-Final and Final quite a few times in the last few years. It just shows how strong they are.
Unfortunately for them, they didn't manage to win the Champions League since 1996, and that's why you are brought.
Everyone expects Juventus to win the Italian League, but you, as the new manager, have to make the team so good that they can finally win the Champions League again.
When it comes to facilities, in FM20 Juventus has:
Superb training facilities
Superb youth facilities
Adequate recruitment
There is room to improve those, but it won't happen until you win some trophies.
Juventus FM20 Best Eleven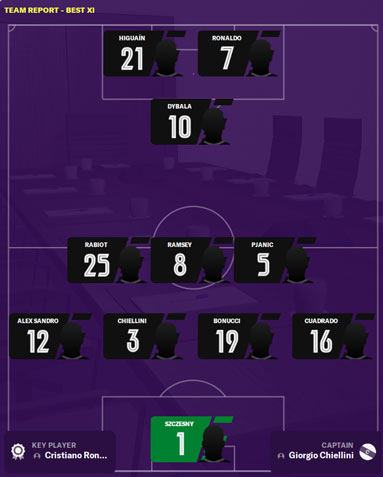 Juventus has a dominant team in FM20 with Cristiano Ronaldo being the best player, of course. He is the best player in the game tied with Lionel Messi. Both of them have the same current ability.
What's shown on the picture isn't the best formation for Juventus to use, but we'll cover that later.
We'll also cover some of the essential players in detail.
Juventus FM20 Club Vision and Club Culture
Juventus wants to become the most reputable team in the world. That's your job. One of the best ways of doing that is by signing high-reputation players. The second way is winning international trophies.
In the first season of your contract, it's expected from you to Win the Serie A, and it should come as a surprise if you don't do that with these players.
Another requirement is to Reach the Semi-Final of the Champions Cup.
These players can reach these requirements with ease. Your job is to make the best out of your existing players, create a proper formation, and sign players that can improve your team.
Important Note About Juventus FM20
As soon as you start the game, one of the first messages you will get is the one explaining the Non-EU Player Transfer allowance for the season.

This means that you can't sign a player who isn't from the EU until you sell or loan Danilo or you wait until the next season.
Most Important Juventus FM20 Players
Cristiano Ronaldo in FM20
Age 34
Position ST, AML
Current Ability 195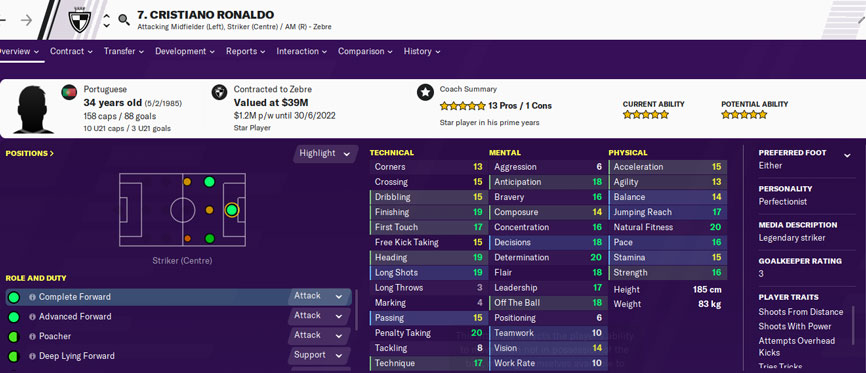 Of course, the most crucial player in the team is Cristiano Ronaldo. Unfortunately, he is already 34 years old, but he is on a contract until the summer of 2022, which is excellent. He will probably be good even then, and if he doesn't retire, maybe you can try to squeeze 1 or 2 more years out of him.
Best Player in FM20 (tied with Messi)
A perfectionist who continually strives for improvement
Very consistent performer
Dominant in the air
Strong penalty taker
A current international with plenty of experience
Relishes big matches
A natural in a couple of positions
Adept at using either foot
Considered a smart player
Paulo Dybala – Juventus FM20
Age 25
Position AMC, ST
Current Ability 168
Potential Ability 182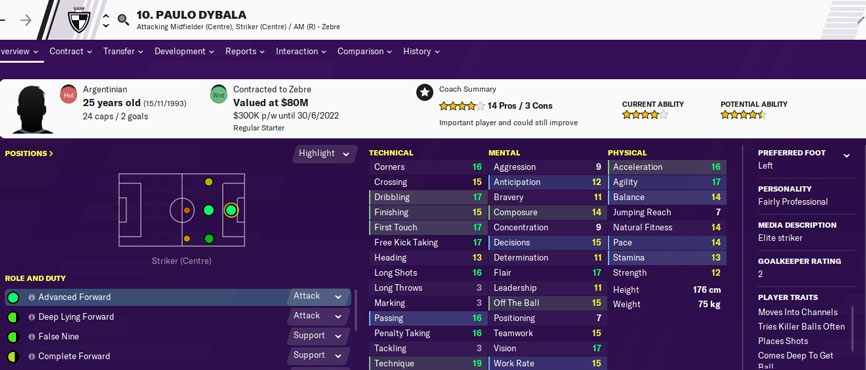 Paulo Dybala is your present and the future, and you should try to keep him happy and extend his contract whenever you can. Barcelona and Manchester City will come for him in the first season. Try to keep him.
Can improve a lot and become a world-class striker
Very technical
A current international with plenty of experience
Consistent performer
Excellent technique, especially when striking the ball
A natural who can play in a couple of positions
Handles himself in a professional manner
Considered a technical player
Doesn't enjoy big matches
Giorgio Chiellini – Football Manager 2020
Age 34
Position DC
Current Ability 168
Chiellini is simply your club legend. His contract ends after the first season, and it's your decision if you want to keep him. I'd probably look to keep him until his retirement, but I'm known to be too sentimental.
Club legend – the fans absolutely love him and don't want to see him leave
Professional individual
Very consistent performer
So good at marking that opponents still check for his presence long after the game is finished
Very brave
A current international with plenty of experience
Enjoys big matches
Considered a leader
Miralem Pjanic – FM2020
Age 29
Position MC
Current Ability 167
Miralem Pjanic is the central midfielder who is a vital cog in the Juventus' wheel. He has a long-term contract until 2023, and you should try to keep him as he is just at the peak when it comes to his age.
Passing ability underlines his technical prowess
A current international with plenty of experience
Quality of off-the-ball movement and decisions make him an intelligent player
A natural in a couple of positions
Handles himself in a professional manner
Fairly consistent performer
Considered a technical player
Leonardo Bonucci – FM20
Age 32
Position DC
Current Ability 167
His partnership with Chiellini is known to everyone in the world. It was a surprise to everyone when he left for Milan in 2017/2018, but he came back after a year. Some fans forgave him, and some didn't. When it comes to FM20, it's good to have him!
A perfectionist who continually strives to improve himself
Anticipates situations well
A current international with plenty of experience
Consistent performer
His bravery and work rate make him a good team player
Enjoys big matches
Considered a smart player
Other Notable Juventus FM20 Players You Should Try To Keep
There are many Juventus players you should try to keep as they have a future in the club, but we don't have the whole day to write about each and every one of them.
Gonzalo Higuaín – 31 years old – ST – CA 166 – PA 180
Douglas Costa – 28 years old – AML/AMR – CA 164 – PA 172
Wojciech Szczesny – 29 years old – GK – CA 163 – PA 169
Alex Sandro – 28 years old – DL – CA 162 – PA 168
Rodrigo Bentancur – 22 years old – MC – CA 156 – PA 173
Matthijs de Ligt – 19 years old – DC – CA  154 – PA 171
Paolo Gozzi – 18 years old – DC – CA 101 – PA 158
Juventus Formation FM20 and Transfers
When it comes to the formation, Juventus is using two primary formations in real life. They are 4-3-3 and the 4-3-1-2 formation. As you can see, they are trying to use all of the attacking power they possess.
When it comes to the FM20 formation, I'll send you over to our teammate NIK who has created a fantastic formation.
NIK created this amazing YouTube video where he talks about some of the players that are important for his formation, shows you how to set everything up, and even leaves you with a link to download the formation.
You can check his video here:
Apart from giving you a downloadable formation, NIK also talks about potential transfers for Juventus. He talks about players that can replace some older players while keeping in mind the transfer budget, so be sure to check that out.
Conclusion on Juventus
Juventus is a strong team. Everyone knows that. They lack that little something to win the Champions League after 24 years finally. Are you the right manager for Juventus? Have you already won the Champions League with Juventus? Tell us in the comments, and of course, leave our teammate NIK a like and comment on his YouTube video. It means a lot!
If you want to see how Juventus looked alike in FM19 – check it out here!
And, btw #STAYHOME