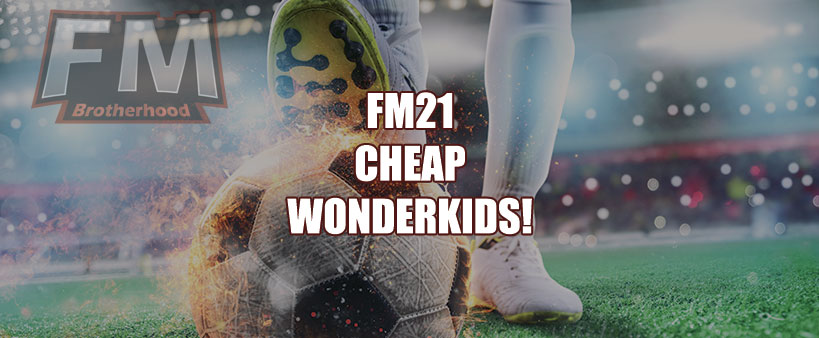 FM21 CHEAP Wonderkids (Less Than 10M)
By spaskecar | December 3, 2020 | 22547 Views
Today we are talking about cheap (low-cost) FM21 wonderkids!
These players cost less than £10M if they are bought in the first 2020/2021 season.
In our save, we let our Director of Football make the offers for these players, so in theory, you could get them even CHEAPER than we did.
You will see that all of the players are in PSG shirts because that is the team we used to test this.
If a Director of Football offer was declined, we offered £10M manually.
For this article, we only loaded the main leagues of England, Spain, France, Italy, Portugal, Brazil, and Germany.
That means that there are other cheap FM21 wonderkids that we won't cover in this list, but you should be able to find them by loading more leagues.
Additionally, the exact potential ability might not be correct for individual players in your own save as they do have a small range.
If you're looking for cheap wonderkids in FM23 instead, click here.
Pro-tip to get these wonderkids
We also have a great tip to force the transfer for these Football Manager 2021 wonderkids.
Sometimes a wonderkid would like to join your team, and it's a good idea to push the transfer to the media.
That will unsettle him, and he will become unhappy in his current squad. That might lead to them selling the low-cost wonderkid to you.
When he tells the media that he is unhappy, simply bid the same amount of money as before, and you have a high chance of getting him.
But, first of all, let`s check out who`s on our affordable wonderkids list this year:
Low-cost FM21 wonderkids list + Their estimated prices
Wonderkids that in our opinion are affordable, and a great addition to any team in FM21 are:
Ilias Akhomach P.A. 166 – Price £5.50M
Manuel Gasparini P.A. 166 – Price £9.50M
Andrea Papetti P.A. 160 – Price £1.80M + clauses
Kristoffer Klaesson P.A. 160 – Price £8.50M
Chris Mochrie P.A. 159 – Price £325.000
Josha Vagnoman P.A. 159 – Price £8.75M
Ali Akman P.A. 159 – Price £7.75M
Riccardo Calafiori P.A. 158 – Price £6.5M
Lucien Agoume P.A. 158 – Price £7.75M
Mohamed Daramy P.A. 157 – Price £6.75M
Luis Carbonell P.A. 157 – Price £1.40M
Juan Larios P.A. 157 – Price £10.50M
Alejandro Pozo P.A. 157 – Price £8.25M
Lucas Gomes P.A. 157 – Price £2.30M
Caio Emerson P.A. 156 – Price £2.20M
Franco Tongya P.A. 156 – Price £825,000 + clauses
Jude Soonsup-Bell P.A. 155 – Price £10.75M
Manuel Gasparini P.A. 166 – Price £9.50M
Manuel Gasparini is an 18-year-old goalkeeper currently playing for Udinese.
Manuel has a boundless talent and is a low-cost wonderkid who can become as good as Thibaut Courtois in his prime.
His main strength is shot-stopping, while his main weakness is his speed at coming off the line to sweep up any through balls.
One fantastic thing about him is that he isn't prone to injuries, which means he will hardly ever be on the sidelines.
This player is definitely worth the investment.
Andrea Papetti P.A. 160 – Price £1.80M + clauses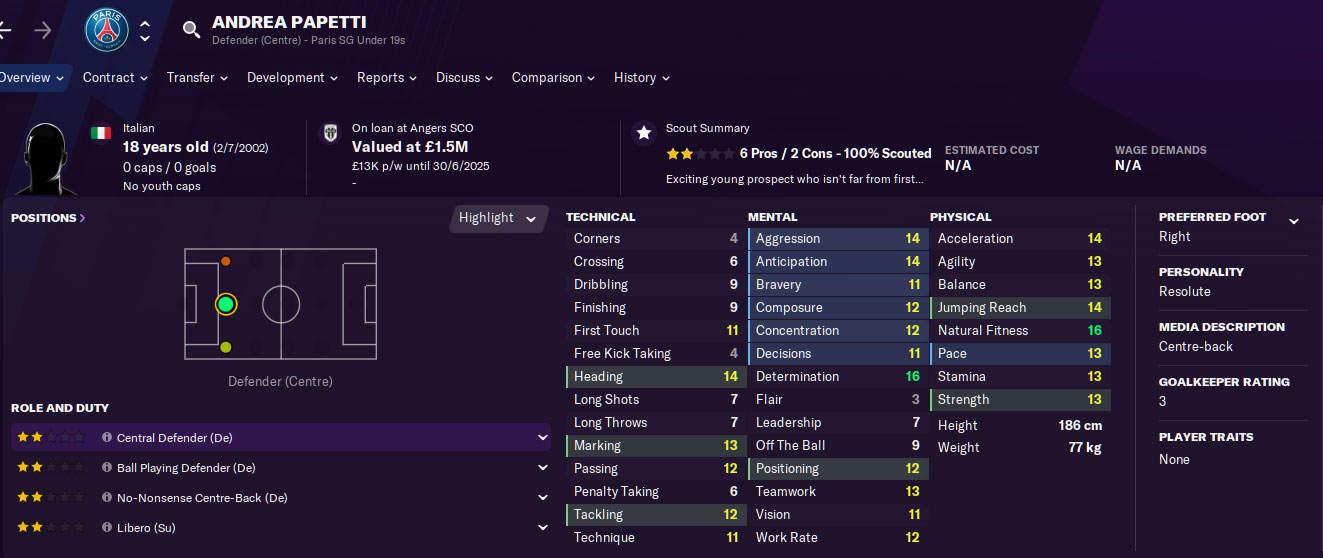 Andrea Papetti is an 18-year-old central defender who currently plays for Brescia.
You can get him for only £1.80M, and some clauses which make him one of the best investments on this list.
He can become as good as Leonardo Bonucci, and that tells you something.
He is a player who is very adaptable to playing in any country in the world.
Andrea rarely gets injured and is a very consistent young player.
If you need a central defender for the future, don't look any further.
He is the cheap FM21 wonderkid you are looking for!
Chris Mochrie P.A. 159 – Price £325.000
Chris Mochrie is a 17-year-old affordable FM21 wonderkid who can play in many positions.
In fact, he is the most affordable player on this list. For only £325.000, you can get a player who can become as good as Paul Pogba is right now.
He is a team player, and his ability to dribble makes him a difficult opponent to play against.
Similar to Pogba, he can be inconsistent, and that isn't good.
However, on his good days, this man becomes unstoppable.
Josha Vagnoman P.A. 159 – Price £8.75M
Josha Vagnoman is a 19-year-old wonderkid playing for Hamburger SV.
He is a very versatile player who can play both back and wingback positions.
Additionally, in the future, his main attributes raise in such a way that he can become a good winger as well.
Reaching his potential ability, he becomes as good as Juan Cuadrado was at his peak.
With a balanced personality, this man can become a world-class player.
Mohamed Daramy P.A. 157 – Price £6.75M
Mohamed Daramy is an 18-year-old cheap wonderkid currently playing for Football Club København.
His best position is playing as a striker, but he is really good at the AML position as well.
He can improve drastically and has the potential to be as good as Erling Haaland is right now.
In the end, when he reaches his potential ability, his best position becomes AML as his finishing doesn't improve much.
Still, his pace, acceleration, off the ball, flair, and first touch improve significantly, making him a great winger.
Conclusion
Many cheap FM21 wonderkids weren't mentioned in the list above.
Even though the potential abilities range from 155 to 166, you should not underestimate these players.
They have the current abilities of players like Fernandinho, Ciro Immobile, Stefan de Vrij, Georginio Wijnaldum, and similar players who are all world-class players.
Their prices can vary greatly, and a player with a higher potential ability can be cheaper than one with a lower potential ability.
That is because of the current team they are in.
The best teams in the world aren't going to let their talent go away cheaply.
That's why the best thing to do is to look for tier 2 or tier 3 teams who have these players.
That's where you will find the best deals for these low-cost Football Manager wonderkids.
Our team member NIK has also created a YouTube video with the same topic.
The video is only 3 minutes long and shows many players that weren't mentioned in the list above:
Show us some love and leave a like, comment, and subscribe to NIK's channel, and we will do our best to provide you with the best possible FM21 content.