Liverpool FM21 Team (and Tactics) Guide
By spaskecar | December 8, 2020 | 16191 Views
Introduction to Liverpool in FM21
Where do we start with the current English Premier League Champions?
By finishing the season with 99 points, 18 above second-placed Manchester City, Liverpool FC has shown that they mean business and stay here.
It took them exactly 30 years to win the Premier League since that is how much has passed since their last first division title won in 1989-90.
Jurgen Klopp has created a team that has the potential to win a couple of English Premier League trophies in a row and a team that will always fight for the Champions League title.
And this is where you come into play!
You've chosen to manage Liverpool in Football Manager 2021.
What exactly can you improve in this team that has such great chemistry?
Well, in terms of Football Manager 2021, you can improve a lot. So let's begin.
History of Liverpool F.C.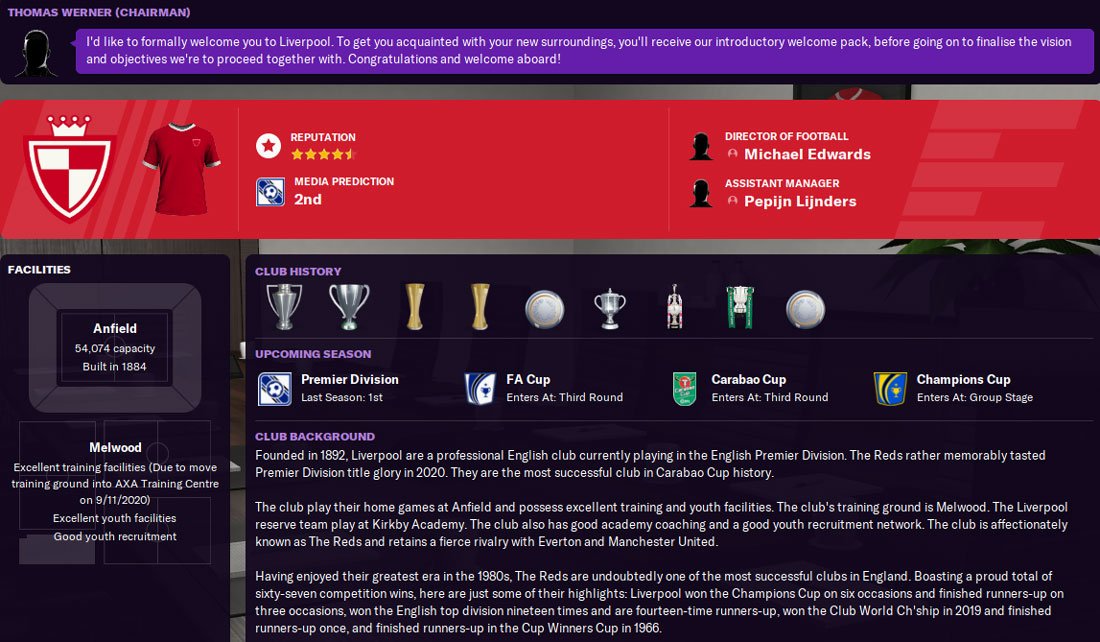 Founded back in 1892, Liverpool is the team that has won 67 trophies since and is one of the most known English teams in the world.
They have a fierce rivalry with Everton and Manchester United, and every game shows that passion and tension.
Everyone wants to have the bragging rights of having won the derby.
Liverpool F.C. plays on the Anfield stadium, which has a capacity of 54,074, and when it comes to FM21, they have:
Excellent youth facilities
Good youth recruitment
As the manager of Liverpool in FM21, these facilities are something that you can request to improve from your board.
The media predicts Liverpool to finish 2nd this season in the English Premier League, marking Manchester City as the favorites to win it.
Can you prove them wrong?
Liverpool`s Best 11 in FM21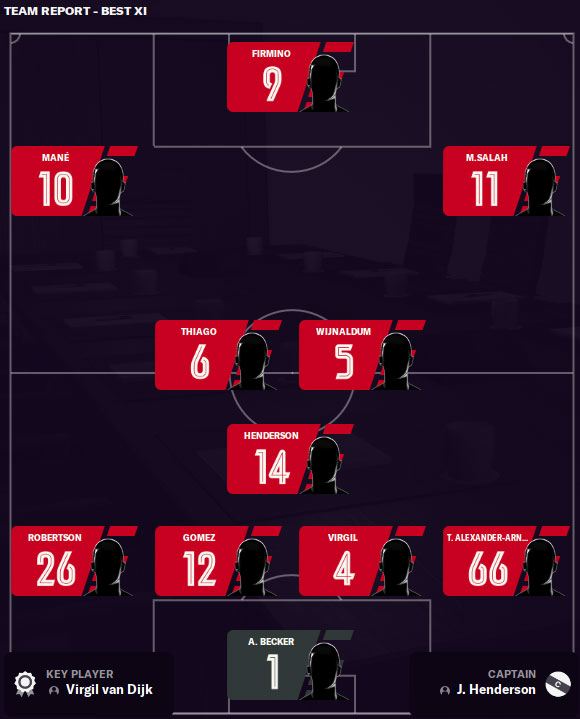 If you would ask any random person on the streets about Liverpool's first-team lineup, they would probably guess 9 or 10 players out of the 11.
And that is the biggest weakness of Liverpool on FM21.
They don't have a wide bench and players who compete for positions.
And this is where you come into play as the new manager of Liverpool.
You will need to bring players who will be good enough to replace potential injuries or dry streaks from players.
We will talk about such potential players in another paragraph.
Let's talk about the key players of this team.
Virgil van Dijk – Key Liverpool player in FM21
One of the best central defenders in the world right now is Virgil van Dijk.
This man is the person that will keep the clean sheets for you.
Even though he is 29 years old, he can still improve slightly.
He is a consistent player who rarely gets injured and relishes the big matches.
Van Dijk is 29 years old and he has a contract until 2023 which means until he is 32.
We highly recommend extending that contract another 2 years if possible.
Sadio Mane – Highest current ability in Liverpool FM21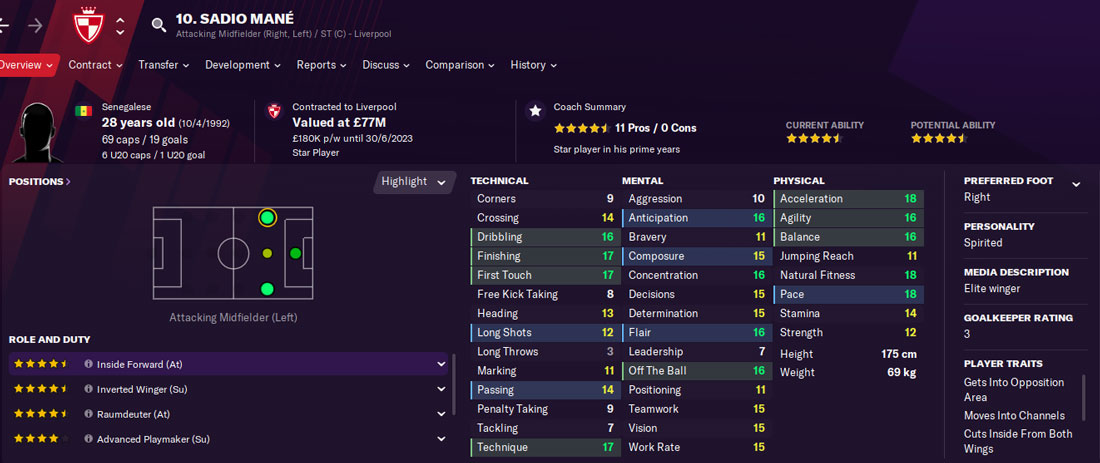 Sadio Mane is a global superstar.
In the current team of Liverpool, he is the player with the highest current ability and he simply dominates the left winger position.
Mane is a very ambitious player who consistently scores goals and he thrives in important matches having scored some of the most important goals for Liverpool on their way to winning the Champions League and the English Premier League.
Being only 28-year-olds and having 3 years more on the contract, we suggest giving him another extension of 2 years.
Mohamed Salah in Football Manager 2021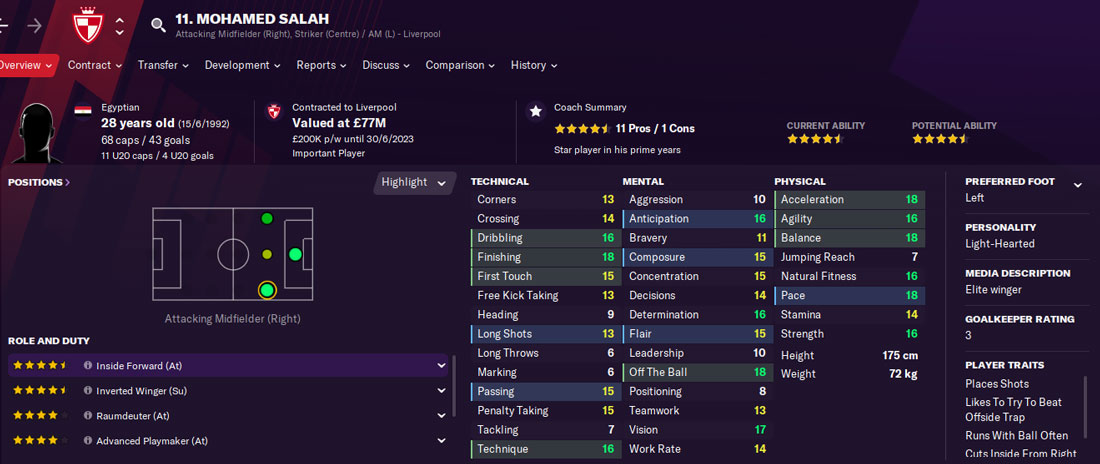 What Sadio Mane does on the left-wing, that is the same thing that Mohamed Salah does on the right-wing.
In real life and in FM21 Salah is a world-class right-wing player who has consistently scored 20+ goals for Liverpool every season since his arrival.
This former Chelsea reject has proved everyone wrong and has shown that he has a place in the Premier League and at times he was considered the best player of the League.
He and Sadio Mane share the same ambition, consistency, and ability to thrive in important matches.
Mohamed Salah in FM21 gets rarely injured, however has a temperament that causes him to get some unnecessary yellow cards by arguing with the referee.
Alisson Becker – The player Liverpool needed in 2018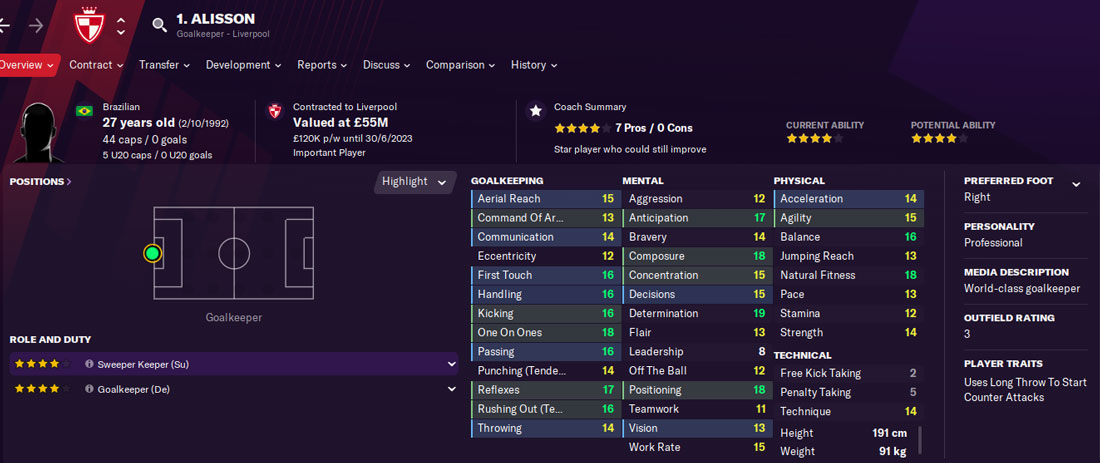 The 2018 Champions League final will be remembered by the mistakes of Liverpool goalkeeper Karius, and we firmly believe that if Alisson Becker was a Liverpool player in 2018, that they would have won that Champions League final.
Alisson is one of the best goalkeepers in the world in real life and in Football Manager 2021.
He is a very adaptable and consistent player who loves playing big matches.
Another great thing about him is that he rarely gets injured and he is only 27 years old which for a goalkeeper is the beginning of his prime.
Although he has a contract until 2023, we would highly suggest to keep extending his contract at least until 2026.
Liverpool F.C. Club Vision and Board Requirements in FM21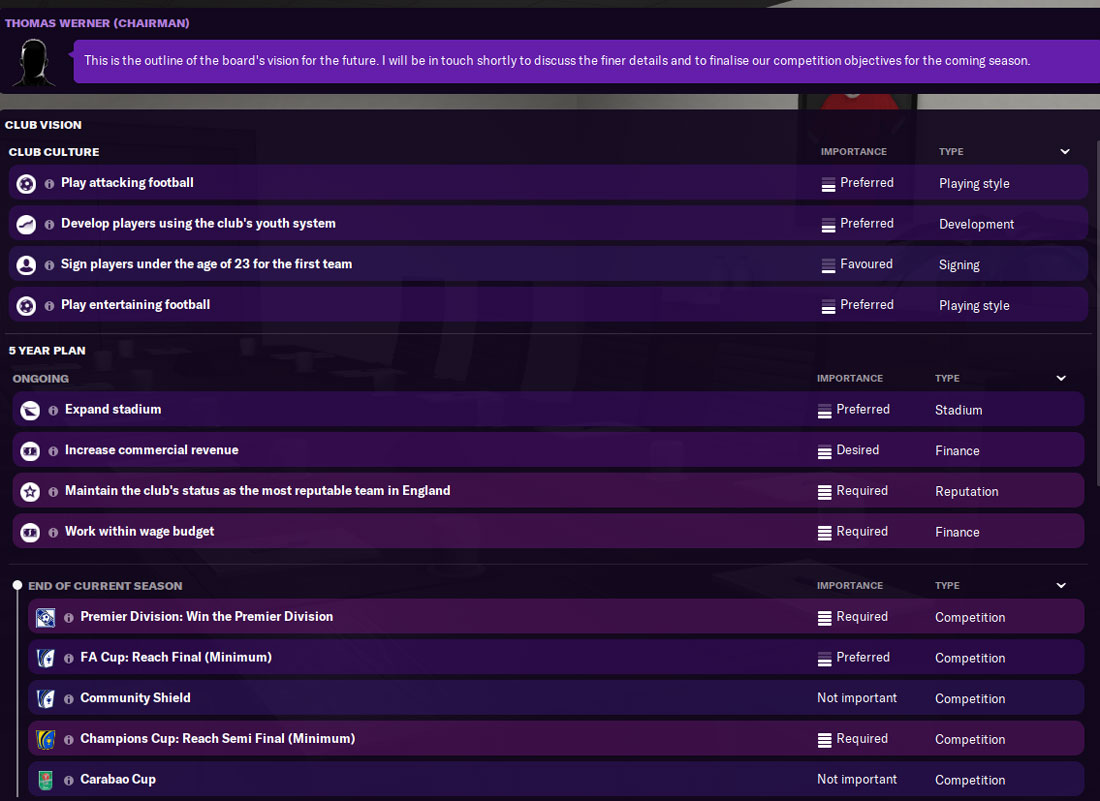 The current Liverpool can only play in one way, and that is ATTACKING. And we love it!
And that is precisely what our board wants us to do, play entertaining and attacking football.
They would prefer if we developed players using your youth's system and sign players under the age of 23.
These requirements are the best possible requirements for managers like us.
A squad like Liverpool who starts the season with 18 million pounds can't afford to buy world-class players this season.
The board wants us to win the Premier League, reach the FA Cup's final, and only reach the Champions Cup's Semi-Final.
The current Liverpool FM2021 lineup can win all of those with proper man management and rest to key players.
Tell us in the comments if you were able to win everything in the first season.
Liverpool FM21 Potential Future Transfers
While Liverpool starts with only 18 million pounds in the bank, you earn a lot of money by having an excellent first season.
That means that you can spoil yourself in the second season and improve the team with some world-class players.
Some of the players that we suggest buying are:
Max Aarons
Erling Haaland
Kalidou Koulibaly
Of course, you won't be able to buy all three of them. It's going to be on you how you want to improve the squad.
Our team member NIK has created a Youtube video about Liverpool FM21 and has shared his opinion on future Liverpool F.C. transfers.
You can check out the video here:
He has also gone into a detailed view of the tactics and current players in the team.
Nik is working hard on providing the best FM21 content. He would apricate a like on the video, comment, and a subscription to his channel.