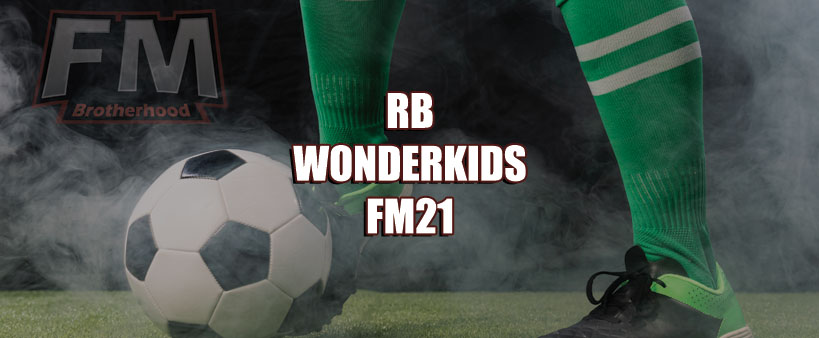 You Need to Buy These FM21 Right-Back Wonderkids!
By spaskecar | December 18, 2020 | 20679 Views
If you Googled "the best FM21 right-back wonderkids" and you come to this post, you are at the right place mate!
We tried to find as many young, incredible, supertalented right-backs in Football Manager 2021, so we came up with these 9 wonderkids.
Some of them aren`t that cheap, and you may have to pay a lot to get them, but they are definitely worth it.
These nine guys are the best FM21 right-back wonderkids based on our opinion:
Reece James
Aaron Wan-Bissaka
Tomas Esteves
Max Aarons
Malo Gusto
Sergino Dest
Tariq Lamptey
Takehiro Tomiyasu
Achraf Hakimi
Football connoisseurs have probably heard of many of them, as they play in top football leagues like Premier League.
In any case, if you decide to sign them, they will grow into football beasts, the best right-backs for any league in the world.
Let's move on to the analysis of each of these players and you will see what are we talking about.
Reece James – Incredible right-back from Chelsea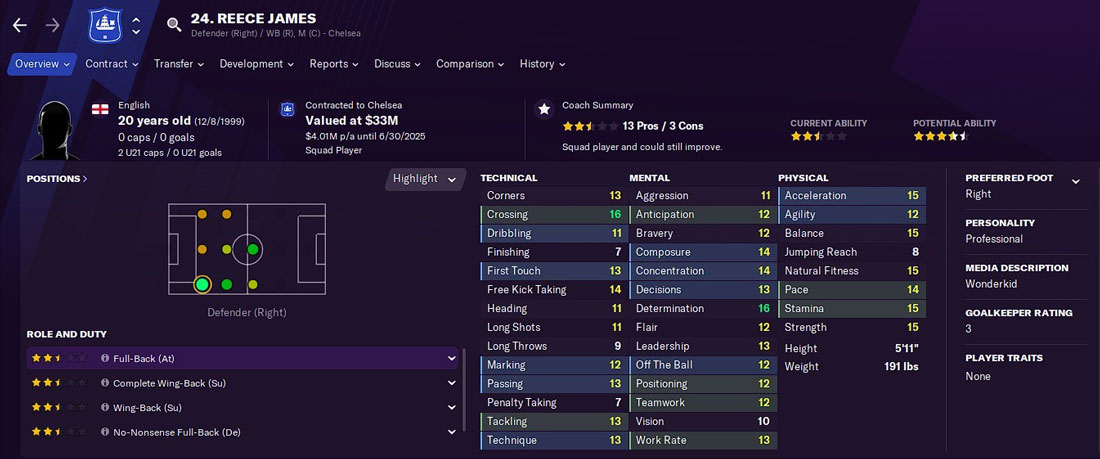 Reece James is more than a hot prospect in FM2021.
He is already a fantastic player, and you will be able to use him on the pitch from the first day of your FM21 save.
Reece James is 20 years old right back with almost no weaknesses. All his skills are evenly distributed.
He is fast, mentally incredible, and an outstanding technician.
Reece James is also a very adaptable player to living in another country, so whatever your club is, he won't have issues fitting in.
What makes him great is his high ambition and professionalism while keeping a low controversy rating. He is also a fairly consistent player who rarely gets injured.
If we could find him a weakness, that would be his jumping reach. But nobody is perfect, so don't even wait to get this guy if you have a chance!
Reece James is a real FM21 wonderkid!
However, Chelsea does know what they have on their hands, and they are looking for £120M for James.
The price is that high mainly because of the long contract that he has at Chelsea.
Aaron Wan-Bissaka – Right-back who knows how to tackle!
If you ever played Football Manager you know that the attributes are assigned from 1 to 20.
That is why Wan-Bissaka cannot improve his tackling, as it is already 20.
Aaron is also endurable, an explosive player with great mental attributes.
He is very brave, a team player, and a wonderkid that every team would like to sign.
The most suitable position for this 22 years old player is wing-back with a defend duty.
With Aaron Wan-Bissaka on the right, you can sit in a chair and eat popcorns without any worries about your right side of the defense.
AWB is a wonderkid right back, and Manchester United knows that. That's why they didn't want to let go of him without paying £129M. A huge price tag.
Tomas Esteves – Inexpensive right-back wonderkid!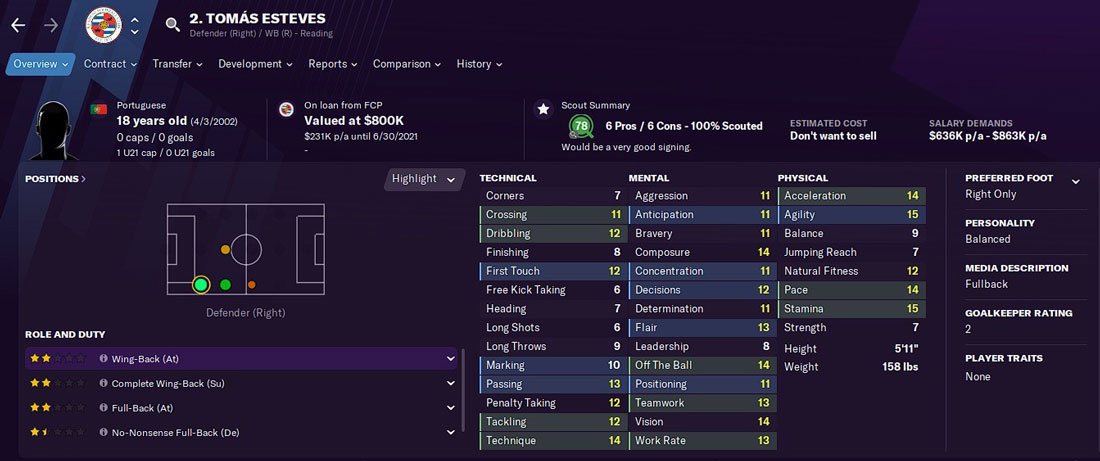 If we analyze this Portuguese wonderkid, his attributes are very similar to Wan-Bissaka.
He is very young and if you get him, and give him a chance he can become as good as Migel. Maybe even better.
Tomas Esteves is the best as Wing Back with Attack duty, and you will see him running like crazy and passing the perfect balls to the attackers.
Pro tip: Buy this wonderkids while his price is still low.
Max Aarons – Norwich`s finest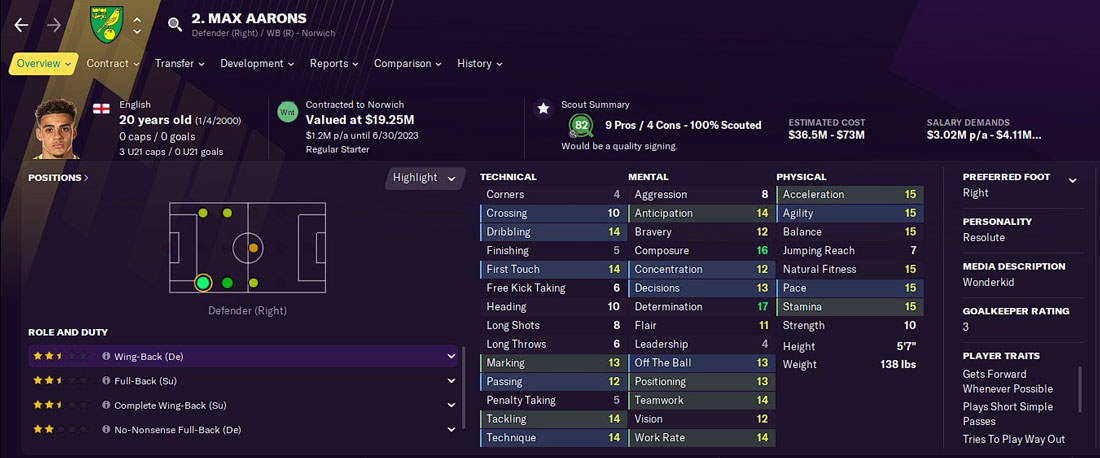 Max Aarons is one of the most talented right-backs in England.
He is already almost as good as Kyle Walker, and he can become as good as Joshua Kimmich.
Being only 20 years old, Max shows signs of high ambitions, adaptability, professionalism, and consistency.
He also seems never to get injured, making him a reliable option for the right-back position.
He's a very athletic player and seems to be highly composed. However, it does seem that he has a fairly temperamental attitude, which might cause him to get unnecessary yellow cards.
If he ever reaches his potential ability, you'll have a right back with some of the best physical attributes that we've seen on this position in a long time while also having good technical attributes.
The mental attributes rise as well, but they come with years and experience.
Malo Gusto – Fairly cheap wonderkid with a substantial potential ability
We managed to get Malo Gusto for only £4.3M, which is super cheap compared to other wonderkids from this list, and his potential ability is one of the highest on this list.
Malo Gusto is a 17-year-old wonderkid, and looking at his stats; you would never think that he is a wonderkid, but oh man, does this kid develop into a beast.
If you can manage to reach his potential ability, you'll have a player in your hands who will be as good as Marquinhos is right now. That means, world-class, first-team player.
We have identified that Malo Gusto has a reasonably balanced personality. However, we did feel like was inconsistent in our games.
However, he makes up for it in many different ways.
Malo Gusto has a tremendous work rate and teamwork, making him a great team player before everything else.
Additionally, he is a very versatile player. He can play the right-back, wing-back, defensive midfield, and even central midfielder positions because of his outstanding technical attributes in the future.
Do not overlook this wonderkid right back as he can be purchased for less than £5M, and if you are a team that struggles financially, he might be an excellent investment to sell in the future.
Sergino Dest – Won`t be easy to get him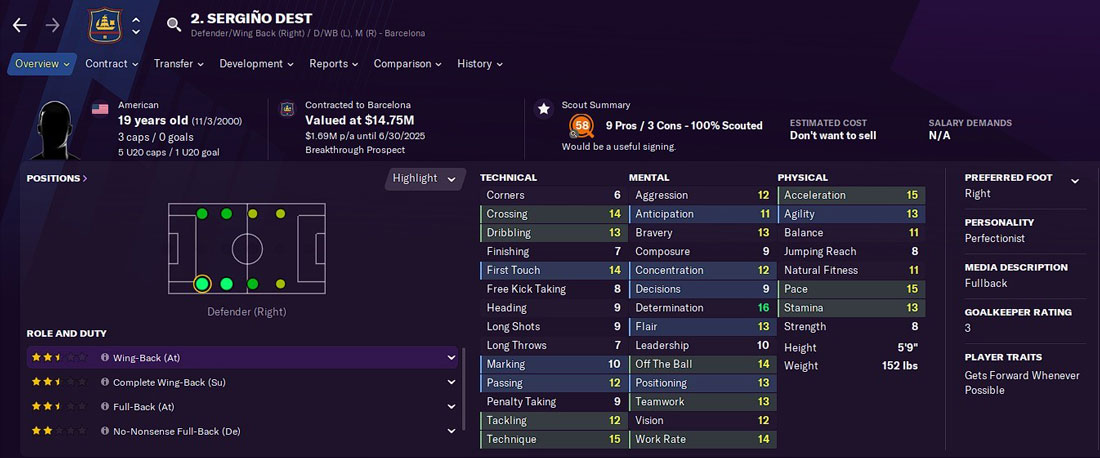 Sergino Dest is in Barcelona FC for a reason. He is one of the most talented right-backs in Football Manager 2021.
Dest has something that many players playing in this position don't have – technique.
He is a "light" player who plays sophisticated football (Barcelona style).
Sometimes when he is with a ball, it looks like it is glued to his feet, and no one can take it from him.
He is 19 years old American valued at 15 million, and you will have to show much more money to Barcelona's board to get him.
Truth be told, you won't be able to get him in the first season of FM21 as he has just signed for Barcelona and isn't interested in changing clubs at all.
However, it might be worth keeping your eyes on him and having him scouted all the time, should he get unsettled at Barcelona.
Takehiro Tomiyasu – Bologna`s wonderkid
Takehiro Tomiyasu is a 21-year-old wonderkid right-back who is currently playing for Bologna. Even though he is a right-back, his stats can be compared to those of Cuadrado, and he has the potential ability to be as good as Joshua Kimmich is right now.
Probably the most balanced player on this list is Takehiro because when you look at his attributes, there is nothing special, but it is also nothing terrible.
Even in the future, all of his stats are well rounded, which makes him a great team player as he can help in whatever is required from him.
We loved how consistent Takehiro was in our test games, and he also has high sportsmanship and professionalism. We also identified that he was very adaptable to playing in any country in the world.
The only issue with Takehiro is that he has just signed a contract, and you won't be able to sign him in the first season.
Tariq Lamptey – An amazing right back!
Tariq Lamptey is a 19-year-old wonderkid currently playing for Brighton.
Even though Brighton isn't the most reputable team globally and Tariq isn't that great at the start of the game, you won't get him for cheap.
Brighton is asking for a whopping £63M for his services.
Tariq Lamptey is the fastest player out of all of the right backs mentioned, and he can improve a lot.
What we identified is that he is a consistent performer. However, he was slacking in important matches.
When he reaches his potential ability, his physical attributes are outstanding, and his mental attributes are reasonable; however, his technical attributes are just bad apart from the dribbling.
For the price that Brighton is asking, it might be better to look at other options.
Achraf Hakimi
Achraf Hakimi is a 21-year-old wonderkid right-back who has just signed for Inter.
Due to that, you won't be able to buy him in the first season of the game.
When it comes to his current ability, he is the highest-rated right back out of all of these in the list, and he can still improve a lot.
Hakimi is a fairly ambitious, reasonably determined, and spirited player.
He is also relatively consistent and versatile, and he rarely ever gets injured.
Even looking at his current attributes, we can see that Achraf Hakimi is an explosive player, and he can become even faster than this in the future. He is also a very adaptable player who can play in any country globally and won't have issues settling in.
His only weakness would be his heading as he isn't that good in the air, but you don't expect your right back to be in such positions where he needs to use it.
It is definitely worth to keep scouting him and potentially buy him after the first season
Conclusion
We hope that you found the players you were looking for. Stay with us, because FMBrotherhood will bring you some more great FM21 wonderkids!
Cheers!