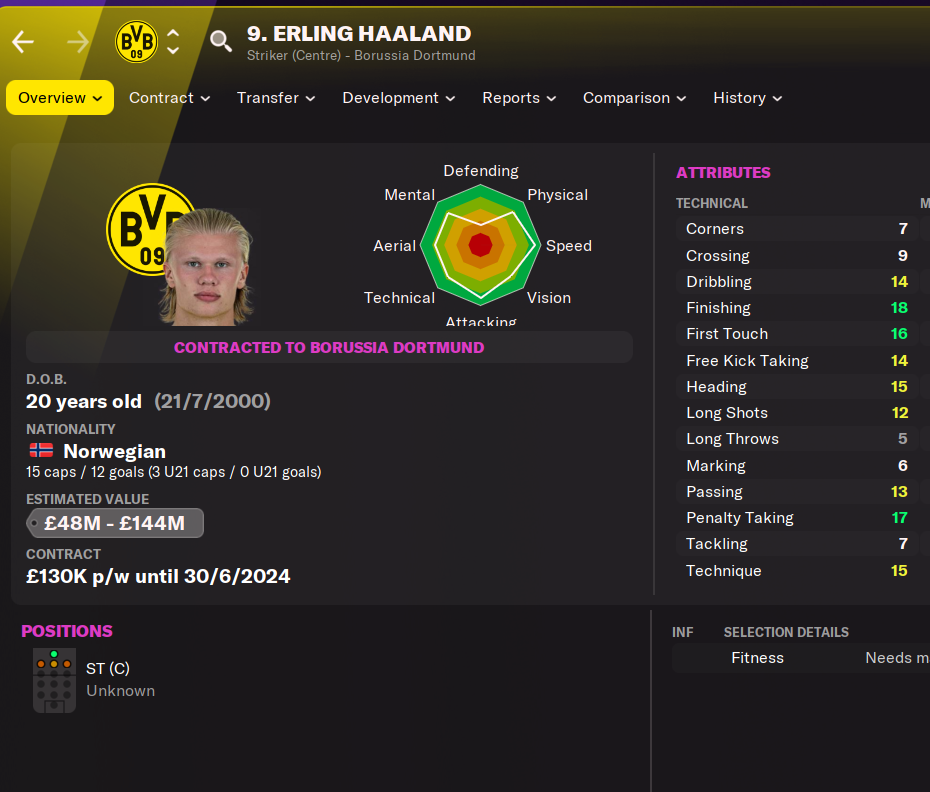 6 Best FM22 Wonderkid Strikers You Must Sign!
By callum | December 28, 2022 | 5524 Views
Best FM22 Wonderkid Strikers
FM22 is one of the best versions of Football Manager to date. In FM22, there's some amazing wonderkid strikers, but some are harder to find than others. That's why we've done the research and simulated 10 seasons into the future to find out the best FM22 wonderkid strikers! In this article, you'll see how these striker wonderkids look at the start of your save, and how they could look in their prime in 2031.
If you're looking for wonderkid strikers in FM23 instead, click here.
What's a Wonderkid Striker in FM22?
Wonderkid strikers are players under the age 20 or under that have the potential ability to develop into one of the best strikers in FM22. However, it must be noted that there's no guarantee these players will have the same attributes in your FM22 save. They could be worse, or better!
6. Jung Sang-Bin – Best Asian Wonderkid Striker in FM23
First on our list of the best wonderkid strikers in FM22 is Jung Sang-Bin. The South Korean striker is contracted to Wolves, but is on loan at Grasshoppers. He has some great mental attributes for a 19 year old, including 17 aggression, 17 determination, and 16 work rate. Jung Sang-Bin is also a pacey striker with good finishing.
As he's on loan at Grasshoppers in his first season, you'll have to wait until the second season in your FM22 save if you want to sign this wonderkid striker.
Jung Sang-Bin in 2031
Jung Sang-Bin has the potential to become one of the best strikers in FM22. In our simulation, he has an amazing 60 goals in just 81 appearances for South Korea. Juventus signed this top wonderkid striker for £74 million! His finishing has increased to form 13 to 16, and his agility has increased from 13 to 18. Jung Sang-Bin also has great composure and decision making, which makes him brilliant in the final third.
Jung Sang-Bin doesn't make it higher on our list of the best wonderkid strikers in FM22 because there's young strikers even better than him! Read on to find out who they are.
5. Benjamin Sesko
Benjamin Sesko already has 2 caps for Slovenia at just 18 years of age, and you can see why! He's excellent physically, and stands at almost 2 metres tall. This alongside 13 heading makes Sesko a brilliant target man. He also has fantastic off the ball movement, which means he's really good at finding space in the penalty box.
If you want to sign Sesko in the first season of your FM22 save, he'll cost you £12 million, which is great value!
Benjamin Sesko in 2031
Sesko has become an elite striker in our FM22 simulation. His mental attributes are well rounded, and show no weaknesses. His physical attributes are all amazing, with 15 stamina and strength being his worst physical attributes.
Benjamin Sesko is an excellent all round striker in Football Manager 2022, but as previously mentioned, would be most effective as a target man.
4. Karim Adeyemi – Pacey FM23 Wonderkid Striker
Another player from RB Salzburg is Karim Adeyemi. He's a rapid wonderkid striker with a great eye for goal. His form in real life has seen him seal a move to German giants Borussia Dortmund. Adeyemi has 19 determination and 14 work rate, which are important attributes that help with a players development.
One of the best wonderkid strikers in FM22 is available in the first season of your save for a £16 million fee.
Karim Adeyemi in 2031
In our FM22 simulation, Adeyemi signed for PSG for over £100 million! You can see why they paid so much for this wonderkid striker though. He has great finishing, off the ball movement, and dribbling.
Karim Adeyemi is also a versatile player, with the ability to play on both wings, which makes him a useful squad player. His player traits show he likes to beat the offside trap, so playing through balls to Adeyemi are definitely effective.
If you're looking for a pacey wonderkid striker, definitely do everything you can to sign Adeyemi!
3. Lorenzo Lucca – Striker Wonderkid Bargain!
In FM22, Lorenzo Lucca plays for Pisa in Serie B. Like Sesko, Lucca is fantastic in the air, standing at over 2 metres tall, with 16 heading and 17 jumping reach. If you sign this wonderkid striker, make sure to use floating crosses at part of your tactic. He should be able to beat any opposition defender to the ball in the air.
Lucca is one of the best wonderkid strikers in FM22, and is available for just £3 million! An excellent bargain.
Lorenzo Lucca in 2031
In 2031, Lucca's physical attributes are monstrous! And he's even better in the air. Lucca also has 18 finishing, 16 composure, and 17 first touch, so he's just as good with his feet. He's excellent mentally, with his 9 aggression being the only attribute below 11.
If you use a tactic which involves a target man, you must try and sign this wonderkid striker. He's available for such a small fee, so it's a low risk signing.
2. Youssoufa Moukoko – Young Striker in FM22
Youssoufa Moukoko just misses out on top spot on our best wonderkid strikers in FM22 list. He's the youngest wonderkid striker on our list at just 16 years old, but he already has some amazing attributes. His standout stats are 16 determination, 15 finishing, and 16 technique.
Moukoko has the places shots trait, which means he's great at picking the best spot in the goal to beat the keeper.
Youssoufa Moukoko doesn't want to leave Borussia Dortmund in the first FM22 season, so you'll have to wait a season if you want to sign this wonderkid striker.
Youssoufa Moukoko in 2031
Moukoko has the potential ability to become on of the best players in FM22! His best attributes are 20 composure, 19 balance, and 20 agility. Apart from being poor in the air, Moukoko is world class at everything else you want in a wonderkid striker. It's no surprise that Manchester City signed him in our FM22 simulation.
1. Erling Haaland – The Best FM22 Wonderkid Striker!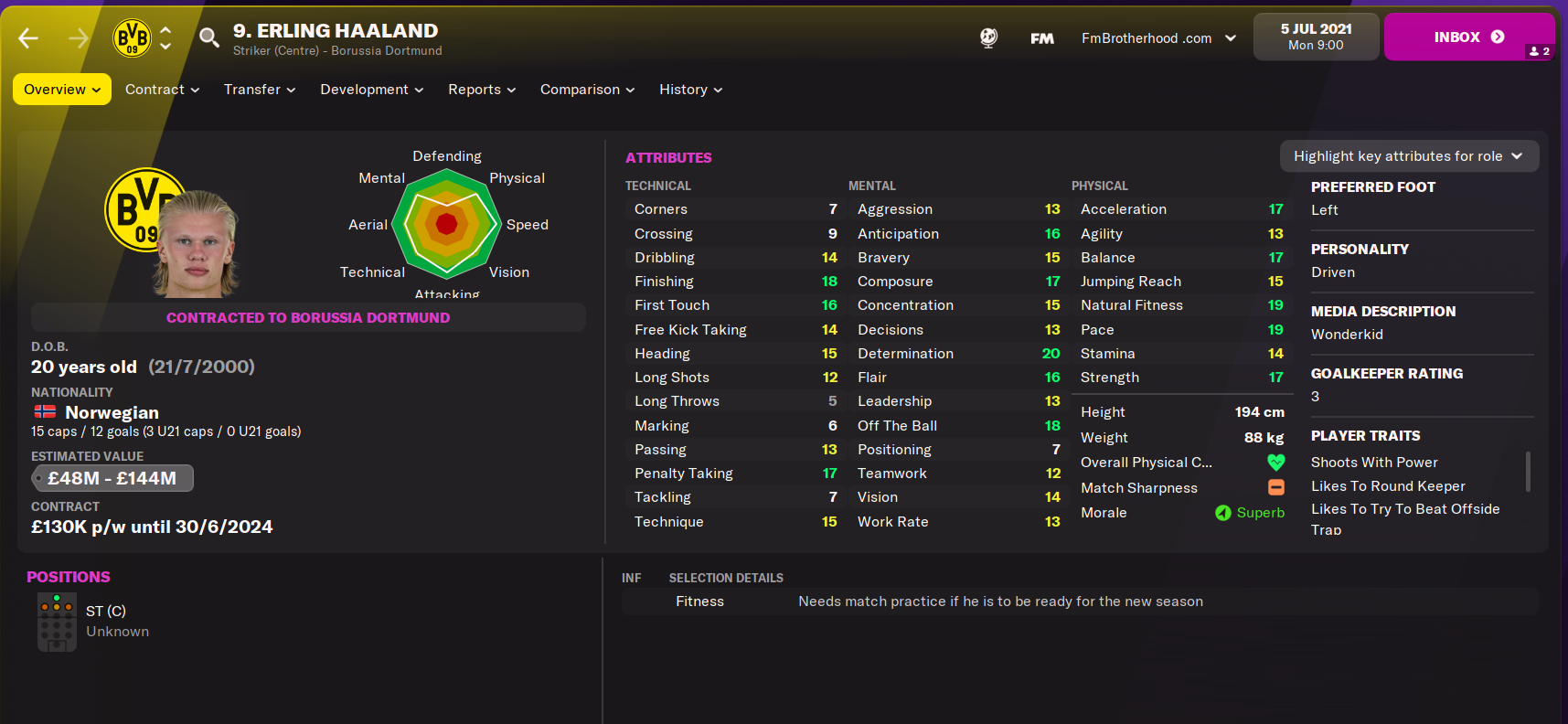 Sticking with Borussia Dortmund, we have the best wonderkid striker in FM22. Erling Haaland is already world class at 20 years old. His physical attributes are unbelievable, and his goal scoring record is ridiculous. Even if Haaland's attributes didn't develop, he'd be the best striker wonderkid in FM22.
This amazing wonderkid striker comes at a high price though, with Borussia Dortmund asking for a £96 million fee. If you can afford this though, you've got yourself a goal machine.
Erling Haaland in 2031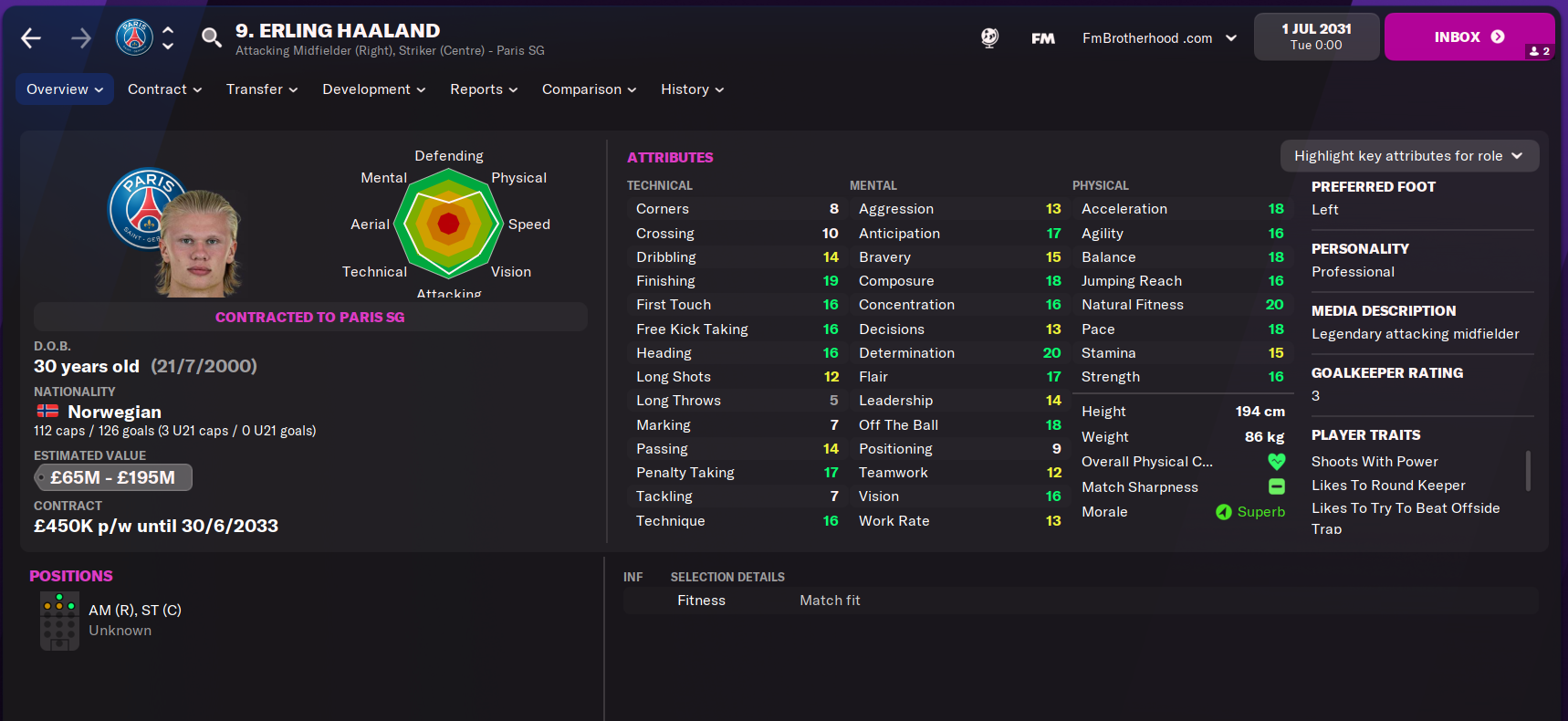 In our simulation, Haaland's average rating was at least 7.41 across 10 seasons! This shows that he's capable of consistently playing at the highest level. He has 20 attributes with a rating of at least 16, which makes him exceptional in almost every area of the pitch. Haaland is arguably the best wonderkid in FM22. He has more goals for Norway than he has appearances. I don't know what else I can say about the best wonderkid striker in FM22.
Final Thoughts on the Best Wonderkid Strikers in FM22
That concludes our list of the best FM22 wonderkid strikers. If you're managing a team with a small budget and can persuade Lorennzo Lucca to sign for you, he would be an amazing wonderkid striker option for you. However, if you've got the finances, Erling Haaland has to be the wonderkid striker you sign on FM22.