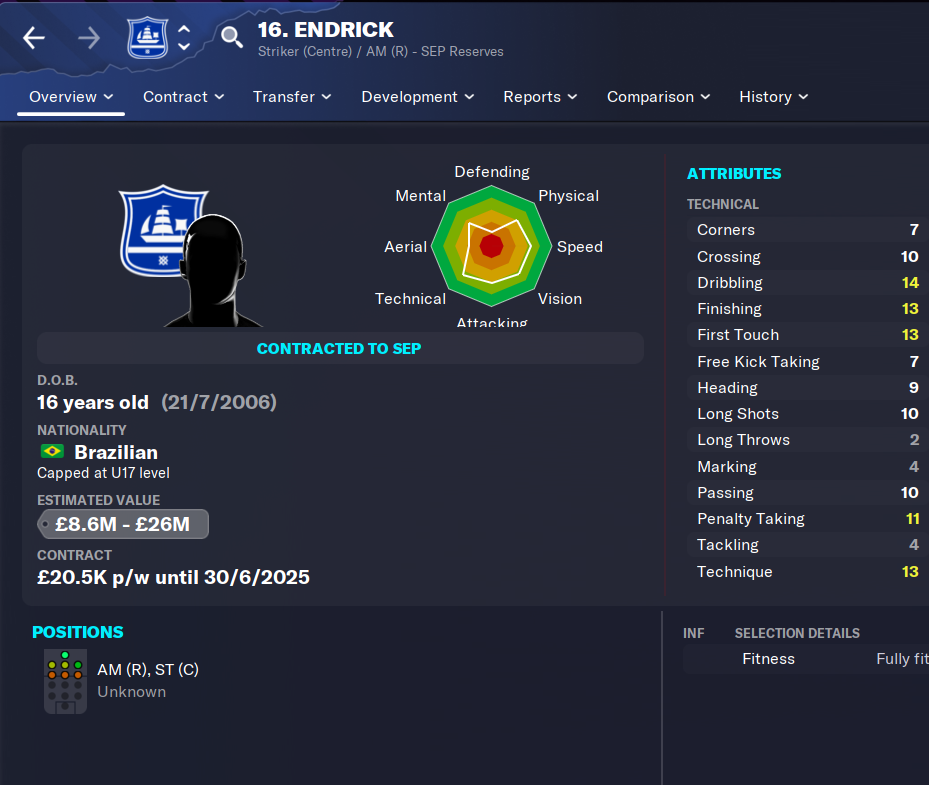 15 Best FM23 Wonderkids You Must Sign!
By callum | October 23, 2022 | 8789 Views
Best Football Manager 2023 Wonderkids
The FM Beta is here! And with the new version of Football Manager comes new wonderkids to sign for your team. We've done the hard work and holidayed 10 seasons into the future to 2032, to see which wonderkids become the best players in the game. Here are the 10 best FM23 wonderkids in their prime.
If you've not bought Football Manager 2023 yet, make sure to do so here which is cheaper than if you purchase directly from Steam. You will also have full access to the Beta.
What is a Wonderkid in FM23?
A player is defined as a wonderkid if they're young and have the potential ability to be one of the best players in Football Manager. The players in this list are 20 years of age or younger when you first load up your save.
15. Nico Williams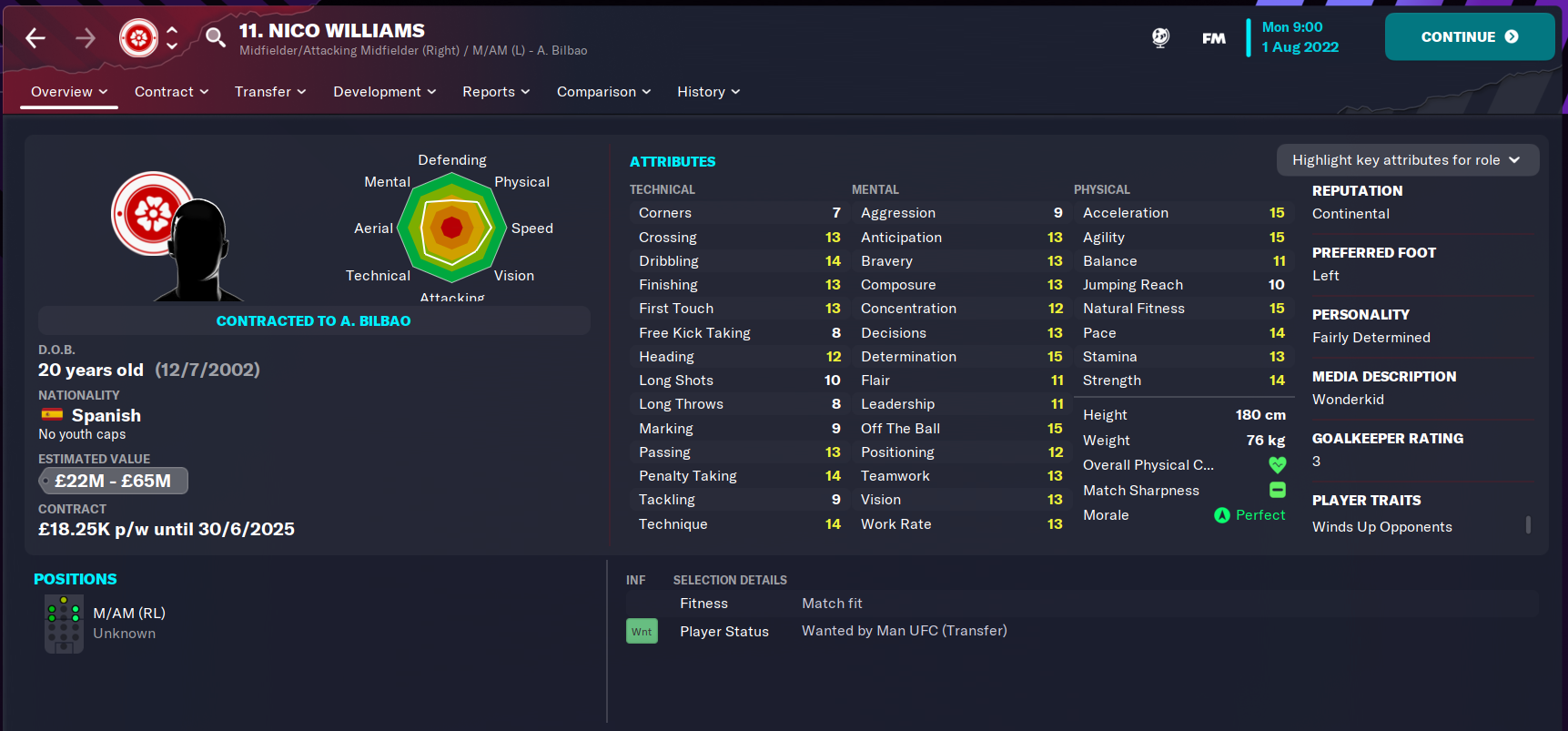 Nico Williams has been a wonderkid on the last few versions of Football Manager. The Spanish winger is quick, with great technical attributes for his age. His mental attributes are also well-rounded for a youngster. However, if you want to sign him in your first season, it's likely you'll have to pay his £43 million release clause!
Nico Williams in 2032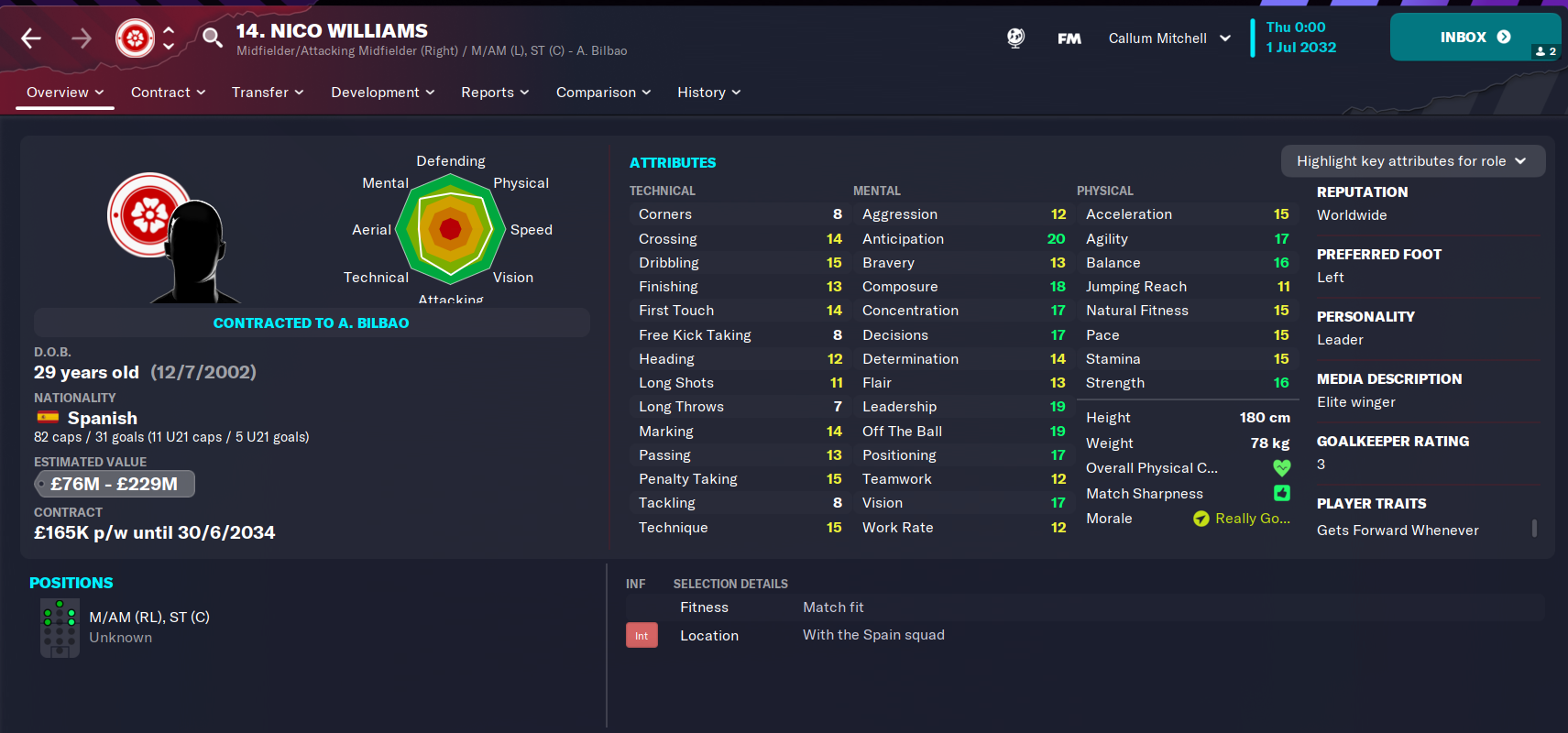 You can see the player Nico Williams can become. Look at his mental attributes! His high composure and decision making means he's great at making the correct passes in important areas of the pitch, which means he can easily accumulate goals and assists. If your Nico Williams can become as good as this, I'm sure he'd be worth the £43 million release clause.
14. Dennis Seimen – The Best FM23 Wonderkid Goalkeeper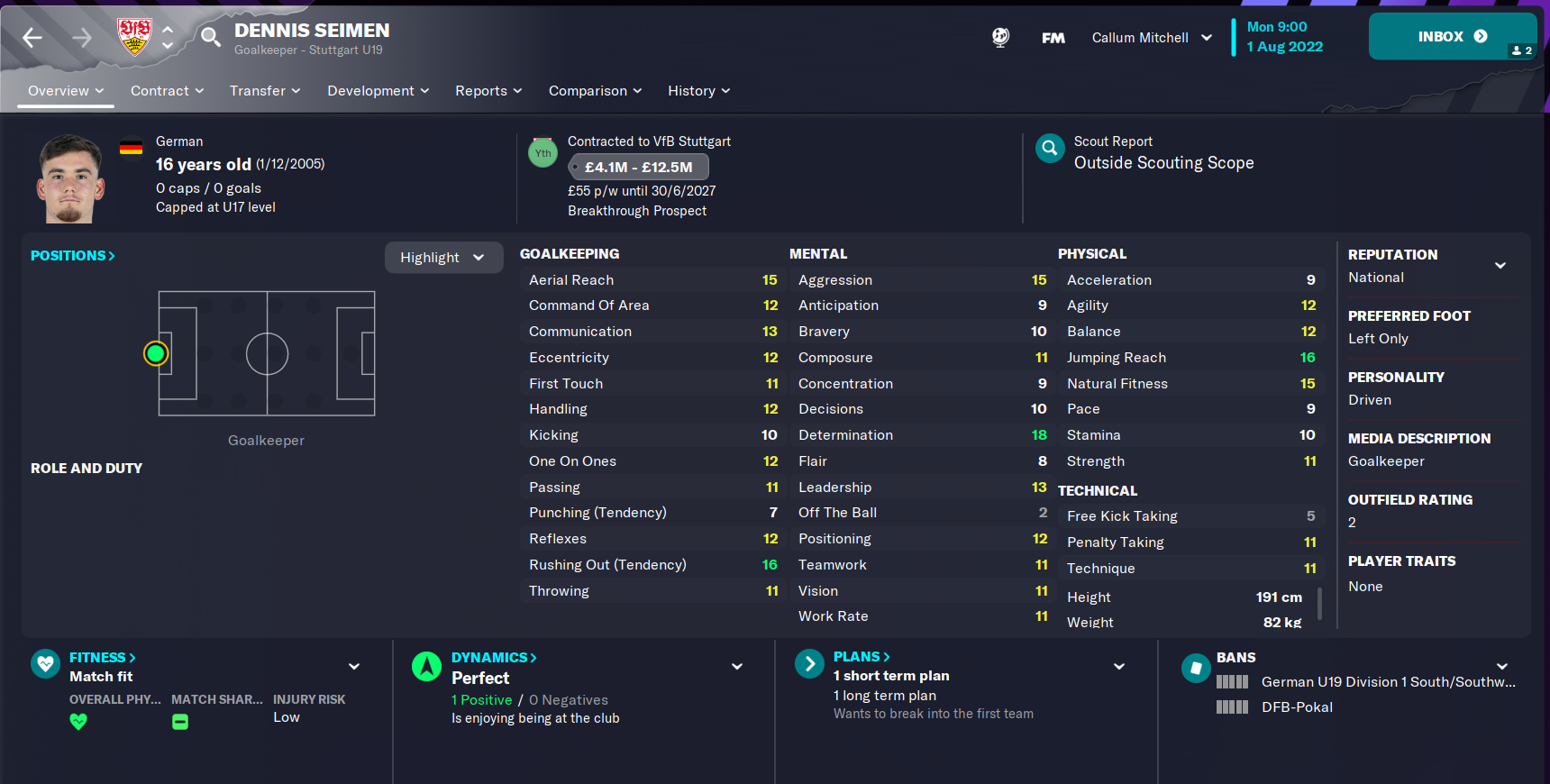 The only goalkeeper on the list, Dennis Seimen is an excellent option as an up and coming keeper that can become your number 1 for years to come. At just 16 years of age, he already has good goalkeeping attributes such as 15 aerial reach, and 12 reflexes. His 18 determination will also help his attributes grow.
If you want to pick him up in your first season, he will cost you around £8 million.
Dennis Seimen on FM23 in 2032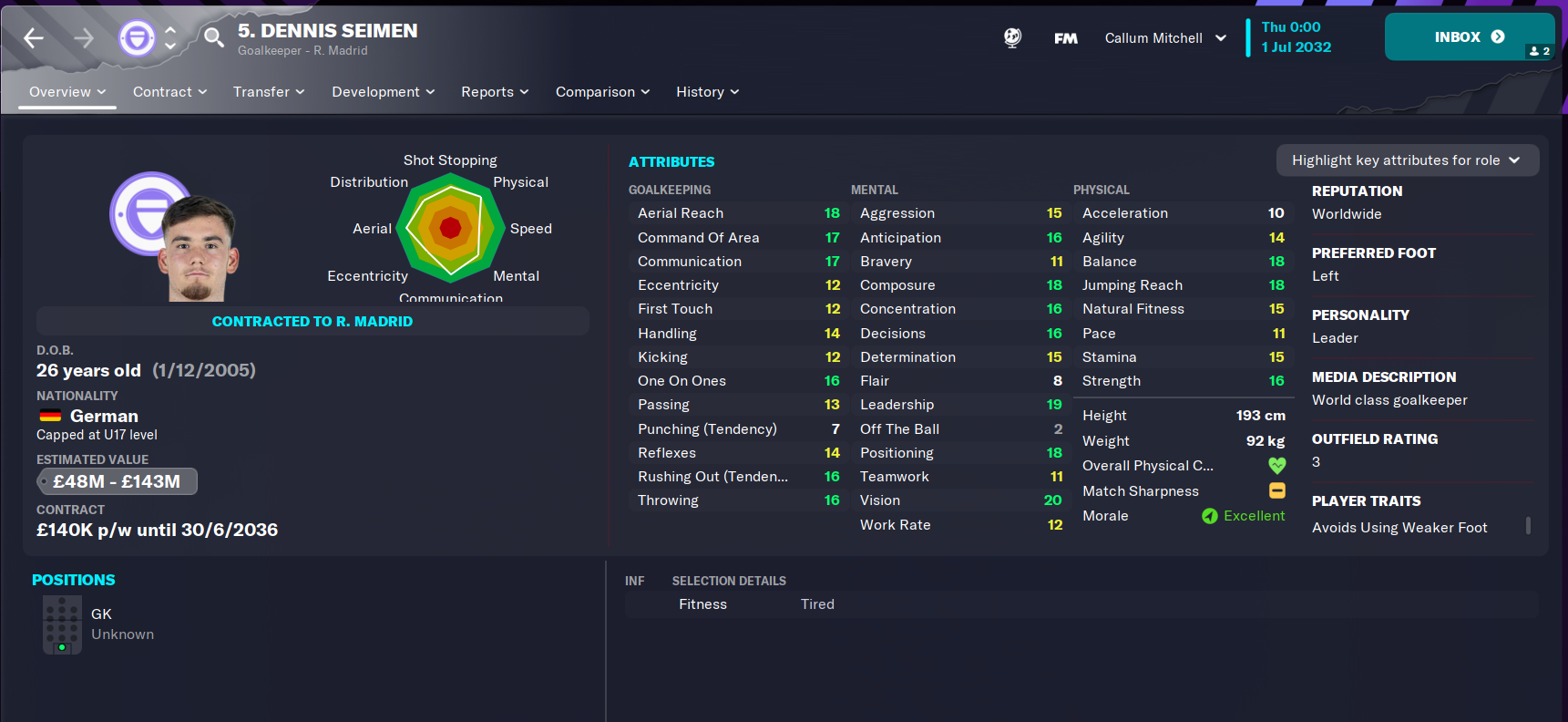 In 2032 Seimen becomes one of the best wonderkid goalkeepers in Football Manager. His 20 vision, combined with his 16 throwing, means he's brilliant at spotting an opening for a potential counter-attack, making him a great modern goalkeeper. Wonderkid keepers are hard to come by in FM23, which is probably why Real Madrid have decided to sign him. Make sure to keep an eye out on Seimen.
If you're looking for more wonderkid goalkeepers in FM23, take a look at this article.
13. Paul Wanner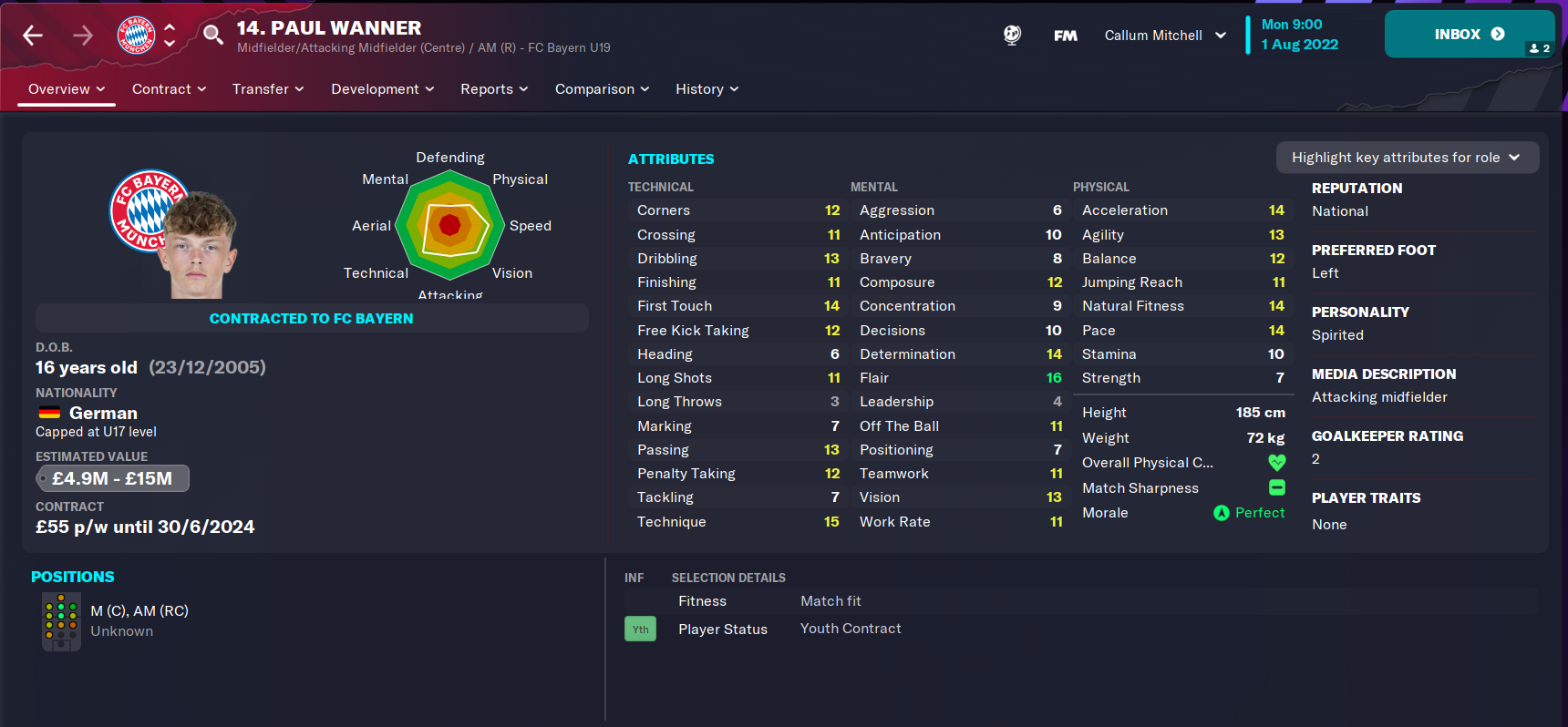 Another 16 year old that makes the list. Dennis Wanner has fantastic technical attributes for an attacking midfielder. His flair is clearly his standout strength, and this alongside strong physical attributes means he can easily skip past defenders. To sign Wanner in your first season will cost you roughly £10 million.
Paul Wanner in 2032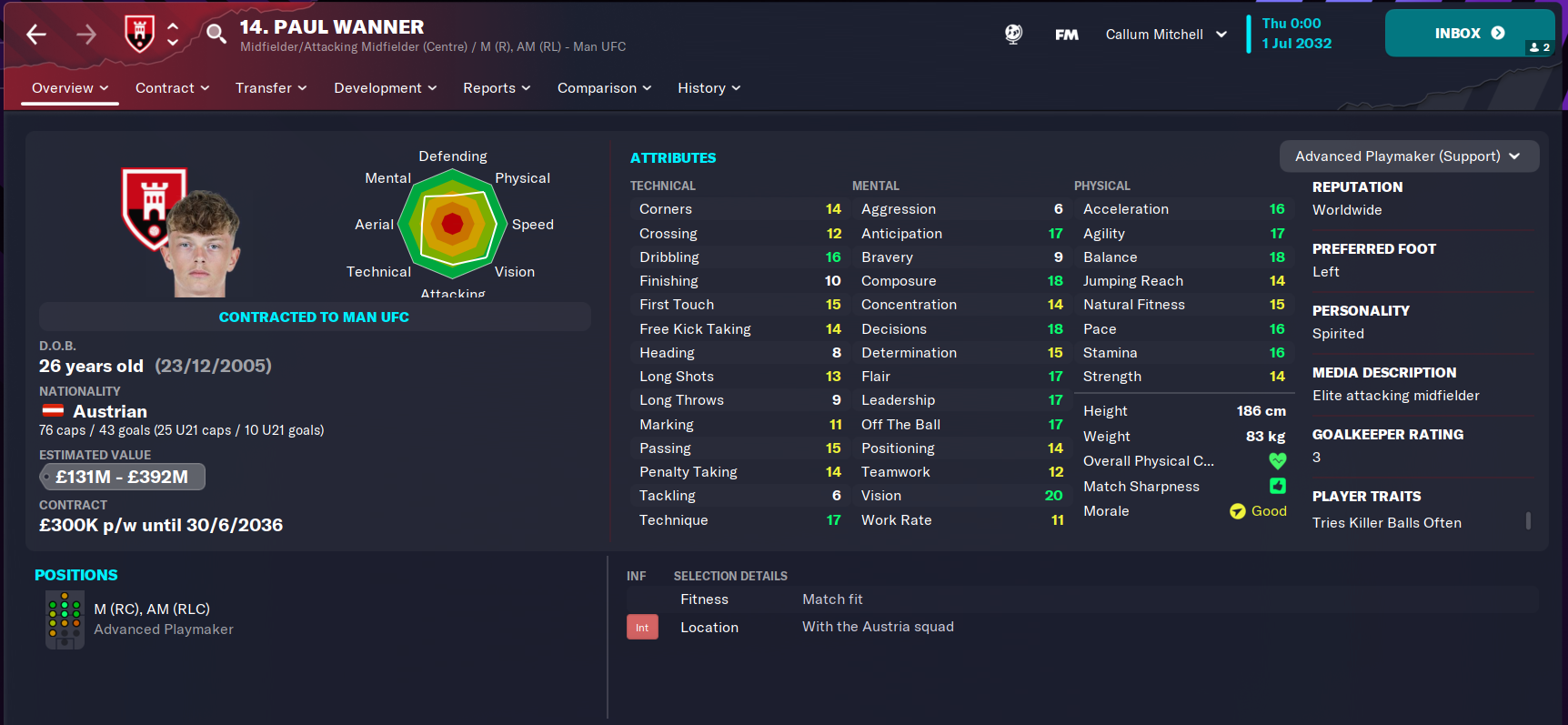 Paul Wanner becomes one of the best attacking midfielders in the game. This is really handy if you like to play a 4-2-3-1 formation, which is one of the most popular formations to use on FM. You can see his physical and mental attributes have seen exceptional growth, and his goal scoring record for Austria shows he can still put the ball in the back of the net despite his 10 finishing. You won't find many FM23 wonderkids with his vision.
12. Dane Scarlett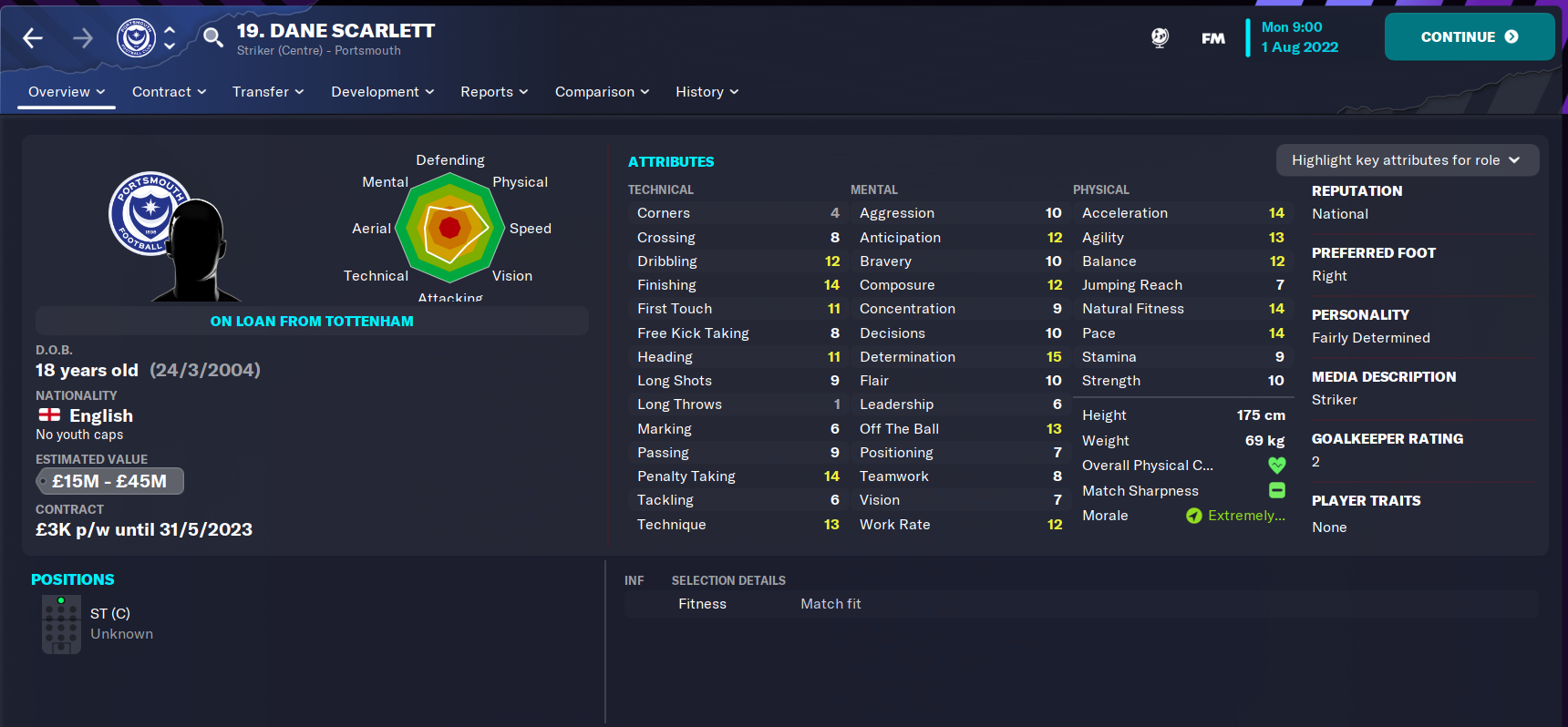 Dane Scarlett was a player with good potential in FM22, but in FM23 his potential ability has skyrocketed. At 18 years old, he already has 14 finishing and 13 technique, which means he's already got the ability to score goals.
Scarlett is on loan at Portsmouth in the first season, so you'll have to wait until the second season to sign him. Definitely one of the FM23 wonderkids to look out for.
Dane Scarlett on FM23 in 2032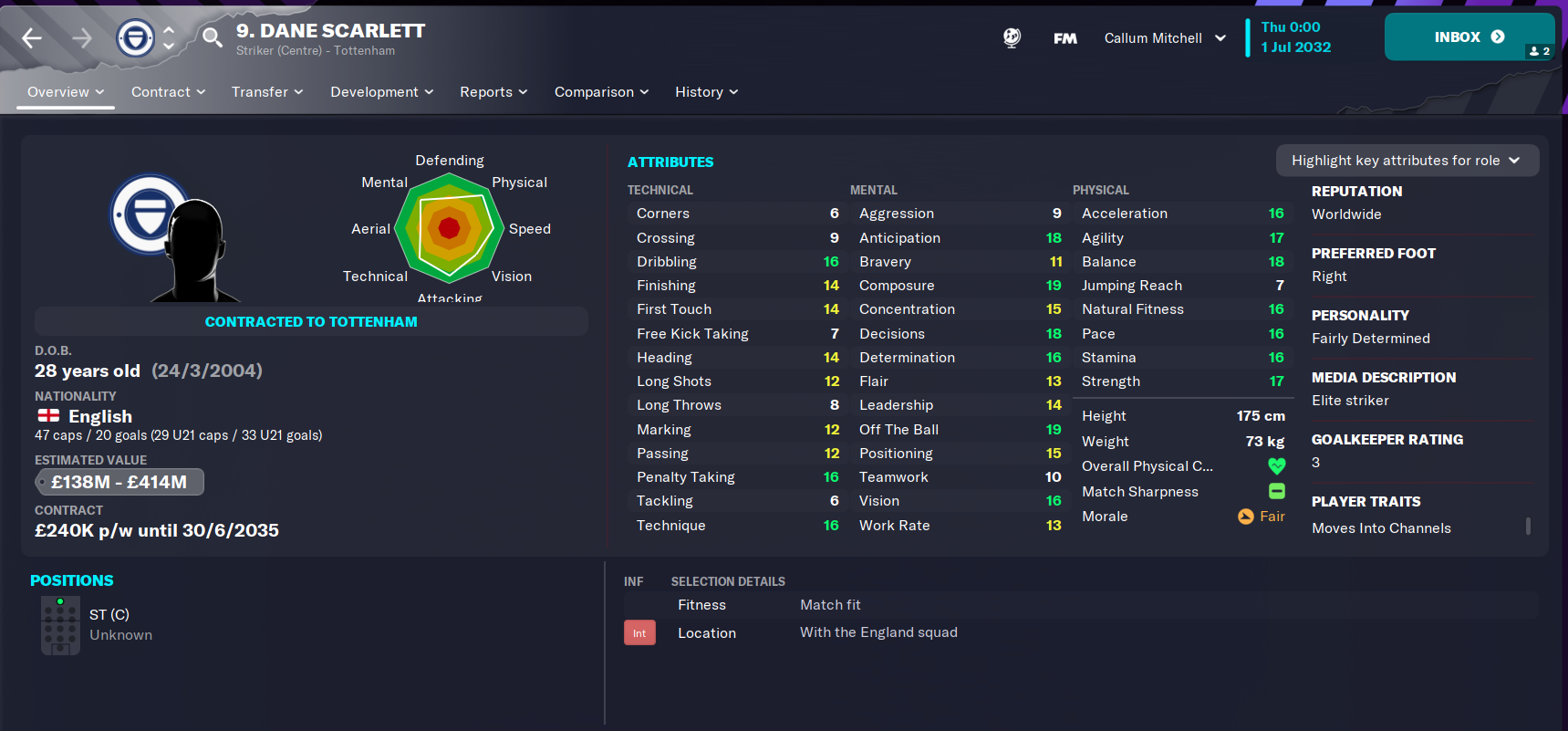 Dane Scarlett's physical attributes in his prime are ridiculous (except from that terrible jumping reach). He has some outstanding mental stats too, such as 19 composure, 19 off the ball, and 18 decisions. There are other strikers with better technical attributes, but Scarlett's physical and mental attributes more than make up for it.
11. Benjamin Sesko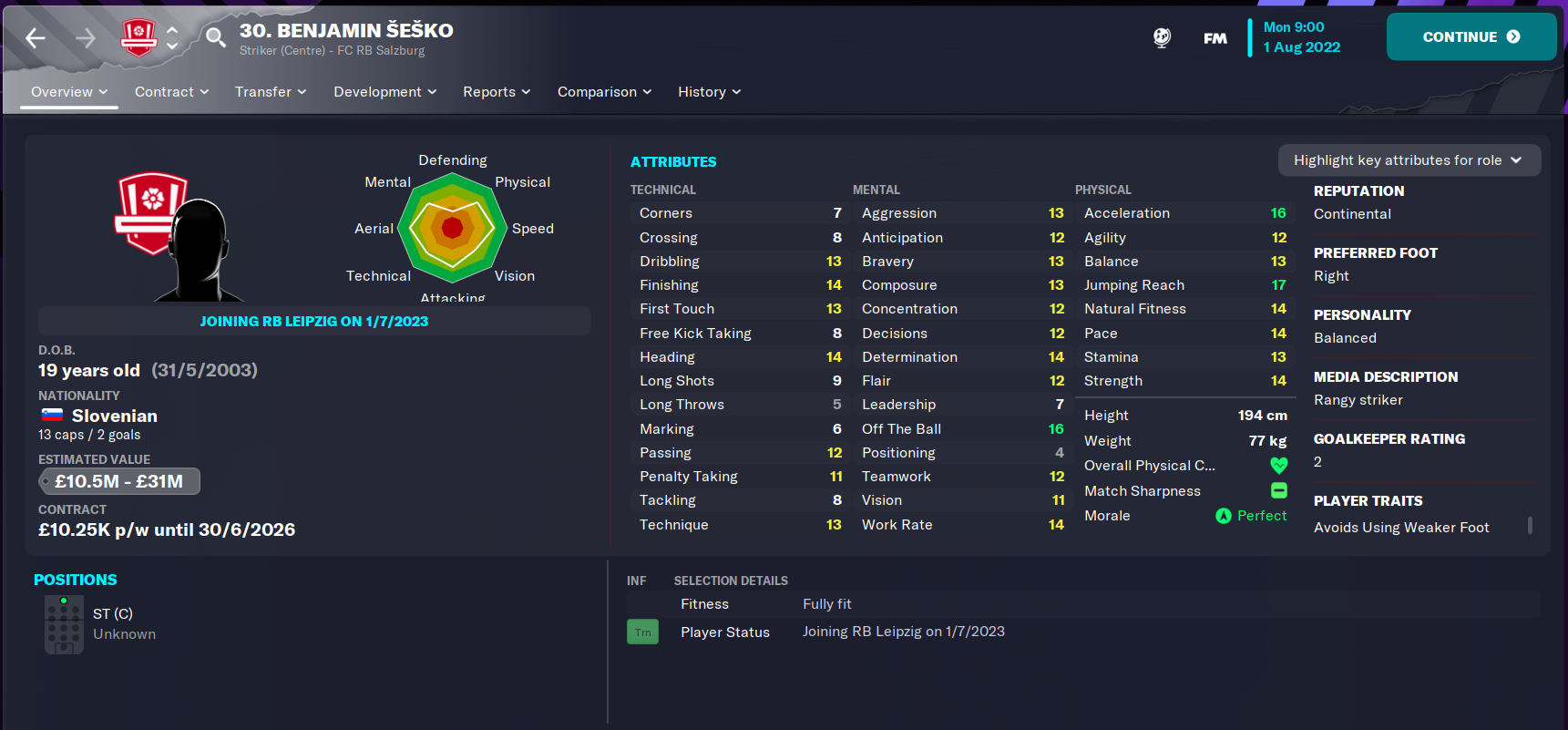 If you played FM22, then you'll already know all about Benjamin Sesko! He's definitely one of the best wonderkid strikers in FM23. Sesko is almost 2 metres tall, has 17 jumping reach and 14 heading, which means he could develop to become one of the best target man strikers in Football Manager.
His excellent form in real life has earned him a move to RB Leipzig. Leipzig have loaned Sesko back to Salzburg for the 2022 season, so you may have to wait a couple of seasons before you can make an offer.
Benjamin Sesko on FM23 in 2032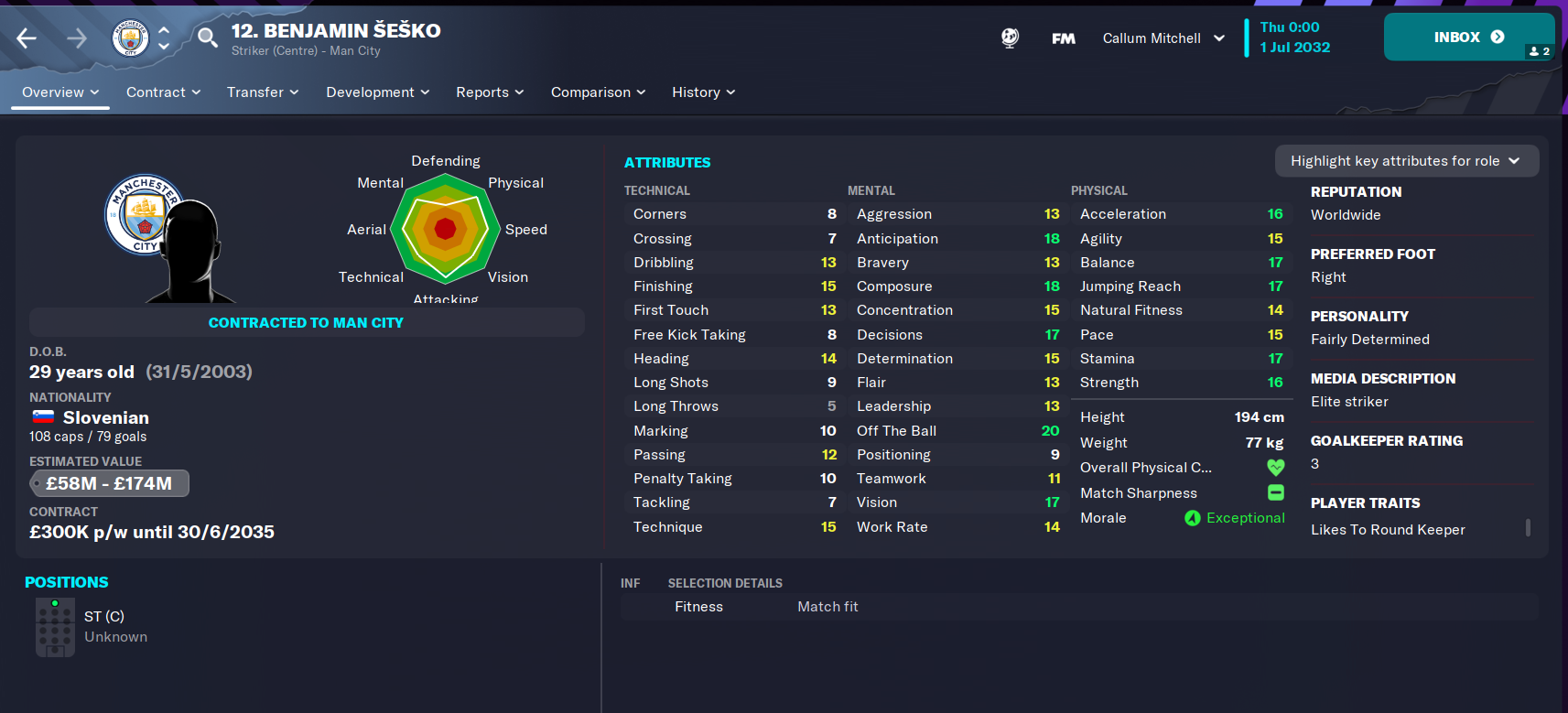 In our simulation, Sesko has been signed by Manchester City, and has scored a massive 79 goals in just 108 caps for Slovenia! Sesko is still a goal scoring machine in Football manager 2023. His 20 off the ball movement means he can get into the best positions to get on the end of crosses.
10. Romeo Lavia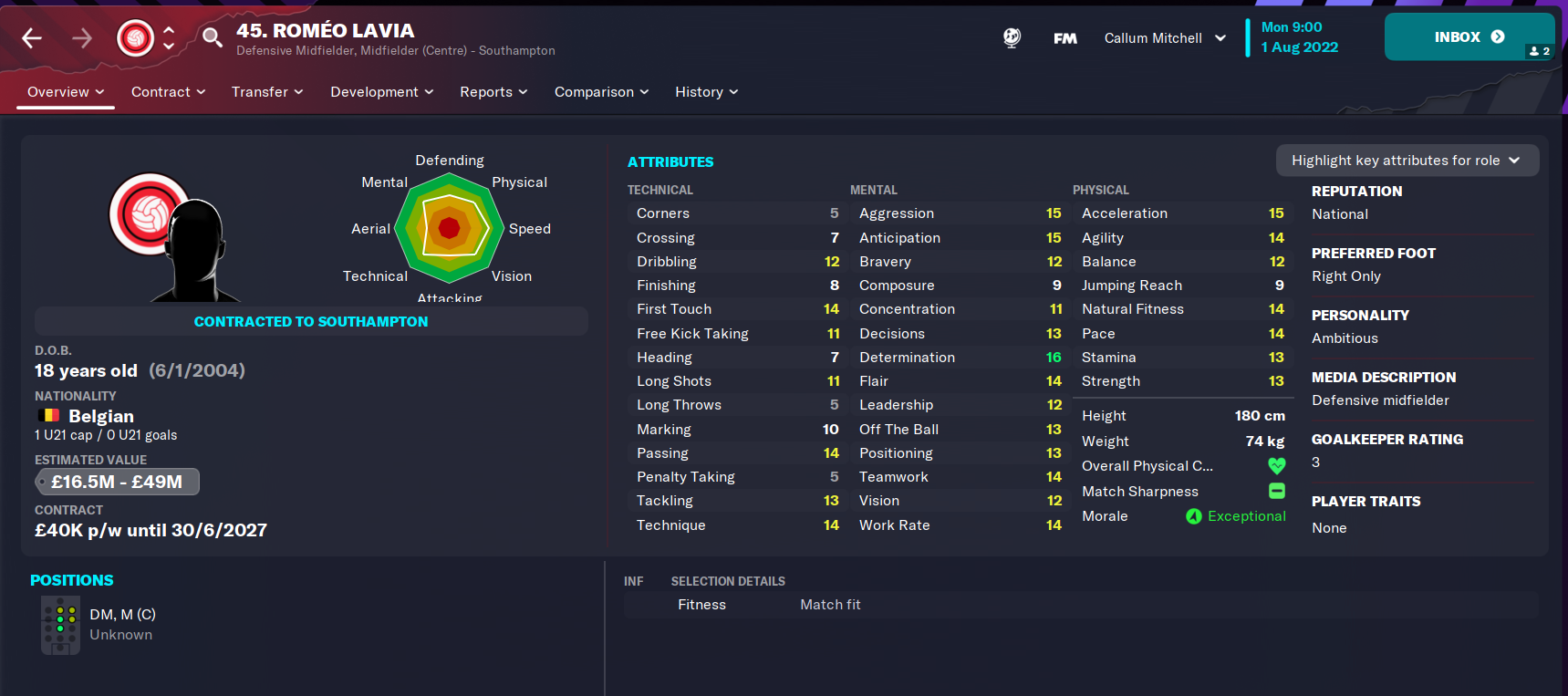 Lavia has been getting praise for his performances since signing for Southampton, and Football Manager have clearly noticed his ability too. Lavia already has excellent mental attributes, and is one of the best wonderkid CDMs in FM23.
As mentioned, he's recently just signed for Southampton, so you will have to wait until your second season if you want to make an offer.
He's not the only wonderkid at Southampton, who also have English RB wonderkid Tino Livramento.
Romeo Lavia in 2032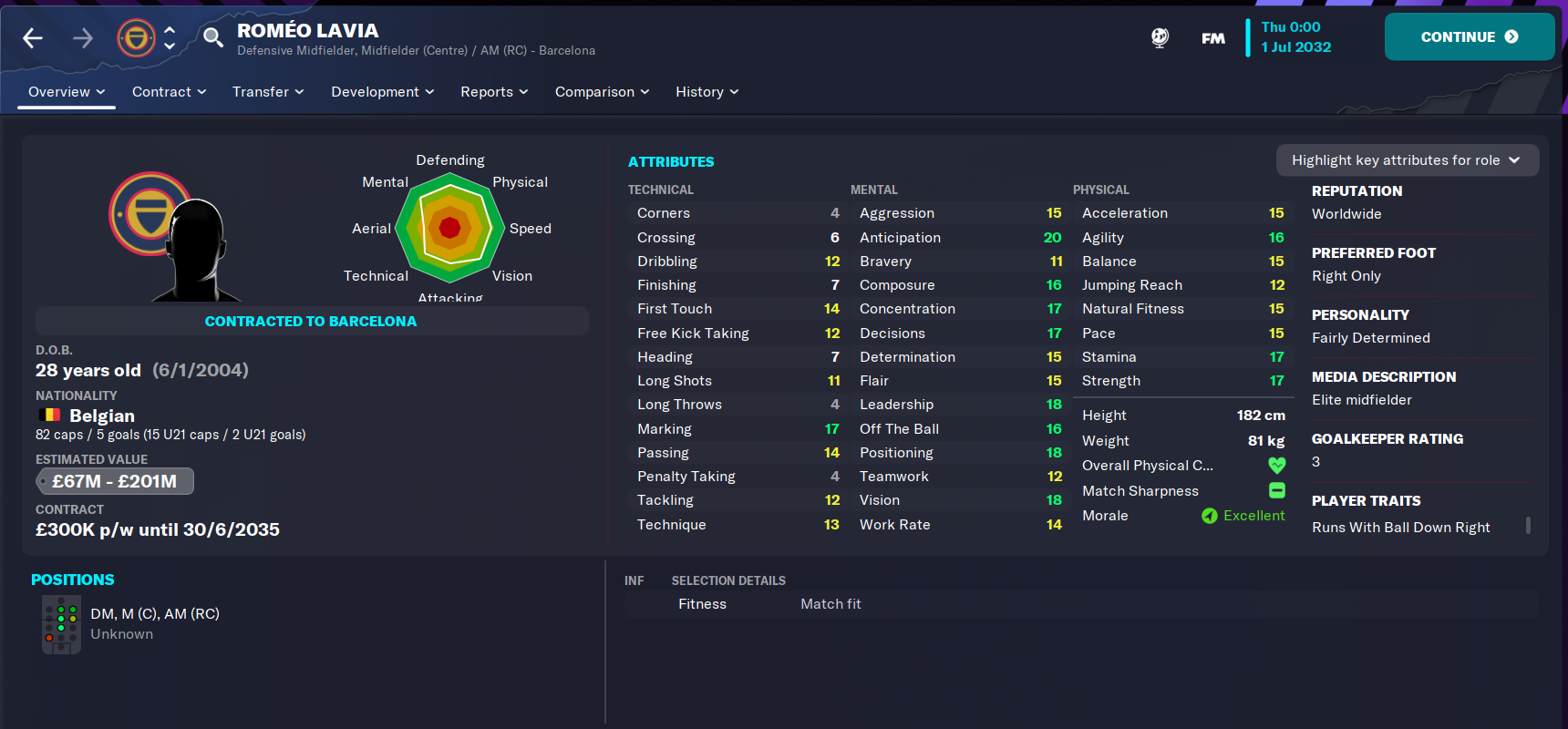 You can see that Lavia develops into a monster of a midfielder! He's managed to seal a move to Barcelona, and is described by the media as an elite midfielder. His mental stats significantly standout, with 8/14 mental attributes being above 16. His marking has also seen a huge jump from 10-17, which shows the growth potential Lavia has.
9. Harvey Elliot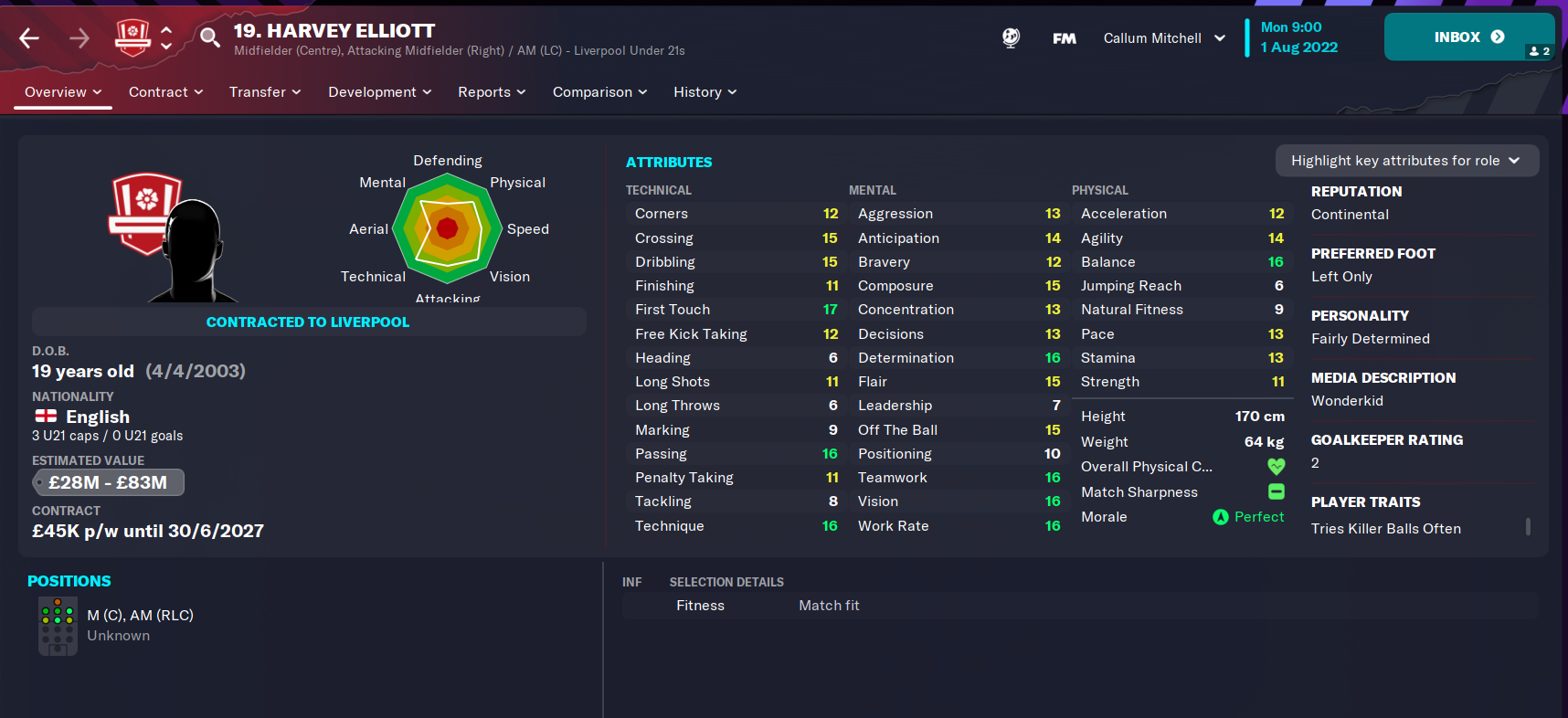 Harvey Elliot is a brilliant, versatile, midfielder, that is ready for first team football at only 19 years of age. His 16 determination and work rate mean he'll train hard which increases his chances of reaching his high potential.
As you would expect, Liverpool would only be tempted to sell for a large fee, likely to be £60 million in the first season.
Harvey Elliot FM23 in 2032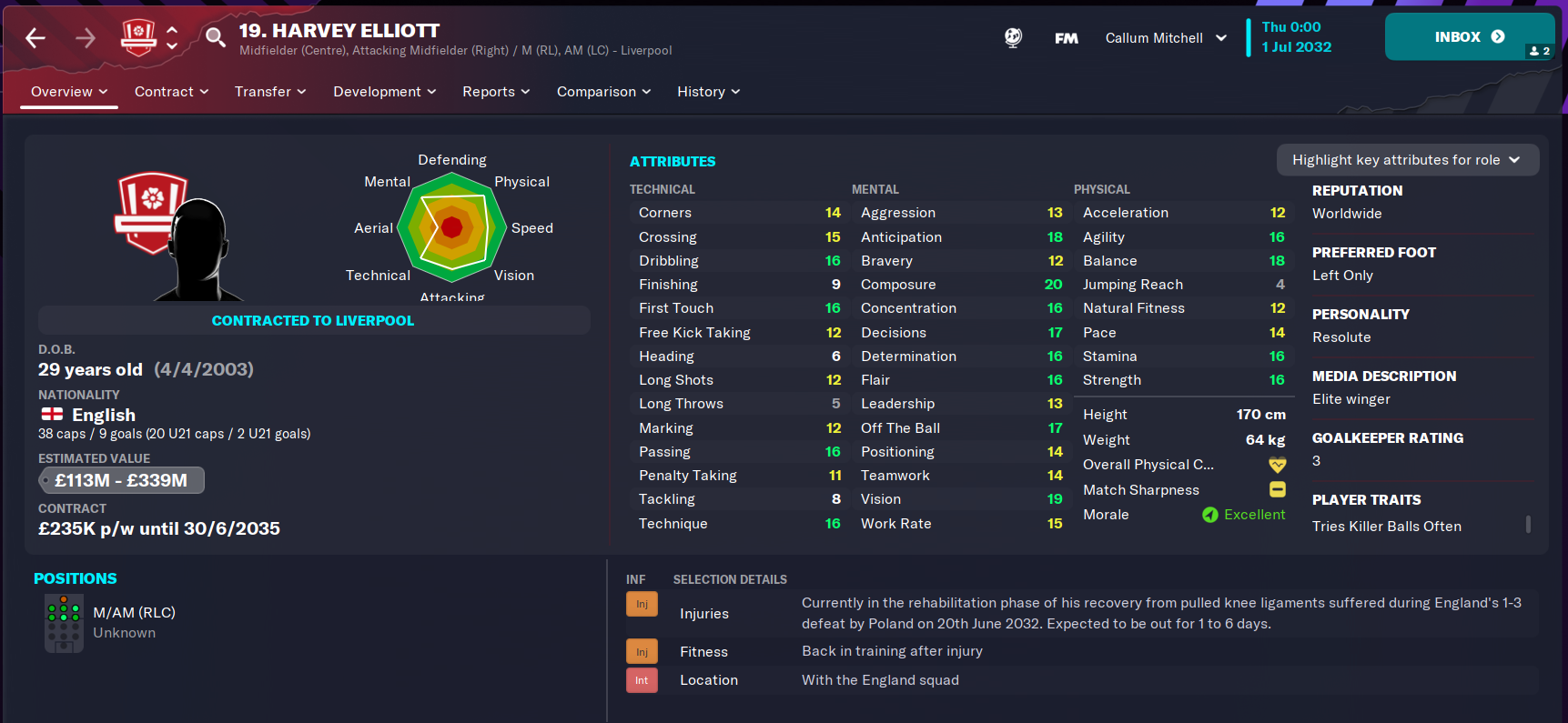 Harvey Elliot becomes one of England's best players. He has some outstanding mental attributes including 20 composure, 19 vision, and 18 anticipation. Elliot's defensive attributes are good enough to allow him to play in a 2-man midfield, and he would thrive playing passes from deep. His pace and acceleration are probably just too low for him to be as effective on the wing.
8. Bukayo Saka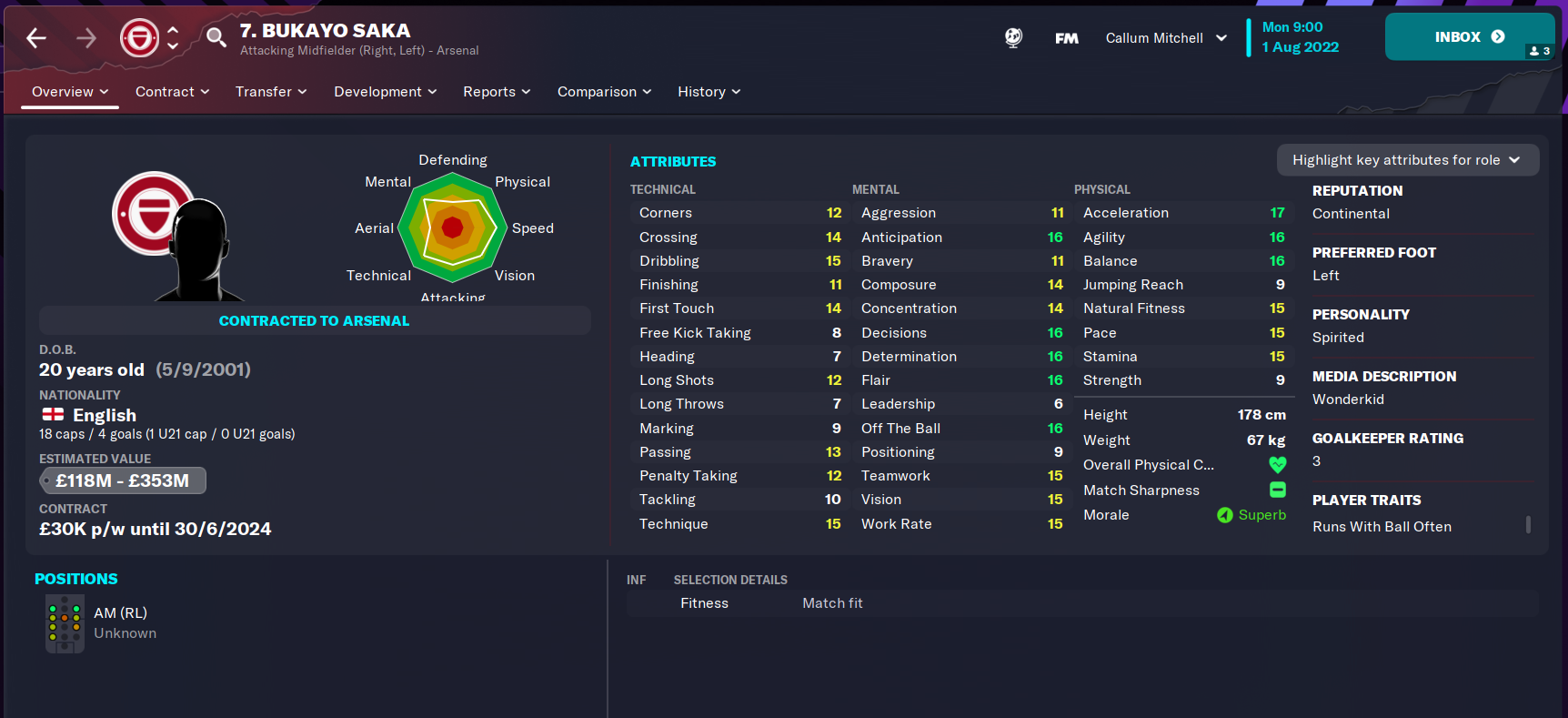 Another English player, Bukayo Saka is one of the best 20 year old players in FM23. The exciting winger already has brilliant crossing and dribbling ability, and 4 mental attributes scored at 16. The only way you'll get your hands on Saka early on in your Football Manager 23 save is if you choose to manage Arsenal. He's one of their most important assets, which means they want over £100 million in order to sell. He's one of the most expensive wonderkids on FM23.
Bukayo Saka FM23 in 2032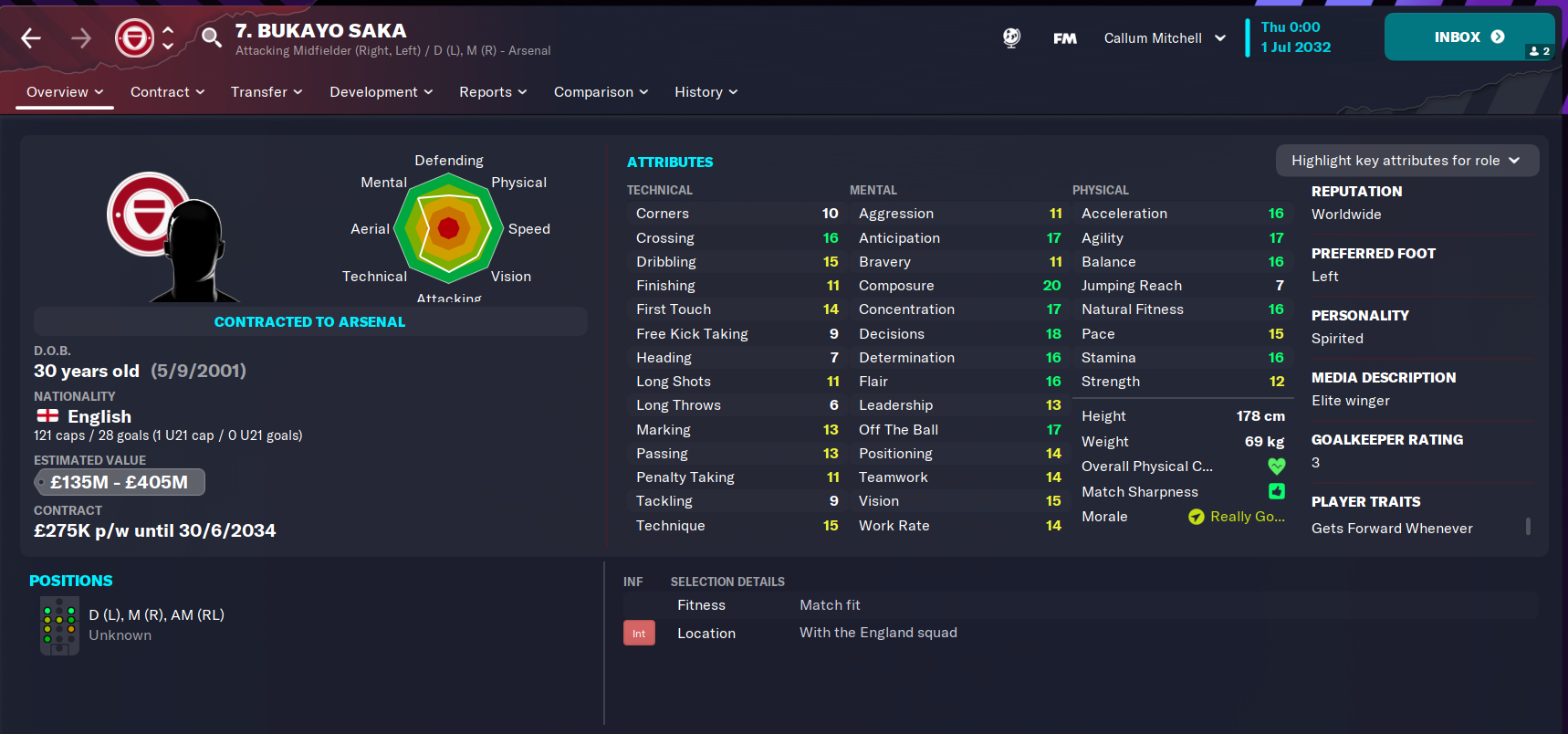 You'll notice this is becoming a theme, but again it's the mental attributes of a wonderkid that stand out. Saka's 20 composure and 18 decisions means he's world class in the final third. He also has fantastic physical stats, allowing him to get in behind and be deadly on the counter-attack. In our simulation, Saka has managed to accumulate 121 caps for England, which shows he's been one of England's best players. Saka also makes our list of best wonderkid right wingers in FM23. Check out our article here.
7. Jamal Musiala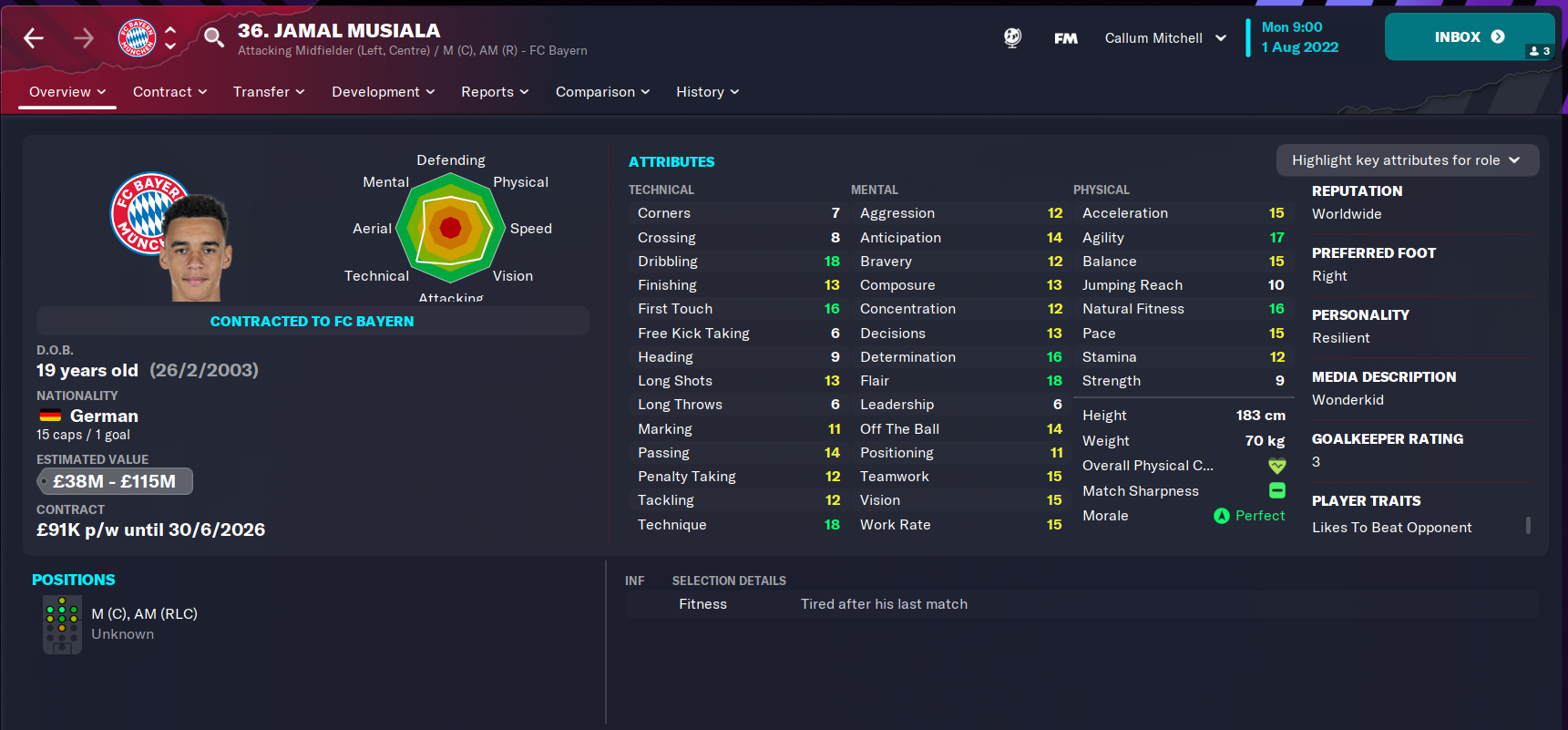 At only 19 years of age, Jamal Musiala is already a starter in a top Bayern Munich team. He has incredible versatility, especially for a youngster, which shows his football intelligence. This is reflected in his FM23 attributes, which includes 18 technique and 18 dribbling. He will cost you over £75 million if you want to sign him in your first season.
Jamal Musiala FM23 in 2032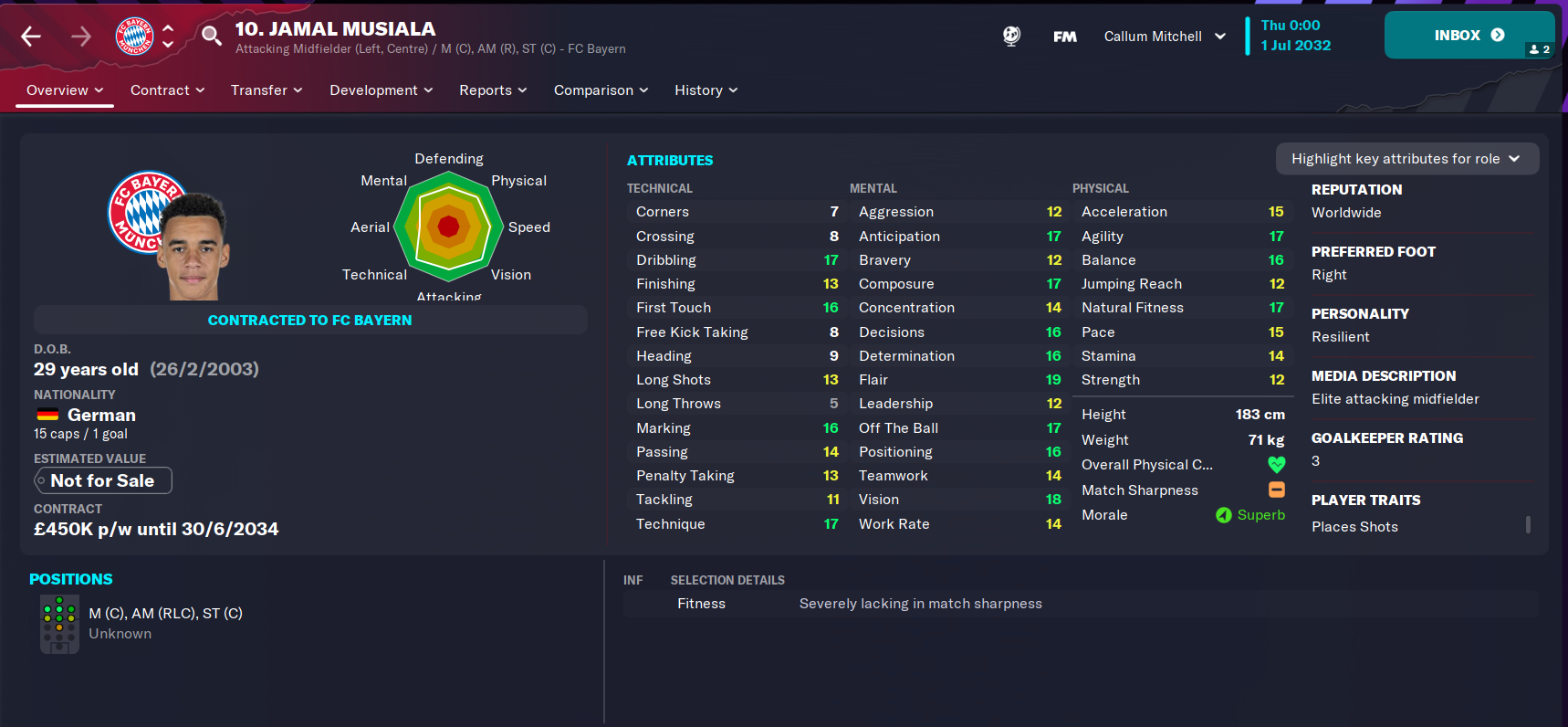 Jamal Musiala turns into an excellent all round midfielder, with his marking increasing from 11 to 16! However, once again it's a wonderkids' mental attributes that standout. His 19 flair means he can create something out of nothing, and combined with his high dribbling he can easily go past defenders. A top player that can play anywhere in midfield or on the wings. You could even try Musiala up front!
6. Ansu Fati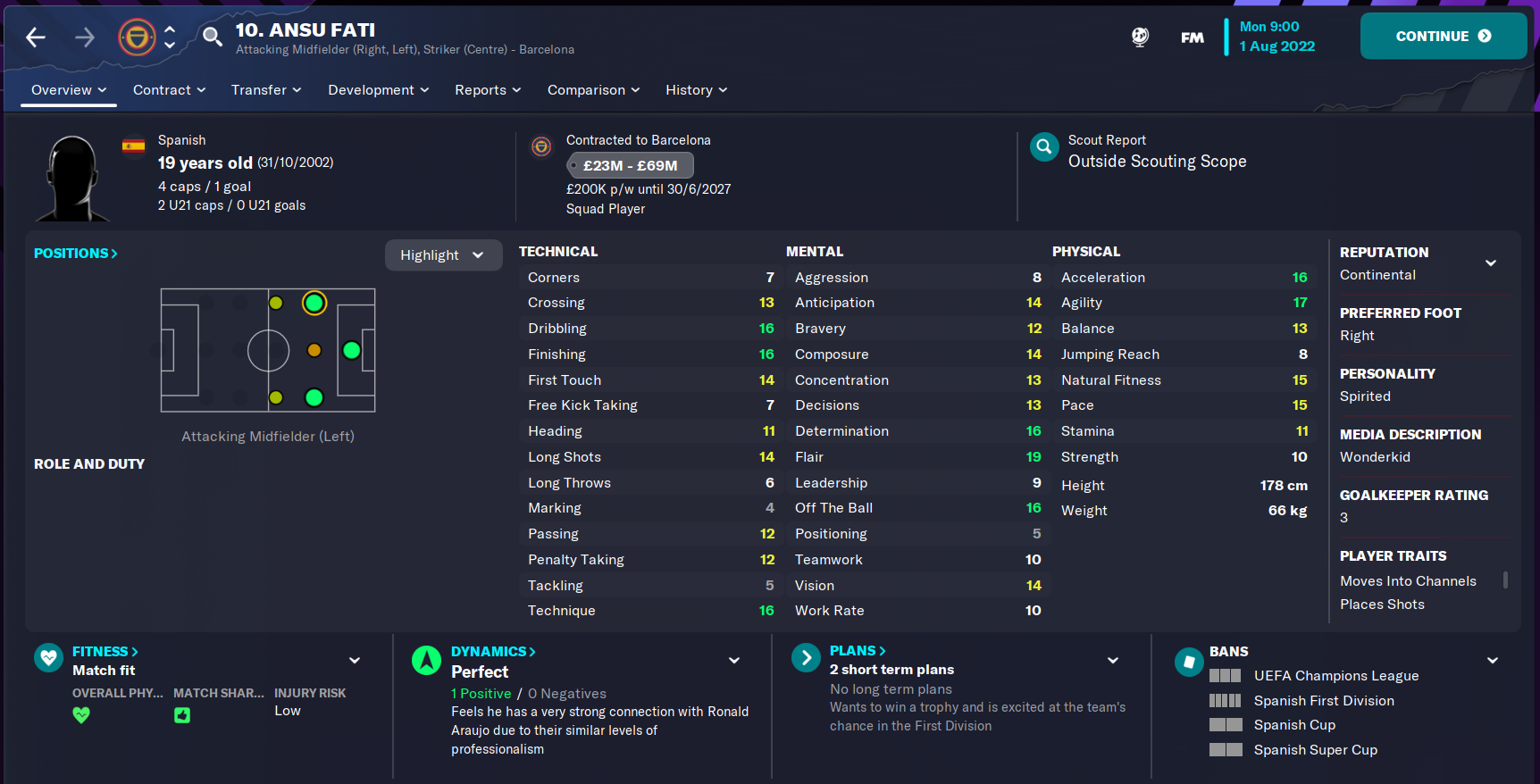 After bursting onto the scene a couple of seasons ago, Fati has been riddled with injuries. That being said, he's definitely still one of the most exciting wonderkids in the world. For a teenager, he already has fantastic pace, dribbling and finishing attributes, which means he could be a viable option across any of the front 3 positions. In your first season Fati would cost you £45 million, which is actually quite reasonable for a player of his quality. However, he has extremely high wage demands.
Ansu Fati FM23 in 2032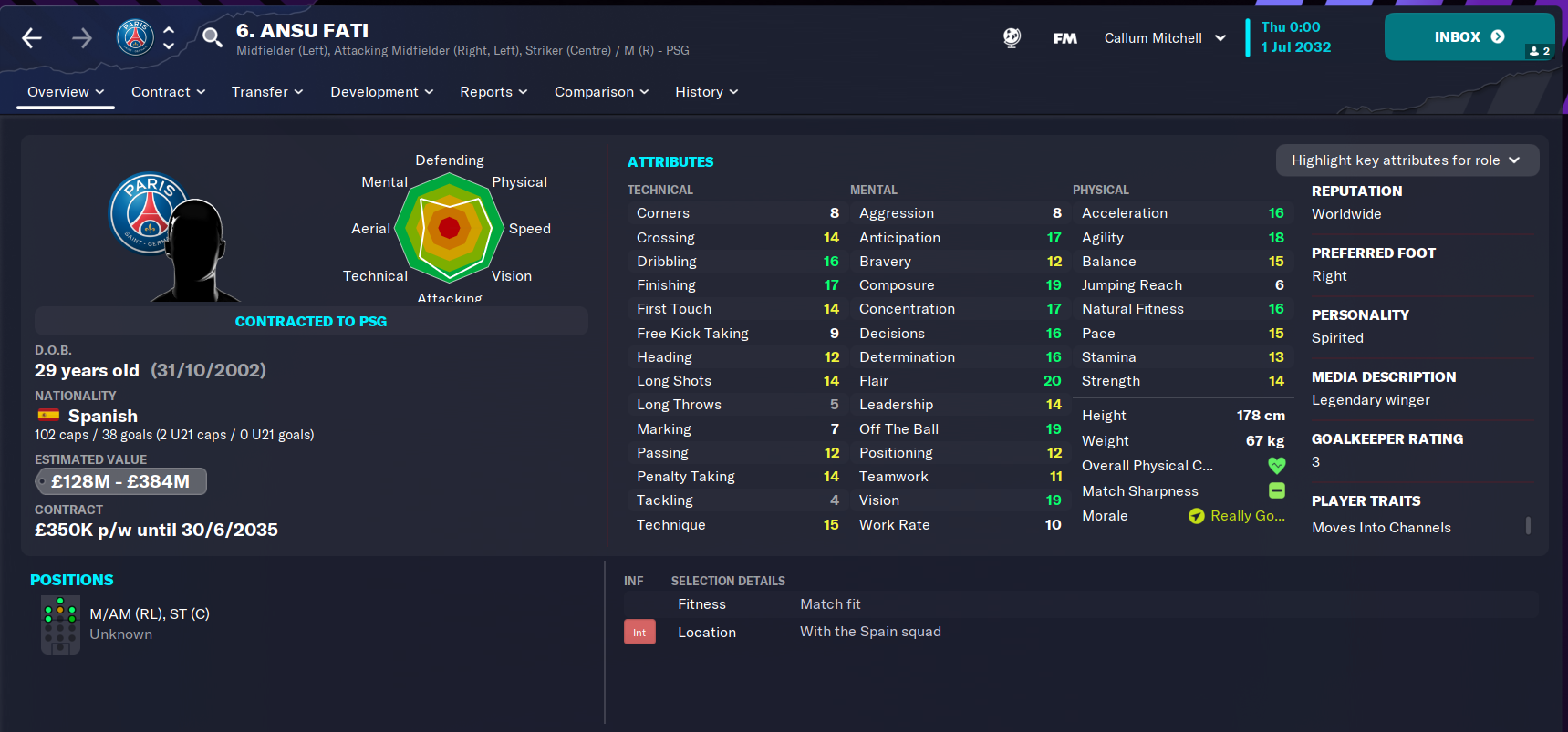 In 2032, the media describe Ansu Fati as a legendary winger, and for good reason! He has all the top attributes to be arguably the best winger in the game. This combined with 17 finishing, 19 composure, and 16 decisions means Fati gets goals and assists for fun.
If you decide to sign Fait, you'll need a wonderkid left back to play behind him!
5. Pedri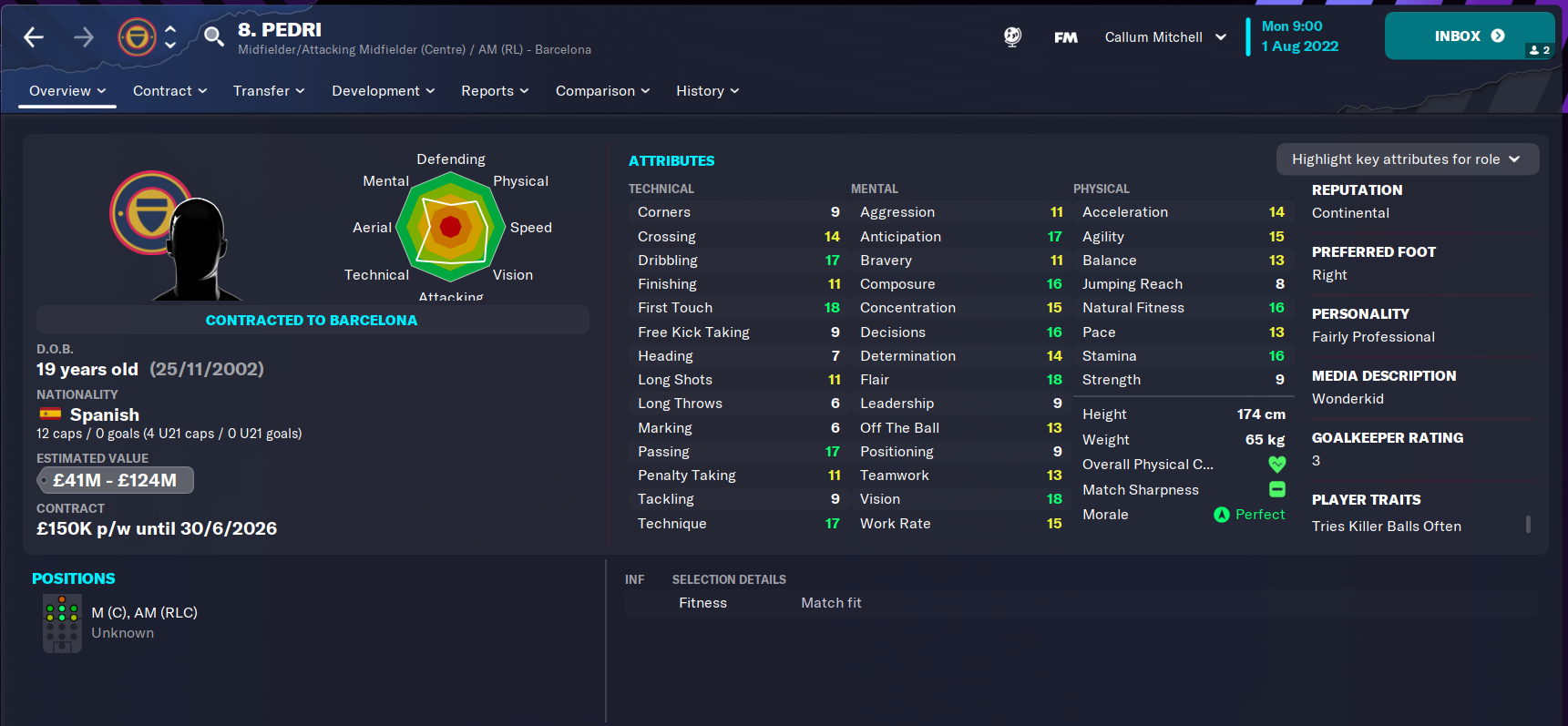 Another Barcelona wonderkid, Pedri is one of the most technically gifted wonderkids in FM23. At just 19 years of age, he already possesses world class passing, vision, and flair, which are 3 key attributes for an attacking midfielder. Pedri will cost you over £80 million if you want to sign him in your first season.
Pedri Fm23 in 2032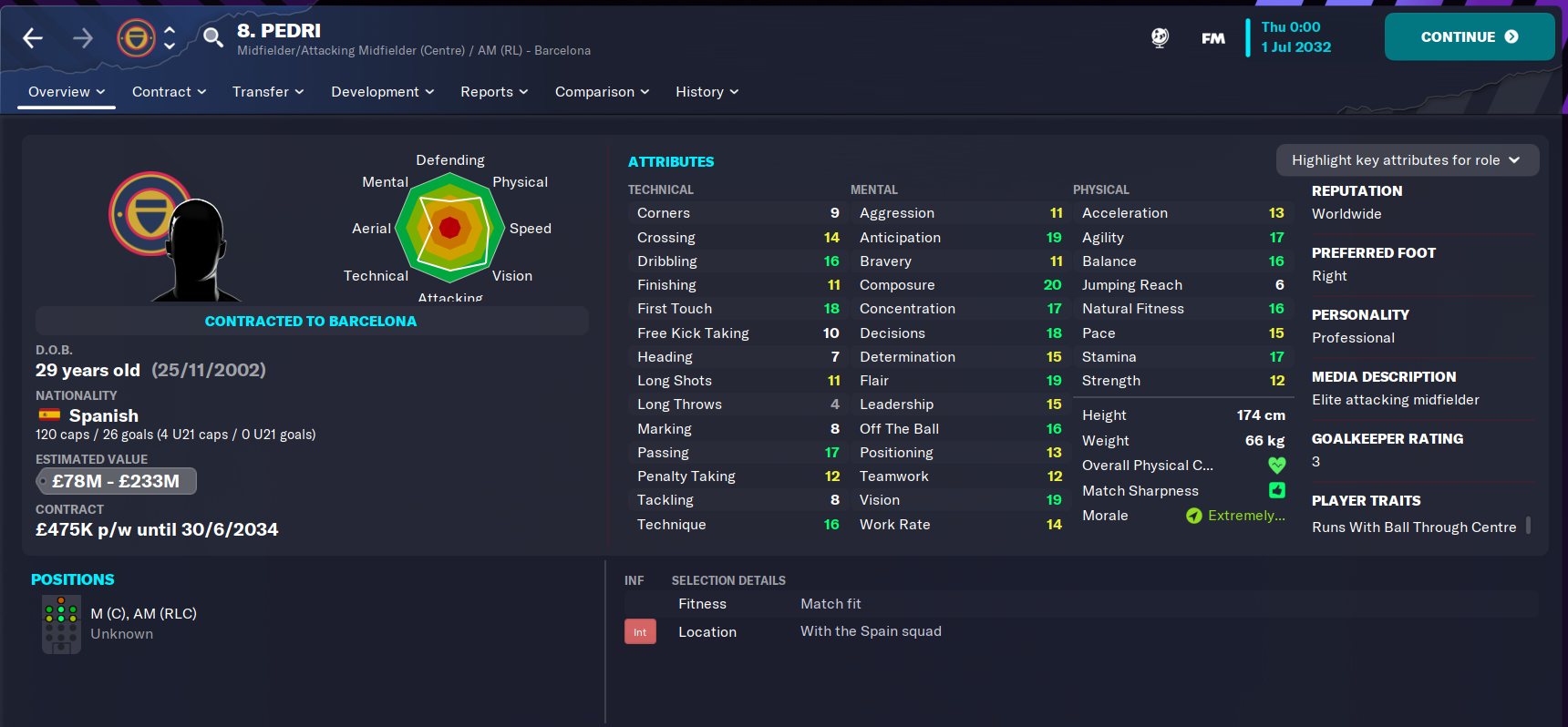 After 10 seasons, Pedri develops into arguably the best attacking midfielder in FM23. In our simulation Pedri managed over 10 goals and 10 assists in all competitions in most seasons, which is exactly what you'll be looking for in your attacking midfielder. He also had an average rating of over 7.30 in every season, showing his fantastic consistency.
Unsurprisingly, Gavi make our list of the best FM23 wonderkid CAMs.
4. Endrick – The Youngest FM23 Wonderkid On This List!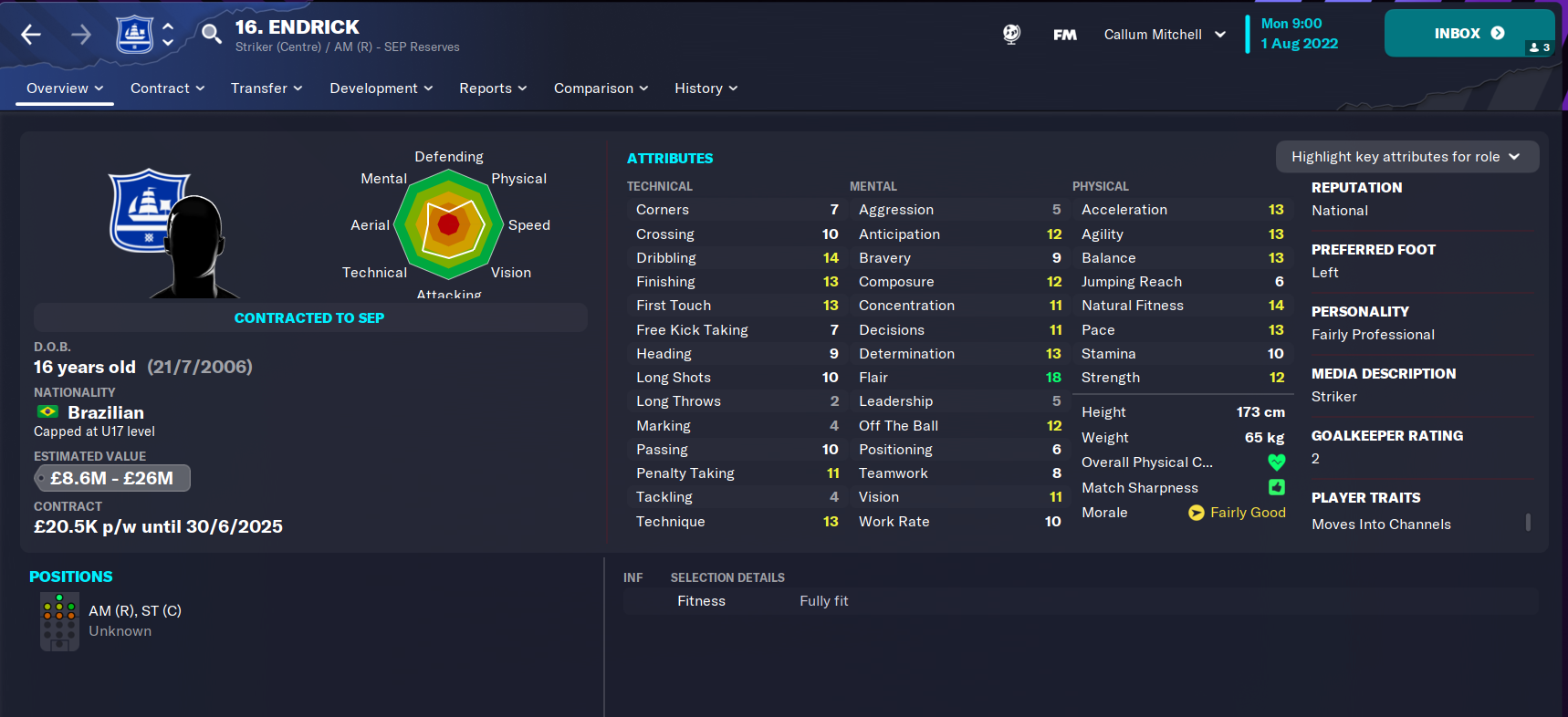 A completely new wonderkid to Football Manager is Endrick. He's caught the eye of the worlds best teams already in real life, with his exceptional flair and dribbling ability. Again this is reflected in his FM23 profile. In your first season you can sign Endrick for under £20 million, which sounds like a lot of money for a player his age, but he's one of the most exciting teenagers in FM23. Arguably the best of the FM23 wonderkids at his age.
Endrick FM23 in 2032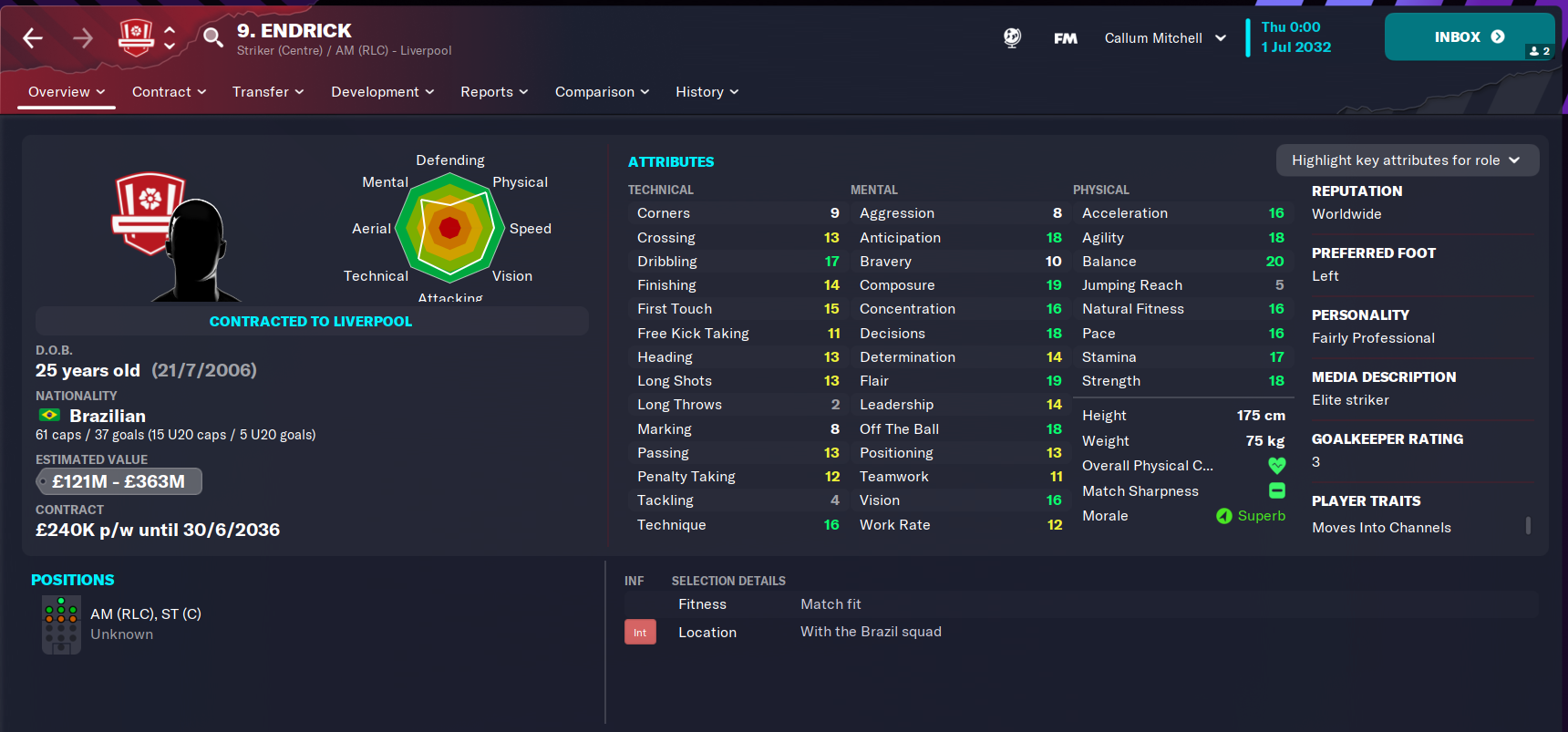 You can see that Endrick's potential means he has the ability to become one of the best players in Football Manager. Apart from his jumping reach, his physical attributes are outstanding. 18 strength for a striker means even for a smaller player he's great at holding up the ball. You may be concerned about his 14 finishing, but that doesn't matter due to his 19 composure, 16 technique and rapid pace.
3. Eduardo Camavinga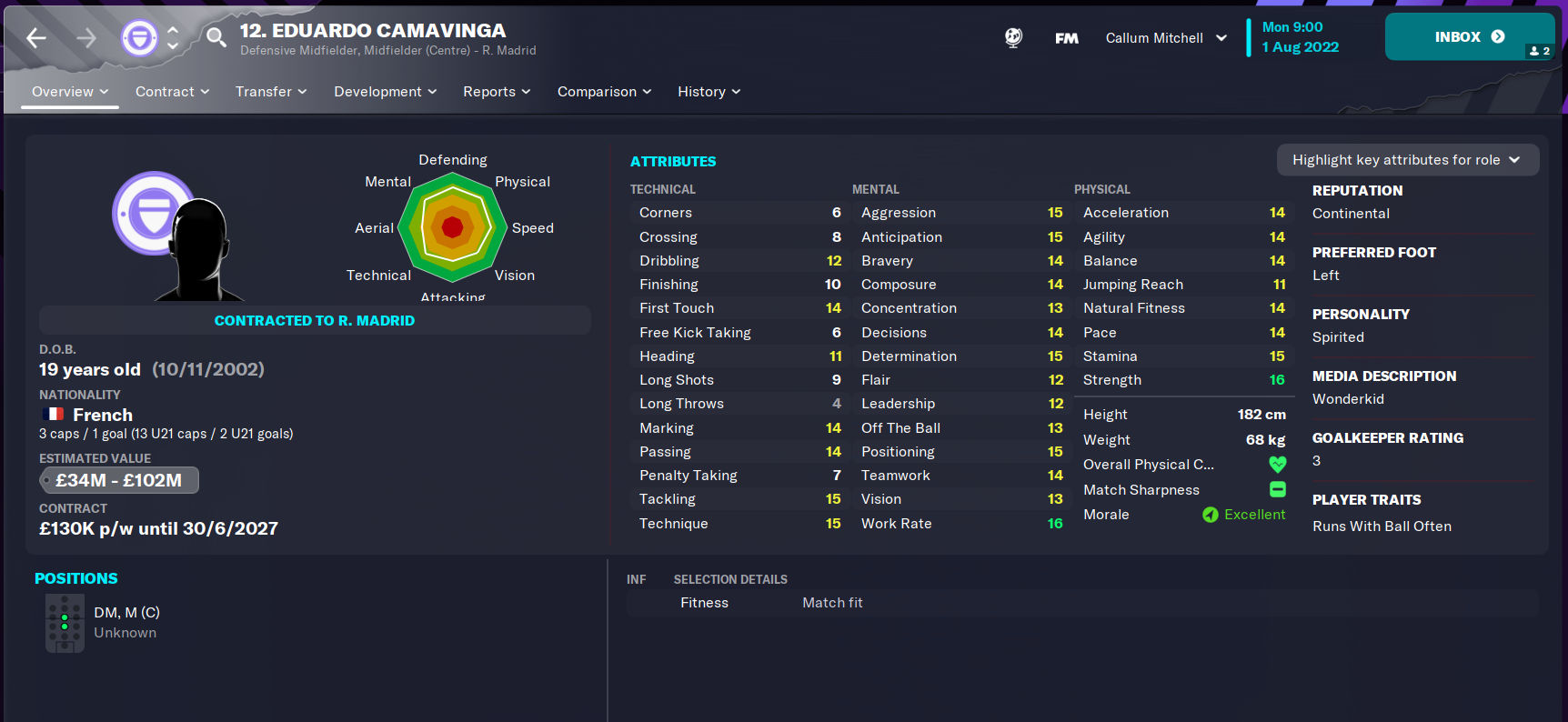 Into the top 3 now, and I'm sure you won't be surprised to see Eduardo Camavinga near the top of our list. Already impressing after just one season at Real Madrid, he already has well rounded mental, and physical attributes. Camavinga is unsurprisingly difficult to sign in your first season, costing over £60 million.
Eduardo Camavinga FM23 in 2032
You can clearly see why Camavinga has made our top 3. His physical and mental stats which were already great at 19 years old, but become world class after 10 seasons. The only reason he doesn't rank higher in the list is because his technical attributes could be a little bit better. However, Camavinga is a CDM, and his marking, tackling, and passing, are more than good enough.
2. Jude Bellingham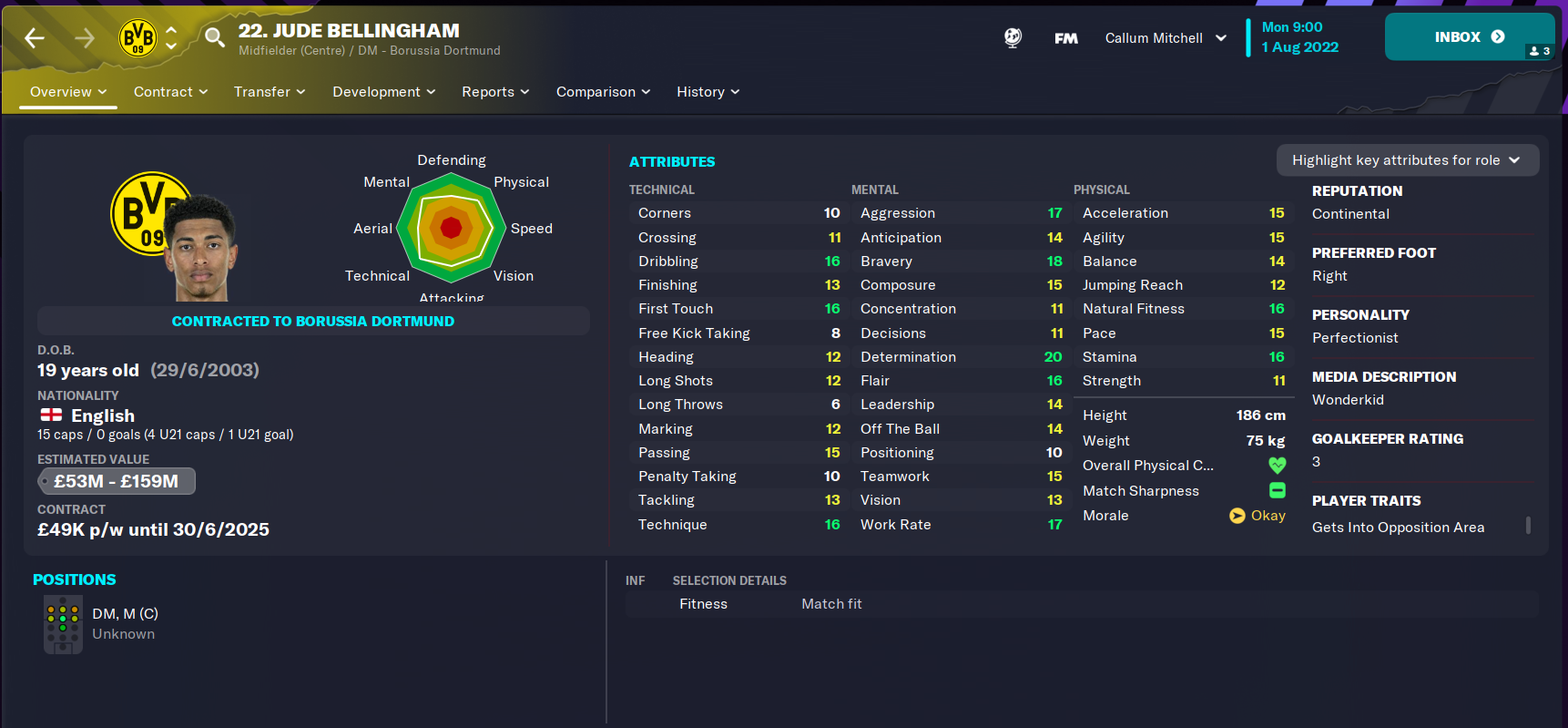 Jude Bellingham was arguably the best wonderkid on FM22, and FM23 he's still near the top. At 19, he already has the ability to start for any team in the world. His excellent determination and work rate mean he always gives 100% on the pitch and in training. Bellingham has brilliant technical, mental, and physical attributes. To sign Bellingham in your first season will cost you over £100 million!
Jude Bellingham FM23 in 2032
In 2032, Bellingham has 8 mental attributes over 17, which is insane. He becomes such a well rounded footballer, you could play him in any central midfielder role and he would excel. In our simulation, Bellingham has managed to get 126 caps for England at just 29 years of age. His brilliant stamina and natural fitness means he'll still be top class way into his 30s. You'll struggle to find other FM23 wonderkids with these mental attributes.
1. Youssoufa Moukoko – The best FM23 wonderkid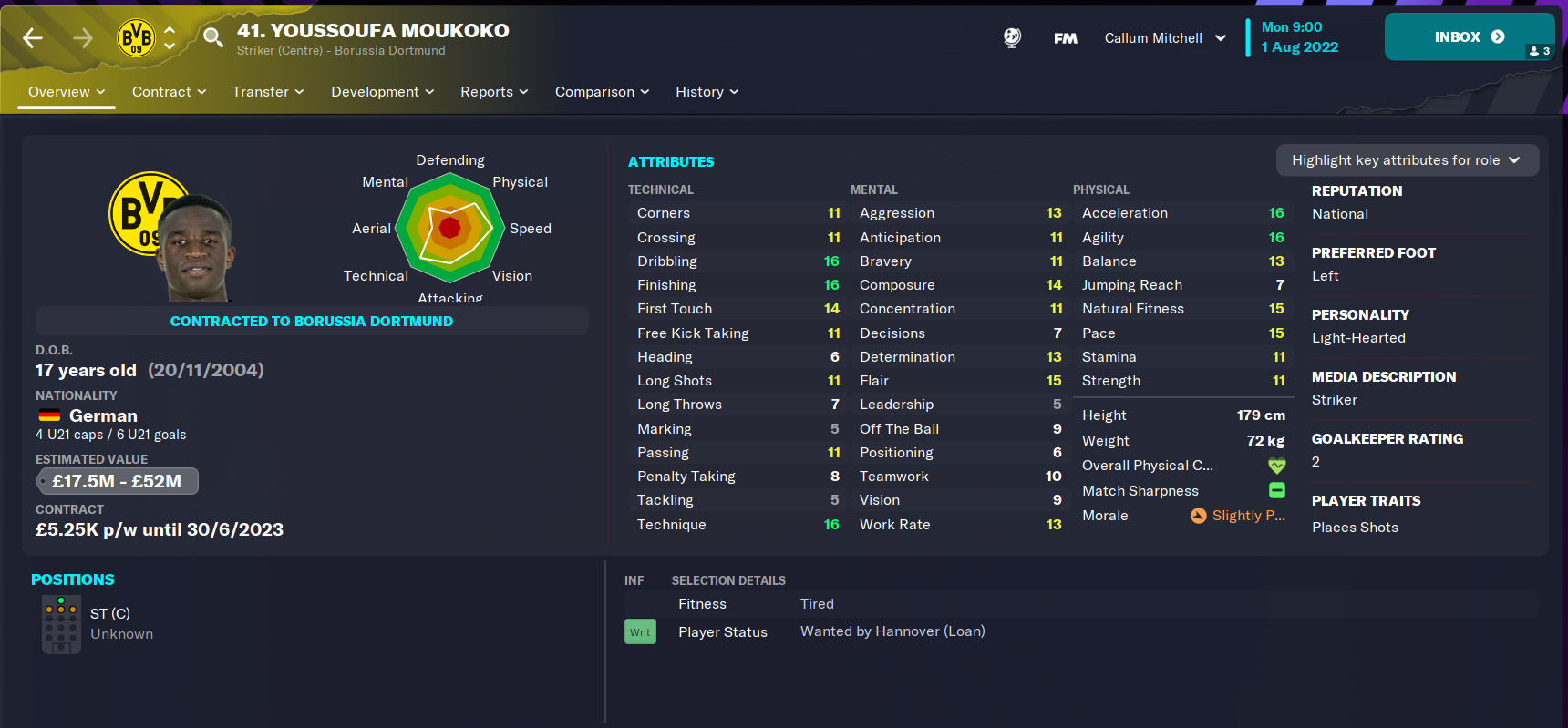 The best wonderkid in FM23, Moukoko already possesses better finishing attributes than most strikers in their prime. If you didn't use Moukoko in FM22, make sure to give him a try in FM23, I'm sure you won't be disappointed. He's available to sign in your first season for £35 million. However, he only has 1 year left on his contract, so if he becomes unhappy at Borussia Dortmund, you may be able to snap him up on a free in your 2nd season.
Youssoufa Moukoko FM23 in 2032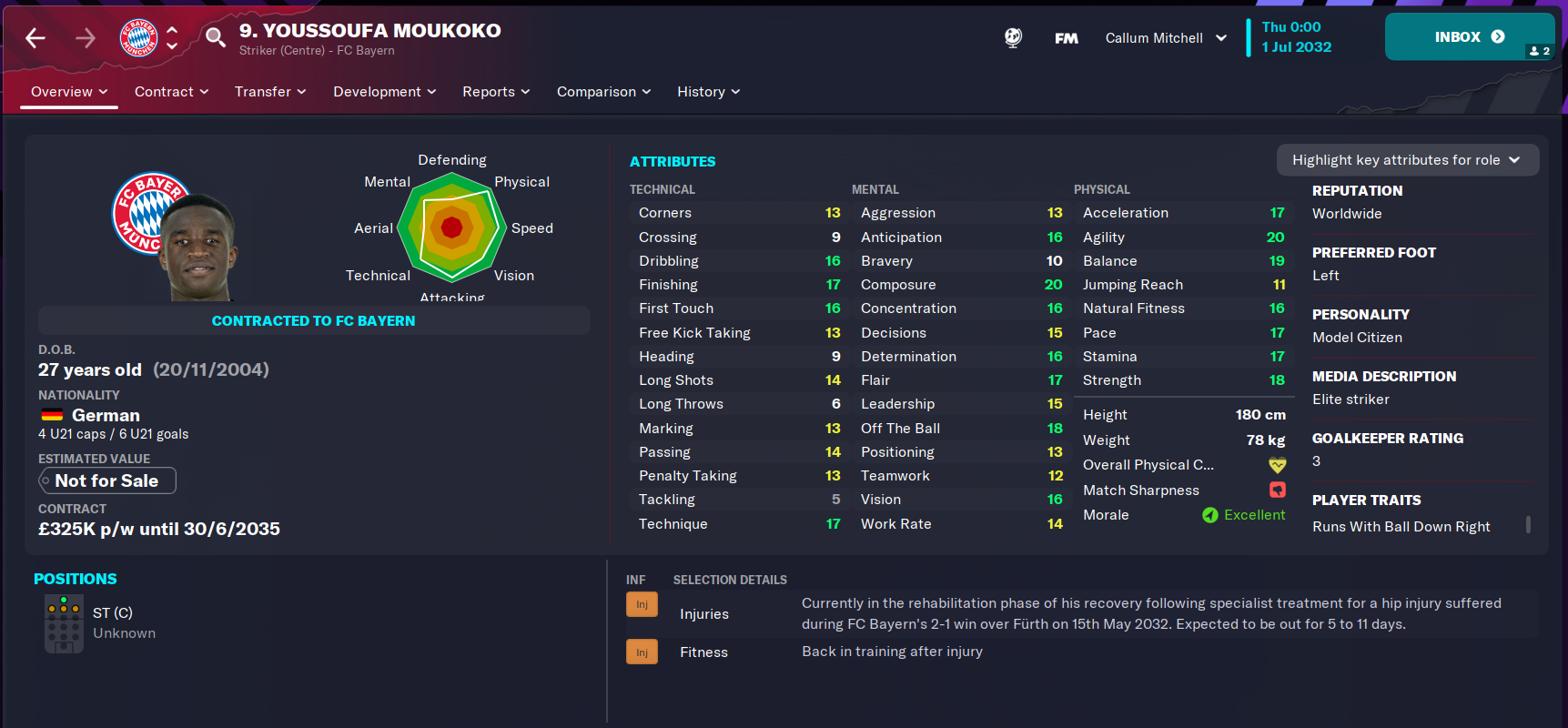 Moukoko's physical attributes after 10 seasons are incredible. You won't find any FM23 wonderkids with better physical attributes. His model citizen personality has allowed him to develop into a world class striker. Moukoko in his prime has 20 composure which means he's extremely calm in front of goal. His high agility, flair, and pace mean he's great at running past defenders with the ball, and his 17 finishing and technique means he can score from all angles. A truly phenomenal wonderkid that you must sign.
Final Thoughts on the Best FM23 Wonderkids
Is there anyone you think we missed on our list? Who's your first wonderkid signing on FM23 going to be? Let us know in the comments.
You may have noticed that there were no centre backs featured on our list. If you're looking for centre back wonderkids in FM23, click here.
Please also note that Football Manager wonderkids could develop differently in your save. There could be better wonderkids, and some of the players on this list may not reach their full potential.