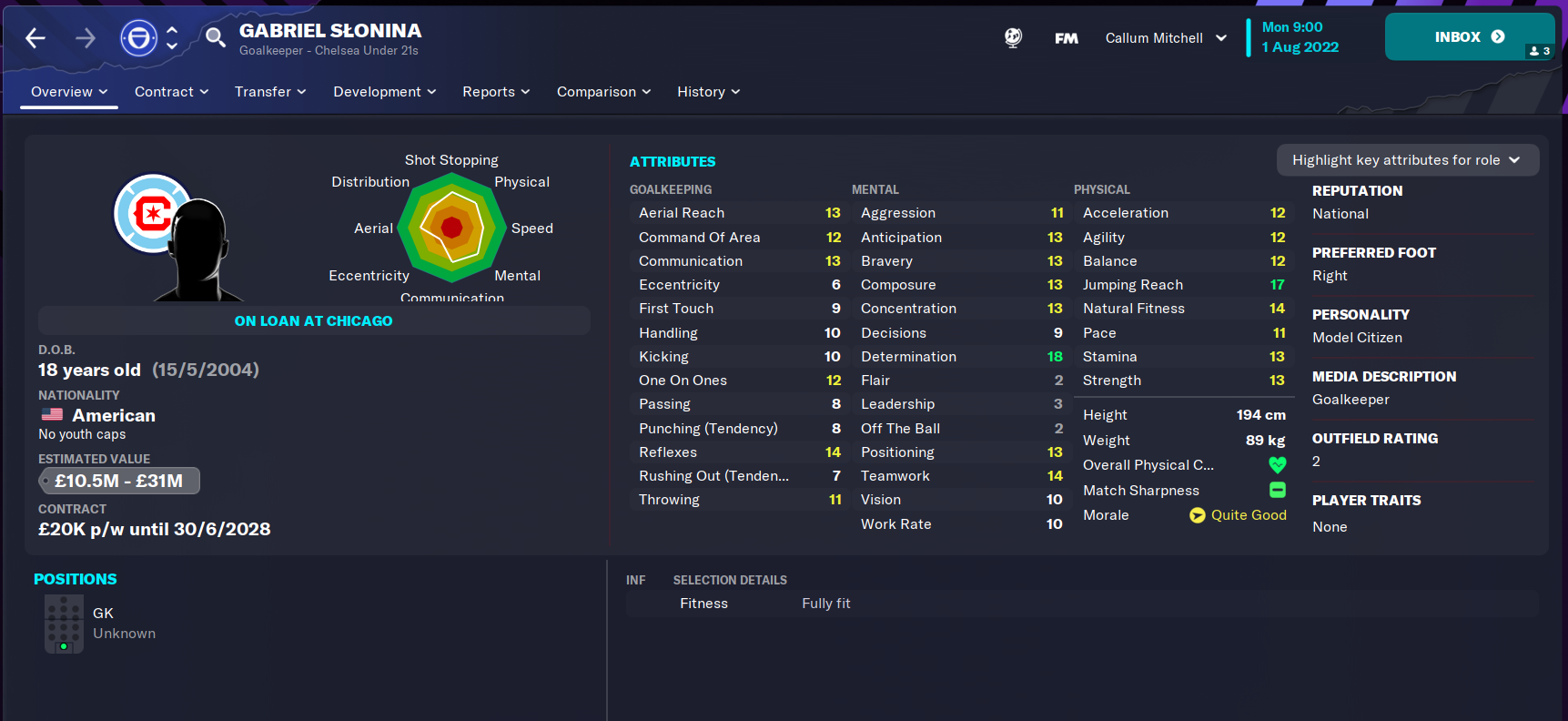 7 Best FM23 Wonderkid Goalkeepers You Must Sign!
By callum | October 27, 2022 | 1421 Views
Top 7 Wonderkid Goalkeepers in FM23
A goalkeeper is one of the most important positions in Football Manager. A bad goalkeeper can make regular errors and cost you valuable points, which is why you must invest in the position. The quantity of FM23 wonderkid goalkeepers is surprisingly low, but we've done the hard work and found you the 7 best wonderkid goalkeepers in FM23. Read on to find out how much these wonderkids will cost you, and how they could look if they reach their full potential.
If you've not bought Football Manager 2023 yet, make sure to do so here which is cheaper than if you purchase directly from Steam. You will also have full access to the FM23 Beta.
What is an FM23 Wonderkid Goalkeeper?
A wonderkid is typically a player in Football Manager under the age of 21 years old, and has the media description "wonderkid." These wonderkid goalkeepers have the potential to become some of the best in FM23.
7. Lucas Chevalier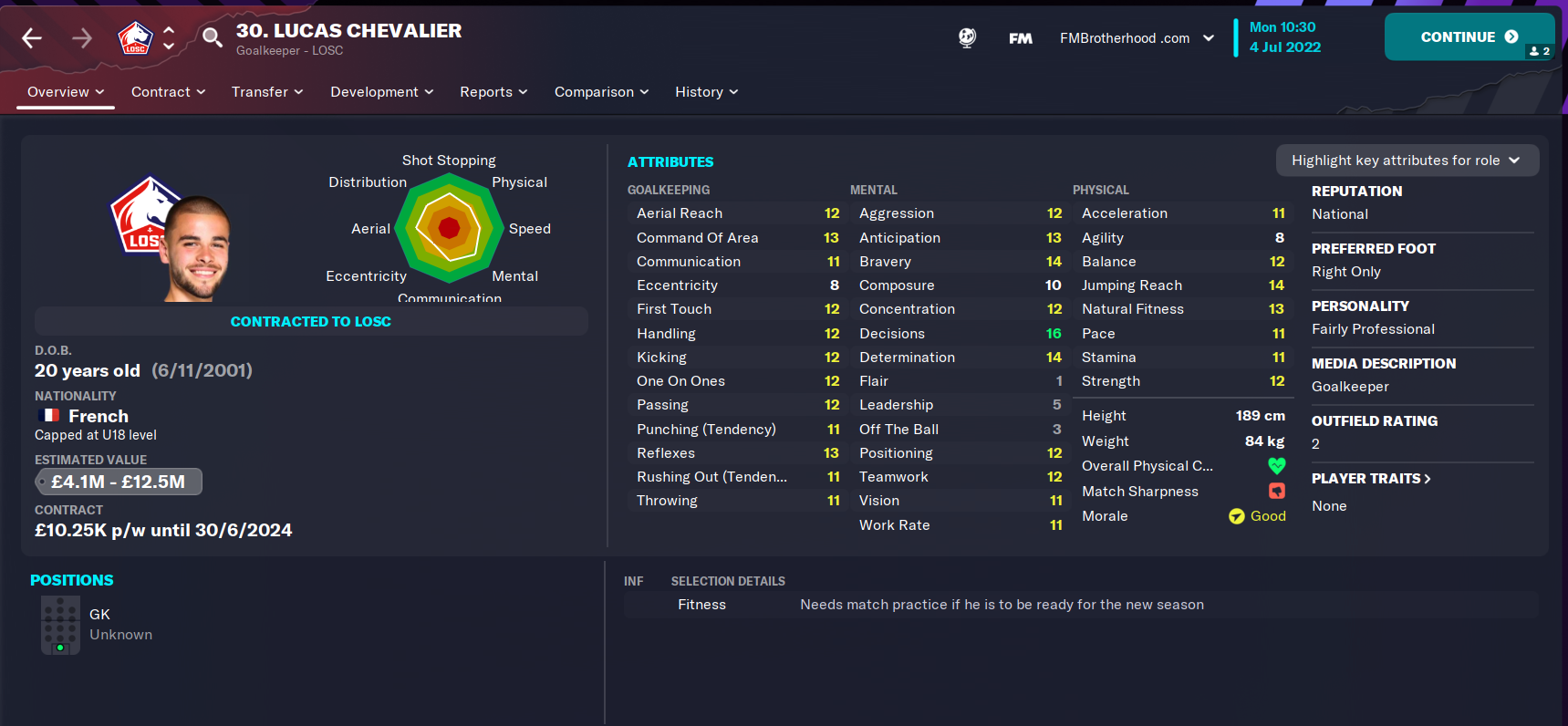 First on our list of the 10 best wonderkid goalkeepers FM23 has to offer is Lucas Chevalier. The French youth international impressed last season on loan in Ligue 2, and is almost ready to play in the top tier of French football. Chevalier's best attributes are 14 determination, 16 decisions, and 14 jumping reach.
If you're looking to sign this wonderkid goalkeeper, he'll cost you just over £8 million in your first FM23 season.
Lucas Chevalier in 2032
In our FM23 simulation, Lucas Chevalier has become a great goalkeeper that now plays for English giants Liverpool. He hasn't managed to make a first team appearance for France, however there are lots of amazing French goalkeepers so this isn't a surprise. This means that if you have this wonderkid goalkeeper there's less chance of him getting injured and he'll get a long rest over international breaks.
If we're being critical though, you would like Chevalier to have better handling and throwing.
Read on to find out the better FM23 wonderkid goalkeepers.
6. Matteo Rizzo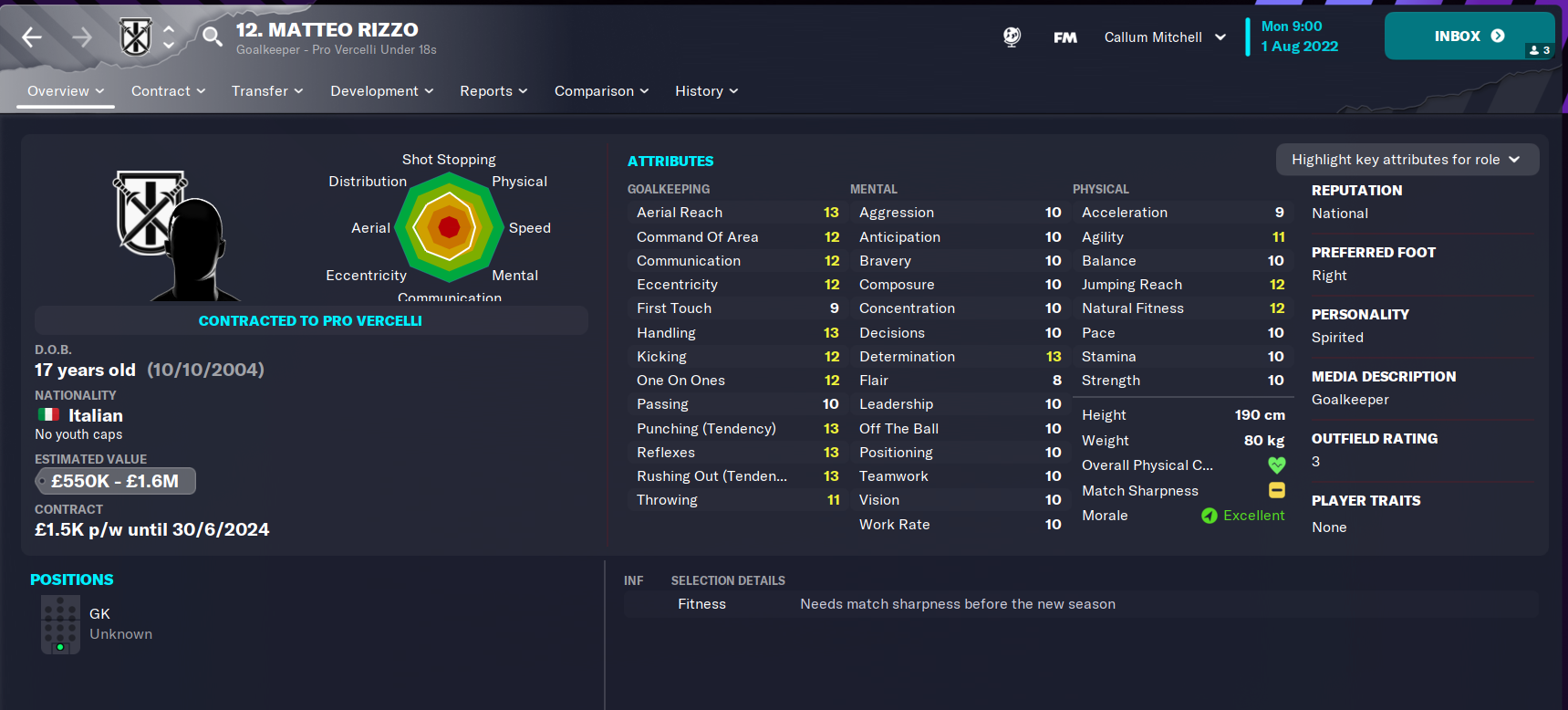 Matteo Rizzo is already playing regular first team football at only 17 years of age, which is extremely rare for a goalkeeper! Although this is in the Italian Serie C/A, it is still an impressive achievement. Rizzo has great all round attributes for a wonderkid goalkeeper, including 13 reflexes and 13 handling. However, it's clear he needs to develop his mental attributes, which are important for a goalkeeper in Football Manager. As he plays for a small club, he's available for a small fee of just over £1 million.
Matteo Rizzo in 2032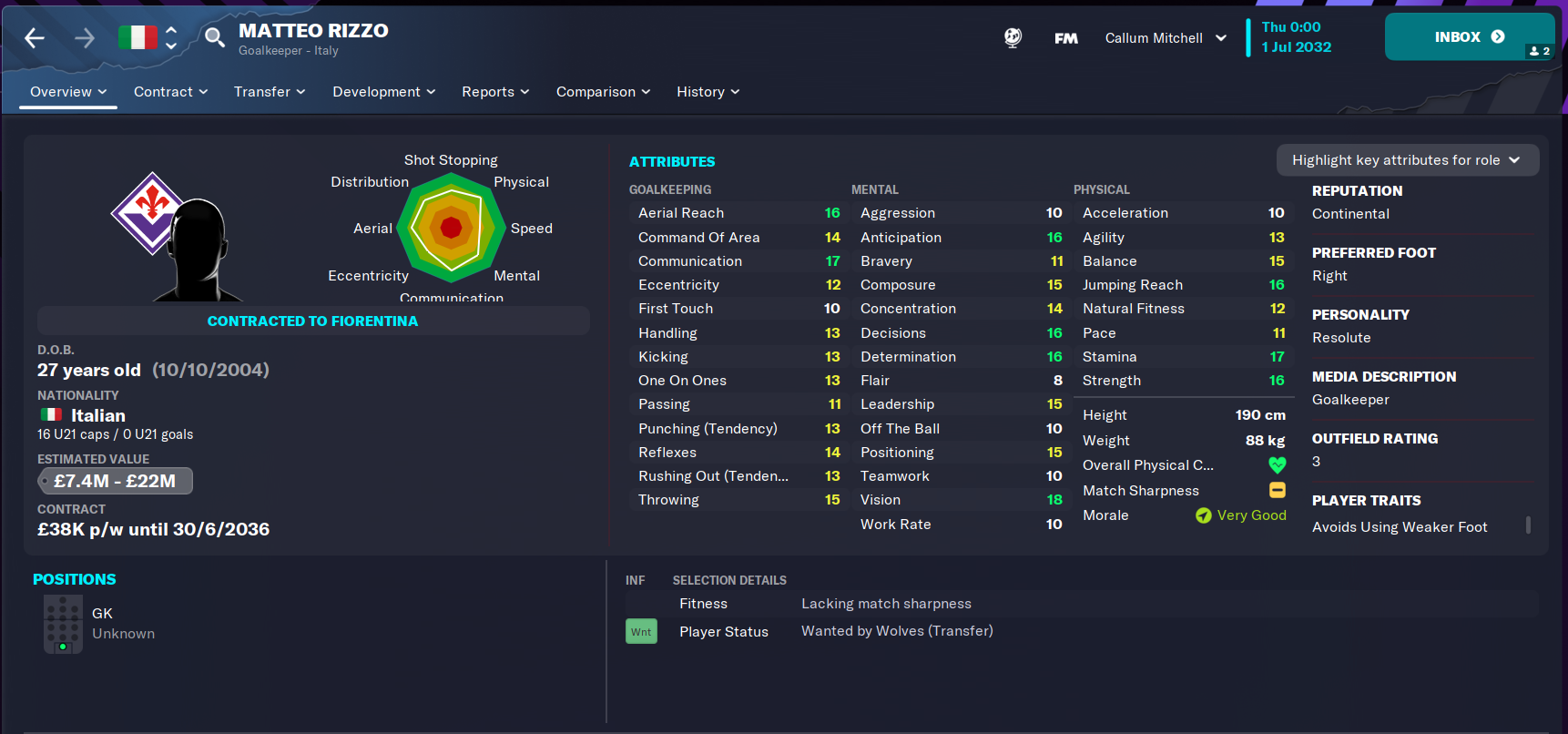 Rizzo has clearly been able to develop his mental attributes, with 15 positioning and 16 anticipation. He has high attributes in all the stats that allow a goalkeeper to command and take control of their box such as aerial reach, jumping reach, communication, and command of area. Rizzo hasn't managed to get an international cap for Italy, however it should be noted that Gianluigi Donnarumma exists…
Rizzo is a very solid Italian wonderkid goalkeeper, who is brilliant value for money on FM23.
5. Elia Caprile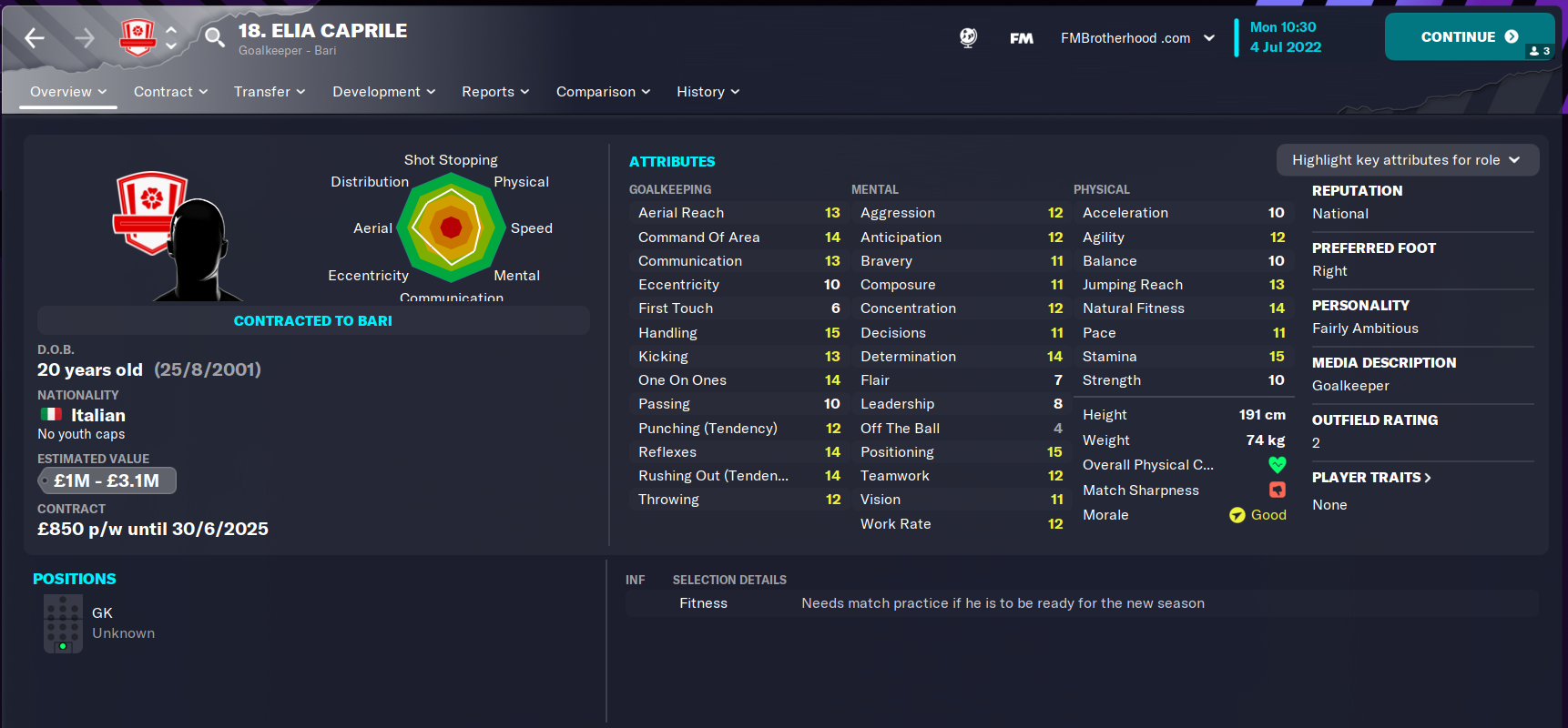 Elia Caprile is another Italian wonderkid goalkeeper with great potential in Football Manager 2023. He has some solid goalkeeping attributes, including 14 reflexes, 15 handling, and 15 positioning. Caprile is an extremely cheap wonderkid goalkeeper, only costing £2 million.
FMBrotherhood have a seperate article completely covering Elia Caprile in FM23, so make sure to check that out!
Elia Caprile in 2032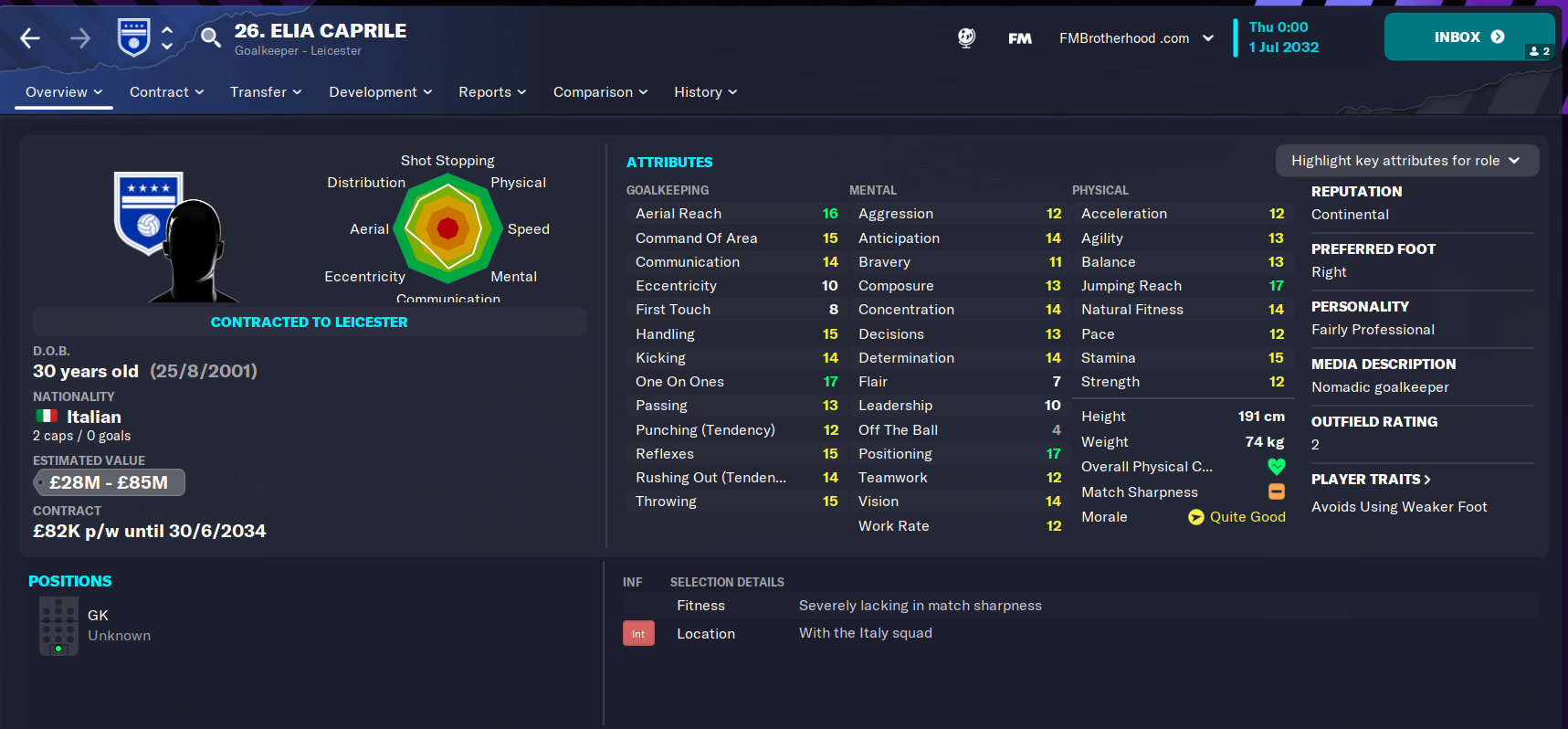 Caprile has the potential to become a really good goalkeeper in FM23. He's an excellent shot stopper, has world class positioning, and great jumping reach. However, he just slightly lacks the ability to play for some of the best teams in FM23, which is why he isn't higher on this list of the best wonderkid goalkeepers in FM23.
4. Faaris Yusufu – Cheap Wonderkid Goalkeeper In FM23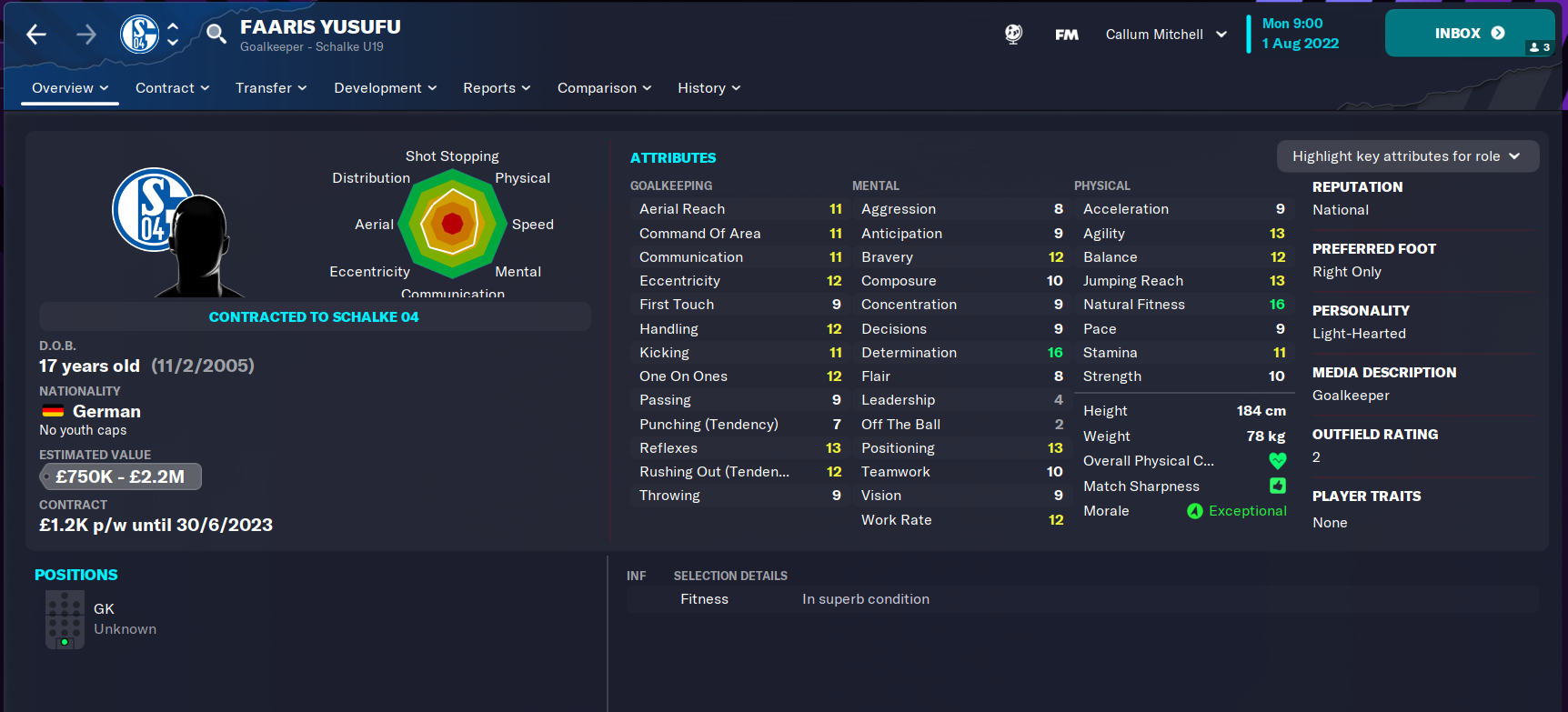 Faaris Yusufu is the second youngest goalkeeper on our list. His reflexes, one on ones, and handling are his better goalkeeping attributes as a teenager. Yusufu also has great determination, which will help him reach his full potential. Yusufu plays for a Schalke side that are currently struggling financially, and with his contract expiring in a years' time, you can pick up Yusufu for £1.5 million on Football Manager 2023.
Faaris Yusufu in 2032

Yusufu's physical attributes are outstanding for a goalkeeper. His 16 natural fitness means he'll still be a top goalkeeper in his mid 30s. Similar to Rizzo, Yusufu has great communication and command of area, which means he can take control of his box. However, his handling and kicking attributes could be better.
3. Andre Gomes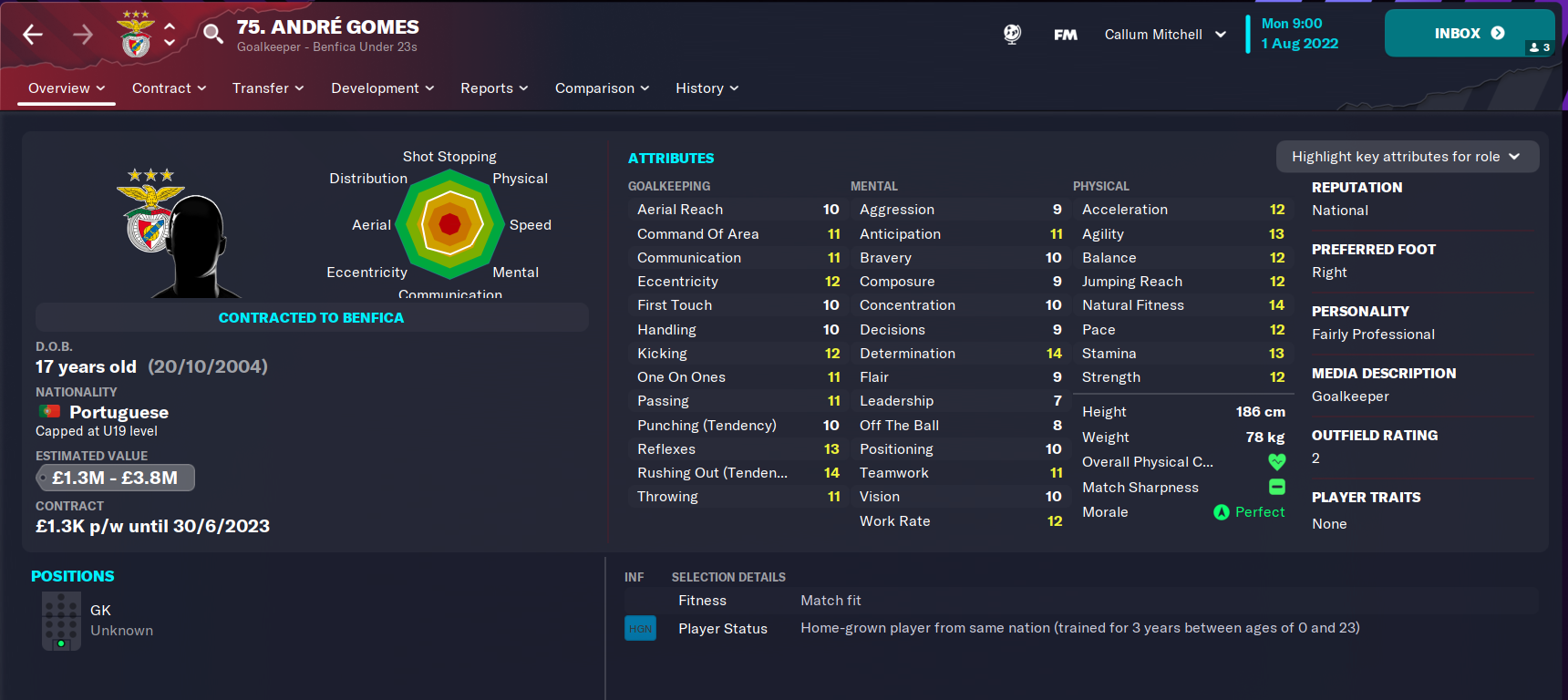 Andre Gomes was a wonderkid on FM22, and he is again on FM23. Born in 2004, Gomes already has competent physical attributes for a goalkeeper, and like Yusufu, he also has great determination. He isn't severely lacking in any goalkeeping attributes, and his eccentricity isn't too high. Andre Gomes is available to sign in the first season of your save for less than £3 million. However, his contract runs out in the summer of 2023, so there's the possibility to signing him on a free transfer.
Andre Gomes in 2032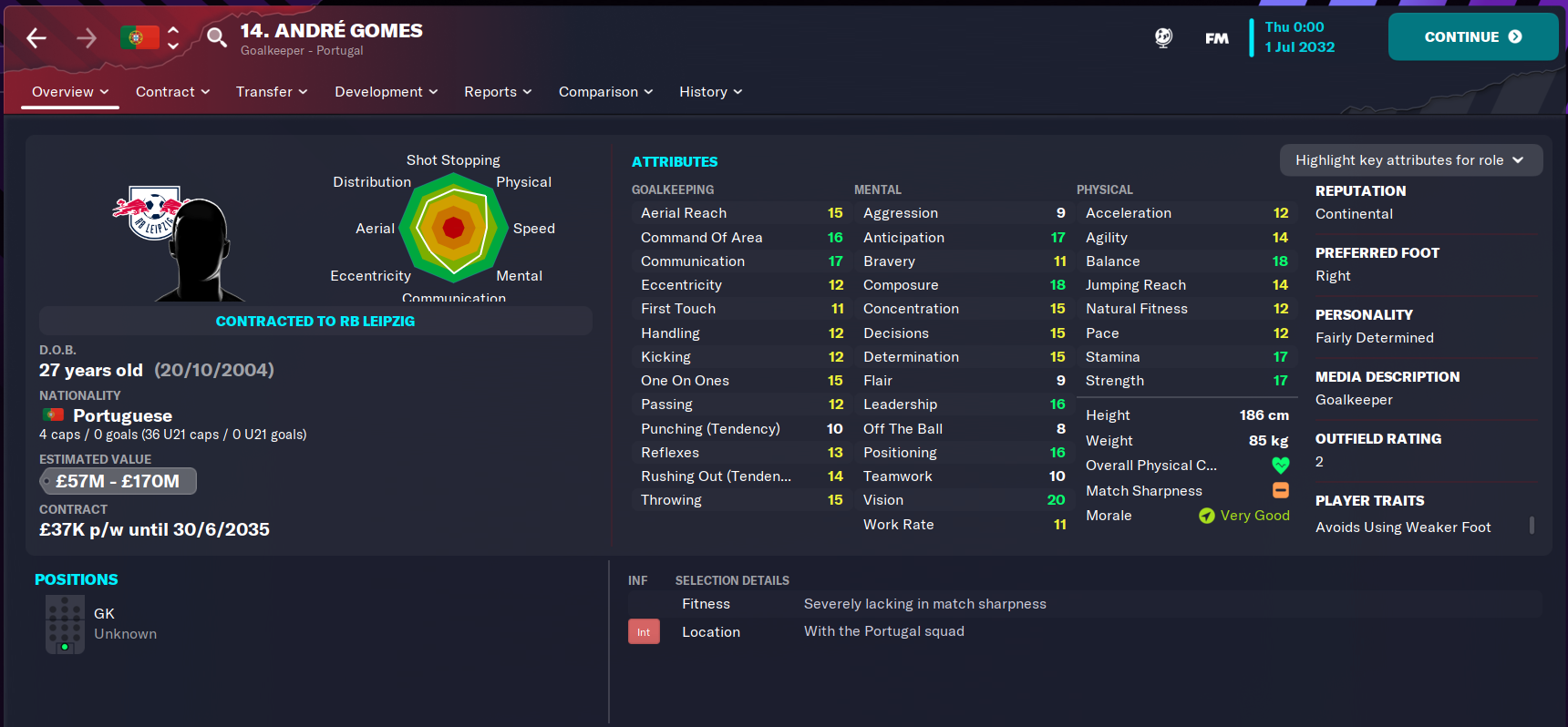 Andre Gomes becomes a top goalkeeper that would be good enough to play in the UEFA Champions League on FM23. Gomes has brilliant vision and throwing ability, which means he's great at starting counter-attacks. His other key attributes are composure, positioning, anticipation, and one on ones.
2. Gabriel Slonina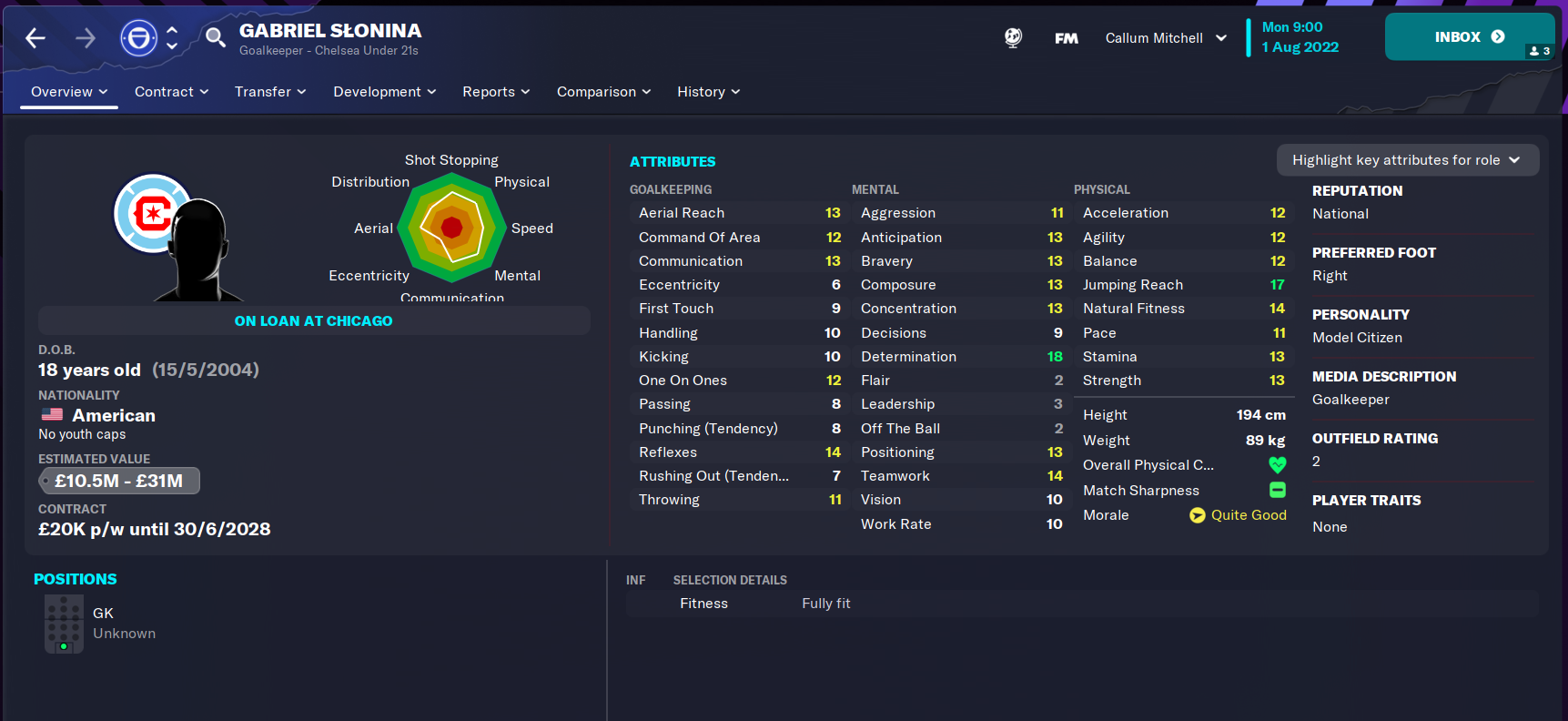 Although Gabriel Slonina is only 18 years of age, he's the oldest goalkeeper on this list. He has a model citizen personality. which is arguably the best personality for a wonderkid to have in Football Manager. Slonina has low eccentricity, which means he's less likely to do something rash! His positioning, reflexes, and anticipation are great for his age. However, his handling, kicking, and passing could do with development.
Slonina has recently signed for Chelsea, meaning you'll have to wait until the summer of 2023 if you're interested in signing him.
Gabriel Slonina FM23 in 2032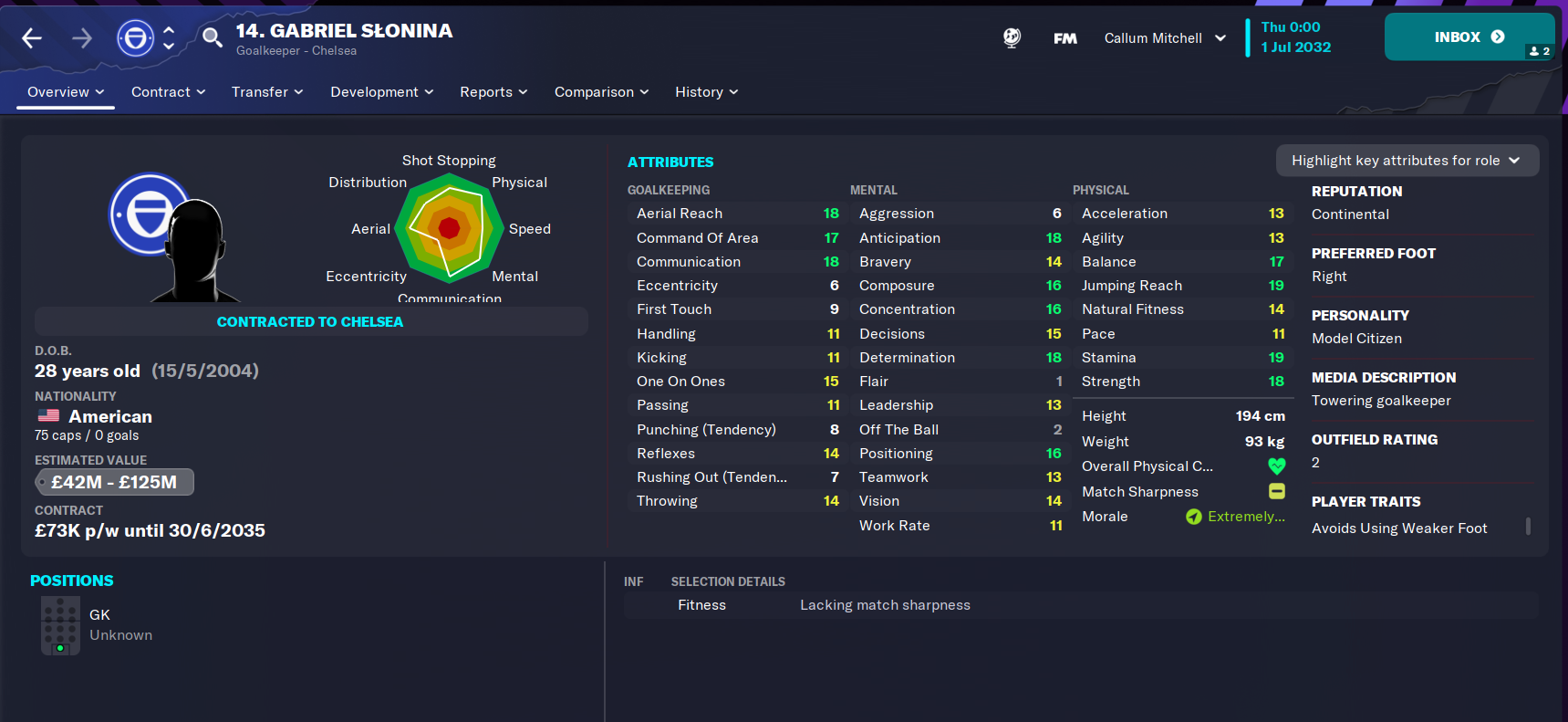 You can see that Slonina stands out compared to the other wonderkid goalkeepers on this list so far. He has fantastic mental attributes such as positioning, anticipation, composure, and concentration. The media describe Slonina as a towering goalkeeper, which is because he's almost 2 metres tall. This alongside his 19 jumping reach, and 18 aerial reach, means that Slonina is great at catching crosses.
An excellent wonderkid goalkeeper to look out for in your FM23 save, however he's one of the most expensive goalkeepers on this list.
1. Dennis Seimen – The Best FM23 Wonderkid Goalkeeper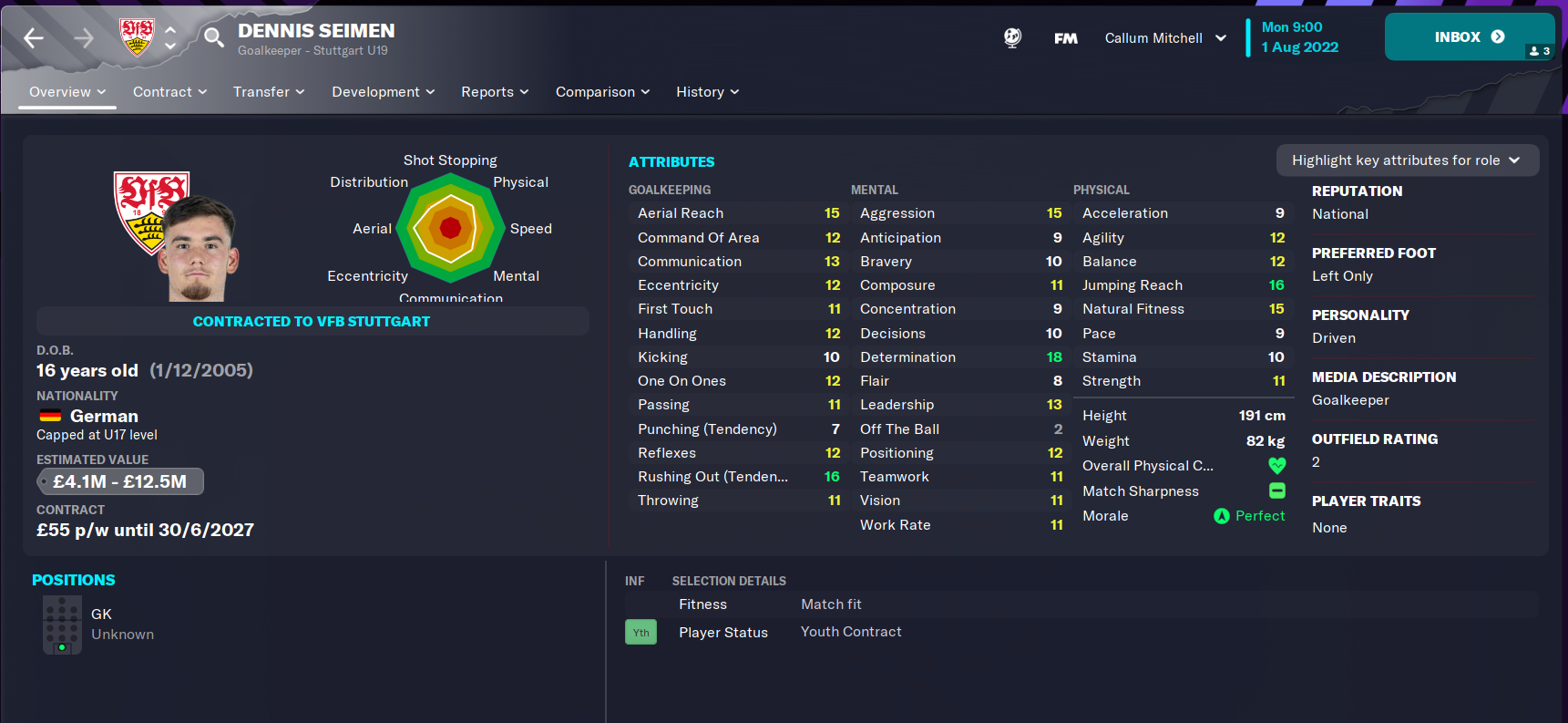 The youngest goalkeeper on our list, Dennis Seimen was the only goalkeeper to make our best wonderkids in FM23 list. Seimen already has terrific all-round goalkeeping attributes at just 16 years of age, including 12 one on ones and 15 aerial reach. He also has high determination and a driven personality. However, his concentration and anticipation need further development.
Altough he's younger, Seimen is more expensive than Rizzo, Yusufu, and Gomes, costing over £8 million in FM23. Very expensive for a 16 year old. However, you'll see why he's worth the price tag.
Seimen in 2032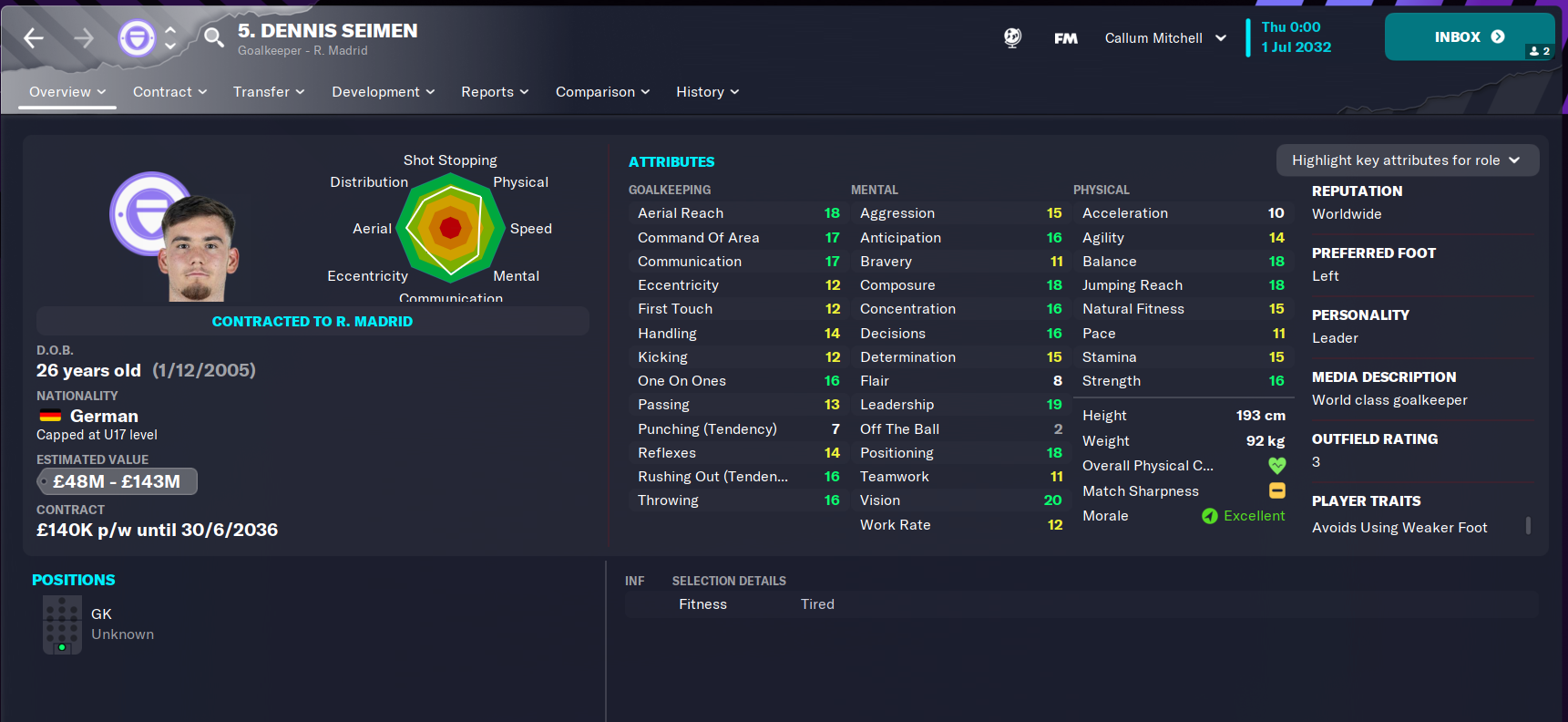 You can see why Seimen take the top spot on our list. He has excellent one on ones, positioning, and composure. Seimen has also been able to significantly improve his concentration from 9 to 16. Seimen has managed to secure a move to Real Madrid, which proves he's become one of the best goalkeepers in Football Manager. There are no standout flaws in Seimen's attributes at only 26 years of age.
Final Thoughts on FM23 Wonderkid Goalkeepers
These are the goalkeepers that made our top 5 wonderkid list. Any of these goalkeepers would be ideal for your team if you're managing a side in any of the top 5 European leagues. As previously mentioned, there aren't a lot of young wonderkid goalkeepers on FM23, so make sure to snap one up asap before you're struggling to find a top goalkeeper.
If you want to see some more wonderkid goalkeepers, watch the video below.