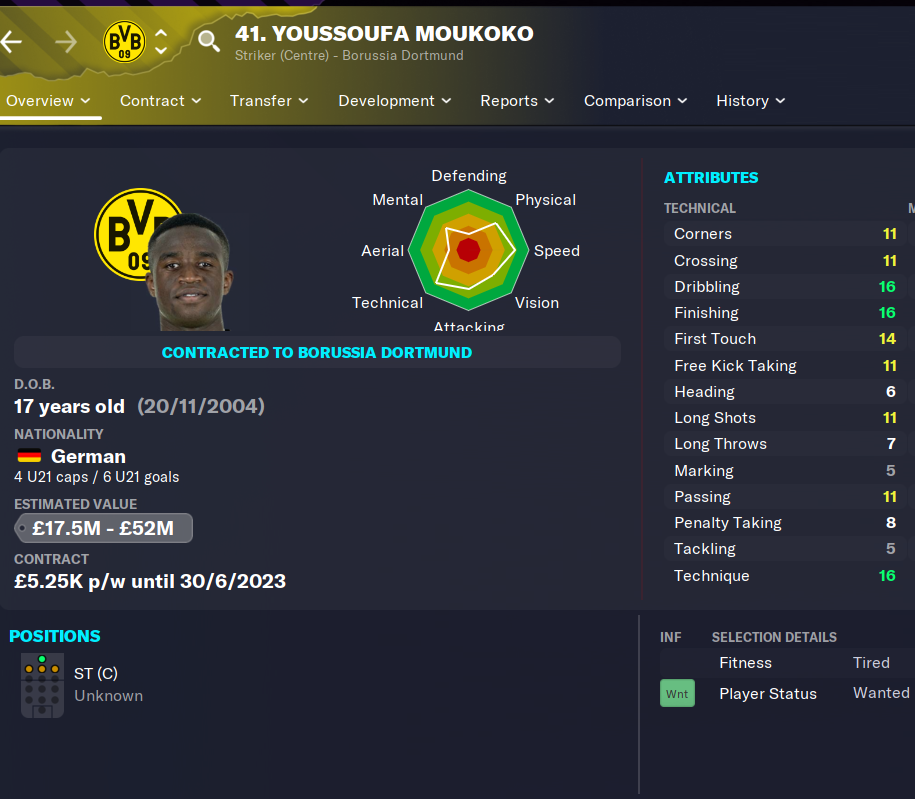 5 Best FM23 Wonderkid Strikers you must sign!
By callum | November 12, 2022 | 104 Views
Best Striker Wonderkids in FM23
FM23 is finally here! With a new Football Manager comes new wonderkids to sign for your team. We've done the hard work and holidayed 10 years into the future to 2032, to see which wonderkid strikers fulfil their potential. Here are the 5 best wonderkid strikers in FM23, and what they could look like in your save after 10 seasons.
If you want to check out the best wonderkid goalkeepers in FM23, check out our article here.
What is a Wonderkid in FM23?
A wonderkid is a young player in Football Manager that has the potential to be one of the best players in the world. The players we've selected are under the age of 20 when you first load up your save.
5. Vitor Roque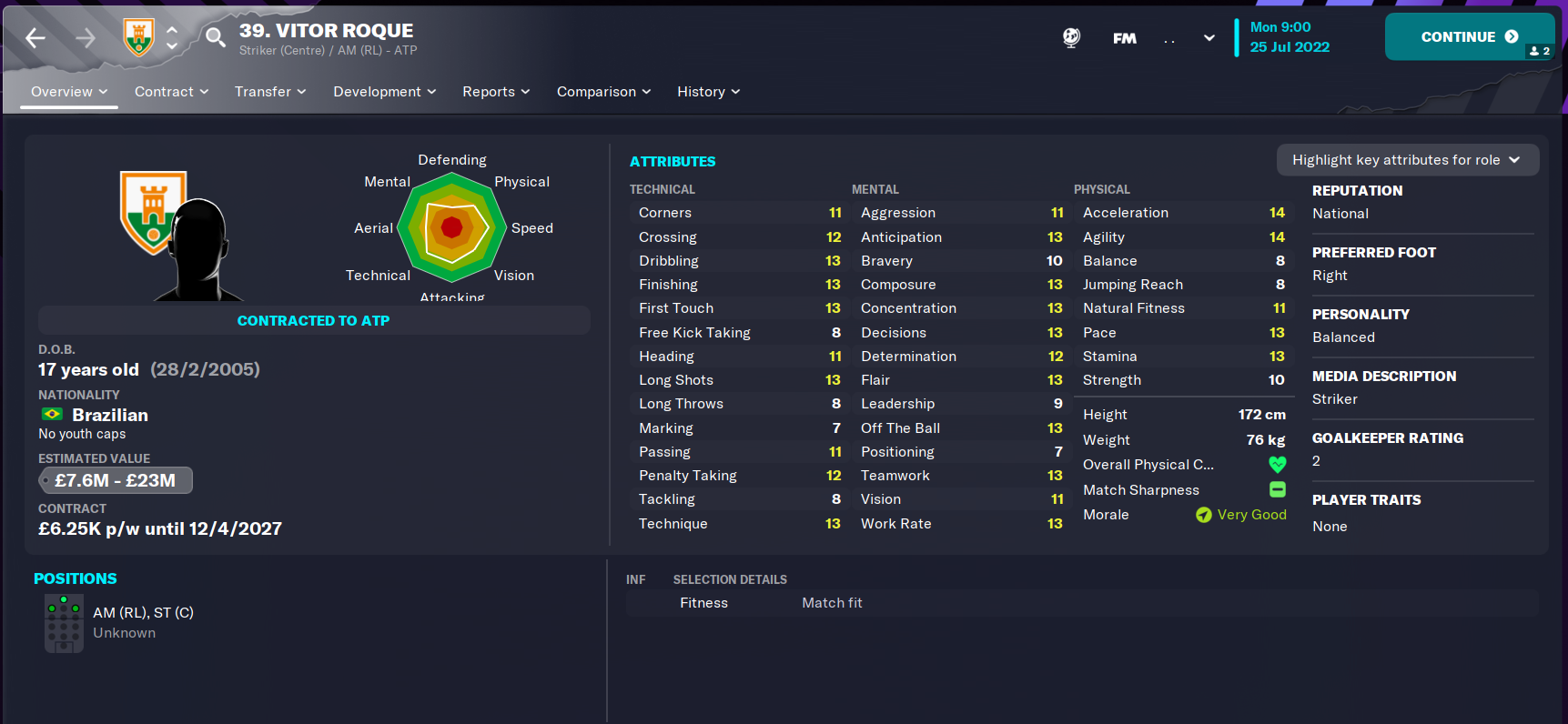 Vitor Roque is one of many Brazilian wonderkids in FM23. He's a great all-round striker at only 17 years old. He has good finishing, composure, and technique, which means he can consistently find the back of the net. He's available to sign in your first season for just over £14 million, which may seem like quite a lot for a 17 year old. However, he can become one of the best strikers in the game.
Vitor Roque in 2032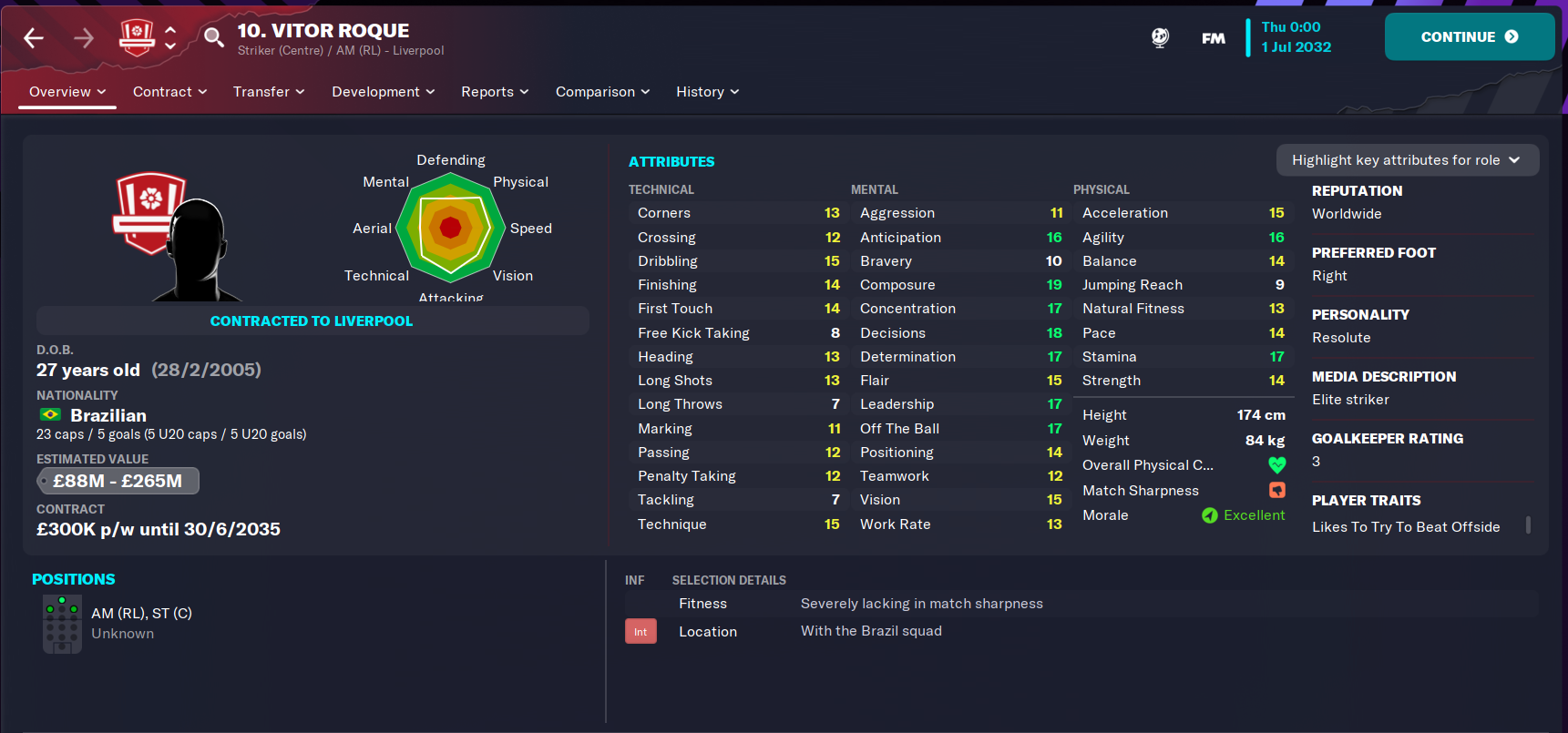 You can see why Vitor Roque could be well worth the £14 million in FM23. His composure has improved from 13 to 19, and his decision making has improved from 13 to 18. This makes Roque an excellent player in the final third. In our save, Real Madrid signed Roque for £35 million in 2024, and then sold him to Liverpool in 2027 for £105 million! Roque can definitely be worth the initial investment in your 1st season in FM23.
4. Dane Scarlett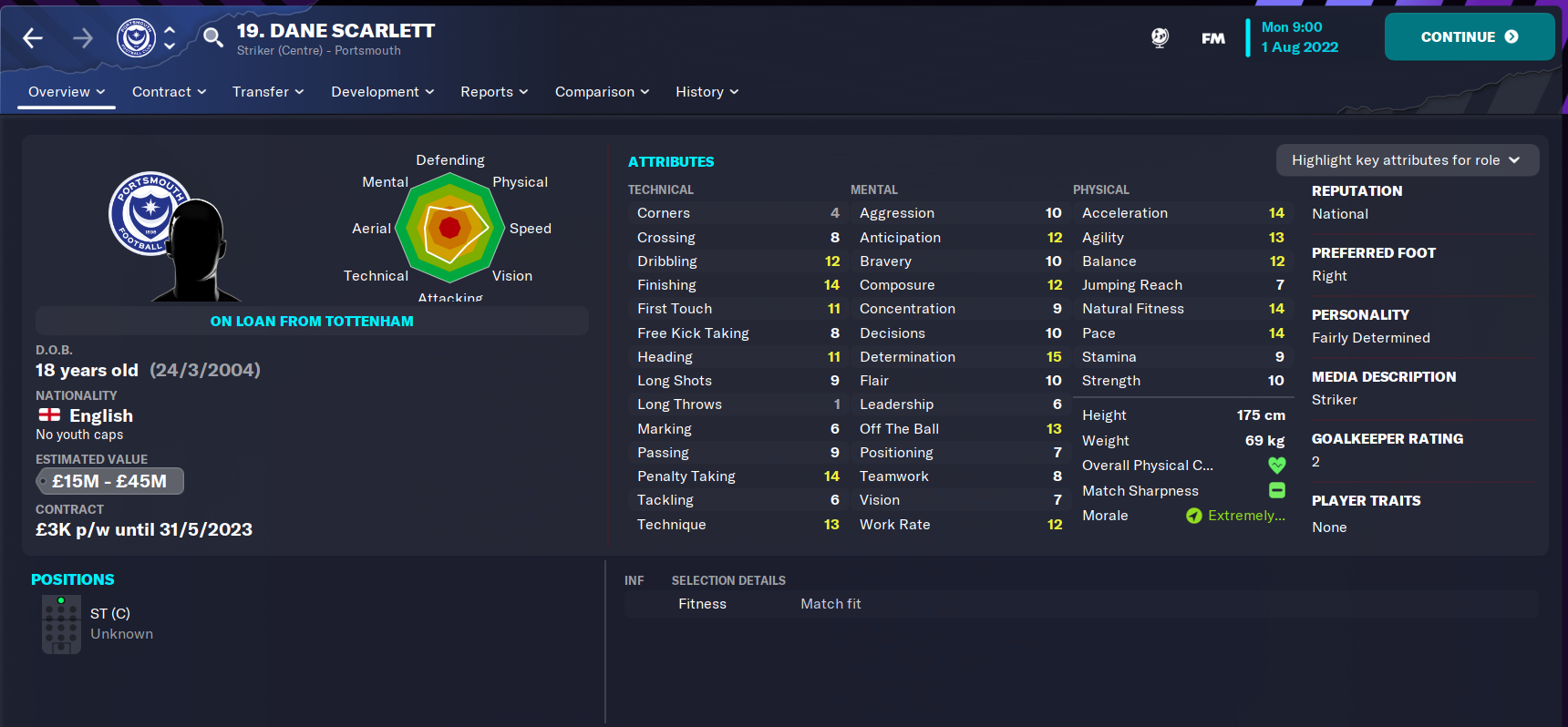 The only English player on our list, Dane Scarlett is one of the best English wonderkids in FM23, and definitely the best English wonderkid striker in Football Manager 2023. He's initially on loan at Portsmouth in his first season, but this means he'll get lots of regular game time which will help with his development.
Scarlett's best attributes in FM23 are his finishing, determination, and pace.
Dane Scarlett in FM23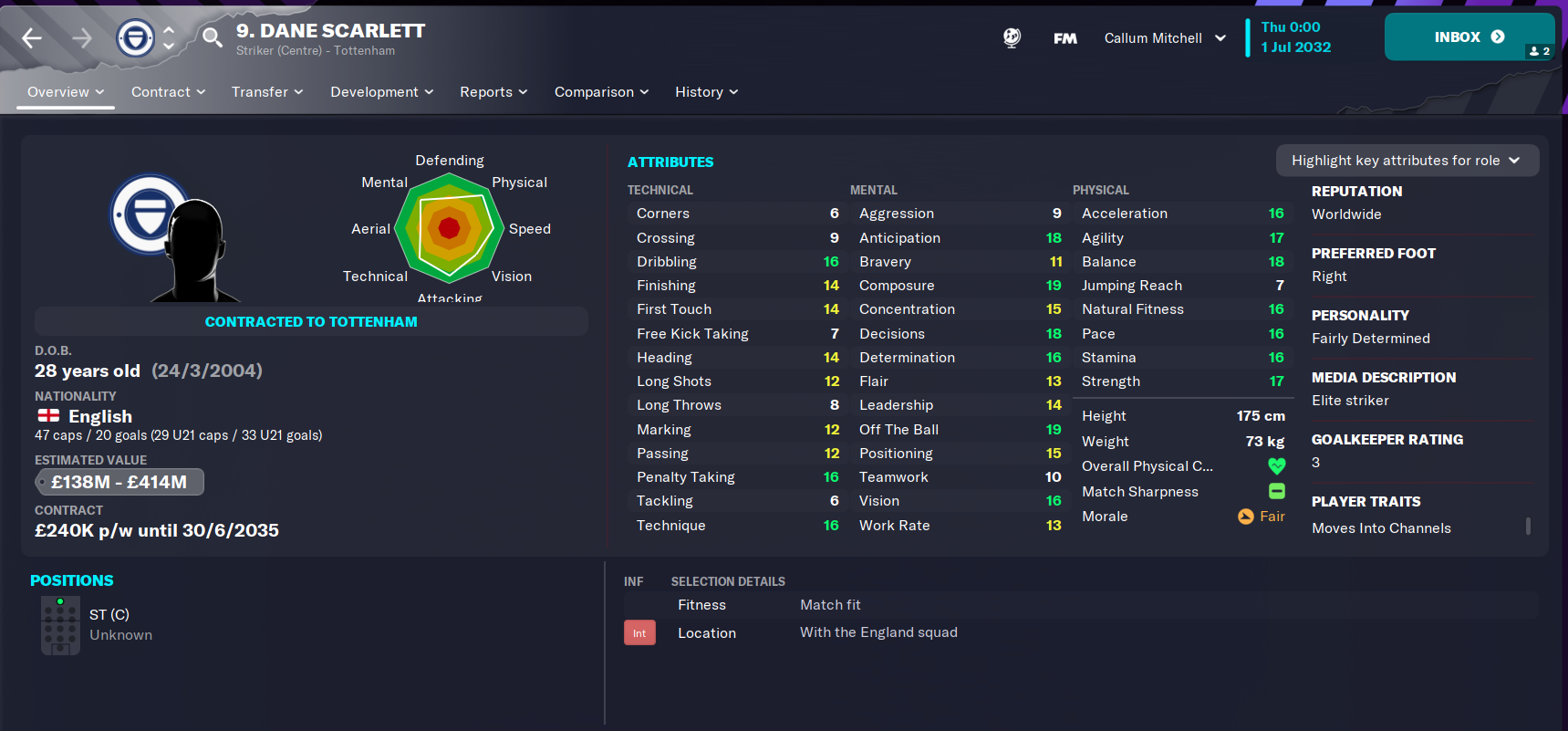 Dane Scarlett can become a monster in FM23! He has some fantastic physical attributes such as his balance and strength. His off the ball movement and anticipation are world class which means he's great at getting into the right positions in the penalty area. If you're managing Tottenham in your Football Manager 2023 save, make sure to keep a hold of Dane Scarlett, as he can definitely be a top striker replacement for Harry Kane as he gets older.
3. Benjamin Sesko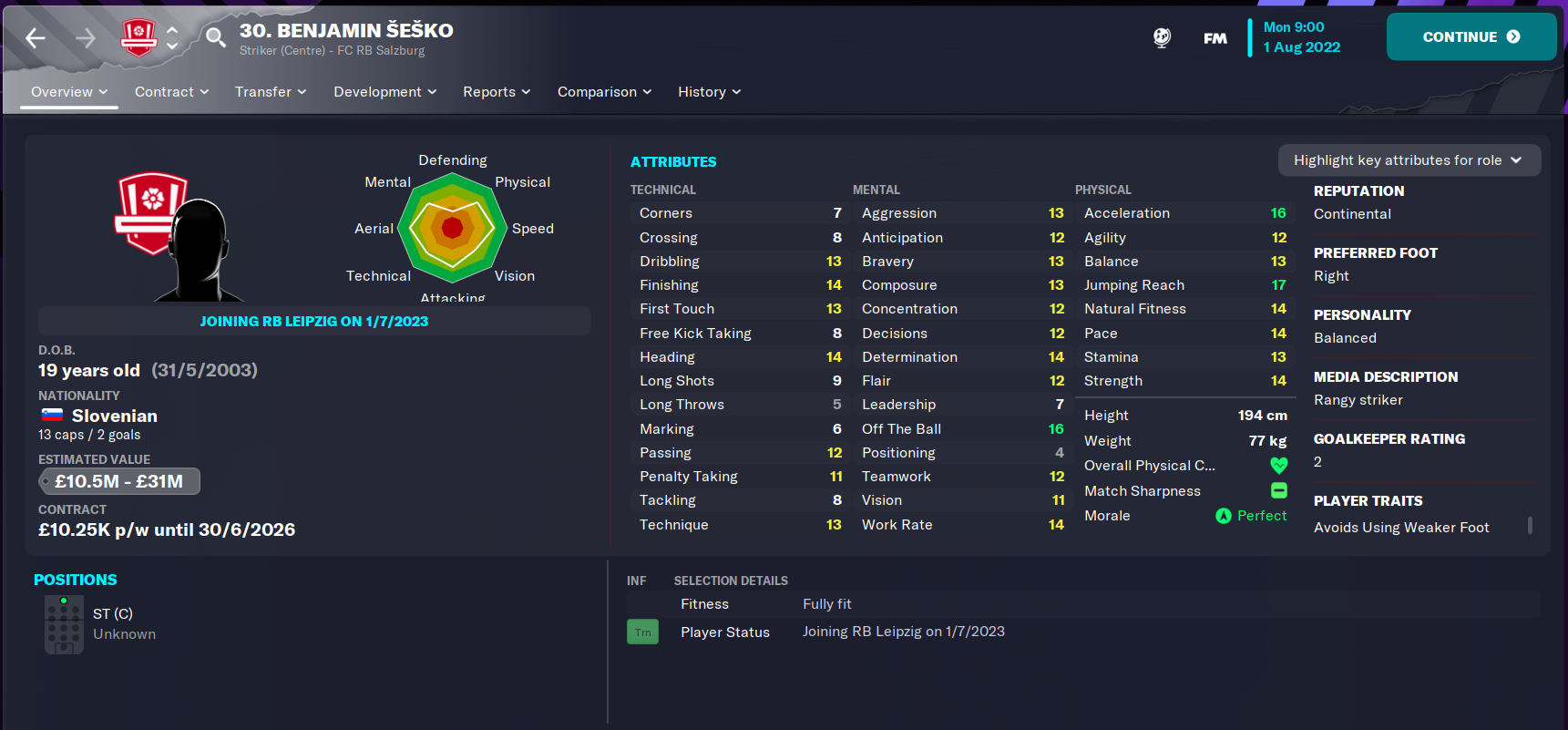 Benjamin Sesko already has the ability to perform in the top leagues in FM23. However, just like Scarlett, he's on loan in his first season. Sesko stands at 194cm tall, and also has great pace. This means you can use Sesko in a variety of formations, and he can adapt to different styles of play. His best attributes in FM23 are his jumping reach, acceleration, and off the ball movement. He's definitely one of the best wonderkid strikers in FM23, just like he was in FM22.
Benjamin Sesko FM23 in 2032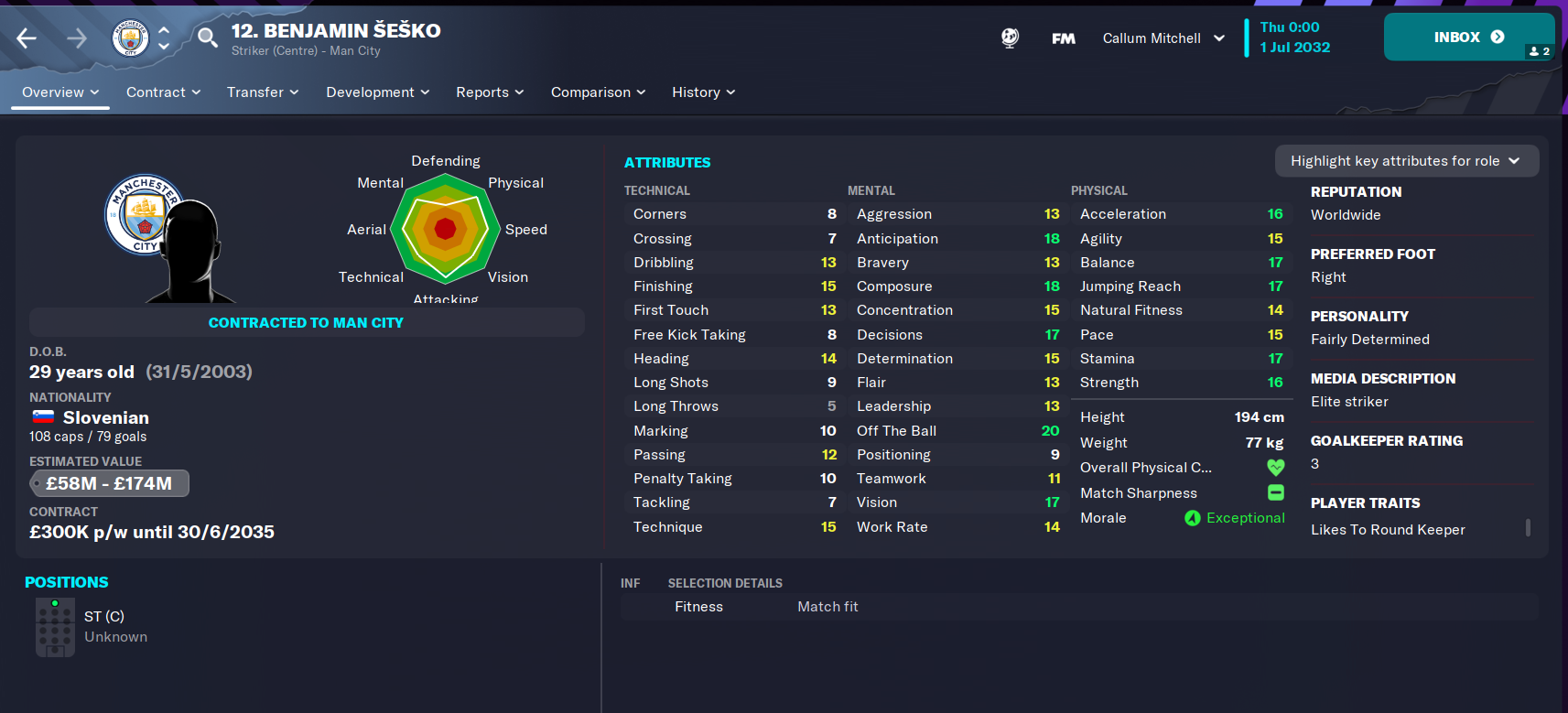 Benjamin Sesko clearly becomes a world class striker in Football Manager 23. It's no surprise that Man City have signed him. In our simulation, he managed to score 66 goals in 108 games for RB Leipzig before making the move to England. Although his technical attributes may not look outstanding, his physical and mental attributes are ridiculously good, and certainly make up for it.
2. Endrick in FM23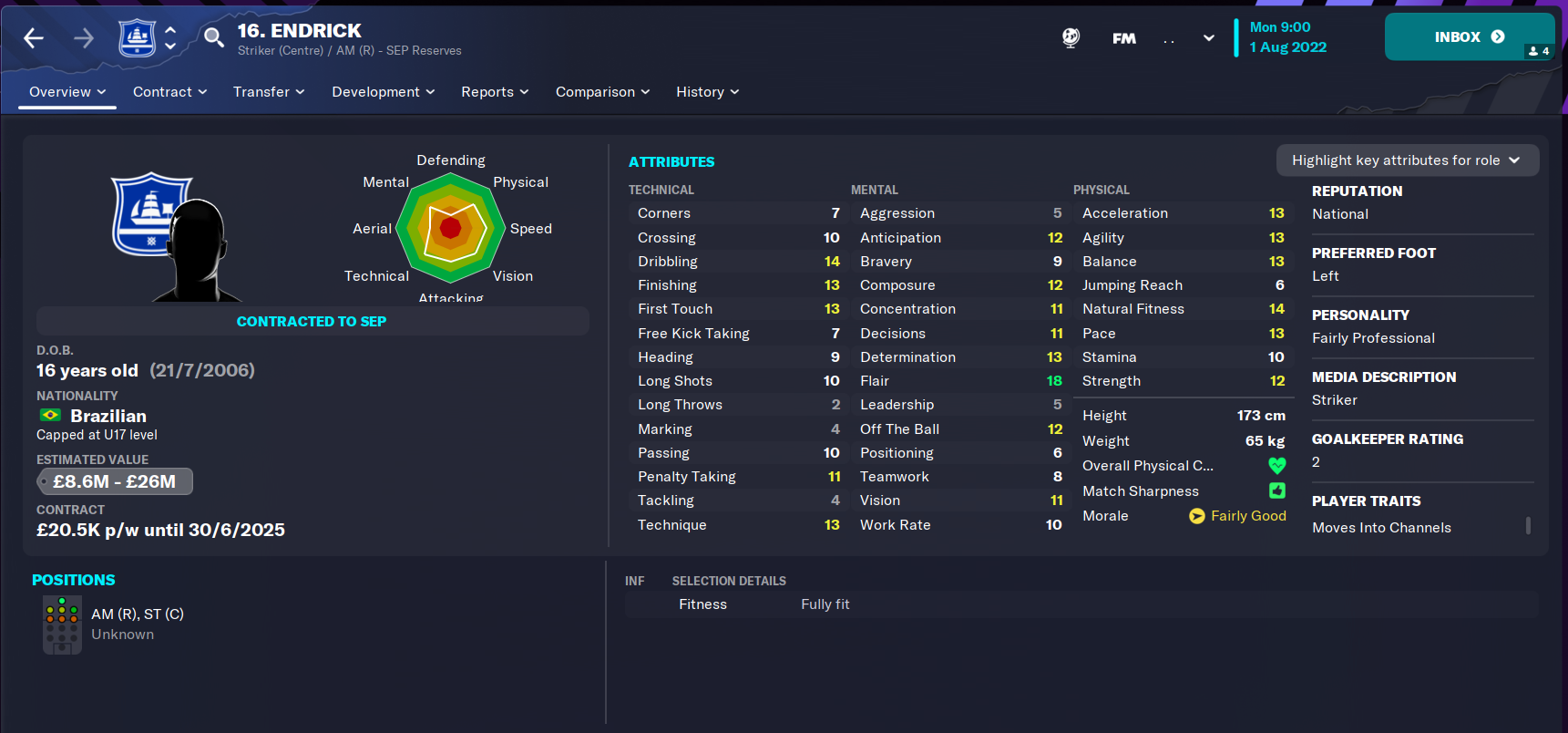 At only 16 years old, Endrick already has some great technical attributes, such as his 13 finishing, 14 dribbling, and 13 technique. Endrick is an exceptional Football Manager wonderkid, who I'm sure will be talked about for years to come. In real life, it looks like he'll be signing for a European club for his release clause of €60 million. However, in FM23 you can sign Endrick for just under £20 million. He could turn out to be a wonderkid bargain.
Endrick in 2032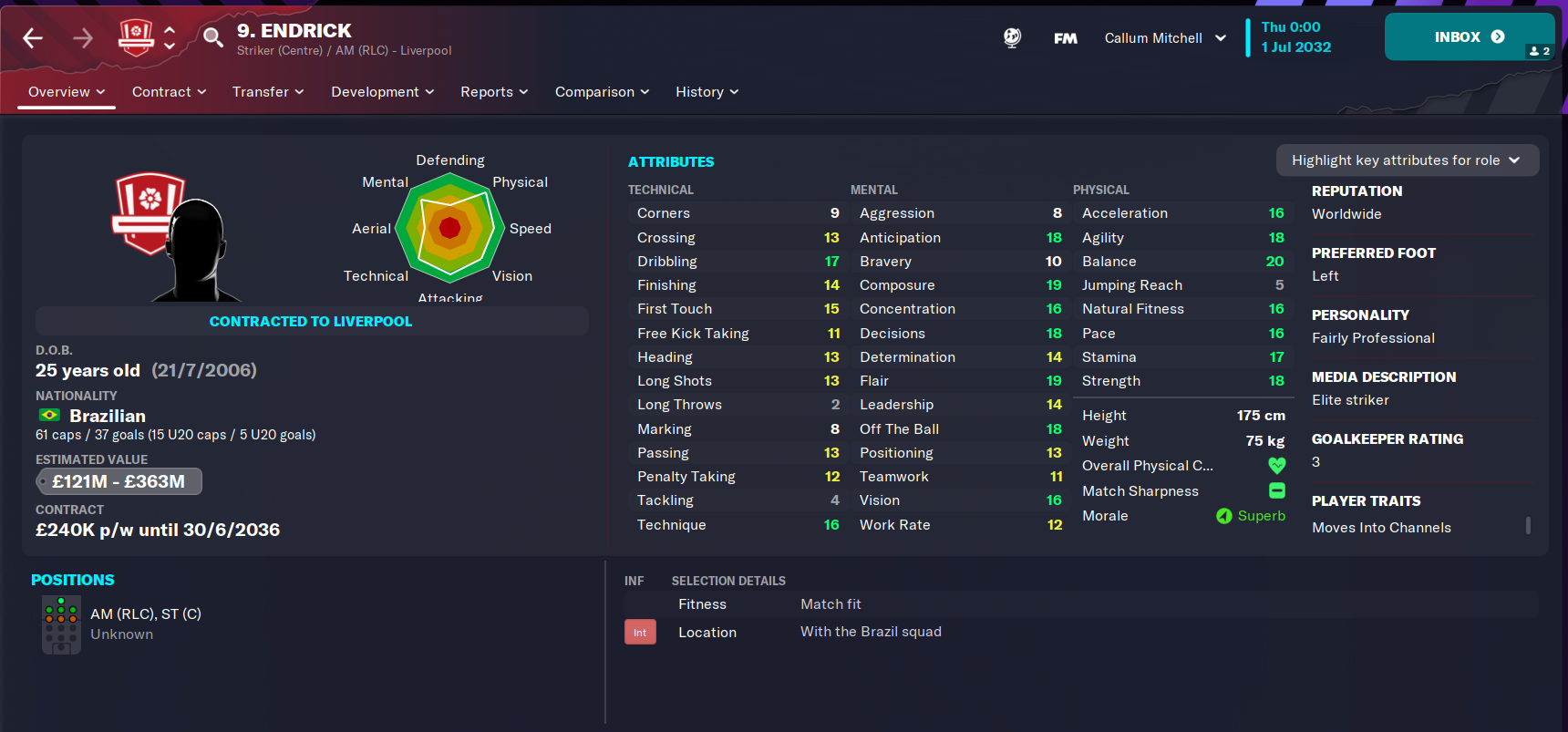 Endrick is clearly one of the best wonderkid strikers in FM23. He has immense physical attributes such as 20 balance, 18 agility, and 18 strength. His strength is really impressive for a player that's only 175cm tall. Endrick also has the ability to play in any of the positions just behind the striker, but we feel he definitely performs at his best leading the line.
In our simulation, Endrick has a great goal scoring record for Brazil, with 37 goals in only 61 caps. Also remember that 10 seasons into your save, Endrick will only be 25 years of age! At that point he's already world class, and hasn't even hit his prime years yet.
1. Youssoufa Moukoko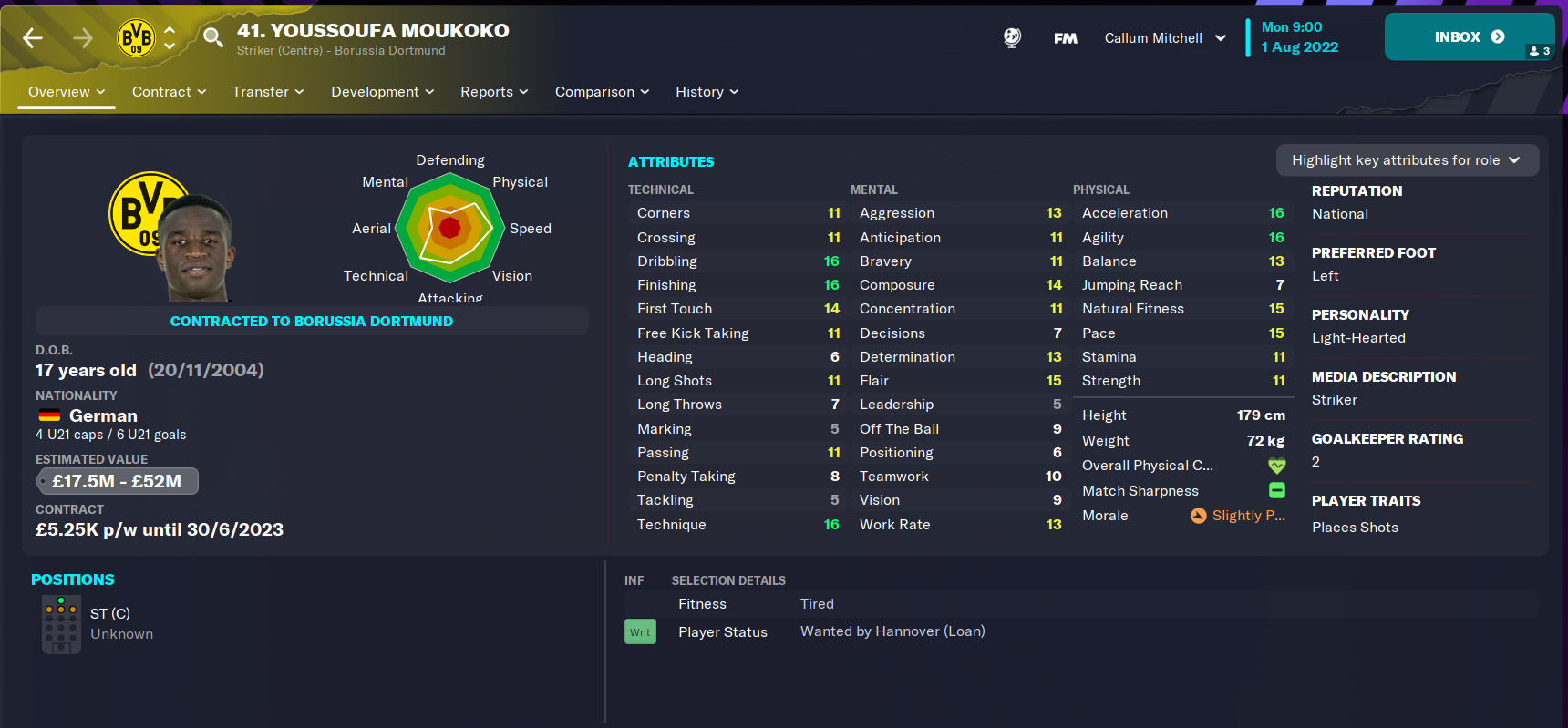 Youssoufa Moukoko isn't only the best wonderkid striker in FM23, he's the best overall wonderkid in Football Manager 2023! Moukoko already has amazing dribbling, finishing, and technique at only 17 years old. He's also got good acceleration and pace, which allows him to get in behind the opposition defence. As you can expect, Moukoko is an expensive wonderkid to sign in your first season, costing £35 million. However, you may be able to sign him on a free transfer in your second season if he doesn't sign a new contract with Borussia Dortmund.
Moukoko was also one of the best wonderkid strikers in FM22.
Youssoufa Moukoko in 2032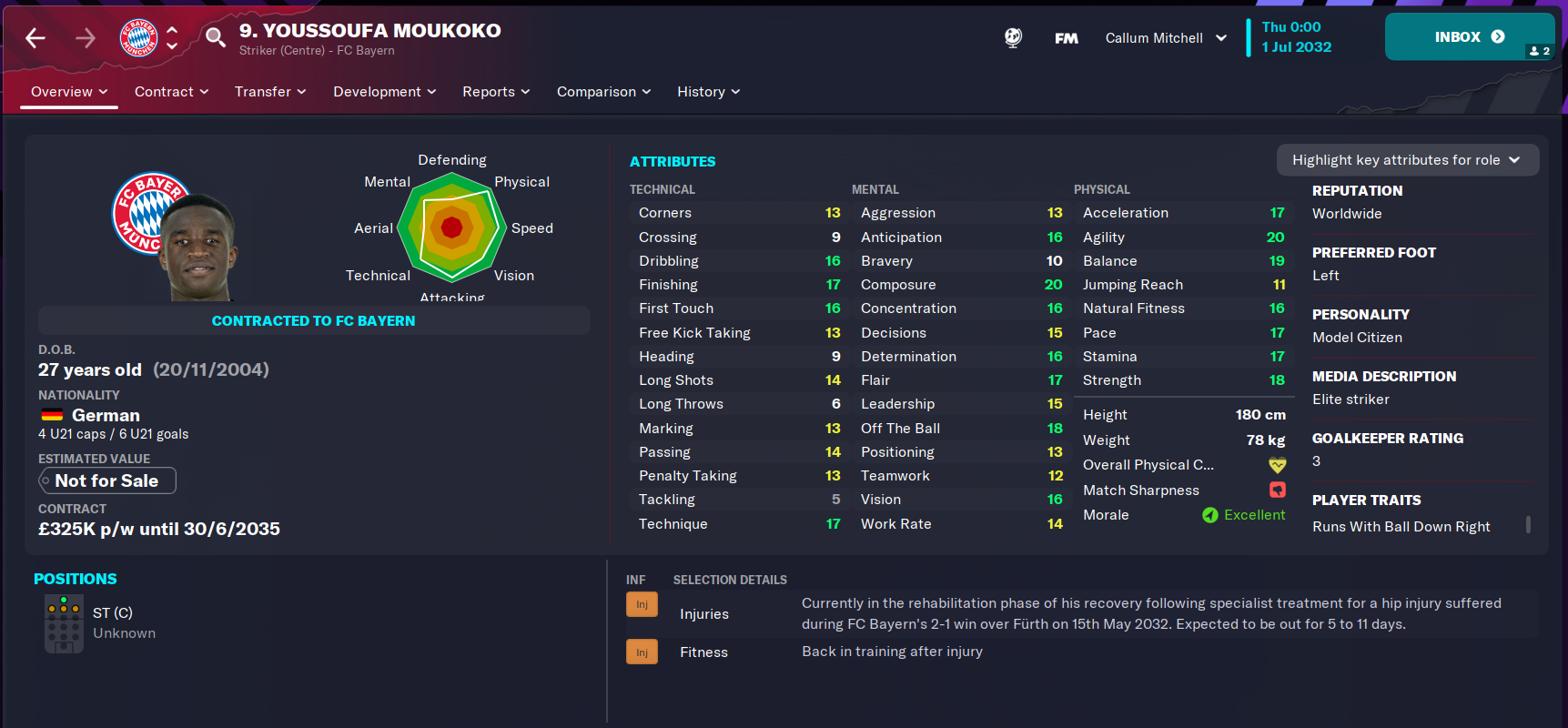 In our FM23 simulation, Youssoufa Moukoko has done what many Borussia Dortmund players have done in the past, and signed for their rivals Bayern Munich! You can see why Bayern Munich signed the best wonderkid in FM23. He has incredible physical attributes, such as 20 agility, and 19 balance. Moukoko has also managed to develop a model citizen personality, which means he would be a fantastic mentor for any wonderkid striker coming through your ranks.
Final Thoughts on FM23 Wonderkid Strikers
If you manage to sign any of these wonderkid strikers in your FM23 save, scoring goals will not be an issue for your team. Are there any FM23 striker wonderkids you think should have made our list? Comment below and let us know!