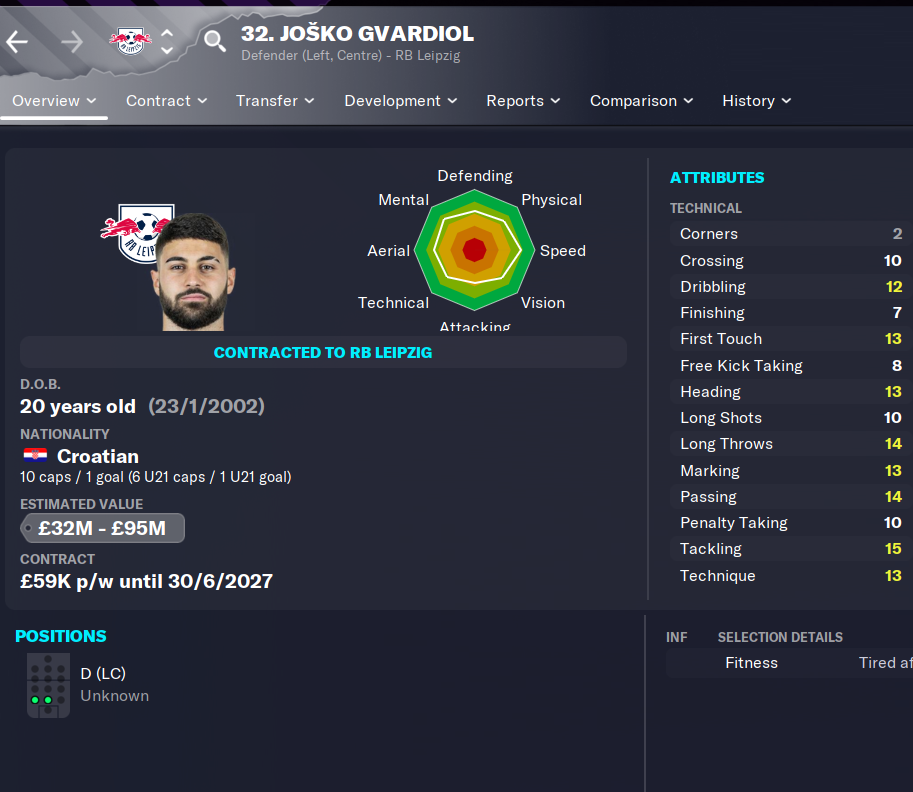 10 Best Wonderkid Centre Backs in FM23 you Must Sign!
By callum | March 5, 2023 | 6740 Views
The Best CB Wonderkids in FM23
A new Football Manager brings new wonderkids! And FM23 is no different to past Football Manager games. There's lots of great wonderkids to sign for your team to take you to the top. In this article, we take a look at the 6 best wonderkid centre backs in FM23. We've gone 10 seasons into the future to see which wonderkid centre backs hit their potential in Football Manager 2023.
If you're also looking for wonderkid strikers in FM23, check out our article here.
Also join our growing FM Facebook group here.
What is an FM23 Wonderkid?
A wonderkid in Football Manager 23 is a player under 20 years old, that has the potential to become one of the best players in the world! However, wonderkids must be given consistent first team football and the correct training regime in order to develop their attributes.
10. Mattia Viti
First on our list of best wonderkid centre backs in FM23 is Mattia Viti. He's 20 years of age and plays for OGC Nice in France. He has strong defensive attributes such as 14 heading, 14 tackling, and 13 marking. Viti is well-rounded physically, and is a tell CB, standing at 190cm. Viti is also left footed, so he's a great option for Football Manager players that like to have left footed, left centre back.
If you're interested in signing Mattia Vita in your first FM23 season, he will cost you just over £10 million.
Mattia Viti in 2032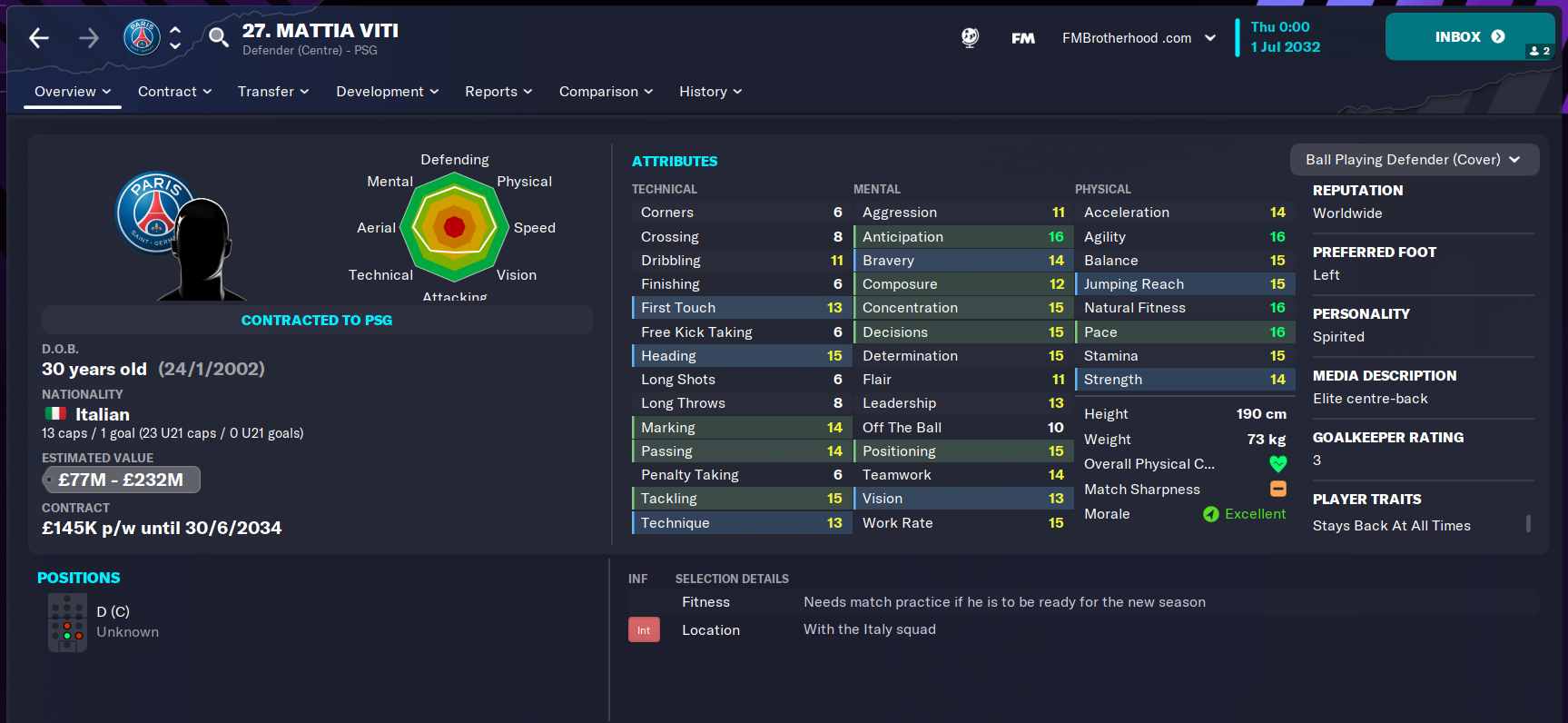 In our simulation, Mattia Viti managed to secure a move to European Giants PSG! His defensive attributes have improved nicely, and he now has 16 anticipation, 15 concentration, and 15 positioning. With 16 pace and 14 acceleration, he has the ability to play in a high defensive line. However, there are much faster centre backs on this list.
Viti is a definitely a solid option for your FM23 save, but read on to find even better wonderkid CBs.
9. Goncalo Inacio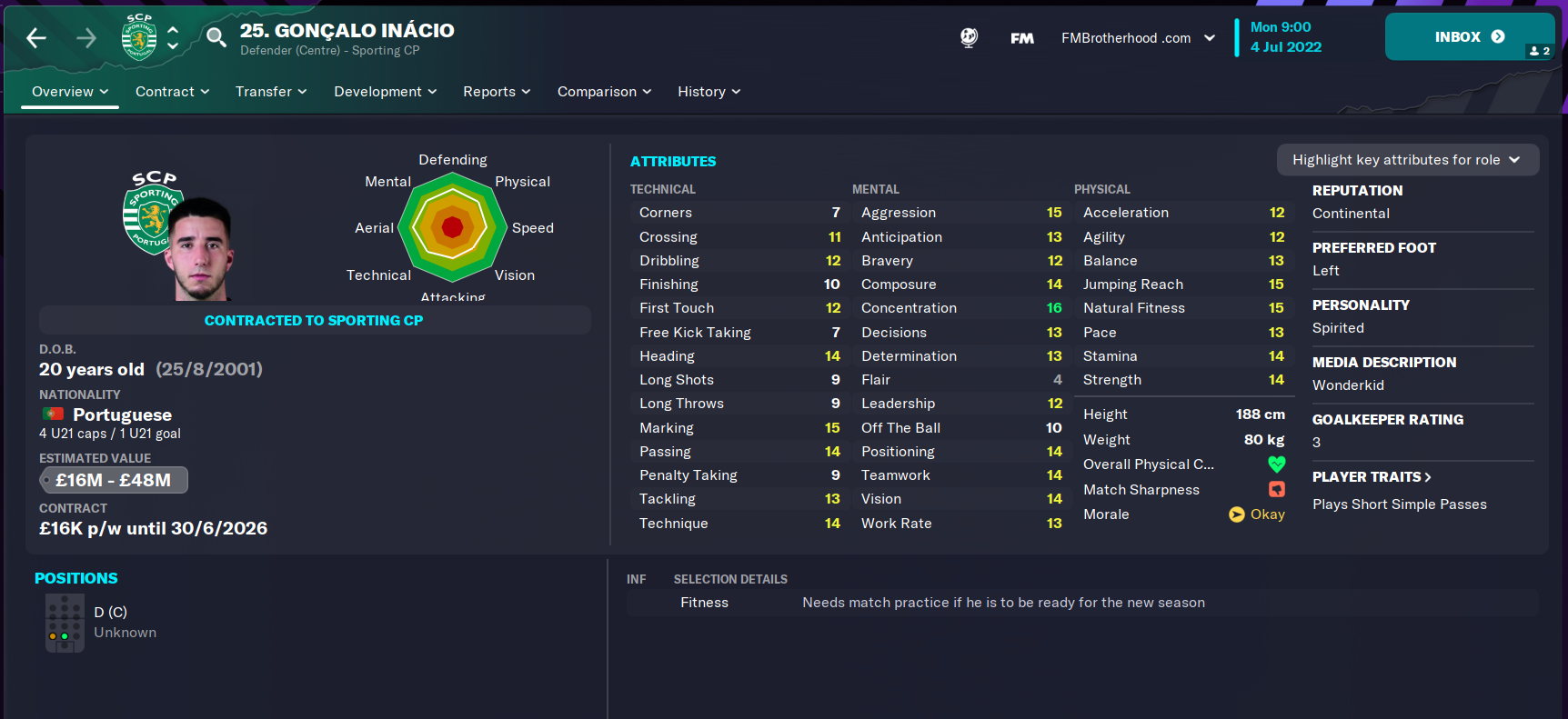 20 year old Goncalo Inacio has been a Football Manager wonderkid centre back for a few years now. He's a popular choice amongst FM players that like to have a right footed and left footed centre back partnership. Inacio is left footed which is quite rare.
He has solid defensive attributes, including 13 tackling, 16 concentration, and 15 marking.
Inacio is quite expensive compared to others on this list, costing £32 million in the first FM23 season.
Goncalo Inacio in 2032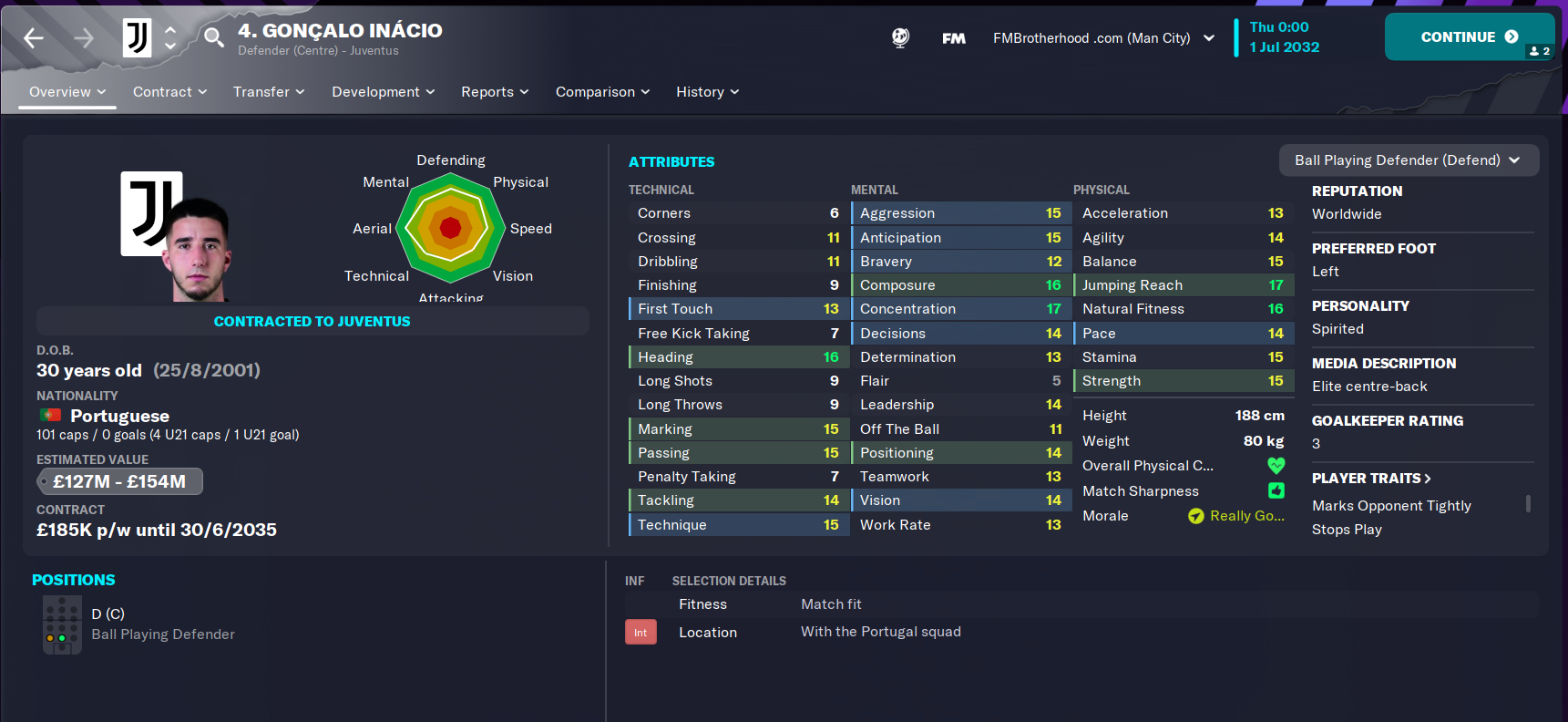 In his prime, Goncalo Inacio made over 100 appearances for Portugal and is worth way more than £100 million. This shows that investing just over £30 million in this wonderkid centre back at the start of your save can definitely be worth it.
Inacio's biggest strength is definitely his aerial ability. Standing at 188cm tall, with 17 jumping reach and 16 heading, makes him almost unbeatable in the air. It's surprising he hasn't scored a single goal for Portugal.
8. Ousmane Diomande – African Wonderkid CB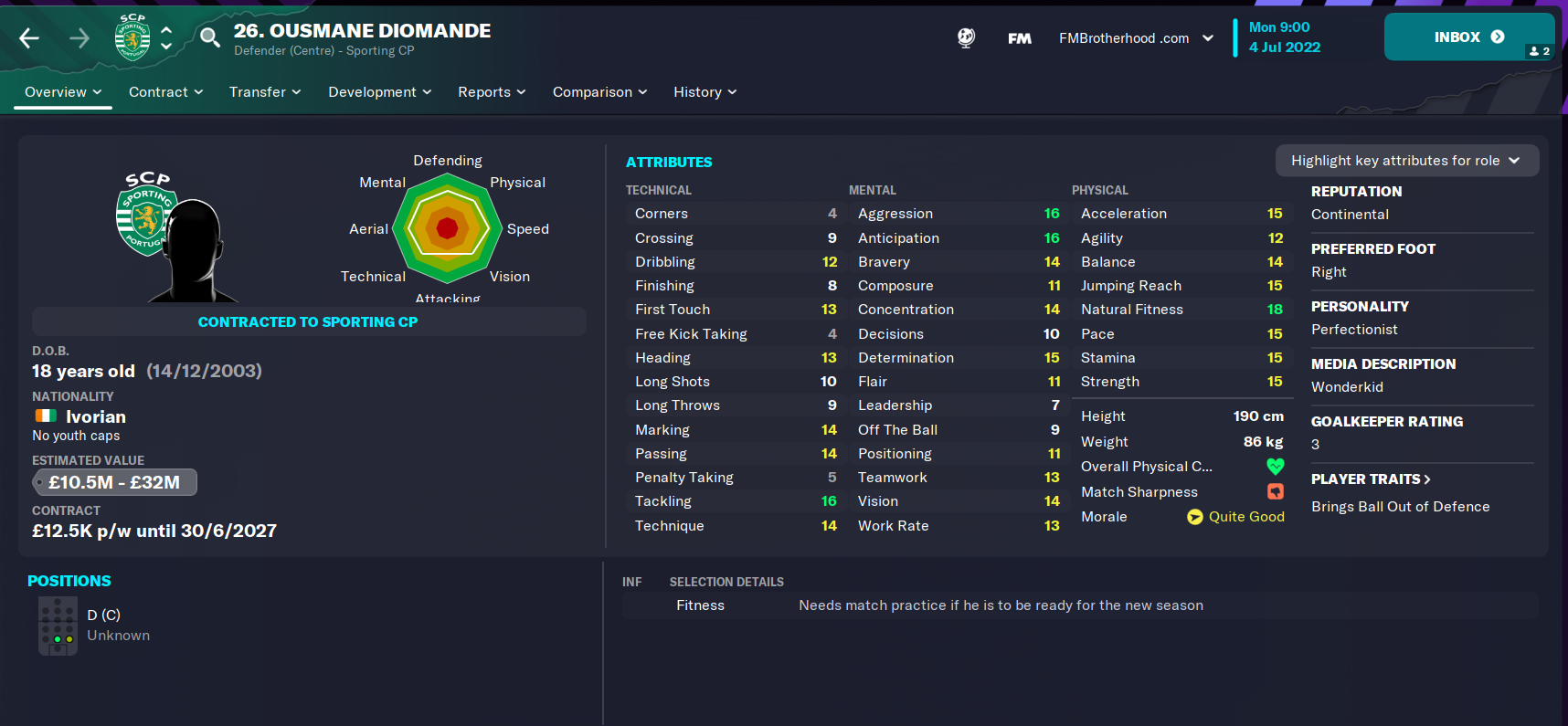 Diomande is an African wonderkid centre back that's recently moved to Portuguese side Sporting Lisbon. He has excellent natural fitness, which means when he gets older, his physical and technical attributes will not deteriorate as quickly as other players.
Diomande is also quick, and has brilliant tackling for an 18 year old. You can clearly see why he has the potential to become one of the best centre backs in FM23.
Ousmane Diomande in 2032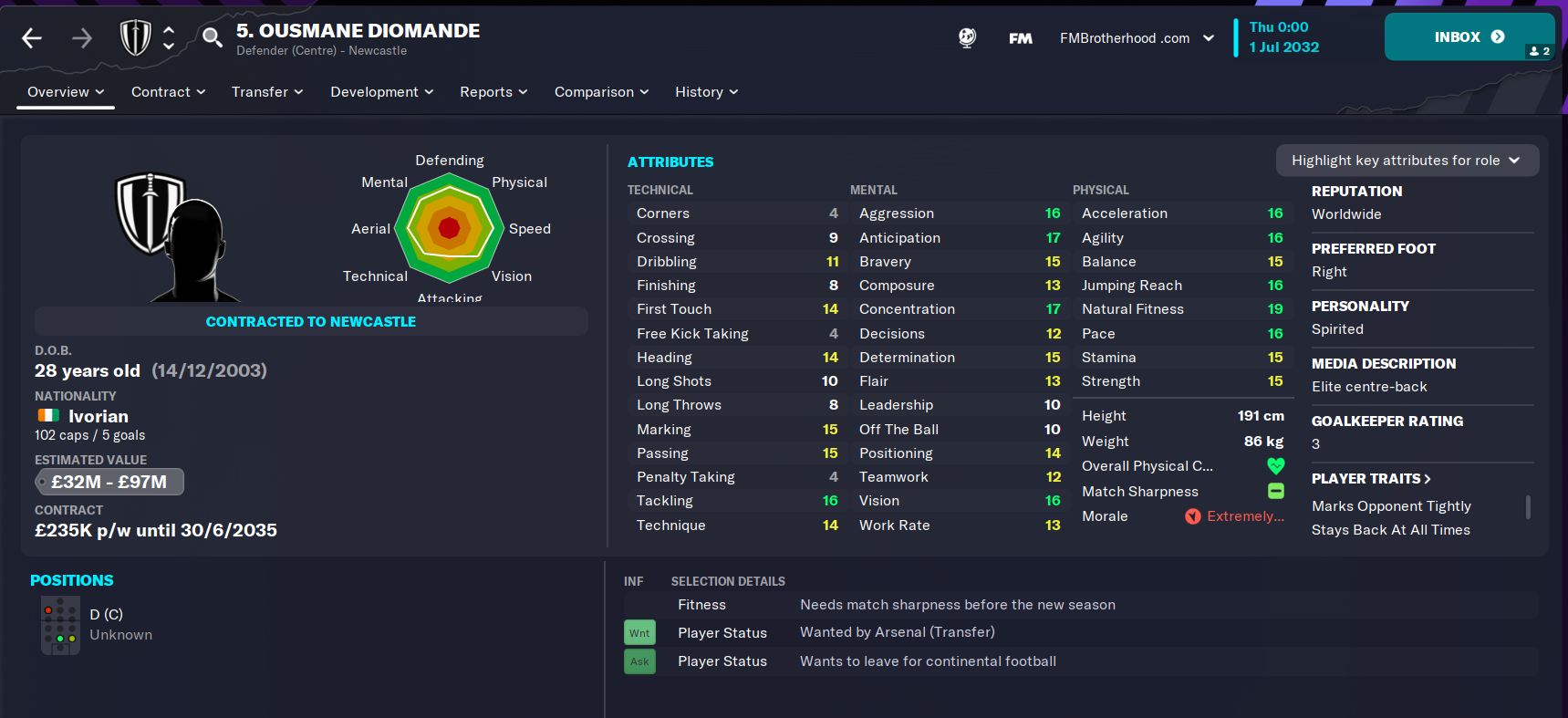 After impressing for Sporting Lisbon, this centre back wonderkid earned a £50 million move to Newcastle United. Ousmane Diomande has amazing passing, vision, and technique for a centre back. This makes him an effective player at passing between the lines, and playing through a high pressing opposition.
Diomande has over 100 caps for Ivory Coast, and is definitely good enough to start for most teams in Europe.
7. Wisdom Amey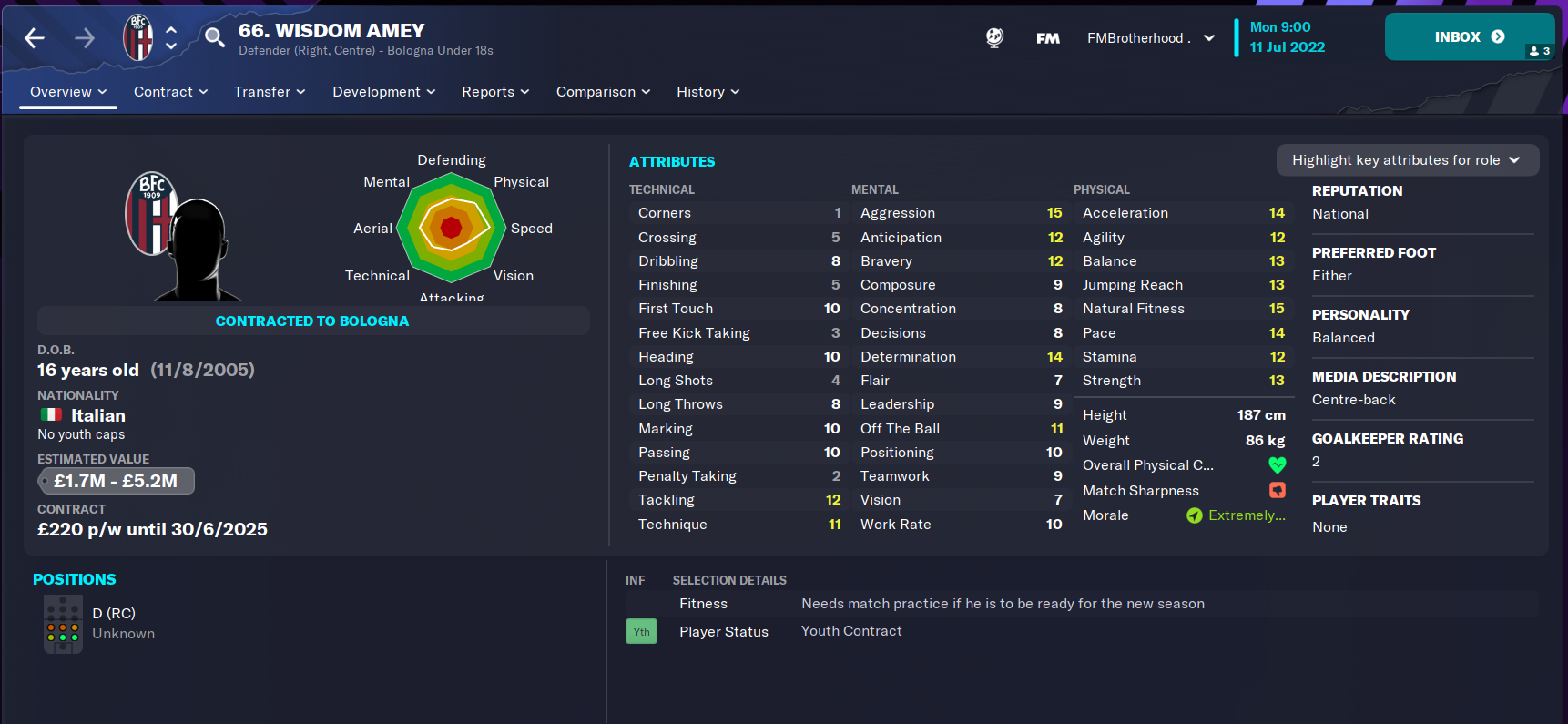 Wisdom Amey is one of the youngest players on this list at only 16 years of age. At such a young age, he's already extremely tall, and has excellent physical attributes, with 12 agility and stamina being his lowest. Although he clearly has some defensive and mental attributes that need to be developed, he's got plenty of time to do that.
This wonderkid is available in the first season of your FM23 save for only £2.5 million, which is a bargain for a 16 year old already showing this ability.
Wisdom Amey in 2032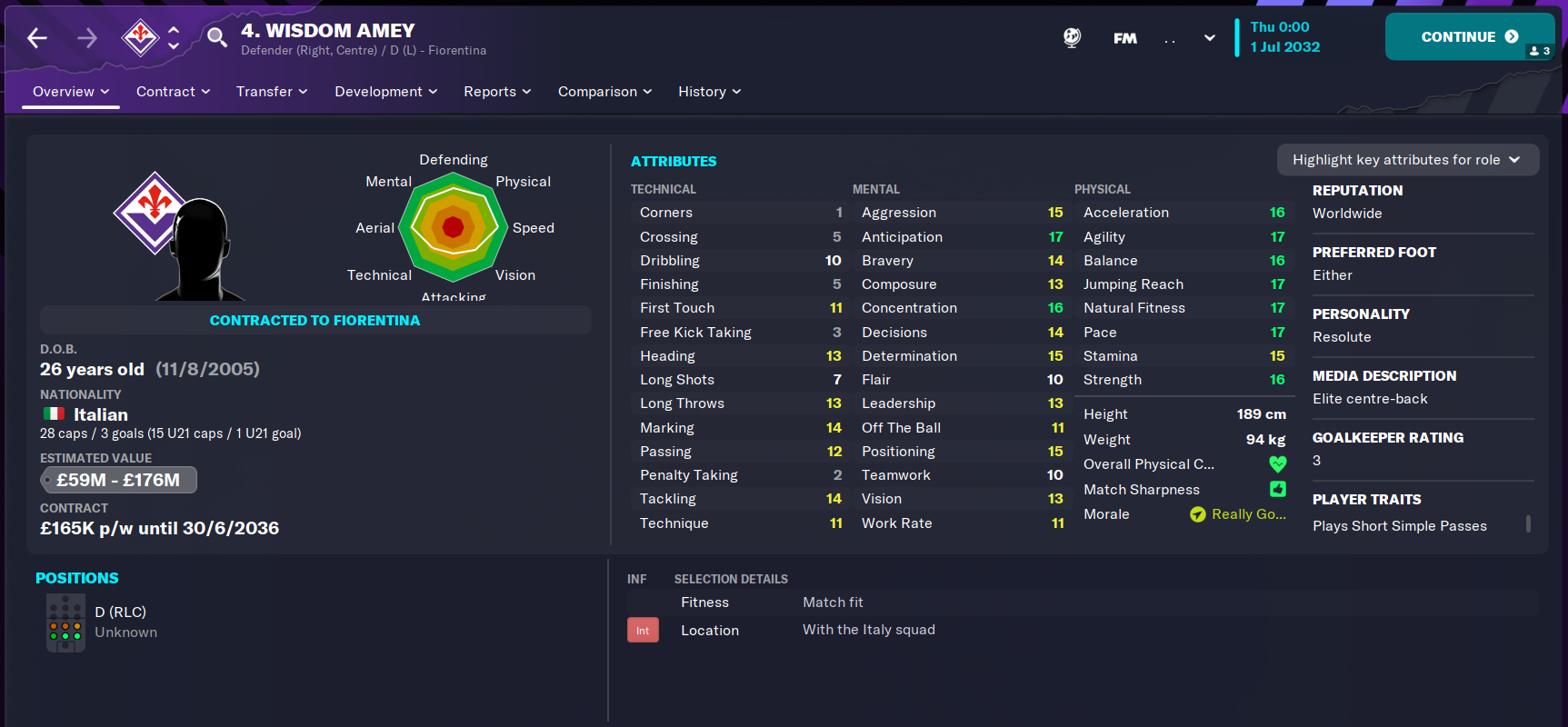 Wisdom Amey 10 seasons into your FM23 save has world class physical attributes, especially for a centre back! This means he's a great option if you use a tactic which involves playing a high defensive line. Amey is also either footed, and is competent at both right back and left back. This makes him an excellent wonderkid that can play all across the whole the back line.
His technical attributes could be a little bit better, which is why he doesn't feature any higher on this list.
6. Levi Colwill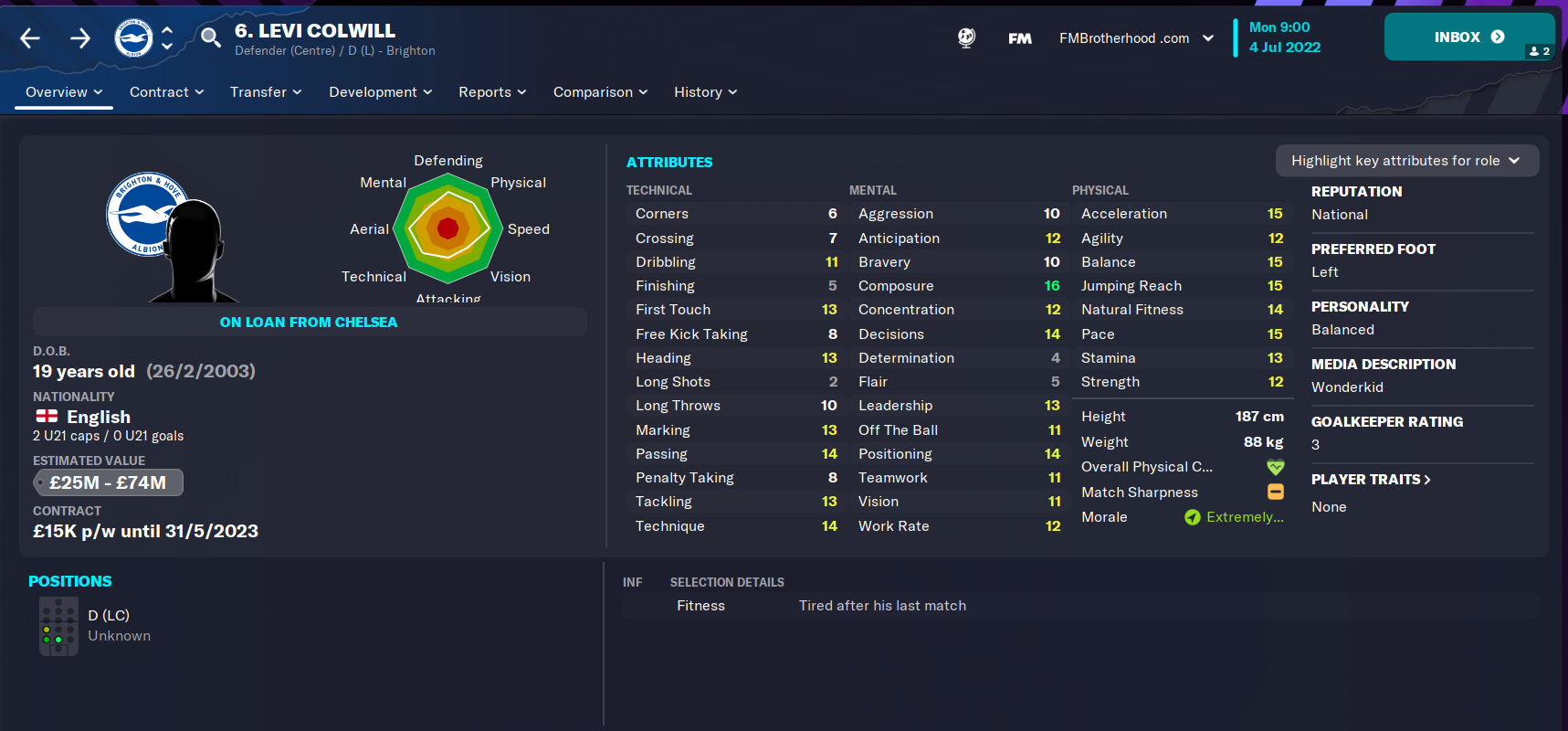 Next on our list of the best FM23 wonderkid centre backs is Levi Colwill. After the FM23 winter update, his current ability and potential ability have been given a boost! He's got excellent all-round physical attributes ranging from 12-15. Colwill has great passing and technique for a CB, and is also solid in the air. He can even play left back, and has the pace to do so.
This wonderkid centre back is on loan at Brighton in the first FM23 season, so make sure to add him to your shortlist and track his progress.
Levi Colwill in 2032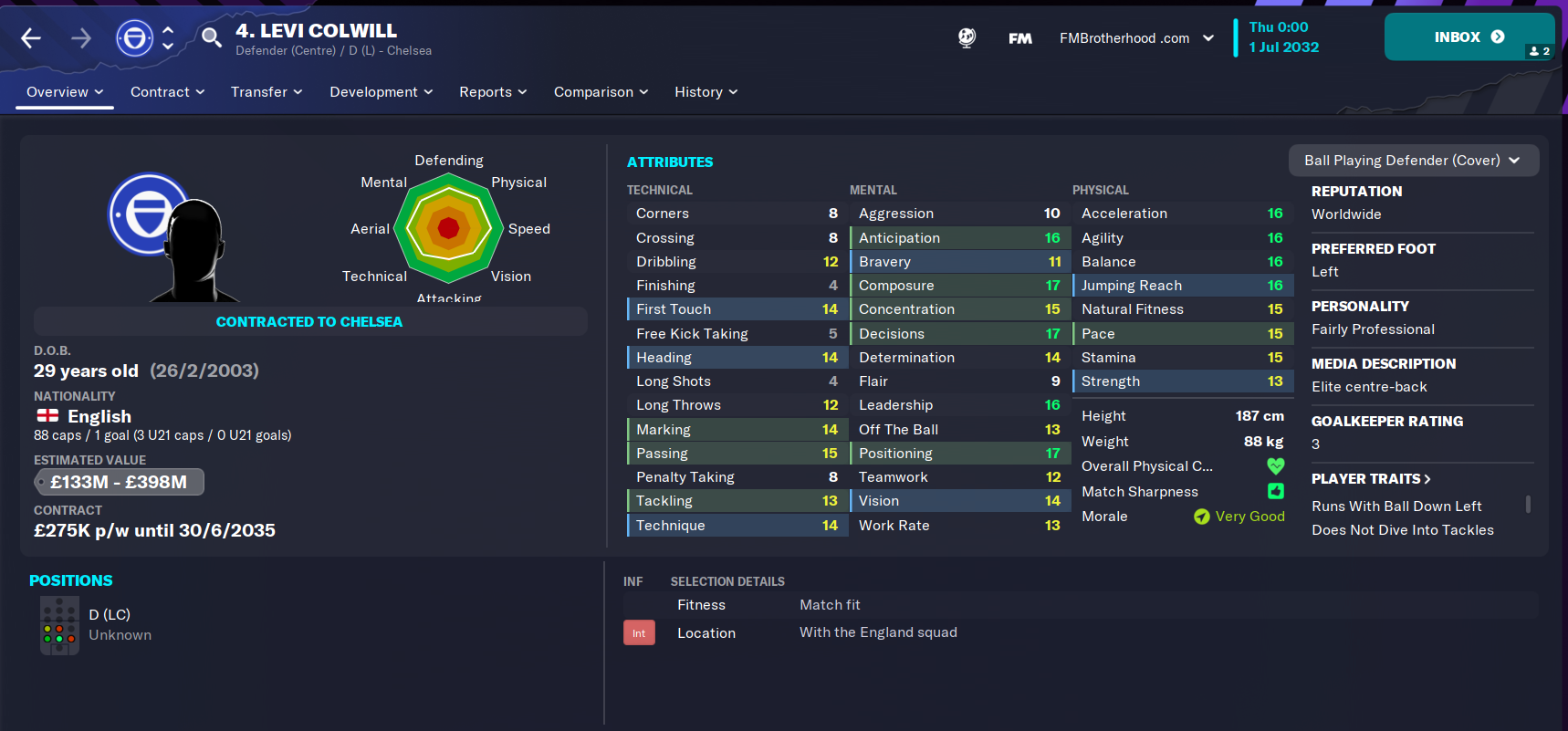 In our FM23 simulation, Colwill made an impressive 88 caps for England, and is worth over £150 million! The CB wonderkids' physical and mental attributes stand out the most, with 17 positioning, 16 acceleration, and 17 decision making.
Colwill is a wonderkid centre back that can become extremely expensive as he gets closer to his potential ability, so if you want to sign him, make an offer as soon as possible.
5. Caleb Okoli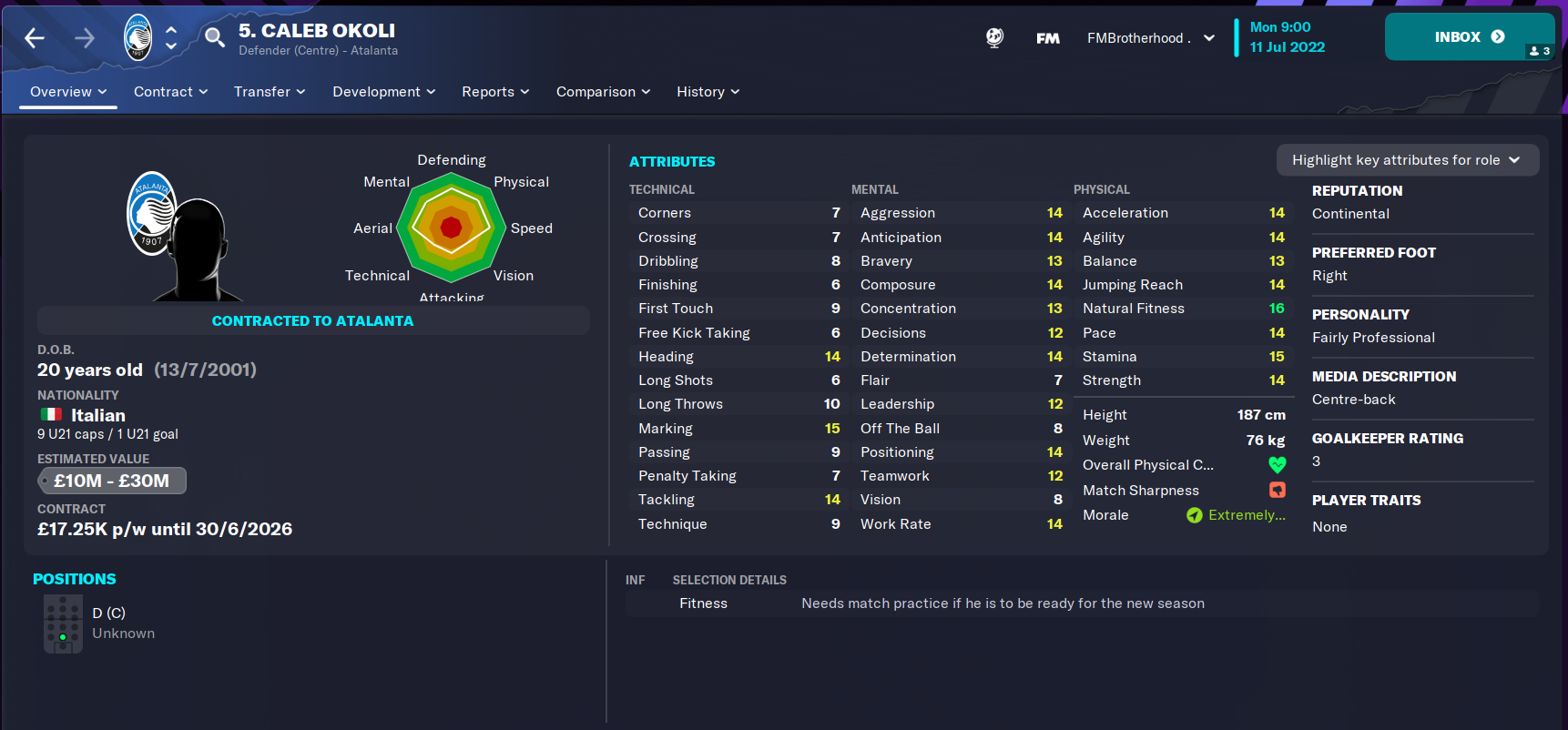 Caleb Okoli impressed while out on loan for Cremonese in Serie B last season. This has given him an opportunity in Atalanta's first team, and he's starting games in Serie A at just 20 years of age.
His defensive capabilities have been transferred into FM23, with 14 tackling, 15 marking, and 14 positioning. Like Amey, Okoli also has great physical attributes. However, Okoli is more of a traditional, no-nonsense centre back wonderkid. If you're looking for a defender that can pass out from the back, you will need to develop Okoli's passing, technique, and first touch.
If you want to sign this wonderkid in your first Football Manager 2023 season, you'll need to pay just under £20 million.
Caleb Okoli in 2032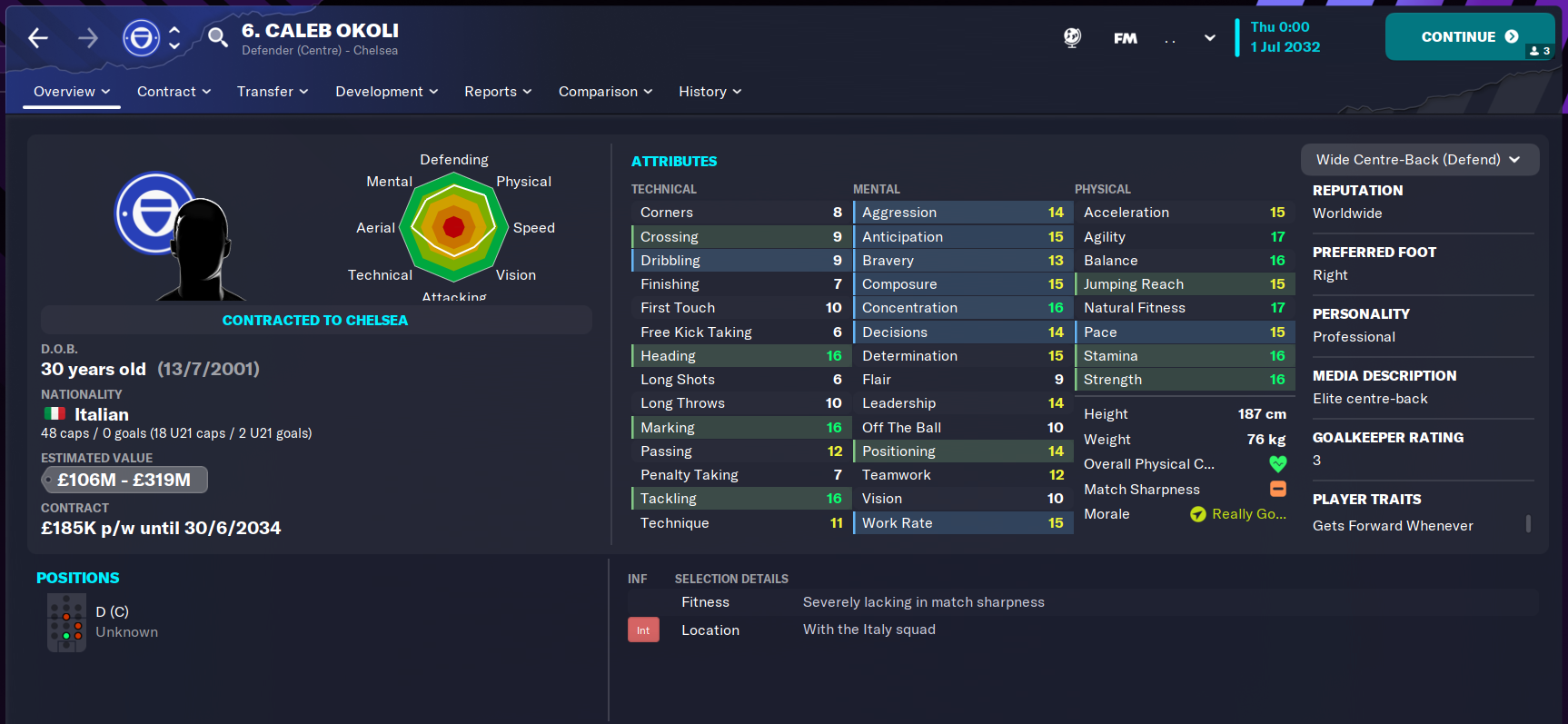 In our FM23 simulation, Chelsea decided to sign Caleb Okoli, and you can see why! Okoli's physical attributes have further developed, making him a force to be reckoned with at the back. He has 16 heading, marking, and tackling, which are great ratings for important attributes for a centre back.
You can see by Okoili's potential value in 2032, he could definitely be a wonderkid to invest in at the start of your Football Manager 23 save.
4. Antonio Silva in FM23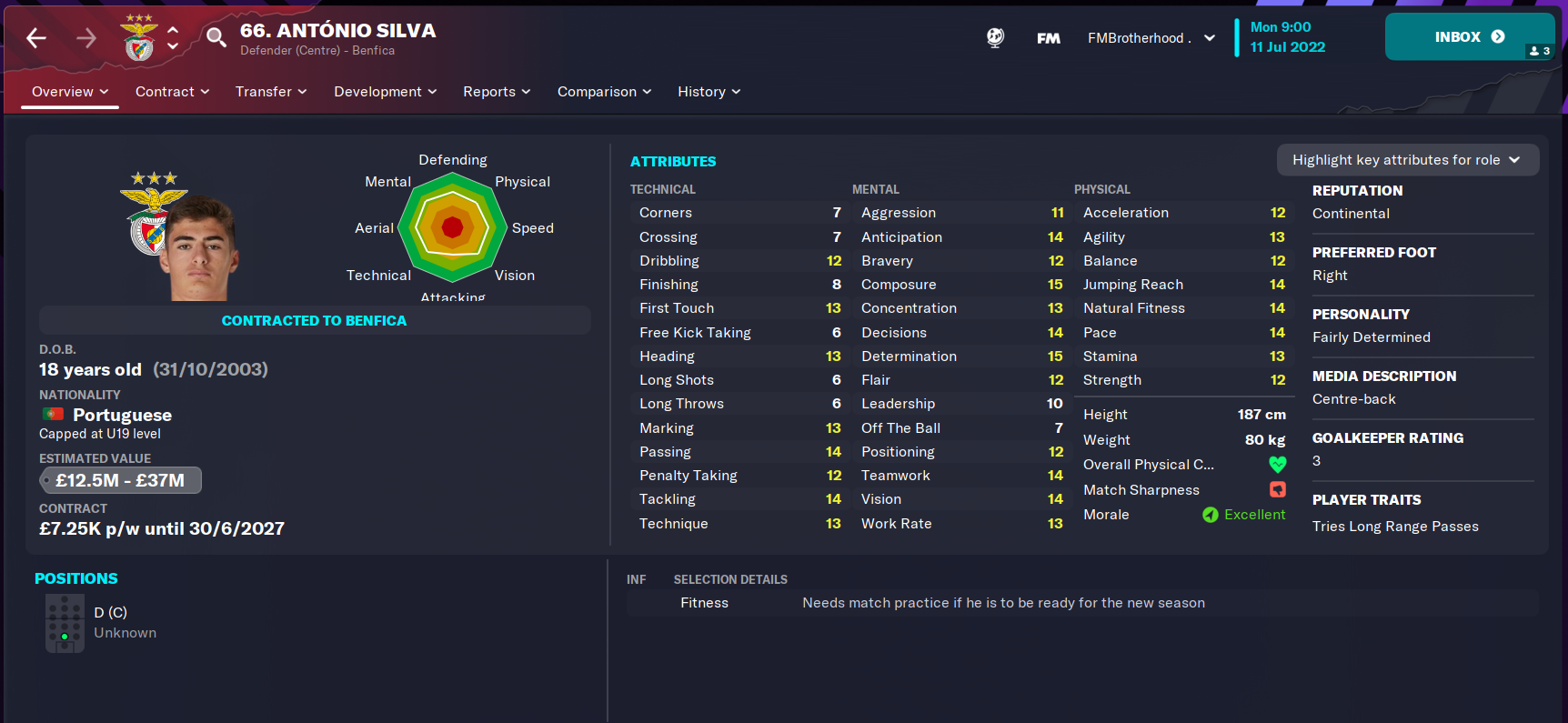 Antonio Silva has great all round attributes at just 18 years of age. But Silva stands out from the previous two wonderkid centre backs on this list because of his passing ability. He has 14 passing, 14 vision, and 13 technique. These are fantastic attributes for a wonderkid centre back, who still has time to develop these attributes even further!
Antonio Silva is quite an expensive wonderkid though, costing just under £25 million.
Antonio Silva in 2032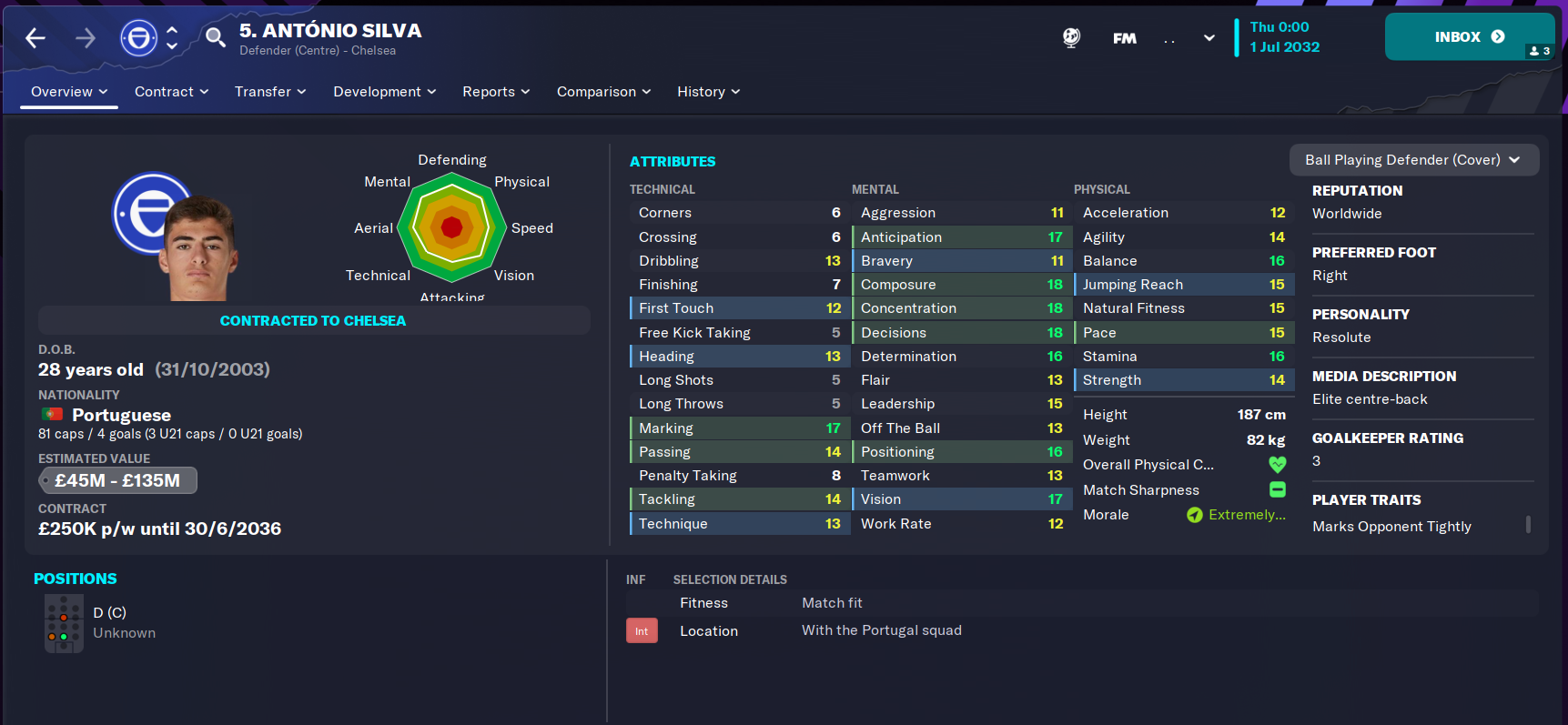 Just like Caleb Okoli, Antonio Silva was also signed up by Chelsea! He has incredible mental attributes, including 18 composure, concentration, and decisions. Silva in his prime has 17 vision, which means he has the ability to pick out an attacker running in behind the opposition's defence on the counter attack. He's also managed to accumulate 81 international caps for Portugal, and will likely pass 100 before he retires.
An excellent centre back wonderkid in FM23.
3. Joao Fonseca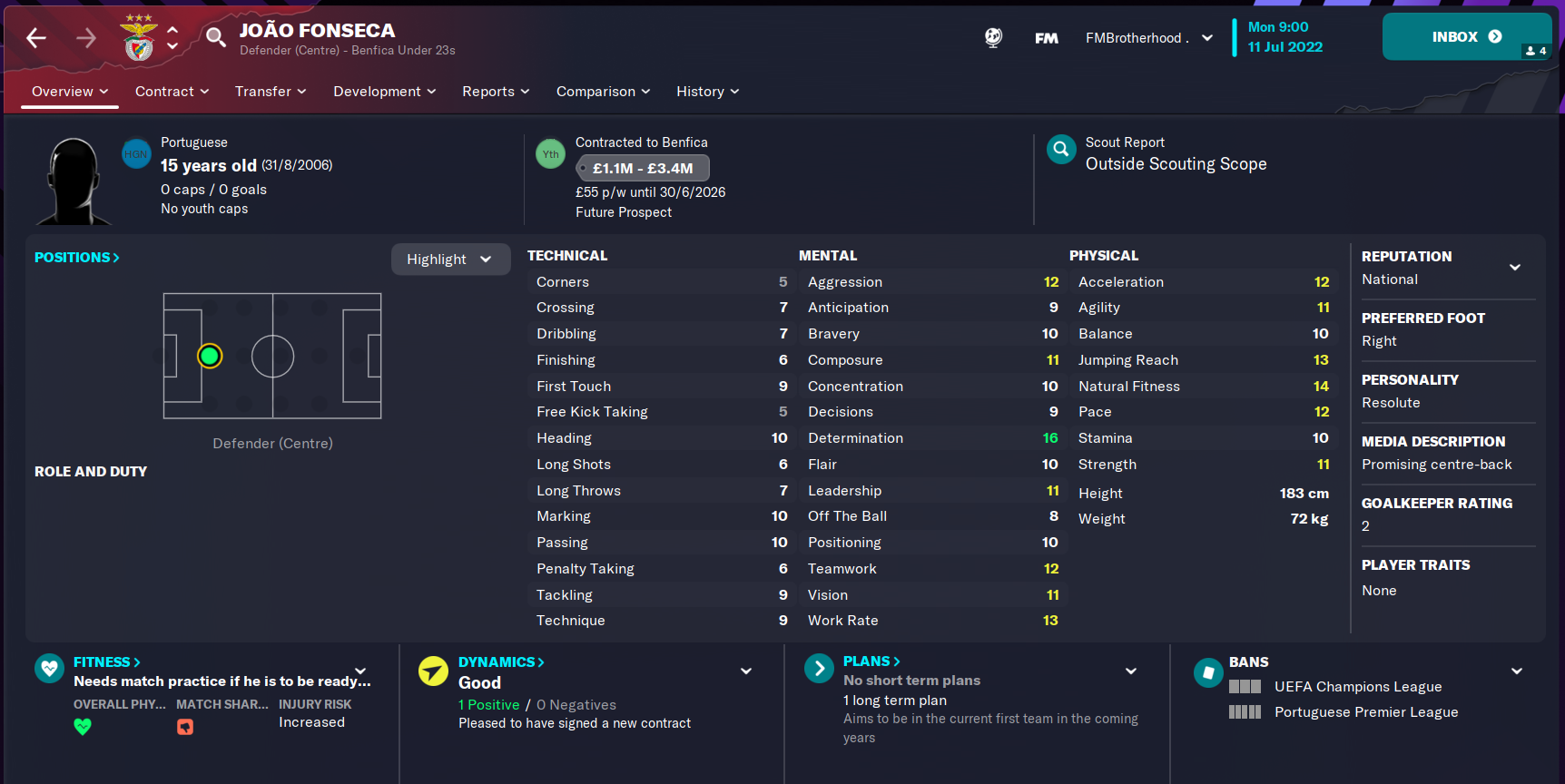 The youngest wonderkid CB on this list, Joao Fonseca plays for Benfica in the Portuguese League. He has 16 determination and 13 work rate, which means he'll work hard in training and put in a lot of effort in matches. Fonseca has a lot of room to grow, but he has great potential!
You can't sign Fonseca in the first season of your FM23 save, as he wants to continue his development at Benfica. But make sure to keep an eye on this Football Manager wonderkid CB.
Joao Fonseca in 2032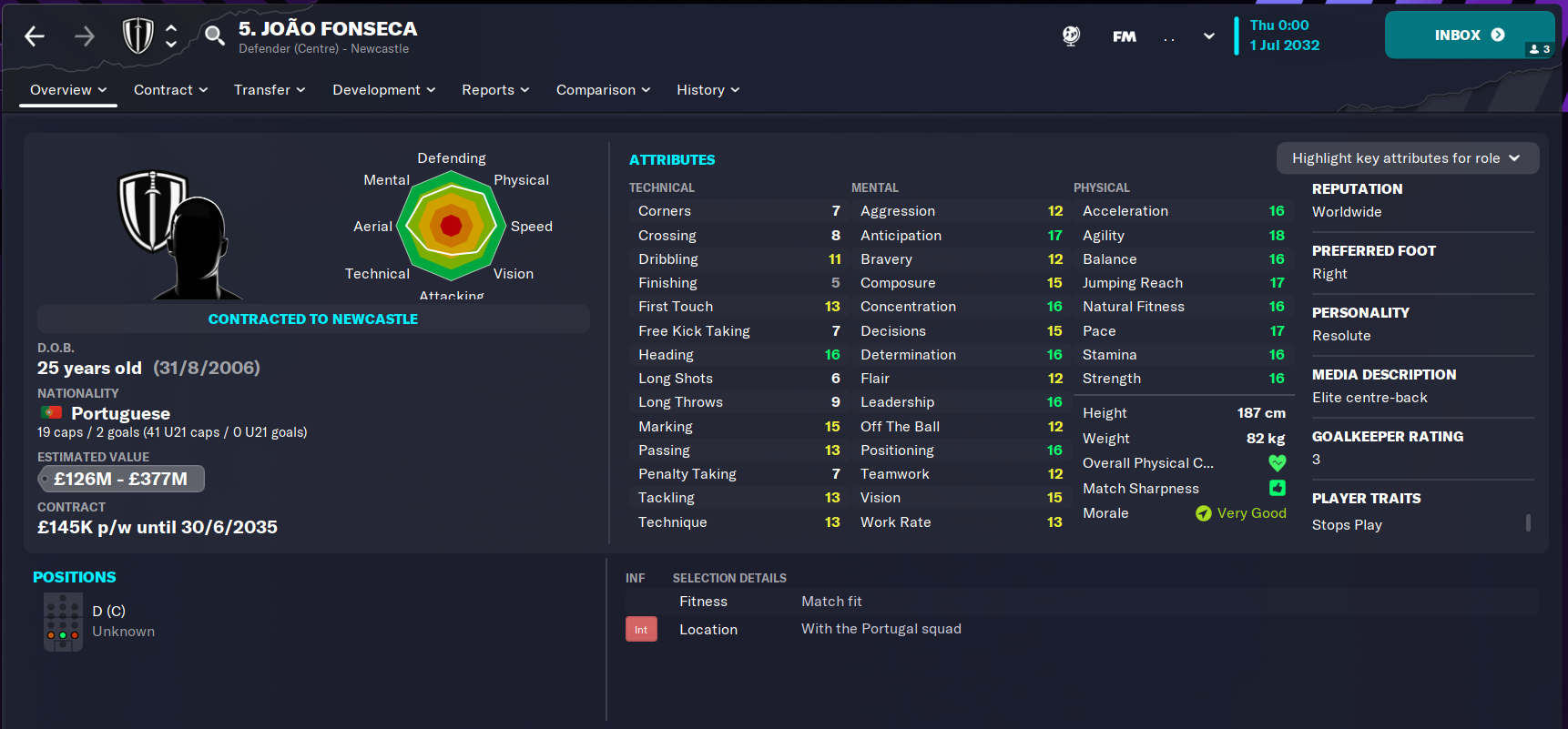 Joao Fonseca in 2032 has some of the best physical attributes amongst the other centre back wonderkids on this list! He also has some top mental attributes such as 17 anticipation, 16 concentration, and 16 positioning. His 16 heading and 17 jumping reach means he's an aerial threat in both attacking and defending scenarios.
If you can manage to sign up this centre back wonderkid cheaply, he could turn out to be a bargain!
2. Josko Gvardiol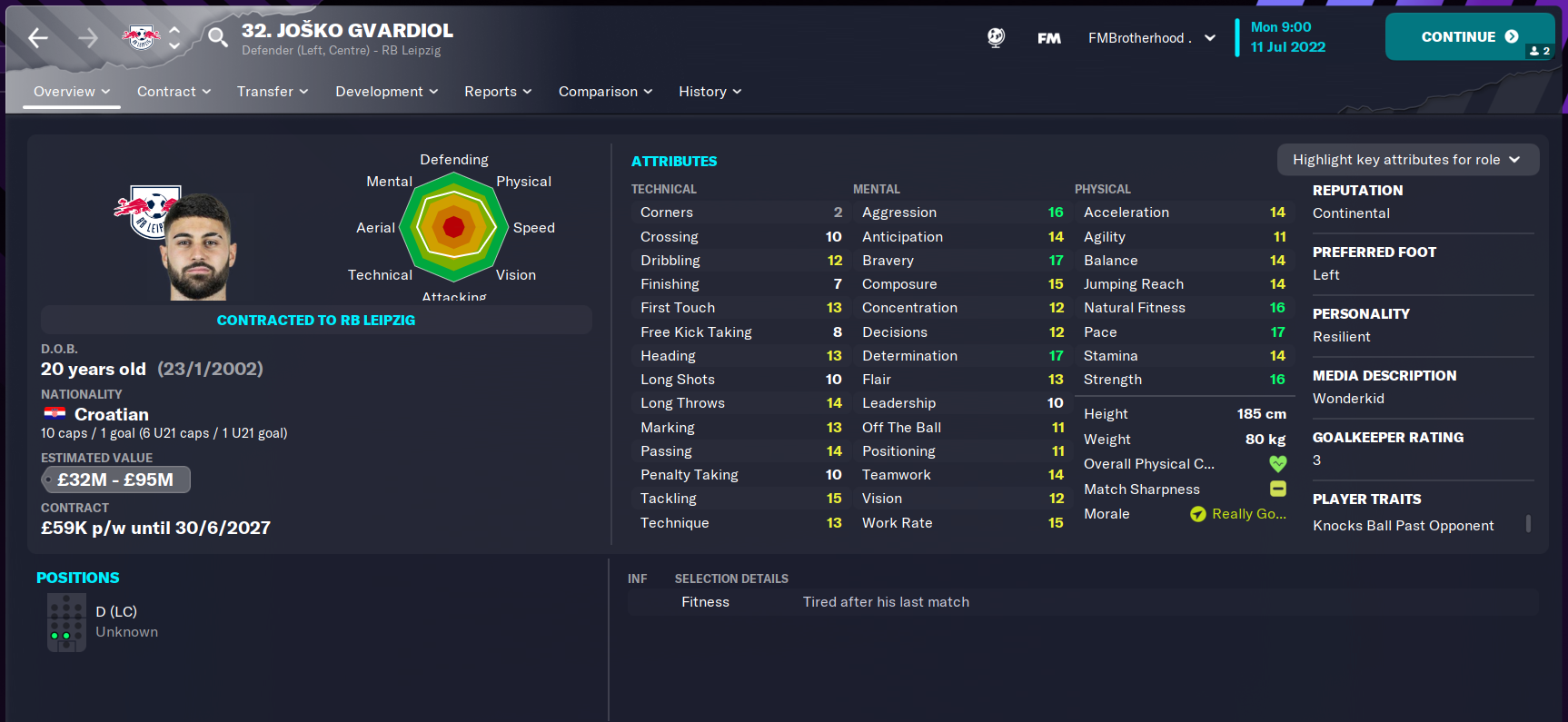 It won't be a surprise to you to see Josko Gvardiol on this list. He was one of the best centre back wonderkids in FM22, and the same goes for FM23! At 20 years of age, he's already got great defensive attributes, such as 15 tackling and 13 marking. Gvardiol is also great at playing out from the back, and has the ability to play left back.
However, Josko Gvardiol is extremely expensive. If you want to sign him in the first season of your Football Manager 23 save, he will cost you £63 million!
Josko Gvardiol in 2032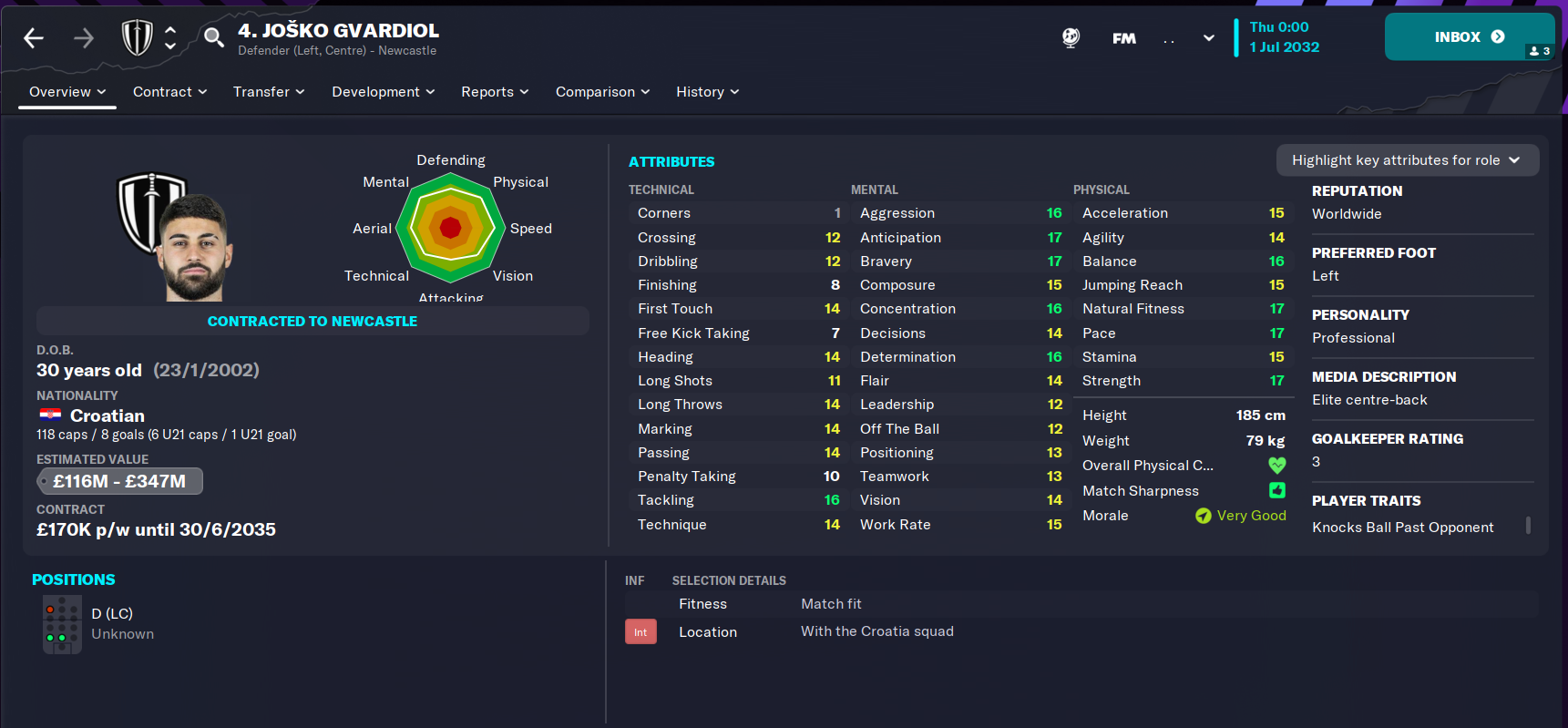 Josko Gvardiol becomes a fantastic world class centre back in FM23. It's difficult to pick out a weakness in his defensive game. His 17 pace means he can catch up with fast attackers running in on goal. Gvardiol has also managed to accumulate 118 caps for Croatia by the age of 30, which is an impressive achievement.
If you can afford this centre back wonderkid at some point in your save, you'll be guaranteed a top class, consistent, centre back.
1. Giorgio Scalvini – The Best Centre Back Wonderkid in FM23
Giorgio Scalvini is the best FM23 centre back wonderkid. In the 21/22 season, he made 18 appearances for Atalanta in Serie A, which is a huge achievement for a teenager! He has great defensive attributes such as 14 marking, tackling, and positioning. Scalvini is also extremely tall, has 15 jumping reach, and 13 heading.
The best centre back wonderkid in football manager 23 costs you £34 million in your first season. An expensive wonderkid, but certainly worth it.
Caleb Okoli who also plays for Atalanta, features on this list too. So if you're looking to start a save with Atalanta in FM23, you've already got 2 excellent wonderkid centre backs to build your team around.
Giorgio Scalvini in 2032 in FM23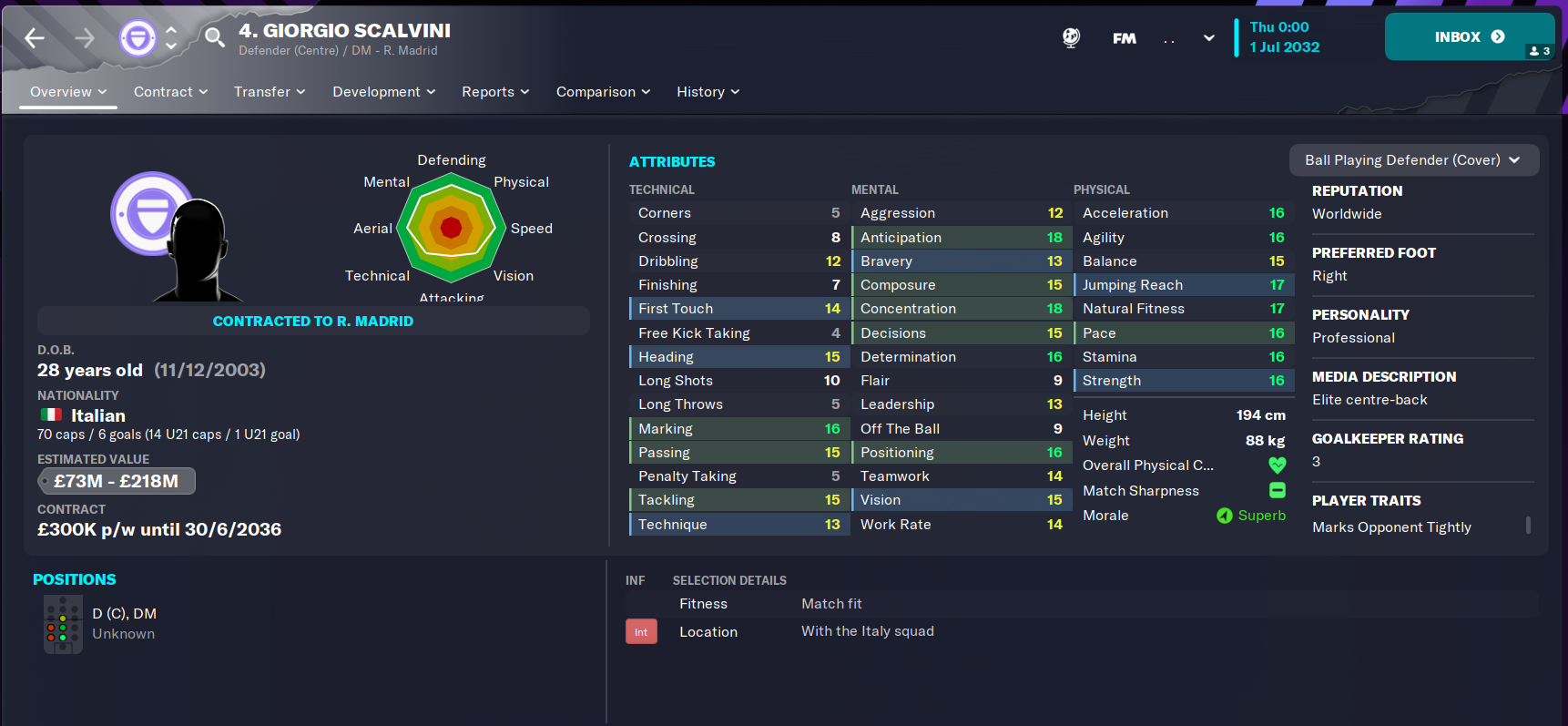 Giorgio Scalvini in FM23 has the potential to become the best CB in the game. This wonderkid has some world class defensive attributes, such as 18 anticipation, 18 concentration, and 16 marking. He's also a fast centre back, and has the passing ability to play out from the back. He's the perfect wonderkid centre back.
Final Thoughts on Centre Back Wonderkids in FM23
That's the end of our list of the best wonderkid centre backs in football manager 2023. If you think there's any wonderkids that we missed, comment to let us know!
If you're looking for more wonderkids, check out our FM23 best wonderkids article here.