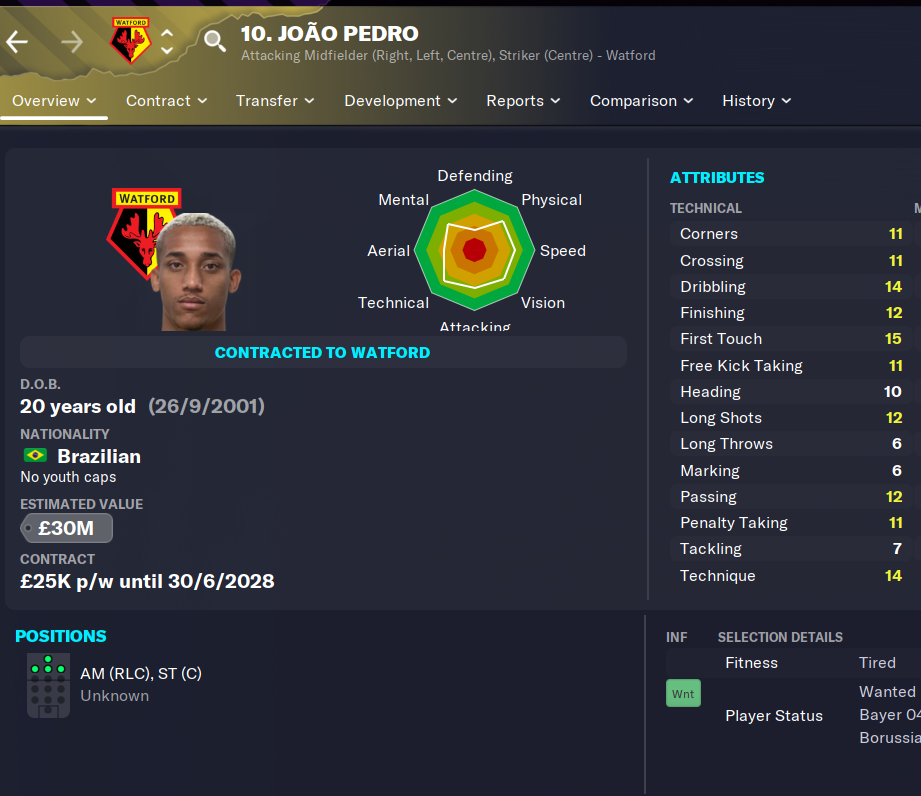 10 Best Championship Wonderkids in FM23
By callum | January 29, 2023 | 11856 Views
Best Championship Wonderkids – FM23
The Sky Bet Championship is home to some of the best wonderkids in FM23. These wonderkids have the potential ability to make the step up to the Premier League if you give them regular first team football and the right training programme.
Here are the 10 best Championship wonderkids FM23 has to offer!
If you're looking for more English Football League wonderkids in FM23, click here.
What is a Championship Wonderkid in FM23?
An FM23 Championship wonderkid is a player 20 years old or younger that is contracted to a Sky Bet Championship club at the start of your Football Manager 2023 save. We have not included wonderkids on this list that are on loan at Championship clubs, such as Hannibal.
10. Josh Griffiths
In the first season of your FM23 save, Josh Griffiths is on loan at Sky Bet League One side Portsmouth. But he's actually contracted to Championship team West Brom.
Griffiths has some solid goalkeeping attributes, including 12 reflexes, 14 kicking, and 14 aerial reach. He'll get consistent first team football at Portsmouth in the first FM23 season, which means in your second season, he'll be good enough to play in the Championship.
Josh Griffiths in 2032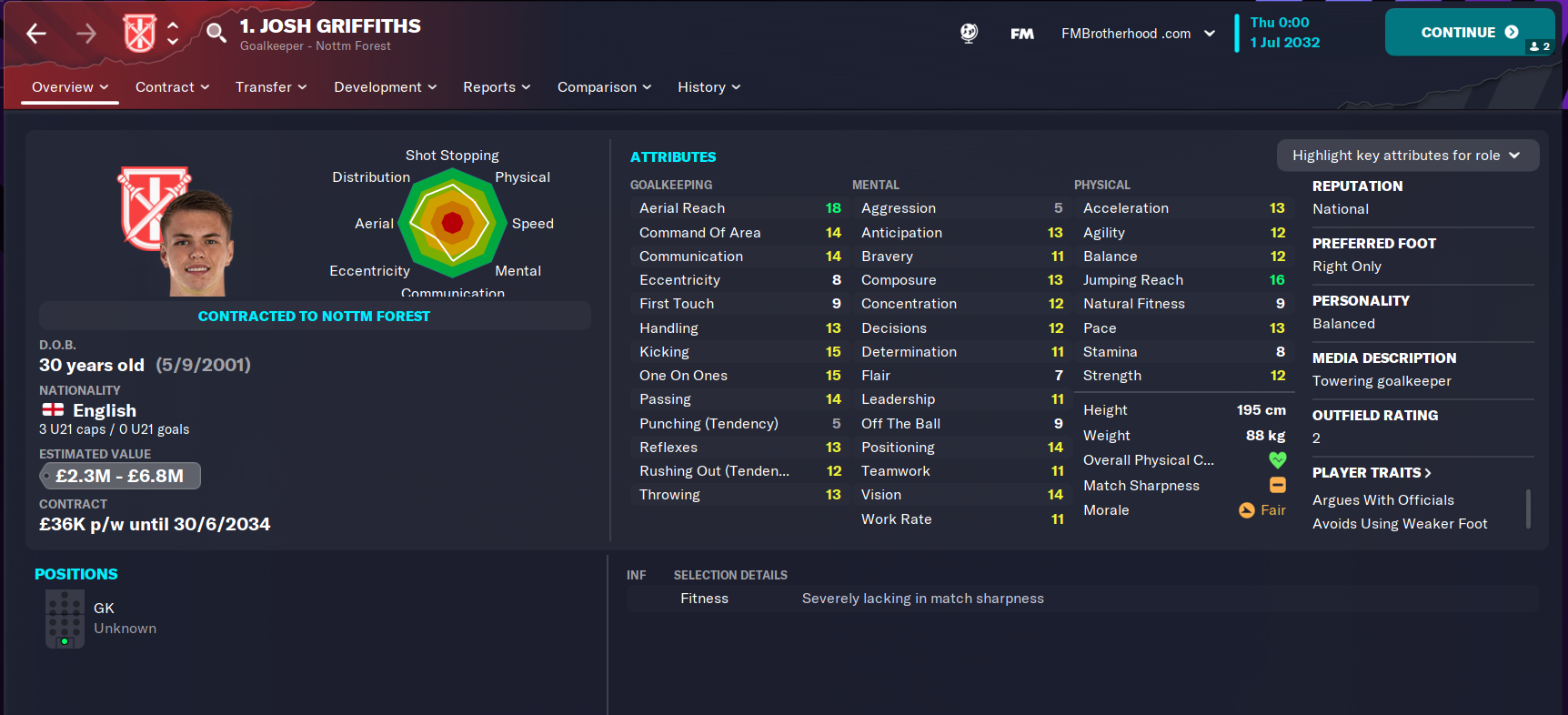 In our FM23 simulation, this Championship wonderkid goes on to play for Premier League side Nottingham Forest! Some of his goalkeeping attributes have significantly improved, with his one on ones increasing from 12 to 15, and his aerial reach from 14 to 18.
If you want to find some better FM23 wonderkid goalkeepers, check out this article.
9. Abdoullah Ba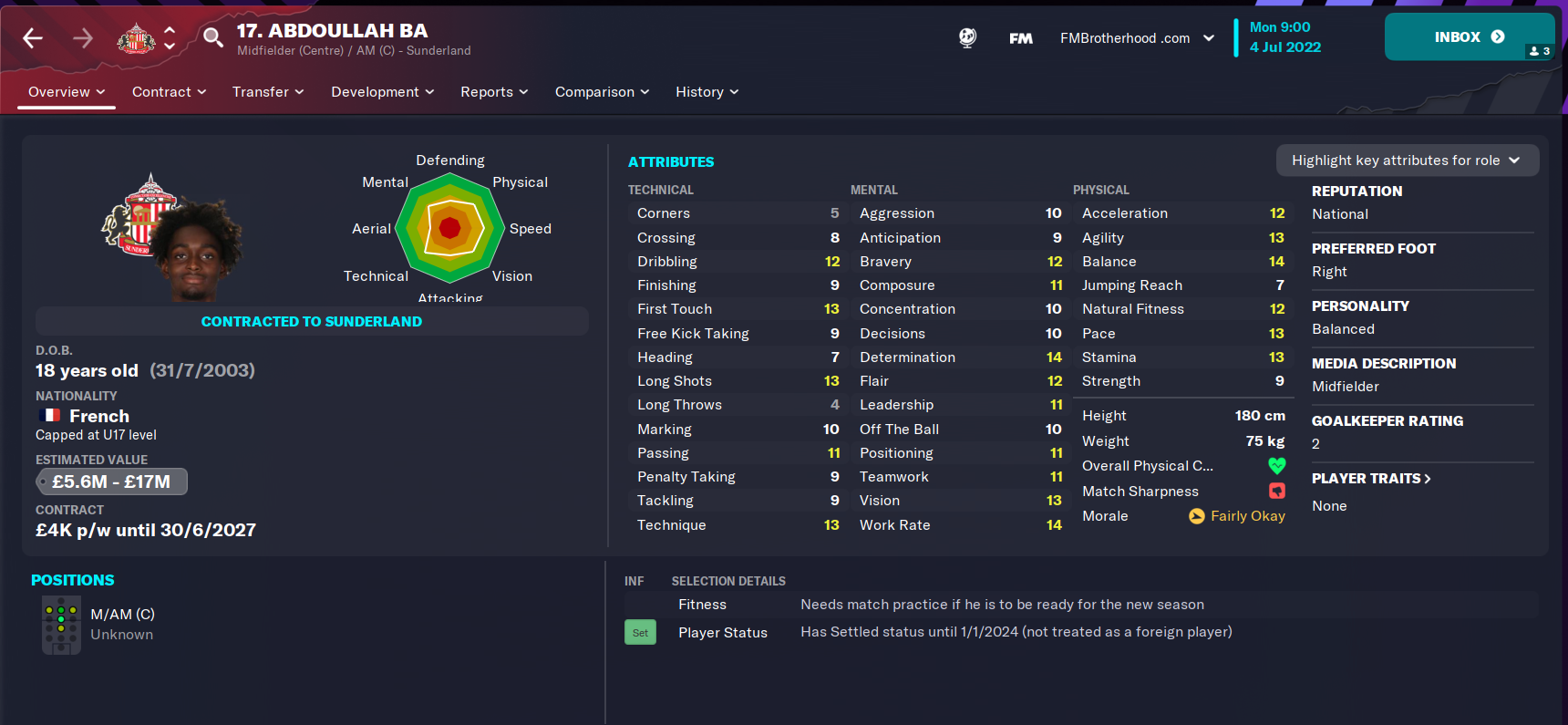 The next player on our list of the best Championship players FM23 has to offer is French youth international Abdoullah Ba. This young CM is technically sound for a teenager, with 13 first touch, 12 dribbling, and 13 technique. He's also a versatile player, being able to play as a CAM and on either wing. But he's definitely best as a deep lying playmaker in central midfield.
Ba recently signed for Sunderland, so you'll need to wait until the second season of your Football Manager 23 save if you want to sign him.
Abdoullah Ba in 2032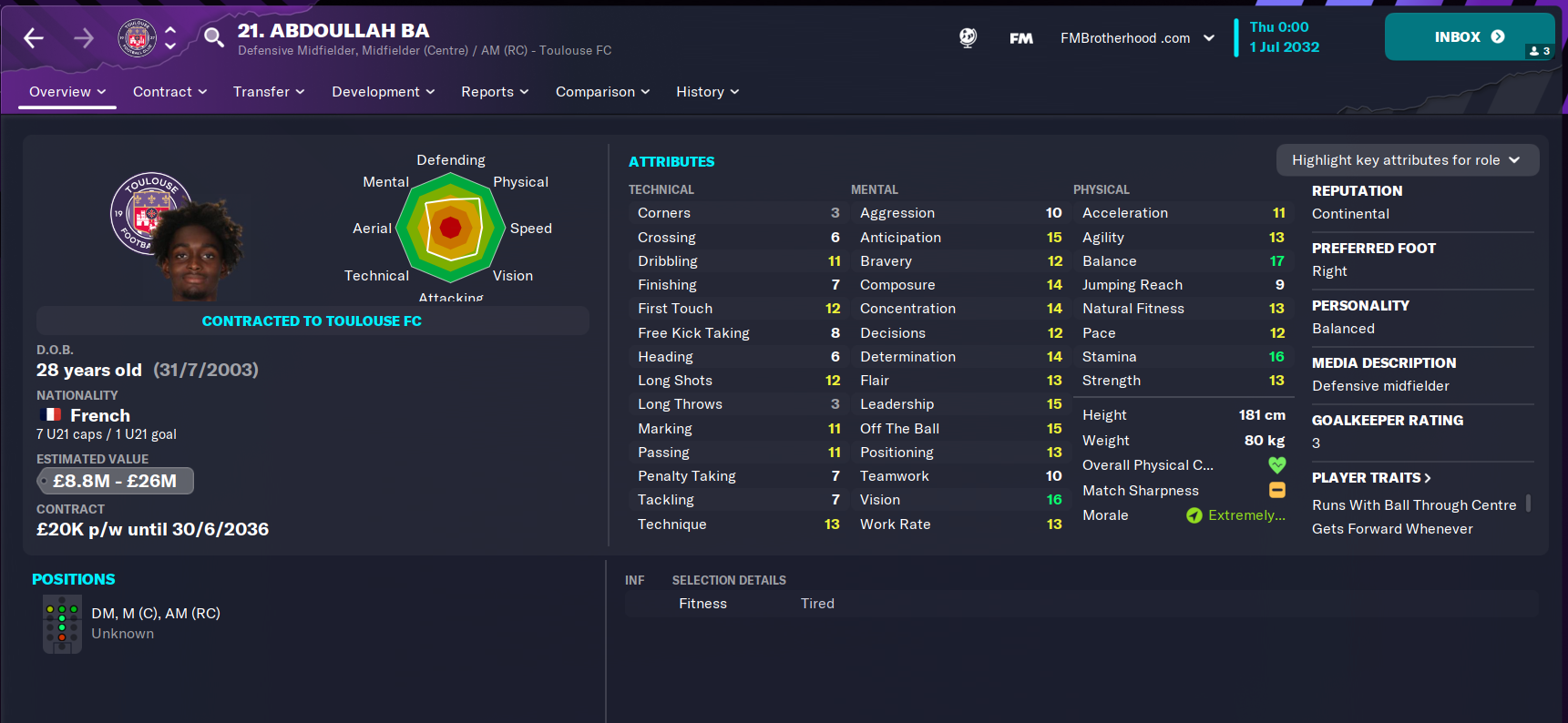 This FM23 Championship wonderkid in his prime has some amazing physical attributes, such as 17 balance, and 16 stamina. His mental attributes are well rounded, with most of them being rated at least 13 or above. In our simulation, Ba never managed to make an first team international appearance for France. However, this is not a surprise due to the amazing quality in the French midfield.
8. Dennis Cirkin
Another Sunderland wonderkid on the list of the best Championship wonderkids FM23 has to offer is Dennis Cirkin. He's a versatile young left back who can also play centre back and left wing-back. Cirkin's best defensive attributes are 12 marking, anticipation, and positioning.
Sunderland want £9.5 million to let go of their Championship wonderkid in the first FM23 season.
Dennis Cirkin in 2032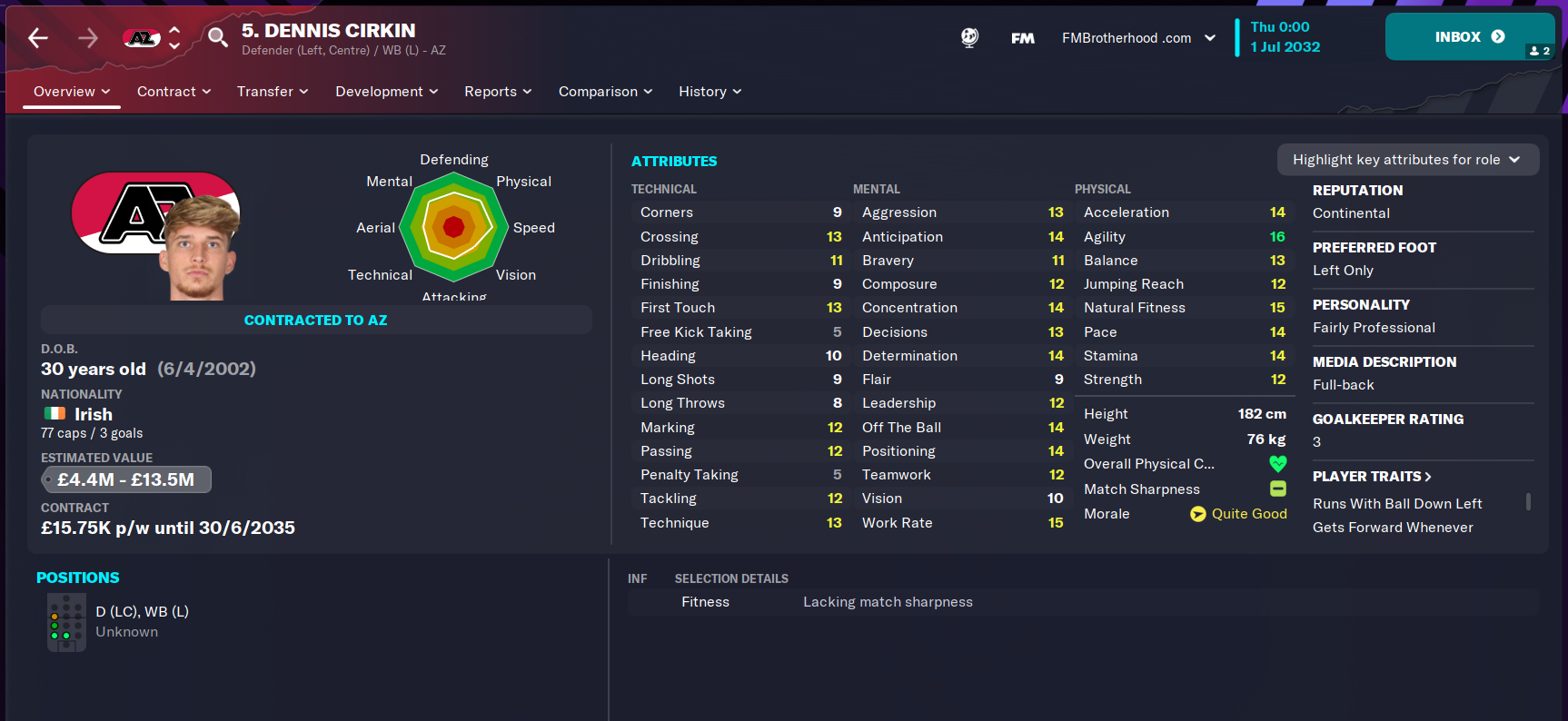 This championship wonderkid in FM23 has managed to obtain 77 international caps for Ireland! His physical attributes stand out in his prime, with 15 natural fitness, 14 pace, and 16 agility. Although Cirkin can play centre back, with only 10 heading, and 12 jumping reach, it wouldn't be recommended to play him there.
7. Christos Tzolis
Christos Tzolis had a poor season 2021/22 season for Norwich, and has been loaned out to Dutch side FC Twente. He still has great potential in FM23 and is excellent technically. To become a top winger, Tzolis needs to develop his composure and decision making, so he becomes more effective in the final third.
As this FM23 Championship wonderkid is on loan, you'll need to wait one season before trying to sign him.
Christos Tzolis in 2032
In our FM23 simulation, Christos Tzolis goes on to play for Real Betis in the Champions League, and get almost 90 caps for Greece! His ability in the final third has clearly improved, as he now has 13 composure and 11 decision making.
This Championship wonderkid is definitely a player to keep your eye on.
6. Han-Noah Massengo – Young CDM Wonderkid
The second French wonderkid on this list is exciting young defensive midfielder Han-Noah Massengo. He's very well rounded mentally and physically, but he doesn't have any youth caps for France for some reason.
If you want to sign this Championship wonderkid, he'll cost you just under £10 million. However, you'll have to try and sign him quick, as he's wanted by Premier League teams Newcastle and West Ham.
Han-Noah Massengo in 2032
In his prime, this Championship wonderkid in FM23 has the best overall mental attributes of any wonderkid on this list so far. Han-Noah Massengo also has 15 passing, technique, and vision, which are all important attributes for a defensive midfielder to have.
Massengo definitely has the potential ability to play in the English Premier League. Read on to find out the 5 best Championship wonderkids FM23 has to offer!
5. Ashley Phillips – Youngest FM23 Championship Wonderkid
Ashley Phillips is the youngest Championship wonderkid FM23 has to offer! His physical attributes are incredible for a 17 year old, with his lowest physical attribute being 11 stamina. Standing at 194cm tall, Phillips has 16 jumping reach, and 13 heading, which means he's extremely effective in both penalty boxes.
Phillips is a brilliant wonderkid defender, which could play Championship football straight from the first season. He's just signed a new contract with Blackburn, so doesn't want to leave straight away.
Ashley Phillips in 2032
In our FM23 simulation, Ashley Phillips stayed at Blackburn, and has made 320 league appearances for the club. Blackburn have just been relegated from the Premier League, but this Championship wonderkid is far too good to be playing in the second tier of English football. He has brilliant pace, which means he can play really well in a tactic with a high defensive line, and also has great determination and concentration.
You should definitely try and steal this Championship wonderkid from Blackburn.
4. Alex Scott
Alex Scott is an exciting FM23 wonderkid CAM and a standout player for Sky Bet Championship team Bristol City. He's an English youth international, and is definitely a player that can help you get promoted to the Premier League.
If you want to sign this FM23 Championship wonderkid, you'll have to pay £10 million. However, this could be an absolute bargain when you see the potential Alex Scott has.
Alex Scott in 2032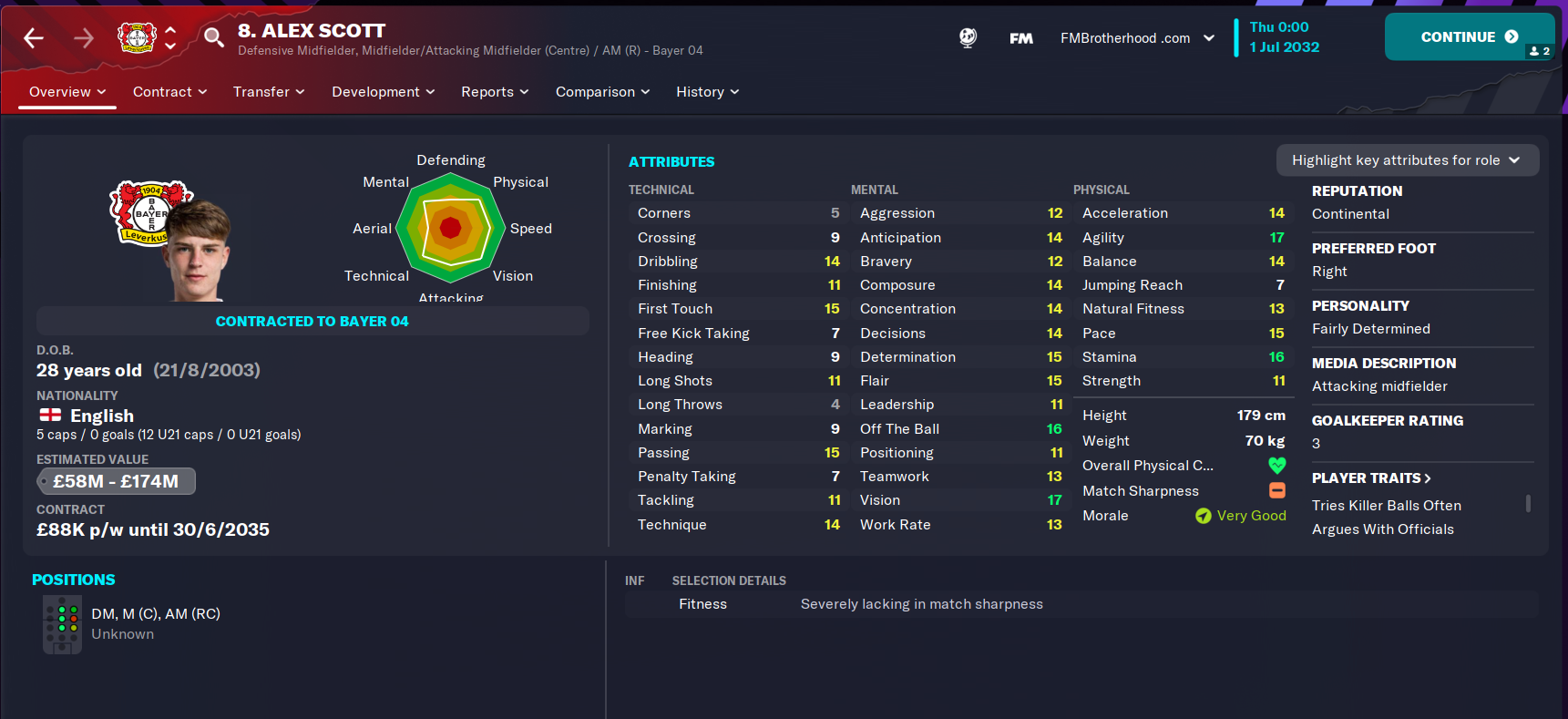 Alex Scott now plays for Bayern Leverkusen and is worth over £50 million. You can clearly see by Scott's attributes in his prime, he's definitely worth the £10 million investment in your first FM23 season. His standout attributes are 17 vision, 16 off the ball, and 17 agility.
Scott has also managed to get 5 caps for England, which is really impressive considering the strength of the England team.
3. Yaser Asprilla – Colombian Wonderkid in FM23
Number 3 on our list of the best Championship wonderkids FM23 has to offer is Colombian youngster Yaser Asprilla. He already has a senior goal for his national team at just 18 years old! He's extremely versatile, and is also either footed. This means that Asprilla can play really well in a variety of different tactics.
If you want to sign this Championship wonderkid, he'll cost you £13.5 million!
Yaser Asprilla in FM23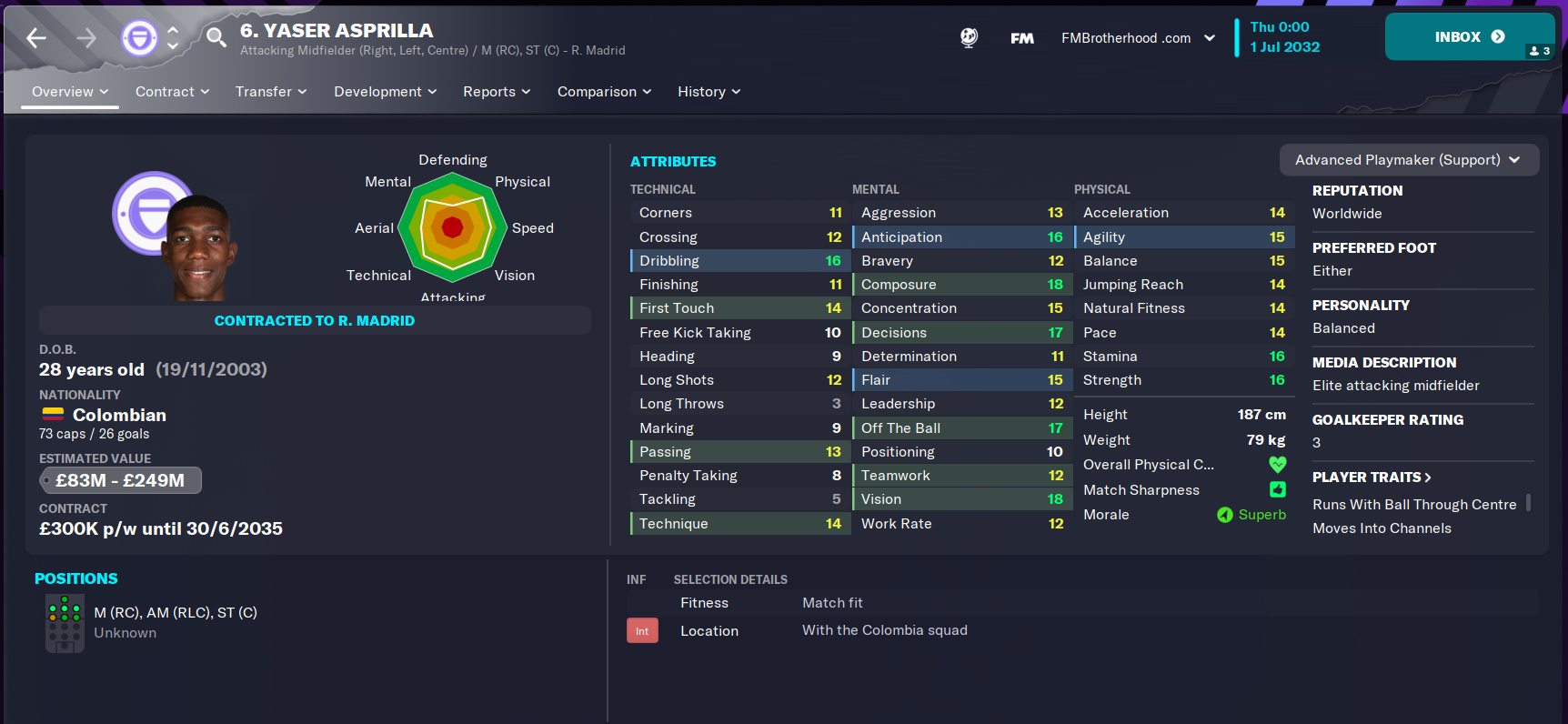 In 2032, Asprilla plays for Real Madrid and is on £300k per week! That's more than any FM23 Championship wonderkid on this list.
Yaser Asprilla's mental stats are what make him standout, with his best being 17 decisions, 18 composure, and 18 vision. This is a ridiculously good Championship wonderkid that you must try and sign in your FM23 save if you get the chance.
2. Andrew Omobamidele
Andrew Omobamidele is the best Championship wonderkid defender in Football Manager 2023. He's tall, rapid, and has great defensive attributes, including 14 marking, 15 tackling, and 14 positioning. If you like your defenders to play out from the back though, you'll want to look to develop Omobamidele's passing, first touch, and technique.
However, this FM23 Championship wonderkid will cost you £18 million! This is quite expensive for a youngster, but he has brilliant potential ability.
Andrew Omobamidele in 2032
Andrew Omobamidele is a fantastic defender in his prime, with 16 tacking, pace, and composure, being his best attributes. He's also made 84 appearances for Ireland, and has slightly improved his passing attributes.
If you want to sign Andrew Omobamidele in your FM23 save, you'll want to sign him as quick as you can, because the older he gets the more expensive he'll become.
1. Joao Pedro – The Best Championship Wonderkid FM23 has to offer!
Joao Pedro is the best Championship wonderkid in FM23! Pedro almost signed for Newcastle in the summer of 2022, but thankfully for Watford the deal fell through. Pedro is a brilliant wonderkid striker, but can also play right wing, left wing, and attacking midfielder.
Joao Pedro is the most expensive FM23 Championship wonderkid on this list. If you want to sign him, he'll cost you £30 million!
Joao Pedro in 2032
Pedro looks amazingly well rounded in his prime, which is why he's the best FM23 Championship wonderkid on this list! Pedro has amazing flair, vision, and agility.
He's also been capped by Brazil, and is worth up to £100 million. He's an exceptional Championship wonderkid that is definitely ready to play Premier League football in the first FM23 season.
So which FM23 Championship Wonderkids should you sign?
There are some high quality Championship wonderkids in FM23. If you're managing a Premier League side and looking for a midfielder, you should look to sign Alex Scott. If you've got a larger budget Asprilla and Pedro from Watford are definitely the best attacking options.
Are you looking for more FM23 wonderkids? Check out the best CAM wonderkids here.