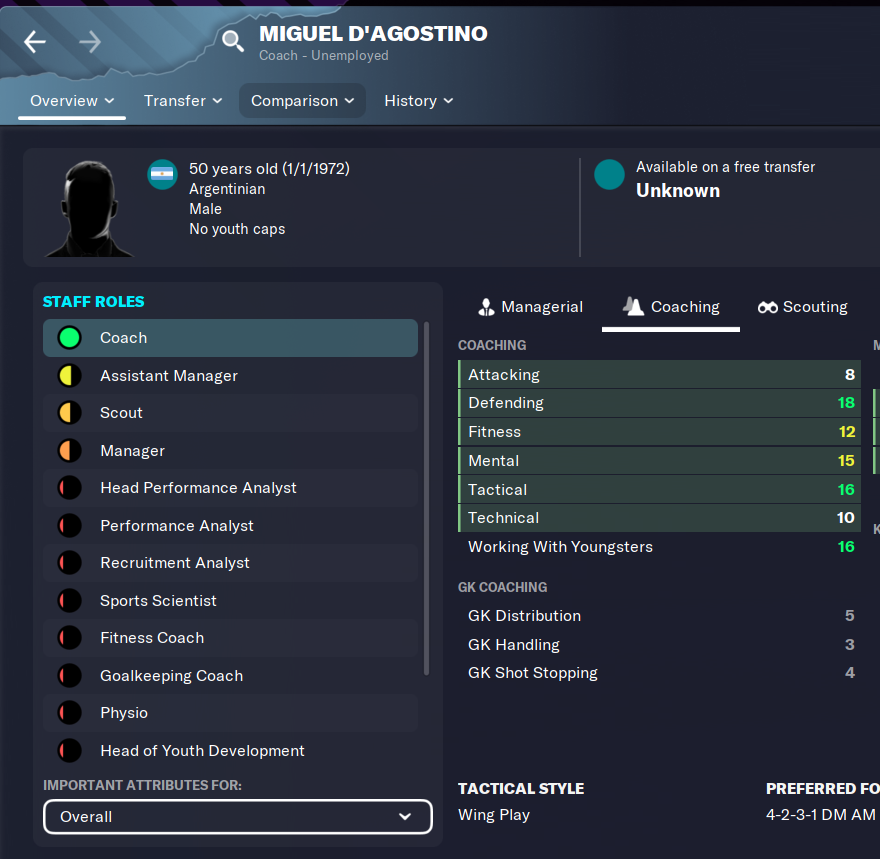 10 Best Coaches FM23 you must sign!
By callum | April 22, 2023 | 19801 Views
10 Best Coaches FM23 to Appoint
Getting the right backroom staff can sometimes be overlooked by Football Manager players. However, it can be pivotal to the success you have when playing the game. That's why we've put a list together of the 10 best coaches FM23 has to offer! This will help you build the best backroom team possible, to set you up for success.
Best Attributes for Coaches FM 2023
First we need to look at the attributes a coach must have to be world class. The best coaches in FM23 are rated at least 15 in all of these attributes.
Determination
Determination is an attributes that's important for everyone in Football Manager 23 to have. This includes coaches, managers, and players. For coaches, this attributes relates to how much they're willing to work to further improve themselves. This means if you sign a younger coach with good potential, as the seasons go on they're more likely to become a world class coach in FM23.
Motivating
This is an essential attributes for coaches in FM23 to have, because it shows the ability the coach has to motivate players during training. Having coaches with a high motivating attribute means your players will train harder, learn tactics quicker, and enhance their development. This is why the best coaches FM23 has to offer must score highly in this attribute.
Level of Discipline
Level of discipline relates to how strict the coaches training sessions are. If this attribute is low, it means the coach may allow players to slack in training, which is the last thing you want!
Coaches in FM23 with a high level of discipline will make sure their training sessions are regimented, and strictly followed by your players.
Now lets get into the 10 best coaches FM23 has to offer!
10. Miguel D'Agostino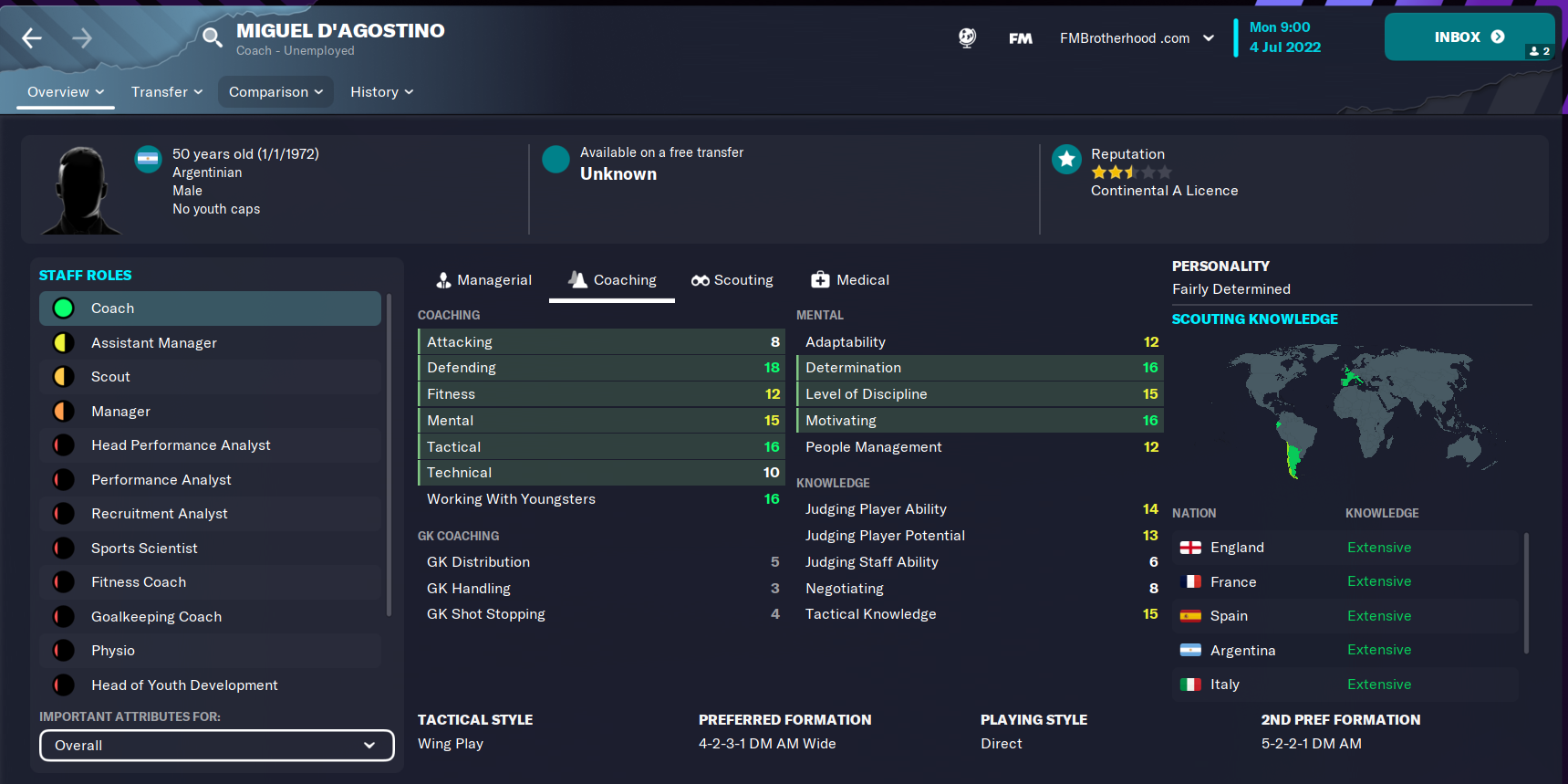 Miguel D'Agostino is 10th on our list of the best coaches FM23 has to offer. He's been part of Mauricio Pochettino's backroom staff for over 10 years, so you can see why he's a world class coach.
D'Agostino excels in defensive coaching, and is great in the 3 areas we previously mentioned, which are determination, level of discipline, and motivating.
As Miguel D'Agostino is currently unemployed, you can sign him without having to pay any compensation. He's willing to accept a contract as a coach for less than £10,000 per week.
9. Kristjaan Speakman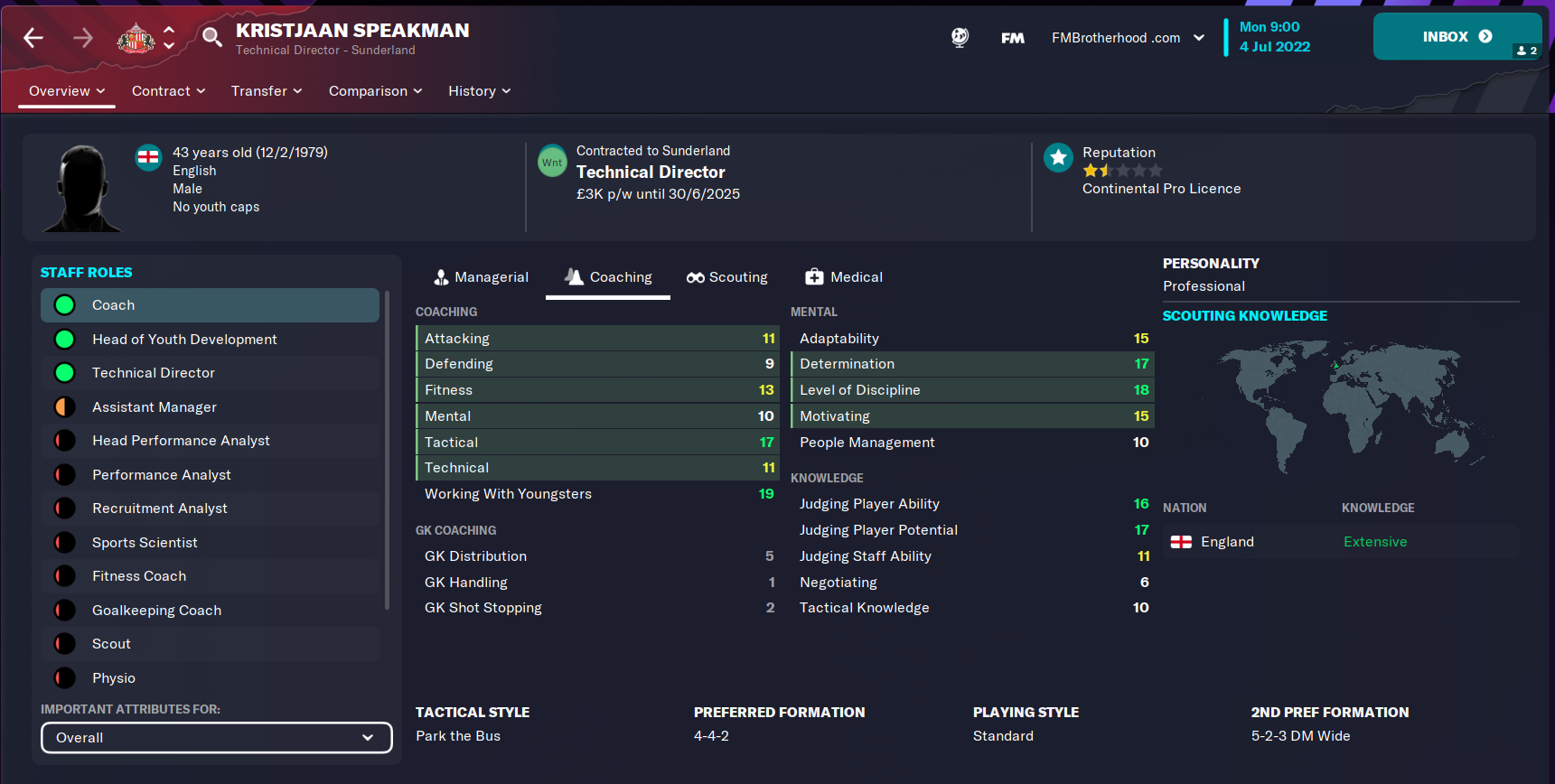 You probably didn't think you'd see a coach employed by Sunderland on this list of the best coaches in FM2023, but Kristjaan Speakman is a worthy member. While having excellent level of discipline and determination, Speakman is also fantastic tactically. This will help your team get up to speed with your style of play you want them to use when on the pitch.
As Kristjaan Speakman is under contract at Sunderland, you'll need to pay £475k in compensation if you want him to be part of your backroom staff in FM23.
8. Alessandro Nista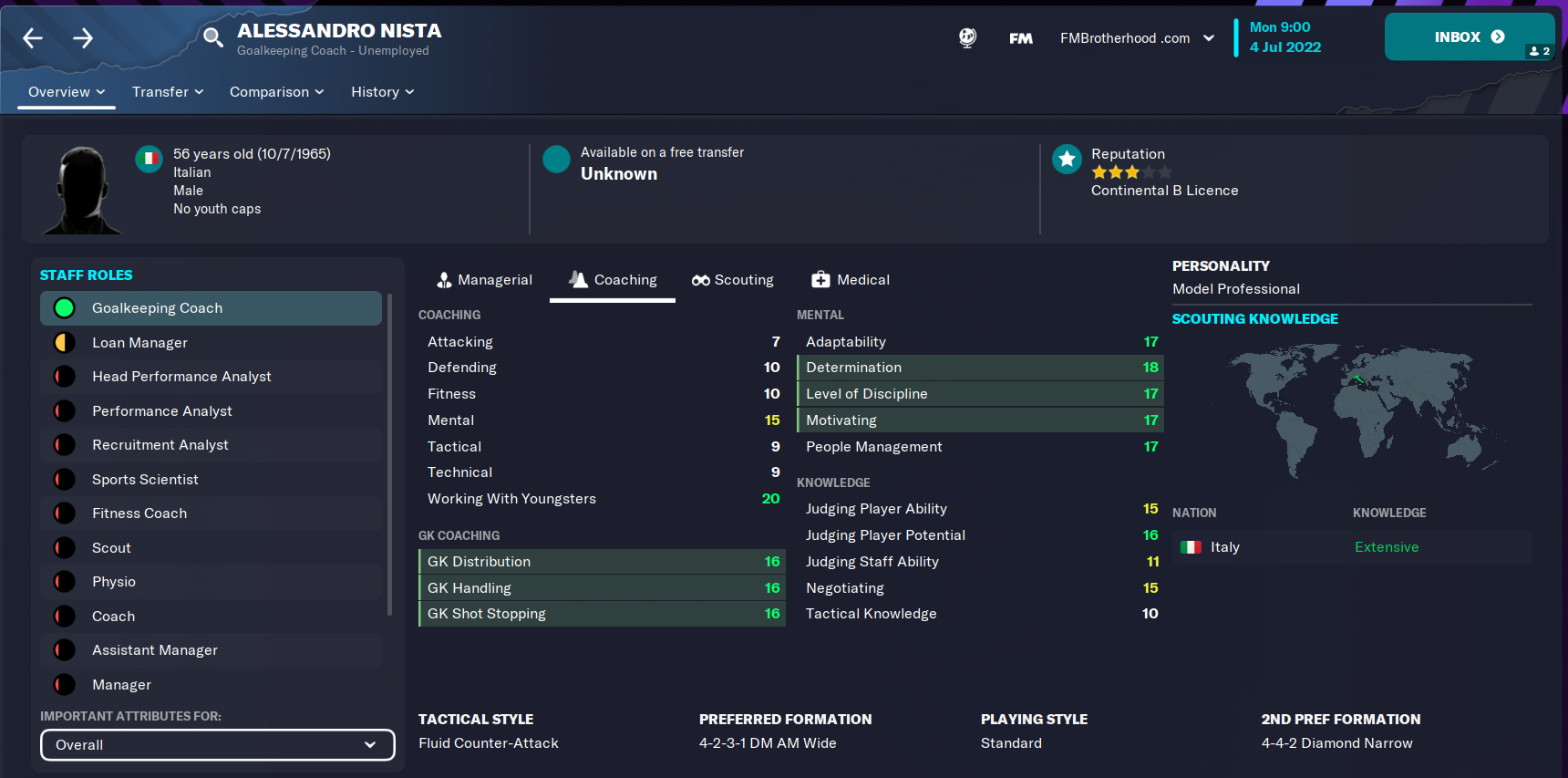 The first goalkeeping coach on this list of the best coaches FM23 has to offer is Alessandro Nista. The Italian coach recently spent 5 years at Napoli, and has also been a goalkeeping coach for Inter Milan.
There are a few goalkeepers with slightly better goalkeeping coaching attributes. However, not many have better motivating, determination, and level of discipline.
Alessandro Nista also has an amazing 20 working with youngsters. This attribute allows him to to successfully work with and develop younger players in your squad, especially players aged 18 and under.
You can add Nista to your backroom staff on a contract of just £2k per week! This is a bargain for one of the best goalkeeping coaches in FM23.
7. Anthony Colbert
Anthony Colbert has been a go to for me on Football Manager for years. He's an exceptional fitness coach that was at Arsenal for 20 years under Arsene Wenger. If that doesn't show his quality, then what will?
He has 19 fitness, which combined with 15 determination, 18 level of discipline and motivating, makes him one of the best fitness coaches in FM23.
What makes Colbert even better, is he's unemployed and is willing to accept a contract of just £1.5k per week, which is brilliant value for money for this quality FM23 coach.
6. Flavio Tenius – Best Goalkeeping Coach FM23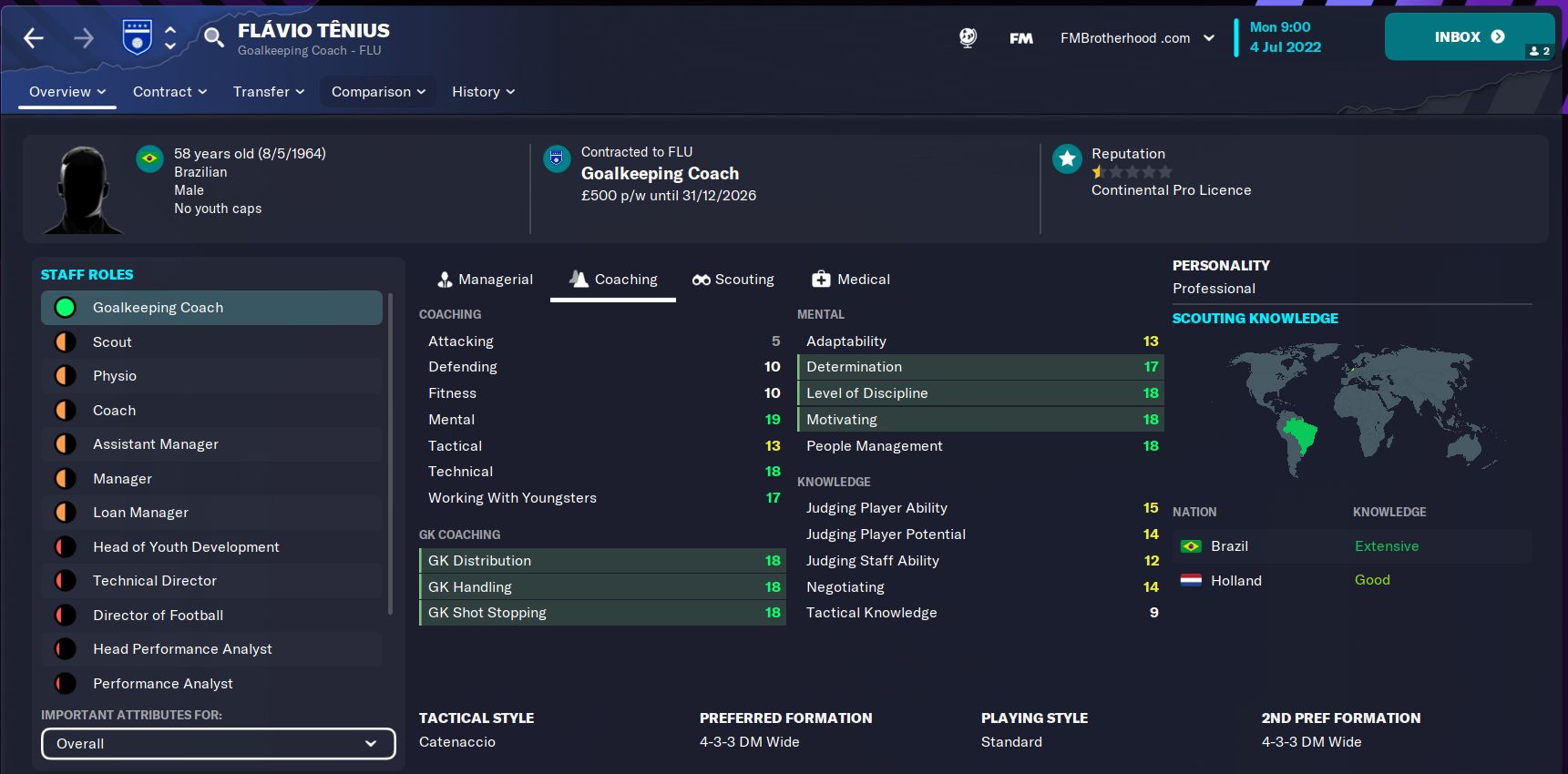 Tenius has slightly higher goalkeeping coaching attributes compared to Alessandro Nista, which is why he's the best goalkeeping coach in FM23! He excels in every attribute you want your goalkeeping coach to have, and as a nice bonus he's great at working with youngsters too.
Sadly, Flavio Tenius has just joined Brazilian side Fluminese as a goalkeeping coach, so you might have to wait a season before trying to sign him as part of your FM23 backroom staff.
5. Miguel Quaresma – Best Technical Coach in FM23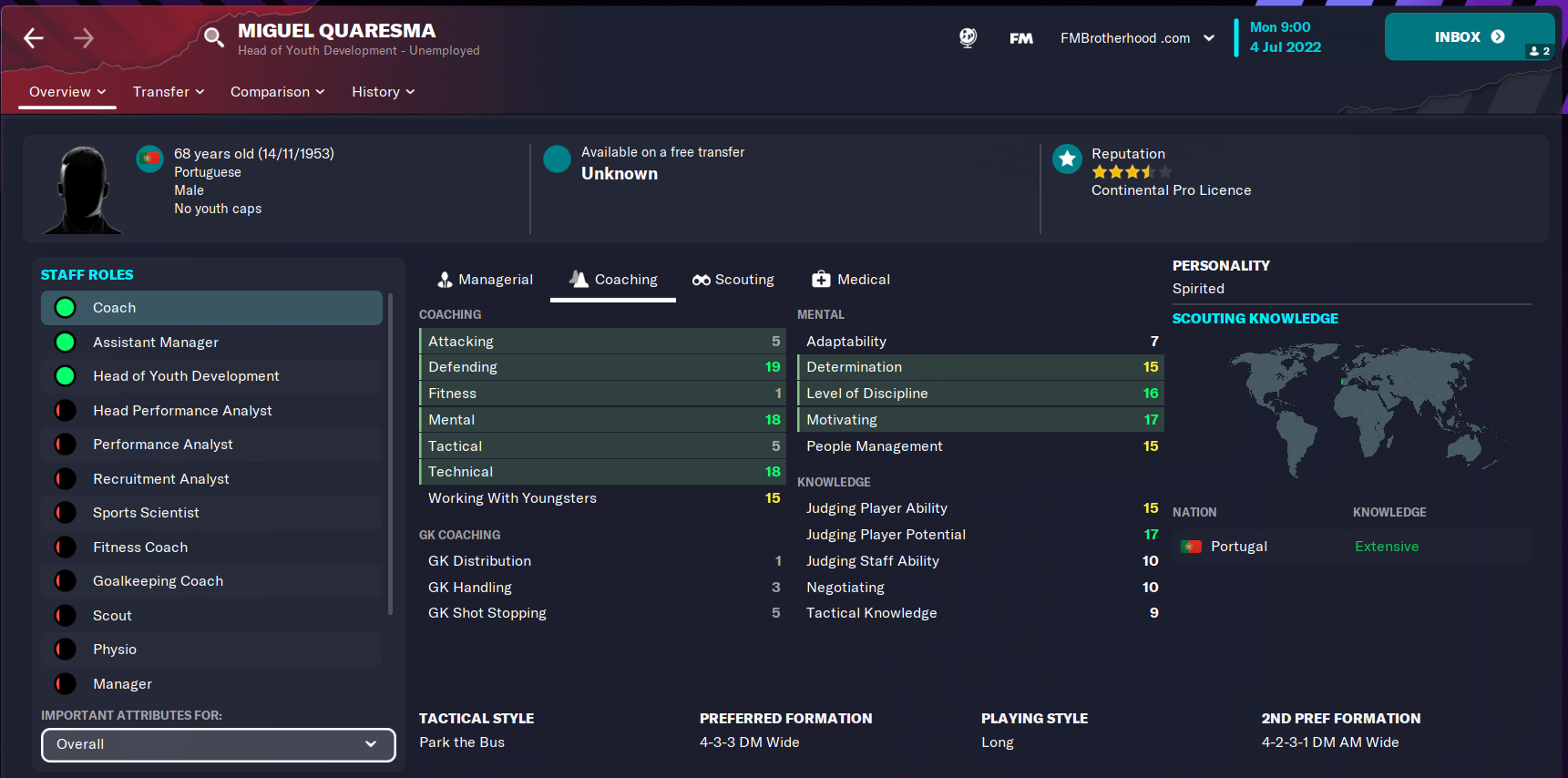 When you first take a look at Miguel Quaresma's coaching attributes, you see that he's exceptional in some areas, and awful in others. However, when it comes to coaches, they only need to be amazing in specific attributes to be an asset to your team.
That's why Quaresma makes the top 5 on our list of the best coaches FM23 has to offer. He has 19 defending and 18 technical, which makes him perfect to coach technical defending training sessions. Miguel Quaresma would also be a great assistant manager, and can also do the head of youth development role.
Quaresma is happy to become a coach for your team for a salary of £4k per week.
4. Mario Monteiro – Best Fitness Coach in FM23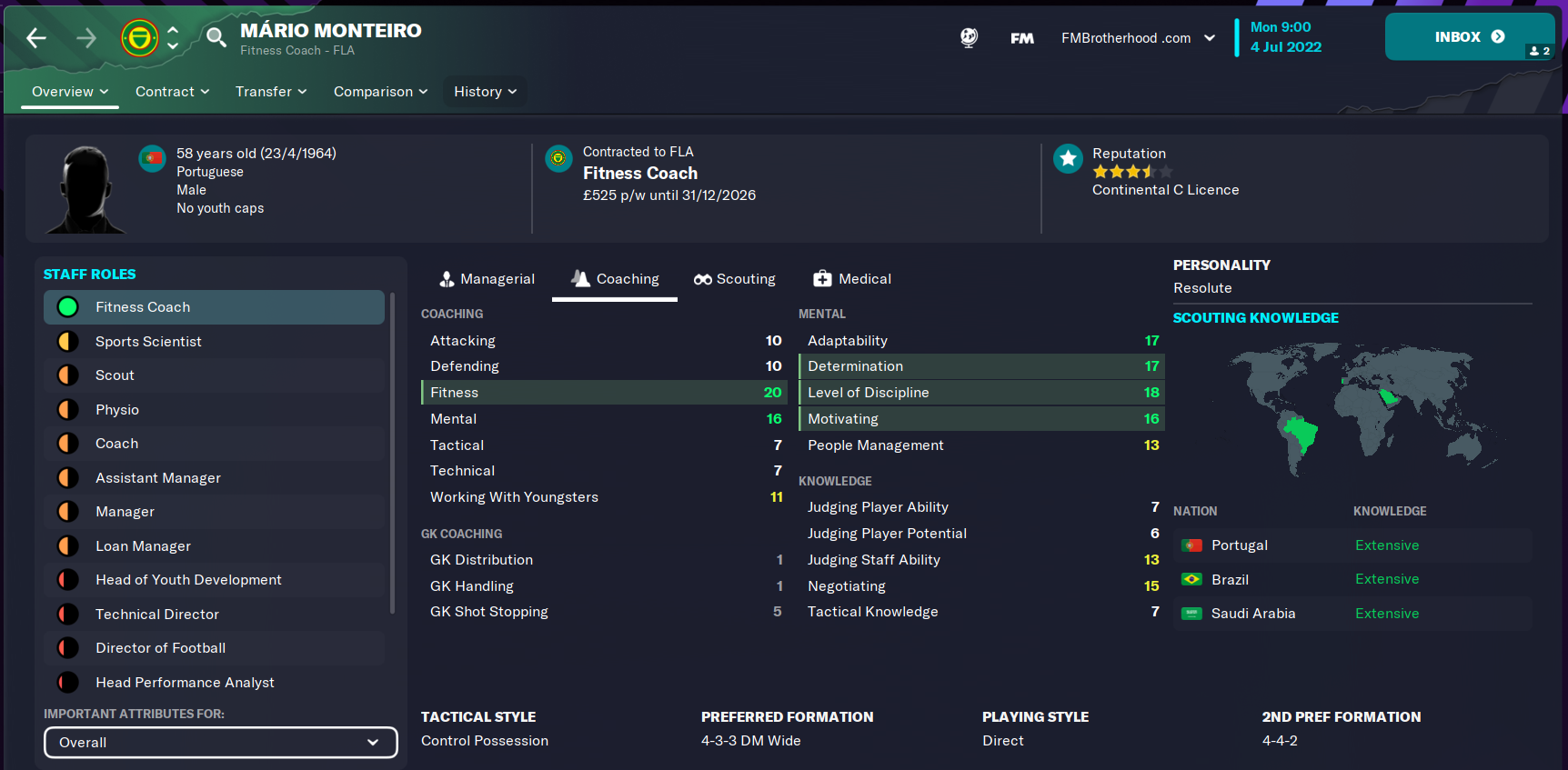 Mario Monteiro is definitely the best fitness coach in FM23 that you must try to sign as part as your backroom team. He has the highest possible fitness attribute, and amazing level of discipline. He's been a fitness coach for almost 30 years, and that experience has allowed him to become world class at his job.
He's recently signed as a fitness coach for Flamengo, so you can't sign him straight away in your FM23 save.
Let's get into the 3 best coaches FM23 has to offer!
3. Hermann Gerlund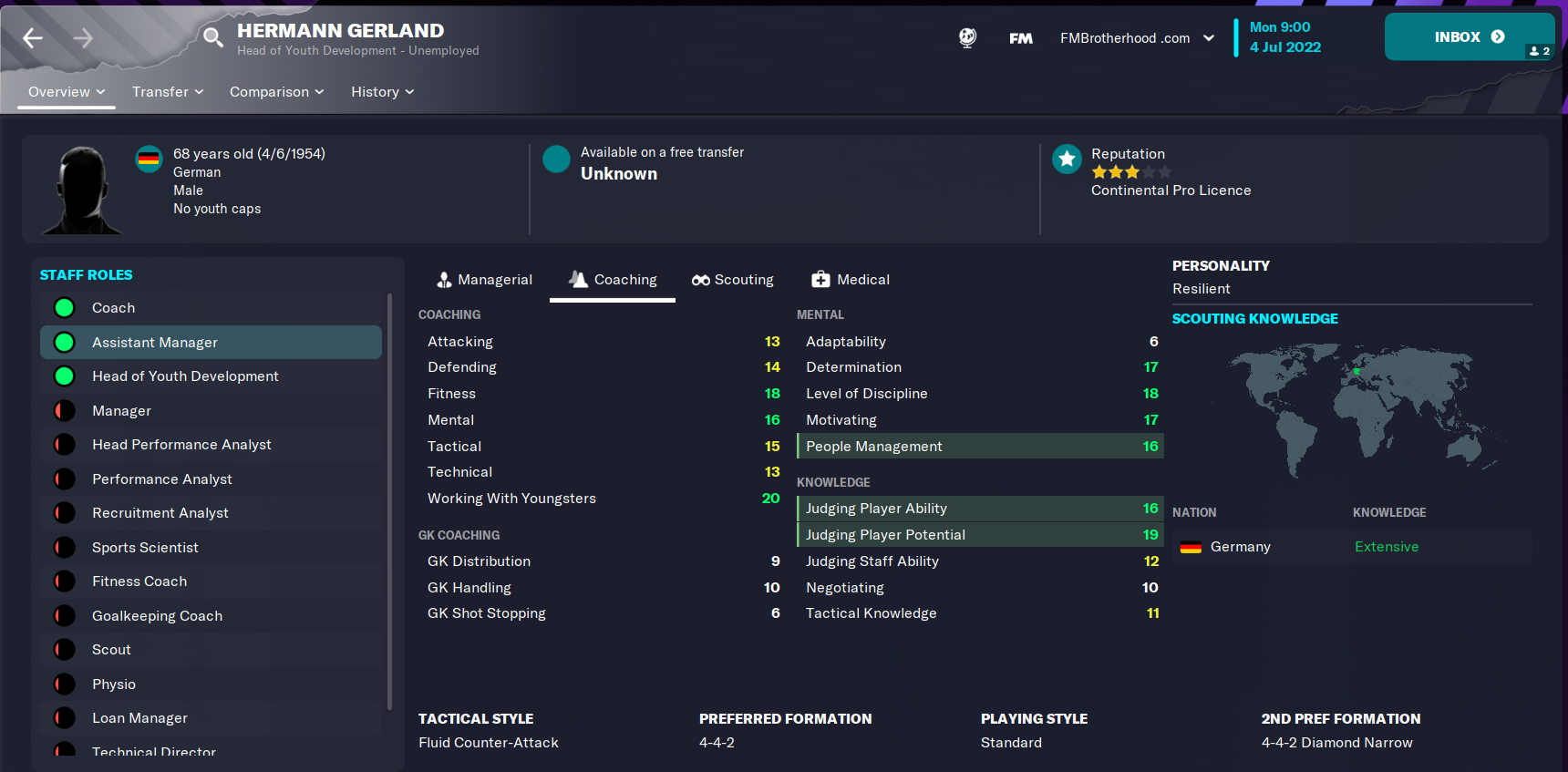 Gerlund is an amazing, versatile coach in FM23. He's rated at least 13 in all of his coaching attributes, with his best being fitness, mental, and working with youngsters.
Hermann Gerlund worked in a variety of roles over 10 years at Bayern Munich, which has allowed him to gain knowledge in all aspects of coaching. He would make a great assistant manager, or even fitness coach.
Hermann Gerlund can be signed on a contract paying him £6k per week, which is more than affordable for most top clubs.
2. Giuseppe Baresi – Best Defensive Coach FM23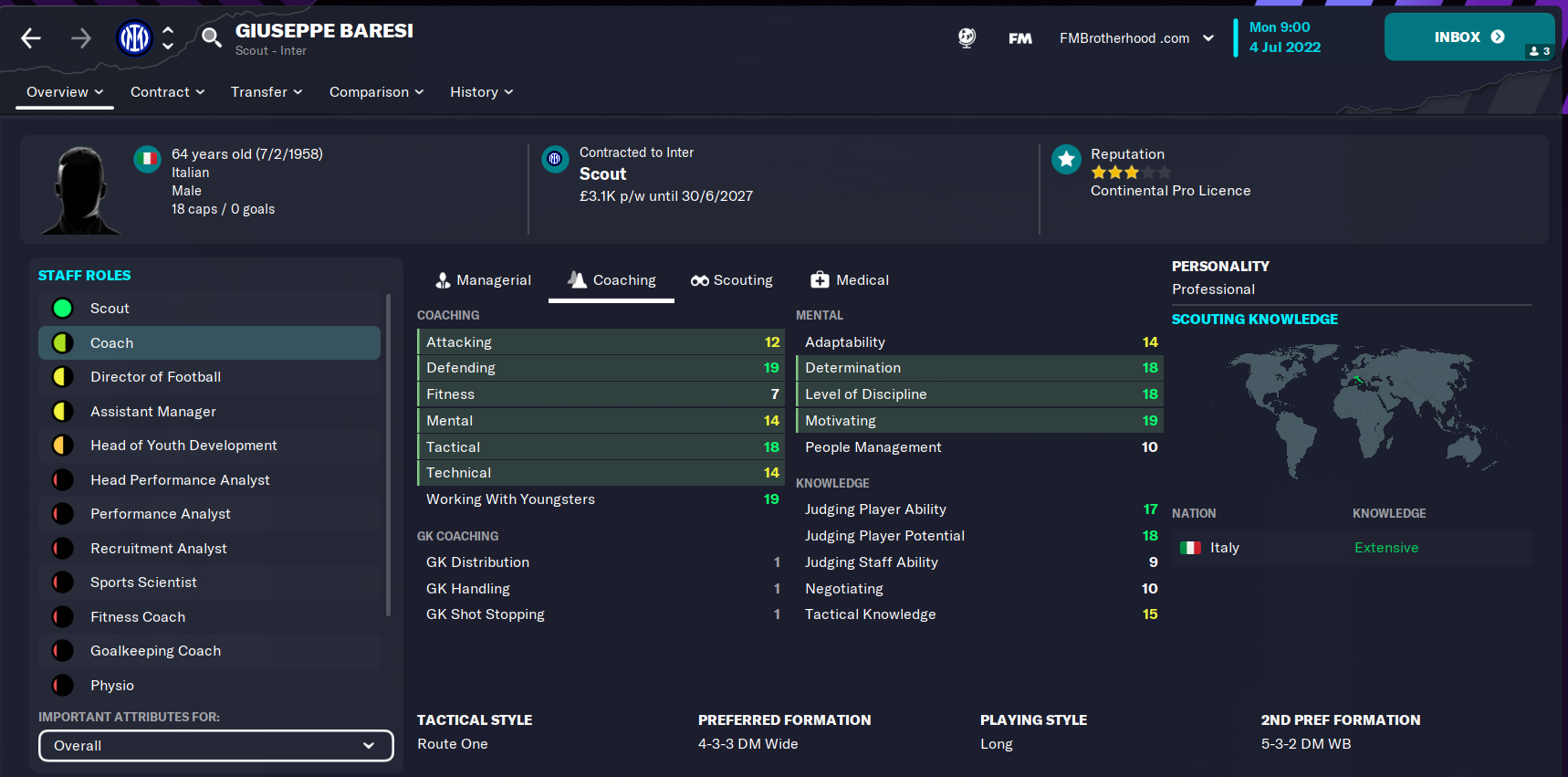 Just missing out on top spot on the list of the best coaches FM23 has to offer is Guiseppe Baresi! Surprisingly he's currently a scout for Inter Milan, and has been so since 2014. It almost feels like he's being wasted as a scout with those world class coaching attributes.
He's also outstanding in the 3 fundamental coaching attributes previously spoken about, and also has 19 defending, and 18 tactical. Baresi would the best tactical defending coach for your FM23 side.
Baresi will accept a contract of £6k per week, but will cost £800k in compensation.
1. Paolo Morganti – Best Coach FM23 has to offer!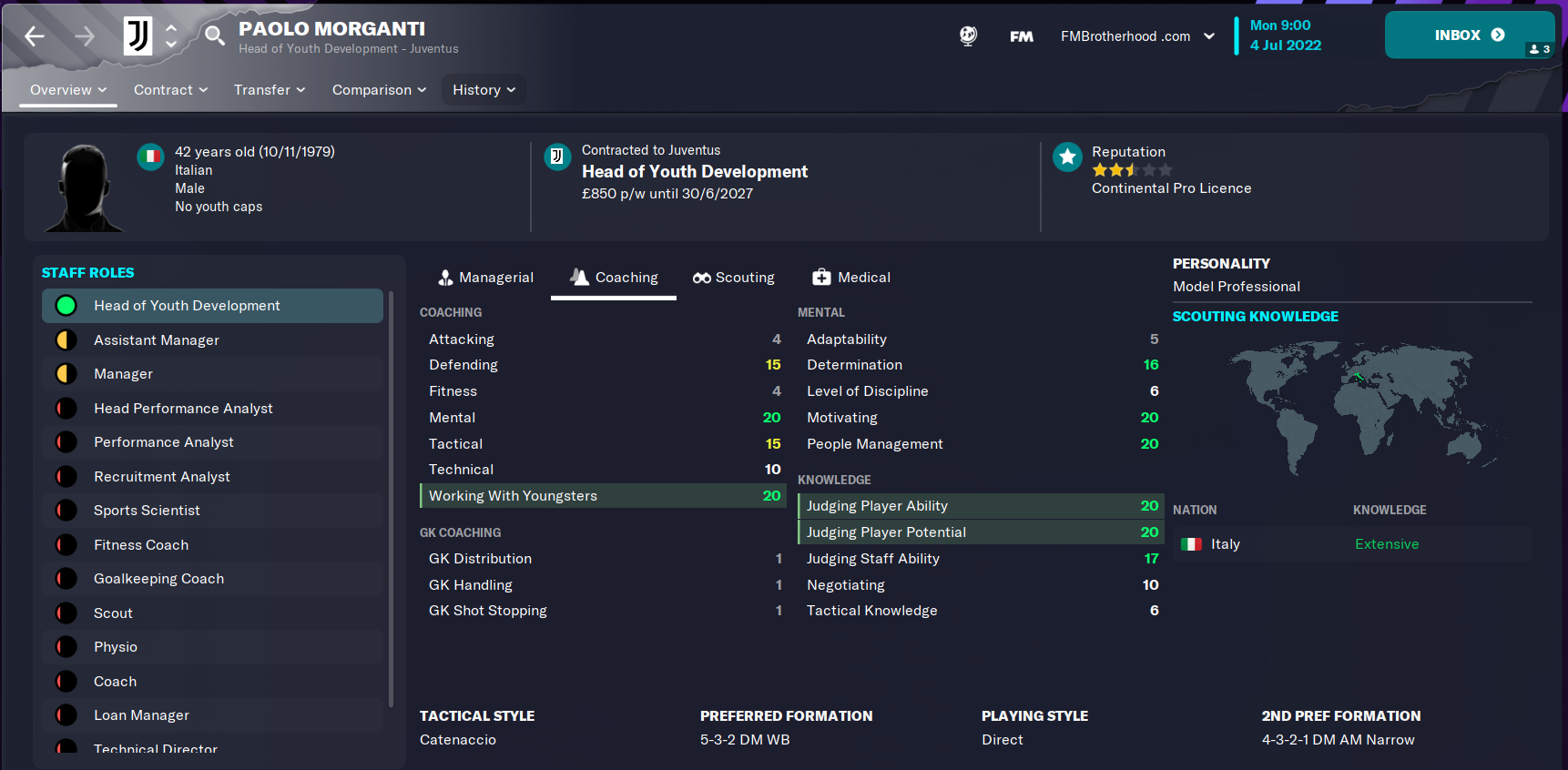 Paolo Morganti has to be top of the list of the best coaches FM23 has to offer. He has 20 working with youngsters, judging player ability, and judging player potential. These are the 3 fundamental attributes for your head of youth development staff, and Morganti couldn't be any better in these attributes.
The personality of your head of youth development is also important. Paolo Morganti has a model professional personality, which means he's more likely to bring in newgens that have the best personalities to develop into global superstars.
You can get Paolo Morganti by paying just £220k in compensation, and £1.6k per week in wages! That's an amazing deal for the best coach in FM23.
Final Thoughts on Best Coaches FM23 has to offer
There are some amazing coaches in FM23 that you must sign as part of your backroom staff. If you're managing a top club, you should be able to sign almost any of them. But even if you're a club not in continental competitions, you might be able to sign Anthony Colbert as a fitness coach, or Miguel Quaresma as a technical coach.
Want to know the who the cheapest wonderkids in FM23 are? Check out this article.