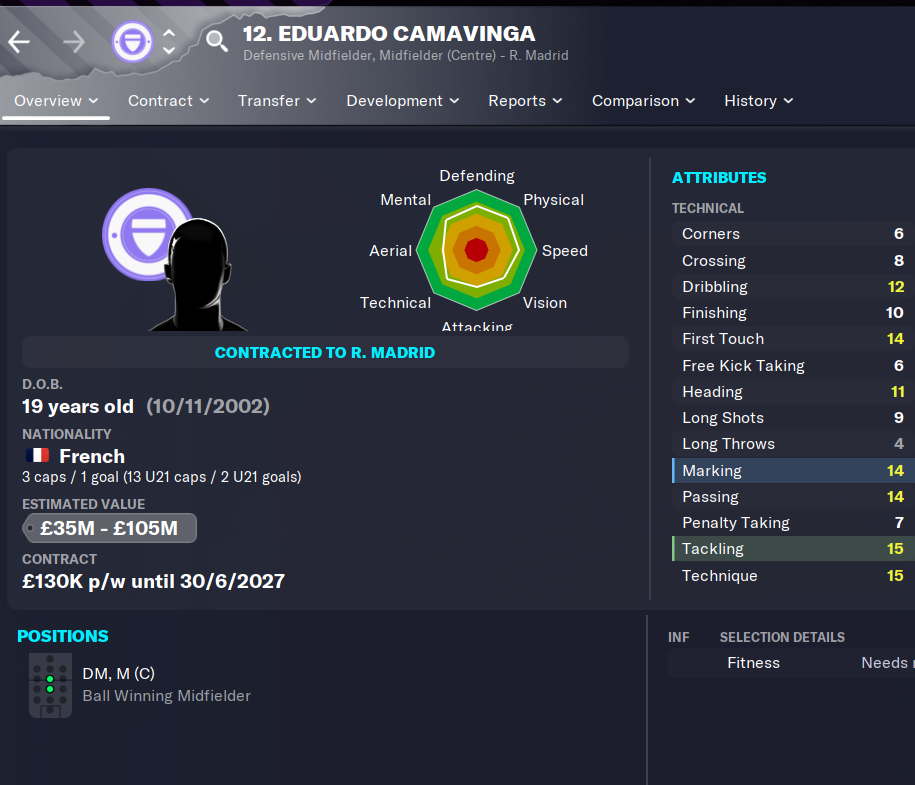 7 Best FM23 CDM Wonderkids You Must Sign!
By callum | December 18, 2022 | 26044 Views
Best CDM Wonderkids in FM23
A central defensive midfielder is an important link between defence and attack. They're also integral for breaking up the play, and winning the ball back for your team. That's why we've found the 7 best CDM wonderkids in FM23 that you must sign to go on and have a successful Football Manager save.
We've also found the best wonderkid goalkeepers in FM23, if you want to see who made the list, click here!
What's a wonderkid CDM in FM23?
Wonderkids are players in Football Manager 2023 that have the potential ability to become one of the best players in their position. The CDM wonderkids on our list are 20 years old or younger, so they've got plenty of years for their attributes to improve.
7. Nico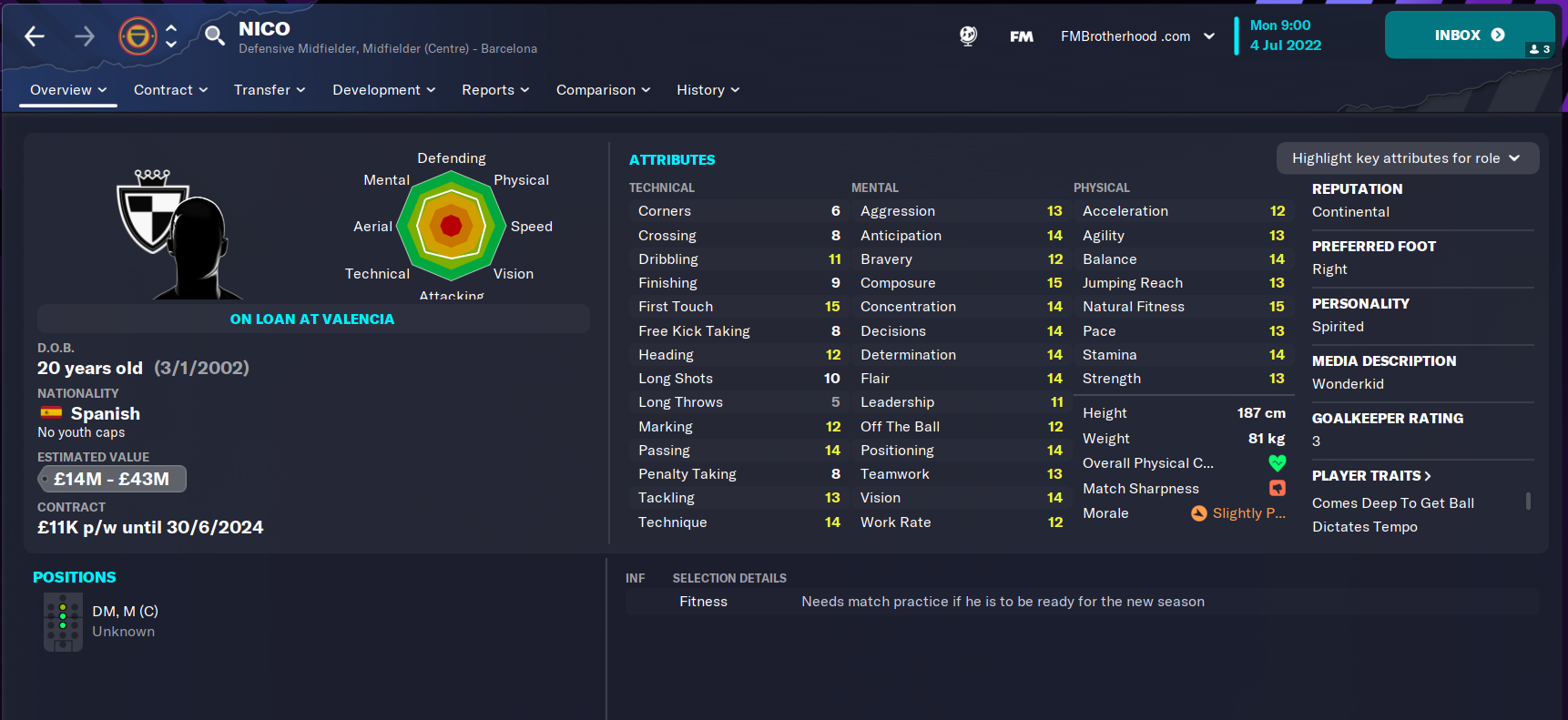 Nico is a CDM wonderkid that played a lot of first team football for Barcelona last season. After Barcelona made a lot of midfield signings, Nico was sent out on loan to Valencia to continue to play regular football.
This wonderkid CDM is very well rounded physically and mentally, with 15 composure, 14 positioning, and 15 natural fitness.
As Nico is on loan at Valencia, you'll have to wait until at least the second season of your FM23 save if you want to try and sign him.
Nico in 2032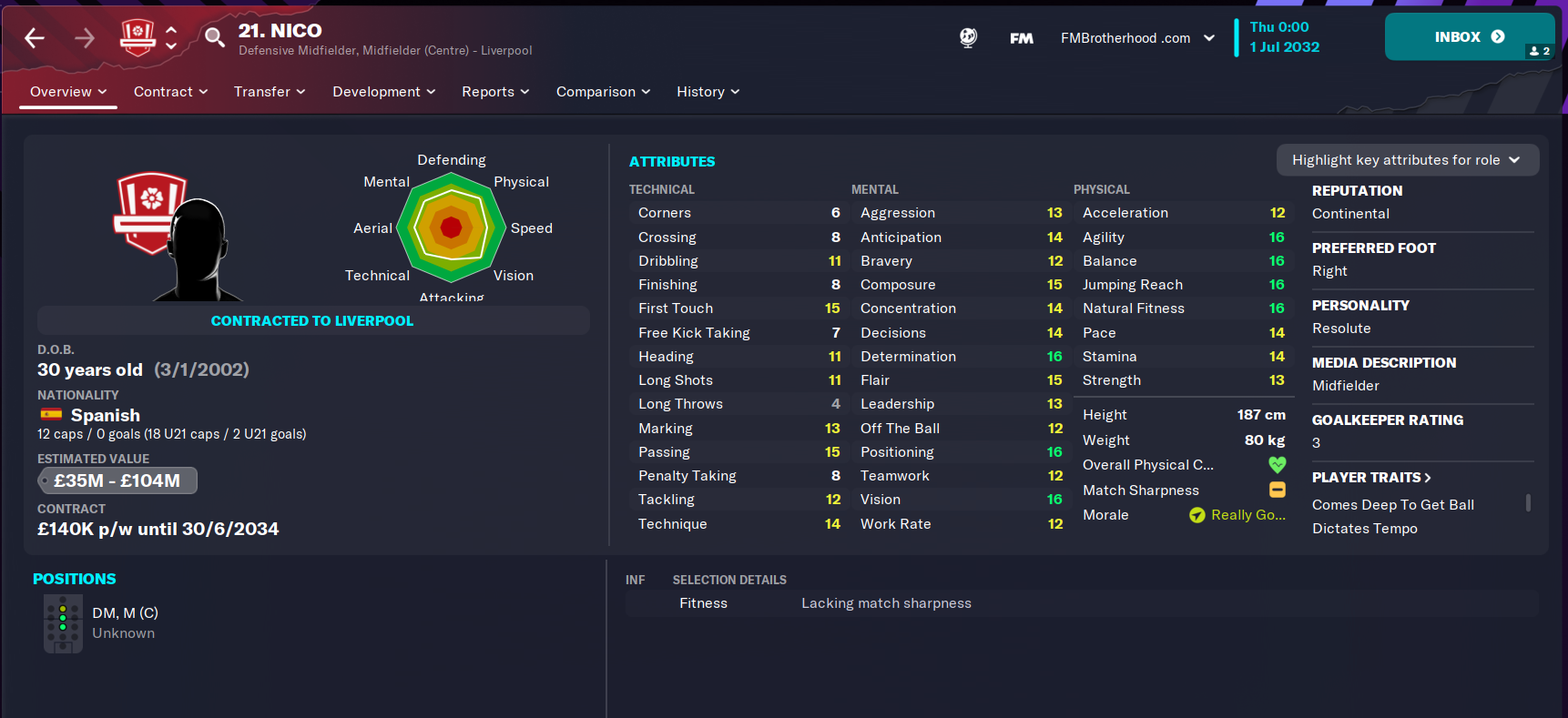 In our FM23 simulation, Nico become a regular CDM for Liverpool. He has two brilliant player traits for a CDM wonderkid, which are comes deep to get the ball, and dictates tempo. This makes Nico an excellent link between getting the ball from defence to attack. As a Barcelona Academy product, passing comes naturally to him.
Nico doesn't rank higher in our best CDM wonderkids list is because his defensive attributes could be better. Specifically his marking and tackling.
6. Nicolo Rovella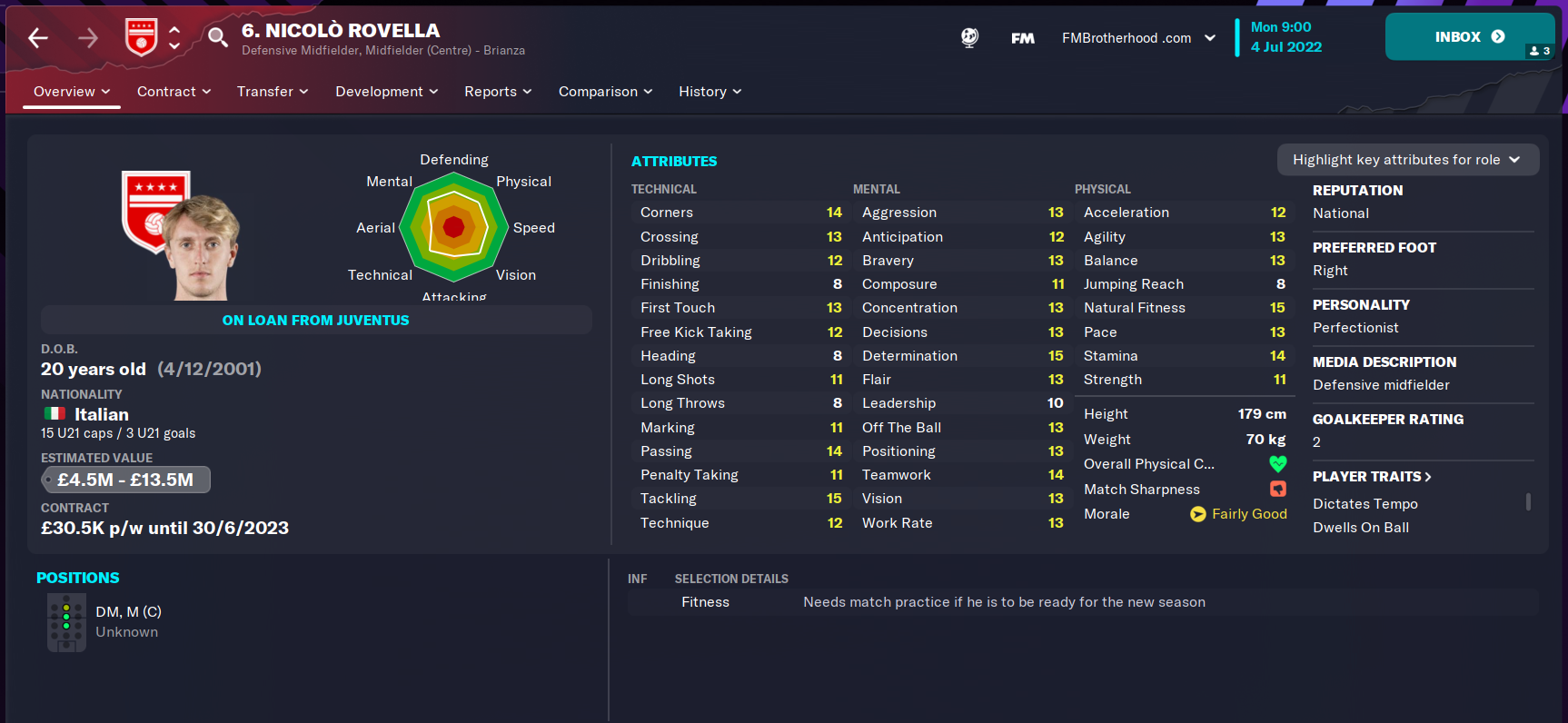 Next on our list of wonderkid defensive midfielders in FM23 is Nicolo Rovella. After making a handful of league appearances for Genoa, he was signed by Juventus for £15 million. Juventus clearly believe Rovella has the potential to be a great CDM, and Football Manager agree!
Just like Nico, Rovella is out on loan in your first FM23 season, so you won't be able to sign him straight away.
Nicolo Rovella in 2032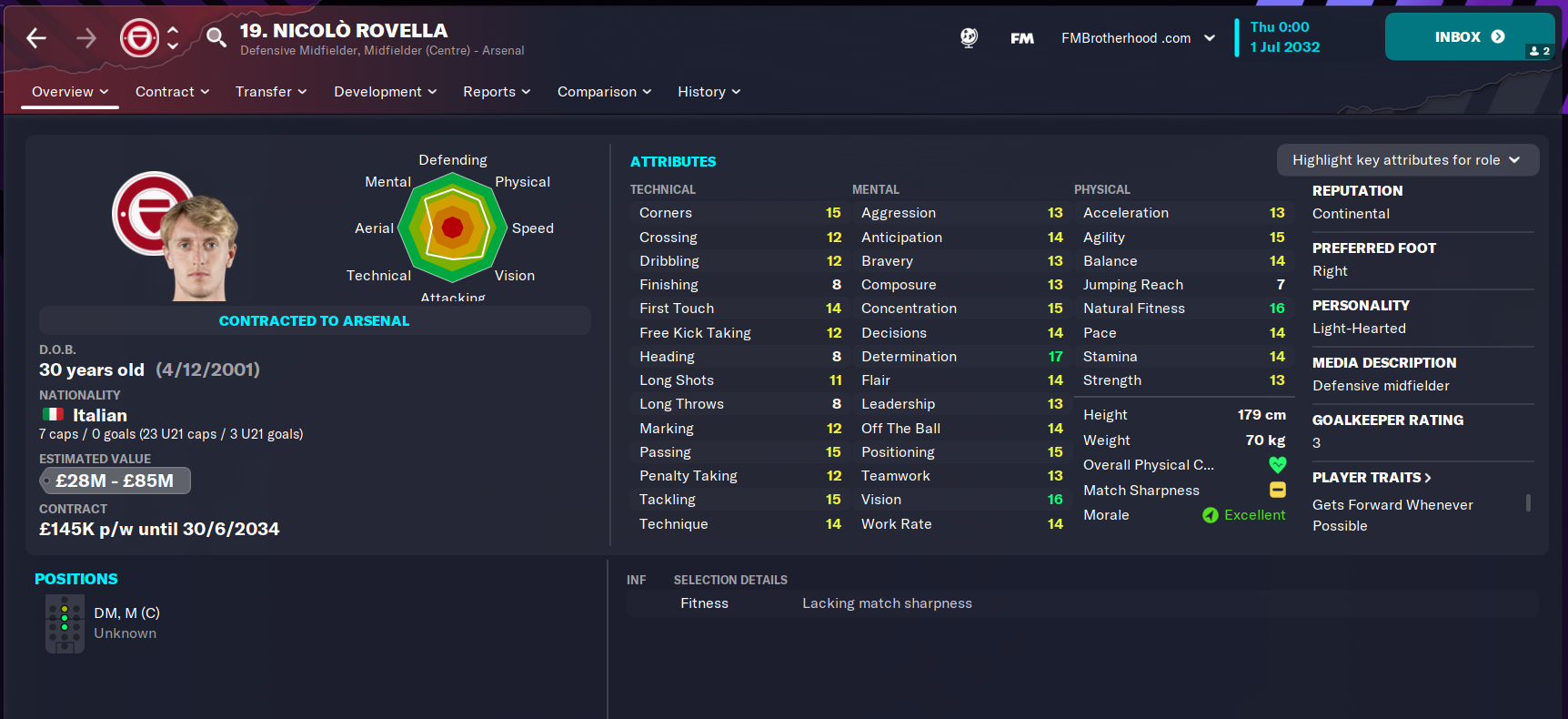 Rovella has developed into a brilliant CDM! He has some great mental attributes, including 17 determination, 16 vision, and 15 positioning. Rovella is also a great passer of the ball, and his 15 tackling means he's really good at winning the ball back for your team.
This is an excellent wonderkid CDM you should keep an eye on in your FM23 save. He's not the only Italian wonderkid on this list either.
5. Giacomo Faticanti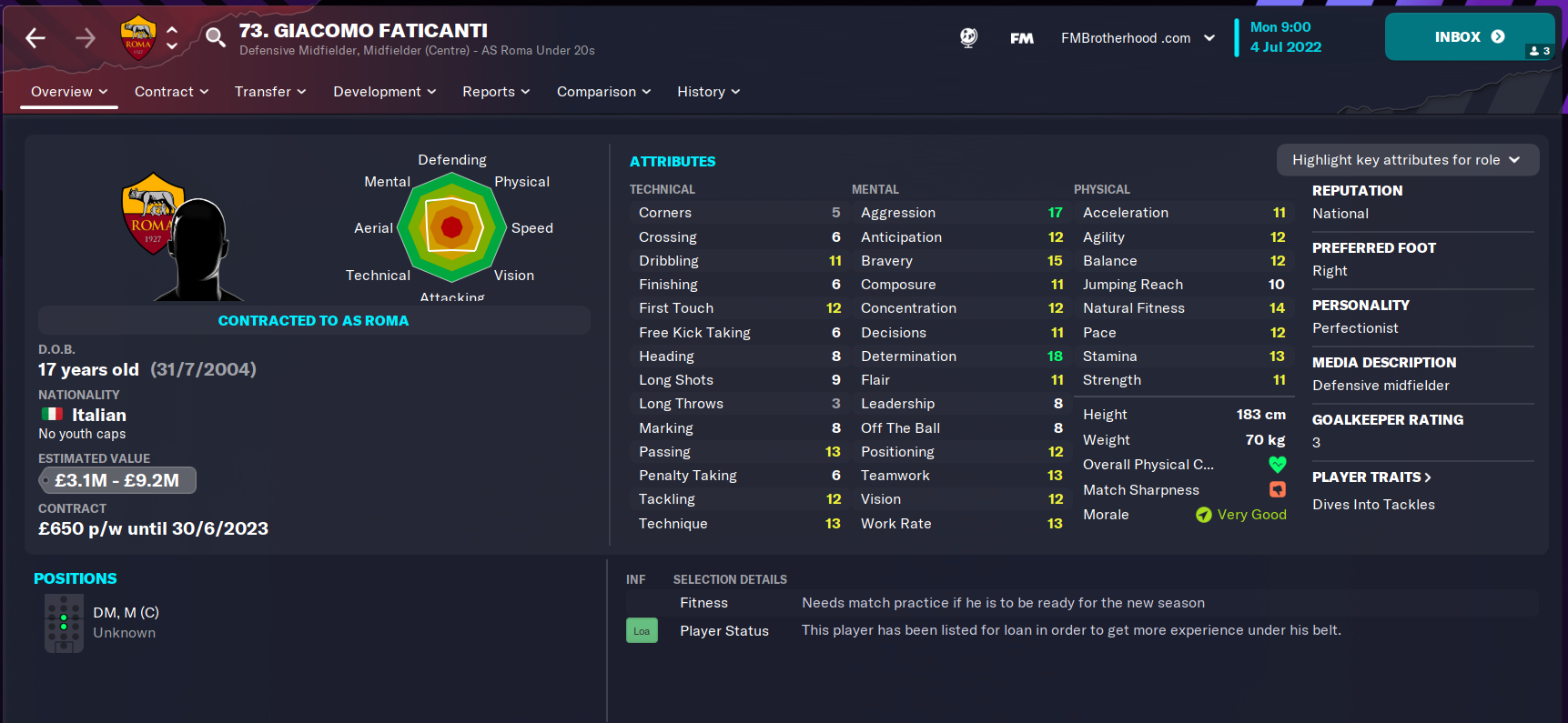 Giacomo Faticanti is another defensive midfielder wonderkid from Italy that makes our FM23 best CDMs list. At only 17, he's got some amazing mental attributes, such as 17 aggression, 15 bravery, and 18 determination. He needs to improve his technical attributes to become a great CDM though.
In the first season of your Football Manager 2023 save, Giacomo Faticanti doesn't want to leave Roma. This means you'll need to wait a season or two before you can sign him.
Giacomo Faticanti in 2032
Faticanti has the potential in FM23 to become a physical monster! Almost all of his physical attributes are at least 15. Giacomo Faticanti moved to Bayern Munich from AS Roma, and then RB Leipzig signed him for £50 million. If you're looking for a physical CDM wonderkid in FM23, Giacomo Faticanti is the player to sign.
If you love Italian wonderkids, there are more in our wonderkid centre backs article!
4. Noel Aseko Nkili – Young CDM Wonderkid in FM23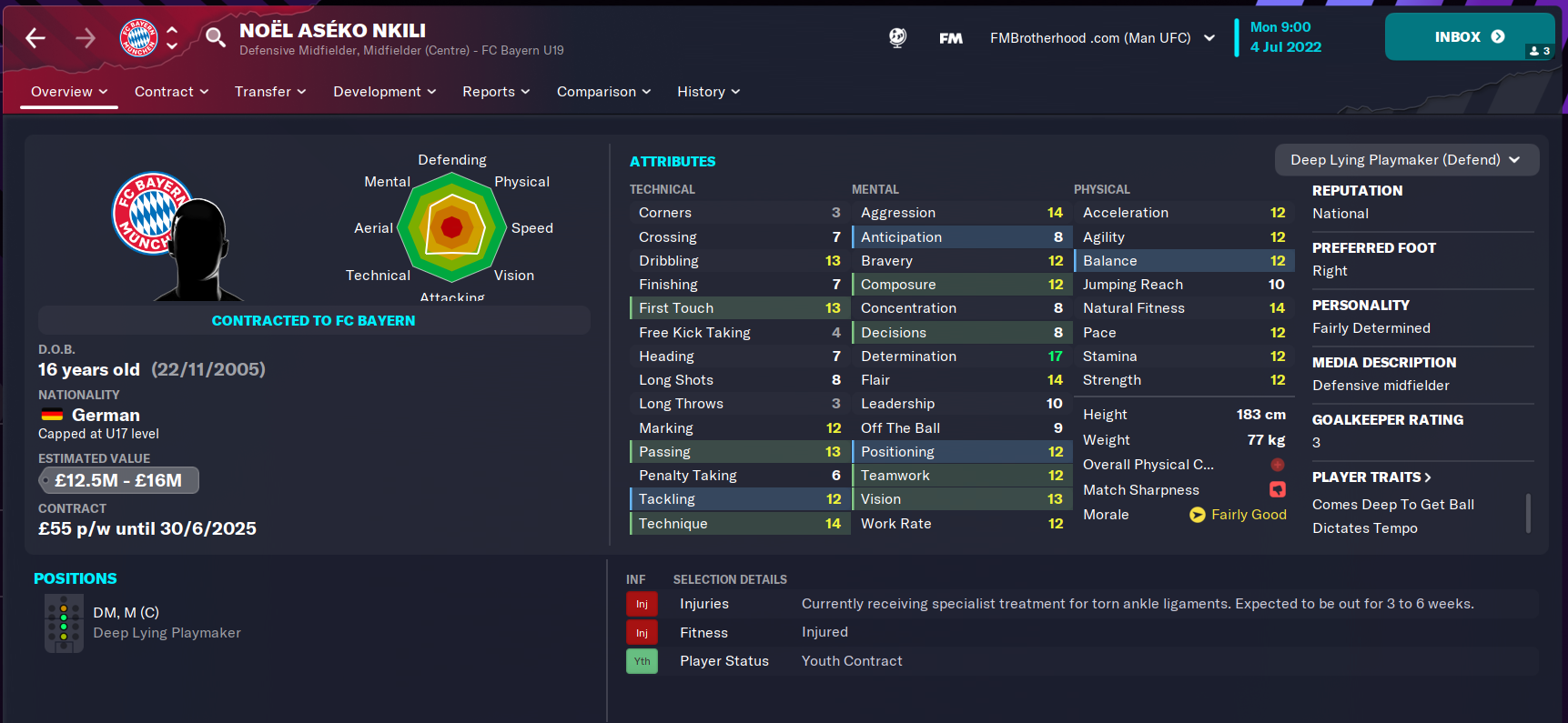 Noel Aseko Nkili is the youngest player on our FM23 CDM wonderkids list. At only 16 years old, Bayern Munich stole him from Hertha Berlin for under £1 million. Although that seems like a lot for a teenager, I'm sure Bayern Munich see it as a smart investment.
Aseko Nkili is physically ready for first team football, but will definitely need to work on some of his mental attributes to get to the next level.
Noel Aseko Nkili in 2032
Noel Aseko Nkili has been signed by La Liga giants Real Madrid! His physical attributes are just as good as Faticanti's, but Aseko Nkili is better defensively and technically. 10 seasons into your FM23 save, he's still only 26 years old, so he could still get a little bit better. would be a brilliant CDM wonderkid investment.
3. Rafael Luis

Rafael Luis is a Portuguese wonderkid CDM that plays for Benfica. Although he needs a lot of development to become one of the best CDMs in FM23, he has 16 determination and has a model citizen personality. This means there's a great chance he can improve his attributes.
Rafael Luis has recently signed a new contract with Benfica, so he's not interested in joining another team in your first FM23 season.
Rafael Luis in 2032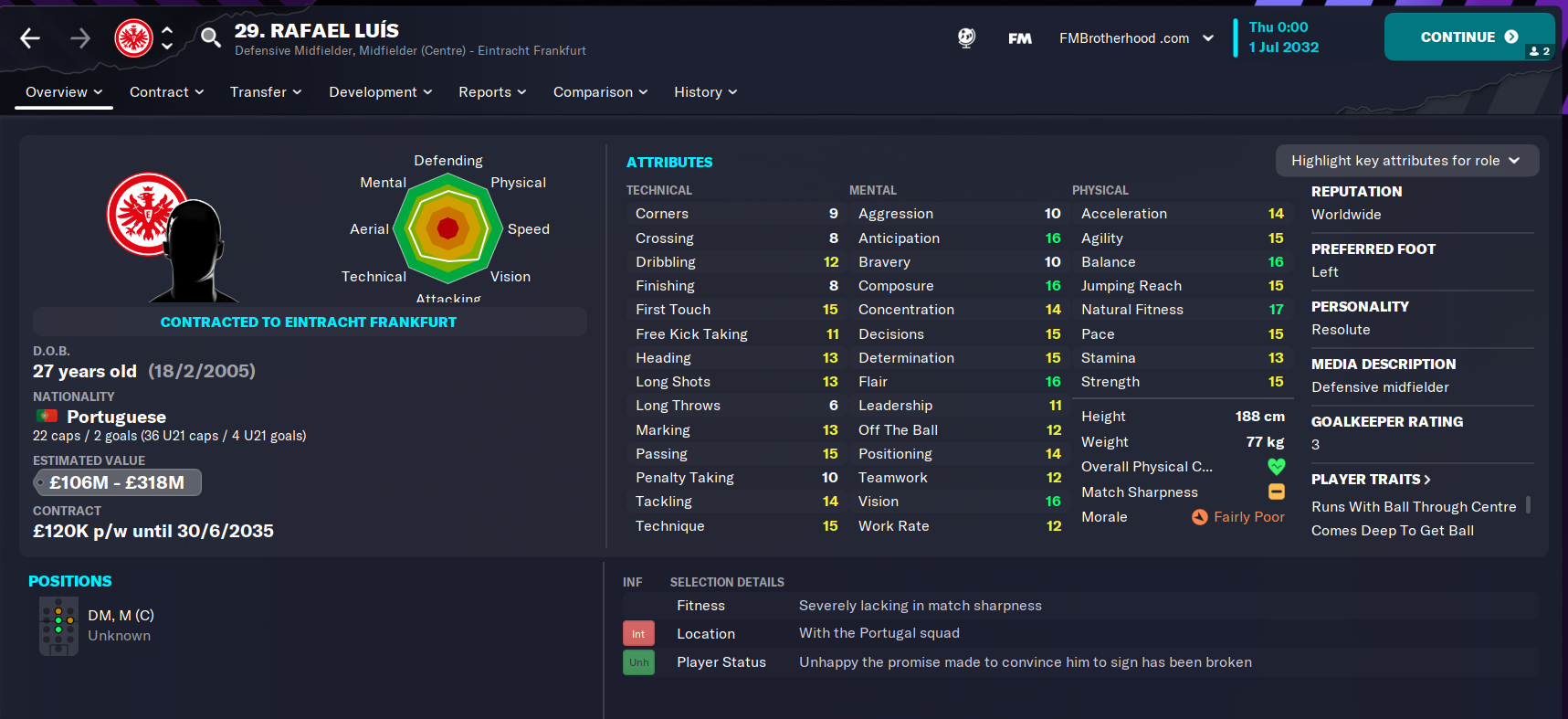 In 2032, Rafael Luis is valued at over £100 million! He has some brilliant mental attributes, including 16 anticipation, composure, flair, and vision. Luis is a fantastic all round defensive midfielder, who can also play naturally as a central midfielder.
2. Amadou Onana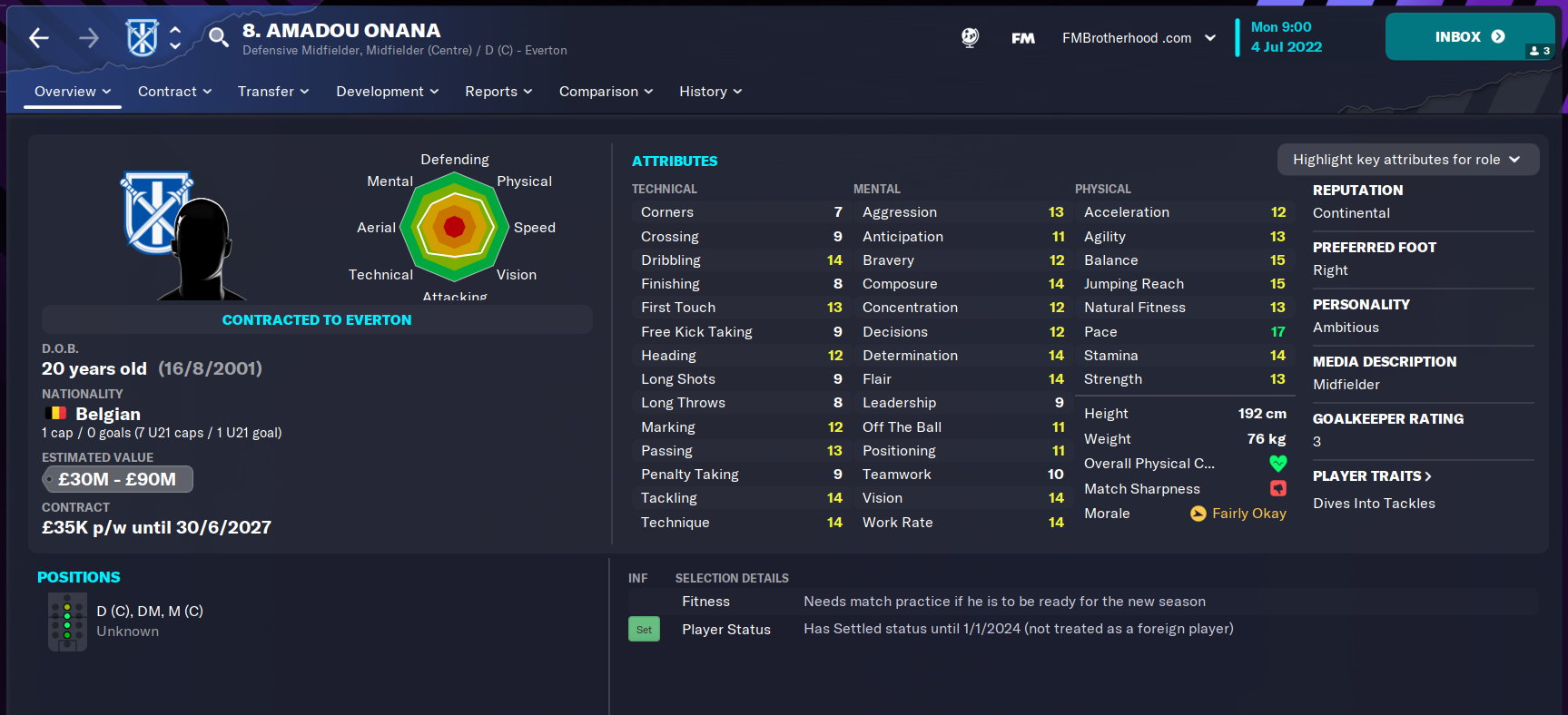 Onana recently signed for Everton for a huge £31 million fee! He has great potential on FM23, and is well rounded physically at only 20 years of age. Onana also has the ability to play as a centre back, but is definitely better as a CDM. Some of his standout attributes are 17 pace, 14 tackling, and 14 work rate.
Amadou Onana in 2032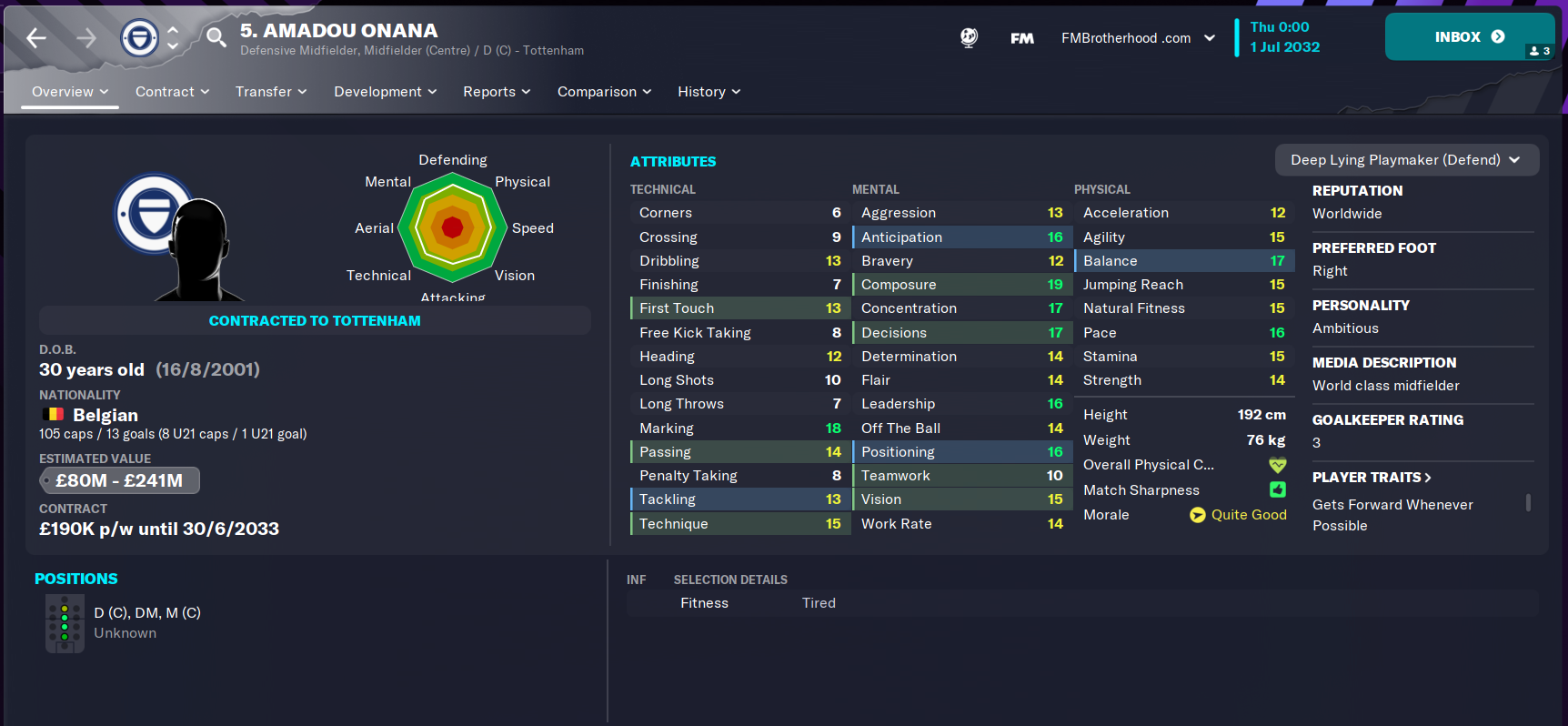 Amadou Onana has developed into one of the best CDMs in FM23! His marking has improved from 12 to 18, and his composure has increased from 14 to 19! Onana has also been capped by Belgium 105 times, which is really impressive.
Onana is definitely the best wonderkid CDM on this list so far. However, the best wonderkid CDM in FM23 blows them all out the water.
1. Eduardo Camavinga – Best CDM Wonderkid in FM23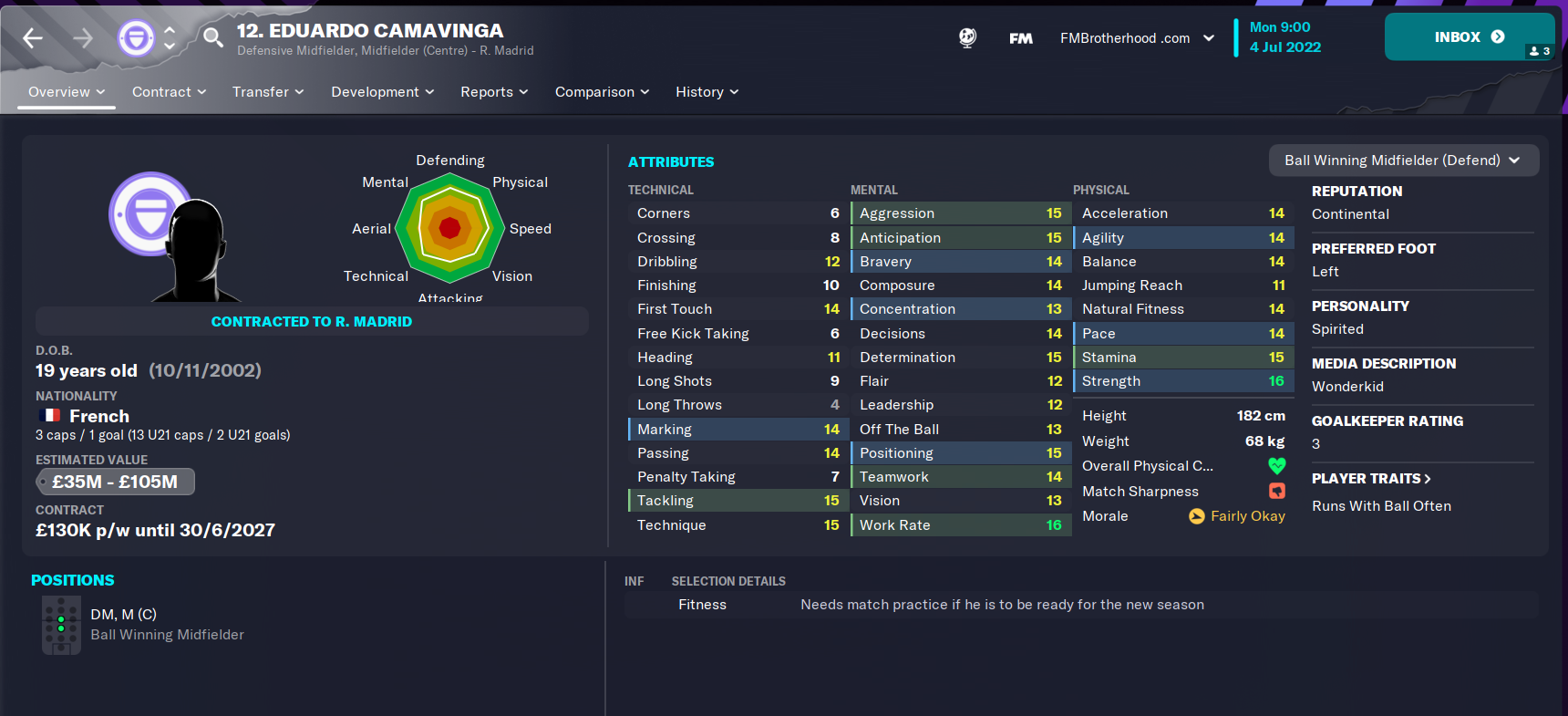 Camavinga is the best wonderkid CDM in FM23! At only 19 years of age, he has brilliant tackling, work rate, and strength. The media describe Camavinga as a wonderkid, and you can see exactly why.
At the start of your FM23 save, Camavinga is definitely better than the rest of the wonderkid CDMs on this list. However, because of this, Camavinga will cost you £60 million if you want to sign him.
Eduardo Camavinga in 2032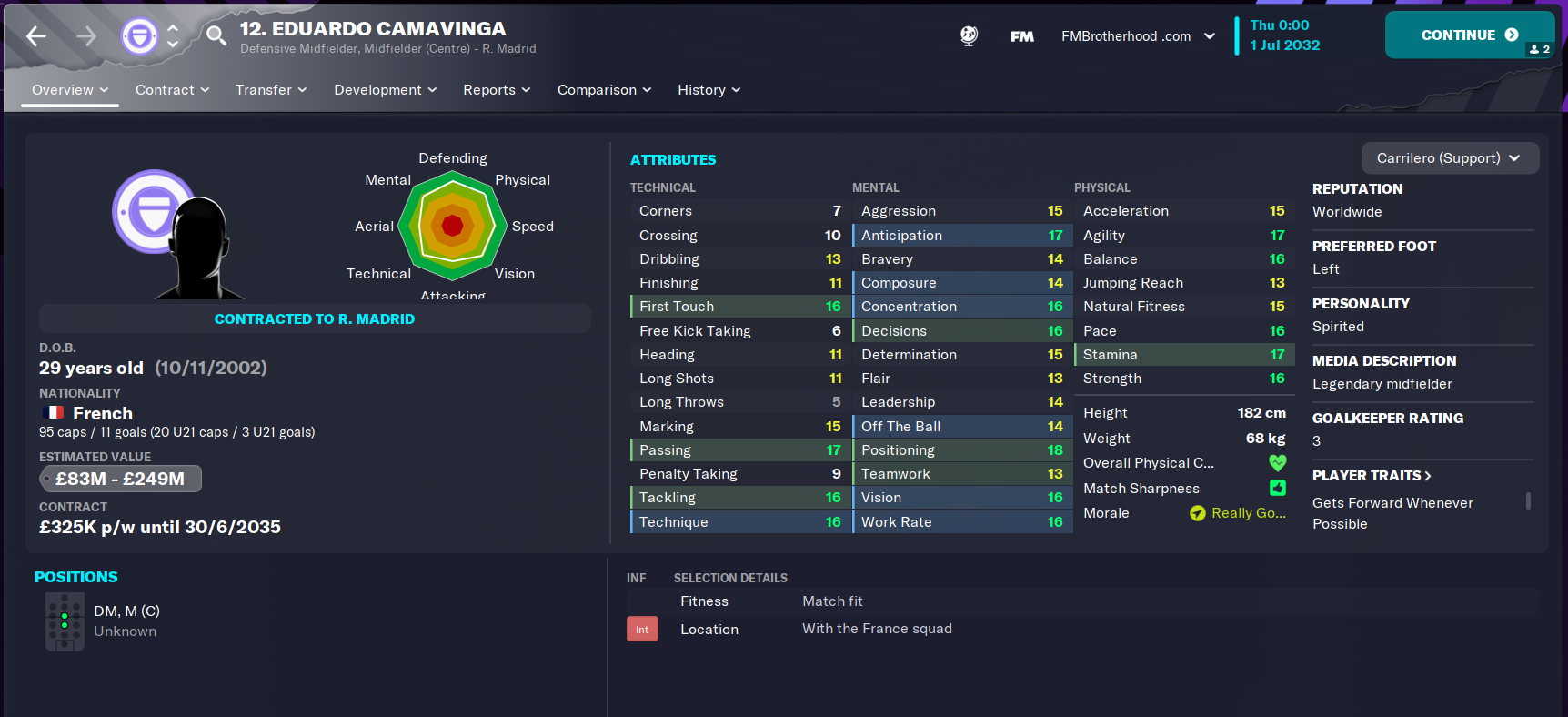 Camavinga clearly turns into a world class CDM. After 10 seasons, the media describe him as a legendary midfielder! He got an average rating of at least 7.24 in every season, which shows that he's able to consistently perform at the highest level. He's incredible defensively, with 16 tackling, 18 positioning, and 17 anticipation.
You'll have to be managing a massive club if you want to be able to persuade Camavinga to leave Real Madrid. But if you can, you'll have the best Wonderkid CDM in FM23.
Final Thoughts on the Best CDM Wonderkids in FM23
There are clearly some great defensive midfielders in Football Manager 2023. If you think there's any wonderkid CDMs we've missed, comment below and let us know! They could possibly feature in our wonderkid CMs article.