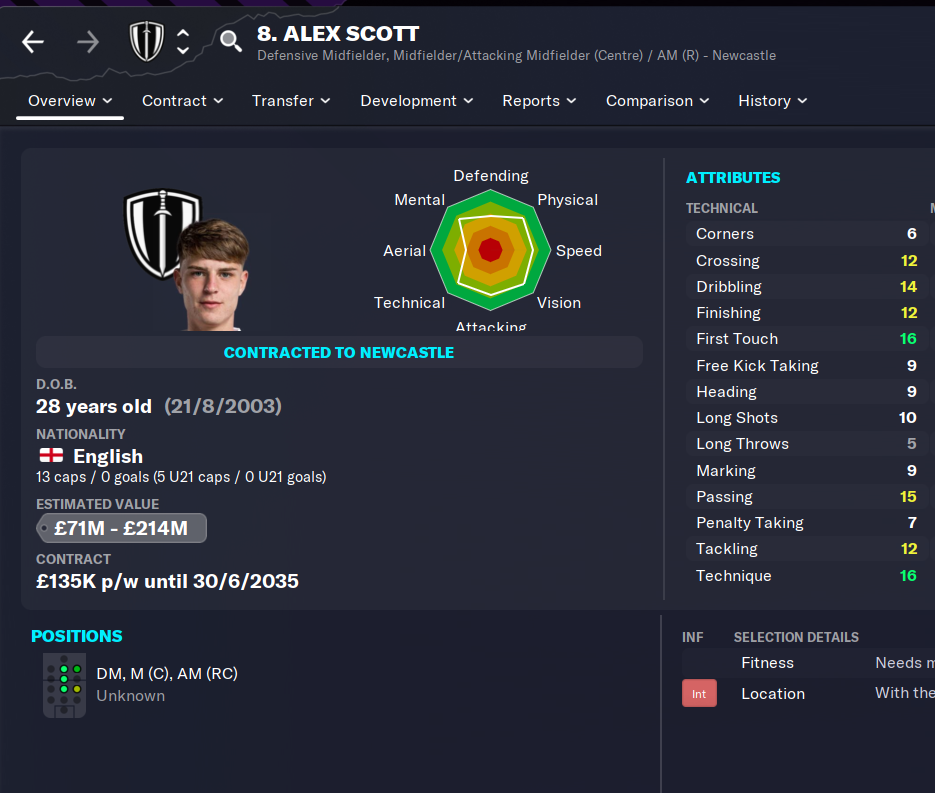 10 Best FM23 Cheap Wonderkids You Must Sign!
By callum | April 10, 2023 | 82996 Views
Best FM23 Cheap Wonderkids
Signing a wonderkid and seeing them develop into a world class player is one of the best parts of playing Football Manager. However, a lot of wonderkids are expensive because of their amazing potential. This means it can be difficult to sign wonderkids if you're a small team with a low budget.
That's why we've put together a list of the 10 best FM23 cheap wonderkids! These are players aged 20 or below, and have asking prices from £500k-£10 million. This means there's wonderkids on this list to suit any budget!
In this list you'll find out exactly how much you need to pay for each cheap wonderkid in FM23. They are all willing to leave their clubs in the first season on the winter update database. You'll also see how they could look in 10 seasons time in their prime. There are some cheap wonderkids in FM23 with ridiculous potential!
Also make sure to join our Football Manager Facebook group to connect with more FM gamers!
If you haven't Pre-odered FM24 already, do so here and Shop FM24 up to 26% off
10. Faaris Yusufu – £500k Cheap wonderkid in FM23!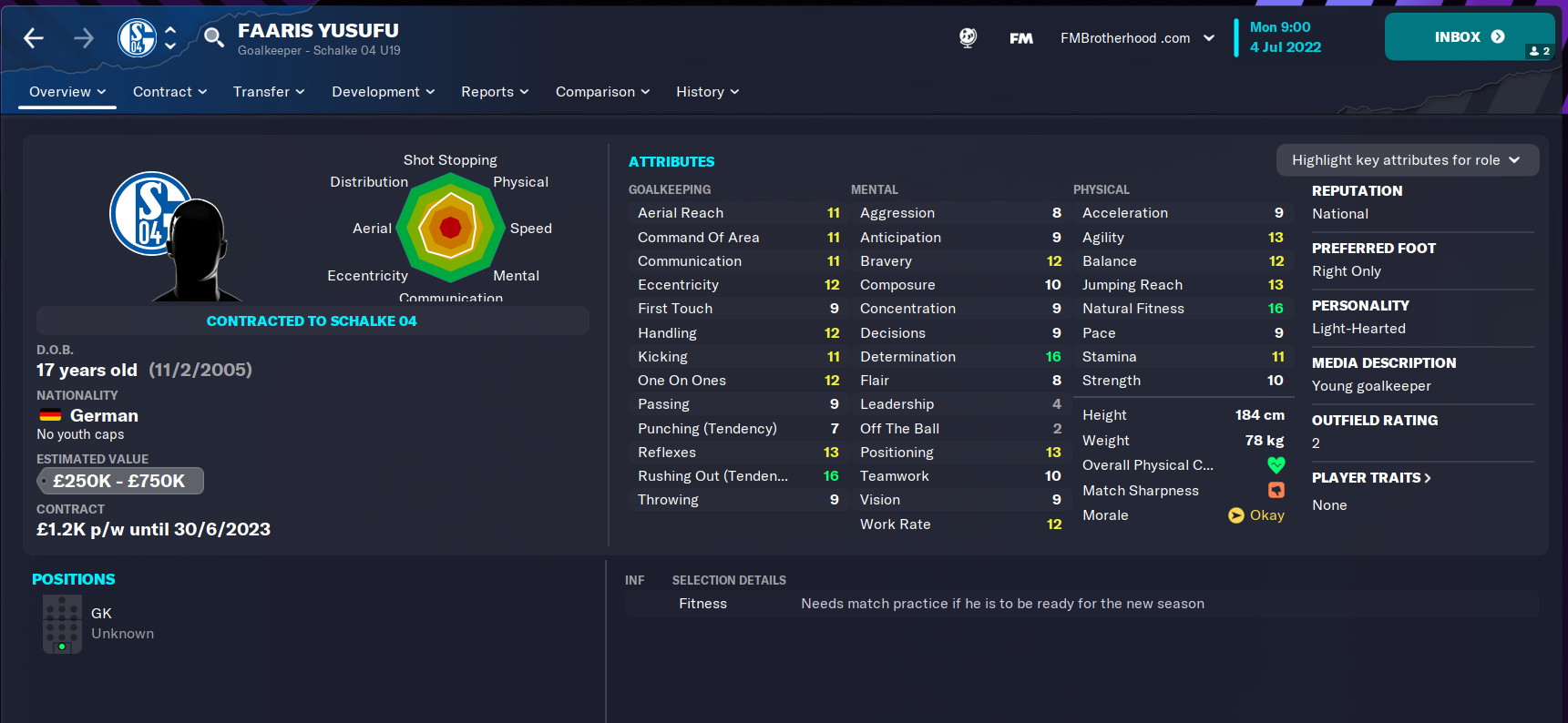 In the number 10 spot on our list of the best FM23 cheap wonderkids is Faaris Yusufu. The teenage goalkeeper plays for German team Schalke, who are currently struggling financially. That's why Yusufu is available to sign for just £500k! For his young age, he's got some solid goalkeeping attributes, such as 12 handling, 13 reflexes, and 12 one one ones.
He's a solid cheap wonderkid that could do with a loan to a lower division to play some regular first team football.
Faaris Yusufu in 2032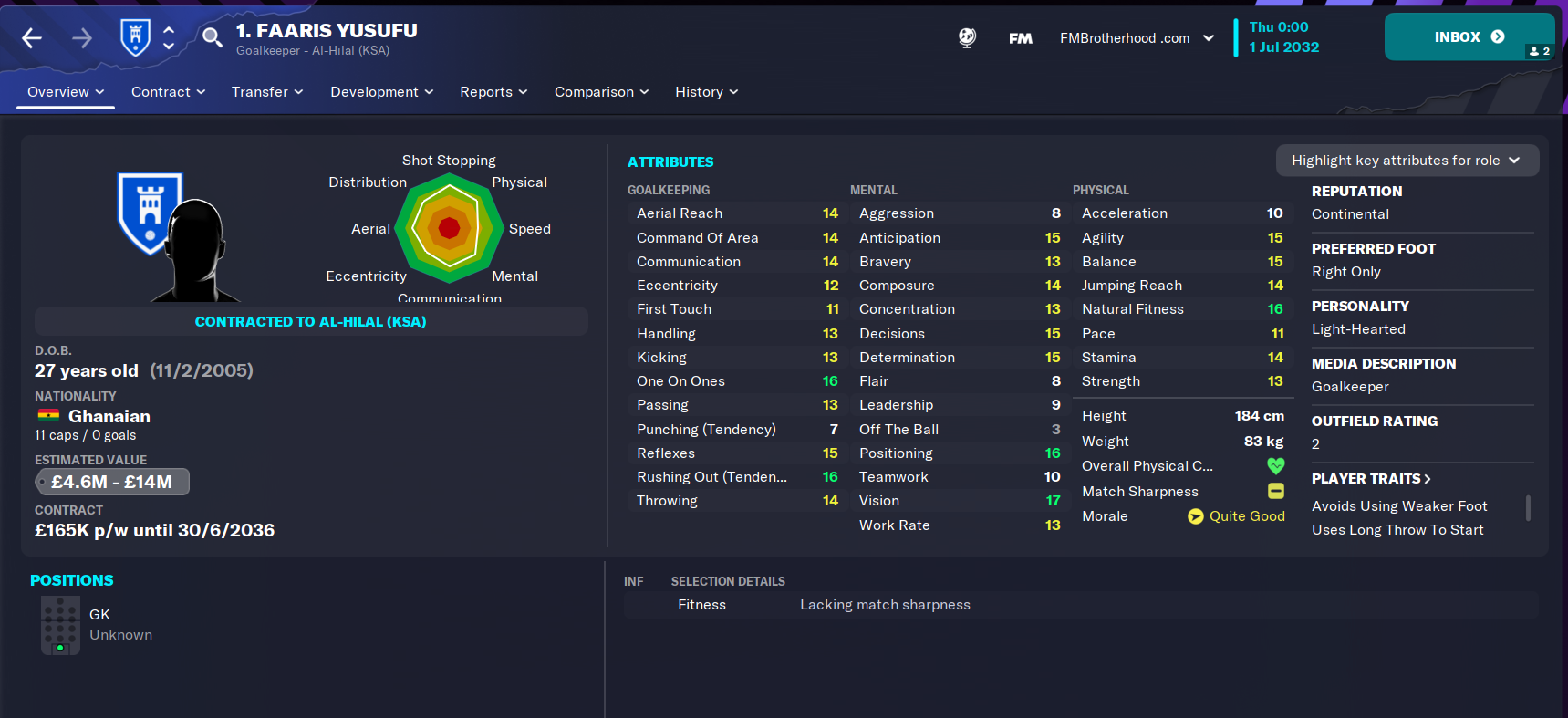 You can see why Yusufu us a wonderkid goalkeeper in FM23. He had to wait a few seasons until he was given a chance as Schalke's number one, but after impressing he sealed a move to Frankfurt, and then Al-Hilal in Saudi Arabia. He has some brilliant attributes, including 16 one on ones, 15 reflexes, and 17 vision, which will allow him to play out from the back to a high level. This is an important attribute for modern-day goalkeepers to have.
9. Enzo Boyomo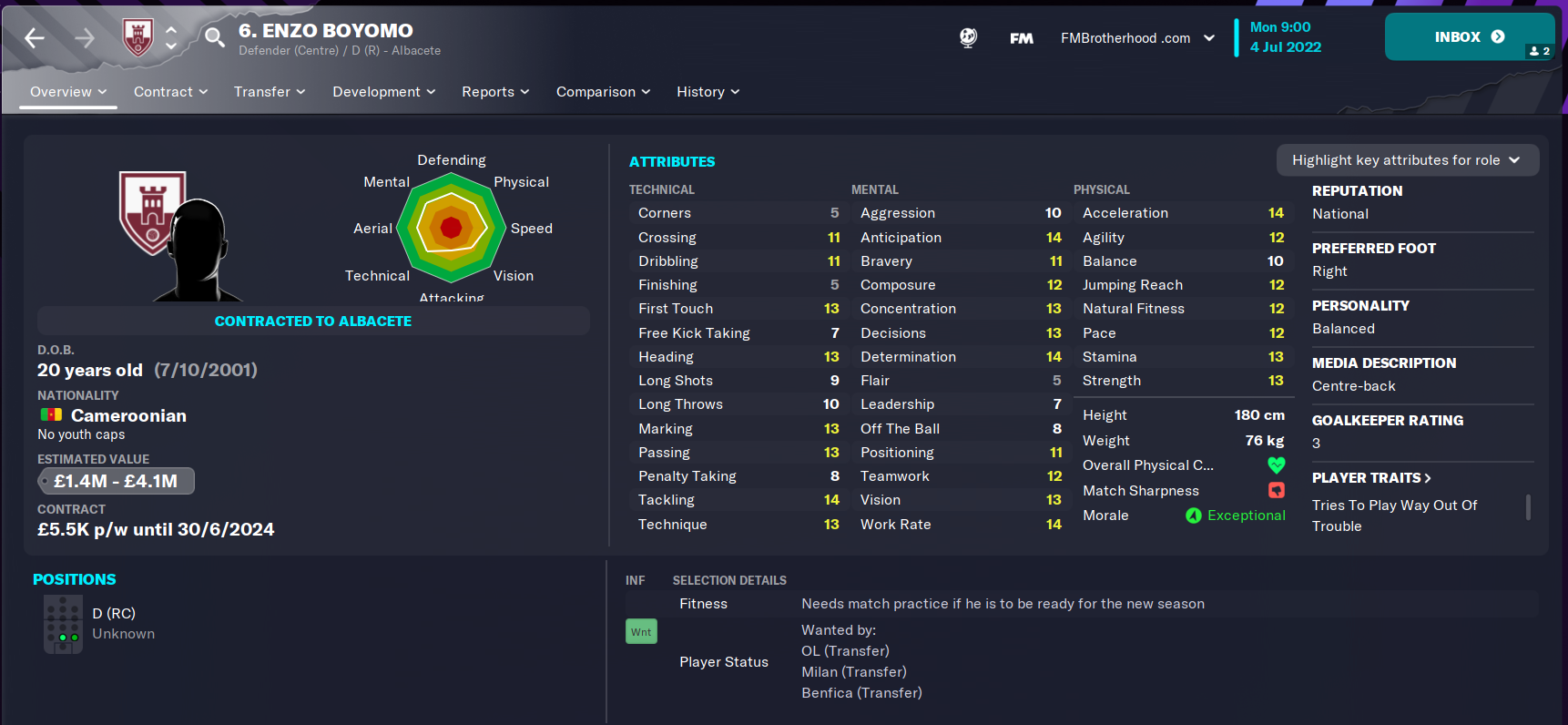 Boyomo is an African wonderkid centre back with some excellent technical attributes for a centre back, including 13 passing, first touch, and technique. He left Blackburn a couple of seasons ago to join La Liga 2 side Albacete, and has been playing consistently for their first team this season.
He is one of the best cheap wonderkids in FM23, with Albacete willing to accept an offer of just £2.5 million,
Enzo Boyomo in 2032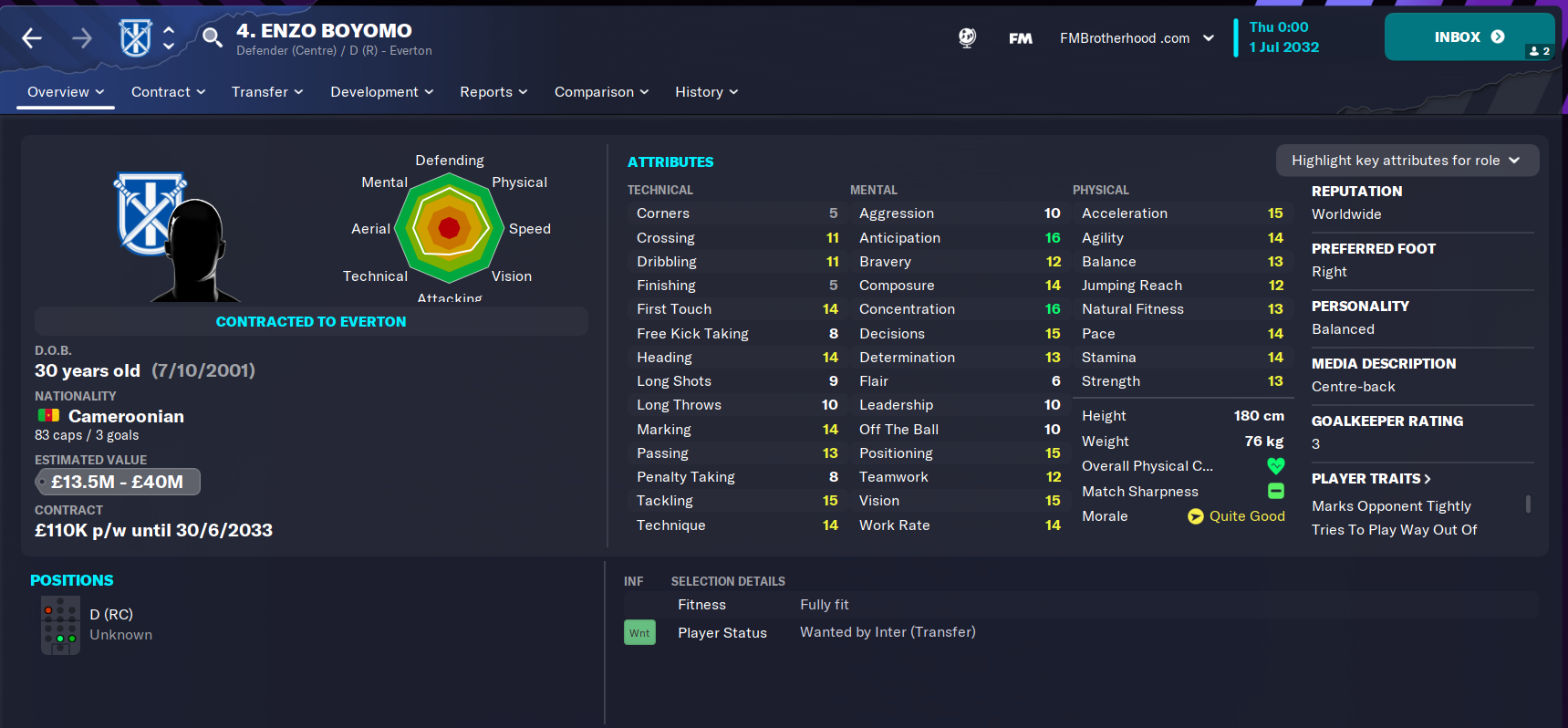 In his prime, this cheap wonderkid has great defensive attributes, such as 15 tackling, 14 marking, and 16 anticipation. He's got an impressive 83 caps for Cameroon, and Everton signed him in the 2028/29 season for £35 million! This shows that Boyomo could become a worthy investment if you sign him early on in your FM23 save.
8. Tobias Gulliksen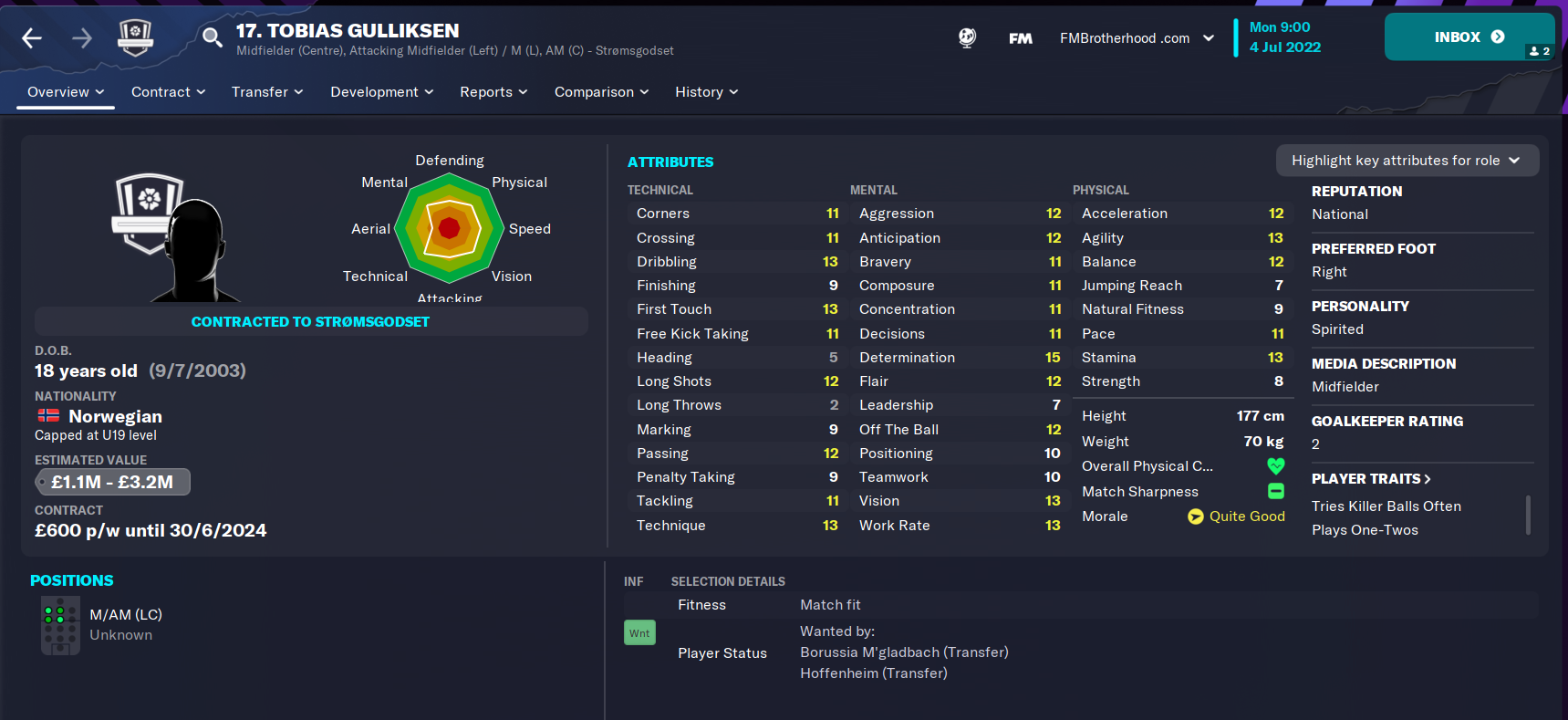 Gulliksen is a Scandinavian wonderkid who is very versatile at such a young age. He can play as a left winger and left midfielder, and also as a CM and attacking midfielder. This means you can mould him into a player that suits your specific tactics and instructions.
Tobias Gulliksen's club would accept an offer of £3.2 million to sell him. However, he's wanted by German sides Borussia Monchengladbach and Hoffenheim, so you'll have to move quickly if you're a smaller club.
Tobias Gulliksen in 2025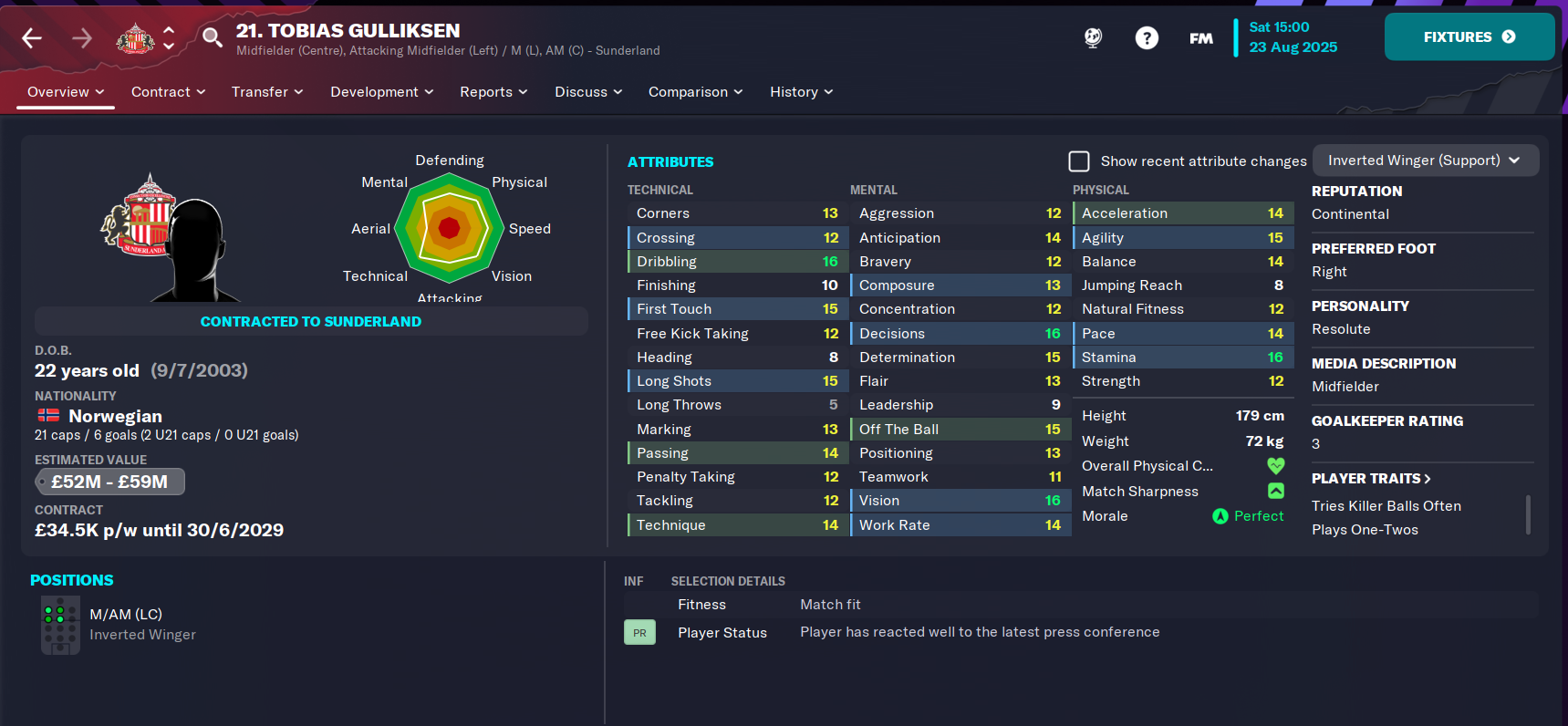 We haven't shown Tobias Gulliksen in 2032, as he was signed in our Sunderland save. So this is what he looks like at just 22 years of age! He's developed brilliantly, and got 19 assists in the 2024/25 Premier League season. We played him mostly as a deep lying playmaker in a 4-2-3-1 formation, but he also played really well as an inverted left winger.
Gulliksen is worth over £50 million just a few seasons into your save, which shows why he's one of the best FM23 cheap wonderkids you must sign.
7. Jamie Hamilton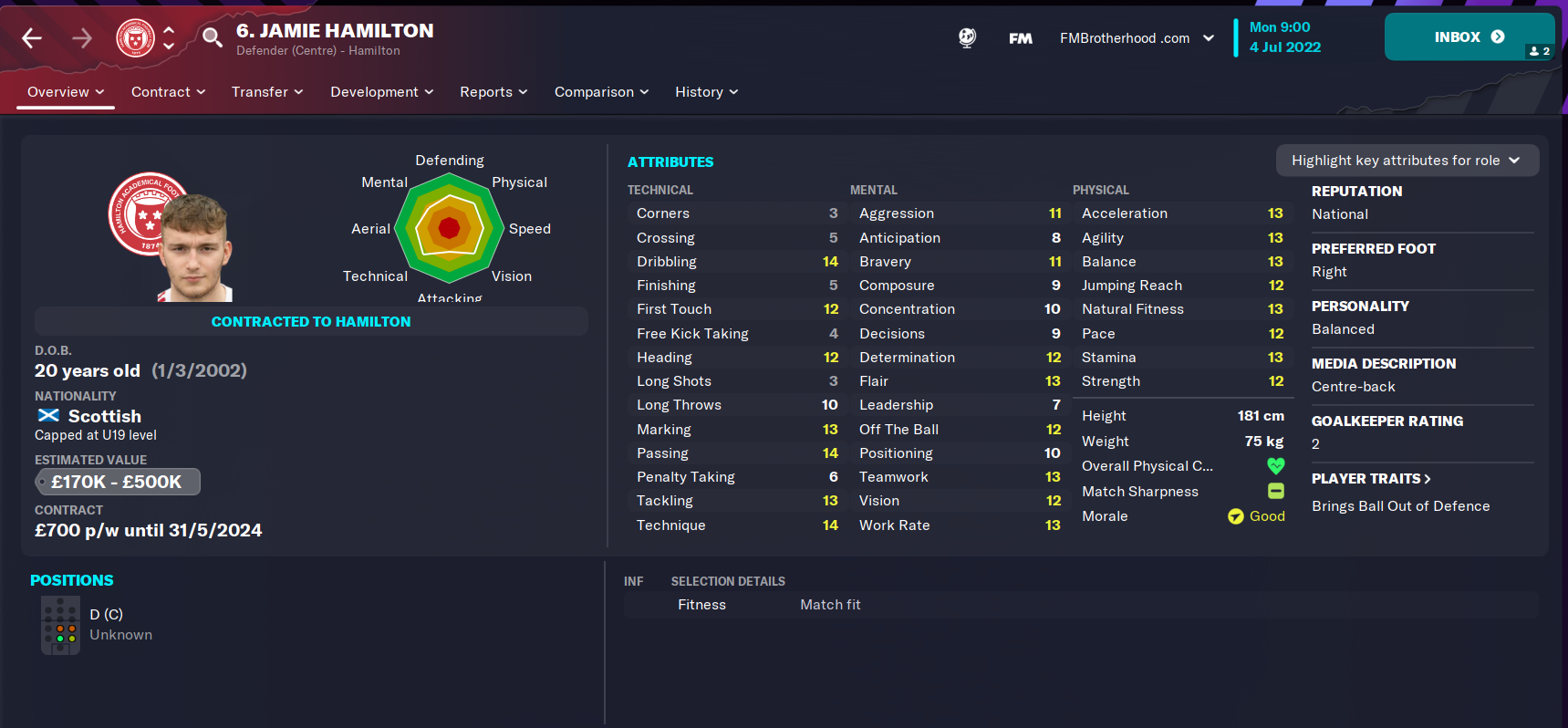 Next on our list of the best FM23 cheap wonderkids is Scottish wonderkid Jamie Hamilton. He's far too good to be playing in the Scottish Championship, and could play in the Scottish Premiership, or even Sky Bet League One.
Similar to Boyomo, Hamilton is technically competent, and is good enough to play in a system that encourages defenders to play out from the back.
Jamie Hamilton is an extremely cheap wonderkid in FM23, costing just £500k.
Jamie Hamilton in 2032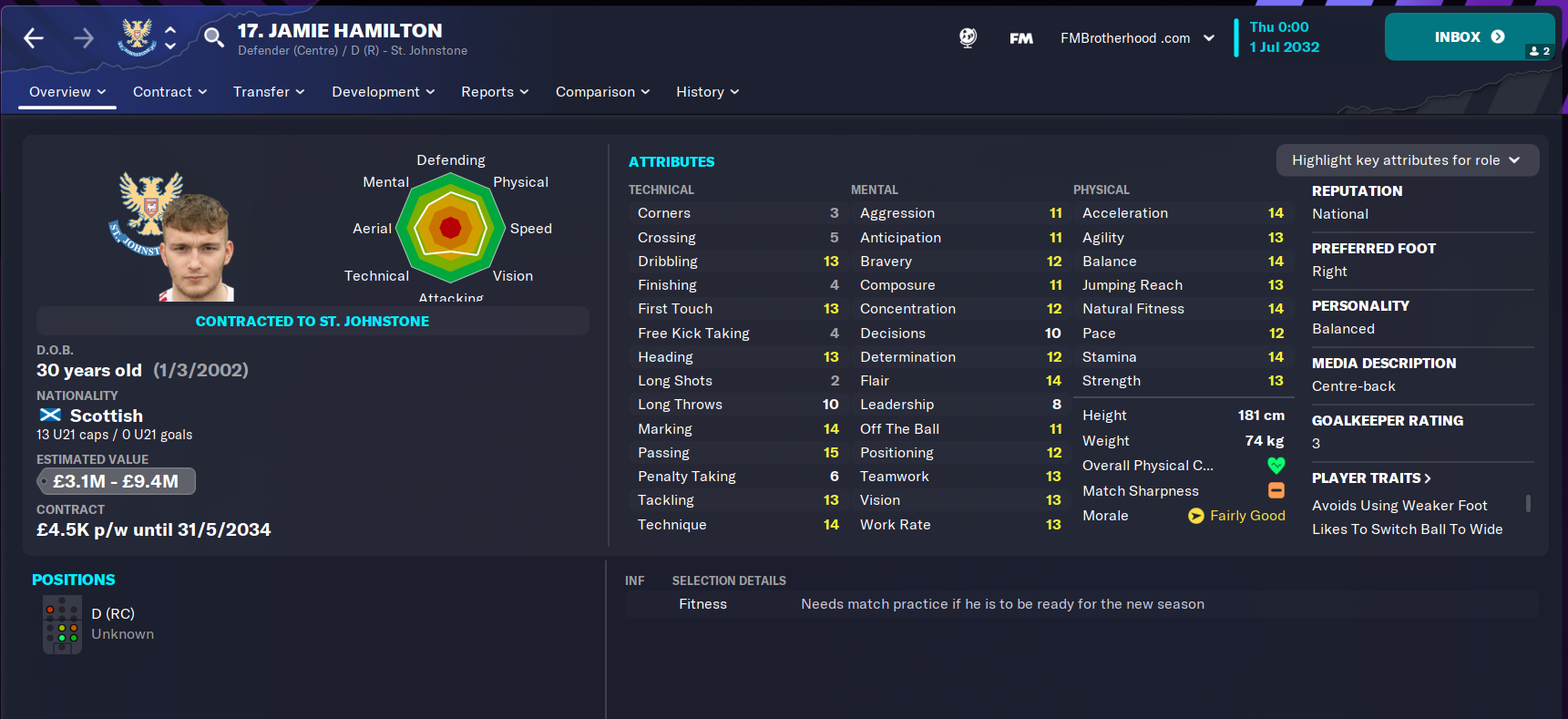 St Johnstone managed to sign this FM23 cheap wonderkid for just £175k! He's got well rounded physical attributes, and his passing has gotten even better.
In his prime, Hamilton is worth up to £9 million, showing that a small investment of £500k in your first season could get you a profitable return in the future.
6. Joe Scally – Best FM23 Cheap Wonderkid Right Back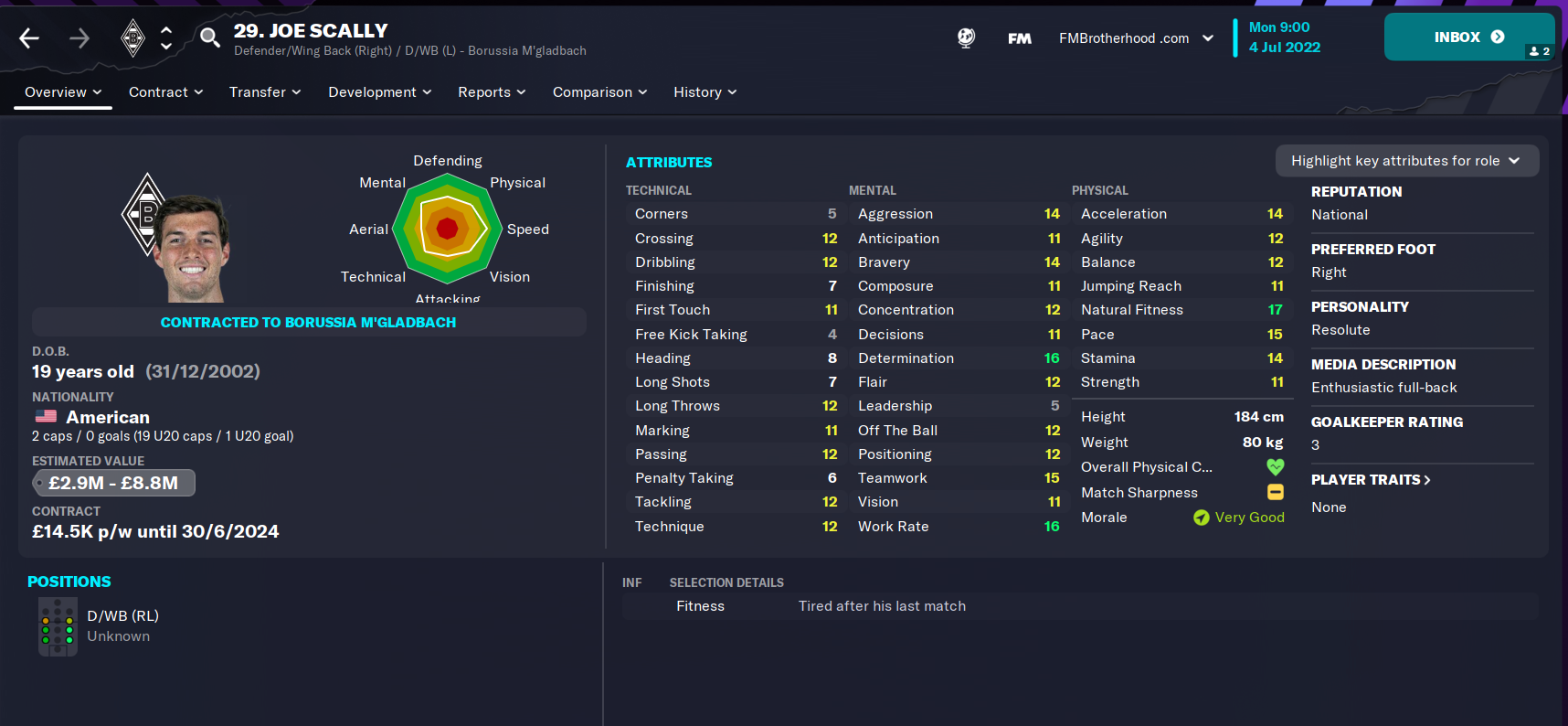 This American wonderkid is a top full back at just 19 years of age. He's better as a right back, but also has the ability to play as a left back. This can come in handy when you're looking for squad players that can cover multiple positions if players get injured.
Scally has brilliant determination and work rate, meaning he works hard in training and gives his all in matches. These 2 attributes are fundamental to a cheap wonderkid reaching their potential.
This wonderkid right back can be signed for just £5 million, which is excellent value for money.
Joe Scally in 2032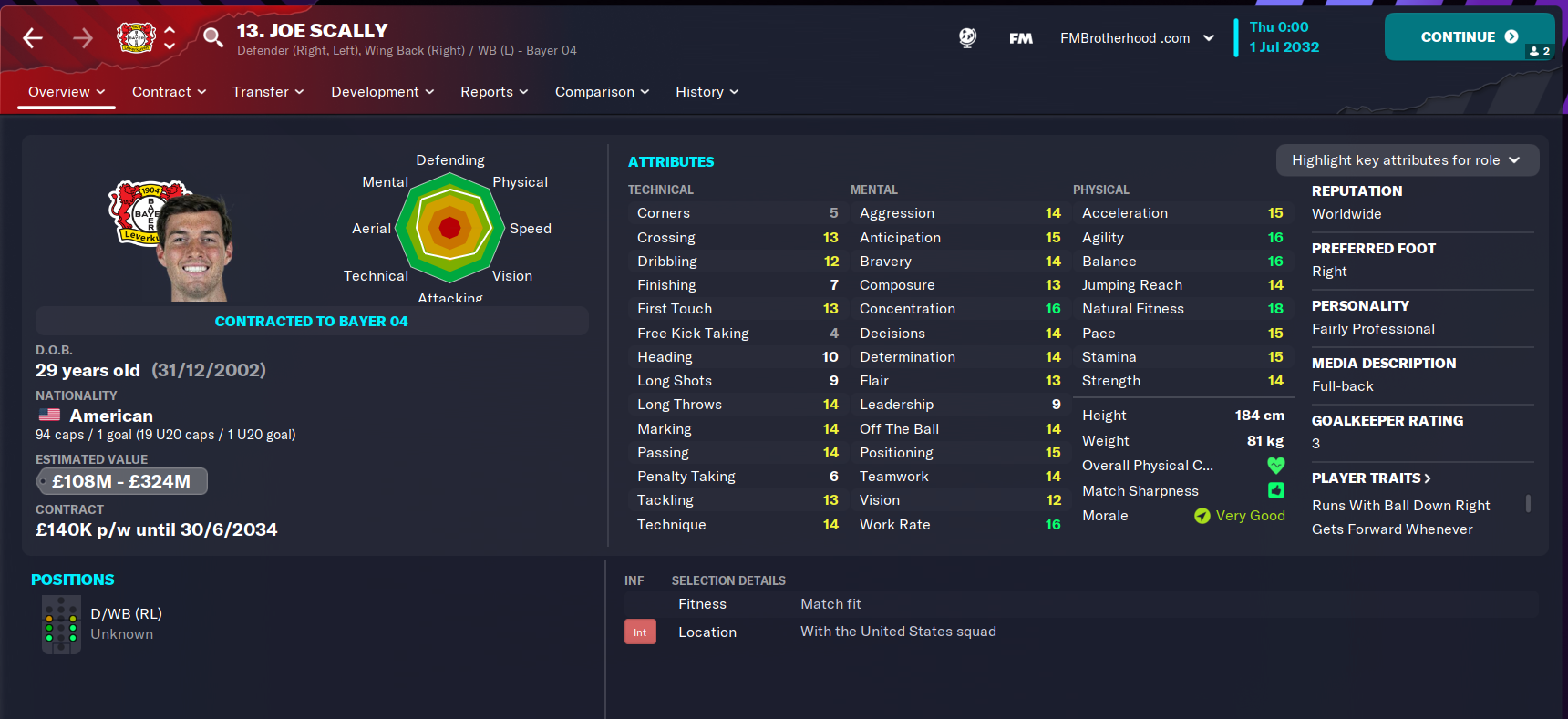 This FM23 cheap wonderkid has the potential ability to become one of the best right backs in the game. Scally's attributes have developed really well, with his concentration increasing from 12 to 16, and his marking from 11 to 14.
Joe Scally has almost 100 caps for the USA, and is worth over £100 million. If you need a cheap right back wonderkid, there's not much better in FM23.
5. Alex Scott in FM23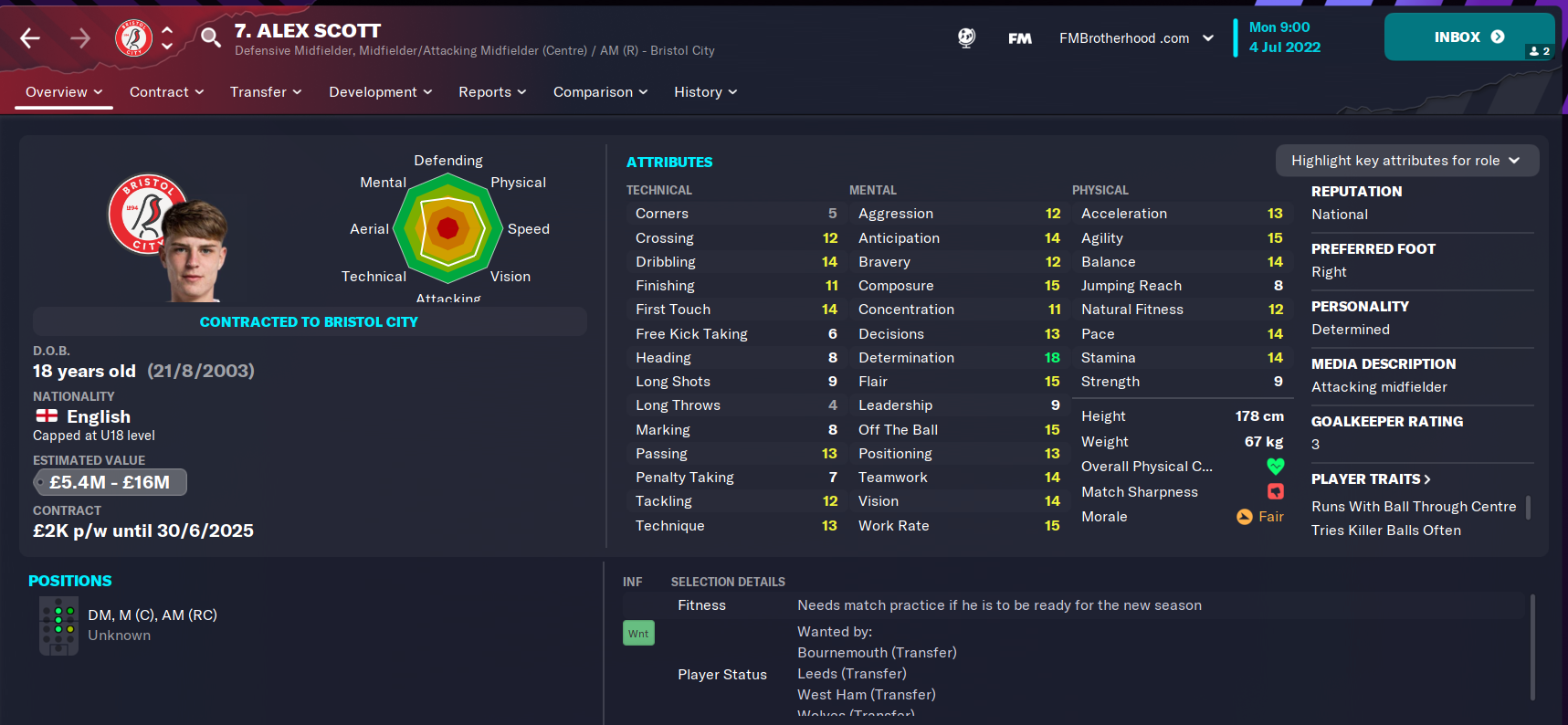 Alex Scott has been one of the most signed players since the FM23 winter update has been released. He's Bristol City's best player in the Sky Bet Championship. Apart from his leadership and concentration, all of his mental attributes are 12 or above.
He's the most expensive cheap wonderkid on this list, costing £10 million. This is the only reason he isn't higher on this list, because he has amazing potential.
If you want to see more Sky Bet Championship wonderkids, click here.
Alex Scott in 2032
It's crazy to see that Alex Scott has only been able to get 13 caps for England. He looks incredible in his prime.
You can see why Alex Scott is one of the best FM23 cheap wonderkids. 6 of his mental attributes are rated at least 16, and he's got great technical ability. Scott can play as an attacking midfielder, centre midfielder, and defensive midfielder. He's definitely better going forward though.
This cheap wonderkid in FM23 would be a quality signing for a lower to mid table Premier League side, looking to break into the top half and European spots. Alex Scott is definitely the best FM23 wonderkid for £10 million.
4. Matteo Rizzo – Best FM23 Wonderkid under £1 million
Rizzo is a young goalkeeper who plays for Italian Serie C side Pro Vercelli. He's just a teenager but is their number 1 goalkeeper already! This consistent first team football will help him develop into a top goalkeeper.
However, because the club he plays for are so small, he can be signed for just £800k.
Matteo Rizzo in 2032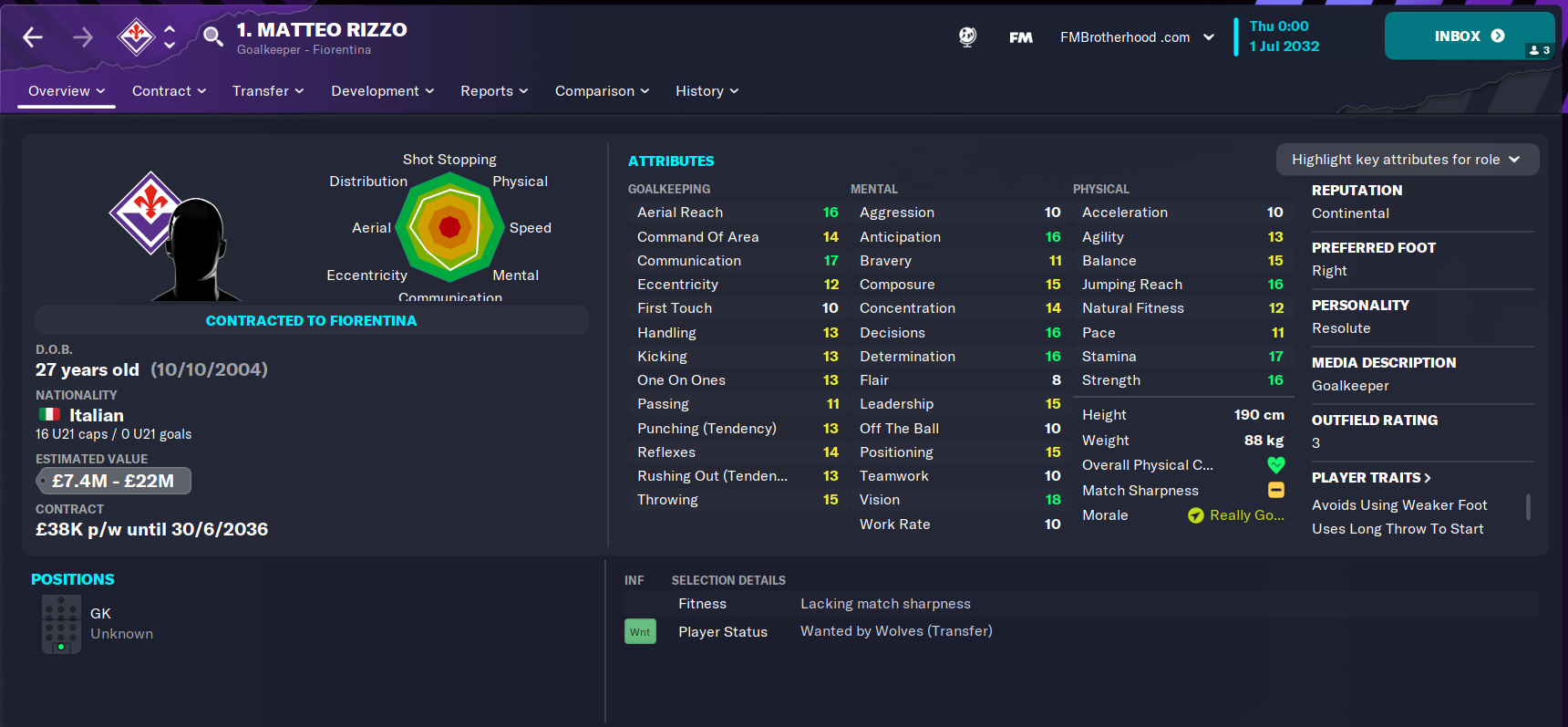 In our FM23 simulation, Rizzo becomes a top goalkeeper for Serie A side Fiorentina, and managed to get 16 caps for Italy's under 21s. He has a certain Gianluigi Donnarumma standing in his way in the first team. He also has fantastic vision for a goalkeeper, which helps him see who's available to pass or throw the ball to when starting a counter attack.
He's one of the best cheap wonderkids under £1 million in FM23!
Now lets get into the 3 best FM23 cheap wonderkids
3. Ilias Akhomach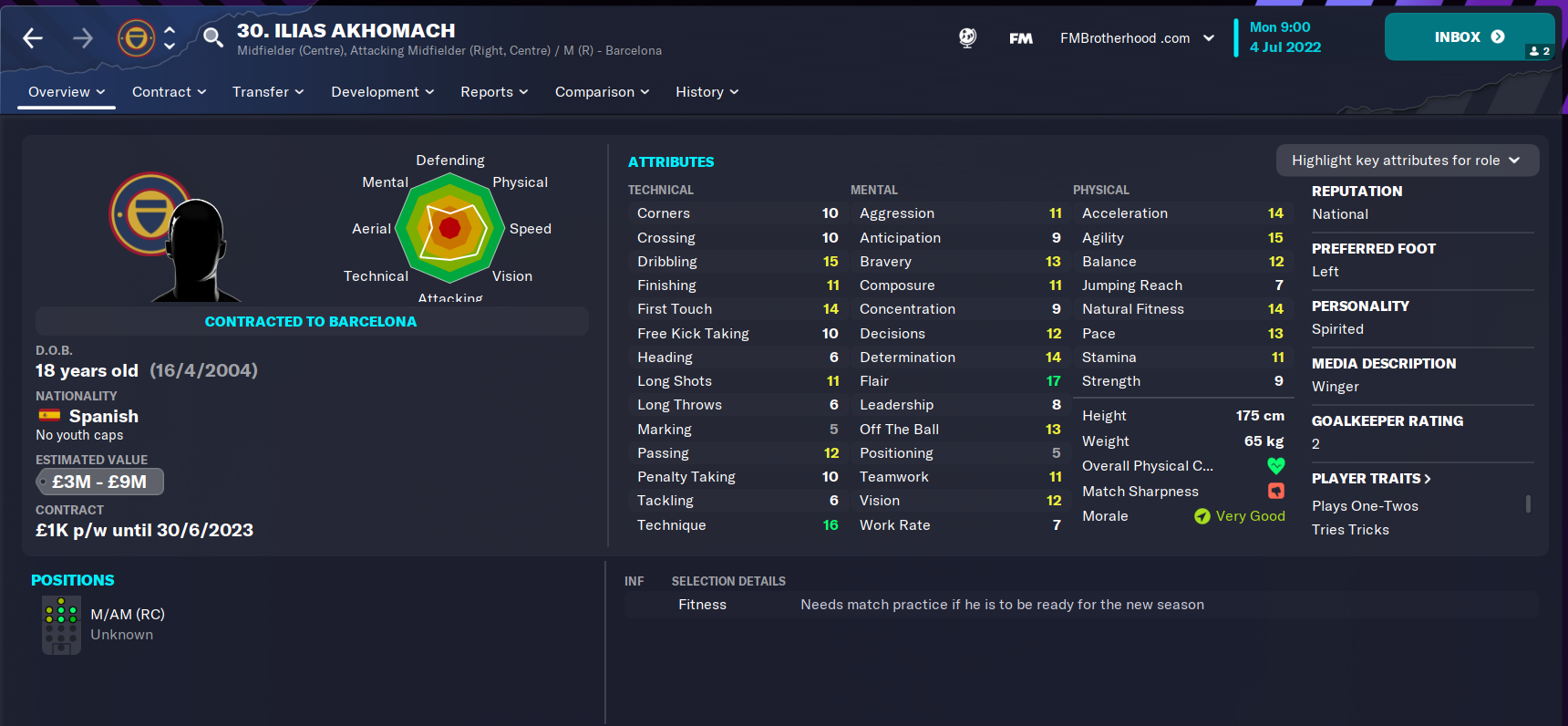 You might be surprised to see a Barcelona academy prospect on the list of the best cheap wonderkids in FM23, but Ilias Akhomach can be signed for just £6 million in your first FM23 season. However, he only has 1 year left on his contract, so could be signed on a free transfer.
He's brilliant technically for a teenager, with 15 dribbling, 14 first touch, and 16 technique. He's best played as an inverted right winger cutting in on his left foot.
Ilias Akhomach in 2032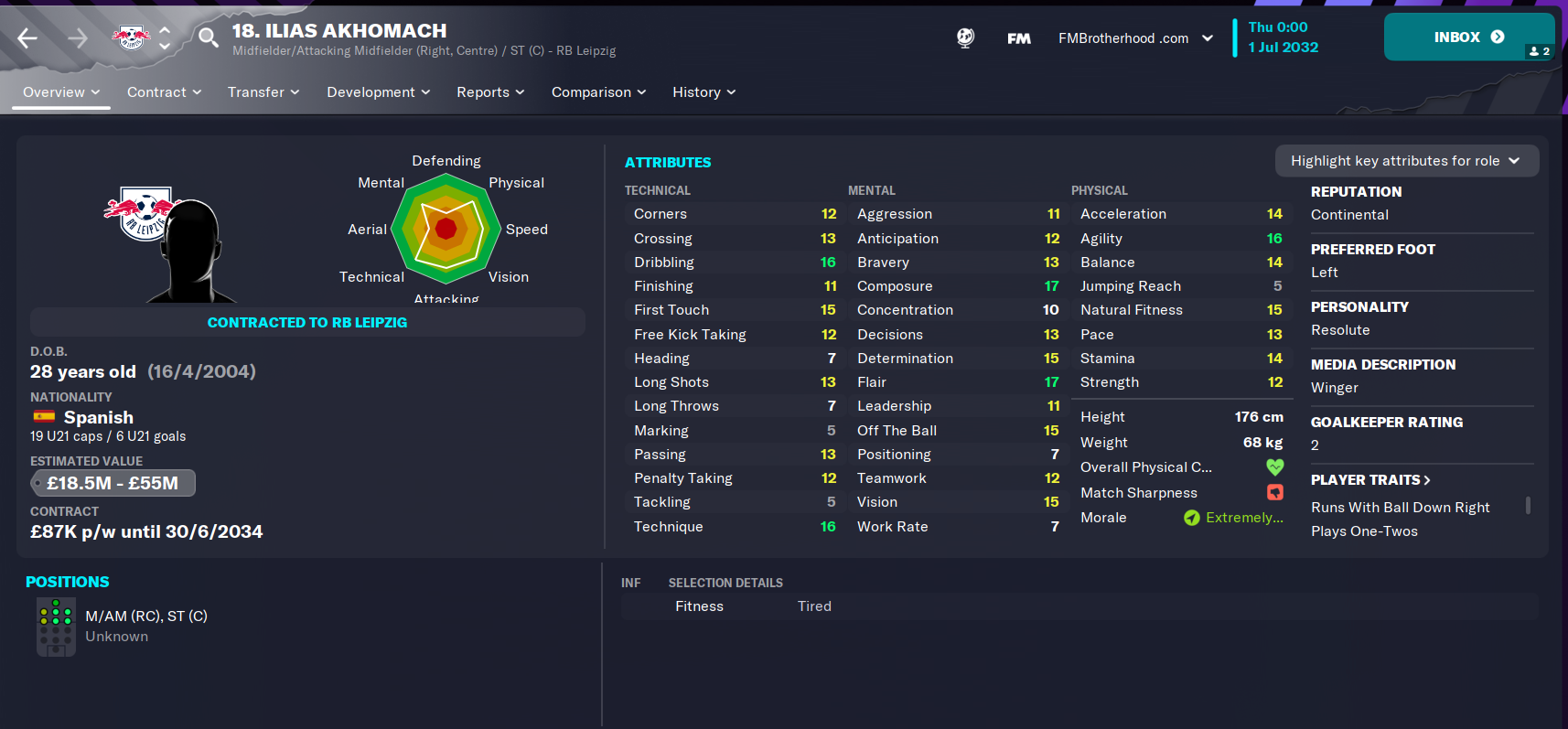 Ilias Akhomach signed for Man United on a free transfer, who then managed to sell this cheap FM23 wonderkid to RB Leipzig for £52 million.
He has managed to significantly develop some attributes, with his composure increasing from 11 to 17, and his vision from 12 to 15.
For a wonderkid you can potentially sign on a free transfer, what's not to love about Akhomach?
2. Elia Caprile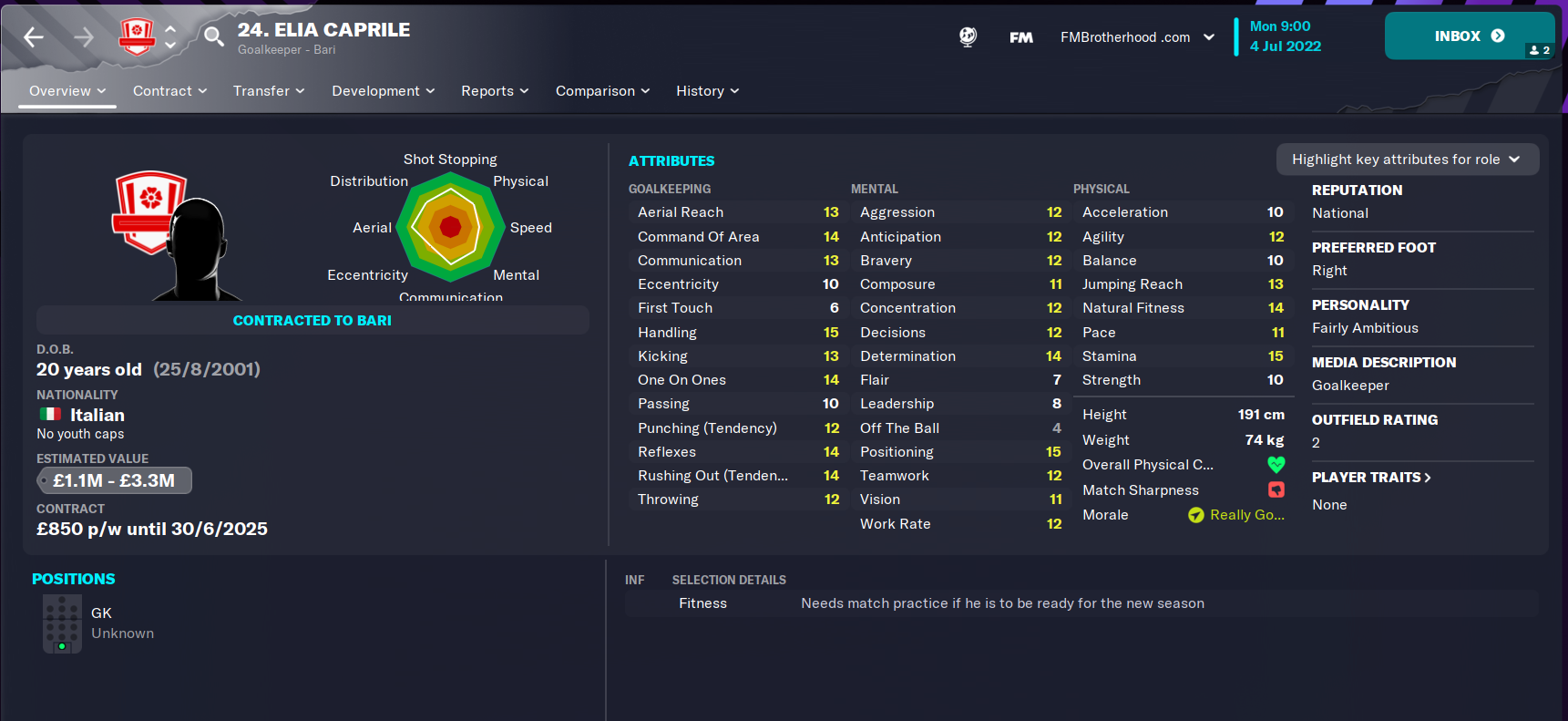 Another Italian goalkeeper on the list of the best FM23 cheap wonderkids is Elia Caprile. This wonderkid goalkeeper has kept an impressive 13 clean sheets so far for Serie B side Bari this season (as of April 2023). This is the 3rd most in the league, which is impressive for a 20 year old.
His best goalkeeping attributes are 15 handling, 14 reflexes, and 15 positioning. He's also a tall goalkeeper with good aerial and jumping reach.
If you want to sign this cheap wonderkid in FM23, he'll cost you just £2 million. He's definitely good enough to play for a team in the Sky Bet Championship.
Elia Caprile in 2032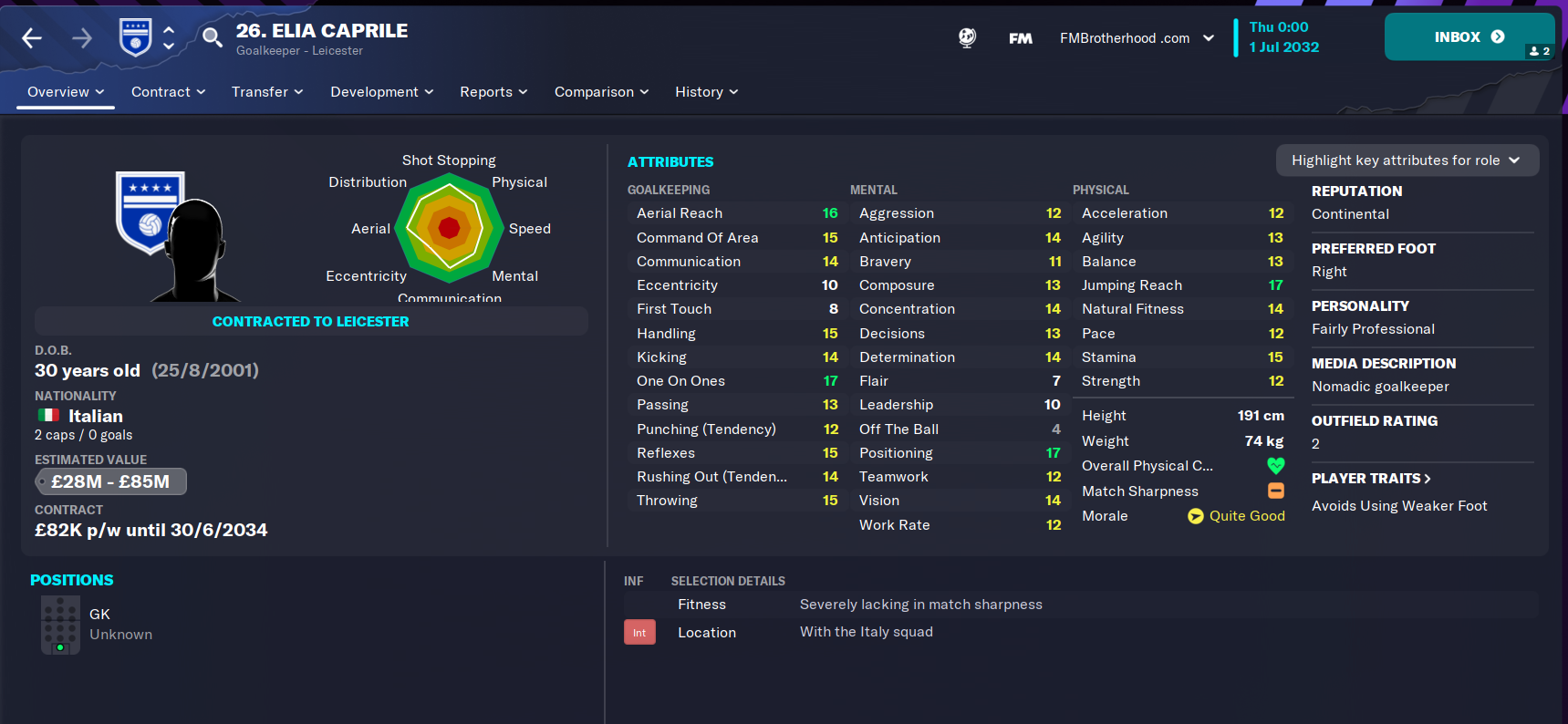 Caprile in his prime is a top Premier League goalkeeper, and signed for Leicester from Brighton for almost £50 million! Unlike Matteo Rizzo, Caprile managed to get 2 international caps for Italy.
This cheap wonderkid in FM23 can get you an amazing return on your £2 million investment, and is has the quality to play European football.
1. Arda Guler – Best FM23 Cheap Wonderkid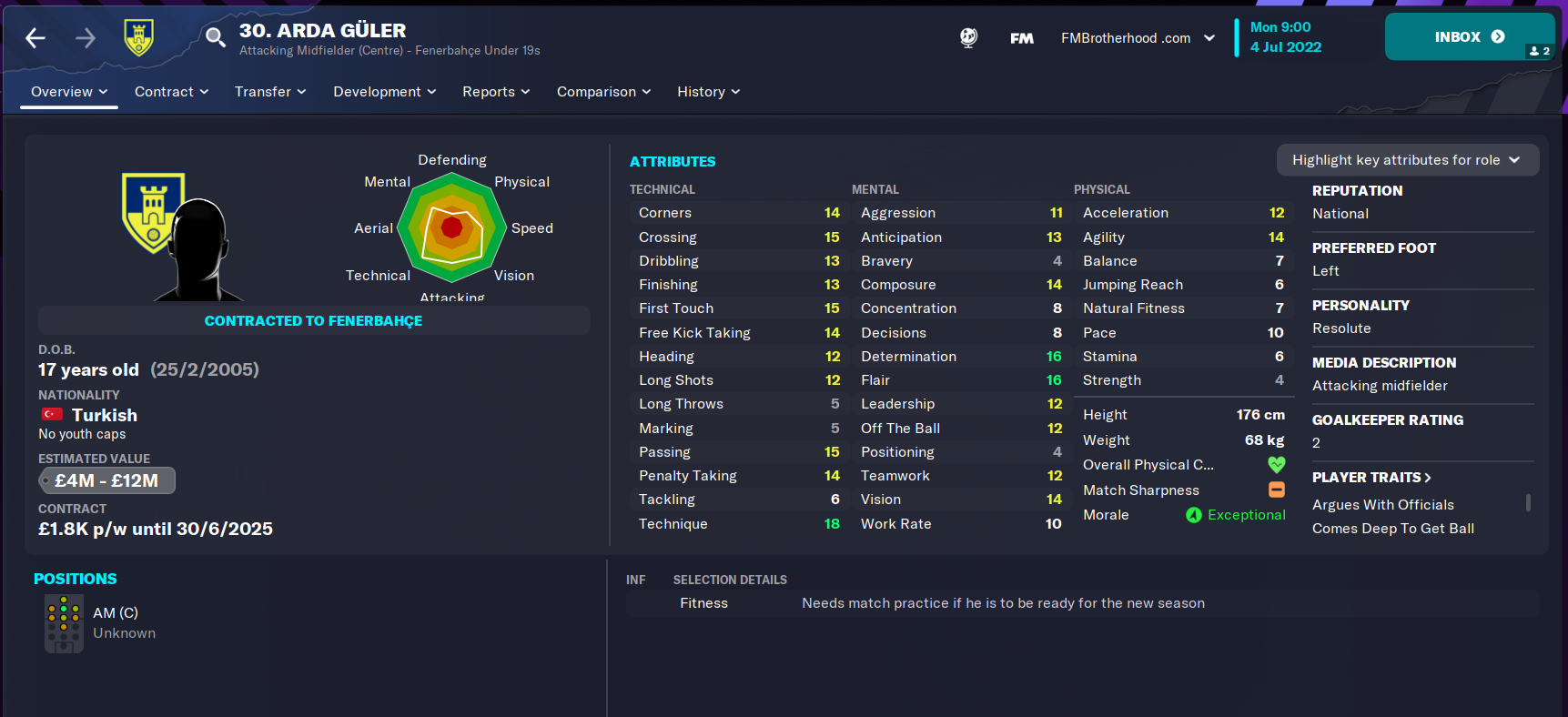 Arda Guler is the best FM23 cheap wonderkid that you've got to sign if you get the opportunity! His technical attributes are amazing for a 17 year old. To have 18 technique, and 15 passing at that age is ridiculous.
The only worry with Guler, is some of his physical attributes. His strength is low, which means he can easily get pushed off the ball. And his stamina is only 6, so he'll struggle to play 90 minutes in every match.
He needs to improve these attributes to become a world class player. But you can sign Guler for just £8 million in your first FM23 season.
Arda Guler in 2032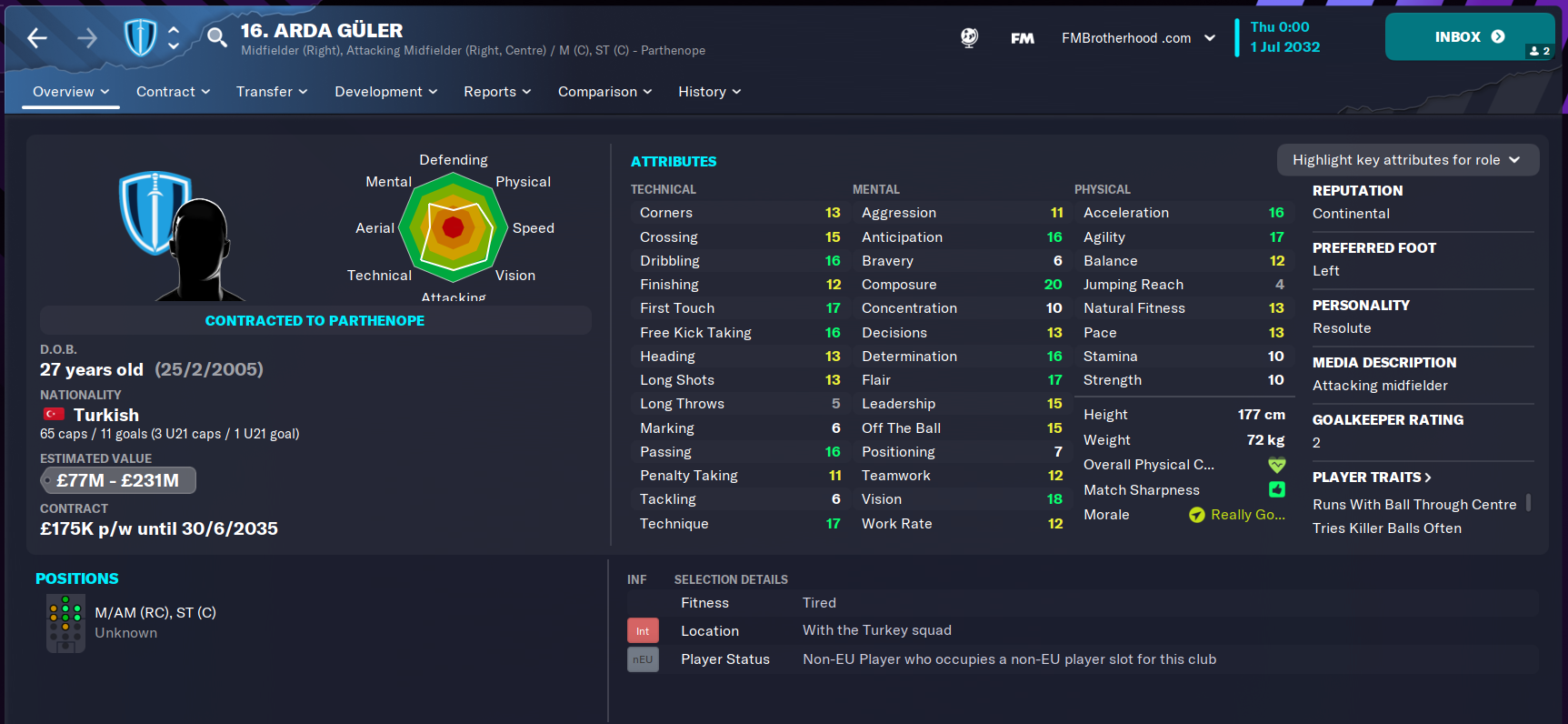 In 2032, Guler has 12 attributes rated 16 or higher, including 20 composure, and 18 vision! His is an incredible attacking midfielder, and Napoli signed him for just £11 million in the 2025/26 season.
Guler is now worth up to £200 million, showing in his prime he's the most valuable player on this list of the best FM23 cheap wonderkids.
Final Thoughts
There are some brilliant cheap wonderkids in FM23 with potential to become valuable assets to your team. If you're managing a smaller club, Matteo Rizzo or Jamie Hamilton. However, if you have the budget, Arda Guler and Alex Scott can become world class superstars.
If you're looking to sign a wonderkid right winger in FM23, check out this article.