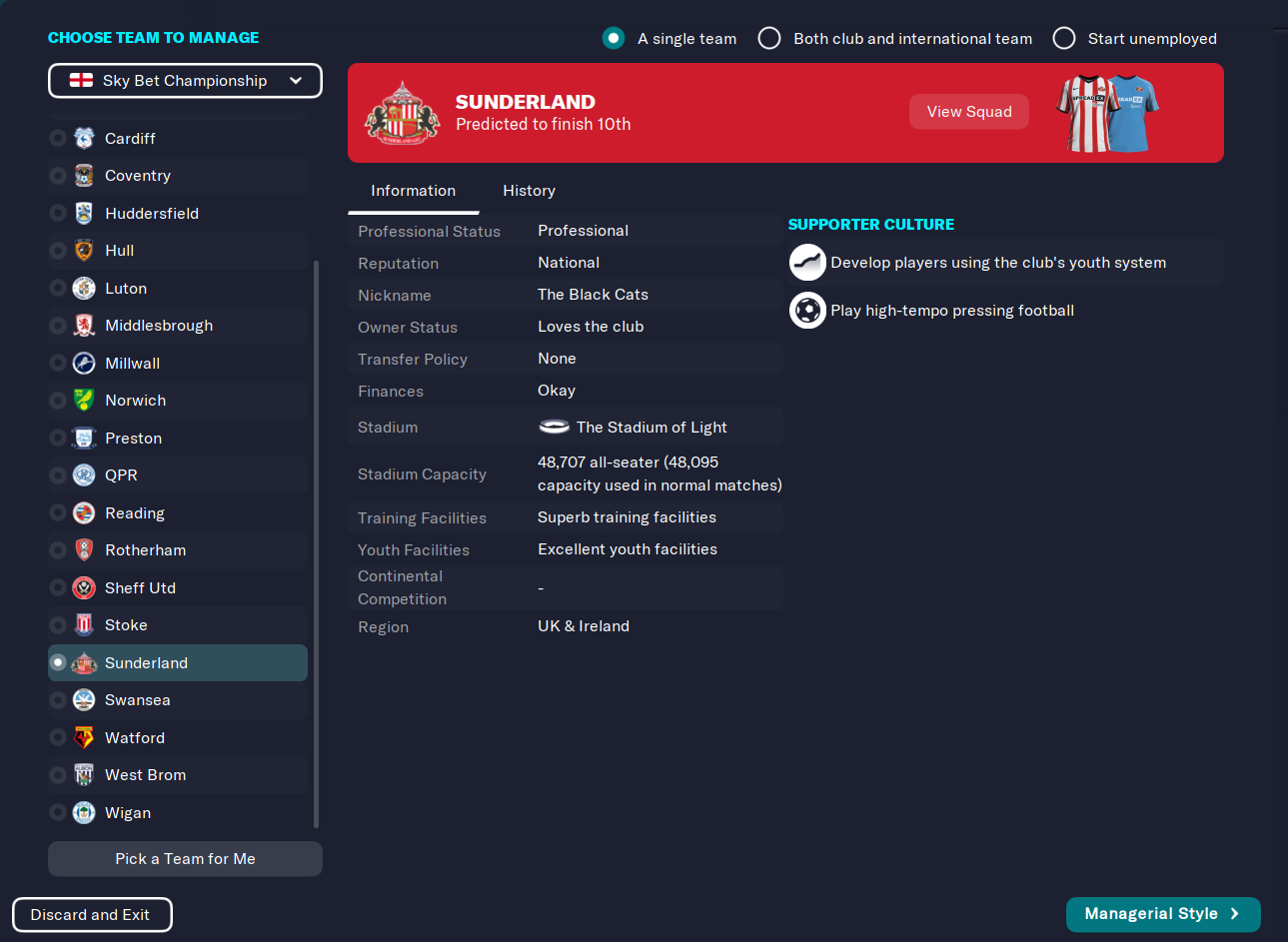 10 Best FM23 Save Ideas you must try!
By callum | June 14, 2023 | 33220 Views
Best FM23 Save Ideas
Are you struggling to get into a Football Manager save in FM23? It can be difficult to settle into a save sometimes.
If this is you, then you're in the right place. These are 10 of the best FM23 save ideas for you to try out! There's a variety of different challenges, and teams to manage on this list.
If you're looking for save ideas for FM24, read this article instead!
1. Chelsea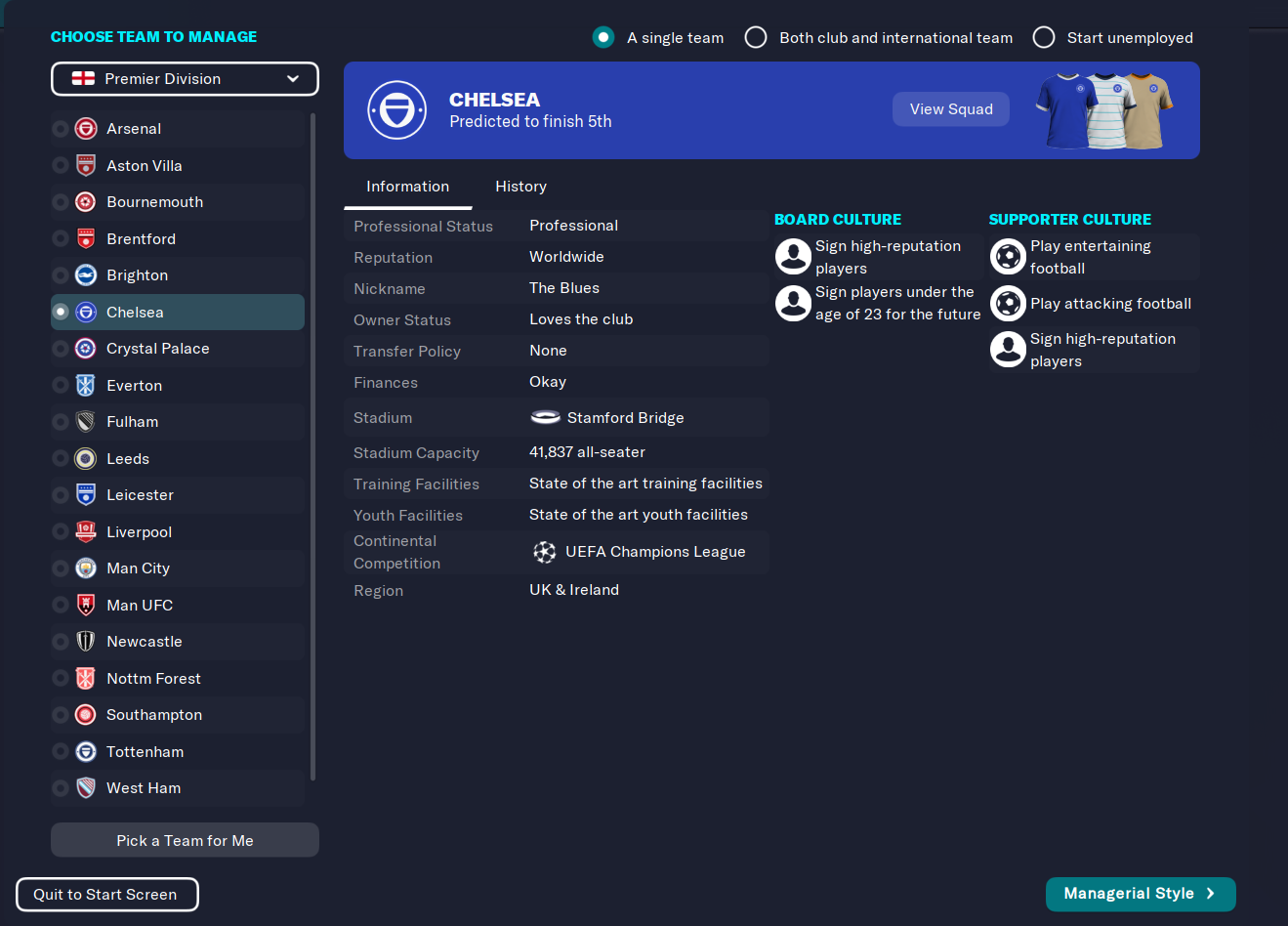 Since getting new owners almost a year ago, Chelsea have spent £566 million on 17 players! However, Todd Boehly isn't seeing a great return on his investment so far, with Chelsea sitting in the bottom half of the table with only a few games to go in the Premier League season.
This is your chance to se if you can do better than Graham Potter and Frank Lampard (surely you can). The board will expect you to qualift for the Champions League, which is definitely possible with the quality in the squad. Chelsea have some really exciting players, such as Enzo Fernandez, Wesley Fofana, and Mykaylo Mudryk.
Your job will be to try and  move on as much deadwood as possible, and then keep a huge first team squad as happy as possible with regular playing time.
If you're looking for a Chelsea team guide, check out this post.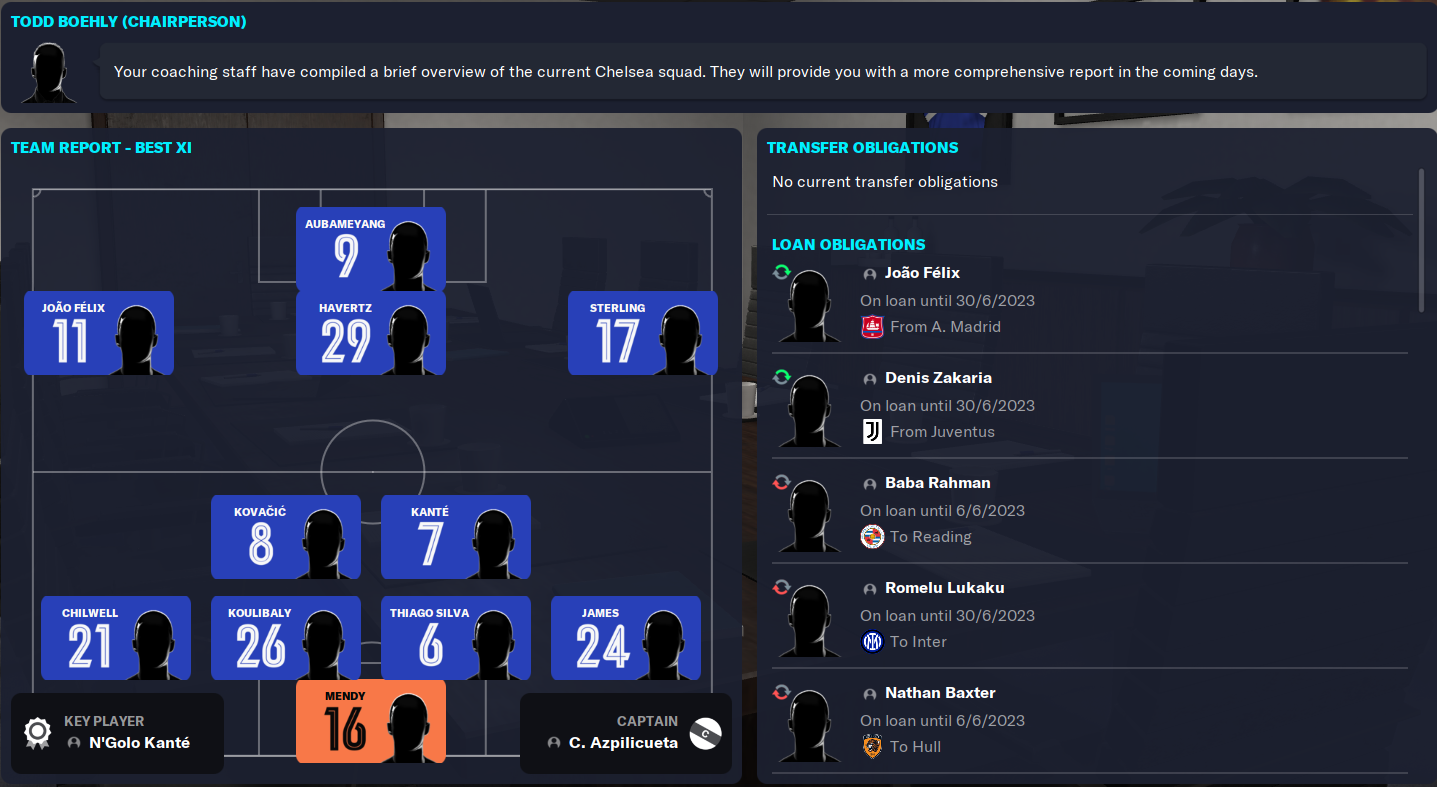 Transfer Budget – £19 million
Spare Wage Budget – £50k per week
Best Players – Reece James, Thiago Silva, Raheem Sterling
Wonderkids – Mykaylo Mudryk, Wesley Fofana, Noni Madueke
League Objective – Qualify for Champions League.
2. Notts County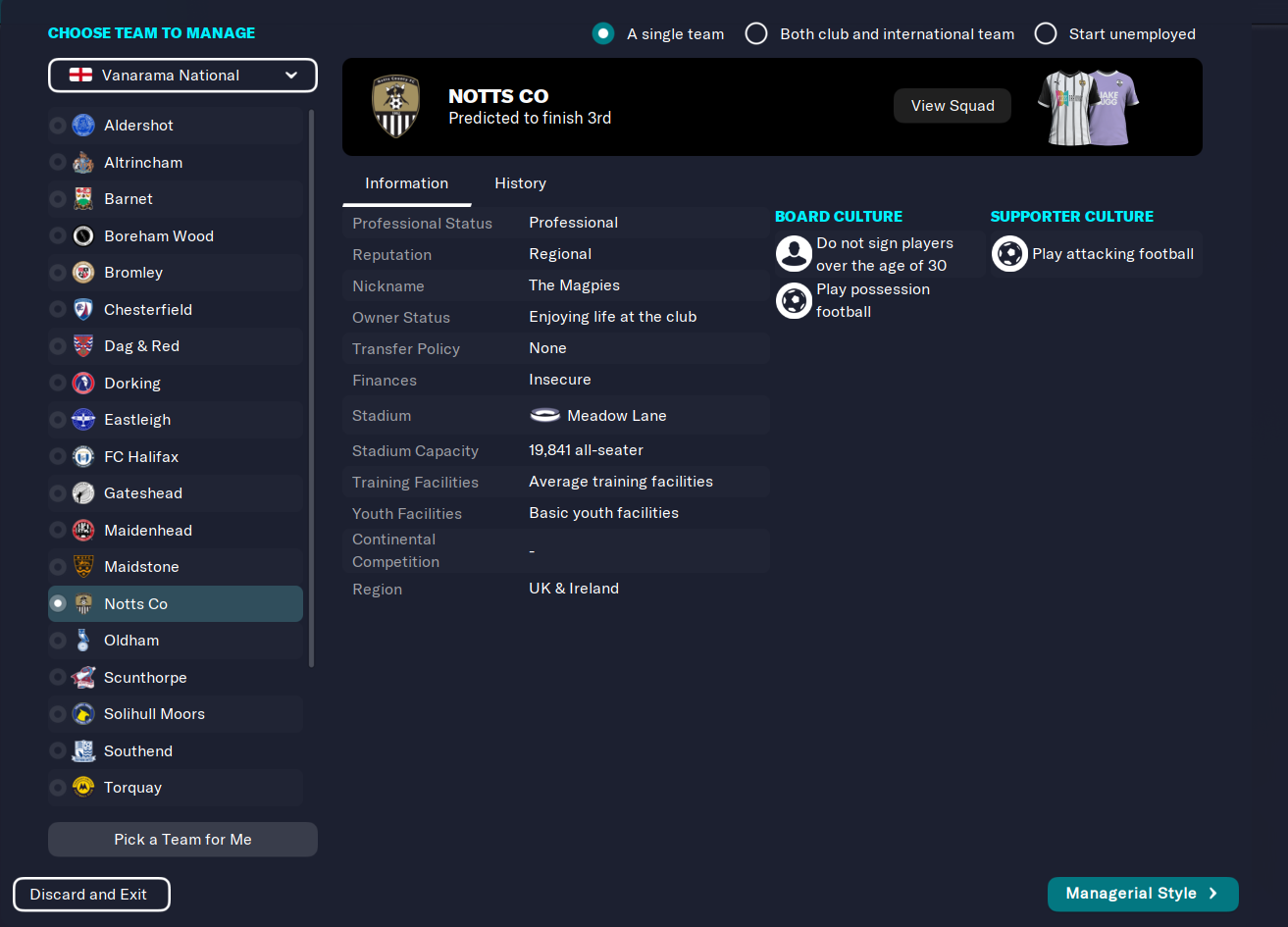 You probably thought you would see Wrexham make this list of the 10 best FM23 save ideas. But instead we decided to go for their league rivals Notts County.
In real life, Notts County have had an unbelievable season. They've managed to accumulate over 100 points, which would win them the title any other season. However, Wrexham have been massively backed by their Hollywood owners, which means Notts County will have to win the play-offs to get into Sky Bet League 2.
That's why it'll be your job in this FM23 save to try and pip Wrexham to the National League title! There's absolutely enough quality in the squad to challenge, but it will be tough as Wrexham have lots of players good enough to be playing in Sky Bet League One.
Another issue you'll have at Notts County is their finances, which are currently insecure. It will be your job to steady the ship, which would definitely be helped by promotion to the football league.
A save with Notts County would also be great fun on the mobile version of Football Manager 2023. If you love mobile games, make sure to check out AppAmped for the best tips to improve your gameplay."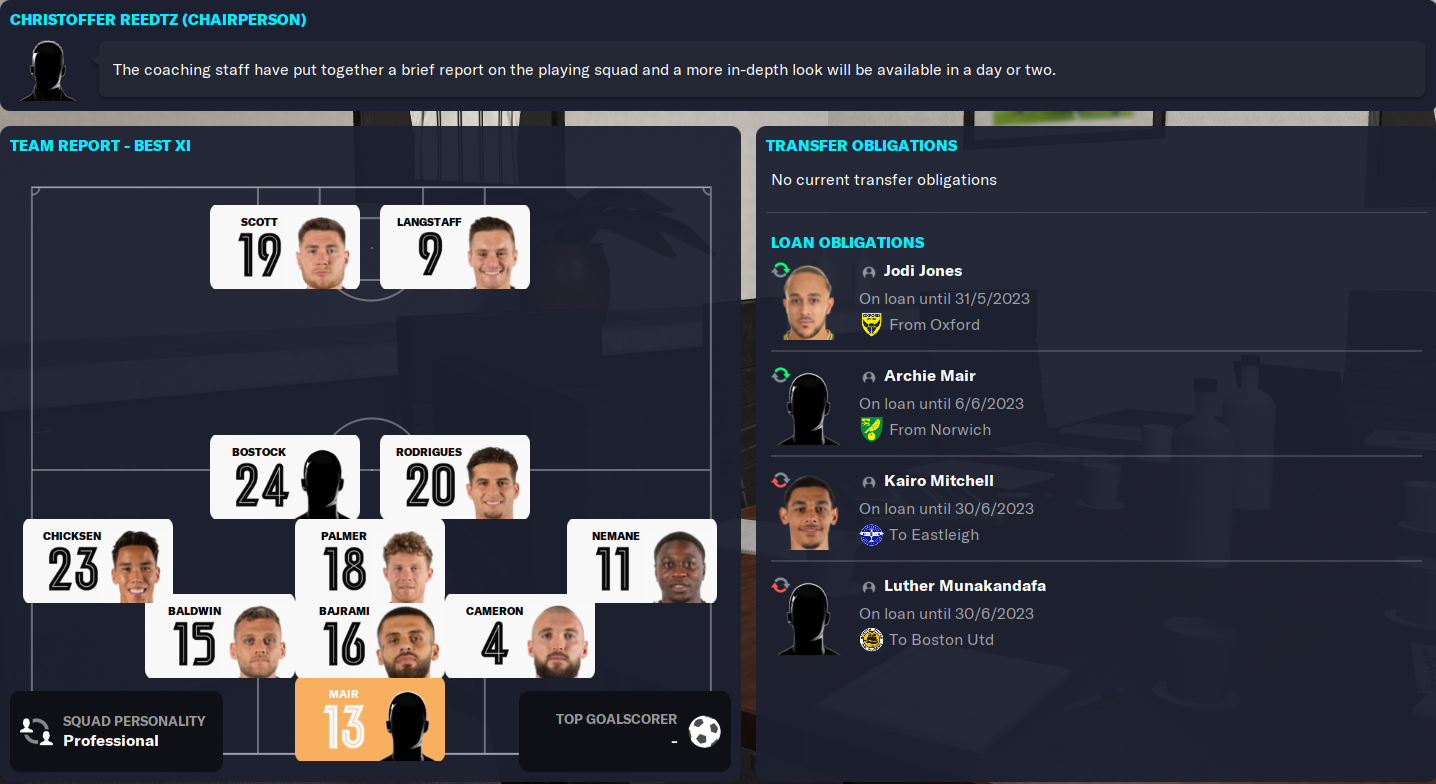 Transfer Budget – £150k
Spare Wage Budget – £5k per week
Best Players – Macauley Langstaff, Ruben Rodrigues, Jodi Jones
Wonderkids – Lucien Mahovo
League Objective – Reach play-offs
3. Building a Nation – Most Interesting FM23 Save Idea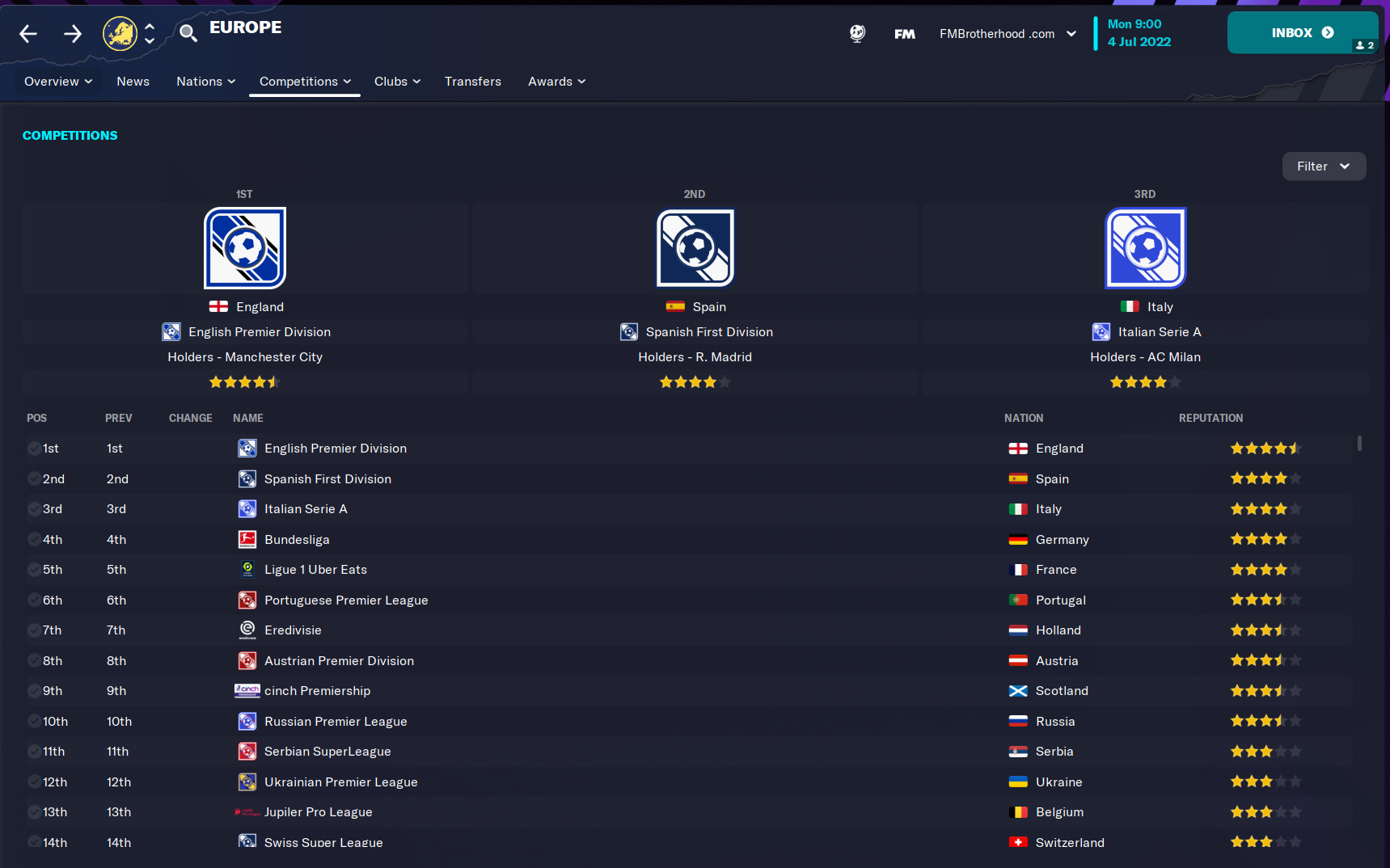 This is more of a long term FM23 save idea from Football Manager youtuber Second Yellow Card. The aim of this save is to make the nation of the team you're managing become the most reputable league in the world by becoming the highest ranked league in the European nation club coefficients table.
The higher in the coefficients table your league is, the more teams qualify for European competitions.
But this save isn't just about managing a team and doing as well in European competitions as possible to move up the rankings. You must find a way to get the other teams in your league to also be successful in Europe, as this is the only way you'll reach that number one spot.
Choosing the right nation to try this save with is important. One of the biggest factors in a save like this is the strength of the other teams in your nation's top division. With this in mind, you'll want to avoid signing players from your domestic rivals, as this will only weaken them, making them less effective in European competitions.
Choosing your Nation and Team
Therefore, it's important to choose a nation with relaxed registration rules when it comes to signing foreign and non-EU players. Some recommended nations to choose for this save idea in FM23 are Hungary, Poland, Scotland, and the Republic of Ireland.
Choosing the team you manage in this FM23 save is just as important. You could decide to take over one of the better teams in your nation, to try and get some important coefficient points straight away.
However, by doing this you're taking an already great team and making them better. But to have more long term success with this FM23 save idea, you might be better managing a smaller team, and developing them into one of the giants in your nation. This then means you've created an additional top team to compete in Europe alongside the teams that were already capable.
This is an extremely exciting FM23 save idea that you must try if you haven't already. A long term save that's a lot different to anything on this list of the best FM23 save ideas.
Bonus objective – Become manager of the national side and win the World Cup!
4. RB Leipzig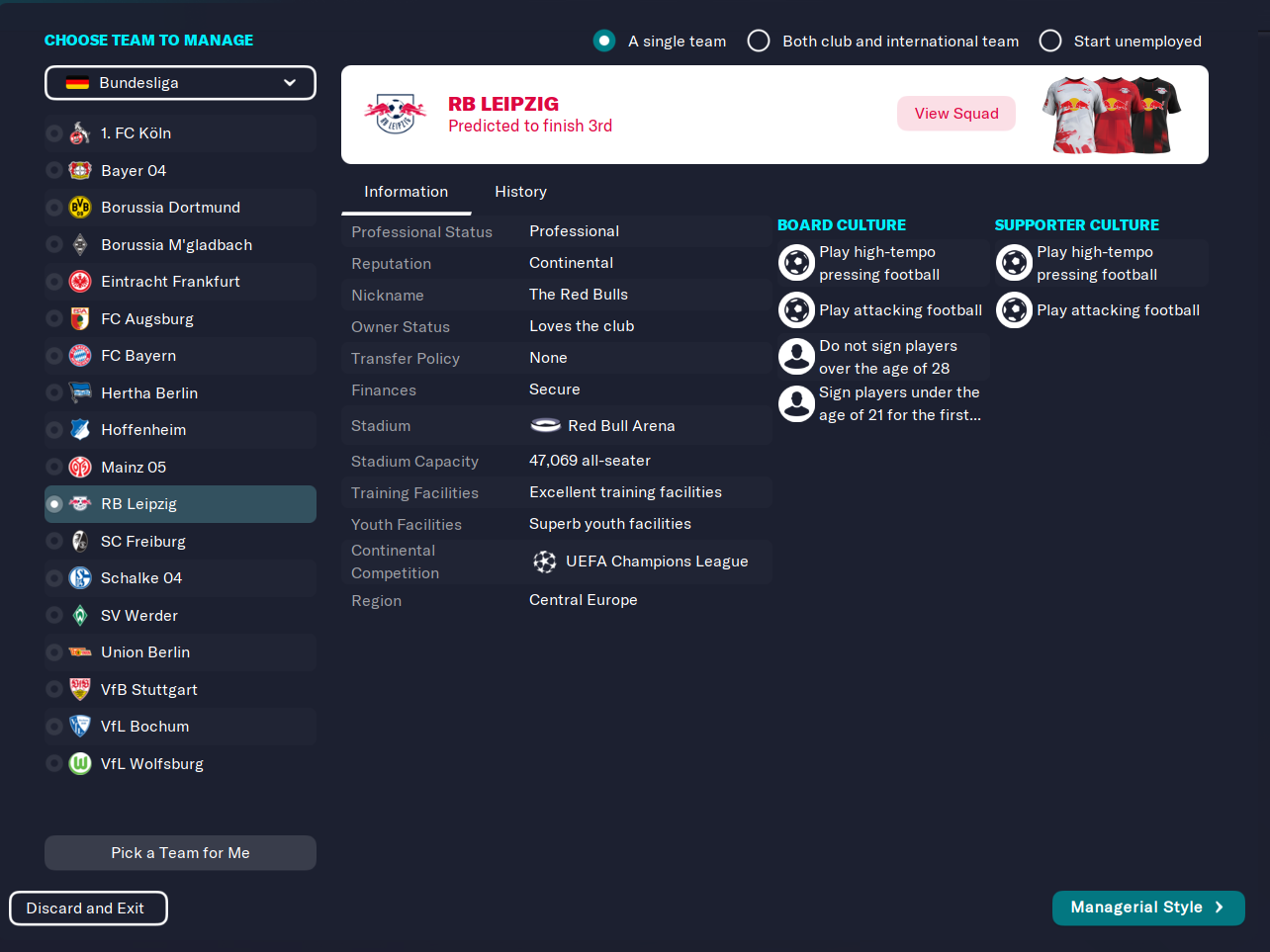 The Bundesliga is an exciting league to manage a team in FM23. There's multiple teams that could've made this list of the best FM23 save ideas, but RB Leipzig was our choice.
This is because they've got some exciting young players that if you can keep a hold of, can help you overthrow Bayern Munich as German champions. This includes Josko Gvardiol, Dominik Szoboszlai, Benjamin Sesko, and more!
RB Leipzig are backed well financially, which gives you the best opportunity of creating a title winning side. Becoming champions after Bayern Munich's 10 years of dominance should be the main objective in this save.
The RB Leipzig board want you to win the league within a few seasons. Can you stop Bayern?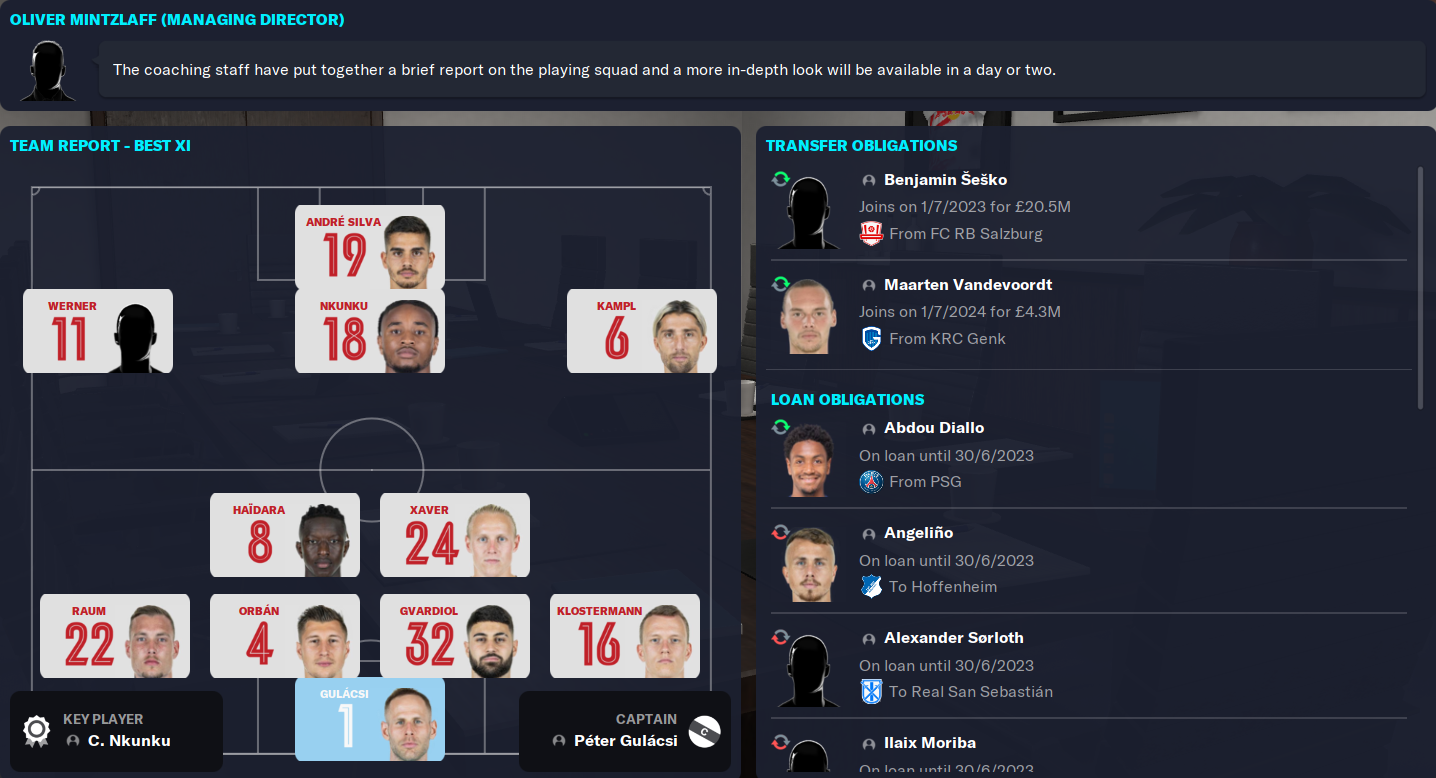 Transfer Budget – £17m
Spare Wage Budget – £124k per week
Best Players – Christopher Nkunku, Dani Olmo, Andre Silva
Wonderkids – Josko Gvardiol, Ilaix Moriba, Dominik Szoboszlai
League Objective – Qualify for Champions League
5. Sunderland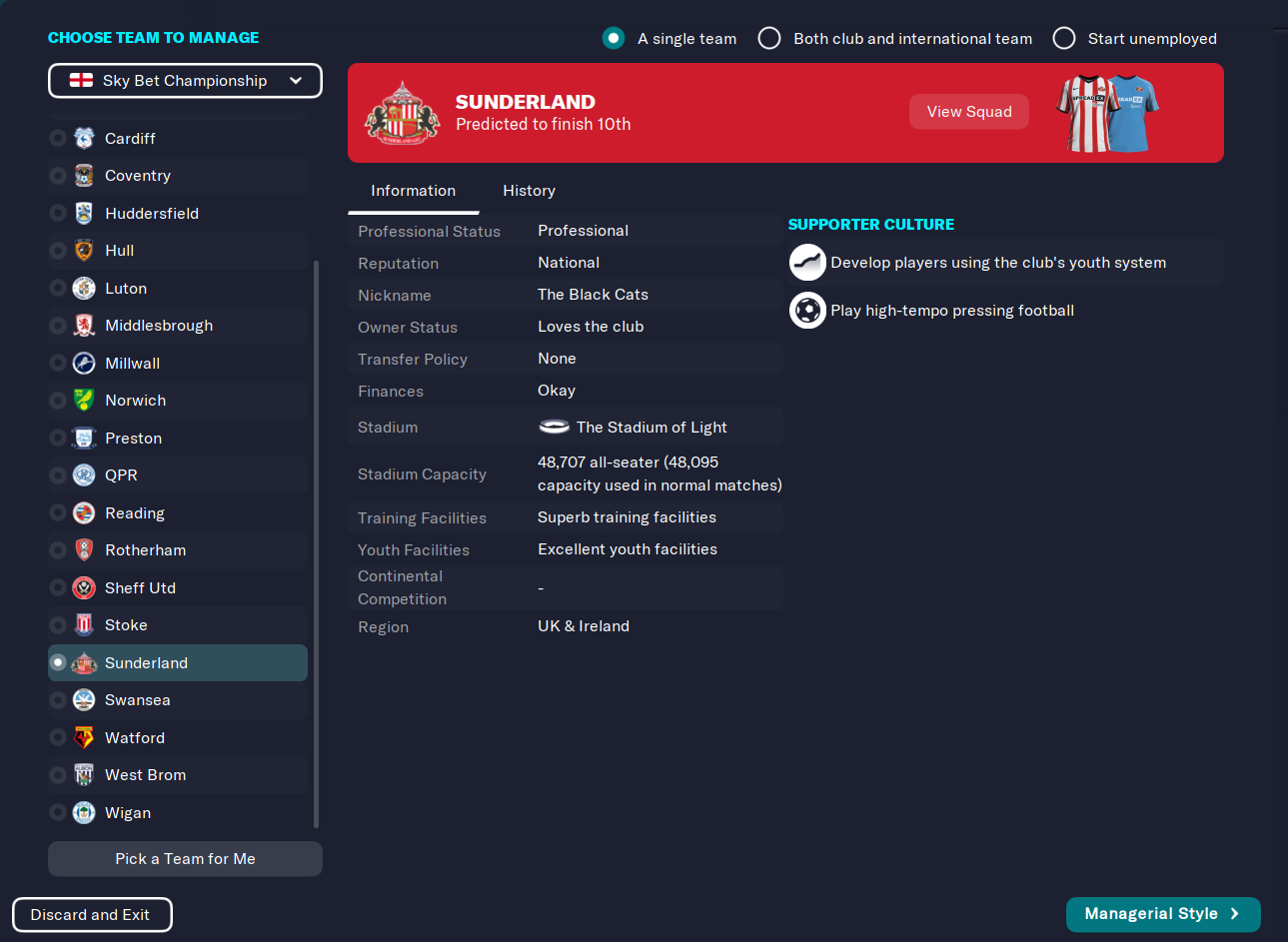 The Sky Bet Championship is definitely one of the most competitive leagues in world football, which is why managing in this league is so fun in FM23! There's not many better feelings than getting promoted to the promised land of the English Premier League.
Some honourable mentions for Championship teams you should take a look at are Middlesbrough, QPR, and Swansea. However, for this list of the best FM23 save ideas we decided to go for Sunderland! This is after we've enjoyed managing Sunderland on FM23, who are a large club in England that should be playing in the Premier League.
After getting promoted from Sky Bet League One, Sunderland have spent a lot of money on some great young players, including Jack Clarke, Daniel Ballard, and Abdoullah Ba.
You'll also have loanees Amad Diallo, Joe Gelhardt, and Edouard Michut. These are amazing players that can maybe help you even get play-offs in your first season.
Similar to RB Leipzig, Sunderland have an exciting young team at its core, lots of players with the potential ability to play in the Premier League.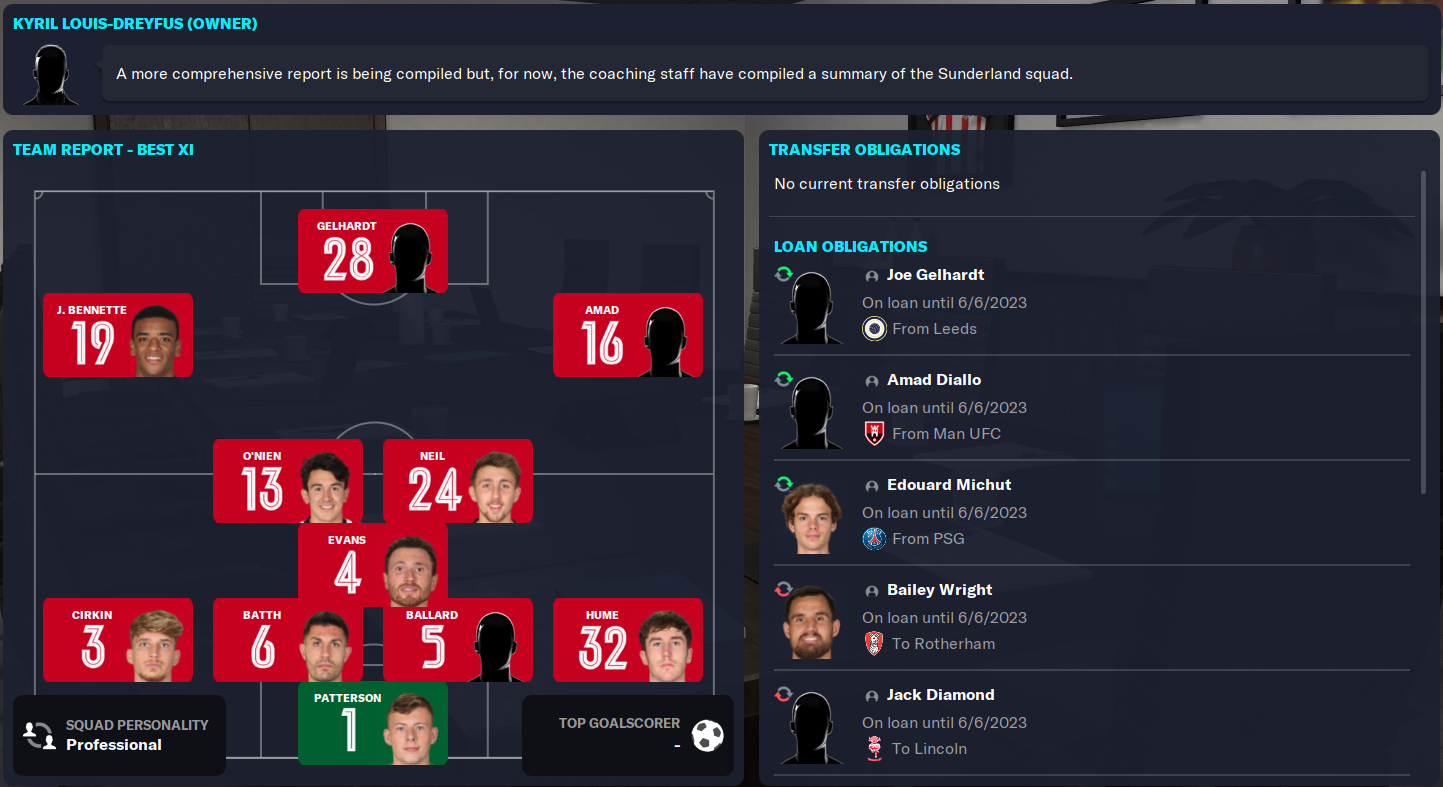 Transfer Budget – £1m
Spare Wage Budget – £15k per week
Best Players – Amad Diallo, Ross Stewart, Joe Gelhardt
Wonderkids – Isaac Lihadji, Jack Clarke, Jewison Bennette
League Objective – Top-half finish.
6. Dethrone a City Rival
The objective of this save is to manage a team that's not the biggest in their city/local area, and become the best! There's a wide variety of teams you can choose from, one actually being Sunderland.
Other teams you could take a look at are Paris FC, Bristol Rovers, TSV 1860 Munich, or even Athletico Madrid.
The team you choose will decide how hard your FM23 save is, as it will likely take you a lot longer to become the best team in Paris is you're managing Paris FC, than it would to make Athletico Madrid become better than Real Madrid.
7. Sporting Lisbon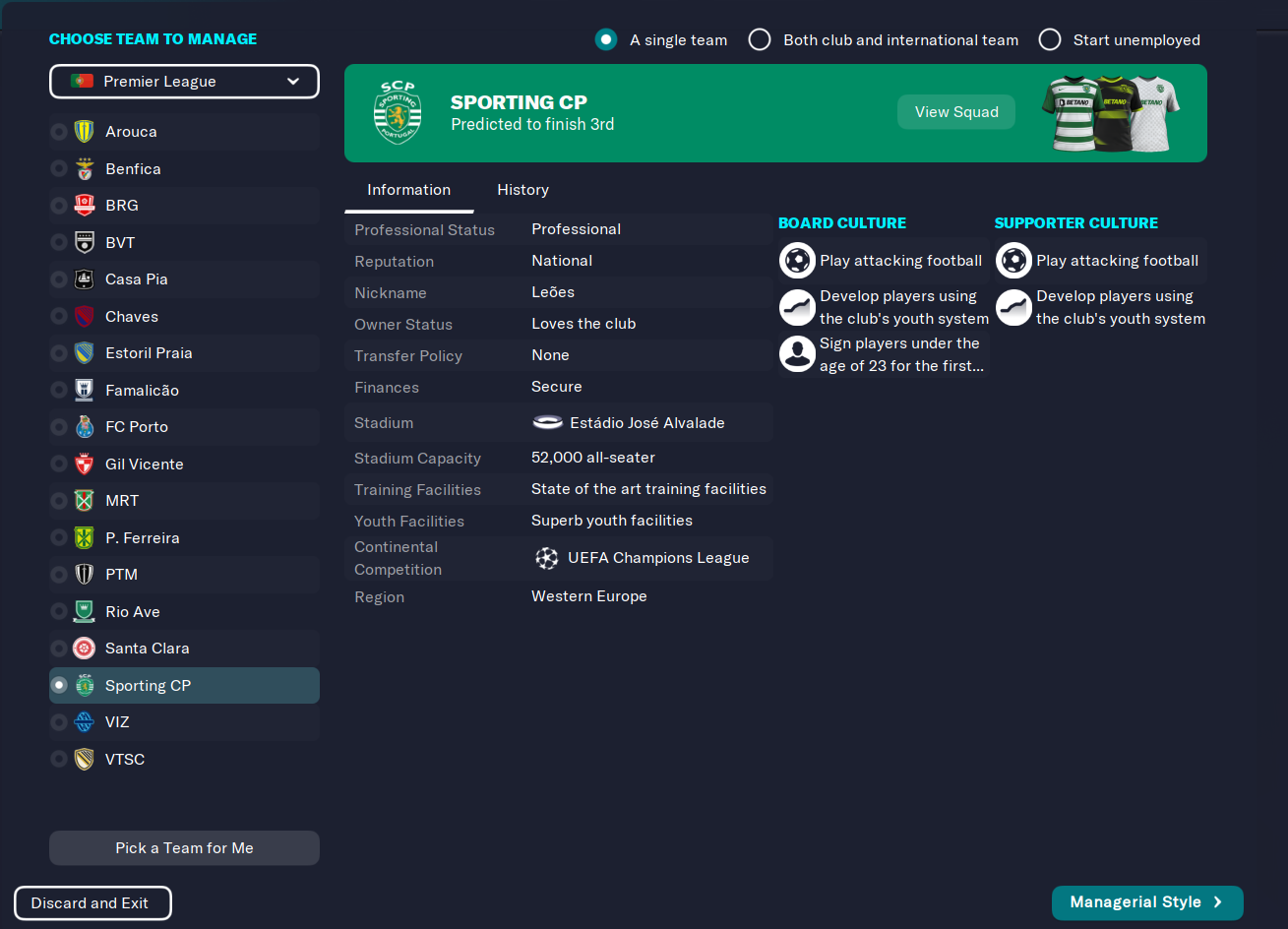 Since 2003, Sporting Lisbon have only won the Portuguese League once, with FC Porto and Benfica going back and forth as the main title challengers for the last 20 years.
The challenge of this save is to make Sporting Lisbon the dominant team in Portuguese Football. This will be difficult to do in the first couple of seasons, as Benfica and Porto have some outstanding players. However, if you can keep a hold of talents such as Manuel Ugarte, Ousmane Diomande, and Goncalo Inacio, you've got every chance of winning the title in the future.
Your job will be made harder with the fact that Porto and Benfica are better backed financially. This means you'll need to make shrewd signings, and possibly sell one of your star players to reinvest into the squad.
Bonus Objective – become the first Portuguese side to win the UEFA Champions League since Porto in 2004.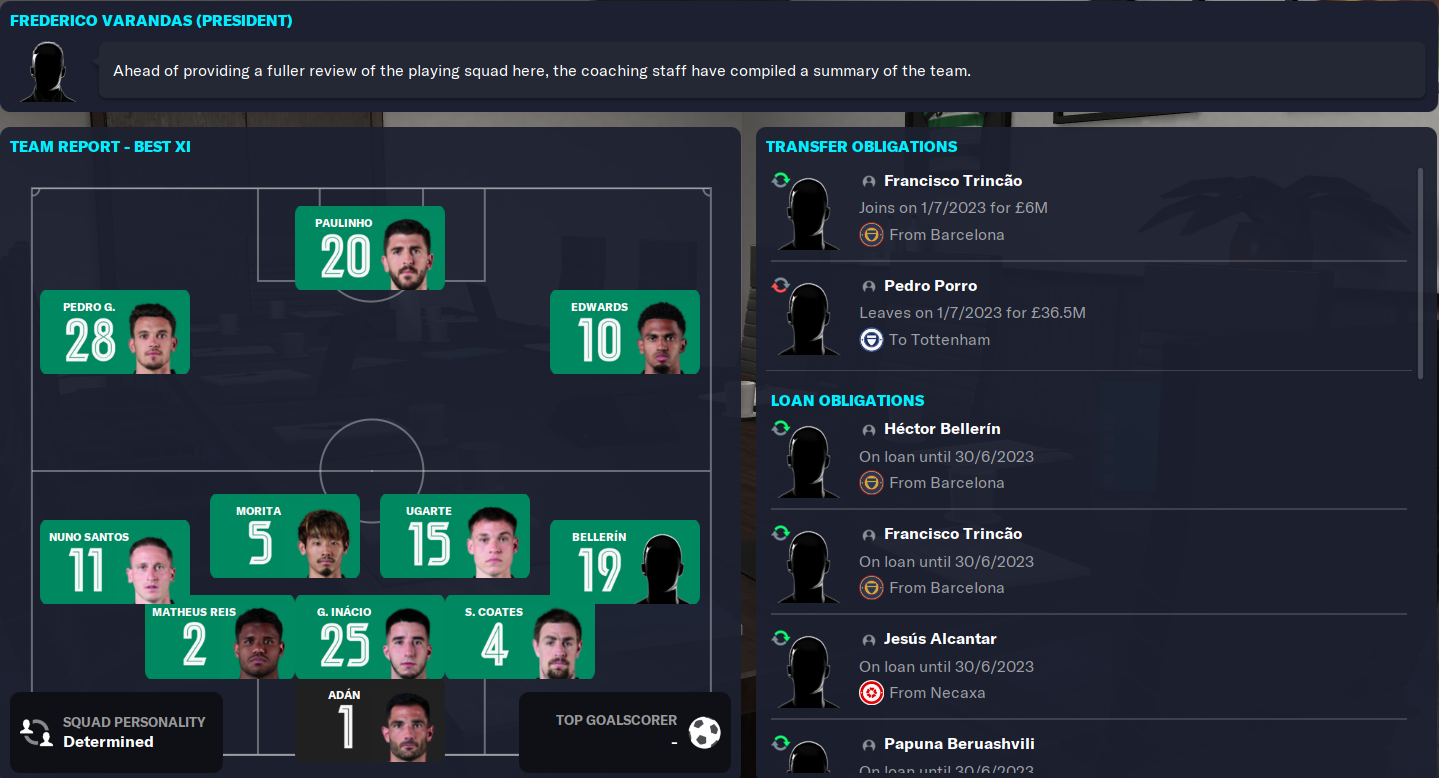 Transfer Budget – £6m
Spare Wage Budget – £36k per week
Best Players – Sebastian Coates, Manuel Ugarte, Pedro Goncalves
Wonderkids – Goncalo Inacio, Ousmane Diomande, Sotiris Alexandropoulos
League Objective – Challenge for title.
8. Rangers
Next on our list of the 10 best FM23 save ideas is Scottish giants Rangers.
After stopping Celtic from winning 10 league titles in a row in the 2020/21 season, Celtic have leaped back in front and are definitely the best team in Scotland right now.
The objective of this save will be to make Rangers the best team in Scotland again. Celtic have a much bigger budget, and a lot of better players, so this challenge will be tough.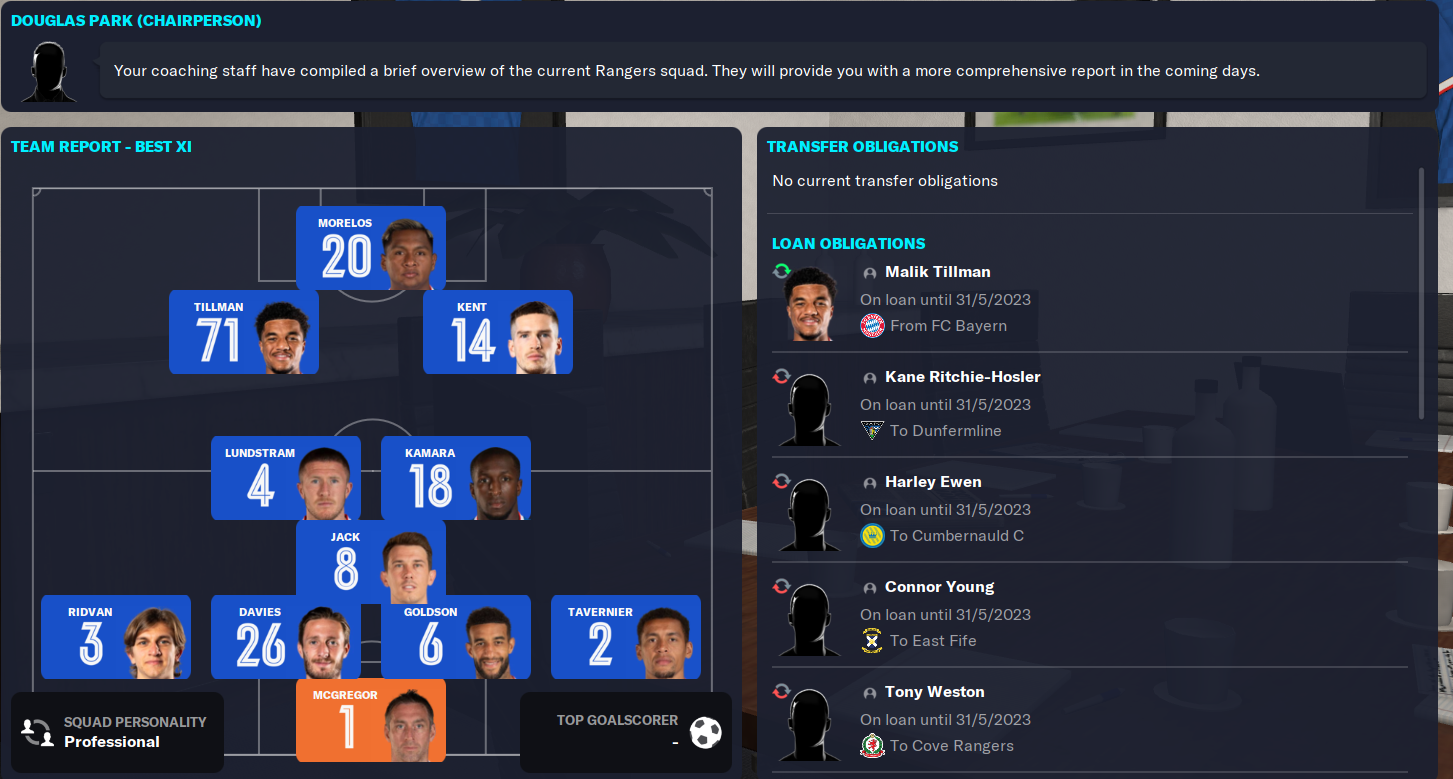 Transfer Budget – £800k
Spare Wage Budget – £0 per week
Best Players – Ryan Kent, Ianis Hagi, Connor Goldson
Wonderkids – Ridvan Yilmaz, Leon King, Nicolas Raskin
League Objective – Qualify for Champions League.
9. Sim a Season
If you're not fancying the look of any teams to manage in FM23, why not simulate your save until June 1st 2023. This will take you to the end of first FM23 season.
Then scour over the leagues you would be interested in managing in, and see if anything interesting has happened that you would like to take over. For example, a huge team might have been unexpectedly relegated, or a small team might have gotten promoted.
The opportunities are endless, and by simulating a season, your FM23 save will be completely unique. You could even simulate 5 seasons into the future!
10. Hemel Hempstead – Hardest FM23 Save Idea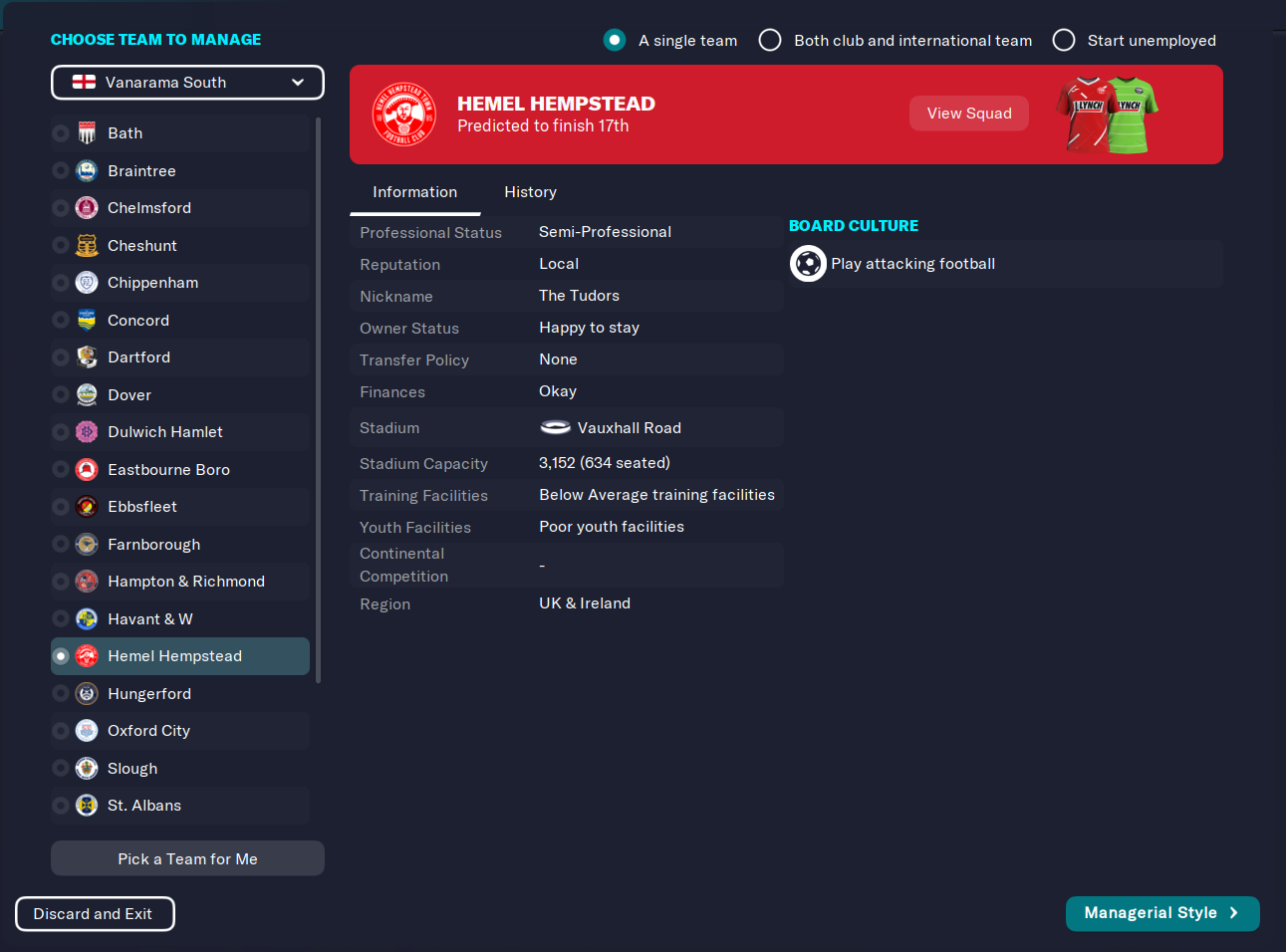 When you load up your FM23 save, Hemel Hempstead are predicted to finish bottom of the Vanarama National League South. This is the lowest league you can manage in FM23 in England. Therefore, Hemel Hempstead are arguably the worst team in England you can manage in FM23.
This also means if you do get relegated, you'll be automatically sacked.
To make matters worse, they only have 15 players on their books. You don't even have enough players to make up a full bench. But on a positive note, a couple of these players are top quality, and can definitely keep you up.
Can you take a team from the very bottom of the FM23 English football Pyramid, to the very top as Premier League champions?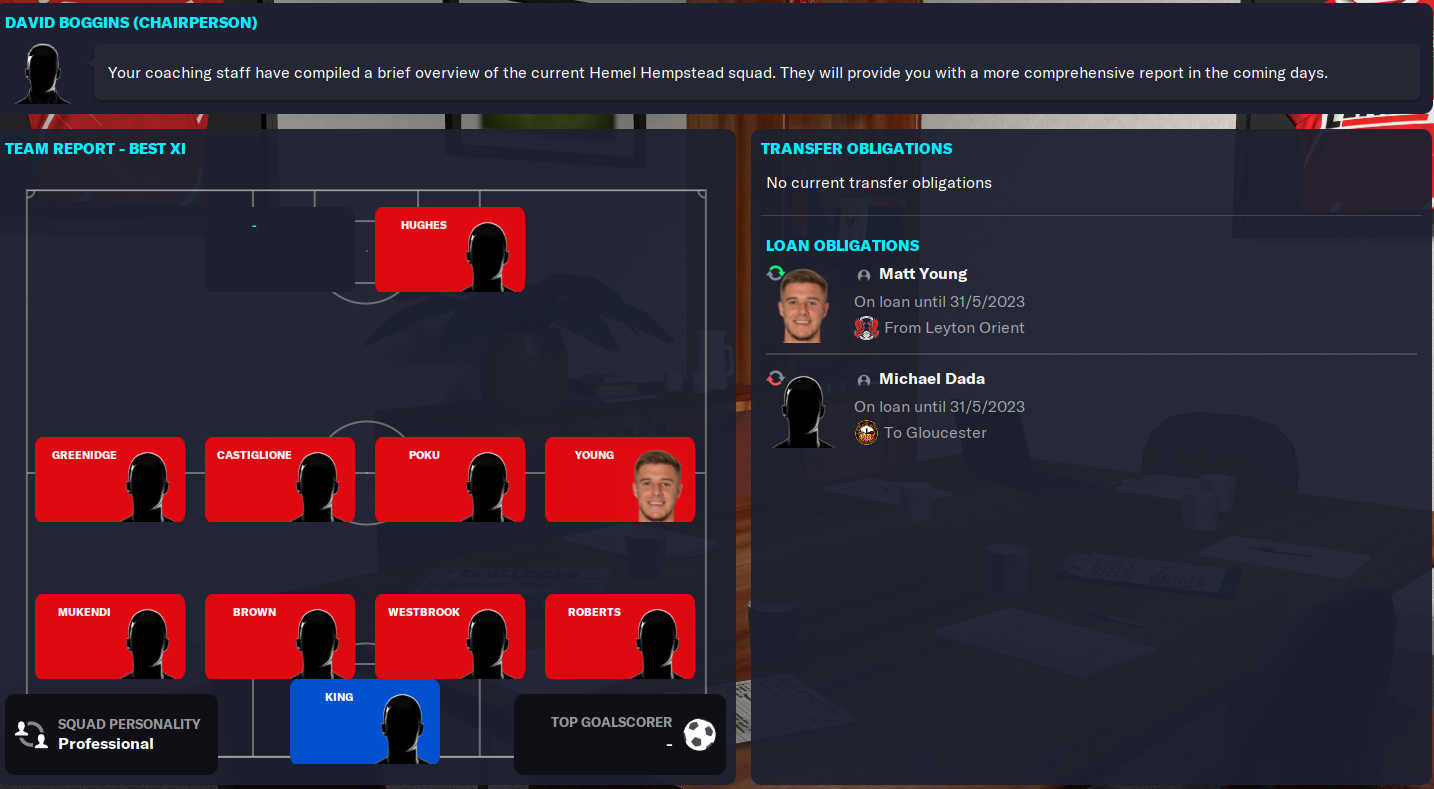 Transfer Budget – £0
Spare Wage Budget – £350 per week
Best Players – Jeremie Mukendi, Matt Young, Josh Castiglione
Wonderkids -You're joking…
League Objective – Attempt to avoid relegation.
What are the Best FM23 Save Ideas for me?
If you want a long term save, the building a nation save has to be an FM23 save idea you consider. It's definitely a difficult task though.
If you've not tried the Portuguese League before, Sporting Lisbon might be an interesting prospect for you. But if you like to manage in England, try a Sky Bet Championship save with a team like Sunderland.
Want to know the cheapest wonderkids in FM23? Check out this post.