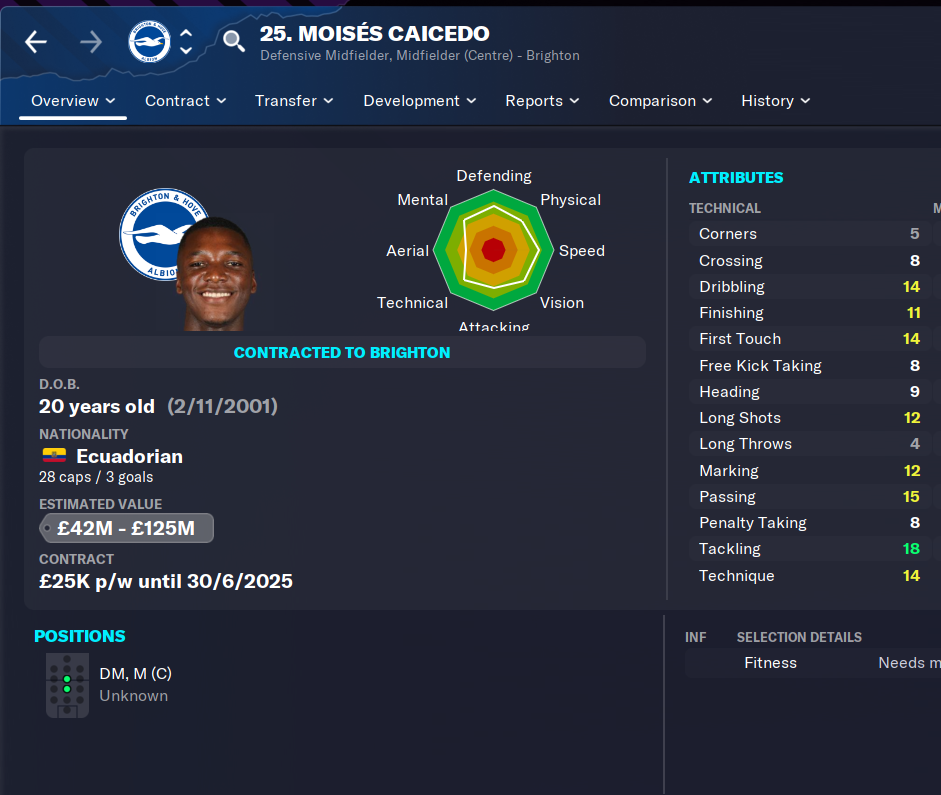 10 Best FM23 Winter Update Wonderkids
By callum | March 16, 2023 | 29135 Views
[mv_video doNotAutoplayNorOptimizePlacement="false" doNotOptimizePlacement="false" jsonLd="true" key="voxtonqsunrrzyoyzhe6″ ratio="16:9″ thumbnail="https://mediavine-res.cloudinary.com/v1680302377/mppokv9aekfjoazl5xej.jpg" title="10 Best FM23 Winter Update Wonderkids" volume="70″]
Best FM23 Winter Update Wonderkids
The FM23 winter update is finally here! This is when Football Manager create a new database which includes signings made in the January transfer window. Players attributes are also adjusted depending on their performances in real life since the start of the season. There's been lots of wonderkids having breakout seasons in real life, which means their potential has been increase in the FM23 winter update.
That's why this article is going to go through the 10 best FM23 winter update wonderkids.
If you're looking for a new laptop to play FM23, check out this article.
What's an FM23 Winter Update Wonderkid?
These players aren't necessarily the best wonderkids in FM23, they're wonderkids that have seen a significant increase to their potential ability. These winter update wonderkids in FM23 are 20 years old or younger at the beginning of your save.
Let's get into the top 10.
10. Arsen Zakharyan
In the 10th spot of the best FM23 winter update wonderkids is Arsen Zakharyan. The Russian wonderkid almost made a move to Chelsea in the 2022 Summer transfer window, but talks collapsed and he stayed at Dinamo Moscow.
Zakharyan is a versatile attacking midfielder with well rounded technical attributes, such as 14 corners, passing, and technique.
This winter update wonderkid has a release clause of just £13 million! This is brilliant value for money for a wonderkid with his potential.
Arsen Zakharyan in 2032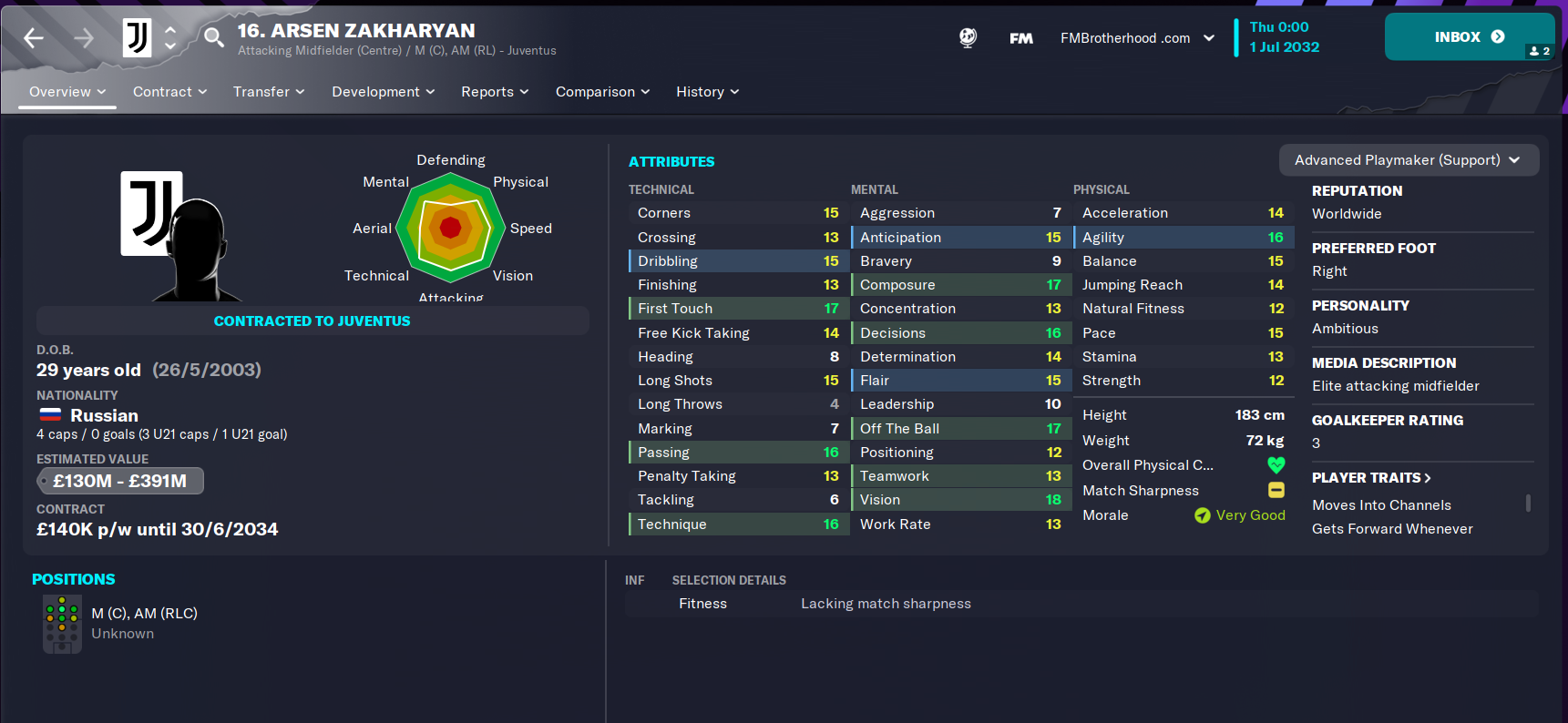 You can see why investing just £13 million in Arsen Zakharyan would be a bargain! In his prime, this FM23 winter update wonderkid's mental attributes have vastly improved. Zakharyan now has 17 composure, 16 decision making, and 18 vision. All of these attributes make Arsen Zakharyan extremely effective in the final third.
In our FM23 simulation, Zakharyan played for both PSG and Juventus, showing he has the potential ability to play for top European teams.
If you love Football Manager and want to be amongst other FM players, join our growing Facebook group!
9. Ben Doak – Youngest FM23 Winter Update Wonderkid
Doak is a Scottish wonderkid that has been given a boost in the FM23 winter update, with his mental attributes seeing a noticeable increase. He now has 18 determination, 13 work rate, and 13 composure. Ben Doak is an exciting wonderkid winger for Liverpool, and definitely has the potential to make an impact in the first team. However, to reach his potential, this FM23 winter update wonderkid will need to be playing first team football asap.
Doak recently signed for Liverpool, and wants to stay there for the time being. This means you'll need to wait at least one or two seasons before he's available to sign.
Ben Doak in 2032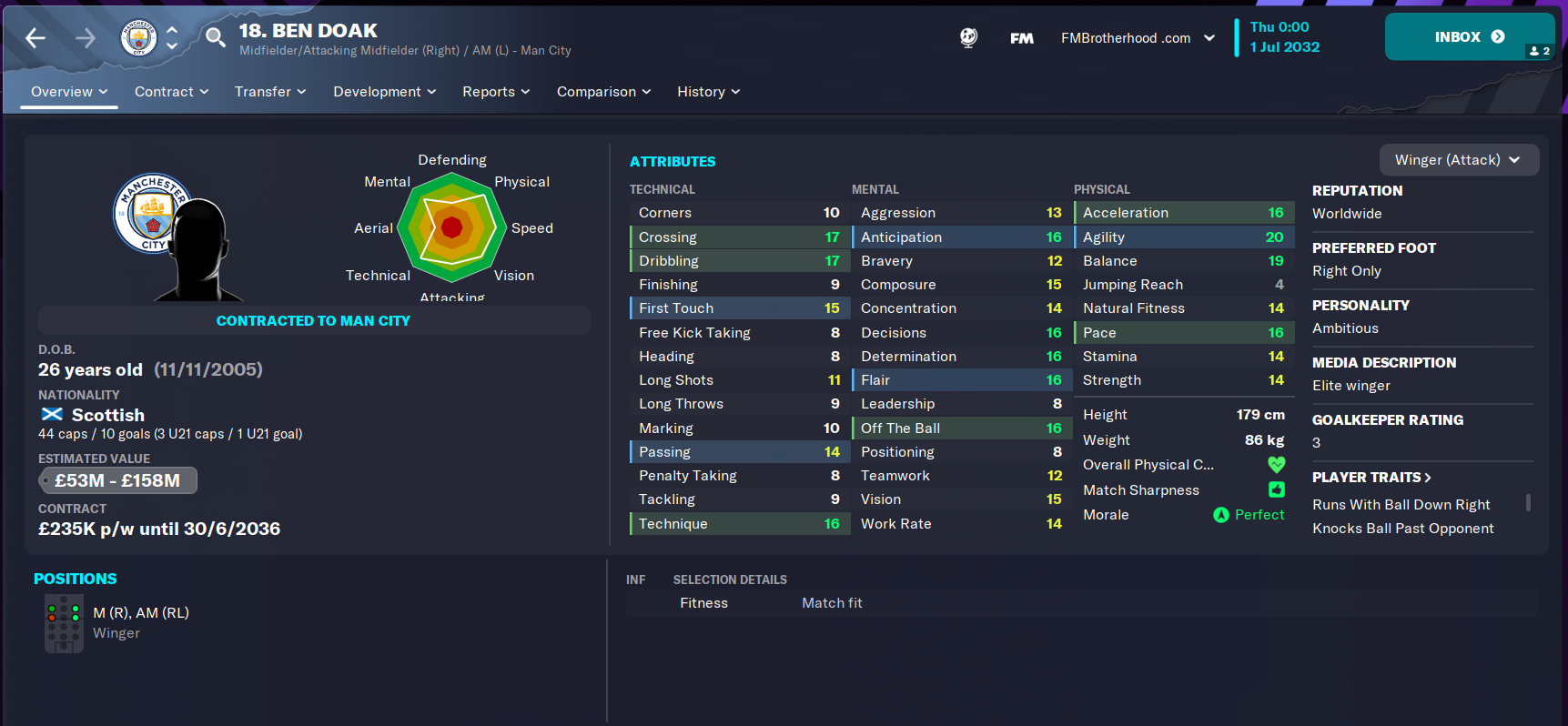 After struggling for game time at Liverpool, Doak moved to Wolves for regular first team football. He played well for a few seasons and moved to Manchester City for £80 million! You can see that with consistent first team football Doak can become a superstar.
He has some brilliant attributes that you'd want in a winger, including 17 crossing, 20 agility, and 17 dribbling. He could be the best Scottish attacking player for a long time.
8. Levi Colwill
The first defender on our list of the 10 best winter update wonderkids in Football Manager 2023 is Levi Colwill. The young English centre back has great potential, and stands out with his physical attributes. Colwill is also left footed, and can play competently as a left back. However, we would only recommend utilising him as a full back as a backup option, due to his 7 crossing.
As Colwill is on loan at Brighton, you cannot sign him in your first season.
Levi Colwill in 2032
In our FM23 simulation, Levi Colwill stayed at Chelsea and went on to make 88 appearances for England. This is extremely impressive considering all of the amazing English wonderkids in FM23. Colwill has great leadership ability so could be a future captain for your team.
This winter update wonderkid is a brilliant centre back in his prime, but doesn't go any higher on this list because he doesn't have excellent tackling, bravery, and marking, which are really important attributes for a centre back to have in FM23.
7. Marcos Leonardo
Marcos Leonardo is a Brazilian wonderkid that also had great potential on FM22. For a teenage striker, he has fantastic finishing, composure, and off the ball movement. This FM23 winter update wonderkid is definitely ready for a move to a European side.
Leonardo is available to sign for just £13 million, which is great value for money considering his current ability and potential ability.
Marcos Leonardo in 2032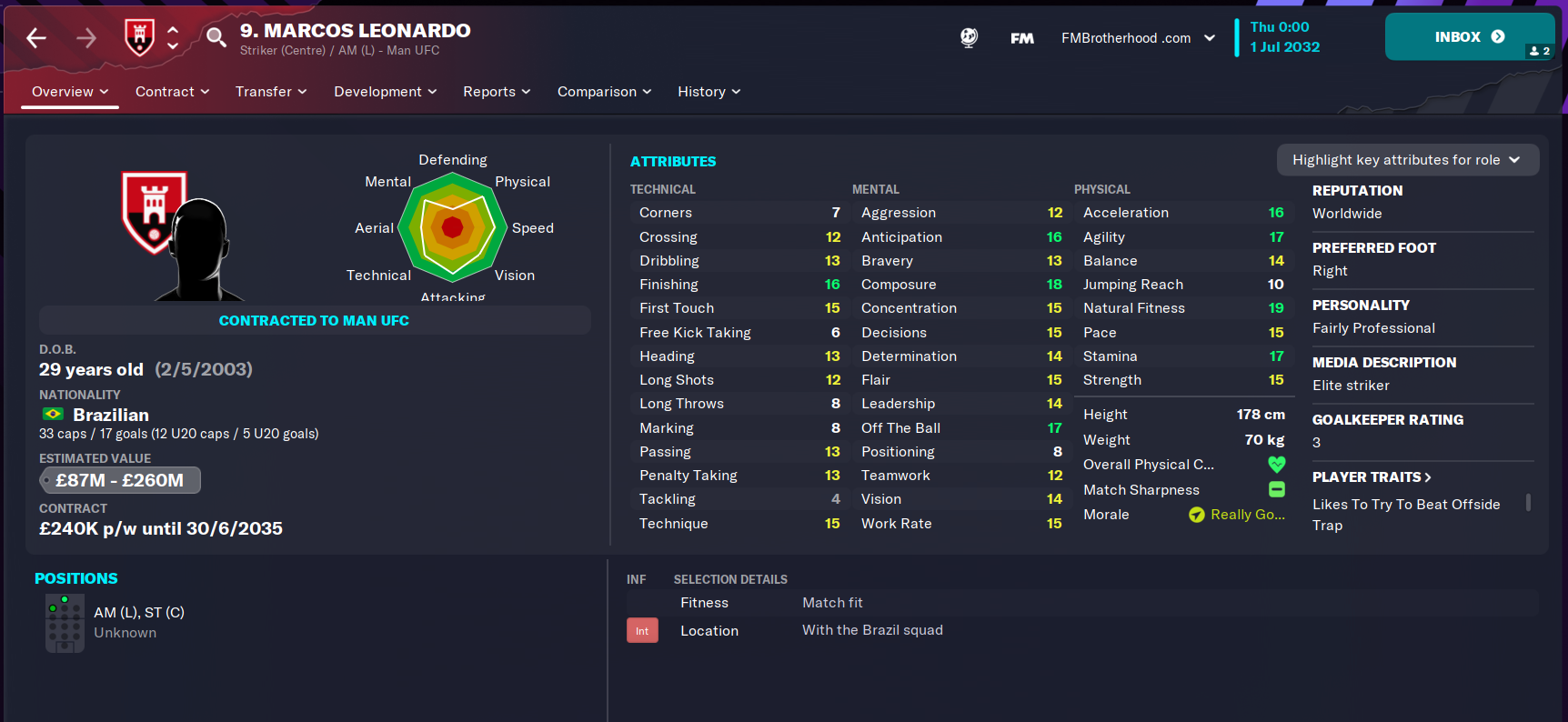 Leonardo moved to Manchester United and scored at least 20 goals per season for the 6 seasons he's been there! His physical attributes have seen some significant improvement. His stamina has increased from 14 to 17, and natural fitness from 12 to 19.
Marcos Leonardo also has the player trait to beat the offside trap, which coincides well with his quick pace and acceleration. If Leonardo's technical attributes were a little bit better, he would be a world class striker.
6. Roony Bardghji
This is a winter update wonderkid that's seen a great increase in his attributes. At just 16 years of age, Roony Bardghji has some brilliant technical attributes, including 14 dribbling, 15 technique, and 14 passing. He's also already been capped by the Swedish under 21s.
This right winger wonderkid is valued cheaply for his potential ability. However, he wants to continue his development at FC Copenhagen. Make sure to add Bardghji to your shortlist, and continue to monitor his development.
Roony Bardghji in 2032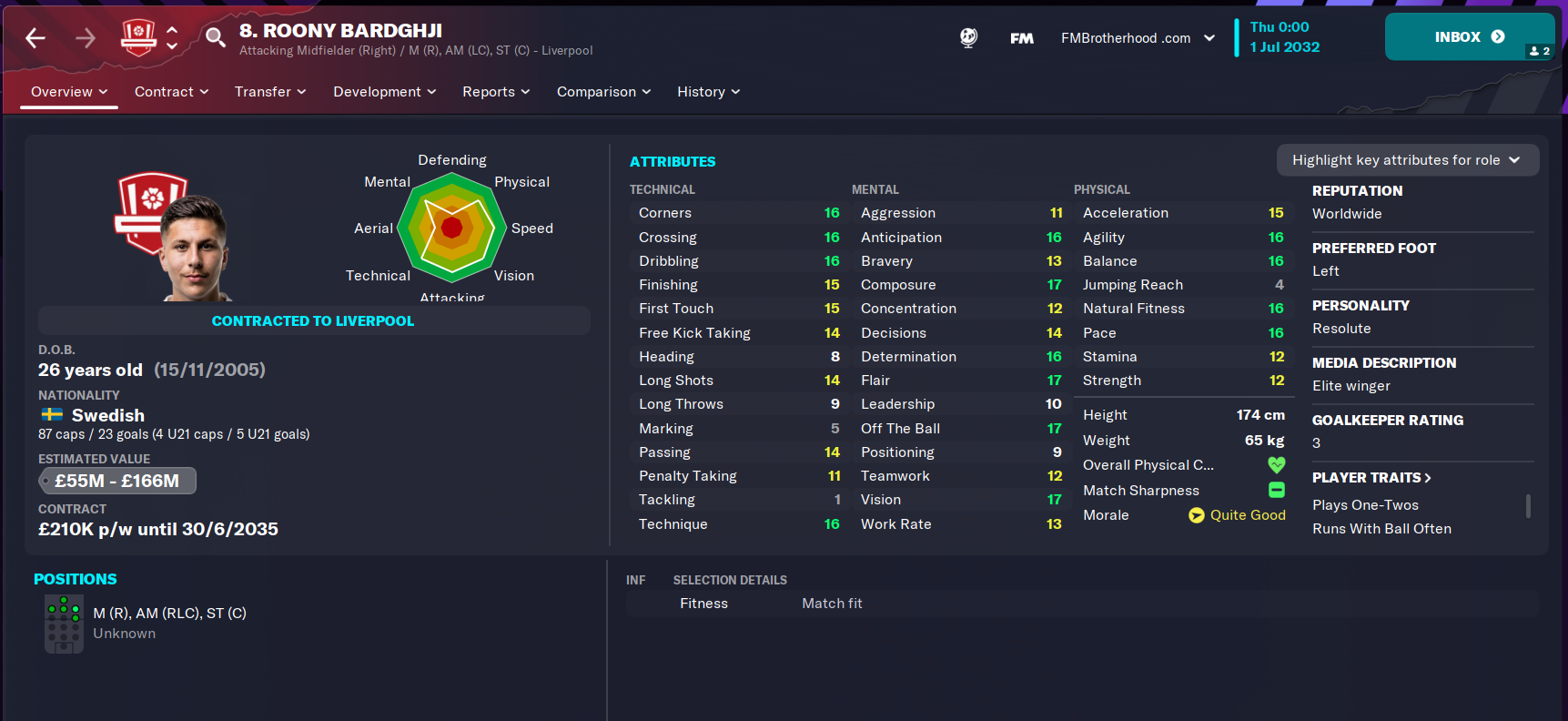 Bardghji had good potential before the FM23 winter update, but now he has the potential to be world class! At just 26 years old he's almost made 100 appearances for Sweden, scoring 23 goals.
Roony Bardghji has increased his pace and strength, which now means he's much better at keeping hold of the ball. Liverpool managed to sign this winter update wonderkid in the 2024/25 season for just £15 million. This is a bargain for the player Roony Bardghji can become.
5. Alejandro Garnacho
Just like Bardghji, Garnacho had seen a great increase in his attributes since the FM23 winter update. He has incredible pace, and brilliant flair, which allows him to easily glide past defenders. Garnacho has become a huge prospect for Manchester United and will definitely be a wonderkid to look out for in future Football Manager games.
Garnacho will only leave Manchester United in the first FM23 season for another Europian giant, and will cost you £43 million!
Alejandro Garnacho in 2032
In our FM23 simulation, Alejandro Garnacho stayed at Manchested United and became a club icon! He's worth hundreds of millions of pounds, and has so many amazing aspects to his game. When Garnacho started to play regularly for Manchester United, he consistently got an average rating above 7.2, showing how he can consistently perform at a high level.
Garnacho is definitely an FM23 winter update wonderkid you must keep an eye on in your save. However, it's likely whenever you try to sign him, he'll cost you A LOT of money.
4. Stefan Bajcetic
If you claim to have heard of this Stefan Bajcetic before the start of the 2022/23 season, you're probably lying. Due to a lot of injuries in Liverpool's Midfield, Klopp was forced to call upon Bajcetic from the youth academy. He's impressed and managed to play regularly for Liverpool this season.
Because of this, Stefan Bajcetic has seen a significant increase across all of his attributes. His standouts are 15 determination, 14 tackling, and 15 teamwork.
Bajcetic currently doesn't want to leave Liverpool, so you'll likely have to wait at least one season before you can sign him in your FM23 save.
Stefan Bajcetic in 2032
After a couple of loan moves to get regular first team football, Stefan Bajcetic's attributes grew, and he started to make more appearances for Liverpool. This then earned him a move to Juventus for £53 million.
His mental attributes definitely stand out the most, with most being rated above 13. Stefan Bajcetic has the potential to become a top quality CDM, that can also comfortably play at centre back.
3. Tommaso Baldanzi
Another winter wonderkid in FM23 you've likely not heard of is Tommaso Baldanzi. The Italian CAM has become a first team regular for Serie A side Empoli. The small attacking midfielder has 14 first touch, 15 technique, and 16 determination.
Sadly Baldanzi has just signed a new contract, so he's not interested in moving teams.
Tommaso Baldanzi in 2032
Baldanzi signed for Liverpool for £74 million, and you can see why they paid so much money for him. This winter update wonderkid has the potential to be a world class attacking midfielder. He has 10 attributes rated above 16, such as composure, vision, and decision making.
Tommaso Baldanzi is a winter update wonderkid that you must add to your short list as soon as you start your FM23 save. He plays for one of the smaller clubs in Serie A, which means you might be able to sign him cheaply before he gets this good.
2. Moises Caicedo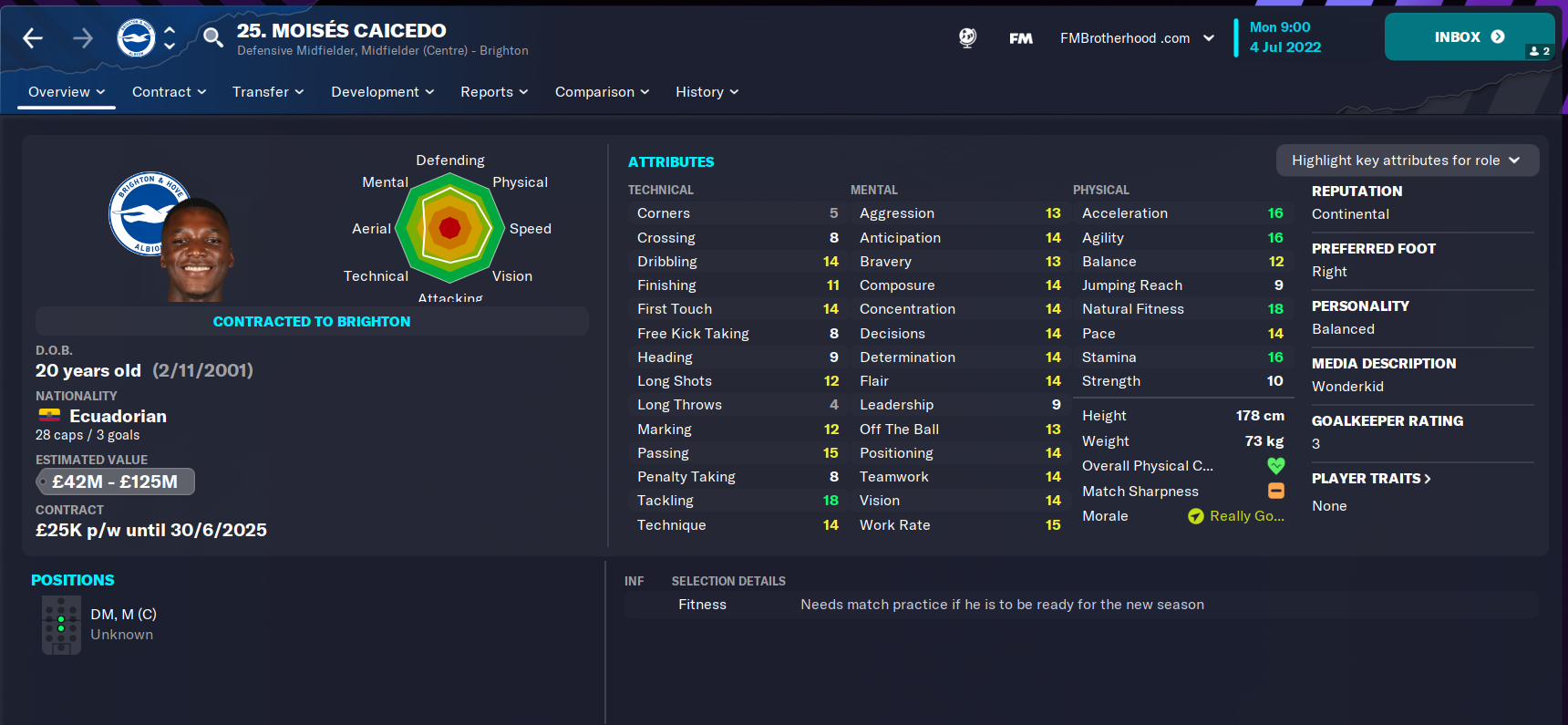 Just missing out on top spot on the list of the 10 best FM23 winter update wonderkids is Moises Caicedo. After signing for Brighton a couple of years ago for just £5 million, Caicedo almost moved in January 2023 for £70 million! After impressing this season, Football Manager have given this wonderkid a massive boost in attributes.
Just like in real life, Brighton are seriously reluctant to let him go. You'll have to bid £83 million if you want to sign this FM23 winter update wonderkid in the first transfer window.
Moises Caicedo in 2032
It took a while for a team to be able to take Caicedo from Brighton. Real Madrid signed him in 2027 for £78 million. In his prime, this winter update wonderkid has some outstanding attributes, such as 18 tackling, 17 passing, and 19 natural fitness. Caicedo is a world class defensive midfielder, and with not many CDM wonderkids with as much quality, you'll be missing out if you don't have him in your team.
1. Ivan Fresneda – Best Winter Update Wonderkid in FM23
It's hard to believe that Ivan Fresneda is only 17 years old. His mental attributes are extremely well rounded, with almost all being rated 12 or above. Unlike a lot of modern full backs, this Fresneda is brilliant defensively, with 14 tacking, marking, and positioning.
This FM23 winter update wonderkid has recently signed a new deal with Spanish side Valladolid, but you'll need to add him to your shortlist, because he can become an unbelievable right back.
Ivan Fresneda in 2032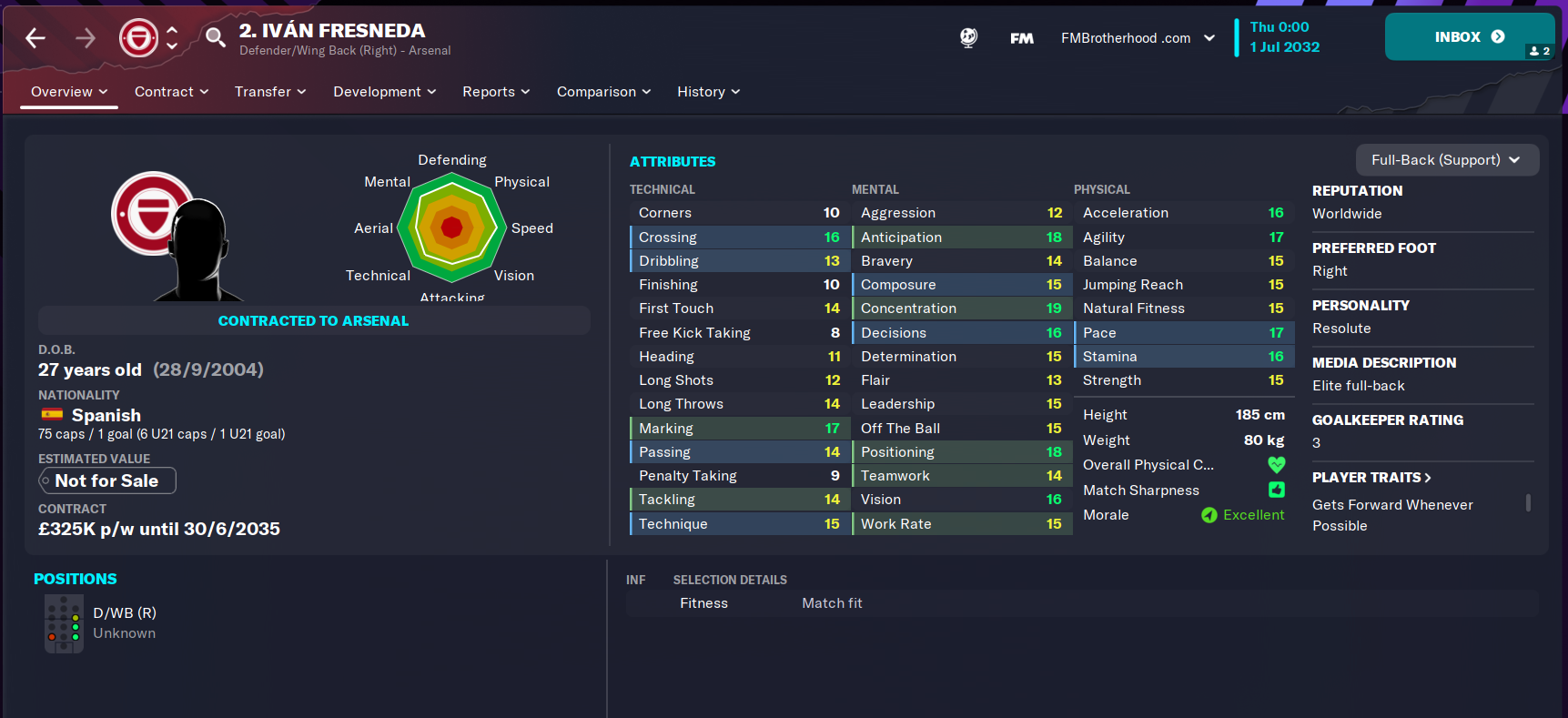 Fresneda has the potential to become an unbelievable right back in FM23. He's amazing in every attribute you would be looking for in a modern day full back, including 17 marking, 19 concentration, and 16 crossing. He's world class and has only recently entered his prime.
Arsenal paid just £26 million for this winter update wonderkid in 2024, so you can sign Fresneda for a great price considering the player he can become.
So which FM23 Winter Update Wonderkid Should You Sign
There's so many wonderkids that have been given a huge potential boost in the FM23 winter update. One of the most exciting players on the list is definitely Alejandro Garnacho. However, if you don't have a large transfer budget, Roony Bardghji would be a versatile wonderkid worth investing in.
If you're looking for a new save to start with the winter update database, check out this article.