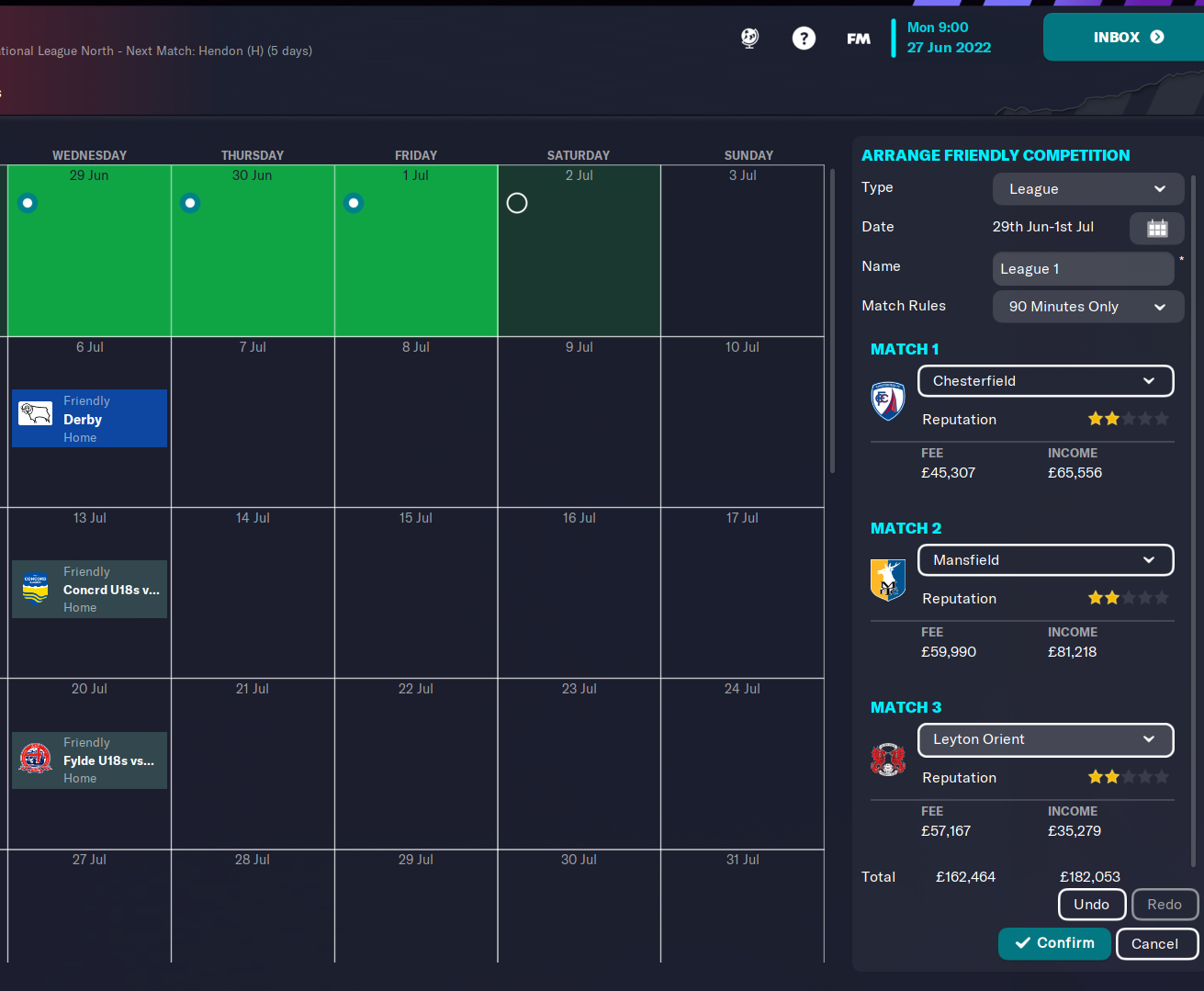 12 Best Football Manager Tips for FM Gamers!
By callum | August 27, 2023 | 2200 Views
Best Football Manager Tips
Football Manager is a game that's significantly developed over the years. There's so many aspects to FM that you could spend hours using its' many features without pressing the continue button. This means that some Football Manager players get overwhelmed and can struggle to get to grips with the game.
This article consists of 12 of the best Football Manager tips to help you be more successful at FM. Most of these tips will help you no matter what version of Football Manager you're playing, and will definitely help you be better at FM23.
Let's get into the best FM tips!
If you want to learn how to unsettle players in Football Manager read this post.
1. Avoid Wonderkids With Low Determination and Work Rate
Our first Football Manager tip is about wonderkids. Wonderkids are a huge part of all Football Manager games, but it's so frustrating when you sign a wonderkid and they don't reach anywhere near their expected potential ability.
There's times where you can do everything perfectly to give your wonderkids the best chance of reaching their potential, and they still don't make it. However, there's some signs you can see in wonderkids to see if they will put in the work to develop their attributes.
Determination and work rate are 2 of those important attributes. Determination scores a player on their commitment on and off the pitch, which means players with high determination want to become the best player they possibly can.
Work rate scores a player on their ability to work to their full capacity. This means players with high work rate and determination won't only do their best on the pitch, but also work extremely hard in training. FM wonderkids that get high training score are more likely to improve their attributes
2. Keep Tactics Simple
The tactics you use in Football manager are extremely important. You might have a favourite formation you like to use, but at the start of your FM save, you might not have the most suitable players. Make sure to create a tactic that suits your current players.
If you're an FM beginner, and have never made a tactic before, you can select a tactical style and formation that Football Manager recommends suits your current team. This is a solid starting point, and then you can adapt the tactic however you like.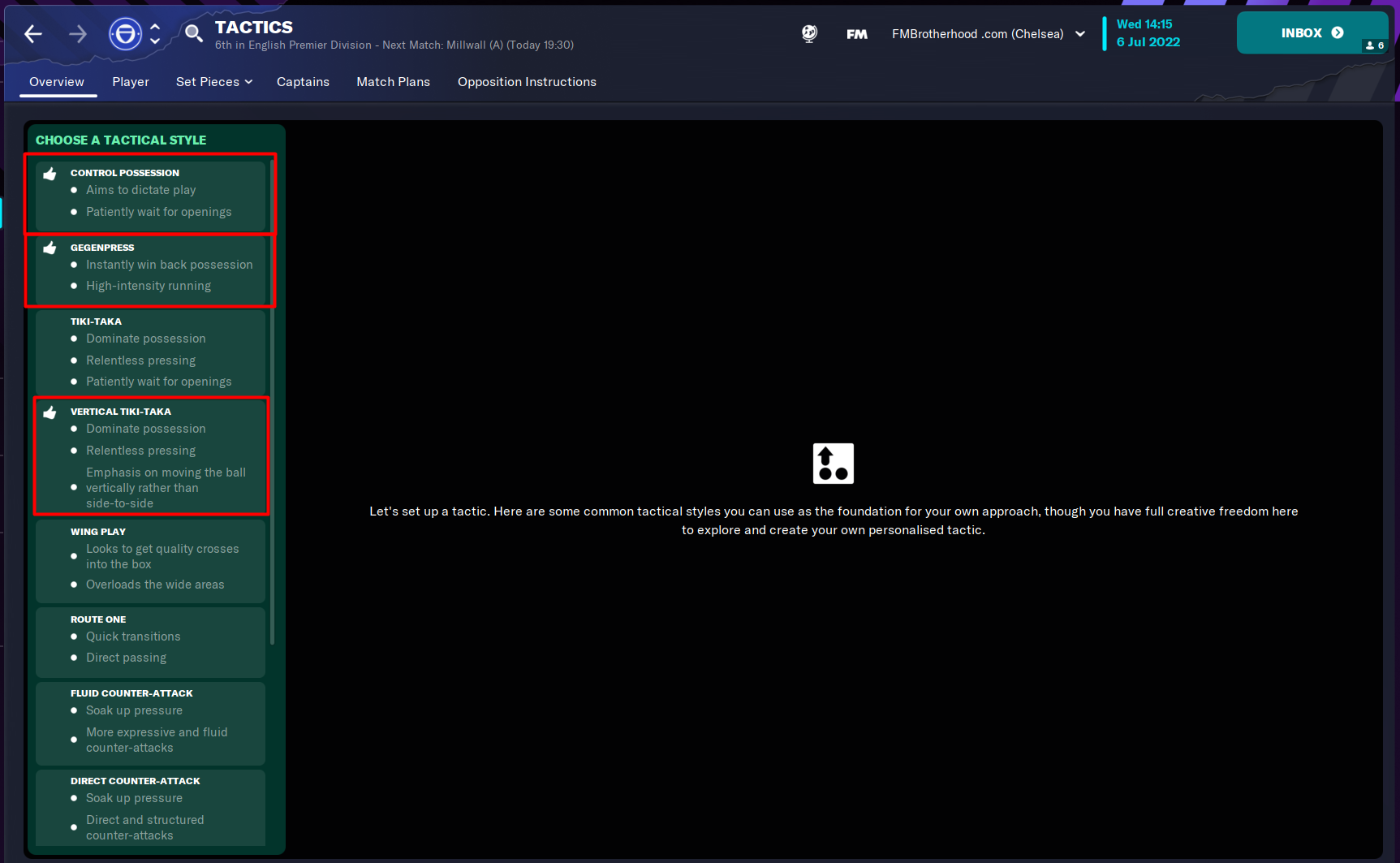 If you're managing a team in the lower leagues, we strongly recommend only giving your team a few tactical instructions. This is because players in lower leagues don't have the ability to follow lots of instructions at once, and may not be capable of carrying out some instructions. For example, it's unlikely your Vanarama National League centre backs are going to be able to play out of the defence to a high standard.
You can create up to three tactics at the start of your Football Manager save, so make sure to use this! Creating three different tactics means your squad will train these tactics, so when you decide to switch to your secondary formation, your squad will already have great tactical familiarity.
3. Have a Team Meeting if Results Aren't Going Your Way
One of the most difficult aspects of Football Manager is getting back to winning ways while on a bad run of form. When you don't win for a number of games in a row the morale of your players drops. This then makes it even harder to motivate your players to win a match, which creates an awful cycle that's really hard to get out of.
One way to improve your players morale is to have a team meeting to try and lift the spirits. What your say to your players can be make or break though, as if you say the wrong speech in your team meeting, your teams morale could get even worse.
4. Keep Promises
The next important FM tip for beginners is to keep the promises that you give to your players. There's many types of promises you can give to your players. For example you may make promises to players if they ask you for more game time, and you say yes. Another example is a player you're looking to sign may want to be promised to play in a specific position and role.
Although some promises may seem very small to you, your players on FM take them very seriously. If you don't keep a promise, the player will lose trust in you, complain to their teammates and potentially also turn them against you, and may even ask to leave the club.
5. Important FM Tip – Avoid Signing Players That Are Inconsistent Performers
Consistency, like determination and work rate, is an important attribute you should look for in your players in Football Manager. However, unlike determination and work rate, consistency is a hidden attribute. This means you can't see your players consistency rating between 0 and 20, unless you check using the in game editor before you begin your FM save.
Consistency is how often a player can play to their full ability. A player can have amazing attributes, but if they have low consistency, then they'll rarely use those amazing attributes. You can see from the picture that Burnley's scout think that Kamal Sowah would be an excellent signing. However, if you look deeper into his cons, he's an inconsistent performer.
These are players you should avoid signing.
6. Staff Football Manager Tip – Sign Staff with These 3 Important Attributes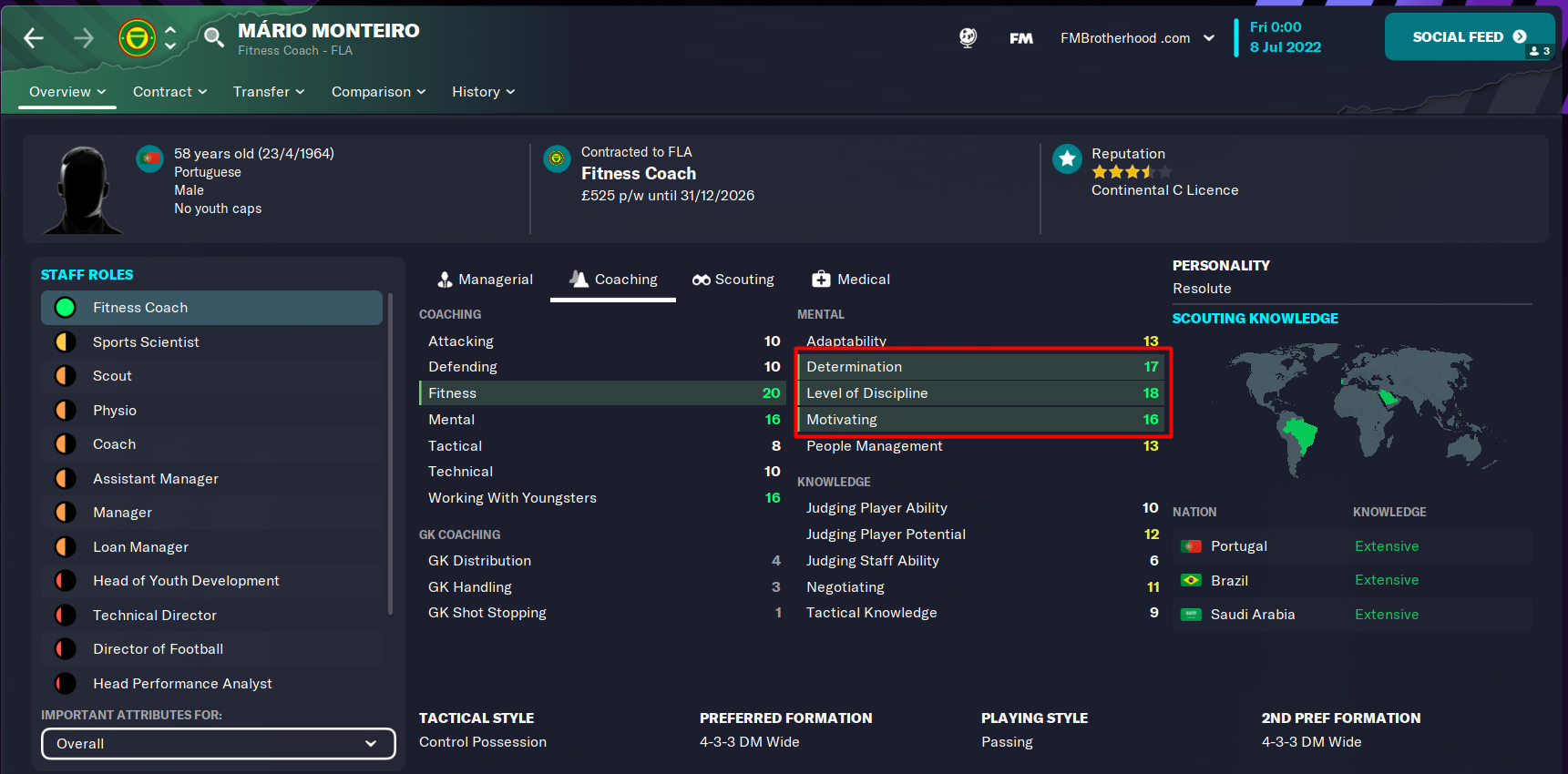 Having a strong backroom team can massively increase your chances of success in Football Manager. But what attributes should you look for in every coach you appoint? Determination, level of discipline, and motivating are the three most important attributes for your coaches. You can find out more about this, and the best coaches you can get in FM23 here.
7. Adapt Your Set Piece Routines
https://www.footballmanagerblog.org/2021/07/5-simple-tips-to-get-better-at-football-manager-2021.html
Next on this list of the best FM tips for beginners is related to set pieces. Creating set-pieces is definitely a part of Football Manager that's often overlooked by FM players, but can help get your team some extra goals. If you want to get some tips about the best set pieces setups, take a look at the YouTube video below.
But the main message from this Football Manager tip is you must adapt your set pieces regularly. If you don't do this, the other teams will learn how to defend your set pieces, and they will no longer be effective.
8. Underrated Football Manager Tip – Always Send Ill Players Home From Training!
This image from @nocontextfm on twitter shows why you must send a player home from training if they have a cold. Even if they'll be out for a few days longer because you send them home, there's a chance they spread their illness to their team mates if you treat them at the club. This is one of the FM tips that might sound quite pointless, but can have awful consequences if you don't follow it.
9. Lower League Signings FM Tip
Signing players when you're managing a lower league team can be really tough. Especially if your team is amateur or only semi-professional. Your club might not even employ a scout, which means you have to search for players all on your own.
But there is one cool FM tip to help you find some players that might be great additions to your team. If you go to Transfers → Director of Football → Suggest Transfer Targets, it will bring you to this screen (even if you don't have a DoF).
You can then select any position and ask for a staff member (DoF if you have one) to recommend you free transfers for that position.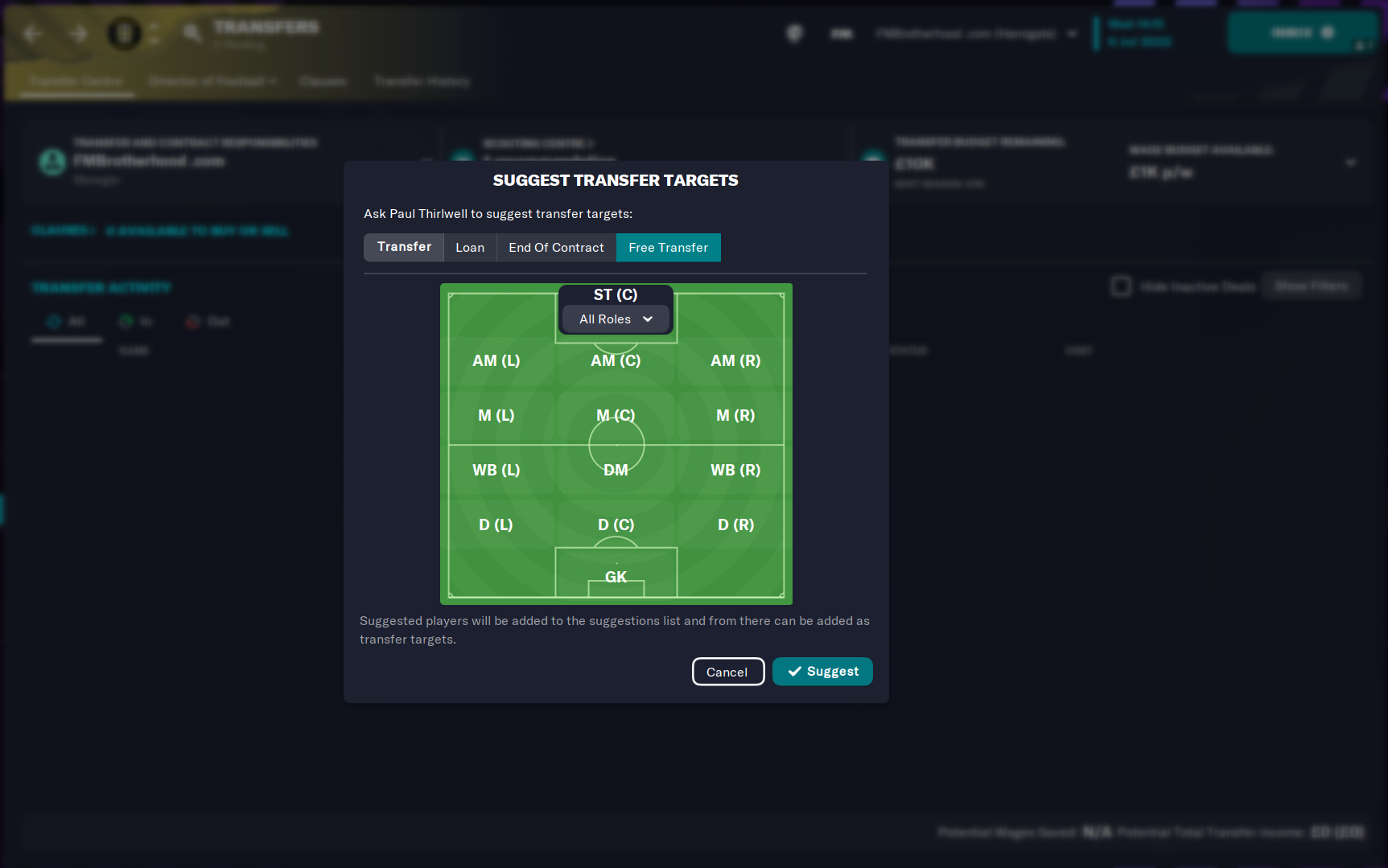 Most of the time they will give you three players to look at, and then you can offer them a trial, so they join your team and you can scout them further. When managing in lower leagues, you're quicker taking free agent players on trial to scout their attributes, instead of asking your scout to do it.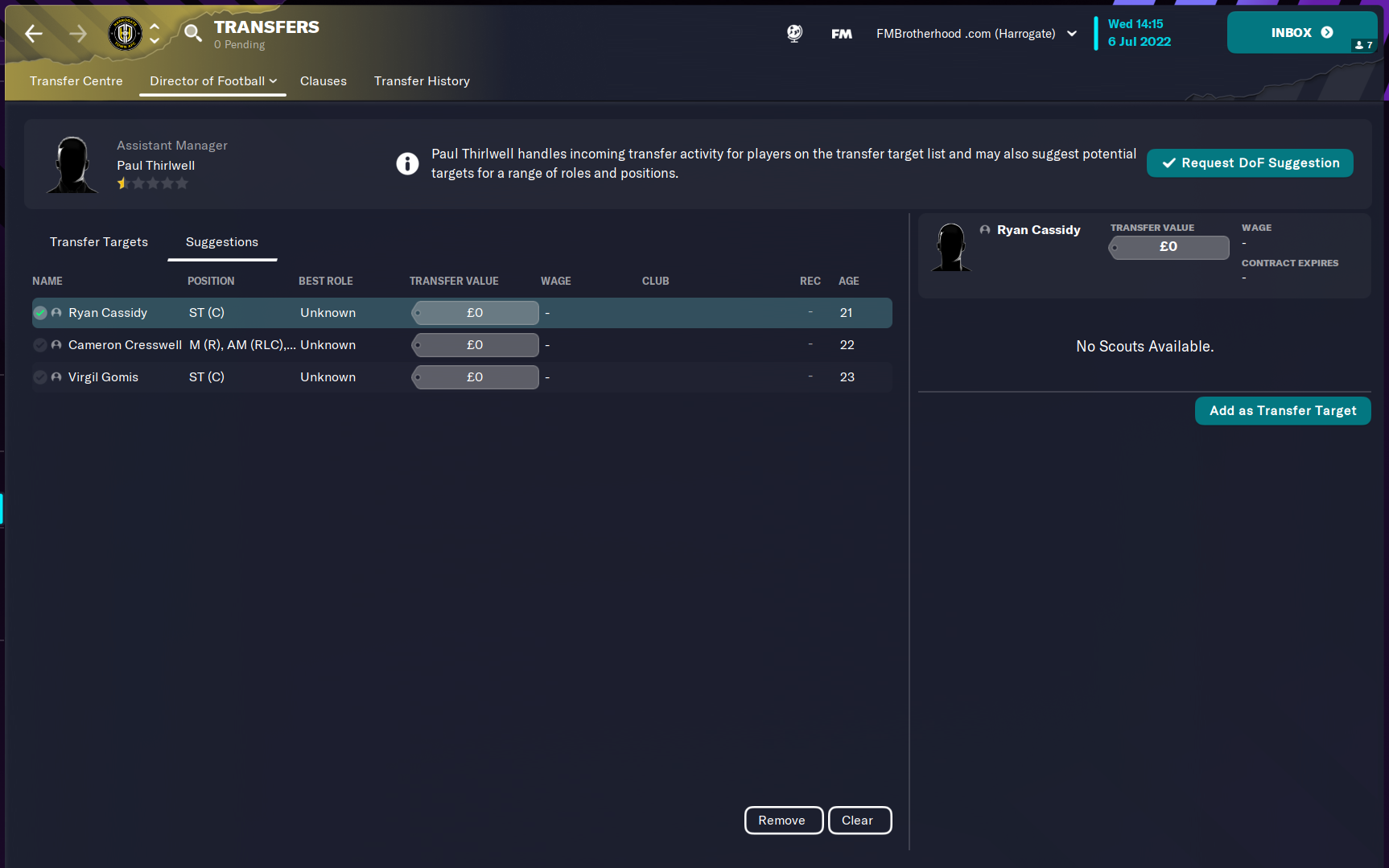 10. Look out for Pre-Contract Signings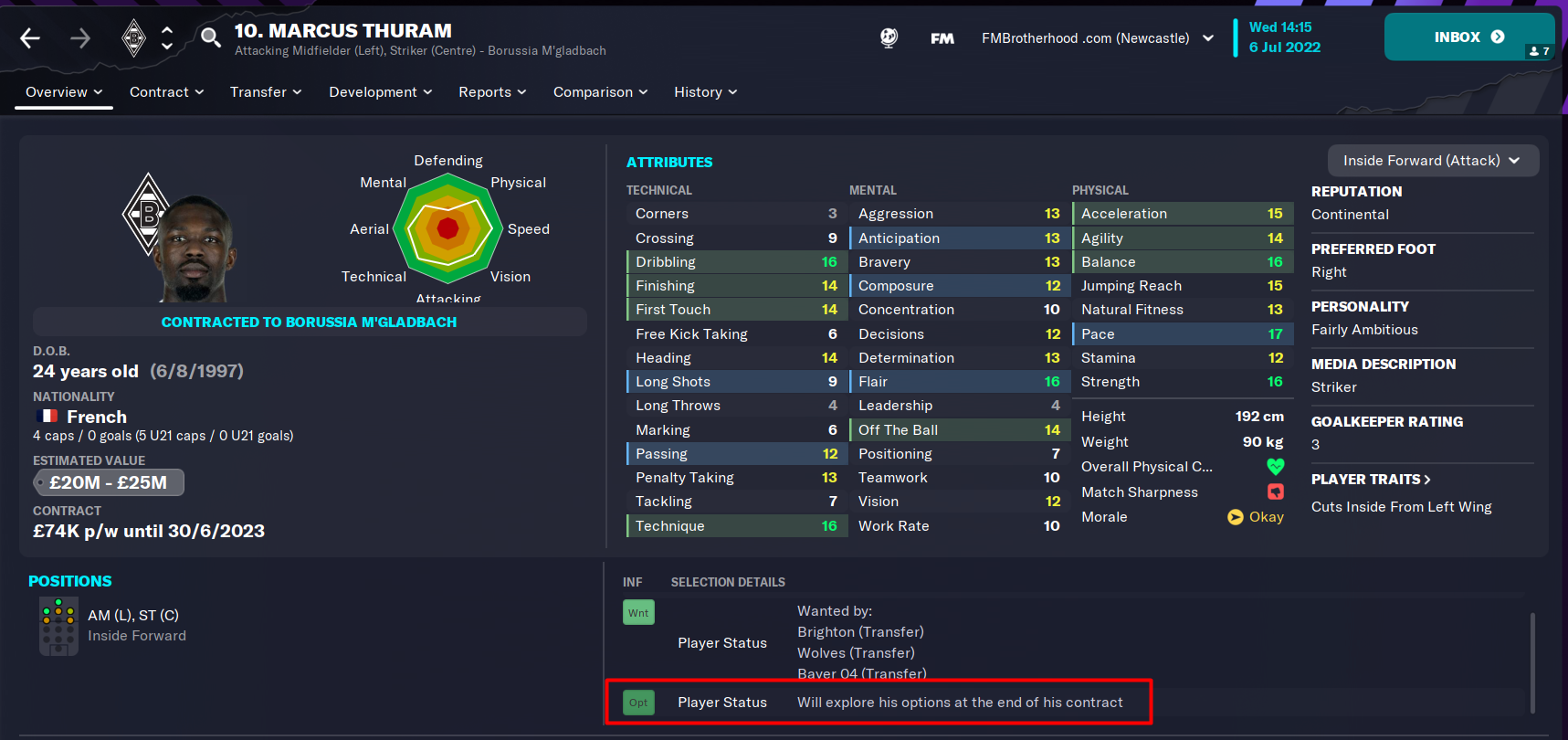 Another great Football Manager tip when it comes to signing players is to look for players with one year left on their contract. If they don't sign a new deal before they have 6 months remaining on their contract, you can speak to the player and offer them a pre-contract to join your club for free once their current contract expires.
Players such as Marcus Thuram has one year left on his contract, but has stated he "will explore his options at the end of his contract." This means he will definitely not sign a new contract with his current club, so on the 30th December 2022 you can offer Thuram a pre-contract.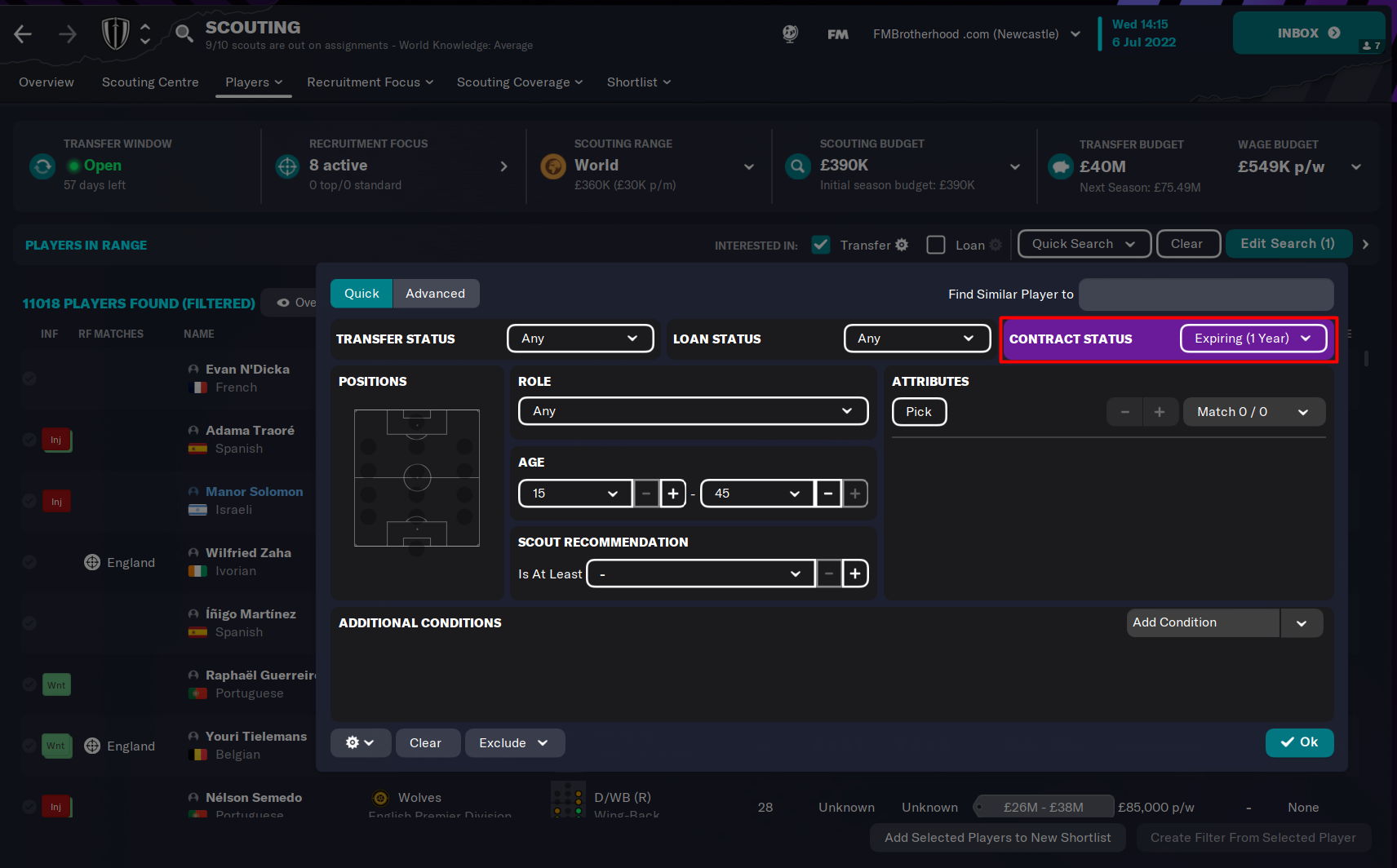 You can see which players have one year left on their contract by adding the filter when in the scouting players section. You can then add the players you like to your shortlist, and when they have 6 months left on their contract you'll receive an email to your inbox.
11. Have a Decent Game Speed – Best FM Tip for Beginners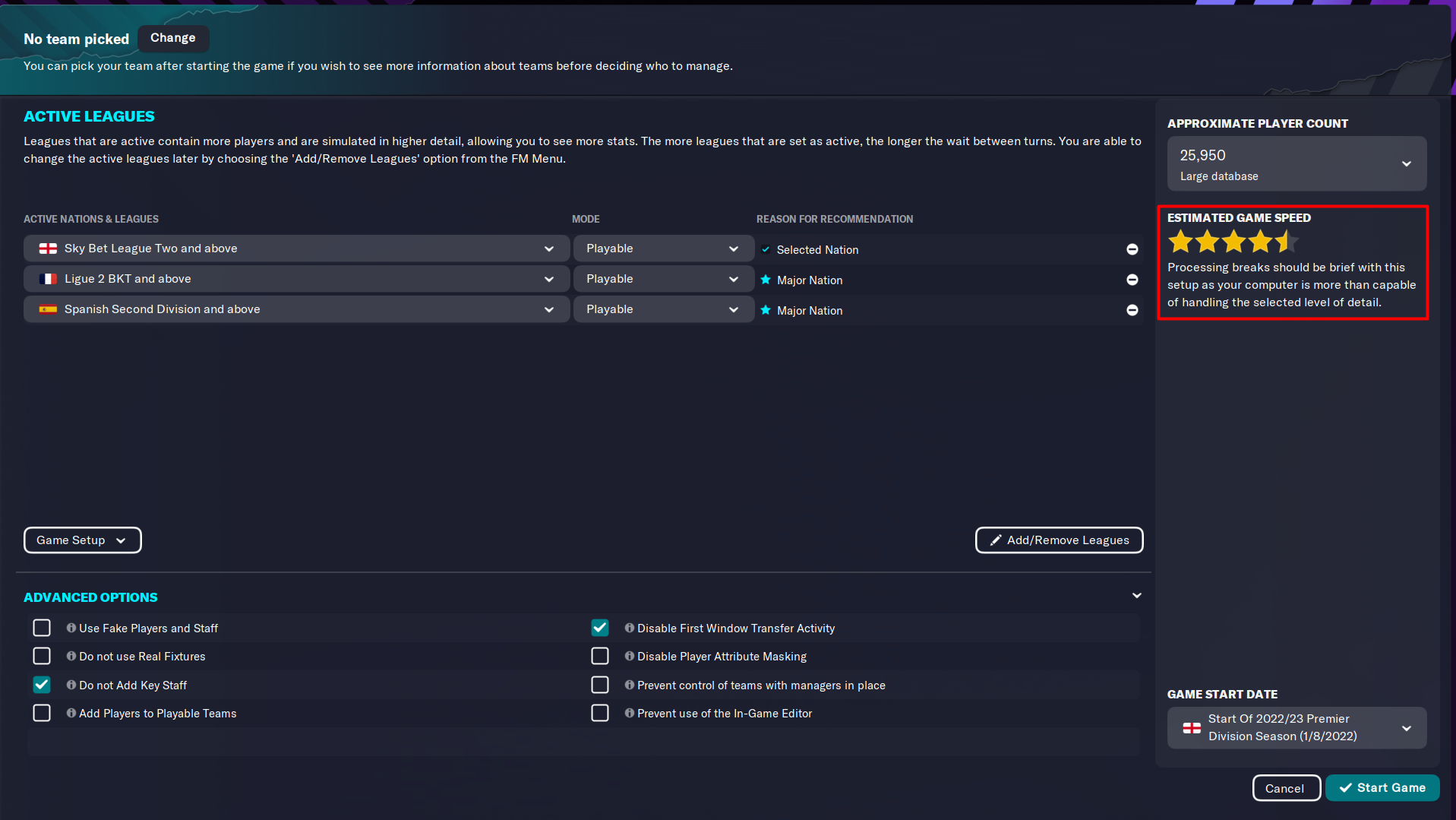 This Football Manager tip will depend on the type of laptop of PC you have. Before you start your save, make sure not to load too many leagues that you might not use, as this will slow down the time it takes for your FM save to advance when you press continue.
As the seasons progress, every save will take longer to load. But you can keep this to a minimum by only adding leagues that you want loaded into your FM game. We recommend keeping the estimated game speed at a minimum of two stars, but this can very depending on your device.
If you're struggling to load all of the leagues you want without significantly impacting the game speed, try changing some lesser leagues to "view only" instead of "playable" as this will help increase the loading speed.
12. Make Money in the Lower Leagues – Best Football Manager Tip
This is definitely one of the best Football Manager tips for beginners managing in Non-League. It can be extremely hard to make a profit when managing in the lower leagues, so you need to take any opportunity to make some extra money.
One of the best ways to do this in Football Manager is by arranging lots of home friendly matches in pre-season. The most effective way to do this is to create leagues which involves inviting three teams to play three matches over 3 consecutive days. You can see from the image above in the bottom right corner that our club Alfreton will make a £20k profit from playing those three matches. You can then arrange 4 or 5 leagues like this before the season starts, and keep making profit for your club!
Look through every team you can offer a friendly to, and check the fee and income and pick the teams with the highest income to fee difference. Usually these are teams from the same nation, as foreign nations don't bring in as much income.
You don't need to worry about your squad playing so many games over such a short period of time, because you can just bring in lots of players on trial to play the friendly matches for you! Then you can release the players you don't like at the end of pre-season.
This is such an effective FM tip, because you can do this every season, which means your board will give you more transfer budget and wage budget in the following seasons. This will give you the best chance of getting promoted up the leagues.
Bonus Football Manager Tip – Sign Jude Bellingham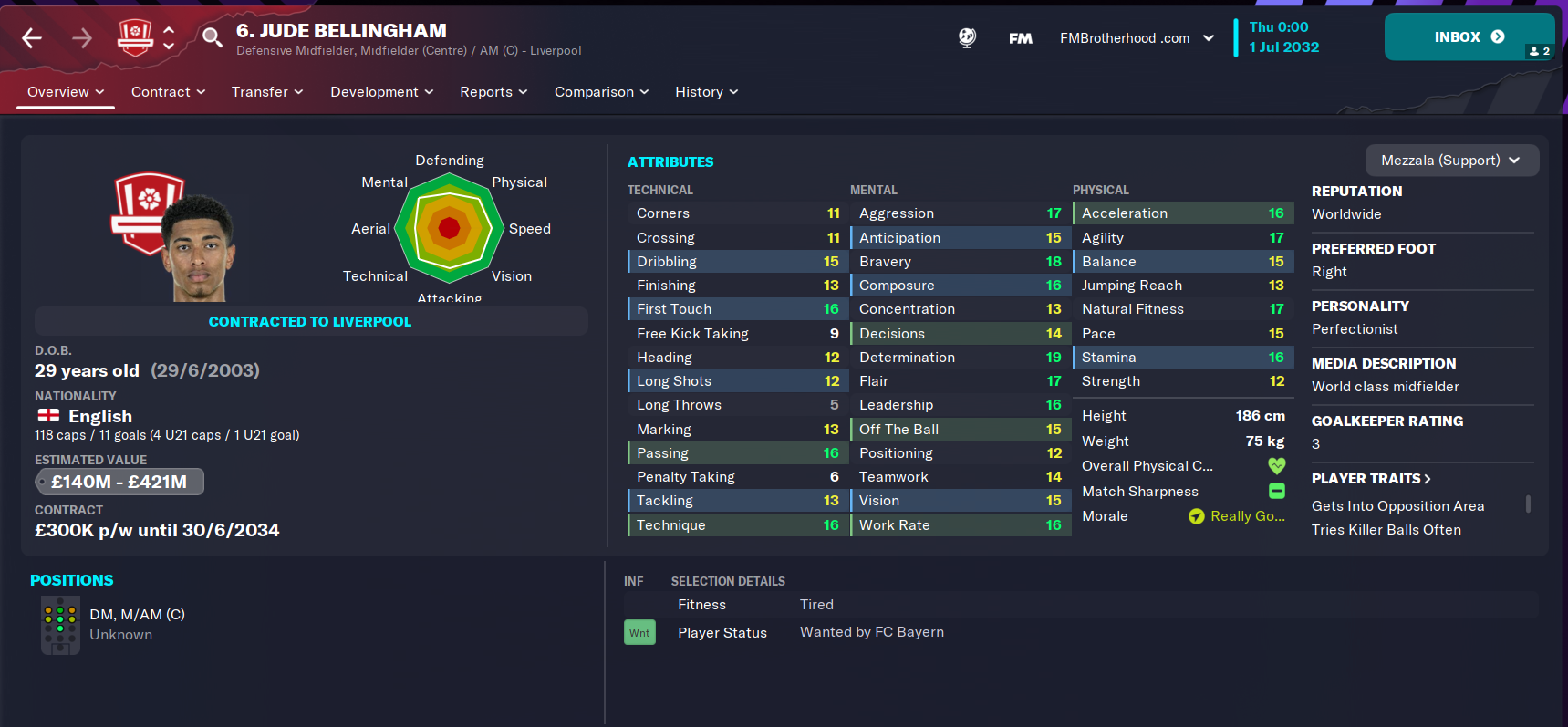 Here's one of the most obvious bonus Football Manager tips if you know anything about Football Manager, but for FM beginners you might not know about Jude Bellingham.
He's one of the best wonderkids in FM23, and will always become a world class player. The all-rounded midfielder has amazing attributes in his prime (as you can see from our photo from an FM23 simulation).
Final Thoughts on Football Manager Tips
We want to help as many FM players as possible, so if you have any Football Manager tips that you would like to share, please comment them below for our readers to see! We feel these are some of the best FM23 tips you will find out there.
We've also written an article on the best save ideas for FM24.