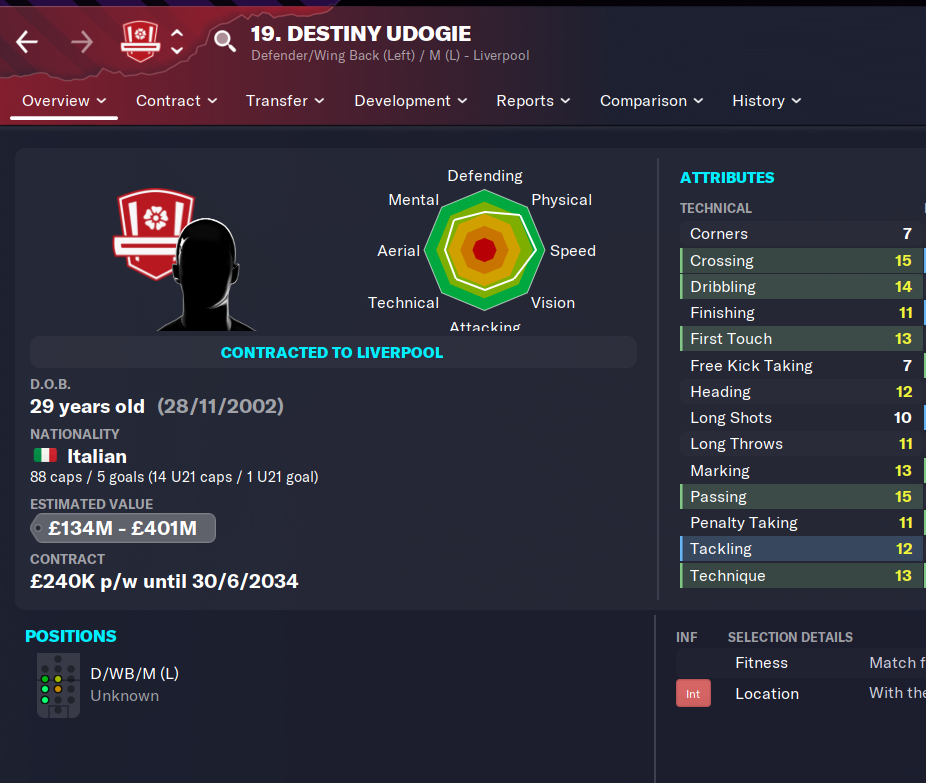 8 Best Left Back Wonderkids in FM23 You Must Sign!
By callum | April 5, 2023 | 64456 Views
[mv_video doNotAutoplayNorOptimizePlacement="false" doNotOptimizePlacement="false" jsonLd="true" key="voxtonqsunrrzyoyzhe6″ ratio="16:9″ thumbnail="https://mediavine-res.cloudinary.com/v1680302377/mppokv9aekfjoazl5xej.jpg" title="10 Best FM23 Winter Update Wonderkids" volume="70″]
 Best FM23 Young Left Back Wonderkids
The be Left back wonderkids in FM23 are really difficult to find. This means you must make sure you sign a young left back quickly, before they're snapped up by your rivals. We've found the 8 best young LBs with high potential ability in FM23. The left backs on our list are competent defensively, and also have the ability to be effective further forward. We love a modern left back!
We've also recently wrote about the 10 best wonderkid CMs in FM23, make sure to check it out! Also please note that left backs in Football Manager 2023 have dynamic potential abilities. This means there's not a guarantee your LBs will reach the potential ability that ours did.
If you haven't Pre-odered FM24 already, do so here and Shop FM24 up to 26% off
What is a Left Back Wonderkid in FM23?
A wonderkid is a player that has the potential ability to develop into one of the best players in Football Manager. All of the LBs on our list are no older than 20 years of age.
8. Milos Kerkez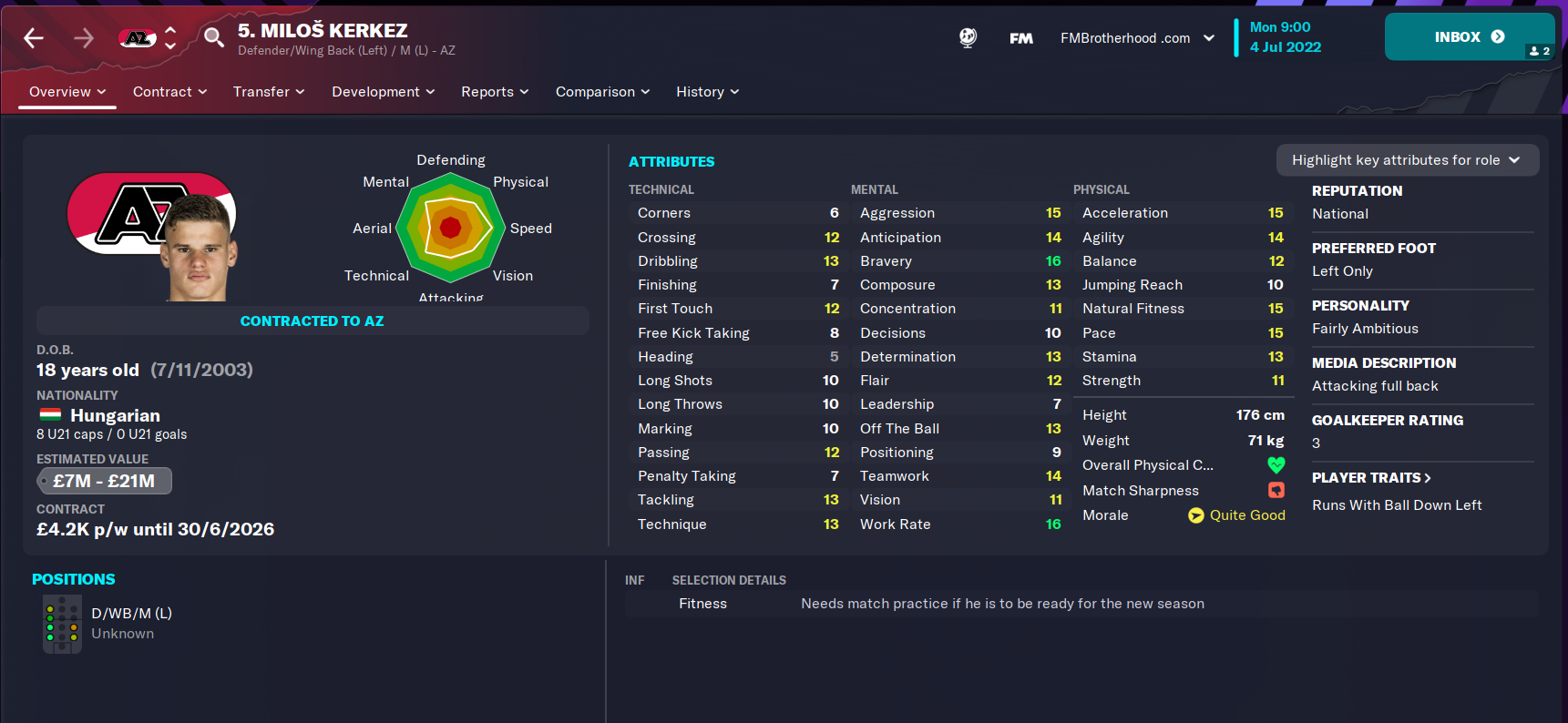 Kerkez is a young left back in FM23 that has broken into AZ Alkmaar's first team this season. This has given him a potential ability boost in the FM23 winter update.
The attacking full back is already showing quality defensive attributes at just 18 years of age. He has 13 tackling, 14 anticipation, and 16 bravery. However, he will need to develop his marking, and defensive positioning.
Sadly, this wonderkid left back isn't interested in leaving AZ Alkmaar in the first FM23 season, so make sure to add him to your shortlist and monitor his attribute development.
Milos Kerkez in 2032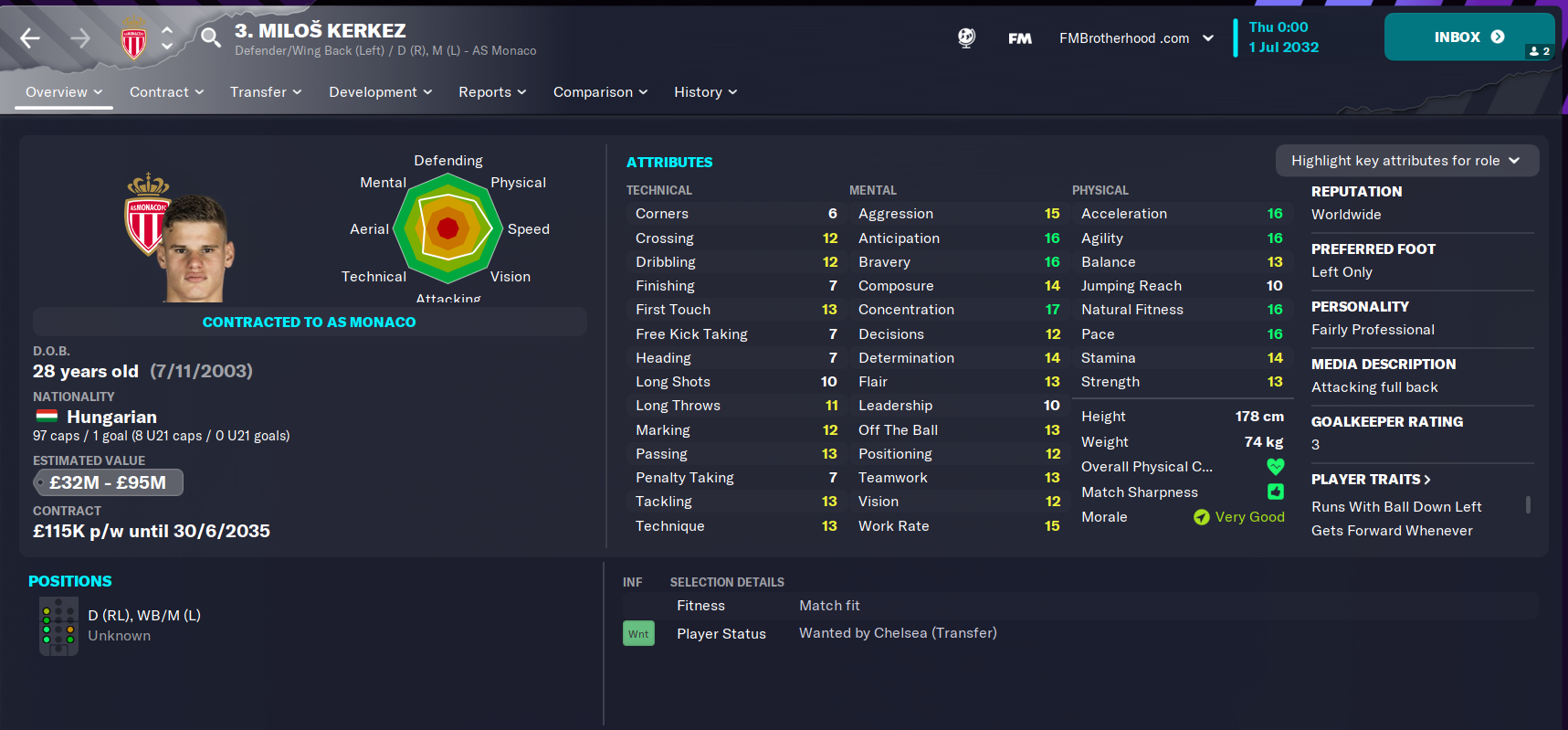 Kerkez has managed to accumulate almost 100 caps for his national team Hungary. Some of his mental attributes have seen some significant improvement, with his positioning increasing from 9 to 12, and concentration from 11 to 17!
Kerkez also has some fantastic physical attributes, which allows him to get up and down the left wing quickly.
He doesn't make it any higher on our list best left back wonderkids in FM23 because there's others on this list with better attributes such as crossing, marking, and tackling. Read on to find out who they are!
7. Alvaro Fernandez
Next on our list of the best LB wonderkids in FM23 is Spanish defender Alvaro Fernandez. For a left back, he's brilliant going forward, with 13 dribbling, 14 technique, and 13 passing. He does need to work on his defensive attributes though, including marking, positioning, and concentration.
As Fernandez is on loan at Preston from Manchester United, he's unavailable to sign until the second FM23 season.
Alvaro Fernandez in 2032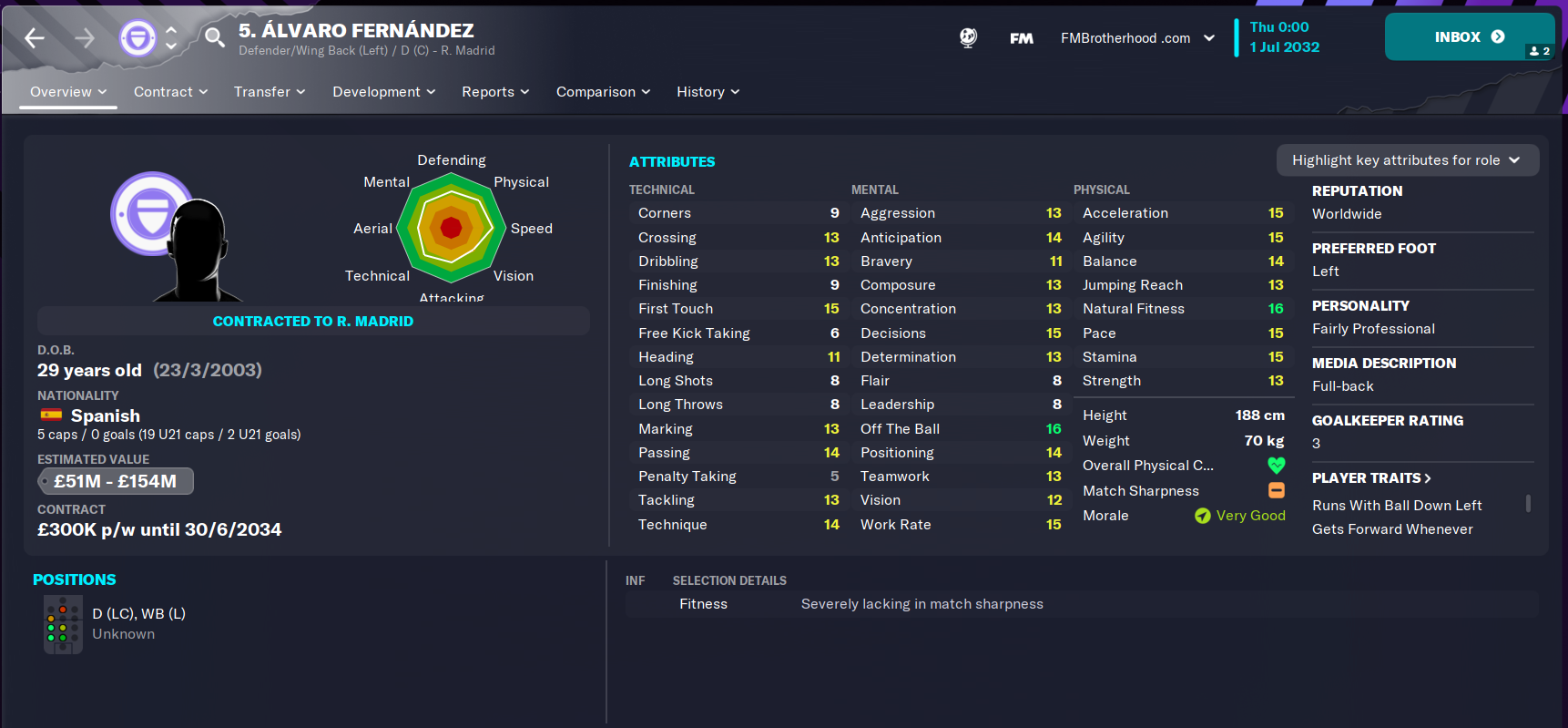 In our FM23 save, Fernandez moved to Real Madrid for £50 million! He's also consistently performing above an average rating of 7, and is consistently starting games for one of the best teams in the world.
Fernandez now has 13 concentration, 14 positioning, and 13 marking. This makes him much better at defending than he was as a teenager. This shows if you give this left back wonderkid the right development plan, he can become a brilliant full back.
6. Victor Kristiansen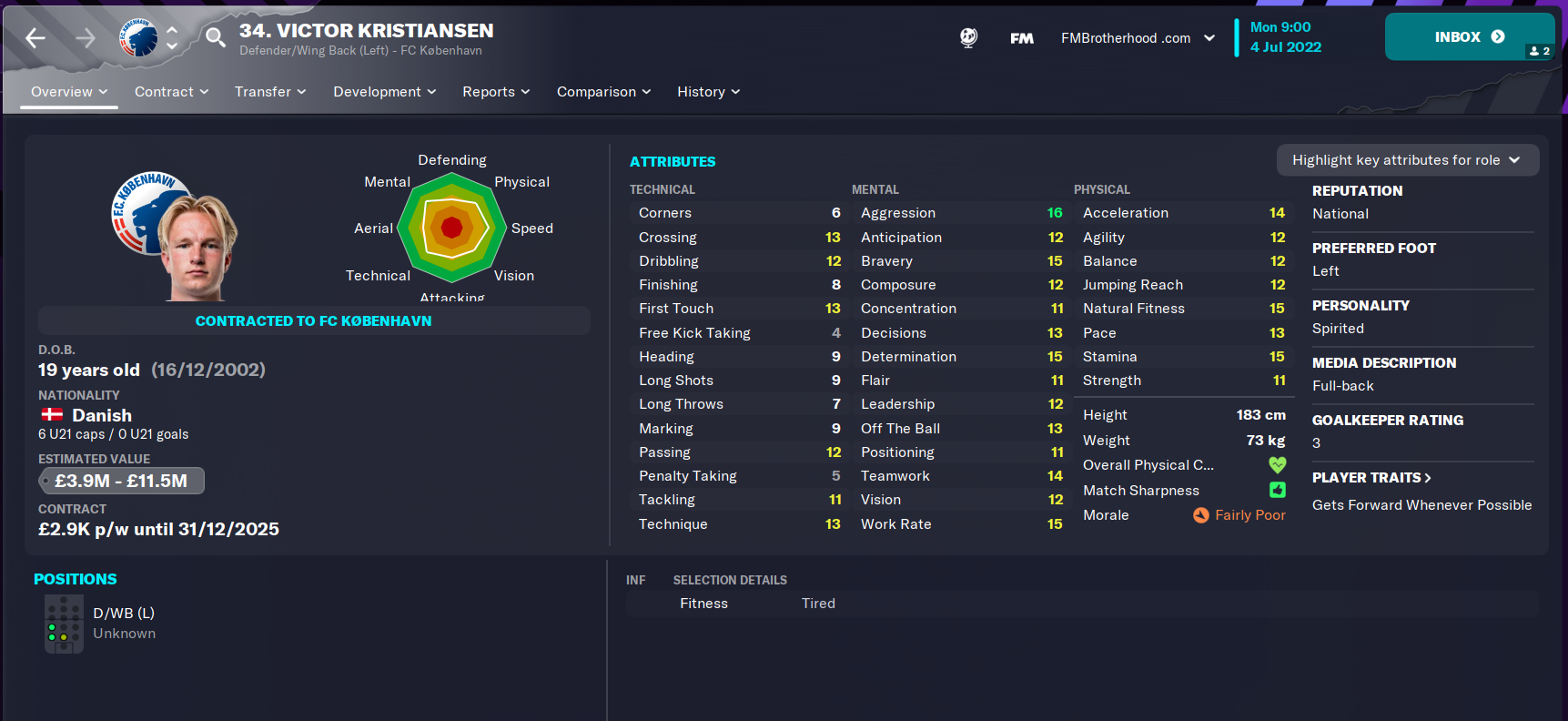 Victor Kristiansen is the first player on our list of the best left back wonderkids in FM23. He's very well rounded mentally and physically, with 15 work rate, 16 aggression, and 15 stamina. Kristiansen is a little weak defensively though, with only 11 tackling and 9 marking. However, he's only 19, so he's got a few years to improve these attributes.
Victor Kristiansen is a available for a very reasonable £7.75 million, which is good value for a player with his ability.
Victor Kristiansen in 2032
Kristiansen has moved to RB Leipzig in our FM23 simulation, and they paid £40 million for him! This is very expensive for a left back, but he has some great attributes, including 17 agility, 16 determination, and 15 anticipation. His marking, positioning, and tackling are good enough for a left back, but there's others on this list that are better defensively.
5. Luca Netz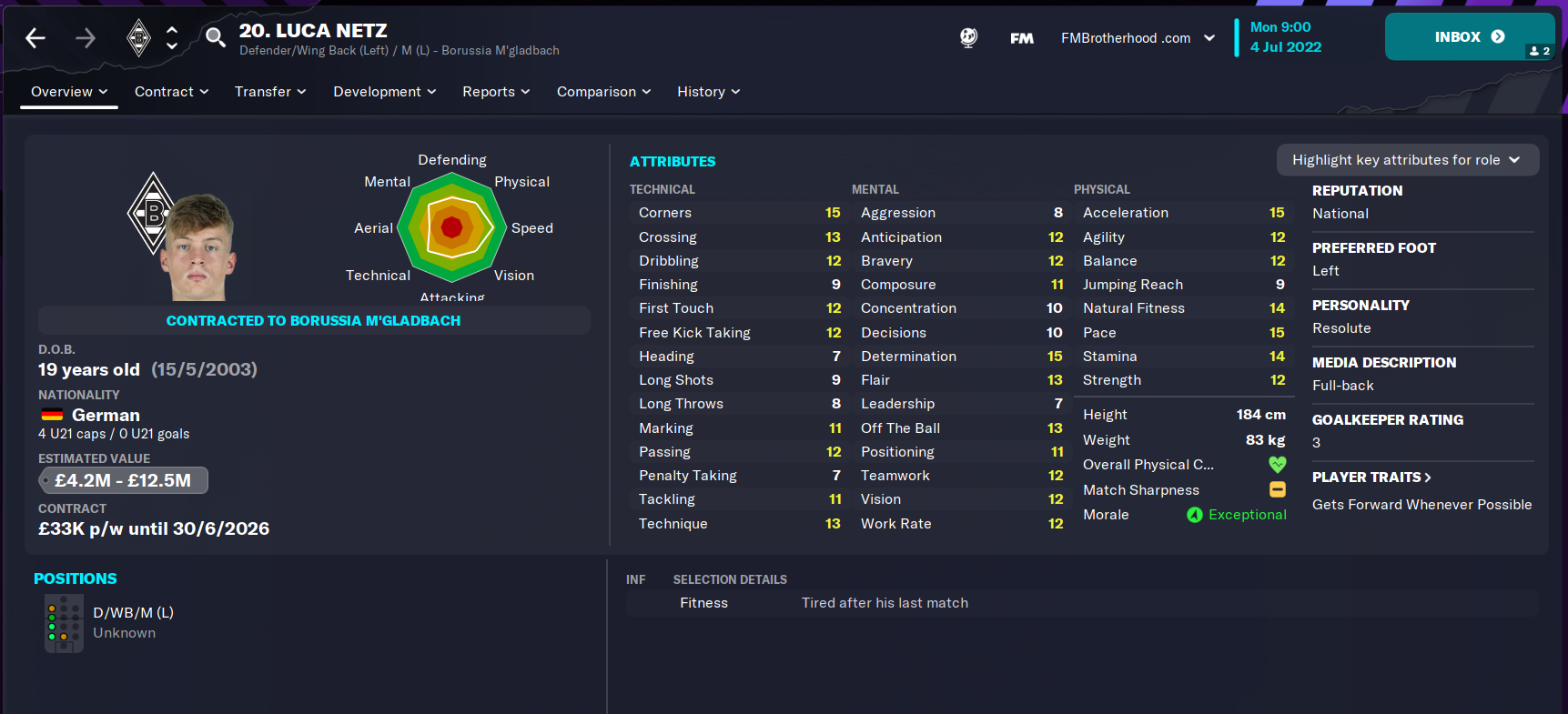 Luca Netz is a LB wonderkid that's trying to get into the Borussia Mönchengladbach first team. He's definitely ready for regular first team football, and has the ability to play consistently in the Bundesliga, which would be great for his development! Luca Netz is a quick, attacking left back, with 15 pace, acceleration, and 13 crossing. Netz is a little bit better than Kristiansen defensively, with 11 tackling and 11 marking, however he needs to improve his concentration.
Luca Netz is available in your first FM23 season for £9 million, which is a great price for a young left back with great potential!
Luca Netz in 2032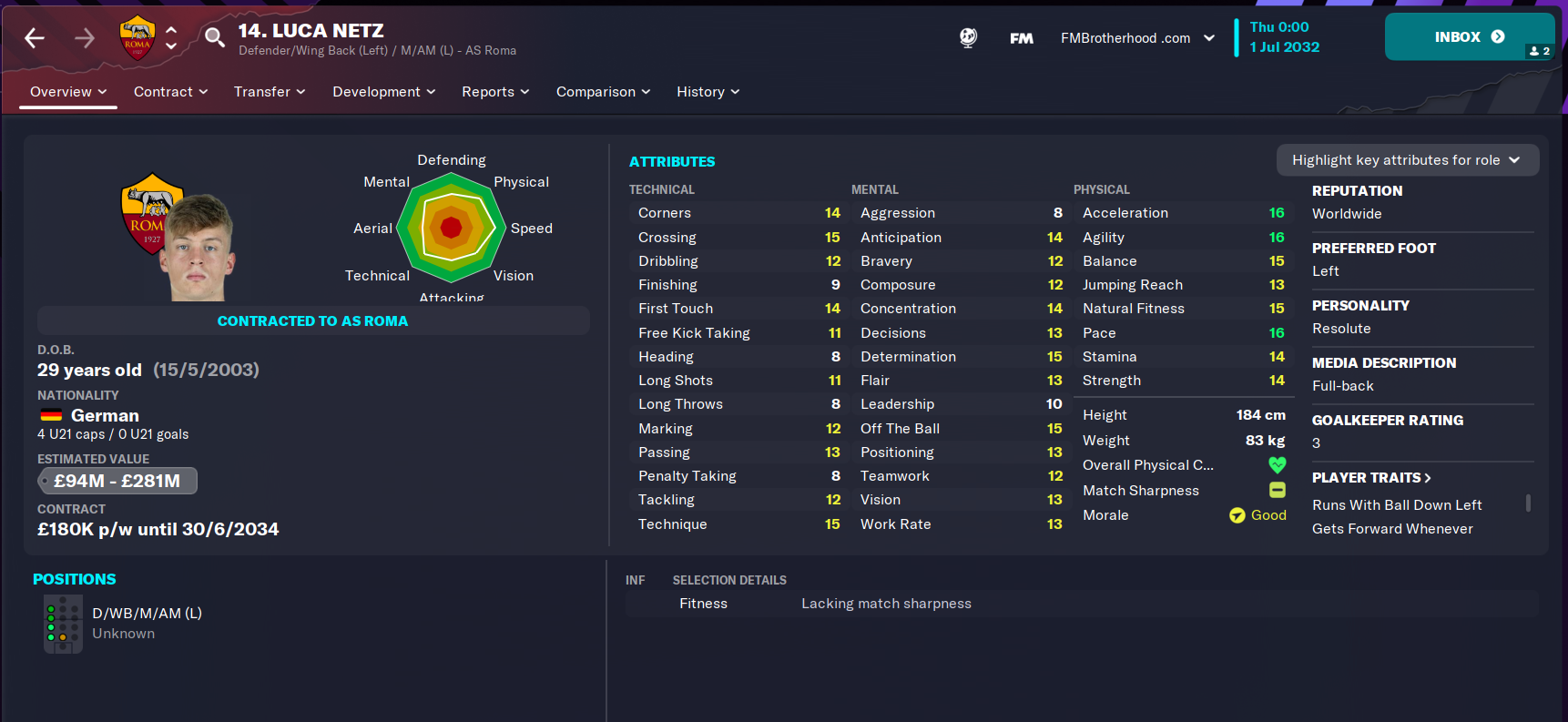 Netz played for some massive teams in our FM23 simulation, including Juventus and Real Madrid! He's now settled at Roma, and consistently gets an average rating over 7.2, showing his consistency. Luca Netz has improved a lot physically, with his agility and balance increasing from 12 to 16.
If you're looking for more German wonderkids, there's a couple that feature in our best wonderkid CAMs article.
4. Aaron Hickey – Best Scottish Wonderkid?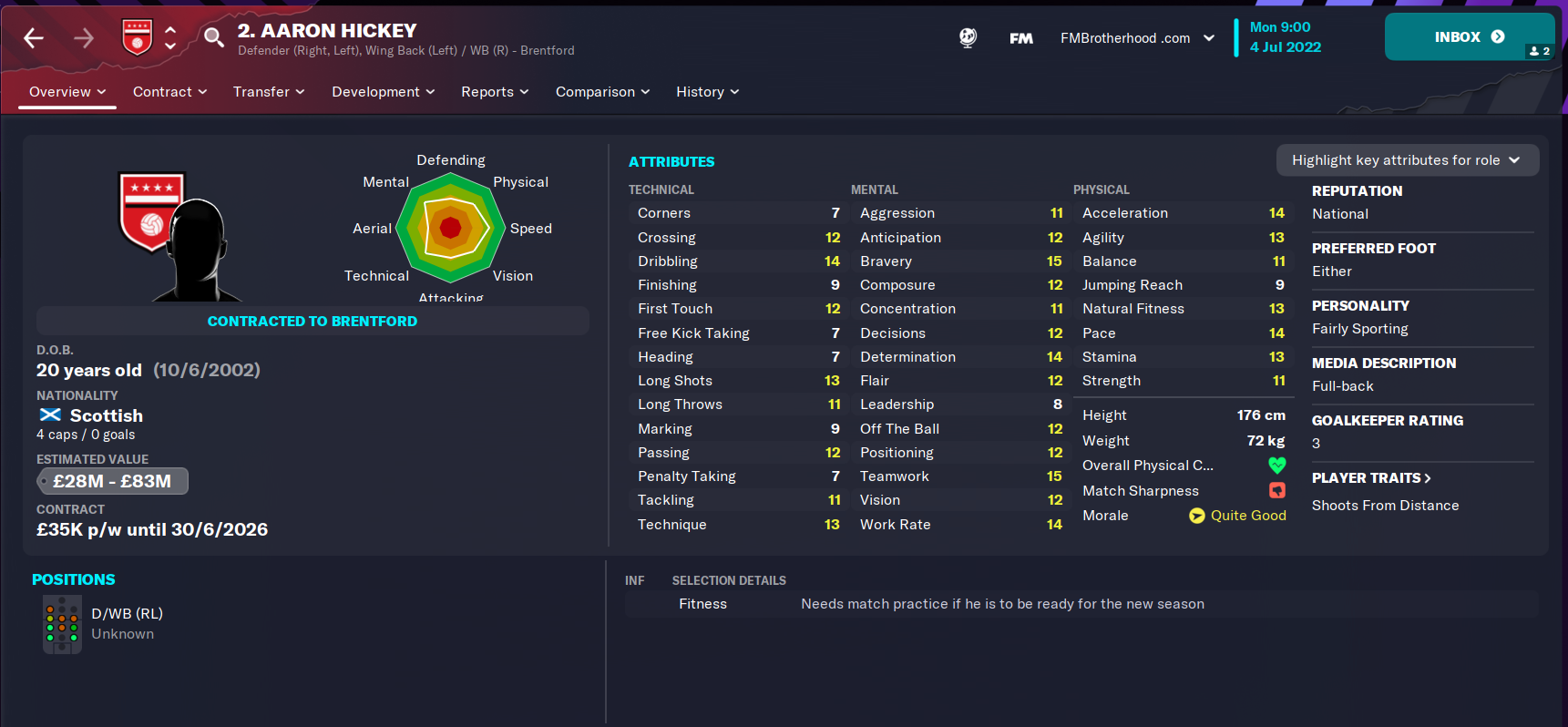 Aaron Hickey is a Scottish wonderkid left back in FM23 that recently moved to Brentford for £14 million. This is one of the highest fees paid for a Scottish defender, and for good reason! Hickey has great mental attributes, including 15 bravery, 14 determination, and 15 teamwork. He is also either footed, and has the ability to play at right back, so he's a brilliant versatile option for your FM23 squad.
As mentioned, this wonderkid left back has just joined Brentford, so he's not interested in signing for anyone else.
Aaron Hickey in 2032
Aaron Hickey signed for Juventus on our FM23 save, and also managed to play for Scotland 67 times. This is impressive considering Andy Robertson and Kieran Tierney are also left backs. Hickey in his prime has excellent mental attributes, such as 18 anticipation, 17 concentration, and 17 positioning. These are important attributes to have for a left back, and Hickey is world class at them!
He is lacking going forward, with only 11 crossing, but if you're looking for a defensive minded left back, Hickey is a great option.
3. Nuno Mendes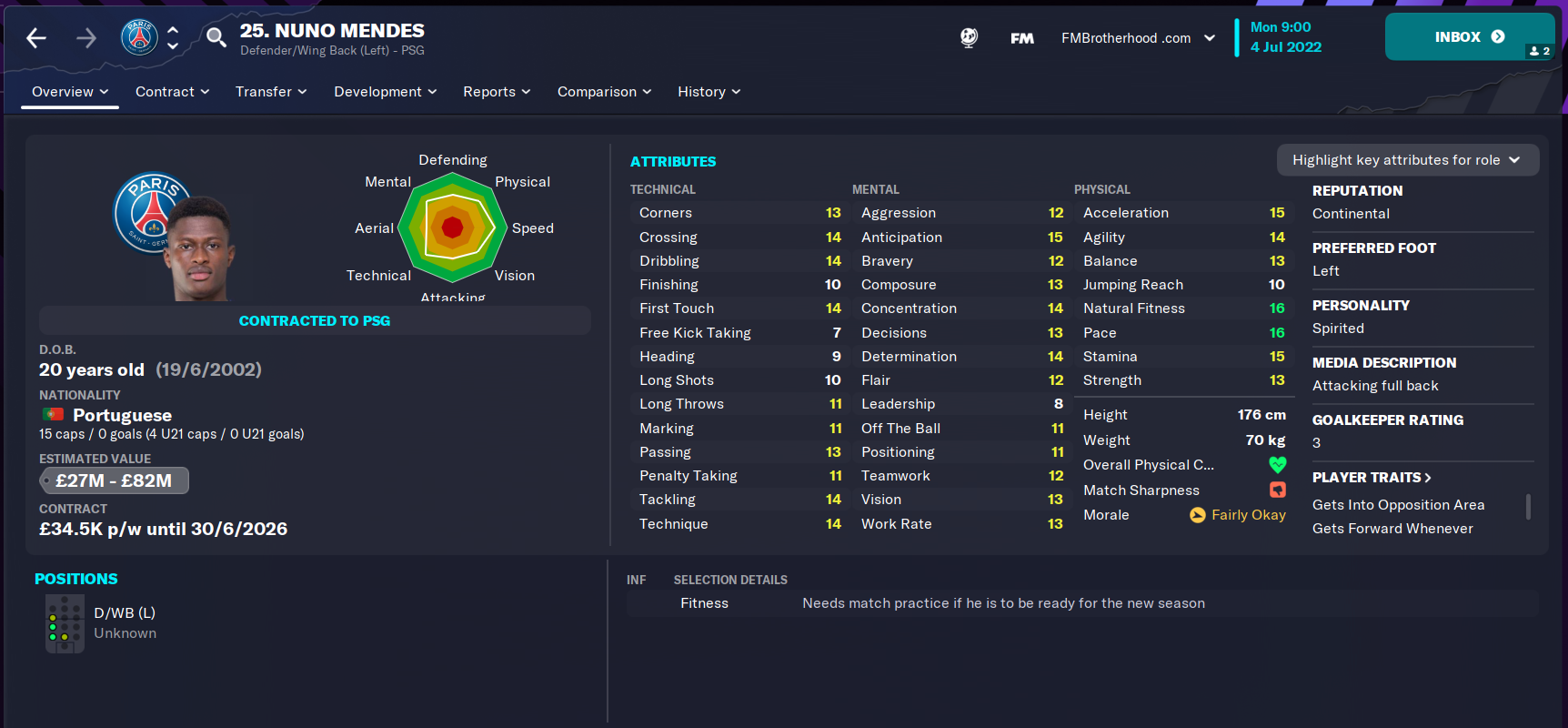 Mendes is an excellent left back wonderkid that plays regularly for Ligue 1 champions PSG. He was also nominated for European Golden Boy, which is an award for the best young players in football. Football Manager have rewarded Mendes for his fine form in real life, with some great FM attributes. His standout stats are 16 pace, 14 crossing, and 14 tackling.
Mendes has just signed for PSG after a one year loan spell, so it will be hard to sign him in your save for the first couple of seasons.
Nuno Mendes in 2032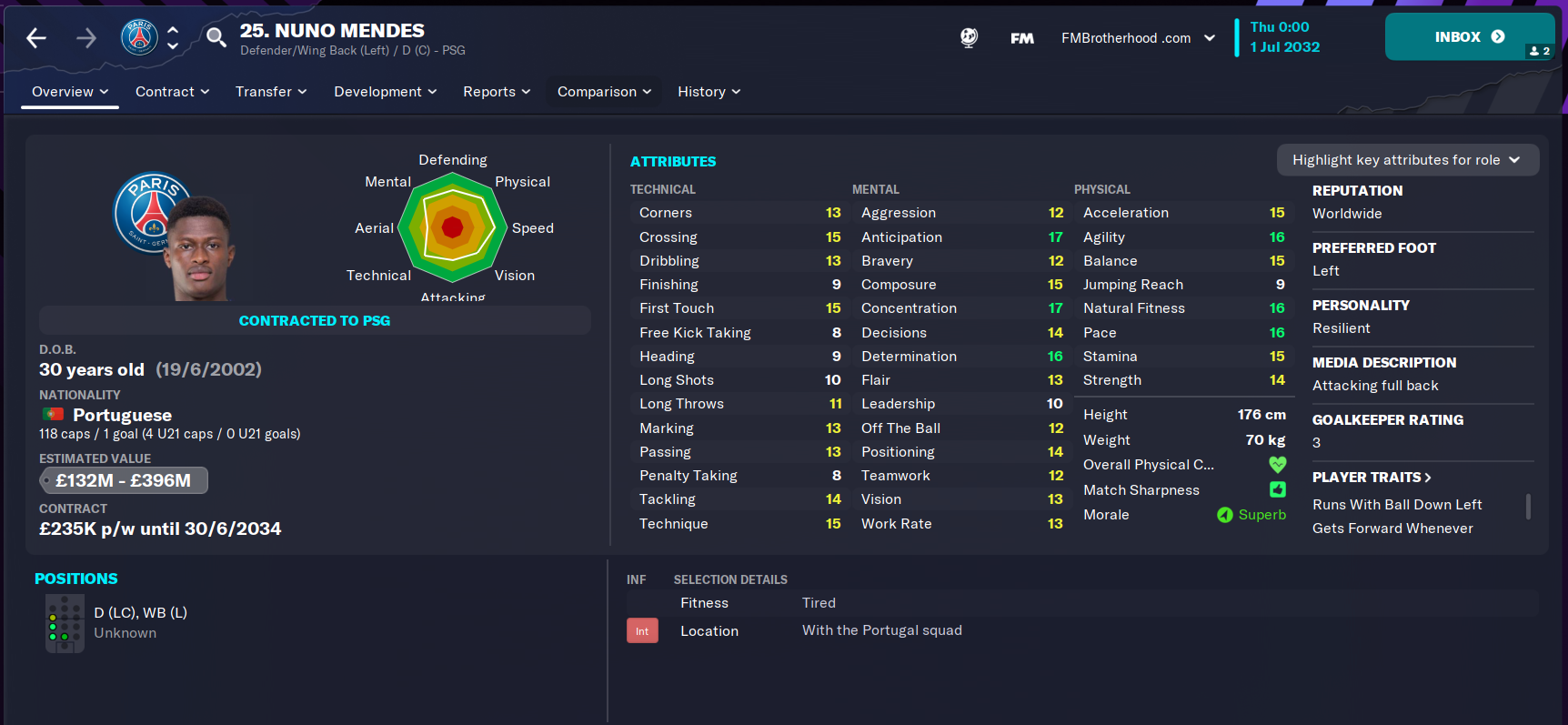 Nuno Mendes stayed at PSG in our FM23 simulation, and also managed to play for his national team Portugal 118 times. The media describe Mendes as an attacking full back, and we can see why!
Nuno Mendes is a brilliant modern day left back. He's quick, great at crossing, and smart defensively.
2. Destiny Udogie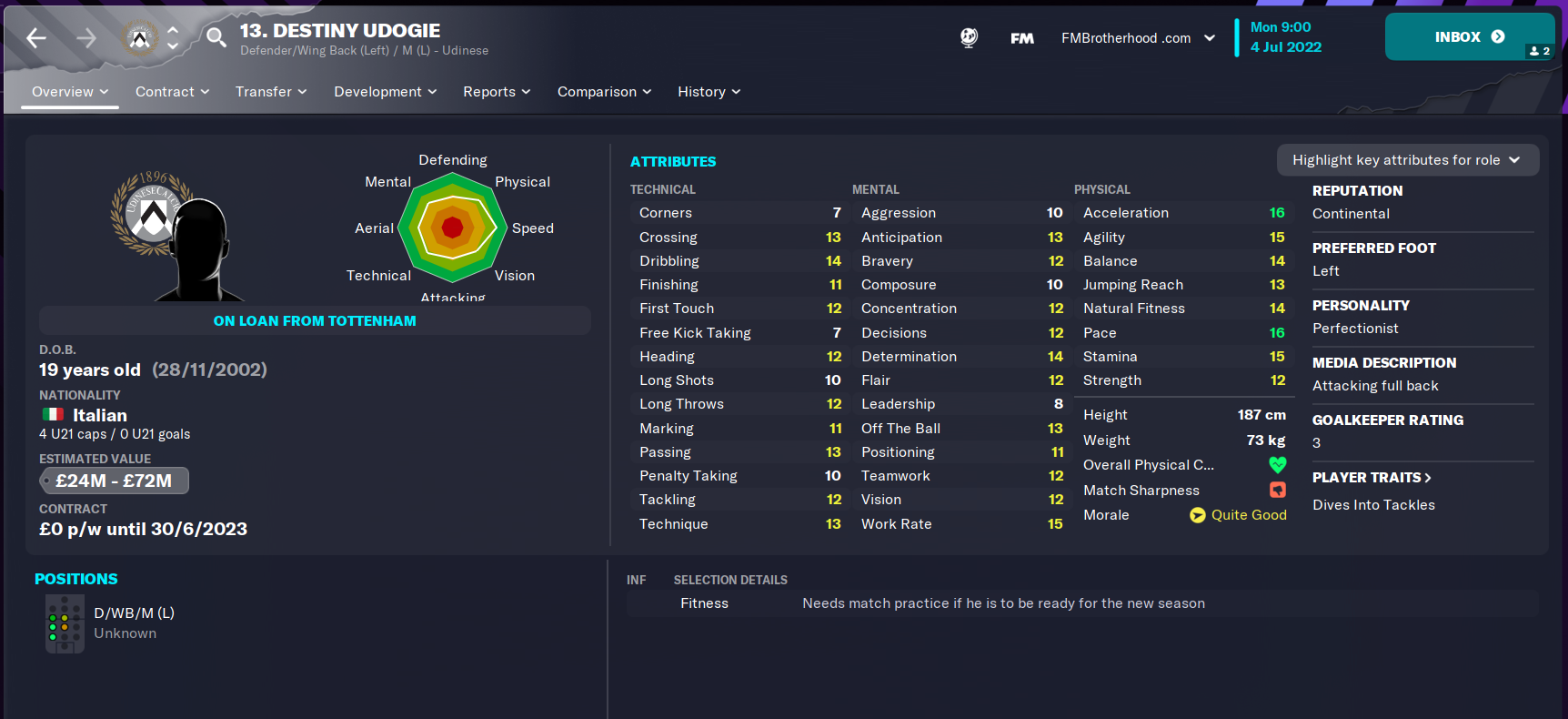 Destiny Udogie burst into the Udinese first team in the 2021/22 season, making 35 Serie A appearances and scoring 5 goals. He's a brilliant attacking left back that has been signed up by Tottenham and will join them for the 2023/24 season. You can see why Antonio Conte would love to have this LB in his team.
Destiny Udogie in 2032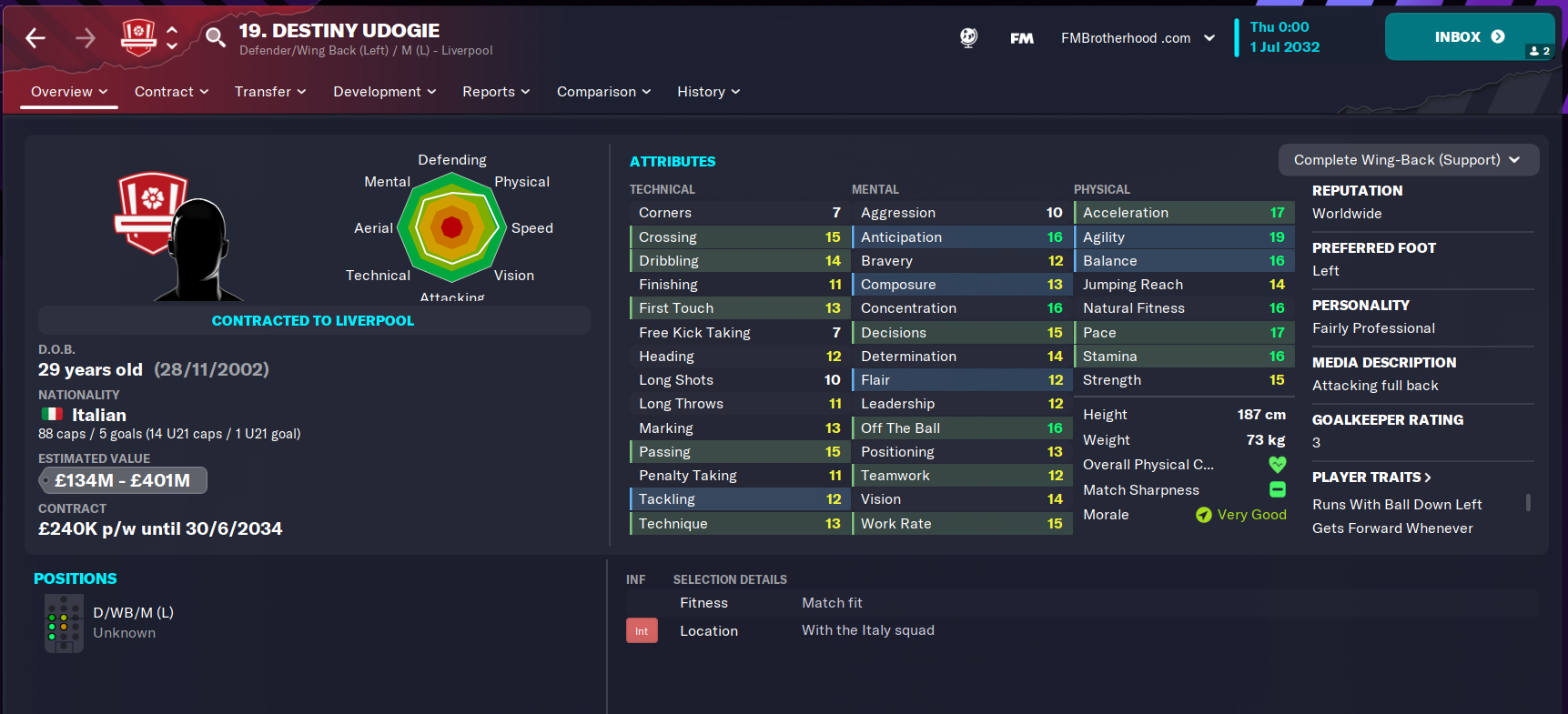 You can see the world class left back Destiny Udogie can become! He has some phenomenal physical attributes, like 19 agility, 17 pace, and 17 acceleration. Liverpool signed Udogie in his prime for £54 million, which is a good price for one of the best left backs in FM23.
Destiny Udogie is also 187cm tall, so if you're looking for a physically strong left back wonderkid, this is your guy.
1. Alejandro Balde – The Best LB wonderkid in FM23!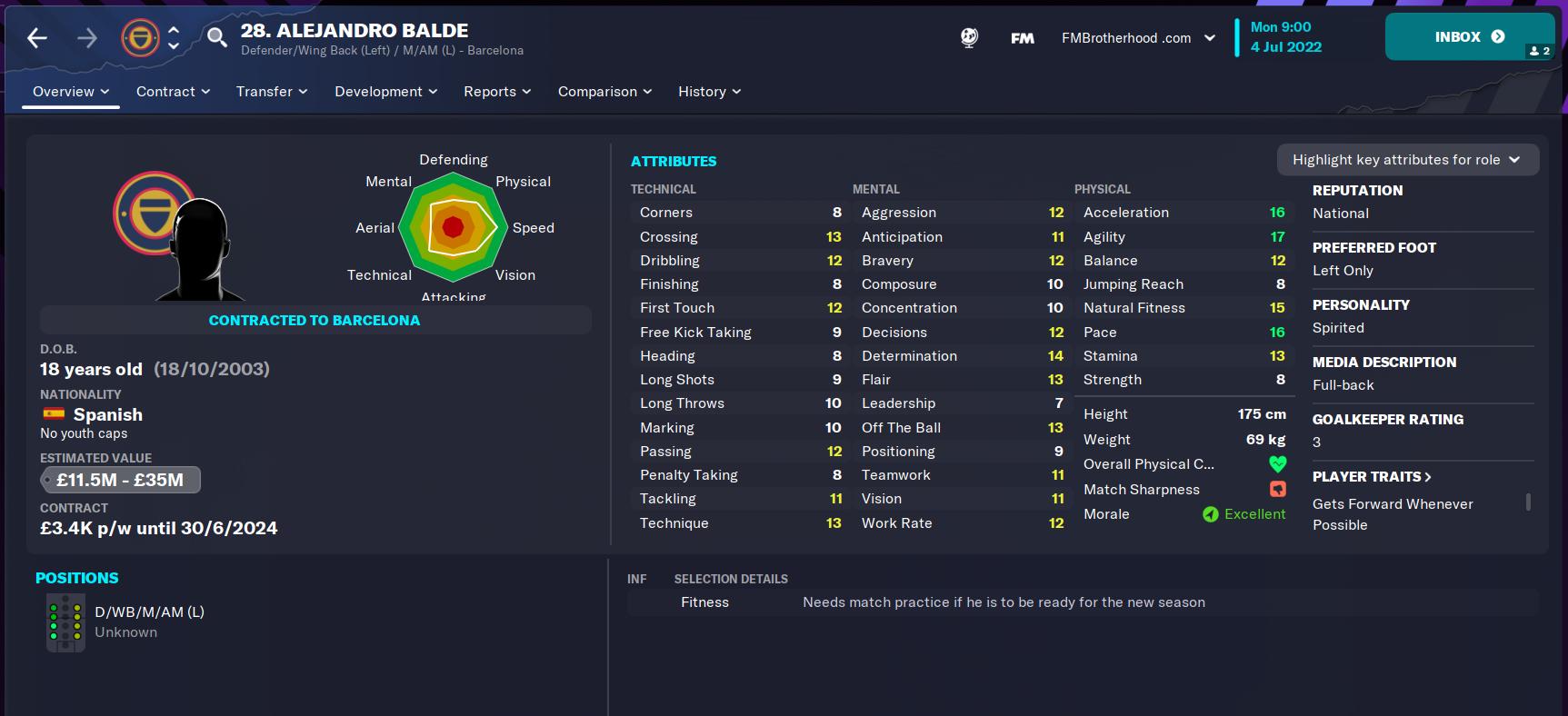 Balde has recently broken into the Barcelona first team, which is at the perfect time because Jordi Alba is getting older. Barcelona have the perfect replacement with Alejandro Balde. He's rapid with 16 acceleration and 16 pace, and has great crossing and technique for a player that's only 18 years old.
Balde is willing to leave Barcelona, and the club will accept an offer of £23 million.
Alejandro Balde in 2032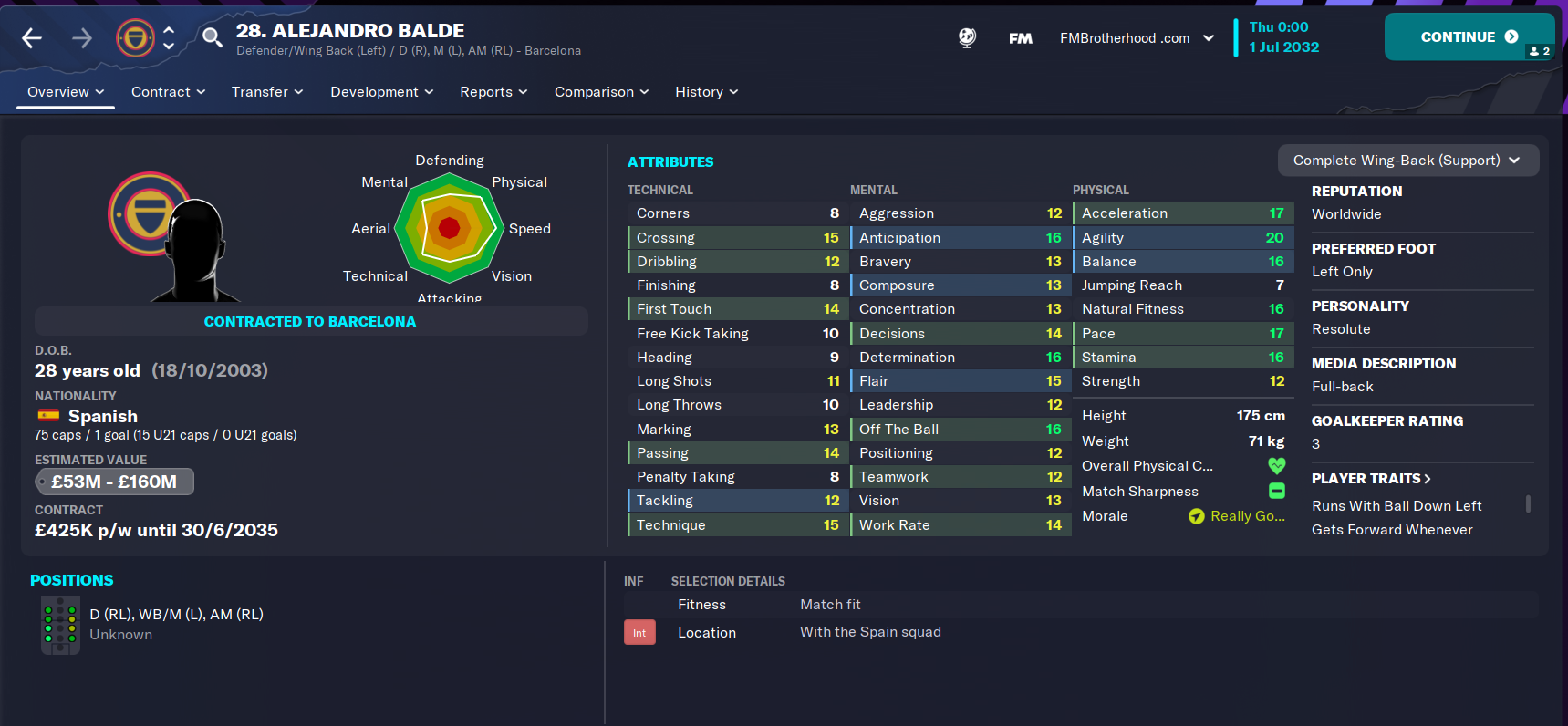 In our FM23 simulation, Balde stayed at Barcelona and won the World Cup with Spain in 2030! Alejandro Balde is incredibly well rounded mentally, with 16 anticipation, determination, and off the ball. Balde also has 20 agility, and is rapid.
An excellent left back wonderkid that you must try to sign in your FM23 save if you ever get the chance!
Summary of Best Left Back Wonderkids in FM23
There's some great budget young left back options in FM23, including Victor Kristiansen and Luca Netz. However, if you have a larger budget, Destiny Udogie and Alejandro Balde are definitely the LBs to try and sign.
If you're looking for more left sided wonderkids in FM23, check out our left winger wonderkids article!