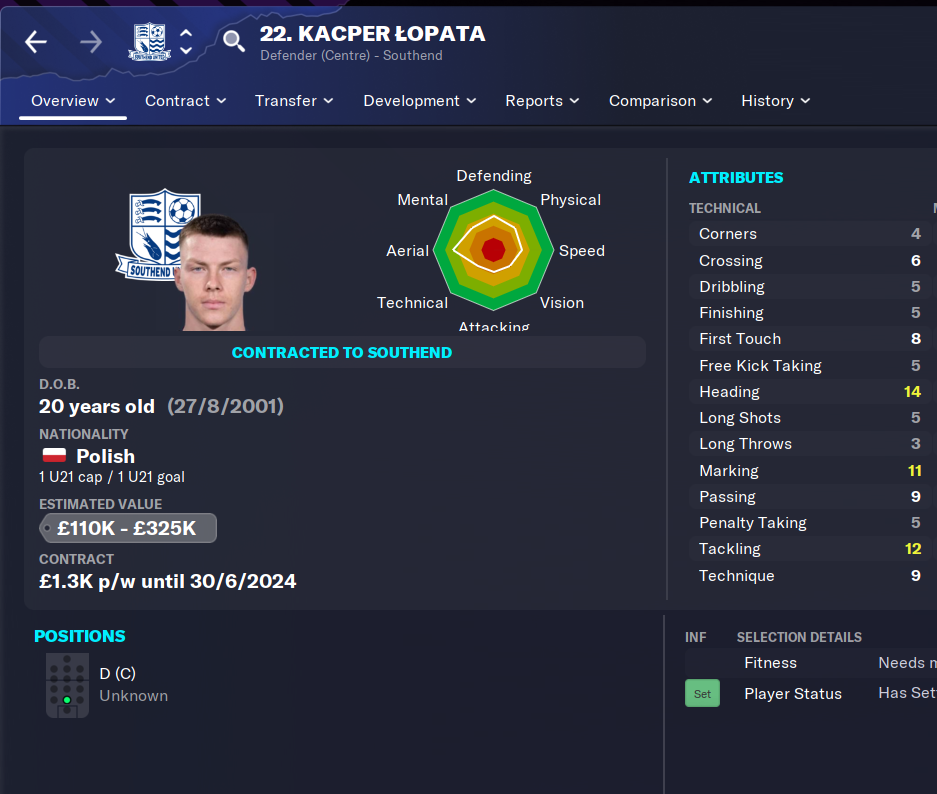 10 Best Non League Wonderkids in FM23
By callum | January 19, 2023 | 39835 Views
Best Non League Wonderkids in FM23
Managing a team in Non League is the one of the most popular team choices for Football Manager players. That's why we've put together a list of the best Non League wonderkids FM23 has to offer! It can be tricky to find younger players to sign in Non League, but you can now refer to this list every time you start a Non League save in FM23. The players in our list would be great for any team in the Vanarama National, or Vanarama North/South.
If you're looking for Non Leage wonderkids in Football Manager 2024, read this post instead.
What are Non League Wonderkids
Non League wonderkids in FM23 are youngsters that have the potential to play in the top 4 divisions in England, but would be open to signing for a team in Non League. If you give these FM23 Non League wonderkids consistent first team football and good training regimes, their attributes will improve.
10. Bailey Hobson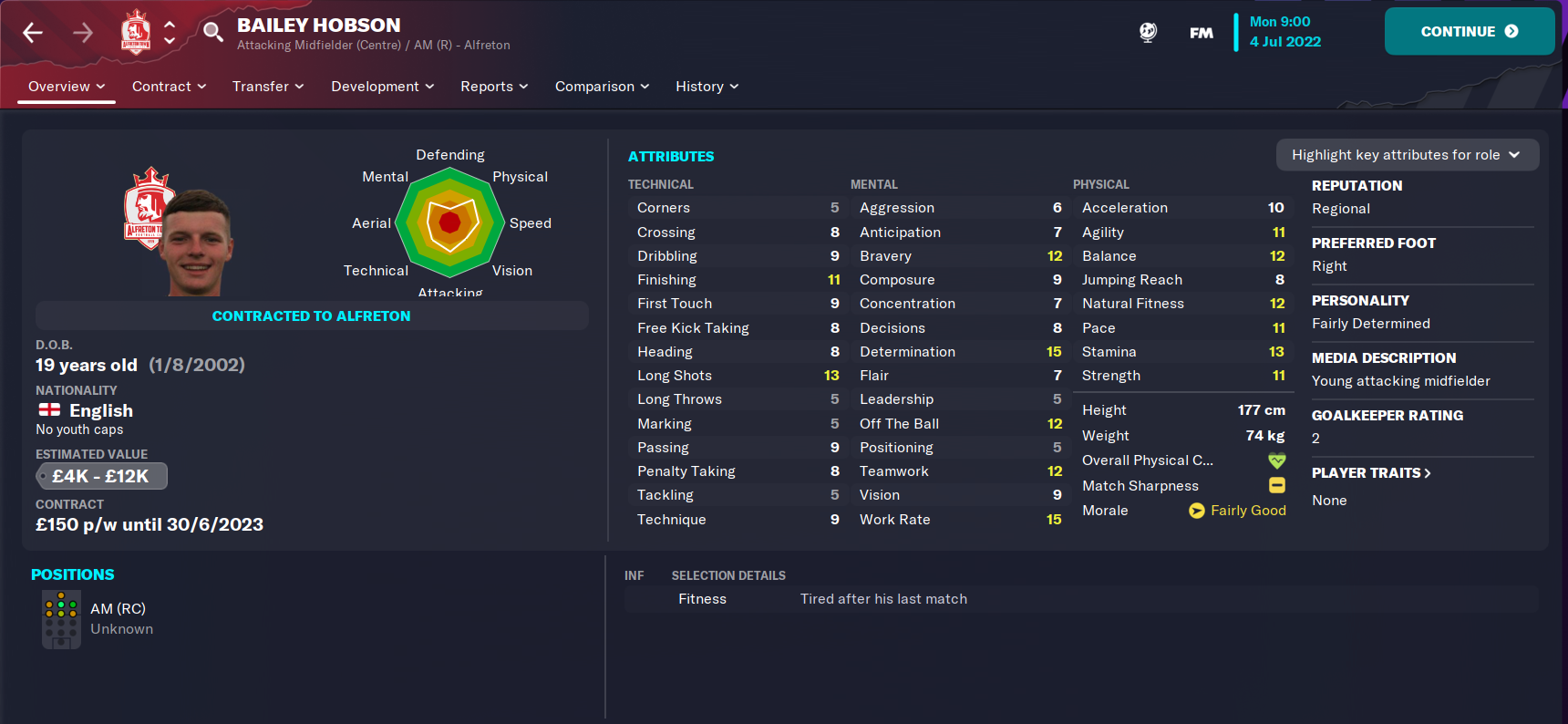 The first player on our list of the best Non League wonderkids FM23 has to offer is Bailey Hobson. This wonderkid CAM has some great mental attributes such as 15 determination, 12 teamwork, and 15 work rate. He's definitely one of the best Non League wonderkids in the Vanarama North.
Bailey Hobson is available to sign for just £8k from semi-professional side Alfreton. This is a bargain for a player that has the potential to play League football.
9. Tyreece Onyeka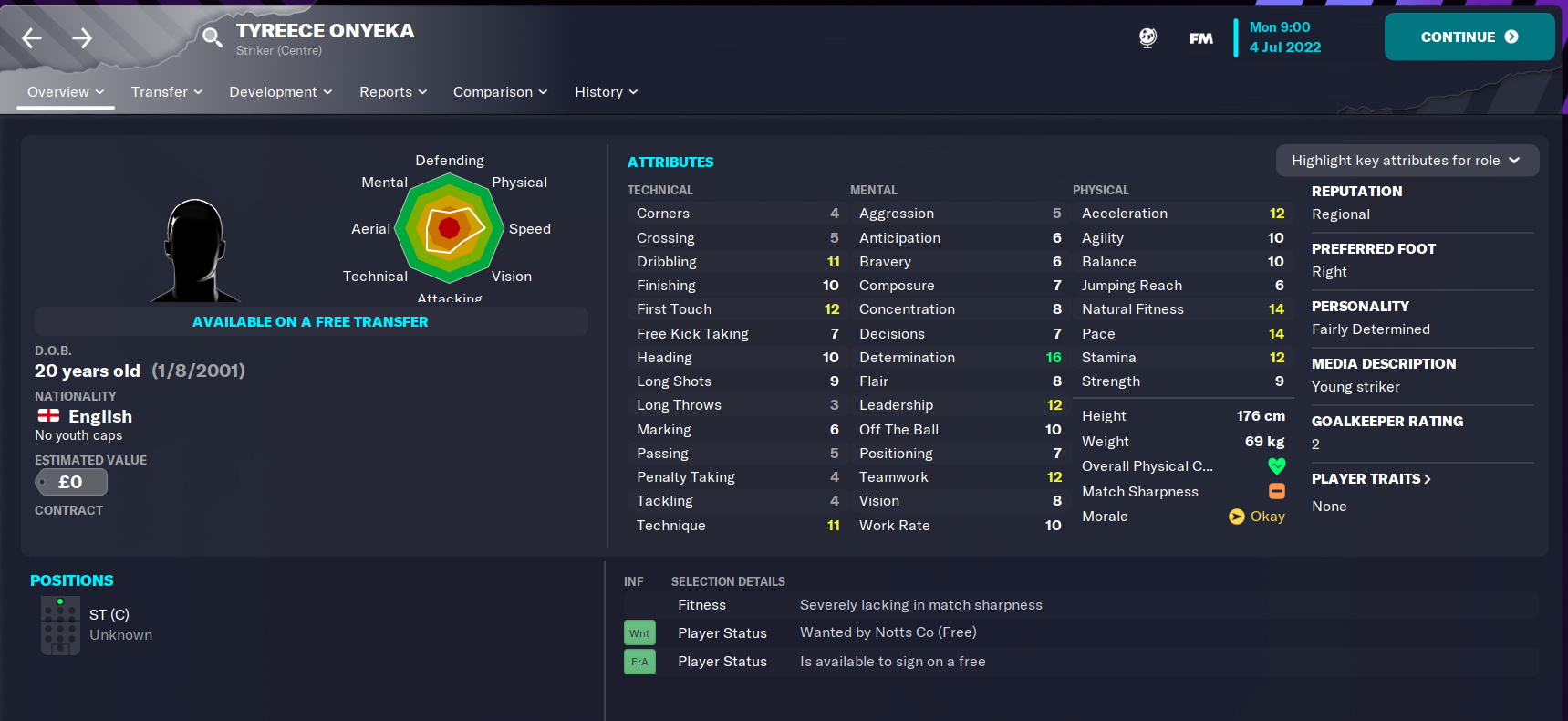 Tyreece Onyeka has recently been released by Sky Bet League One side Crewe. For Non League, Onyeka has brilliant pace, determination, and first touch. FMBrotherhood signed him for Vanarama North team Chester FC, and he went on to score over 60 goals in the first FM23 season! If you use the right tactic, Onyeka can be a deadly Non League wonderkid.
He's also willing to accept a contract of only £300 per week! This is great value for a player than can be pivotal in a promotion charge.
8. Kacper Lopata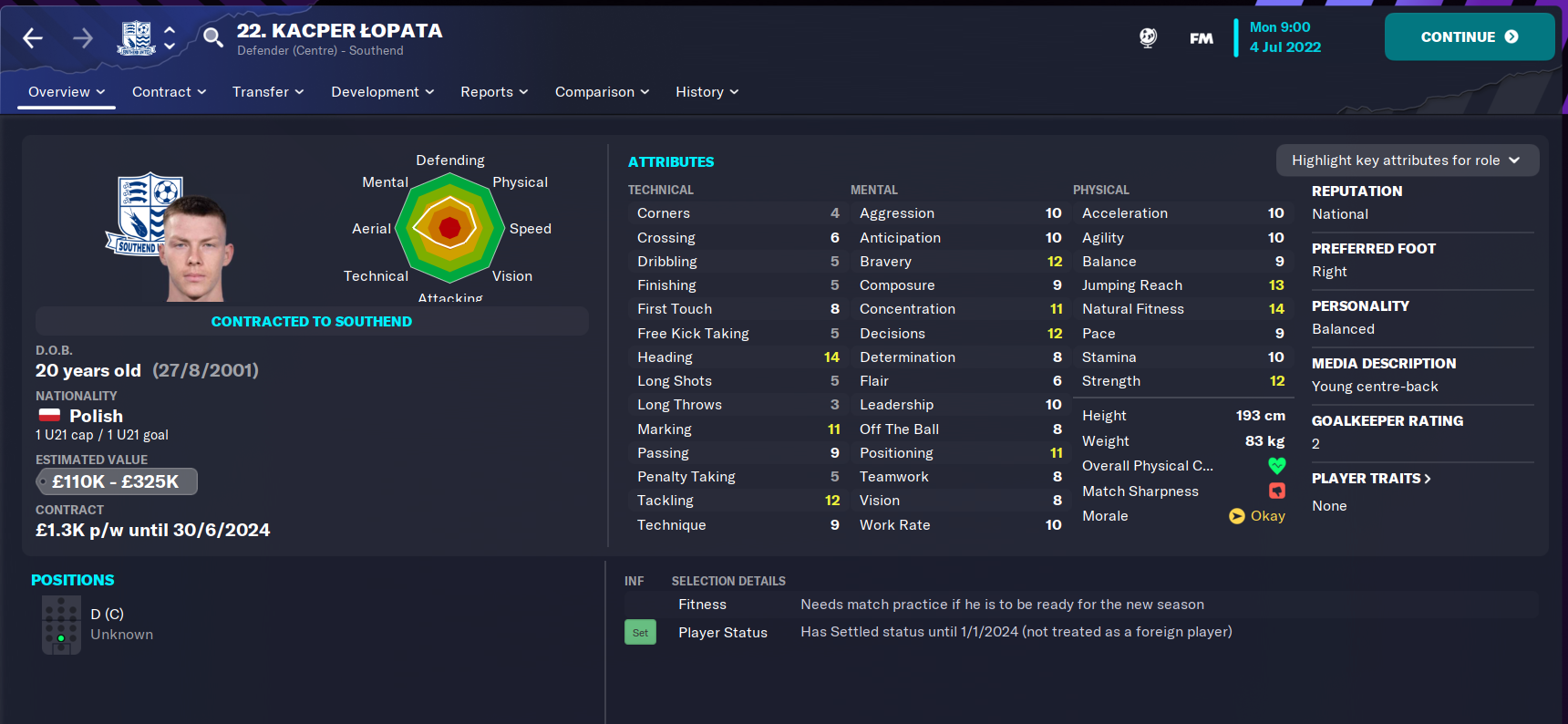 This FM23 Non League wonderkid already has 1 cap for the Poland under 21s, which shows they believe he has great potential! Lopata has all the fundamental attributes a defender needs, such as 12 tackling, 11 marking, and 14 heading. Standing at 193cm, he's definitely a threat in both penalty areas.
You'll have to have a lot of funds to sign him though, as Southend want £200k to sell this Non League wonderkid in FM23. The only team in Non League that could afford him is Wrexham!
7. Augustus McGiff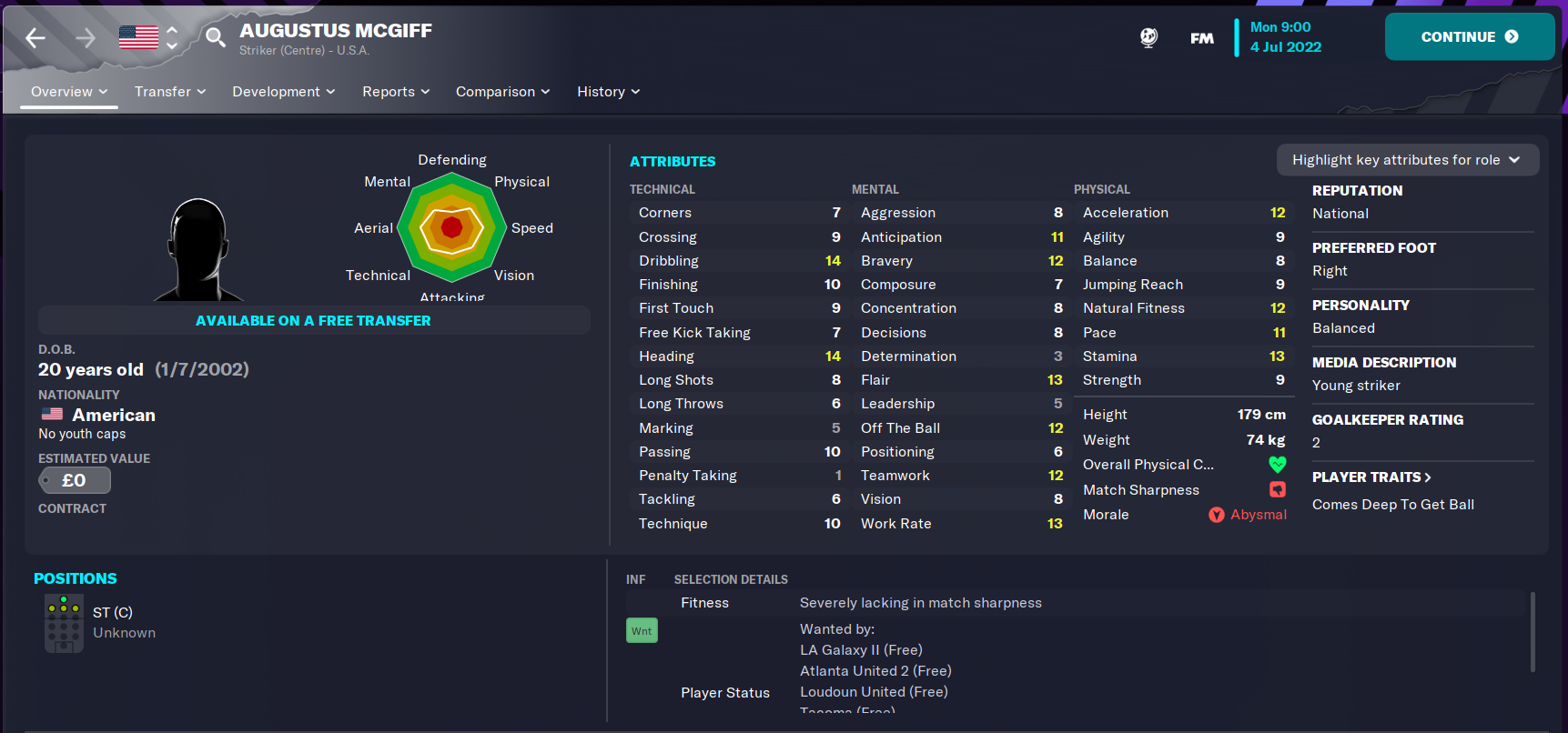 Augustus McGiff is a Non League wonderkid striker with the current ability to help you get promoted from the Vanarama North or South. He also has the ability to play as a winger, and he did so in FMBrotherhood's Chester FC save. McGiff was able to get 21 assists in his first season in our FM23 save. However, he refused to sign a new contract, and was signed at the end of the season on a free transfer by a professional USA team.
If you're looking for a wonderkid striker for your Non League team in FM23, you should definitely consider Augustus McGiff.
6. Lars Dendoncker
Brother of Premier League Footballer Leander Dendoncker, Lars Dendoncker is a CDM with lots of well rounded attributes for a Non League wonderkid. He's also great in the air, with 13 heading, and 15 jumping reach. 13 passing is also very high for Non League level.
However, all of these amazing attributes come at a cost. Dendoncker wants over £2k per week! Some players in Sky Bet League Two aren't paid that much.
5. Kian Spence
Next on our list of the best Non League wonderkids FM23 has to offer is Kian Spence. He's a central midfielder that specialises in defensive attributes, including 12 tackling, 13 bravery, and 12 positioning.
For a Non League wonderkid in FM23, he's quite expensive, costing £120k! But that's because FC Halifax want to keep a hold of their star wonderkid.
4. Michael Elechi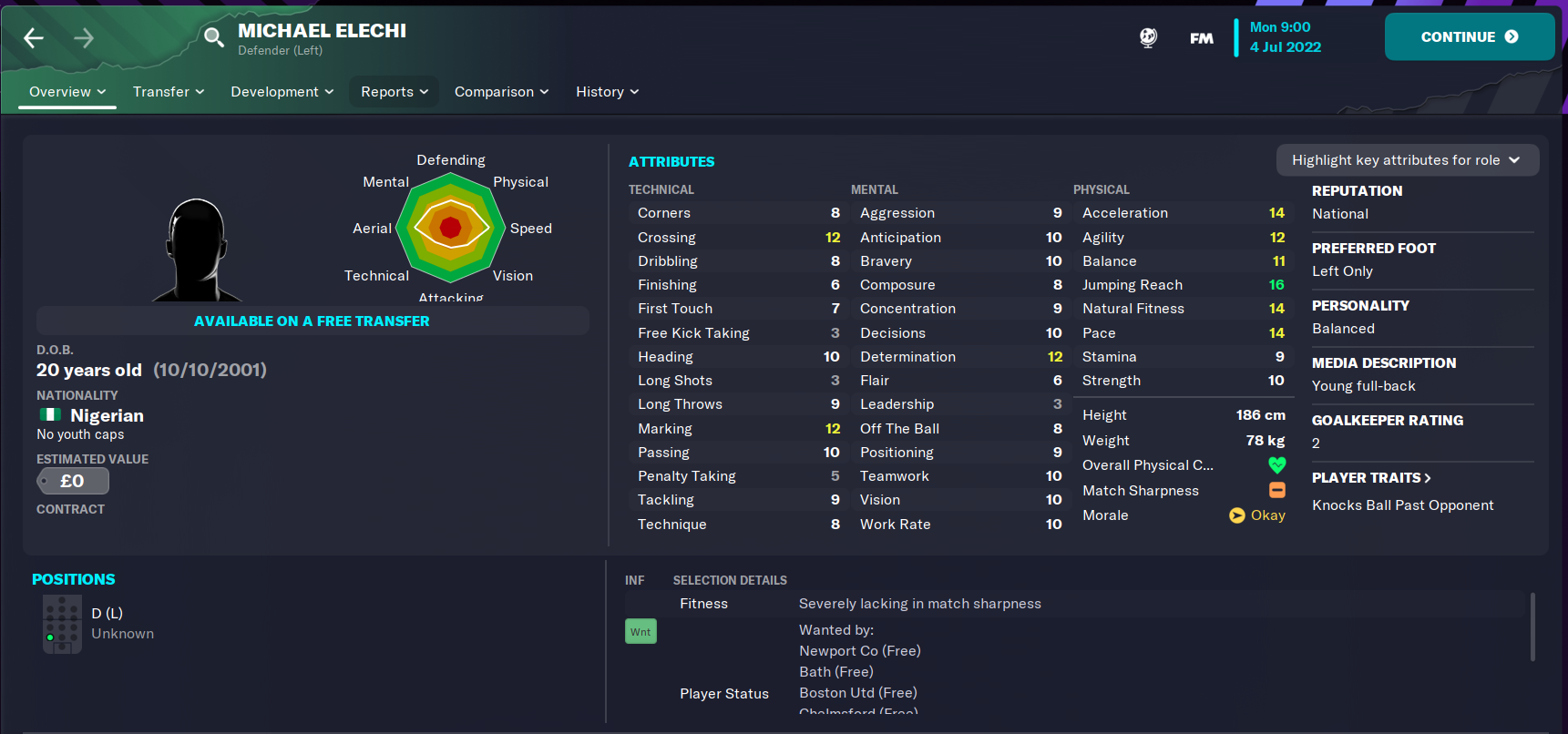 Michael Elechi has brilliant physical attributes for an FM23 Non League wonderkid, including 14 acceleration, 16 jumping reach, and 14 pace.
It's crazy that Elechi is a free agent. You'll be able to sign him if you're managing a Vanarama North or South team, and is even willing to accept a contract of just £160 per week.
Let's get into the top 3 FM23 Non League wonderkids.
3. Khalon Haysman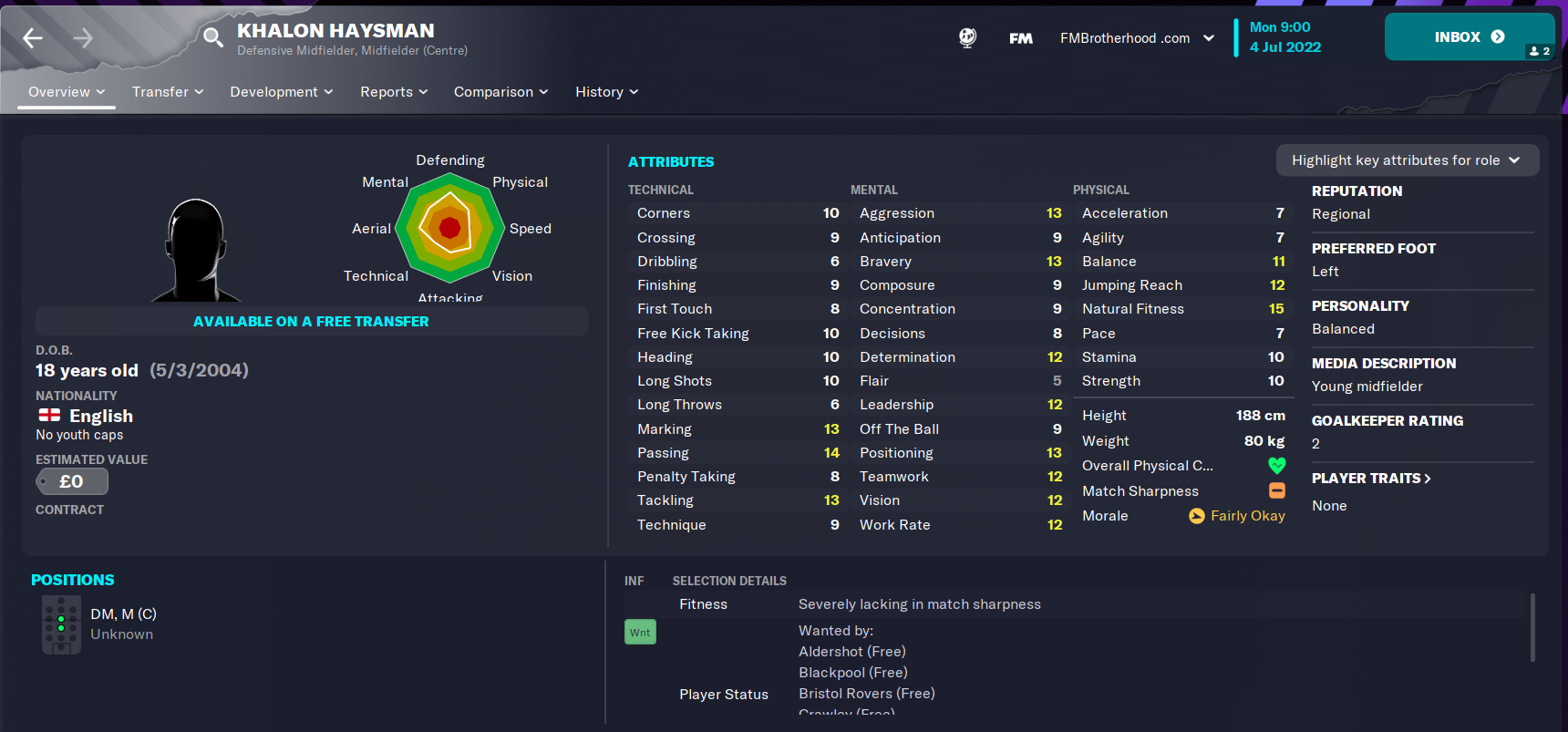 In 3rd place on our list of the best Non League wonderkids FM23 has to offer is Khalon Haysman. Similar to Kian Spence, this wonderkid midfielder is better defensively than going forward. with 13 tackling, bravery, and marking. However, he does lack pace and technique.
Hayson would be willing to accept a contract of about £400 per week, which is good value for a Non League team.
2. Callum Hulme
Callum Hulme is a versatile Non League wonderkid in FM23 with lots of attributes that would be good enough for league football. Although he can play right wing-back, he's definitely better going forward, so we would recommend playing Hulme as a playmaker in central midfield.
He wants about £750 per week, which isn't bad considering his quality. However, this Non League wonderkid is wanted by clubs in Sky Bet League Two, so you'll have to move fast if you want to sign him.
1. George McEachran – Best FM23 Non League Wonderkid!
The best Non League wonderkid in FM23 has to be George McEachran! This free agent is willing to join Non League teams, but is actually good enough to play in Sky Bet League Two! Some of his best attributes are 14 first touch, 15 natural fitness, and 16 technique!
The best Non League wonderkid in FM23 wants a high salary, of up to 2k per week! However, you'll be getting yourself an amazing player for Non League with potential to get even better.
Summary of Best Non League Wonderkids in FM23
Hopefully you'll now have some great wonderkids to sign for your Non League save that can help you towards promotion to the football league! If you're on a tight budget, which is most likely, Michael Elechi is definitely a player you should look at.
If you're wanting to sign more wonderkids in FM23, take a look at our article covering the best wonderkid goalkeepers!
People Also Read
How to Find Free Agents in Football Manager