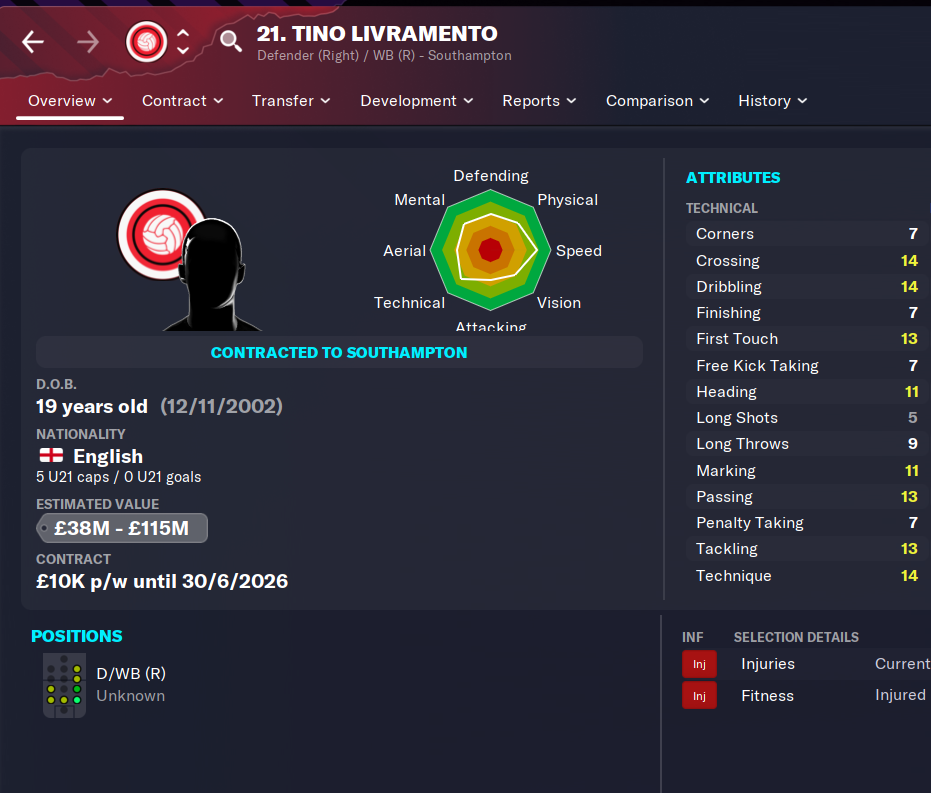 8 Best FM23 Right Back Wonderkids You Must Sign!
By callum | April 13, 2023 | 59013 Views
The Best FM23 RB Wonderkids
There's hundreds of quality wonderkids in FM23. But the right back position is an area where there isn't such a high quantity of talent. That's why at FMBrotherhood, we've done all the research for you to find out the best right back wonderkids in FM23.
If you're looking for more full-backs, check out our FM23 wonderkid left back wonderkids article here.
If you haven't Pre-odered FM24 already, do so here and Shop FM24 up to 26% off
What's an FM23 Right Back Wonderkid?
If you've never heard of wonderkids in Football Manager, you've been living under a rock. These are the best youngsters in FM23, with the potential ability to become one of the best players in their position. All of the RBs on our list are 20 years old or younger at the start of your Football Manager 2023 save.
8. Devyne Rensch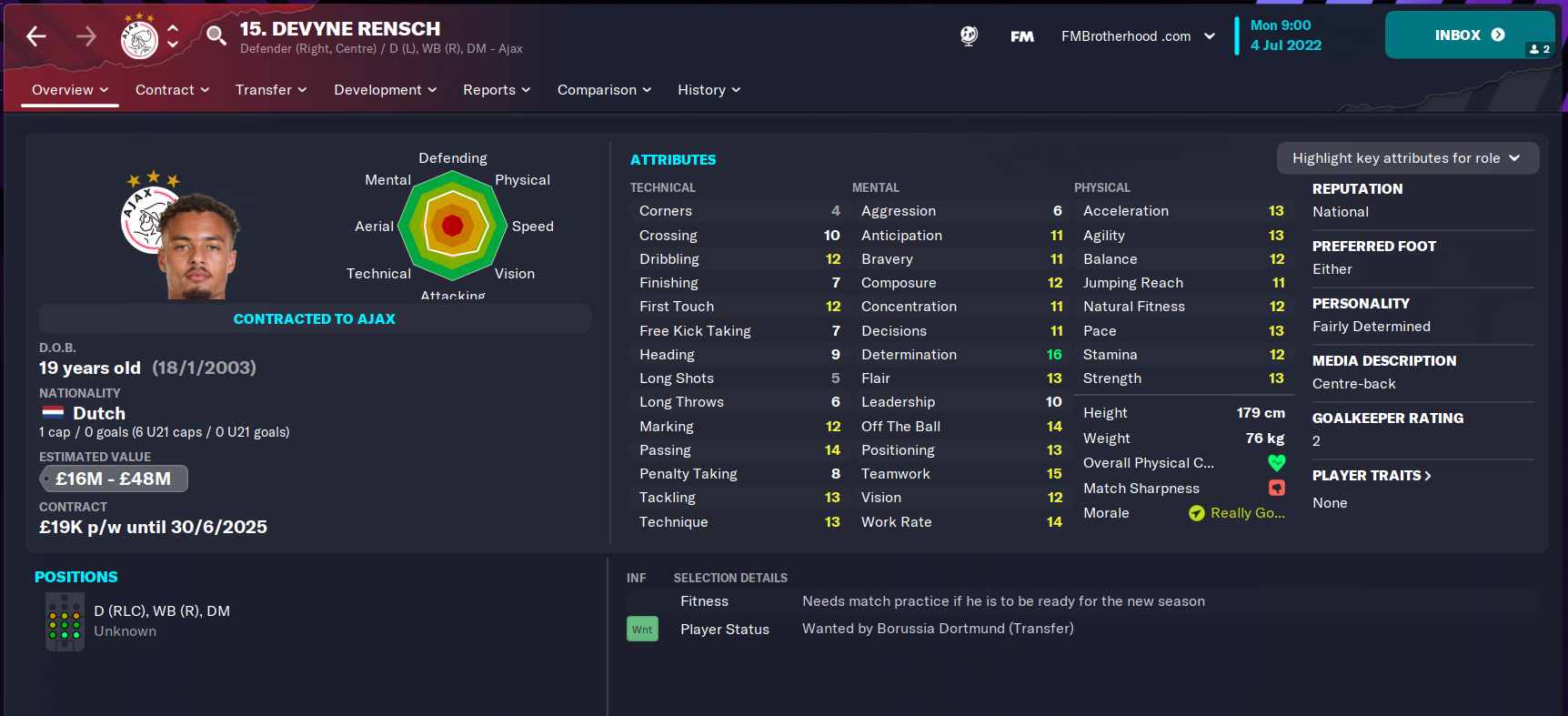 Devyne Rensch is the first player on our list of the best FM23 right back wonderkids. Although the media describe him as a centre back, he's quite a small player, so would be better as a right back, which he's also a position he can play competently.
This is an expensive wonderkid right back though, with Ajax demanding a £32.5 million fee in the first FM23 season.
Devyne Rensch in 2032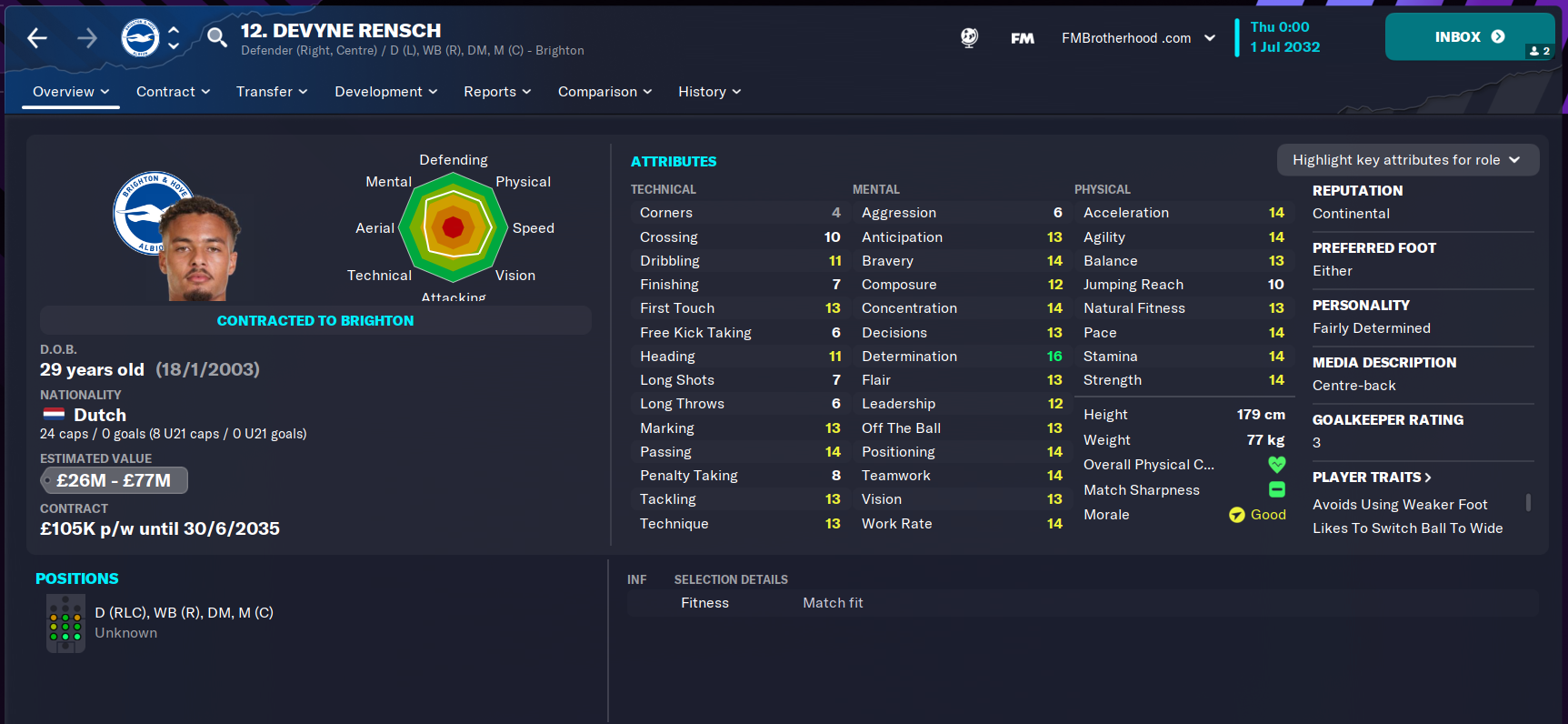 In our FM23 simulation, Rensch signed for Real Madrid, before signing for Brighton. Rensch has developed some attributes, however he didn't get much game time at Real Madrid, which massively hindered his potential. If you sign this wonderkid right back early on in your FM23 save, he should develop into an even better player.
Rensch makes this list due to his versatility. He can play all across the backline, in CDM and as a central midfielder! This makes Rensch an asset to any team in Football Manager.
7. Rico Lewis – Best English RB Wonderkid?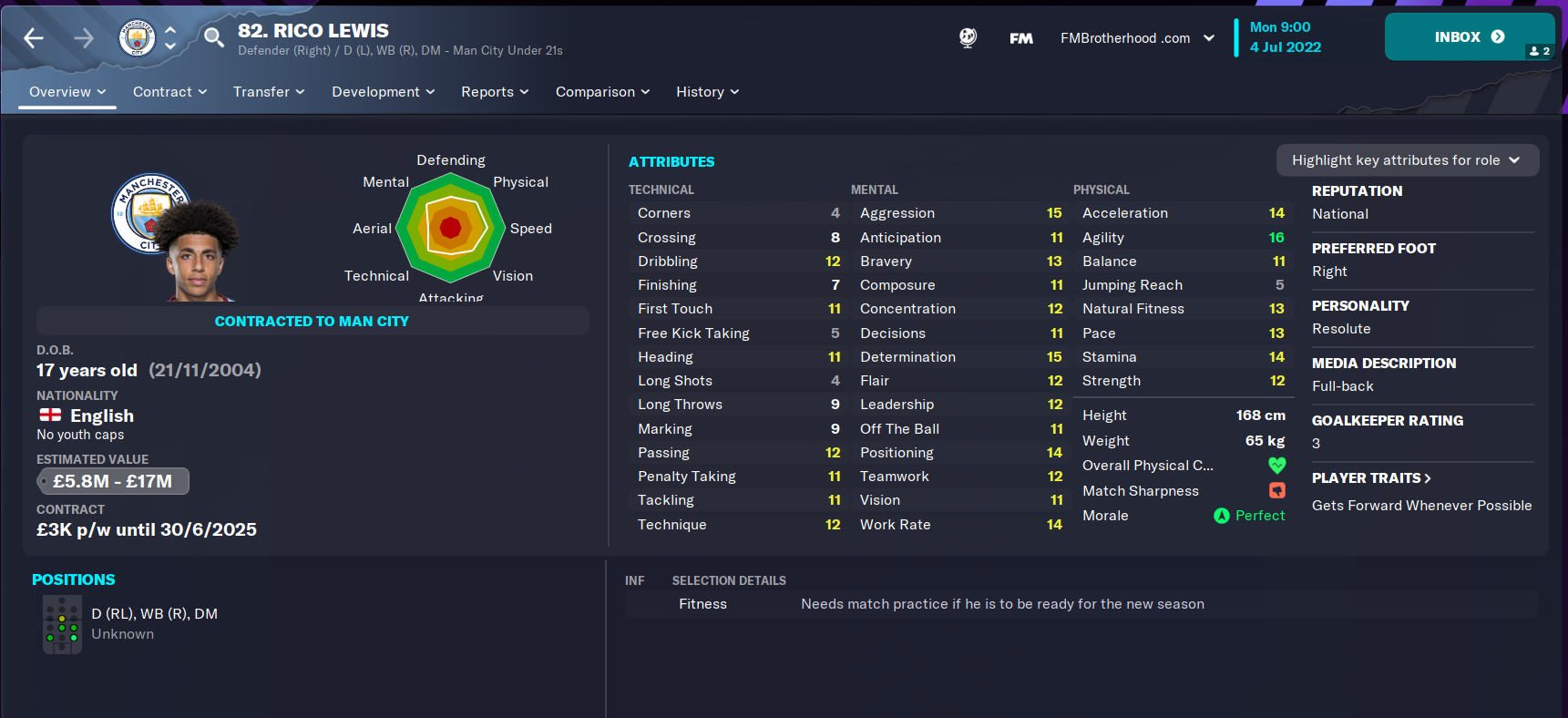 Rico Lewis recently impressed for Manchester City in the UEFA Champions League at just 17 years old! Pep Guardiola must believe he has great potential, and Football Manager agree. His mental attributes are very well rounded for a player that's such a young age. Lewis has 15 determination and 14 work rate, which will help him develop into a great right back!
Lewis has just signed a new contract with Man City, so you'll need to wait at least one season before you try to sign him in your FM23 save.
Rico Lewis in 2032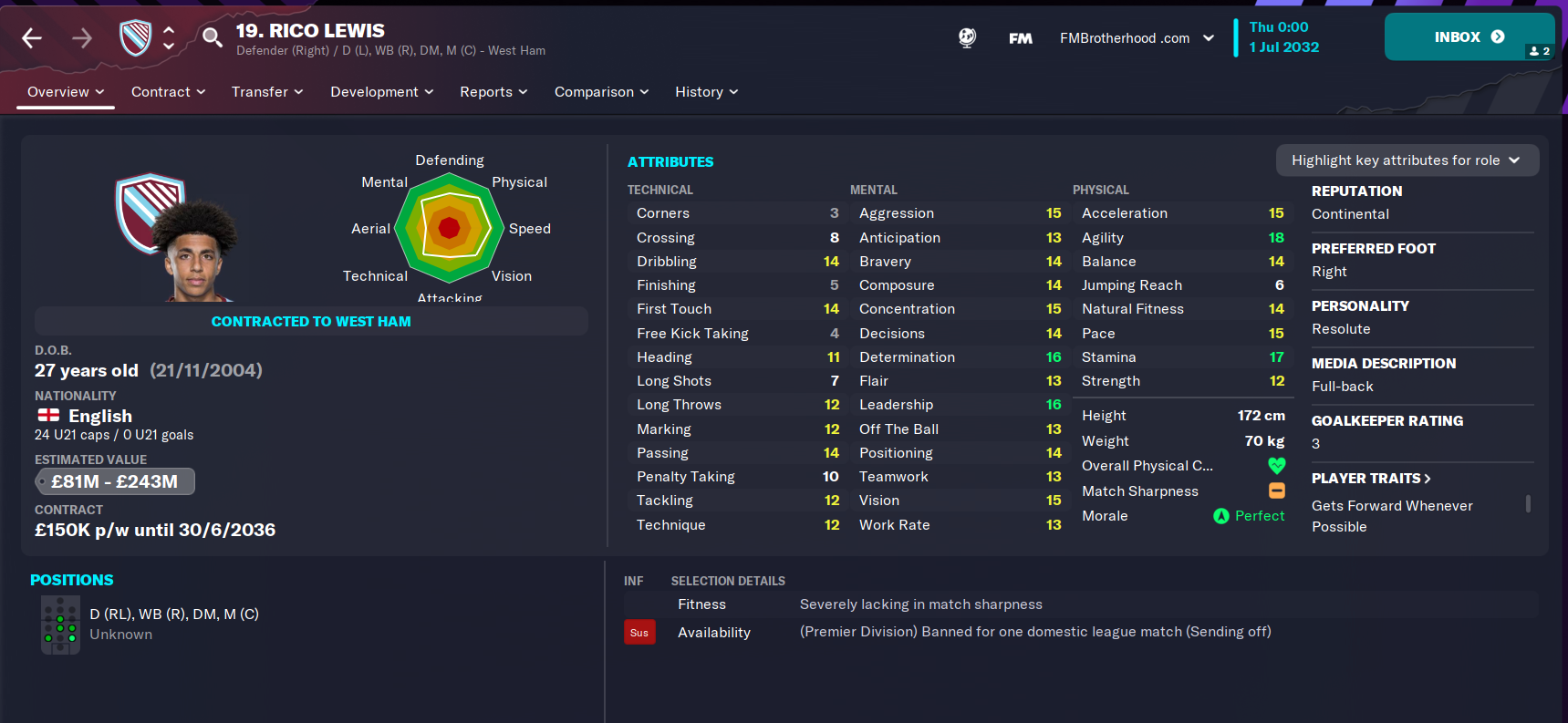 After spending many seasons at Manchester City, Rico Lewis moved to Bayern Munich, and then PSG, before signing for West Ham. He's really improved his physical attributes, with his stamina increasing from 14 to 17, and balance from 11 to 14. Lewis is also extremely versatile, being able to play left back, CDM, and central midfield.
Rico Lewis has only become more well-known in first team Football this season, so it's likely he'll be even better on the next version of Football Manager.
6. Malo Gusto
Gusto is the starting right back for French side Lyon. He's impressing top European sides with his performances, and has been linked with a transfer to Manchester United. Malo Gusto's standout attributes are 15 pace, 15 work rate, and 13 tackling. The media describe him as an attacking full back, so if you like your RBs to get forward, Gusto is a good option for you.
Malo Gusto is valued highly by Lyon. They're only willing to accept offers over £36 million in your first FM23 season.
Malo Gusto in 2032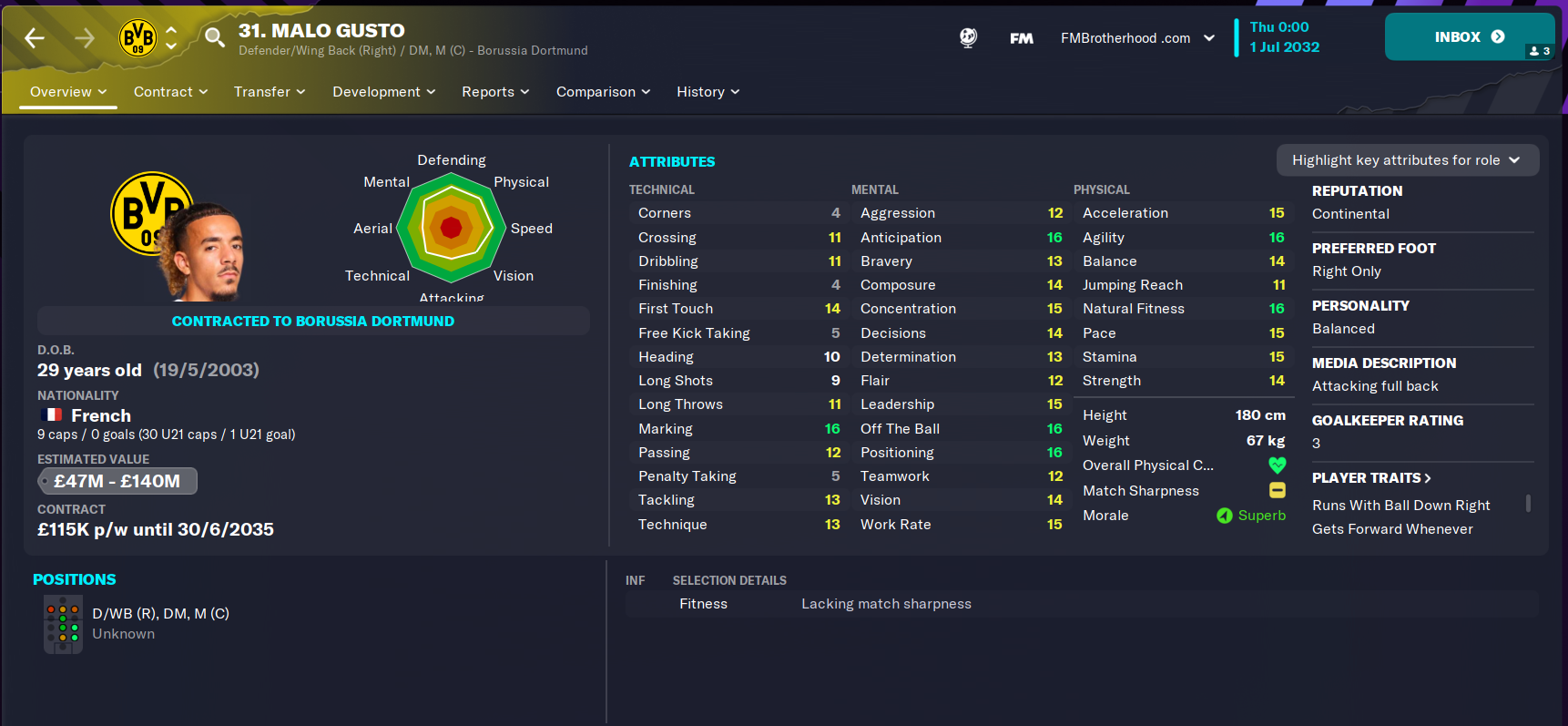 Gusto's mental attributes have the potential to improve immensely. In our FM23 simulation, his concentration increased from 9 to 15, and positioning from 11 to 16. Sadly his crossing has decreased from 12 to 11, which is rare to see, so maybe Gusto could have better crossing in your FM23 save. He's still a very good wonderkid right back.
5. Nathan Patterson – Best Scottish Wonderkid RB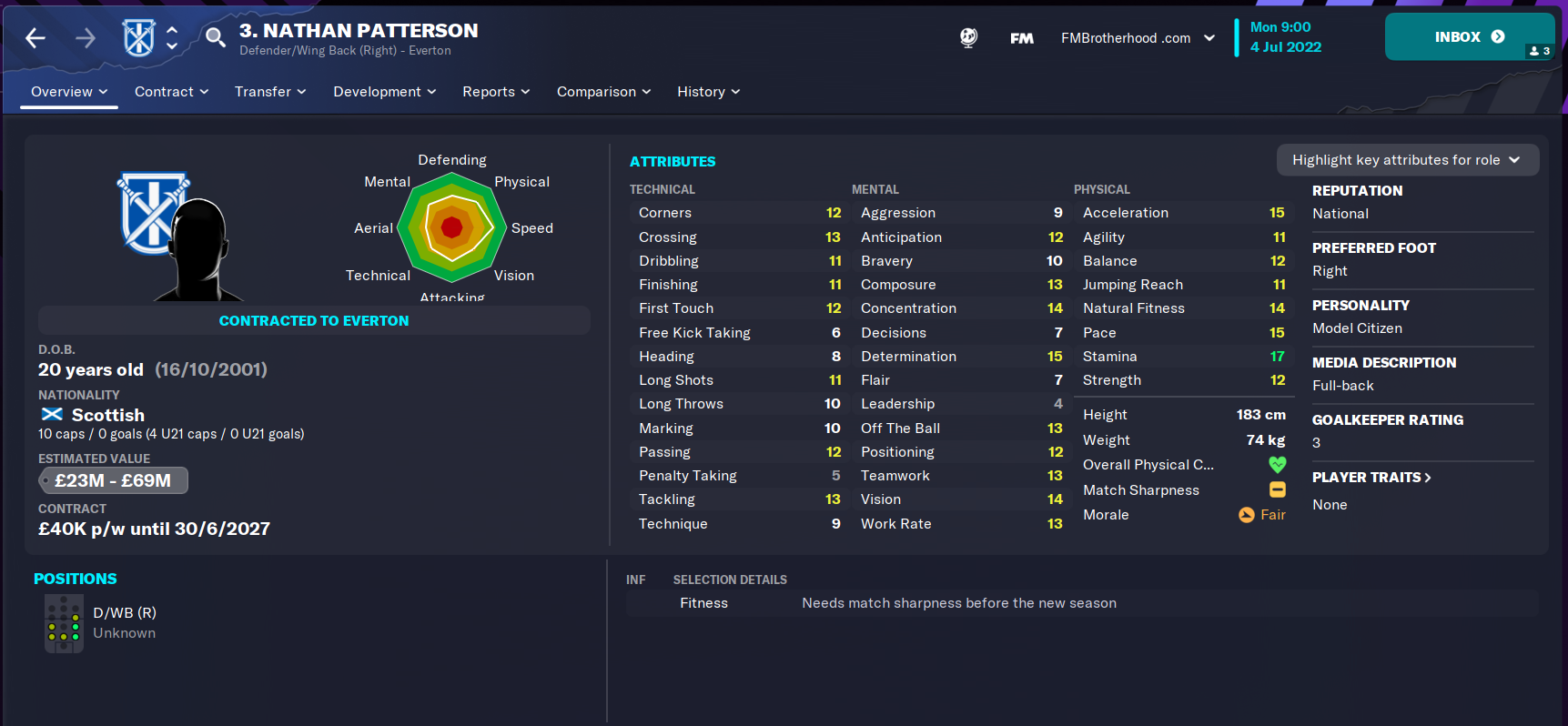 After impressing for Scottish side Rangers, Nathan Patterson sealed a big move to Everton, who paid £12 for him. Nathan Patterson is a well rounded wonderkid right back, as he's effective going forward, with 11 finishing and 13 crossing.
Nathan Patterson has the model citizen personality, which is the best personality type for a wonderkid to have in the game. This will be extremely beneficial when it comes to his attribute development.
Nathan Patterson in 2032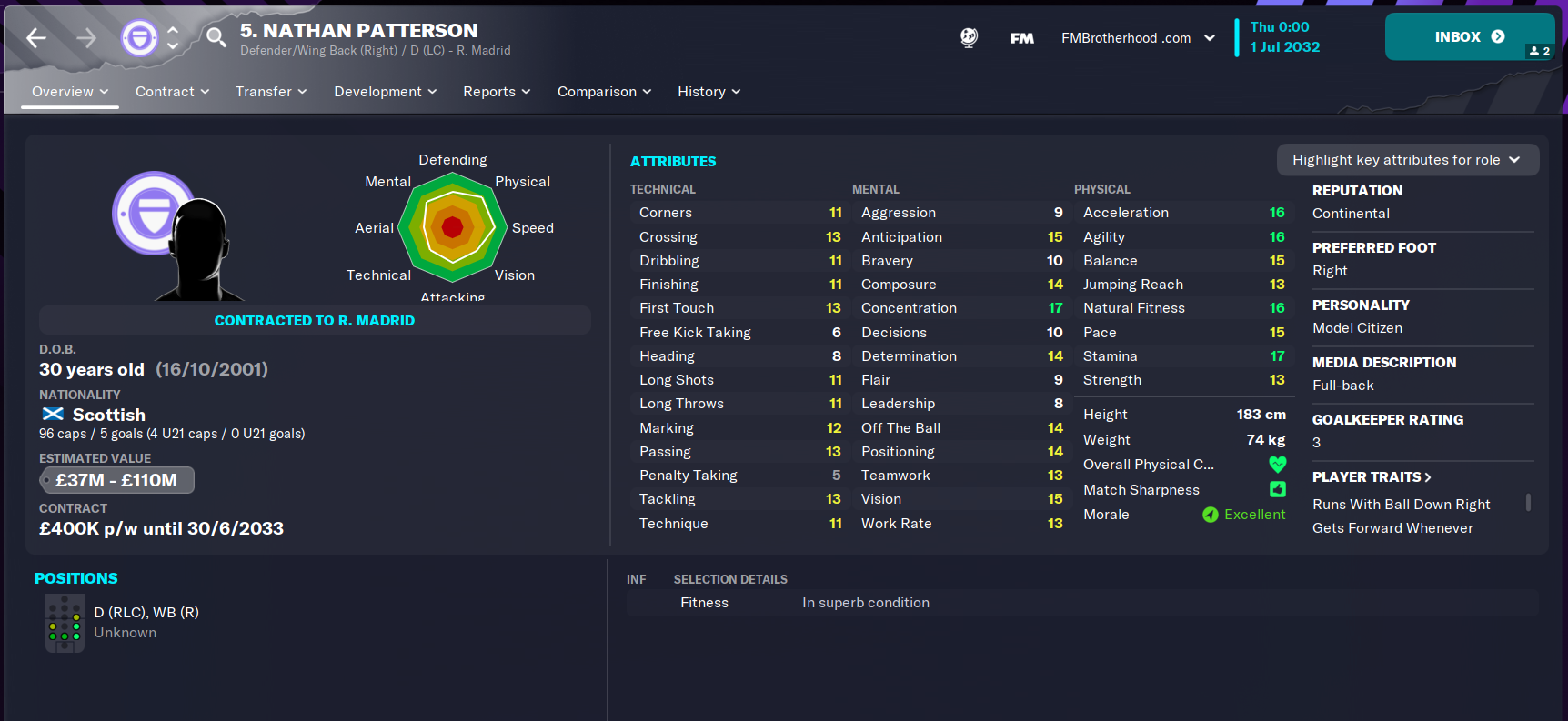 In our simulation, Nathan Patterson has become the starting right back for Real Madrid! He's also on a massive £400k per week, and was signed for £45 million. Patterson has some great attributes in his prime, including 17 concentration, 16 acceleration, and 17 stamina.
The Scottish wonderkid also mad 96 appearances for his country, a brilliant achievement!
4. Yan Couto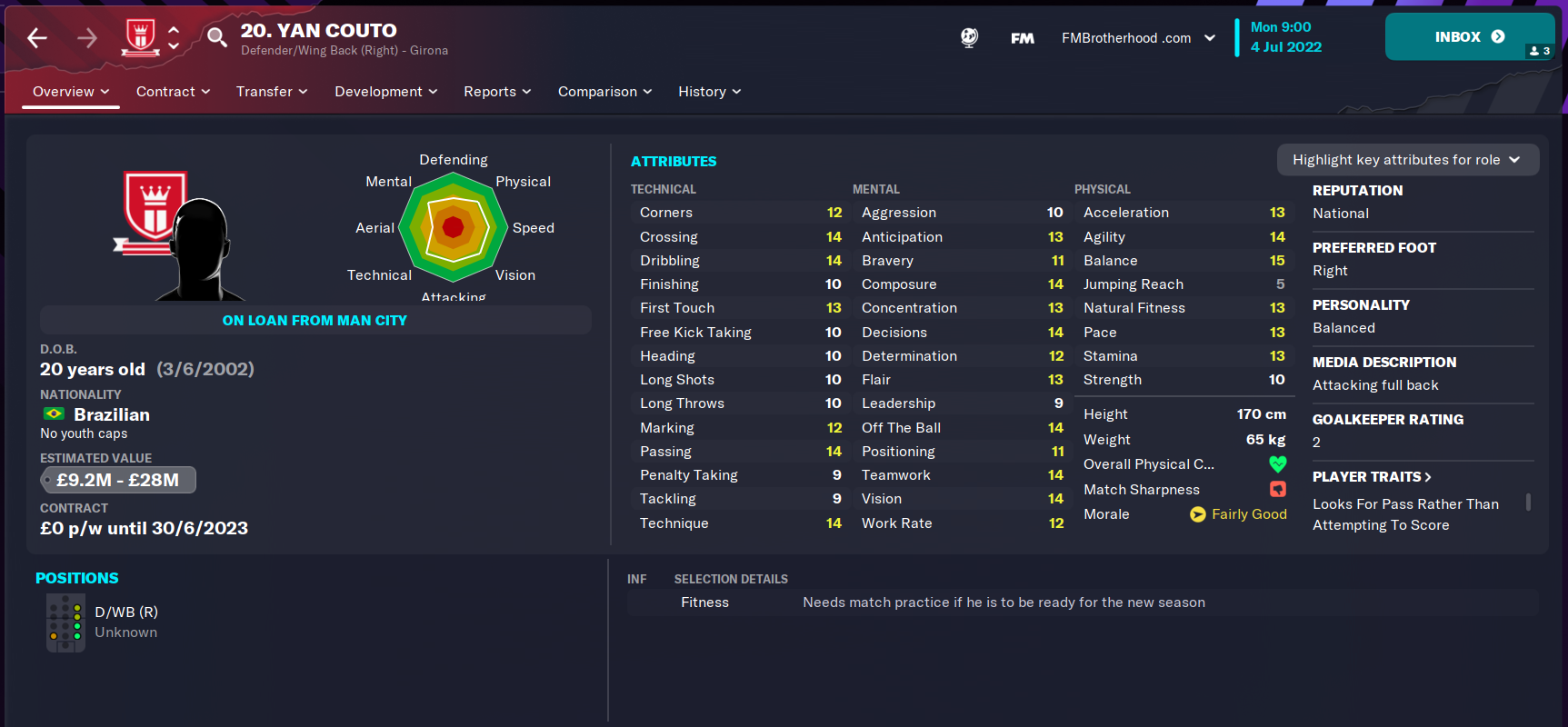 A brazilian RB wonderkid is next on the list. Yan Couto was signed by Manchester City a couple of years ago, and has spent his time since out on loan. With Kyle Walker getting older, Yan Couto will surely be given an opportunity in Man City's first team in the near future.
He's definitely an attacking focused right back wonderkid, with 14 crossing, dribbling, and technique.
Yan Couto in 2032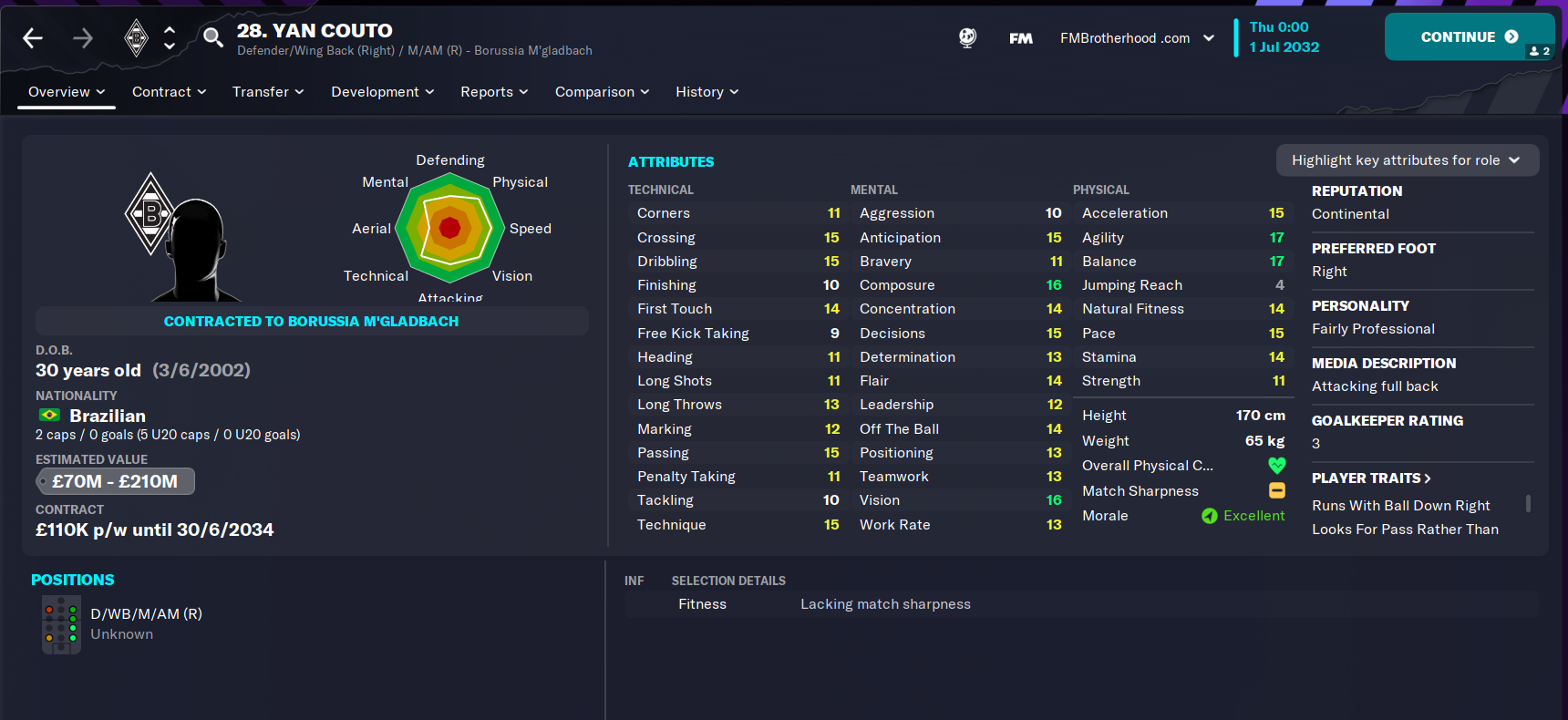 Yan Couto didn't really get a chance at Manchester City in our Football Manager 2023 simulation. He has found first team football at Borussia Monchengladbach, and developed into an excellent RB wonderkid. Couto has brilliant physical attributes, including 17 agility, 15 pace, and 17 balance.
A top RB wonderkid that definitely deserves a chance of first team football if Man City don't give it to him.
3. Tino Livramento – Best Wonderkid RB From England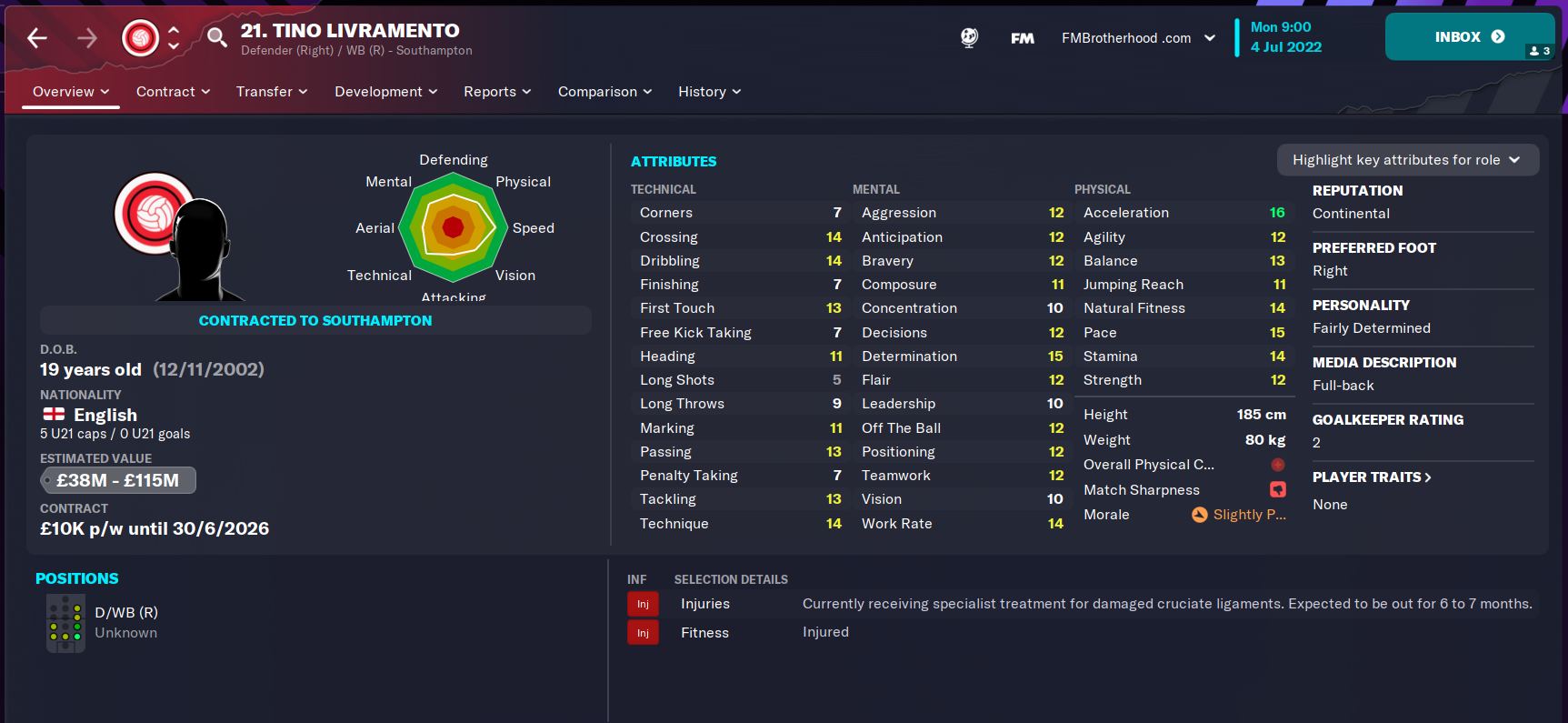 Tino Livramento was signed by Southampton from Chelsea for just £5 million in the 2021/22 season. He impressed in the Premier League, before picking up a long term injury. Football Manager have given his attributes a big increase from FM22, now having 14 crossing, 13 tackling, and 16 acceleration.
If you're looking for more English wonderkids, a couple of them feature in our FM23 CM wonderkids article. Check it out here!
Tino Livramento in 2032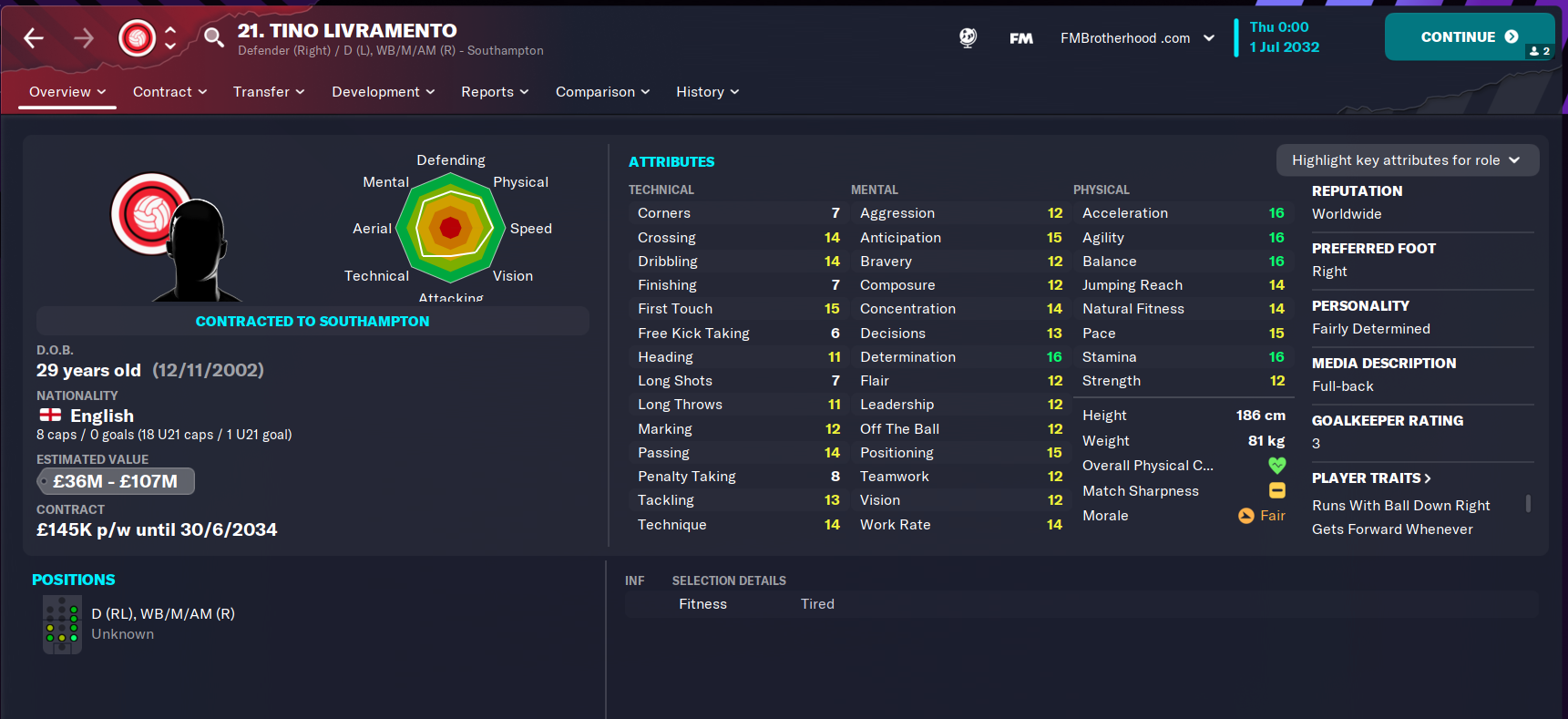 Livramento has become a stalwart in Southampton's defence, making 370 league appearances for the club. He's also managed to play for England 8 times, which is impressive considering the incredible talent England have at right back, including Reece James and Trent Alexander-Arnold.
Livramento is excellent mentally, with his lowest mental attributes being rated 12. He's also a quick right back that can put in a great cross.
A top class wonderkid right back, who just misses out on the number 1 spot.
2. Joe Scally – Second Best Right Back Wonderkid in FM23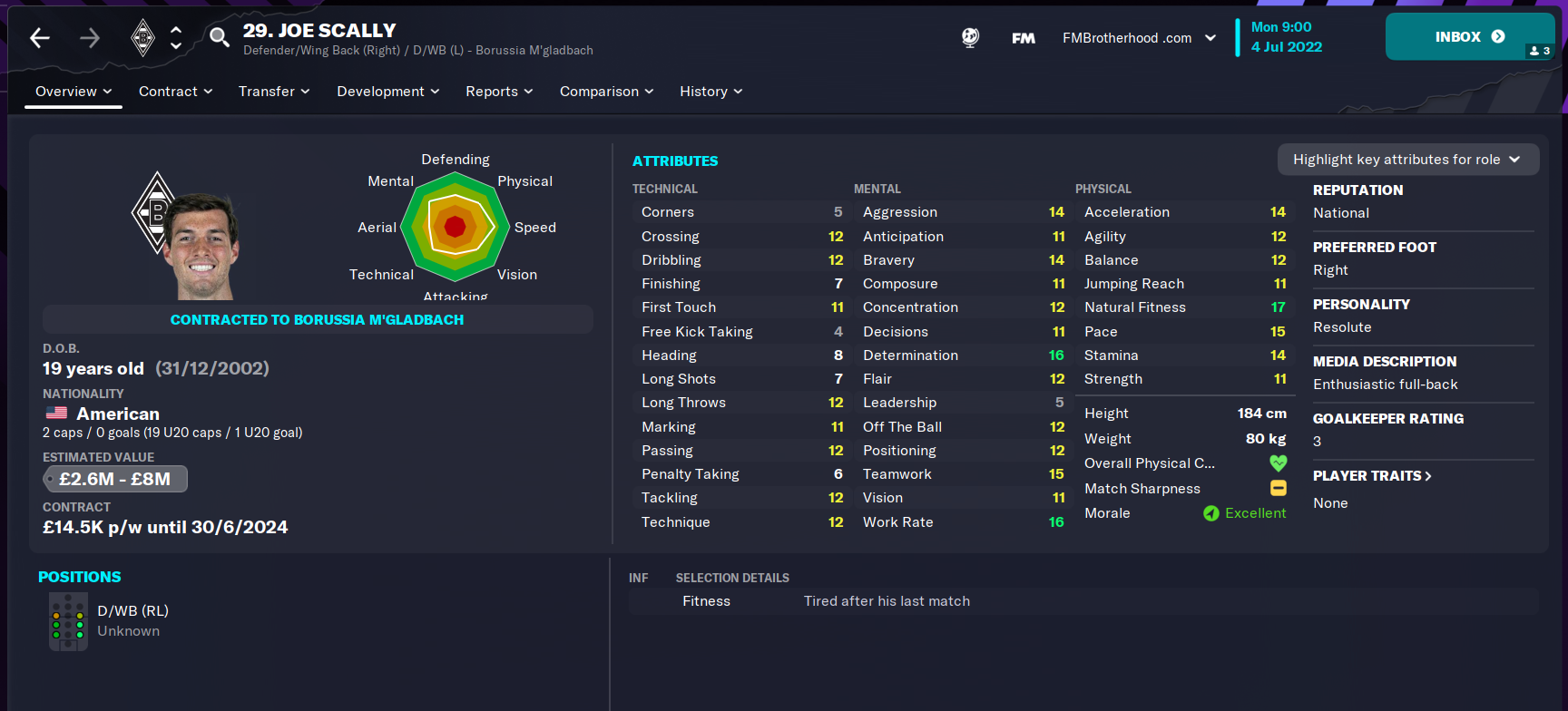 This player might be a shock to many of your to be the second best FM23 right back wonderkid, but Joe Scally deserves the number two spot. He has 16 determination and work rate, which are two fundamental attributes in helping a wonderkid reach their potential.
Joe Scally is available to sign in the first season of your FM23 save for just £5 million, which is a great bargain for this wonderkid RB. He features on our list of the best FM23 cheap wonderkids!
Joe Scally in 2032
In his prime, Joe Scally is worth over £100 million! This shows you could make a huge profit if you sign him in your first season for just £5 million. His defensive attributes have significantly improved, with his concentration increasing from 12 to 16, and his marking from 11 to 14. Scally has the player trait to get forward whenever possible, so he's effective in an attacking system. This is the second best FM23 right back wonderkid.
1. Ivan Fresneda – Best Right Back Wonderkid in FM23!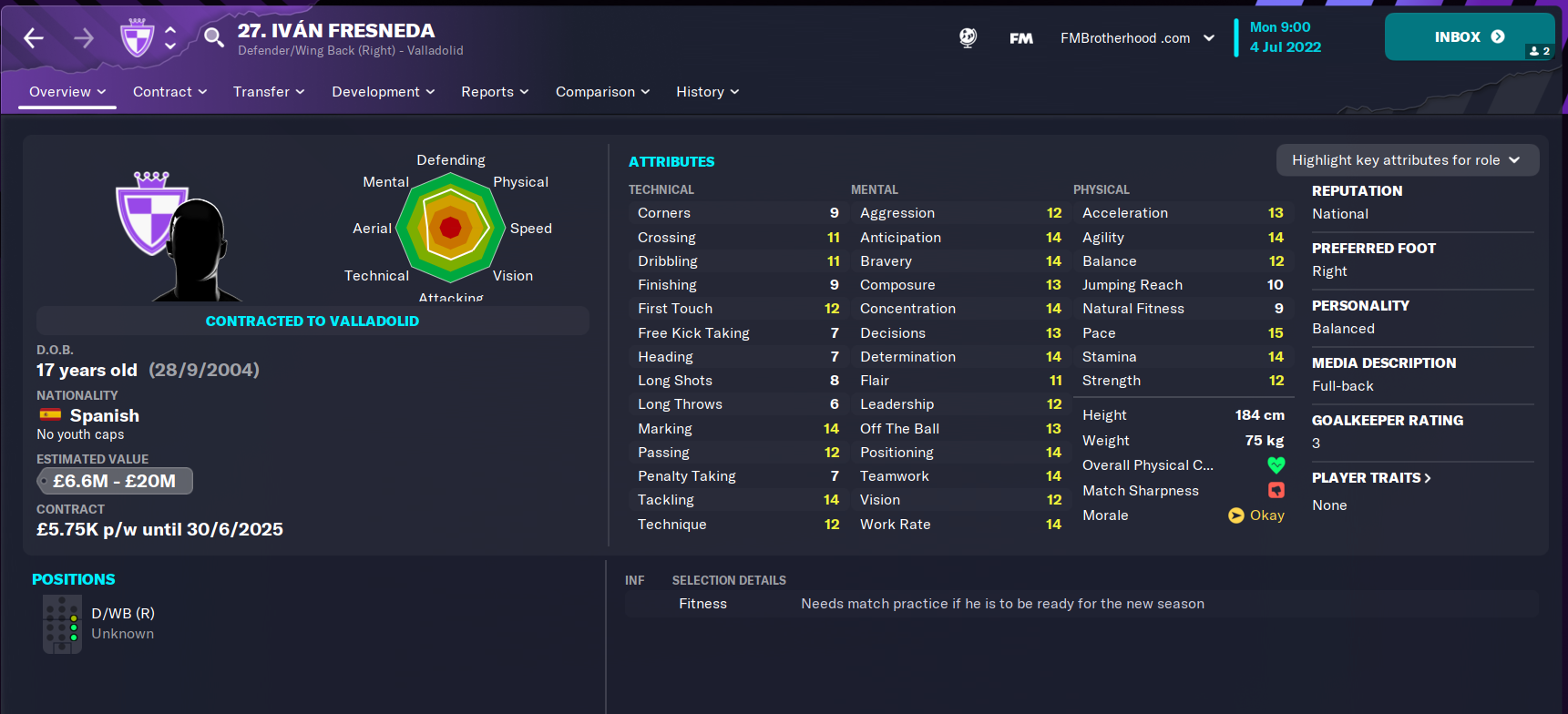 The best wonderkid right back in FM23 has to be Ivan Fresneda. He already has great defensive attributes for a teenager, which will get even better once he hits his prime. Fresneda also has 15 pace, which means he can quickly get up and down the right wing.
Sadly you can't sign Fresneda in the first FM23 season because he lately renewed his contract with Real Valladolid. However, he plays for a small team, so in your second season you might be able to get him cheaply.
Ivan Fresneda in 2032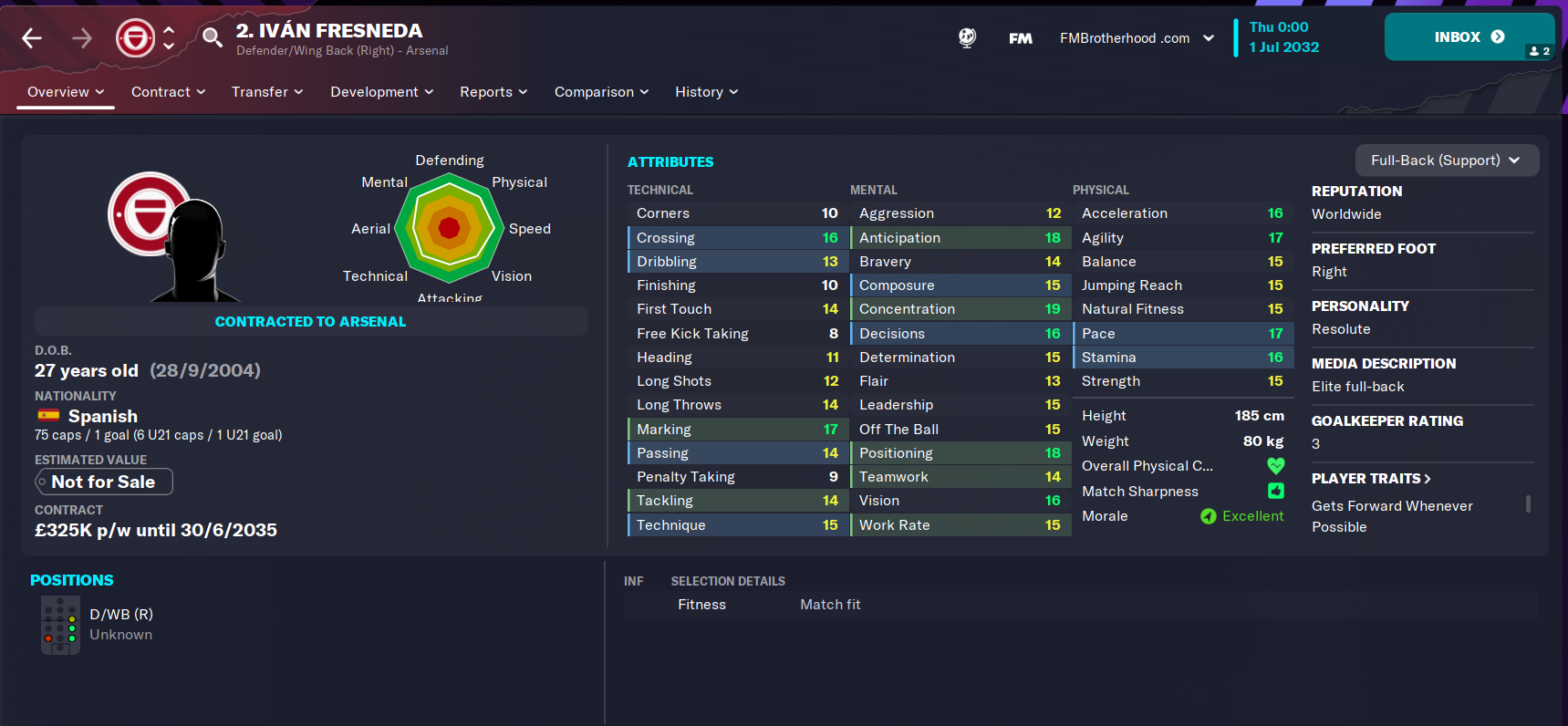 Now you can see why Fresneda is the best wonderkid right back in FM23, and has the potential to be the best right back in FM23. We cannot think of an RB with better attributes than this. He's amazing defensively, has 16 crossing, and is rapid. What else do you want in a right back?
If you take anything from this article, it has to be to add this wonderkid right back to your shortlist as soon as you begin your FM23 save.
Which FM23 RB Wonderkid Should You Sign?
Because of how cheap he is, and the world class potential ability, Joe Scally has to be the wonderkid right back you should sign. All of the RBs on this list are great, and Tino Livramento could possibly become better than Joe Scally. However, Ivan Fresneda is by far the best right back in FM23. Make sure to add all the right backs to your shortlist so you can track their development in your FM23 save.