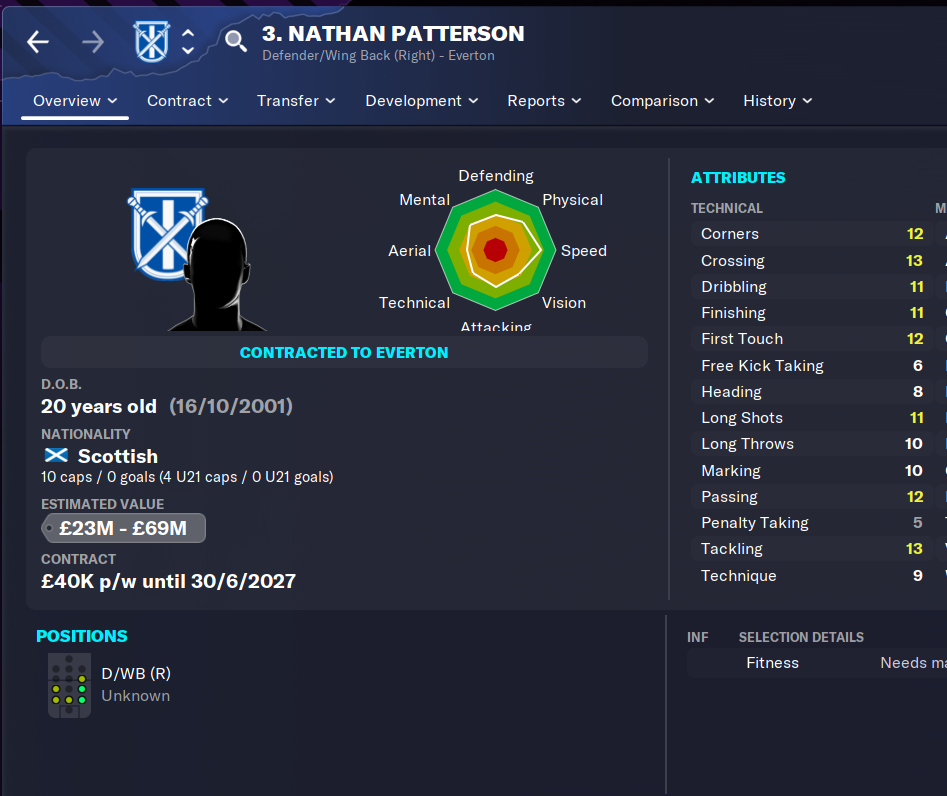 10 Best Scottish Wonderkids in FM23 You Must Sign!
By callum | February 21, 2023 | 714 Views
Best FM23 Scottish Wonderkids
Who doesn't love signing Football Manager wonderkids? One of the best parts of playing the FM is signing young players and seeing them develop into the best players in the game. That's why we've found the 10 best Scottish wonderkids FM23 has to offer! Scotland is home to some brilliant wonderkids. Read on to find out who makes our list.
What's a Scottish Wonderkid in FM23?
Wonderkids are young players who have the potential ability to develop into great players. The Scottish wonderkids on our list are aged 20 or under at the start of your FM23 save.
10. Mackenzie Carse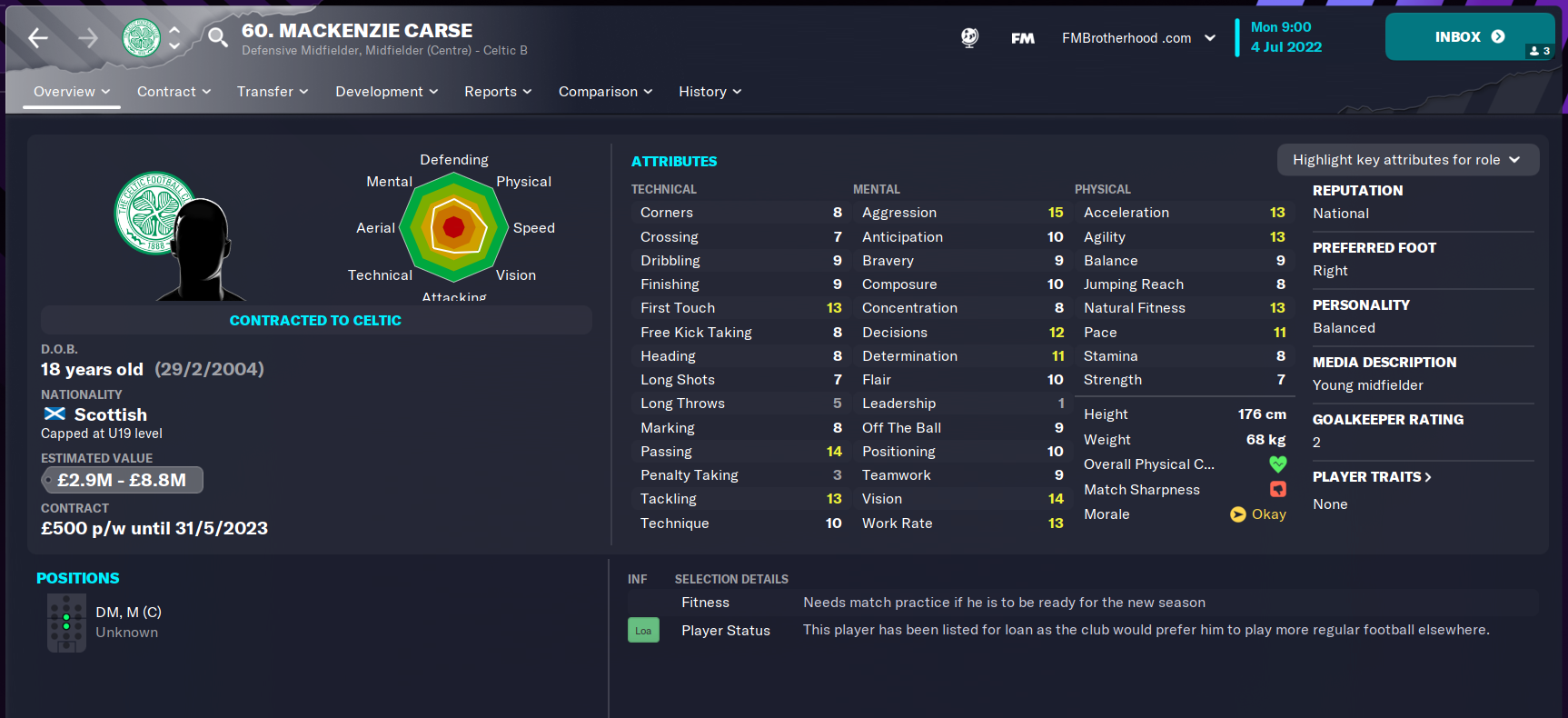 10th On our list of the best Scottish wonderkids FM23 has to offer is Mackenzie Carse. He's 18 years old and plays for Scottish champions Celtic in their youth team.
For a teenager, he has brilliant passing, vision, and first touch, which are all important attributes for a defensive midfielder.
Celtic want a lot of money for their Scottish wonderkid, asking for just under £6 million to sell him.
Mackenzie Carse in 2032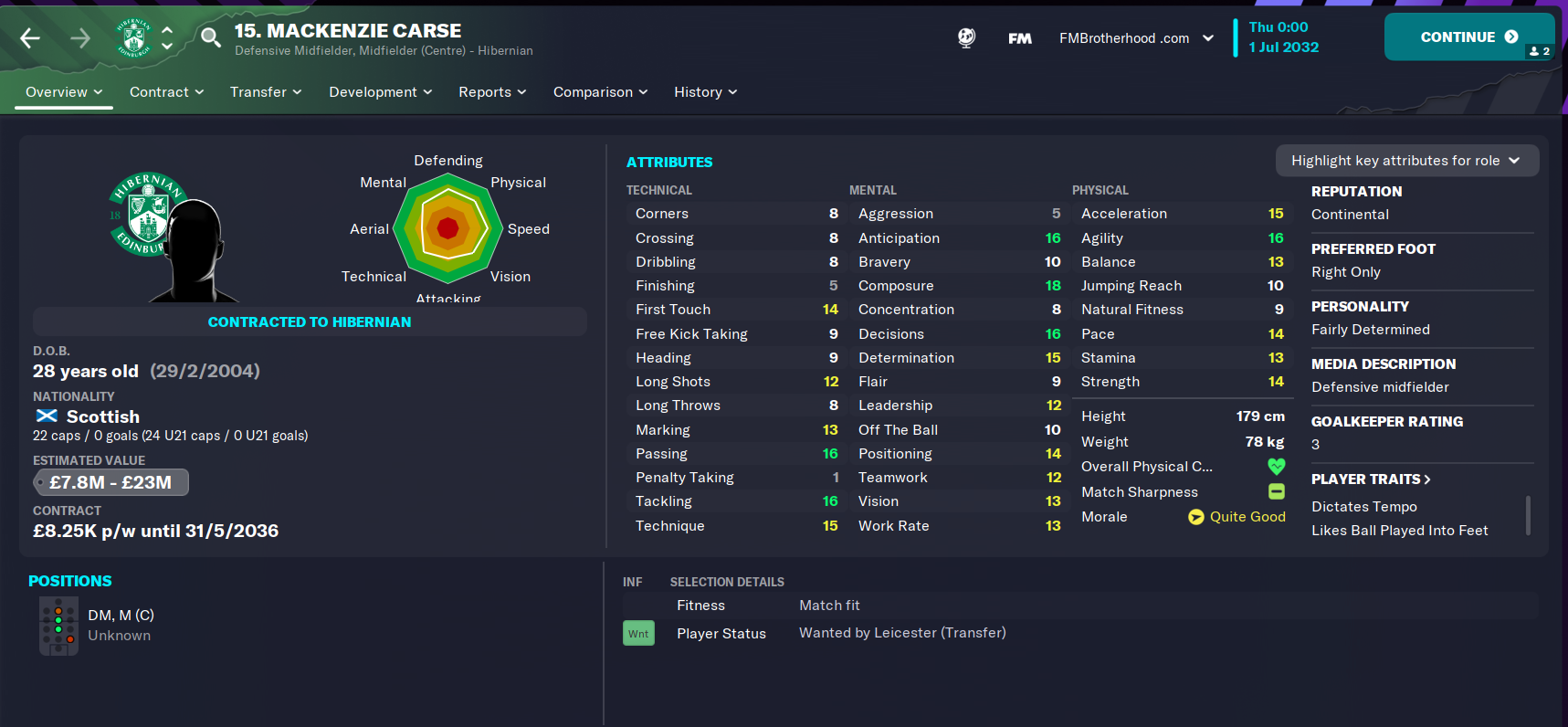 In our FM23 simulation, Mackenzie Carse went onto sign for Hibernian, and made over 20 appearances for Scotland! Some of his mental attributes have improved incredibly. His anticipation has increased from 10 to 16, his decisions from 12 to 16, and his composure from 10 to 18.
This Scottish wonderkid is definitely a player to keep an eye on in your FM23 save.
9. Louis Jackson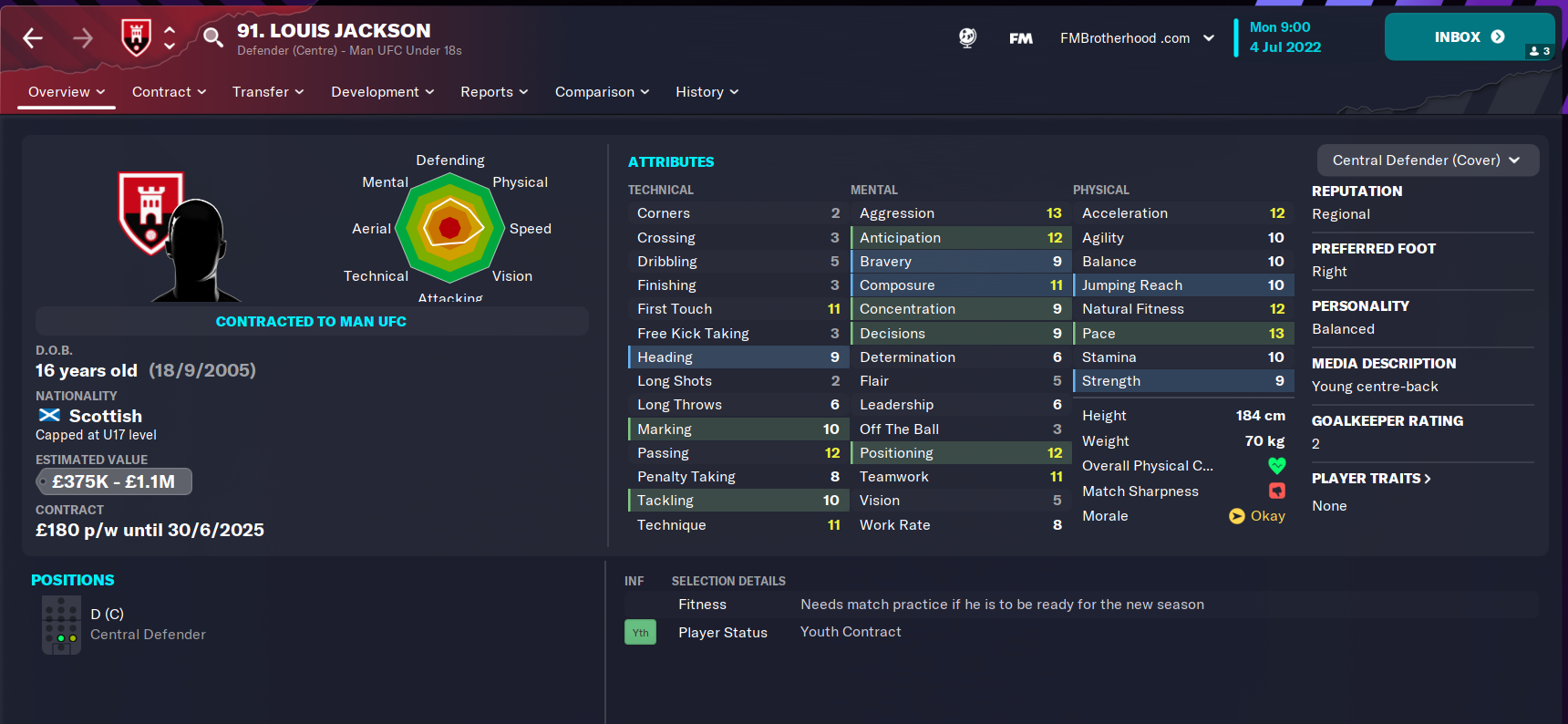 One of the youngest Scottish wonderkids FM23 has to offer is Manchester United academy player Louis Jackson. At just 16, he has good pace and passing, which will set him up to be a modern day centre back.
As Jackson is only 16 years old, at the start of your FM23 save he wants to stay at Manchester United to continue his development. Add him to your shortlist so you can keep monitoring his development as seasons go by.
Louis Jackson in 2032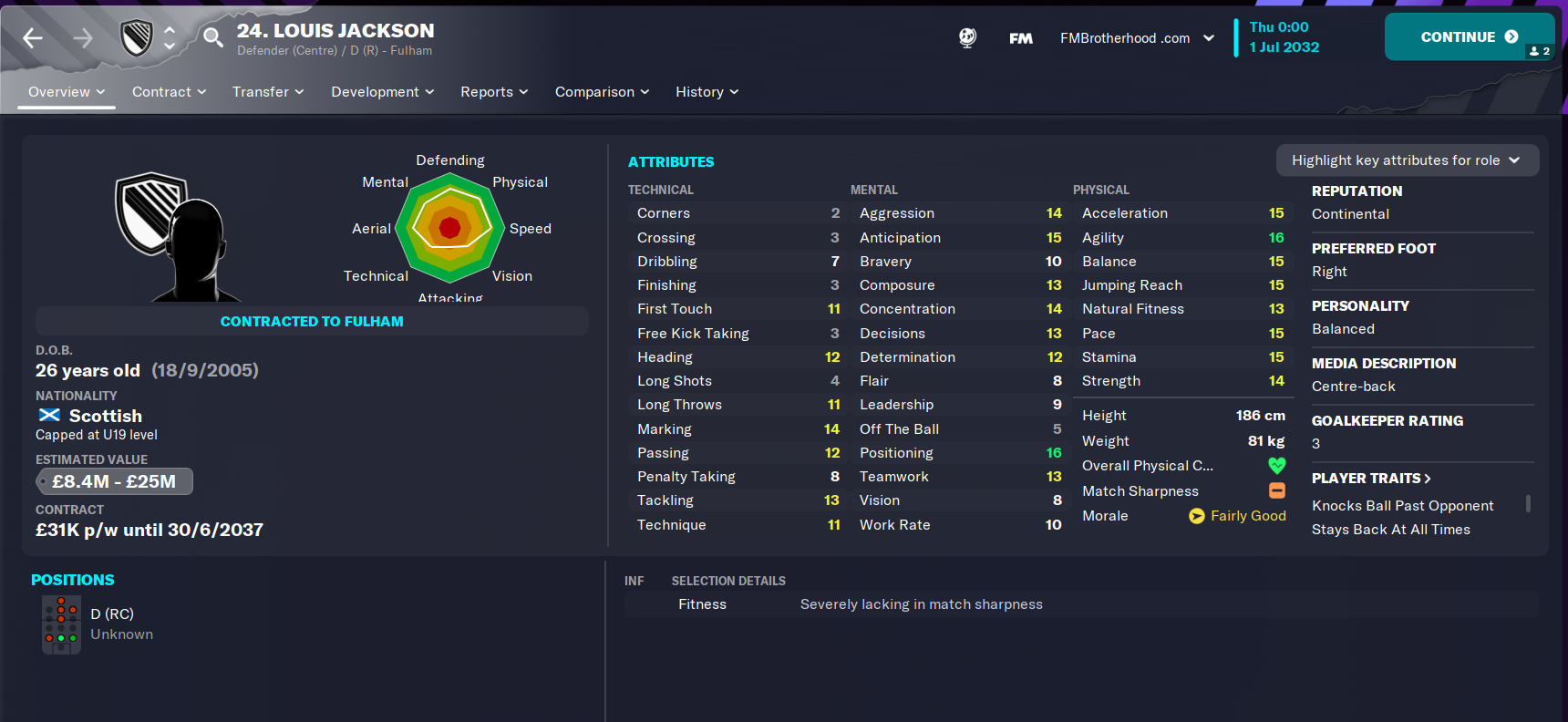 In 2032, Jackson has brilliant, well rounded physical attributes. This includes 15 pace, 16 agility, and 15 stamina. He's also competent defensively, with 14 marking, 13 tackling, and 16 positioning.
If you're looking for an FM23 Scottish wonderkid centre back with pace to help you play a high defensive line, definitely consider Louis Jackson.
8. Josh Doig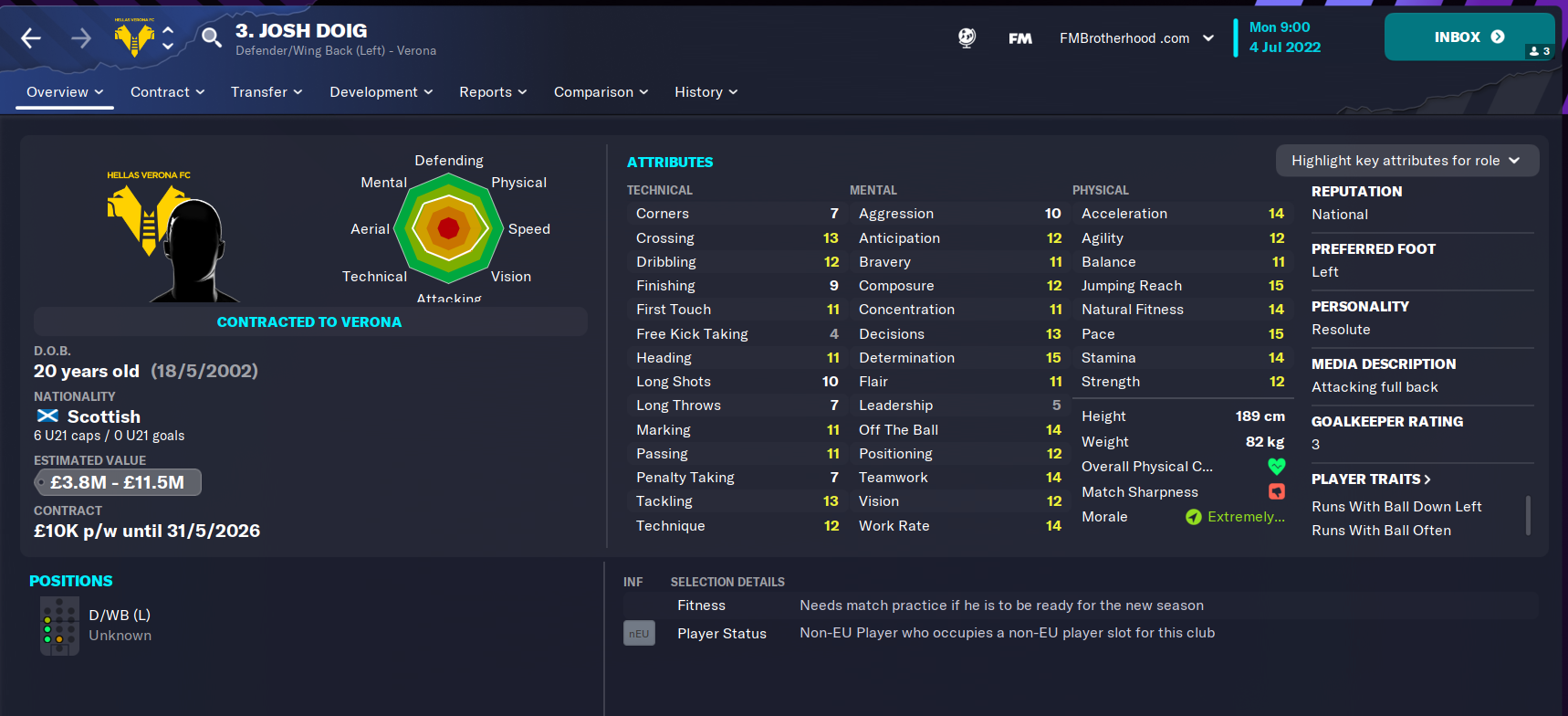 Josh Doig is an excellent Scottish wonderkid left back that has earned himself a move to Italian side Hellas Verona. He's already capped for Scotland at youth level, but will struggle to get first team appearances, with Andy Robertson, Kieran Tierney, and Aaron Hickey above him in the pecking order.
As Doig has recently signed for Verona, you'll have to wait until the second season of your FM23 save to try and sign him.
Josh Doig in 2032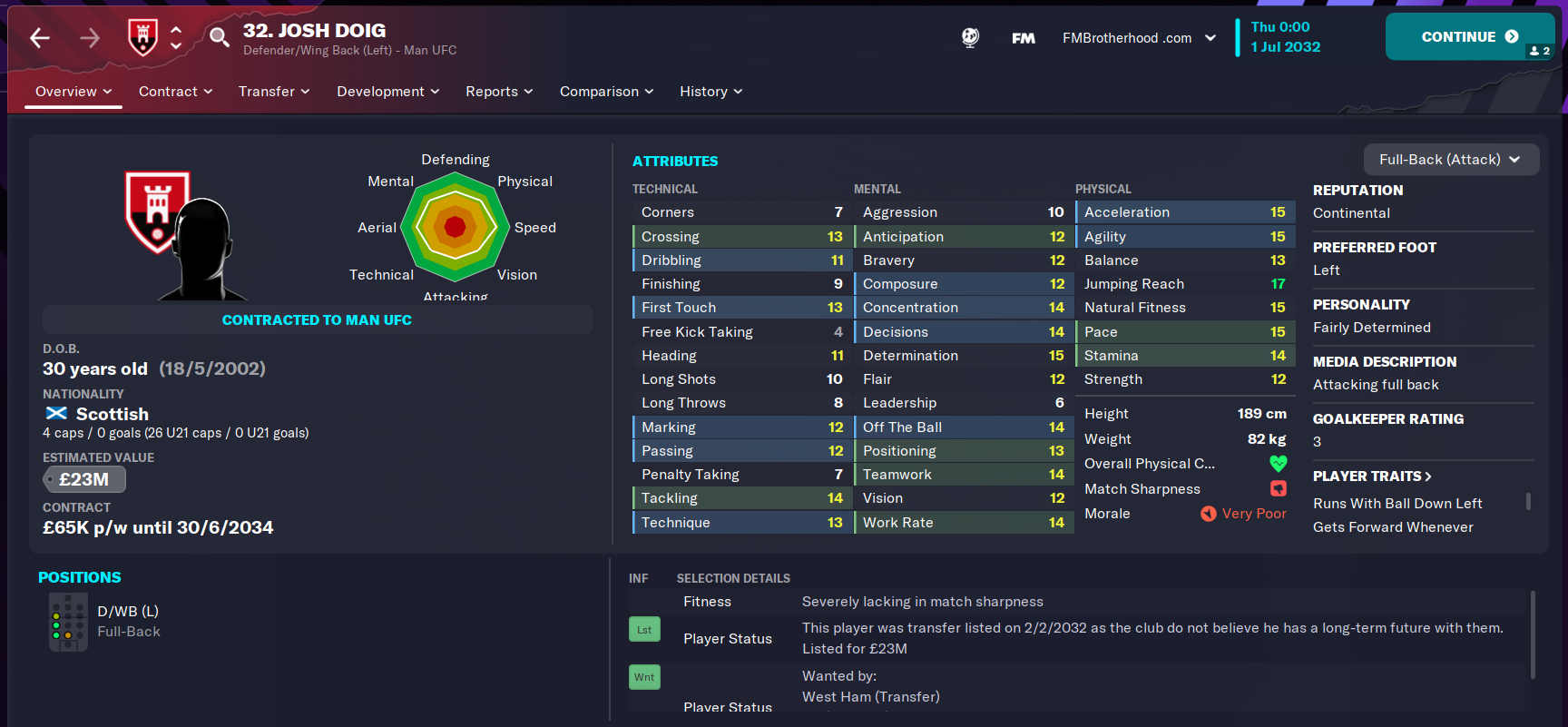 Josh Doig has gone onto sign for European giants Manchester United! His standout attributes in his prime are 15 determination, 17 jumping reach, and 15 pace. He's also managed to get some first team caps for Scotland.
Doig is the second best Fm23 Scottish wonderkid left back, read on to find out who the best one is.
7. Calvin Ramsay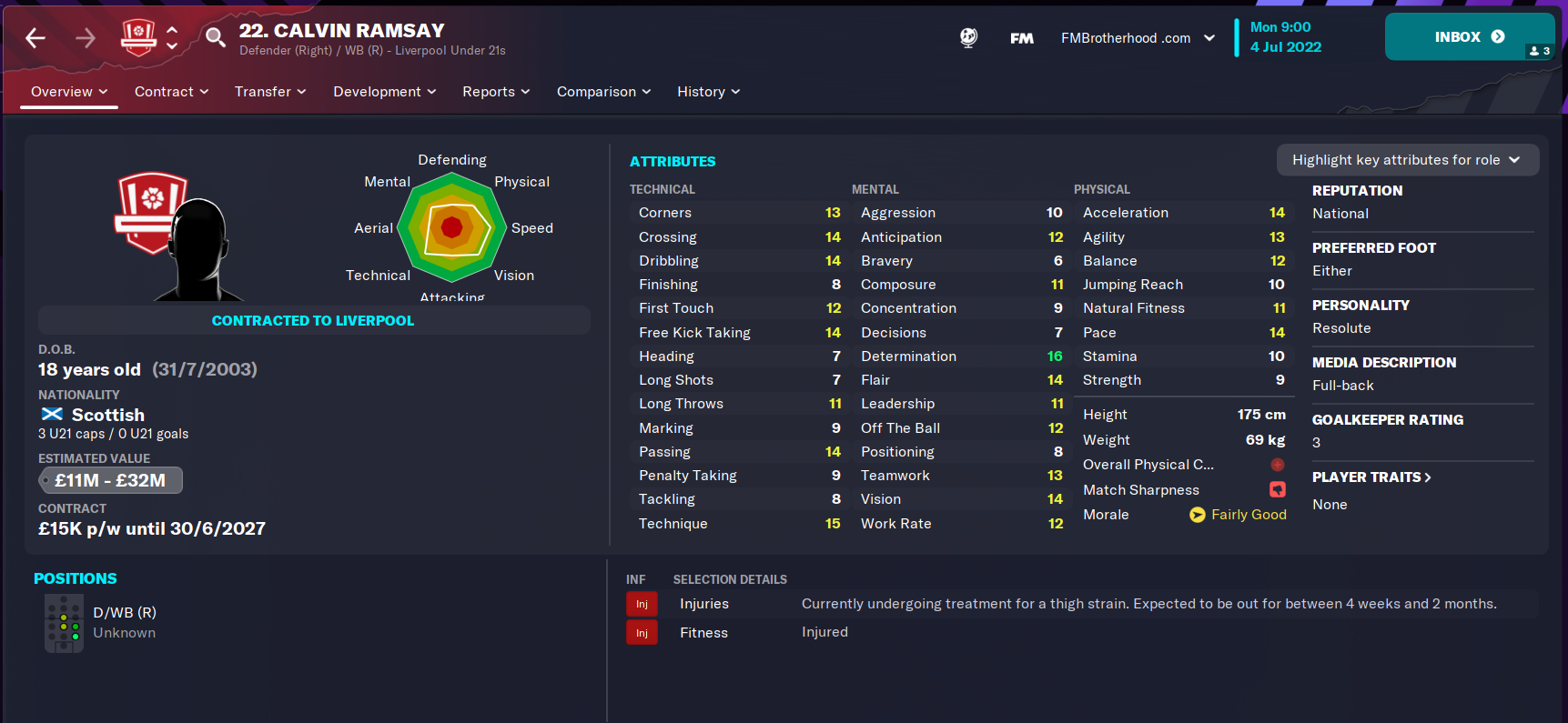 Calvin Ramsay spent years in the Aberdeen youth academy, and after impressing in the first team, earned himself a move to Liverpool!
Ramsay is a modern day full-back with great attributes going forward, such as 14 crossing, 14 vision, and 15 technique. Definitely a brilliant understudy to Trent Alexander-Arnold. However, if he doesn't get regular first team football, he won't develop into the amazing Scottish wonderkid in FM23 he can become.
Calvin Ramsay in 2032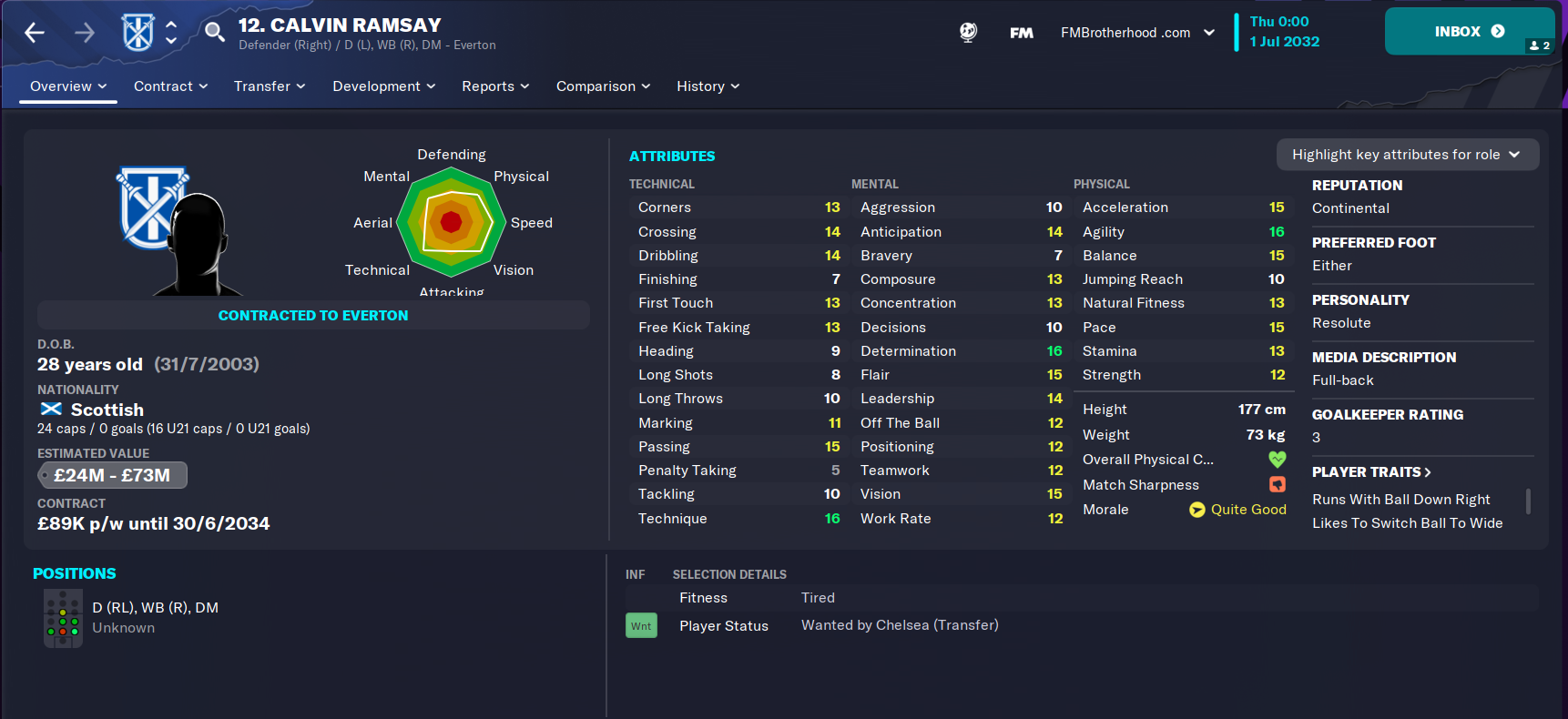 Calvin Ramsay becomes an even better attacking right back in his prime. He's also either footed, and is now has the ability to play at left back. This makes Ramsay a great option to have in your squad if you get injuries.
Ramsay's physical attributes have developed a lot, with his agility increasing from 13 to 16, and his strength going up from 9 to 12.
6. Jensen Weir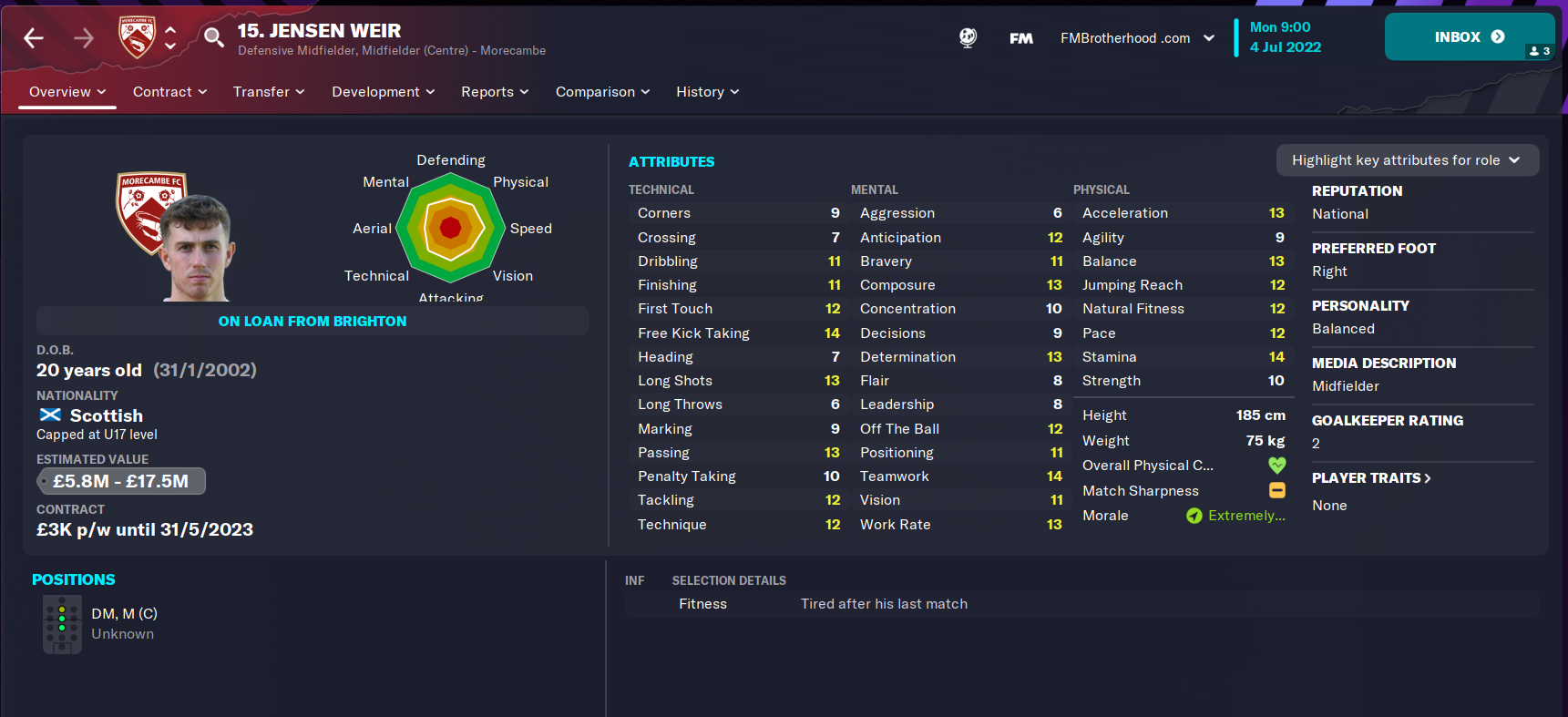 Jensen Weir is a Scottish wonderkid defensive midfielder on loan at Morecambe from Premier League side Brighton. Weir is already capped by Scotland at youth level, and has some solid attributes you would look for in a midfielder. This includes 14 teamwork, 13 passing, and 14 stamina.
As Jensen Weir is on loan in the first FM23 season, add him to your shortlist so you can try and sign him in your second season.
Jensen Weir in 2032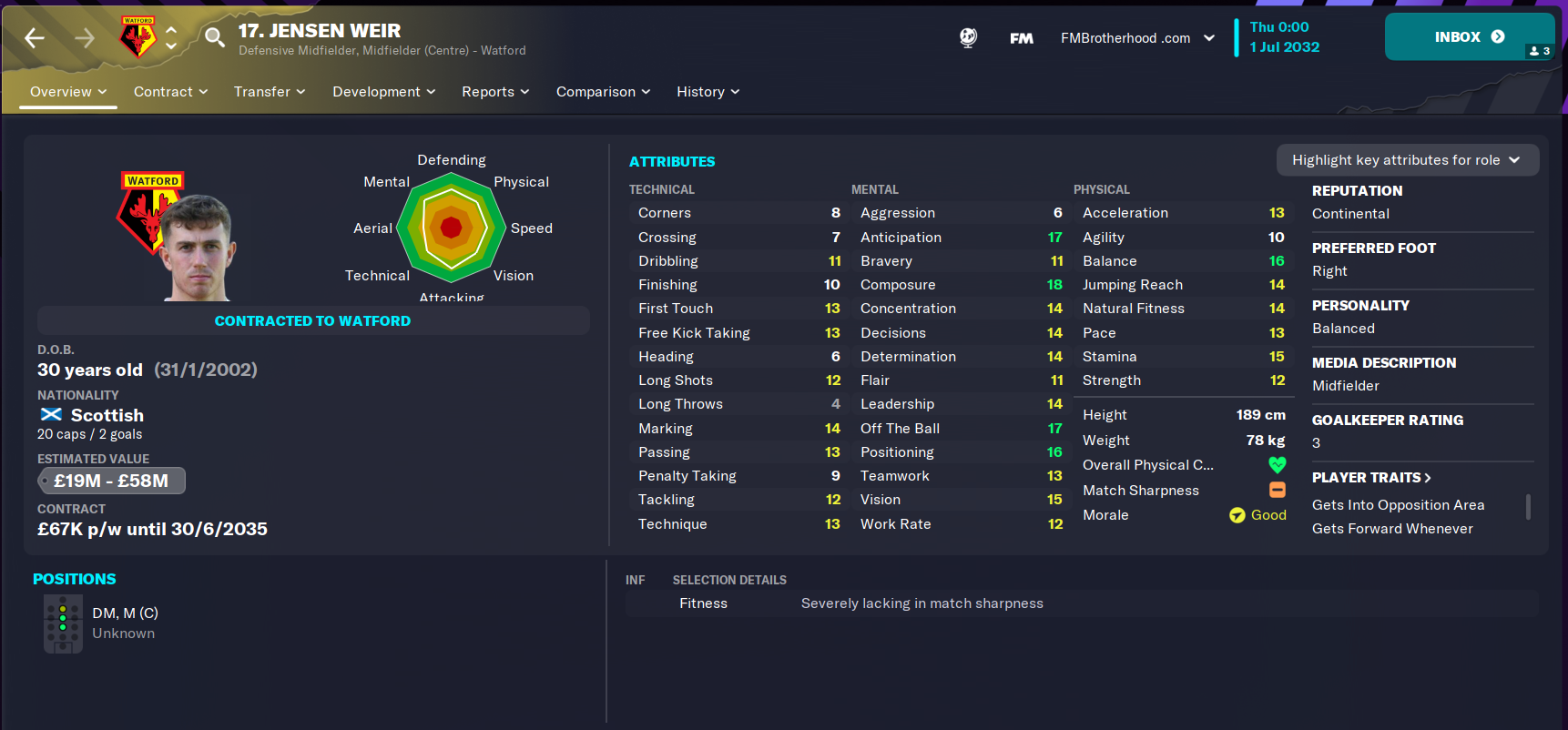 In 2032, Jensen Weir is worth almost up to £60 million! His mental attributes are where he really stands out in his prime. With 18 composure, 17 anticipation, and 17 off the ball, Weir is brilliant at reading the game. Jensen Weir is a wonderkid in the Championship.
Weir could be better technically, but He mental attributes definitely make up for it.
5. Leon King – SPL Wonderkid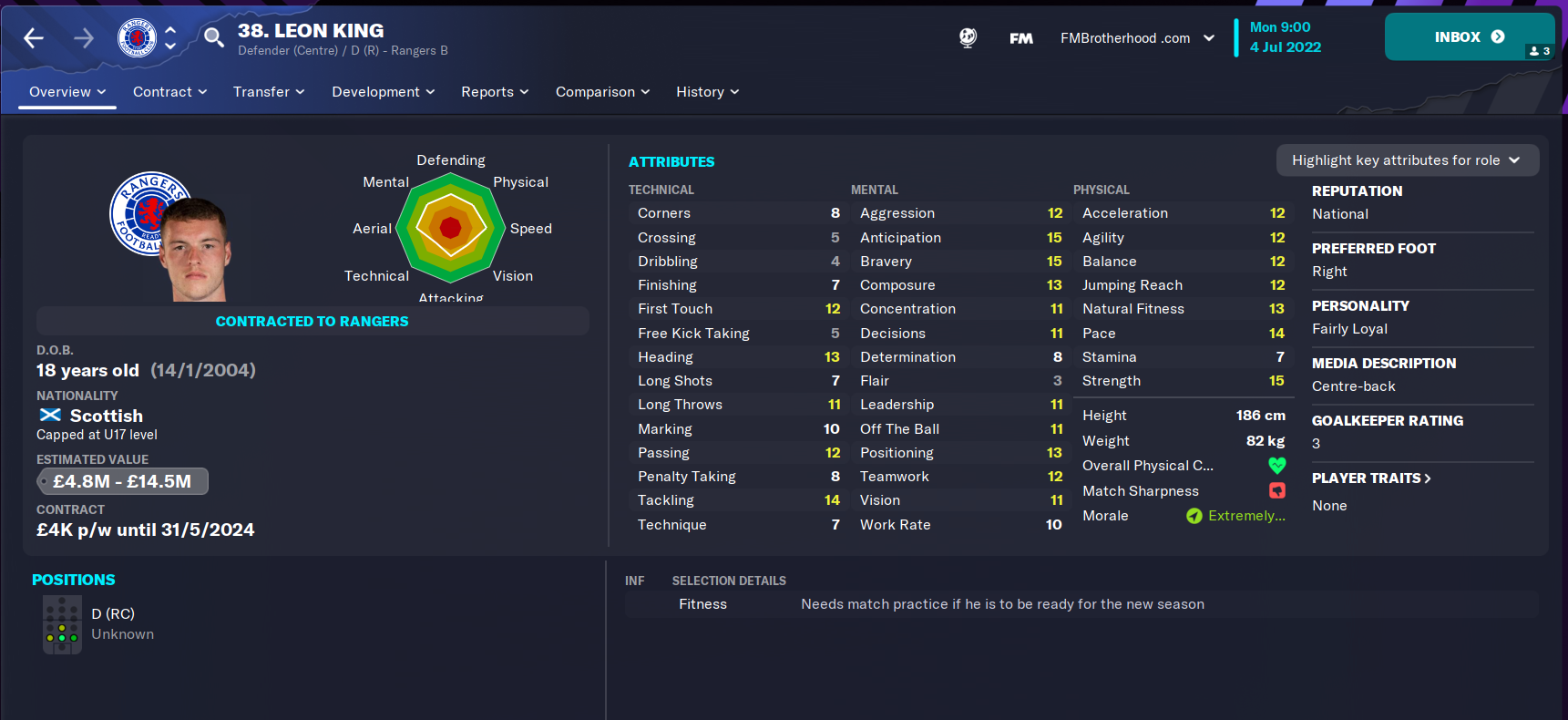 King is an exciting wonderkid centre back that's playing regular first team football for Rangers at just 18 years of age. He has promising potential, but has poor determination and work rate. If you sign King and give him a mentor with high determination and work rate, you could improve these attributes which would help King reach his amazing potential.
If you want to sign this Scottish wonderkid in FM23, he'll cost you £9.5 million.
Leon King in 2032
In his prime, King is very well rounded physically, with his lowest physical attributes being 13 natural fitness and stamina. He has over 50 caps for Scotland, and plays in the Premier League for Leeds United.
You won't find many better FM23 Scottish Wonderkid centre backs.
4. Ben Doak – Youngest Scottish Wonderkid in FM23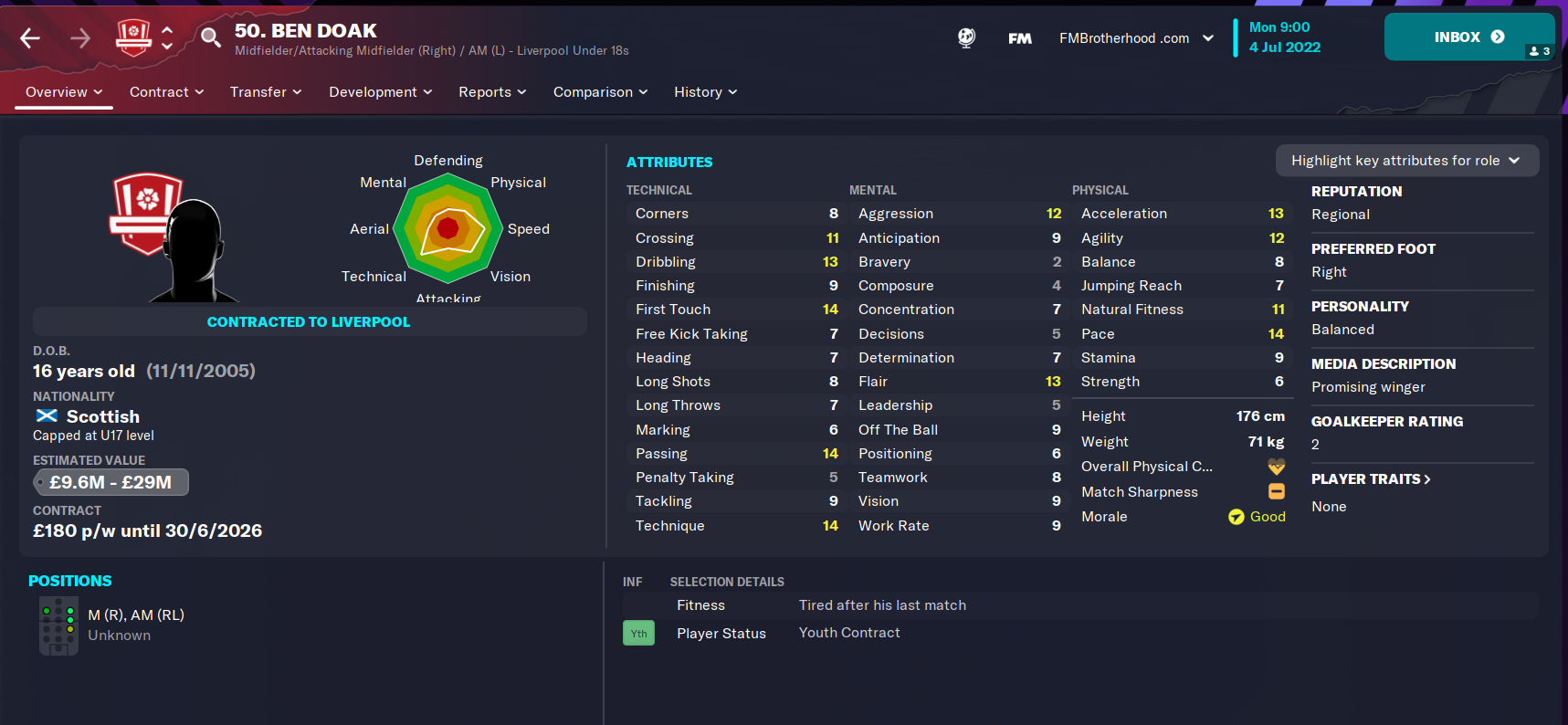 Ben Doak is a young winger that grew up in the Celtic academy, but recently signed for Liverpool. For only 16 years old, he has fantastic technical attributes, including 14 passing, 13 dribbling, and 14 technique. However, if he wants to become a top right winger, he'll have to significantly develop some of his mental attributes.
Ben Doak in 2032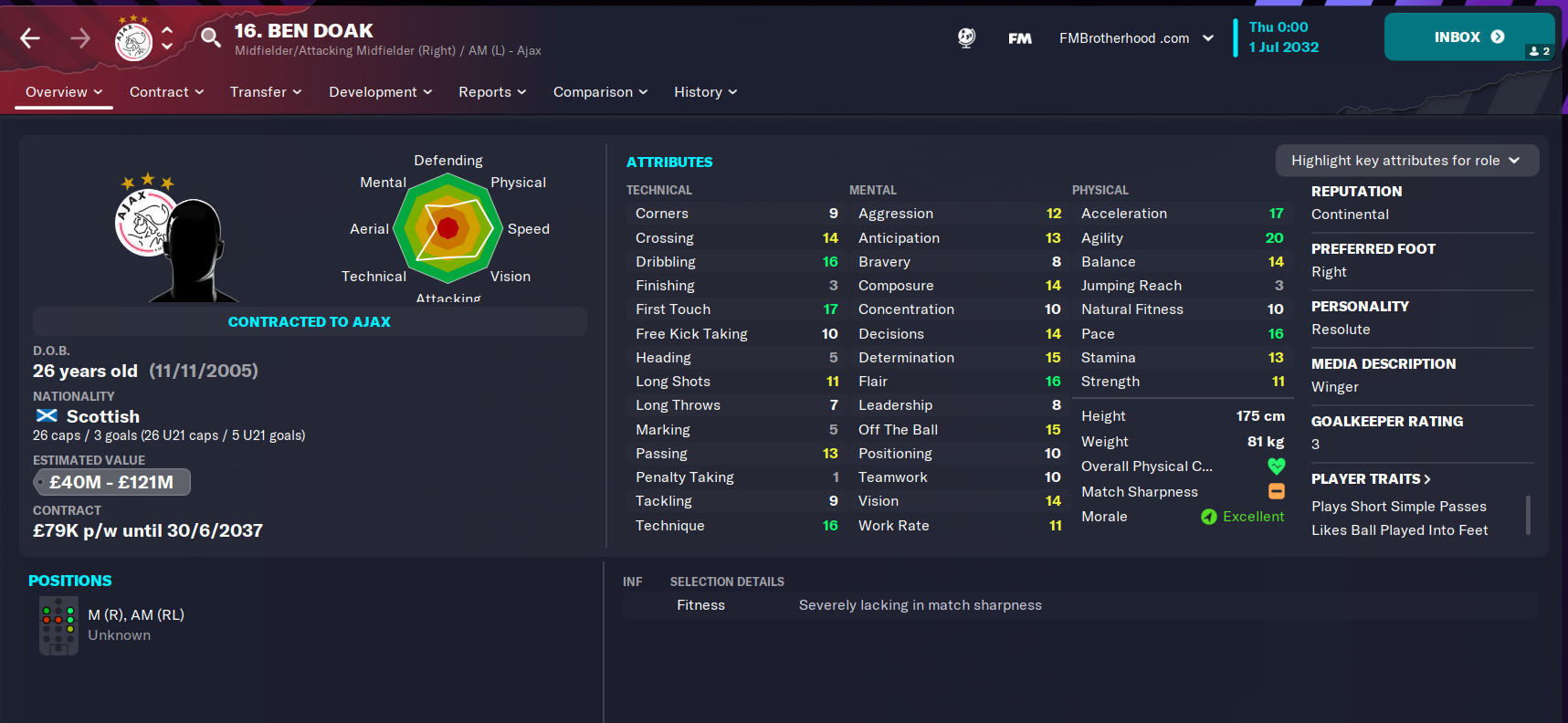 In 2032, this Scottish wonderkid plays for Ajax and is worth over £40 million! He has an astounding 20 agility, which coupled with his rapid pace, means he can get past any defender with ease.
After 10 seasons of your FM23 save, Ben Doak is only 26 years old. This means he could still get slightly better than he already is. Doak is definitely the best FM23 Scottish wonderkid winger. Read on to find out the 3 best Scottish wonderkids FM23 has to offer!
3. Kerr Smith – Best FM23 Scottish Wonderkid CB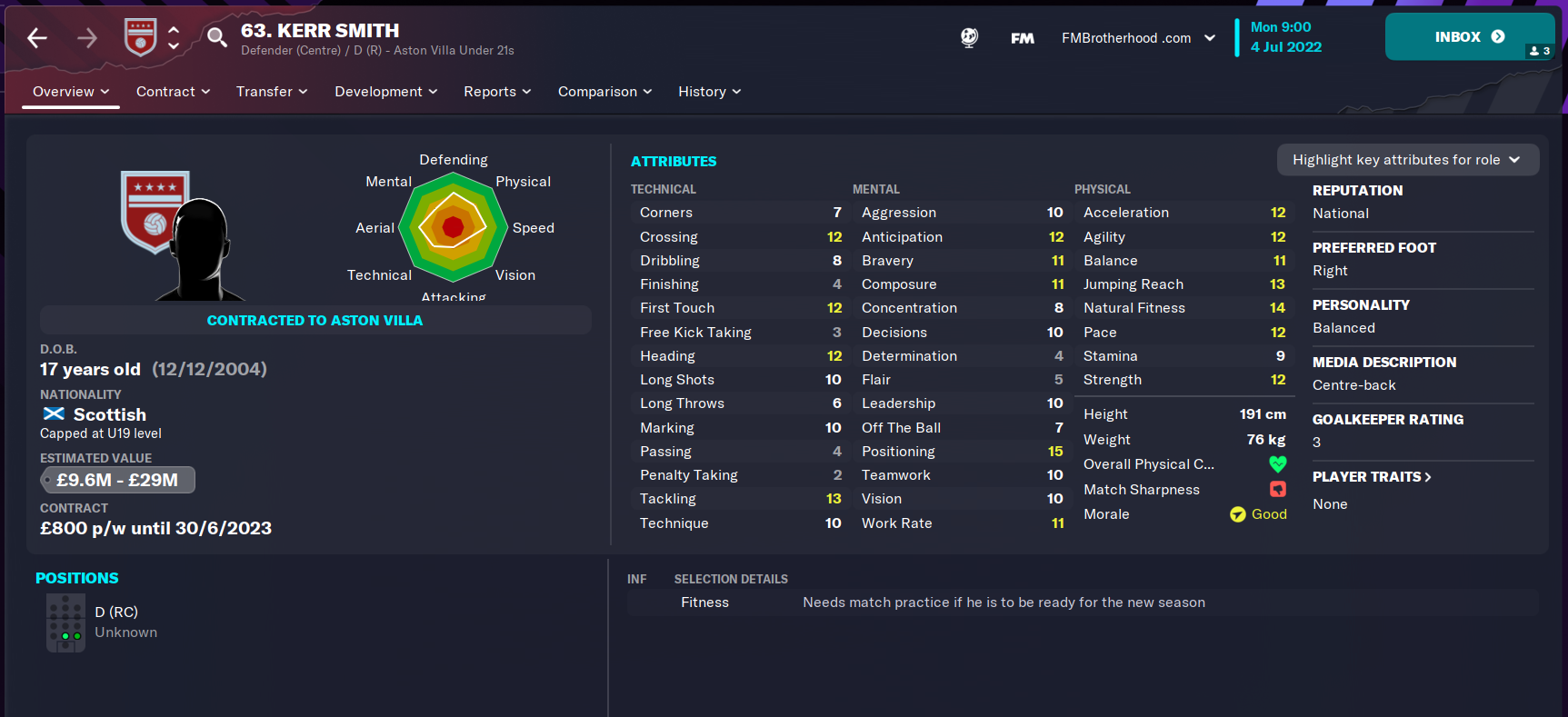 Smith has recently signed for English Premier League side Aston Villa after playing first team football for Dundee United at just 16 years of age! He's already good enough physically to play first team football, standing at 191cm tall, and having solid physical attributes.
Having just signed for Aston Villa, this Scottish wonderkid doesn't want to leave in the first FM23 season.
Kerr Smith in 2032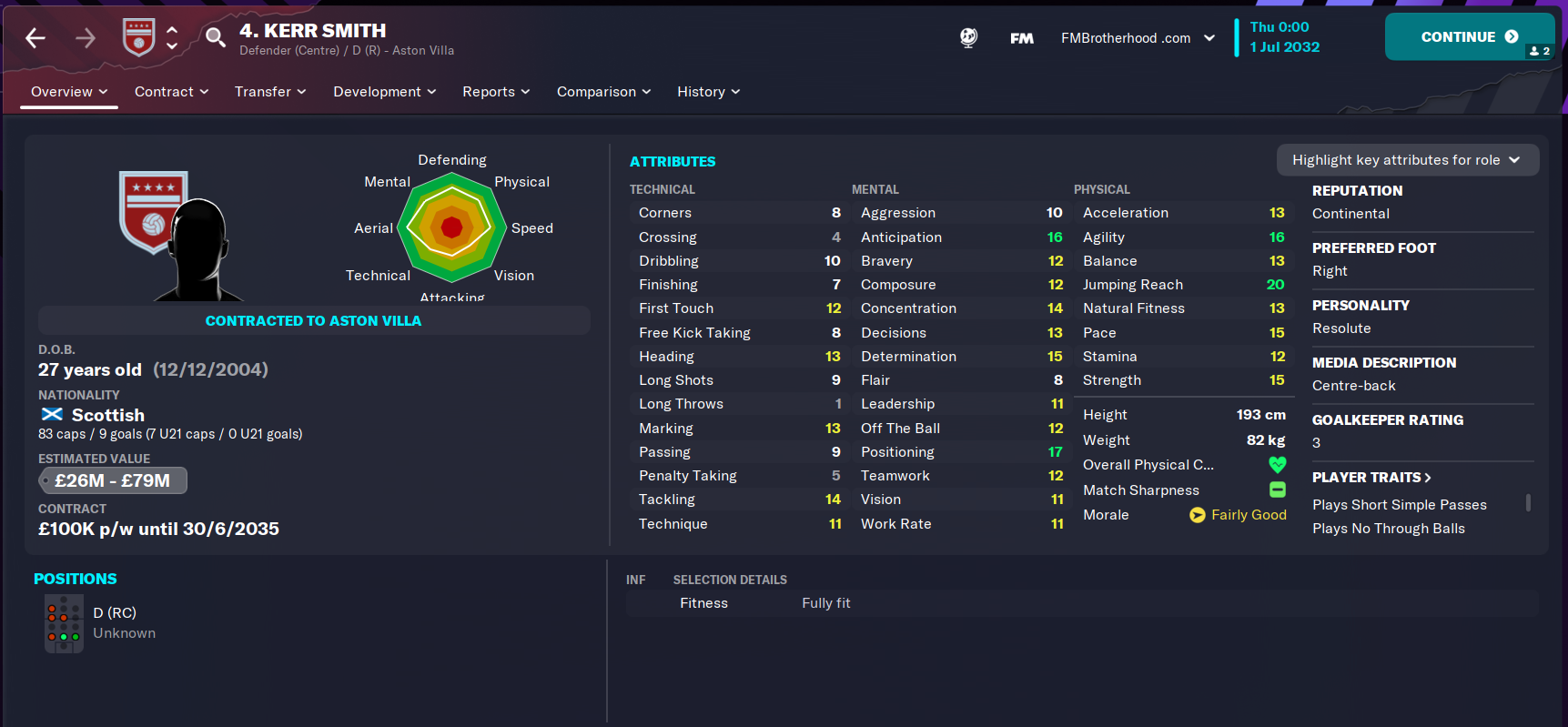 In our FM23 simulation, Kerr Smith has stayed at Aston Villa and has over 80 international caps for Scotland! In his prime, Smith's standout attributes are 16 anticipation, 17 positioning, and 20 jumping reach! This makes him effective in both penalty boxes.
Kerr Smith is an excellent Scottish wonderkid in FM23. If you can sign him early on in your save, he could be a bargain.
2. Aaron Hickey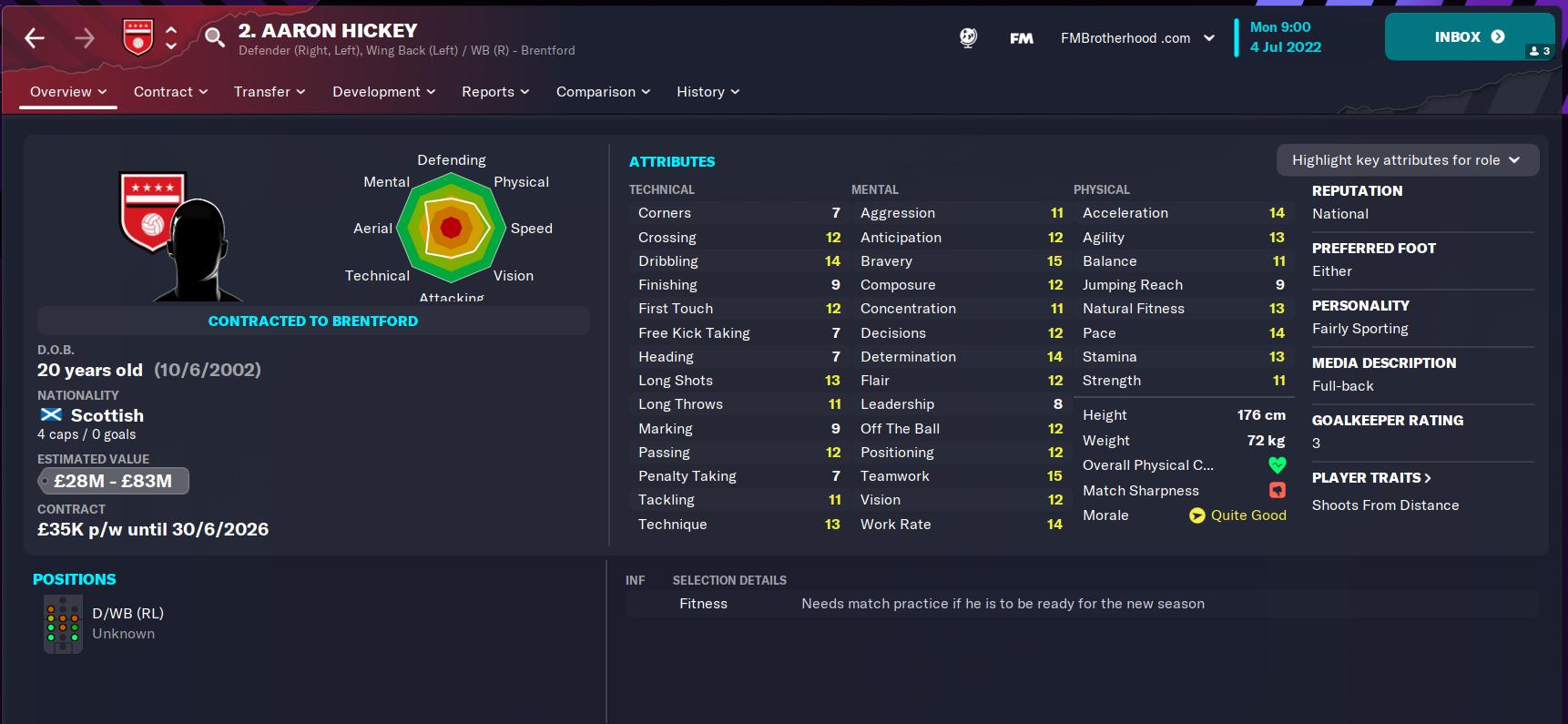 Aaron Hickey is a brilliant full-back with well rounded attributes physically, technically, and mentally. He's also extremely versatile, with the ability to play on both sides as full-back and wing-back.
Like a lot of Scottish wonderkids on this list, Hickey just signed for his new club. Add him to your shortlist so you can continue to scout him and check his development throughout your save.
Aaron Hickey in 2032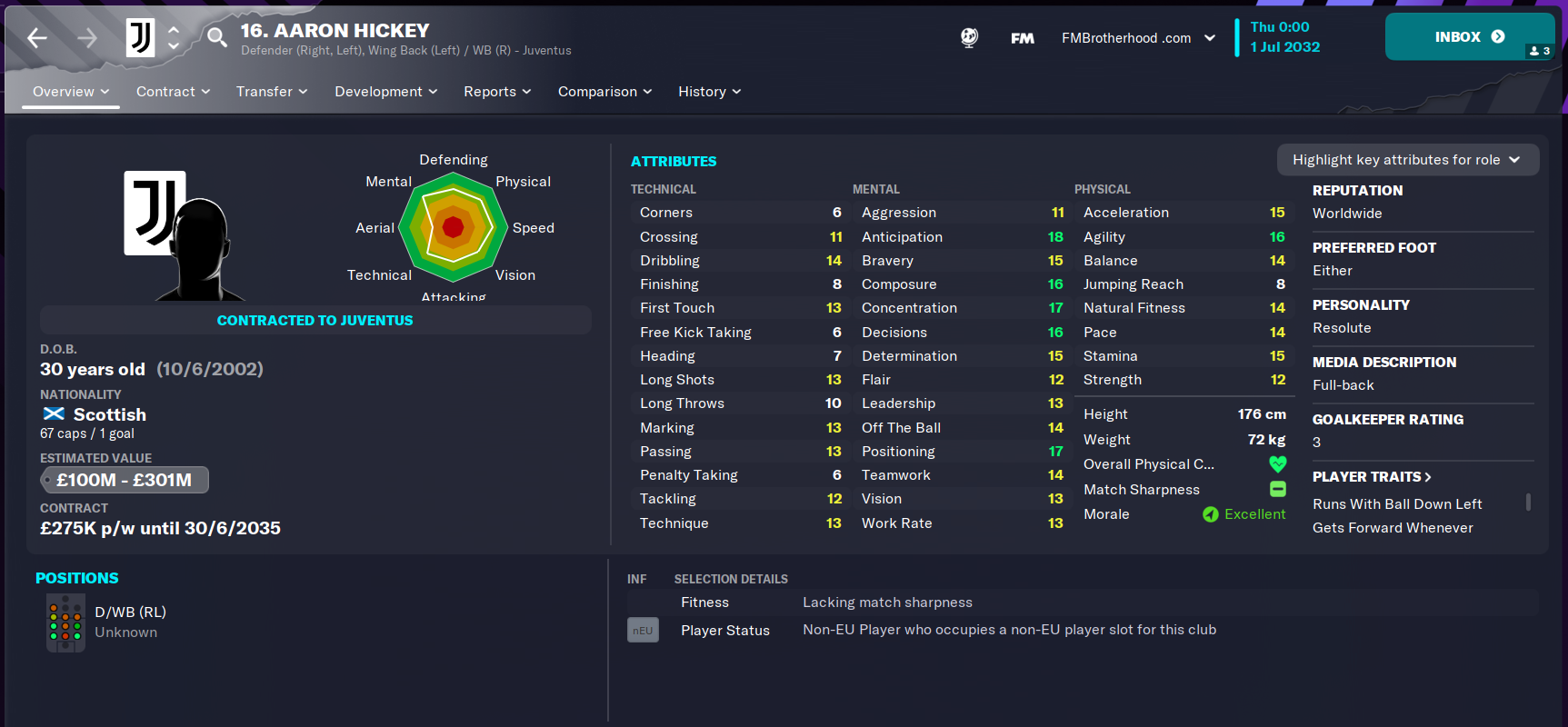 This FM23 Scottish Wonderkid is now worth at least £100 million! His mental attributes are ridiculous, with 5 being rated at least 16. Hickey has the potential ability to become one of the best full-backs in Football Manager.
If you get the opportunity to sign this Scottish wonderkid in FM23, you must do it!
1. Nathan Patterson – The Best Scottish Wonderkid in FM23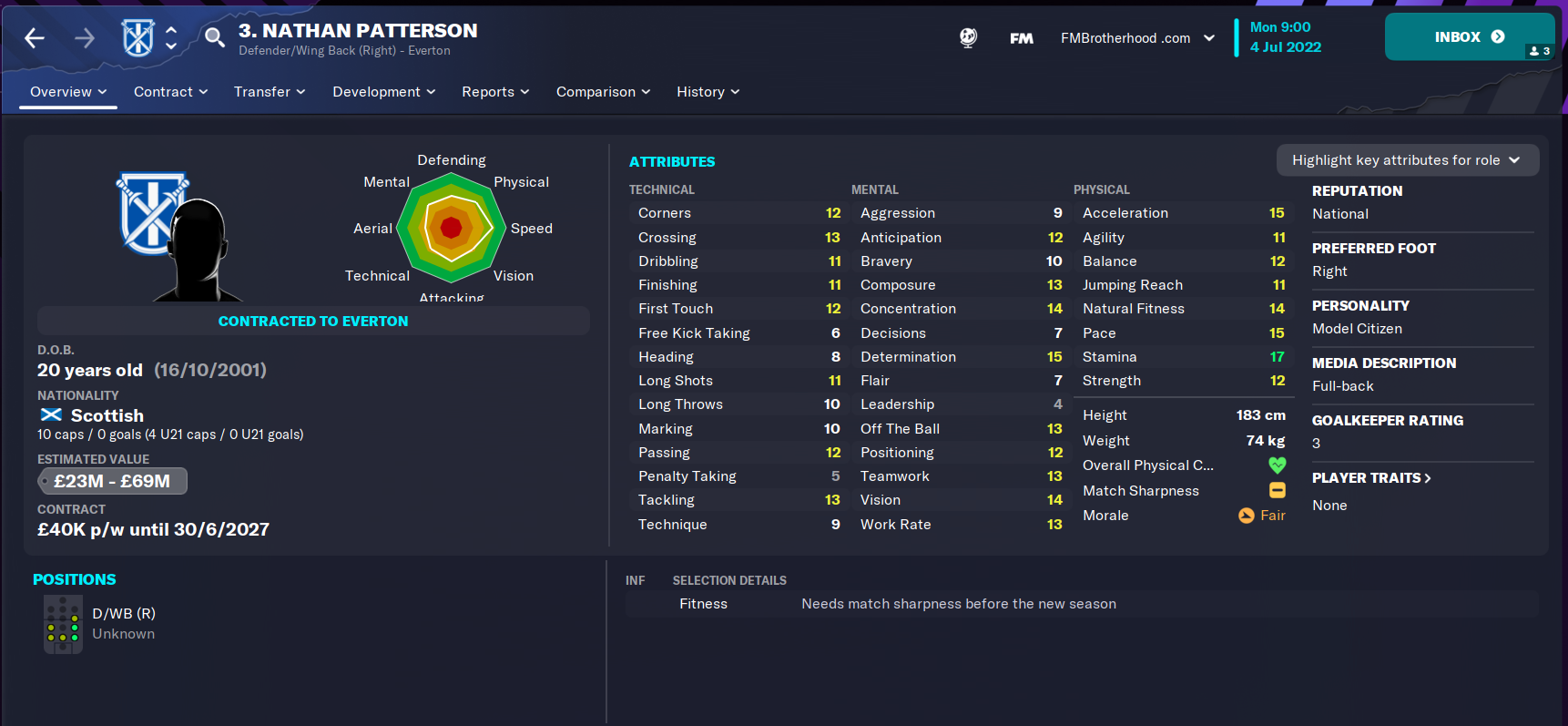 Nathan Patterson is the best Scottish Wonderkid FM23 has to offer! He's got great determination, work rate, and a model citizen personality. These are 3 fundamental factors that help a wonderkid reach their potential.
Patterson had only played a handful of first team league appearances for Rangers before joining Everton for more than £10 million!
Nathan Patterson in 2032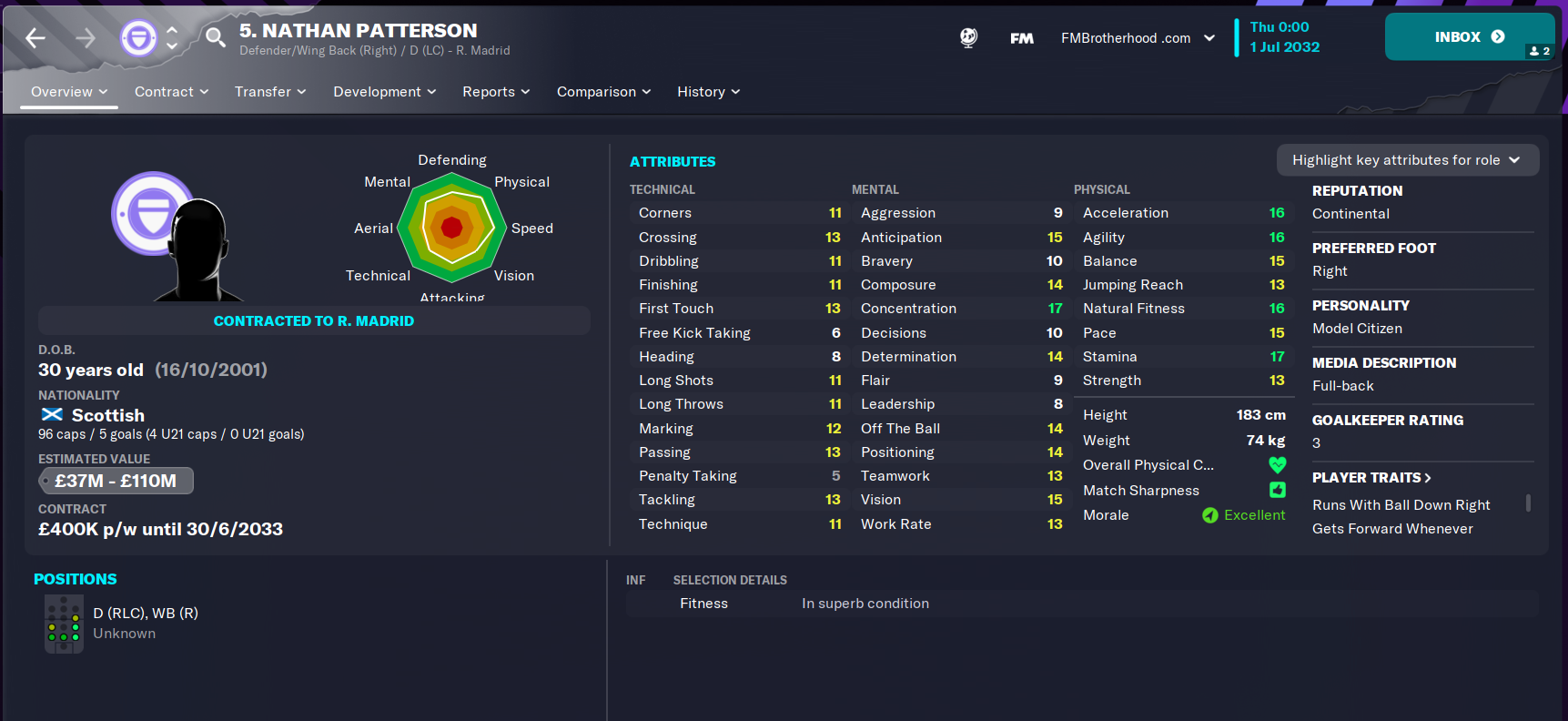 In his prime, Nathan Patterson plays for Real Madrid, is on £400k per week, and has made 96 appearances for Scotland. That's more international appearances than any other FM23 Scottish wonderkid on this list!
Patterson is a rapid right back with great stamina, so he's brilliant at bombing up and down the right flank.
Which FM23 Scottish Wonderkid Should You Sign?
If you're managing a smaller club in FM23, you may be able to get your hands on Scottish wonderkids such as Josh Doig and Mackenzie Carse. However, if you've got some money to spend, you should definitely try to sign Aaron Hickey or Nathan Patterson. Full-back wonderkids are hard to find in FM23, so these are two that could be available for good prices after a season or two in your save.
Want to find out more FM23 wonderkids? Take a look at our wonderkid strikers article here.