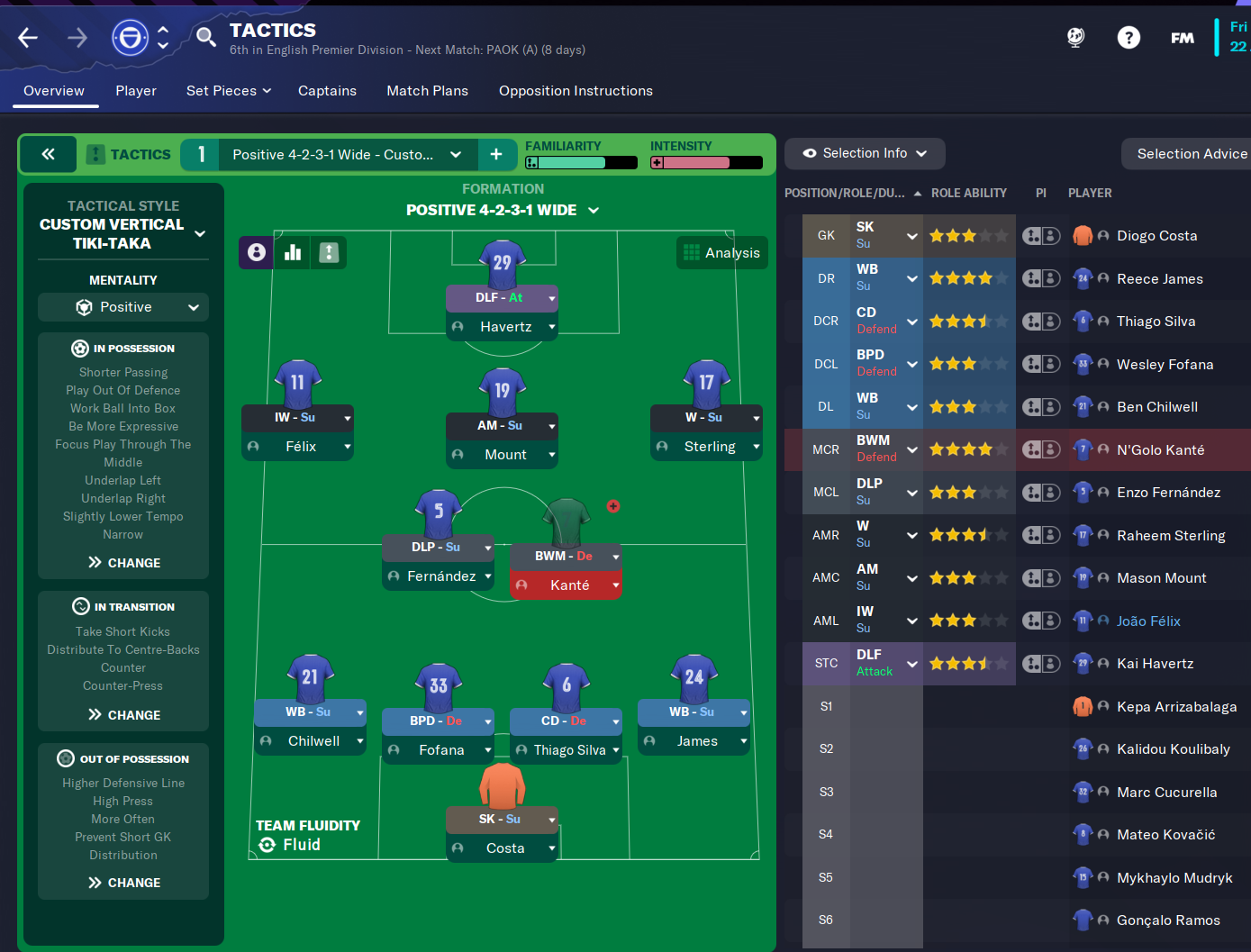 Chelsea FM23 Team Guide
By callum | May 1, 2023 | 10969 Views
Chelsea FM23 Team Guide
Probably the most underwhelming team in the 2022/23 season, Chelsea have been extremely disappointing since their new takeover. At the time of writing, they're sitting in the bottom half of the table, and are set for no European football next season.
However, Chelsea is still an appealing team to manage in FM23. They've made some great signings on paper that just can't seem to gel in real life. Can you get them to gel on Football Manager?
This Chelsea FM23 team guide looks at Chelsea's best line-up, board expectations, Chelsea's best players, and signings you could make to take this team to the next level.
Why not take a look at this Wrexham FM23 team guide.
Chelsea FM23 Club Vision and Board Expectations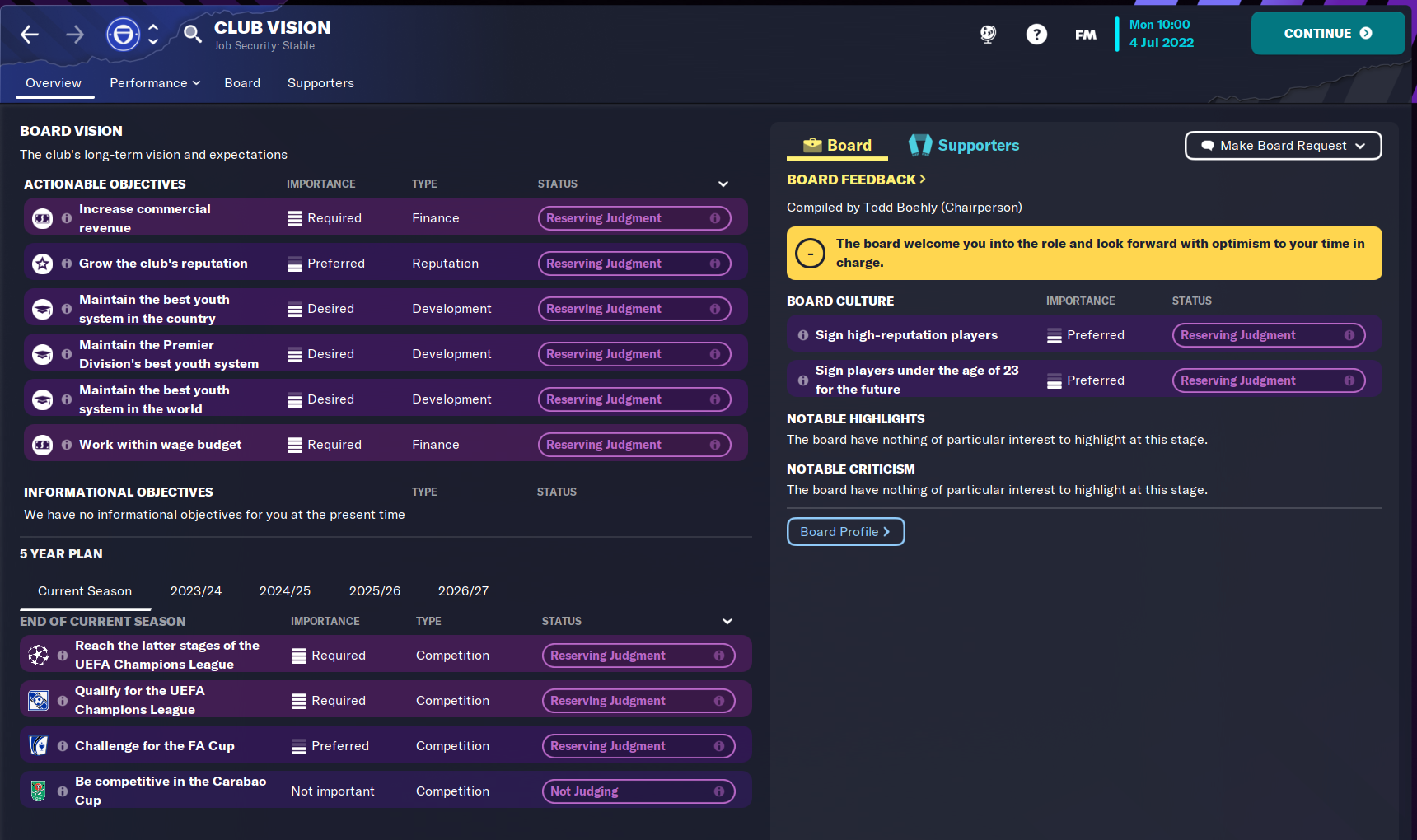 The Chelsea board have set pretty realistic expectations for the FM23 Chelsea team. Chelsea are predicted to finish 3rd in the first season, so qualifying for the UEFA Champions League is definitely achievable.
In the Champions League, Chelsea are to reach at least the quarter finals. If you can win your group and get a favourable draw in the round of 16, you should be fine. The Chelsea board don't seem to find the domestic cups too important.
In terms of signings, they would prefer you to sign a mix of highly reputable players, and youngsters under the age of 23.
As seasons go on though, the board get more and more ambitious. You're expected to have won the Premier League and Champions League within 3 seasons!
FM23 Chelsea Supporters Vision
The most important thing the FM23 Chelsea fans care about is finishing above their rivals in the league. This includes Tottenham, Liverpool, West Ham, and Arsenal. Finishing above Spurs and West Ham is should be easier than finishing above Liverpool and Arsenal, who are both strong teams in FM23.
The fans also want Chelsea to play entertaining, attacking football, and challenge for the Premier League title.
Chelsea's Best Starting Lineup in FM23
As Chelsea have a huge first team squad, it's difficult to determine a best starting 11. We've gone for this 4-2-3-1 formation, but you may decide to play a formation with three centre backs instead, as Chelsea have a lot of quality in that department.
In real life, Chelsea are dying out for a proper striker to lead the line. However in this Chelsea FM23 team guide we've put Kai Havertz up front as he's great in Football Manager and can score a lot of goals.
The midfield pivot is really strong, with Premier League record signing Ezno Fernandez and N'Golo Kante. The problem is that Kante is injured for the first 6 months of the season.
In terms of improvements, Chelsea could do with a new goalkeeper. Mendy and Kepa are okay, but neither have really solidified their place as Chelsea's number one goalkeeper. A backup striker would be good to get too.
Chelsea have a good backroom team, but it could be better. You might want to appoint some new coaches.
Chelsea's Best Player in FM23 – Reece James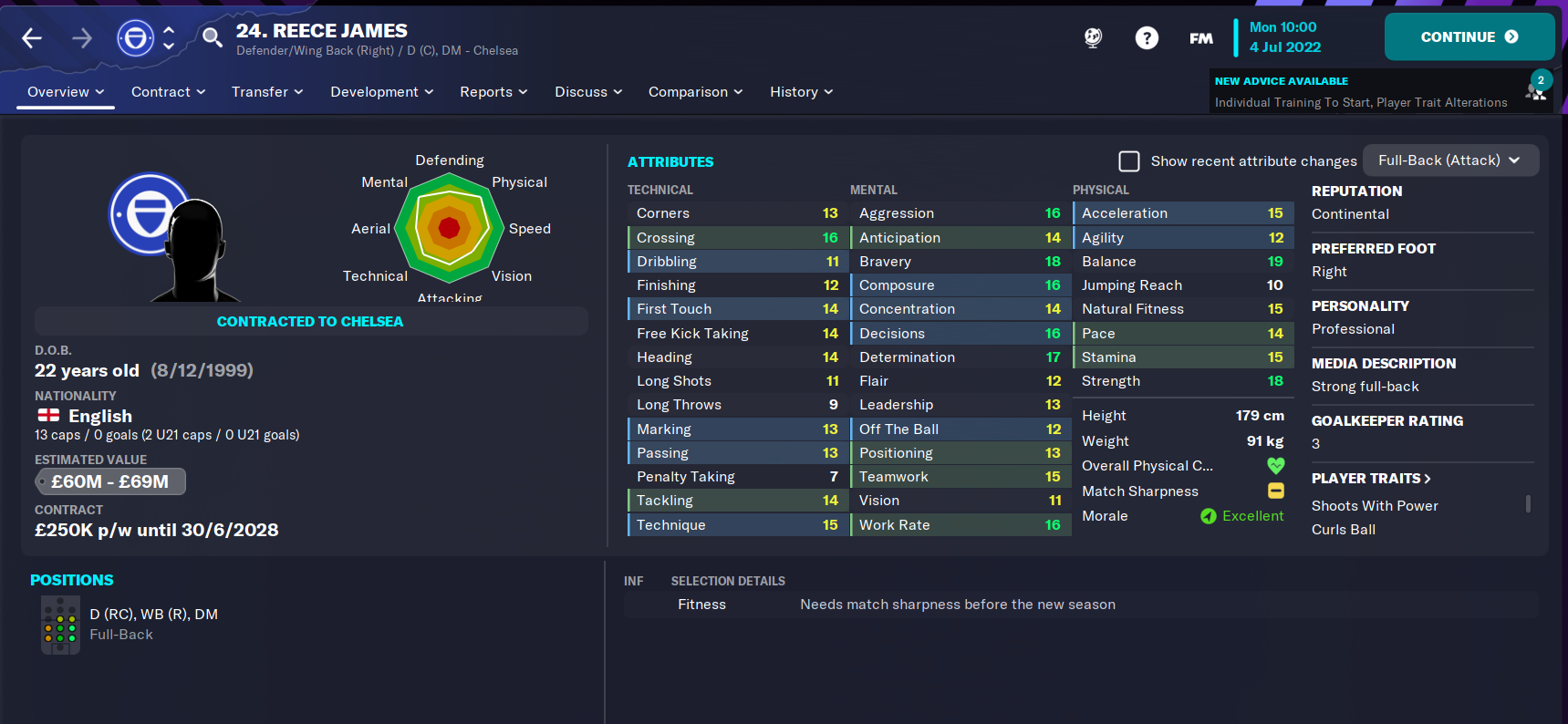 In FM23, Chelsea have a lot of amazing players, but Reece James is the standout best. He's arguably the best right back in FM23, with brilliant attributes going forward, which include 16 crossing, composure, and decisions.
Thankfully James is tied down at Chelsea in FM23 until 2028. This means you don't have to worry about him being wanted by other teams for a long time.
N'Golo Kante in FM23
Chelsea have a world class midfielder in N'Golo Kante. He has some outstanding attributes, such as 20 work rate, 19 tackling, and 20 teamwork. Like James, he's one of the best in his position in Football Manager 2023.
Kante is on a large salary of 300k per week, and only has 1 year left on his contract. If his long term injury doesn't decrease his attributes too much, it's recommended you offer Kante a new 1 or 2 year deal (hopefully on a lower wage). Kante's 18 natural fitness should mean he keeps his amazing attributes for a few years longer.
Enzo Fernandez in FM23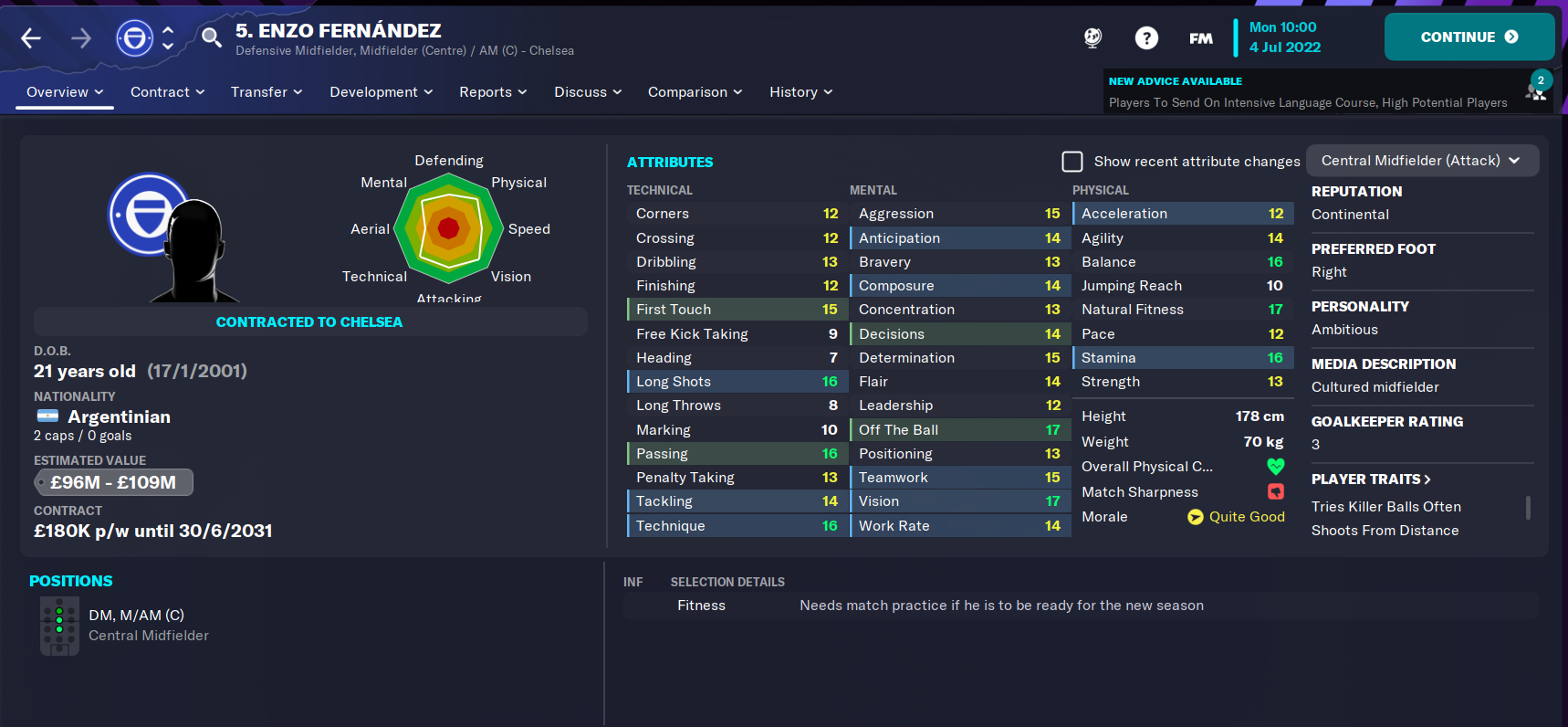 Chelsea's most exciting player in FM23 has to be new signing Enzo Fernandez. He's already an exceptional midfielder at just 21 years of age, and has the potential to become world class.
He can play most of the central midfielder and defensive midfielder roles competently, which means he can adapt to any tactic you want to your for your FM23 Chelsea team.
Chelsea Transfers in FM23
Chelsea have a budget of £19 million at the start of your FM23 save. However, we managed to sell Christian Pulisic to PSG for £45 million, and Hakim Ziyech to Everton for £20 million. This gave us a total budget of £84 million to spend.
Chelsea FM23 Team Guide Signing 1 – Diogo Costa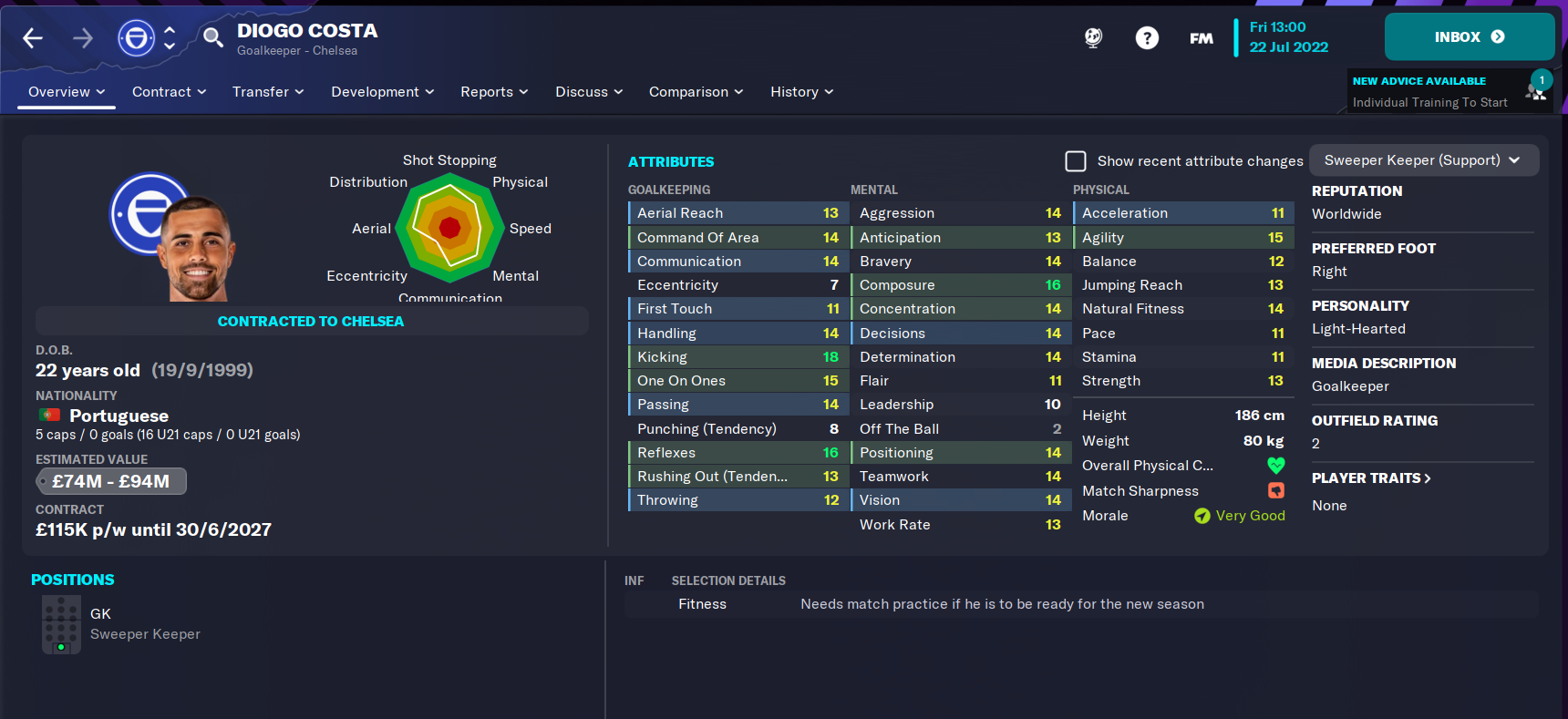 To replace Mendy in goal, we decided to sign Portuguese international goalkeeper Diogo Costa. There aren't many young goalkeepers on the market that are ready to play for a top club, so it makes sense to sign Diogo Costa in FM23 as soon as you can.
He did cost £54 million, but he's got potential to be a world class goalkeeper.
Diogo Costa in 2032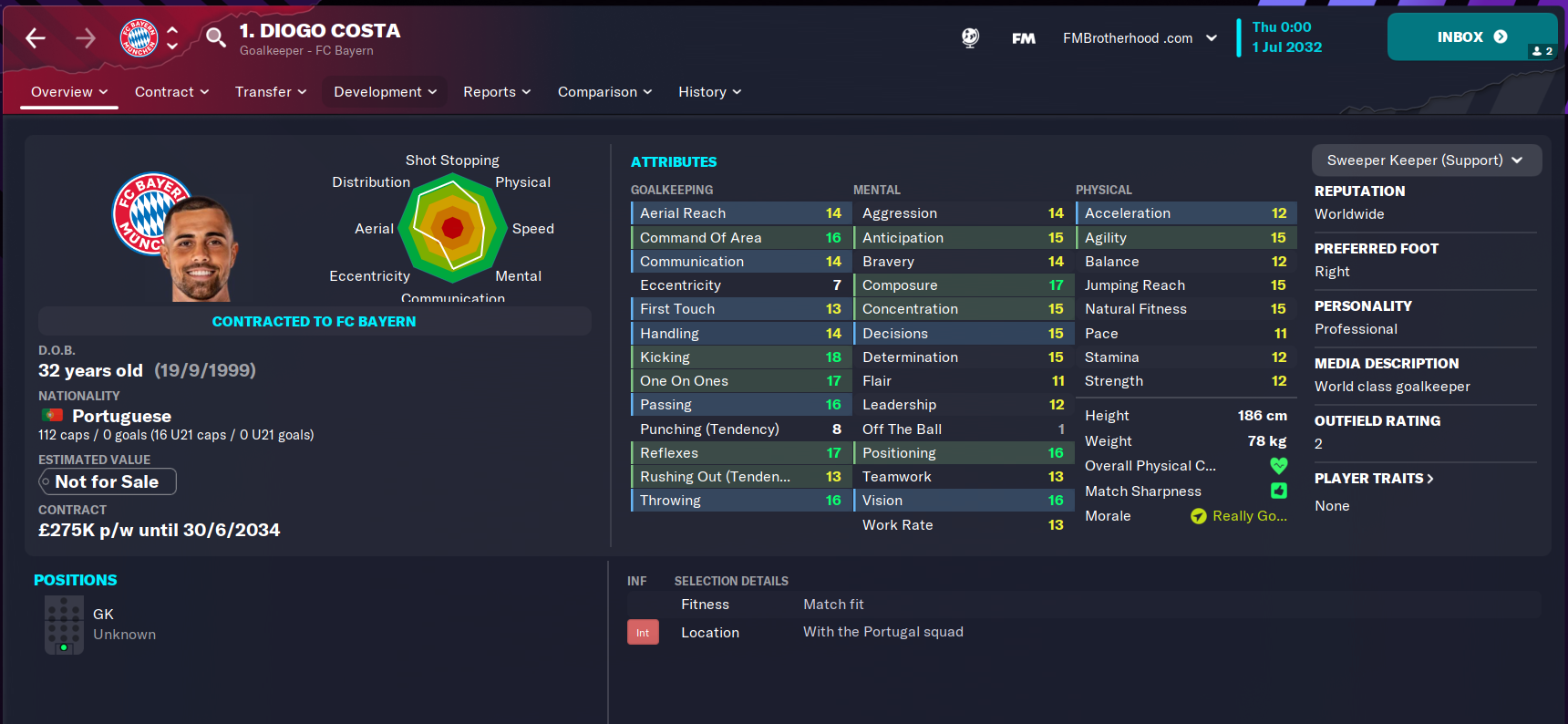 This is how good Diogo Costa can be in his prime! He has some fantastic goalkeeping attributes, such as 17 reflexes, 16 positioning, and 17 one on ones. He's also managed to get over 100 caps for Portugal, and plays for European giants Bayern Munich.
This is why it's important to sign Diogo Costa as soon as you can!
FM23 Chelsea Signing 2 – Goncalo Ramos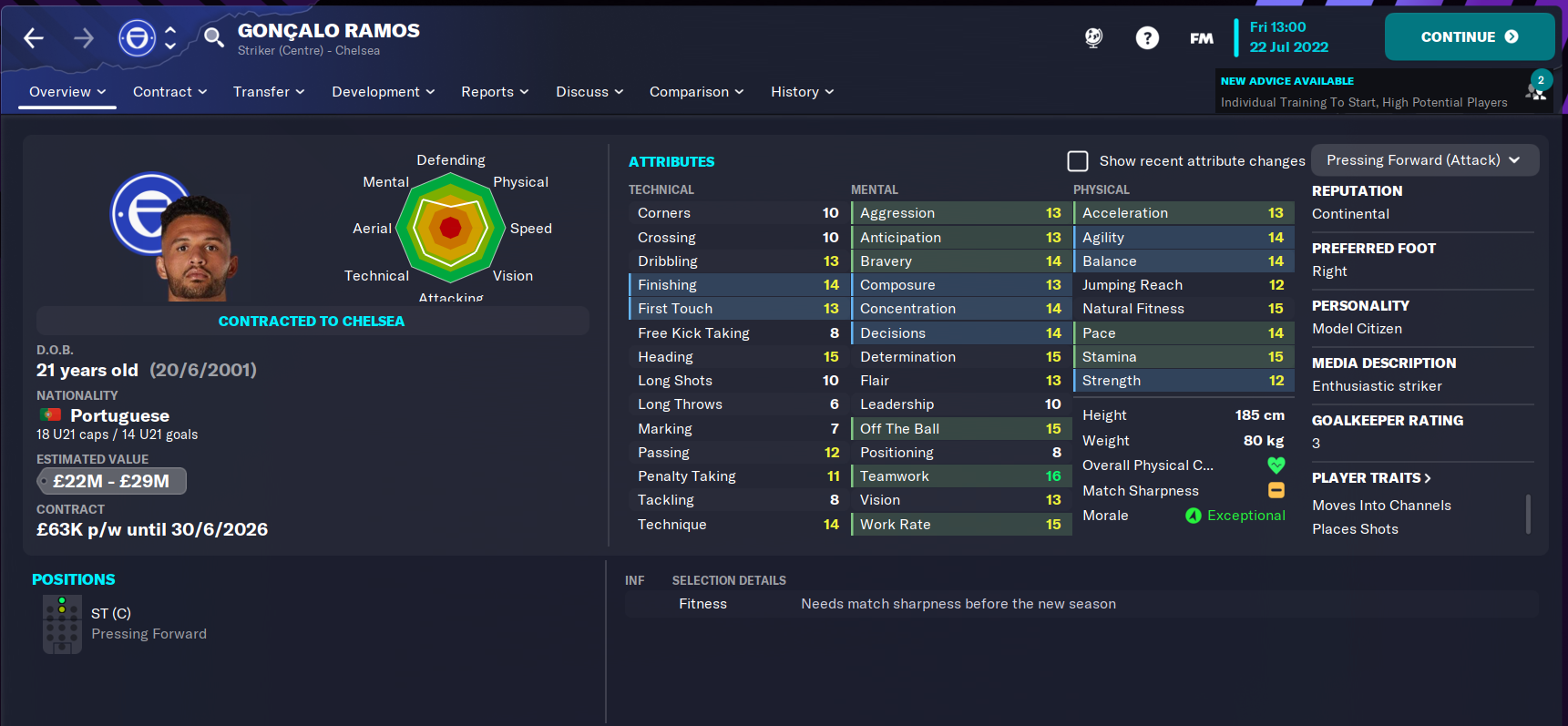 If you're looking to sign an out and out striker for your FM23 Chelsea save, Goncalo Ramos has to be a player you consider. Ramos is in demand from a lot of top European teams after scoring plenty of goals for Benfica, and also scoring a hat-trick at the World Cup! Ramos is one of the best strikers in FM23.
Ramos also has a model citizen personality, which is the perfect personality for a youngster to have. This will give him the best chance of developing into a superstar.
FM23 Chelsea Line-up with New Signings
This is how our line-up looks at the end of this Chelsea FM23 team guide. Costa replaces Mendy in goal, and can keep that position for years to come. Ramos is on the bench and can rotate with Havertz until he develops into a top striker.
Thiago Silva is getting old, so you might want to look at trying to develop wonderkid centre back Benoit Badiashile who can replace Silva in a season or two.
Joao Felix is only on loan for one season, but you can replace him with wonderkid left winger Mykhaylo Mudryk.
Summary of Chelsea FM23 Team Guide
Hopefully this FM23 Chelsea team guide helps you begin your Chelsea save strongly. In your first season you should try and sell as much deadwood as possible, and then try to keep your squad happy through the season. At the end of your first season, you'll be able to trim the squad down to a reasonable size.
Finishing in a Champions League spot is essential in your first season. You can already see in real life how trigger happy the Chelsea board are.
If you're looking for other wonderkid strikers you could sign for Chelsea, take a look at this article.