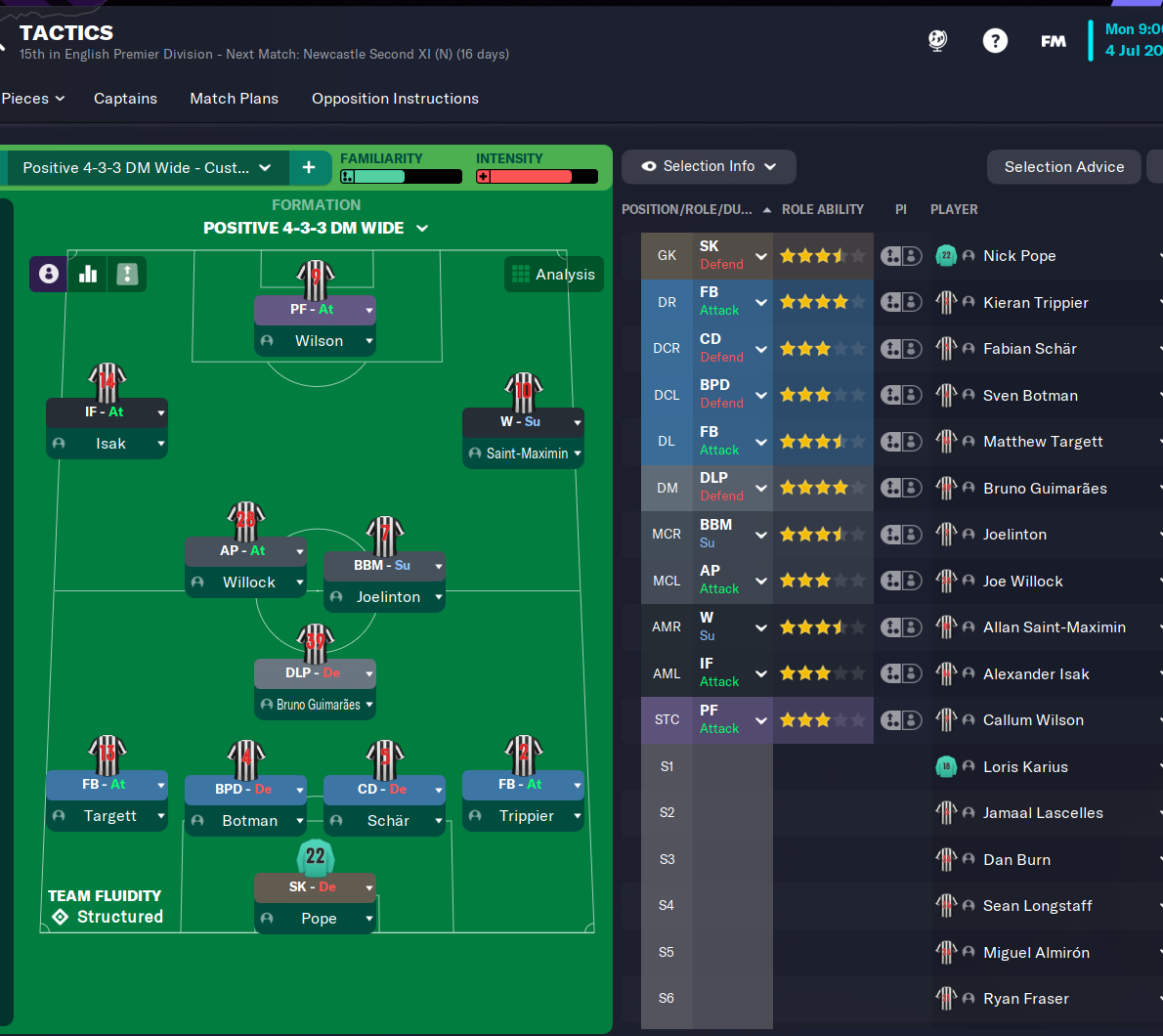 FM23 Newcastle Ultimate Team Guide
By callum | January 17, 2023 | 18546 Views
FM23 Newcastle Team Guide
Newcastle United have become the team everyone is talking about since their recent takeover. After having one of the lowest net spends in the Premier League under the ownership of Mike Ashley, they're now the richest club in world football.
This has made them a popular team to manage in Football Manager, which is why we've created this FM23 Newcastle team guide to help you setup your Newcastle save. Read on to find out the board's expectations, Newcastle's best players, recommended signings, and a quality Newcastle FM23 tactic.
If you're looking for a Manchester United team guide, check out this article.
FM23 Newcastle Club Vision and Board Expectations
In your first FM23 season, the Newcastle board want you to finish in a top half position in the Premier League, and reach the latter stages of the FA Cup. Finishing in the top half of the Premier League should be an easy job to do with Newcastle in FM23, as the media have predicted Newcastle to finish 7th.
The board also want the Newcastle manager to grow the club's reputation. This can be done by qualifying for European competitions.
FM23 Newcastle Supporters Vision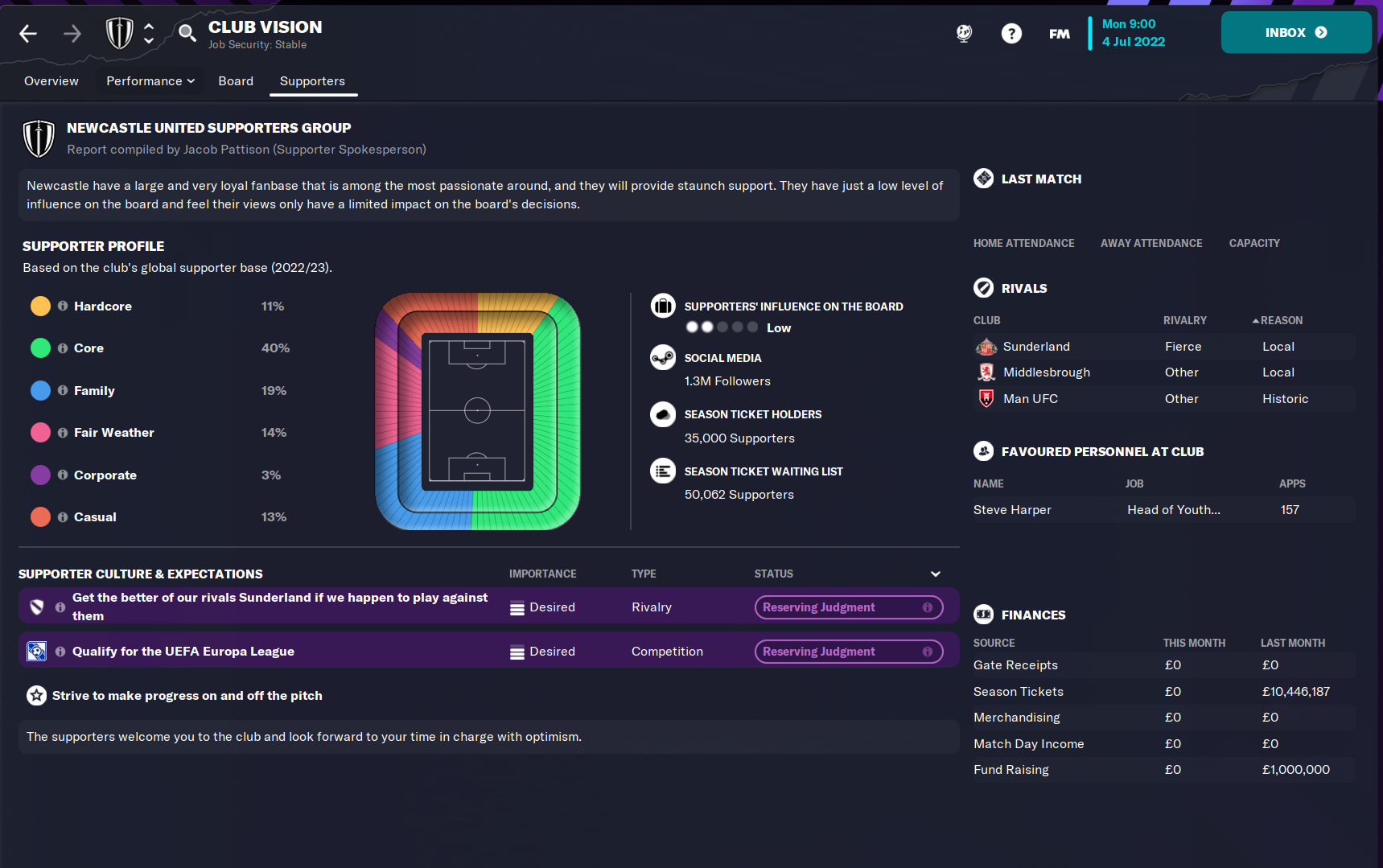 In FM23, the Newcastle United supporters are more ambitious than the board. They want you to qualify for the UEFA Europa League.
With some new signings to strengthen the team, you could qualify for European football with Newcastle in FM23.
Newcastle's Best 11 in FM23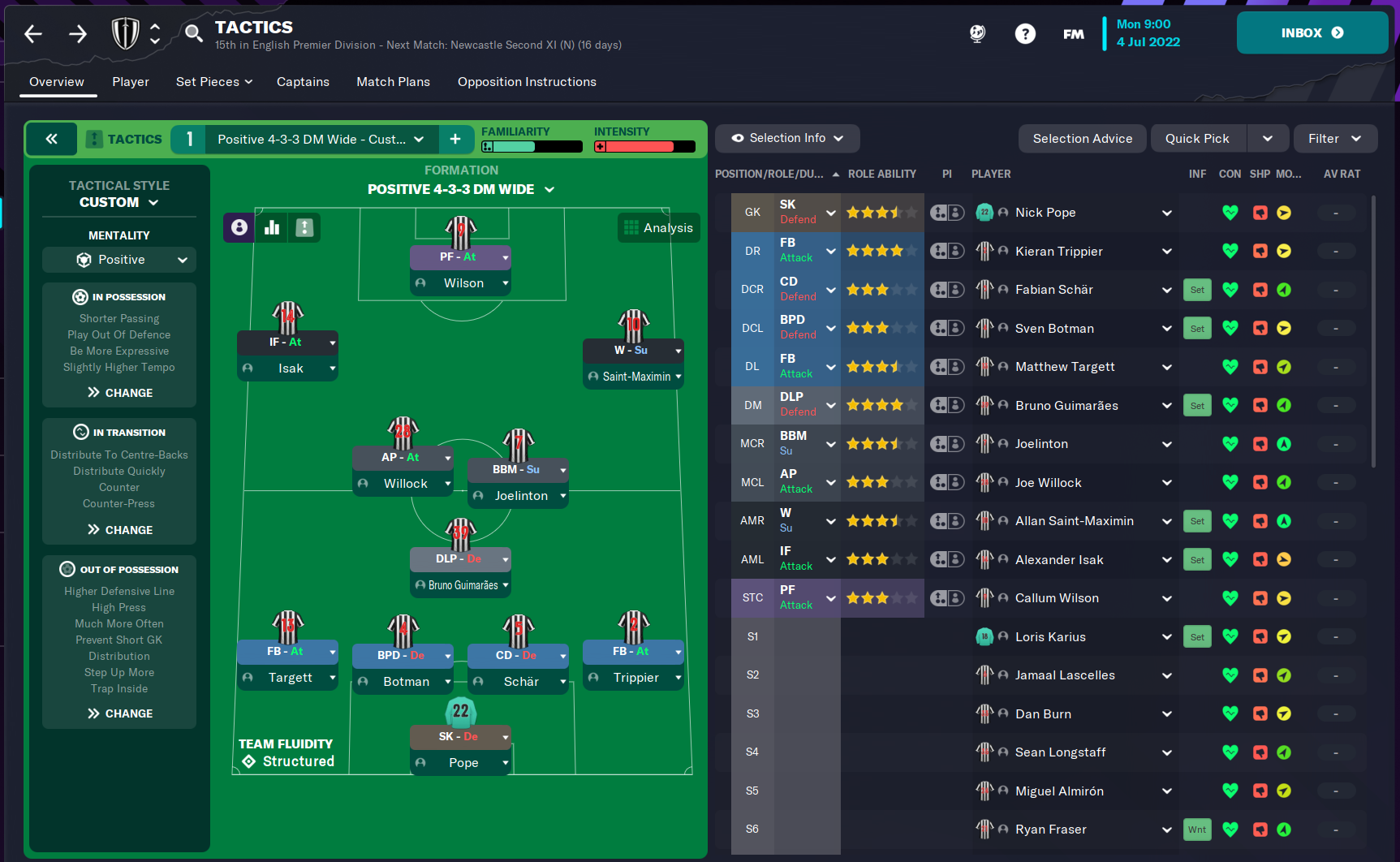 Without new signings and selling any players, this is the best line-up for Newcastle United in FM23. Alexander Isak definitely plays better as a striker, but he's better on the left wing that Miguel Almiron.
The main areas of weakness that could do with new signings to improve the team are at centre back, centre midfield, and on the wing.
Let's take a look at Newcastle's best players.
Bruno Guimaraes – Newcastle's best player in FM23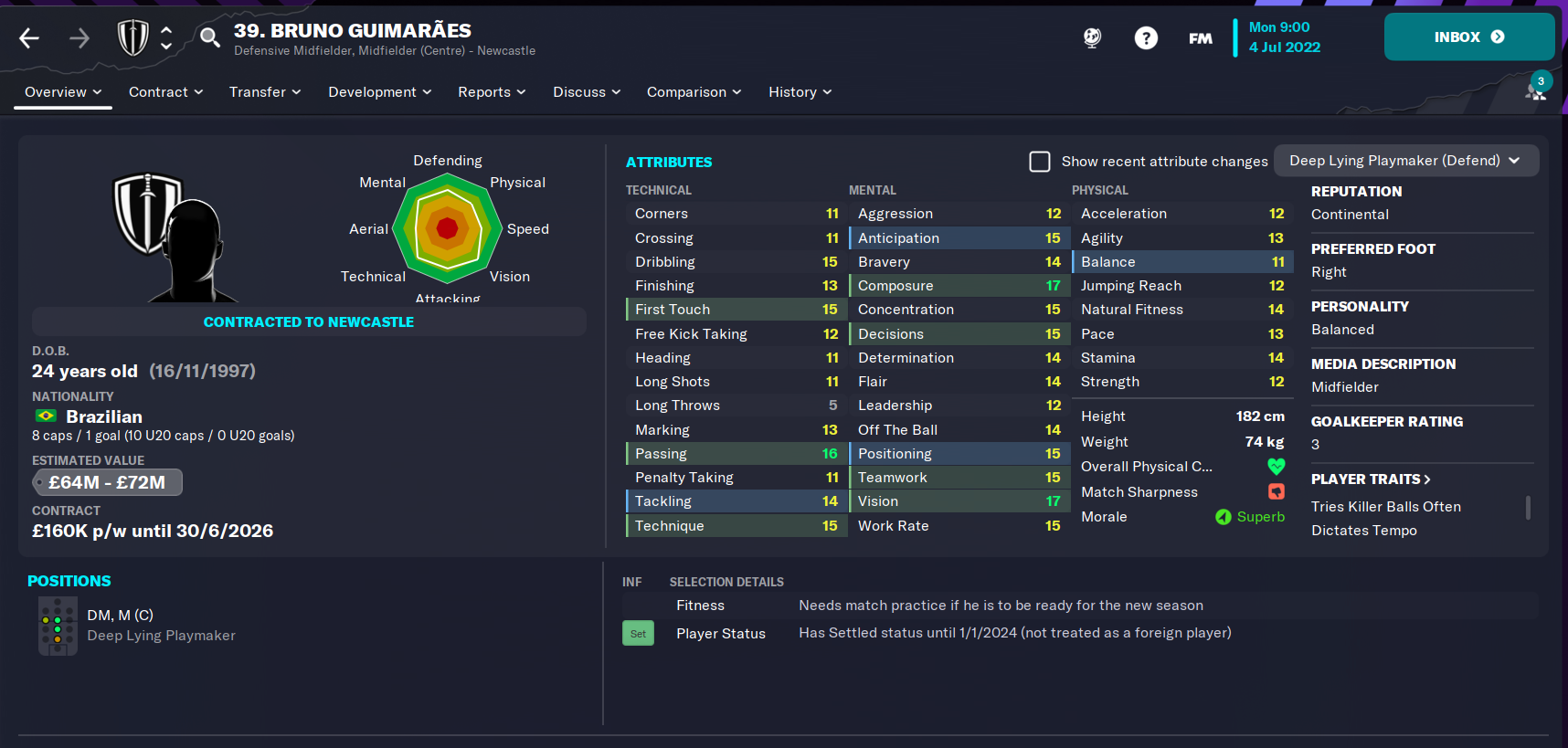 Bruno Guimaraes is a fantastic deep lying playmaker that you should build your Newcastle team around. He has brilliant attributes all round, with long throws being his only attribute below 11. You should do everything you can to keep a hold of Bruno Guimaraes in your FM23 Newcastle save.
Kieran Trippier – FM23 Attributes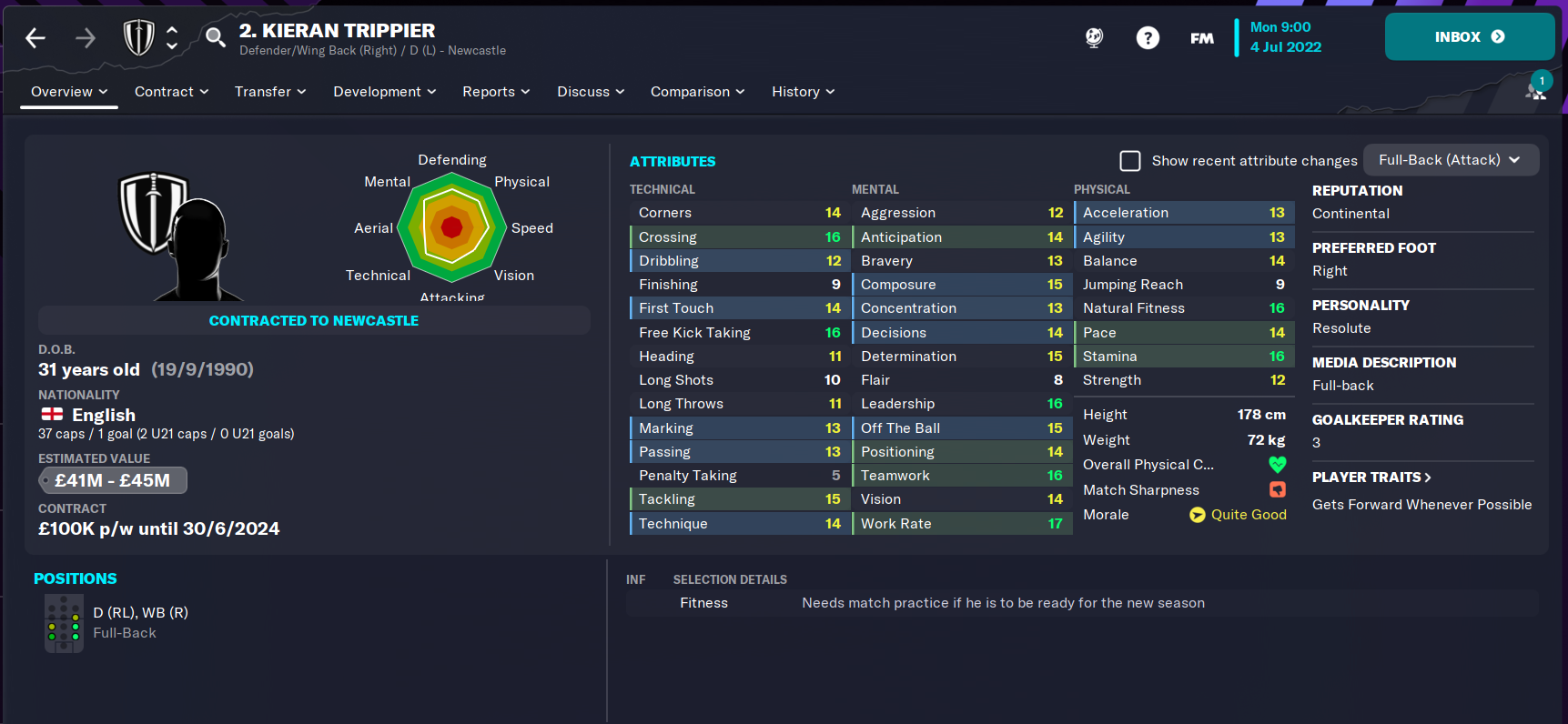 Kieran Trippier is an excellent right back for Newcastle in FM23. He's great at putting balls in the box, with 16 crossing and 14 technique. Trippier also has 16 leadership, so you could consider promoting him from vice-captain to captain, replacing Jamaal Lascelles.
Alexander Isak – Amazing FM23 Newcastle Striker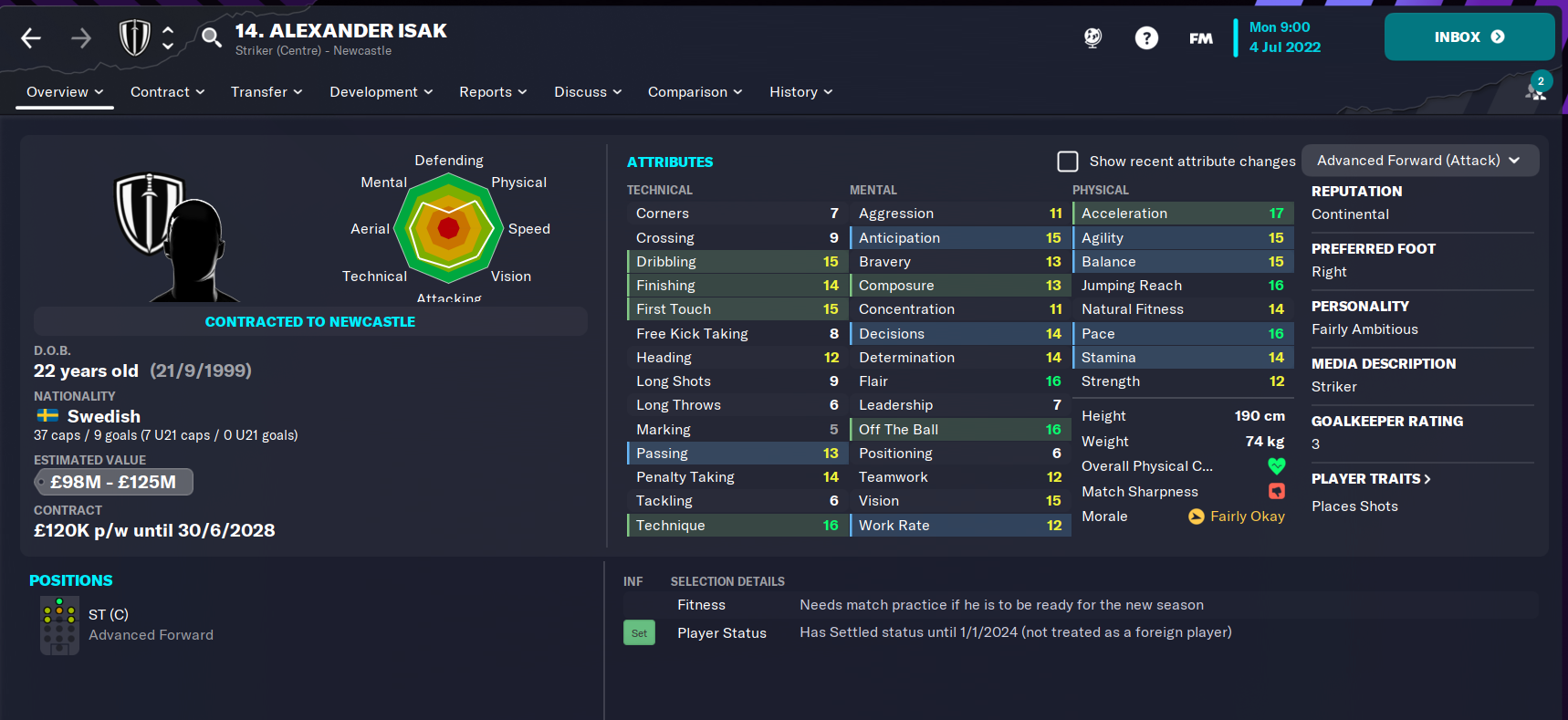 Alexander Isak signed for Newcastle in the summer of 2022 for a huge fee of £60 million! However, you can see why Newcastle paid so much money for him.
Isak is a pacey FM23 striker with good finishing, and also has potential to get even better. Like Bruno Guimaraes, you must keep a hold of Alexander Isak if you want to compete for European football.
Before we move onto potential signings for Newcastle in FM23, it might be a good idea to sell some squad players to make some extra funds. Newcastle have a starting transfer budget of £40 million, and with some sales you can increase your transfer budget even higher.
We managed to sell Paul Dummett for £5.5 million, and Jamaal Lascelles for £3 million. This means out total FM23 Newcastle transfer budget is £48 million, and over £500k per week wage budget.
Signing 1 – Lucas Verissimo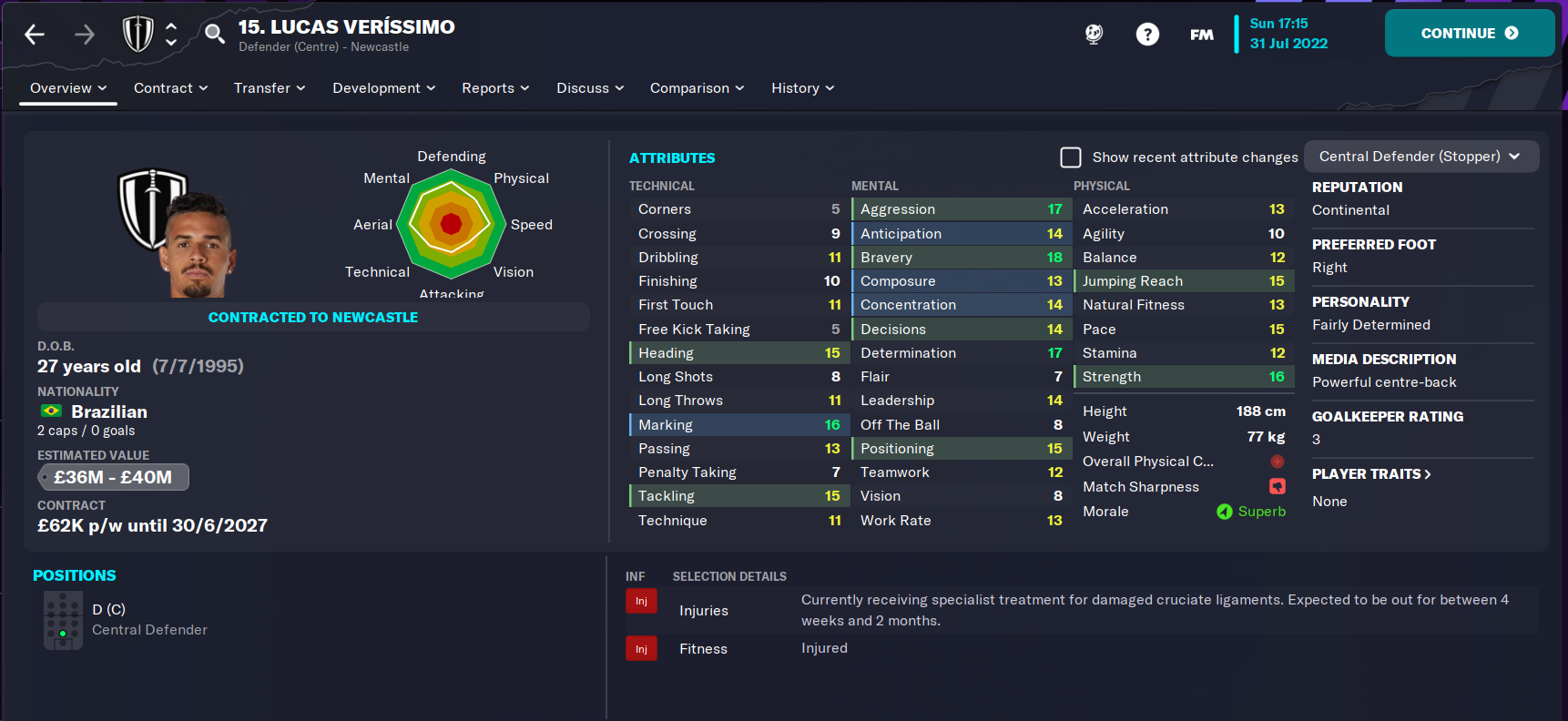 Lucas Verissimo is a fantastic centre back you could sign from Benfica. We managed to pick him up for £17.5 million, which is good value for money when you look at his quality attributes. Lucas Verissimo has 16 marking, 15 tackling, and 17 determination. He also has good pace which means you can play a high defensive line.
Signing 2 – Anton Stach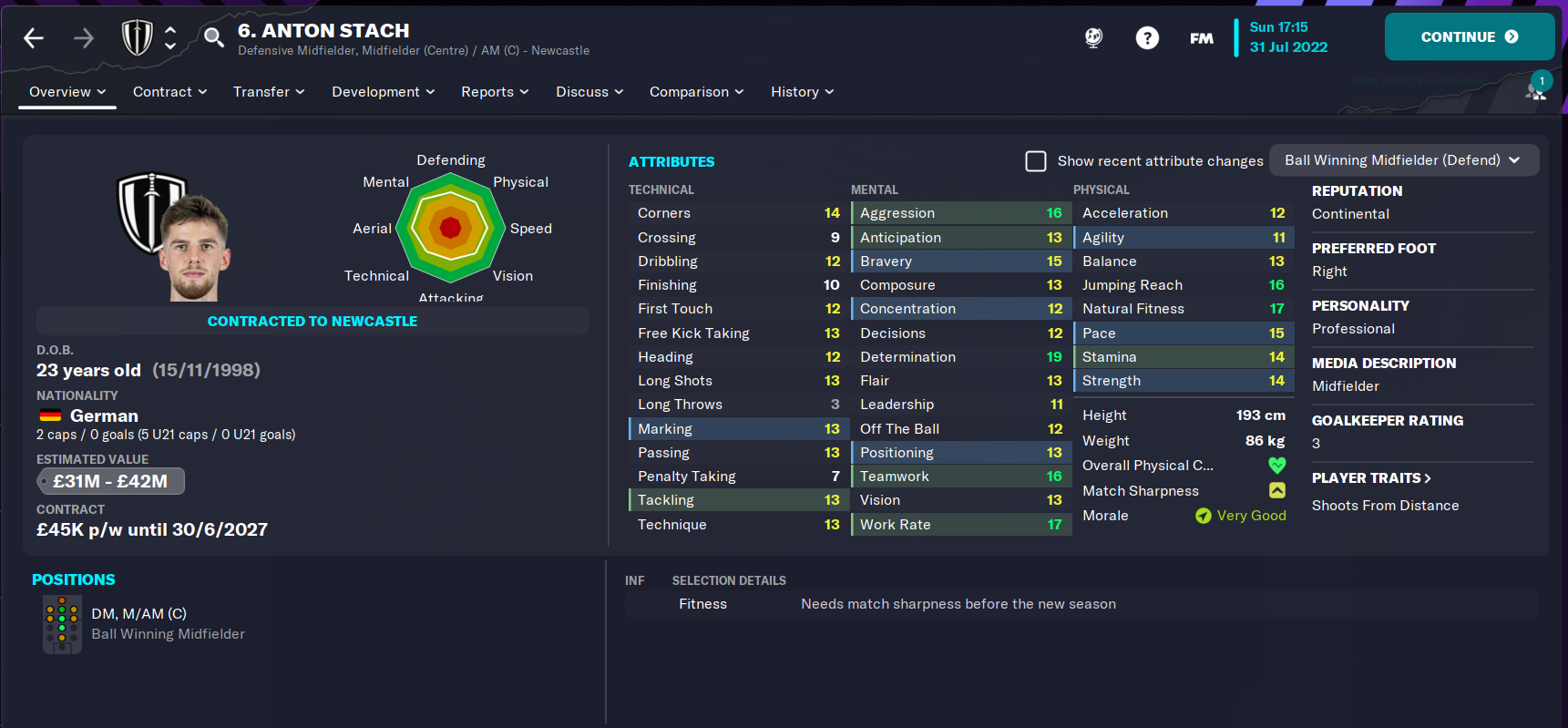 The next signing to improve the midfield is German Midfielder Anton Stach. He can play CM and CDM, and we signed him for £11.5 million.
Anton Stach is a workhorse, with 19 determination, 16 teamwork, 17 work rate, and 14 stamina. He is the perfect engine in midfield to play alongside Joelinton and Bruno Guimaraes.
Signing 3 – Arnaut Danjuma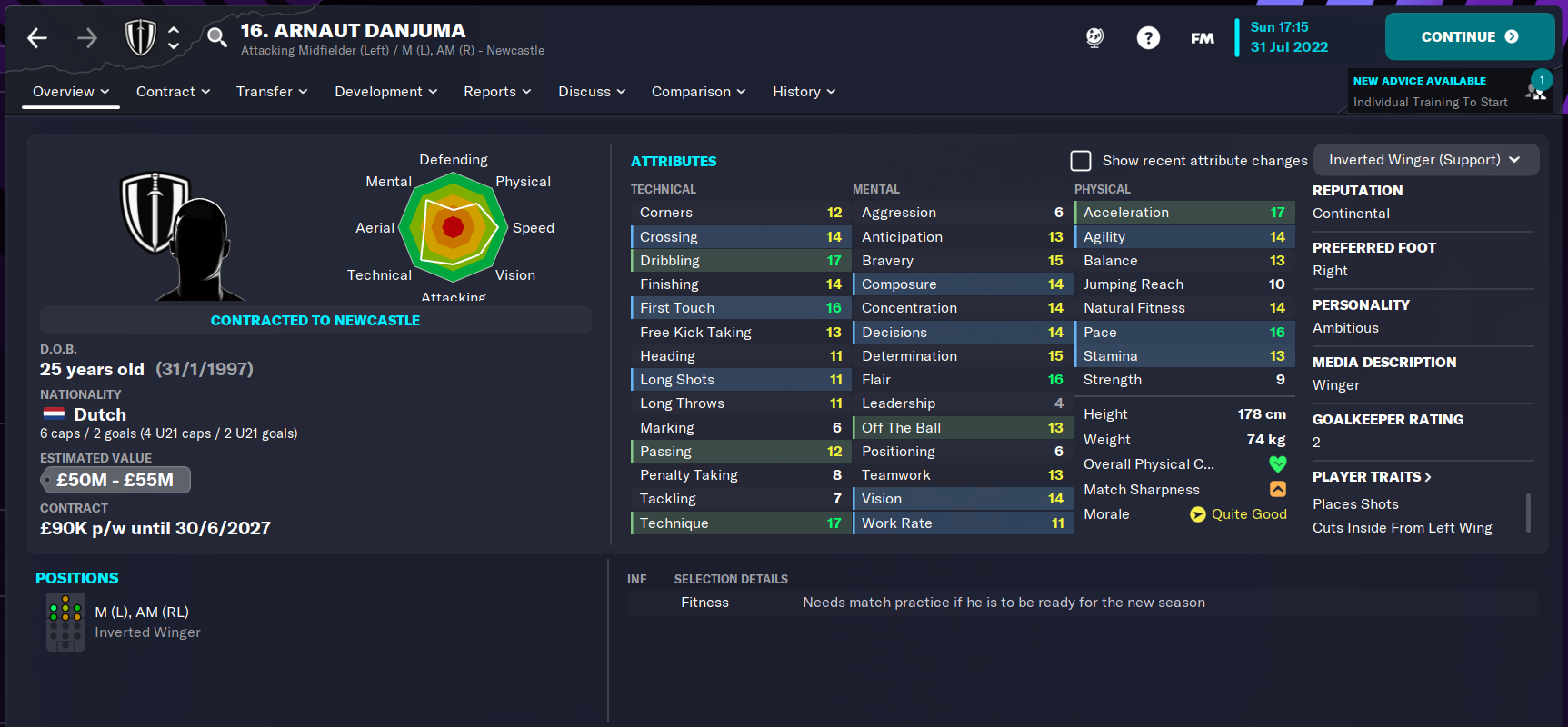 The star signing for Newcastle in FM23 is Arnaut Danjuma. He's an exceptional winger that plays for Villareal in real life. He can be signed in FM23 for £25.5 million.
Danjuma's standout attributes are 17 dribbling, 16 flair, and 17 acceleration. He plays at his best as a left winger, but can also play as a right winger too.
FM23 Newcastle Line-up with New Signings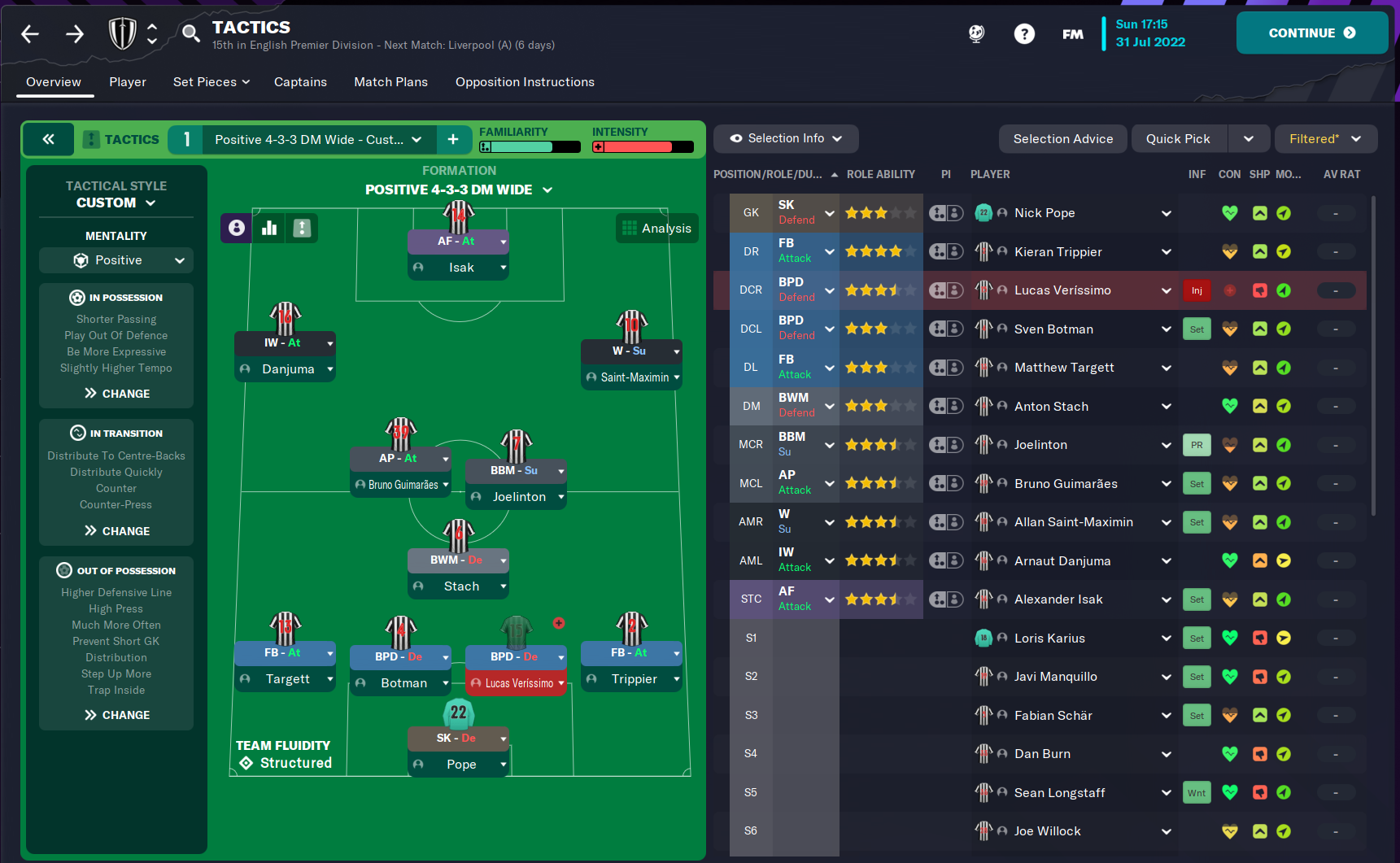 You can see that after 3 new signings, Newcastle's line-up in FM23 looks a lot stronger. Lucas Verissimo is much better on the ball than Fabian Schar, which allows you to have 2 ball-playing centre backs in your tactic.
Signing Anton Stach to play in the CDM role allows you to move Bruno Guimaraes into the advanced playmaker position, which he is better suited to.
In FM23, Newcastle are lacking in depth in the attacking wide areas. This is why signing a player like Arnaut Danjuma is vital if you want to compete for the European places in your first season.
Summary of Newcastle FM23 Team Guide
No matter what, your FM23 Newcastle save is gonna be a lot of fun! There's so much potential to take Newcastle straight to the top because of the massive transfer budget you'll receive every summer.
If you're looking for some wonderkids to sign for your FM23 Newcastle save, check out our left back wonderkids article here.