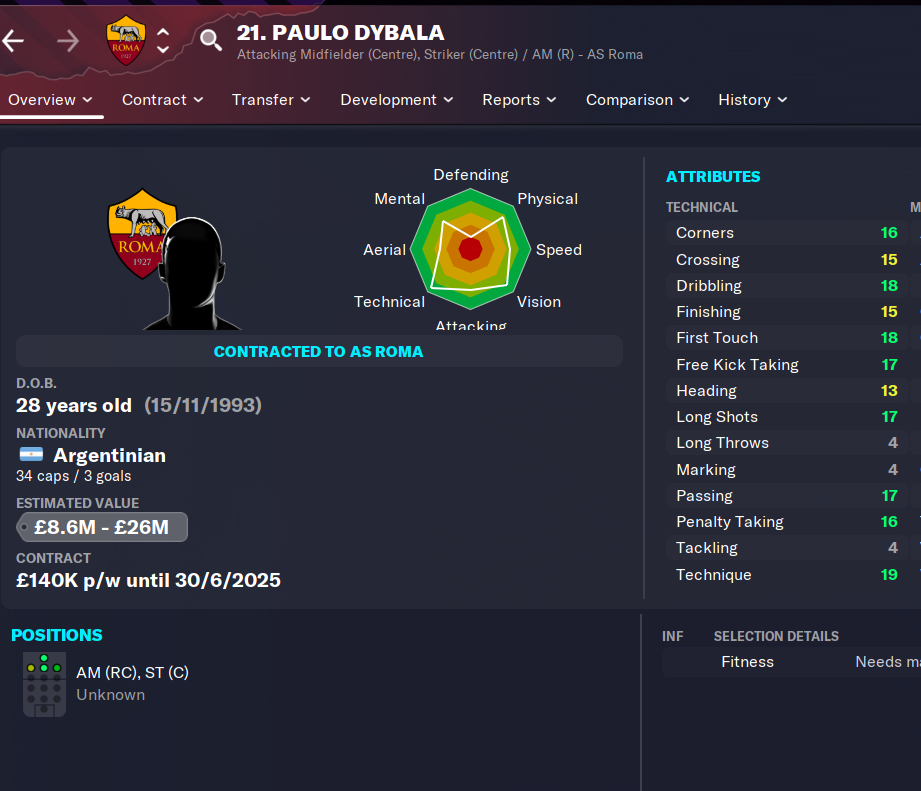 10 Best FM23 Release Clause Bargains!
By callum | November 14, 2022 | 20176 Views
Release Clause Bargains in Football Manager 2023
In Football Manager 2023, you must make the most of your transfer budget, and spend your money wisely. Some players in FM23 have release clauses, which means you can sign them up for potentially cheaper than their value. FMBrotherhood have put together a list of 10 players we feel are release clause bargains! This doesn't necessarily mean the cheapest players, but the players we feel are great value considering their ability.
We've compiled lists of release clause bargains for previous Football Manager games, so we know what we're talking about.
What Does a Release Clause Mean on FM23?
If a player on Football Manager 23 has a release clause in their contract, it means if you bid the agreed amount, the selling club automatically must accept the offer.
10. Kenneth Omeruo
Kenneth Omeruo is one of the many players that was under contract at Chelsea for years, but spent most of their time out on loan, and didn't make a single Premier League appearance for the club. Remember Lucas Piazon?
That being said, Omeruo seems to have now settled at Spanish side CD Leganés. He has some great physical attributes for a centre back, including 17 natural fitness. This means that as he gets older, his attributes will worsen at a slower rate than most players. Omeruo has a release clause in FM23 of only £6.5 million. He'd be a great squad player in a mid-low table Premier League side, also being able to cover at right back.
9. Vitinha
Vitinha is a young striker currently playing for FC Braga in the Portuguese League. He has some brilliant mental attributes, such as 18 determination, and 16 work rate. This means he'll work hard in training and give everything on the pitch, which will only benefit his attribute development.
Vitinha has an FM23 release clause of £26 million, which is great value considering his potential ability! Young strikers are hard to come by in Football Manager 23, so if you've got the money, you should definitely consider Vitinha.
If you're looking for more young strikers to sign on FM23, check out our Football Manager wonderkid strikers article here.
8. Sander Berge
Sander Berge is a versatile midfielder currently playing for championship side Sheffield United. However, you can see by his attributes he definitely has the ability to play in the Premier League. Berge is very well rounded, can play in defensive midfield, or even in a more advanced role. He also has 30 caps for Norway at only 24 years of age.
Sander Berge has a release clause in FM23 of £25 million, and if you can afford it, he could play a great part in your midfield for seasons to come.
7. Rui Silva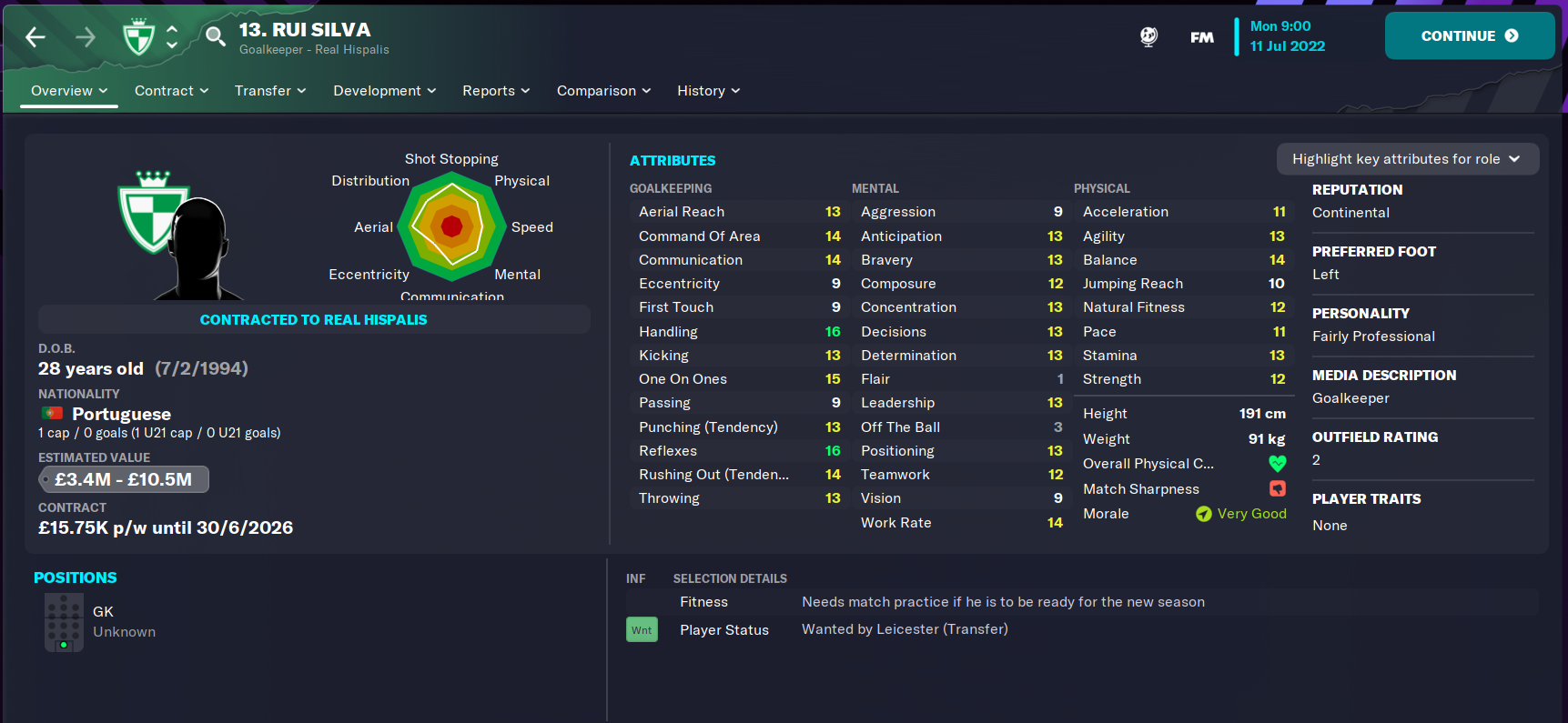 Rui Silva is the number 1 goalkeeper for Spanish side Real Betis. He has excellent handling and reflexes, and is 28 years old at the start of your FM23 save. 28 is a great age for a goalkeeper, and Rui Silva will still have the ability to play at the top level for at least another 5 or 6 seasons.
Rui Silva has a release clause of £18 million, and is only on £15,750 per week. This is a really low salary for a goalkeeper of Silva's ability, which means overall this signing could prove to be a great bargain! There also seems to be a low quantity of quality goalkeepers under the age of 30 on FM23, so Rui Silva would be a good option for your save.
If you're looking for a younger goalkeeper, we compiled a list of the 5 best wonderkid goalkeepers in FM23 here.
6. Landry Dimata
Landry Dimata has had a mixed start to his football career. In the 18/19 season, he managed to score 13 goals in only 20 league appearances for RSC Anderlecht. He then moved to Spanish side Espanyol, and in his second season failed to score a league goal in 17 appearances.
However, just because a player hasn't performed in real life, doesn't mean they're a player to avoid in Football Manager. Dimata has some fantastic physical attributes, including 16 balance, natural fitness, pace, and strength. He's also well rounded mentally, and has good enough finishing attributes to score goals.
Landry Dimata has an Football Manager 23 release clause of only £4.7 million, which is brilliant value. However, he is on loan at N.E.C. Nijmegen, so you may have to wait until the second season of FM23 to sign him.
5. Pedro Porro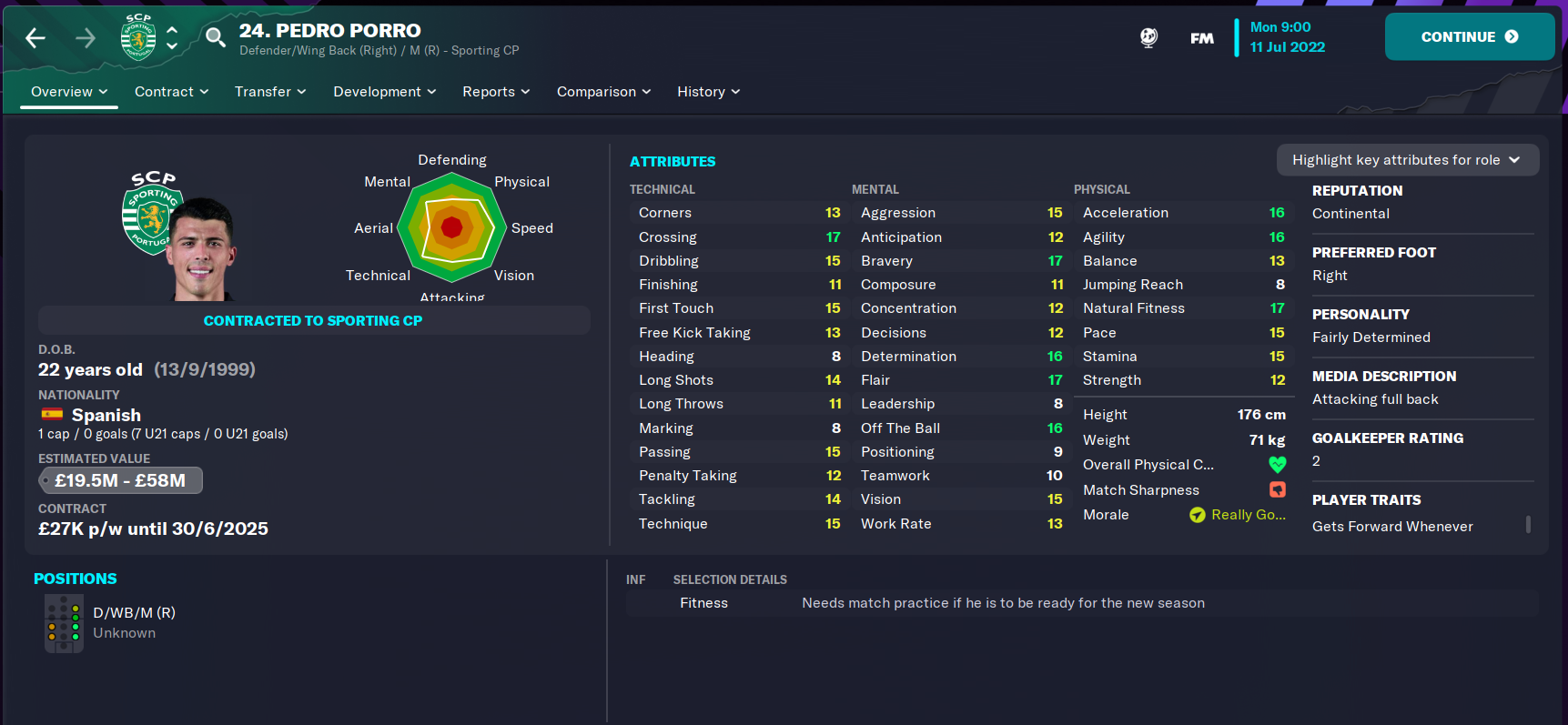 Pedro Porro is a modern attacking full-back, with the ability to play anywhere down the right side of the pitch. At only 22 years old, he already has some excellent attributes, including 17 crossing, 16 determination, and 16 acceleration. However for a defender, he could develop his 8 marking, and 9 positioning.
Pedro Porro is definitely ready for a move to a higher quality European league, and could compete for a place in almost any team in world football. His release clause is £39 million, which may seem quite steep. However, you'll struggle to find a better right back for less than that price.
You can find more information about players like Pedro Porro on soccerbiography.com.
4. Ismael Bennacer
Ismael Bennacer played a big part in AC Milan's title winning season in 21/22. He was part of Arsenal's youth setup years ago, and I'm sure they regret letting him go now! You can see that Bennacer has amazing well rounded mental attributes, and has great passing and vision.
Bennacer is also only 24 years old at the start of your Football Manager 2023 save, so he has the potential to get even better.
He has the highest release clause on this list, which is £43 million! But similar to Pedro Porro, you will find it really difficult to sign a midfielder as good as Bennacer for less than £40 million. At the start of your FM23 save, Bennacer is wanted by some rich clubs including Newcastle, Chelsea, and PSG. This means if you're interested in signing him, you'll have to move fast.
3. Paulo Dybala
A few years ago, Paulo Dybala was one of the must sign players on Football Manager. Although his attributes are now slightly worse, he still looks like a fantastic player. There aren't many players in FM23 with better technical attributes, which includes 18 dribbling, 18 first touch, and 19 technique.
Dybala has a release clause of £17.25 million, and is arguably the best player you can sign on FM23 for under £20 million. However, he only recently signed for AS Roma in real life, so you'll likely have to wait until your second season to activate his release clause.
2. Mika Marmol
Mika Marmol might not have been a player you expected to be on this list. He was in the Barcelona youth team for a few seasons, and now finds himself at F.C Andorra in the Spanish second division after moving on a free transfer. Mika Marmol is a versatile defender, having the ability to play centre back or left back. For only 21 years of age, he has great defensive attributes, such as 14 tackling, 13 marking, and 14 positioning.
Mika Marmol has one of the cheapest FM23 release clauses on this list, costing only £2.8 million. This is a fantastic release clause bargain considering the great potential Mika Marmol has. He's definitely a defender you should look at signing if you're a team in the Sky Bet Championship, and he has the potential to be a starting centre back in the Premier League.
If you're looking for more young centre backs, click here to check out our article on centre back wonderkids in FM23!
1. Arsen Zakharyan
Arsen Zakharyan takes the top spot on our list, and for good reason! At only 19 years of age, he has great all round technical ability, and is versatile enough to play across any of the positions just behind the striker. This wonderkid CAM almost signed for Chelsea in real life, and it looks like Chelsea may try to sign him again in January. So if you want to sign him you'll have to do it quickly!
Zakharyan has a release clause on FM23 of £13 million, which is definitely the best release clause bargain in Football Manager 23! However, this release clause is only valid to clubs outside of Russia. He has the potential to be world class if you develop him properly, which makes him great value, and a top bargain in FM23.
Final Thoughts on Best Release Clauses in FM23
That's out list of the best release clause bargains in Football Manager 2023. Do you agree with our list? Or are there any players in FM23 with release clauses you think we're missing? Comment below to let us know!
For even more FM23 release clause bargains, check out the video below.