Wrexham FM23 Team Guide
By callum | May 1, 2023 | 1562 Views
Wrexham FM23 Team Guide
One of the most talked about teams in world football right now has to be Wrexham AFC. Since the Vanarama National League club have been taken over by Hollywood stars Ryan Reynolds and Rob McElhenney, they've become one of the most popular teams to manage in FM23.
If you're thinking of trying a Wrexham save, this Wrexham FM23 team guide will help you get started. We'll take a look at the demanding expectations set out by the board and fans, and also how you can spend Wrexham's £250k budget! This might not seem like a lot of money, but it's more than any other team in non-league!
FM23 Wrexham Club Vision and Board Expectations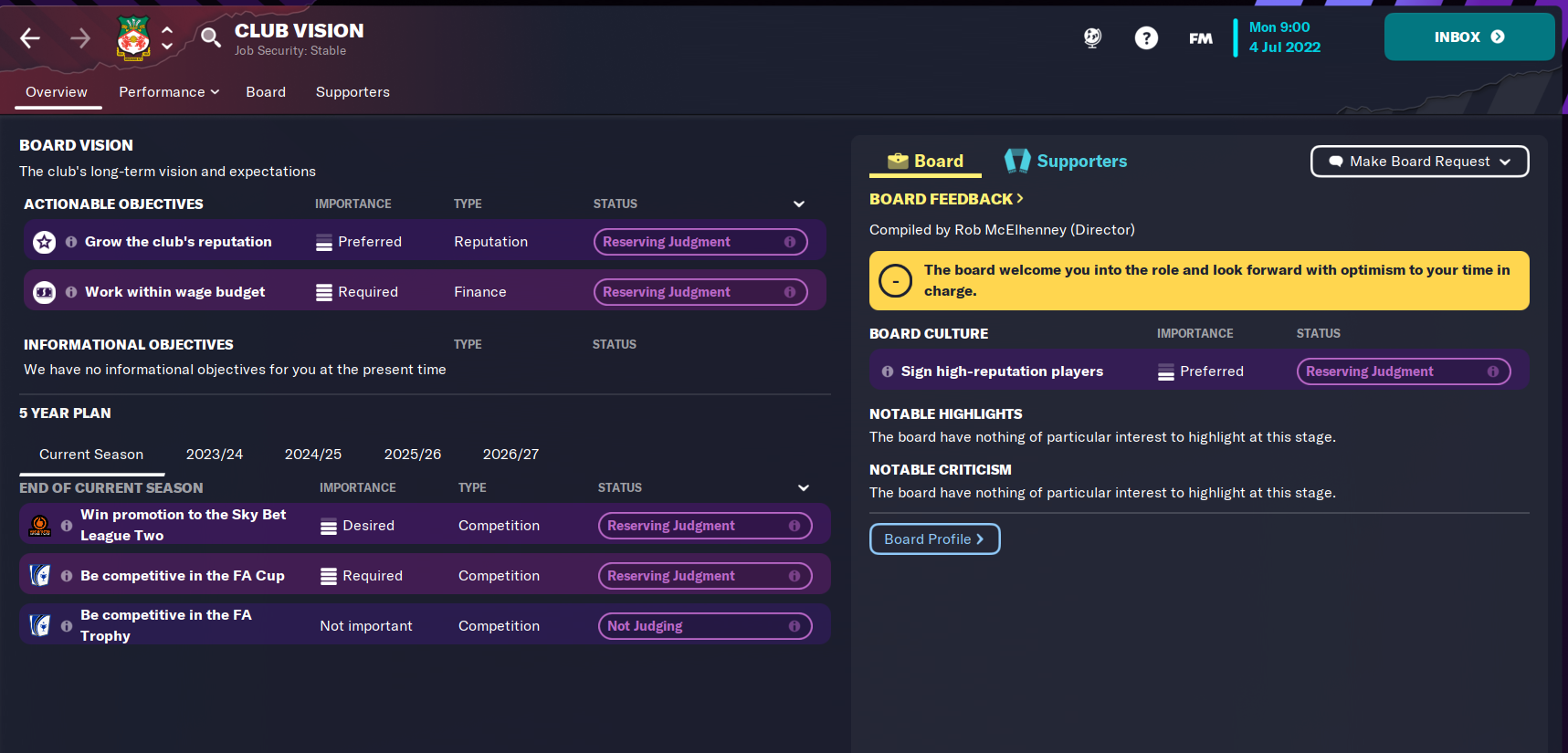 The FM23 Wrexham board want you to win promotion to Sky Bet League Two in your first season. This can be tricky if you don't win the league, as 6 teams from 2nd to 7th qualify for the play-offs. Anything can happen in the play-offs, so it's best to try and win the league title.
Luckily enough, Wrexham are massive favourites to win the league at 1-16 odds. The Wrexham FM23 team is much better than the rest of the teams in the league, with lots of players with the current ability of a League Two or even League One quality.
As soon as you get promoted to League Two, the board want you to work towards promotion to League One!
In terms of other competitions, the board want Wrexham to be competitive in the FA Cup, and they don't see the FA Trophy as important.
Finally, the board would prefer the Wrexham manager to sign high-reputation players. These are typically players with international caps, or players that have played at a higher division in their career. This might be quite hard to achieve until you are playing in a higher division.
FM23 Wrexham Supporters Vision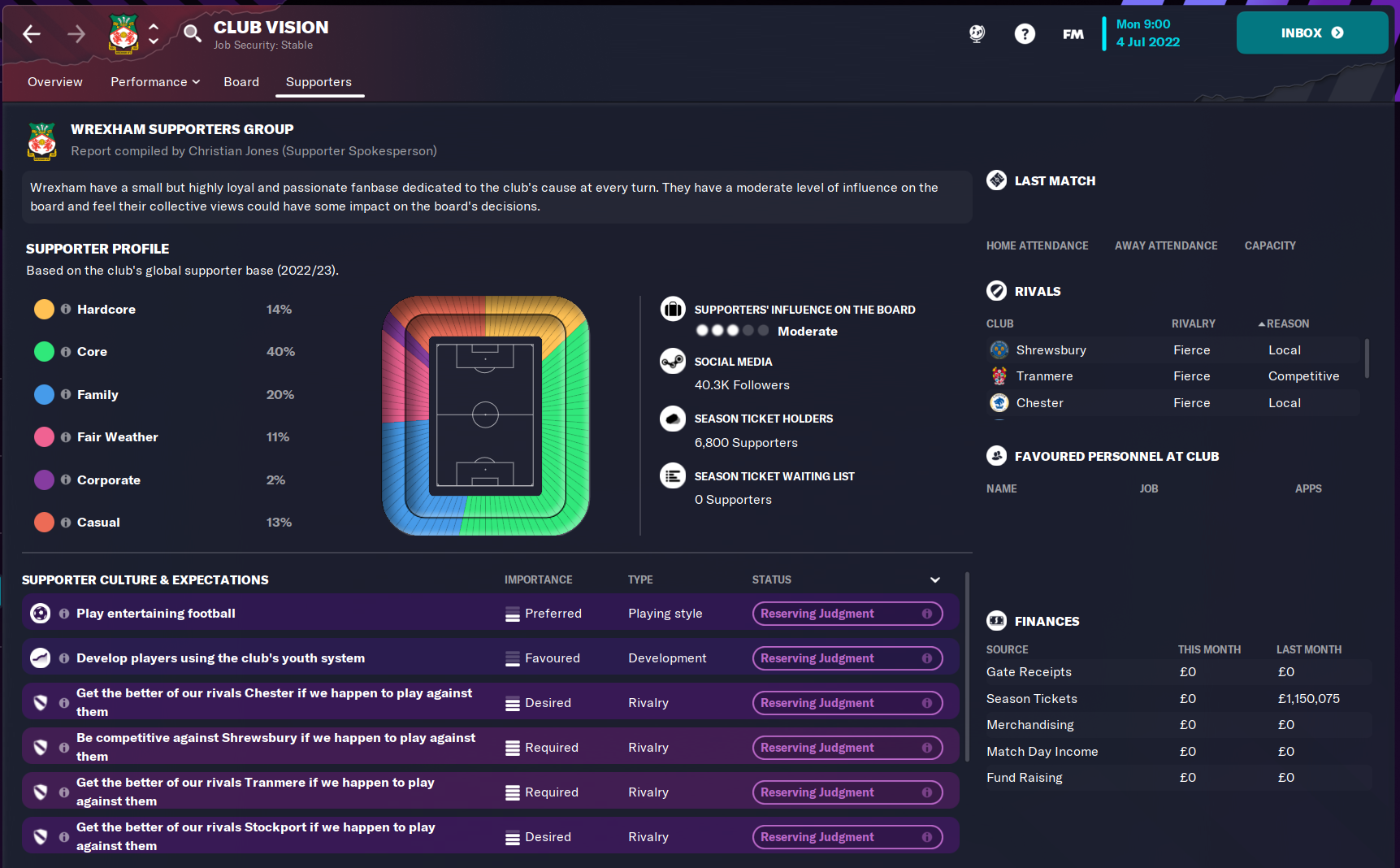 The Wrexham AFC fans are quite demanding in Football Manager. Like the Wrexham board, they want you to gain automatic promotion to League Two. The Wrexham fans also care a lot about beating their rivals, wanting you to beat Tranmere, Stockport, and Chester, as well as finishing above Chesterfield in the league.
FM23 Wrexham supporters also want you to play entertaining football, which is definitely possible as you'll be favourite to win almost every match in your first season.
Wrexham's Best 11 in FM23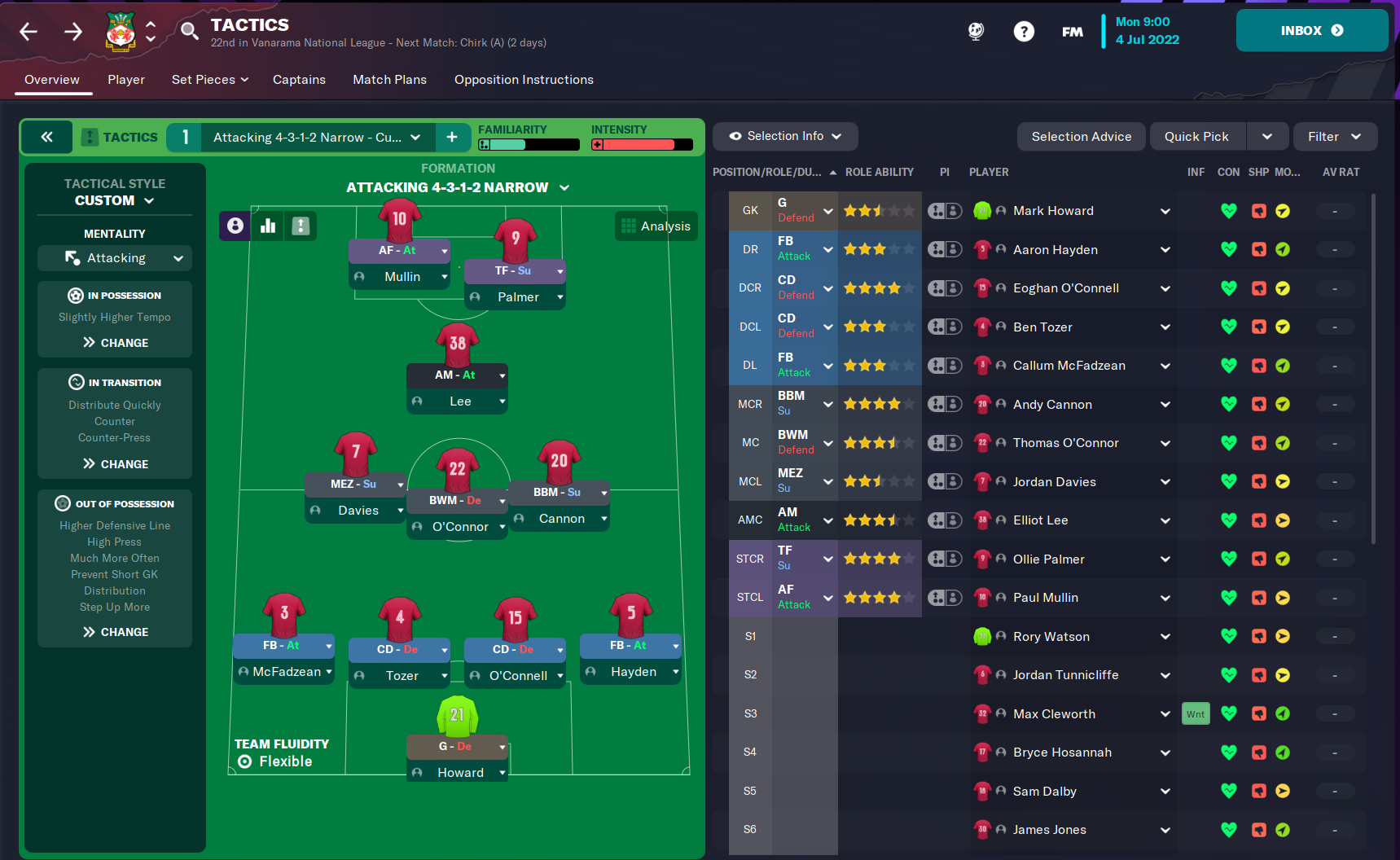 When looking at this Wrexham FM23 team guide, you can see that they have a really strong starting 11. Most notably the striker pairing of Ollie Palmer and Paul Mullin is extremely deadly. Both of these players are good enough to play in Sky Bet League One.
Centre back Eoghan O'Connell would also be a good player for League One sides, so these are players capable of playing an important part in your team as you go up the leagues.
You don't need to make any signings to win the league with Wrexham in FM23. But we've made 5. Wrexham could do with a better goalkeeper, right back, and left back. If you're looking to play a 2 man striker system like we are, then a backup striker to rotate with Mullin and Palmer could prove to be useful.
We'll get into the signings we made after we look more in depth at Wrexham's best players in Football Manager 2023.
Eoghan O'Connell – Wrexham's Best Player in FM23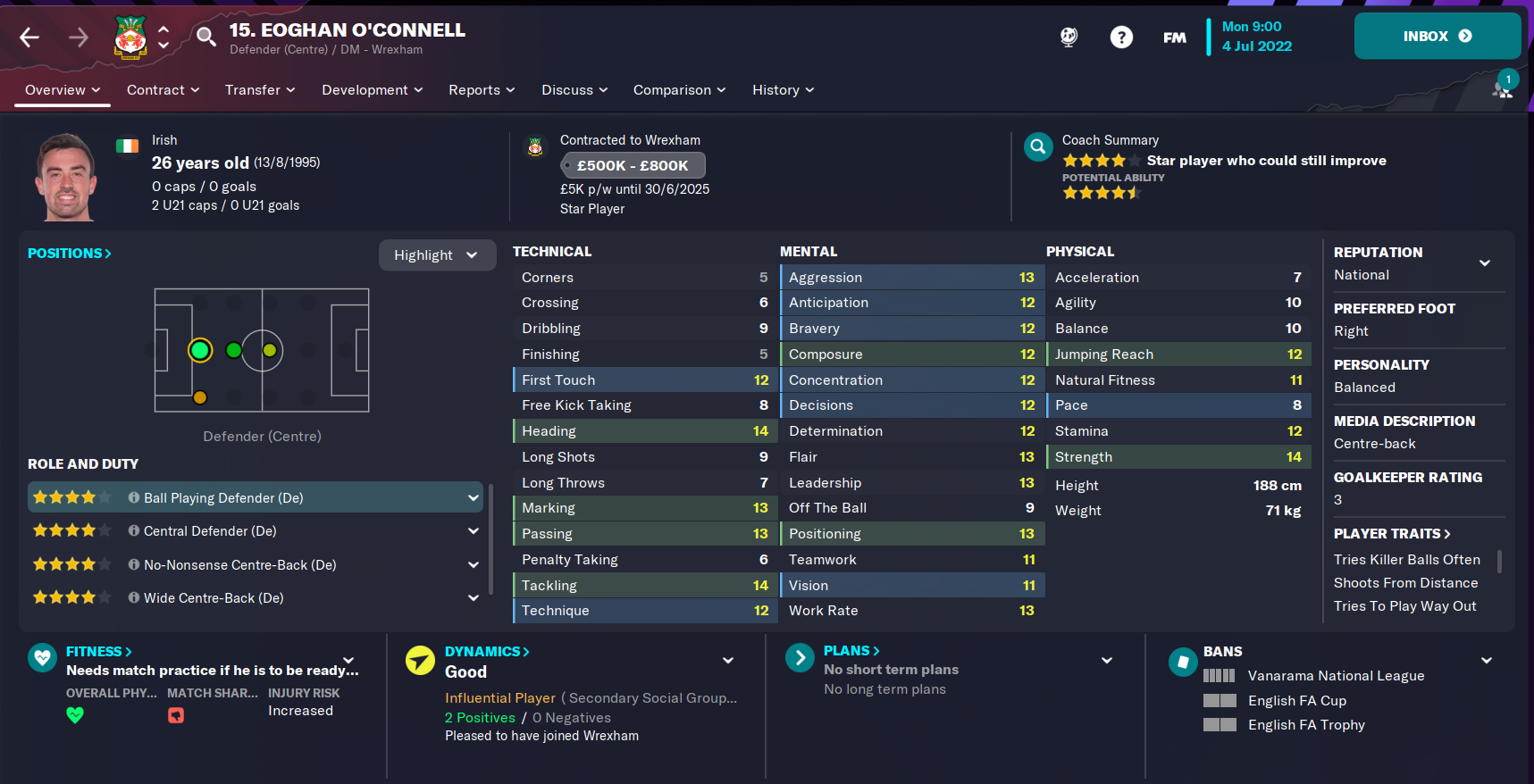 As previously mentioned, Eoghan O'Connell is a phenomenal centre back for the Vanarama National League. 14 Tackling, 13 marking, and 14 heading are attributes a Sky Bet Championship defender should have.
O'Connell is also well rounded mentally, but is lacking in pace. However, this isn't an issue in the lower leagues of English football. Your Wrexham FM23 defence should be built around Eoghan O'Connell.
Paul Mullin in FM23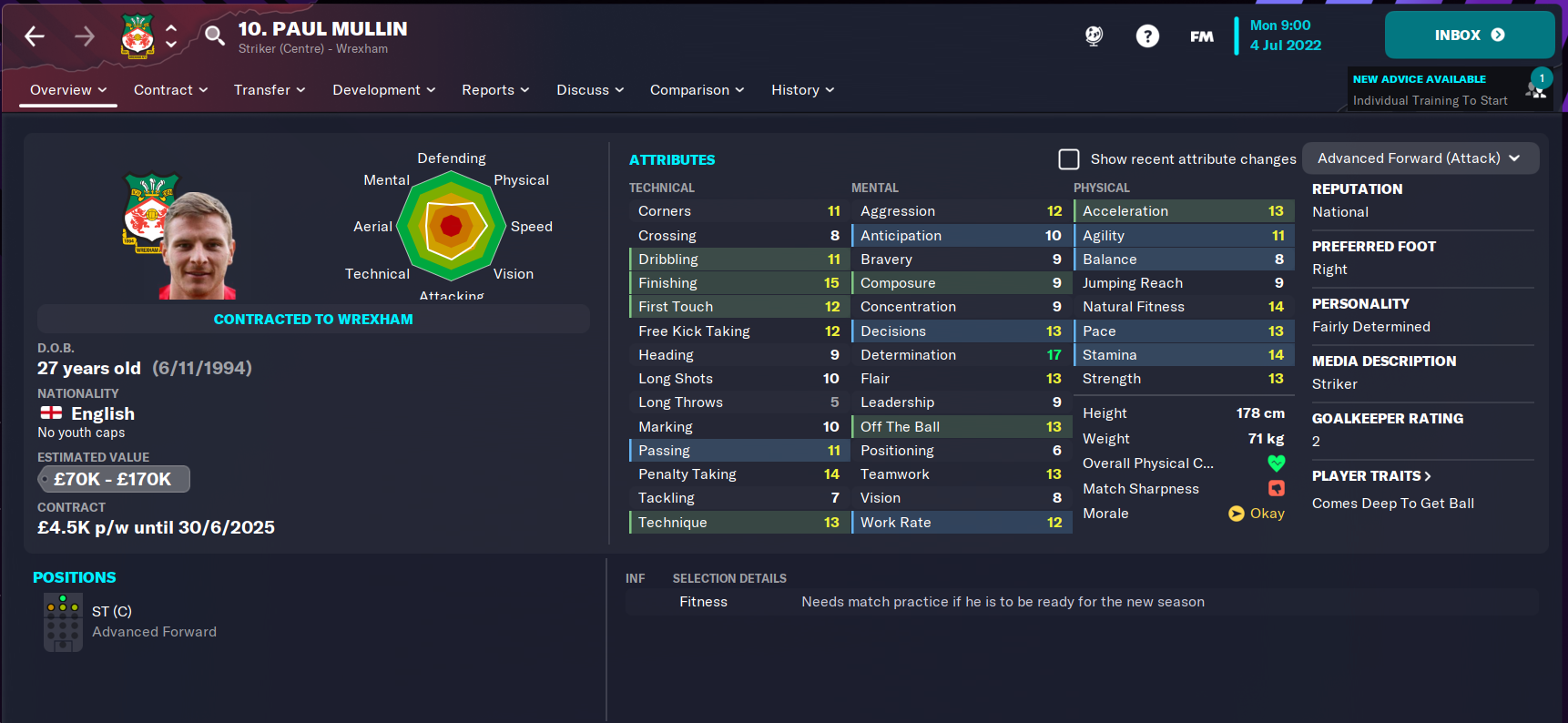 Another player that's far too good to be playing in the Vanarama National League is Paul Mullin. He's a hard working striker with 15 finishing, 14 stamina, and 17 determination.
Mullin is in his prime, and can carry you out of the National League, and even out of League Two.
Ollie Palmer in FM23
Ollie Palmer was scoring goals in League One before moving to Wrexham. He's best played as a target forward because he's ridiculously tall and has great heading ability.
Palmer's mental attributes are what standout though, with 17 determination, 16 work rate, and 16 anticipation. If you utilise Palmer correctly, he'll score goals for fun.
Let's get into the signings we've made for this Wrexham FM23 team guide.
Wrexham FM23 Signing 1 – Cole Dasvila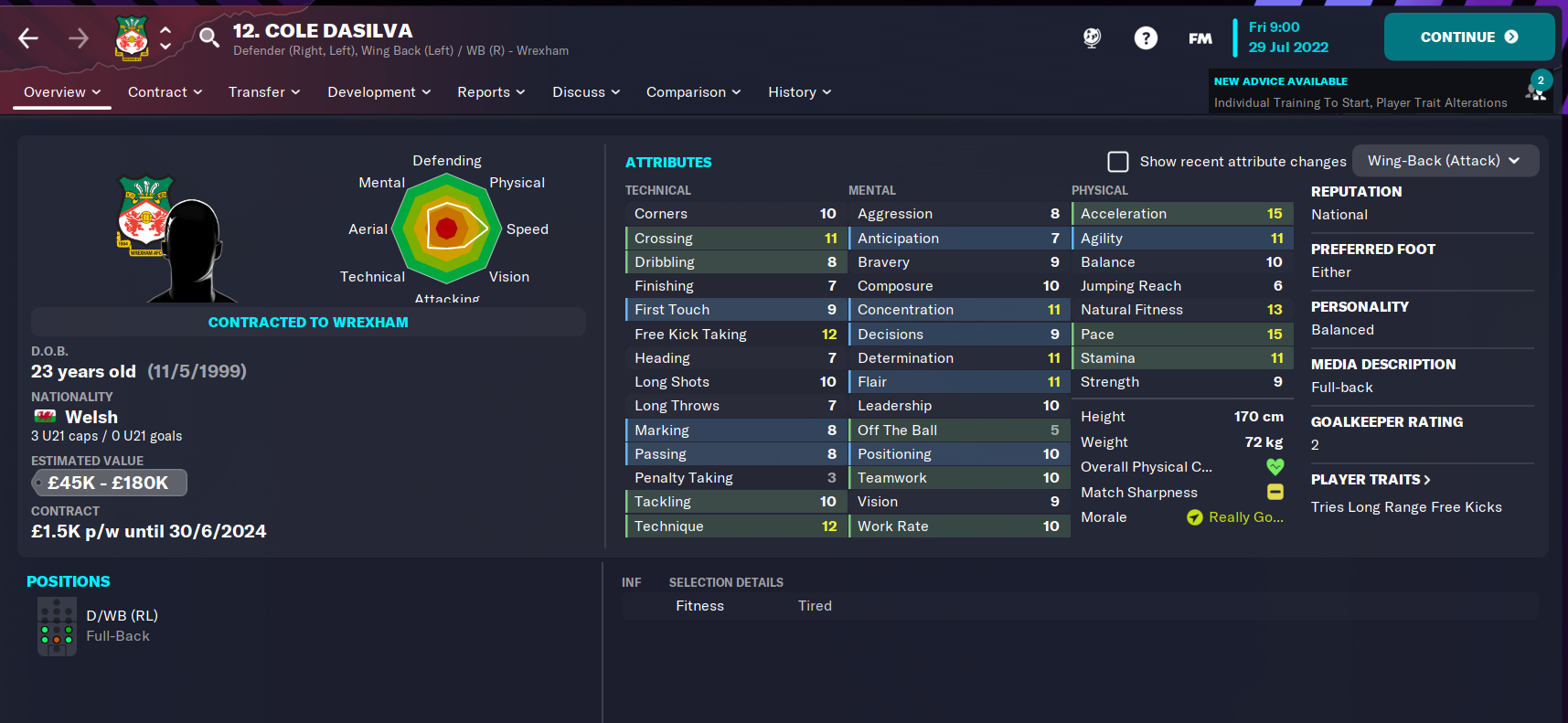 The first signing of this Wrexham FM23 team guide is Cole Dasilva on a free transfer. He's spent time in Chelsea and Brentford's youth academy, and hasn't had much first team experience. However, he's a brilliant full-back at this level, and is a good player for League One sides.
At only 23 years old, Dasilva can get even better, and definitely be a part of your squad as you go up the leagues. He can play both full-back and wing-back positions, which is great if you want to switch to a wing-back system.
It's also nice to have some Welsh players at a Welsh football club.
Signing 2 of Wrexham FM23 Team Guide – Ryan Mclaughlin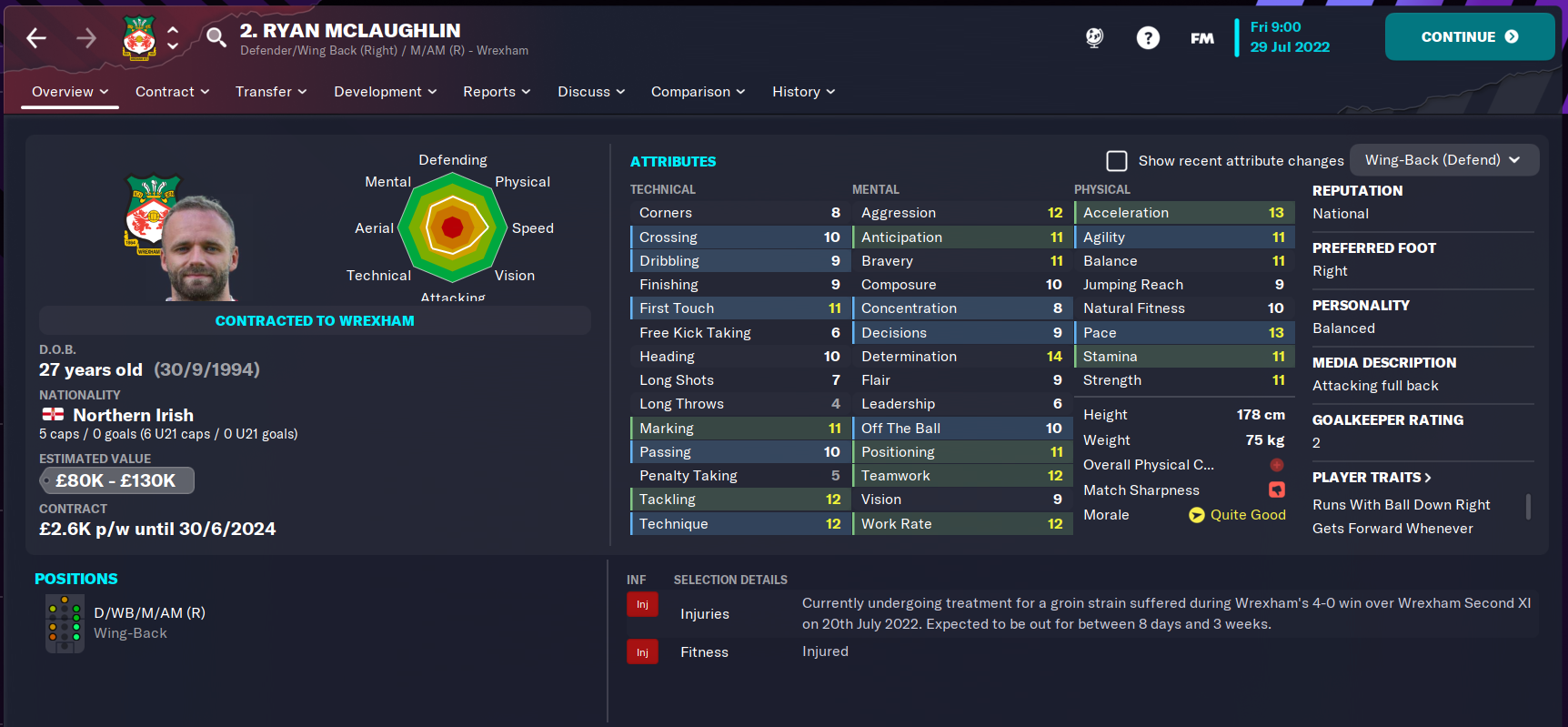 To play in the right back position we've signed Ryan Mclaughlin. Last season he was playing for Morecambe in League One, but got released. He can be signed as a free agent and is willing to accept a contract on £2.6k per week.
Ryan Mclaughlin also has 5 caps for Northern Ireland, which helps reach the board expectation of signing high reputation players.
Signing 3 – Fraizer Campbell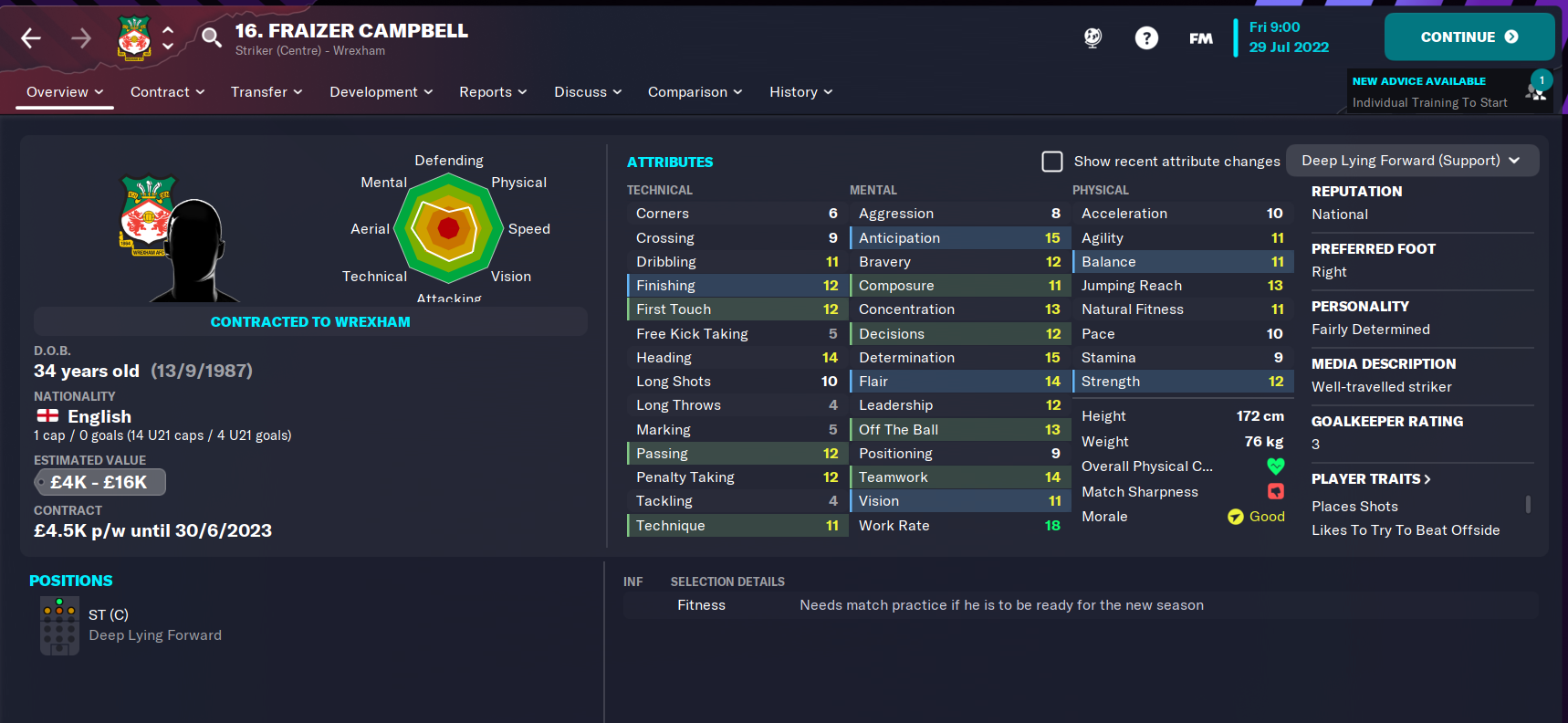 As a backup striker we decided to sign Fraizer Campbell. He's got experience of Premier League football, and was playing for Huddersfield in the Championship last season.
At 34 years of age, he still has some brilliant attributes, including 15 determination, 18 work rate, and 15 anticipation. However, Campbell will cost Wrexham a lot of money, demanding £4.5k per week.
FM23 Wrexham Signing 4 – Caolan Boyd-Munce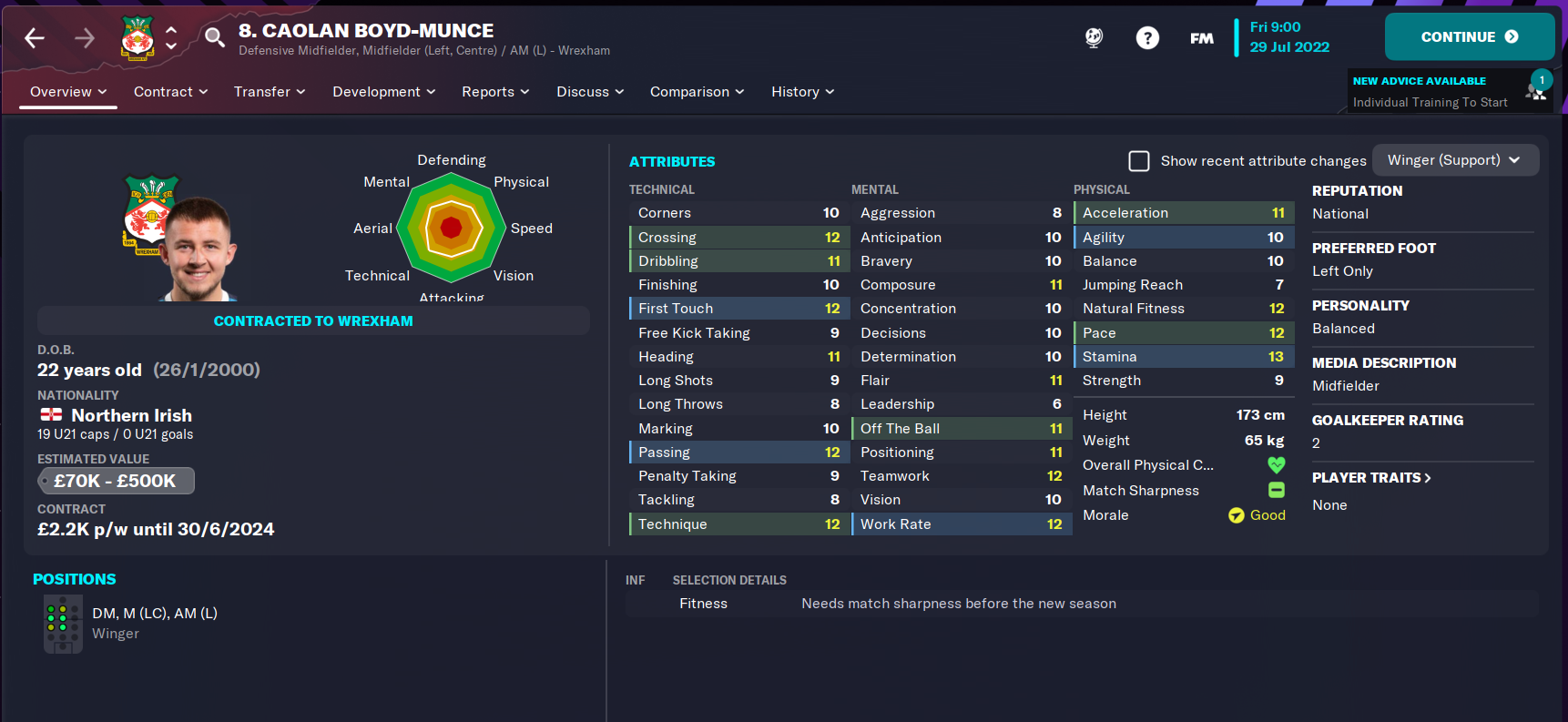 To add some more depth to the midfield we signed Caolan Boyd-Munce. Similar to Dasilva, Boyd-Munce has spent a lot of time in youth academies but is now ready to play first team football.
The versatile midfielder can play CDM, CM, and on the left wing. He's also made several appearances for Northern Ireland's under 21s.
Signing 5 – Keiren Westwood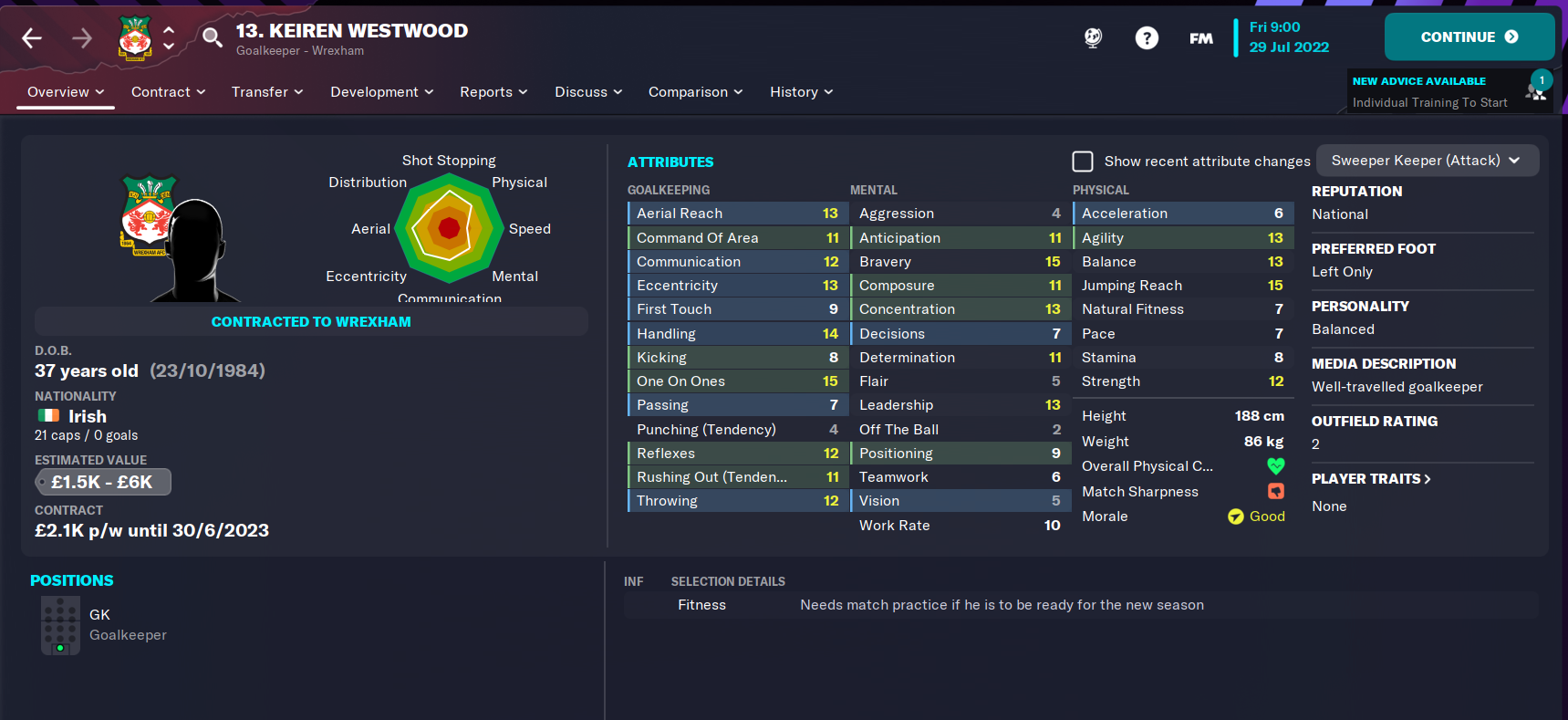 Sadly the FM23 winter update doesn't include Ben Foster, so the final signing we've made for this Wrexham FM23 team guide is Keiren Westwood. He's getting on in his career now at 37 years old, but he's still more than good enough for the National League.
Keiren Westwood has also made 21 appearances for the Republic of Ireland, making him a high reputation player, which again meets the requirement set out by the Wrexham board.
FM23 Wrexham Line-up with New Signings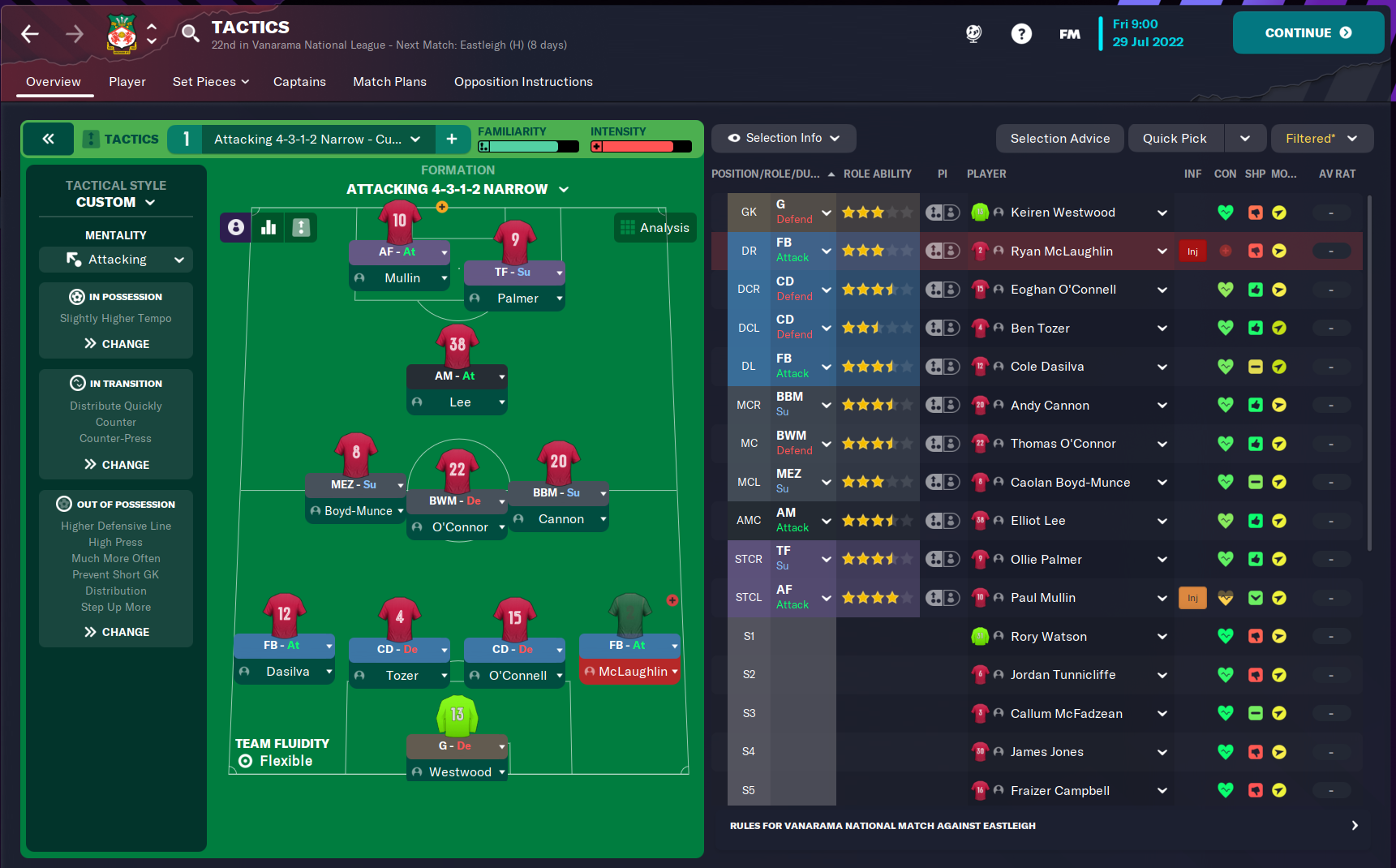 Wrexham's team looks even better once signings have been made. The defence looks much stronger, and having Fraizer Campbell off the bench can make a great impact on games.
When looking at further improvements, Ben Tozer is a player you might look to upgrade in your defence. But he's still fantastic for this level, and also has good leadership qualities, which makes him a good asset to the team.
Summary of Wrexham FM23 Team Guide
The new financial backing Wrexham makes them a really fun save in FM23. It would be a fantastic achievement to be able to take them from the National League to the Premier League. Hopefully this Wrexham FM23 team guide will help you at the start of your journey.
More FM23 Team Guides