10 Best FM24 Save Ideas you must try!
By callum | September 10, 2023 | 875 Views
Best FM24 Save Ideas
Looking forward to starting a save when FM24 is released? Here are some of the best FM24 save ideas you must try! There's a mix of short term and long term saves, with different teams across the globe. A few FM challenges are also on this list too.
Please note – The images used in this article are from FM23, so please ignore any predicted finishes. This article will be updated when FM24 is officially released.
If you haven't Pre-odered FM24 already, do so here and Shop FM24 up to 26% off
People Also Read – Best Laptops for FM24.
1. Luton Town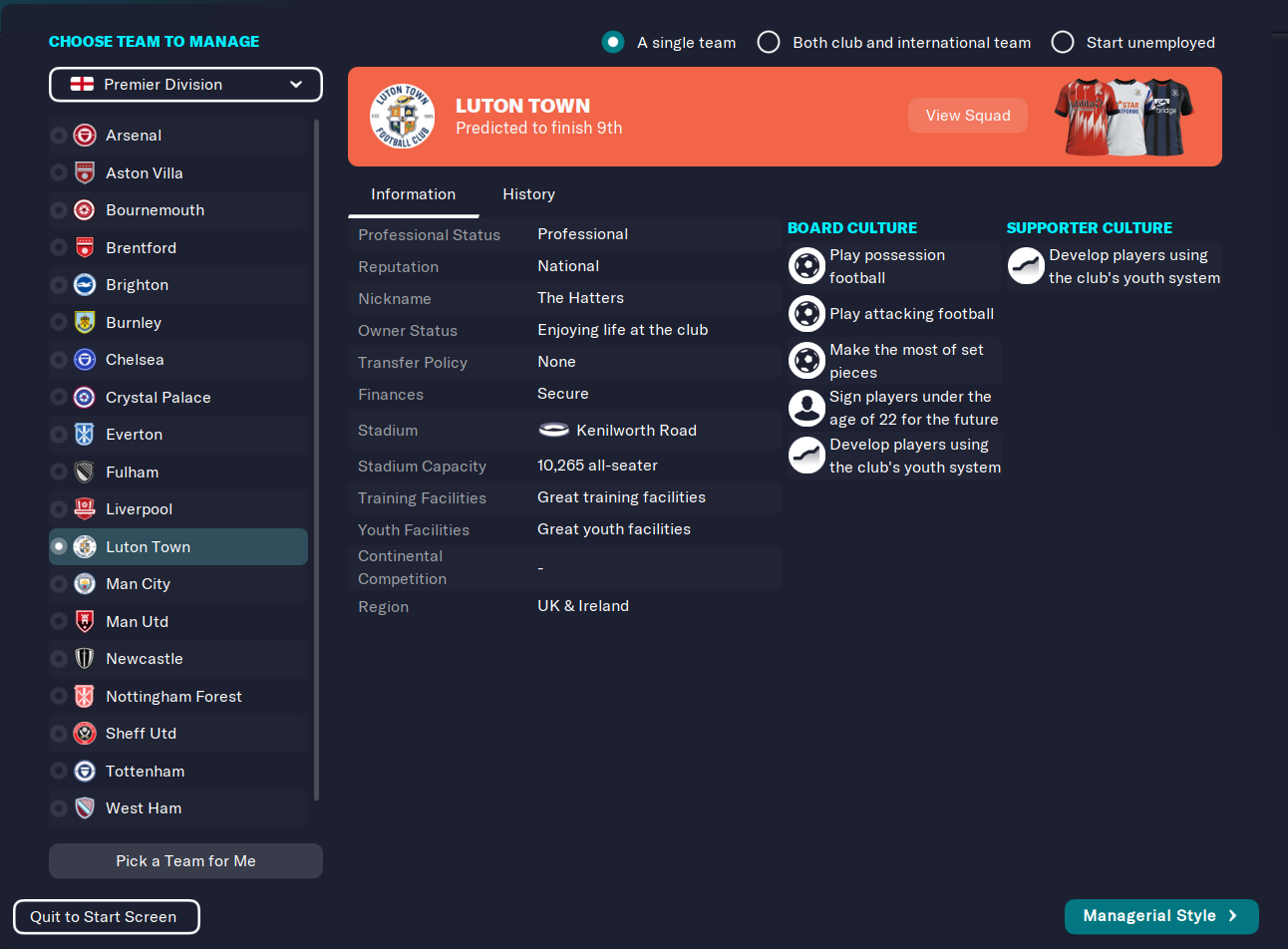 I know Luton are an obvious choice for one of the best FM24 saves you must try. However, they have such a difficult job on their hands. This makes them such an interesting team to manage.
Luton have been a very well managed club over the years, they were in Non League in 2014, and have managed to now climb to the heights of the Premier League.
The problem is, their team on paper was barely one of the best in the Championship, and they haven't made many signings with Premier League experience. It will be a very tough job to keep them up in the League, but if you are at least competitive, you'll likely keep your job.
Can you do the impossible and keep Luton in the Premier League?
2. Union Berlin
Similar to Luton, Union Berlin have had a meteoric rise to the top. In 2009 they were promoted from the German 3rd division and were in the Bundesliga for the first time ever in the 2019/20 season.
They haven't only managed to stay up, but have managed to qualify for the Champions League! They are the underdog story of the Bundesliga.
Union Berlin have made some very interesting transfers this summer. The additions of Kevin Volland, Robin Gosens, and even Leonardo Bonucci, have strengthened this side to the point where they've become one of the stronger in the division.
There's some other teams in Germany that could've made this list of the best save ideas in FM24, including RB Leipzig, Bayer Leverkusen, and Schalke 04.
3. Malaga
Now unlike Luton and Union Berlin, Malaga have massively fallen off in the last 10 years. In 2013, Malaga got to the quarter finals of the Champions League, and had players including a young Isco, and prime Martin Demichelis.
However, Malaga now find themselves in the 3rd division of Spanish Football, after finishing bottom of the 2nd division last season. They have only signed free transfers this summer, not spending a single penny.
Can you bring Malaga back up the leagues to La Liga where they should be? They're not exactly a sleeping giant, but a team that's performing well below their standards.
4. Building a Nation Challenge
If you're looking for a long term save challenge in FM24, then this is the save idea for you. Building a nation was created by YouTuber Second Yellow Card. The idea behind this save idea is to take a smaller nation and turn its top division into the most reputable in Europe.
To do this, you need to perform well in European competitions, as this will give you more coefficient points, which allows you to take over the leagues above you. The higher you are in the coefficient rankings, the more teams in your division qualify for Europe.
However, to become the highest ranked team in Europe, you'll need other teams in your division to perform well in Europe too. This means your league will need to be competitive, so it's not a good idea to buy your rival's best players. You will want to strengthen the other teams in your league so they can perform well in Europe too.
Because of this, it will be helpful for you if you choose a nation with lenient registration restrictions. You also don't want to go for one of the better nations in the game. We recommend nations such as Scotland, Denmark, Poland, Republic or Ireland, or Hungary. However, you can choose any nation you want. Even San Marino!
You can even take over the national team and try to win the World Cup.
You can take a look at Second Yellow Card talking about building a nation here.
5. York City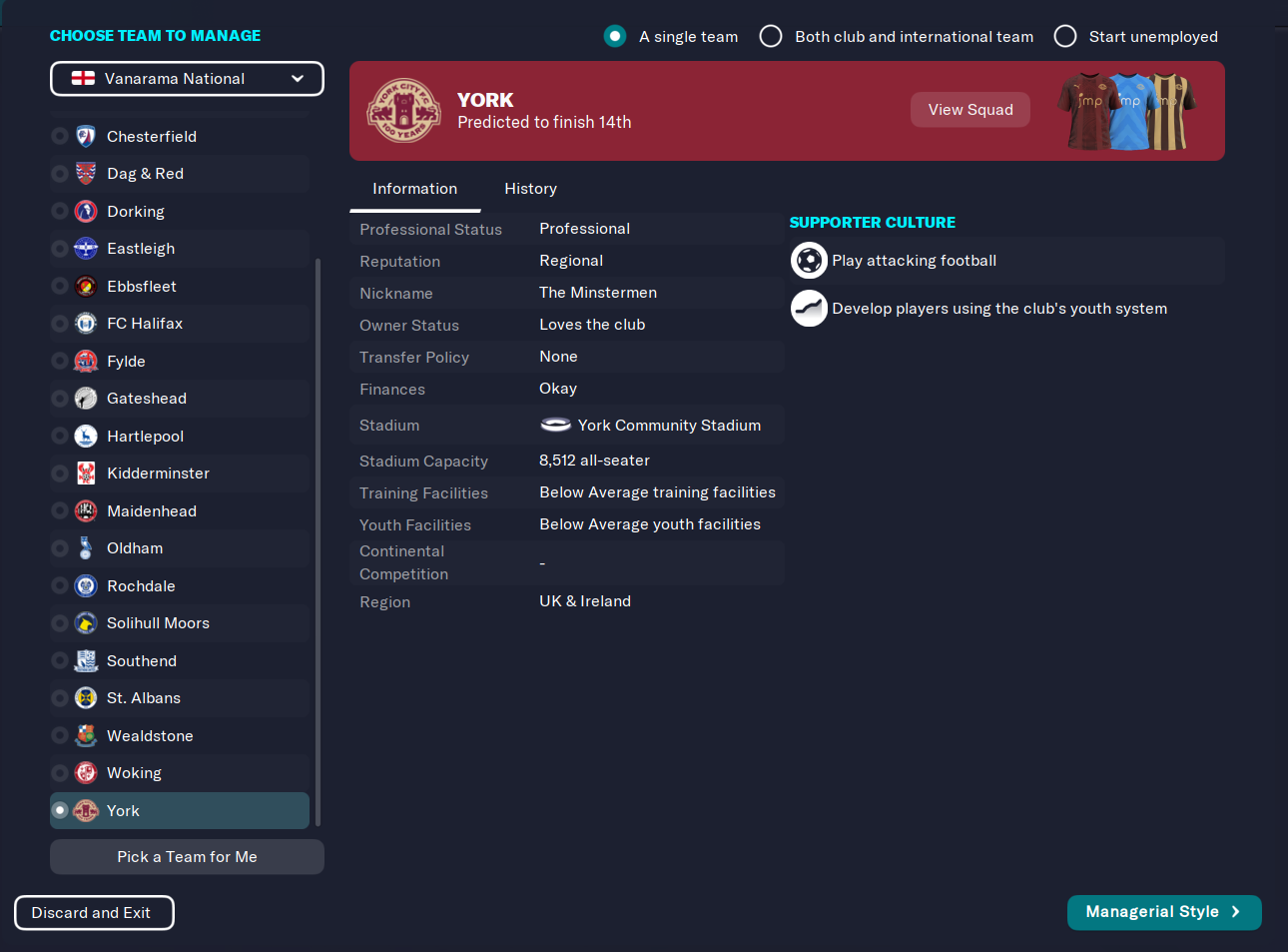 We could've put any team in Non League on this list of the best FM24 save ideas. Managing in Non League can create some of the best saves in Football Manager. It's a great feeling taking a team into the football league, and potentially to the Premier League, just like Luton!
But we've chosen York City as they're a large team in Non League that have been down there for too long. They've got a good support and recently moved to a new stadium.
York City also got new owners this summer, and he's willing to splash the cash. York City should have a large budget compared to other teams in the Vanarama National League. This should also give you a better chance when you move up the leagues.
6. Atalanta
Serie A is a very competitive league, which makes it a great league to manage in. Atalanta have been punching above their weight for years, consistently finishing in European places. They have a smaller budget compared to the other teams competing for the Champions League places.
After losing Rasmus Hojlund to Manchester United, Atalanta have signed some top talents. Additions such as Gianluca Scamacca, and El Bilal Toure, will definitely provide some goals. If you can get them both scoring in a 2 striker formation you'll be fine. 
Atalanta also have 2 amazing wonderkid centre backs. Giorgio Scalvini and Caleb Okoli are a brilliant partnership you can nurture and develop. They have the potential to become the best centre back partnership in the league.
There's a lot of potential in this Atalanta team, and it will be up to you to make sure the team reaches it.
7. Tottenham
After a poor season, and losing Harry Kane, you'd think Spurs wouldn't be one of the best FM24 save ideas. However, they've made some really interesting signings, and have some exciting young players with great potential.
James Maddison has hit the ground running, and is a top player to build your team around. And if like Ange Postecoglu in real life you can't get Richarlison firing, you can play Son up front, or sign a top striker to really replace Harry Kane.
Players like Desitny Udogie, Micky Van De Ven, and Dejan Kulusevski will have fantastic potential in FM24. With a few more additions, you'll be able to get Spurs competing for the Champions League places again.
With the large new stadium, the board will have expectations of getting back into Europe. But the main objective of this save will be to do something that not even Jose Mourinho or Antionio Conte could do at Spurs. Win them a major trophy!
8. Glory Hunter Challenge
This is an extremely fun challenge that was first created by Doctor Benjy on YouTube, and is something you must give a go if you like managing more than one club in your save.
The main objective of the save is to win the league and main domestic trophy in Europes top 5 leagues. You also need to win the Europa Conference League, Europa League, and Champions League.
On top of that, you need to also win the European Championships, and the World Cup.
And you have a time frame of 20 seasons, so that's 15 trophies in 20 years. Easy, right?
It's recommended to start as a team already competing in a European competition, but not a team that's favourites to win the League. Here are some of our recommendations for starter teams for this challenge.
England:
Arsenal
Manchester United
Brighton
Germany:
Borussia Dortmund
RB Leipzig
Bayer Leverkusen
France:
Marseille
AS Monaco
Italy:
AC Milan
Inter Milan
Juventus
Roma
Spain:
Athletico Madrid
As soon as you win the required trophies in one country, you'll need to look for other jobs abroad. You must be smart about where you go, and what jobs to take. For example, if the PSG job comes up you might be able to tick off France in a season. This will give you more time in other countries where it might be harder.
9. Sunderland
Sunderland were also on the list of the best save ideas for FM23, and have managed to make it onto the FM24 list too.
In their first season back in the Championship, Sunderland managed to reach the play offs. They already had exciting young talents such as Jack Clarke and Abdoullah Ba, and have added even more by signing Adil Aouchiche, Timothee Pembele, and Jenson Seelt.
There's even more quality young players that are the foundation of this Sunderland team. If you can develop these youngsters, you'll have a squad ready to challenge for promotion to the Premier League, and maybe even a squad good enough of staying up too.
The Championship is one of the most fun leagues to manage in in Football Manager. If you would rather go another team in the league, take a look at Ipswich, Plymouth, or Middlesbrough.
10. Start Unemployed
If you're not sure what team you want to manage, starting unemployed can be really interesting. Load in all of the leagues you would be interested in managing, and wait for jobs to come up.
You can decide the standard of team you would like to manage by choosing relevant coaching badges and playing experience. If you're looking to manage teams in top divisions, give yourself a Continental Pro License.
A popular save for more hardcore Football Manager players is to start unemployed and with no coaching badges and only Sunday League playing experience. This means you'll likely start off managing a semi-professional team, and you'll need to make your way up the ranks and get your coaching badges to get to the top.
What are the Best FM24 Save Ideas for me?
This depends on the size of team you want to manage, and the length of save you want to do.
For long term saves with smaller teams, I would recommend a National League save with York City. If you want a long term save managing large teams, then the Glory Hunter Challenge might suit you.
Or if you're still not sure what team you want to manage in FM24, just start unemployed!