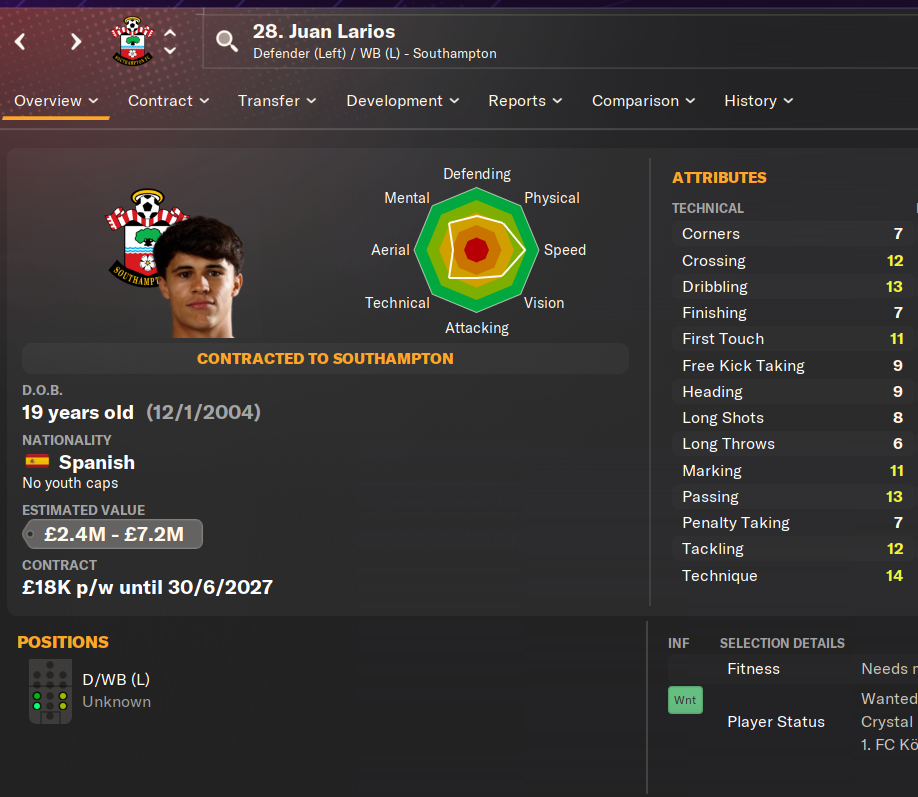 13 Best Championship Signings in FM24
By callum | October 30, 2023 | 343 Views
Best Championship Signings in FM24
Who doesn't love managing in the English Championship. It is such a competitive league, with lots of great teams of similar quality. It's also one of the best feelings in Football Manager getting promoted to the Premier League.
But who will help get you to the Premier League? We've found 13 of the best signings you can make for your Championship team to help get you get up the table. There are signings for any team you're managing in the division, with players ranging from free agents, to up to £5 million.
Also join our Football Manager Facebook Group to become a part of a growing FM community!
13. Simone Zaza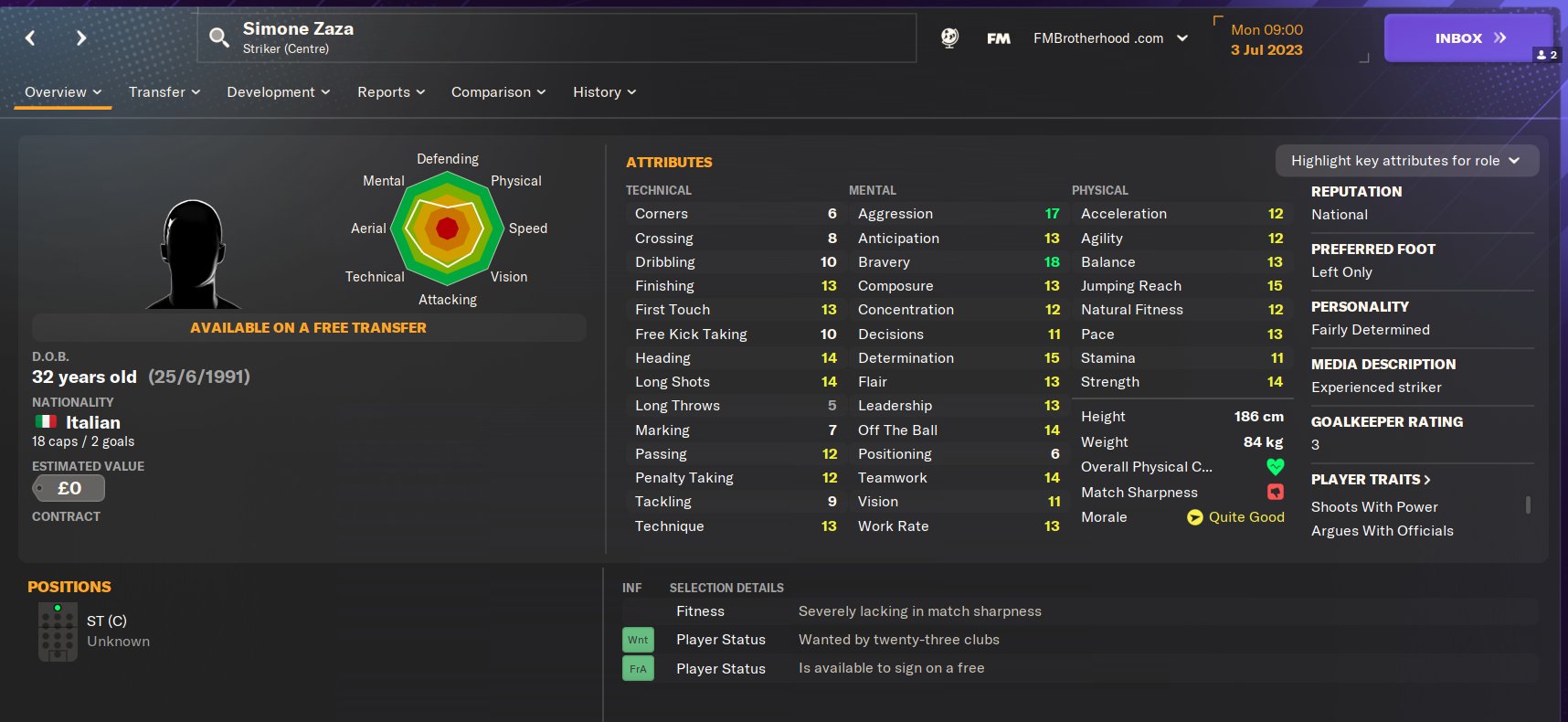 Simone Zaza is the first player on our list of the best Championship signings in FM24. He is getting on a bit, but he's still got more than enough quality to perform in the 2nd tier of English football.
Mentally he's excellent. 18 bravery, 17 aggression, and 15 determination are some of his best attributes.
Zaza is willing to accept a wage of £6.5k per week, which is very reasonable for most teams in the league. He will struggle to get a work permit, however don't worry about this. In FM24, teams in England now have allocated ESC players, which is to help combat the hard Brexit registration regulations. Zaza can be allocated one of these 4 slots.
He is wanted by A LOT of teams though, so don't be surprised if he joins someone else.
Would be an ideal signing for:
Lower table Championship teams.
12. Nico Schulz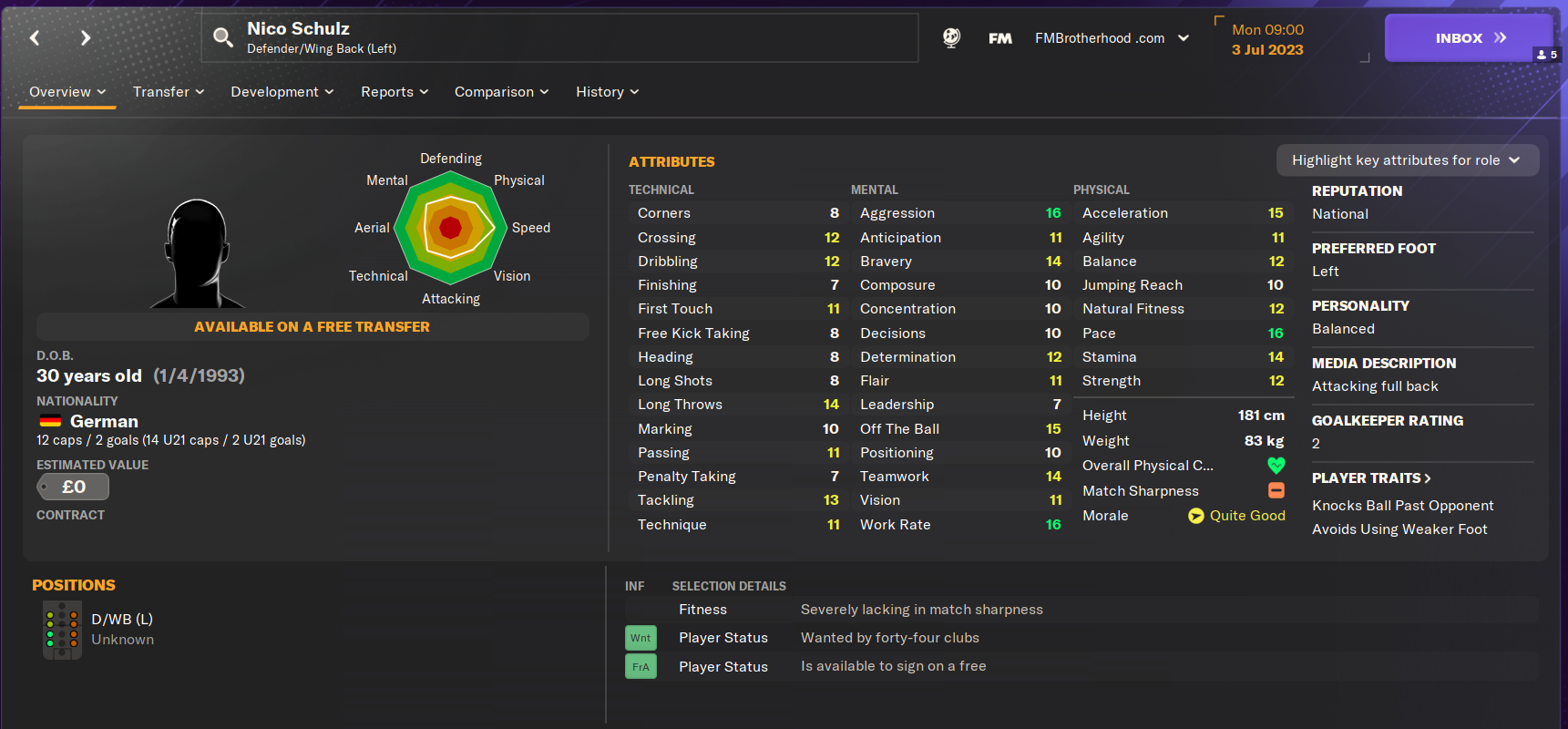 Schulz is another free agent that would make a great signing for a Championship team. Just last season he was playing first team football for Borussia Dortmund!
Although it didn't really work out for him there, he would excel in the Championship. Nico Schulz is a quick left back with fantastic work rate and aggression. His tackling is good too.
£8.5k per week is enough to bring him to your team, but he's wanted by over 40 other clubs so make your offer quickly, and make it a good one.
Would be an ideal signing for:
Lower and mid table Championship teams.
11. Liam Cullen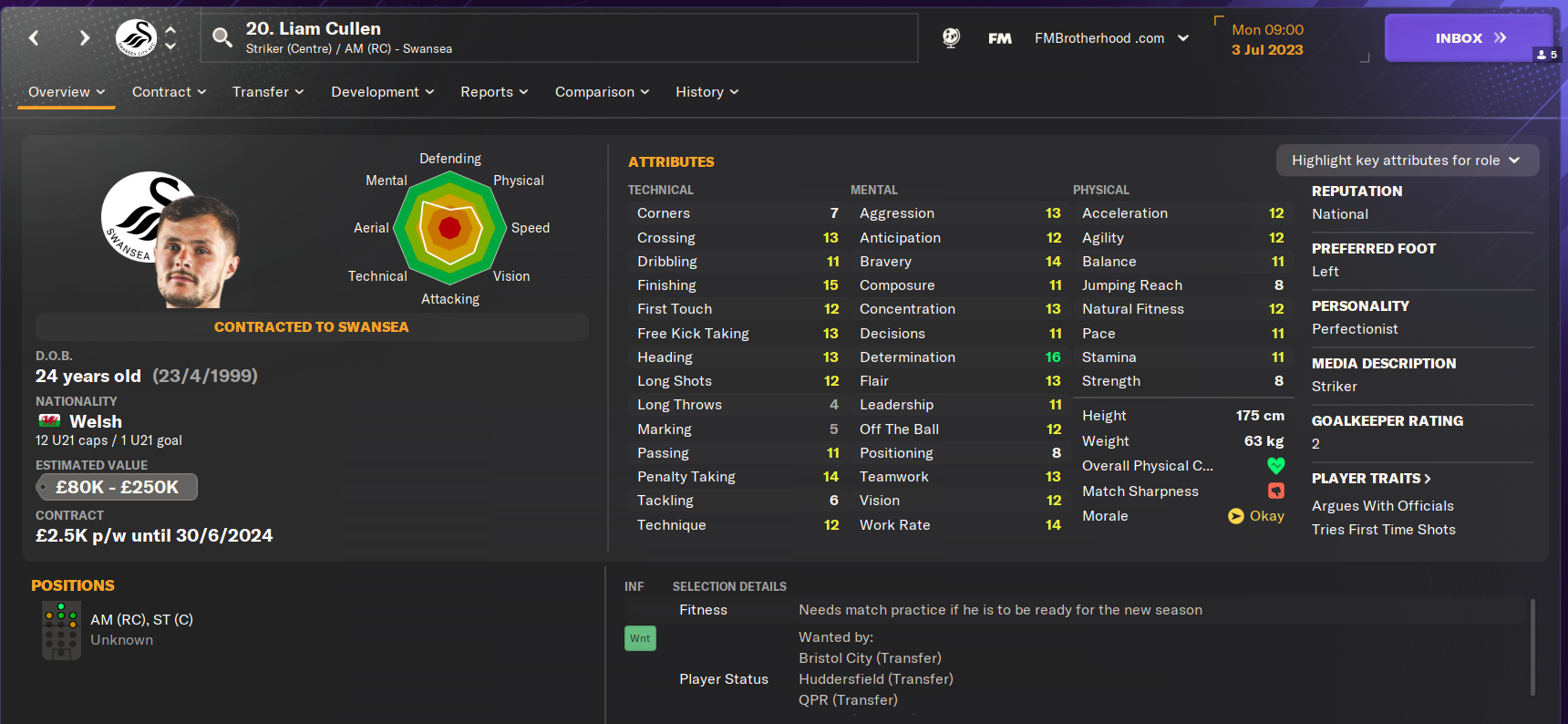 Okay so if you're managing Swansea just move onto the next best Championship signing in FM24. His best attributes are 15 finishing, 14 work rate, and 16 determination. This shows he's a hard working striker with an eye for goal. Perfect for the Championship.
You can get Cullen for just £160k which is such amazing value for money. He could be a either be a starter for you, or a backup cheap striker to keep your bench warm. Liam Cullen is already wanted by teams in the Championship, showing he's good enough to play in the league.
Would be an ideal signing for:
Lower and mid table Championship teams.
10. Peter Etebo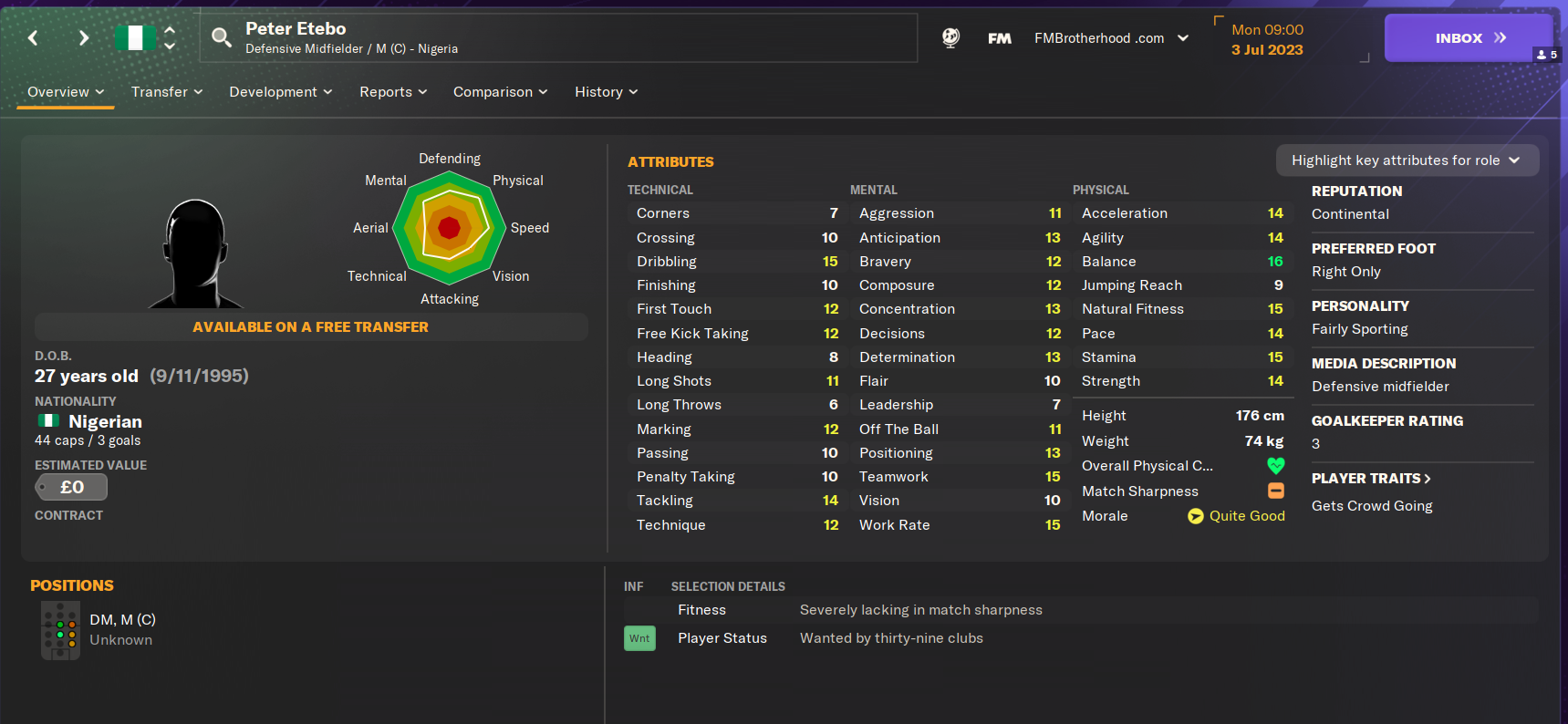 Etebo has already played in the Sky Bet Championship for Stoke City. He now finds himself as a free agent after leaving them, but I feel they've made a mistake letting him go. Well maybe not in real life, but for Football Manager purposes they definitely have!
Peter Etebo has 44 caps for Nigeria, and is physically brilliant. He's in his prime at 27 years old too. The defensive midfielder still has plenty of years to do a solid job for Championship teams.
He does ask for a higher wage than others though, he wants £15k per week. This might be a lot for some Championship teams, but not for teams pushing for the play offs.
Would be an ideal signing for:
Top half and play-off Championship teams.
9. Timo Horn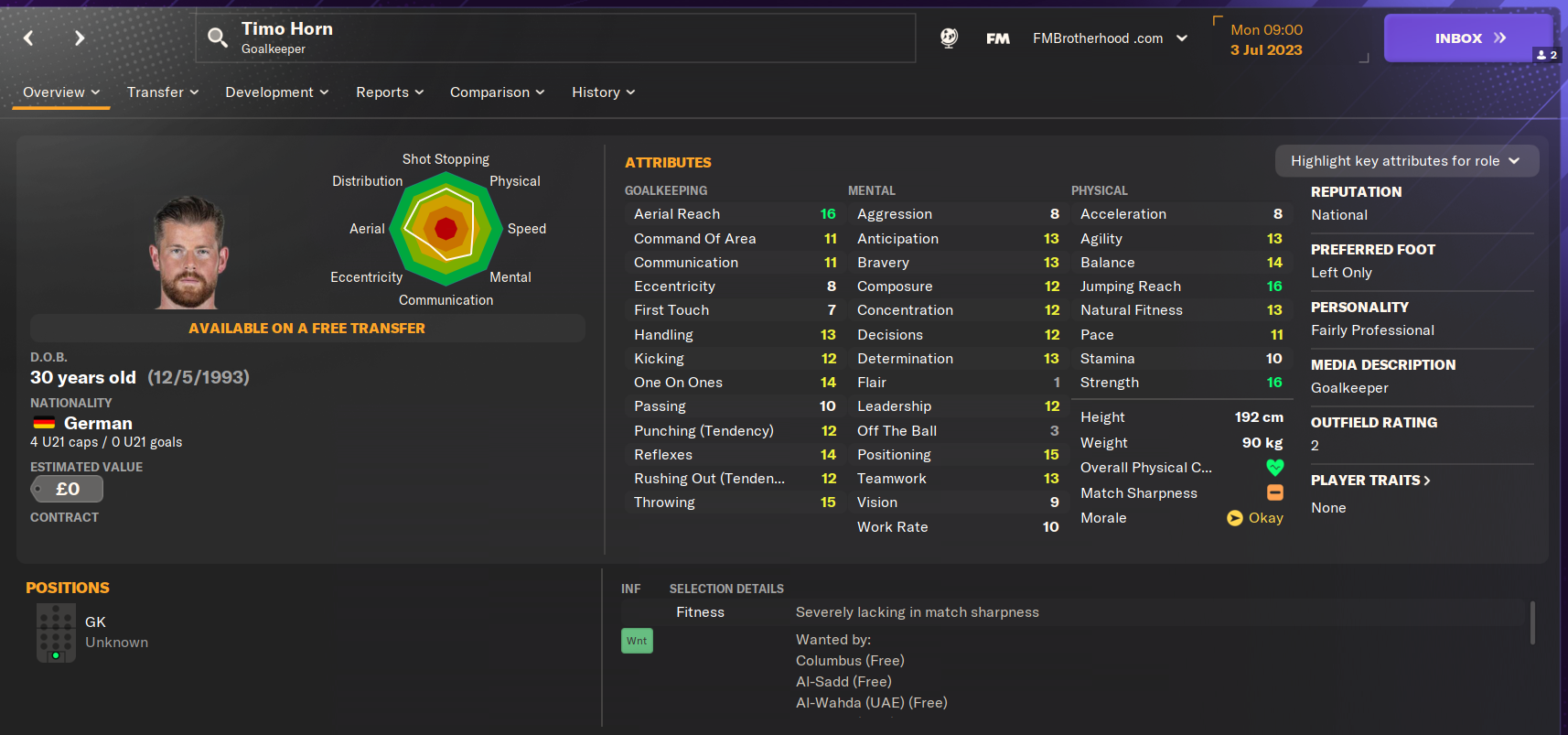 Timo Horn has spent his whole professional career at FC Koln, so it's really weird seeing him without a club. He has always been a relatively cheap goalkeeper to sign on Football Manager, but is now completely free!
Horn is 30 years old, which isn't old at all for a goalkeeper. He should still have at least 3 or 4 years at his current level before his attributes start to depreciate. His aerial ability, distribution, and shot stopping are all more than good for Championship level.
Most teams managing in the Championship have to manage their finances really carefully. You can sign Timo Horn, put him in goal, and not need to worry about signing a new one for at least 3 seasons. And he's free! His £13k per week salary is affordable for teams he would be willing to join. Like Simone Zaza, Timo Horn would take up an ESC spot in your squad.
Would be an ideal signing for:
Top half and play-off Championship teams.
8. Marcel Hoffmeier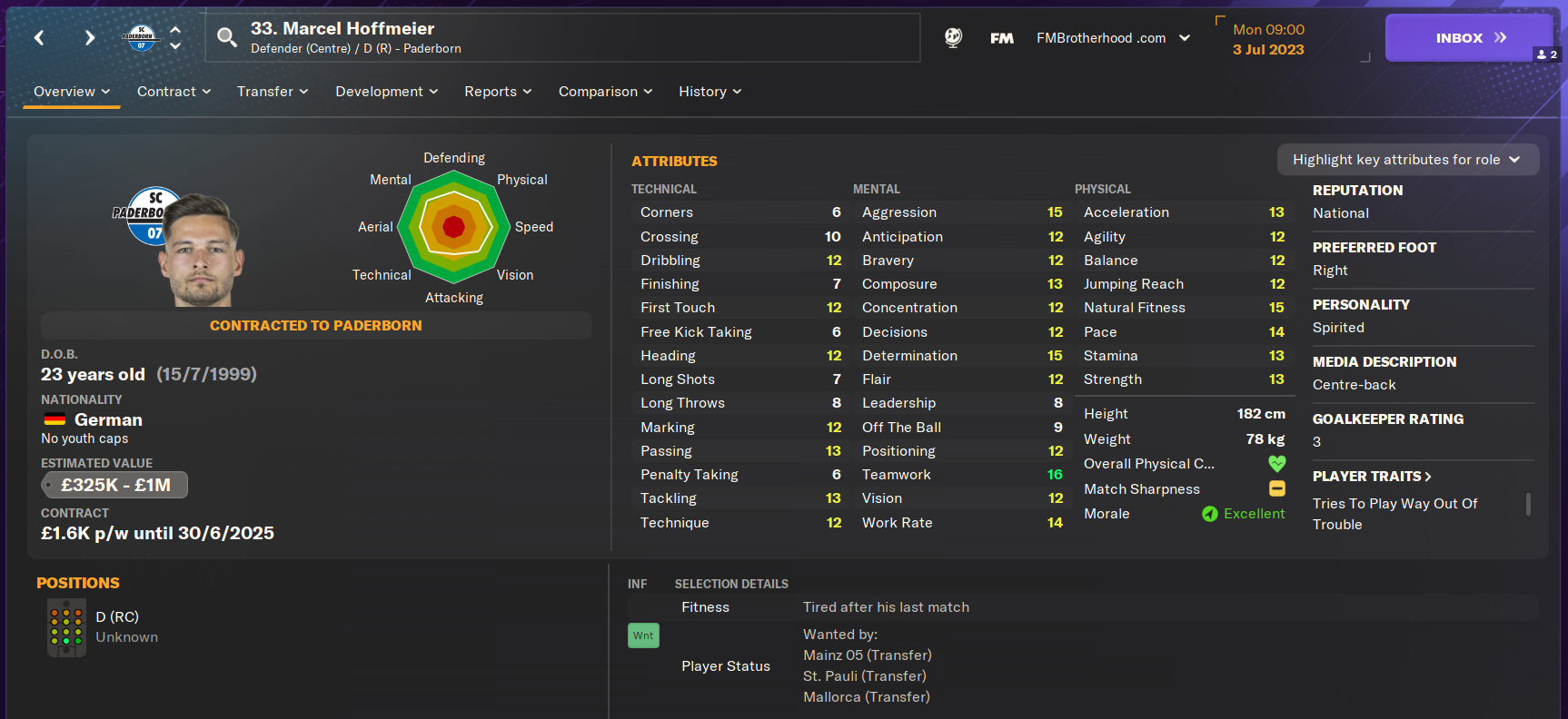 Marcel Hoffmeier is a young centre back who would add excellent quality to a Championship side. For a centre back his pace is great, and he has solid passing and vision. He has a trait which means he tries to play his way out of trouble, so he would suit a Chanpionship team that likes to play out from the back.
You can pick up Hoffmeier for £675k, which is very cheap for a good Sky Bet Championship quality player, who has potential to get a bit better too. He's a low risk signing that should grow in financial value, and certainly add strength to your defence. Did I mention he can fill in at right back too? He's definitely one of the best Sky Bet Championship signings in FM24.
Would be an ideal signing for:
Mid table and Top half Championship teams.
7. Daniel Gore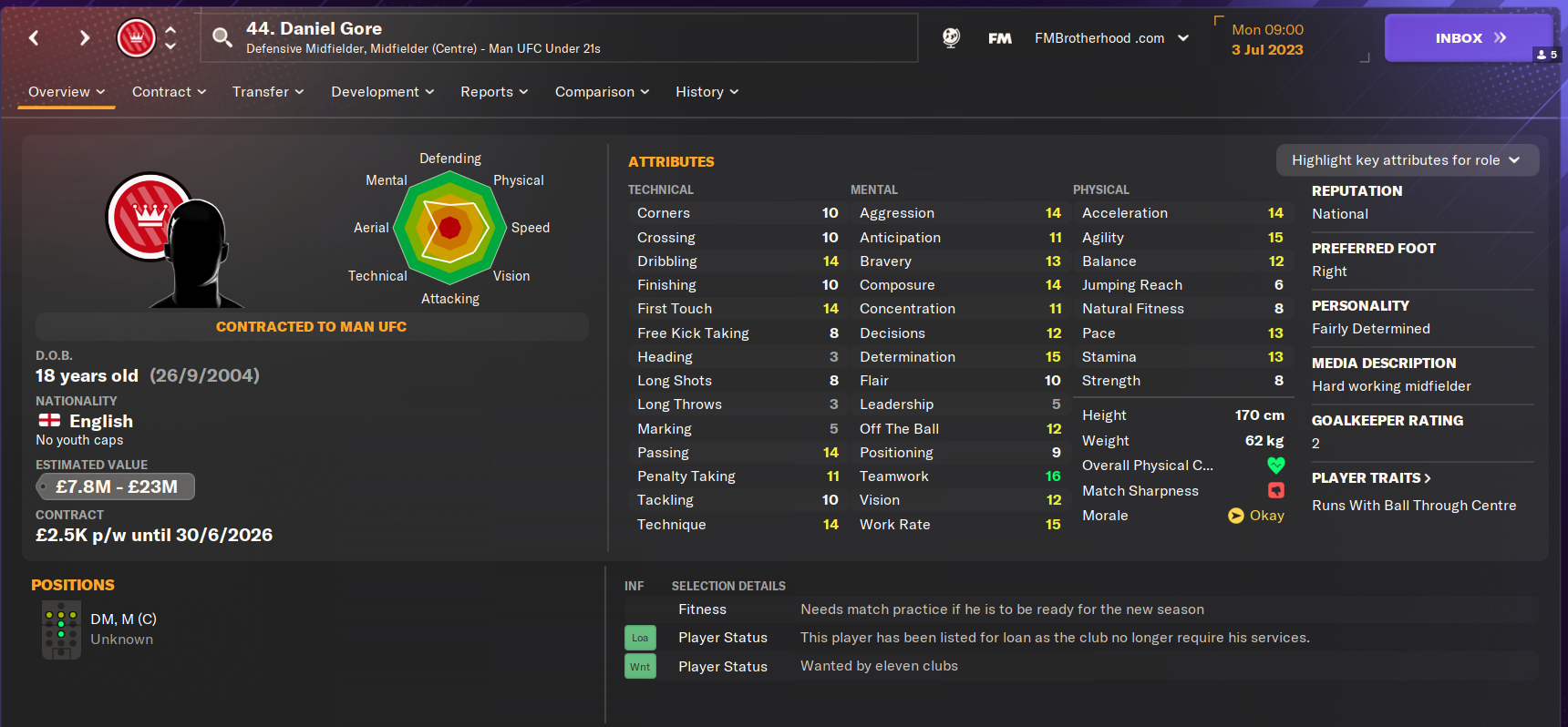 Gore is the only player on this list who is a loan signing. Getting players on loan is so important when playing in the lower leagues. You can fill a spot in your team for free with a quality player, which then allows you to spend more of those precious funds on upgrading another position.
Daniel Gore is definitely ready for Championship football. His has excellent passing, dribbling, and first touch for this level, and is described as a hard working midfielder. He is really bad in the air, but he's quite small so that's understandable. Ge would work best as a deep lying play-maker, dictating the game from a deep position.
You only need to cover 80% of Gore's wages, which is just £2k per week!
6. Alexis Claude-Maurice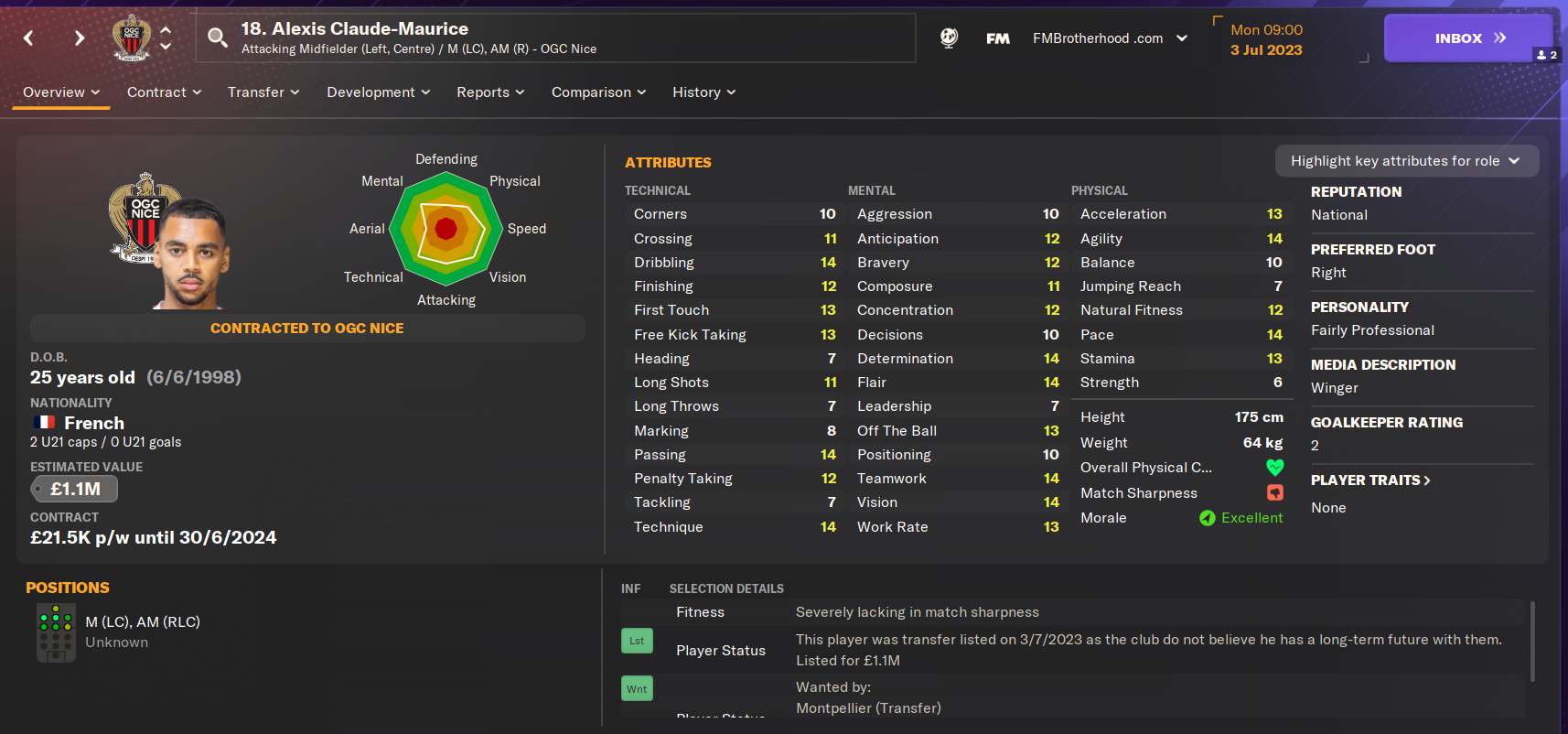 Alexis Claude-Maurice was a player with amazing potential on Football Manager 5 years ago. He was an exciting winger who was scoring a lot of goals in Ligue 2, which earned him a move to OGC Nice. However, the move hasn't been a success, and he hasn't reached the potential many thought he had.
I should probably stop slating the player I'm telling you to sign for your Championship save. Trust me, he's more than good enough for this level, he's available for just £1.1 million because he's transfer listed.
Alexis Claude-Maurice is a versatile winger/attacking midfielder with brilliant technical attributes. He's worth a punt for sure.
Would be an ideal signing for:
Mid table and Top half Championship teams.
5. Ephron Mason-Clark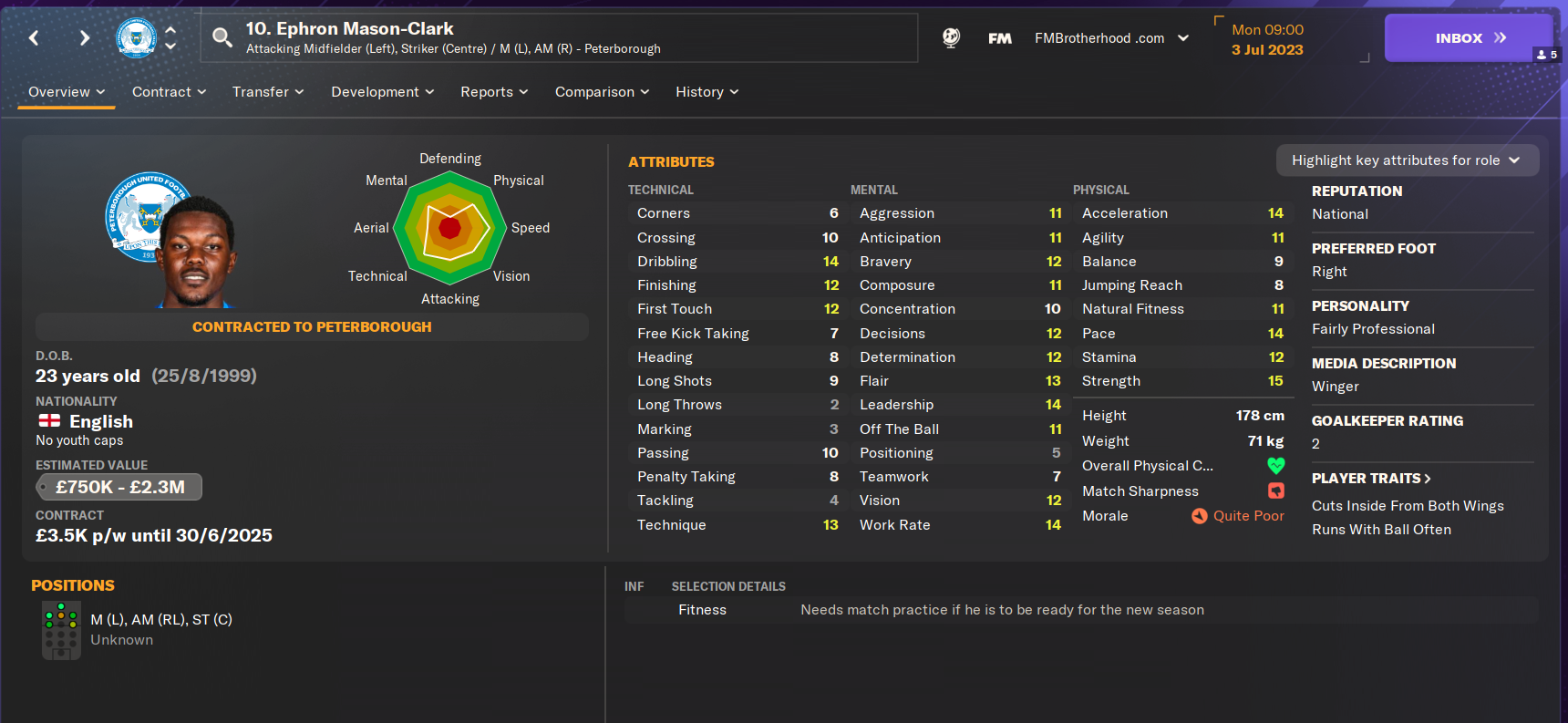 A great way of finding signings for your Sky Bet Championship team is going into League One and scouting the best players in this division. Ephron Mason-Clark is definitely too good to play in the 3rd tier of English football, and is ready to take the step up into the Championship.
For a winger, he has amazing strength, which allows him to bully opposition full backs. He can also play as a striker, and likes to run with the ball a lot.
He will set you back £1.6 million. But this is good value for a young winger that's already good enough, and can get better!
Would be an ideal signing for:
Mid table and Top half Championship teams.
4. Felipe Caicedo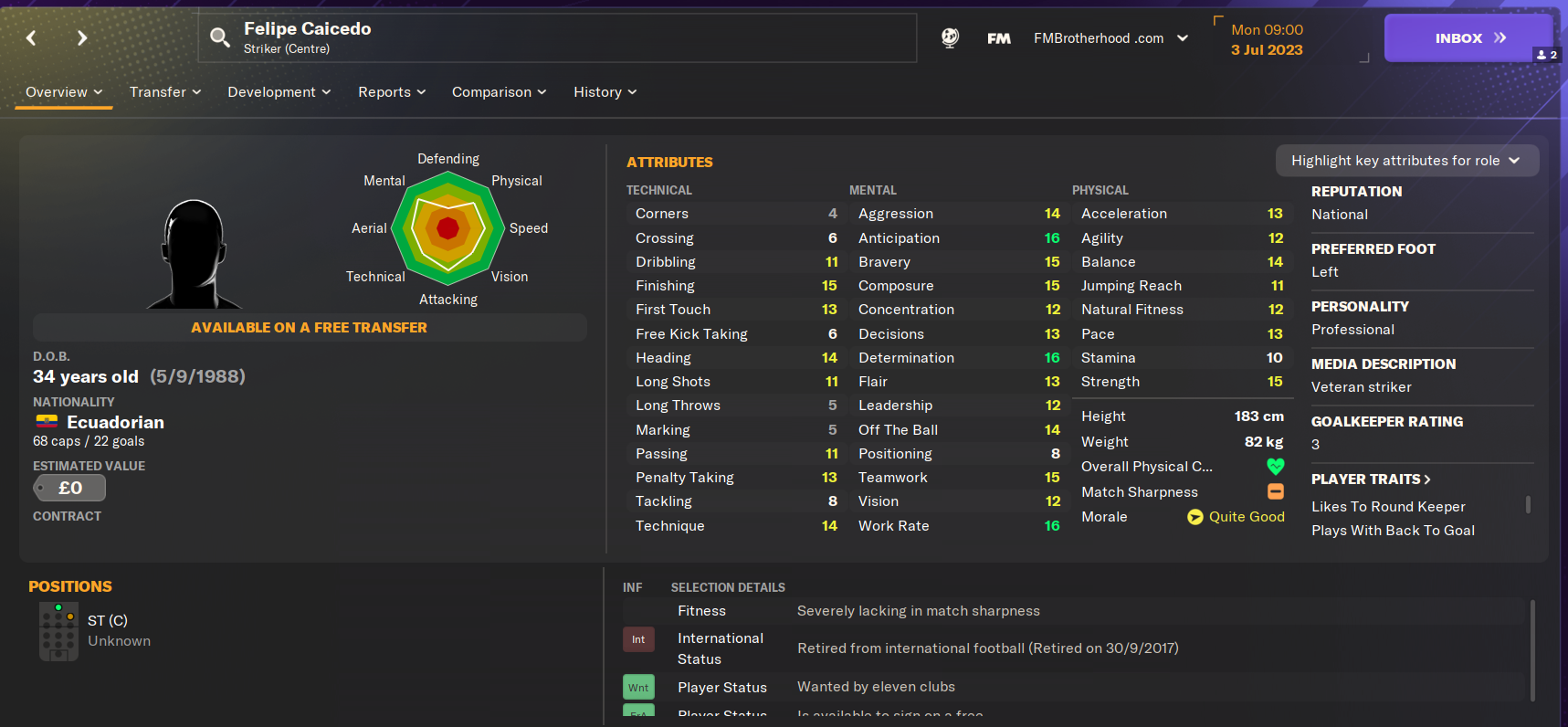 Felipe Caicedo is an excellent striker that will do a great job for one (maybe two) seasons for your Championship team. He's scored goals in top divisions his whole career, and you don't need to be too concerned about his age. Caicedo still has 16 work rate and 16 determination, which will help him towards the end of his career.
Felipe Caicedo will accept a contract for £8k per week, and would make a huge difference to a play-off/promotion push. He will take up an ESC spot.
Would be an ideal signing for:
Play-off and promotion pushing teams.
3. Kwame Poku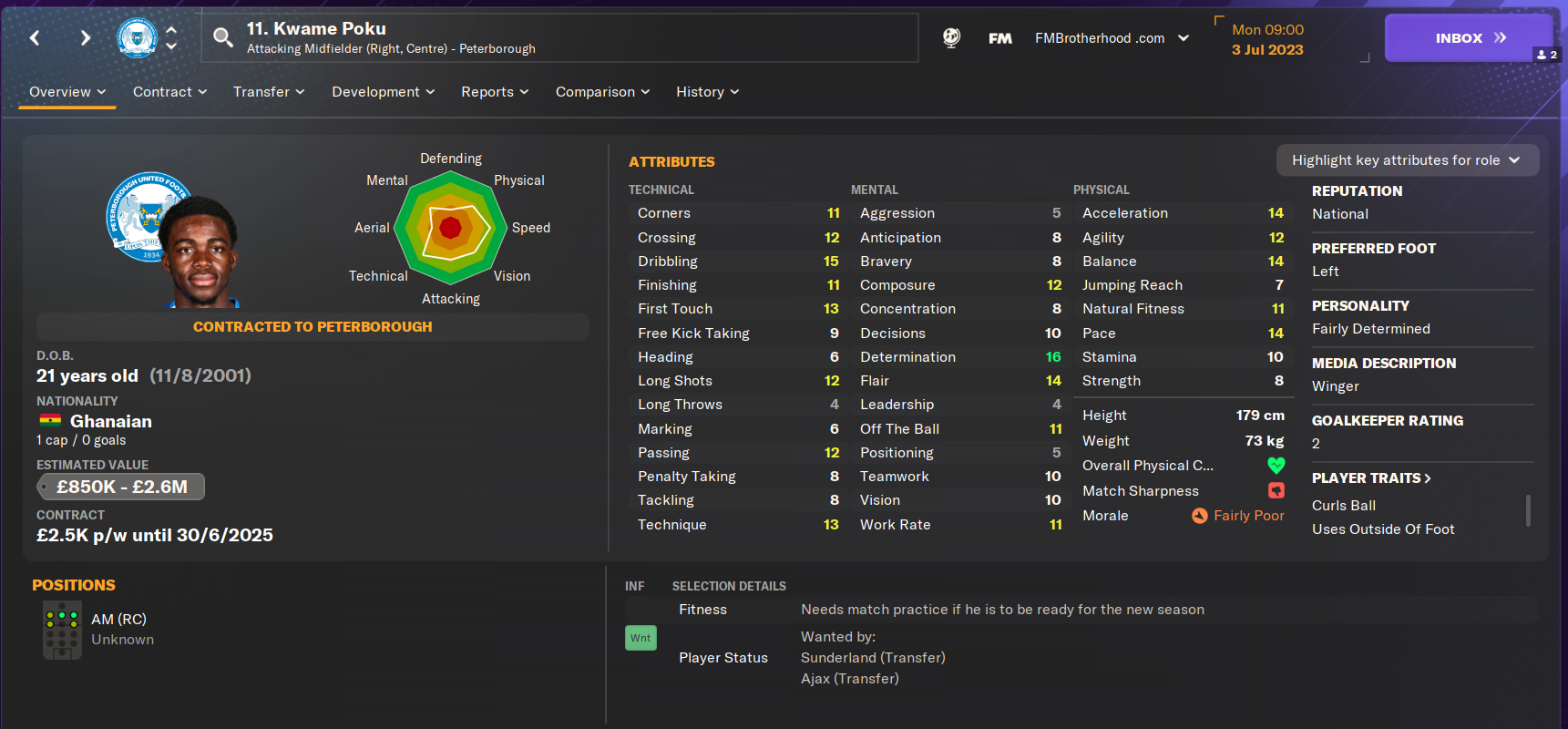 Another winger from Peterborourgh that's one of the best Championship signings in FM24 is Kwame Poku. He already has a cap for Ghana at 21 years old, and he plays in the third division of English Football.
The quick winger has amazing dribbling, flair, and determination. There are some mental attributes that still need some work, however they are okay for this level.
You can sign Poku in the first FM24 season for just £1.7 million. You can then either develop him for a few seasons and sell him for a huge profit. Or he could play an important part in your push for promotion.
Would be an ideal signing for:
Play-off and promotion pushing teams.
2. Cameron Brannagan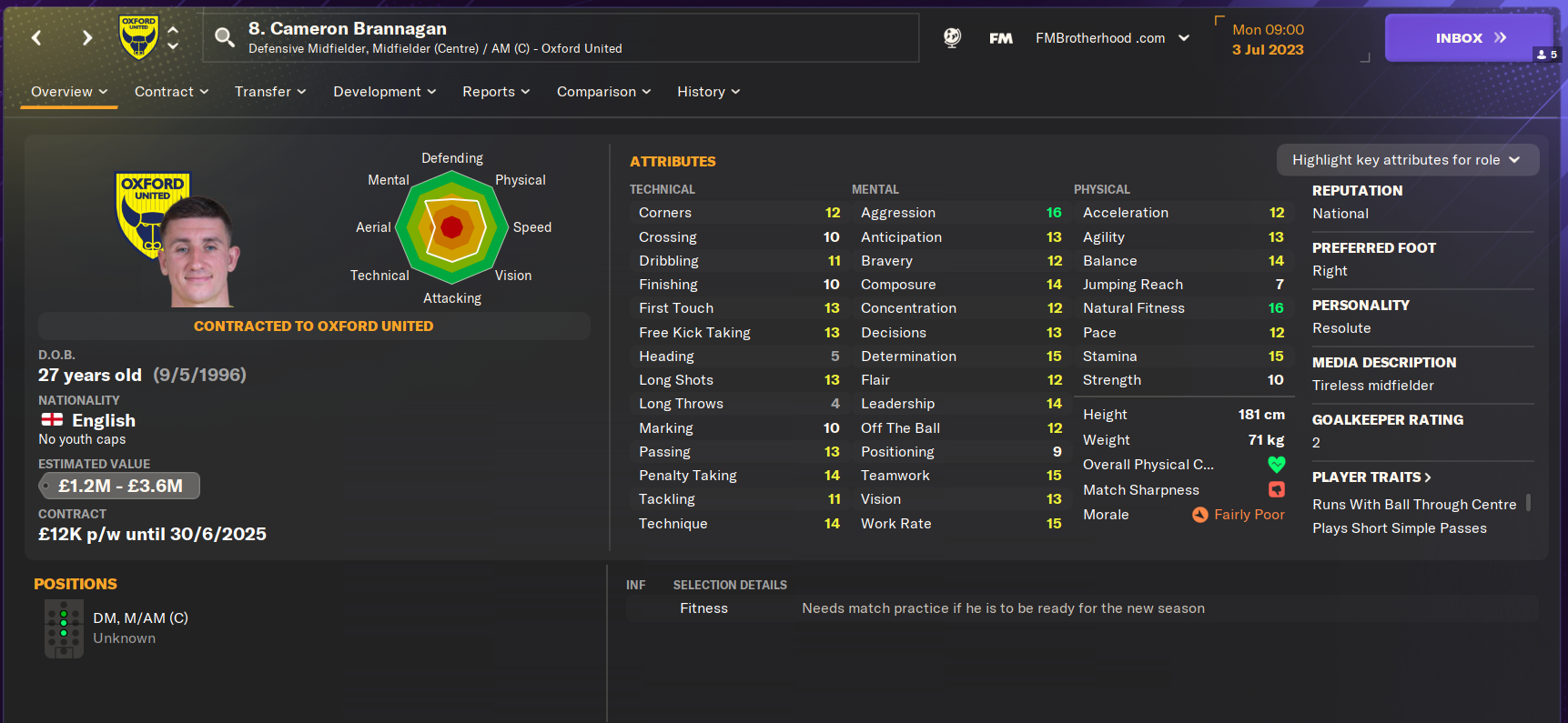 Brannagan is another League One player that's far too good to be playing in the division. He is probably the best player in the league, and he would be one of the better players for most Championship sides too.
Apart from his positioning, all of Brannagan's mental attributes are 12 or higher. His natural fitness is 16 so he will still be a good player into his 30s. For £2.4 million you can get a midfielder that will definitely improve what you currently have.
Would be an ideal signing for:
Play-off and promotion pushing teams.
1. Juan Larios – Best Championship Signing in FM24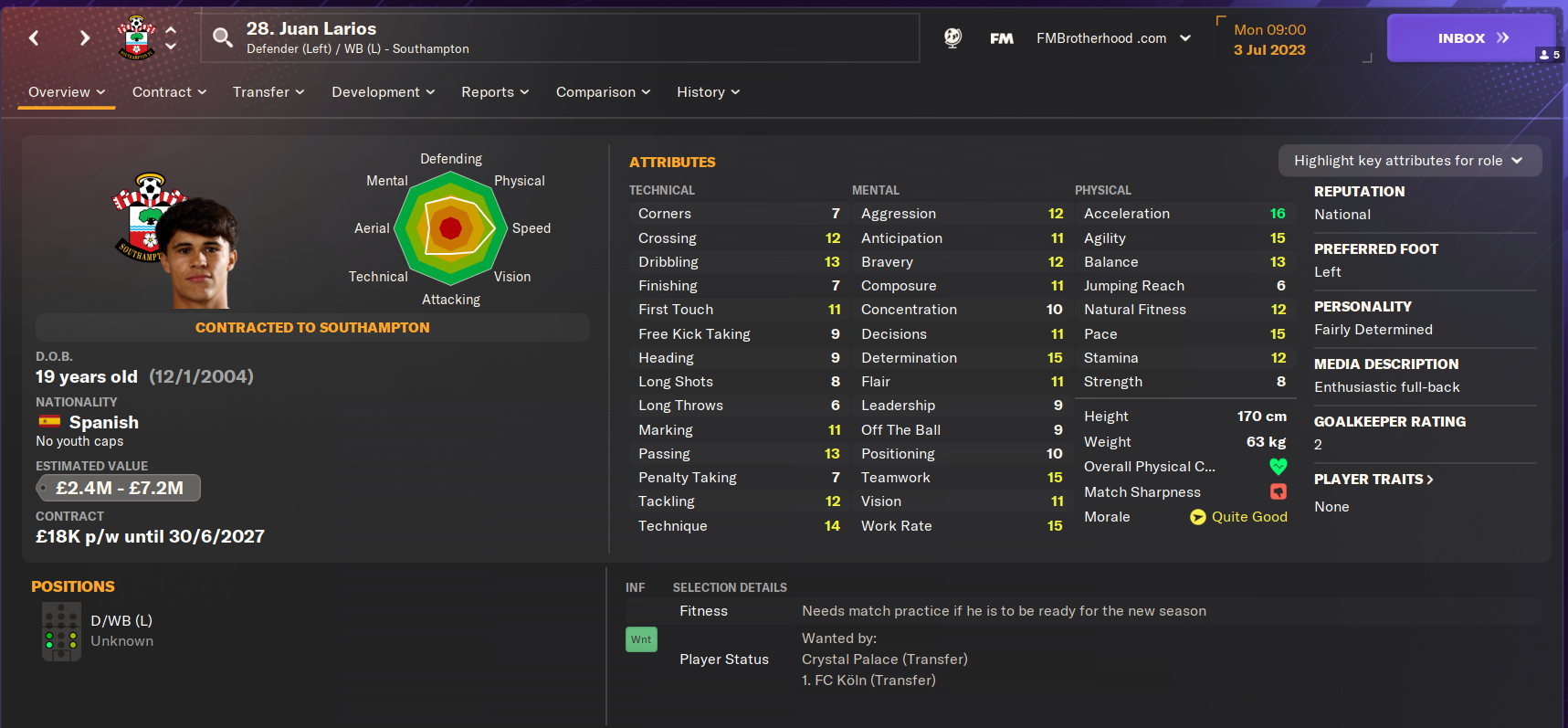 Larios is one of the few players Southampton have signed from Manchester City over the last 2 seasons. He's an LB wonderkid with great potential that would definitely make him good enough for the Premier League in a couple of seasons.
Juan Larios is technically sound, and has terrific work rate and determination for a 19 year old. Southampton will let him go for £4.8 million, which makes him the most expensive player on this list. But there are some Championship teams that can afford him, especially if you sell a player or two to raise some funds. Larios would be a top signing that can get used to first team football in the Championship in the first season, which would then make him ready for the Premier League in the 2nd season.
Would be an ideal signing for:
Promotion pushing and title challenging teams.
Conclusion
Your Championship team will instantly improve if you sign one of these players. Even the free agent's or Daniel Gore as a squad player will become valuable as you play 46 games in the league season.
If you've found any more signings that are top players for Championship teams, please put them in the comments so others can find out about them too.
When you get to the Premier League, sign one of these players.