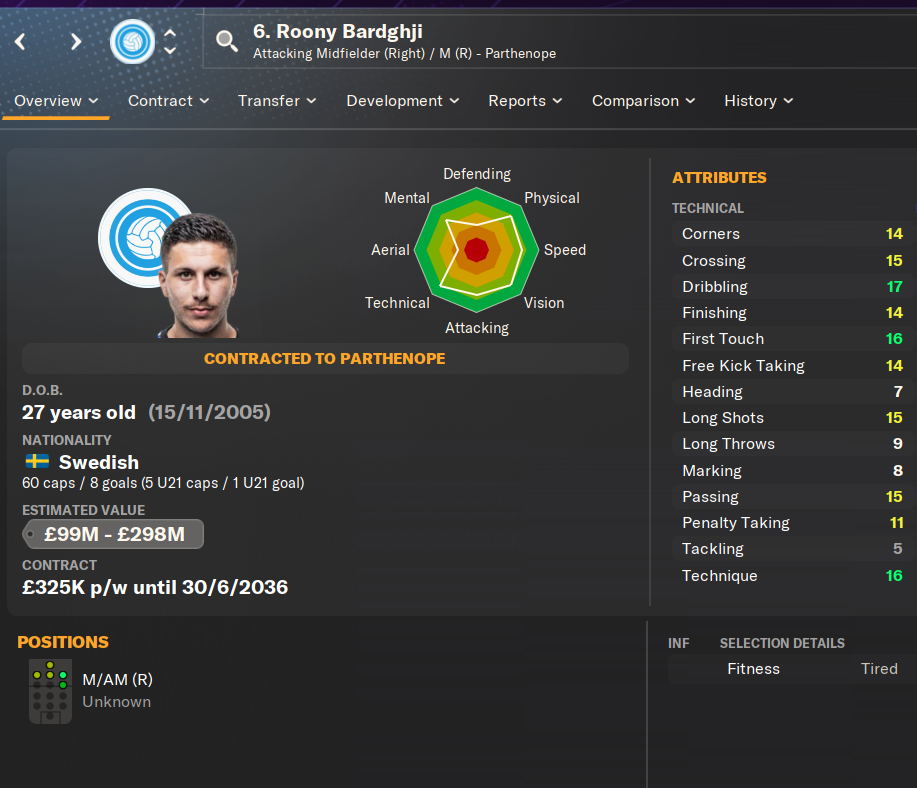 12 Best Cheap Wonderkids in FM24 You Must Sign!
By callum | October 29, 2023 | 613 Views
Best Cheap Wonderkids in FM24
Wonderkids are one of the best parts of playing Football Manager. Finding affordable wonderkids in the first season can be difficult though.
At FMBrotherhood, we've scouted across the Football Manager 2024 database, to find the best cheap wonderkids in FM24. All of these wonderkids are available to sign in the first transfer window, cost between £0-£10 million, and are 20 years old or younger.
We also show you how good these wonderkids can look 10 seasons into your save. This does not mean they will reach their potential in your save, but we provide you with proof that they can improve their attributes. There are a lot of cheap wonderkids out there that might look good at first sight, but are very unlikely to reach their potential. That's why it's best to come back to FMBrotherhood to find wonderkids that actually achieve their potential ability.
If you're looking for more value in the market, why not sign one of the best FM24 free agents too.
12. Jahkeele Marshall-Rutty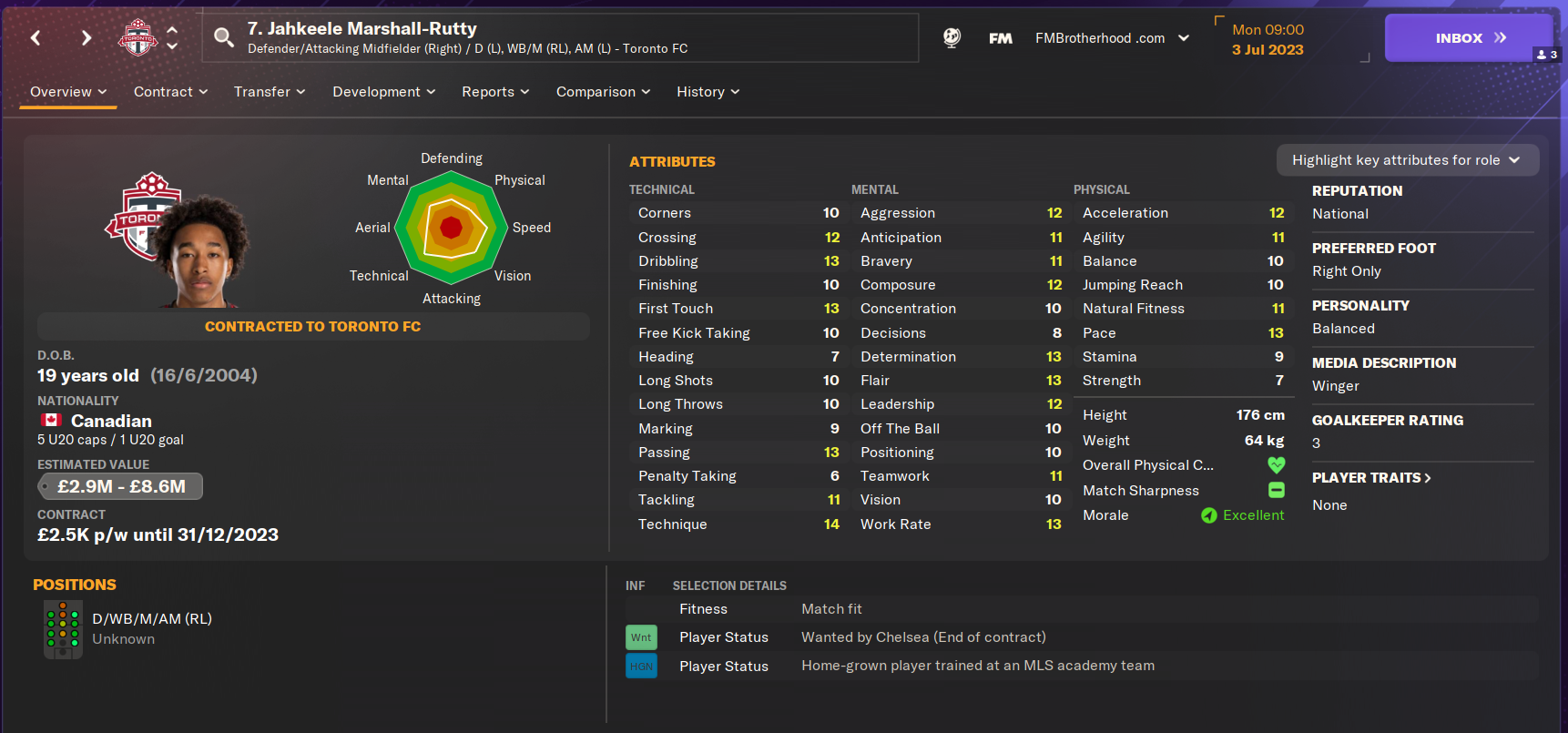 Now you might be thinking there must be better cheap wonderkids in FM24 that cost between £2.9 and £8.6 million, and you'd be right. However, you can get Marshall-Rutty for free! His contract only has 6 months left on it, so you can offer him a pre-contract, and he'll join you in January 2024.
Marshall-Rutty is extremely versatile. He can play any position on either flank, which is almost unheard of. However, he's very right footed, so you depending on your tactics, you might want to stick to playing him on the right side of the pitch.
As Marshall-Rutty is so young, and doesn't really stand out in any attributes, you can decide where to prioritise his individual training, and mould him into the player you need him for.
Jahkeele Marshall-Rutty in 2033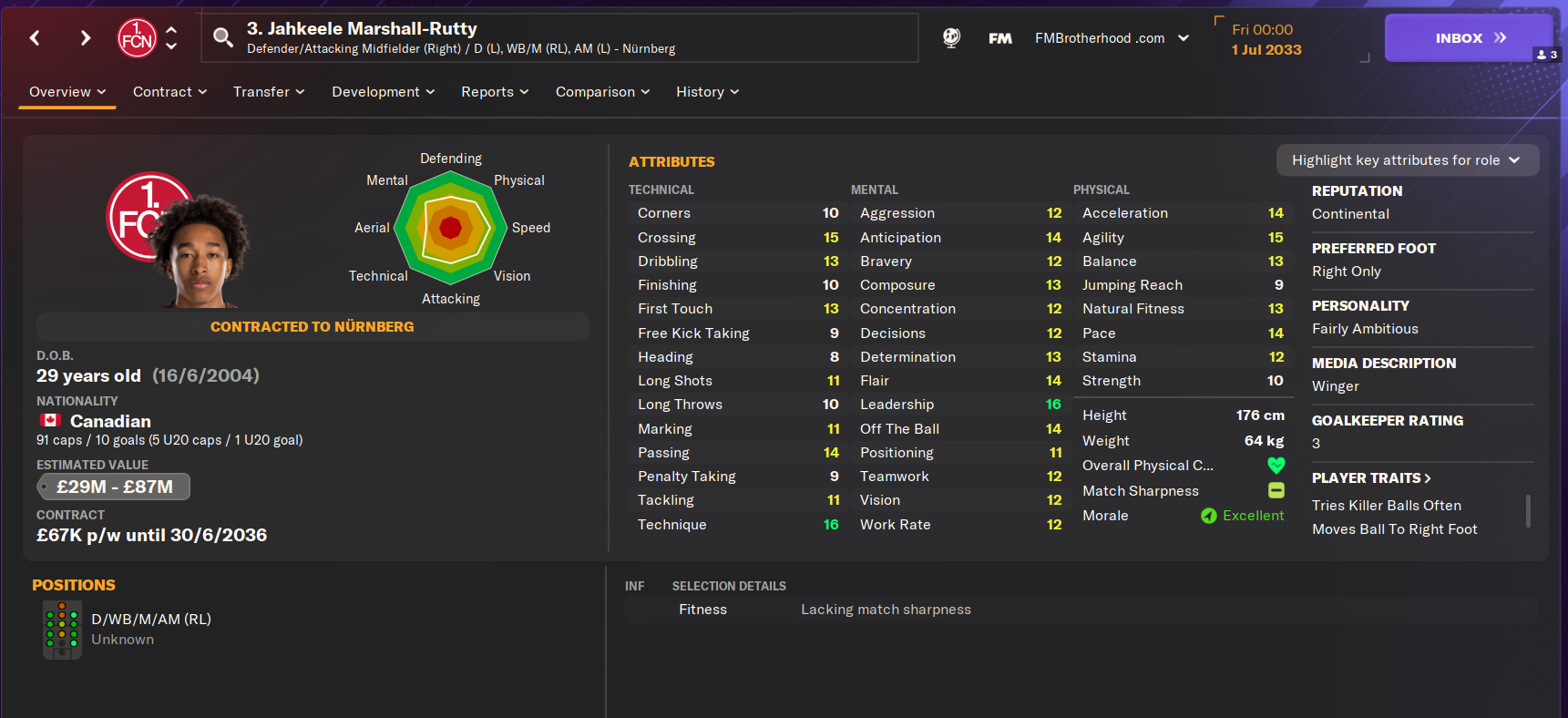 Marshall-Rutty has seen a significant increase in his mental attributes throughout his career in our FM24 simulation. Apart from his positioning, all of his mental attributes are 12 or higher.
He's managed to accumulate 91 caps for Canada too! Newcastle were the team that managed to sign him on a free transfer, and he got his first team football experience by going on loan to Championship sides.
A free wonderkid with ridiculous versatility is a must sign in FM24.
11. Tiago Parente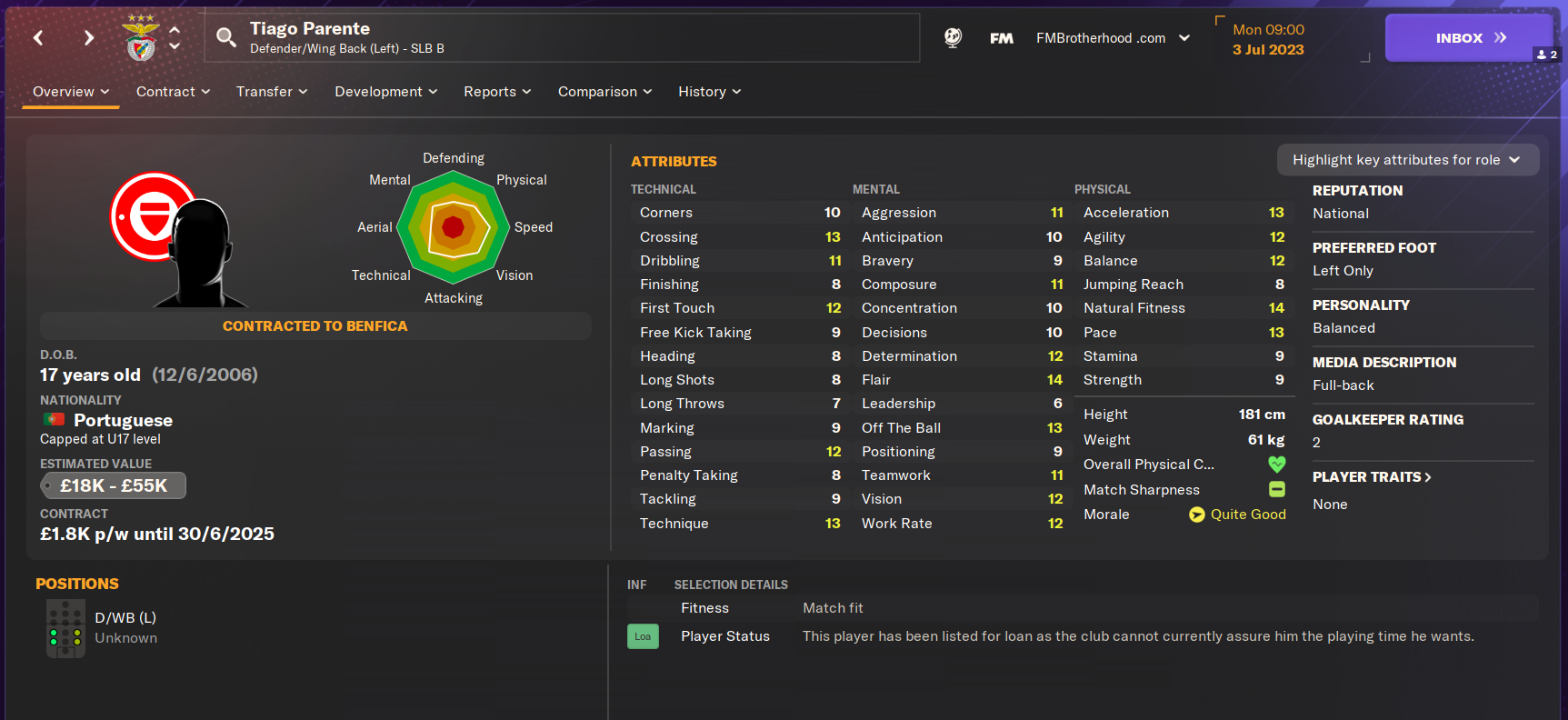 Parente is arguably the best cheap wonderkid to sign in FM24 because he's available for only £37k! He's such a cheap wonderkid considering the quality he's already showing. He's a modern wonderkid left back who has the potential to be excellent going forward.
These wonderkids will only join top teams though. For cheap wonderkids willing to join your Non League team in England, click here.
Tiago Parente in 2033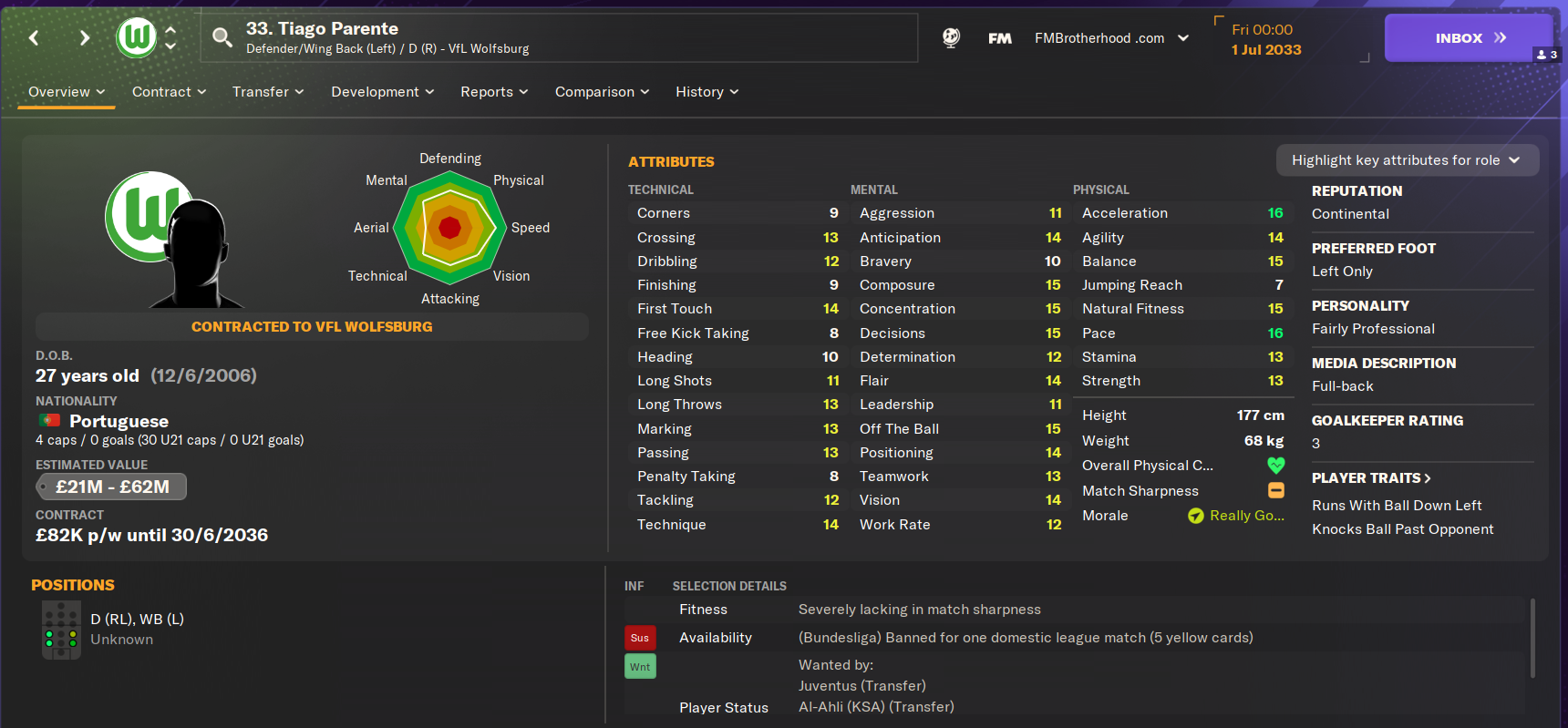 In FM24, Parente's potential is great. He moved to Bundesliga side Wolfsburg in our simulation and has become a regular starter there. He's also a part of the Portugal national team setup. Parente's pace and acceleration has increased a lot, which means he can keep up with fast wingers.
At such a cheap price, there really is no risk with signing Parente. You could make him part of your youth team set up for a season and then loan him our for a couple of years. If he's then ready for your first team then great! But if he's just not good enough, you'll make a good profit on him.
10. Bartosz Zelazowski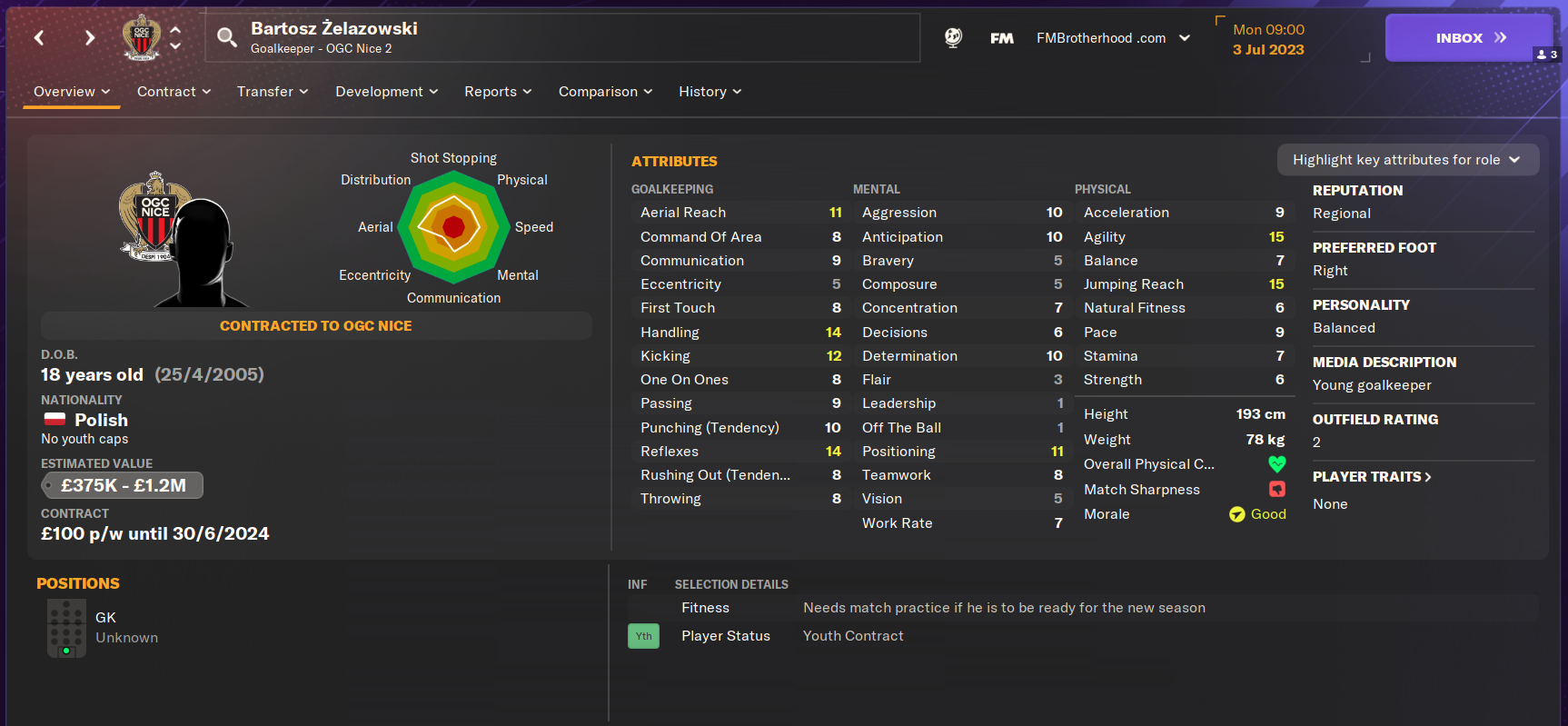 Bartosz Zelazowski might look like an underwhelming wonderkid at first sight. However, he's got the fundamentals to make it as a goalkeeper at top division level. 14 handling, 15 agility, and 14 reflexes give him a solid foundation to build upon during his development.
The 18 year old is lacking in determination and work rate, so he would really benefit from a great first team goalkeeper that can mentor him. This is one of the best cheap wonderkids in Football Manager 2024 because he'll cost only £550k in the first season.
Bartosz Zelazowski in 2033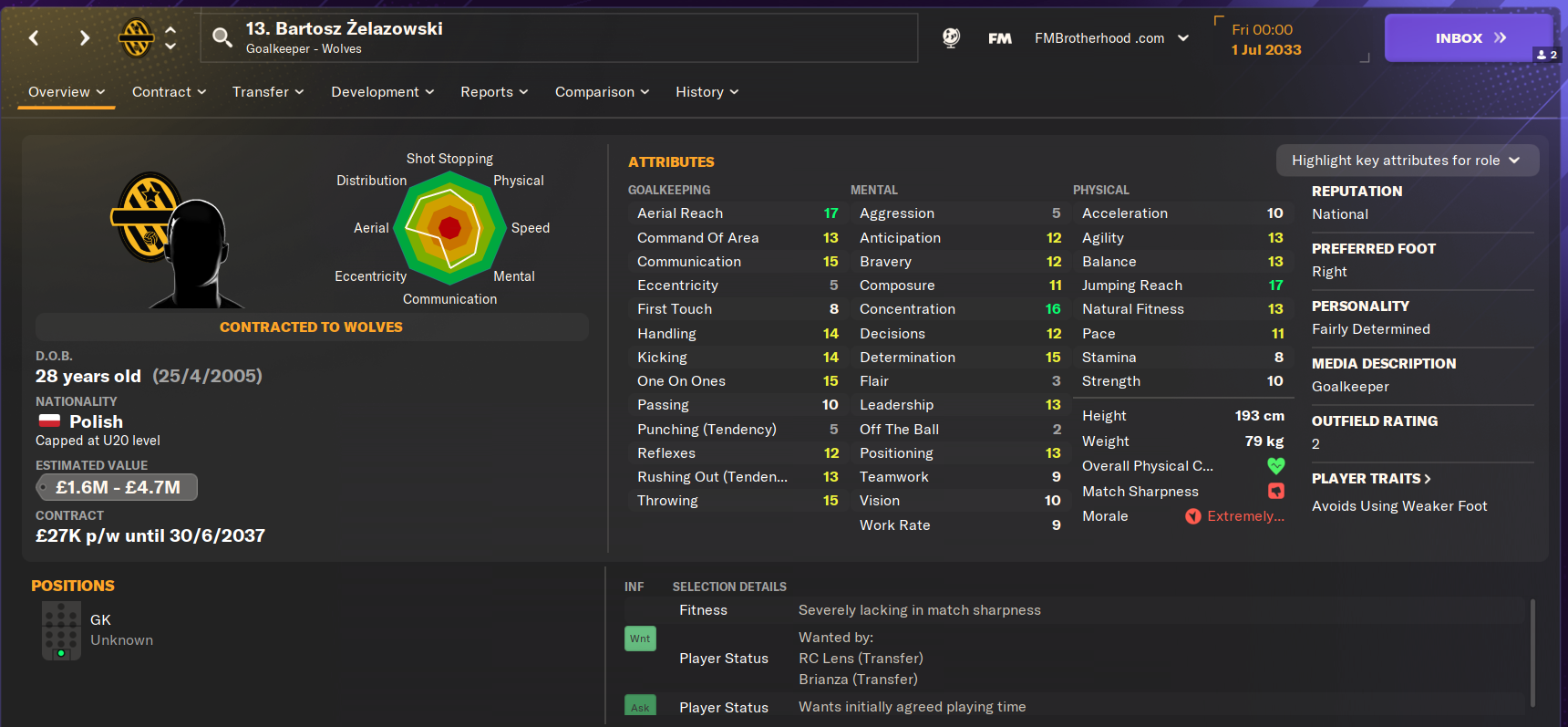 For just over half a million pounds you can get yourself a great modern goalkeeper in his prime. Bartosz Zelazowski's distribution is brilliant, and he's a tall goalkeeper with 17 aerial reach. 16 concentration means that this wonderkid goalkeeper stays focused can is ready when needed. This 16 concentration is a huge increase from 7 when he's 18 years old.
9. Martim Fernandes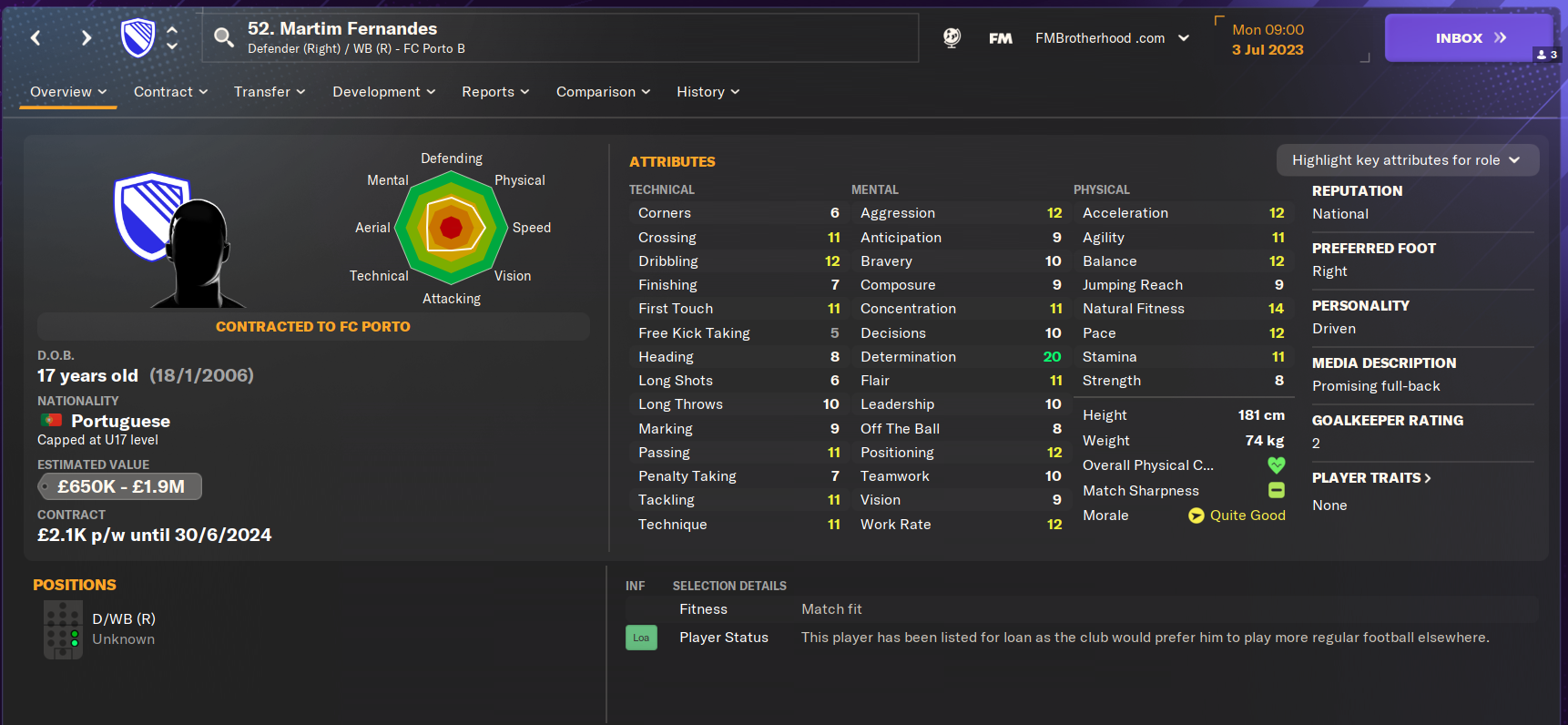 Next on the list of the best cheap wonderkids in FM24 is Portuguese right back Martim Fernandes. What makes him standout amongst other wonderkids is his 20 determination. This attribute will help Fernandes become the best player he possibly can. However, he will need first team football to help with his development too. He's probably not ready to start for the club you're managing yet, but have him training with the first team, and he could make substitute appearances or start in cup matches.
Martim Fernandes only has one year left on his contract, and can be stolen from FC Porto for just £1.3 million.
Martim Fernandes in 2033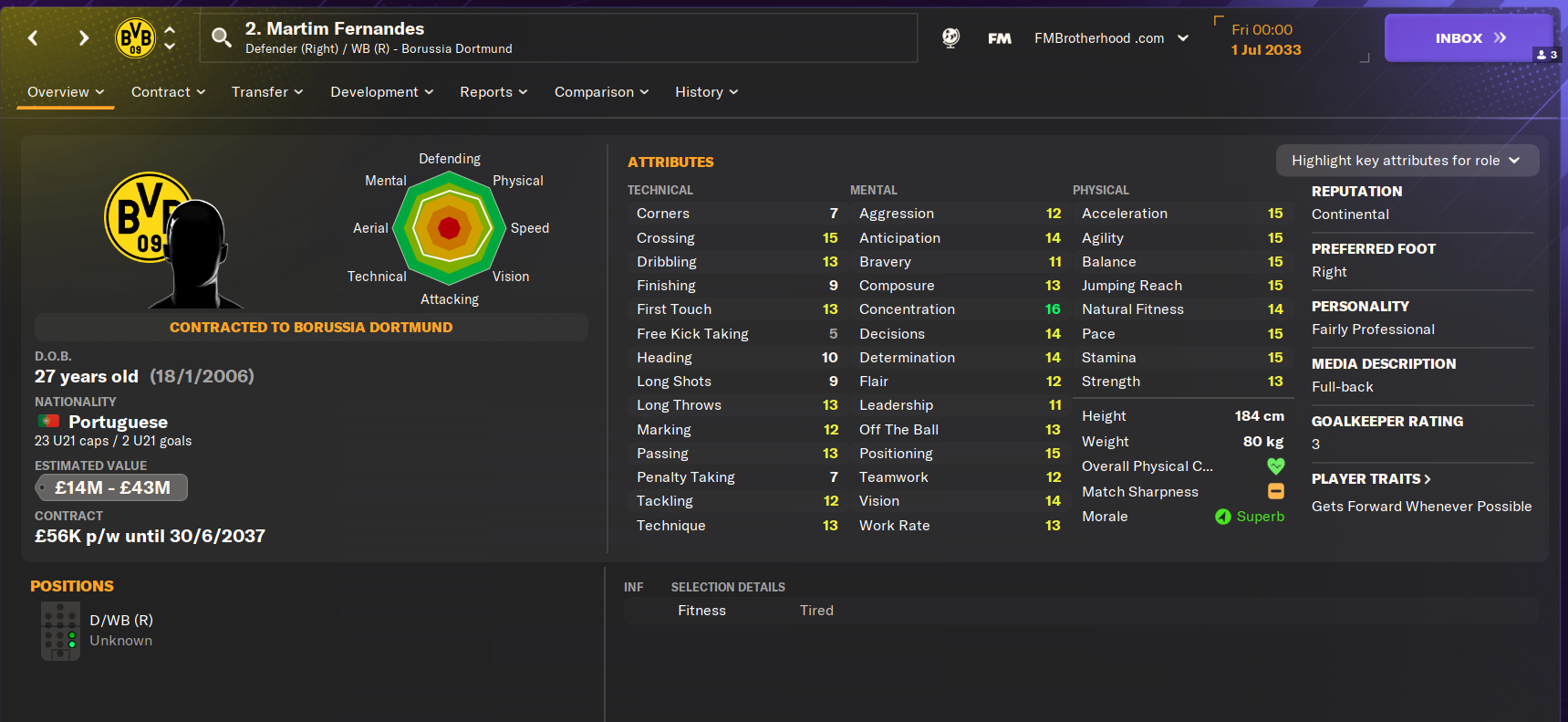 As a teenager, you can see that Fernandes' mental attributes need a lot of work. But in his prime his mentals have no weaknesses.
Almost £80 million was spent on this cheap wonderkid across the 10 year simulation. He's played for Lazio. Chelsea, and Everton, before moving to Borussia Dortmund. He's struggled for game time across his whole career, so if he was to play consistent football from the first season, his potential could be even better!
8. Marco Delle Monache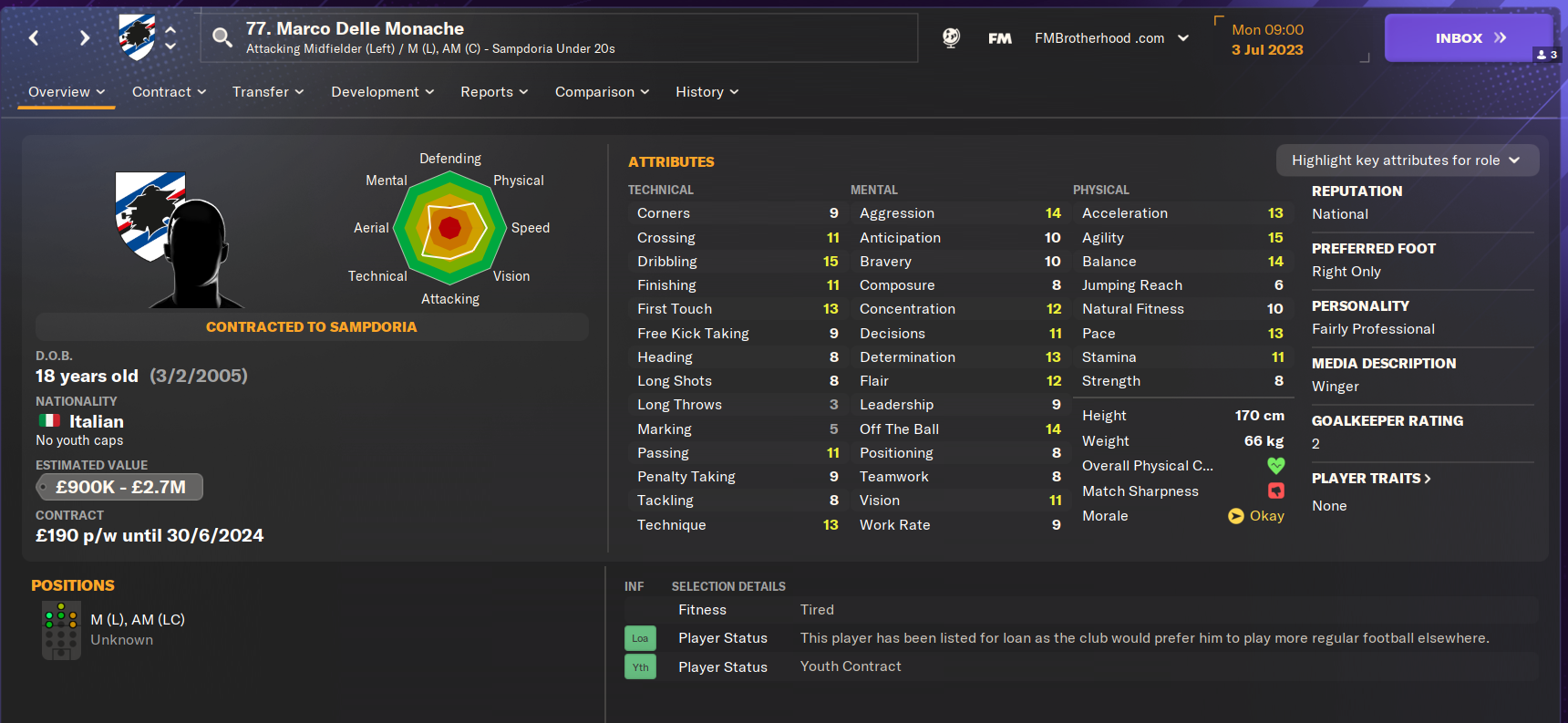 Marco Delle Monache is a cheap wonderkid winger in FM24. He's got brilliant dribbling and agility attributes for a young player, which are important stats for a winger to have.
To really reach his full potential, Delle Monache needs to improve his work rate. You might be able to do this by giving him a mentor with a good personality and high work rate.
As he's just on a youth contract, you can approach to sign Marco Delle Monache. This means you pay just £850k for him up front, and another £1.4 million in add ons.
Marco Delle Monache in 2033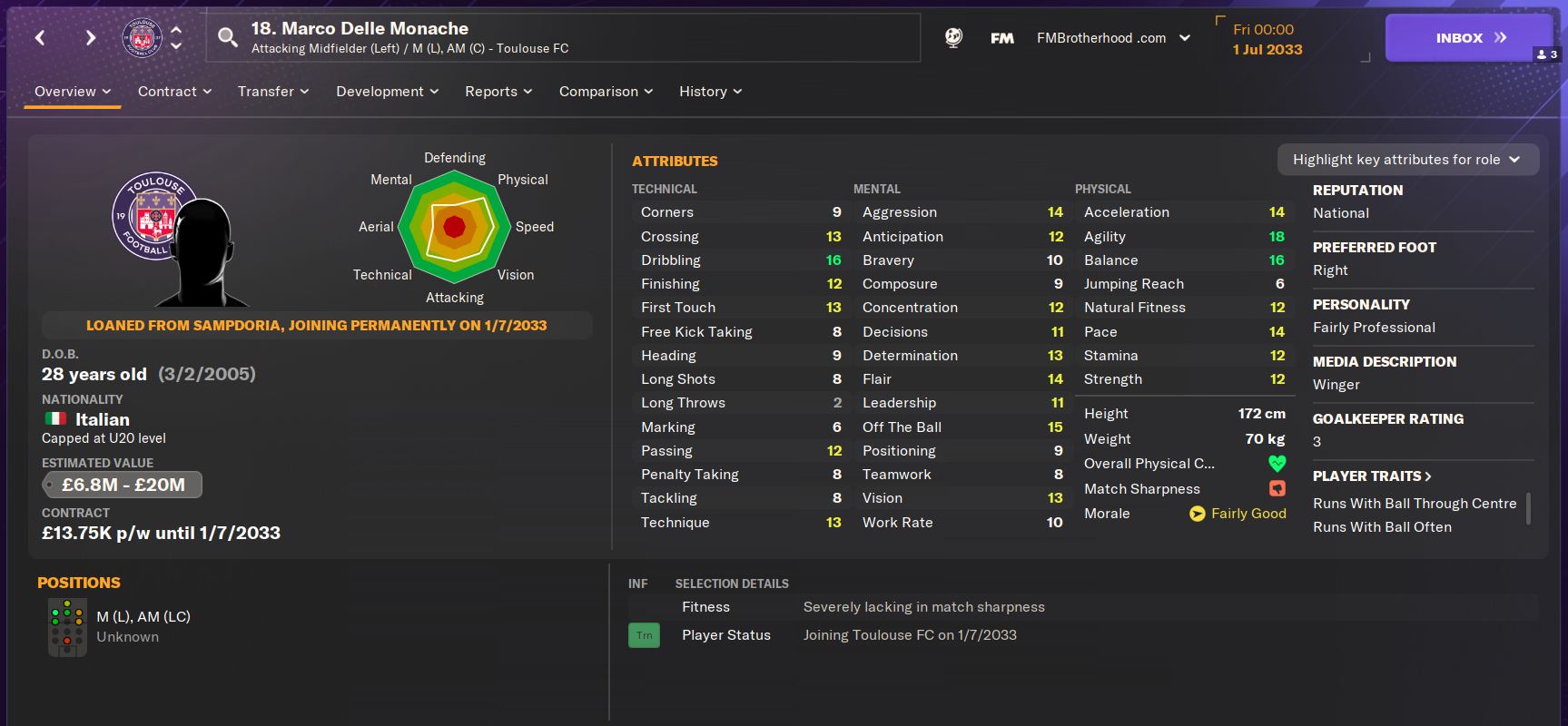 Marco Delle Monache's physical attributes have seen a lot of growth. His agility has increased from 15 to 18, and his balance from 14 to 16. Delle Monache might not be the most amazing winger in Football Manager 24, but for a player that only costs a couple of million he's definitely worth the investment.
He's moving to Toulouse for £15 million, showing the profit you can make from signing him in the first season.
7. Marcel Ratnik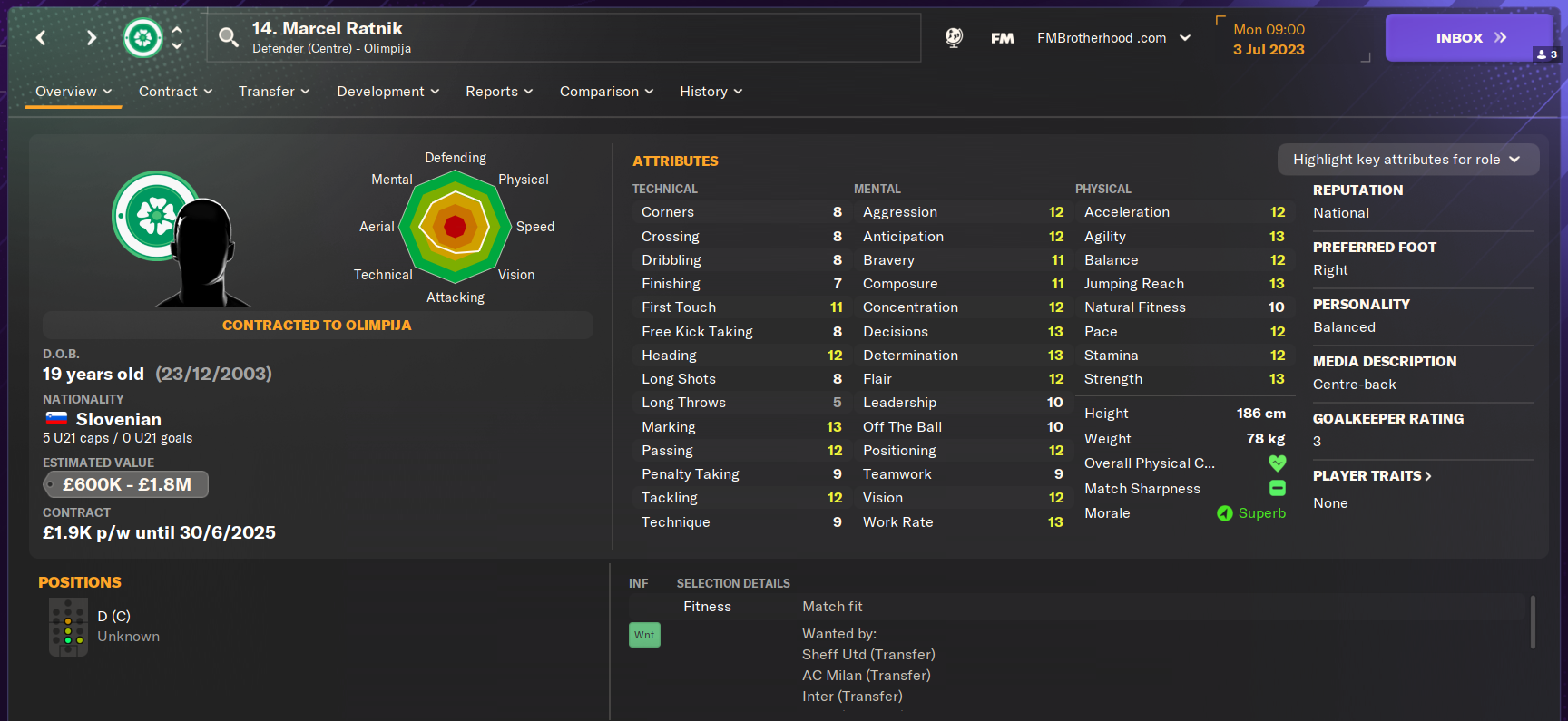 Marcel Ratnik is a well rounded centre back from Slovenia. He doesn't really stand out in anything, but this also means he doesn't have any weaknesses.
He's a standout player for Olimpija, and is definitely ready for the step up. You can see that he has quality, because AC and Inter Milan are interested in signing him. Due to all of the interest Olimpija want to wait a few days before deciding to accept your offer or not. We got an offer of £1.5 million accepted in the first FM24 season.
Marcel Ratnik in 2033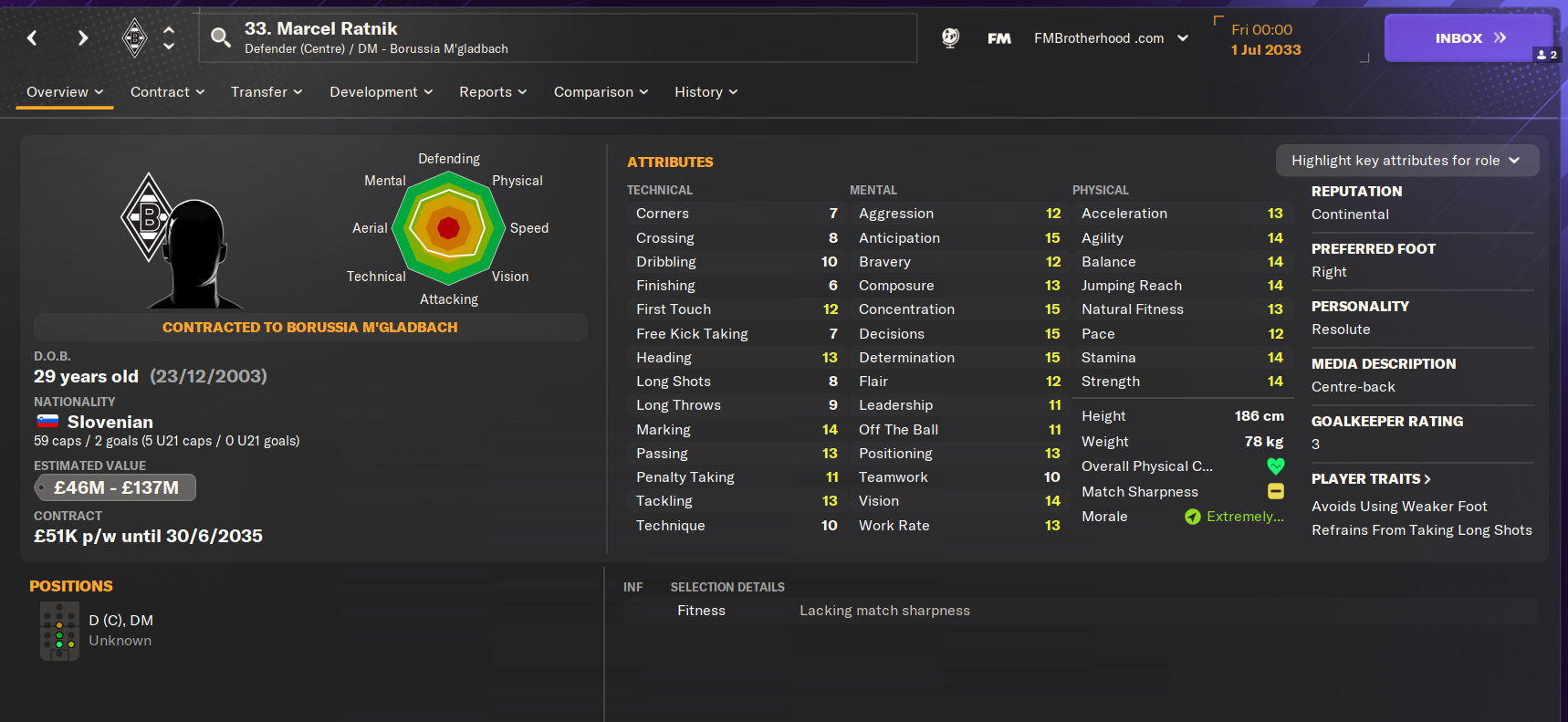 Ratnik in his prime is worth over £50 million and is a regular starter for top German side Borussia Monchengladbach. He's got 59 caps for Slovenia, and is a very solid centre back.
Like others on this list Marcel Ratnik didn't get too much game time in the first few seasons. First team football is so important for young players to allow them to reach their potential. You can find better wonderkid centre backs here.
6. Luca Netz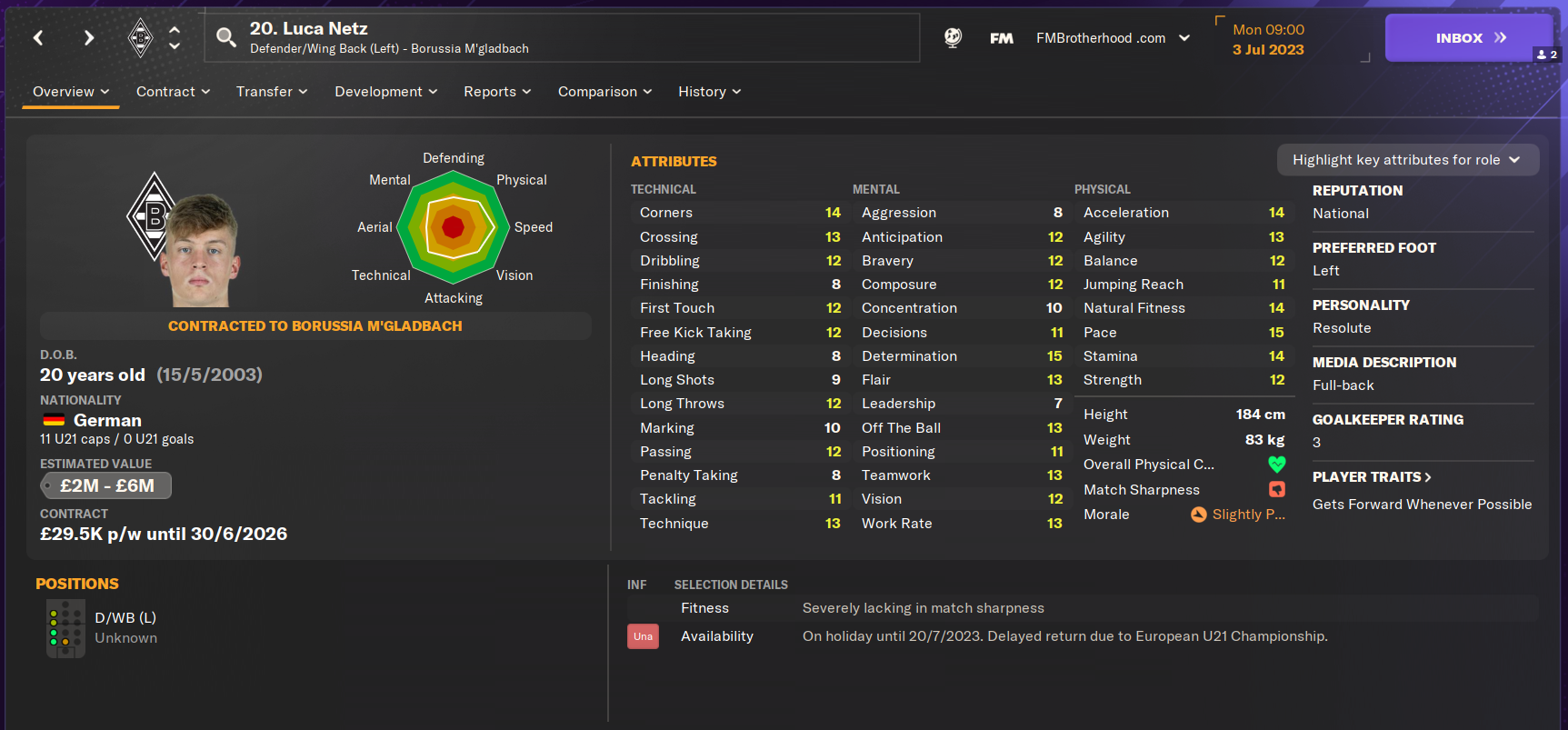 Luca Netz is another wonderkid left back that's extremely affordable considering his quality. For just £4 million, you can sign a player that has the potential to become one of the best left backs in the game.
Netz has a fine range of mental attributes, and he's promising going forward too.
Luca Netz in 2033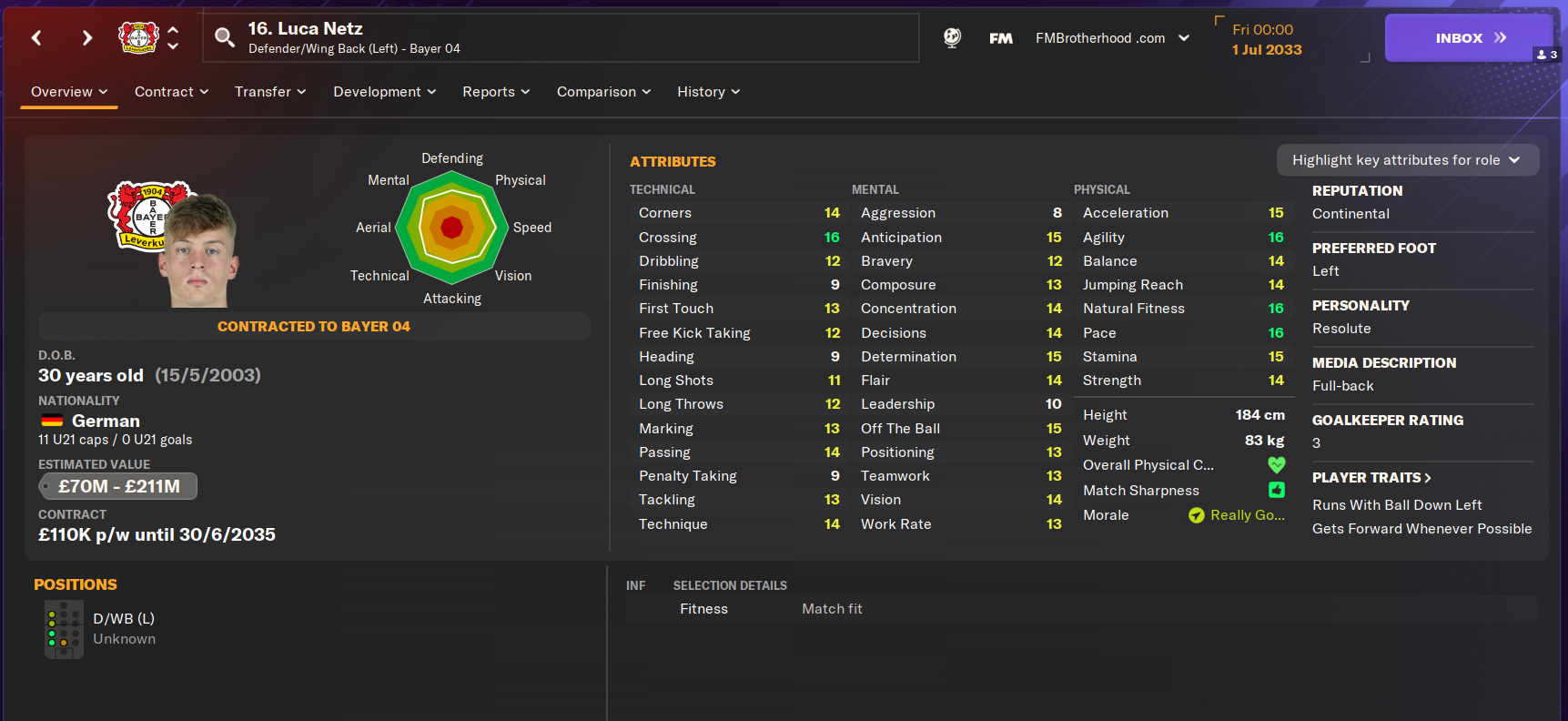 Netz has developed into a player worth over £70 million, and he has fantastic physical attributes, including 16 agility, pace, and natural fitness.
Luca Netz is defensively sound too. He's a top all round left back who is definitely one of the best cheap wonderkids in FM24.
5. Assan Ouedraogo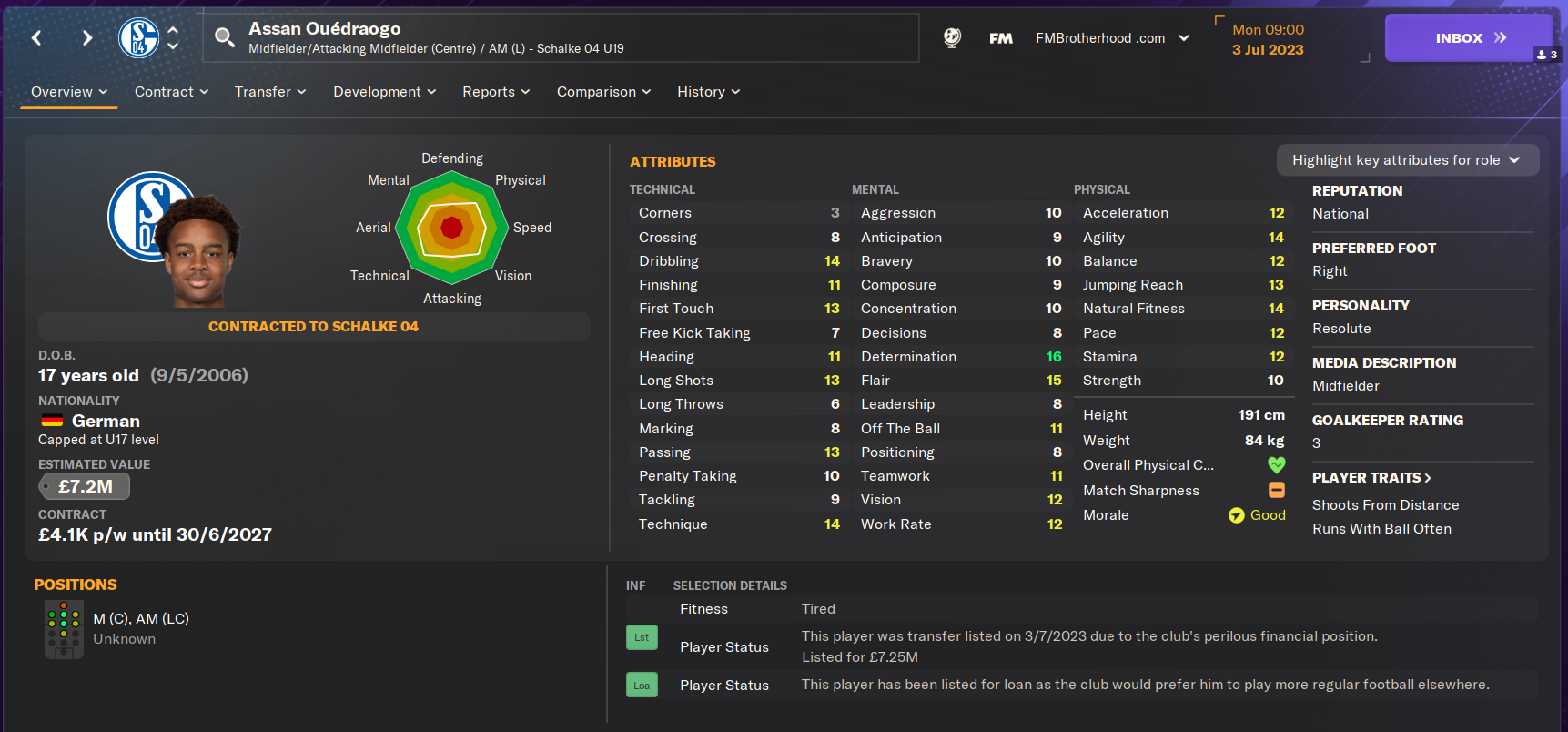 Assan Ouedraogo has become one of Schalke's best players at just 17 years of age. He's an all action midfielder, but is definitely better when he's going forward and allowed to be creative.
He has some mental attributes that he needs to work on, but 16 determination and 15 flair are great stats for a teenager to have. He's an exciting midfielder that's available for just over £7 million because Schalke are struggling financially. They need to sell him to help clear their debt, so you can sign him for a lot cheaper than a wonderkid of this quality and potential would usually cost.
Assan Ouedraogo in 2033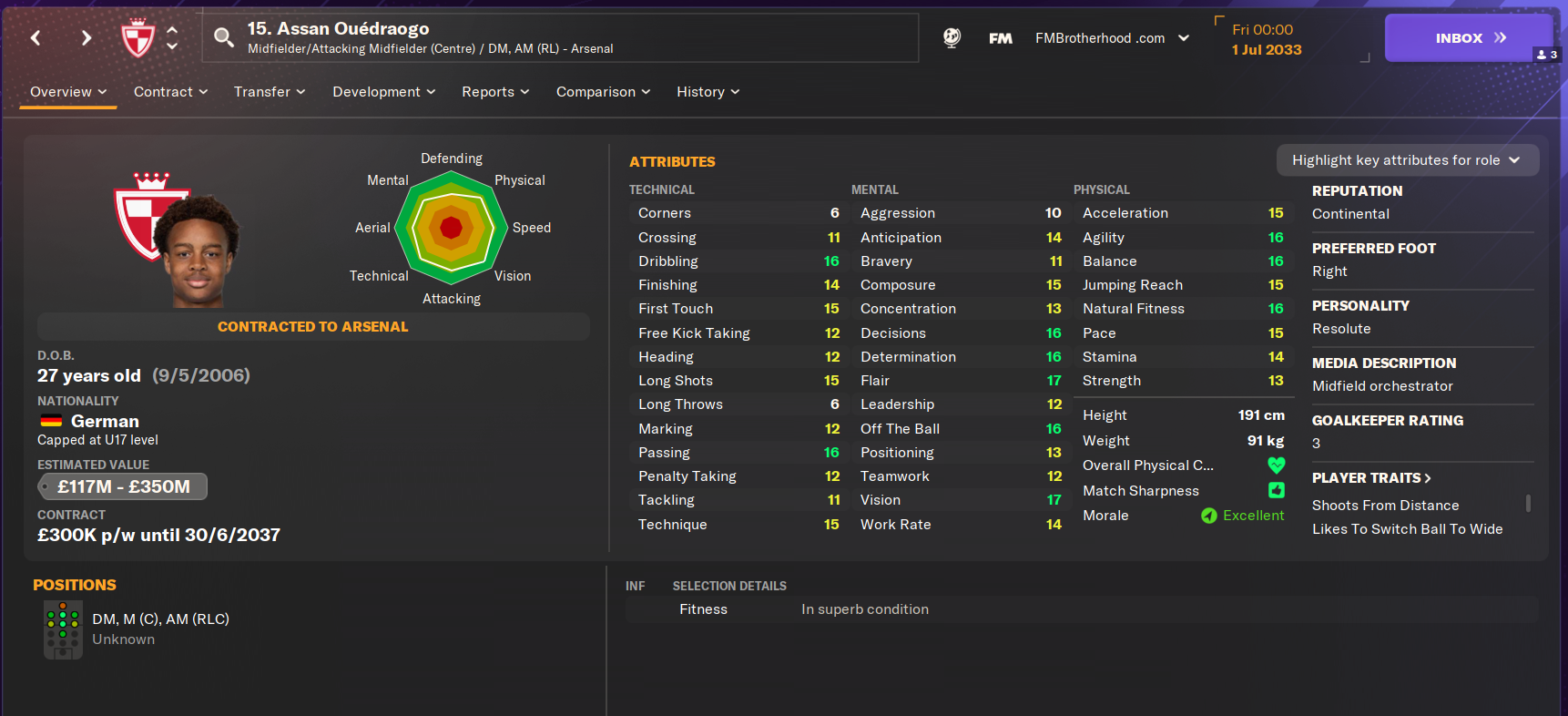 What a player this cheap wonderkid can become. Ouedraogo is a physical beast, but still so technical on the ball. Schalke ended up keeping Assan Ouedraogo for the first few seasons, before leaving to join Arsenal for £63 million. This will have certainly helped Schalke clear their financial debt.
The media describe Ouedraogo as a midfield orchestrator. This shows he's excellent at dictating play, and finding his teammates in tight spaces. You can see why he's one of the best FM24 CM wonderkids.
4. Cameron Humphreys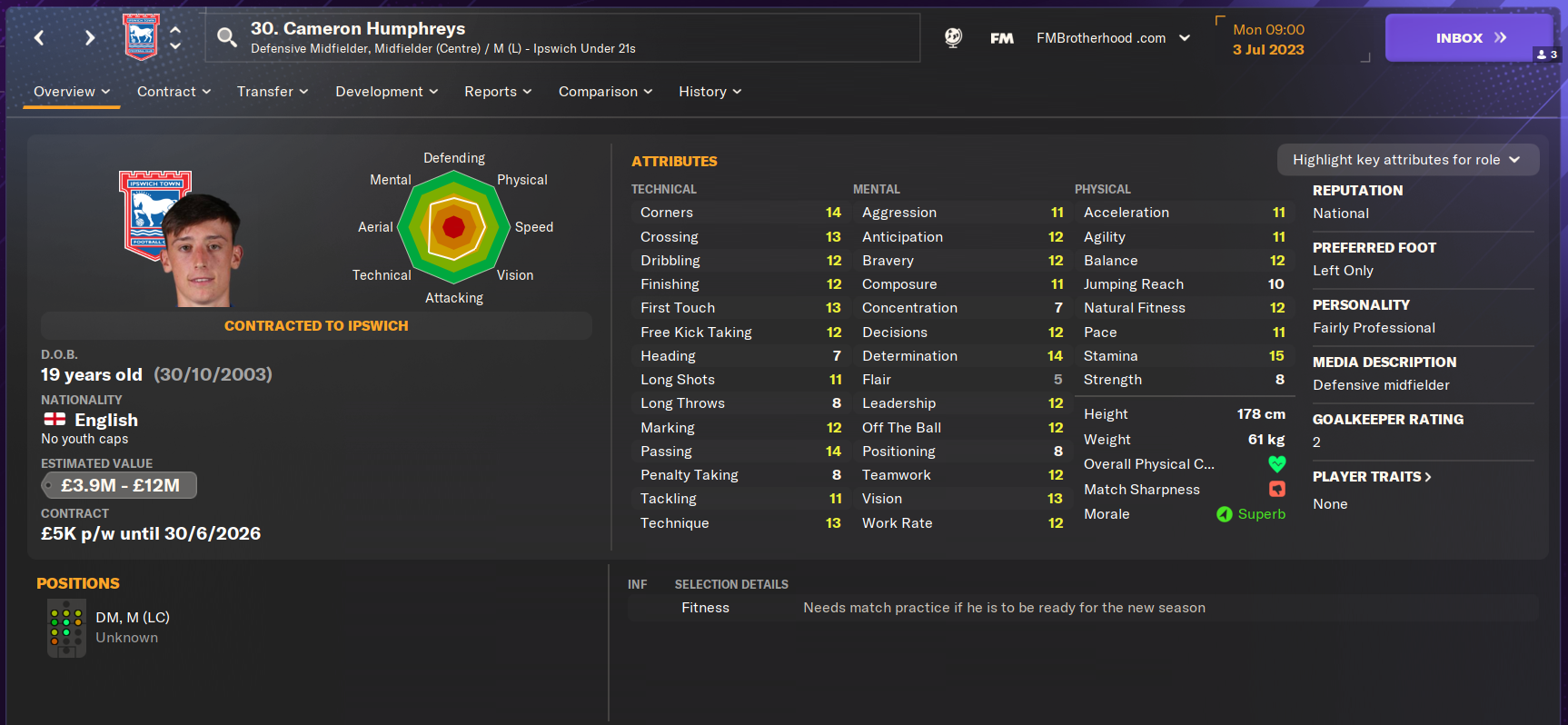 Cameron Humphreys plays a pivotal role in an Ipswich team that's smashing it in the Championship at the time of writing. After getting promoted from League One, they are one of the favourites to complete back to back promotions, which will see them step into the promised land of the Premier League.
On Football Manager Cameron Humphreys has amazing potential for a player that will cost you just £8 million. Remember he's English and homegrown, so if you're managing in the Premier League this is an added bonus.
Cameron Humphreys in 2033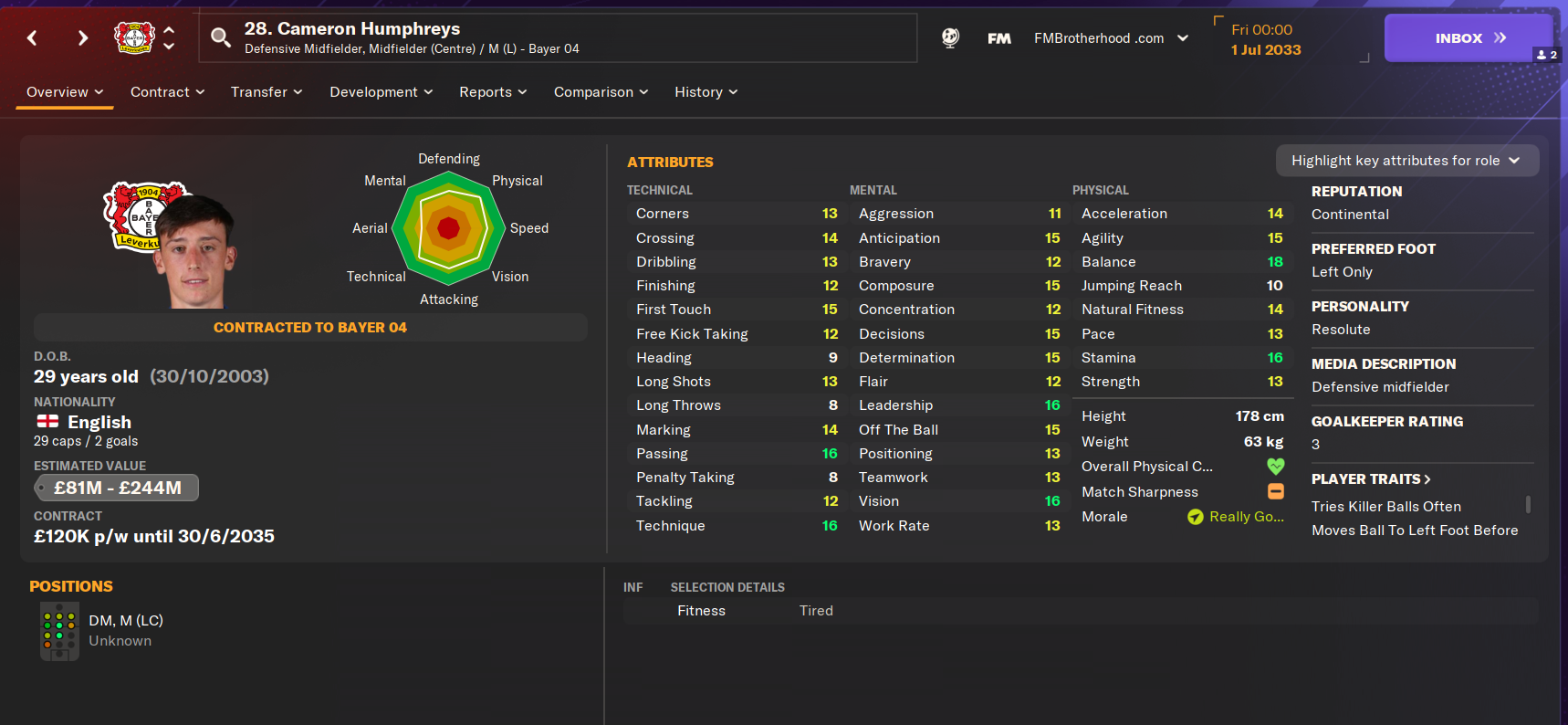 Humphreys has developed into an exceptional midfielder, and has become a regular for England too. There is so much English talent in Football Manager, which makes this extra impressive.
16 vision, 18 balance, and 16 stamina are just some of his best attributes. Except from winning aerial duels, there's not a lot Cameron Humphreys can't do.
3. Roony Bardghji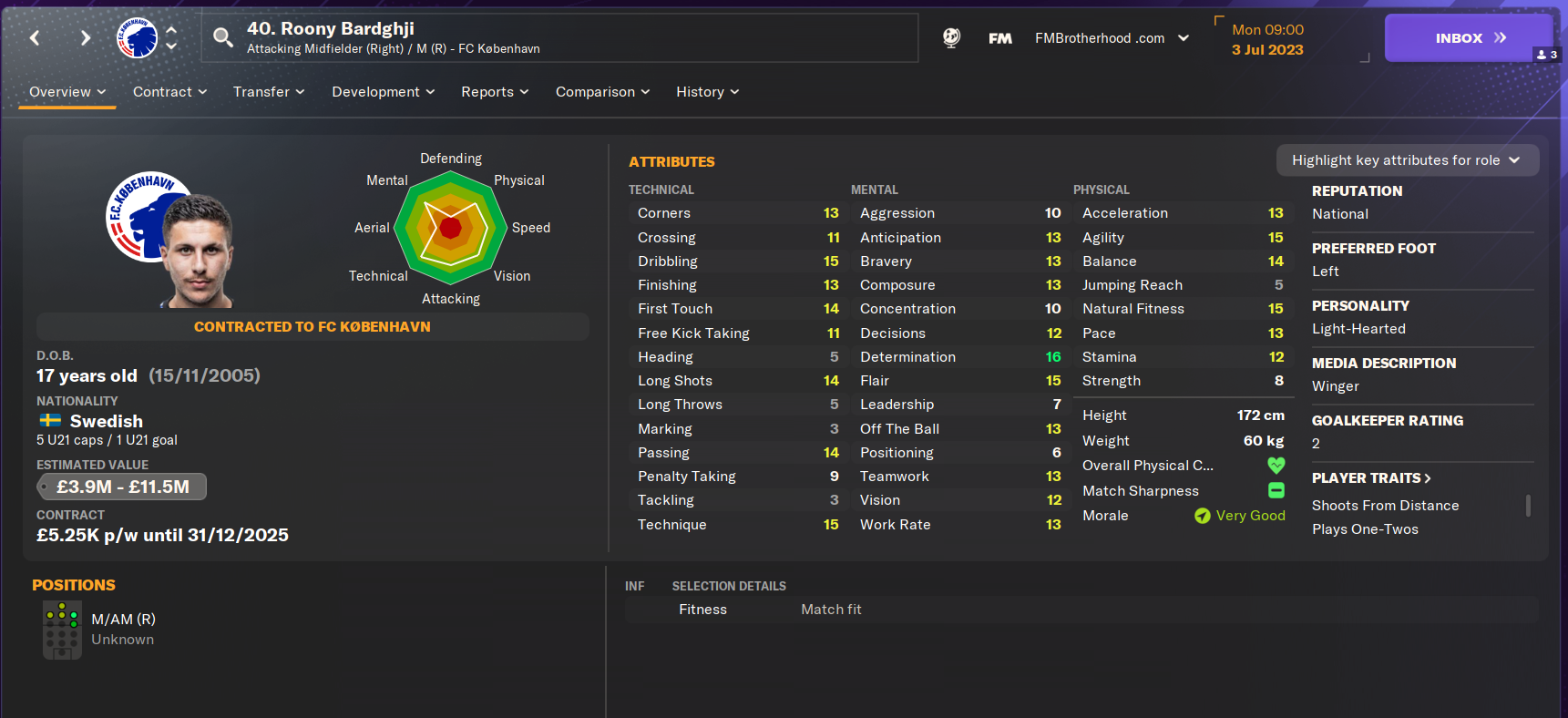 Bardghji has one of the best current abilities of a 17 year old in Football Manager 2024. The young right winger has 15 dribbling, flair, and technique. His excellent left foot means he's deadly in the final third when he cuts in from the right wing.
What makes Roony Bardghji even better is he can be signed for a small £8 million fee!
Roony Bardghji in 2033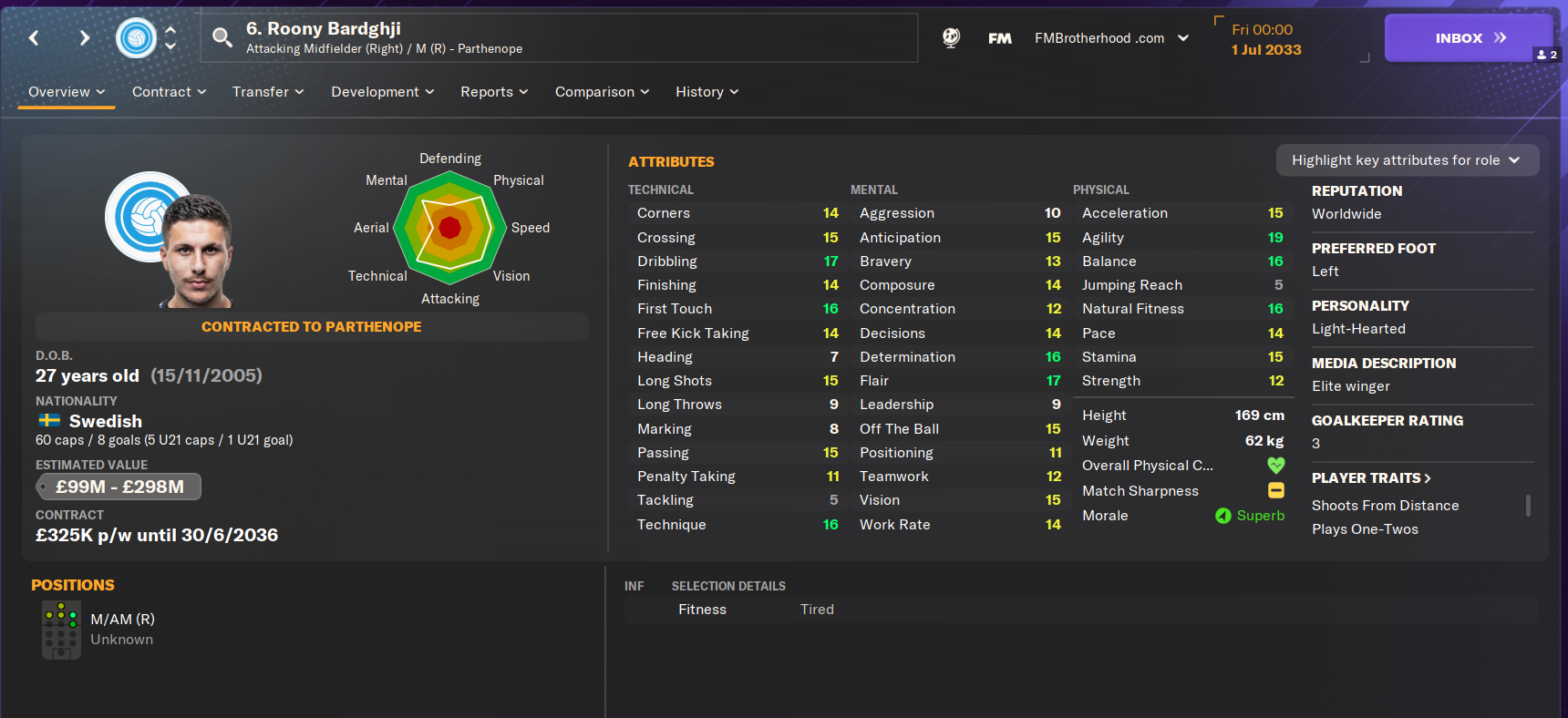 Roony Bardghji is worth over £100 million in his prime, and has some exceptional stats, such as 17 dribbling, 19 agility, and 17 flair. He has great attributes all over, showing how well rounded he is.
For Napoli, he achieved a minimum of a 7.11 rating in the 9 seasons he spent there, showing he has consistent quality that would be valuable to your team in FM24. All you need to do is raise £8 million, which makes him one of the best cheap young players in FM24.
2. Martin Baturina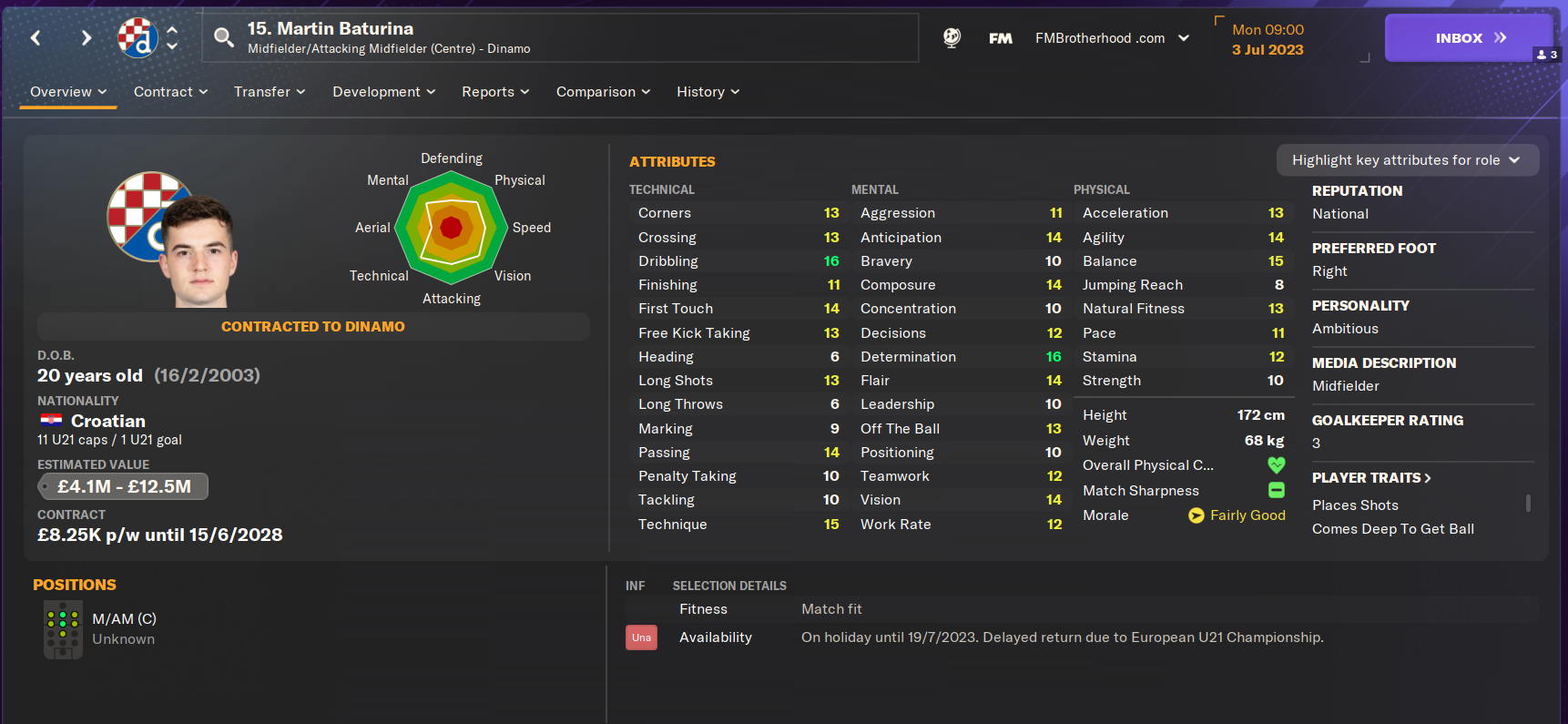 Baturina plays for Dinamo Zagreb, who have won an astounding 17 of the last 18 Croatian League titles. In FM24, he's one of their best players!
The cheap wonderkid is a creative midfielder with excellent dribbling and an eye for a pass through the defensive lines. His versatility allows him to play out wide too, but he's definitely better in the middle of the football pitch.
He will set you back just £8.5 million in the first FM24 season. A very reasonable price for a wonderkid with great potential.
Martin Baturina in 2033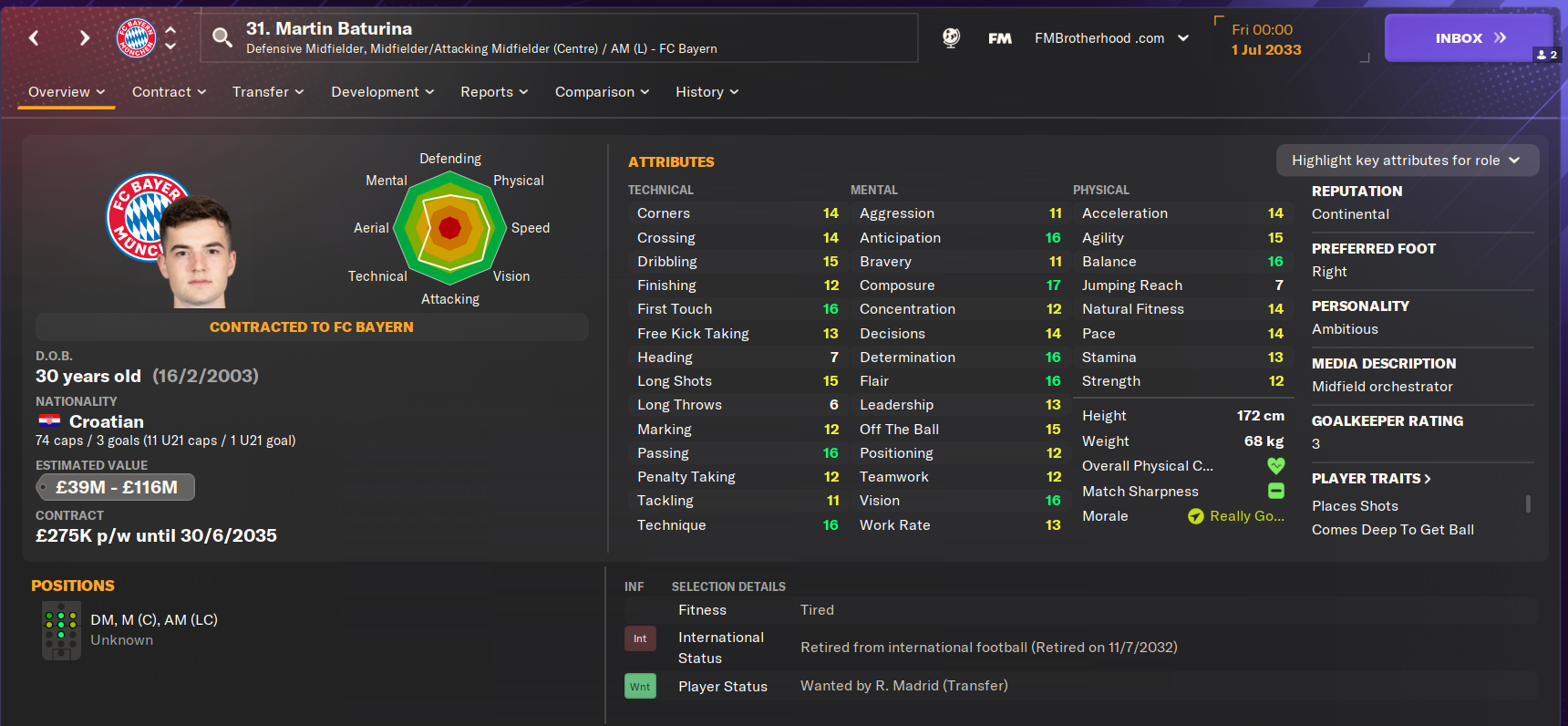 Hoffenheim managed to sign Baturina for £10 million, before selling him to Bayern Munich for £60 million just 2 seasons later. This just shows the insane return on investment you can get with buying this cheap young player as soon as possible in FM24.
Martin Baturina has 9 attributes rated 16 or higher, with most of these being his mental attributes. He loves getting assists. If you need a creative wonderkid midfielder to create goals in your team, sign this man.
1. Maximilian Beier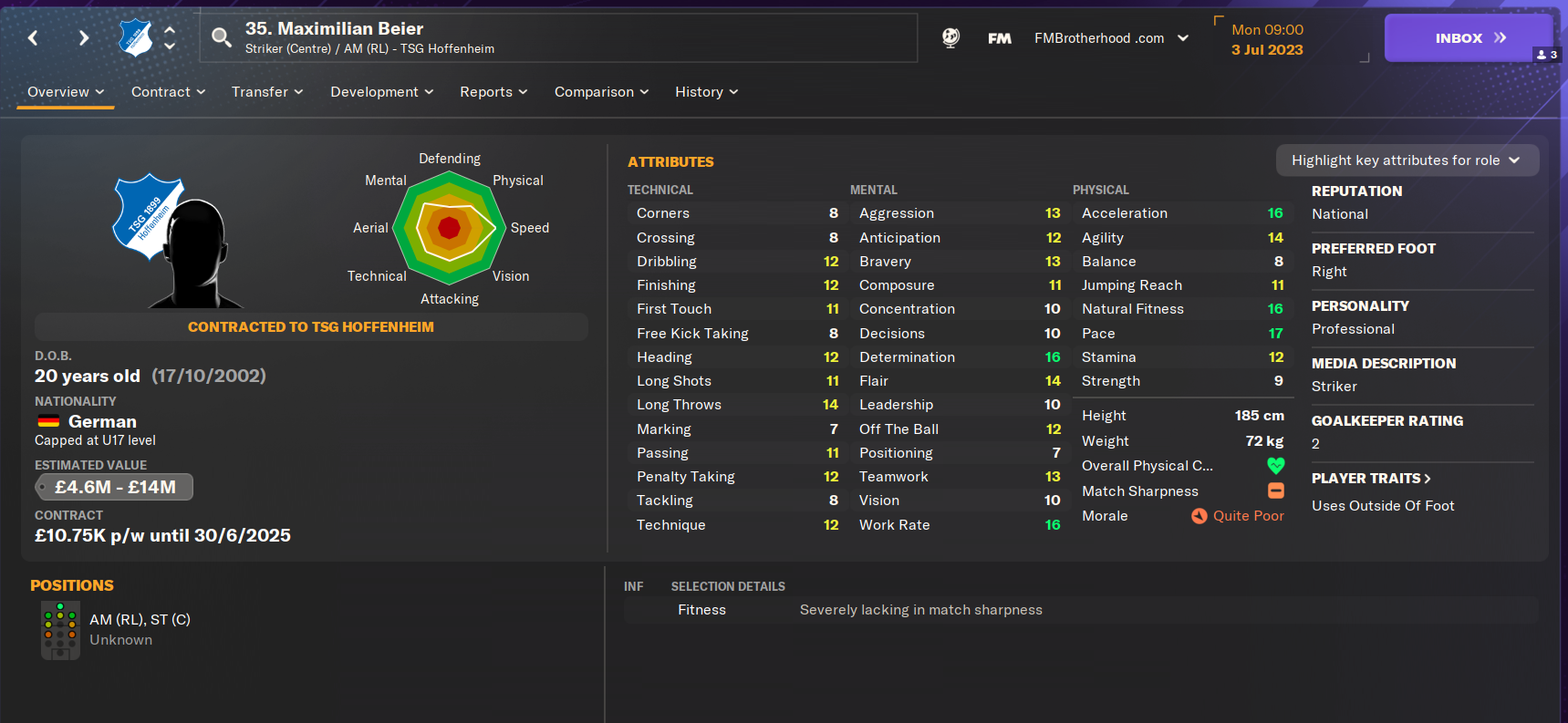 Beier is an explosive young striker in FM24. His pace and acceleration allow him to burst past defenders and latch onto through balls. He has solid shooting attributes, and amazing determination and work rate.
For just £9.25 million, you can get yourself a player that was born to score goals. Pace is a very important attribute for strikers to have in Football Manager, and Maximilian Beier has this in abundance.
Maximilian Beier in 2033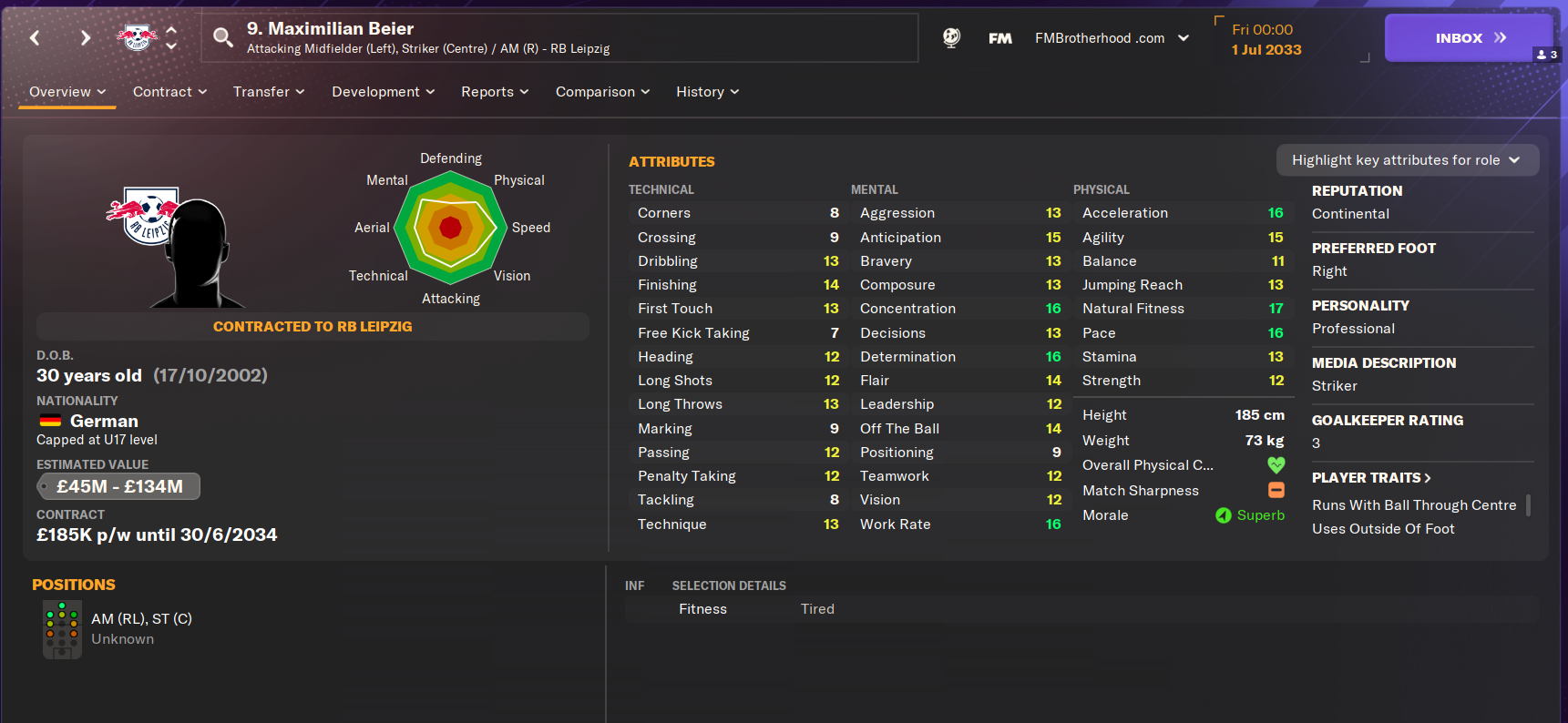 In our Football Manager 10 year simulation, over £100 million was spent on this cheap wonderkid in transfer fees. His mental attributes have seen a great increase, which includes stats that make him more effective in the final third of the pitch.
Beier likes to use the outside of his foot, so you'll see him score some gorgeous goals using this technique.
Final Thoughts
These are some of the best cheap young players you can get in FM24. The player with the best potential ability is probably Roony Bardghji. He's just a fantastic talent and is very likely to become one of the best wingers in your save.
Cameron Humphreys and Assan Ouedraogo are two midfielders that you must consider signing too. They're both all round midfielders that are willing to transfer to teams that aren't at the very top too.
If you're managing in the Premier League, you might like some of these signings.