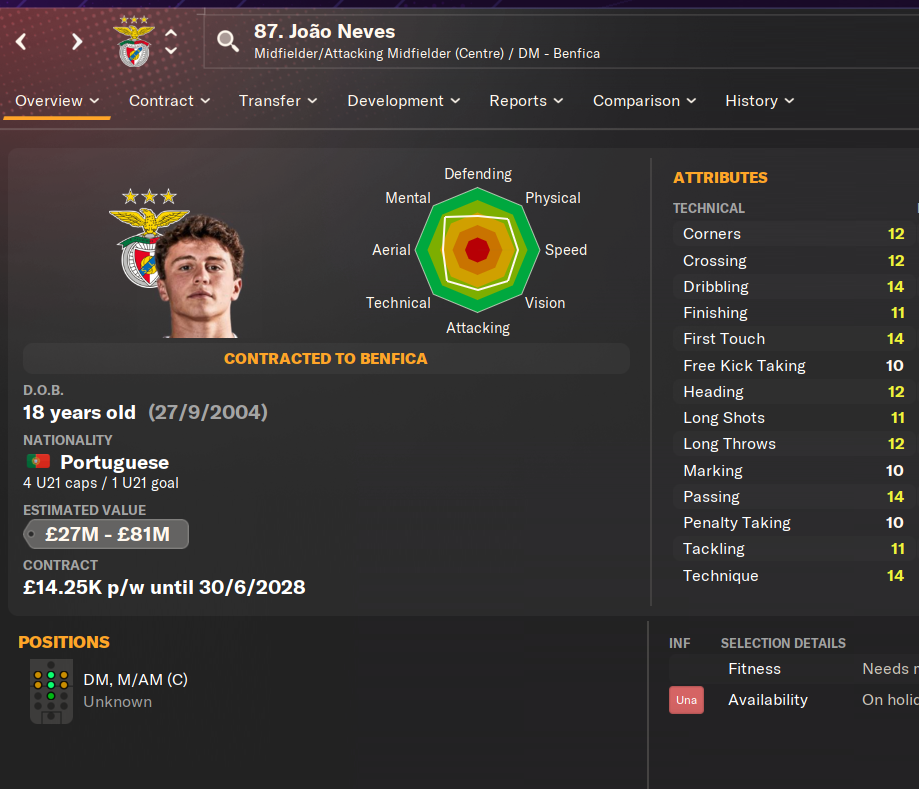 8 Best CM Wonderkids in FM24
By callum | November 12, 2023 | 63 Views
Best CM Wonderkids in FM24
Anyone that understands football knows that games are won and lost in the midfield. This means having better midfield players than the opposition team is really important. Midfielders need to be energetic, technical, and be able to play multiple midfield roles.
Taking this into consideration, I've gone 10 years into the FM24 database and found the best CM wonderkids. If they can be signed in season one of your save, we'll tell you how much for. We also show you how great they can be in the prime of their career.
Disclaimer – there is no guarantee these wonderkid central midfielders in FM24 will reach the same potential in your save. But with the right training and first team football, they certainly can.
1. Archie Gray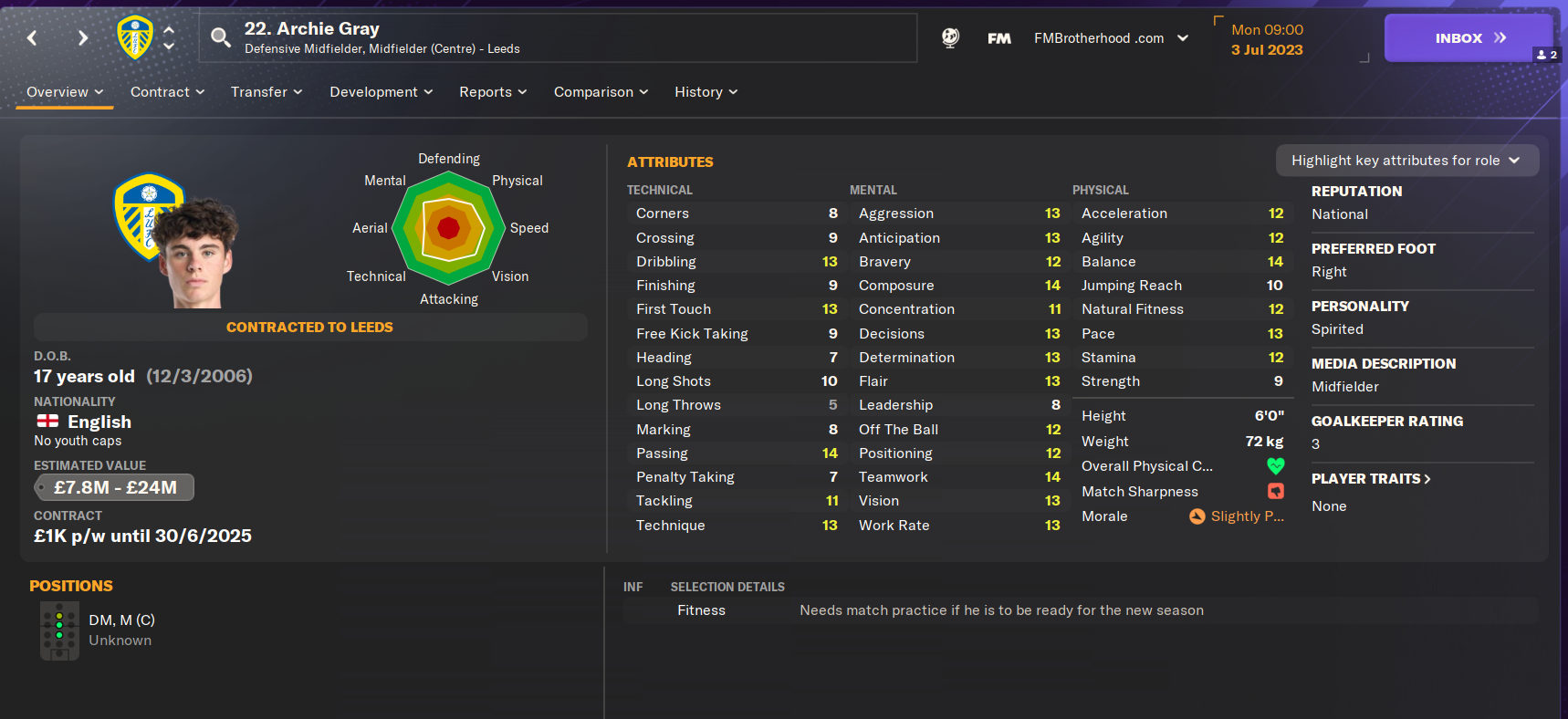 Gray is a 17 year old central midfielder that's come through the Leeds youth academy. After Leeds' relegation from the Premier League, Gray finds himself playing Championship football. Playing regular first team football as a teenager in this division will be perfect for his development.
Archie Gray is well rounded mentally, and has solid fundamentals to build on. If you can persuade him to join your team in season one, he'll cost you £15.5 million. He does love Leeds though, so it will take a big team to be interested for this wonderkid CM to move.
Archie Gray in 2033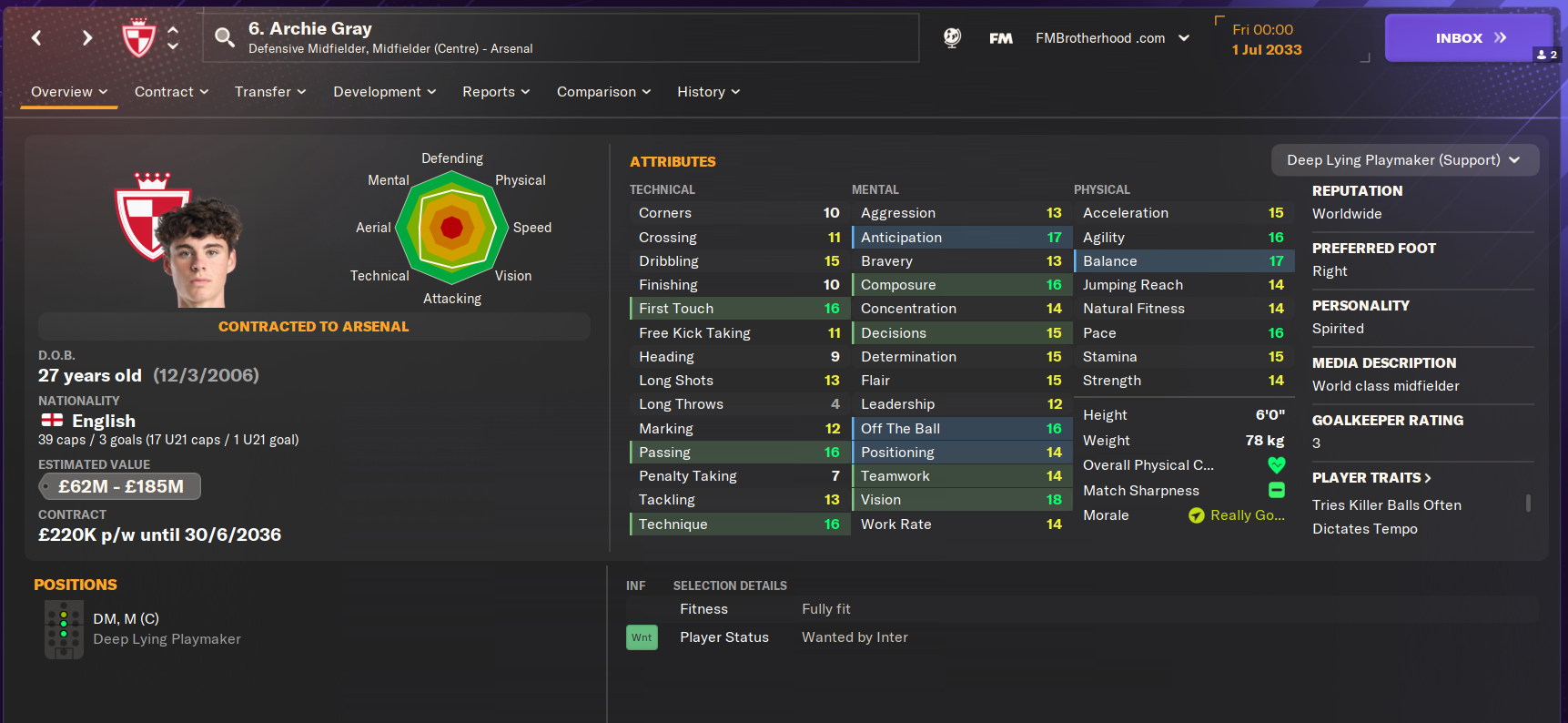 You can see that in his prime Archie Gray can become a phenomenal CM in FM24. His physical attributes have seen some exceptional development. His agility is up to 16 from 12, and his strength is up to 14 from 9.
Gray can do almost every central midfield role competently. He can also play as a defensive midfielder, and would be an effective deep lying playmaker in this position.
If you have the money in the first season, Archie Gray is definitely a wonderkid centre midfielder worth signing.
2. Habib Diarra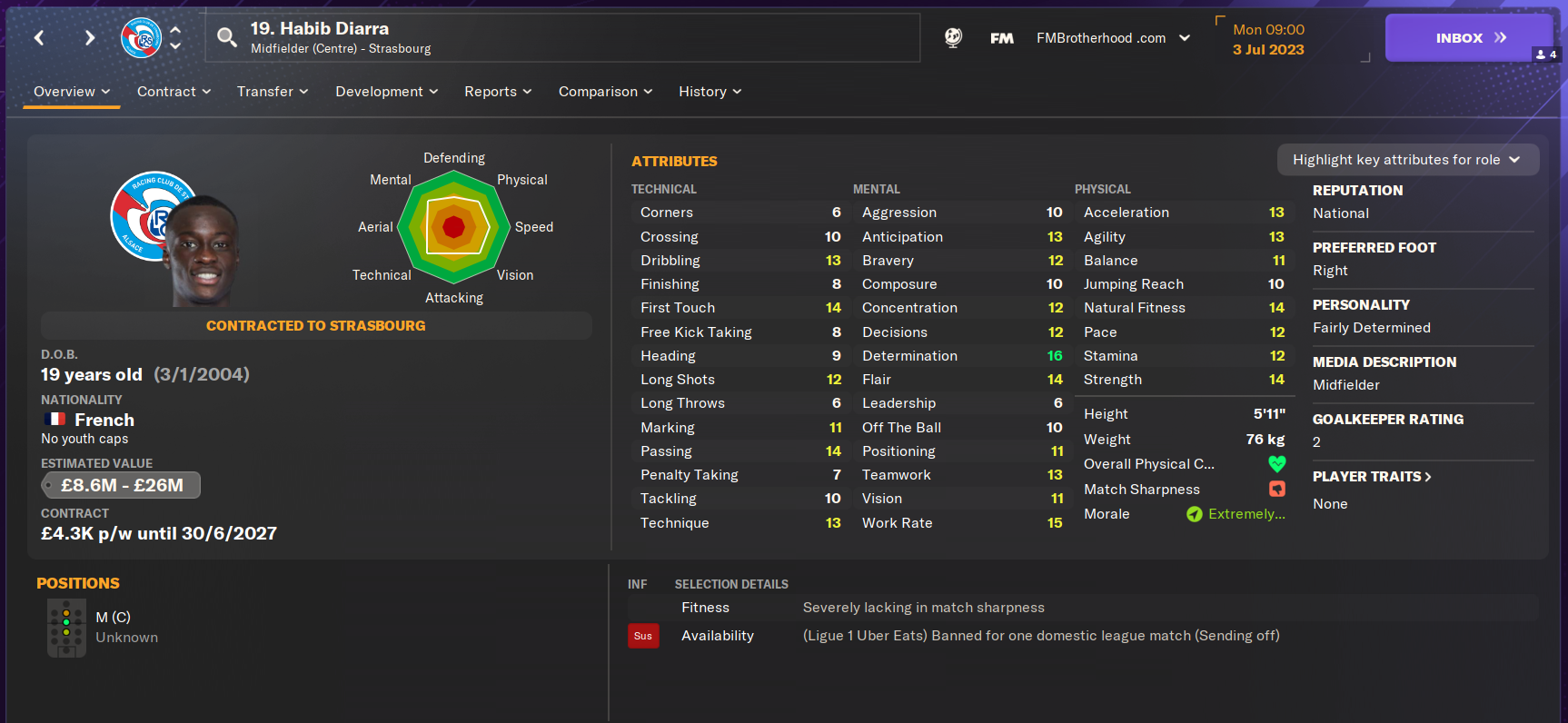 This FM24 wonderkid CM has brilliant passing, work rate, determination. He's become a regular started for Strasbourg in Ligue 1, which is really impressive considering he's just 19 years of age.
What makes it even better is you can sign Diarra in season one. He'll cost you £17 million, which might seem like quite a lot for a player with his current ability. However, read on and you'll see why he's worth the investment.
Habib Diarra in 2033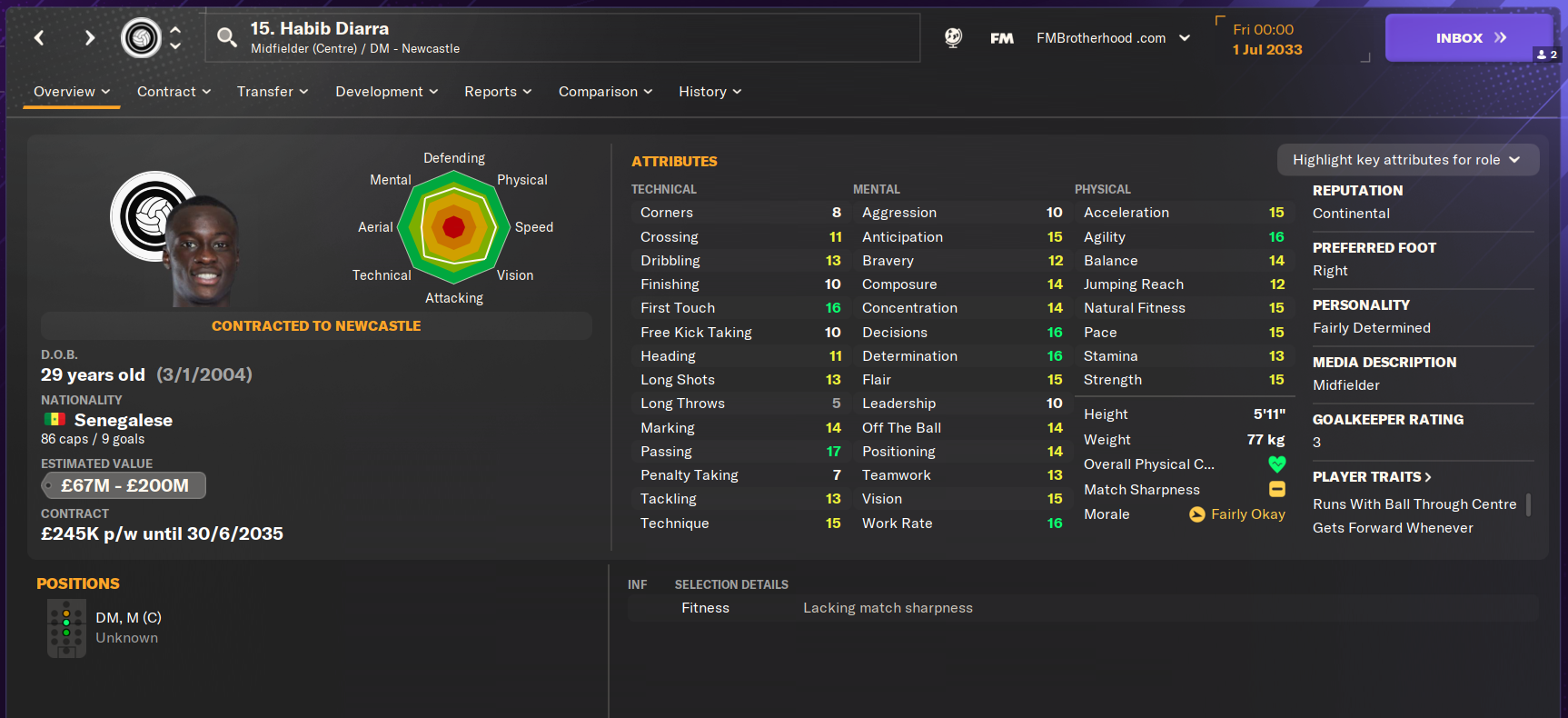 In our FM24 simulation, Habib Diarra has played for Real Madrid and Newcastle. He has also become Senegal's best player in 2033, and is on almost £250k per week.
Diarra has become a world class passer of the ball. His vision has increased from 11 to 15, and his passing from 14 to 17. He can play the ball through the lines into your attackers' feet. A fantastic all round midfielder that you can sign in the first FM24 season.
3. Joao Teixeira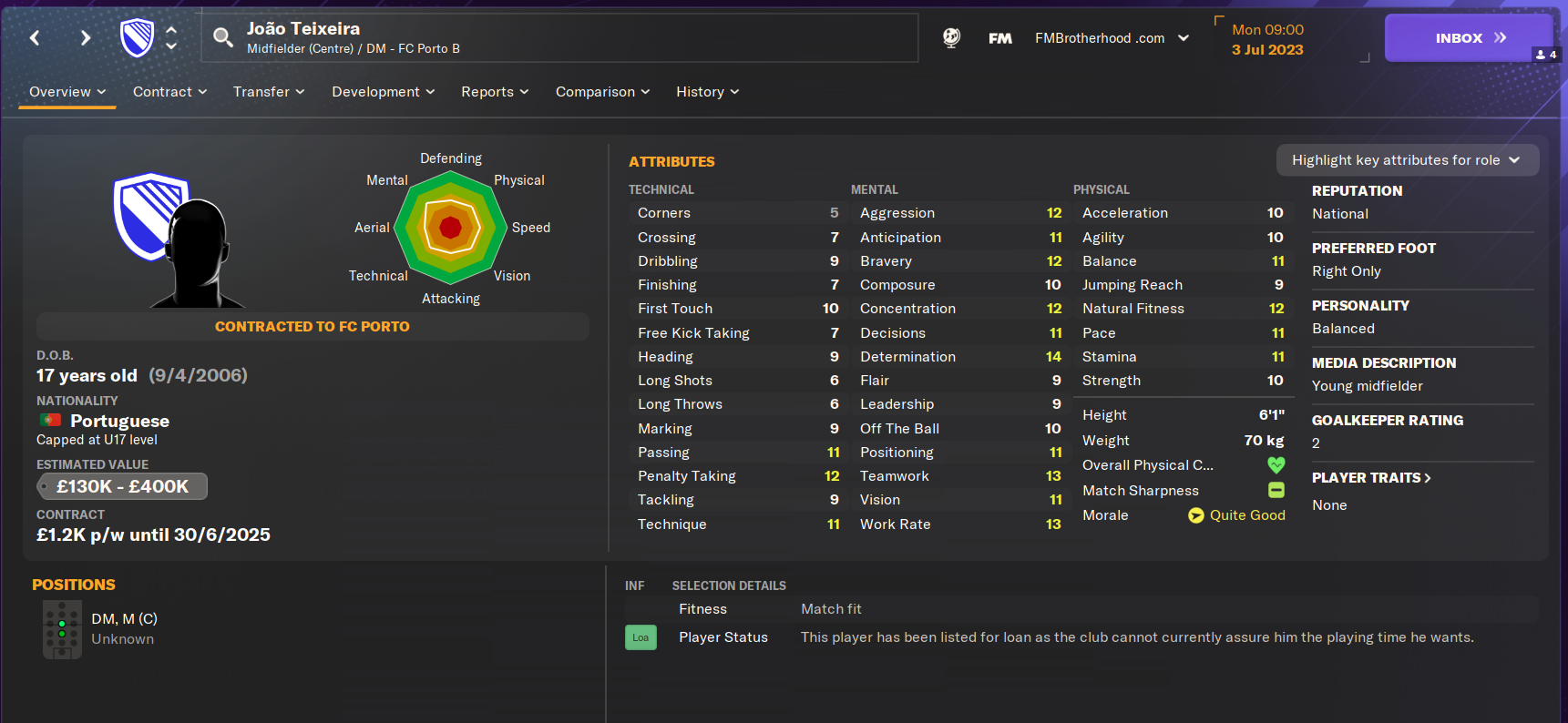 Porto have produced some top youngsters over the years, and Joao Teixeira is going to be another one added to the list. When you analyse his attributes, you can see that his mental attributes stand out.
Even though Teixeira is 17, he has 14 work rate, 14 determination, and 13 teamwork. He's still very raw, and has a lot of stats to work on, such as his marking and tackling, especially if you want to play him as a ball winning midfielder.
He will speak to European giants in season one, and Porto will accept and offer of £325k. However, he wants to be a squad player on about £50k per week. It's probably best waiting a season or two before making an offer for Joao Teixeira.
Joao Teixeira in 2033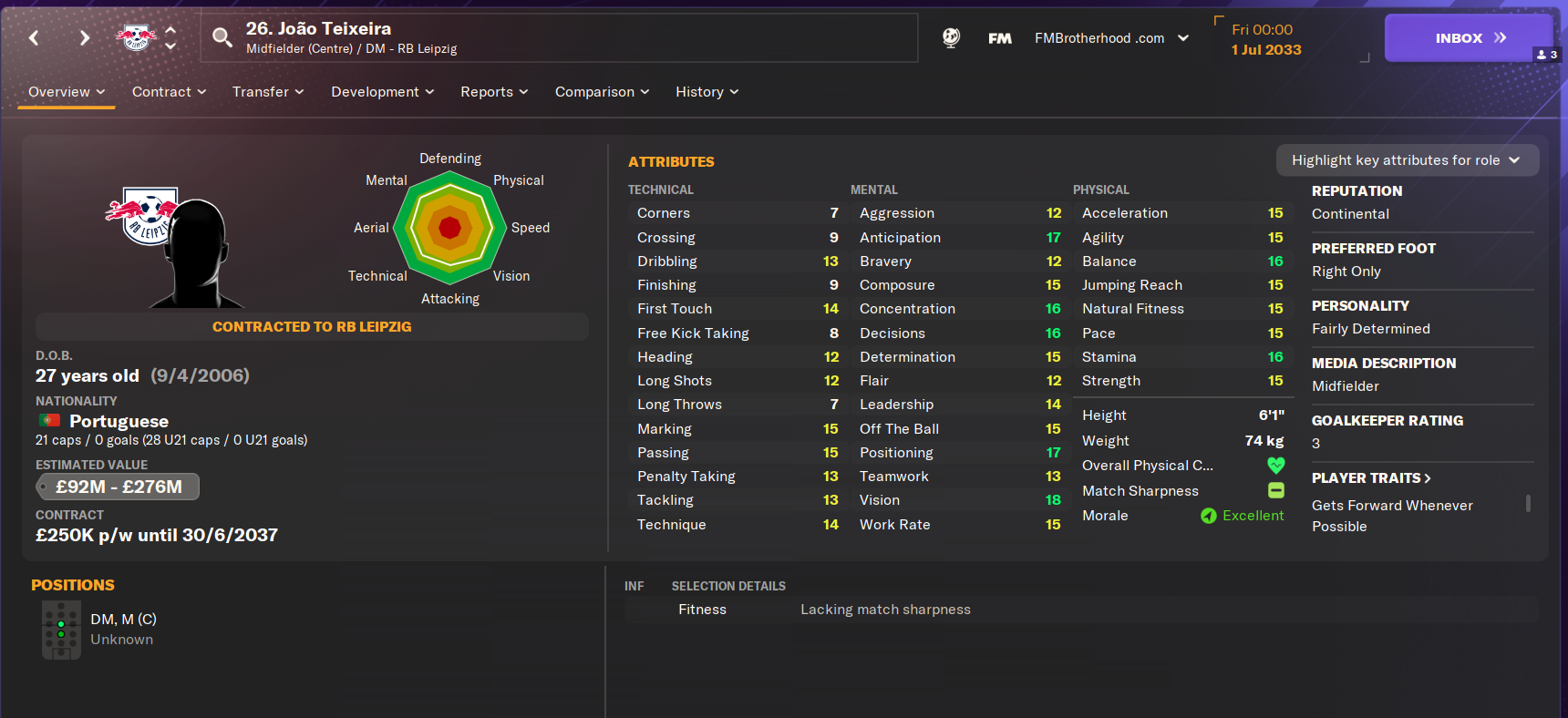 What a player Joao Teixeira can develop into in his prime. He's definitely been working on his defensive attributes, but his mentals and physicals are world class.
As Joao Teixeira started to get more first team football, he became a very consistent performer. He can play most midfield roles, and is now capable of playing in defensive midfield too.
Because he's so young in season one, you can mould Teixeira into any type of midfielder you want. He's definitely one of the best young CMs in FM24.
4. Assan Ouedraogo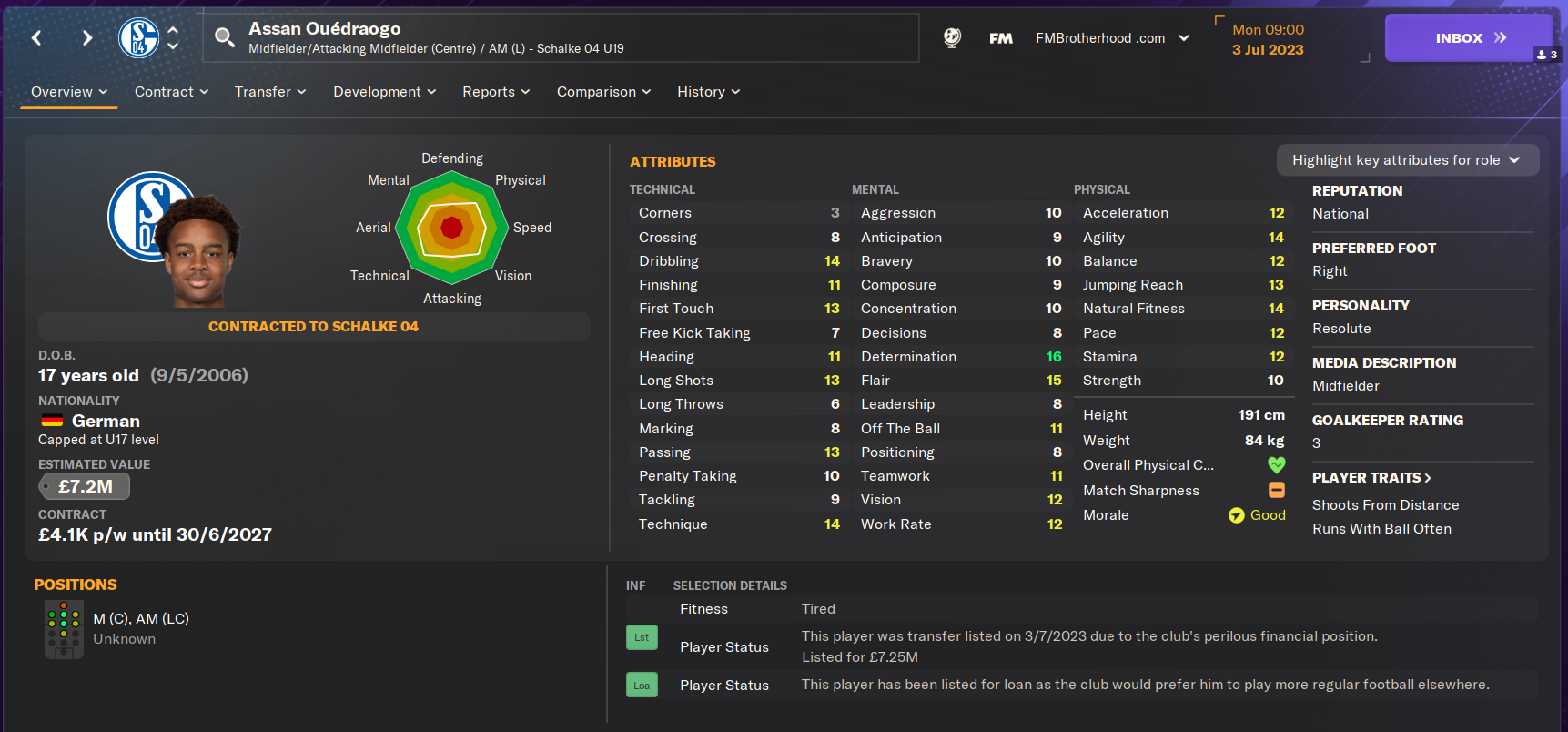 Assan Ouedraogo is a brilliant CM wonderkid in FM24 who is already one of Schalke's first players. The club need to sell him because of their poor financial position, so he can be signed for £7.2 million in season one.
Because you can sign him for such a low price, Assan Ouedraogo is one of the best cheap wonderkids in Football Manager 2024! You can find out how good he becomes in his prime in that article.
5. Gavi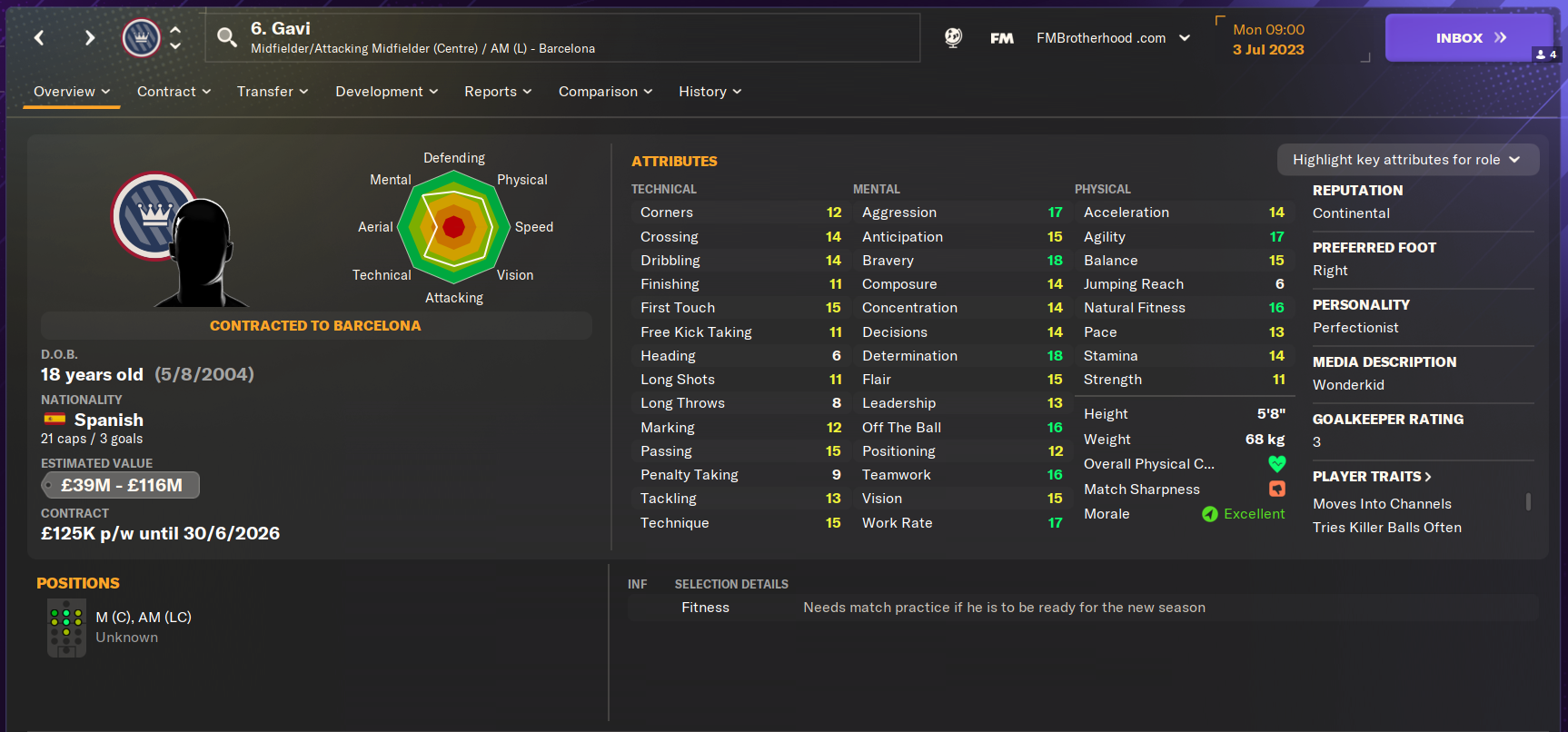 You might be looking at this Gavi picture and be thinking this is him in his prime, but this is him at the start of the game! He has 17 work rate, 18 determination, and 16 off the ball movement. This is why he's one of the best wonderkid centre midfielders in FM24.
Gavi is already a starter for Barcelona and Spain at 18 years old. If you're managing one of the best teams in FM24, such as Man City, you can sign Gavi in the first season for £77 million. This is a huge fee for a teenager, but he will be integral to your midfield for the next 15 seasons.
Gavi in 2033
What an incredible player Gavi is in their prime. Which makes me question why Barcelona have loaned him out to Manchester United.
Anyway, his mental attributes are even better! 9 of his 14 mental attributes are 16 or above, which is just insane. Apart from in the air, Gavi can do everything else on the pitch to at least a good standard.
Barcelona are in some financial trouble, so if they need to raise some funds, maybe you'll be able to sign Gavi at a cut price at some point in your save.
6. Alex Scott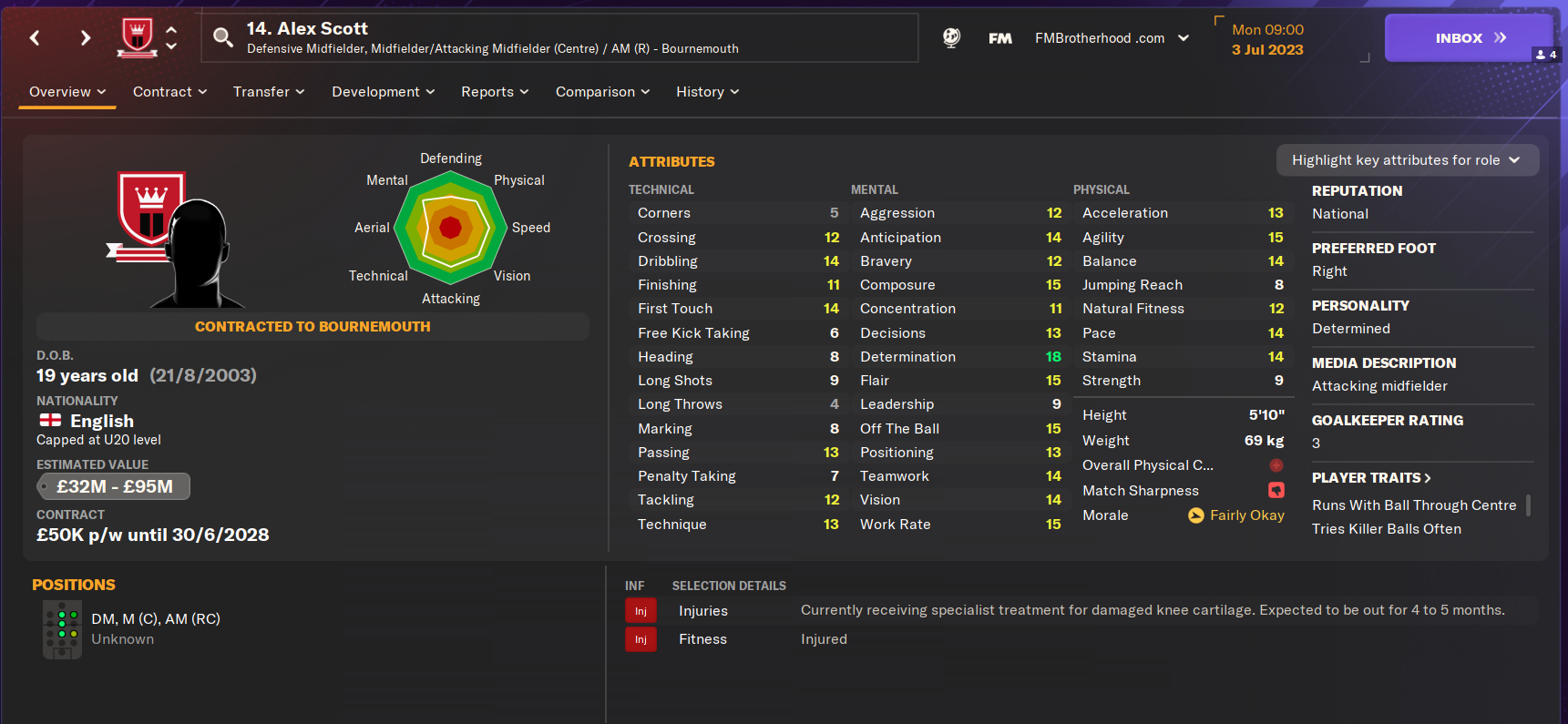 Alex Scott is very well known to Football Manager players that played FM23. He was one of the most signed players of last years game.
Unfortunately, he's been signed in real life by Premier League side Bournemouth. This means he can now no longer be signed in season one. But you've got to keep an eye on his development in your FM24 save.
He's even better in FM24 than he was in FM23. Read below to see how good he can be 10 seasons into your save.
Alex Scott in 2033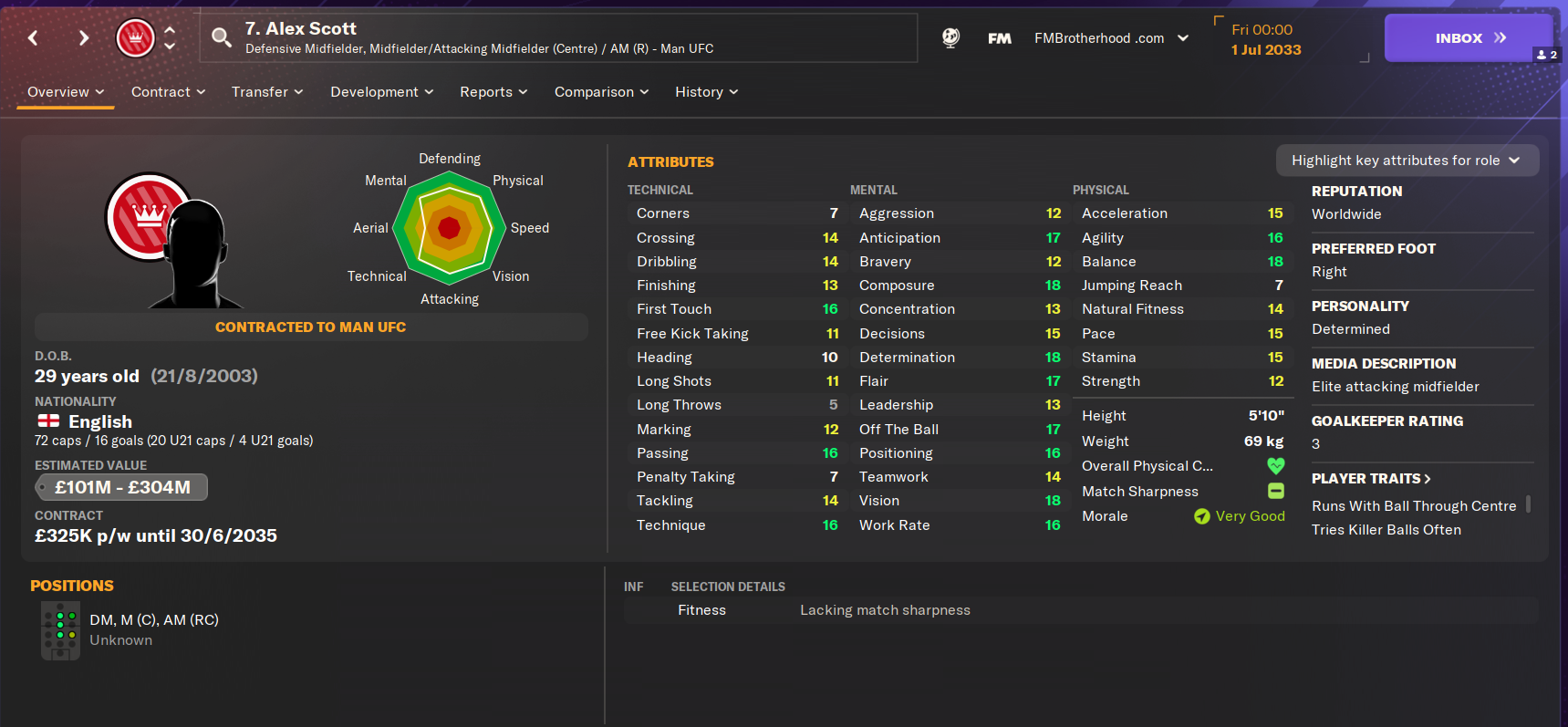 Scott can comfortably play as a CDM, CAM, and central midfield, and he has the attributes to do so! If you think Gavi's mental attributes were amazing, take a look at Alex Scotts. They are just as well rounded, and he's just as technical too.
Man United ended up paying £87 million for Alex Scott in 2027. This is the price you might have to pay to get your hands on one of the best CM wonderkids in FM24. His versatility is invaluable.
7. Joao Neves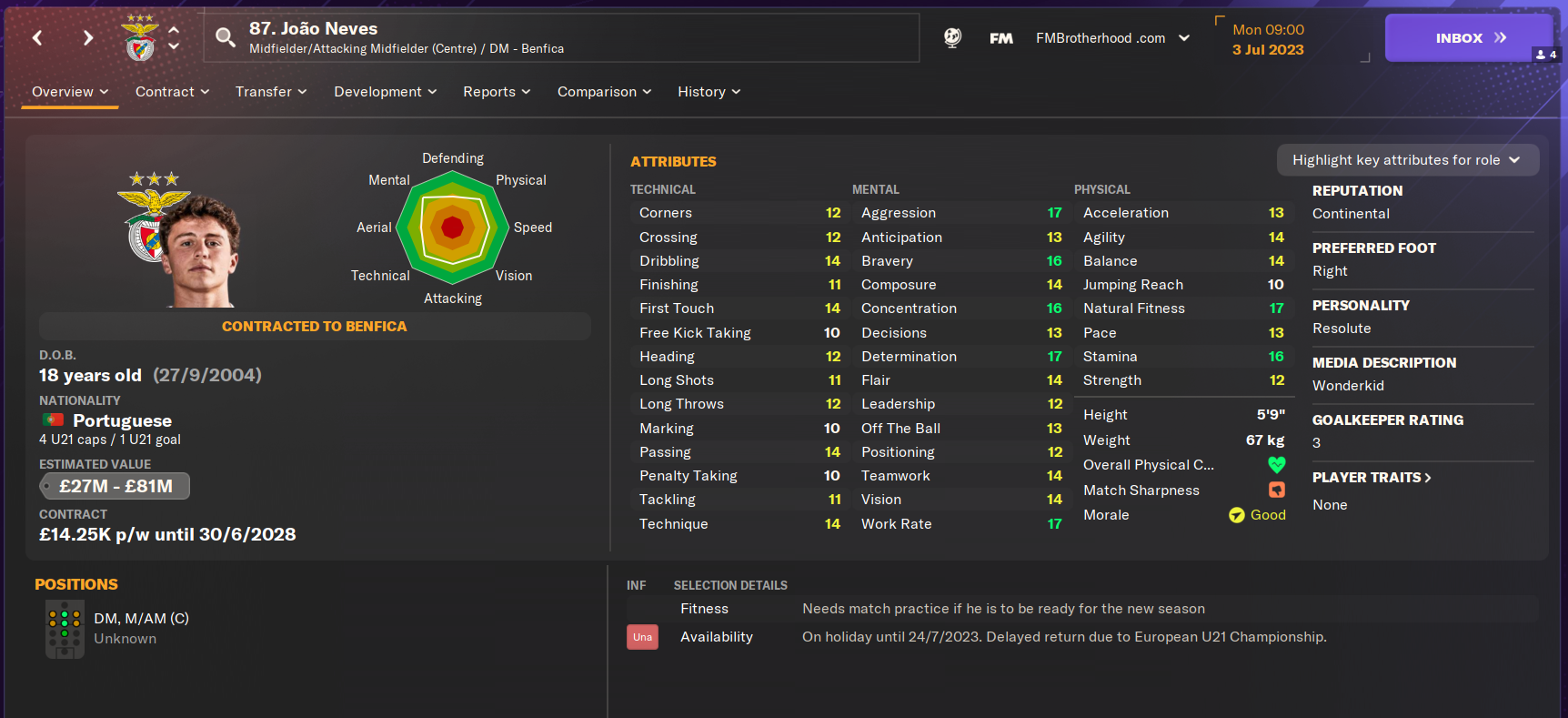 Neves had a real breakthrough season for Benfica last season, which has seen him get a huge current ability increase in FM24 from FM23.
Similar to Porto, Benfica are another team in Portugal that produce amazing wonderkids. 3 Benfica wonderkids made our list of the best FM24 LW wonderkids.
Neves is already fantastic mentally at 18 years of age, and has top natural fitness. He will be able to be a part of your midfield for years to come.
Because he's jut signed a new contract, you can't get him in season one. This being said, he's one of the best young CMs in Fooball Manager 2024, so add him to your shortlist and watch his development in your save.
Joao Neves in 2033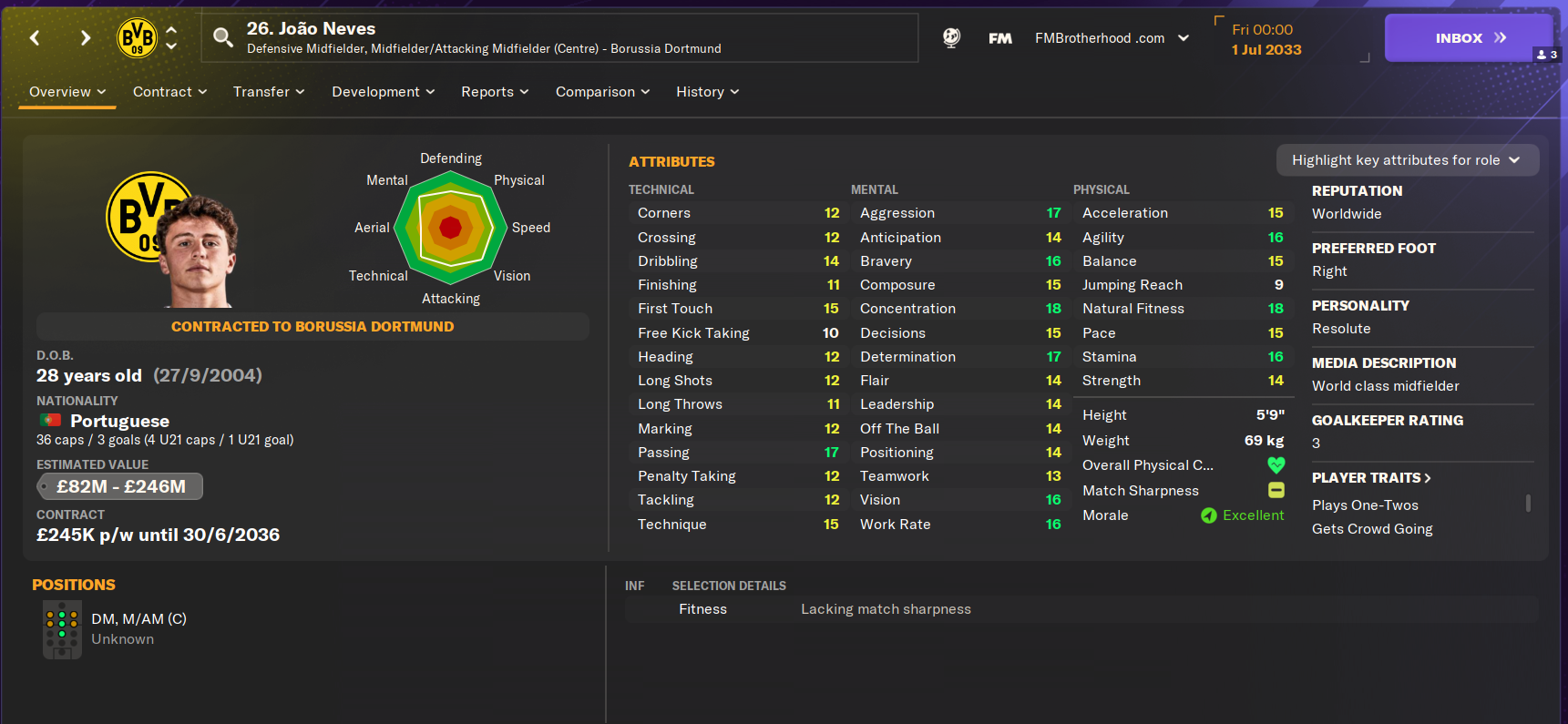 After smashing it for Manchester City, Joao Neves moved to Borussia Dortmund on a free transfer! What an exceptional player to get for nothing. He is great all across the board. It's really hard to find a weakness of this CM wonderkid in his prime.
The media describe him as a world class midfielder, and I would say exactly the same.
8. Jude Bellingham – Best Wonderkid Central Midfielder in FM24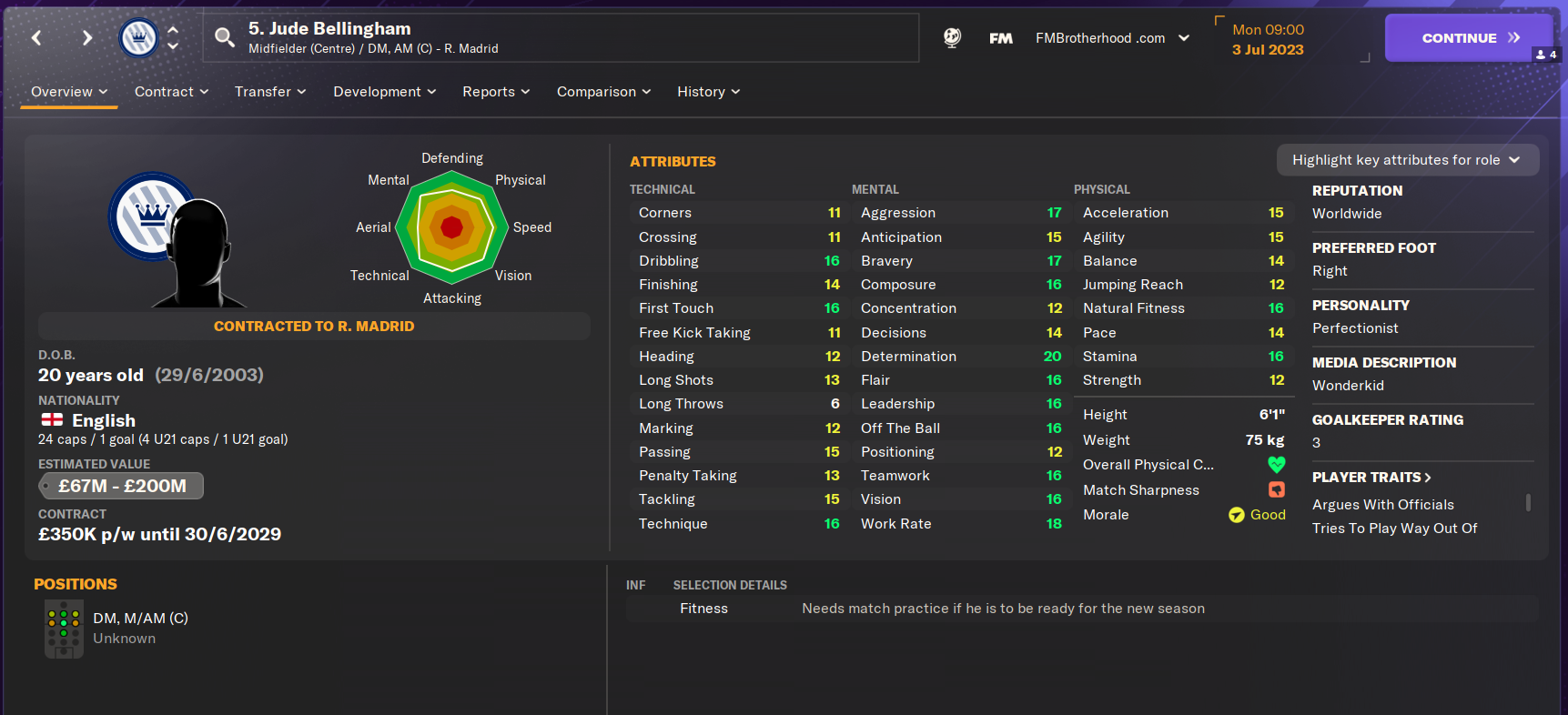 Could it really be an article of the best FM24 wonderkid central midfielders without Jude Bellingham? Of course not! He is already one of the best CMs in FM24 at 20 years of age. What a talent.
Like many other centre midfielders I've spoken about, Bellingham's mental attributes are where he stands out. 20 determination, 17 bravery, 18 work rate, and you can see the rest.
Even though Real Madrid Manager Carlo Ancelotti has been playing him further forward, on Football Manager he's best as a central midfielder. Although he could definitely be effective as an attacking midfielder or even shadow striker.
Good luck trying to sign him in FM24. It will be extremely difficult.
Jude Bellingham in 2033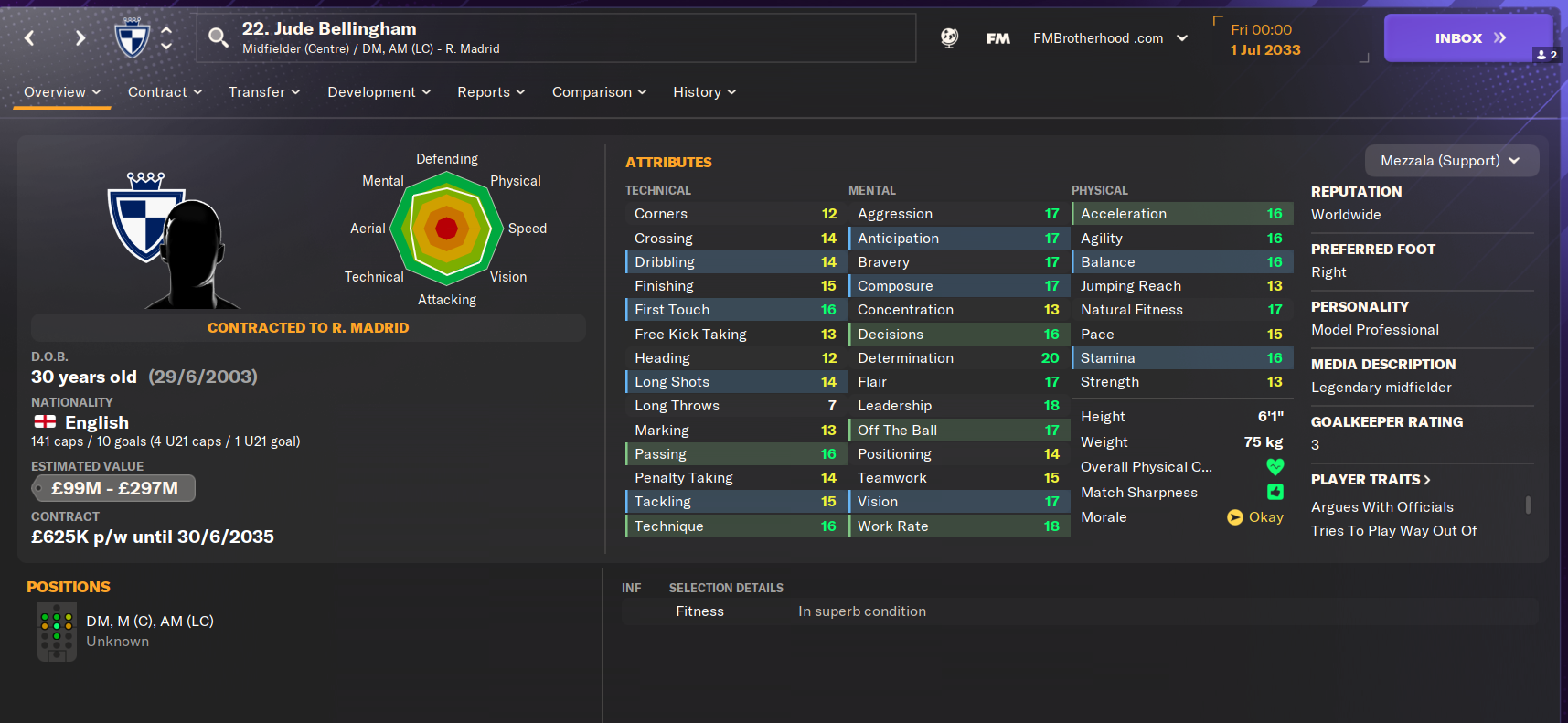 Bellingham is insane in his prime. He has become a club icon at Real Madrid, which is a seriously impressive achievement to be named alongside greats such as Cristiano Ronaldo and Sergio Ramos.
The media have called him a legendary midfielder, and he will very likely become that in real life too. I've also included an image below of his career stats in our FM24 simulation. They are far too good to not include in this article.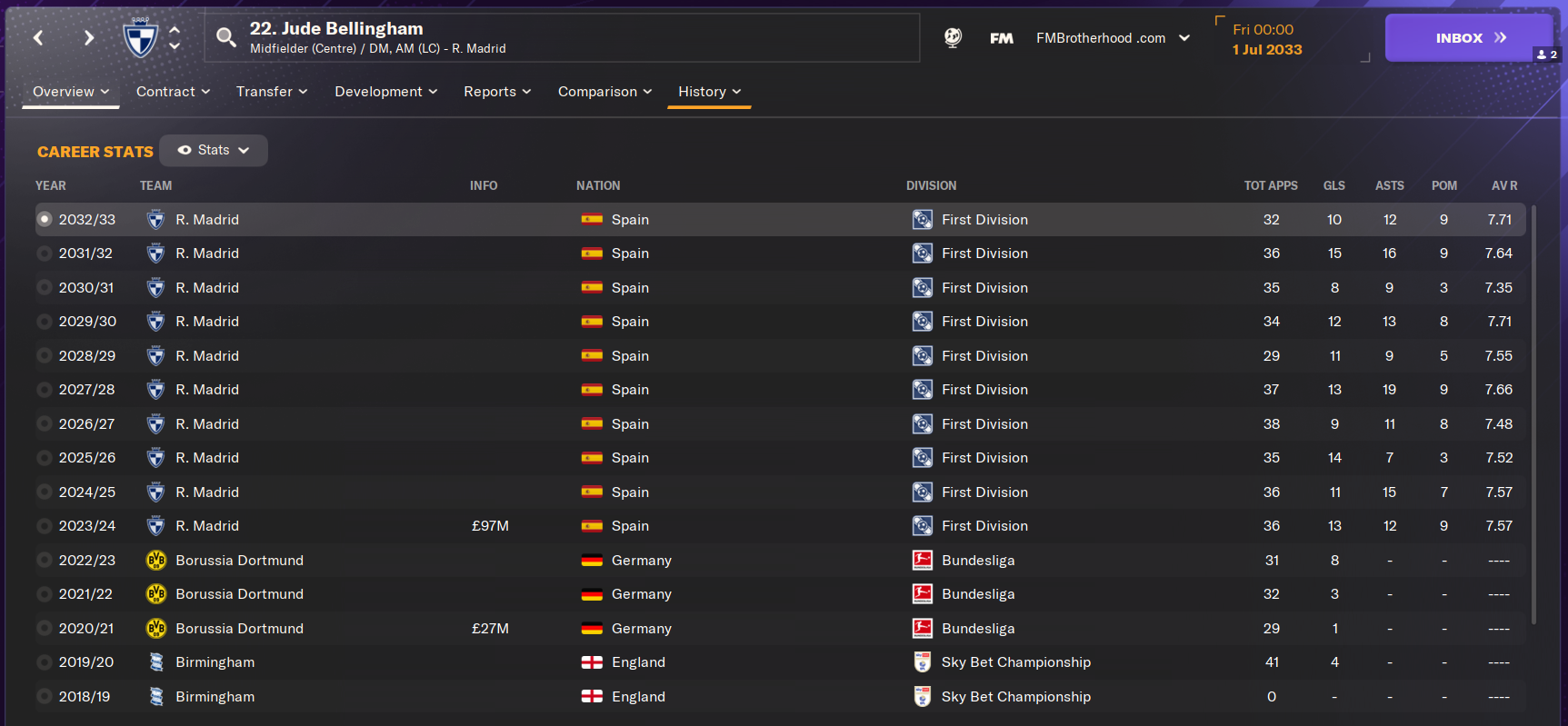 You only need to look at the average ratings across every season to see how world class Jude Bellingham is.
He is the best wonderkid CM in Football Manager 2024.
Final Thoughts
From all the FM24 wonderkid articles I've written so far, I think this one has the highest quality from start to finish. There are a lot of CM wonderkids with world class potential in FM24.
However, nobody comes close to Jude Bellingham. If he's ever interested in moving from Real Madrid to join you, you must break the bank to sign him.
Or, you can just manage Real Madrid or England.
Need a wonderkid striker for your FM24 save too? Click here to find the best ones!