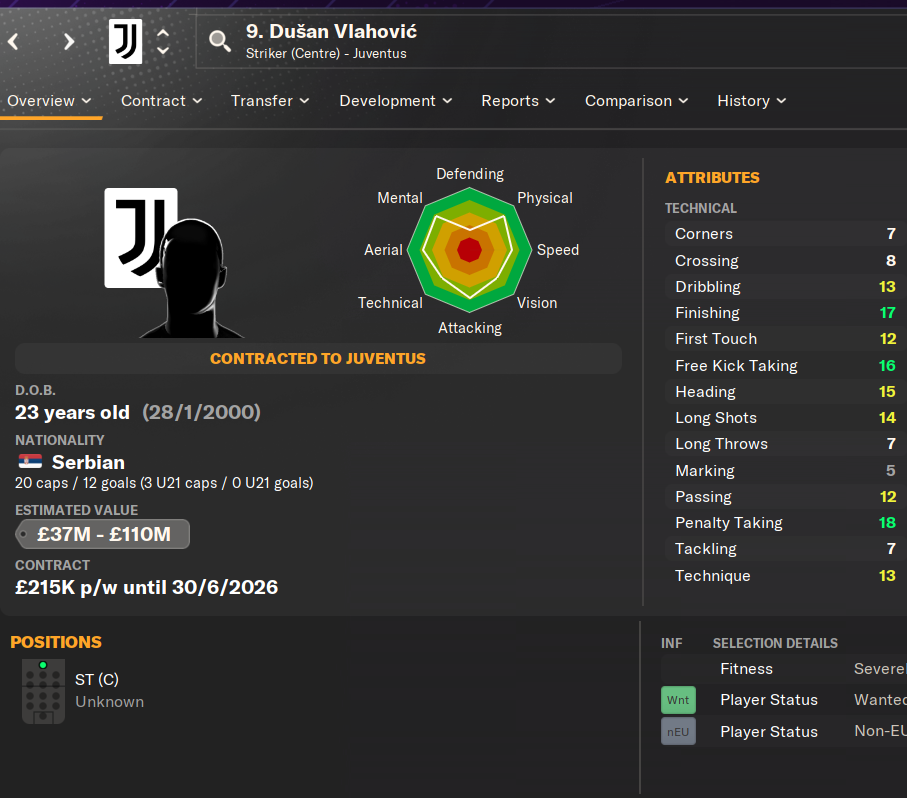 10 Best FM24 Strikers You Can Sign In The First Season
By callum | October 30, 2023 | 512 Views
Best Strikers in FM24
Have you just started your FM24 save and need a striker to score you some goals?
We've got you covered and identified the 10 best FM24 strikers that can be signed in season one of your save. This means we haven't included players such as Harry Kane and Karim Benzema, because they've just moved teams. This article also doesn't include players that cost over £100 million as it's very unlikely you will be able to afford this in the first FM24 season.
An example of this is Alexander Isak is interested in moving to another club, but Newcastle won't even accept £150 million. Same with Inter Milan for Lautaro Martinez.
For those that would rather sign a cheap striker instead, read this article.
Honourable Mentions
Here are some of the best strikers in Football Manager 2024 that didn't make our list for different reasons.
Ivan Toney – Great striker but suspended until January 2024. Would cost approximately £30 million
Tammy Abraham – Injured for 7-9 months, but would only cost £10 million!
Martin Terrier – Injured for 3-4 months, would cost approximately £44 million.
You can use the pre-game editor to remove injuries and suspensions before you load up your save. This would allow you to sign any of these strikers without issues.
10. Pedro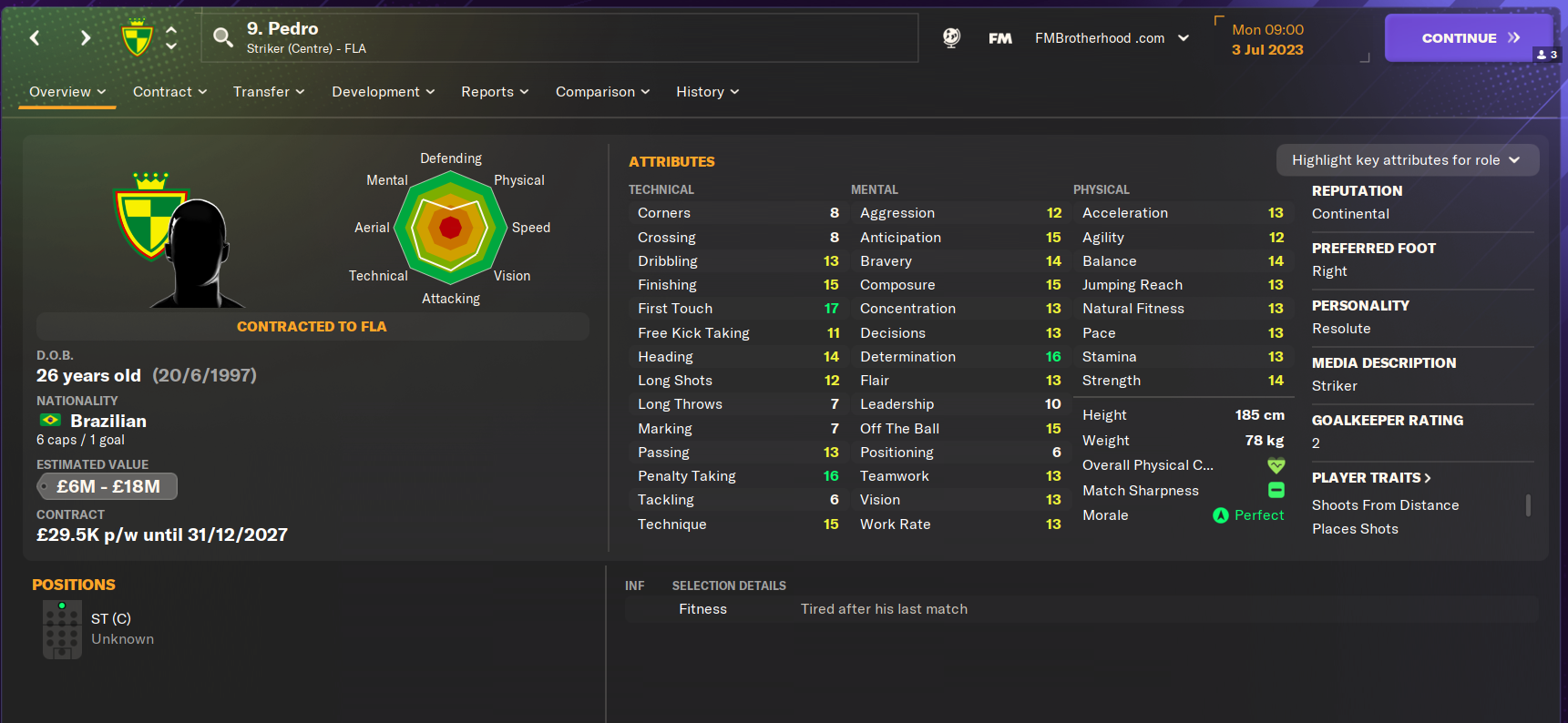 In at number 10 on the list of the best FM24 strikers you can sign in the first season is Brazilian Pedro. The 26 year old did previously move to European side Fiorentina, but the move didn't work out. Now that he's back in Brazil he's scoring lots of goals again. Approaching the prime of his career, Pedro is ready for another move to Europe.
He will cost your team £18 million, which is very reasonable considering his quality. Pedro's wage demands are high though, so make sure you've got plenty of wage budget left.
9. Gabriel Barbosa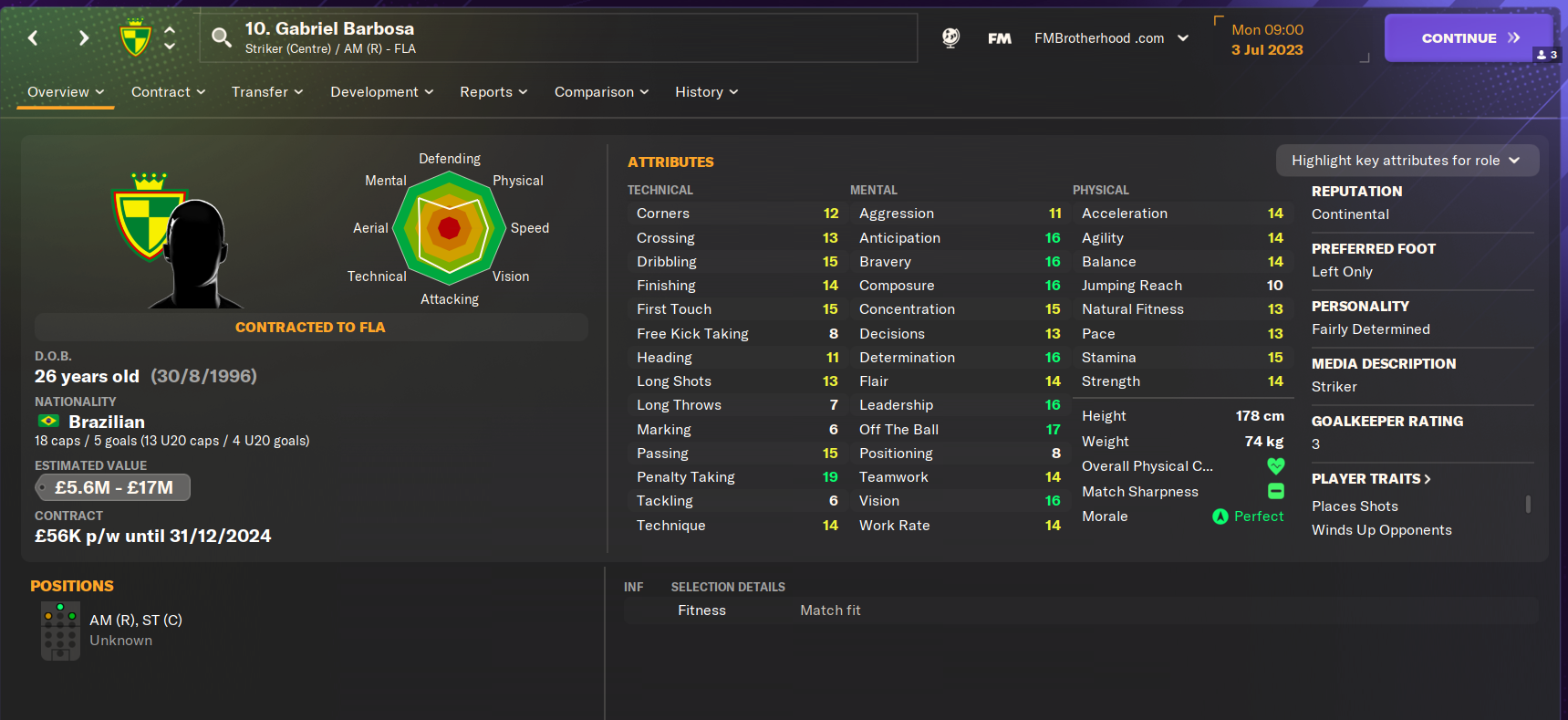 Almost everything that I've just said about Pedro can also be said about Gabriel Barbosa. Both Brazilian. Both got moved to Italy and flopped. And both now scoring goals again in their home nation. They're both 26 years old too!
Barbosa is actually cheaper and can be bought for £13 million. I would say that if you had to pick between the two I would choose Barbosa because his technical and mental attributes are just insanely good for his price. Pedro is much better in the air though, so if you play a tactical system that requires a striker that can win headers go with him instead.
The other unfortunate thing they have in common is their high wage demands.
8. Alvaro Morata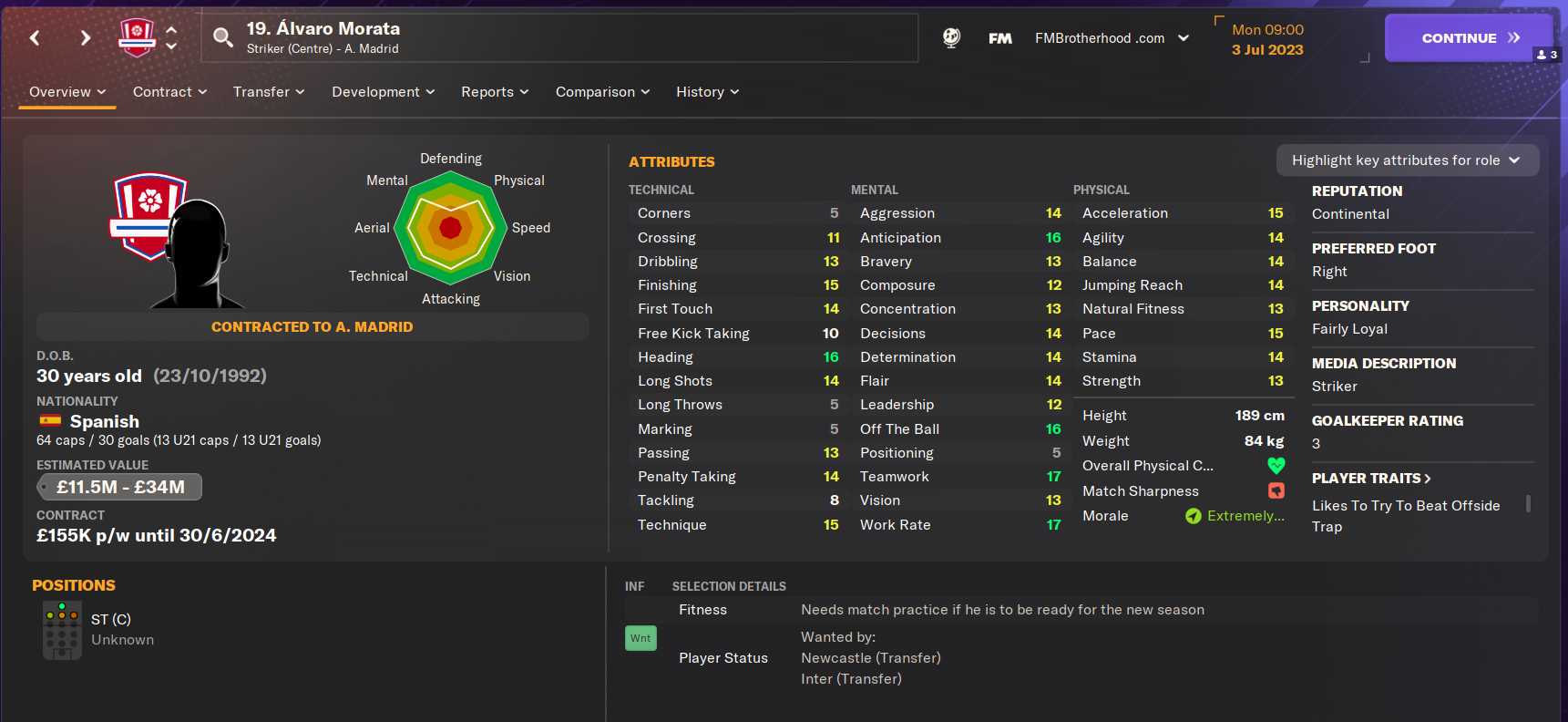 Morata has spent his whole career playing for top teams in Europe, including Real Madrid, Chelsea, Juventus, and now Athletico Madrid. Over £165 million has been spent on him in transfer fees, and he's now available for £23 million. He does have just 1 year left on his contract though, so you could take a risk and wait until January to try and sign him on a pre-contract.
Alvaro Morata has well rounded physical attributes, can finish well, and is strong in the air. Although he's 30 years old, you will get a great 3 seasons out of Morata. You might want to get yourself a young striker instead though.
7. Amine Gouiri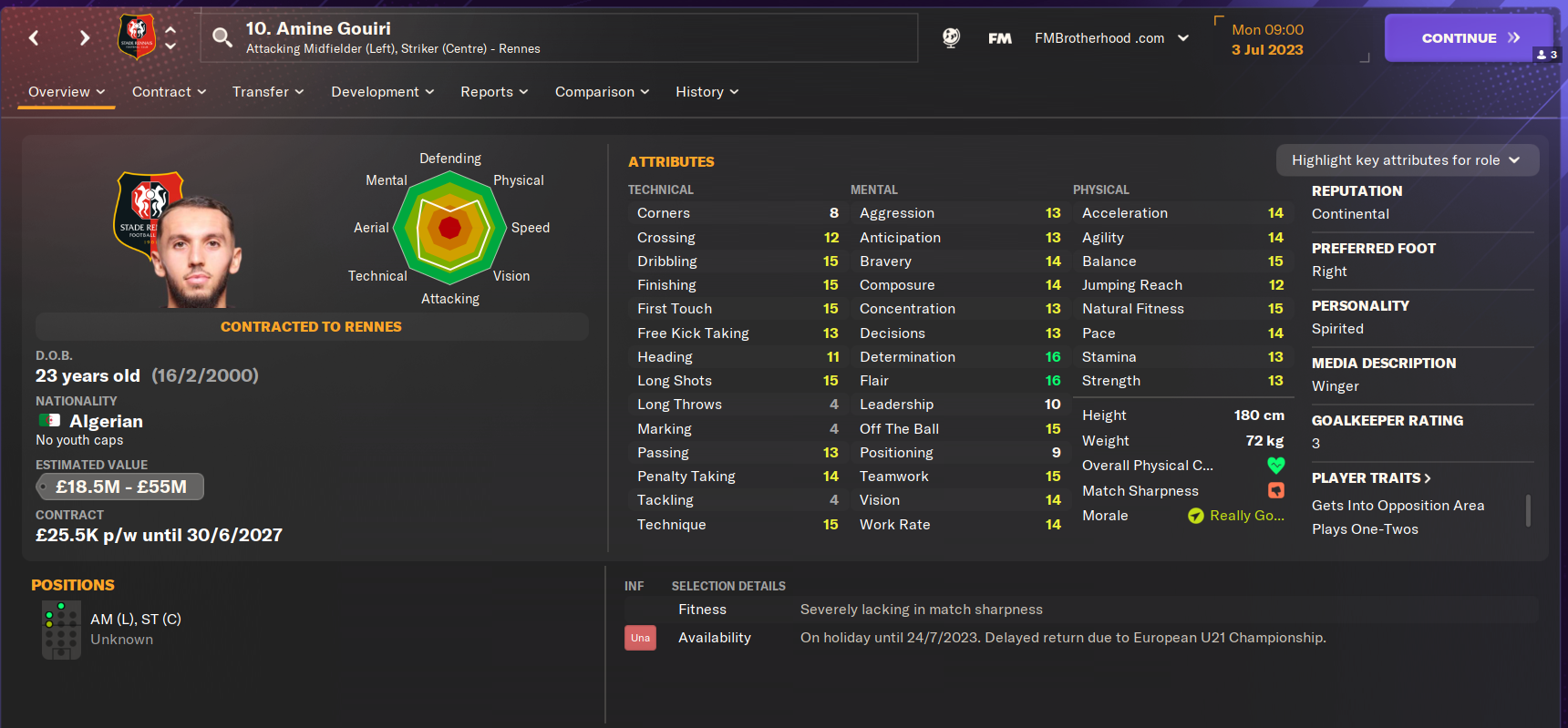 Amine Gouiri moved to Stade Rennais at the start of the 2022/23 season, and scored an impressive 15 league goals in 33 matches. This has meant the striker has seen an boost in attributes in FM24. To sign Gouiri you'll need to pay £36 million.
He's a versatile forward that can also play on the wing. Gouiri is a technical striker who can be creative as well as score goals. He's good enough to lead the line on his own, but would also work extremely well in a front two being able to combine with another striker.
At 23 years old, you'll get a lot of years out of Amine Gouiri, and he can get even better! This makes him one of the best strikers in FM24.
6. Youssef En-Nesyri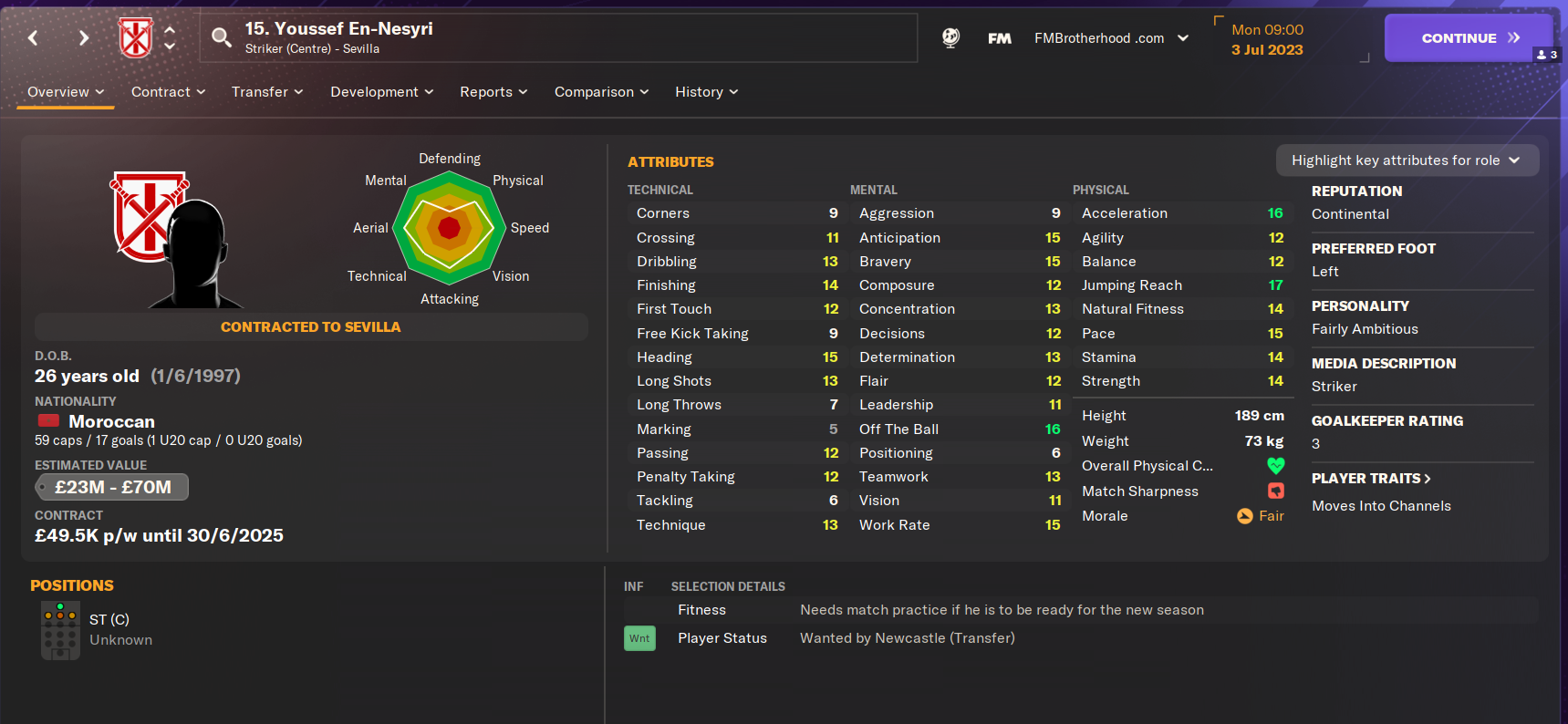 Youssef En-Nesyri is one of the best strikers in the air in FM24. 15 heading combined with 17 jumping reach and his tall height make him deadly when it comes to attacking headers. His off the ball movement also means he can find space in the box and get away from defenders.
The Moroccan striker has a superb goal-scoring record for his country, and could carry this into your club too. He has an expensive £47.5 million asking price though, but you will struggle to find a more powerful forward for that price.
5. Mehdi Taremi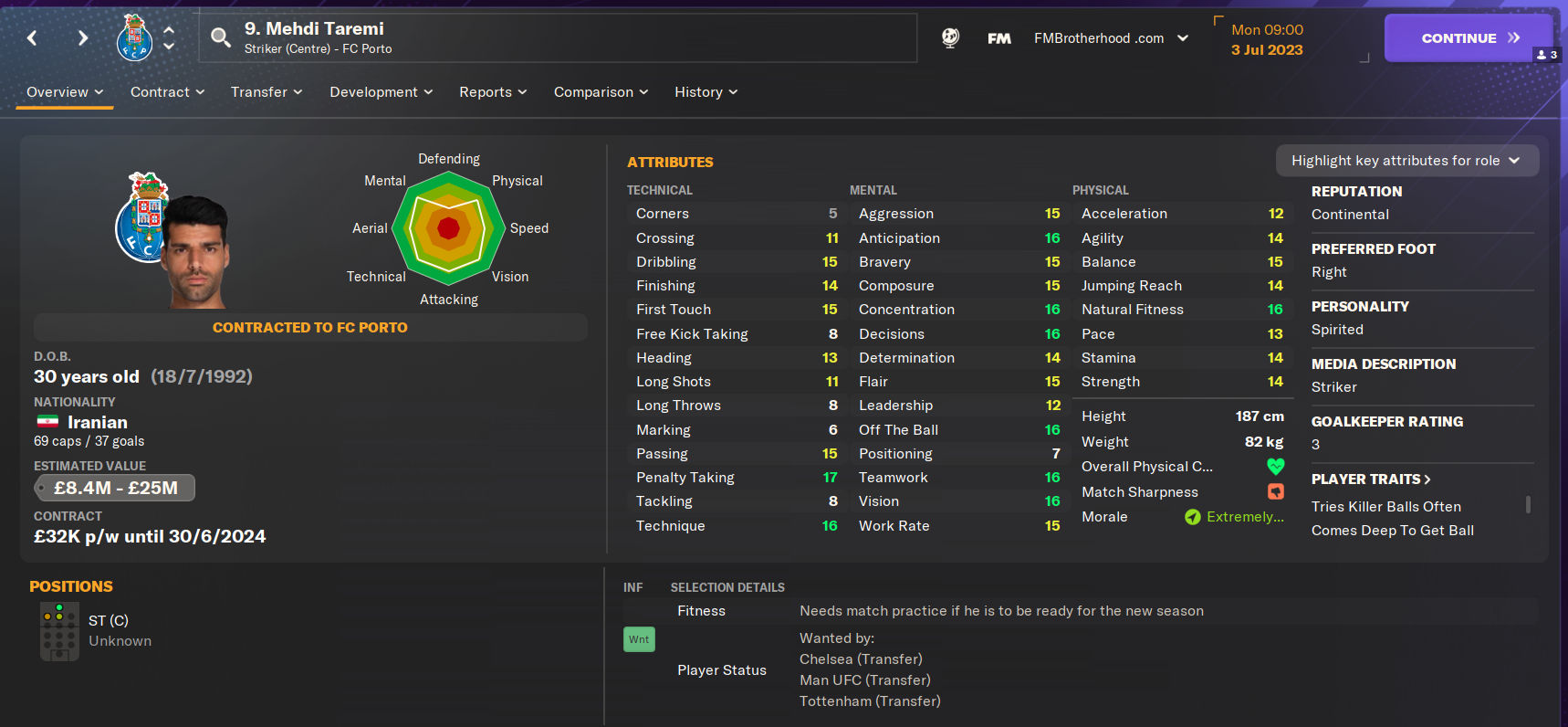 Like Morata, you might think Mehdi Taremi is a bit too old to sign. But he's still got so much quality to offer in his 30s. He's got 16 natural fitness too, so he won't dramatically worsen as soon as you sign him.
The mental attributes Taremi has is what makes him one of the best FM24 strikers. 16 vision and technique shows he's great at supplying other attackers too. If you're managing a team like Arsenal and are looking for a striker to feed your attacking wingers, Mehdi Taremi is a brilliant option.
4. Patrik Schick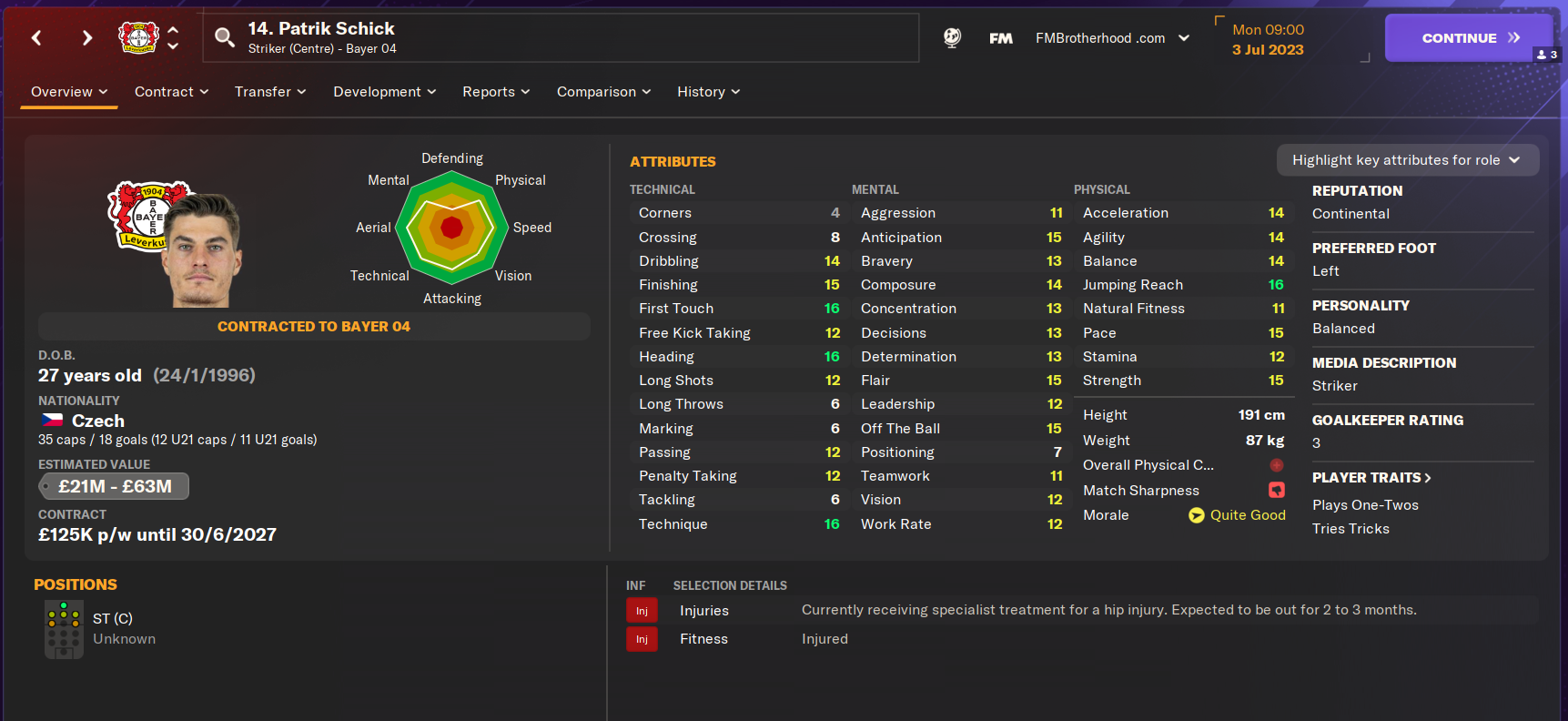 Schick has a profound record for his national team, scoring 18 goals in just 35 appearances. He's brilliant aerially, arguably as good as En-Nesyri. There is a slight problem though, Patrik Schick is injured for the first 2-3 months. But you will be able to sign him before the transfer window shuts.
The left footed striker is deadly in front of goal, and had an insane season in 2021/22. He scored 24 goals in 27 league matches. If he can recreate this form for your team, he'll be worth the £42 million you need to pay for him.
3. Dominic Calvert-Lewin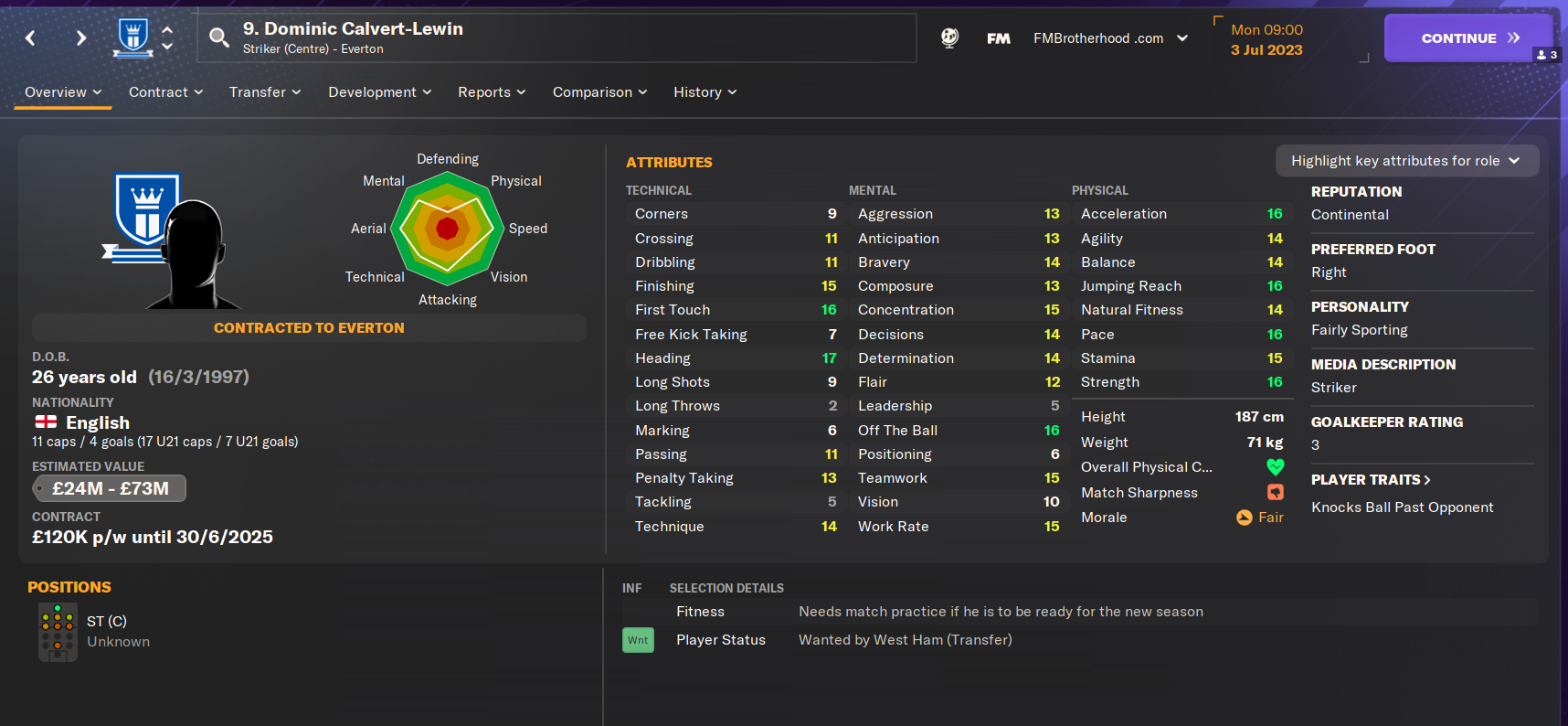 If you're willing to take a punt on one of the best FM24 strikers that has injury problems, Calvert-Lewin is your man. He surprisingly starts the save without an injury, so now is the time to sign him.
His physical attributes are fantastic, which includes 16 acceleration, jumping reach, pace, and strength. He's too good to be playing for Everton, and should be playing for a team in European competition.
Dominic Calvert-Lewin will cost £52 million, and could pull his hamstring signing the contract, but if you're willing to look past that, what a striker.
2. Dusan Vlahovic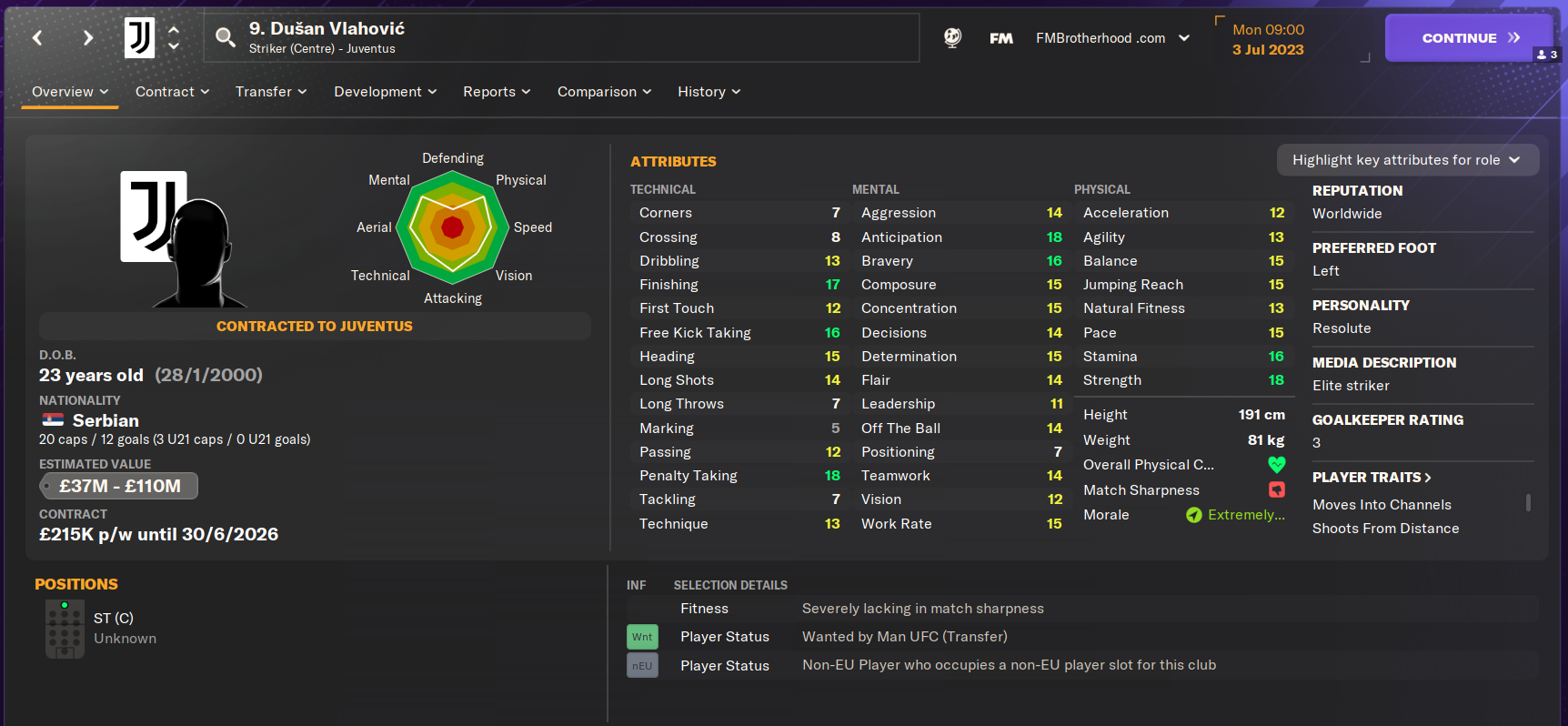 Vlahovic is one of the most exciting young strikers in world football. Juventus paid a huge £70 million for him, and you can see why with his attributes on Football Manager 2024. His best stats are his anticipation, strength, and penalty taking.
Dusan Vlahovic might not be as technical as some of the other strikers on this list, but he's definitely better at scoring goals. If you're managing an elite team in Europe, and can afford his £74 million asking price, sign this striker.
1. Victor Osimhen – Best FM24 Striker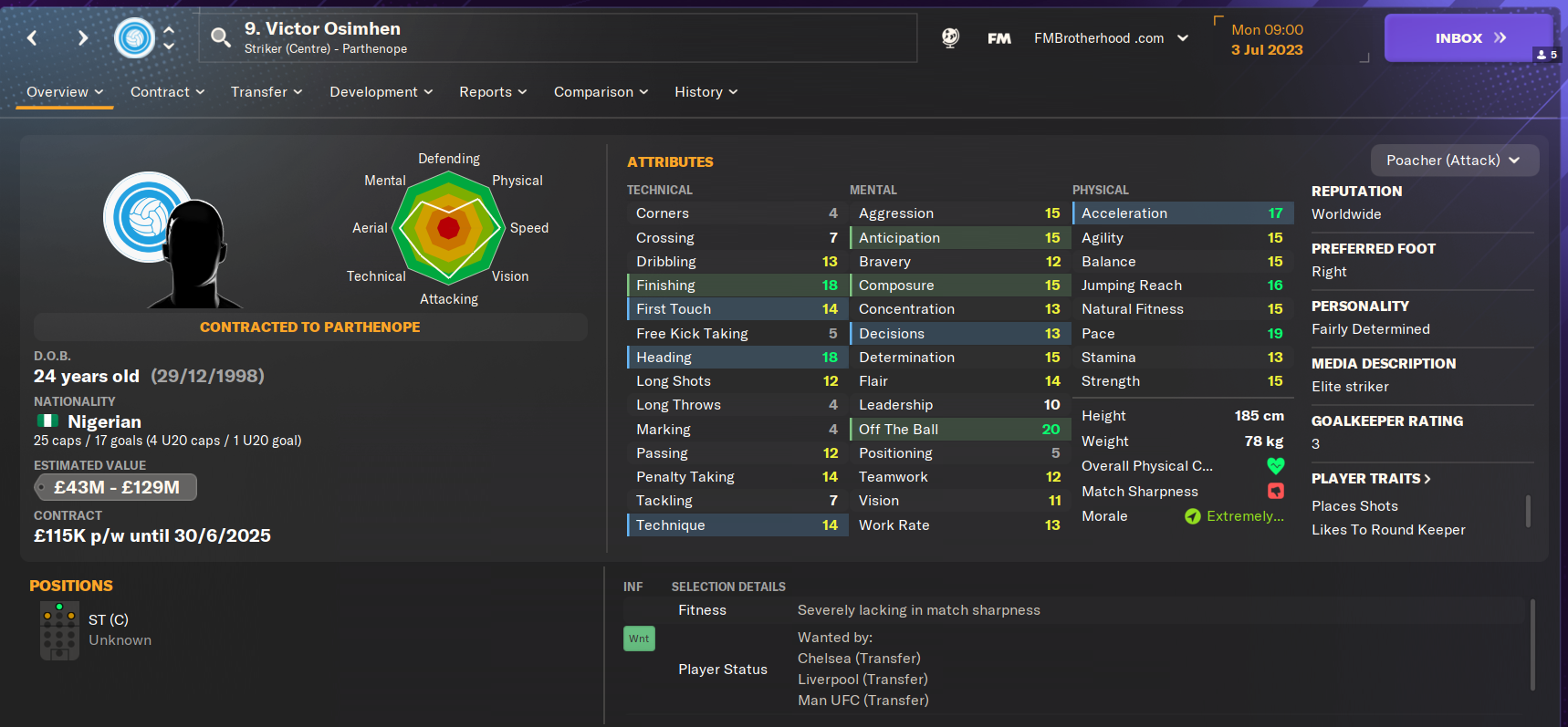 Okay, if you can afford Osimhen's £86 million release clause instead, sign him over Vlahovic.
Dusan Vlahovic is excellent, but Osimhen is the best striker you can sign in FM24 just like he was in FM23. Insane pace, phenomenal finishing, and aerially dominant. You will not find better in the first season.
Osimhen played a pivotal role in Napoli's title winning season, winning striker of the season in the process. Considering the value of players in today's market, £86 million for one of the worlds best strikers is amazing value.
He's wanted by Chelsea, Liverpool, and Manchester United, showing he would be a great signing for Premier League clubs.
Final Thoughts
Having a striker that can consistently score goals is really important in Football Manager. I can't guarantee you all of these strikers will score goals, but they definitely have the attributes to do it!
For more signing ideas, check out some of the FM24 articles below.
12 Best Cheap Wonderkids in FM24 You Must Sign!