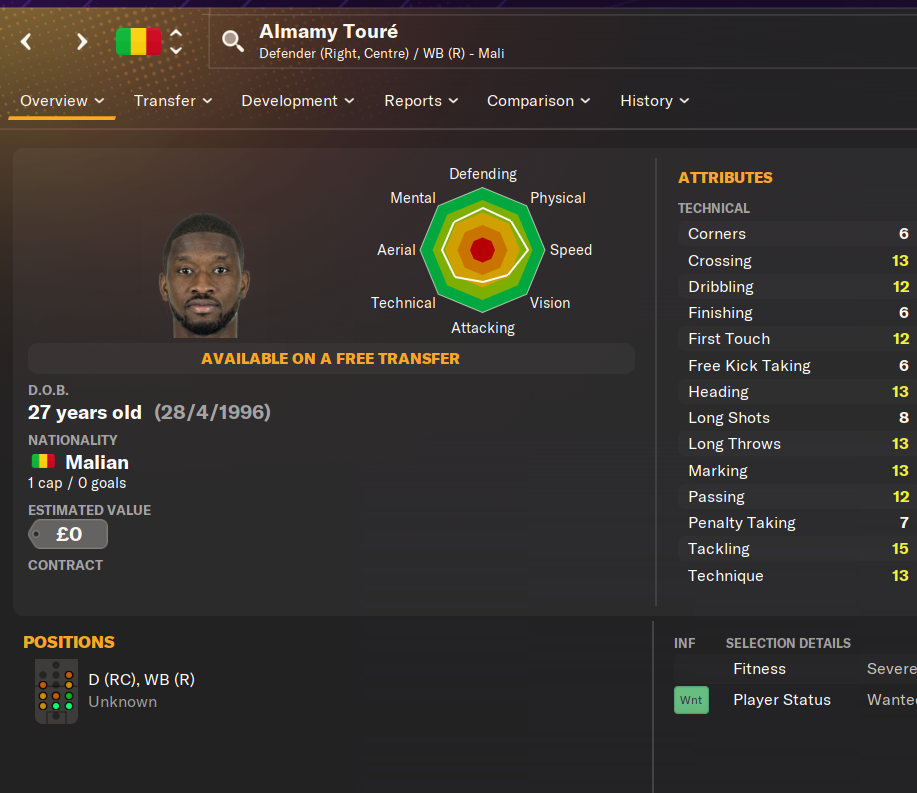 11 Best Free Agents in FM24 You Must Sign!
By callum | November 6, 2023 | 125 Views
Best FM24 Free Agents
When budgets are low, and you need players to fill in some gaps in your squad, the free agent market can become really valuable. To save you time scouting through the thousands of players without a club in the game, we've found the best free agents in FM24 for you.
We'll even do you one better. In this article you'll find out exactly how much wages we managed to sign them for, and also which level of club each player would suit. Whether you're managing in a lower league, or a top division, there is a free agent in this post that should suit your level. We'll start off with players that suit the lower leagues, and move up towards the better free agents.
We've also written an article on the best FM24 Non League wonderkids, which includes more free agents.
1. Helder Costa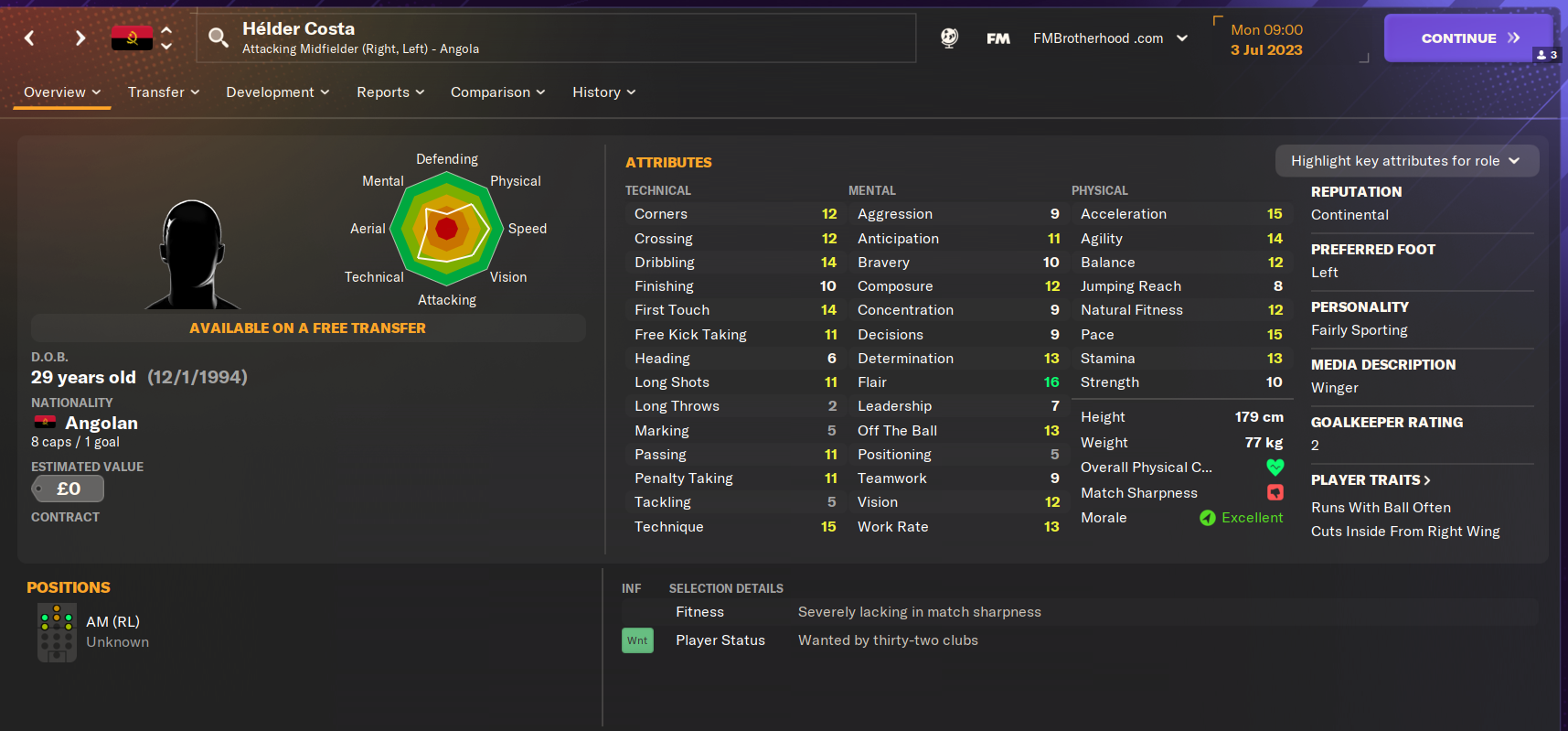 I remember when Helder Costa was a young exciting winger in Football Manager (and I'm not even that old I promise)… Now at 29 years old, Costa has experience playing in the top divisions in England, Portugal, and Spain.
Typically a lot of free agents in FM24 are really old, but Helder Costa still has a few years left in the tank. He's quick, agile, and has brilliant technique. Still a lot to offer a team in the lower leagues. You can get him on a contract for £6.5k per week, and is definitely one of the best free agents for League One teams.
When I offered him a contract while managing League One side Peterborough United, he also included a mandatory release clause of a few million. However this doesn't bother me, as if someone was to bid that in a seasons time it would be great profit!
Helder Costa would be a good signing for:
2. Iago Falque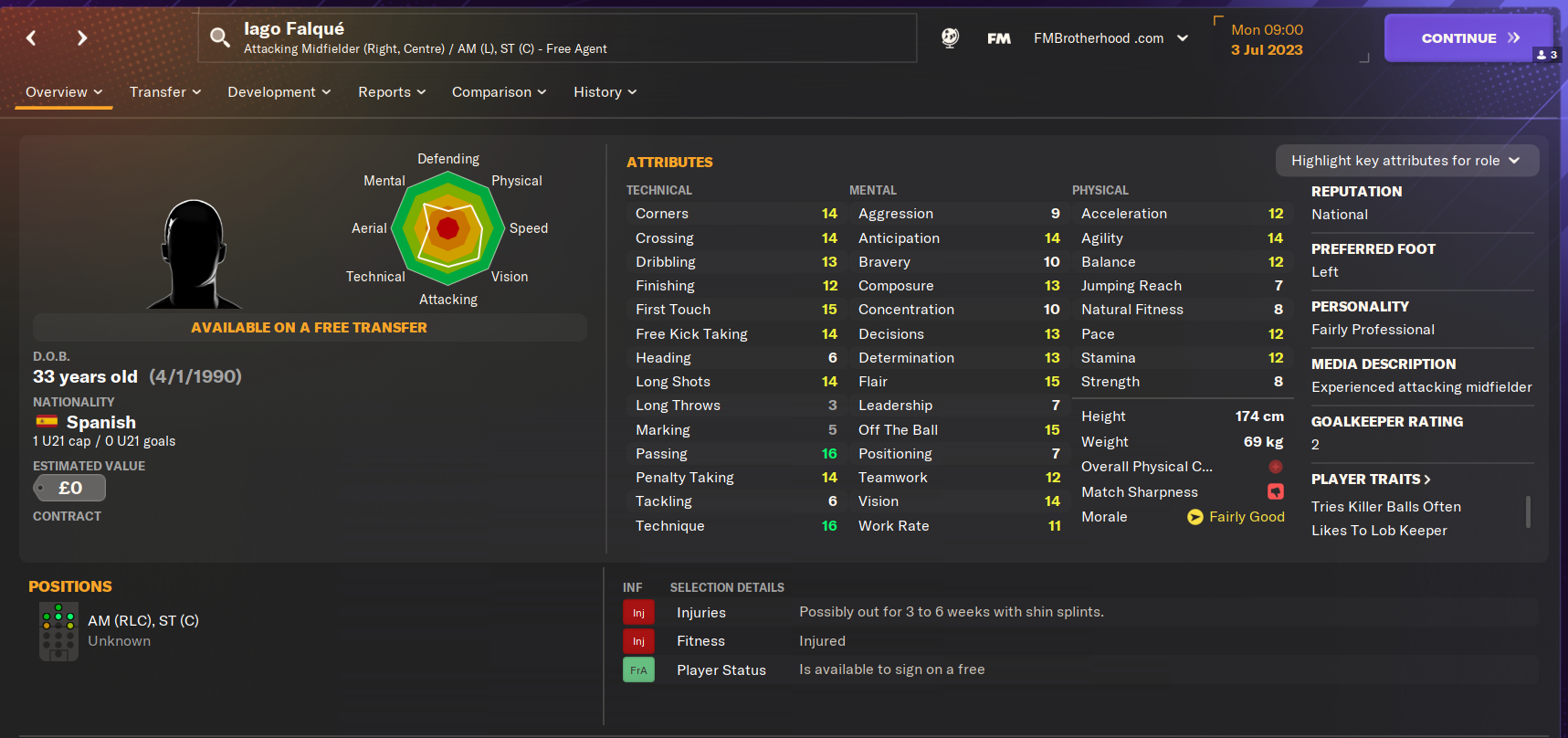 Iago Falque came through the famous La Masia youth academy, and spent most of his career playing in Serie A. The versatile attacking midfielder is now approaching the end of his career, but still has some fantastic technical attributes, including 16 passing, 15 first touch, and 16 technique.
His natural fitness isn't great, so he might start to drop off after the first season. That being said, Falque would be a top free agent to sign for Championship teams looking for a versatile player to fill in some gaps when you get injuries and the fixture schedule gets congested.
If you've got a lot of pacey attackers around him, Falque will be able to find them with some great through balls and passes between the lines. For £10k per week, there isn't much risk involved. But like I said, I recommend giving him just a 1 year contract.
Iago Falque would be a good signing for:
Championship teams.
Relegation fighting clubs in Ligue 1/La Liga/Serie A
3 & 4. Adrien Silva and Xeka
So I thought I would talk about both Adrien Silva and Xeka at the same time because they're both Portuguese central midfielders of similar quality. Silva is a lot older at 34, but still has some incredible mental attributes, including 16 teamwork, 17 determination, and 16 concentration. He would be a brilliant mentor for a wonderkid CM in your team too.
Xeka on the other hand is only 28, again young for one of the best free agents in FM24. His passing, vision, and technical attributes are really good, so he would work well in your team as a deep lying playmaker. Similar to Helder Costa, you could sign Xeka in season one, and then flip him in season 2 for a profit. On the other hand as Adrien Silva is 34, it might be best to just offer him a 1 year deal.
Adrien Silva's wage demands – £7.5k per week.
Xeka's wage demands – £16k per week.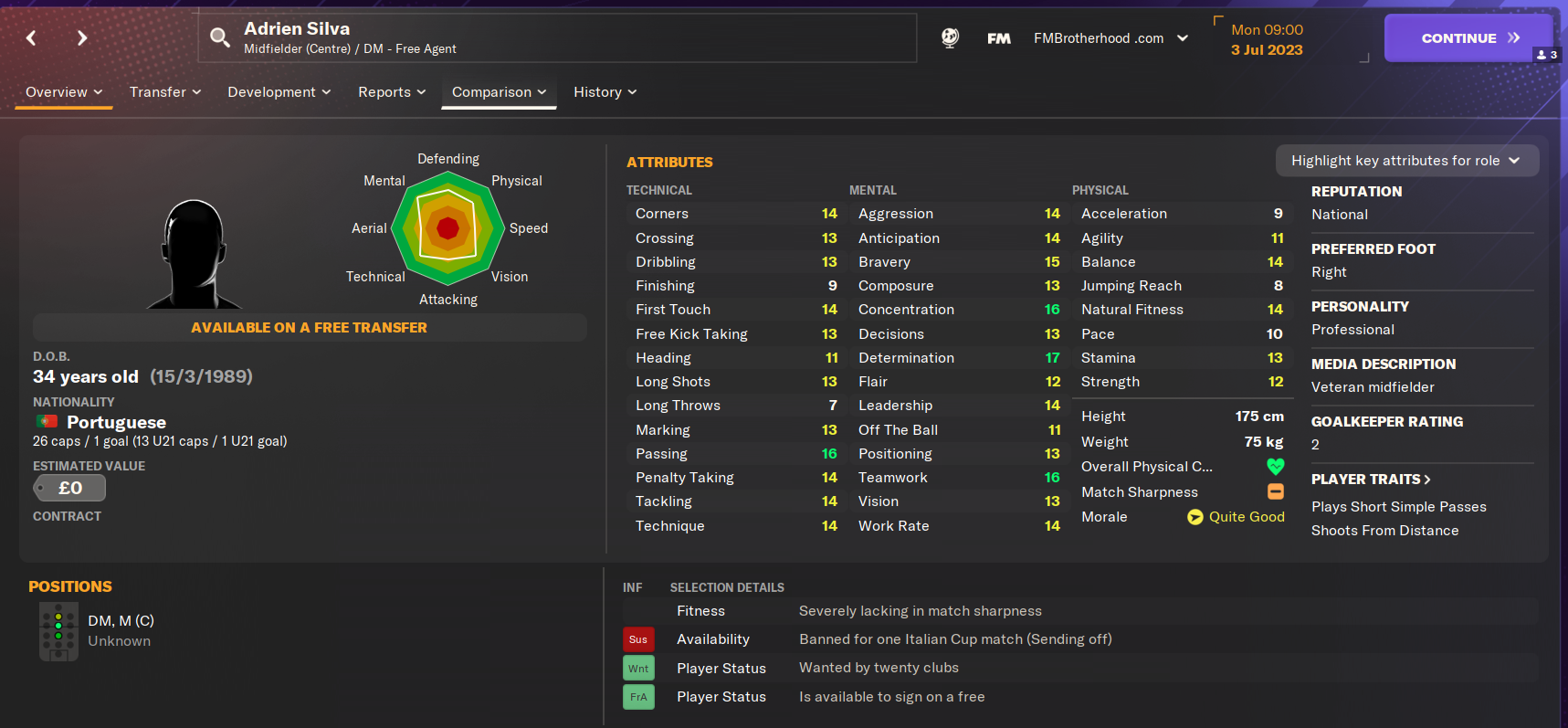 Adrien Silva Would be a good signing for:
Championship teams.
Mid-table Portuguese teams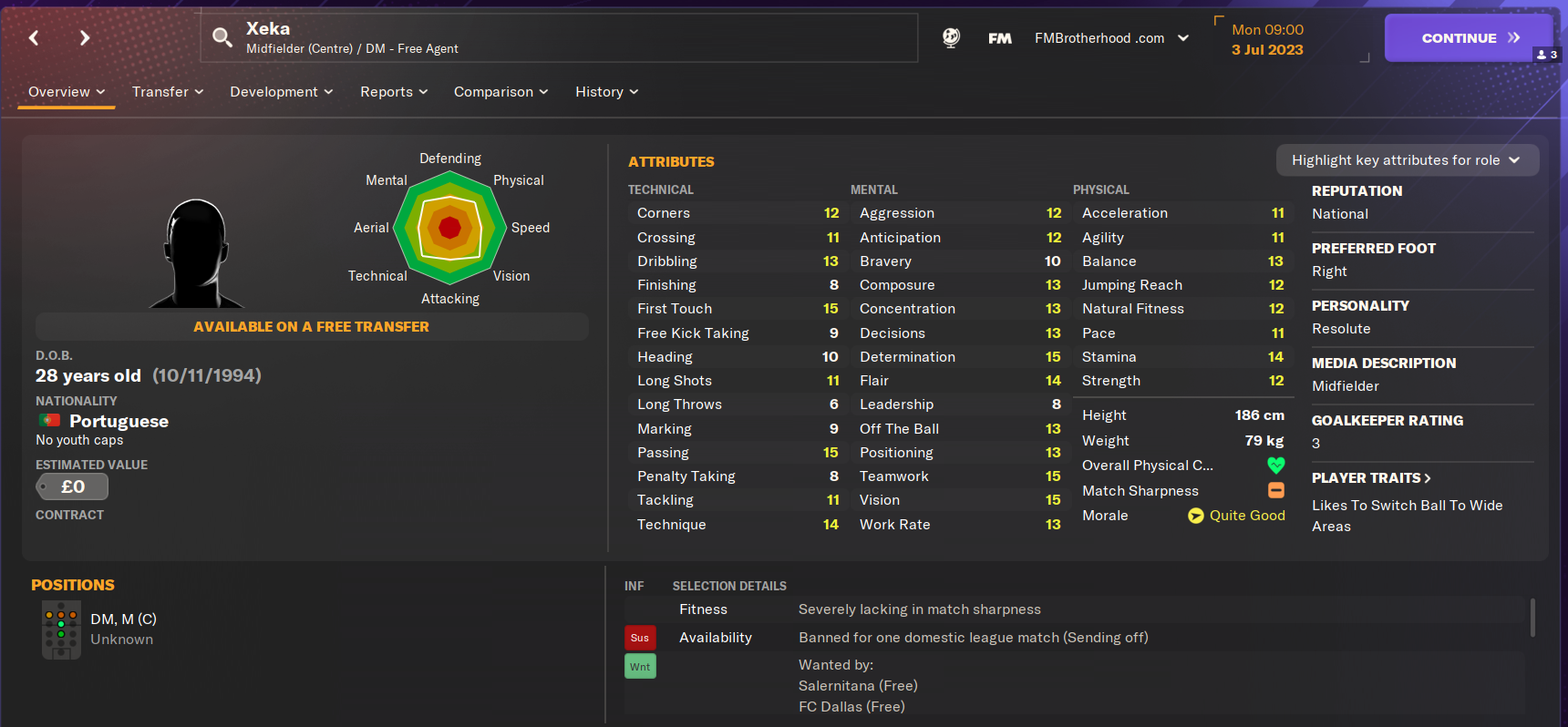 Xeka Would be a good signing for:
Title challenging second division teams
Relegation fighting first division team
5. Yann M'Villa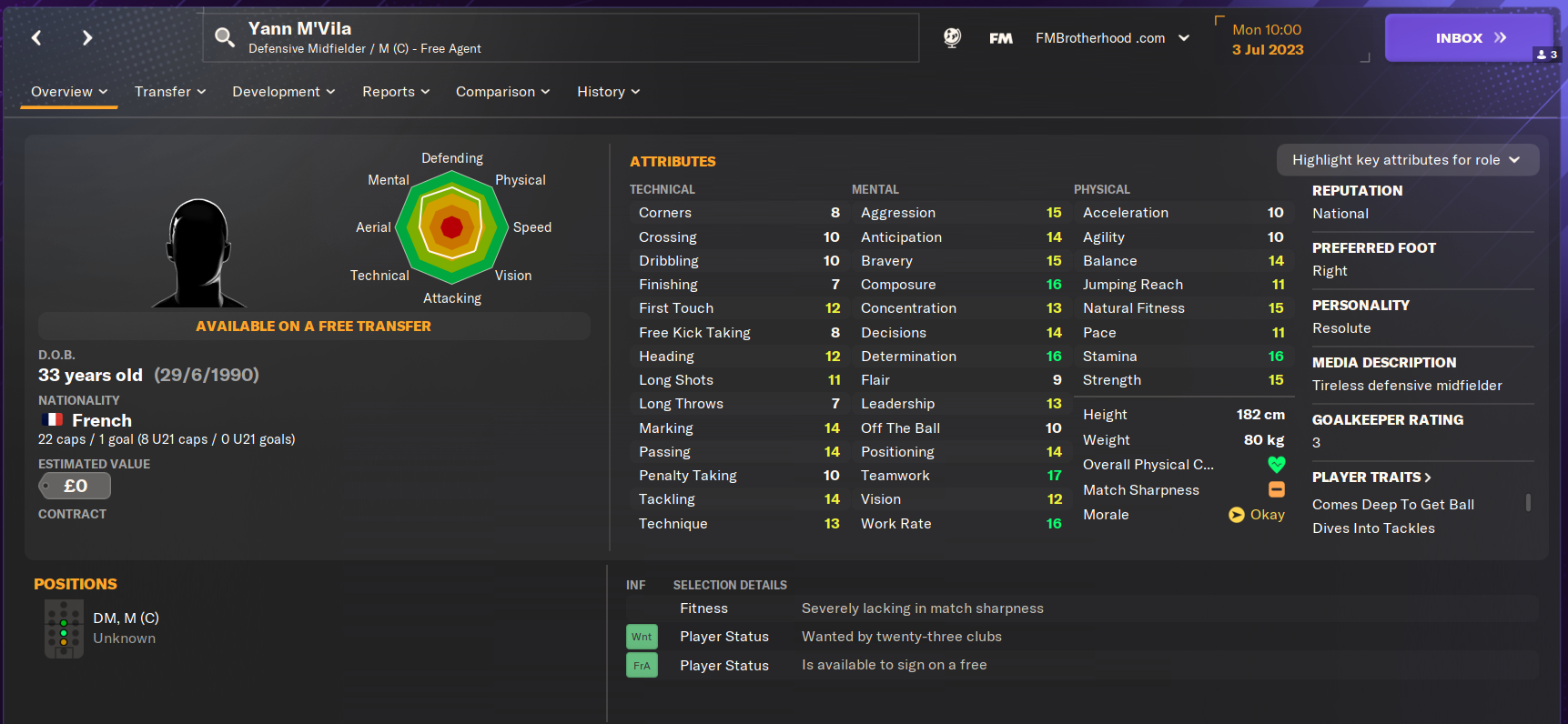 Another great free agent midfielder in FM24 is Yann M'Villa. He's got some fantastic mental stats, including 16 work rate, composure, determination, and 17 teamwork.
Yann M'Villa's natural fitness is rated 15 too, which as mentioned is really important for older players to have. He also has brilliant stamina, and would make a solid defensive midfielder for a lot of teams in Football Manager 2024. For 11k per week salary, there is value in this signing.
Yann M'Villa Would be a good signing for:
Championship teams

Relegation fighting clubs in Ligue 1
6. Andre Ayew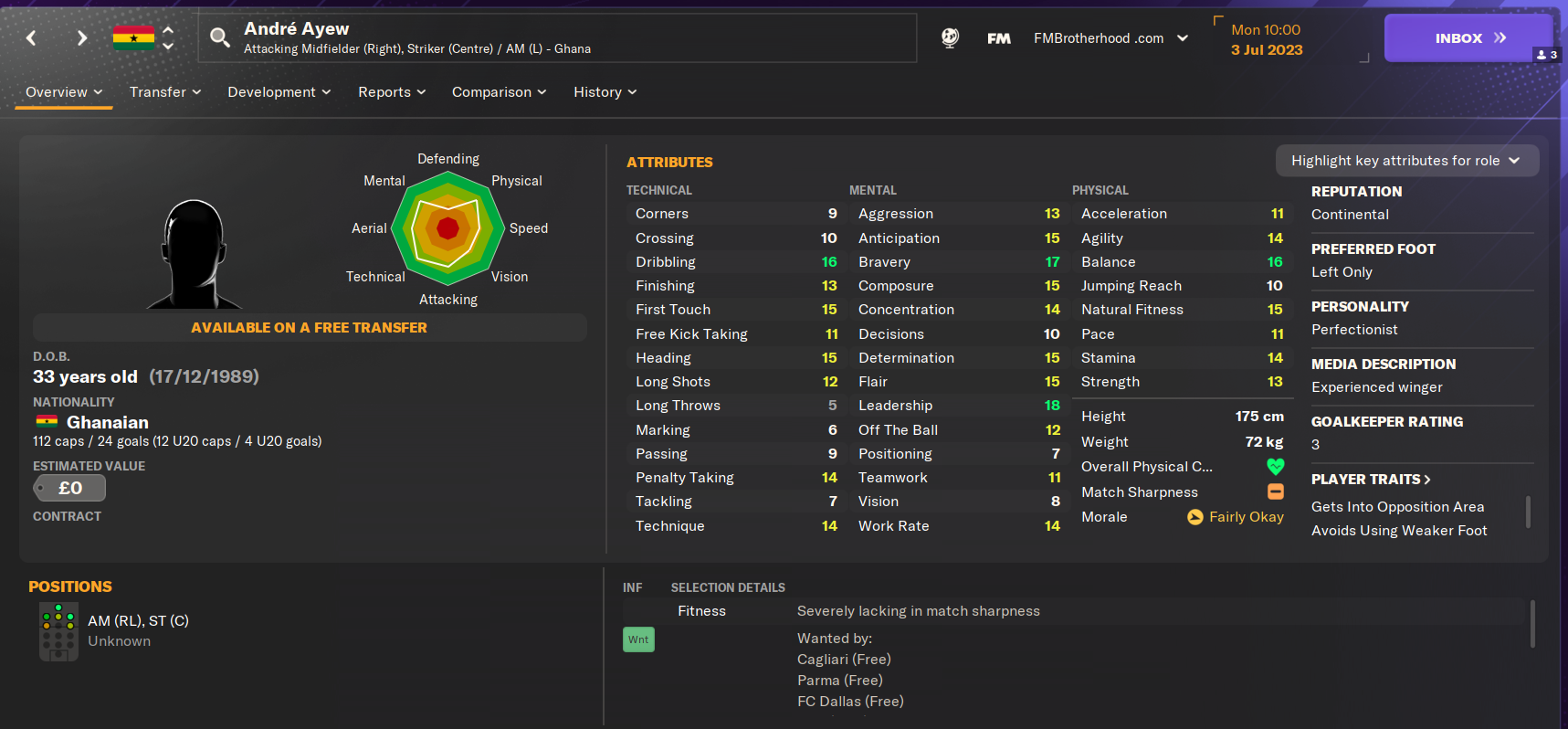 Ayew is an extremely technical versatile forward, who can play on either wing. Even though the media describe him as an experienced winger, I think he would perform better as a striker, because he's not very fast, and his crossing is poor.
Andre Ayew also has 18 leadership, so he would instantly become an influential member of your dressing room. Like Yann M'Villa, Ayew has good enough natural fitness for a 33 year old. £7.5k per week is a really cheap wage for a player of his quality too.
Andre Ayew Would be a good signing for:
Championship teams

Relegation fighting clubs in Ligue 1/Serie A
7. Peter Etebo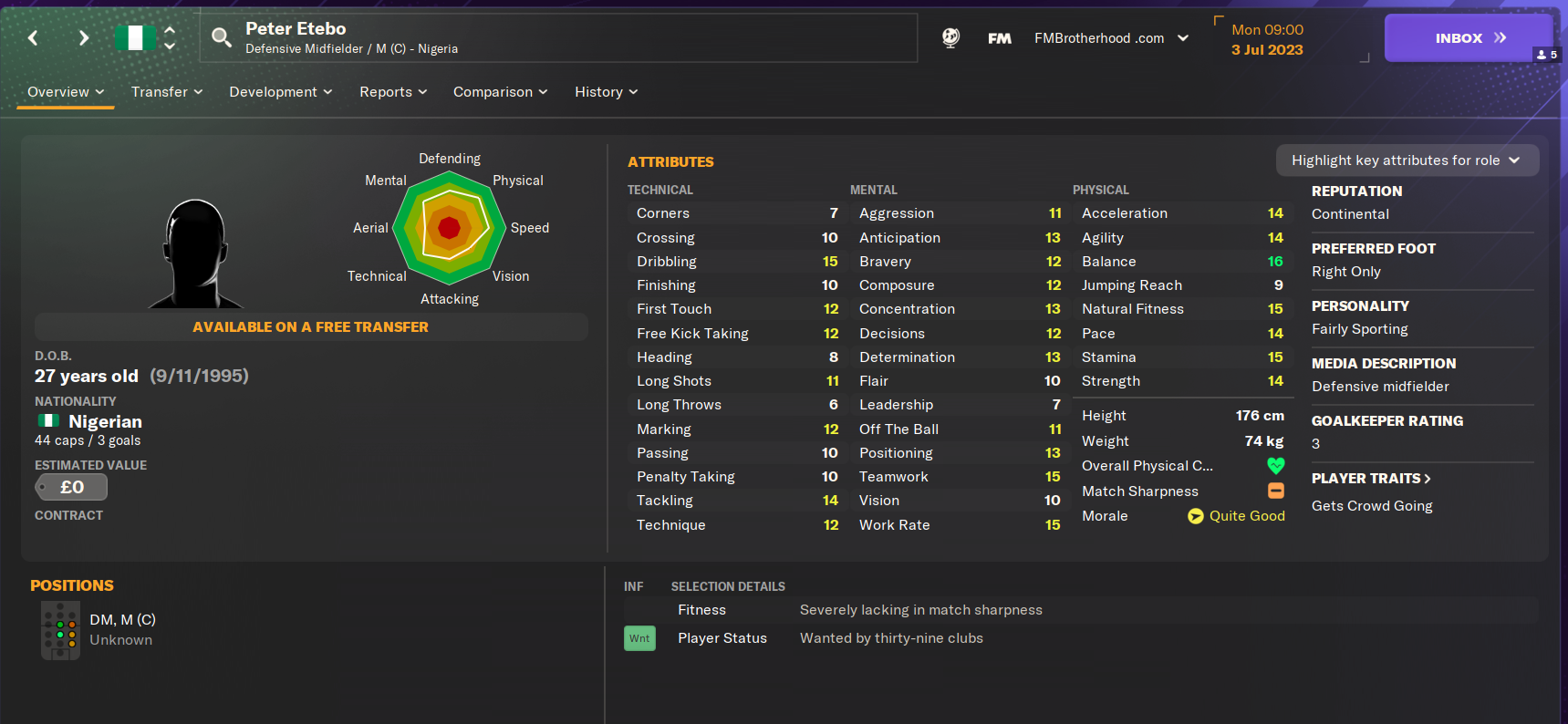 Peter Etebo already made out list of the best Championship signings you can make in FM24, so instead of repeating ourselves, you can find out more about him by clicking here.
Peter Etebo's wage demands – £15k per week.
Peter Etebo Would be a good signing for:
Championship teams

Relegation fighting clubs in Ligue 1/Serie A
8. Almamy Toure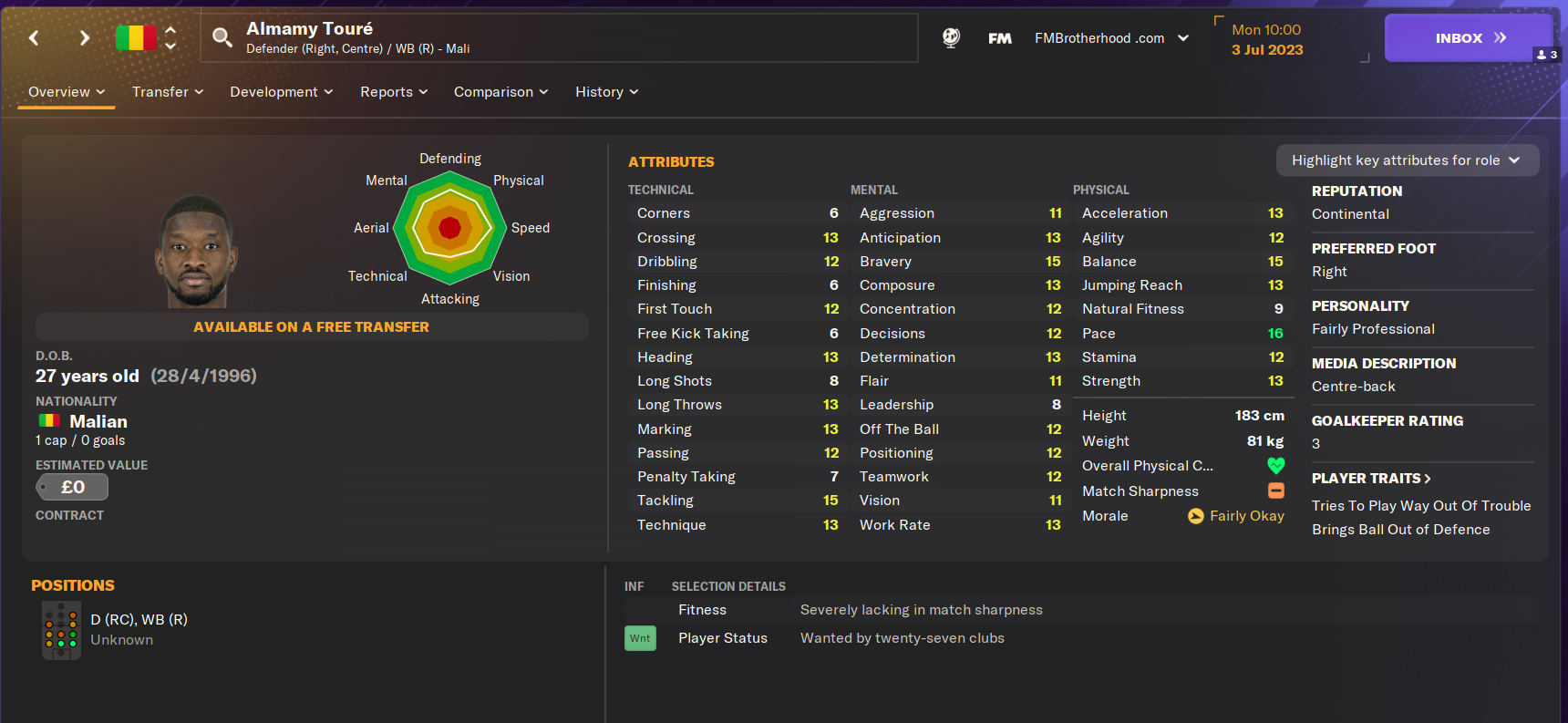 Almamy Toure is a versatile centre back with the ability to play right back and right wing back comfortably too. The majority of his attributes are rated either 11, 12, or 13, but his tackling, bravery, and pace are better.
For the last few seasons Toure has been a squad player for Eintracht Frankfurt, who are definitely one of the better teams in the Bundesliga. At 27 years old there's definitely some potential resale value in there too. His wage demands are £18k per week, which is the highest so far for these best free agents in FM24.
Almamy Toure Would be a good signing for:
Teams in 2nd division of Europe's

top 5 leagues pushing for promotion

Relegation fighting clubs in top divisions
9. Jose Campana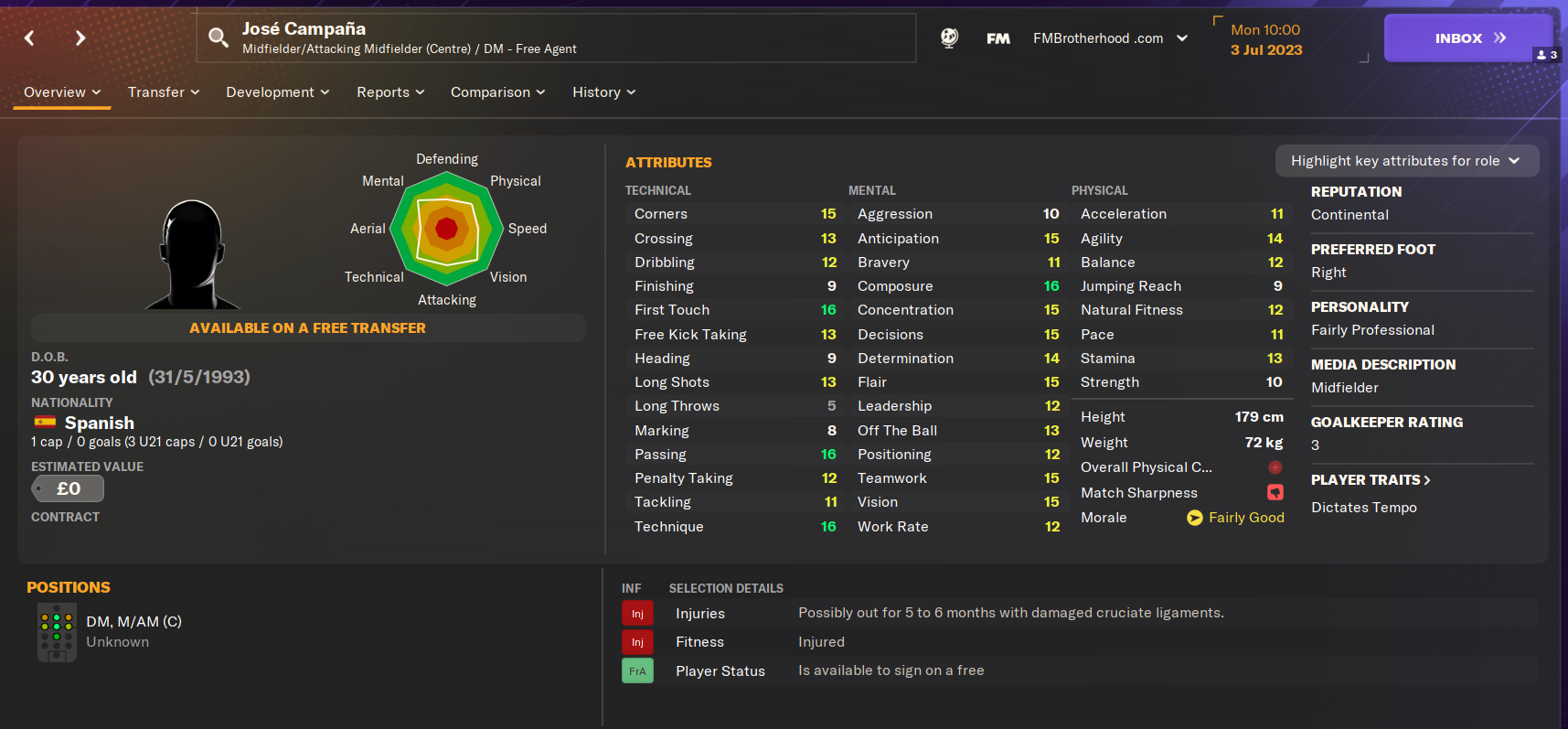 Quick disclaimer, at the start of season one on FM24 Jose Campana is out injured for 5-6 months. However, you can use the pre-game editor to remove all injuries at the start of the Football Manager save. If you do this, Campana is a top free agent to sign in FM24.
Technically he's absolutely amazing. All of his mental attributes apart from aggression and bravery are rated 12 or higher. Jose Campana is 30 years old too, which isn't as old as other on this list. The midfielder has a lot to give and will ask for wages of around £35k per week.
Jose Campana Would be a good signing for:
Mid table – relegation fighting teams in Europe's top 5 divisions.
10. Jesse Lingard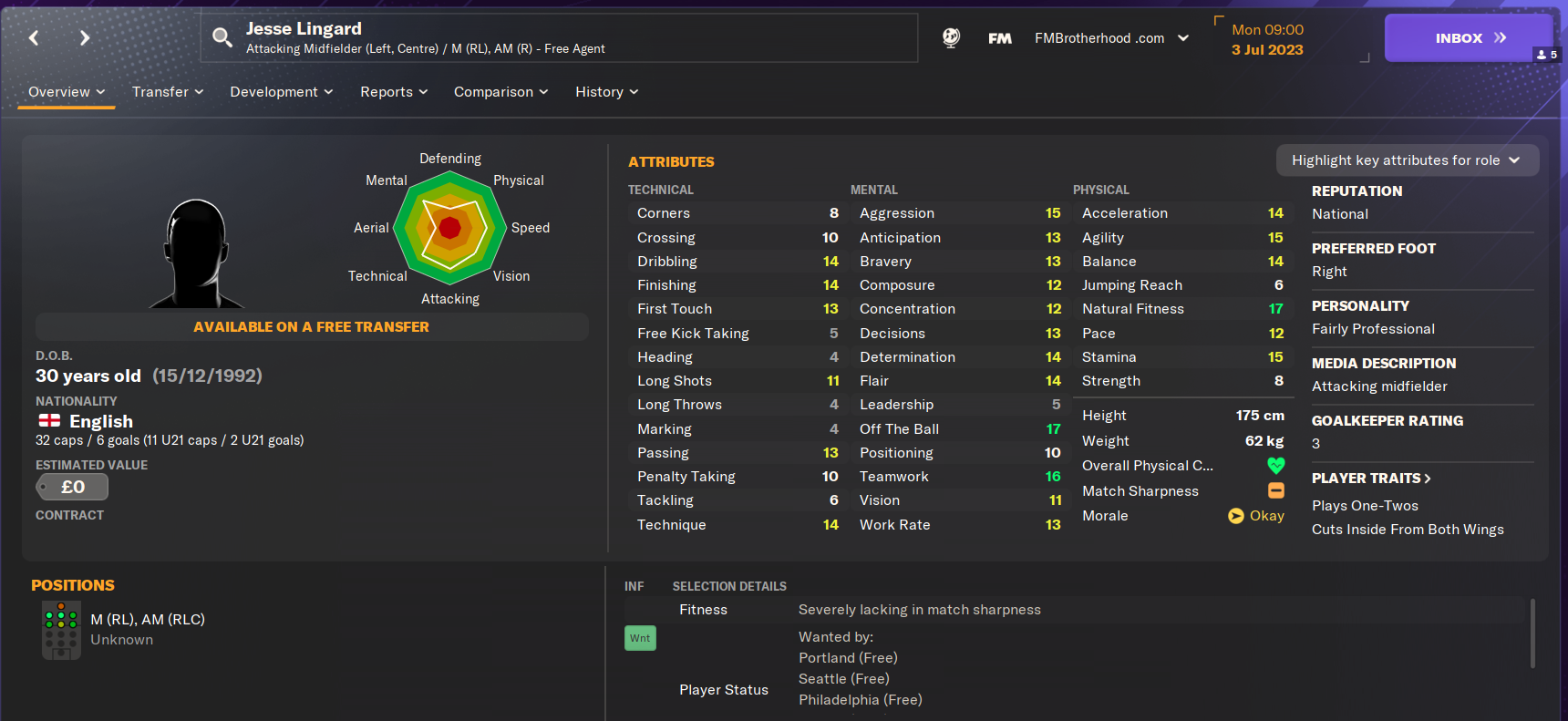 Lingard appeared in our article as one of the best FM24 Premier League signings. His versatility is what makes him so valuable. You can pick up a player that can slot into multiple positions for completely free! His salary demands are £30k per week.
Jesse Lingard Would be a good signing for:
Mid table/relegation fighting teams in top 5 divisions.
11. David De Gea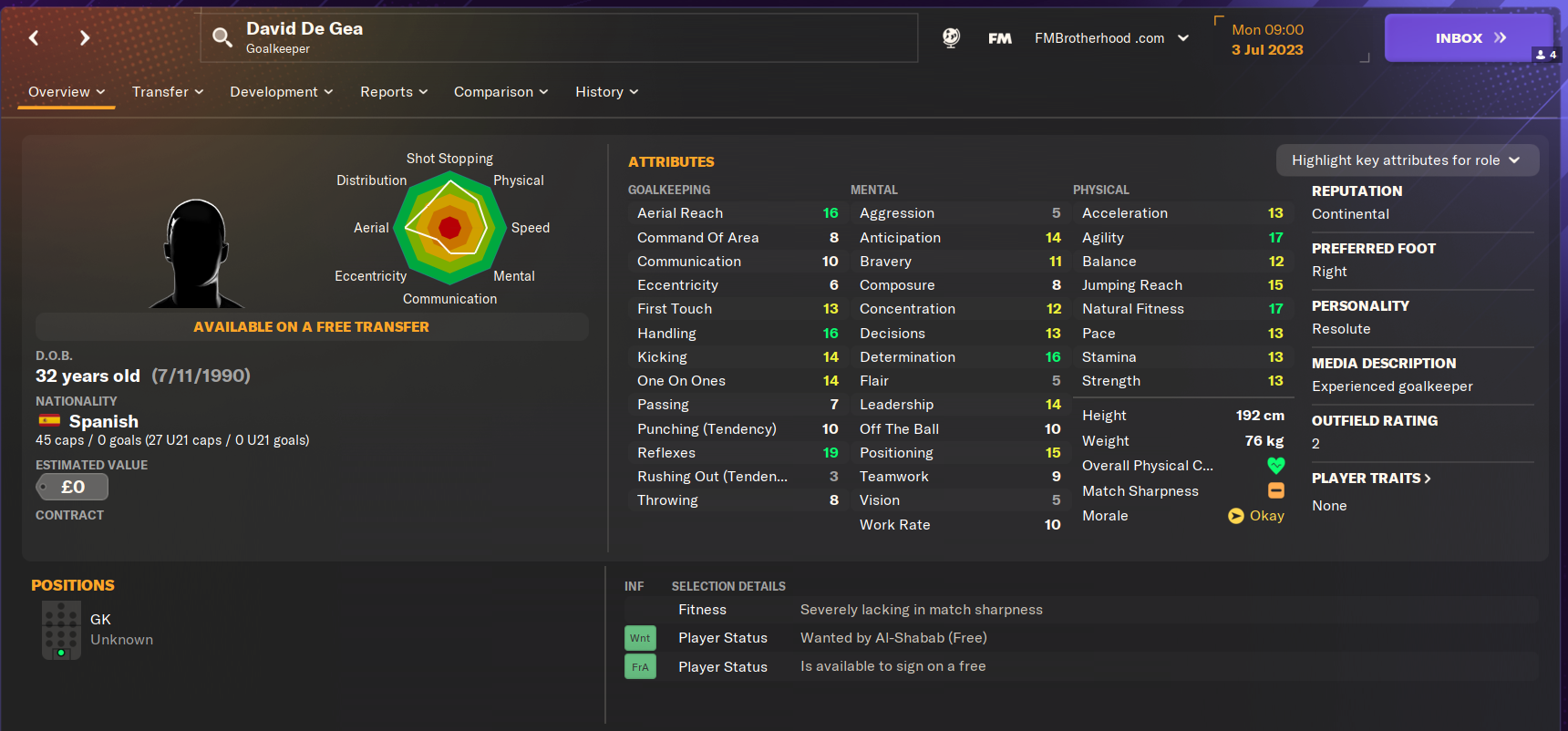 Now you can say what you want about David De Gea. As a Manchester United fan myself, I'm happy with Andre Onana even though he's had a shaky start to his time at the club. I was still sad to see De Gea leave, and he obviously still has the capability of being a goalkeeper for a top club in the world.
If you're not bothered about a goalkeeper that can play out of the back, De Gea will do a fantastic job for you. He has an insane 19 reflexes, and is only 32 years old, which is not old at all for a goalkeeper. He wanted £55k per week when we tried to sign him.
David De Gea Would be a good signing for:
Any club in Europe's

top 5 divisions that he would be willing to join.
Final Thoughts
There is some amazing value to be had in signing free agents in FM24. Especially if you're managing in the lower leagues. If you're looking to sign a free agent to then sell in a season to make some money, then consider signing Helder Costa, Xeka, Almamy Toure, or Jesse Lingard.
If you're looking for more cheap and affordable players, there are some young goalkeepers you can get for an affordable price in FM24.