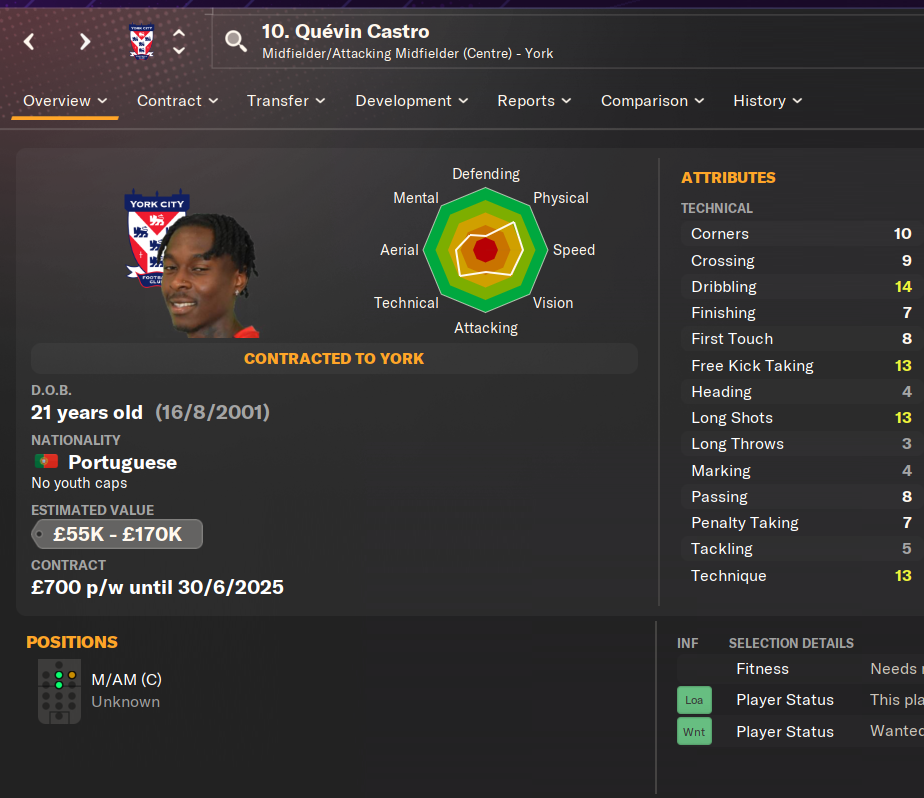 11 Best Non League Wonderkids in FM24
By callum | November 8, 2023 | 257 Views
Best Non League Wonderkids to Sign in FM24
Starting a save in the English non league can be one of the most fun saves to do in Football Manager. In FM23, I had a great time taking Chester FC out of the National League and into the EFL.
You can find some gems when managing in non league, and you might want to sign some young players to develop as you climb up the leagues. This article will show you 11 of the best non league wonderkids in FM24, which all either play for a non league club, or can be signed by a non league team.
If they can be signed in season one, we'll tell you exactly how much we paid to sign them, so it should give you an accurate valuation of how much they'll cost in your save too.
Please also remember that these are young players in the lower leagues of English football. They're not going to be the best players you've ever seen. But with the right development, they can get a lot better.
If you haven't already, make sure to join our growing Football Manager Facebook Group to be a part of the FMBrotherhood Community!
11. Oscar Kelly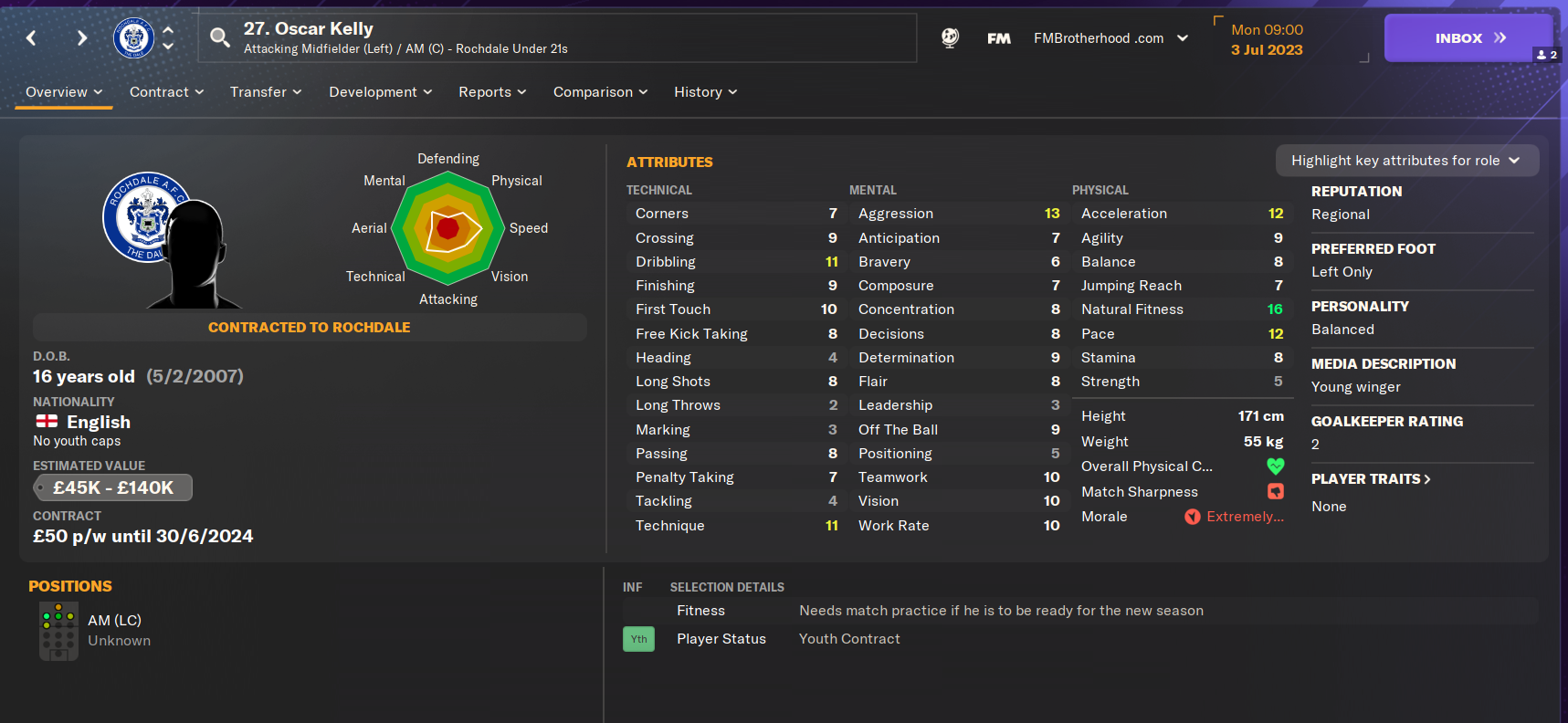 Kelly is a 16 year old winger who already has some promising attributes including his pace, acceleration,and dribbling. 16 natural fitness is also a brilliant attribute to have at his age, because it means he will be able to endure rigorous training programmes.
Some of his attributes are randomly generated at the start of the game. This means in your save he could look different. But if you like the look of him, you should definitely keep an eye on his development because he only has 1 year left on his contract.
You can sign him in the first season, but you might be able to get him for free in season 2.
The Football Manager Board Game you'll love!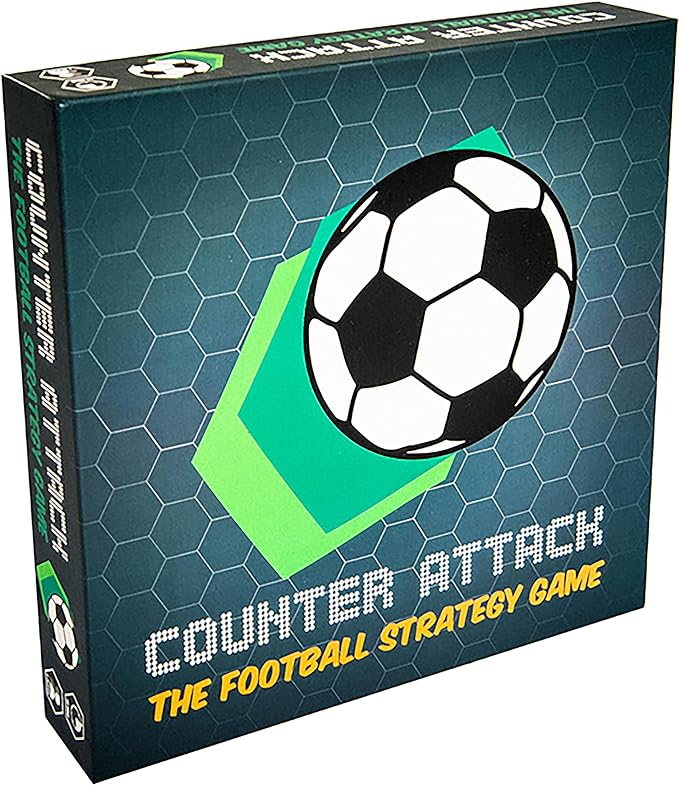 Counter Attack is the football board game that you'll love playing with your family and friends this Christmas. Just like in Football Manager you can assemble your team and you tactics to make your way to the top. This board game would also make the perfect gift for a friend or family member that loves playing FM as much as you!
Check it out on Amazon here.
10. George Nevett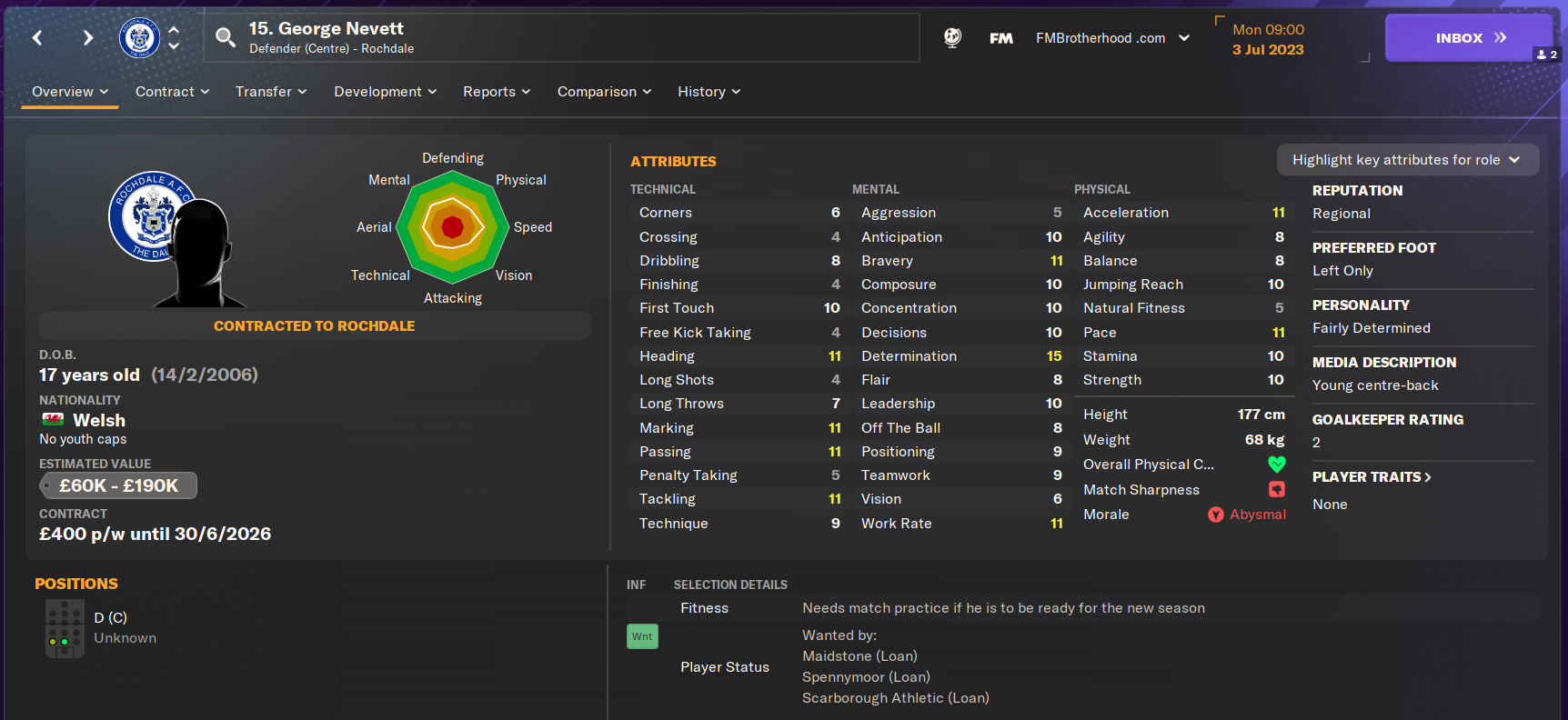 Another Rochdale non league wonderkid is George Nevett. The Welsh teenage centre back has solid heading, marking, passing, and tackling. He's not too tall, but because he's 17 he might grow a little bit taller.
Again like Kelly, Nevett isn't available to sign in season on, but add him to your shortlist and see if you can pick him up in a future season.
9. Jaiden Bartolo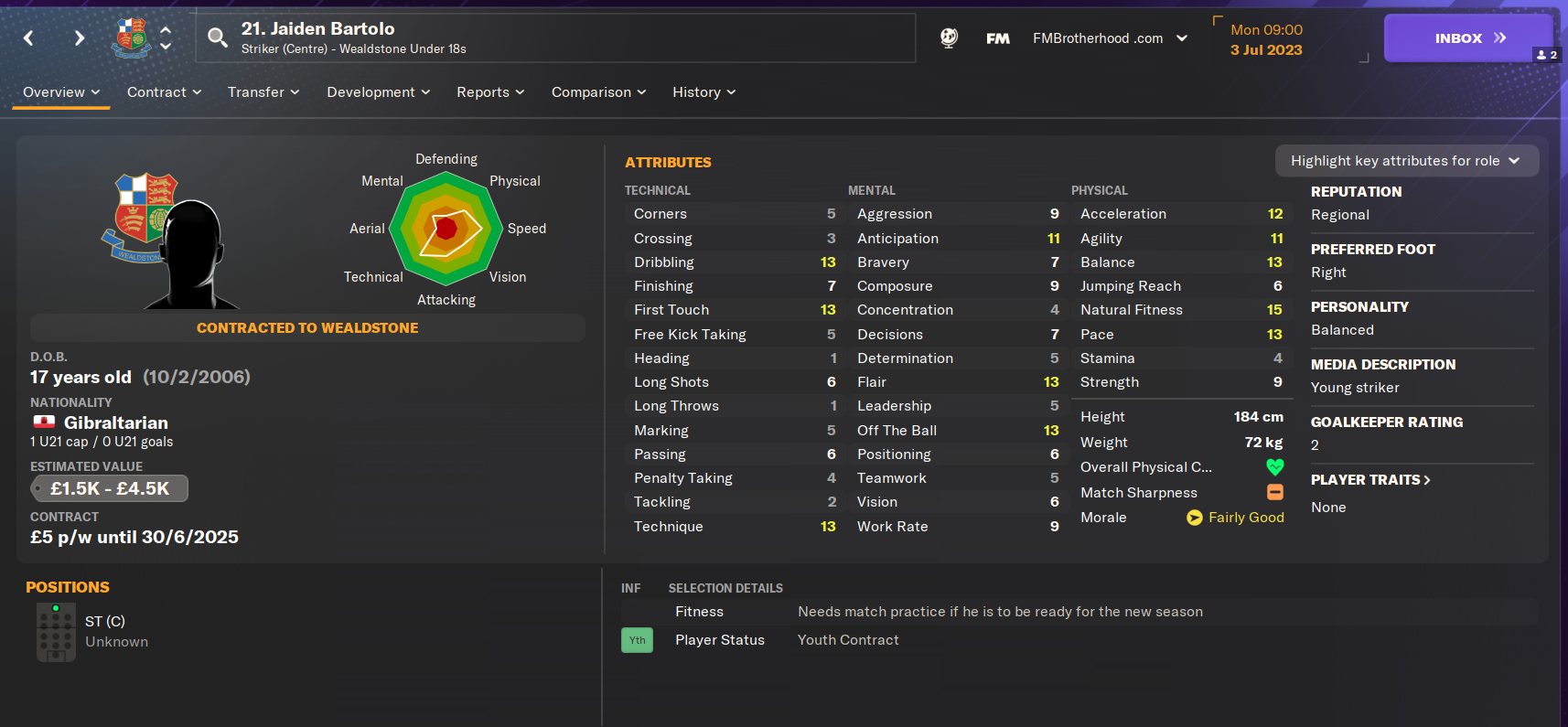 So this one is a bit of a wildcard. Bartolo has a lot of attributes that are randomly generated at the start of each save. This means he could look great in your save, or not so great.
But no matter what, he has a great dynamic potential range for a non league wonderkid in FM24. In our save he has some brilliant technical attributes for a 17 year old, but obviously has some work to do in other areas.
However, in non league, pace is really important, and he does have that!
Jaiden Bartolo can be signed in the first season too. For us he cost just £3.1k, but this could be different in your save depending on how good he is at the start of your save.
8. Finn Wilkes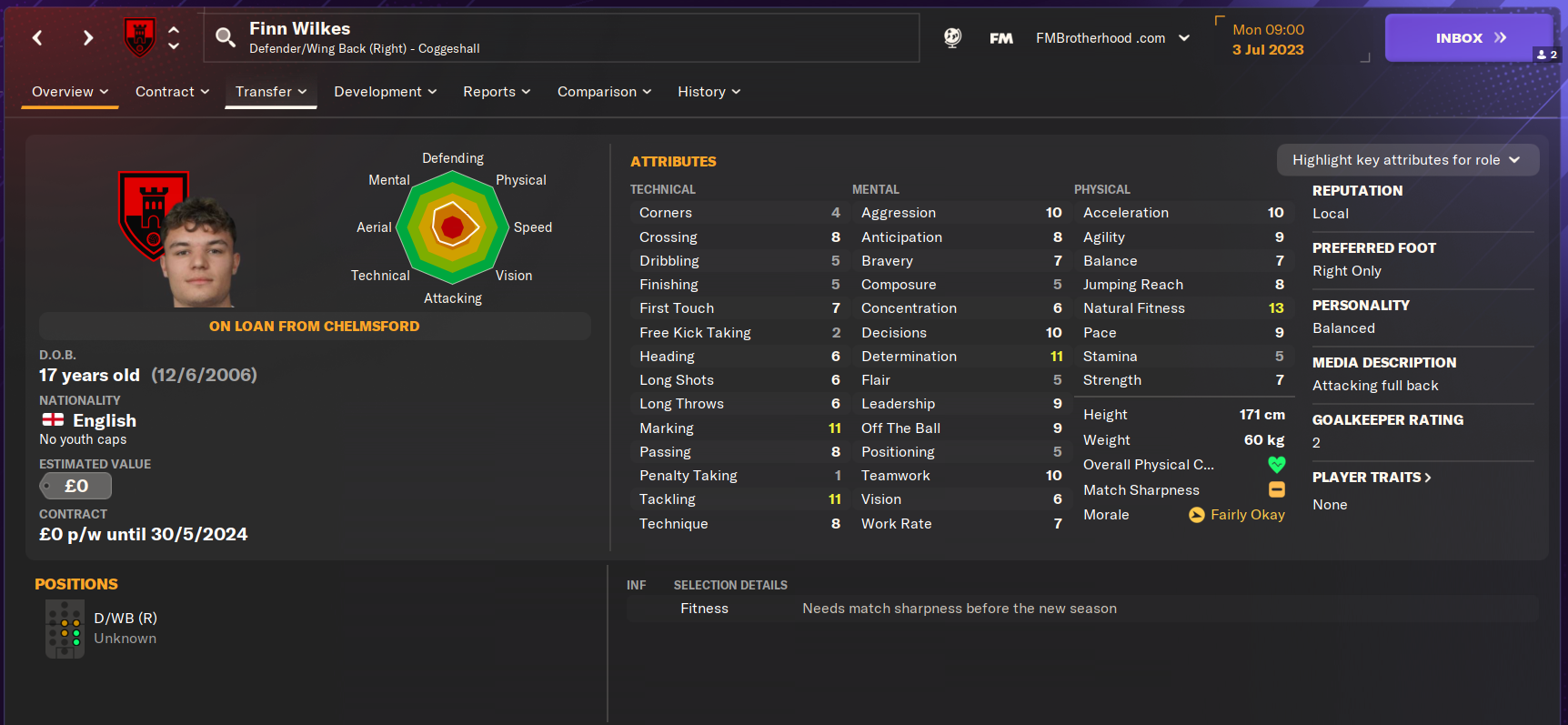 Finn Wilkes is a young right back with one of the highest potential abilities for any non league wonderkid in Football Manager 2024. Unfortunately he's on loan in the first season, so you'll need to wait until season 2 to try and sign him.
If you're managing in the Vanarama North or South, and are willing to give Finn Wilkes regular first team football, he could be an astute signing. His potential ability means he could become a player good enough to play in League Two or above in his prime.
7. Todd Miller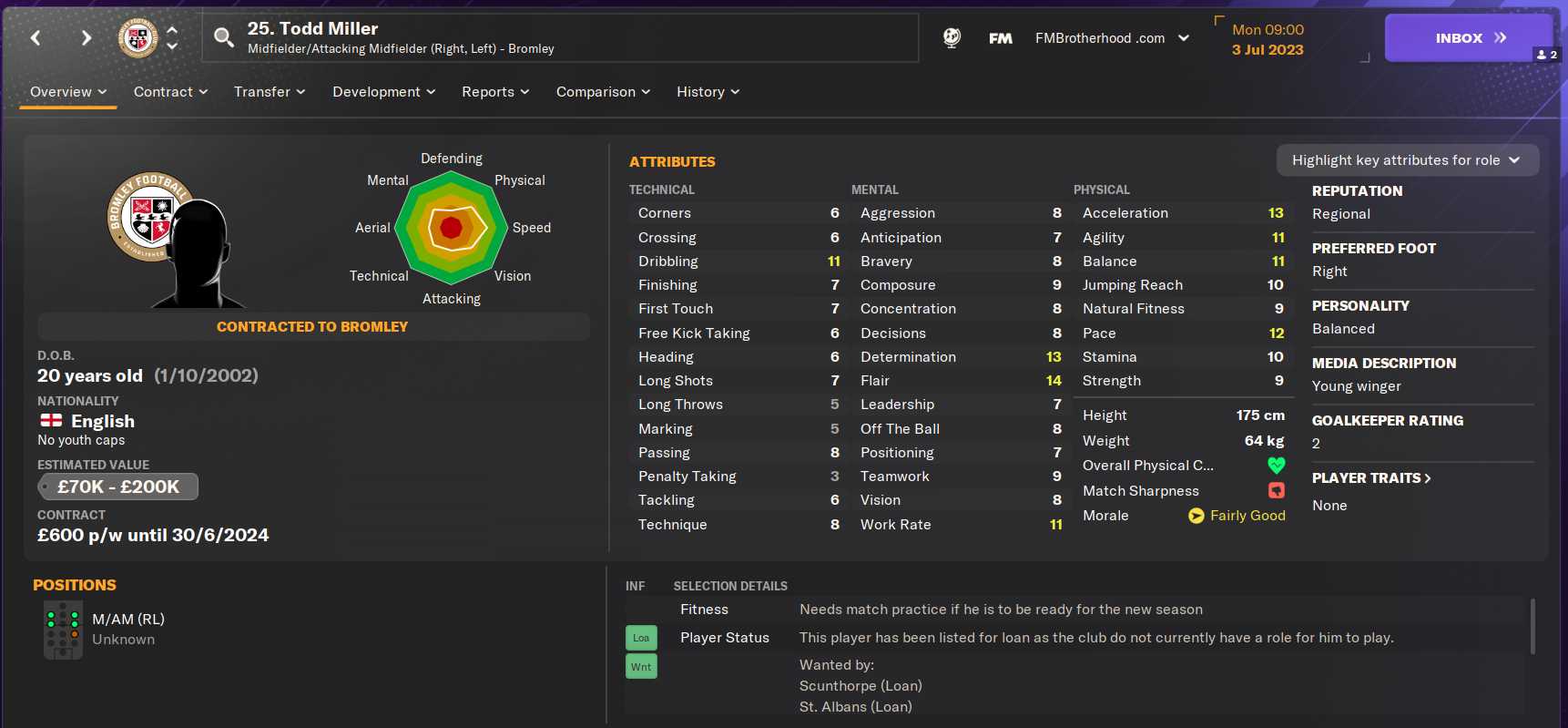 Miller is a young winger that Bromley are looking to loan out to National League North and South sides in the first season.
One of the reasons that Todd Miller is so great is that he can play right mid, right wing, left mid, and left wing. This versatility can be extremely valuable when managing in Non League, as you've got a small squad, and will need players to fill in when you get injuries.
Because he's just joined Bromley, you can only get Todd Miller on loan in the first season. However, with his contract expiring in 2024, there's a chance he becomes a free agent.
6. Sammy Robinson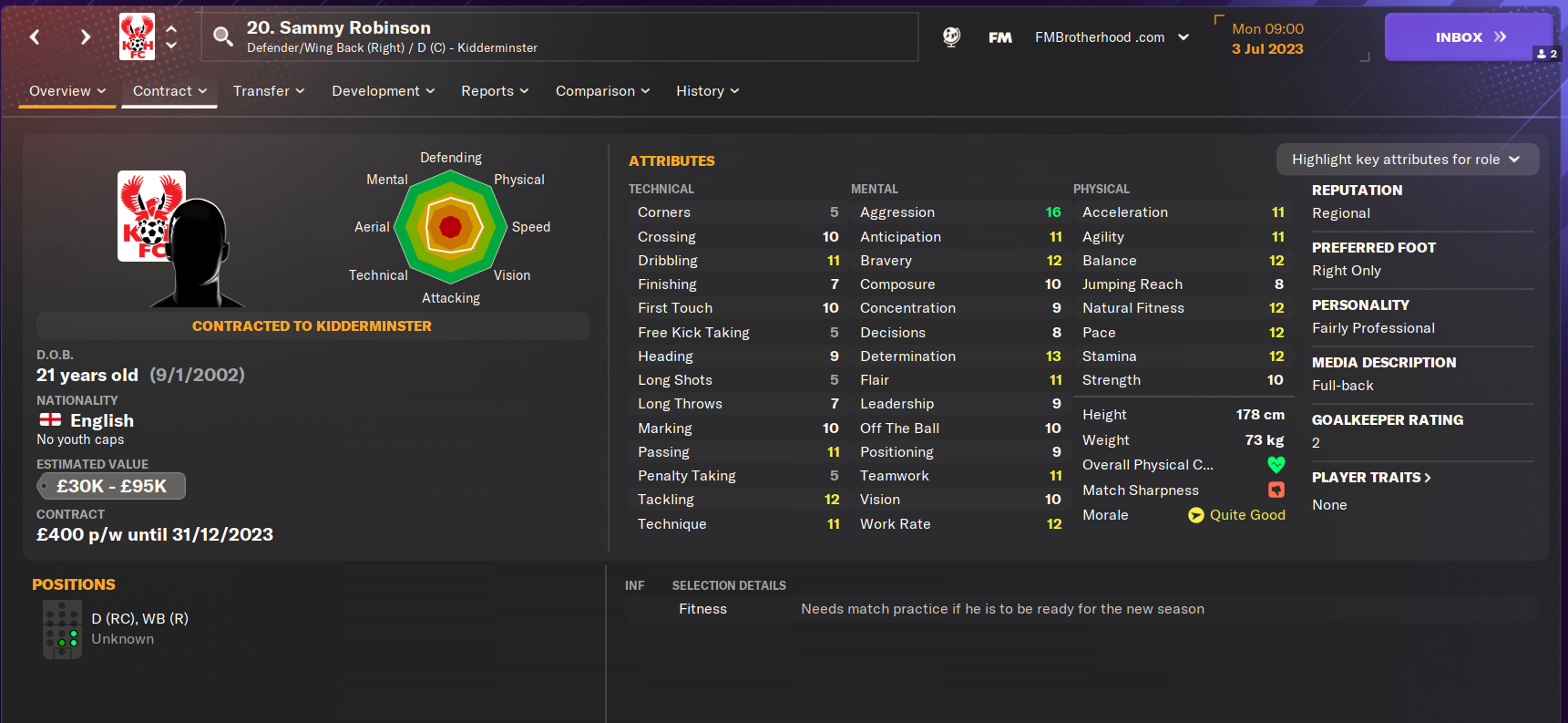 Robinson is definitely the best non league wonderkid so far in terms of current ability. He's showing a lot of promise, and is already good enough to be playing first team football at National League level. He was playing games in League One for Port Vale last season.
His physical attributes are well rounded, and he can play right wing back, right back, and centre back if needed.
Sammy Robinson joined Kidderminster in the summer, but only has a 6 month contract. He would be a fantastic wonderkid right back to sign in January if he doesn't get an extension.
5. Zak Brunt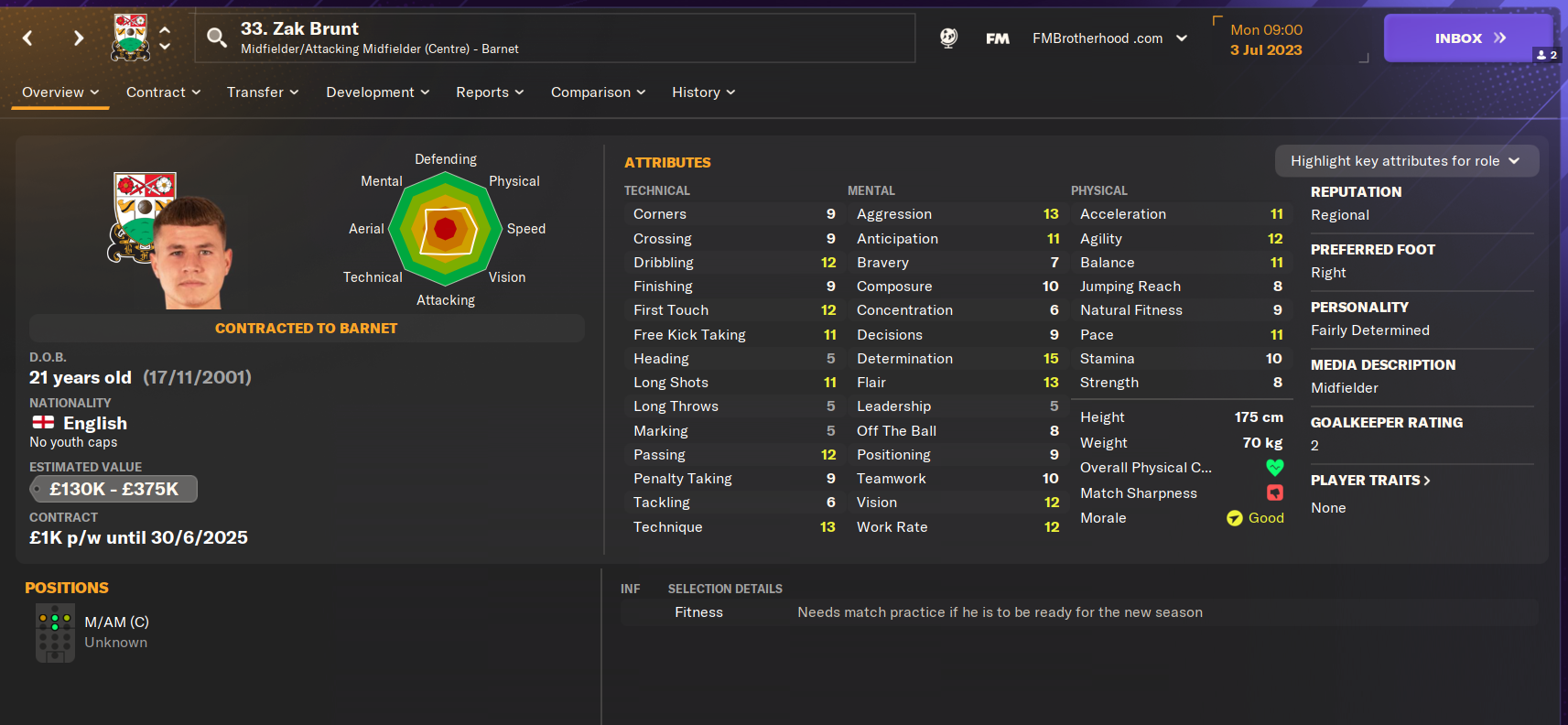 Zak Brunt is another player who's showing great quality for non league level. Technically he has some top attributes, including 12 passing, 13 technique, and 12 dribbling.
Brunt impressed on loan at Boreham Wood last season, making 45 National League appearances.
Because Zak Brunt has just joined Barnet, he can't be signed in season one. Looking at his estimated value, he could be quite expensive for a non league club in the second season too. But if you can get the money, he would be one of the best young non league players to sign in FM24.
4. Chi Ezennolim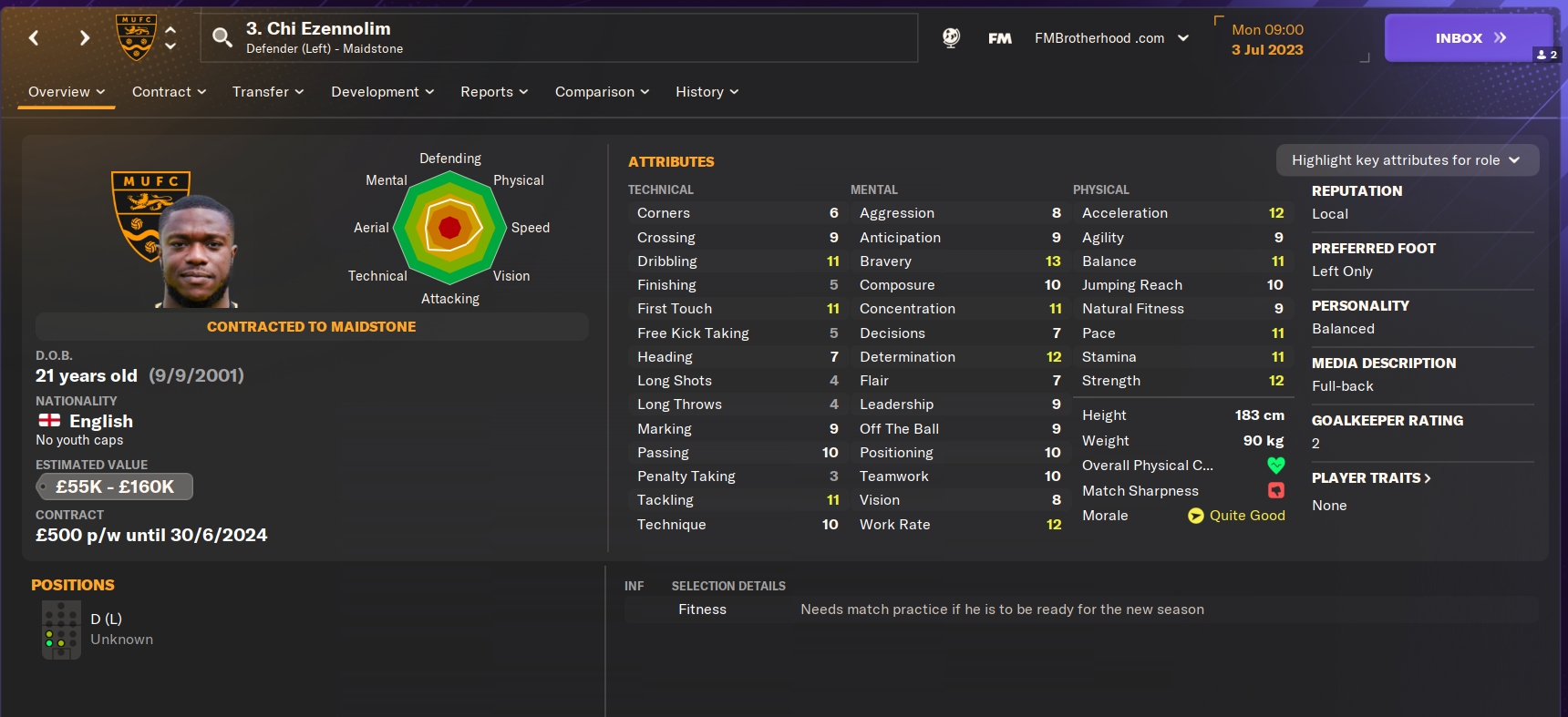 Ezennolim is a strong left back with solid physical attributes. The 21 year old is ready for first team football and can get better too. He's already made over 50 appearances in the Vanarama National League South.
Like many of the best FM24 non league wonderkids, Chi Ezennolim can't be signed in season one because he's just moved club. But if he doesn't get a new deal, he will be available for free in the summer of 2024.
But don't worry, there are a few non league wonderkids to come that can be signed right from the start!
3. Quevin Castro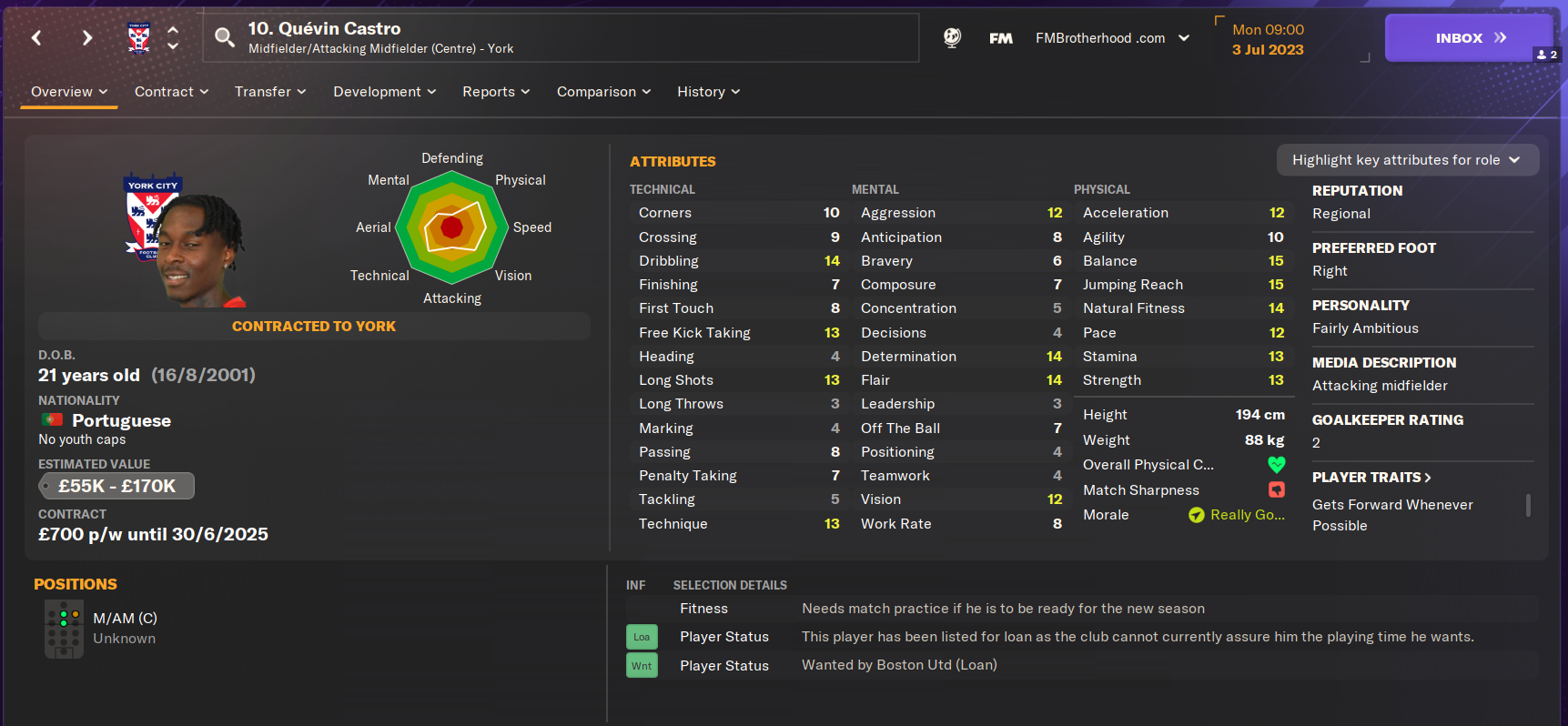 Okay maybe Quevin Castro can't be signed in the first season either because he's just joined York city, but what a technical and physical player for his age! 15 Balance, 15 jumping reach, and 14 dribbling are brilliant attributes to have.
He definitely has to work on some of his mental attributes, and he might look different in your save as for reasons I've already mentioned for previous players, but Castro is definitely one of the best non league wonderkids in FM24.
2. Josh Martin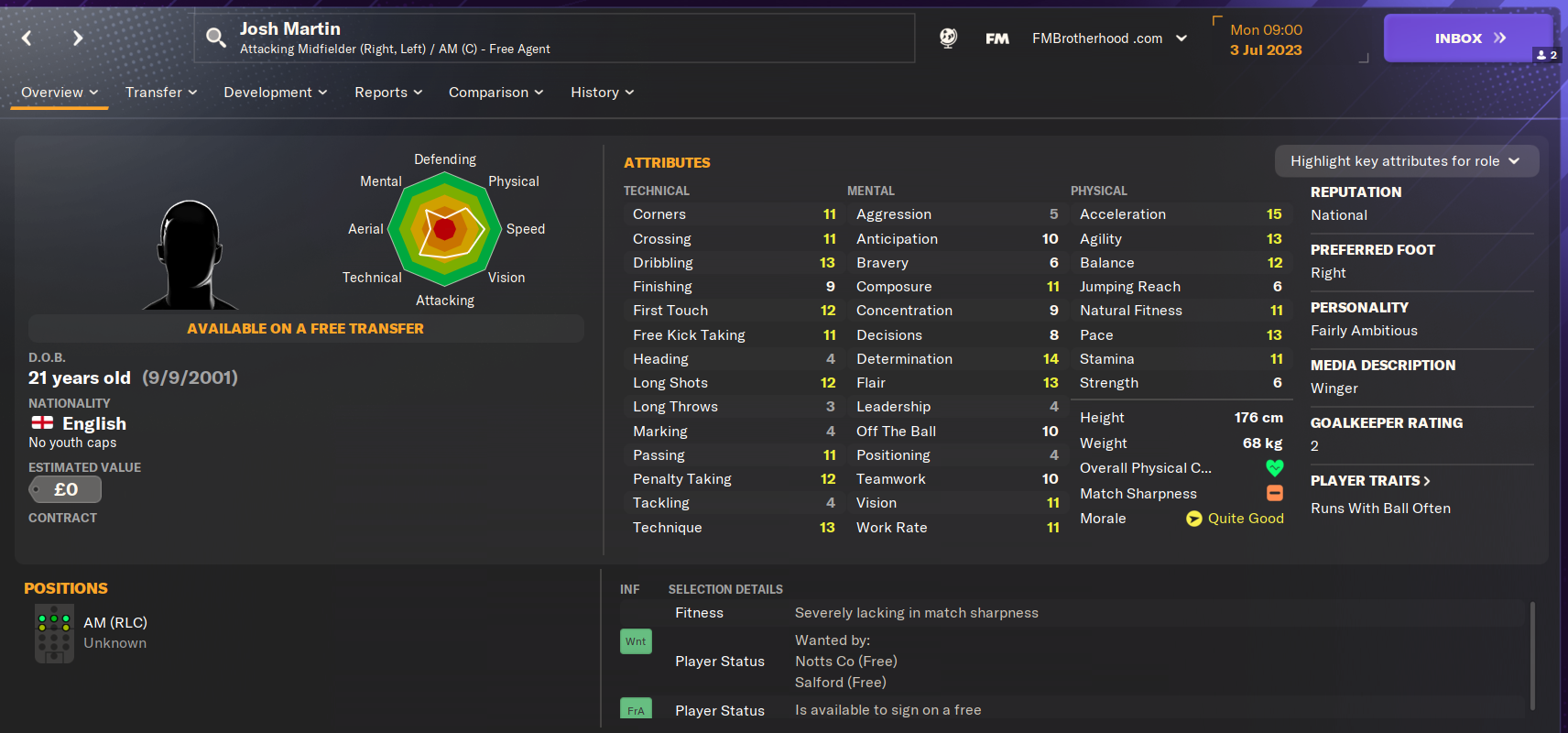 Martin is a fantastic free agent wonderkid in FM24 who is good enough to be playing in the EFL. You can see this as he's wanted by Notts County and Salford City in our save.
But Josh Martin is also willing to join National League teams, and will accept a contract for £1.6k per week. This is more than what most Non League players are paid, but he deserves the money, and could be sold in a couple of seasons time for a profit.
The quick versatile winger is perfect for Non League, sign him asap if you can!
1. Dejan Tetek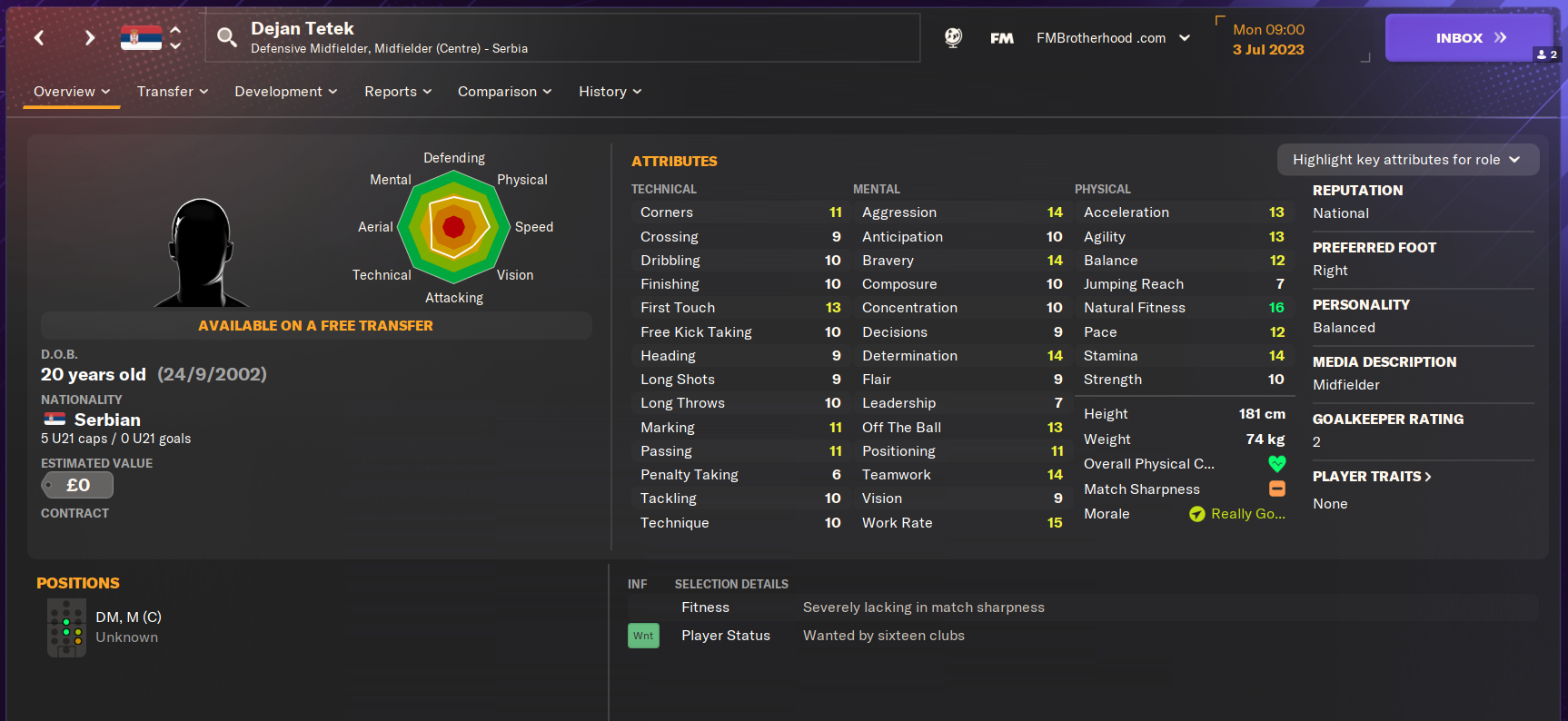 Dejan Tetek is the best Non League wonderkid to sign in FM24. Again it might be difficult to sign him, because he's even wanted by teams in the Championship. He is willing to speak to top teams in the National League though.
For £1.7k per week, you can get yourself a hard Serbian midfielder with amazing mental and physical attributes for this level. His determination and work rate are scored highly too, so he's got a good chance of developing into an even better player.
Final Thoughts
A lot of the non league wonderkids in this article are players you'll need to add to your shortlist and monitor their development. If they become available for transfer after a season then you should sign them if there's minimal risk.
In terms of young players in Non League to sign in the first season, Jaiden Bartolo, Josh Martin, and Dejan Tetek are fantastic options.