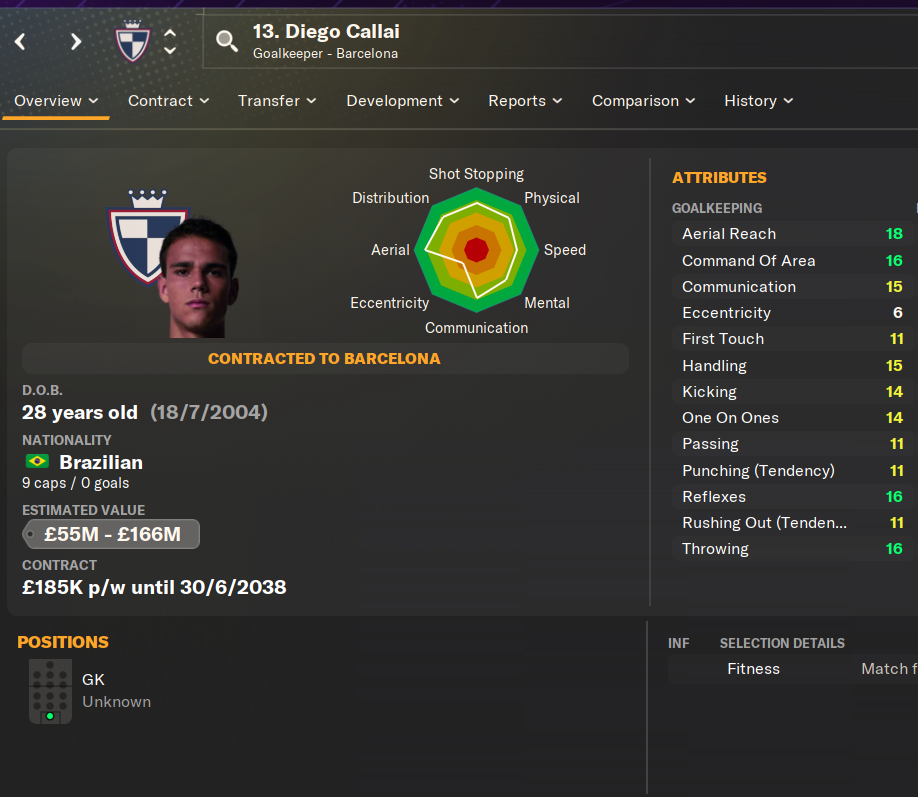 7 Best Wonderkid Goalkeepers in FM24 You Should Sign!
By callum | November 13, 2023 | 104 Views
Best Wonderkid Goalkeepers in FM24
Having a bad goalkeeper in Football Manager can make or break your save. A keeper that constantly makes bad mistakes can lead to bad results and eventually the loss of your job.
That's why you should sign one of the best wonderkid goalkeepers in FM24 so you don't have to worry about this problem. This article shows you how much you can sign them for if they're available in season one. You can also see how each young goalkeeper can potentially look in 2033 in your save.
Remember that goalkeepers can typically play at the highest level for a lot longer than outfield players. This means if you invest in a young goalkeeper in FM24 in the first season, they could be in your team for up to 20 years!
1. Gabriel Slonina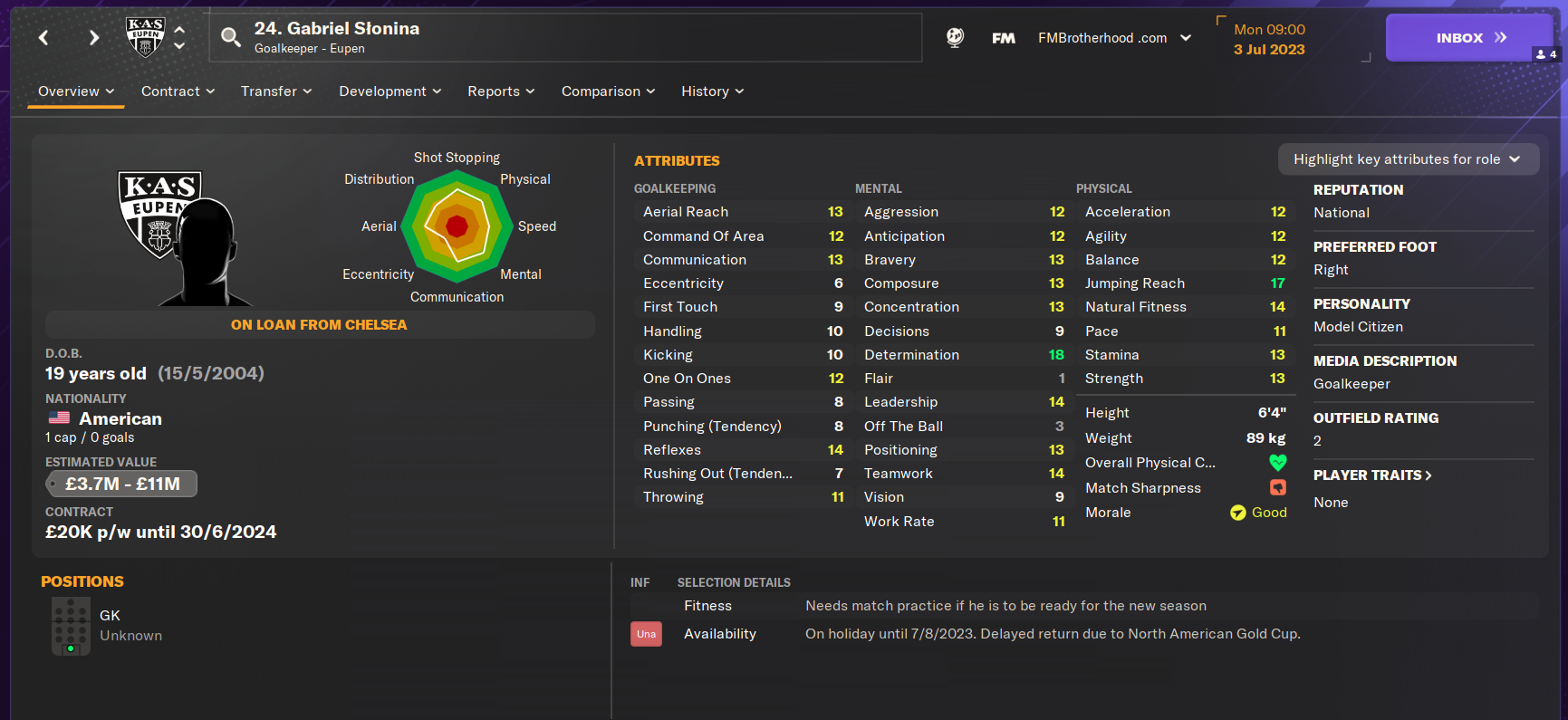 Slonina is the first player on this list of the best wonderkid goalkeepers in FM24. The youngster was officially signed by Chelsea in the January 2023 transfer window, and is seen as a future number one for the Premier League club.
As he's not ready to start for Chelsea, they've loaned him out to Belgian side Eupen. This sadly means you can't get Gabriel Slonina in the first FM24 season.
However, he has 18 determination, and a model citizen personality. This gives him a great chance of developing into a top wonderkid goalkeeper in Football Manager 2024.
Gabriel Slonina in 2033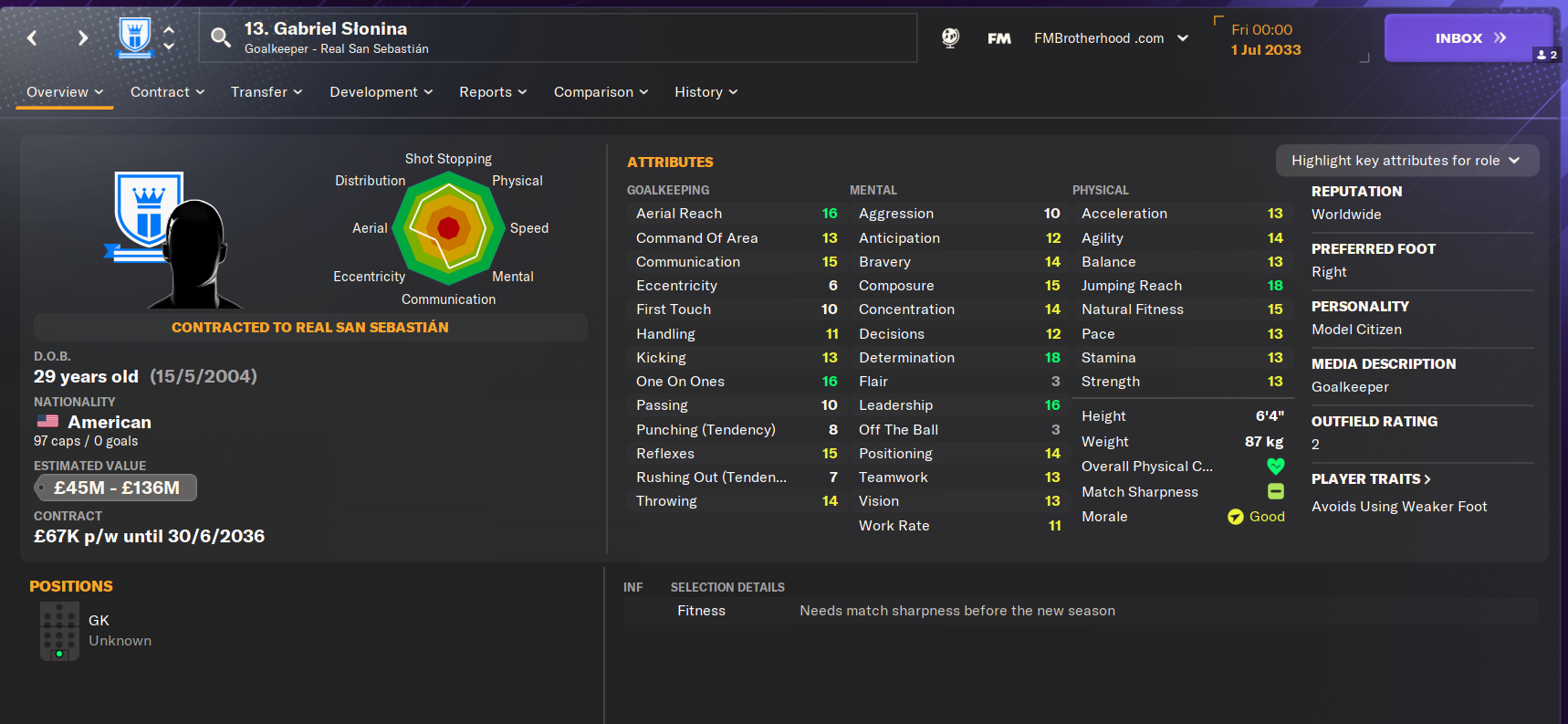 After struggling for game time at Chelsea, Gabriel Slonina moved to Real Socieded and became their number 1 goalkeeper. He's been the USA's starting goalkeeper for years, accumulating 97 caps.
Some of his goalkeeping attributes have significantly developed. In his prime, Slonina's one on ones have increased from 12 to 16, and his Aerial reach from 13 to 16.
In our Football Manager save, this wonderkid goalkeeper is still lacking in some important attributes though. His handling is only 11, and his passing isn't too good if you want a goalkeeper that can play out from the back.
I think one of the reasons for his for the lack of development is he didn't play often once he got back from his loan at Chelsea. Not getting this game time in his younger years will have had a huge impact on his potential.
If you can sign Gabriel Slonina at a young age, he could turn out to be a top quality goalkeeper for your team.
2. Matteo Rizzo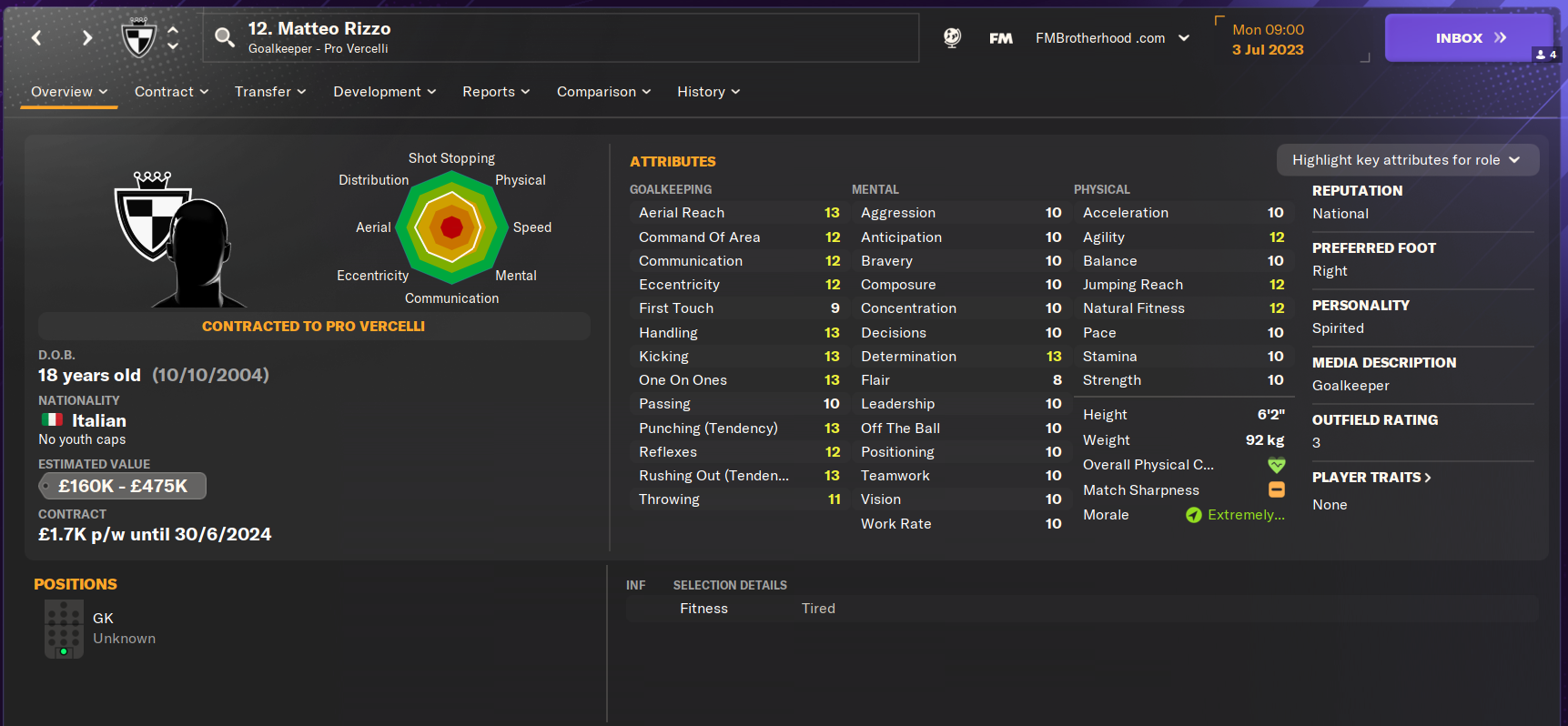 Rizzo is a young wonderkid goalkeeper who seems to have a lot of attributes rated 10, 11, 12, and 13. I think this is because he has a pretty dynamic potential, and this might not be how Matteo Rizzo looks in your save.
However, if you get a good Matteo Rizzo in your FM24 save, he can be great! Because most of his attributes are 10 or higher, he doesn't really have any weaknesses for a teenager. This also means you can develop him into almost any type of goalkeeper that you want.
Matteo Rizzo is already the starting goalkeeper for his club, and can be signed in the first season for just £350k! This makes Rizzo one of the best cheap wonderkid goalkeepers in FM24. For more cheap wonderkids in Football Manager 24 click here.
Matteo Rizzo in 2033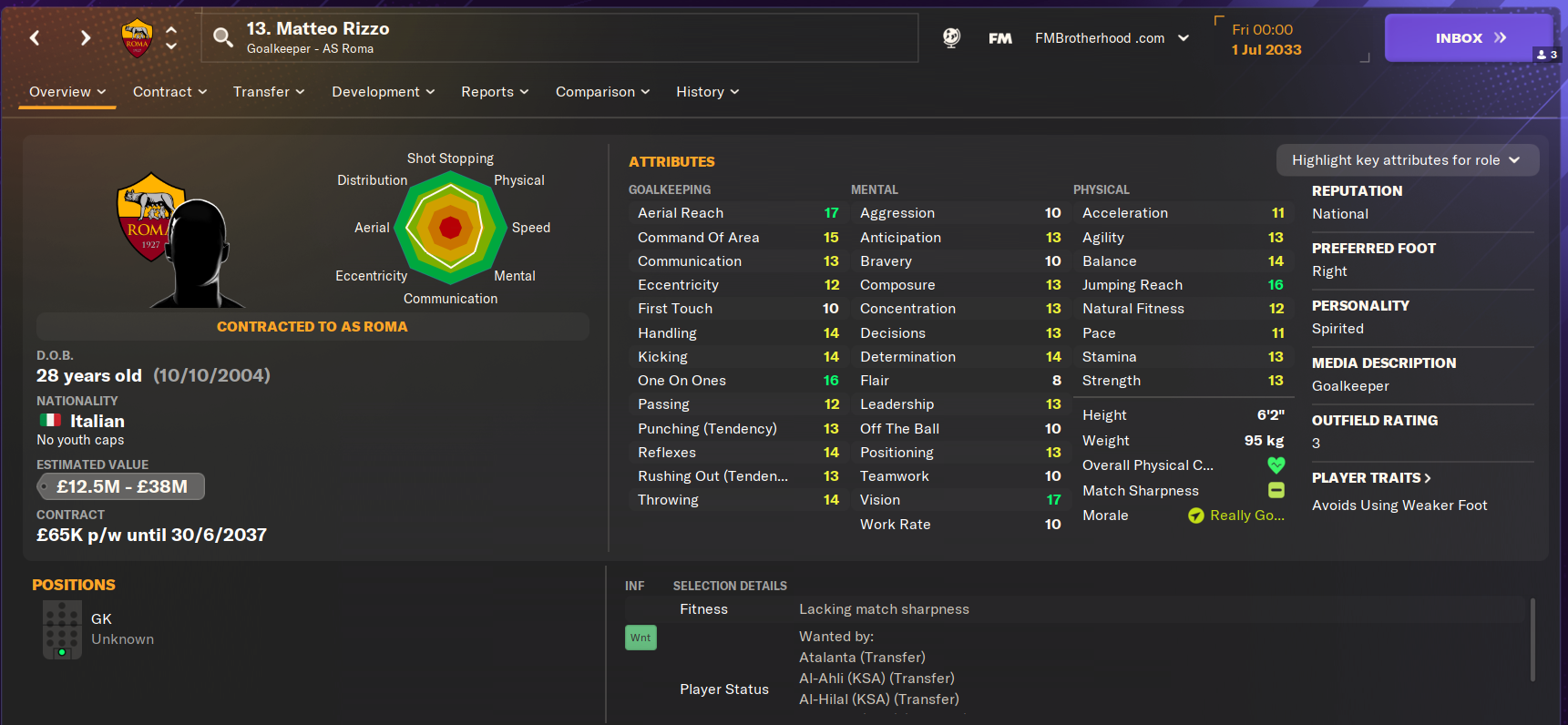 Rizzo has developed into an excellent goalkeeper. He has an incredible 17 vision, which is up from 10! This allows Rizzo to see opportunities to start counter attacks if he's just collected the ball from a opposition attack,
He's got brilliant aerial and jumping reach too, which makes him able to come and collect crosses comfortably.
Matteo Rizzo is a brilliant goalkeeper to sign in FM24 considering his cheap price in season one. But he needs game time to develop. He won't get much better if you sign him at a young age to just sit on the bench.
3. Andre Gomes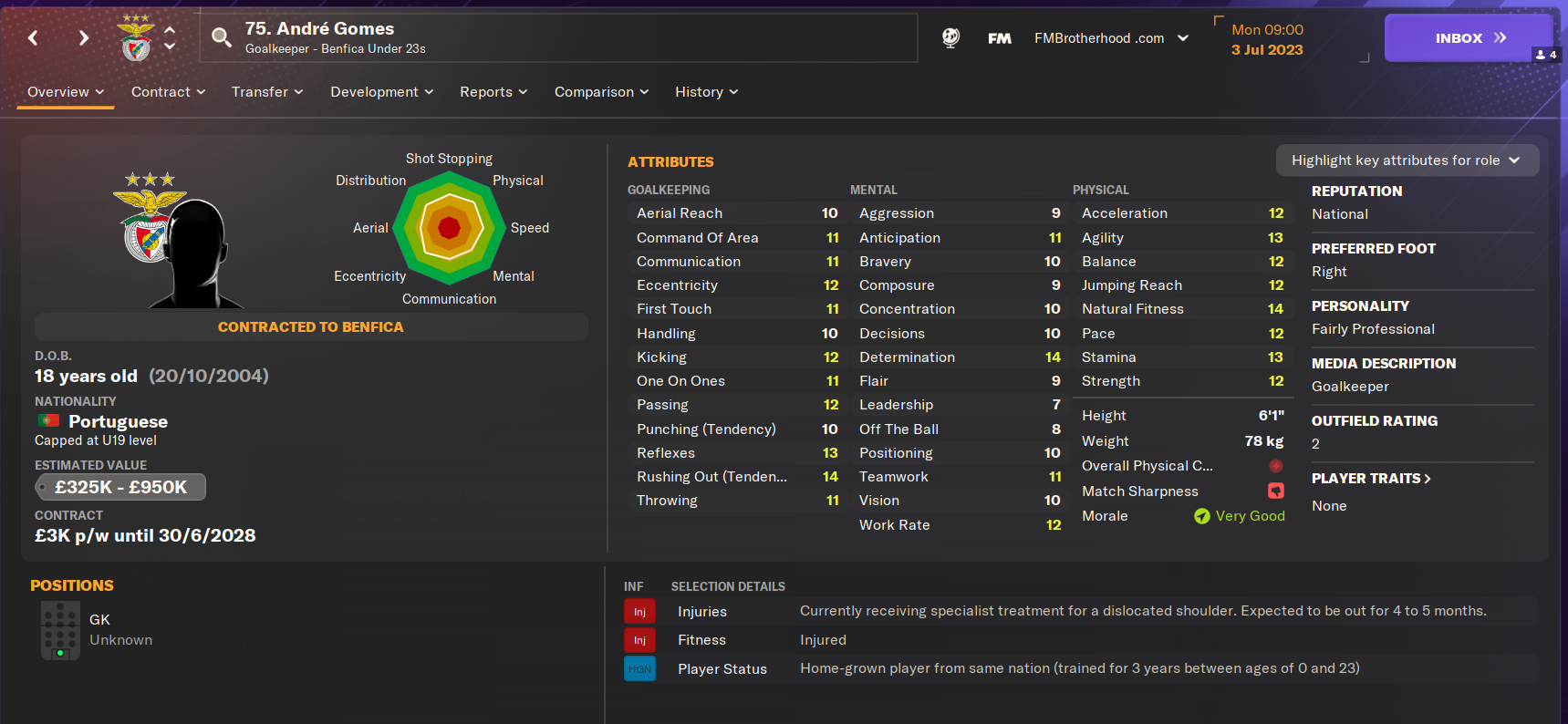 Gomes is one of the best young goalkeepers in FM24 and can be signed for just £650k in season one! However, he's out with a long term injury, so it'll be difficult to sign him in the first transfer window.
A way of getting around this is removing all injuries before your save begins by using the pre-game editor.
At the start of your save, Andre Gomes is pretty similar to Matteo Rizzo. Gomes doesn't really stand out in any attributes, but doesn't have many flaws either.
Andre Gomes in 2033

Andre Gomes is on £625k per week in Saudi Arabia in our simulation! Al-Hilal signed him for £45 million and you can see why.
Weirdly just like Rizzo, Gomes' vision has increased from 10 to 17. His one on ones have also seen drastic improvement.
There isn't much that this wonderkid goalkeeper is missing. There are just better ones out there!
Read on to find out more of the best FM24 wonderkid goalkeepers.
4. Guillaume Restes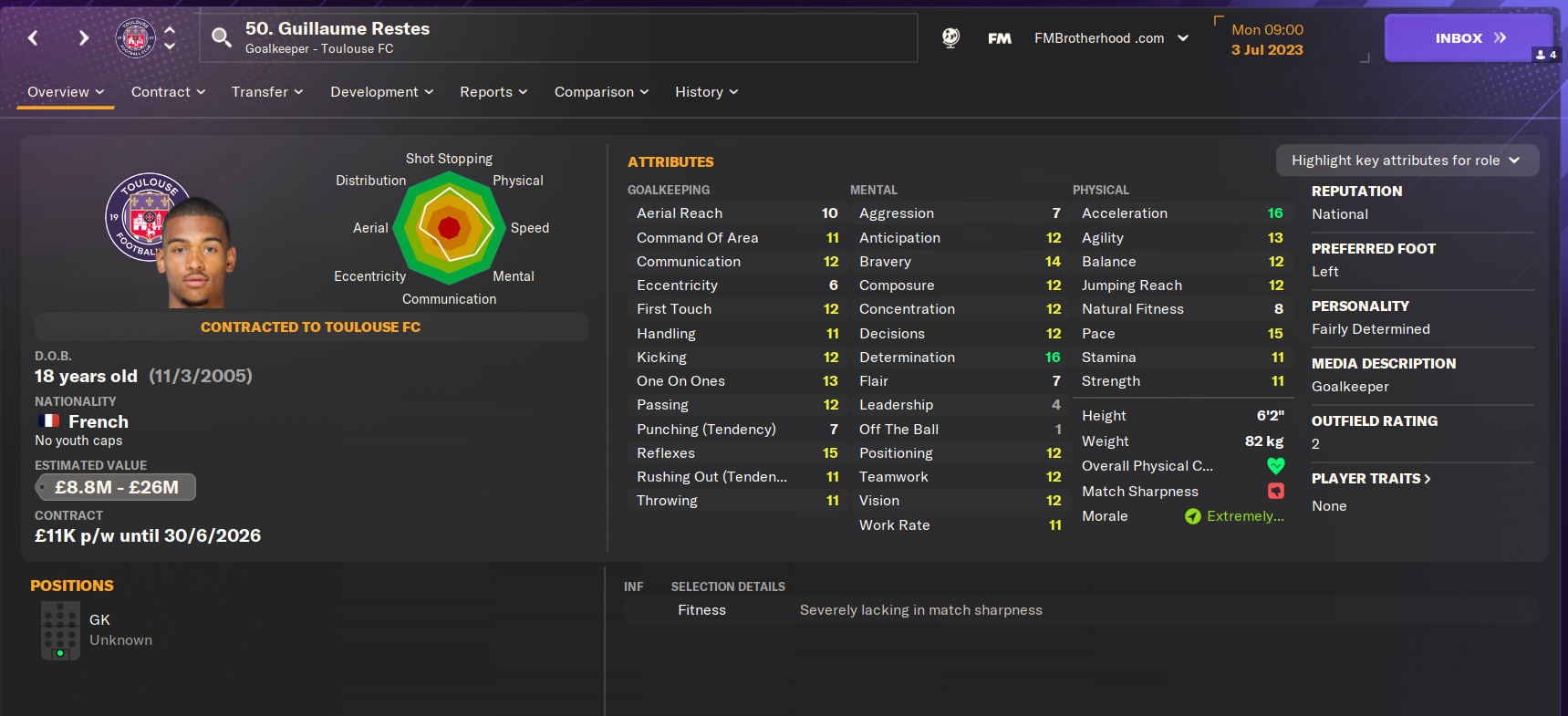 Restes is a rapid young goalkeeper in Football Manager 2024. This makes him a fantastic sweeper keeper, because he can quickly get off his line and get to opposition through balls before the opposing attacker.
Guillaume Restes has some more great stats, including 15 reflexes, 16 determination, and 14 bravery.
Restes is a lot more expensive some of the other young keepers on this list, costing £17.5 million in the first season.
Guillaume Restes in 2033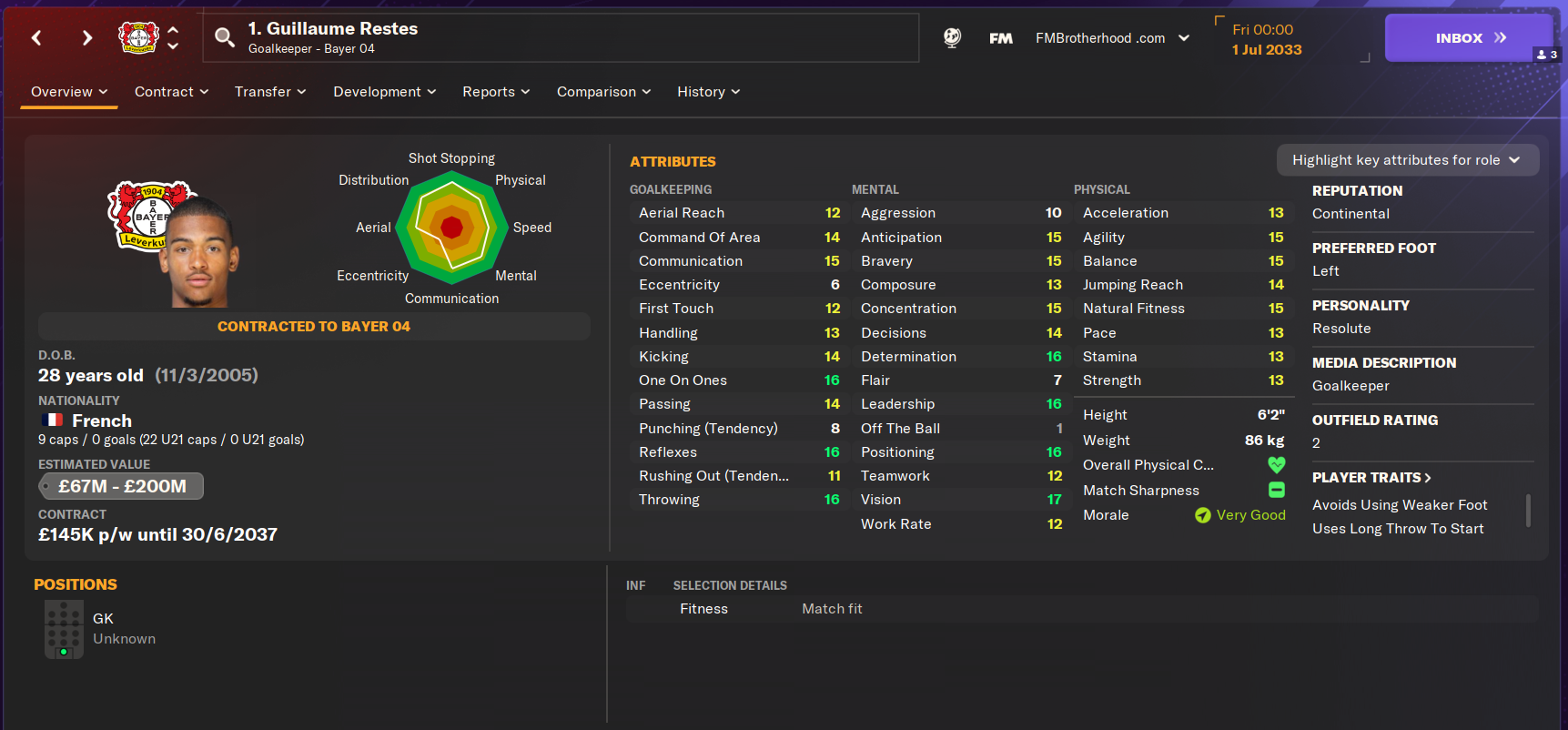 Restes in his prime develops into an excellent keeper. He signed for Bayen Leverkusen and become their club captain. He's also managed to get 9 caps for France, which is a great achievement considering some of the other top goalkeepers France already have.
5. Dennis Seimen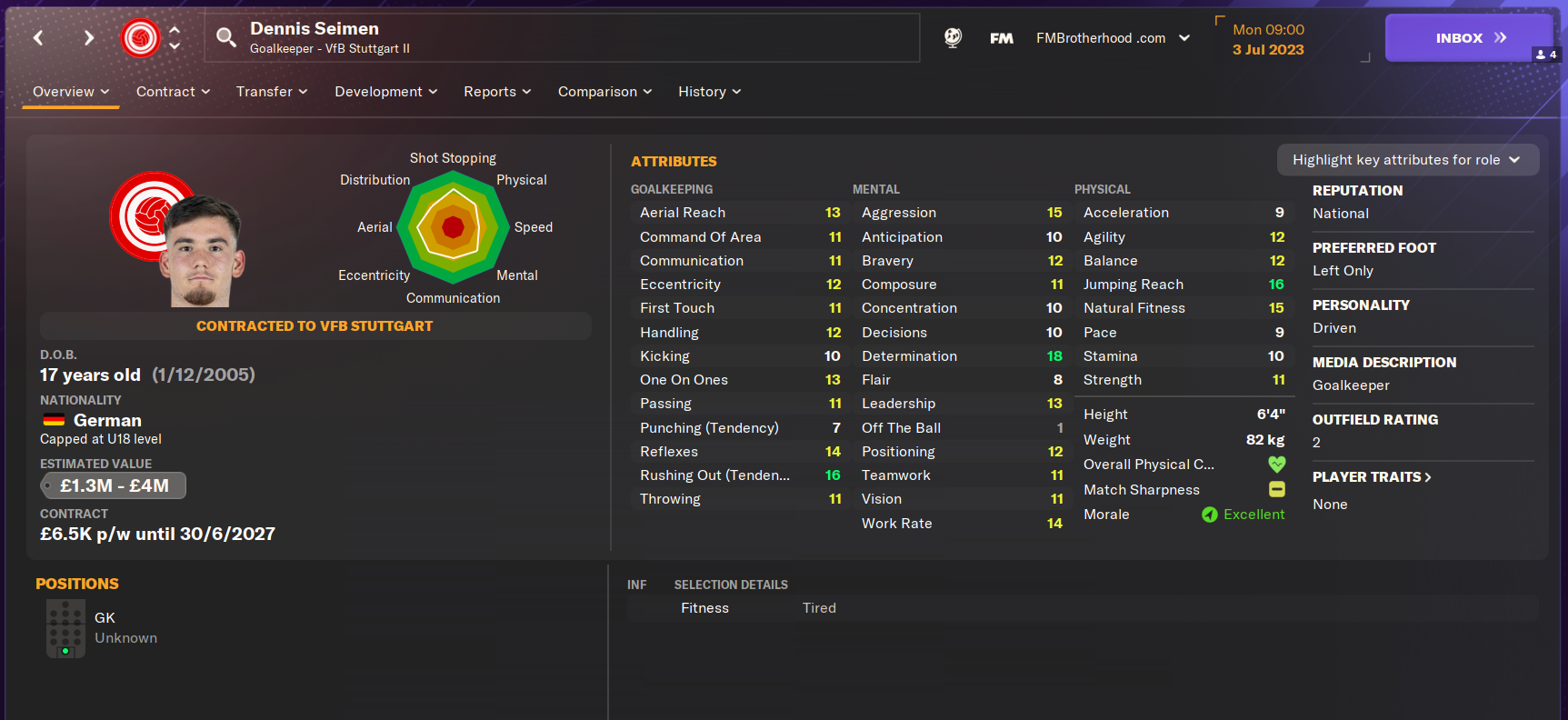 Seiman was an extraordinary wonderkid goalkeeper in Football Manager 2023, and he's just as good in this years edition too!
His 18 determination, 14 work rate, and driven personality help with his development. But as always Seimen will need to be playing first team football as soon as possible.
What's amazing is that he can be signed in the first season for just £2.7 million! However, he'll only speak to the top teams in Europe. It would be work speaking to his agent to see if he's interested in joining your club before wasting your time and making an offer.
Dennis Seimen in 2033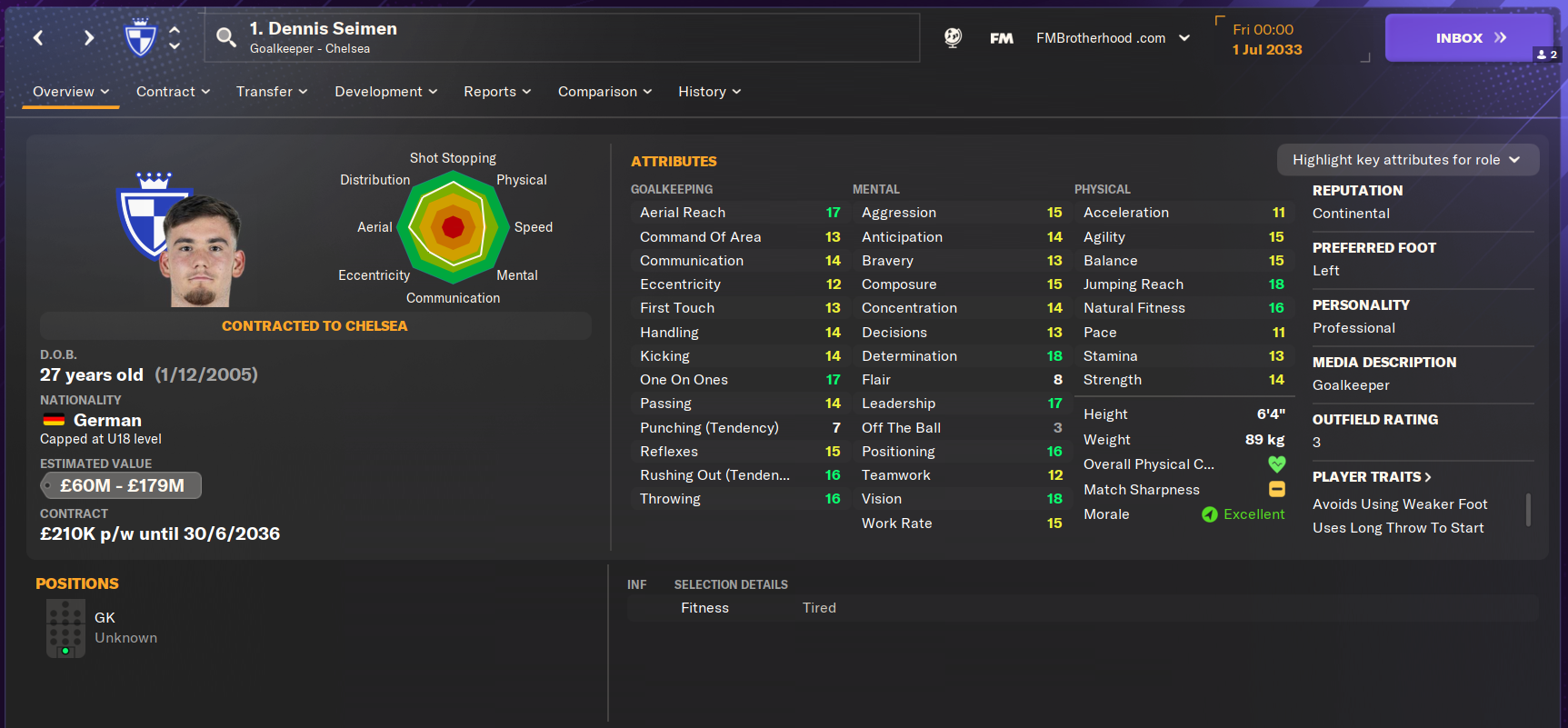 Dennis Seimen worked his way into Stuttgart's first team, and has become a fantastic FM24 goalkeeper. You can see that his goalkeeping attributes have been extremely well rounded, which include 17 aerial reach, 16 throwing, and 17 one on ones.
After moving to Chelsea for £65 million, Seiman has become one of the best FM24 goalkeepers. It's ridiculous that you can sign him for such a cheap price and he's got this potential ability.
6. Bart Verbruggen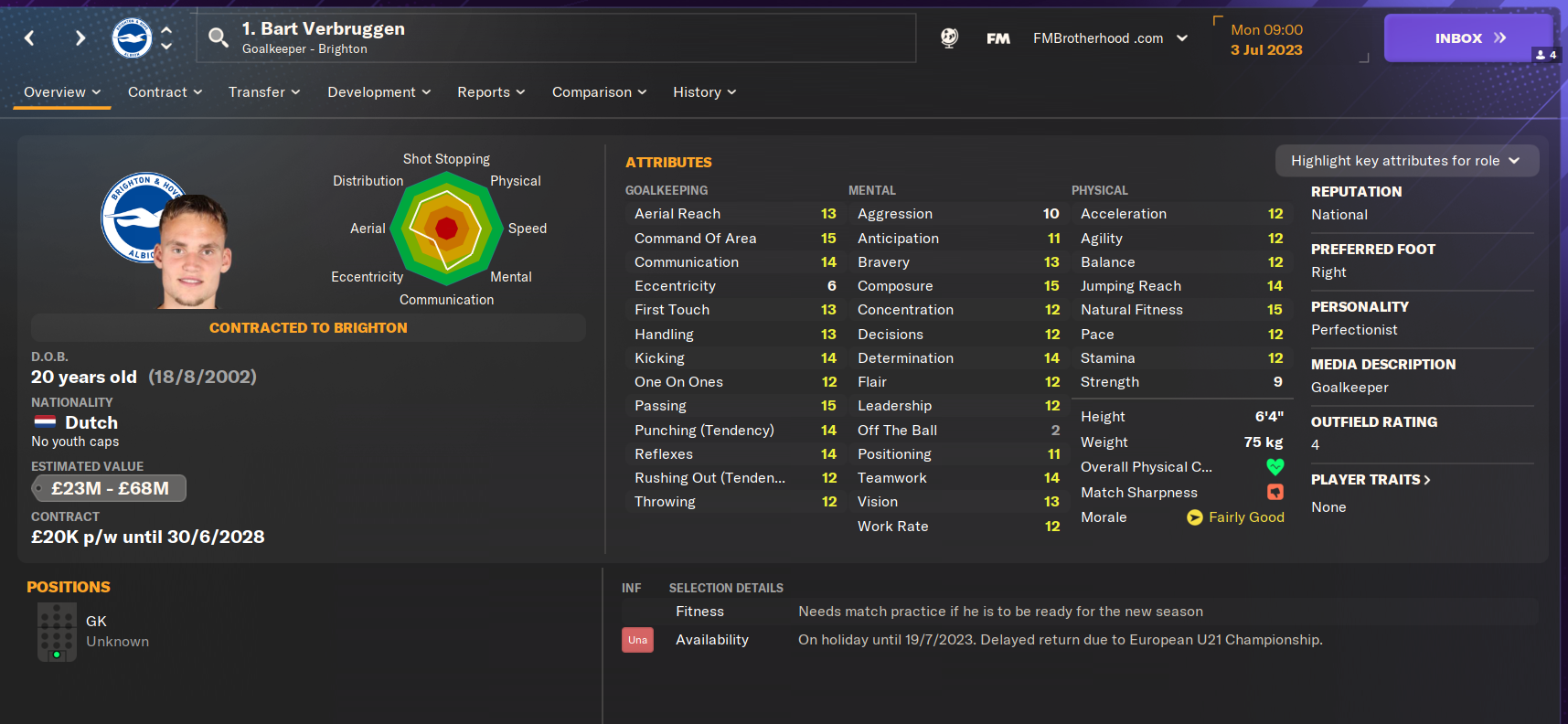 Bart Verbruggen has been a wonderkid goalkeeper in Football Manager for a few years. Brighton scouts must be Football Manager fans too, because they signed Verbruggen this summer.
After impressing last season, he's been given a boost in attributes in FM24. His 15 passing is brilliant for a goalkeeper. If you like to play out from the back, he would be a brilliant choice.
Bart Verbruggen in 2033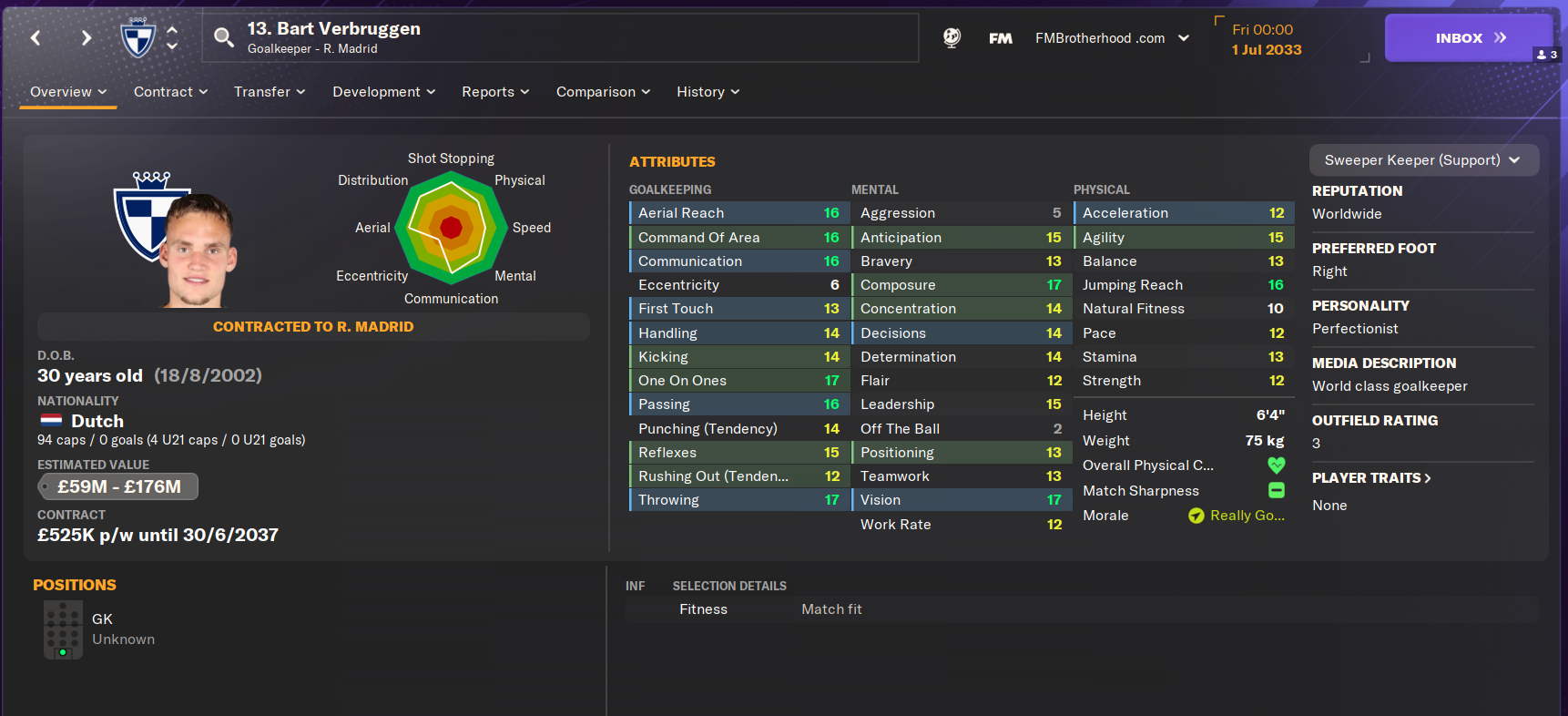 Real Madrid ended up paying a huge £90 million fee for Bart Verbruggen! This is because in his prime he's a top goalkeeper in FM24.
He has 94 caps for The Netherlands, and kept lots of clean sheets. Verburggen's composure is fantastic too. You'll likely need to pay a lot to get him between the sticks, but he's worth it.
7. Diego Callai – Best FM24 Wonderkid Goalkeeper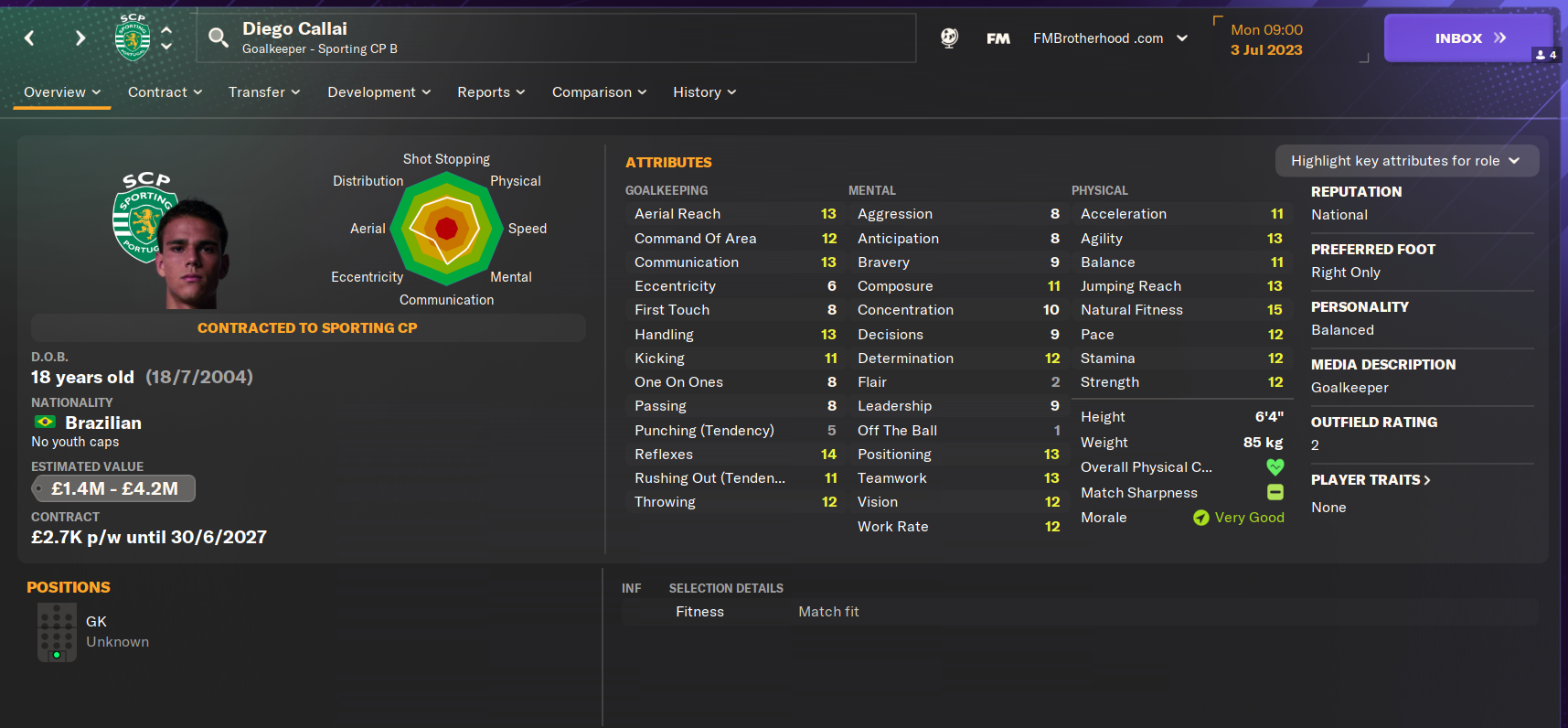 Diego Callai has been hailed as our best wonderkid goalkeeper in FM24. To be honest I hadn't heard of him before playing Football Manager 2024, but I definitely know who he is now.
Callai might not look like anything special in season one of your save, but his potential is exceptional. On top of this, you can sign him for just £2.8 million in the first season.
Diego Callai in 2033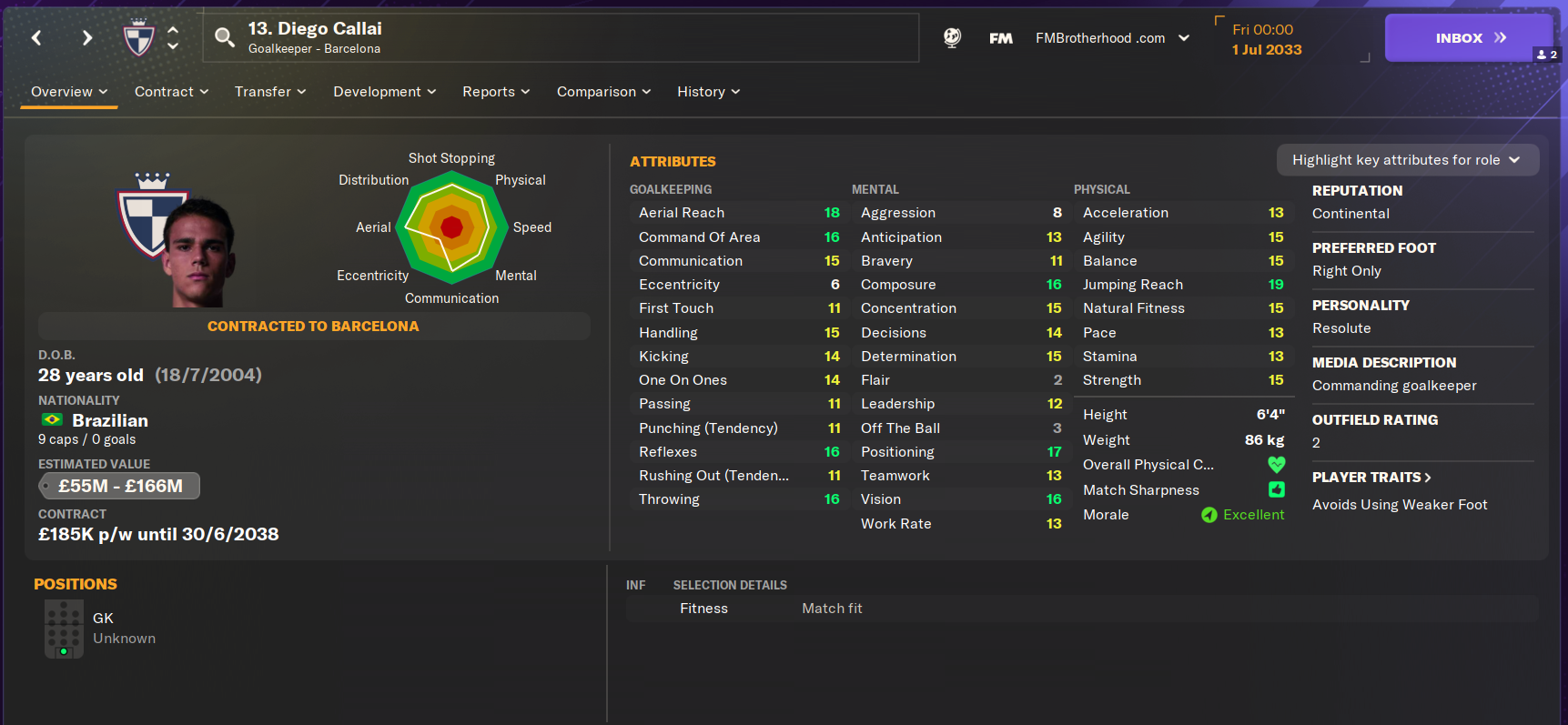 Callai is an excellent well rounded modern goalkeeper in his prime. His aerial reach, distribution, and shot stopping are all quality. Diego Callai also has world class positioning, which means he's in the right place at the right time to stop shots from the opposition.
Barcelona somehow only paid £14.25 million for him in our save, but like I said, you can get him for even cheaper in the first season.
Final Thoughts
It's actually crazy how many of these wonderkid goalkeepers you can sign for a cheap fee in season one in your FM24 save. They're all low risk investments that can become amazing in your game.
The top 3 really standout above the rest though. Dennis Seimen, Bart Verbruggen, and Diego Callai are wonderkid goalkeepers with world class potential.