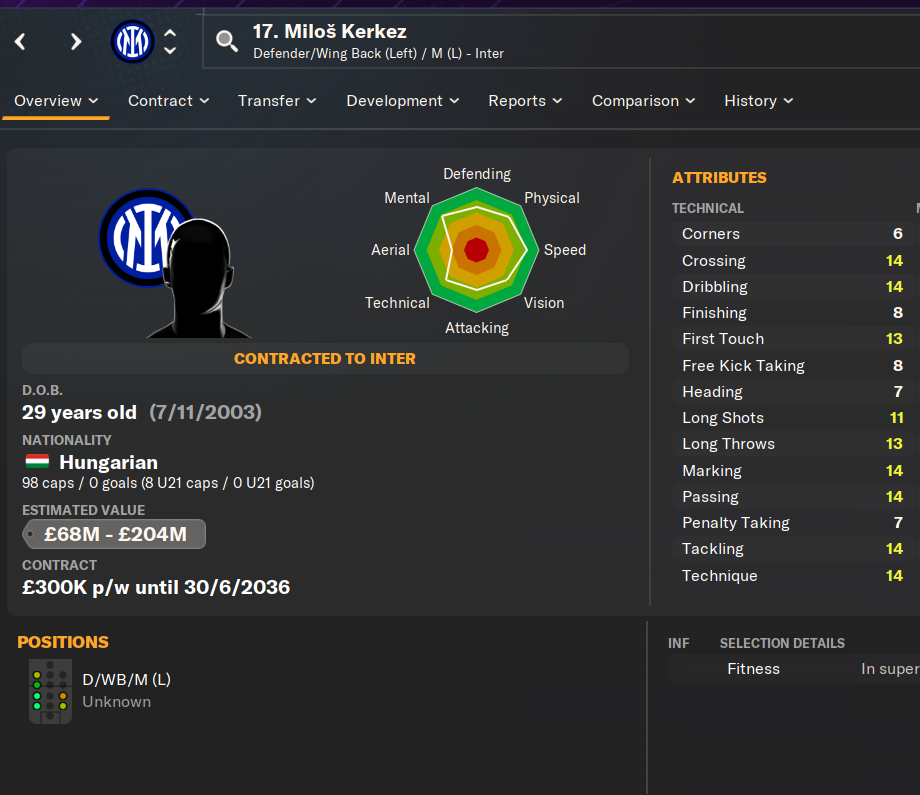 9 Best Wonderkid Left Backs in FM24 You Must Sign
By callum | October 24, 2023 | 651 Views
Best Wonderkid LBs in FM24
The full back position in football is evolving more than ever. Inverted left backs are becoming a trendy concept that football managers are starting to adopt into their style of play, and you can now use them in Football Manager 2024!
This being said, having a brilliant left back is more important than ever. This is why we've done intensive research and gone 10 years forward to find out the best wonderkid left backs in FM24.
As wonderkids have dynamic potential, they might not become as good as they did in our save. Or, they could be even better in your save. Giving wonderkids consistent first team football and a quality training regime will give them the best chance of reaching their potential ability.
The wonderkid LBs on this list are aged 20 or younger at the start of your FM24 save.
If you want a left winger wonderkid to add more potential to your left side of the pitch, read this article too.
9. Amar Dedic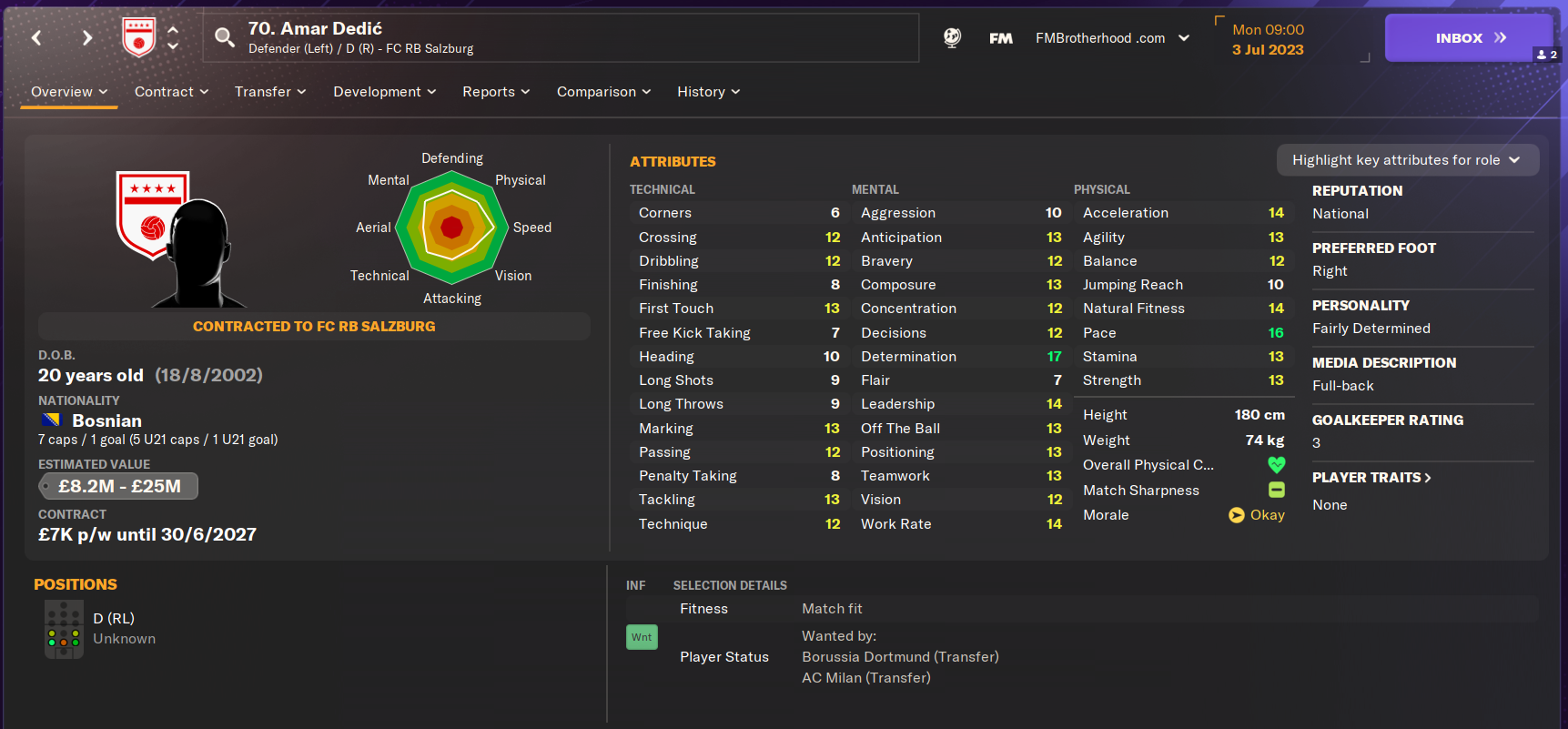 Dedic is an interesting wonderkid left back, because he's right footed. He could be a great option for your team if you want to play an inverted left back that comes inside. Amar Dedic has a lot of the fundamental attributes you want in a left back.
He's quick, good at defending, and has the ability to go forward. This combined with his amazing versatility makes Dedic a brilliant wonderkid LB option. He's wanted by Borussia Dortmund and AC Milan though, so make your move quickly.
Amar Dedic will cost you £16.5 million in the first season of FM24.
Amar Dedic in 2033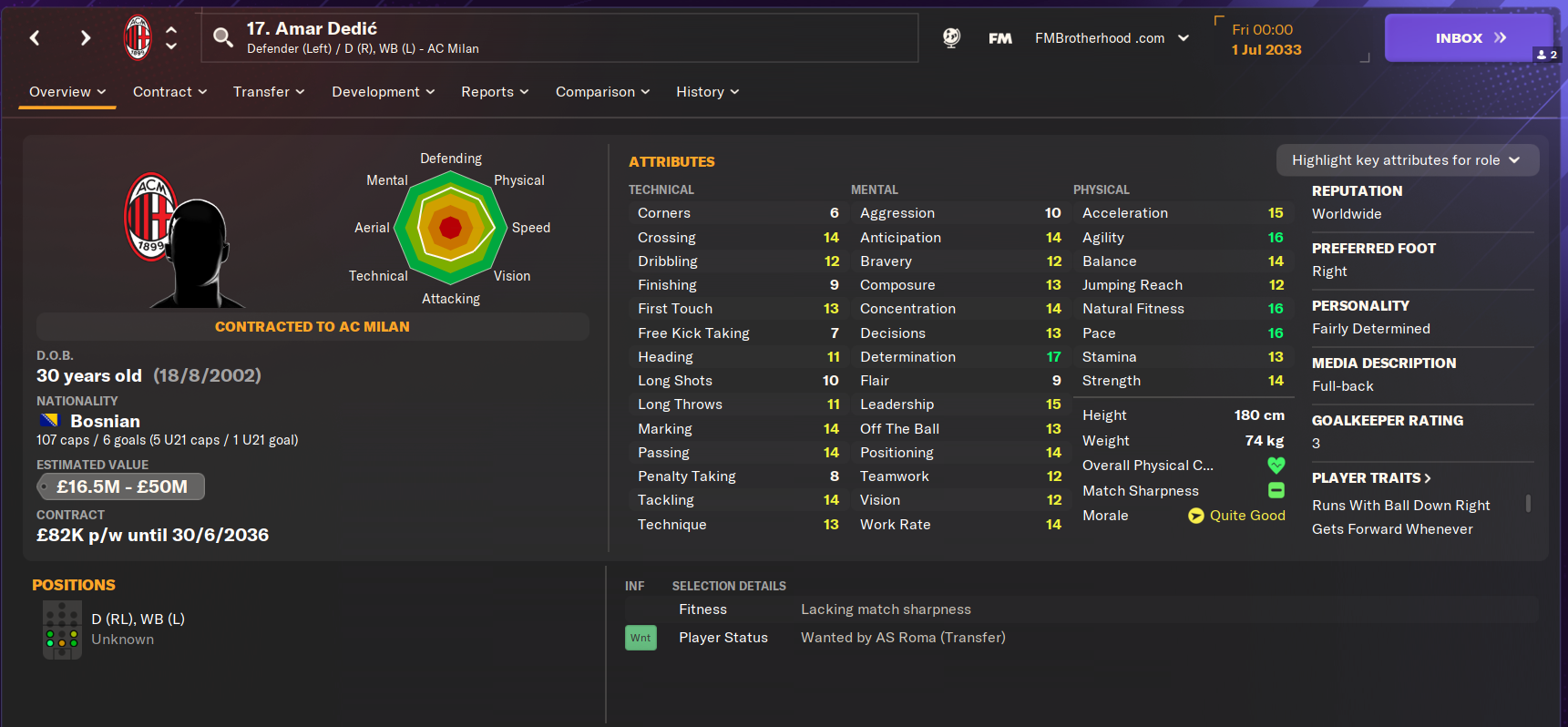 Across ou FM24 simulation, Dedic has played for Manchester United, Villareal, and AC Milan. He's improved all across the board, but his physicals are definitely his standout attributes.
He's got over 100 caps for the Bosnian national team, and is also their captain. Amar Dedic is a very solid option for those looking for a wonderkid left back in Football Manager 2024.
8. Tiago Parente – Best Cheap Wonderkid Left Back in FM24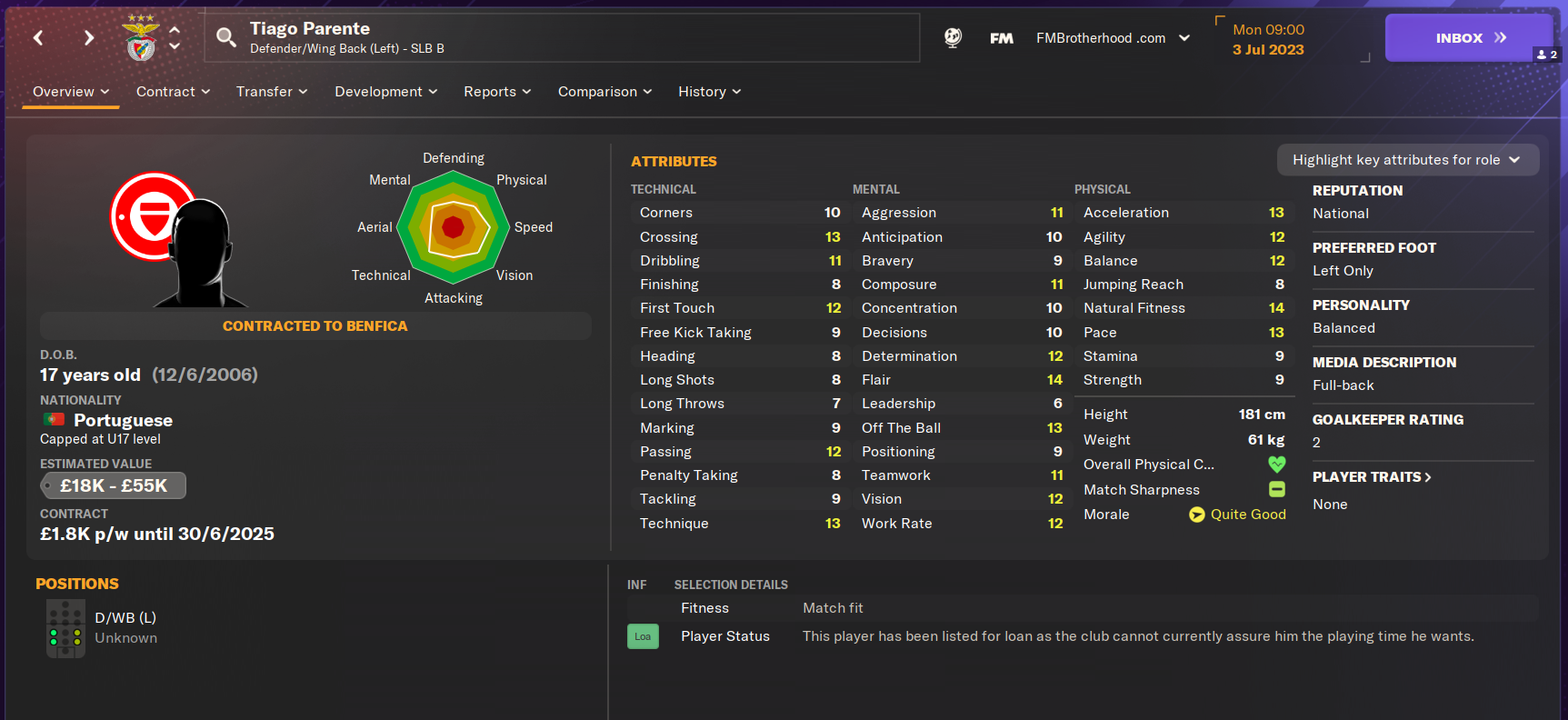 Next on the list of the best wonderkid left backs in FM24 is Tiago Parente, who is a very attacking wonderkid LB. He's already been capped by the Portuguese youth team, and he plays for top Portuguese side Benfica, who have a history of developing wonderkids.
With 13 crossing and technique, Parente can already put a good ball into the box. His defensive attributes of course need to improve, but he's only 17 years old.
What makes Parente stand out is he can be signed in the first season for just £37k! No, that's not £37 million. 37 Thousand pounds.
Tiago Parente in 2033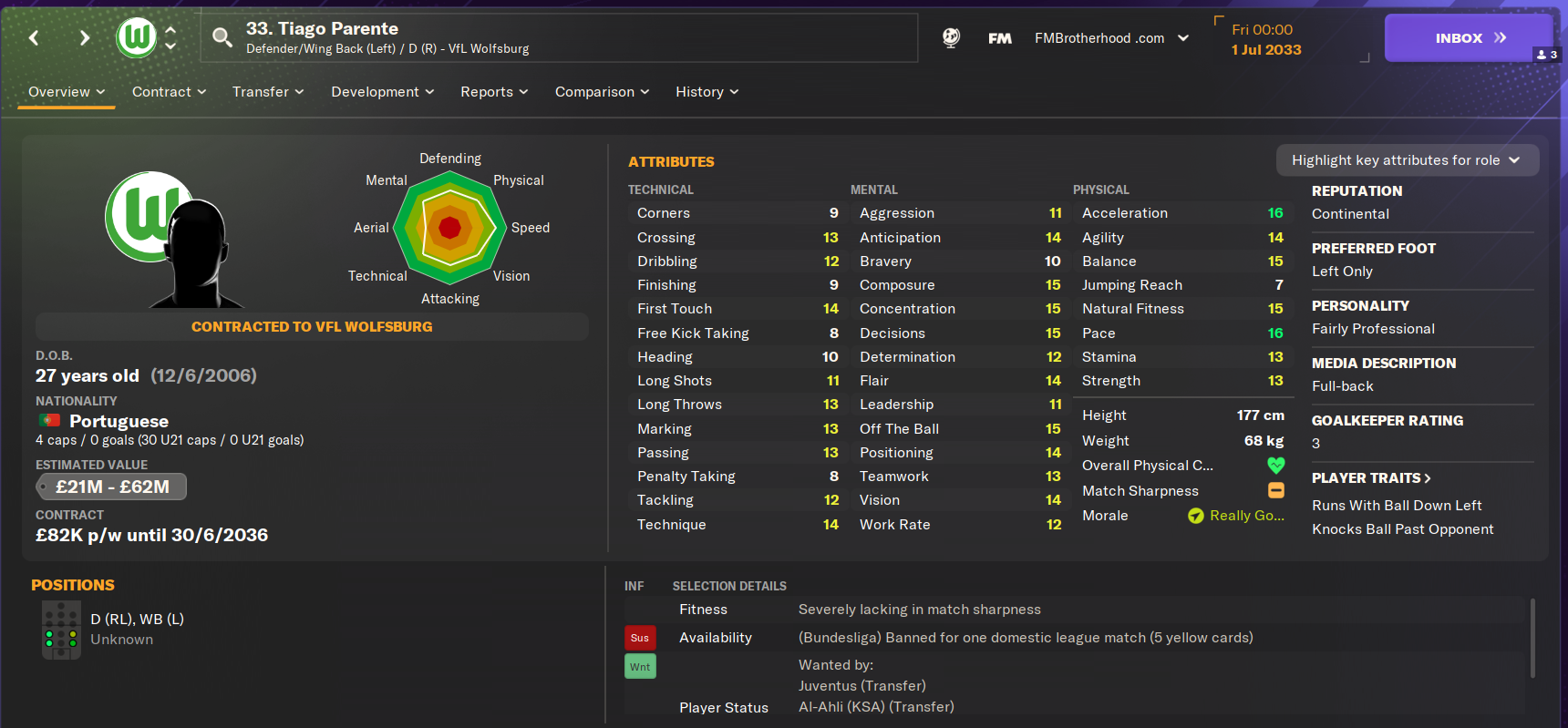 Now you can see why £37k is such a ridiculous bargain for this FM24 wonderkid LB! Ignore the small amount of caps for Portugal. Remember that Nuno Mendes exists.
Parente has the potential ability to develop into a quality left back/left wing back. His defensive attributes have improved and are now more than fine. He's got faster, and is now strong enough to keep a hold of the ball and take it from opposition wingers. You can get all of this for just £37k at the start of the game, if you're able to develop him correctly.
This is a must sign wonderkid left back if he's willing to join you, and he makes our other list of the best cheap young players in FM24.
7. Davide Bartesaghi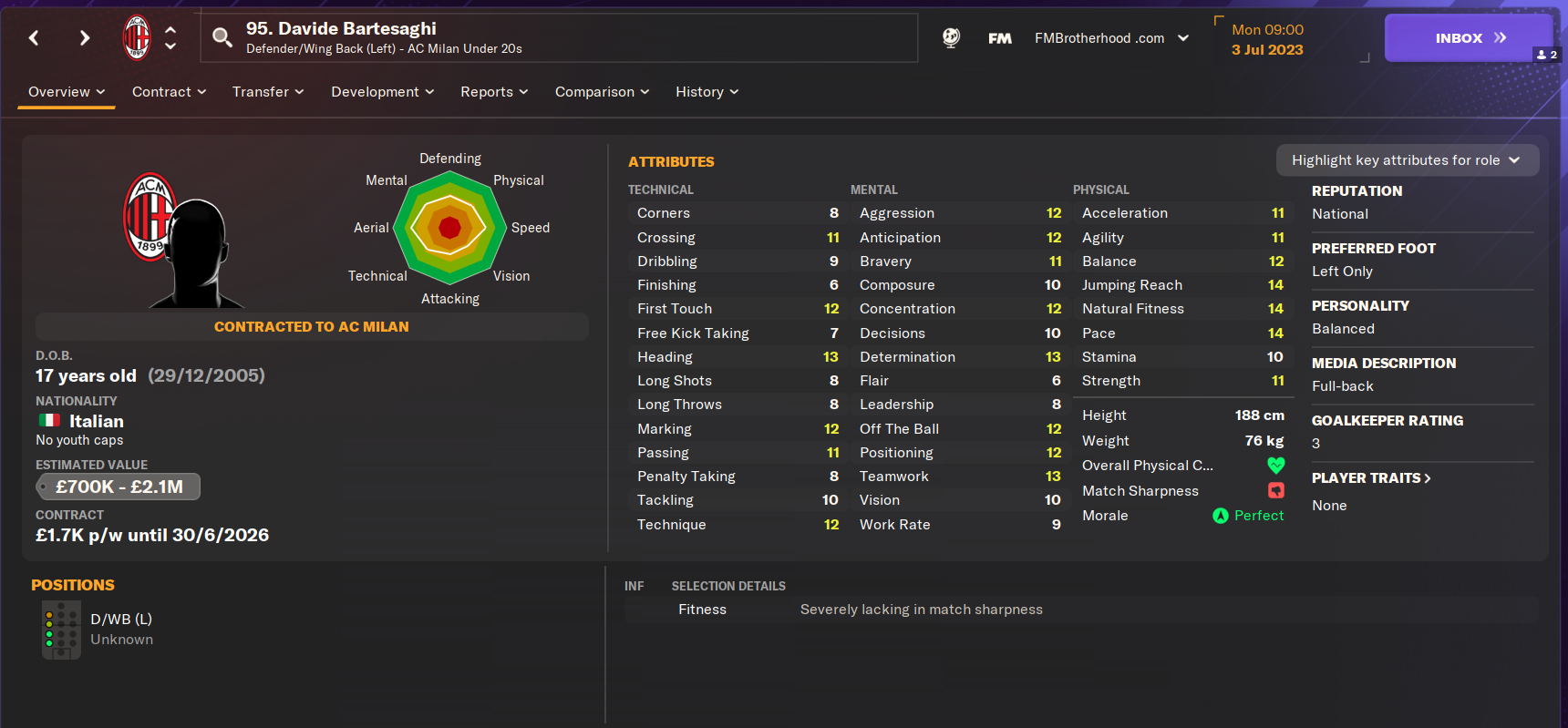 Bartesaghi is a very tell wonderkid left back in FM24 who is dominant in the air. He would be perfect as a left back that can tuck in to create a back three, while your right back pushes forward and joins the midfield. Davide Bartesaghi can play as a left wing back too.
He doesn't really have any standout attributes, but he's still just a teenager. There's plenty of time for his attributes to develop which allows him to become one of the best left backs in Football Manager 2024.
Sadly you can't sign Davide Bartesaghi in the first FM24 season because he's only just signed a new contract.
Davide Bartesaghi in 2033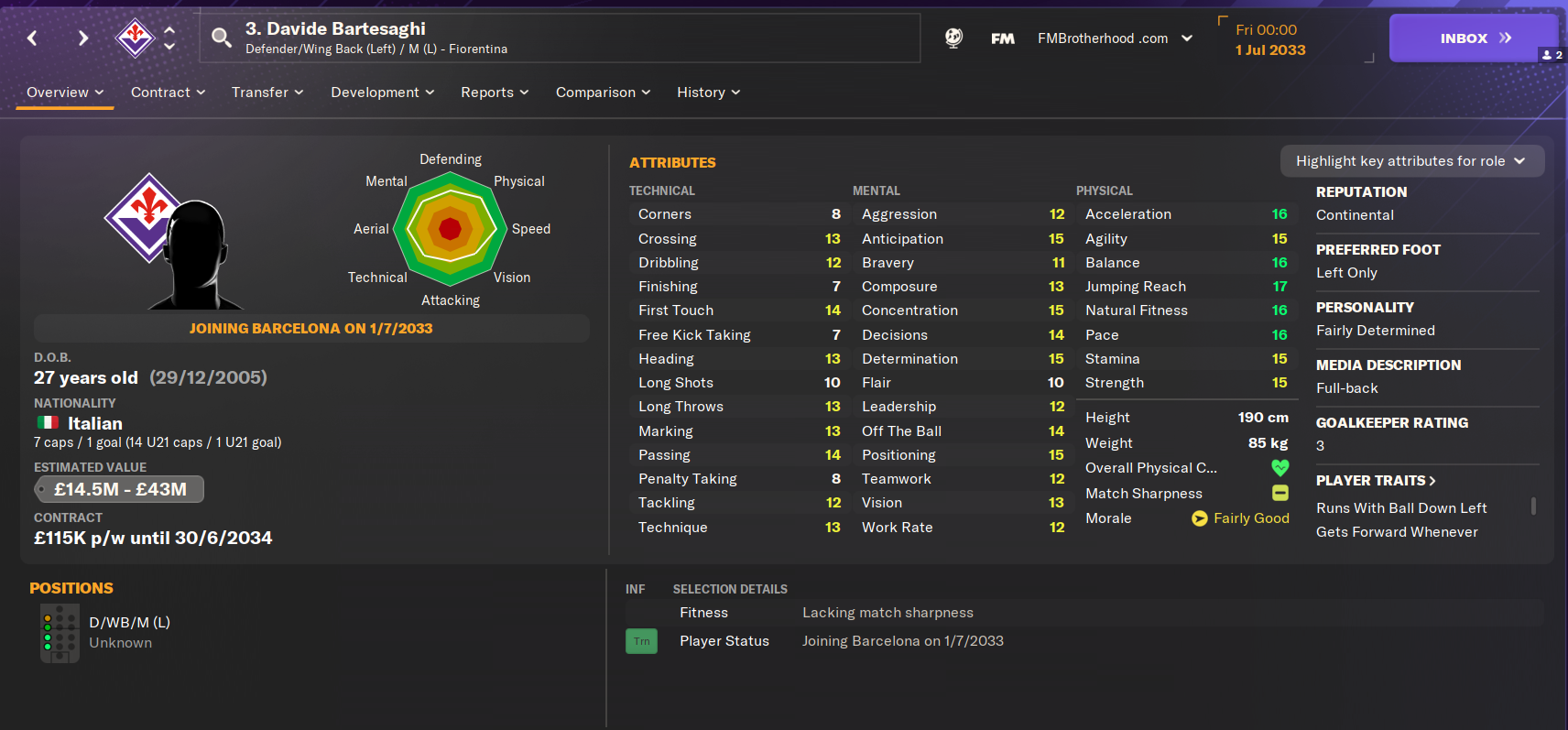 After struggling for game time at AC Milan, Davide Bartesaghi moved to Fiorentina for £10 million, and has developed into a top left back. The wonderkid left back's physical attributes are amazing in his prime, with each stat rates 15 or above. Bartesaghi has top quality mental attributes too, including 15 anticipation, concentration, and positioning.
Don't worry about his lack of caps for Italy. There is another Italian wonderkid LB in FM24 that appears higher in this list.
6. Harry Amass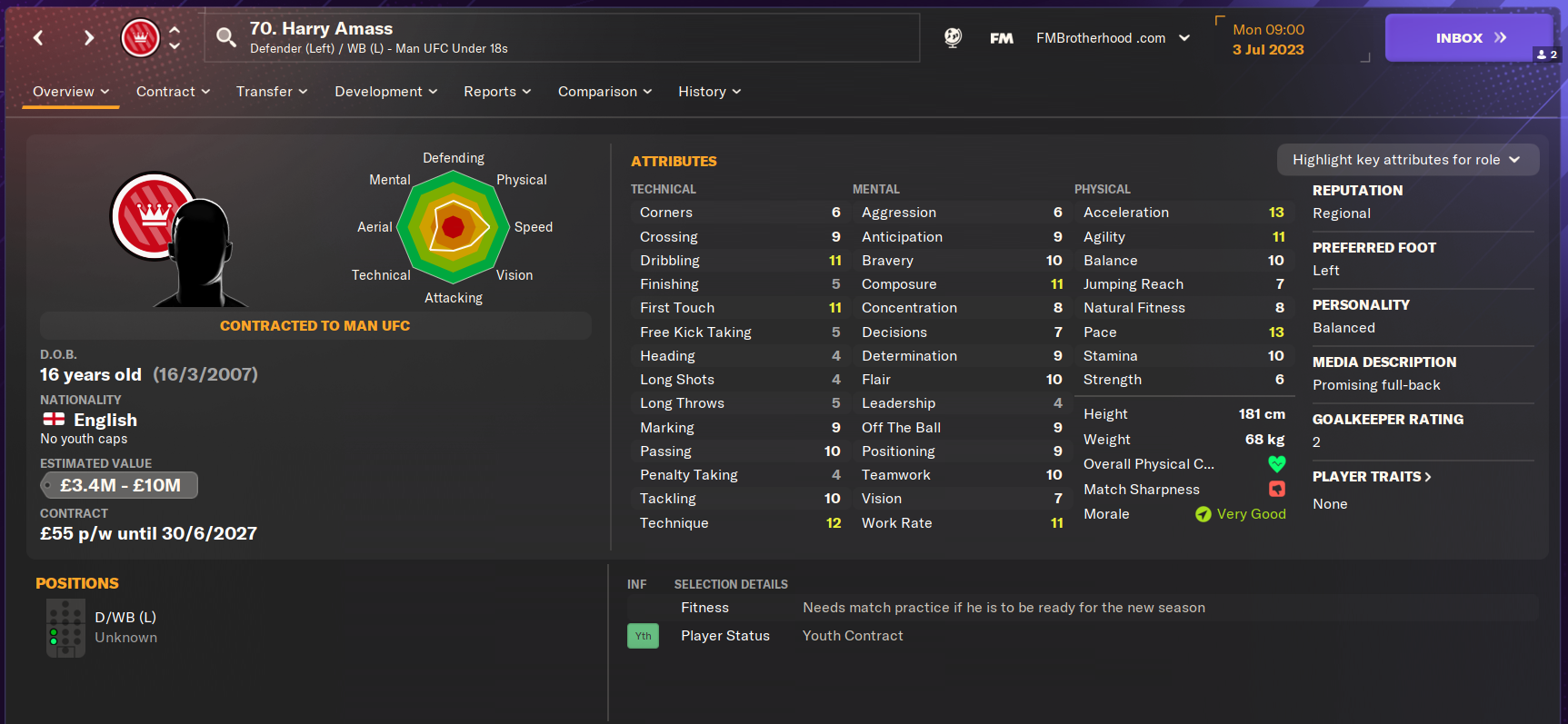 Harry Amass is a 16 year old left back who recently moved across from Manchester City to Manchester United. He's a highly regarded wonderkid full back who's quick and good on the ball.
Amass obviously still got a long way to go in his development. He's the youngest on this list of the best wonderkid left backs in Football Manager 24.
Harry Amass in 2033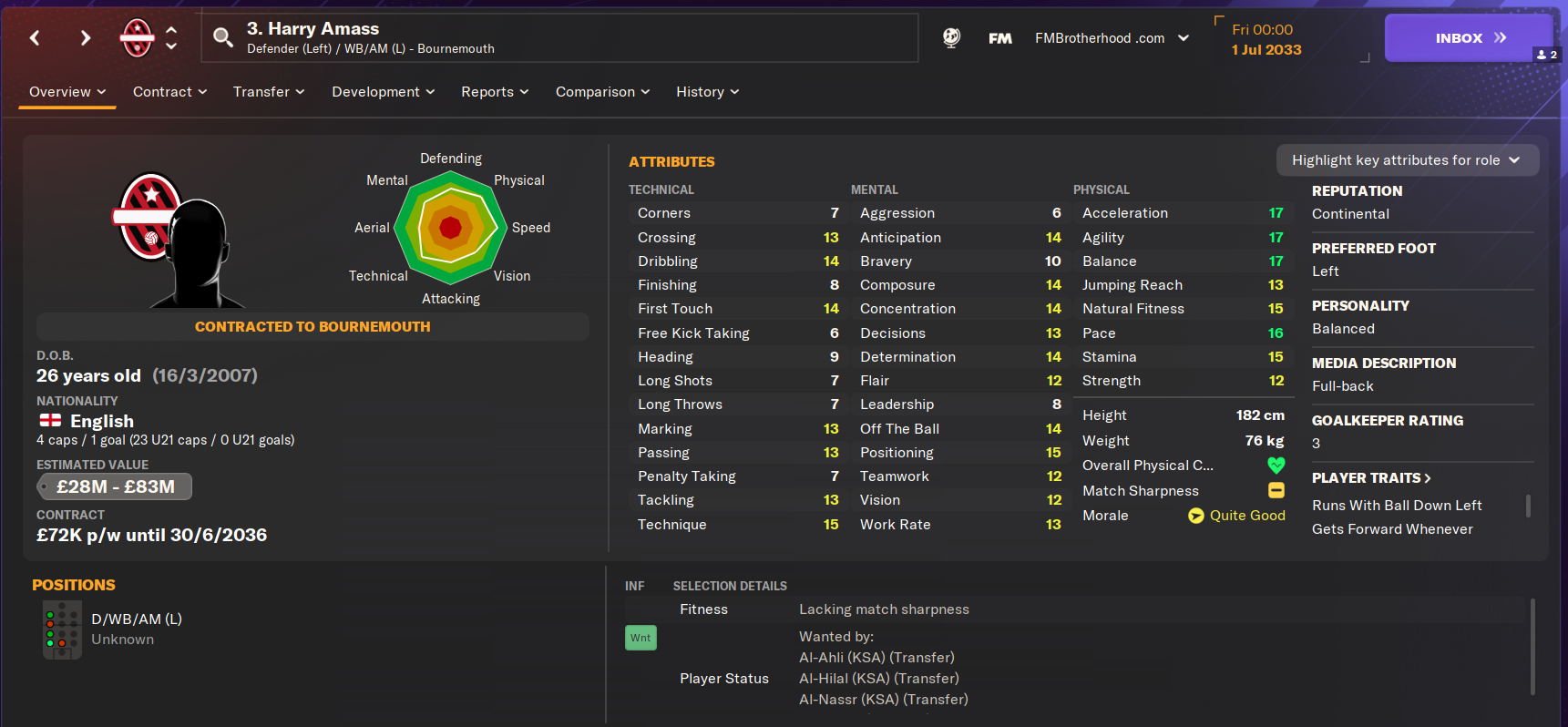 I think that Harry Amass has to be the most improved wonderkid left back in FM24 on this list. After four different loan spells, he was still unable to get game time at Manchester United. But he's now a first team player in the Premier League for Bournemouth.
10 years into your save Amass is only 26 years old. If you can manage to sign him in the first few seasons of your FM24 save, you could have a quality left back for the next 10-12 seasons.
5. Matteo Ruggeri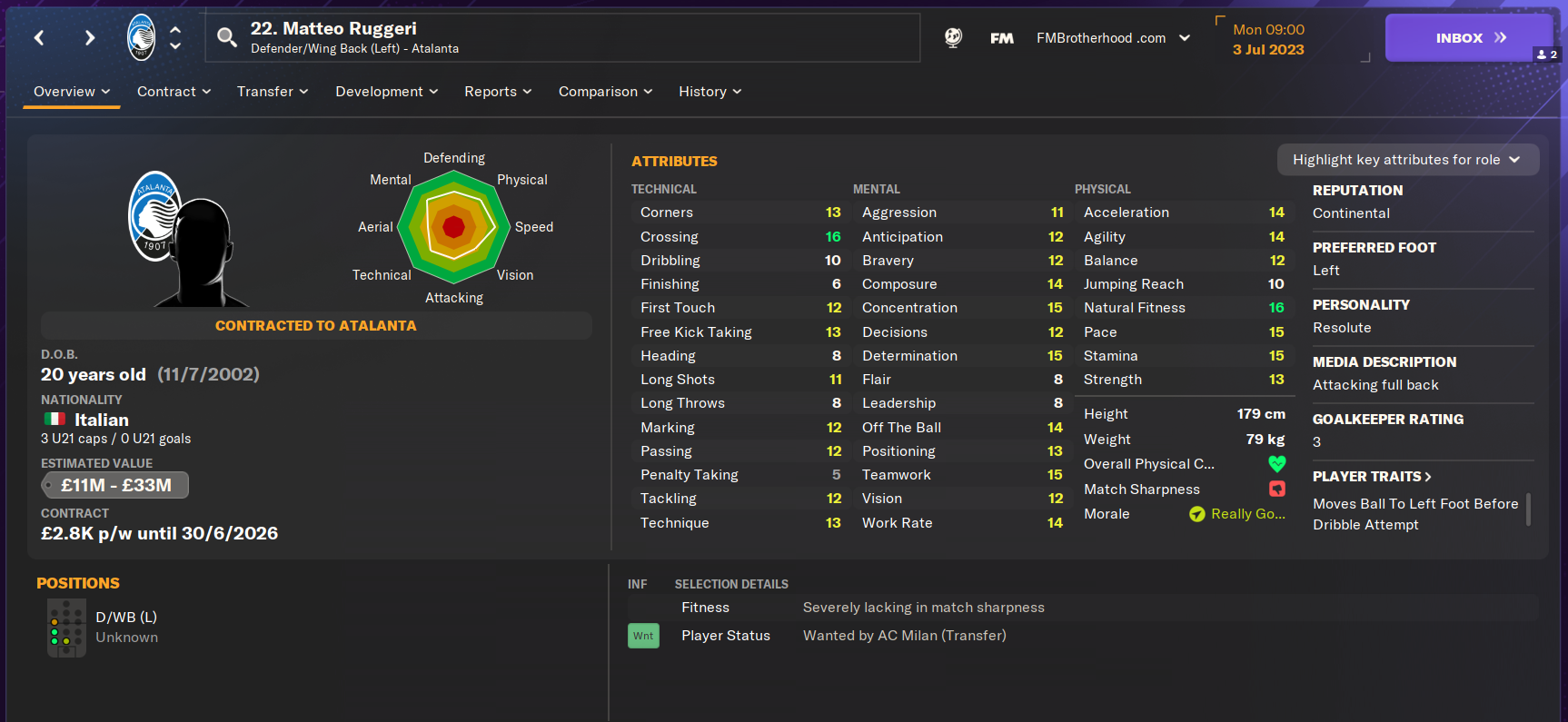 This Italian wonderkid has 16 crossing at just 20 years old. The media describe Ruggeri as an attacking full back, which is backed up by his attributes.
He has very well rounded physical and mental stats too. Ruggeri's 15 stamina will allow him to get up and down the left flank for the whole 90 minutes. Matteo Ruggeri can be picked up in the first Football Manager 2024 season for £22 million.
Matteo Ruggeri in 2033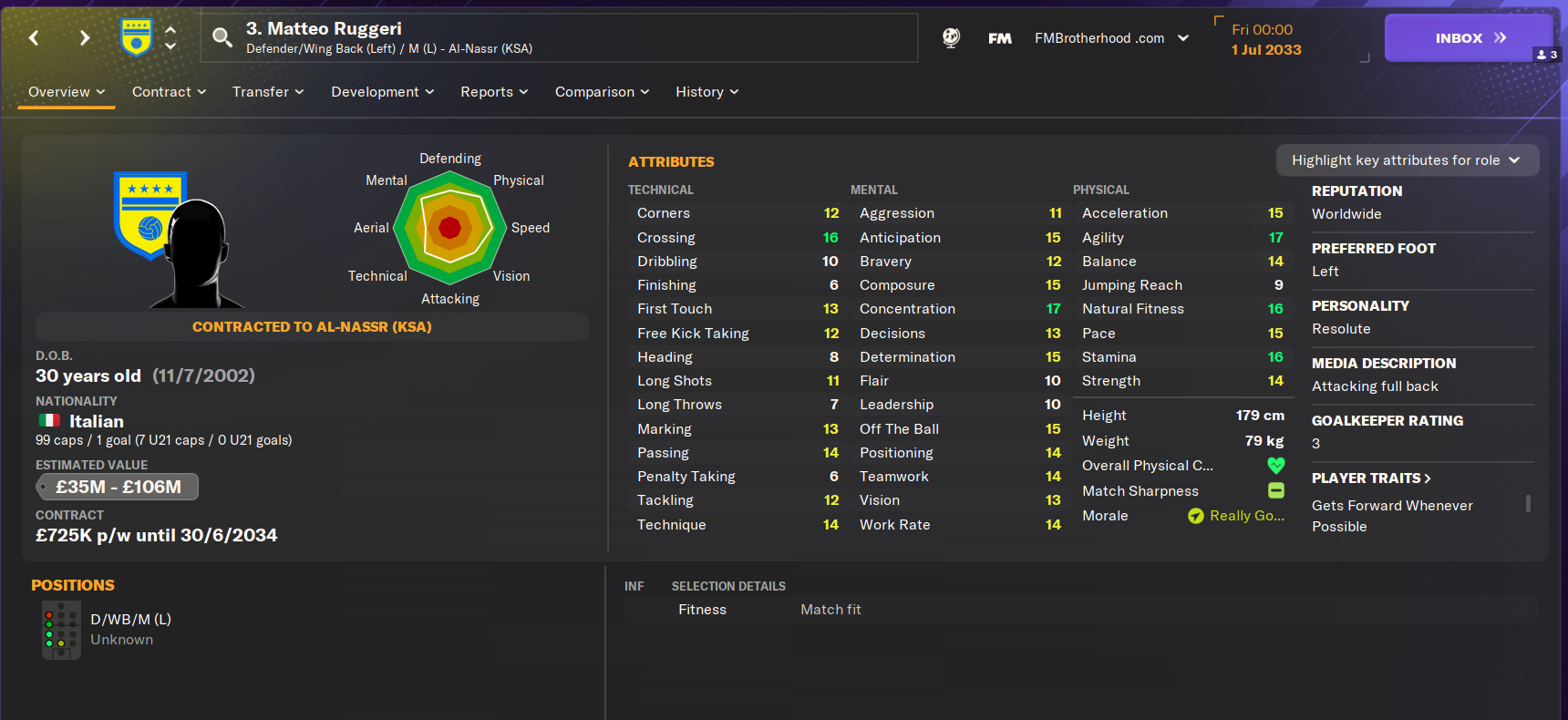 Ruggeri has moved to Arabian side Al-Nassr for £57 million and is on a huge £725k per week! He's the reason that previously mentioned lb wonderkid Davide Bartesaghi hasn't made many appearances for Italy.
Matteo Ruggeri is so good going forward, and in his prime has some superb mental stats, such as 15 anticipation, 17 concentration, and 15 off the ball.
4. Luca Netz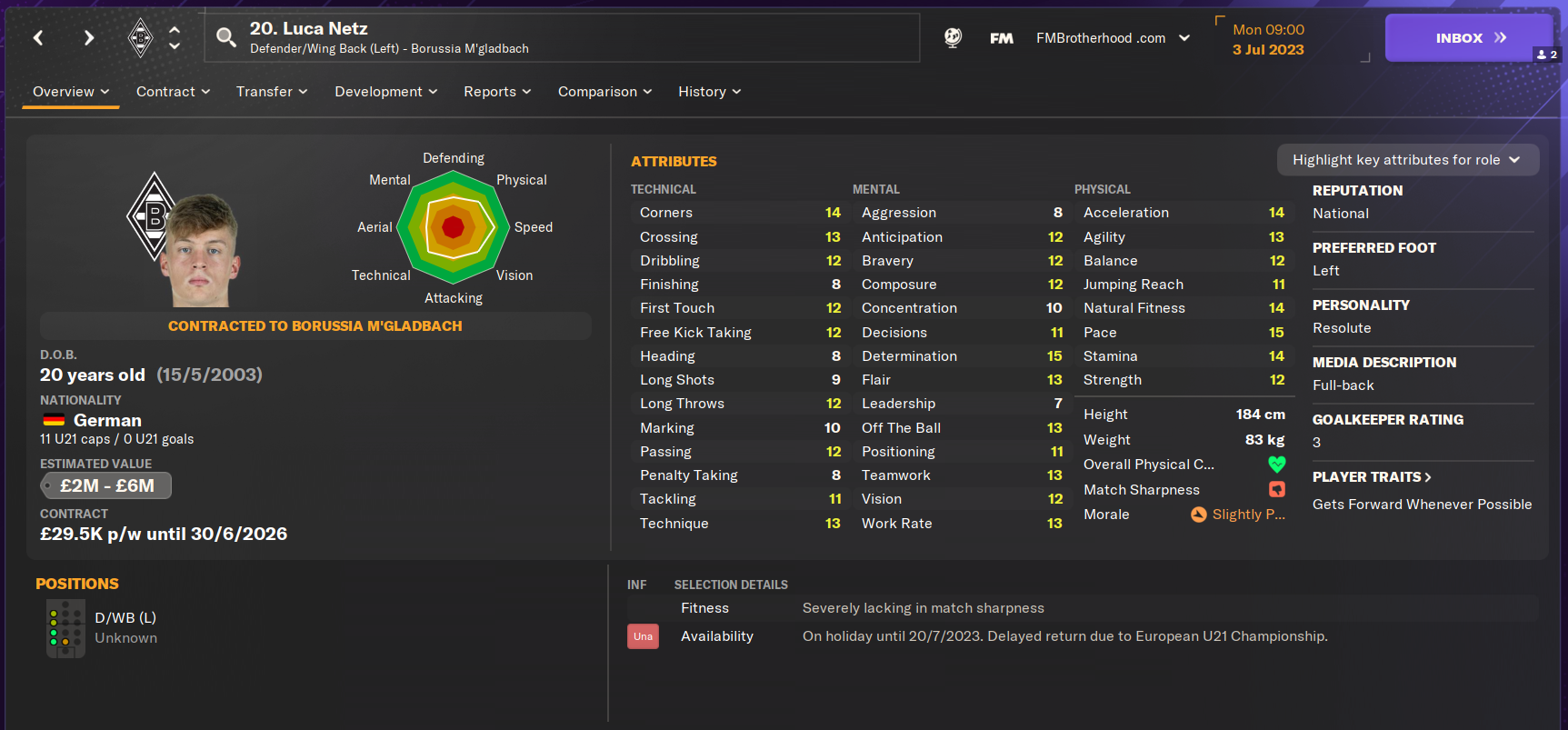 Luca Netz is a well known left back wonderkid in the Football Manager community, and it's no different for FM24. He already consistently plays for the German Youth team, and it'll only be a matter of time until he's a regular starter for the first team. His best attributes are 15 determination, 14 corners, and 15 pace.
Netz is a cheap wonderkid left back in Football Manager 2024, costing just £4 million!
Luca Netz in 2033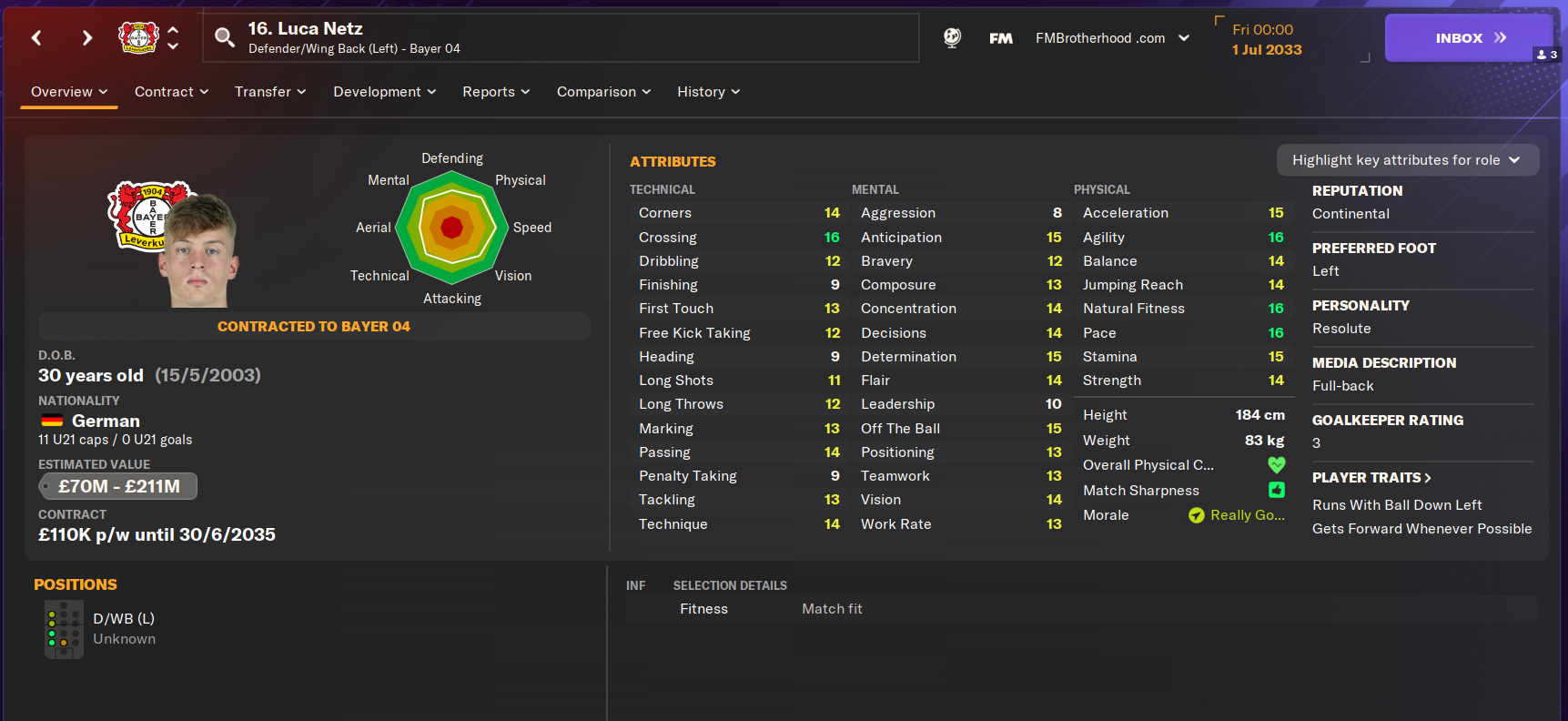 Look what just £4 million can get you. Netz has the potential ability to develop into a great left back. His crossing has improved from 13 to 16, and his marking from 10 to 13.
Bayer Leverkusen ended up paying £40 million for him, which is 10 times more than they could've paid for him if they bought him in the first season instead. This is why it's important to sign left back wonderkids as early as possible in FM24.
3. Valentin Barco

Barco is an extremely attacking left back wonderkid in FM24, with 15 dribbling, 13 long shots, and the ability to play up the whole left hand side of the pitch.
He's best played as a left back or left wing back. And would be a brilliant inverted player coming into the midfield. Barco's passing ability and vision mean he can pick out passes in tight spaces.
What makes Barco even better is he's one of the best cheap wonderkids in FM24, with an £8 million release clause. This is insane value for money considering his quality and potential ability.
Valentin Barco in 2033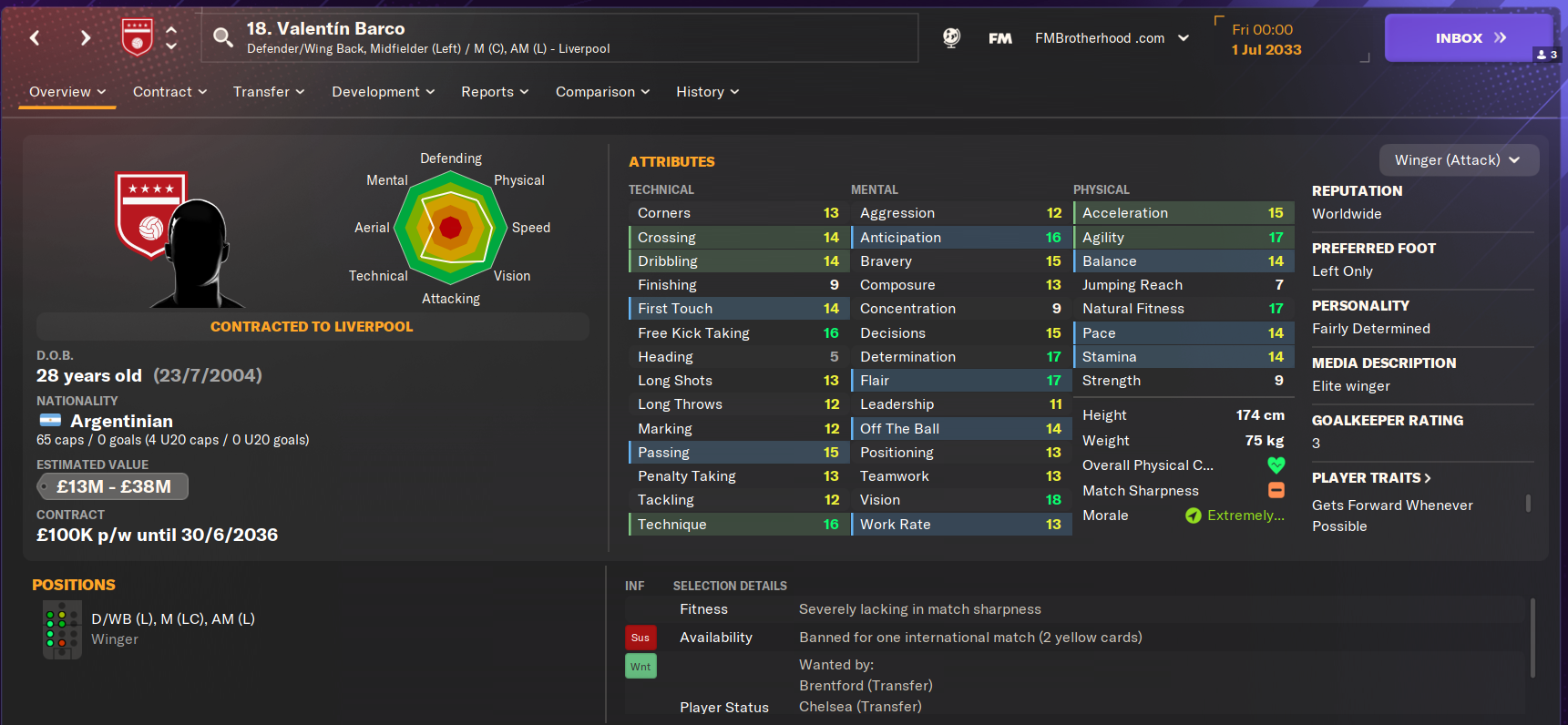 Across his career in our FM24 simulation, Valentin Barco has played for AC Milan, Barcelona, and Liverpool. He is such a creative full back that can add a completely new aspect to your build up play. You will struggle to find a more attacking left back than Barco.
He's also brilliant at free kicks, and has 17 flair, which will allow him to easily beat opposition full backs and put in a good cross.
2. Milos Kerkez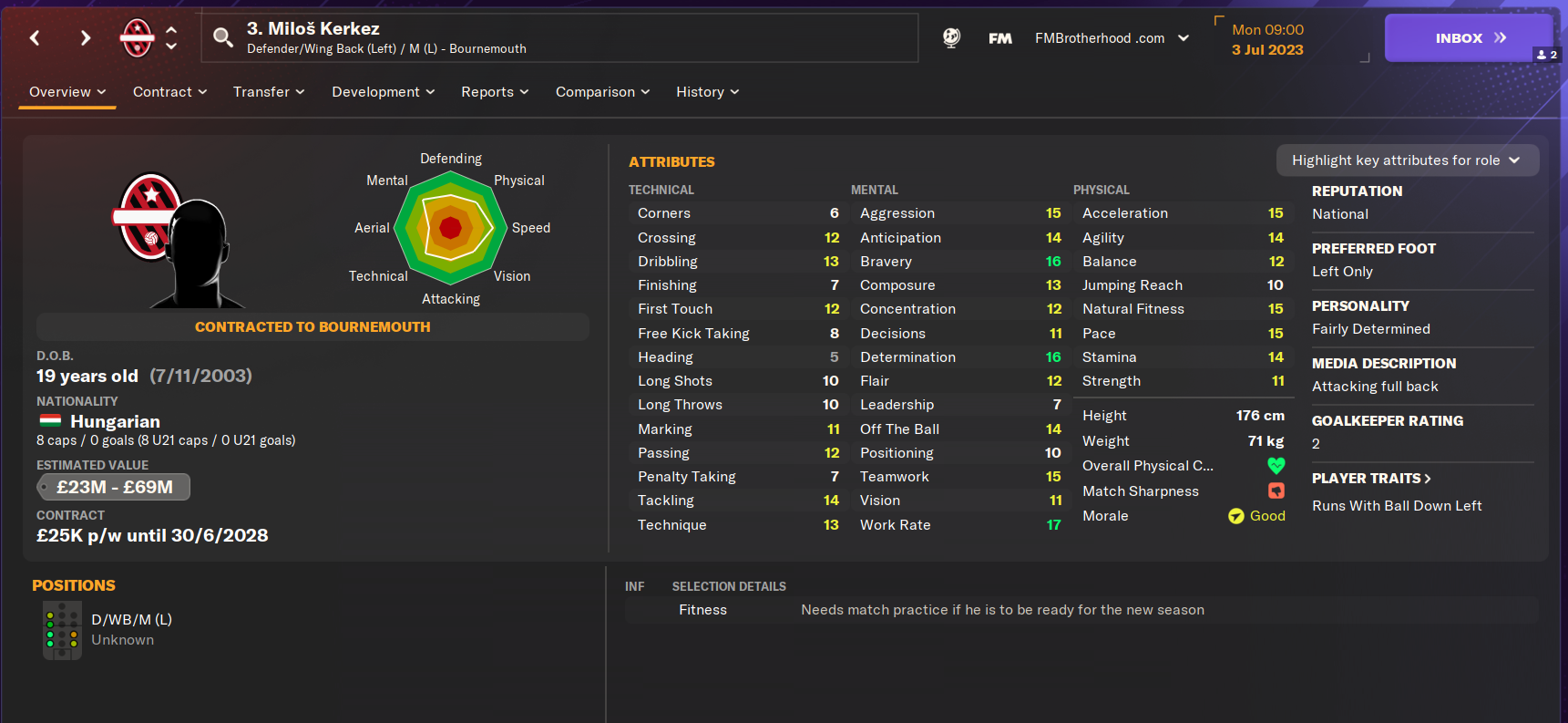 Milos Kerkez is already a first team player for the Hungarian national team at just 19 years old. He just misses out on top spot on this list of the best FM24 wonderkid LBs.
Kerkerz's mental attributes standout amongst others on this list. He has 16 bravery, 17 work rate and 16 determination. The high determination and work rate give Kerkez the best chance of reaching his high potential. If he plays regular first team football from the first season, he will be amazing in his prime.
As Kerkez only signed for Bournemouth in the summer, he's unable to be signed in the first season.
Milos Kerkez in 2033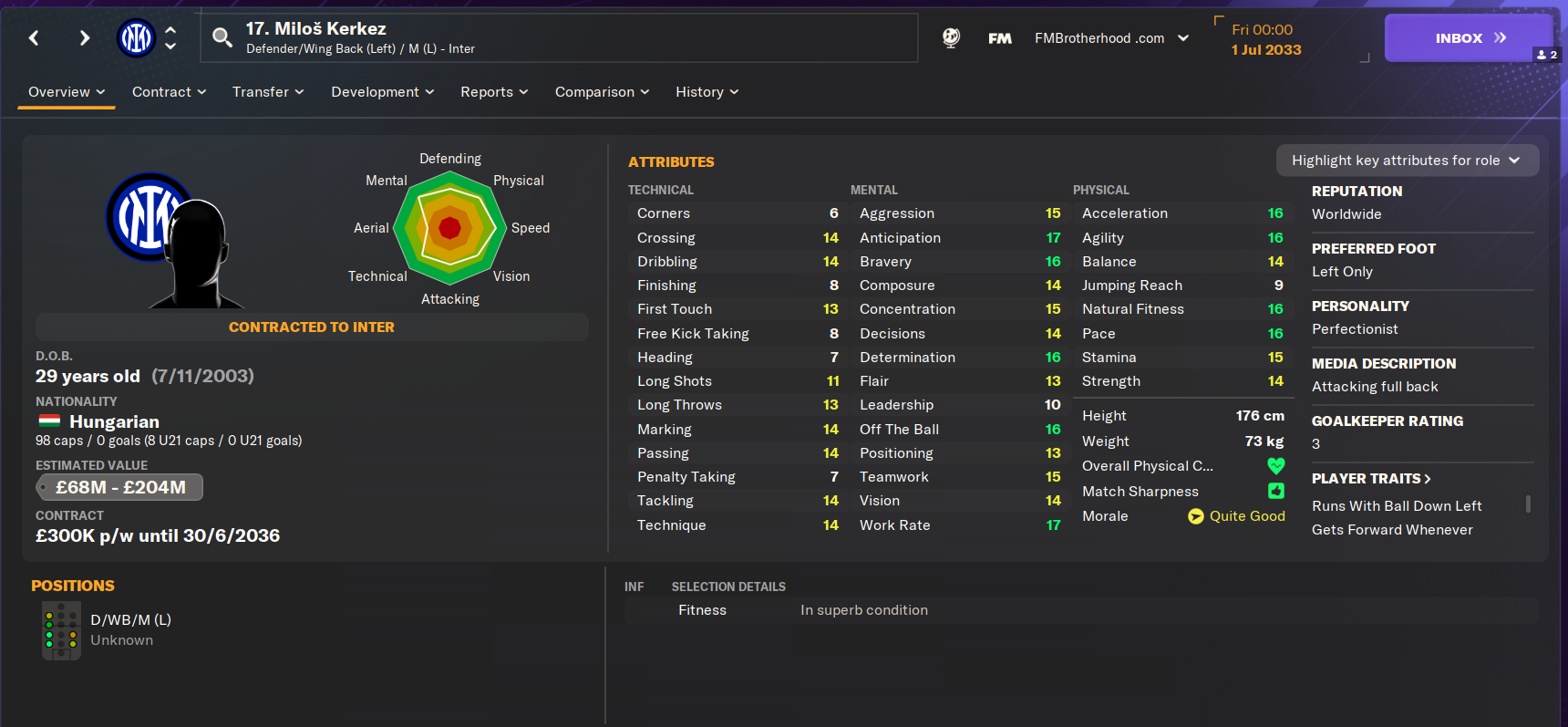 Kerkez has seen some unbelievable development, and has definitely hit his potential ability. His anticipation has increased from 14 to 17, and his concentration from 12 to 15.
In his prime, this wonderkid left back is worth between £68-£204 million. Apart from aerial ability (which is hard to find in most full backs) Kerkez excels in everything else you want in a left back. Bournemouth are one of the weaker teams in the Premier League, so if they get relegated in the first season, you might be able to pick up Kerkez for a cheap price in the 2nd season.
1. Alejandro Balde – Best Wonderkid LB in FM24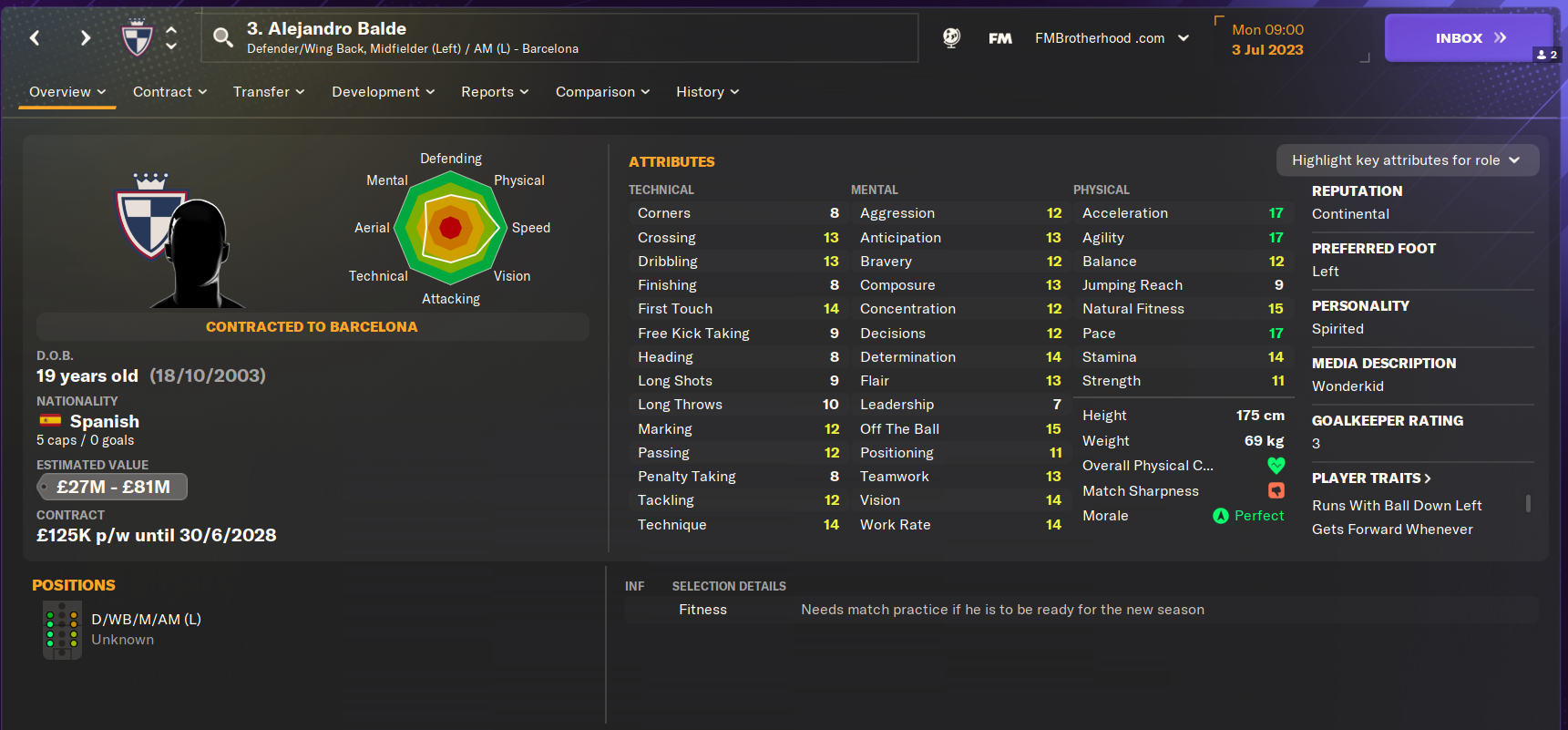 This probably comes as no surprise, but Alejandro Balde is the best wonderkid left back in FM24. He's become Jordi Alba's long term replacement at Barcelona, and it won't be long before he's discussed amongst the best left backs in the world.
Balde's current ability has seen a big increase from FM23. His rapid pace and agility allows him to get up the left wing and beat defenders to put in a cross. He's got solid defensive attributes for a teenager, and his mental attributes are rated 12 and above except from his leadership and positioning.
After signing a new contract at Barcelona until 2028, Balde wants to continue his development at the club. You might be able to sign him in the 2nd season if you're managing a top club. However, expect to pay a huge fee for this FM24 LB wonderkid.
Alejandro Balde in 2033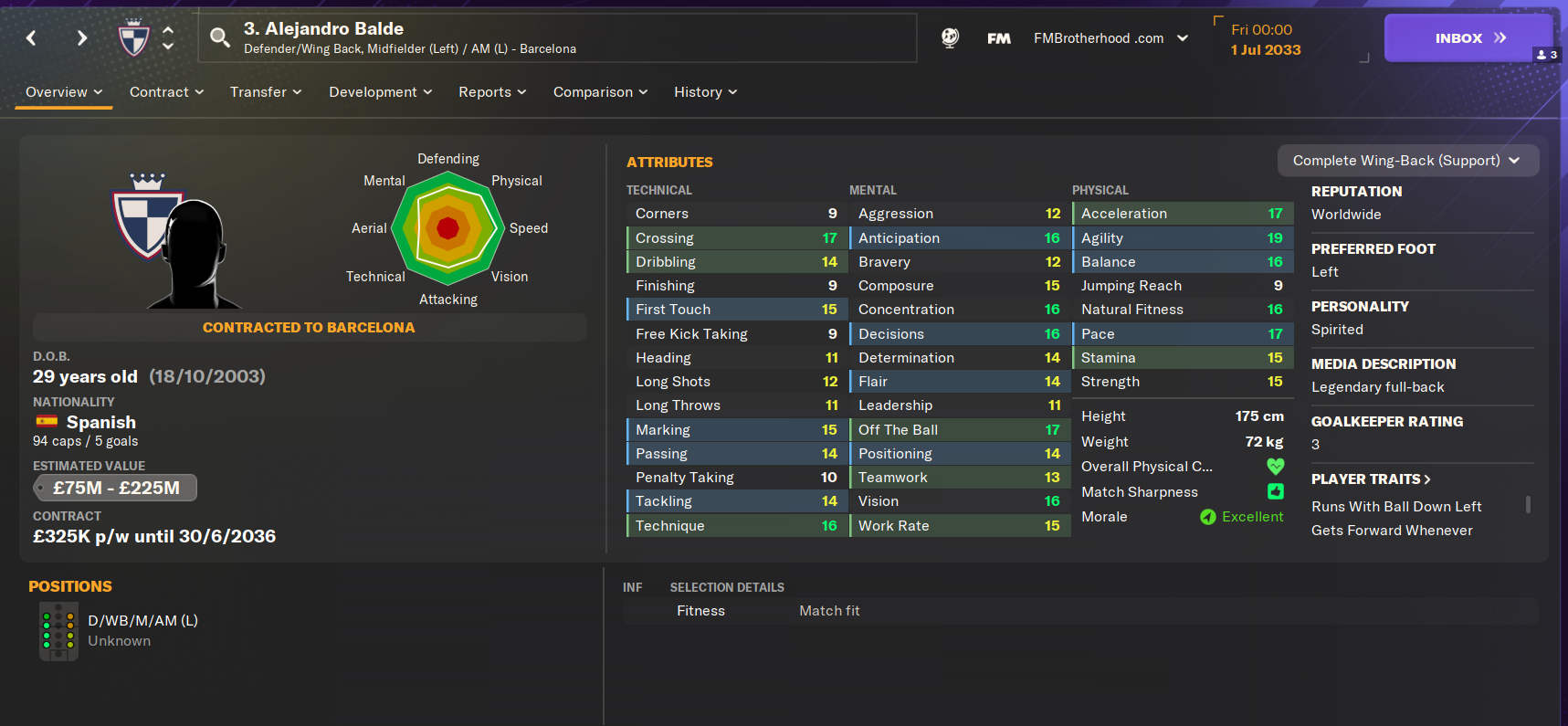 There are some brilliant wonderkid LBs in FM24, but Balde stands out as by far the best. He has 12 attributes rated 16 or higher, which includes 17 crossing, and 19 agility! Balde has also got 94 caps for Spain, and made almost 400 league appearances for Barcelona, averaging a rating of 7 or higher in almost every season.
If you could craft an FM24 left back from scratch, it would be Alejandro Balde in his prime. I don't think there's a left back better than this at the start of FM24.
Which FM24 Wonderkid Left Back Should You Sign
For those of you that are desperate for a wonderkid left back in the first season, there's luckily a few options. If you want to play a really attacking style and want a left back that can invert, then Valentin Barco is the LB you want to sign.
For those managers that want a more traditional left back, then Luca Netz would do an excellent job, and only costs £4 million! Both Barco and Netz could play regular first team football from the first season.
If you've got a small budget, and don't need a wonderkid left back to play first team football straight away, then Tiago Parente needs to be the left back you sign. It's actually crazy he only costs £37k.
More FM24 Wonderkid Articles