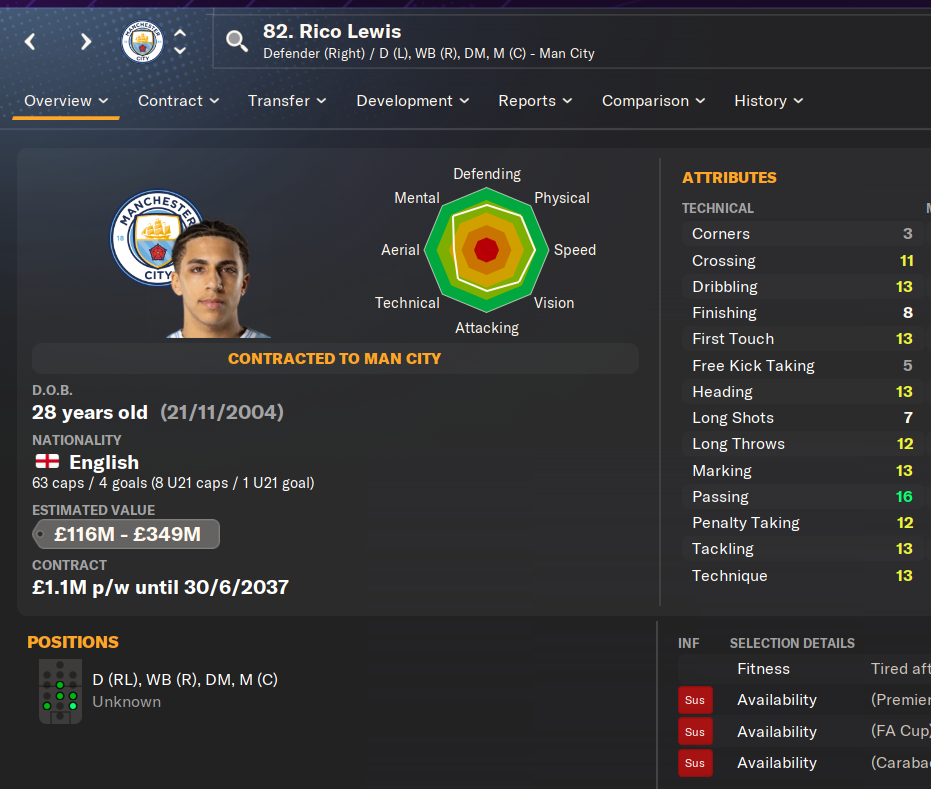 8 Best Wonderkid Right Backs in FM24
By callum | October 25, 2023 | 724 Views
Best RB Wonderkids in Football Manager 2024
Wonderkids are one of the best parts of playing Football Manager. Seeing a young player on your team develop into a world class footballer is one of the most rewarding parts of the game.
Or maybe you want to sign a wonderkid that you can improve and then sell them on for a profit. Either way, signing wonderkids is awesome!
These are the best right back wonderkids in FM24. We've conducted our research by going 10 seasons into the future, and finding the best right backs that are 20 years old or younger at the start of Football Manager 2024.
Please note that the RB wonderkids may not reach this potential in your save. However, unlike other wonderkid lists out there, we actually provide proof that these players can reach their potential.
Read this post too if you need a wonderkid left back to compliment your right back.
8. Diogo Travassos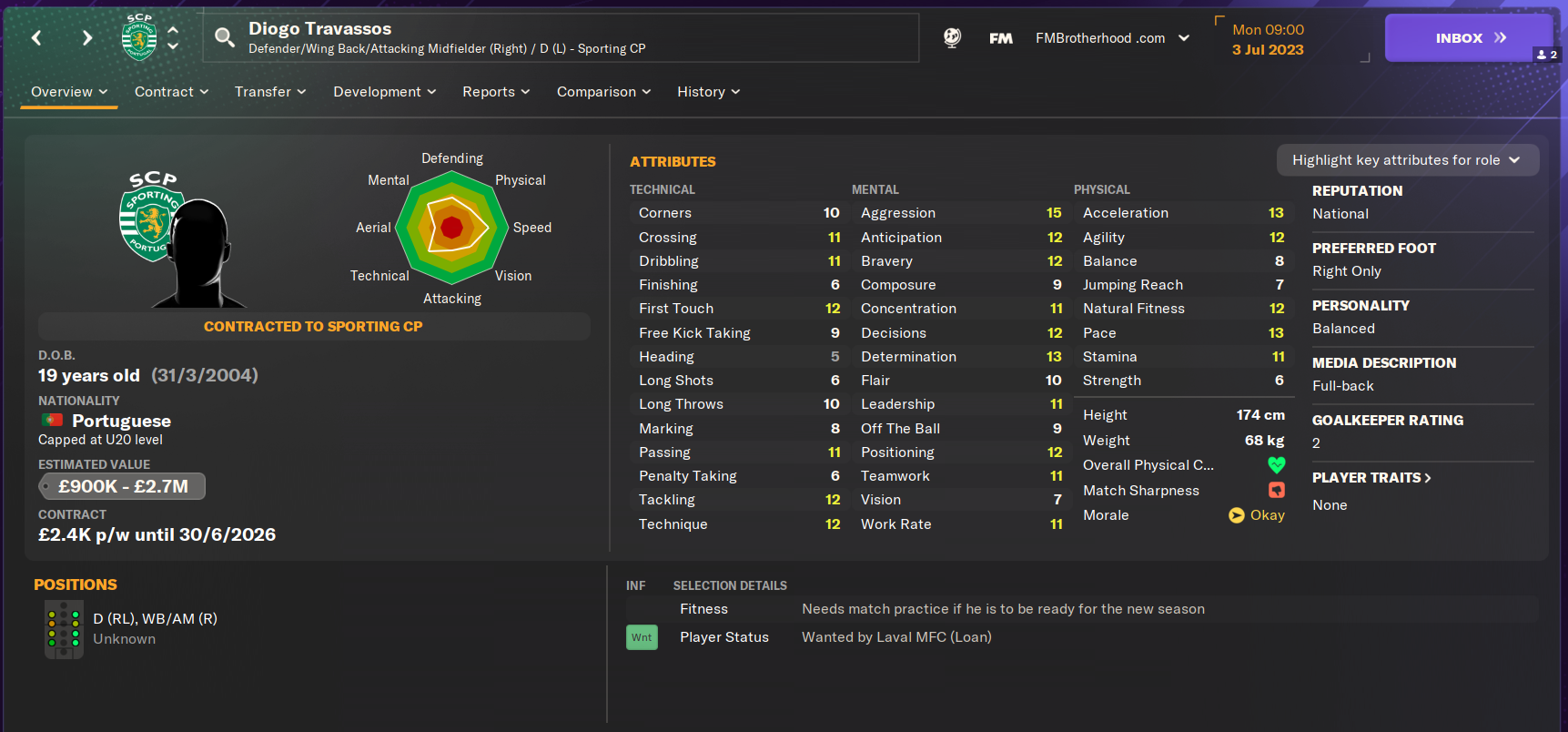 Travassos is a wonderkid right back that's already been capped at under 20 level for Portugal. He's aggressive, good in the tackle, and really versatile. Not only can he play any position down the right flank, he can also play left back. However, he's very right footed, so it might be best to avoid left back unless you train him to develop his weaker foot.
Diogo Travassos does lack physically at a young age. 6 strength means he can easily get shrugged off the ball, and his poor jumping reach, heading, and small height means he's poor in the air. This typically isn't too important for full backs, but might be depending on your style of play
The Portuguese RB is extremely cheap in FM24. costing just £1.8 million. This means there's minimal risk if the transfer doesn't work out. Although, he will struggle to get a work permit to play in England. There shouldn't be a problem if you're managing in another country though.
Diogo Travassos in 2033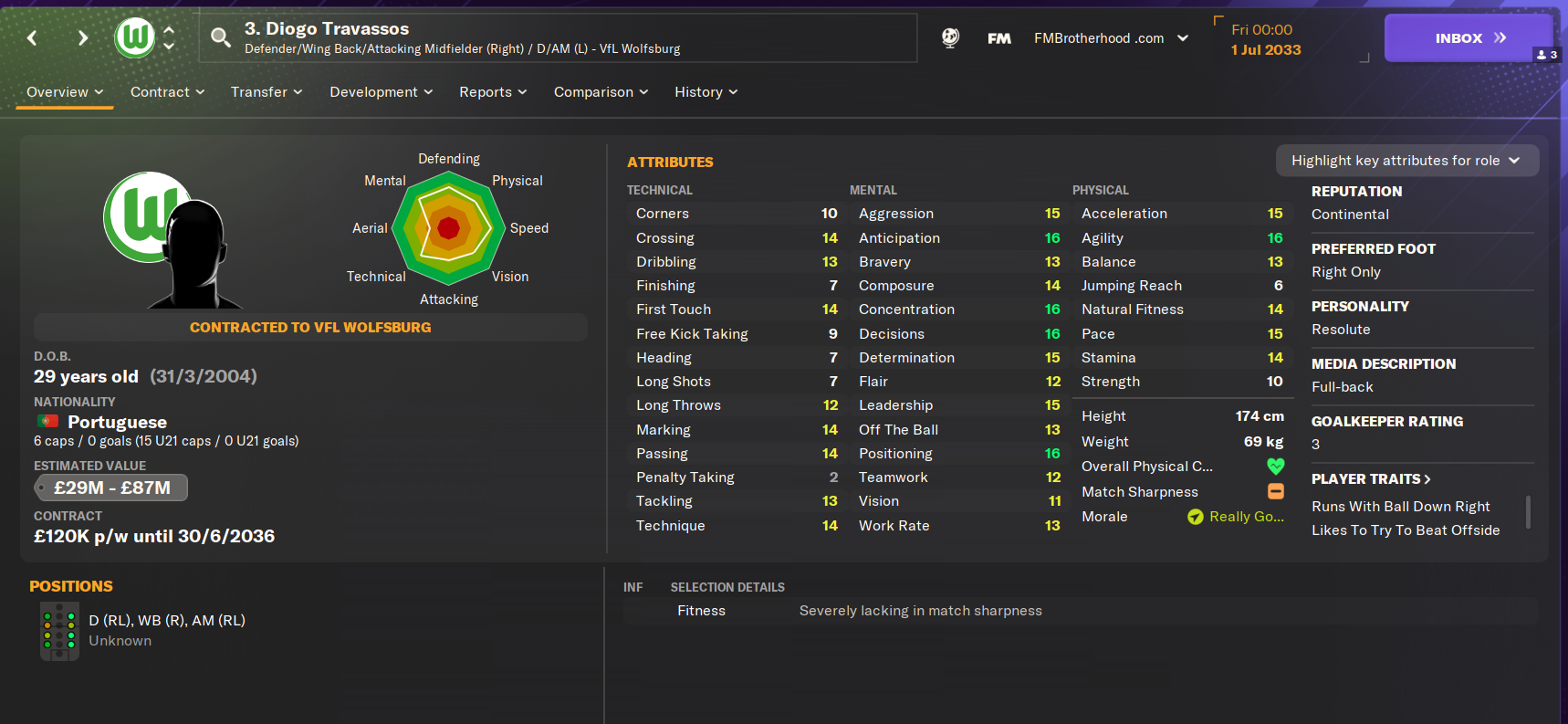 Travassos has developed into a great right back in his prime. His mental attributes are very well rounded, which include 16 anticipation, concentration, positioning, and decision making.
This wonderkid RB can also quickly get down the wing, has amazing agility to beat defenders, and 14 crossing to put a good ball into the box.
He's an absolute steal for under £2 million. But there are even better FM24 wonderkid right backs.
7. Kyriani Sabbe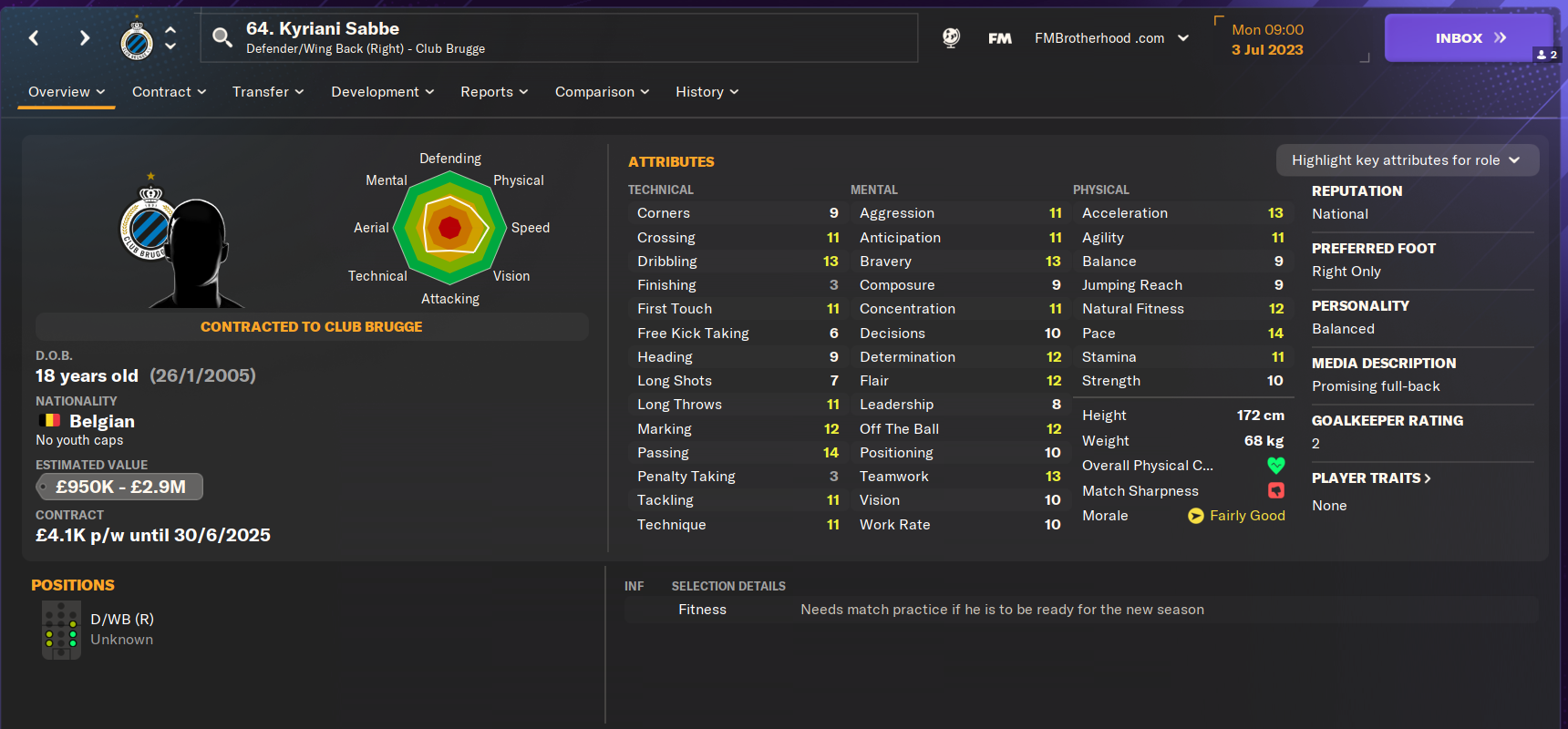 Next on the list of the best wonderkid right backs in FM24 is Belgian Kyriani Sabbe. Similarly to Travassos, he can competently play as a left back, but is very right footed.
Sabbe's best attributes are 14 passing, 13 teamwork, and 14 pace. However, he needs to improve his work rate and determination to become a top right back in FM24. He's also not interested in leaving Club Brugge in the first season.
Kyriani Sabbe in 2033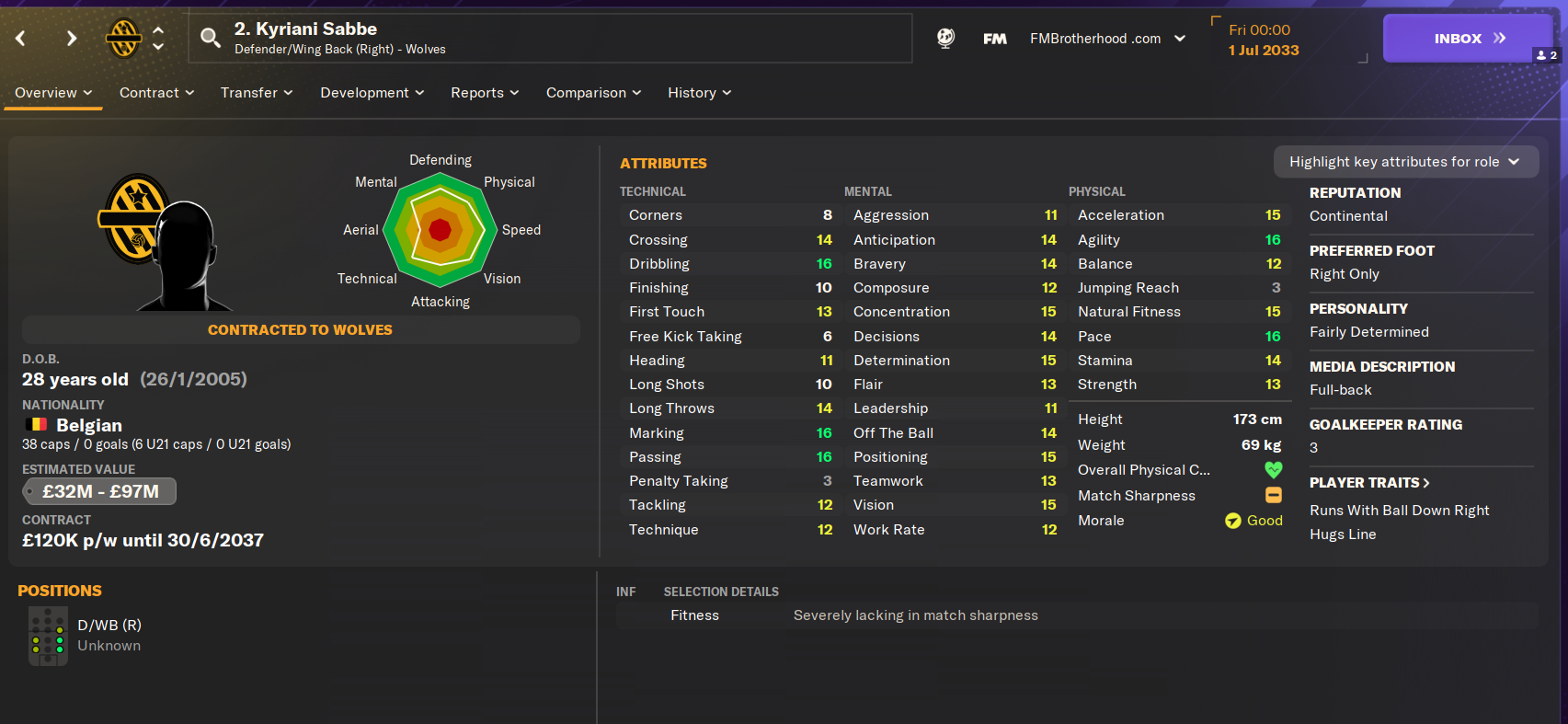 In 2033, Sabbe is a really similar player to Travassos, but just a little bit better. Kyriani Sabbe has better marking, pace, and passing.
Wolves ended up signing this RB wonderkid in 2026 for £34 million, which is the one of the highest fees Club Brugge have ever received. This shows you need to sign Sabbe as early as possible, to avoid paying a high price.
6. Reuell Walters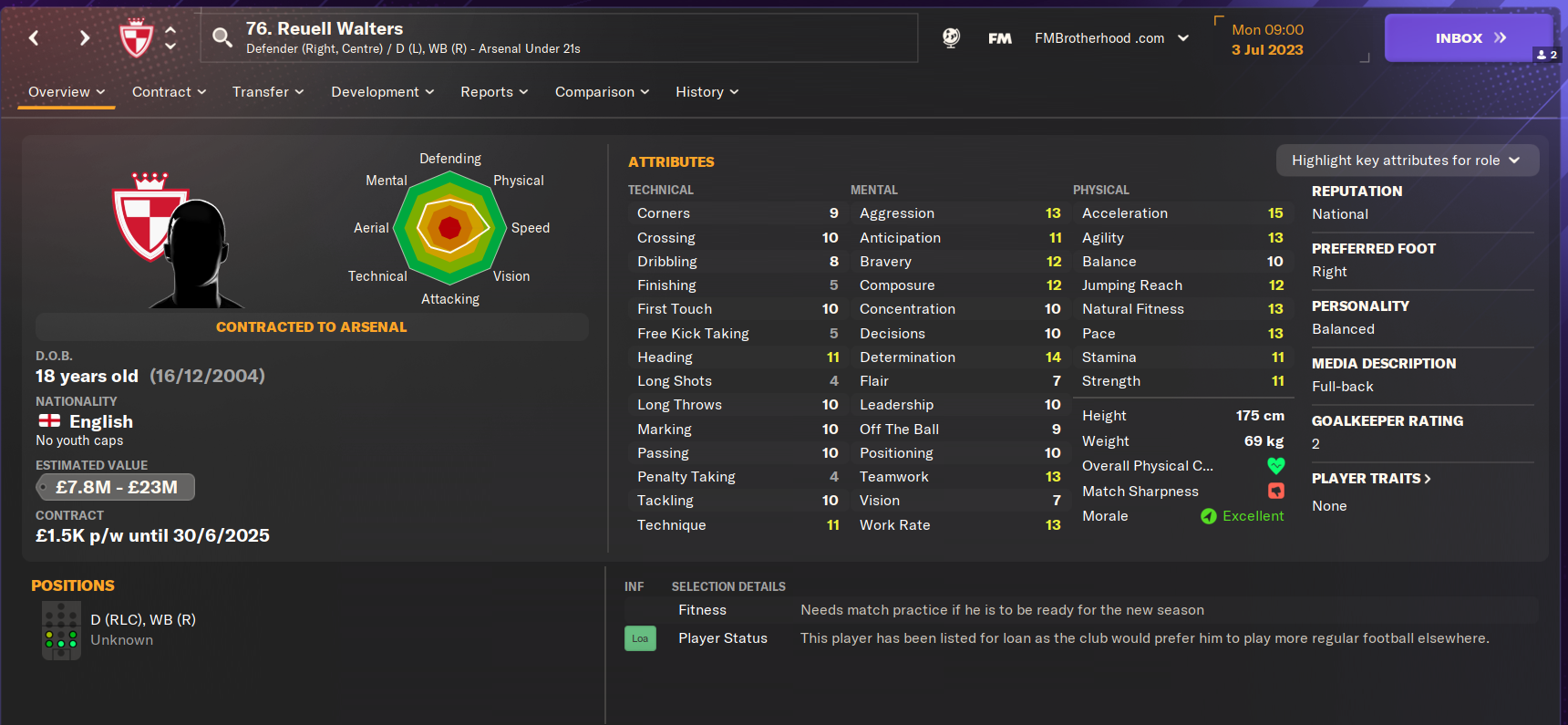 Reuell Walters is perfect for teams that play a back 5, because he can play any position in the defence. This RB wonderkid has great physicals, including 13 pace, 15 acceleration, and 13 agility. Make sure to develop his defensive attributes, because this is where he needs to improve.
Arsenal are willing to accept an offer of £18 million for Reuell Walters. But he won't leave unless you play for a top club.
Reuell Walters in 2033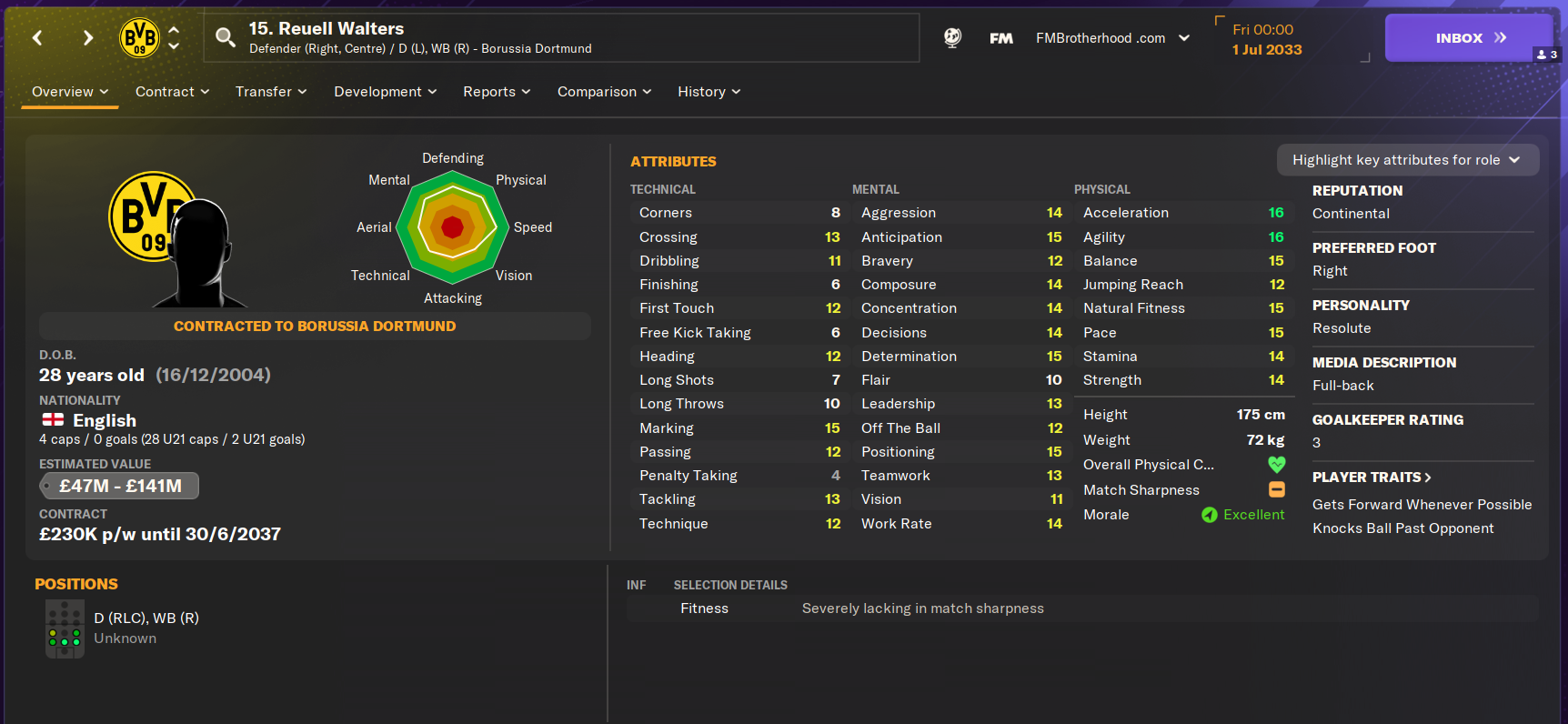 After a few Championship loan spells, Walters moved to Norwich for just £13.5 million, and then to Bayern Munich for over £40 million. He's then followed in the footsteps of many other players, and has now played for both Bayern Munich and Borussia Dortmund.
What makes Reuell Walters so good in 10 seasons is his versatility. Although he's at his best playing at right back, he'd do a good job at left back, and even as a right sided centre back in a back 3 or 5.
5. Elias Jelert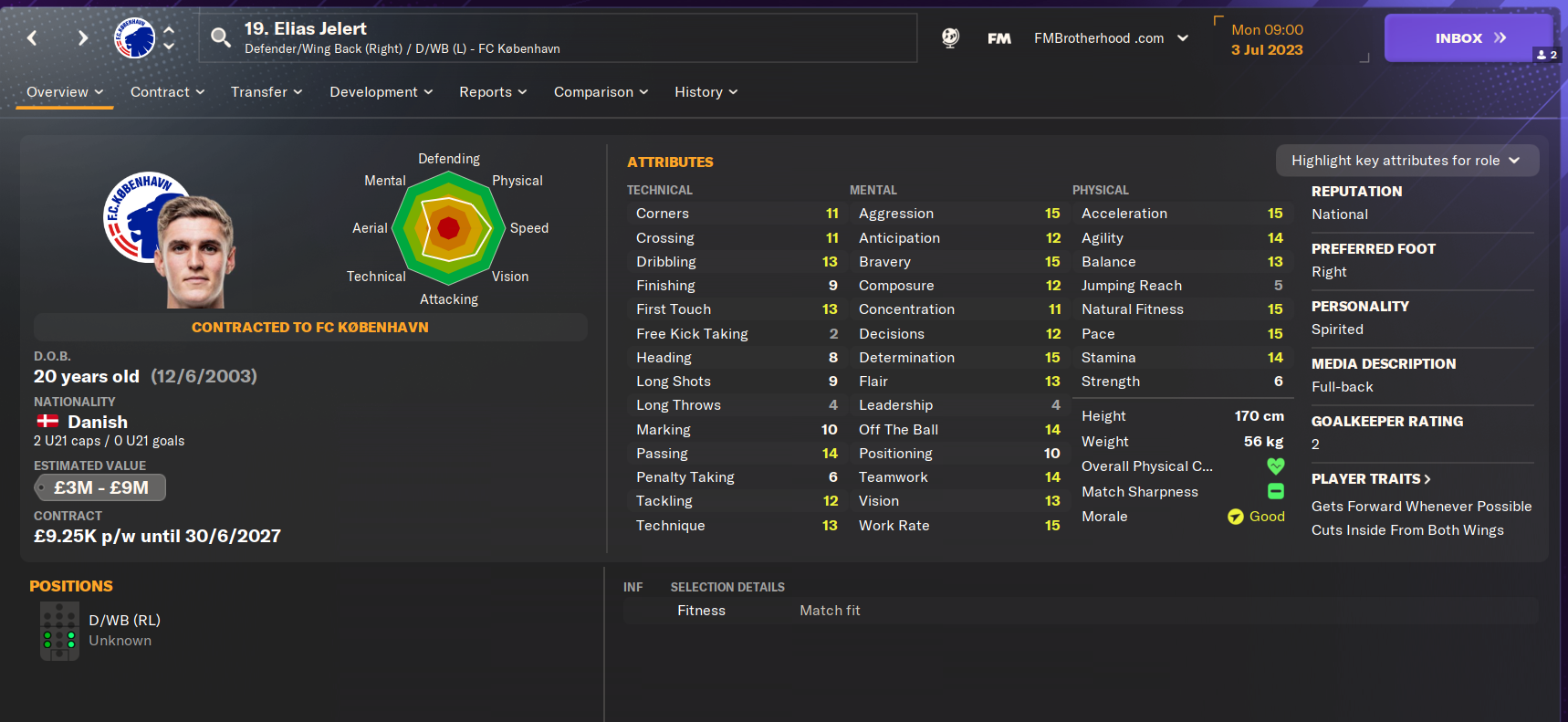 Jelert is already a Danish international at 20 years of age. His mental attributes are great all across the board, and he has terrific passing ability too.
Elias Jelert has 2 player traits. He likes to get forward so he will suit attacking teams. He also likes to cut inside from both wings, so he would be an effective inverted full back or wing back in FM24.
Unlike the other best right back wonderkids in FM24 on this list, Jelert is capable of playing first team football for most teams. However, he's just signed a new contract so he won't leave in the first season. His value is extremely cheap for his ability though, so you might be able to get an amazing deal in the 2nd season, or even in January.
Elias Jelert in 2033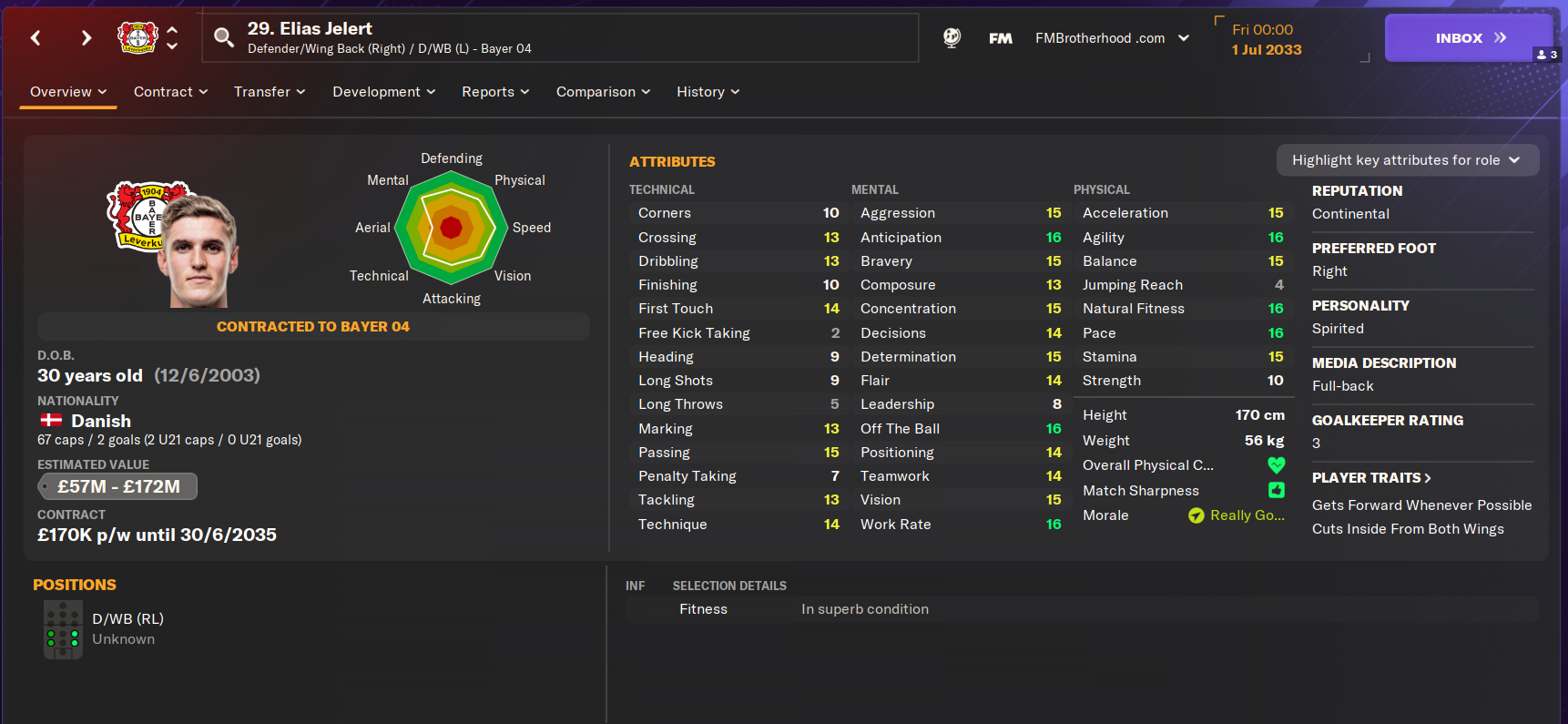 Jelert develops into a brilliant modern day full back in FM24. He's rapid, and has excellent mental stats, which include 16 work rate, off the ball, and anticipation. I signed Jelet in an save with Luton Town in FM23, and he can competently play right wing back or left wing back. This versatility is really important for when you get injuries.
4. Hector Fort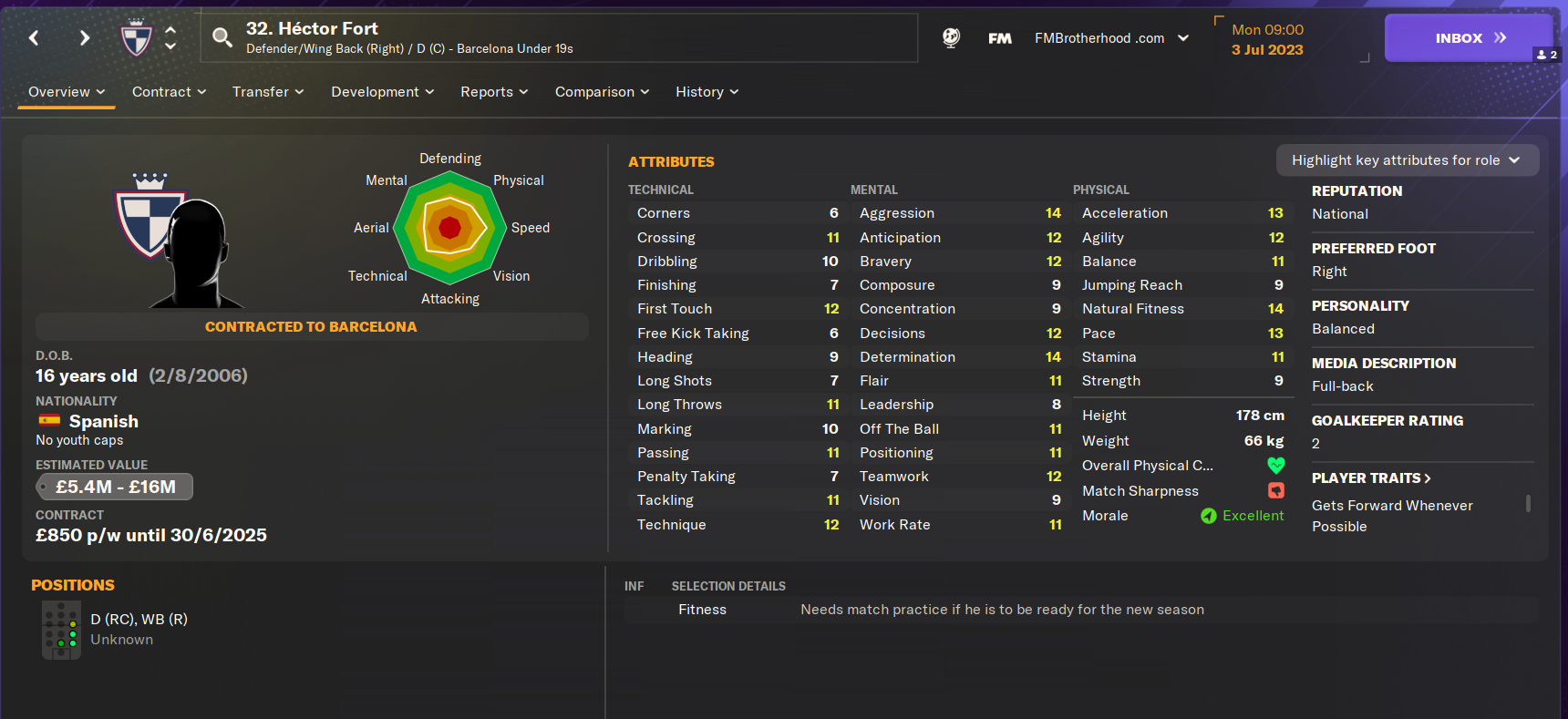 Hector Fort is the youngest on this list of the best FM24 wonderkid right backs. At just 16 years of age he's got the fundamental attributes you would want in a right back.
The La Masia graduate will be difficult to take from Barcelona. But if he doesn't get introduced into first team football after a couple of seasons, he might look for a move to get some.
Hector Fort in 2033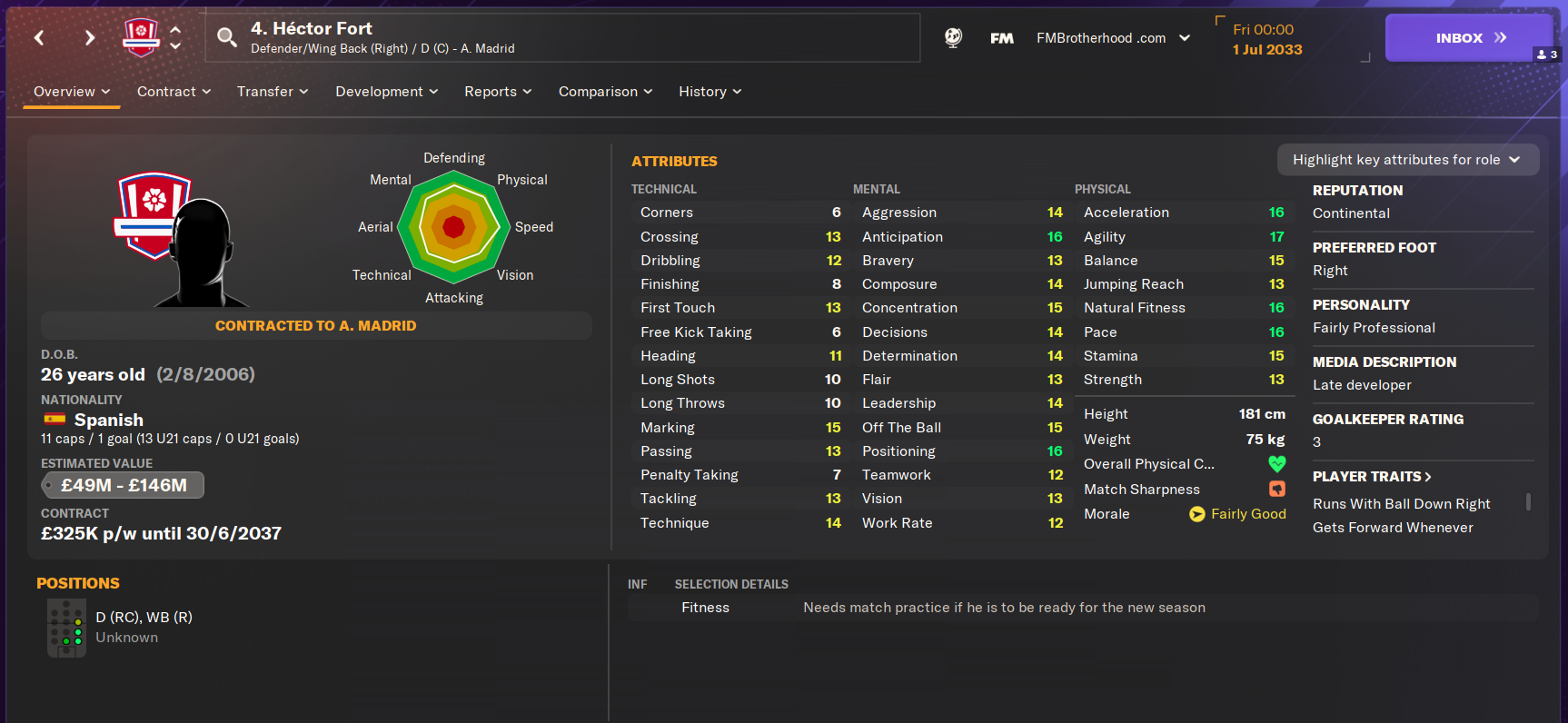 In our Football Manager 2024 simulation, Fort wasn't getting any first team football. This meant he signed for Portuguese side Estrela da Amadora SAD on a free transfer. They then made a £10 million profit selling him to Porto, and he's now smashing it for Athletico Madrid.
Hector Fort has 16 positioning, 15 marking, and 16 anticipation, which are brilliant defensive attributes for a right back to have. If he gets game time from the very start of your save, Hector For can definitely become one of the best wonderkid right backs in FM24.
3. Michael Kayode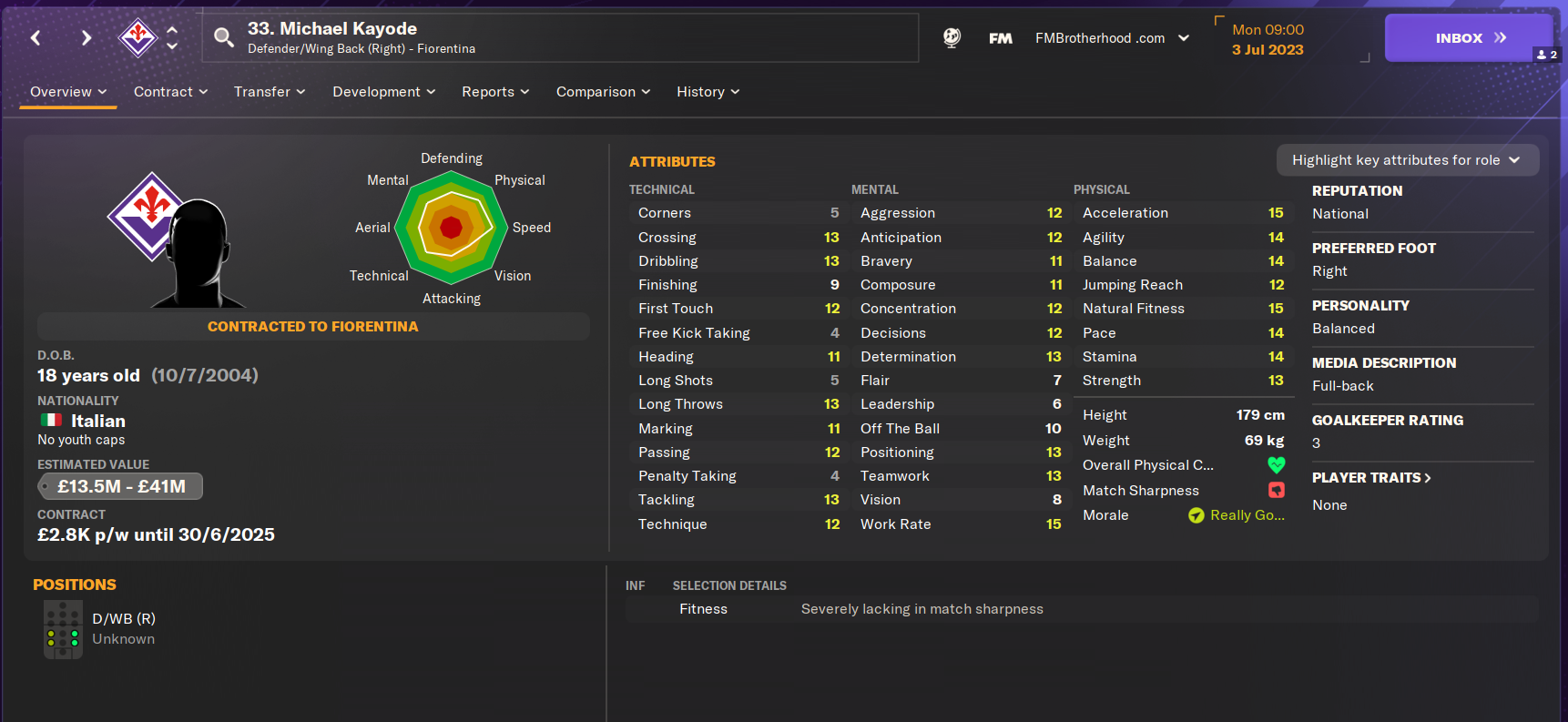 Kayode is an Italian wonderkid RB but he's also eligible to play for Nigeria. He has amazing physical attributes for an 18 year old. They are all rated 12 or above, with most either 14 or 15.
These physicals combined with 15 work rate mean Kayode is a non stop workhorse that can get up and down the right side of the pitch. His crossing isn't bad either. But, he has a large £28 million price tag in the first season.
Michael Kayode in 2033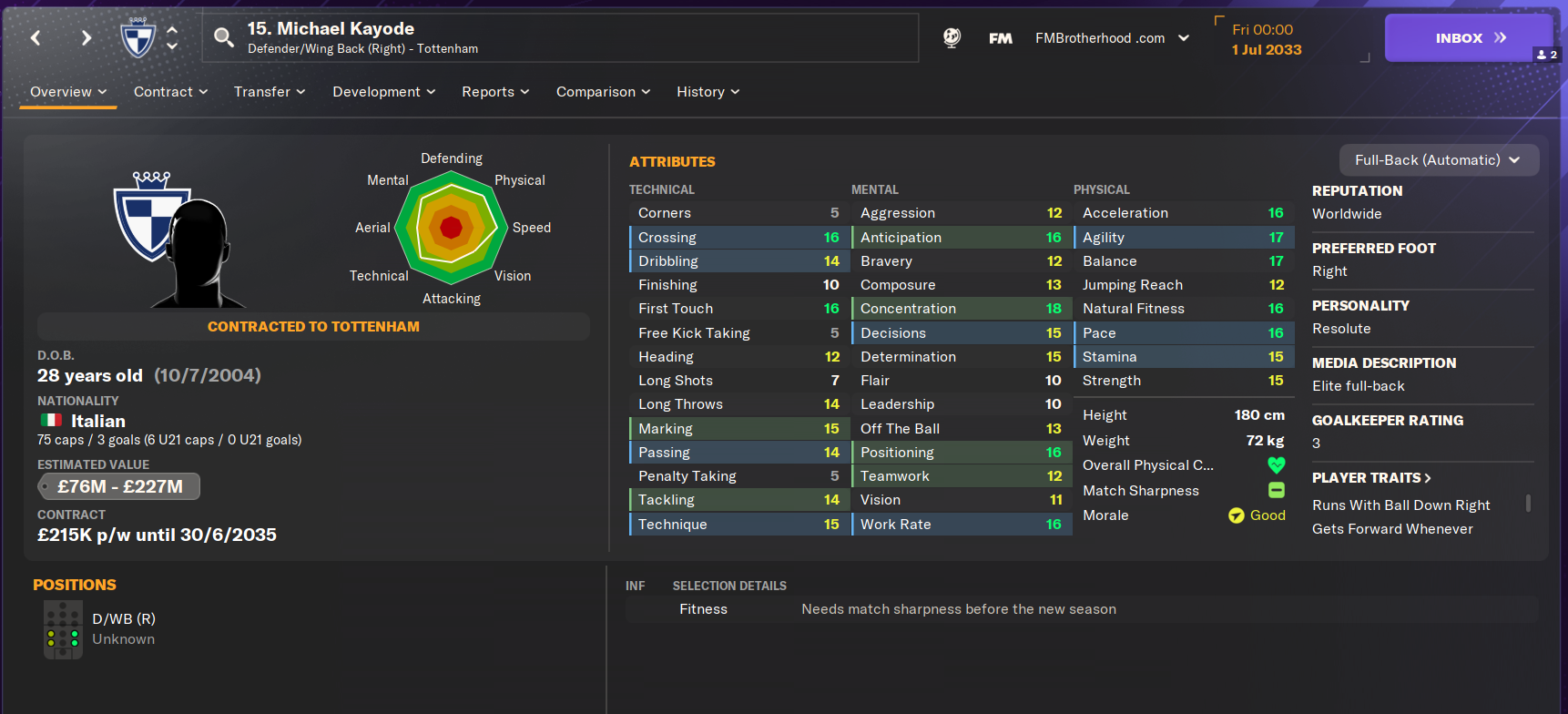 After just 1 season, Spurs ended up paying a huge £54 million fee for this wonderkid right back. A lot of his attributes have significantly improved, including his crossing from 13 to 16, anticipation from 12 to 16, and concentration from 12 to 18!
Physically he's immense too, with all stats rated 15 and above except from his jumping reach. The media describe Michael Kayode as an elite full-back. which is completely justified.
2. Rico Lewis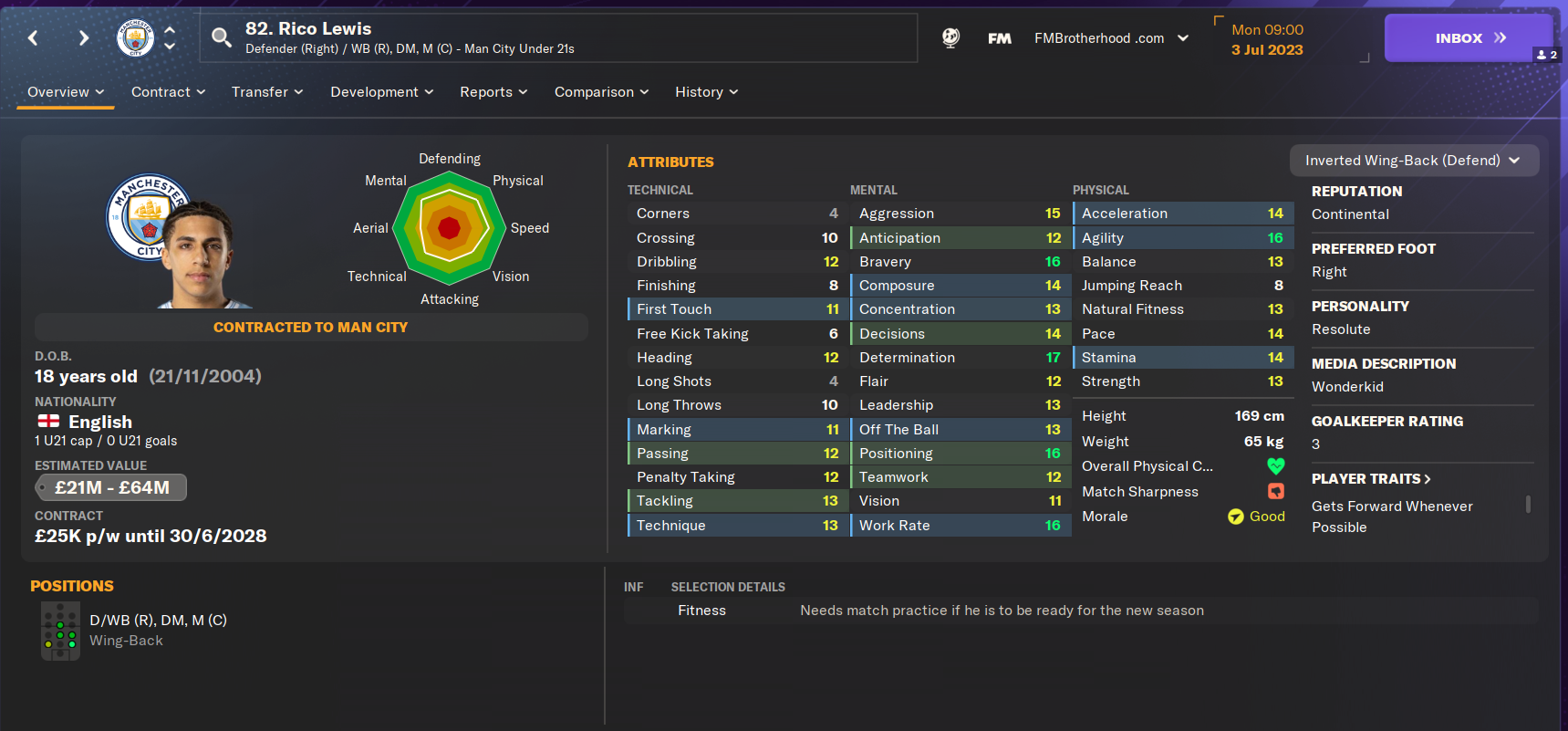 The wonderkid right backs mentioned on this list are great, but the top 2 are the cream of the crop and separated from the rest.
Rico Lewis had an outstanding breakthrough season for Manchester City last season. Pep Guardiola had so much faith in him, he was willing to loan out Joao Cancelo last January.
This has seen Lewis get a huge upgrade in attributes compared to FM23. His mental attributes are already fantastic, and he can even fill in at CDM or central midfield.
Rico Lewis in 2033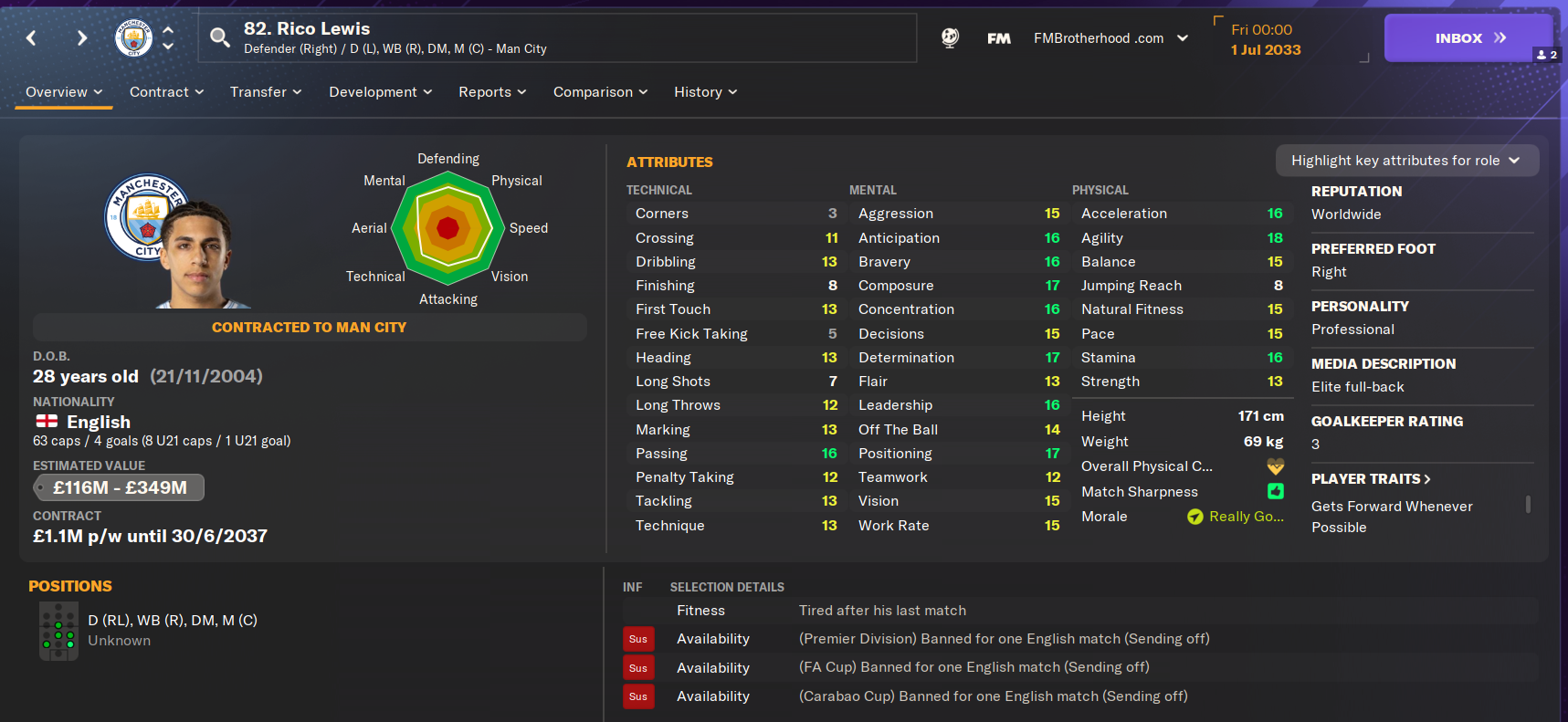 Lewis stayed at Manchester City and became vice captain, winning multiple Premier League titles. He's made over 60 appearances for England, which is very impressive considering there's Reece James and Trent Alexander-Arnold to compete with. Man City are even paying him a huge £1.1 million per week.
But there's a reason why they're paying him so much money. He has 7 mental attributes rated 16 or higher. His passing is brilliant, and he's become a very physical player. He's almost a perfect modern right back.
1. Ivan Fresneda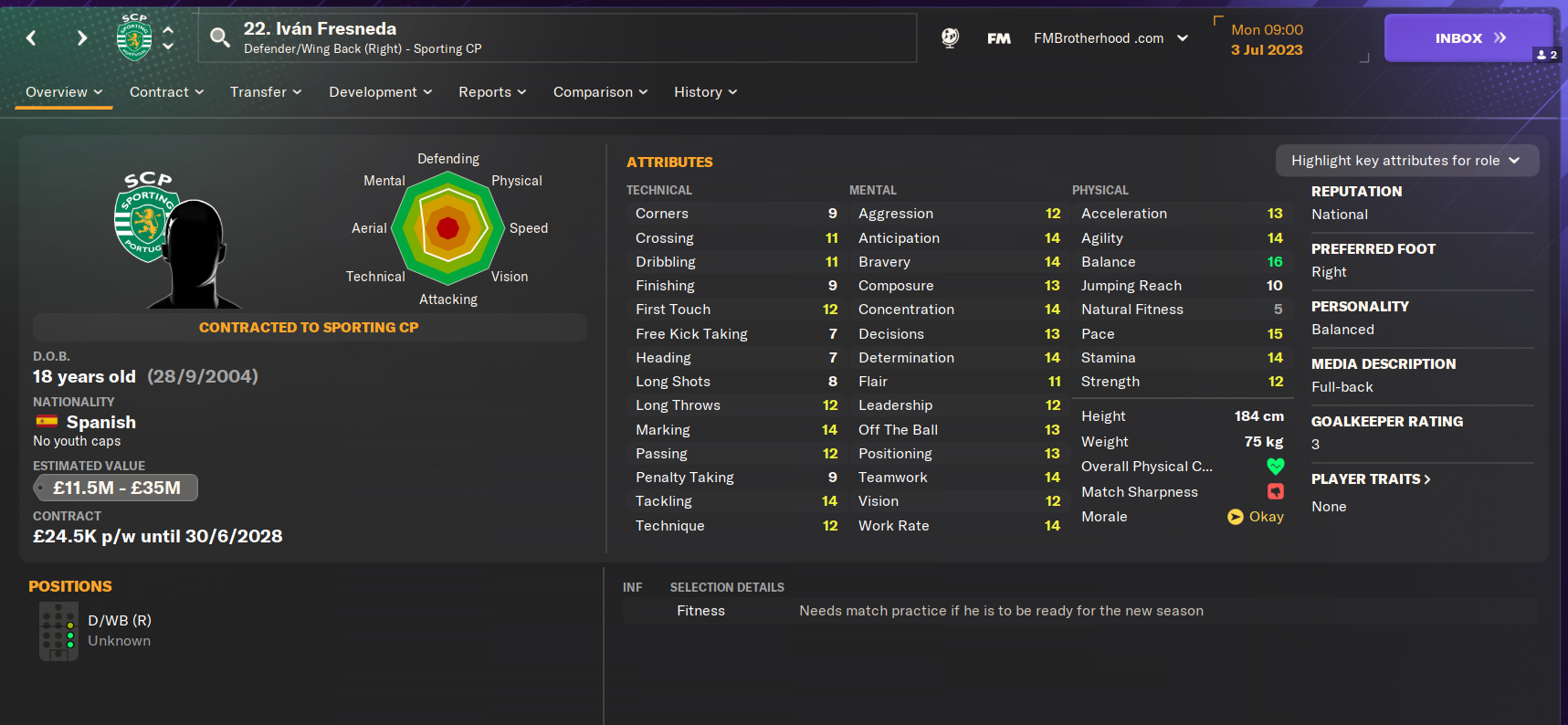 Ivan Fresneda was the best winter update wonderkid in FM23, and is the best wonderkid RB in FM24. He was really cheap considering his potential on the last Football Manager game, but unfortunately he's been signed by Sporting Lisbon.
All of the 18 year old's mental attributes are rated 11 or higher, he's the best out and out defender on this list, and he has pace. He's all for a right back, but has work to do in the heading department.
Ivan Fresneda in 2033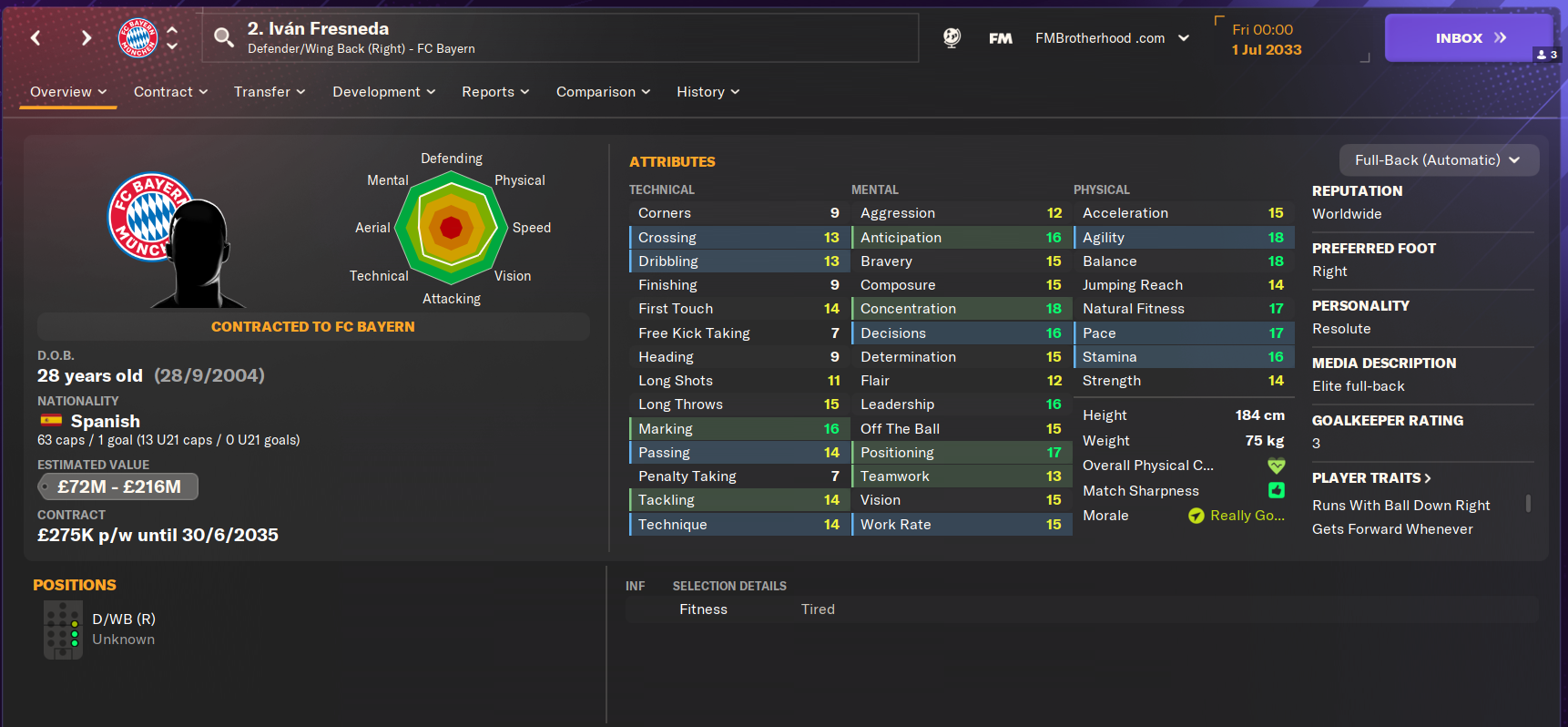 Now you can see why Ivan Fresneda is the best FM24 right back wonderkid. He's world class defensively, and has exceptional physical and mental attributes. Bayern paid £48.5 million for him in 2028,which is amazing value for money considering how brilliant he is.
If the opportunity arises to sign Fresneda in FM24, you must take the chance.
Which Wonderkid Right Back in FM24 Should You Sign?
Need a wonderkid RB in the first season? Take a look at either Diogo Travassos if you've not got much to spend, or Michael Kayode if you have more cash to splash.
But if you can wait a season for your RB wonderkid, try and poach Rico Lewis or Ivan Fresneda. They are already capable of playing European football, and are absolutely insane in their prime.
To complete your wonderkid defence, why not look for a wonderkid centre back.