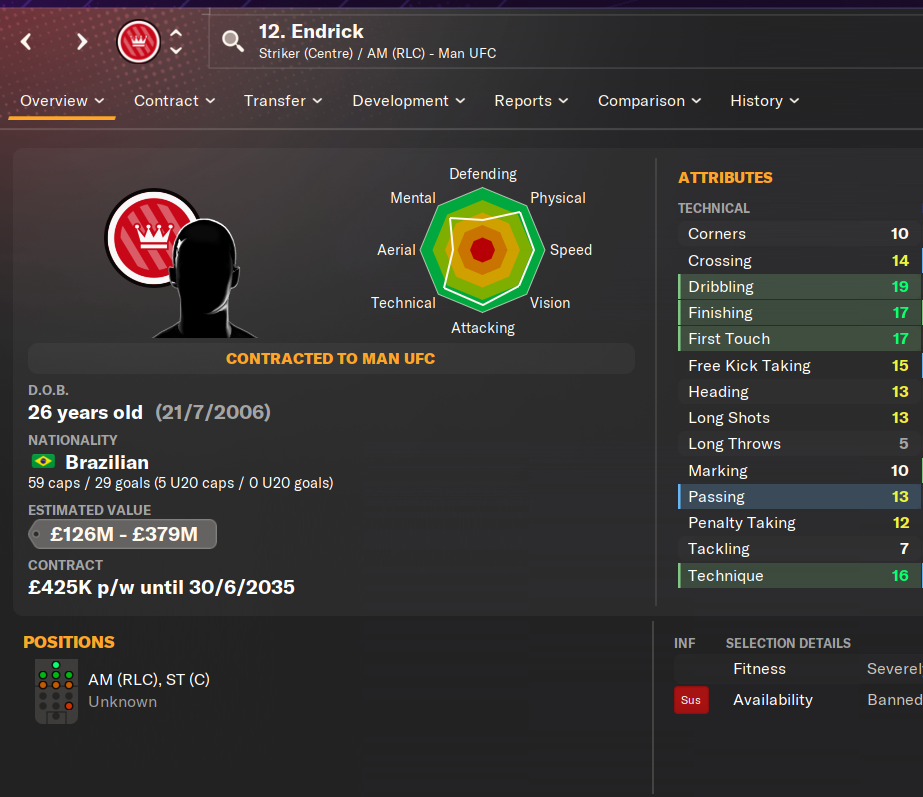 10 Best Wonderkid Strikers in FM24
By callum | October 21, 2023 | 2091 Views
Best Wonderkid Strikers in FM24
Football Manager 2024 is officially here! As it's a new game, it's difficult  to figure out which wonderkids are the best and who will reach their potential. Some wonderkids may have 5 star potential, but they don't have much chance of reaching it.
That's why we've done the research and hard work for you. We don't just tell you who the best wonderkid strikers in FM24 are, we show you how good they can look in their prime. We also tell you exactly how much these players will cost you if you want to sign them in the first FM24 season.
We have gone to 2033, 10 years into the future, to show you exactly how amazing these wonderkid strikers can become.
There's no guarantee they will become this good in your FM24 save, but we have evidence to show you if they can reach their world class potential.
For strikers that have already reached their potential, we've found the best strikers in FM24 too.
If you haven't already, join our Facebook group to become part of the FMBrotherhood Football Manager community.
FM24 Wonderkid Striker Criteria
The wonderkid strikers on this list are aged 20 or younger at the start of your FM24 save.
10. Evan Ferguson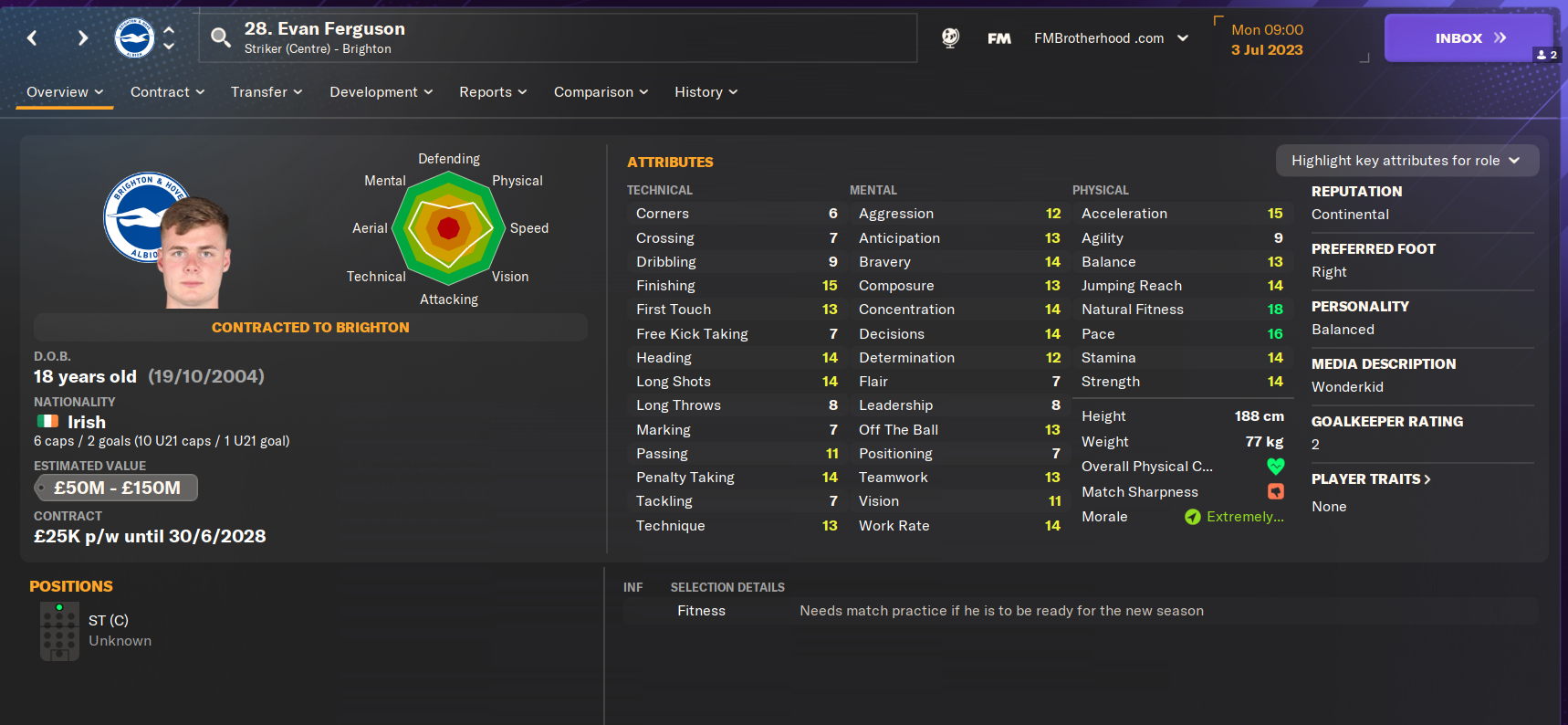 I'm sure you're not surprised to find Evan Ferguson on a list of the best wonderkid strikers in FM24. He had an outstanding breakout season for Brighton last year, and has already scored a hat-trick in the 23/24 season!
He's been given an upgrade in attributes from FM23, and with that his potential is now even higher. Ferguson has 18 natural fitness, which means as he gets older and towards the end of his career, his attributes will decrease slowly than most other players his age.
As you can imagine, Brighton really don't want to lose Evan Ferguson. He's not too keen on leaving either, unless you're managing a top club. You'll need to pay just under £100 million to get your hands on one of the best Premier League wonderkid strikers in FM24.
Evan Ferguson in 2033

In our FM24 simulation, nobody was able to take Ferguson from Brighton. He's managed to score an incredible 61 goals in 93 matches for Ireland.
Ferguson's decision making has increased from 14 to 17, and a few of his other attributes have seen steady growth. However, to be honest, I thought Evan Ferguson would be better in his prime. That's not to say he won't be better in your save, but he was a consistent starter for Brighton, and is still a goal machine!
9. Benjamin Sesko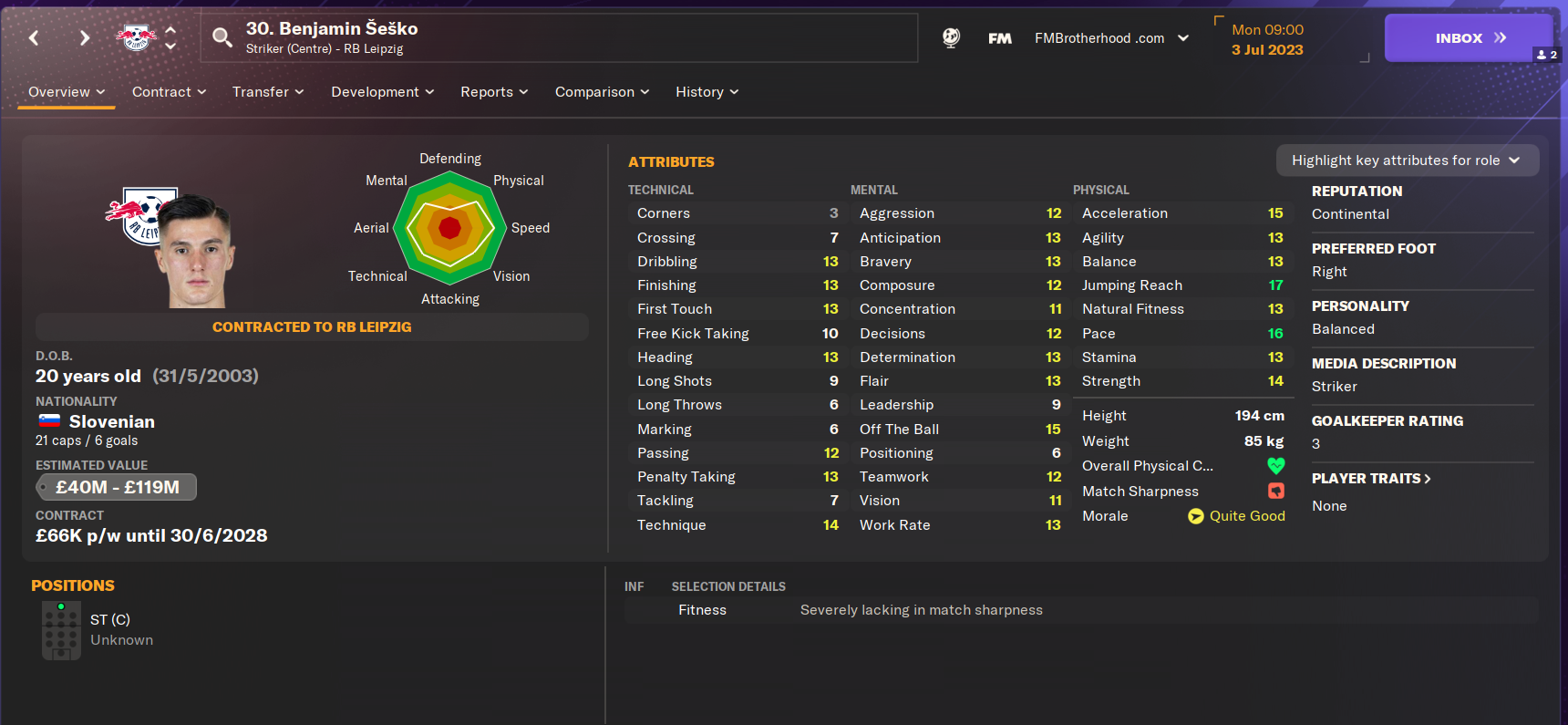 Already a very well known Football Manager wonderkid striker, Benjamin Sesko, has to be on our list. Physically he's terrific, with 16 pace, 15 acceleration, and 17 jumping reach. He's extremely tall, making him deadly in the air.
He has some development to do technically, but they're good enough for him to be scoring goals from the very first season.
As Sesko has just moved to Leipzig, he's unavailable to sign in the first FM24 season. However, make sure to add him to your shortlist so you can keep an eye on his development.
Benjamin Sesko in 2033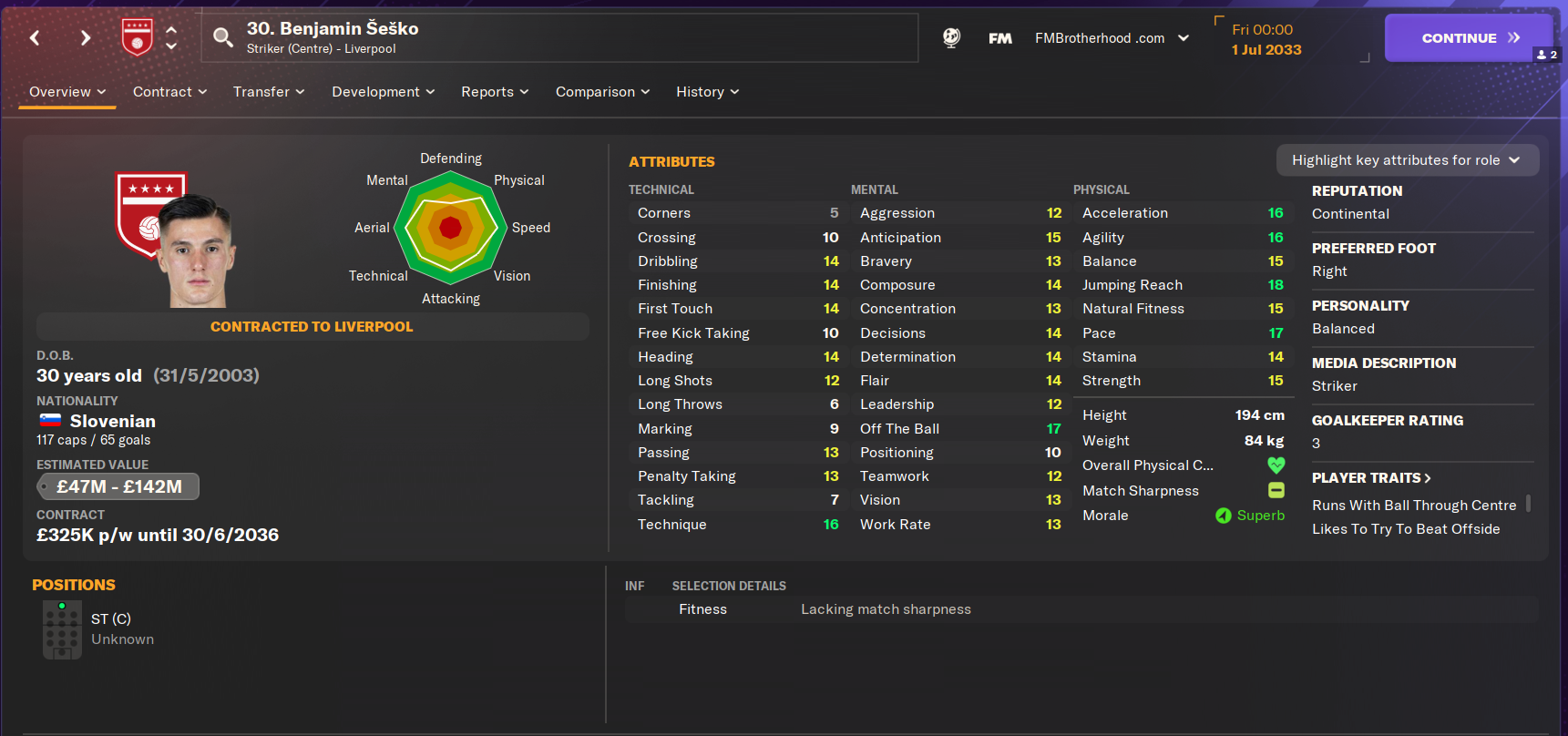 Sesko signed for Liverpool for a huge £82 million, and has scored plenty of goals since moving to them. He has become a Slovenian legend, scoring more than a goal every 2 games.
His attributes have developed across the board, with his physicals, mentals, and technicals all seeing growth. He's a bullish striker that's definitely capable of leading the line for a top European side.
However, he was a better wonderkid striker in Football Manager 2023.
8. Jamie Donley
Unless you're a Spurs fan, you've unlikely not heard of Jamie Donley. He could be the Harry Kane replacement Tottenham need!
Donley is just 18, so he's got plenty of time to develop and become one of the best wonderkid strikers in FM24. He already has 14 finishing, 13 composure, and 12 technique. These are important attributes for a striker to have.
Jamie Donley can be signed for £16 million in the first season. This might seem like a lot of money for an 18 year old of his quality, but he's way cheaper than Evan Ferguson.
Jamie Donley in 2033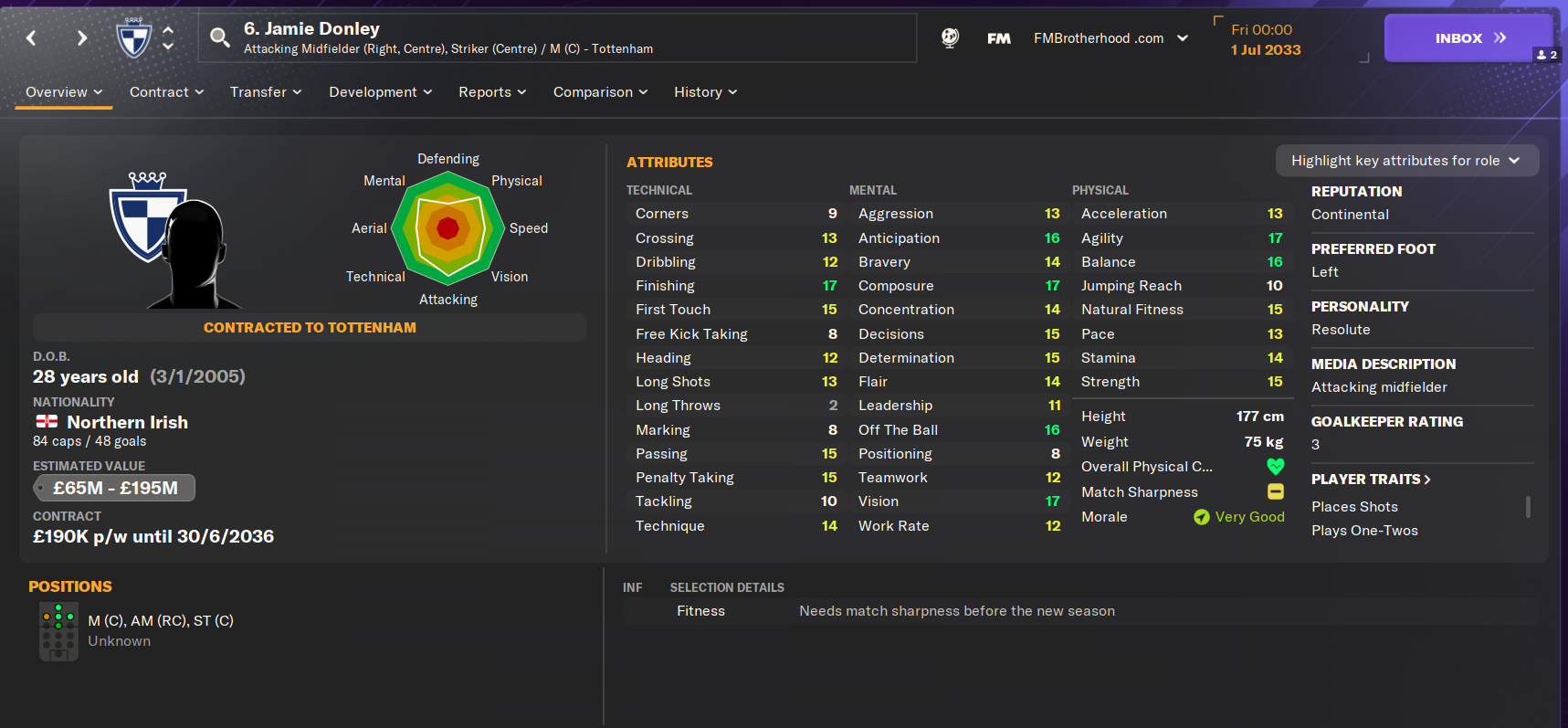 Donley's attributes have significantly developed since he was 18. His anticipation has increased from 11 to 16, composure from 13 to 17, and finishing from 14 to 17.
Donley is extermely versatile. As well as playing up front, he can play as an attacking midfielder, on the wing, and even in central midfield.
If you're managing Spurs in FM24, you must give Donley regular first team football asap. This will give him the best chance of becoming this good in your Football Manager 2024 save.
7. Mathys Tel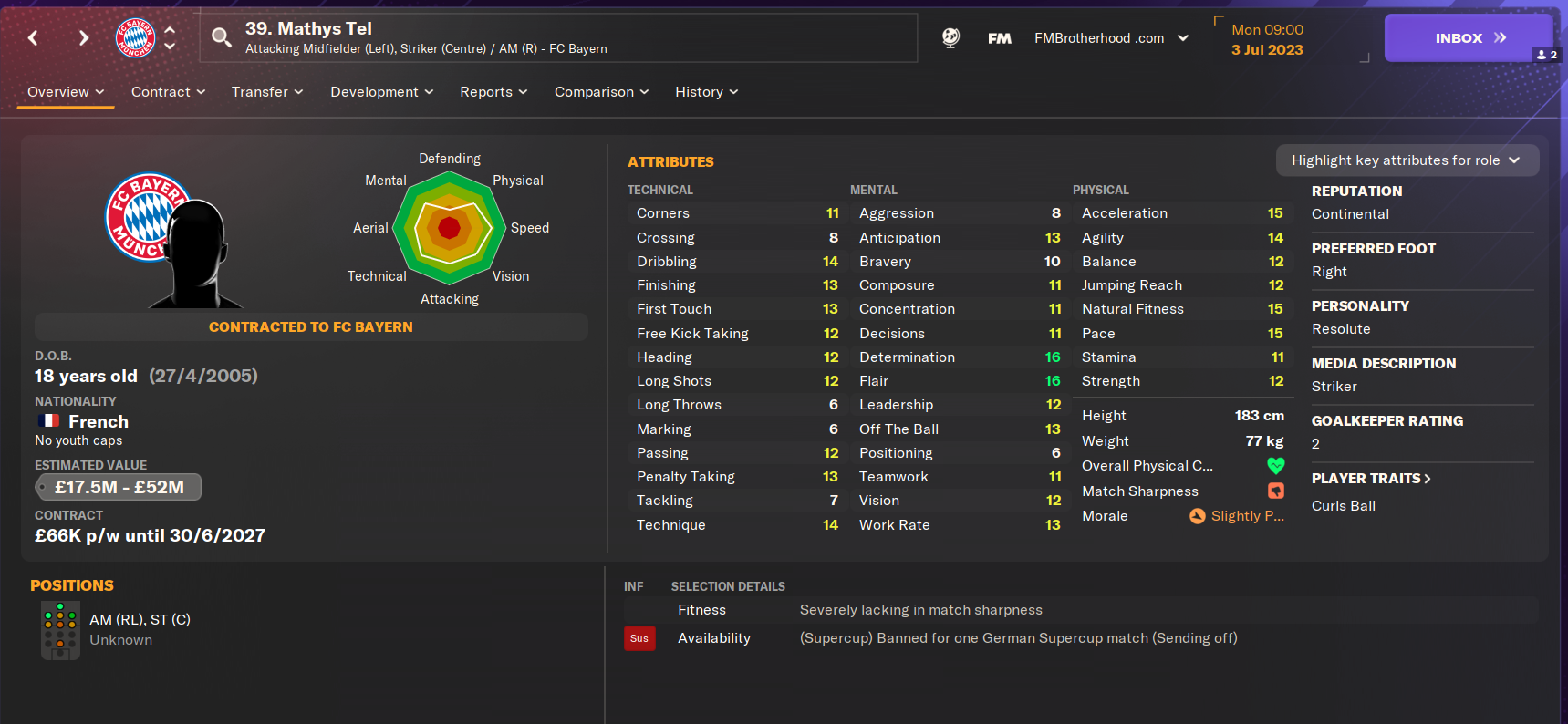 Tel had a mixed first season at Bayern Munich, but this season he's hit the ground running, scoring 5 goals already at the time of writing.
This FM24 wonderkid striker can also play on the left wing, and he's really effective there as an inside forward. However, his 8 crossing makes it difficult for him to be a traditional winger.
Mathys Tel has 15 acceleration and pace, and also 16 flair. These attributes give him a great chance of running onto through balls, and beating defenders 1 on 1.
Tel is available for £35 million, but you'll need to be managing a European giant to persuade him to leave Bayern Munich.
Mathys Tel in 2033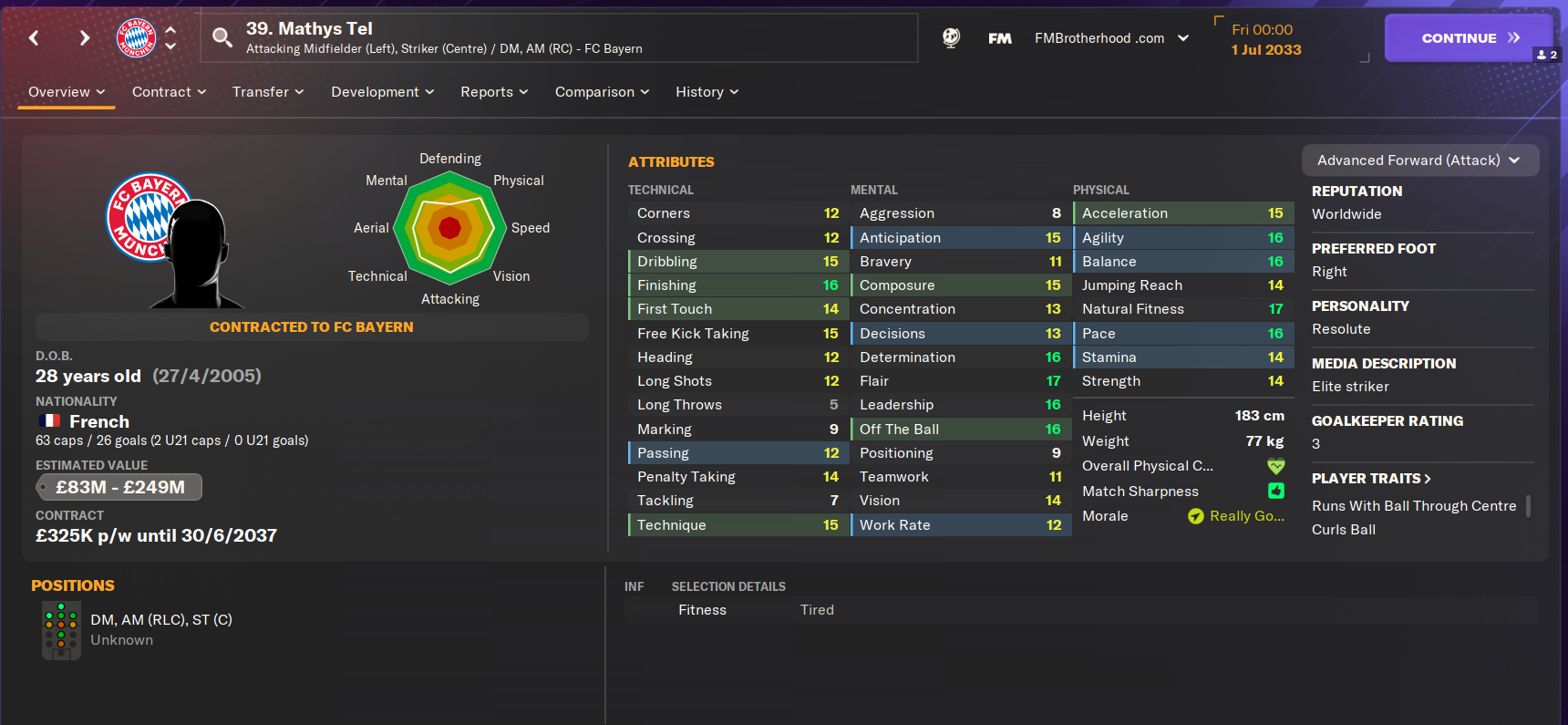 Tel has stayed at Bayern Munich, and become a club icon! In our simulation, his name is alongside the likes of Bastian Schweinsteiger, and Frank Ribery.
At 18 years old, Tel could be developed into either a winger or a striker, and this is what he could look like if he's developed as a striker.
In his prime, Mathys Tel has some fantastic mental attributes, such as 16 determination, 17 flair, and 16 off the ball movement.
He's worth at least £80 million too, so try and buy him as soon as possible, before he develops and becomes too expensive.
6. Rasmus Hojlund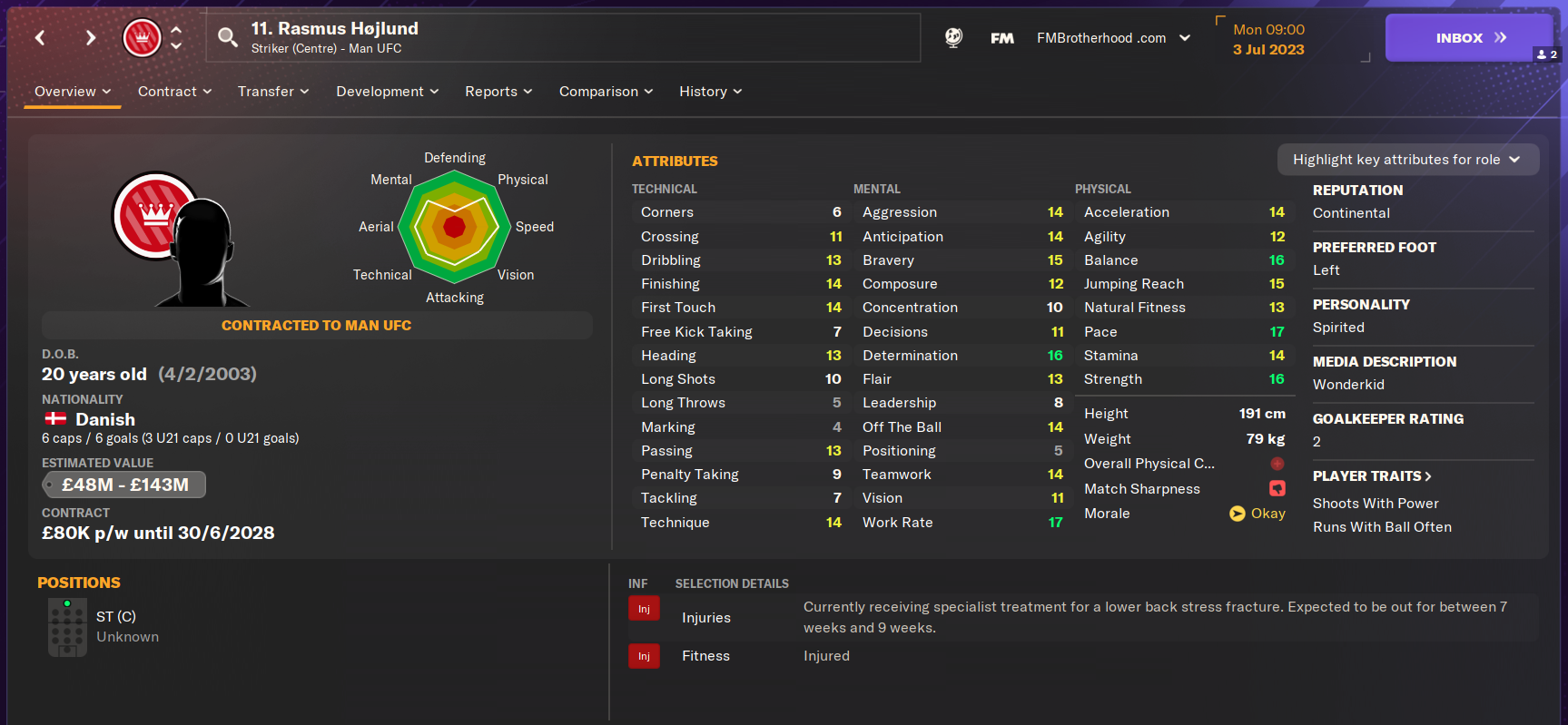 Anyone that watches football knows that Manchester United were DESPERATE for a striker in the summer. With the prices of Harry Kane and Victor Osimhen being too high, they decided to sign Rasmus Hojlund.
Hojlund is quick, strong, good in the air, and has solid finishing attributes. You can see why Man United signed him. He has a brilliant 6 goals in as many games for Denmark too.
Rasmus Hojlund in 2033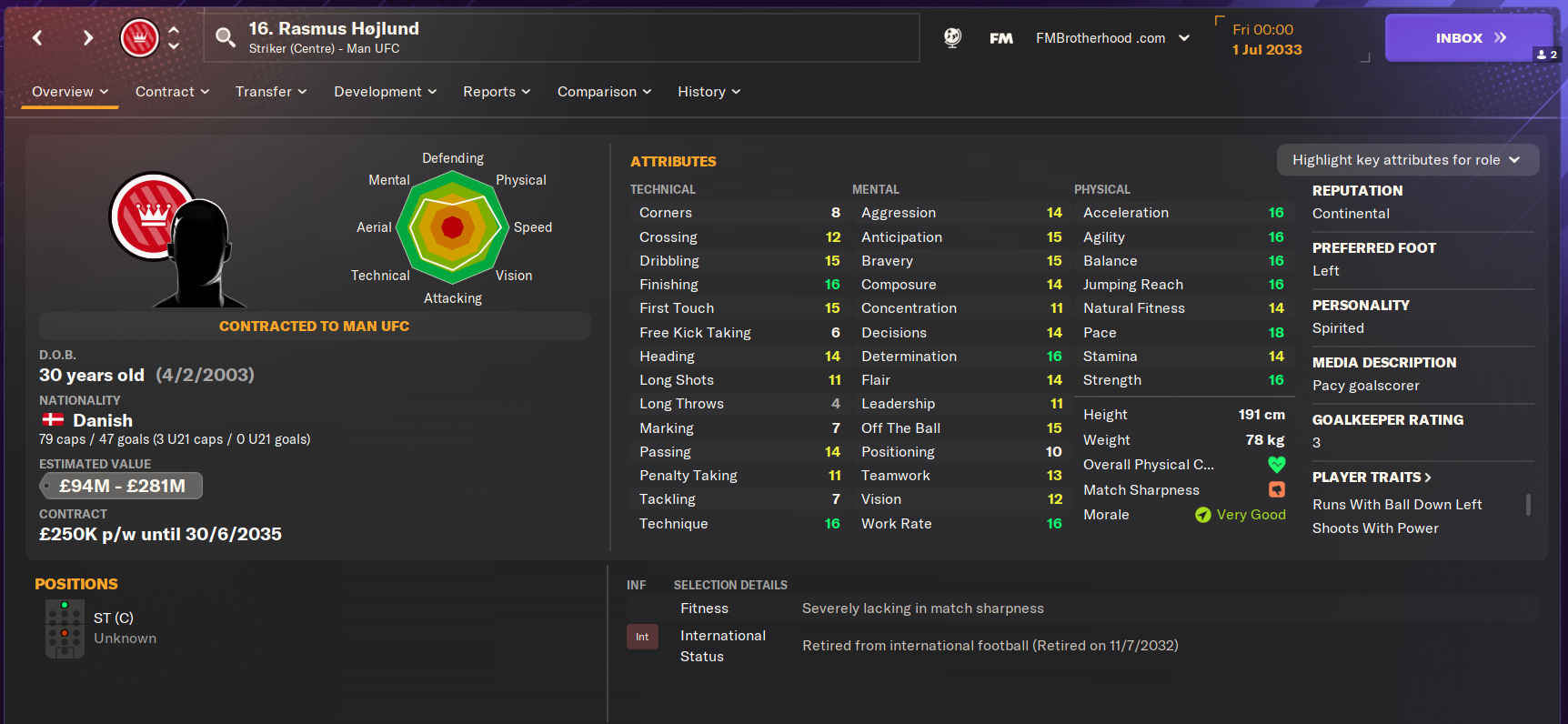 Hojlund has seen great development in our Football Manager 2024 simulation. His physical attributes are impeccable, with 6 out of 8 being rated at least 16.
He's averaged a goal every 2 league games for Manchester United, including a 28 league goal season! The attributes speak for themselves, and the goal record shows he's one of the best wonderkid strikers in FM24.
5. Jason Van Duiven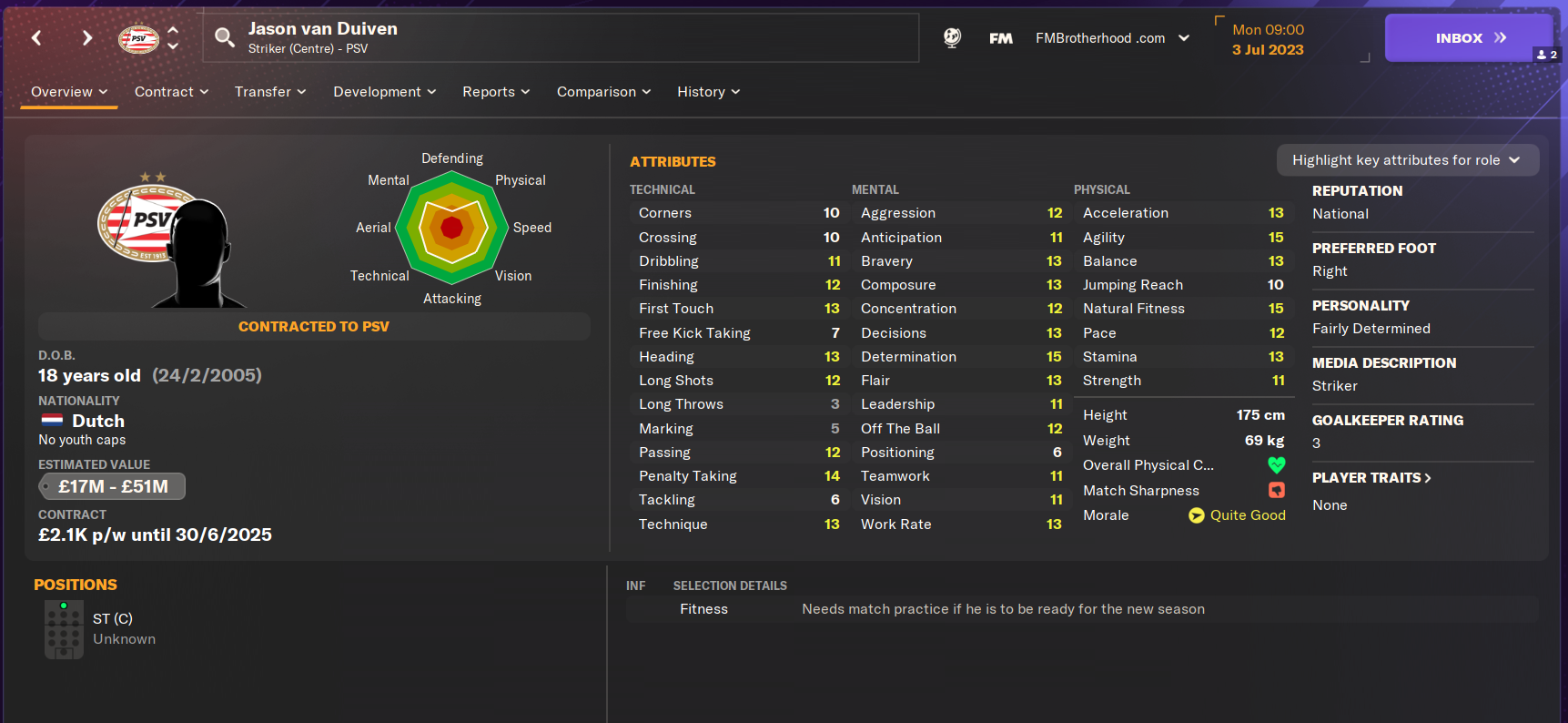 Jason van Duiven is another 18 year old on this list of the best FM24 striker wonderkids. The Dutch striker has very well rounded technical attributes, including 13 work rate, 15 determination, and 13 composure.
He scored an impressive 15 goals in 34 league appearances for the PSV youth team in the 22/23 season.
This wonderkid striker is expensive though, costing £35 million in the first season.
Jason van Duiven in 2033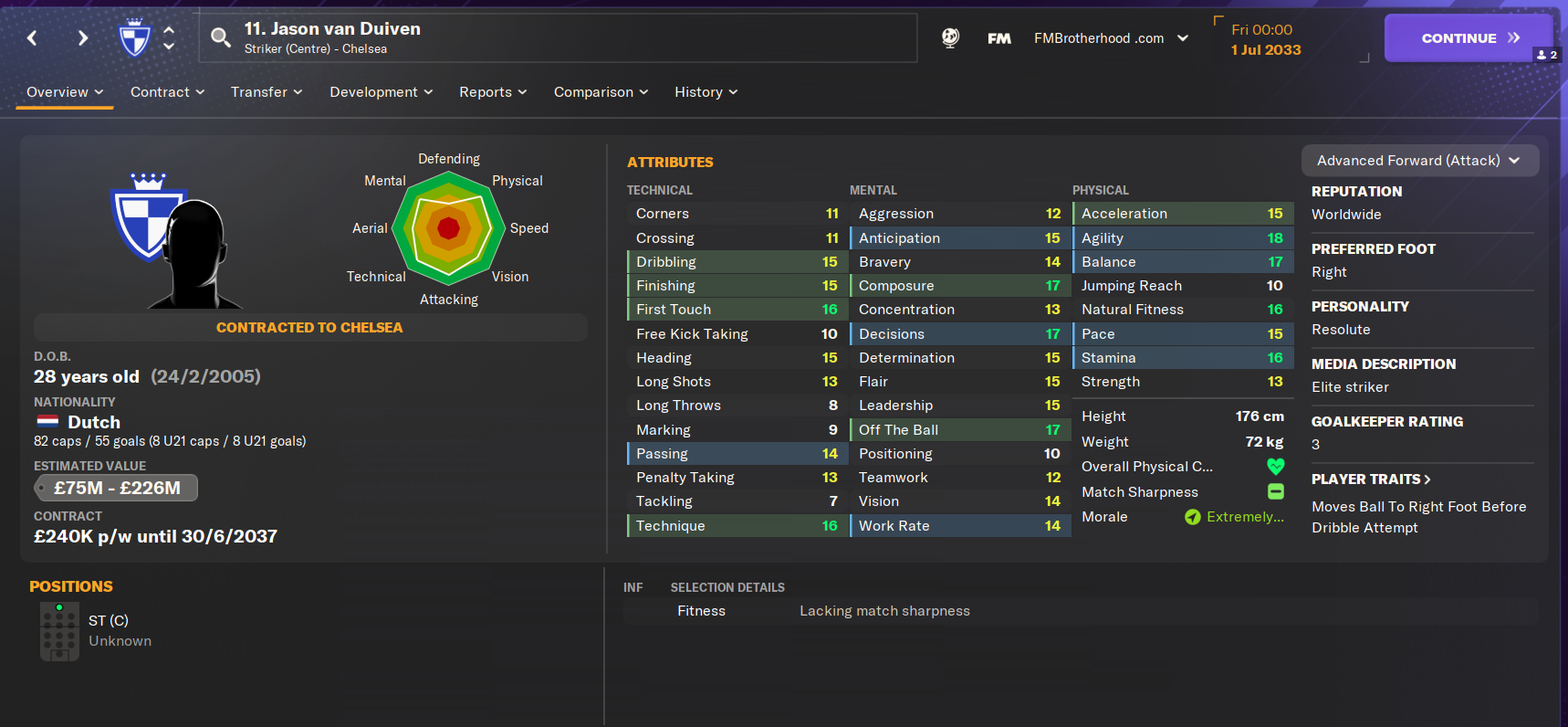 In our Football Manager 24 simulation, Jason van Duiven scored goals for fun. Van Duiven has had some ridiculous development if you compare him to when he was just 18.
He has become a fantastic well rounded striker. Since moving to Chelsea for £85 million in 2028, he's scored at least 20 goals per season. And take a look at that crazy international record for the Netherlands!
Although he's costly, Jason van Duiven has to be considered if you're looking or a wonderkid striker in FM24.
4. Youssoufa Moukoko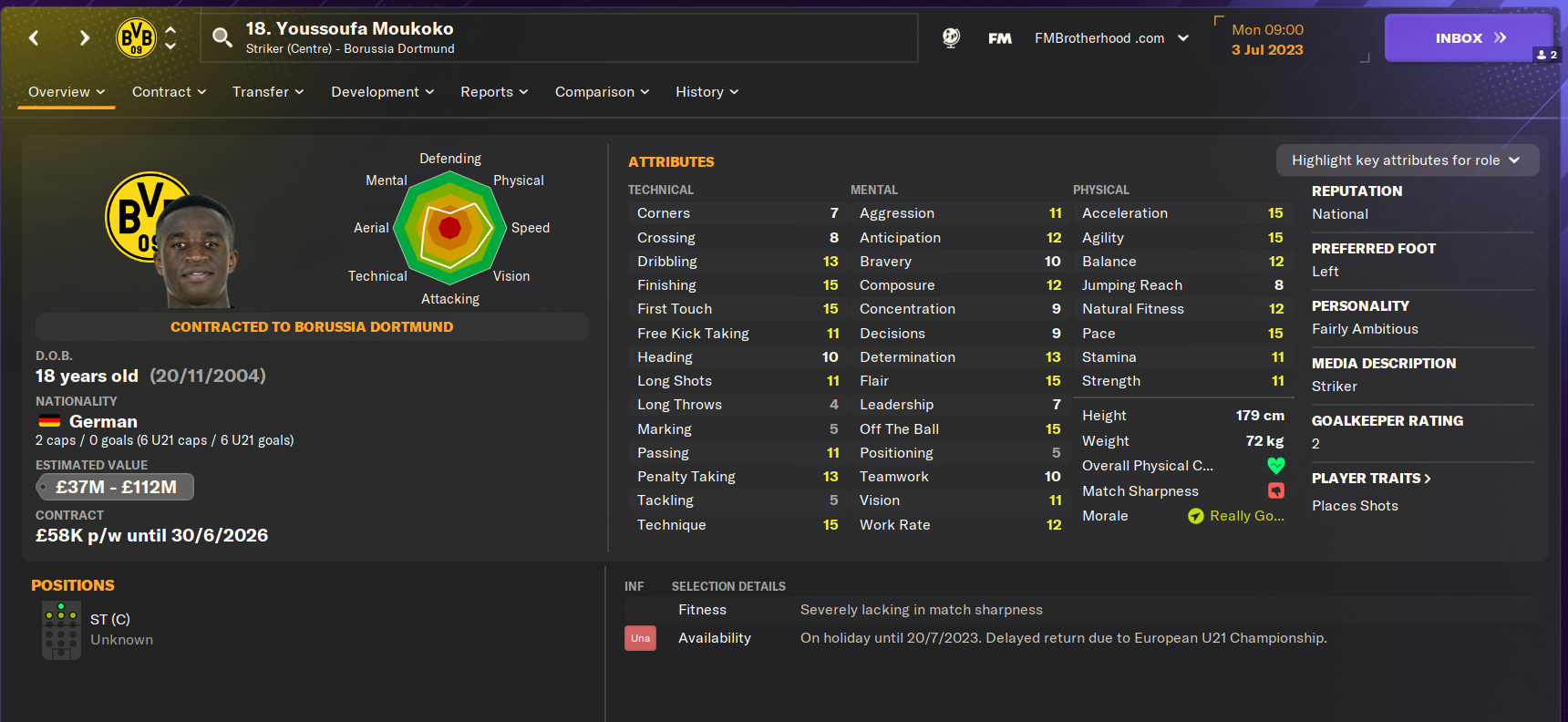 It wouldn't be an FM wonderkid striker list without Moukoko! The Dortmund striker is getting more and more first team football, and is developing nicely in real life.
On Football Manager 2024 he still has some raw attributes, such as 10 heading, 9 decision making, and 10 teamwork. But at just 18 years old, there's plenty of time to work on these
Moukoko is willing to join another club, but he'll set your transfer budget back £74 million. This is a lot of money for a wonderkid striker.
Youssoufa Moukoko in 2033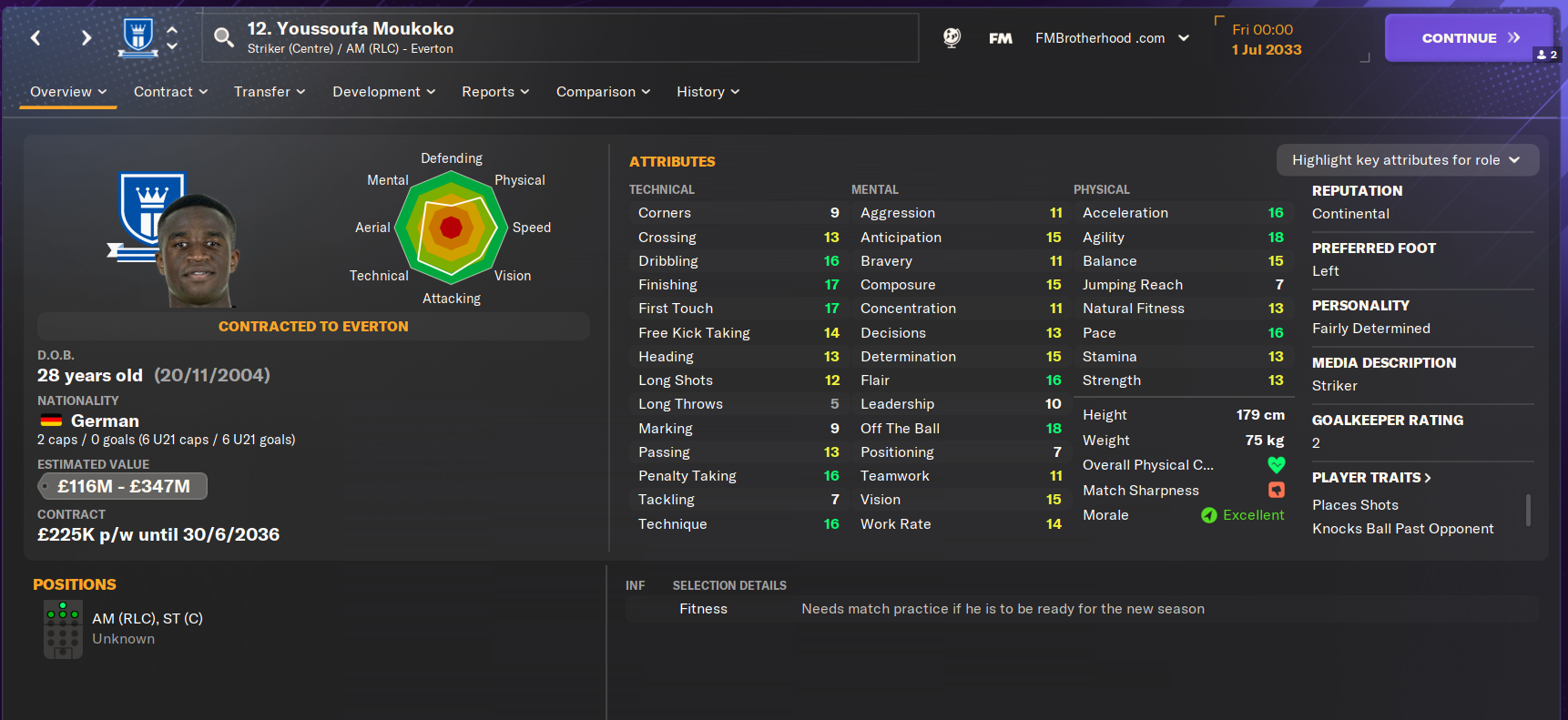 In the first 2 seasons, Mouokoko was seriously struggling for game time at Borussia Dortmund. This allowed Everton to snap him up for £48 million, and look how great he's become!
In his prime Moukoko has some exceptional technical attributes, such as 17 finishing, 16 dribbling, and 17 first touch. He's also really fast, and has amazing agility.
You might have thought Moukoko would be a bit higher on this list of the best FM24 striker wonderkids, and we feel if he had received a lot more game time in the first 2 seasons he could become even better.
Regular first team football is so important for wonderkid development when they're 18-20 years old. If Dortmund knew he wasn't going to be playing very often, they should've considered loaning him out.
3. Karim Konate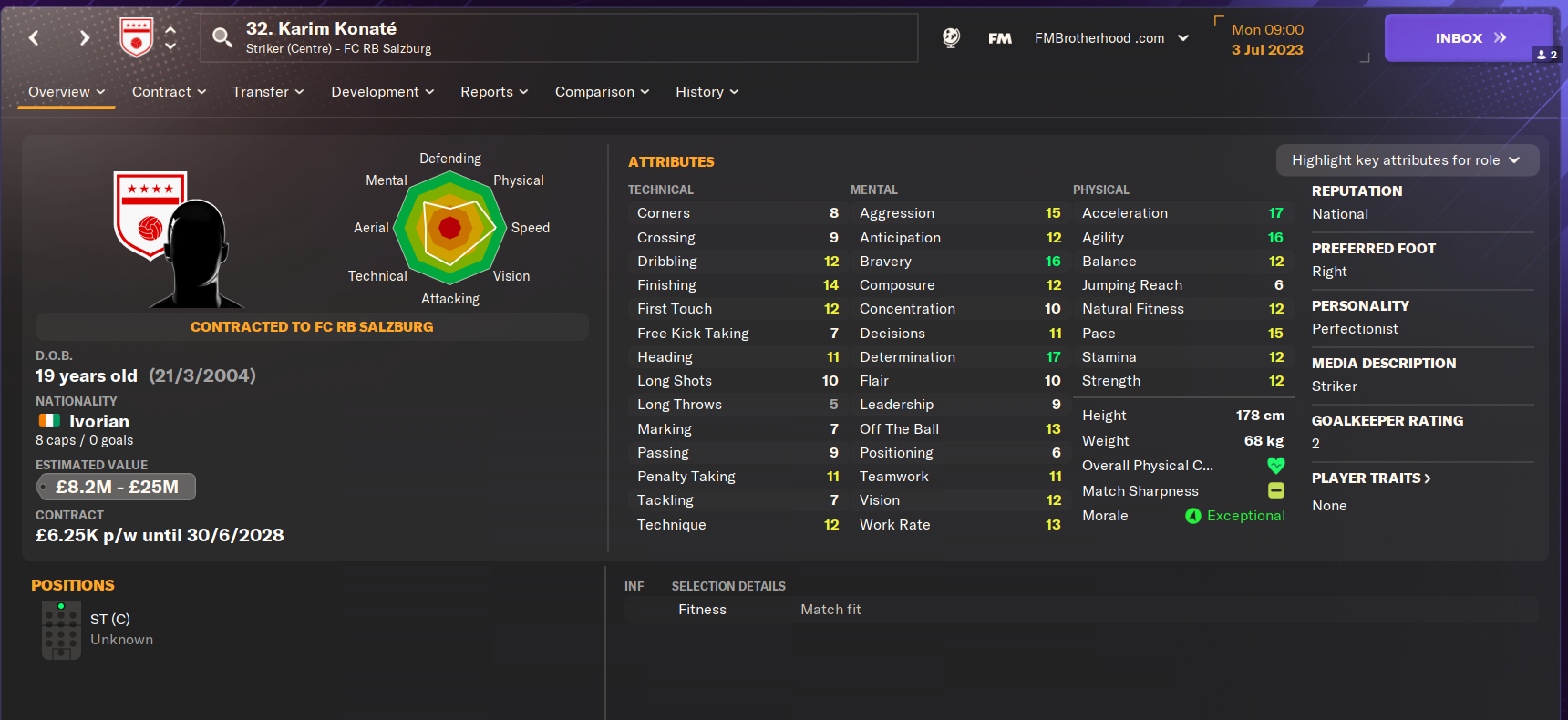 Karim Konate is the next big thing to come out of RB Salzburg. With Benjamin Sesko off to Leipzig, Salzburg needed a player to fill his boots. Karim Konate is more than capable of doing so.
He's a rapid striker with brilliant finishing for his age. He also has a perfectionist personality, so he always strives to be the best.
Konate has recently signed a new deal with RB Salzburg, which means he unfortunately can't be signed in the first season. But you NEED to add him to your shortlist, because his potential ability allows him to become one of the best wonderkid strikers in FM24.
Karim Konate in 2033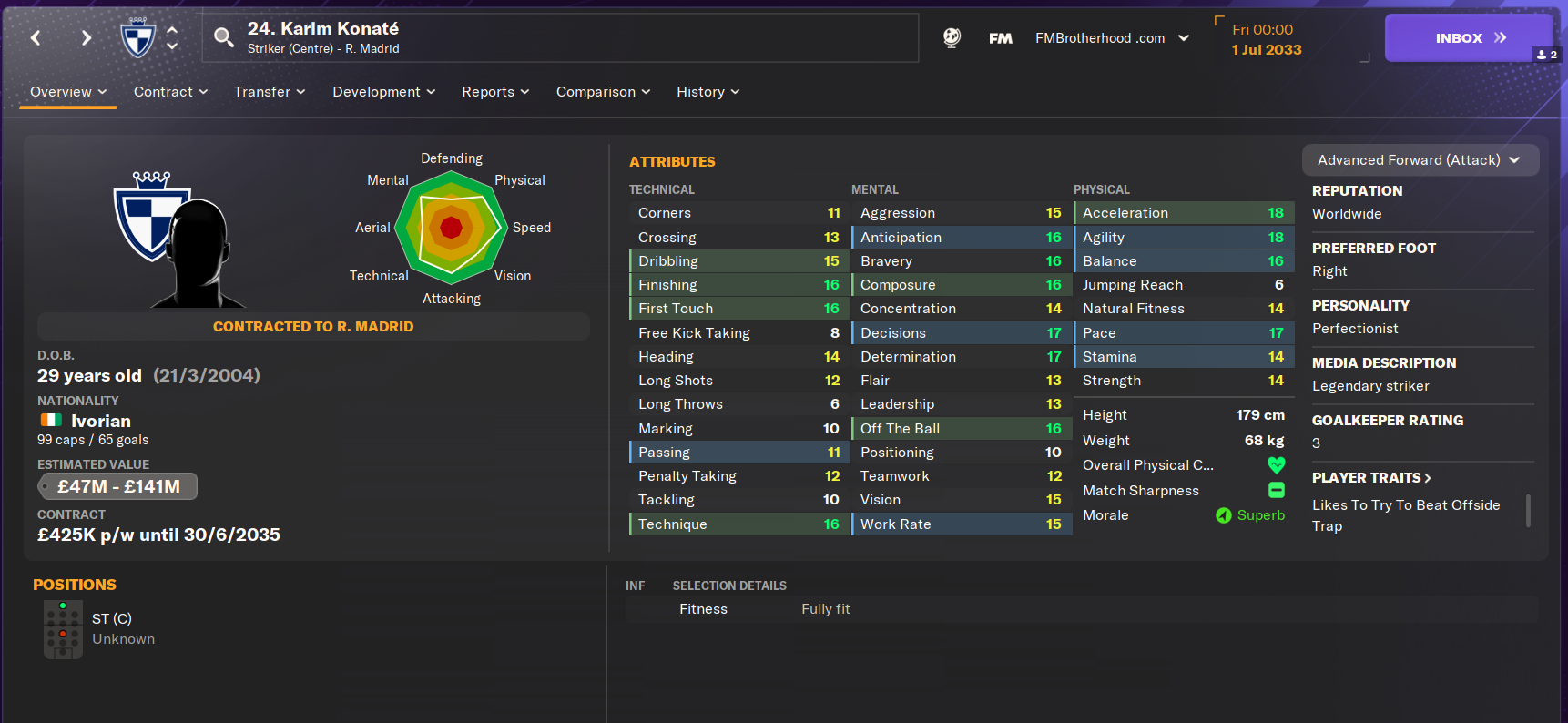 Karim Konate was snapped up by Bayern Munich for just £15 million, before being sold to Real Madrid for £70 million!
Konate has some world class attributes in his prime, and is described by the media as a "legendary striker."
His goal scoring record for the Ivory Coast puts him level with Didier Drogba with the most goals for the first team, and at just 29 years old he'll surely take the number 1 spot for himself.
Seriously fast, great technicals, and top class mental attributes. He even has great heading for a small guy, but 6 jumping reach means he'll struggle aerially.
Now let's get into the 2 best FM24 striker wonderkids. These 2 players are by far the best wonderkid strikers in the game.
2. Vitor Roque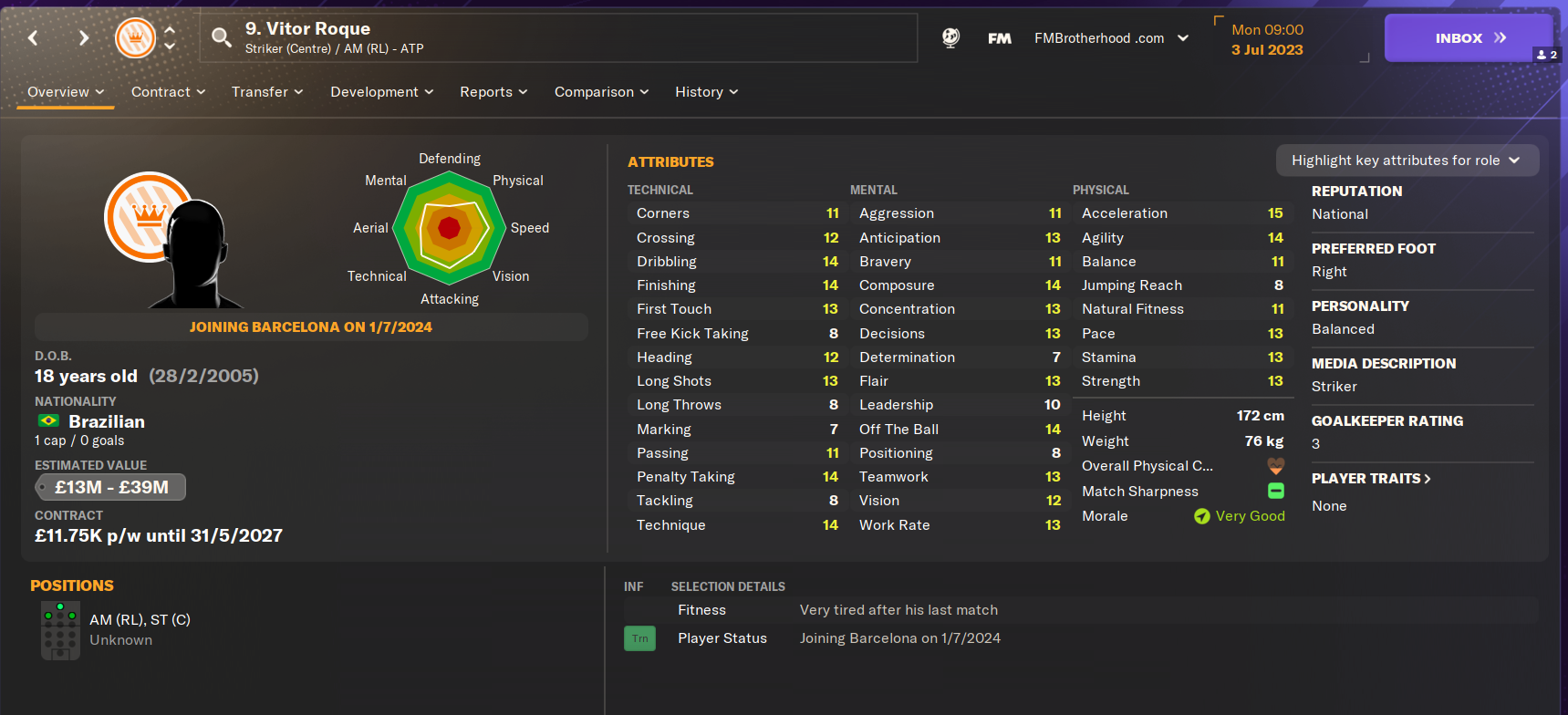 Vitor Roque has excelled in Brazil at such a young age, and has already made an appearance for the national team. He was in high demand from all the top clubs in Europe, and Barcelona have managed to persuade him to join them in January 2024.
As a teenager he has solid attributes across his mentals, physicals, and technicals.
Vitor Roque in 2033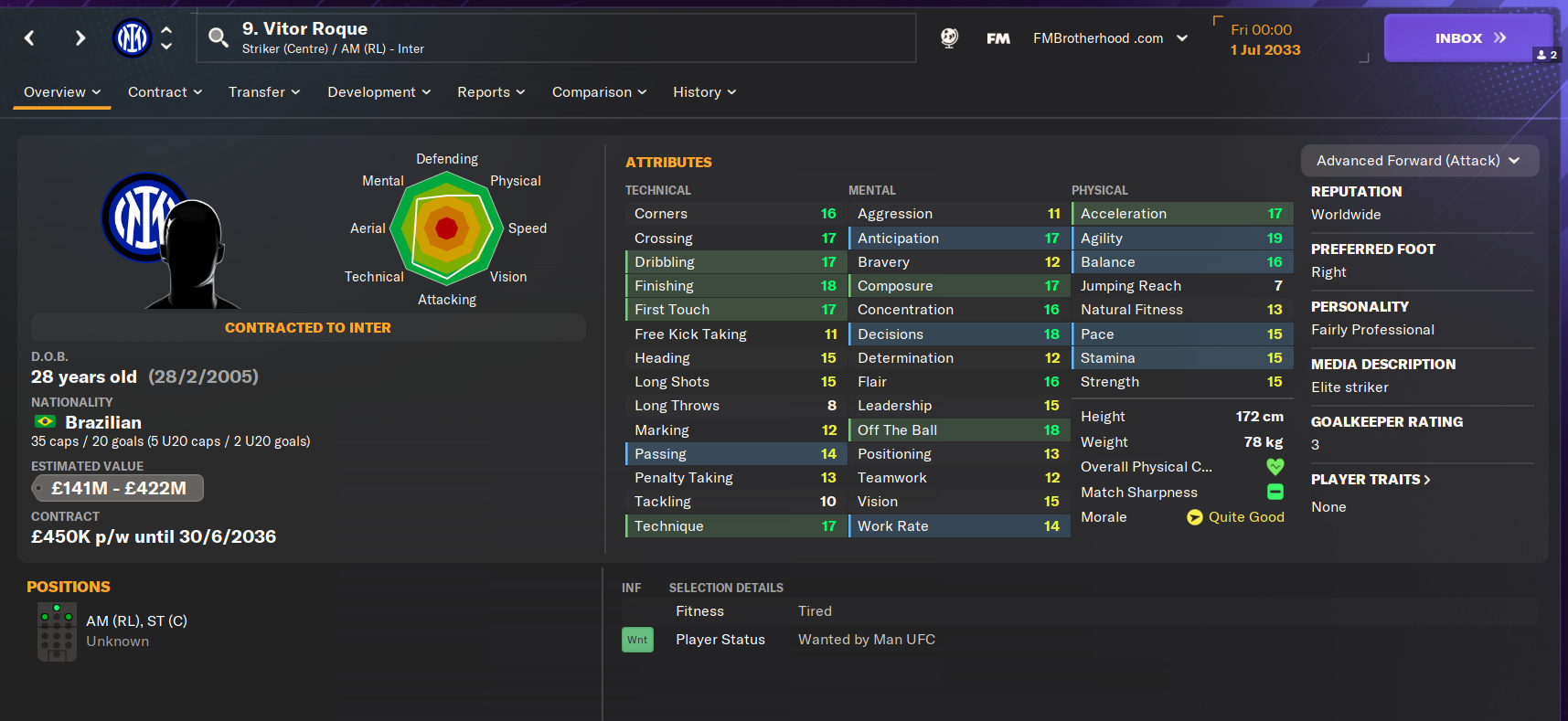 The most crazy thing about Roque in his prime is that he somehow only has 35 caps for Brazil. However, that might have something to do with the player that's taken our number 1 spot.
If you already have an amazing striker, you can play Roque out on the wing too. He has 17 crossing, 19 agility, and 17 technique. He would have no problem playing out wide.
Vitor Roque was born to score goals. In his prime, he's a world class striker, and undoubtedly a player you must try to take from Barcelona if you can. He signed for Inter Milan for £33 million in 2030, so he might become available at a cheap price in your save too.
1. Endrick – Best Wonderkid Striker in FM24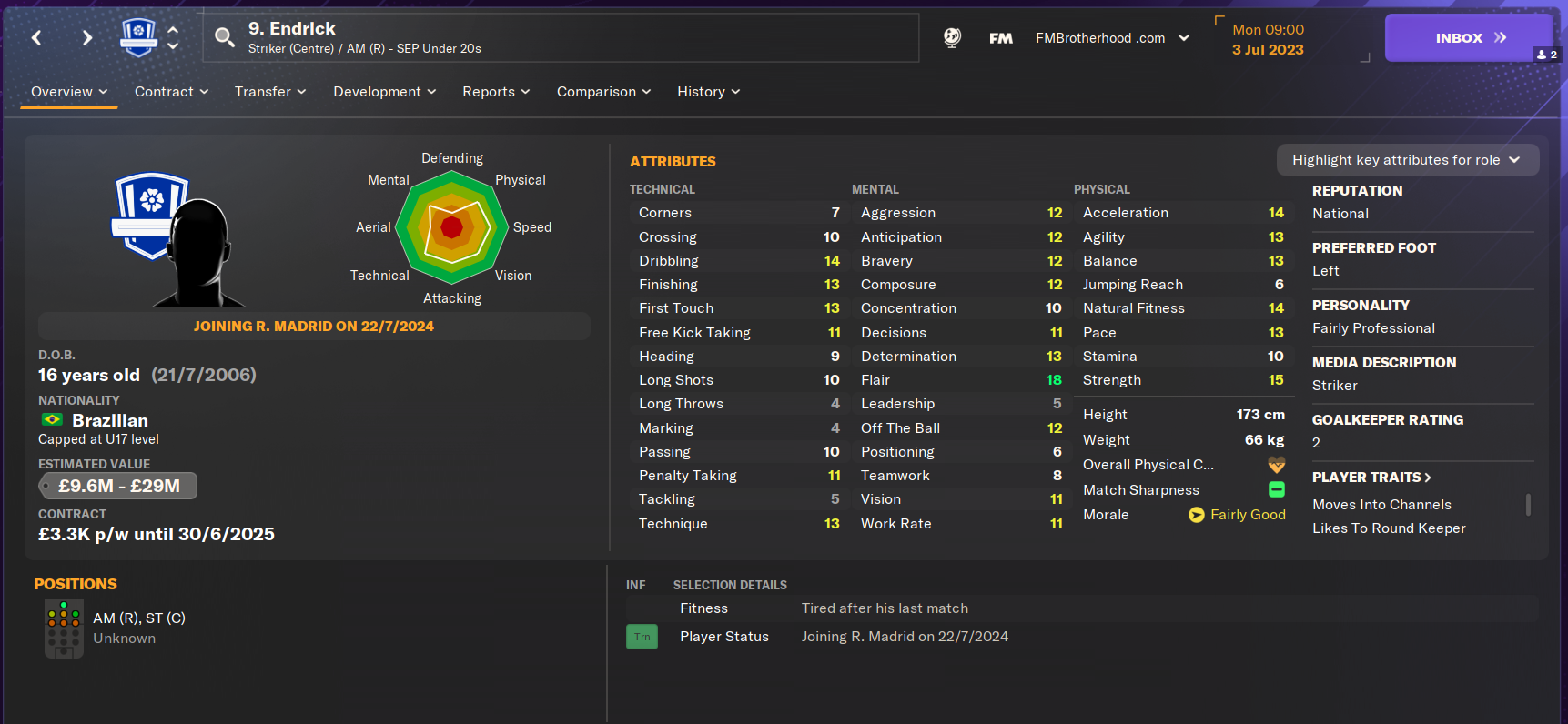 The best wonderkid striker in FM24 is 16 year old Endrick. What a phenomenal talent that's not even technically an adult yet.
It's no surprise that Real Madrid have paid so much money for him, he's scoring goals at a senior level already, and will probably go on to be one of the best players of this generation. He's pacey, got great dribbling, and of course the Brazilian flair.
Endrick in 2033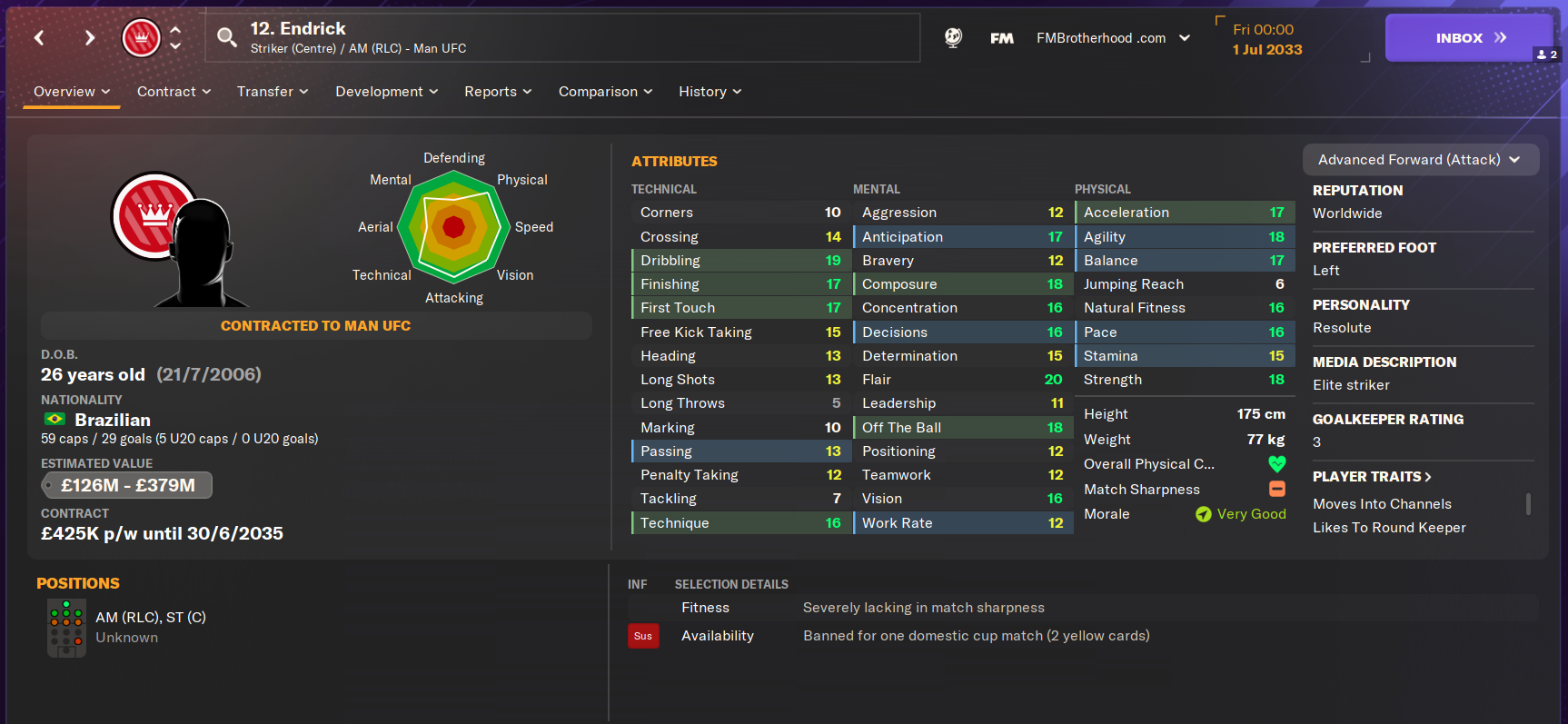 In our Football Manager simulation, Endrick is perfect in his prime. Just sit back and admire those attributes. There are too many to go into.
Manchester United managed to sign him for just £41 million from Real Madrid in 2026, and he went on to score 126 league goals for the Premier League club. Another thing to remember is that 10 seasons into your FM24 save, Endrick will only be 26.
He is a phenomenal investment if you can get him early on. Maybe in your save he doesn't get his desired game time at Madrid and wants to move for more first team football. This is your chance to take him and make him a club legend.
So Which FM24 Wonderkid Striker Should You Sign
You can see there are lots of great options to choose from. These are the best wonderkid strikers in FM24 that can actually reach their potential.
It's unfortunate that a lot of them are unavailable to sign in the first Football Manager 2024 season, so if you're desperate for one to nurture straight away, consider Mathys Tel, or Jason van Duiven.
Need a wonderkid centre back for your FM24 save too? Read this article to find out the best ones to sign.
People Also Read
Best Cheap Strikers in FM24 You Can Sign in Season One
8 Best Wonderkid Right Backs in FM24