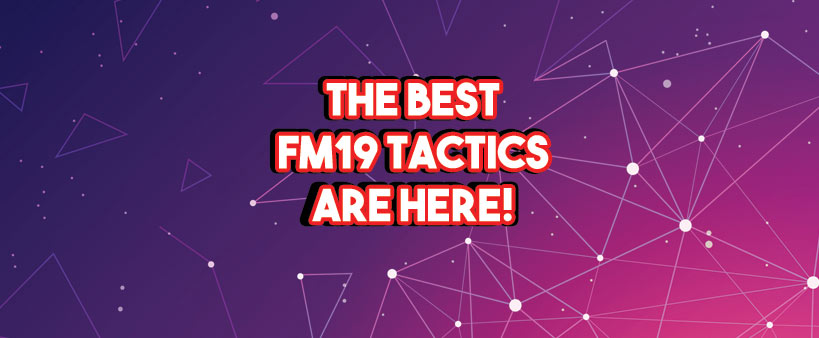 The Best FM19 Tactics Toplist
It is time for the best FM19 Tactics chosen by FMBrotherhood team!
As we said, from FM18 we will continuously add newly tested and what we think are the best football manager tactics. There will be a lot of tactics soon, we will add them one by one. That`s how we got our FM18 best tactics list so far. The reason why we will do so is that we test all the tactics before they get into our list. So here you will be able to check out our best FM19 tactics:
19.3 TFF CONQUEROR V7
TFF STORMCALLER V14
Beowulf 4231 Knap`s Fm19 Tactic
NikFM Unbeatable FM19 Tactic
Knap's  3-4-3 Press Tactic
Soxiant 433 Tactic
TFF – Conqueror 4-4-2 – Patch 19.3.
This TFF's FM19 tactic is probably the greatest Football Manager tactic after the latest patch 19.3. We have tested this tactic with many teams and this FM19 tactic was almost invincible.
Your team is going to play attacking football with a really high pressing, and you can expect many goals in the opponent's net.
For this FM19 tactic, you need two very fast strikers and wingers. In the middle TFF is using two Box to Box midfielders and they must be hard workers and team players. If you don't have creative defenders then change roles of your BPD-s to a normal CD.
We all know that TFF is one of the best tacticians but this football manager 2019 tactic is a real masterpiece.

Download TFF – Conqueror 4-4-2 – Patch 19.3. Tactic at the end of the page!
TFF STORMCALLER V14 FM19 Tactic
First tested and a great tactic for fm19 is here – Stormcaller v14. Made by one of the best football manager tacticians – TFF. We have tested this tactic with many clubs and results were really great.
If you like to play with underdogs then you can expect to have some incredible wins. Wins vs much stronger teams with this tactic. That is why we choose this tactic as one of the best FM19 tactics we tested so far.
You will play with high defensive line and 2 BPD so it would be nice to have some creative and fast Central Defenders. Full Backs should be fast and team players with some nice tackling and marking.
In the middle, you must have two players who should be able to protect defense and at the same time to organize your attacks.
Check out our Defense FM Guide here! More about this tactic you can find out on the fm-base forum.
Key players are in positions of Segundo Volante and Advanced Forward. So go to the transfer market and find some classy players for these two positions.
Advanced Forward cannot be a slow player. That is another important thing you must to know if you decide to use this astonishing fm19 tactic.
Download TFF Stormcaller V14 FM19 tactic at the end of this page!
Beowulf 4231 Knap`s FM19 Tactic
This is really one of the best Knaps tactics in Football Manager 2019. We have tested this tactic with many teams and results were absolutely amazing.
Knap once again proved his quality. We have already spoken a lot about his genius before, and his tactics in FM18.
Beowulf 4231 is an attacking tactic. Of course, in formation 4-2-3-1. If you want to use this FM19 tactic you really need great Wing-Backs and very fast Advanced Forward. By our opinion that is the most important if you want to use this fantastic Knaps tactic. 
Inside Forwards are cutting inside and leaving the space for attacking wing backs, AM is attacking duty so he also joins the opponent`s box.
Two DM-s are on support duty and they are the main link between your defense and attack. So, it would be nice if you find some creative players for these two positions.
You will need some technically good defenders with a nice passing for your pair of BPD.

Download Beowulf 4231 Knaps FM19 Tactic at the end of the page!
NikFM Unbeatable FM19 Tactic
Among all of these tactics, we have to say that one is from our Community. Our leader Nik made an amazing tactic. The tactic we called Unbeatable FM19 Tactic (CLICK HERE) and you can find it here on our website. 
Knap's  3-4-3 Press
Another fantastic tactic made by Knap and this time in formation 3-4-3.
We have tested this tactic with top clubs and results were really awesome. But, with underdogs, this tactic didn't have the same success.
If you like interesting football with many goals then this great FM19 tactic is for you. A very important thing for this tactic is to have 3 very fast strikers and 2 great wingbacks. Wingbacks should have some nice crossing, speed, and stamina.
You are going to have only 2 CM-s. This is why they must be able to protect defense and at the same time to create some chances for your strikers. So for these 2 positions, you need players who can play in both directions.
Your team will play attacking football with direct passing and high pressing. As we said, this tactic is almost invincible with top clubs.
Download Knap`s 343 Press FM19 Tactic at the end of the page!
Soxiant 433 Tactic
Soxiant 4-3-3 tactic is for sure one of the best tactics for football manager 2019. The best thing about this tactic is that works great even with underdogs.
You need some great Pressing Forward, and this is why it is very important to have a suitable player for this role. Also, he will be your top goal scorer for sure.
This tactic is with a positive mentality, short passing, and extremely high tempo. That`s why you can expect an attractive, fast and beautiful football.
Wing Backs and Inside Forwards play a very important part and you will need some quality players for these positions.
Throw-ins and free kicks are amazing and your team will score many goals from set pieces.
Download Soxiant 433 FM19 Tactic at the end of the page!
Download The Best FM19 Tactics here on FMB!
As always, every tactic we share is totally free to download and they will be here so you won`t bother finding them. Stay with us, because this is only the beginning. Our best fm19 tactics list will grow like beans!