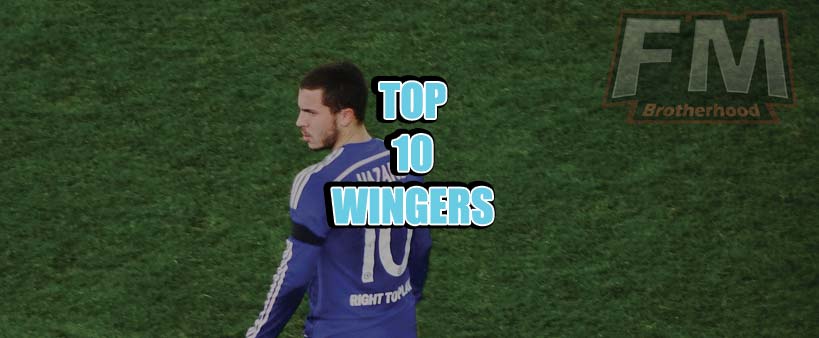 FM19 Wingers You need to buy this year!
By spaskecar | May 20, 2019 | 2990 Views
Wingers are one of the most important players in any Football Manager tactic. They can score, dribble, cross and eventually, they are the biggest attacking threat in any club. On our list, we will see some premium FM19 wingers, but also some young wonderkids who can you buy cheap and then help them becoming best FM 2019 wingers.
Before we start, let's see our list TOP 10 wingers you need to buy this year in Football Manager 2019:
Eden Hazard
Ivan Perišić
Juan Cuadrado
Marco Asensio
Isco
Jadon Sancho
Willian
Federico Chiesa
Dele Alli
Nabil Fekir
Best FM19 Wingers – Top 10
What are their biggest strengths? Who can you buy easy and how much you need to pay for some of the best wingers in FM19? Find out in our recap of every player from the list.
Eden Hazard
27-years old Belgian from Chelsea is our No.1 winger in FM19. He can play both as AML or AMR, even though he prefers playing on a left wing. Obviously, he is a premium winger, one of the best wingers in a world and transfers the target of many clubs.
And listen to his attributes: Dribbling 20, Agility 20, Passing 15. The amazing thing, he is not yet on his full potential.
His current ability is 180, and potential 185. He comes into the best years for attacking midfielder and if you need one big transfer, Eden Hazard is your man.
Estimated cost: 100M (contract expires in July 2020)
Ivan Perišić
Croatian winger currently playing for Inter, Ivan Perišić will be your best wingman. He is fast, with great positioning and very versatile. You can use him on both sides and in some games, he can be a striker, too. And he knows how to score.
Some of the best attributes: Off The Ball 18, Finishing 15, Pace 17. Perišić's biggest advantage is he is not that expensive.
You can buy him for around 50M, meaning you can get 2 Perišić for 1 Hazard. In the end, I would always go for that.
Estimated cost: 50M
Juan Cuadrado
Coming to the slight end of his career, Juan Cuadrado (30 years) can still produce season or two of amazing games in FM19. He is a typical South American.
Fast, great dribbler and entertaining to watch. He can play in every position on the right flank (AMR, MR, DR).
His Acceleration is 18, Dribbling 16, First Touch 15, and his only problem is in the air, he is really bad in it. But if you plan to use tika-taka tactic, he will be a great asset. If you are able to get Juventus to sell him. In the beginning, they don't want to do it.
Estimated cost: 50M
Marco Asensio
Only 22-years old Spaniard, Marco Asensio is one of the biggest Spanish talents in FM19. Preferably he is attacking midfielder left, but he can be used as an advanced playmaker, too.
His attributes are really amazing: Technique 18, Passing 16, Finishing 17. Meaning, you will get a winger who can score a lot of goals. And best of all, he can still improve a lot.
His current ability is 155, but his potential ability is 185. It's potential to become not only the best winger in FM19 but the best overall player, too.
Estimated cost: 70M
Isco
Another well-known Real Madrid player. Isco is 26-years old who can play in any midfield position, but he is best used as a left or right winger. He is not playing regularly in Real Madrid and there could be your chance for transfer (but he has enormous wage: 404,000 per week).
Attributes are really not a problem for Isco: Technique 19, Dribbling 18, Flair 18. And he can improve even more to reach his potential of 180.
If you will have money like a rich sheik then buy Isco. Otherwise, we suggest looking at some other options.
Estimated cost: 90M
Jadon Sancho
And here is one amazing winger wonderkid, Jadon Sancho. 18-years old Englishman has been sensational for Borussia Dortmund this year. And if you buy him, you will get sensational winger, that's for sure.
Dribbling 17, Acceleration 17, Technique 17. Amazing attributes, but he can only improve more in the future (potential ability is 175). Definitely, one of the best wingers in Football Manager 2019. If you can, Sancho should be your must-have signing.
Estimated cost: 35M
Willian
Going back to premium wingers, we have found Willian, Brazilian from Chelsea. He is an amazing AMR and he will be a key player in every FM19 club. He is 29 years old but surely can have 3-4 really good seasons.
Willian is a great team player (Work Rate 19, Teamwork 18) and has some beautiful technical attributes (Dribbling 17, Crossing 14). His current ability is 154, but he has potential 162. Really good winger that's for sure.
Estimated cost: 60M
Federico Chiesa
We have already talked about Federico Chiesa in our FM19 Fiorentina team guide. He is Fiorentina's best player, although he is only 20 years old. Chiesa is a true FM19 wonderkid, playing as a right-winger.
Dribbling 16, First touch 15, Pace 16. Chiesa will be a nightmare for any defense in a world, especially when he reaches his full potential that is 171. But, he has one big disadvantage. Already he is priced between 56 and 100M.
Estimated cost: 80M
Dele Alli
Dele Alli can be used in an attacking midfield position, including both wings. He is only 22, but already he is one of the hottest transfer targets in a world. And he can only improve.
His current ability is 158 which is great, but his potential ability is 176, which is amazing. You can buy a wonderkid and set him to the sky.
Dele Alli attacking attributes are great: Dribbling 16, Finishing 16, Technique 16. So in some games, you can use him as a winger, and in others as an advanced playmaker or even a striker.
Estimated cost: 65M
Nabil Fekir
And the last on our list of best FM19 wingers is Nabil Fekir. Playing for Lyon, Fekir is a mix of winger and striker. We fancy him as he is not so expensive (39M), but has a nice potential ability (165).
Some of his best attributes are: Dribbling 16, Technique 17, Agility 16. As a versatile player, Fekir is great for some 4-3-3 tactics as he can play on the side but in the middle, too. He can score and he can assist. Everything you need from a good winger.
Estimated cost: 40M
We have come to the end of our list TOP 10 wingers you need to buy in FM19. But, there are many many more great wingers out there. If you want to find them, learn about their potential and attributes, we strongly recommend watching NIK FM video below. Here you will find some players from our list and some we haven't mentioned, but who are surely best wingers in FM19. And hint: Some of them are really cheap. 😉
Join our Football Manager Community at FMBrotherhood!
In the end, we encourage you to join our Football Manager Community. Here you will find out more interesting news, helping stuff and everything you need to master Football Manager 2019. Or you can just share some FM19 wingers you like and prefer. We can't wait to hear out from you.