TOP 10 cheap players to sign in SkyBet Championship FM19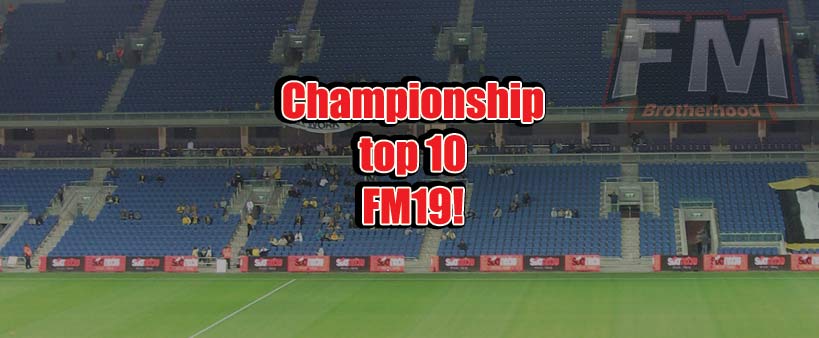 SkyBet Championship or just Championship is by far the strongest second division in the world. It is one of the most popular leagues to manage in Football Manager 2019. But as much as playing with second league team is interesting and ambitious, you will have a problem with small transfer budgets.
Fortunately, FM19 is full of bargain wonderkids and great players available for even less than 1M. SkyBet in Football Manager 2019 is really hard to play and every match will be big battle for points. If you plan to earn promotion, you need to boost your team with some great players and transfers.
In SkyBet Championship FM19 you can manage some historical great clubs. Aston Villa is predicted to win Championship, but if you are looking for clubs with bigger transfer budget in Football Manager, we suggest West Brom, Blackburn, Middlesbrough or Stoke City. They have a transfer budget from 5M to 10M, so you can bring some top players in FM19.
What`s our SkyBet Championship FM19 players list about?
On our list you will find some players with amazing potential, ridiculously good free transfer players and players who can bring you a lot of money from future transfers.
Whether you take some of richer clubs or you decide to go with clubs with lower transfer budget, but bigger passion, we recommend top 10 cheap players to sign in SkyBet Championship FM19, who will bring you one step closer to Premiership:
Antonio Marin
Erik Palmer-Brown
Jack Whatmough
Robert Gumny
Bozhidar Kraev
Gianluca Gaudino
Dennis Diekmeier
Pedro Diaz
Sercan Sararer
Obafemi Martins
This is our list of 10 best players to buy for any SkyBet Championship club in Football Manager 2019. Now, let's see something about all of them, their price, position, and potential.
Top 10 Best Players To Buy in SkyBet Championship FM19
1. Antonio Marin
Underline this name. 17-year Croatian left winger currently plays for Dinamo Zagreb. He is a vital part of Croatia U19 squad and has made to a Guardian list of 50 best players in a world at his age.
In FM19, Marin has current ability 110, but his potential is rated at 156. He is only 17., but already has some nice dribbling (17), flair (18)  and technique (14). He has potential to become the best winger in SkyBet Championship and more.
Estimated cost in FM19: 775K – 1,9M


2. Erik Palmer-Brown
Erik Palmer-Brown is 21 years old American who plays as central defender. Currently he is at NAC Breda, on loan from Man City.
Great thing is that although he is only 21, he already has some first team football, and can make immediate impact. His physical attributes are great, the same as defending once like heading or marking.
His current ability is 108, but his potential ability is 145. Great asset to a second division team in Football Manager 2019, that's for sure.
Estimated cost in FM19: 400K – 850K

3. Jack Whatmough
Third on a list is a homeboy – Jack Whatmough. 21 years old ball playing defender is currently contracted to Portsmouth. He has some nice technique for defender, great first touch, heading and marking. So he can be used on both sides of pitch, especially on set pieces.
Whatmough has current ability of 112, and potential of 140. Unfortunately, he is a bit expensive, but if you can afford him, you won't regret.
Estimated cost in FM19: 1.3M – 2.9M
4. Robert Gumny
Robert Gumny is 20 years old right wing-back from Poland, currently playing for Lech. His potential ability is amazing, 159. He is fast with great mental attributes, everything you need to succeed in Football Manager 2019.
He is the most expensive on our list, you will need to pay 3M to 6M, but you can earn much more on him in the future. At the beginning of the season he is injured, and that could lower his price down a little bit.
Estimated cost in FM19: 3M – 6M
5. Bozhidar Kraev
Shadow striker from Bulgaria, Bozhidar Kraev is one of the biggest Bulgarian potentials and can be great player in FM19. He can play on any attacking position, advanced playmaker, trequartista, attacking midfielder.
He is currently playing for Midtylland, already has made 4 caps for Bulgaria A team so he is familiar with top level football. He has potential ability 138.
Estimated cost in FM19: 500K – 1.5M
6. Gianluca Gaudino
One of the best potential signings in Football Manager 2019 is Gianluca Gaudino. 21 years old German is best used as advanced playmaker or attacking midfielder. He has great first touch (16), passing (14), teamwork (17).
And the best thing – Gianluca Gaudino is on a free transfer in FM19. He played for Bayern Munich and is one of the best signings in Football Manager 2019 for any SkyBet Championship team.
Estimated cost in FM19: free agent
7. Dennis Diekmeier
Another player on a free transfer is Dennis Diekmeier. With 28 years, he is one of the oldest on our list top 10 signings in SkyBet Championship FM19. Dennis played for HSV for 8 years and will bring a lot to your team.
He is experienced right wing back with great speed, crossing, work rate and long throws (17). If you sign Diekmeier you will have big chance to score from throws out.
Estimated cost in FM19: free agent
8. Pedro Diaz
First Spanish player on our list is Pedro Diaz. Currently playing for Sporting Gijon B, Diaz is best used as MC (mezzala). He is 20 years old with potential ability 151.
He has great mental and technical attributes but still need to improve in physics what will happen if he is presented to regular first team football.
Estimated cost in FM19: 1.5M – 3M
9. Sercan Sararer
Sercan is 28 years old from Turkey, attacking midfielder who can play on both left and right side. His pace is 16, and dribbling 15, great attributes for an inside forward, but you can use him even as an striker.
He is our best potential player to sign because with all his attributes, he is a free agent. God, we love free players. And he is really keen to play in SkyBet Championship.
Estimated cost in FM19: free agent

10. Obafemi Martins
Last player on our list of top 10 potential players to sign in SkyBet Championship FM19 is Obafemi Martins. No words needed, I guess. 33 years old striker is a free agent and is amazing addition to any SkyBet Championship team.
Even though he is a bit old, Martins still has great finishing (14), great physical attributes and surely will make impact with your team and fans. You can use him in rotation, knowing he will score when you need him.
Estimated cost in FM19: free agent
You got your own players to sign in SkyBet Championship FM19? Tell us
This is it. This was FMBrotherhood's list of TOP 10 cheap players you should sign in any SkyBet Championship club in Football Manager 2019. They will help you win SkyBet, promote to Premiership and potentially become a new Leicester of FM19. 
There is also a video with NikFM`s recommendation. Check out what is his opinion about those players.


Related: FM20 Best Championship players to sign!