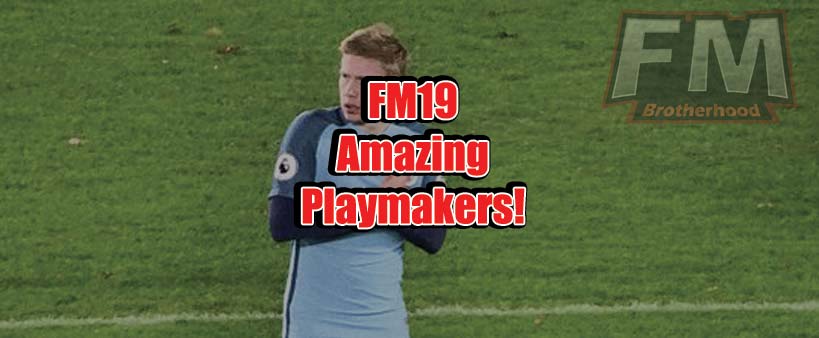 FM19 Playmakers You Just Have to Sign!
By spaskecar | May 7, 2019 | 2708 Views
FM19 playmaker is a player who controls the flow of the team's offensive play and is often involved in passing moves which lead to goals, through their vision, technique, ball control, creativity, and passing ability.
The AMC position in FM19 is positioned in an advanced midfield position, usually between central midfield and the team's forwards, and who has a primarily offensive role.
A central attacking midfielder may be referred to as a playmaker, or number ten (due to the association of the number 10 shirt with this position).
A good attacking midfielder in Football Manager 2019 needs good passing abilities, vision, the ability to make long shots, and solid dribbling skills.
This specialist midfielder's main role is to create good shooting and goal-scoring opportunities using superior vision, control, and technical skill, by making crosses, through balls, and headed knockdowns to teammates. They may try to set up shooting opportunities for themselves by dribbling or performing a give-and-go with a teammate.
Playmakers in FM19 may also make runs into the opponents' penalty area in order to shoot from another teammate's pass. Where a creative attacking midfielder is regularly utilized, he or she is commonly the team's star player and often wears the number 10 shirt. As such, a team is often constructed so as to allow their attacking midfielder to roam free and create as the situation demands.
One such popular formation is the 4–4–2 "diamond" (or 4–1–2–1–2), in which defined attacking and defensive midfielders replace the more traditional pair of central midfielders.
FMBrotherhood's Top FM19 Playmakers
Without them, teams can't win matches, and some of the most iconic players throughout history have functioned from this role, and even though they are not the most revered, they are as important if not more so than their striking counterparts.
---
Maybe you would be interested to check our best FM19 Poachers List here!
---
These players are playmakers, and this list celebrates the finest of them in the world at the moment.
Christian Eriksen (Tottenham / Denmark)
Christian Eriksen is a world-class player and there is no surprise to find him on this list. He's an exceptionally good team player and some of the main physical aspects are his stamina and natural fitness.
The man never tires. If he isn't injured, he'll play 95% of your games without ever really getting tired. He has all the attributes needed to be considered an "FM19 playmaker you need to sign".
Everything mentioned in the introduction, this man has it. Amazing passing, work rate, decisions, first touch, technique, and vision make him one of the best in the world and he is only 26!
This man has the skills to pay the bills. If you're playing a team with a huge budget, try to bring Eriksen no matter the price. Paying 150-200 million for this man is worth it. He will bring you both goals and assists.
Miralem Pjanic (Juventus / Bosnia and Herzegovina)
Miralem is a 28-year-old Advanced Playmaker in FM19. He's a godlike player who is fairly ambitious, professional, resolute and temperamental.
He's an extremely intelligent player with high attributes in vision, decisions, teamwork, positioning, anticipation, first touch, technique, and passing but being good in those attributes is expected from all players on this list.
So what does make Miralem Pjanic so special?
His free kicks!
Miralem is currently the second-best free kick taker (considering number of goals scored) in the last 5 seasons in Europe's 'Big Five' leagues. Only Messi has scored more than him.
In FM19 Pjanic has a 19 attribute in free kicks which is almost max and considering he has more competition for taking free kicks with the likes of Ronaldo and Dybala his number of scored goals might have been even higher.
Miralem has a contract until 2023 and isn't a cheap buy. You will probably need to pay around 130 million for him to get him but he will solve your playmaker problem.

Marco Verratti (PSG / Italy)
Marco Verratti is 25 years old and is the second youngest on this list. He's just like Pjanić when it comes to attributes he possesses. Everything is about equal except Pjanic is better in free kicks and Marco has better dribbling.
We'd also say Verratti is better in defense than Pjanic and he is less temperamental which will cause him to get fewer yellow cards during the season.
His best abilities are his passing and vision and those will bring you assists in football manager 2019!
Considering he came from Pescara when he was only 19 and he made it into the first team of PSG at such a young age is astonishing. PSG can afford any player in the world, and still Verratti is in the first team for 6 years.
Considering he is only 25, he will be world class for quite a few years, which means he will cost you about 130 million just like Pjanic but it is worth it!

Kai Havertz (Bayer 04 / Germany)
When we wrote that Marco Verratti was the second youngest on this list, we didn't say who was youngest, but here he is. Kai Havertz is only 19 years old and he is a wonderkid playmaker in FM19.
He's a well-known name for FM players because he made his debut 2 years ago at the age of 17 and at the age of 18, he scored his first debut goal in Bundesliga.
He now holds the Bayer 04 title of the youngest ever player when he made his debut against Werder in 2016. Other achievements he has:
German U17 Player of the Year runner-up
German Player's Newcomer of the Year runner-up
German U19 Players of the Year
When it comes to his attributes, he already has really good attributes at such a young age. Most notably are his technique, composure, vision, natural fitness, pace, first touch, and teamwork.
We played a couple of seasons with him and he turns into a godlike player with some attributes reaching the maximum 20. The kid just needs to be given enough games every season to improve.
Even though Bayer 04 will ask for 170 million for him at the start of negotiations, you can probably get him for around 120 million and if you like developing players and seeing them rise to glory as we do then this is a must buy for you!


Kevin De Bruyne (Manchester City / Belgium)
De Bruyne is the best player in the middle of the park in football manager 2019. He has almost maximum stats in vision, passing, first touch and very good stats in technique, decisions, stamina, work rate. He's a global superstar and Manchester City know this, and they will ask over 300 million for him!
Chelsea bought him in 2011 for just $10M and he "wasn't good enough for them" and he spent a few years on loan where he was eventually sold to Vfl Wolfsburg in 2013 for $29M where he won the German Cup and the German Super Cup in 2015 and he was named Germany's Footballer of the Year.
Manchester City bought him for $83M and it was worth every cent since they've won the Premier League and two Carabao Cups since he came, and they are looking strong to win the Premier League back to back this year!
Chelsea had its fair share of transfer mistakes but we at the FMBrotherhood call this one as the biggest!
Conclusion
For conclusion, we'd like to add some preferred moves that playmakers must possess to be able to dominate the game. Even when playing with players who aren't the best, these moves can make them a lot better:
Dictates the tempo
Tries killer balls often
Looks for pass rather than attempting to score
Runs with ball often
Try to make your players learn these moves if they are playing your FM19 playmaker position.
Just like always we have prepared a short YouTube video covering this topic, where our team member Nik talks about the best playmakers in football manager 2019.
He talks about some players from the list above and quite a few more than weren't mentioned in this list. He also shares his shortlist of the best players in this position, so if you want to find out more check it out on this link: