Great 4-4-2 FM19 Tactic That Will Make You the King!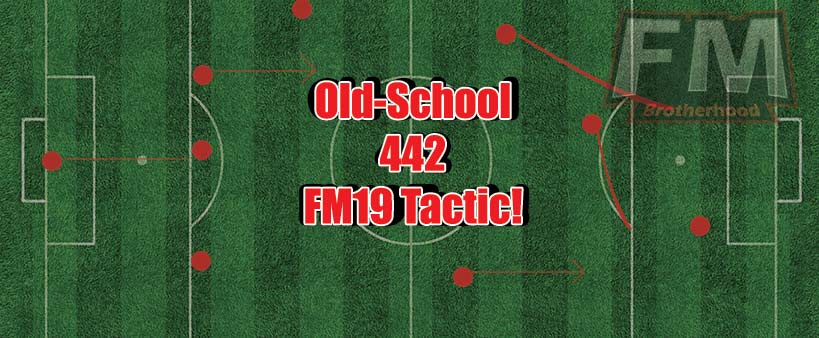 In recent years, many teams have transitioned away from using the 4-4-2 formation and have embraced other formations instead. Nowadays we usually see a talented number 10, attempts of more complex formation, or strengthening the midfield by sacrificing an attacking player for another midfielder. And it's the same in Football Manager 2019. But we, at the FMBrotherhood want to bring back 4-4-2 to its glory days so we have a small guide for you.
The 4-4-2 formation is the standard formation
Every player knows how to play in it and the beauty of the formation is that there are clear roles and expectations for each player.
Some honorable mentions from the past with huge success with the 4-4-2 formation:
Ferguson stuck with the formation that granted him so much success in his 26-year tenure until his final few years as Manchester United manager, when he added an extra man to midfield to adapt to difficult opposition, such as his lineup for the 2009 Champions League against Pep Guardiola's Barcelona.
Arsenal's 'Invincibles' side of 2003/04 is another example of a team who achieved great success using 4-4-2
Requirements for this formation to work in FM19:
Centre midfielders who are mobile, can contribute both offensively and defensively, and are comfortable on the ball as a lot of the play will go through them.
Athletic fullbacks who can support the wingers in front of them while not neglecting their defensive duties.
Two strikers who work well together. The most successful teams who have used this formation have always had a great partnership up front.
Good communication skills. Especially between the central defenders and the midfielders in front of them as this is where the opposition players often find space between the two lines.
Disciplined wingers who are creative going forward but also track back and support their fullbacks.
The FM19 4-4-2 tactic
This custom 4-4-2 football manager 2019 tactic is very intense to play so you will need good squad depth for this to work.
When in possession:
The attacking width is Fairly Wide, the approach style is Pass Into Space and we want our players to Play Out Of Defence with a Slightly More Direct Passing Style and Higher tempo with no timewasting whatsoever.
In the final third you want to set up Mixed Crosses, Run at Defence and Be More Disciplined.
You can see a detailed look in this picture below: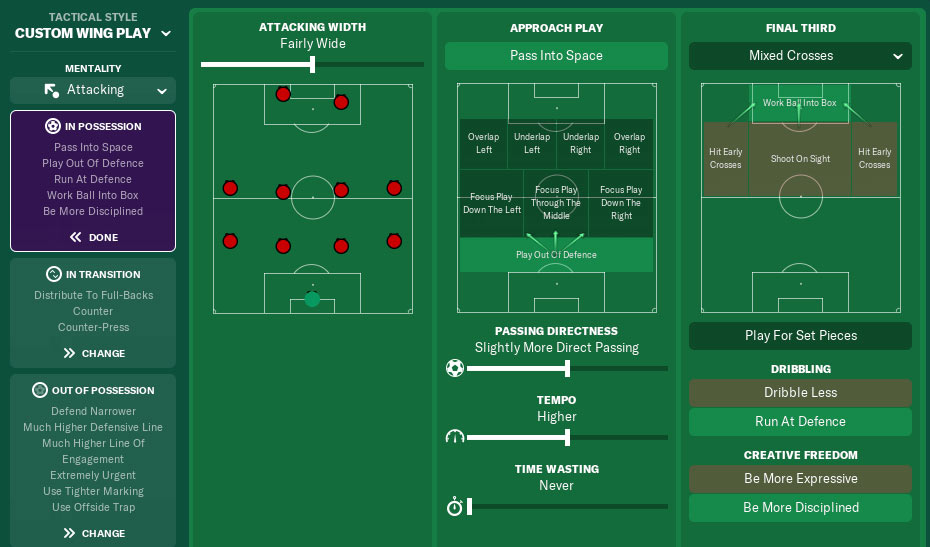 When possession has been lost you want to Counter-Press and when possession has been won you want to Counter and when the goalkeeper has the ball you want to Distribute to Full-Backs.
Like we said, all this running causes your players to tire very fast, they will need a lot of stamina and a lot of rotations during the season.
When you are out of possession, you'll want your players to Defend Narrower with a Much Higher Defensive Lines while using Offside Traps. You'll want to set up your line of engagement at Much Higher and the Extremely Urgent Pressing Intensity.
When it comes to marking and tackling, you'll want to Use Tighter Marking.
And this is how it all looks like in game: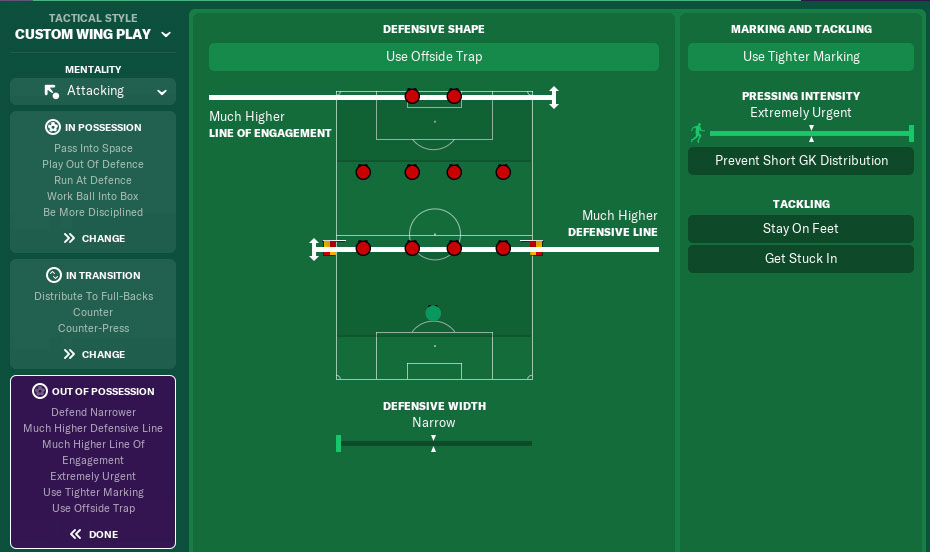 Roles and Duties in this FM19 Formation
The most important thing in this formation is to have 2 Wing-Backs both in Attack duty, 2 Wingers both in Support duty and 1 Target-Man also in Support duty.
As for the rest of the players, your keeper needs to be a Sweeper Keeper, put both Central Defenders into Defend duty while putting one MC into Deep Lying Playmaker Support duty and the other one into Central Midfielder Automatic duty. The last player is your Advanced Forward who should be put into Attack duty.
This is how it all looks: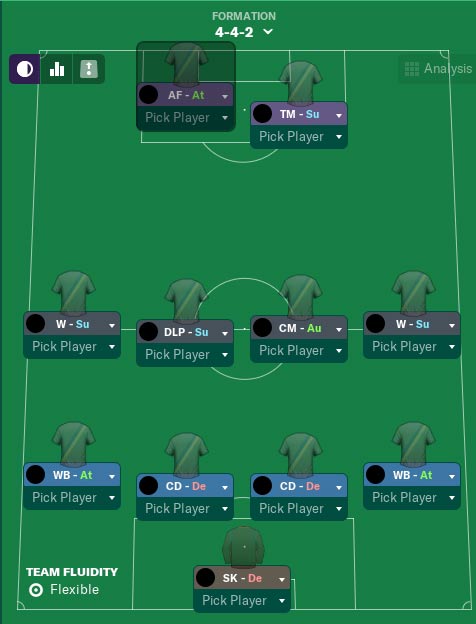 The Goalkeeper
The goalkeeper's main objective is obviously to stop the opposition from scoring! To do that they need to be agile, have quick reflexes and good handling skills. They contribute to the team controlling possession by recycling any balls played back to them, passing it on to the fullbacks, or playing it long to the wingers or a tall player up front.
Instructions: Take fever risks!
The Central Defenders
The center-backs are the defensive backbone of any team. They remain in front of the box and must do everything possible to limit the opposition's chances of scoring.
These two players are usually physically imposing and must often use their body to hold off and tackle the opponent's strikers, win aerial battles, and block any shots coming in.
Instructions: Pass it Shorter and Take More Risks
Left and Right Wing-Back
In the modern game, the role of the wing-back is becoming more and more of a specialized and indeed crucial position to the team. While in the past they were almost solely required to defend, they are now expected to bombard up and down the wing, overlap with the wingers, put in dangerous crosses, trackback, and put in crucial tackles.
They need to be very fit and it helps massively if they are speedy as well.
Instructions: Pass it Shorter, Shoot Less Often, Close Down More, Tackle Harder, Mark Tighter
The Central Midfielders
In a flat midfield, while one midfielder is usually more attacking and the other is more defensive, both of them need to contribute at both ends of the field.
In a 4-4-2 FM19 formation, their positional sense is crucial and as there are only two of them. They must work together and communicate well to know what the other is doing or intending to do.
It is up to them to dictate the pace of the game, exert control, and dominate the opposition's midfield which can be a challenge if they are outnumbered.
Instructions for DLP- Support: Pass it Shorter, Dribble Less, Close Down More, Tackle Harder, Mark Tighter.
Instructions for CM – Automatic: Pass it Shorter, Take More Risks, Dribble More, Shoot Less Often, Get Further Forward, Tackle Harder, Mark Tighter.
Left and Right Wingers
In a Football Manager 2019 4-4-2 formation, a lot of the creative responsibility falls on the wingers.
It is up to them to take on the opposition's fullbacks, get crosses into the box, and create goal scoring opportunities for their teammates.
They are often the best dribblers on the team, not particularly tall, and usually fast.
Instructions: Pass it Shorter, Shoot Less Often, Tackle Harder, Mark Tighter.
The Strikers
As the team's main goal scorers, a lot of the scoring onus falls on the strikers to do anything and everything to score. It is very important that the two up front have a good understanding and work together well.
When in sync, the two strikers can be a deadly proposition for the opposition. Their positional sense and movement are key to whether the 4-4-2 formation is a success or not.
Needless to say, they need to have a good shot, be decent with their head, and have a good sense of anticipation to be in the right place at the right time.
Instructions for Target-Man on Support duty: Pass It Shorter, Take Fever Risks, Shoot Less Often, Roam From Position, Tackle Harder, Mark Tighter.
Instructions for Advanced Forward on Attack duty: Take Fever Risks, Tackle Harder.
Our FM19 442 Tactic Conclusion
This is a high-level intensity football manager 2019 tactic. The level of effort required from the players in this FM tactic, which in turn affects their condition and likelihood of injury is impacted by the chosen levels of Pressing Intensity and Tempo, the style of tackling and the overall Team Mentality.
If you want to see how this tactic works in the game, without having to go through the hassle of setting it up yourself, our amazing team member of FMBrotherhood Nik has made a YouTube video showing off this old-school 442 FM19 tactic and his amazing results with it. He shows in-game goals, seasons stats and more.
And the best of all, there is a download link below the video for the tactic so you can load it and use it within seconds. Enjoy: