Jurgen Klopp's Liverpool Gegenpressing FM19 Tactic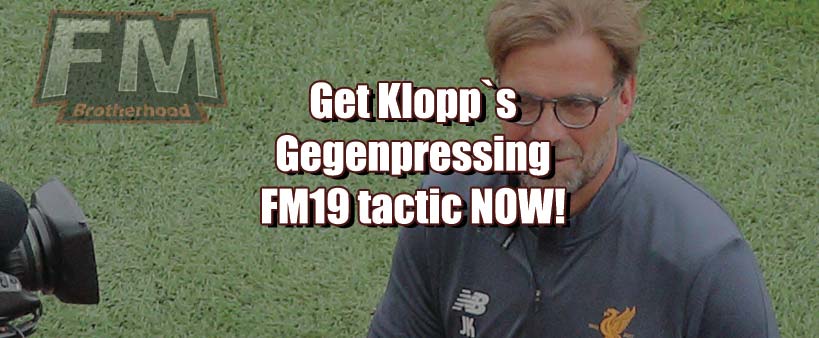 Few people gave FC Liverpool any hope after the size of their defeat in Spain against Barcelona 0-3, especially with Mohamed Salah and Roberto Firmino out injured. But Reds boss Jurgen Klopp urged his players to keep believing and masterminded an extraordinary performance and result winning 4-0 at home and securing a spot in the final.
"A moment like this is worth more than silverware," explained Klopp.
"This season has been a year full of wonderful moments, wonderful moments altogether. Looking forward to games, enjoying games and last Tuesday was like the icing on the cake so far. Wow. That's exactly the picture we want to draw for the outside world – this is Liverpool."
---
As we all know, Liverpool went on to beat Tottenham Hotspur 2-0 in the final and won the Champions League Trophy!
Liverpool, who missed out on the Premier League title to Manchester City by one point, did not produce their usual whirlwind attacking game but sealed a sixth European Cup triumph with an arrowed finish from substitute Origi in the 87th minute.
The win was sweet redemption for Salah and especially German Klopp, who had suffered defeat on his last six appearances in major finals, including Champions League showpieces with Borussia Dortmund in 2013 and Liverpool last year.
Like we mentioned earlier, Liverpool didn't produce their usual game style in the Final so we won't talk about that game. Instead, we'll talk about their trademark style throughout the whole season. This is something where everyone can learn a lot and use it in their Liverpool FM19 career.
Klopp Developing Gegenpressing Tactic in Borussia Dortmund
Klopp won the Champions League but it was during his seven years with Borussia Dortmund that his reputation was forged. This was the period when Europe had fallen in love with the possession play of Pep Guardiola's Barcelona, but Klopp found their passing game somewhat tedious. What Klopp admired was Barca's commitment to winning the ball.
The German was obsessed with transitions; everyone else loved how Barcelona kept possession, but Klopp studied what they did the moment they lost it.
There were two significant differences between Guardiola's approach and Klopp's approach that means the Dortmund manager should be considered a genuine revolutionary. First, Guardiola's Barcelona pressed quickly simply because they didn't want to spend any time in their out-of-possession phase.
Klopp's Dortmund was very different. They were perfectly solid without possession and defending deep actually suited their counter-attacking. But they gegenpressed because Klopp believed it was a valuable attacking tactic.
Second, while Guardiola's players would press intelligently, with one man pressuring the opponent on the ball and others cutting off passing angles into opponents, Klopp's side was less calculating and more extreme. They piled players into the immediate vicinity of the player in possession, almost crowding him out through intimidation.
Nowadays, every Bundesliga team uses gegenpressing … Klopp developed the new standard that we witness on almost every Bundesliga pitch.
Klopp's greatest legacy is that the German word 'Gegenpressing', rather than its obvious translation as 'counter-pressing', is now widely used across Europe.
Klopp`s Gegenpressing Liverpool FM19 Tactic Explained
The FM19 description of this gegenpressing tactic is:
Gegenpressing relies on every player in the team working hard and, above all else, being fit and mobile enough to press the opposition immediately after losing the ball.
Now, the way we see it is: attack, shoot, press the opposition, win the ball back, attack, shoot, press the opposition, win the ball back again… It's a tough challenge for your opponent to defend in their half for 90 minutes but it leaves a toll on your players as well.
Gegenpressing FM19 tactic is a very high-intensity tactic, so if you are not Liverpool, which is used to this tactic, remember that your players need: high work rate, high teamwork, and high determination.
When it comes to technical attributes, they need good first touch, good passing and technique.
In physical attributes, they need excellent natural fitness, acceleration, and stamina.
There are many other skills they need to possess but those are the ones needed to be able to play week in week out.
Liverpool Football Manager 2019 Gegenpress Tactic
Klopp uses a 4-1-4-1 DM tactic and sometimes a 4-2-3-1 wide tactic. The main difference is the positioning of the third midfielder. The 4-2-3-1 offers an additional player in the first line of pressure, while the 4-1-4-1 tactic offers greater defensive solidity.
The bonus of the attacking midfielder in the 4-2-3-1 is that he can either aide the striker in pressing or block off the passing lanes to the center of midfield. The bonus of the defensive midfielder is that it enables the two players in the central midfield strata can press more aggressively in the knowledge that there is a player behind them to control space and sweep up.
The mentality is set to attacking.
When in possession:
More Direct Passing
Pass into Space
Play out Defence
Run at Defence
Overlap Left
Overlap Right
Wide
In transition:
Distribute to Full-backs
Counter
Counter-Press
Out of possession:
Defend Narrower
Much Higher Defensive Line
Much Higher Line of Engagement
Extremely Urgent
Prevent Short GK Distribution
Get Stuck In
Use Offside Trap
Player Roles and Instructions FM19 Liverpool Gegenpress
GK – Sweeper Keeper / Support duty
DL / DR – Fullbacks or Complete Wing Backs / Attack Duty
Both DC – Ball Playing Defender / Defend duty
DM – Deep Lying Playmaker / Support
CM – Mezzala / Support
CM – Box to Box Midfielder / Support
AML – Inside Forward / Support
AMR – Inside Forward / Support
ST – False Nine / Support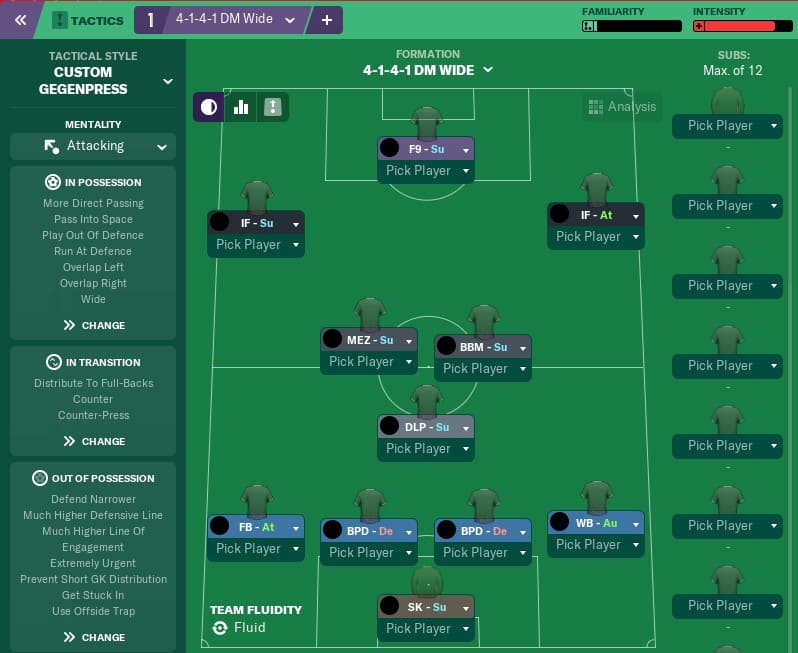 Jurgen`s Gegenpress tactic FM2019 – Opposition Instructions
In this Jurgen`s FM19 gegenpressing tactic your players will themselves press the opposition if you set your team and player instructions as mentioned above.
But you can always create pressing traps by aggressively harassing key positions to isolate the player with the ball, e.g. press RB and show onto left foot while also pressing the right CD and show onto right foot, which will isolate either when pressed.
Our conclusion about Klopp`s tactic
Klopp's tactic at Liverpool is relentless, explosive and very entertaining to watch. It is very attacking, in fact, that is the only plan.
In Salah and Mane, they have tremendous pace aided by Robertson and Trent Alexander-Arnold who are both decently quick. The two central midfielders are expected to shuttle from box to box, with the idea that the ball is either won high up the pitch by overloading or win possession at the middle of the pitch and launch attacks immediately. The wide forwards cut inside and allow the wingbacks to overlap, one of the central midfielders is positioned slightly higher to take advantage of space created by the movement of False 9.
When Liverpool are high up the pitch, the DM operating as deep a deep-lying playmaker positions himself near the center-backs. His role is simple, yet crucial to the team's success. He is quite simply adept at recycling possession, intercepting and tackling. When starting the attack, he drops deep to collect the ball and spreads it to advanced players.
Firmino's role is extremely crucial to this system. So much that his performance is not judged by the number of goals he scores, instead of much of his contributions is done off the ball. By dropping deep from the striker's position, he leaves room for the wide players and midfielders to move into. Quite simply he creates a lot of chances for the team.
If you want to find out more about the tactic, our team member NIK made a great YouTube video on this topic. There he talks in detail about some things mentioned in this blog post and he shows in-game goals and how this FM19 tactic actually works.
Head over to his channel and watch his video:
Also, if you don't want to go through the hassle of setting up the tactic yourself, we prepared it for you so you can easily download it from here. Just load it up and enjoy the game.
Download Jurgen Klopp`s Gegenpressing FM19 tactic here!

If you are on FM20 you can check out our Liverpool FM2020 Ultimate Guide here!