Low League 4-3-3 FM19 Tactics That just Rocks!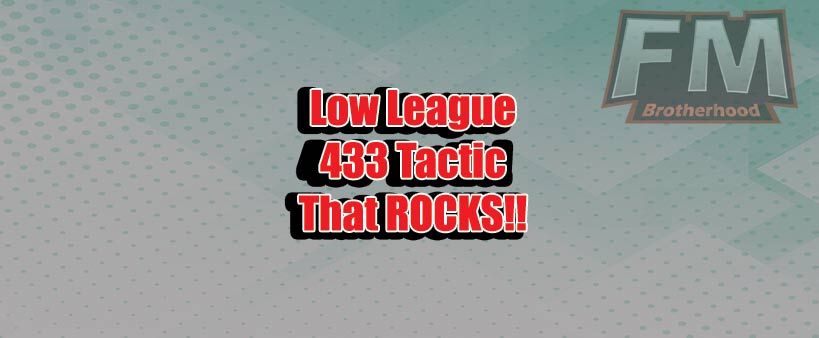 Starting from low leagues or even non-league and getting promotion every year is an ultimate dream of every Football Manager fan. To be able to do so, we have found great 4-3-3 tactic for low leagues.
With this tactic, we had a lot of success and surely you will have it too. In the next few paragraphs, we will reveal all of our secrets about this amazing FM tactic including the style of play, preferable players attributes, and their positioning. We bet you don't want to miss a tactic that resulted with 17 wins and only 2 defeats in 19 games.
The best low league tactics in Football Manager 2019
Looking for the best FM19 tactics for low league teams, we have found one made by NikFM. The best low league formation is 4-3-3 narrow and it is the one that should produce many goals and many chances.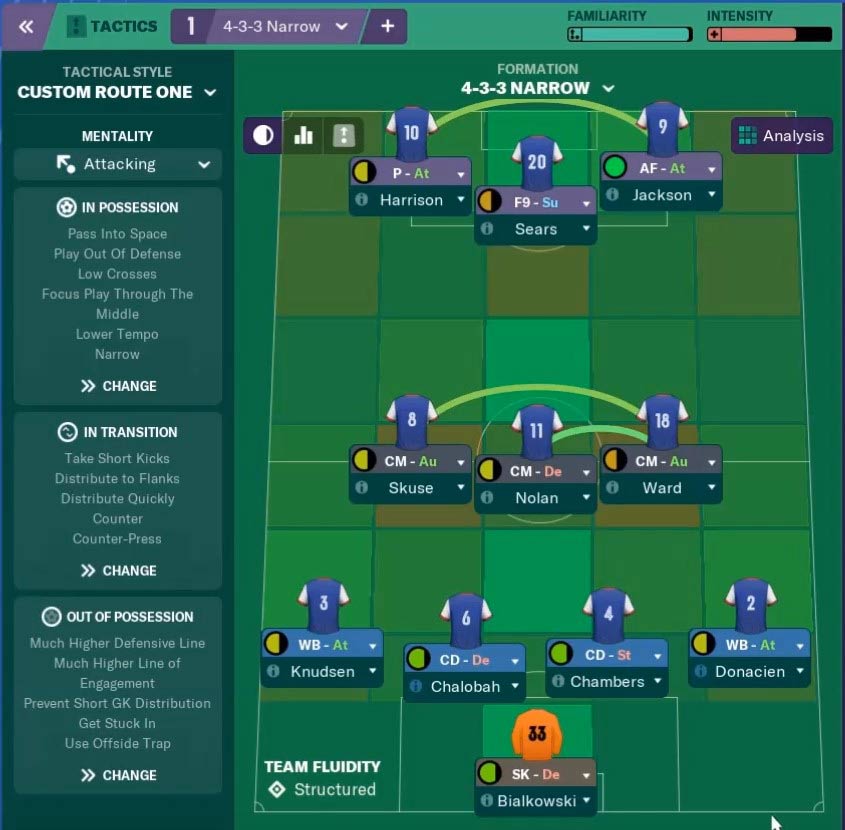 Not usual for hard, solid low leagues, but doing the opposite from expected can bring you glory. Great thing is that you don't need technical strong players (they probably play in the higher leagues or in the local bar) for this formation, instead you should look to physically dominant and strong players.
Great low league attacking approach tactic
4-3-3 Narrow formation is attacking one from the start. To utilize most of this NikFM tactic, you need to set some attacking options. You should focus on playing through the middle because there most of your players are.
You will be playing out of defense, low league tika taka. Approach play should be played into space with more direct passing. This kind of tactic means you will have the ball in your feet most of the time, so tempo should be set to lower.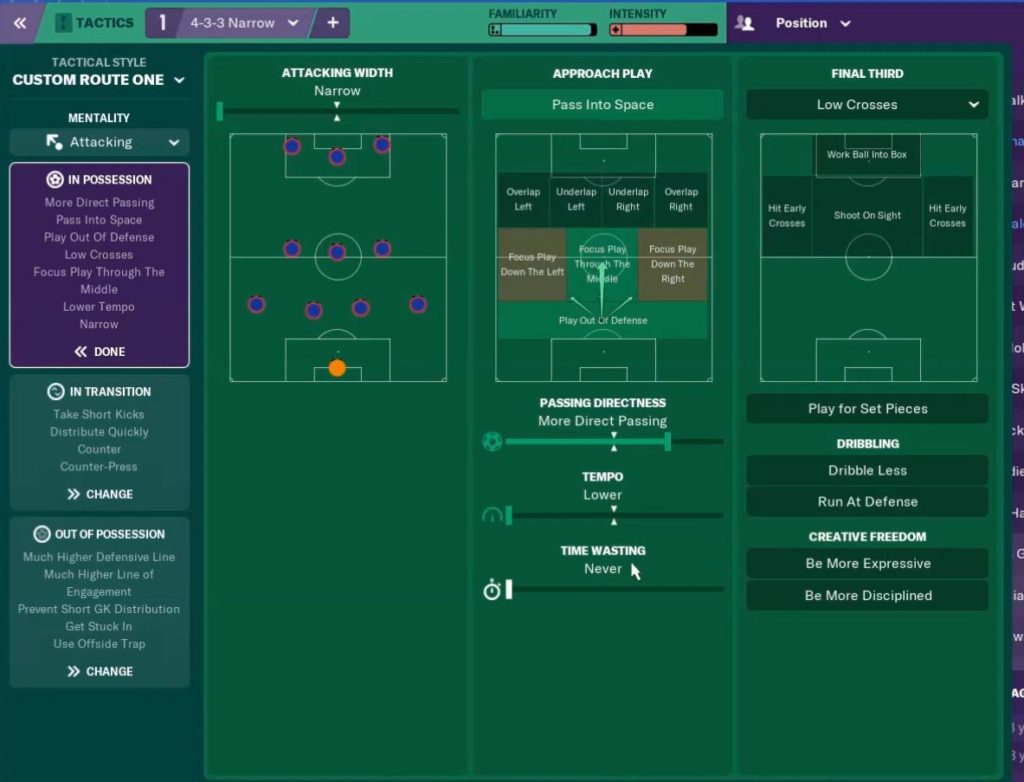 In the final third games are won or lost. You should try with low crosses and here is where your wing backs must do most of the job. When you lose the ball, play counter-press to earn it back as soon as possible.
In transition, when you get a ball, play counter. As Liverpool, try to kill the opponent with pressing and counter-pressing. When your team is defending, play your defensive line as high as possible with offside traps. It will narrow the playable area and you will get the ball back soon.
How to select players for this 4-3-3 FM19 tactic?
Starting from defence, here we found two may be the most important players in this formation. These are wing backs with attacking duty. They need to be fast with great crossing as they will most of the time try to find strikers from the wing.
If you have some money in your transfer budget, spend it on wing backs. Central defenders will be on much pressure with this attacking tactic as they will have a lot of space to cover. You should set one on the stopper and the other one on defensive duty. Beside defending ratings, also look for pace and acceleration when buying central defenders.
In the midfield, we have two CMs with automatic duty so they will help to attack and defence evenly playing from box to box. And the third is CM with defending duty who will make sure nothing goes pass him (maybe Gattuso could come out of retirement?).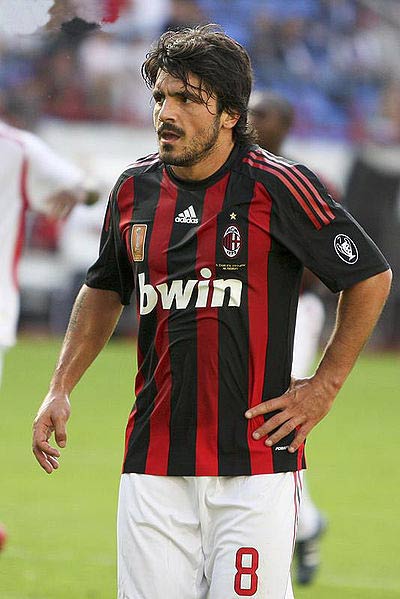 This attacking tactic in FM19 depends a lot on your three strikers. Central one is a false 9, he will be coming down to receive the pass and connect midfield with attack. On the left side is Poacher and he needs to do only one thing. One small thing and that is score goals. On the right side is advanced forward. He needs to bit creative but with good finishing as he will do both, assist and score.
Playing like this should secure your goals, a lot of chances and a lot of success. Hopefully, it will bring you promotion and you will become your low league team hero!
Low league teams in Football Manager 2019
Managing low league team requires much tactical knowledge (as we presented herebefore) the same as searching for bargains and good, cheap player. That's why on FMBrotherhood you can find TOP 10 cheap players to sign in SkyBet Championship FM19. If you want to master FM19 with low league team you need the best FM tactics and of course, a bit of luck.
Now when you have learned about this 4-3-3 tactic, let's see which club could you take and become a true Football Manager 2019 champion. The most popular league for this kind of playing is for sure England league so we will focus on them.
England low league teams in FM19
Depending on the database, in England, you can play with clubs 13 leagues down. Maybe it sounds interesting to become the hero of your local club, but even with a year to year promotion, you will need to play 13 years just to reach Premier League.
We will look for teams from 4th division (League Two) as it is realistic and possible to bring them to away games at Old Trafford or Anfield. Best teams to manage in England low leagues in FM19 based on rating, potential, transfer budget and a bit of romance:
League Two: Lincoln City, Bury, Milton Keynes Dons
League One: Barnsley, Sunderland, Charlton Athletic
Championship: Aston Villa, Blackburn Rovers, Leeds United
This is our pick to help you gain fast promotion to the next division. Good club and superb tactic should be enough for your success.
Recommend us the best FM19 low league tactic!
Do you have some unbeatable low league tactic in Football Manager 2019? On FMBrotherhood, we are all brothers, so share it with us and everyone. You will be praised throughout FMBrotherhood Community and you will be recognized as low league FM19 Master!
There are some more info in the video below, don`t be affraid, take a look at it!
You can also download this low league FM19 433 tactic here!
In case you have missed some of our latest FM19 posts, you can check out: