Release Clause FM19 Bargains – Don`t wait to buy them!
By spaskecar | June 27, 2019 | 3382 Views
The Minimum Fee Release Clause is something you love and hate at the same time. When managing lower league clubs in FM19, or any other Football Manager, it can be a pain the a**. When negotiating a new contract with your star player and he asks for a minimum release fee clause to clubs from a higher division. If the player's agent is someone who is hard to work with, he might even put that clause as non-negotiable. That way you might lose your star player because someone from a higher league can easily afford that clause.
On the other hand, if you are the big club, then you love those small release clause bargains in FM19. There are so many hidden gems, wonderkids and future world class players who have bargain minimum release fee clauses and many experienced players have them too.
Today we dig into the market of  Release Clause FM19 Bargains.
Shortlist of Minimum Fee Release Clause FM19 Bargains
Lorenzo Pellegrini
Morilla Pelayo
Vargas Matías
Aarón Martín
Pavard Benjamin
Merino Mikel
Lunin Andriy
FMBrotherhood's Thoughts on These Players
Lorenzo Pellegrini
Lorenzo Pellegrini is a 22-year-old central midfielder and this man is the best minimum fee release clause bargain of FM19 on any list you can find on the internet.
At only 22 years old we believe his current ability is about the same as of Naby Keita and that he could become a world class central midfielder with attributes as Toni Kroos had at his peak.
We simulated a few seasons to get him to his peak and he became a beast. Attribute-wise he has amazing passing, long shots, vision, anticipation, off the ball, teamwork, vision, and stamina! Just an overall amazing box-to-box midfielder.
He has a fairly balanced personality and what makes him a great team player is his high work rate.
Minimum Fee Release Clause: $35,000,000

Pelayo Morilla
Morilla is a 16-year-old Spanish wonderkid we mentioned in our last blog post. In our test game, we were able to sign him for around $2,000,000 even though he has a minimum fee clause of $3,800,000.
We had to include him in this list since he can become as good as Eden Hazard!
Because we don't want to have duplicate content on our site you can check our Spanish wonderkids blog post and read more about him!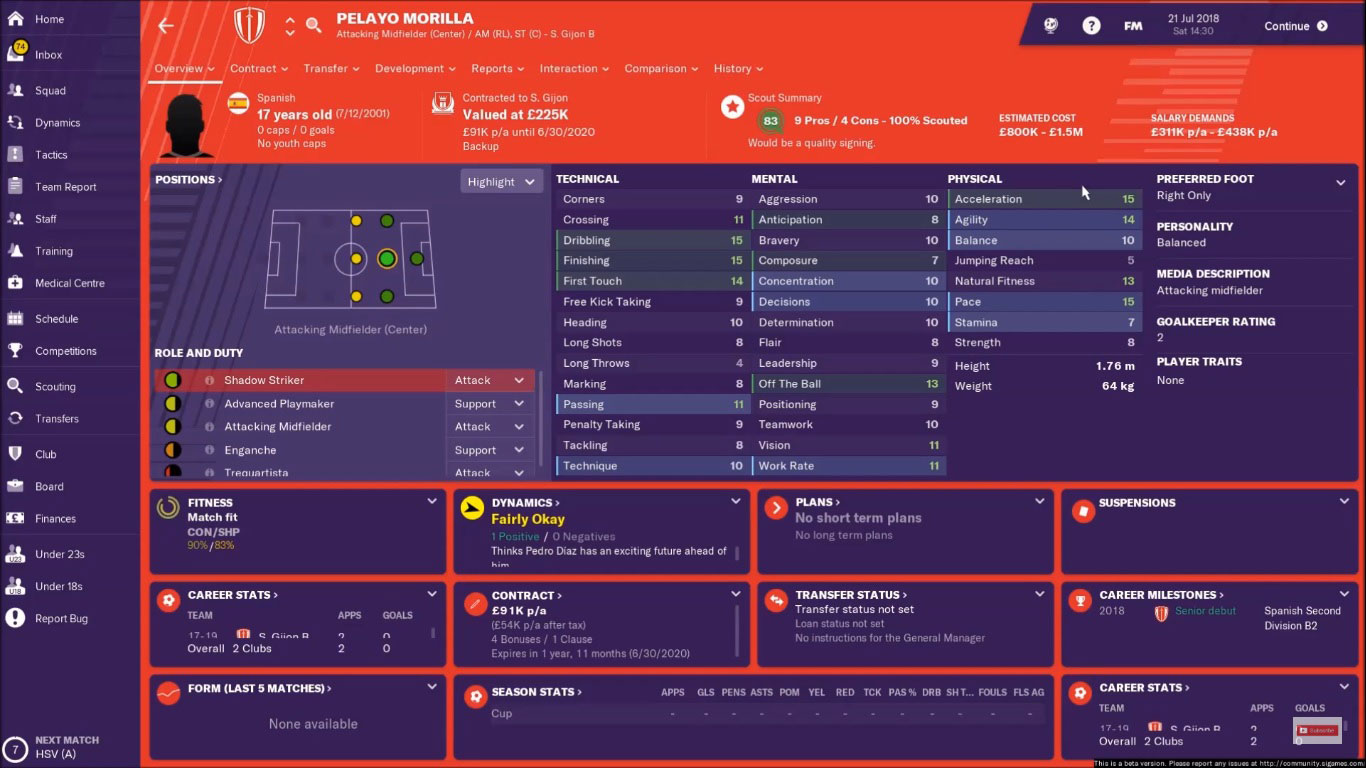 Matías Vargas
Matías Vargas is a 21-year-old who plays best at the attacking midfield (left) position but he equally good at the midfield left position. At the start of the game, he is almost as good as Nolito but after a few seasons, we believe he can become as good as Gareth Bale!
He is a very skillful player. His ability to dribble makes him a difficult opponent to play against. He is also very adaptable to playing in another country which is needed since he is currently playing for Velez in Argentina!
At only 168cm he is quite short, about the same height as Messi and that is his only weakness. He can't ever really challenge effectively in the air because of his low heading and jumping reach but that isn't something he's supposed to do. His other qualities overshadow that.
Minimum Fee Release Clause: $12,000,000
Aarón Martín
Aarón Martín is a 21-year-old left back currently playing for Mainz 05 and he is on loan from Espanyol. Being only 21 he already has good enough stats to play in the first eleven lineups of a Bundesliga team. Looking at his stats, he reminds us of Emre Can, only faster.
In the future, he can be leading left back player in any of the top 5 leagues. We believe that after a few seasons he becomes as good as Nacho from Real Madrid.
He's fairly ambitious and fairly professional. He's a real team player with really high mental attributes in teamwork, off the ball, composure, anticipation, and work rate. His good tackling and crossing skills also add to his overall great skillset. As he is under 21, he would be eligible to play in all matches. He's a fairly consistent player and he is versatile as he can play a couple of positions.
Minimum Fee Release Clause: $29,000,000
Benjamin Pavard
Pavard is 22-year-old CB who can also play on the DR position. He was added onto this list by our team member Andrew who LOVES THIS GUY!
He says he is already good as Branislav Ivanović was at his peak and that he can be as good as Dani Alves was on his DR position.
He's a resolute player and can be very temperamental. One of his biggest strengths is his ability to enjoy big matches. That's when this man shines!
He is a really good team player and his composure aids his skillful approach to the game. His work rate is a bit questionable and is probably his only weakness but that is overshadowed by the fact that he can play multiple positions, he is fairly adaptable to playing in another country and can be successfully retrained to be a defensive midfielder if needed.
Minimum Fee Release Clause: $41,000,000

"A steal for a future world class player" – Andrew, FMB
Mikel Merino
Mikel Merino is a 22-year-old hard working central midfielder currently playing for Real San Sebastian. At the start of the game, he is about as good as Nabil Bentaleb but after a few seasons, he has the potential to become as good as Ivan Rakitić.
He's a very resolute player, he relishes big matches and his bravery and work rate make him a good team player. He's very versatile and can play a couple of positions and he is a fairly consistent performer.
His high natural fitness underpins his athleticism. Set pieces aren't his strongest attribute but he doesn't need to take them. He does other things very well.
Minimum Fee Release Clause: $33,000,000

For a potential world class player, it's a bargain!
Lunin Andriy
Andriy is a 19-year-old goalkeeper who currently plays for Leganes and is on loan from Real Madrid. At 19 he is already good enough to play in La Liga but simply not good enough for Real Madrid. The good thing is he can improve a lot!
After simulating a few seasons, he became as good as Keylor Navas in his prime season at Real Madrid. That means World Class!
He is a fairly adaptable player to changing countries and he is a very resolute player.
As he is under 21, he would be eligible to play in all matches. His only weakness would be organizing the defense but he makes up for it in good reflexes, aerial ability, handling, and kicking.
Minimum Fee Release Clause: $16,500,000
What are your best release clause bargains in Football Manager 2019?
Finding value in the transfer market is a hard task, but there are bargains like the ones mentioned above. We know we haven't mentioned many good players in our list, and that was on purpose. We only mentioned those we played with and had good results with. We were happy with each and every one of the players above.
We want you to leave comments who was the best bargain minimum release fee clause player you have bought in FM19 and how he helped you win silverware.