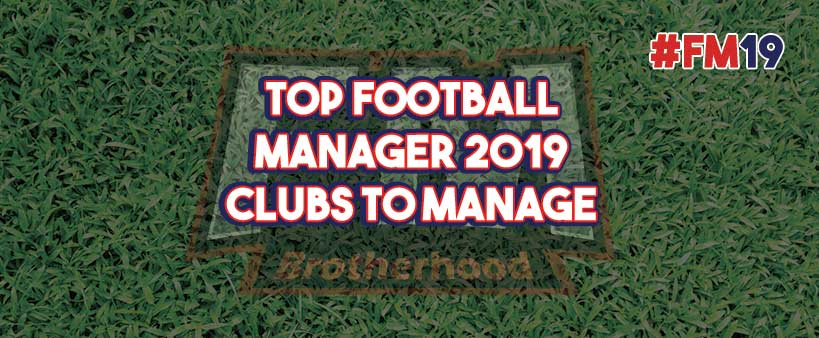 Top Football Manager 2019 clubs to play with – Our 11
By spaskecar | October 17, 2018 | 44 Views
It is the time of the year where we list our most anticipated teams to manage in the upcoming version of the football manager. Football manager has really evolved over the years, with new features being introduced yearly to match real life football. This year's version has also offered some great features to spark players' interest. The new game, FM19, will be out on November 2nd but the beta version will be out this month. So, stay alert when Football Manager 2019 drops.
We remind you that our choice is subjective and these are the clubs that are interesting to us in this FM19.
Top Football Manager 2019 Clubs to play with
But first, let's check out the teams we most likely to find interesting to manage in football manager 2019. Here's a list of the teams you should manage in FM19; just pick one and launch your career once you get the game.
Eintracht Frankfurt
Eintracht Frankfurt is an interesting team to play with in FM19. This German club was created by merging three clubs in 1899. They went ahead to become one of the 16 teams first chosen to play in the newly-formed Bundesliga in 1962. Before that, Frankfurt won the German Championship in 1959. Later in 1980, they won the UEFA Cup (now known as UEFA Europa League).
Things started to take a turn for the worse when they started having financial problems. Die Adler (as nicknamed), one of the founding members of Bundesliga, started struggling to secure a good spot in the top tier. They finally dropped to 2. Bundesliga for the first time in 1997, after spending 33 seasons in the top flight. Since then, Frankfurt has been relegated 4 times from Bundesliga. Their last relegation came in 2011. But they won promotion again to play in the 2012/2013 Bundesliga season.
Currently, this great team plays in the Bundesliga after finishing 8th last season. So you have to keep them in good shape after the 2018/2019 season once you start your career with this team in FM19. With them winning the 2018 DFB-Pokal trophy, we think the board may require you to finish above mid-table. Their budget won't be enough to attract prolific players, so you may have to rely on their above-average youth academy. But we think this will be a great FM19 save.
You can check out our full team guide about Eintracht Fm19!
Celtic FC
This Scottish club is simply the king of Scotland football league. However, they appear weak in European competitions. The formation of Celtic came in 1887 in Glasgow. And they celebrated the Scottish Premiership title 49 times. Internationally, the Bhoys lifted the now-called UEFA Champions League once in 1967.
No doubt, for now, the Celts rule Scotland. But they are behind when it comes to European tournaments. The last time they tried to grab the UCL title was in 1970 but lost it. Since then, it has been a big challenge to grab that glory again. Even to make it past group stage is a big issue. Therefore, you have to dominate Europe as well with this team in FM19. It might take a bit longer for you to achieve that but we believe it's well worth it.
They have a rich fan base and great facilities to help you achieve anything you may want. But mind you, they may sack you if you fail to lift the Scottish Premiership title.
Derby County FC
Derby County is one of the founding members of football league in England. This club has a rich history and tradition, dating back to the time of the First Regiment of Derby Militia. The Rams, as nicknamed, have lifted the English top-flight title twice, in 1972 and 1975. They made a huge impact on English football back then.
In terms of facilities, Derby has excellent training facilities with a quite adequate coaching staff. But the club's finance muscle isn't too great. It may be frustrating to get them back to the EPL but it's a great save to create in FM19. Getting into the EPL is a big deal for the Rams since they slipped in 2008 after a very poor performance.
If you have missed there is a whole Derby County Series on our YouTube channel (Football Manager 2017) you can check out.
Olympique de Marseille
When you talk about the biggest clubs in the history of the game, Olympique Marseille is one of them. That is why we picked them to be in our top Football Manager 2019 clubs list. They have had their reigning days. Like what PSG is doing right now, OM once dominated France. And to date, they remain the only French team to have lifted the UCL trophy. However, OM is no longer pulling such weight as they did before.
The 2017/2018 season presented a change in performance of Les Olympians. They went ahead to play in the UEFA Europa League final but lost to Atlético Madrid. Also, they finished 4th in Ligue 1, which unfortunately isn't enough to play in the 2018/2019 UCL. Actually, they haven't been in the UCL for 5 years now.  Maybe you can change that in FM19. So, acquire that managerial hot seat and take OM back to another glorious time. Dethrone PSG and rule France.
Crvena Zvezda (Red Star Belgrade)
Red Star Belgrade, as commonly known, is one of the finest clubs in Europe. They have won the Jelen SuperLiga 19 times, and have won a UCL title in 1991. Their famous UCL glory earned them a record of being among the nine clubs to have won the trophy unbeaten. In addition, Zvezda is the only club from southeast Europe that has lifted the UCL trophy.
After the 1991 success, Red Star was banned from playing in the 2014/2015 UCL because of financial fair play regulation failure. Their finances took a bad hit then. However, they will be available for the 2018/2019 UCL in FM19. But can you guide them to win the trophy again, which they won 27 years ago? Actually, this will be the first time they are playing under the new format – "Champions League." So take over the hot seat and give it a try.
Fulham
This English football club will be available in EPL since they won promotion through play-offs.  So this means that Fulham will be available in the 2018/2019 campaign of EPL in FM19. However, it's really going to be a big challenge for you to secure them a good spot at the end of the campaign. Avoiding relegation will be the main priority.
Fulham, a west London base club created in 1879, is hungry for a major trophy, which they have never won. They were deprived of achieving that in 2010 Europa League final by Atletico Madrid. So, you may really want to change this record.  And we really think it's a perfect team to start with if you prefer managing an EPL club with much to achieve.
Top Football Manager 2019 clubs to play with we missed are?
What are the clubs you are going to play with in Football Manager 2019? Is that the one club that you don`t want to change or you will choose 20 clubs and play with them? Tell us, we are good listeners. Feel free to comment on this blog and give us your opinion about top clubs to manage in FM19.
Bonus – there are 5 more clubs we recomend here, so here you go 5 more top football manager 2019 clubs we recommend:
If you are interested in FM20 and best clubs to manager you can check them out on our FMB.