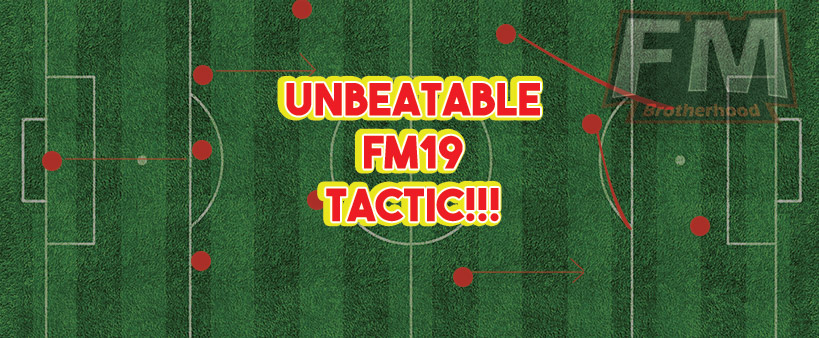 After many tactics we made, many tactics we tested, it`s here! Unbeatable Tactic FM19 edition is here!
Our team with our leader – Nik made many tactics for Football Manager 2019 so far. All of them were tested and so far we haven`t got the real unbeatable FM19 tactic, till now…
Here you will find many tactics our big guy made (Nik FM). Among them, there is one we call unbeatable.
With this Football Manager 2019 tactic, we haven`t lost matches and that is why we call it so.
We have played with a lot of teams, in a lot of leagues with it and it was absolutely astonishing.
First of all, as we mentioned before when we created our FM18 unbeatable tactic, there isn`t a perfect tactic. That means that with this tactic you will have great results, you will probably become unbeatable. But, if you make mistakes in other fields, if you want to win everything with the worst club in the league, wonders won`t happen.
There are just things that are impossible in this game. One of them is to be 100% accurate and to be unbeaten always.
With our unbeatable tactic, we have made some great results. You can check out our results with RB Leipzig on the image below.
As you can see, Nik was unbeaten with it. Also, with many other clubs, there were awesome results.
Lose is not your choice!
So these tactics are winning tactics, with great results in our tests. They aren`t perfect (there is no such a thing) but they are surely great.
We tried to make tactics in many formations. We tried to make a lot of different tactics (tiki-taka tactics), for different leagues. So, we think that everyone will be happy and find something they need/want here.


Unbeatable Tactic FM19


As we said before, this is one of the best FM19 tactics, and our unbeatable Tactic FM19 Edition.
This tactic is in a formation 4-1-2-2-1 or 4-5-1 as many of you say.
In the attack, you will have Advanced Forward. He is the only striker, but as you already guess he won`t be alone in the attack.
This tactic is modern, so many players from behind will be there in the attack. If your Advanced Forward is fast, with great movement, you shouldn`t worry too much about the number of goals in the opponents net.
We won`t repeat it for the other roles, but our recommendation is that you should choose fast players for this tactic. That is very important on a way to become unbeaten.

As we said before there are many players from behind that join attack. There are also wingers that are up already. They are on a support duty but they have their special roles. They will come up much more and help your AF in attack. With their crosses, fast movements and dribbling you will watch eye-catching football.
Great addition to all of them is Mezala. He isn`t interested in defense, but in the attack, he will be the "pain in the a**" for your opponents. Those defensive duties will be done by your CM (Automatic) that will be everywhere. Up and down.
Your DM will be your deepline-playmaker. You didn`t expect that? So many players from midfield are joining the attack, right? Your DM won`t run too much up. He will make great passes and on that way, he will contribute your attack.
That is the way many football managers make wins today. That is one of the reasons we have got our unbeatable FM19 tactic.
Your DM should be good in defense. Also, we recommend you to get creative DM and no problems there.
With two inverted wing-backs you will have many players in their goal area. They will cut inside and bring many problems to the opponents defense. Our recommendation for your WBs – good passing skills.
Your two CDs are two stoppers. With those two guys, who are strong enough, and "crazy" sweeper keeper behind you will stop them all! They shall not pass (the opponents, of course)!


Our Unbeatable FM19 Tactic Team Instruction


The team instructions for this tactic are very simple. Mentality is set to positive, but it can also be balanced. It won`t change that much.
As in many of our tactics we have set pass into space option. You will build your chances from your defense, so check that option too.
If you striker is tall and great with his heading then you should use mixed crosses. But, if your striker is smaller with great speed you should check low crosses option.
As you can see on the image below, run at defense option is also on.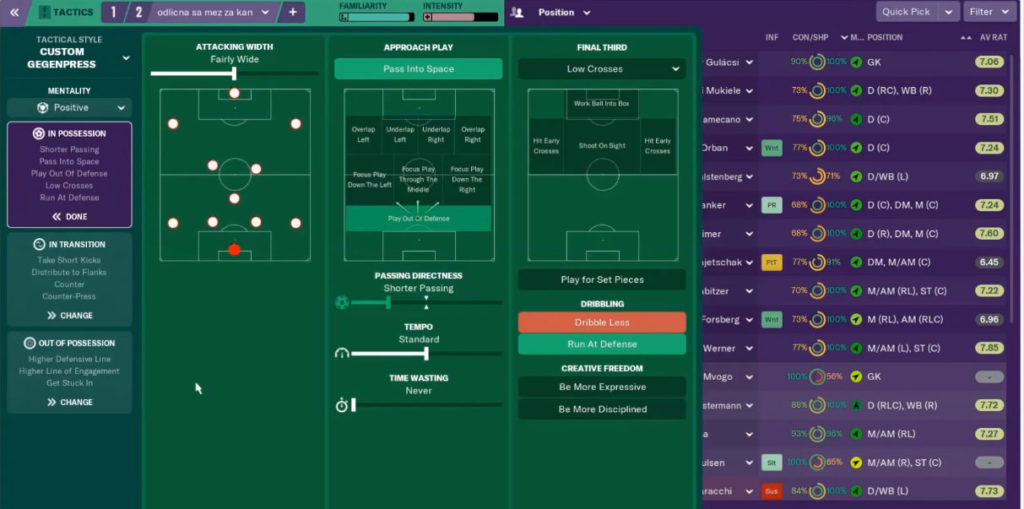 You can also check out how we set those instructions in transitions.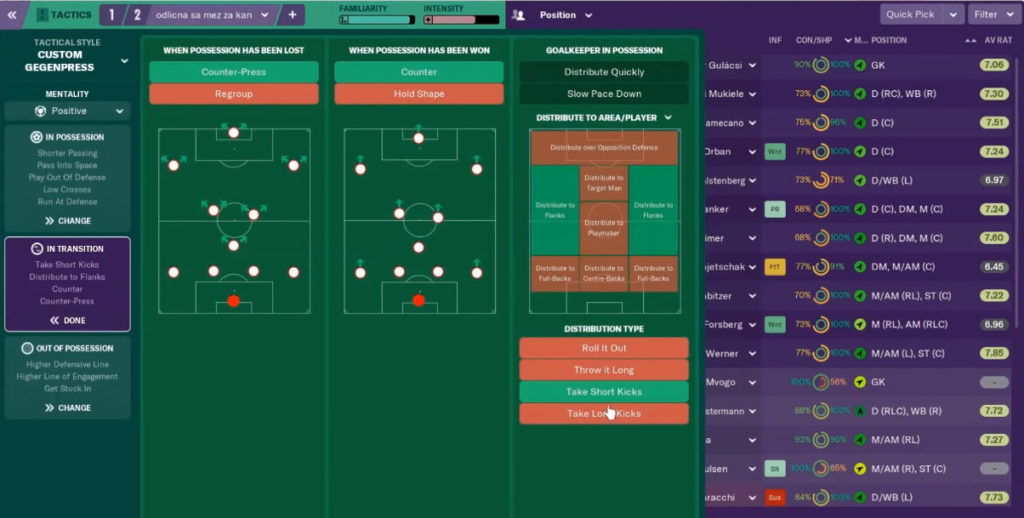 And our team instructions when you are out of possession.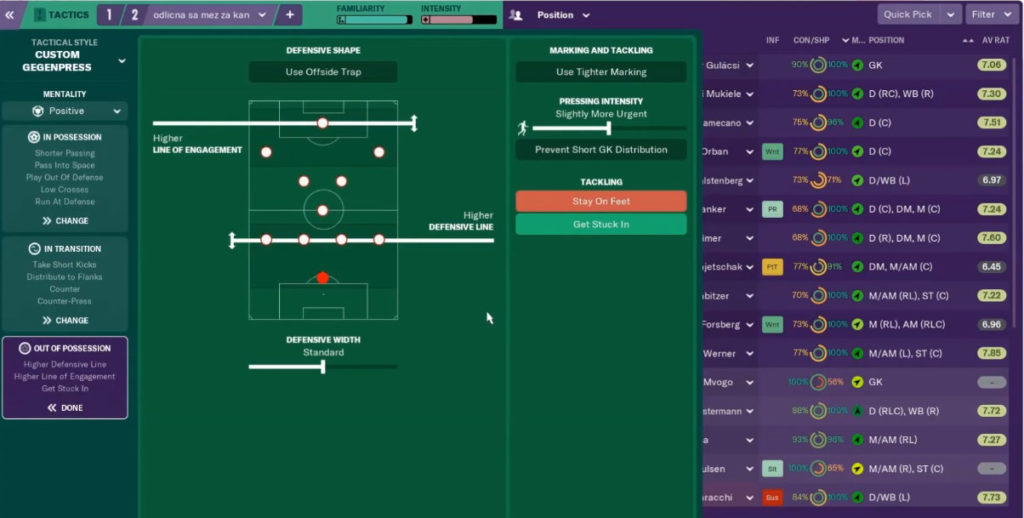 Use this Unbeatable FM19 Tactic and Win Matches!


We hope this tactic is something you wanted. We also hope that it will bring you many victories. Don`t forget to tell us what were the results you made with it. Give us your opinions and feel free to comment it!
There is a video with explanation of this tactic, so you can check how it works on the pitch there.
Download Our Unbeatable Tactic FM19 Edition here! 
Related: Football Manager 2020 unbeatable tactic;