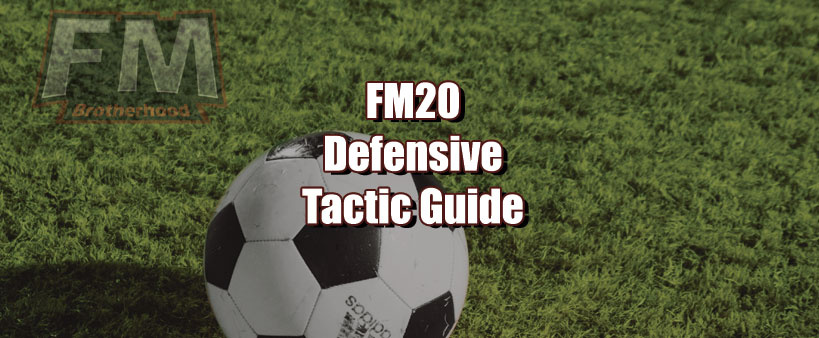 Defensive FM20 Tactic Guide – Build A Wall In Front Your Goal!
By spaskecar | March 16, 2020 | 13812 Views
Just like you probably saw in one of our posts, there's no unbeatable tactic, but you can become nearly unbeatable if you tighten up your defense. With your defense on a high level, you can at least get a tie score on one of those days when your strikers are having a bad day at the office. So, this article isn`t about sharpening your attack, it is only about making great defensive tactic in Football Manager 2020.
Player Roles for your FM20 Defensive Tactic
First of all, you should set up your tactic to unusual – asymmetric 4-4-2. Even though it's not very exotic it's highly recommended for making an effective defensive FM20 tactic.
You surely want to create a perfect defense in FM20, so you should start with your Centre-Backs.
Setting your Center-Backs (DC`s) for a perfect defense in FM20
If you are playing with 2 Centre-Backs one of them has to be a No-Nonsense Centre-Back. What does this actually mean?
If you assign this role to your player, he will make sure to clear the ball no matter what.
No-Nonsense Centre-Back won't think too much and he will make sure the ball is as far as possible from the goal even if he has multiple options for the short pass.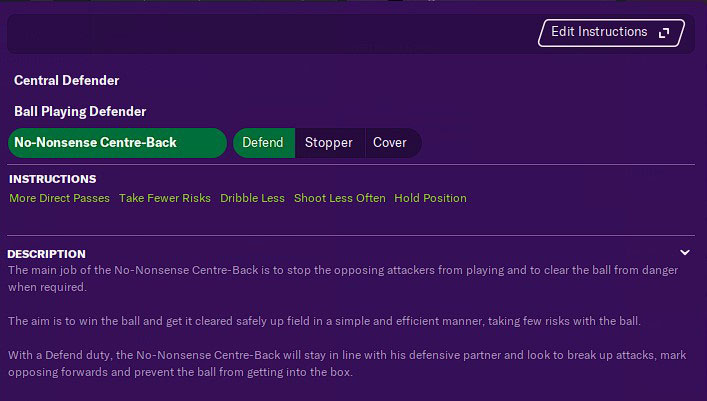 That way there is no risk that the opponent's wing will cut your ball and score an easy goal.
When you have a defender with a poor Vision, Passing skill and Technique, you can give him this role without any doubt. A No-Nonsense Centre-Back shouldn't be paired with a Centre-back whose role is "Ball playing defender" because they simply can't work together.
If you want to find out more about No-Nonsense CB, you can check out the video below:
The other defender should have the same role as the first one or the role of a classical Central Defender. With many matches as a test, we can say for sure that these are the best combination for central backs.
Setting your Full-Backs For A Great 442 FM20 Defensive Tactic!
The rest of the defense (left and right back) should play as Full Backs. They will focus on defensive duties most of the time and they will block the opponent's Wingers. They will come close to your Goalkeeper so he can distribute the ball to one of them instead of kicking it across the field.
Midfield is also very important!
The midfield is made up of 2 Wide Midfielders and 2 Midfielders between Wingers. One winger and one CM should have a bit more attacking mentality but their role should cover the defensive duties as well.
We recommend Roaming Playmaker for one midfielder and a pure Defensive Midfielder for the other.
The Roaming playmaker is the heartbeat of his team. He will look to take the ball away from the opponents in 30-40 meters of his goal and then work the ball forwards with urgency. He will drive forward with the ball to spearhead the attacks but he will also come back to do the defensive duties.
For the other midfielder in the middle, the best role is Defensive Midfielder. He will hold his position between the midfield and the defensive line. He will act as an extra defender since he'll close down the attackers very quickly, but he'll also act as a support to the other midfielders.
Like we said before, one Wide Midfielder has to be attack-oriented while the other one will mostly focus on defensive duties.
So one will have the Defend role and it's the best he is closer to a Roaming playmaker in order to cover him when he storms ahead. This player should not hold the ball so much, instead, he will mostly try to ruin the opponent's game by cutting their passes and making fouls on the midfield. So turn on mark tighter and tackle harder options for him.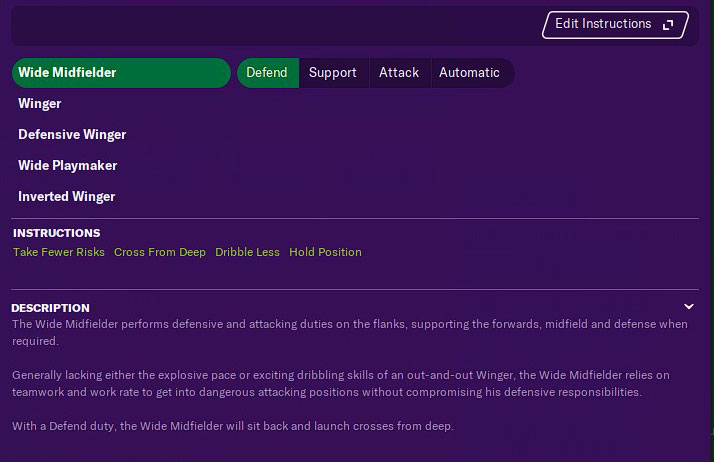 The other Wide Midfielder should be more aggressive. So, you should give him attacking duty. A player with this role will mostly be on the other side of the field trying to win the ball and seeking free space. He will have his back covered by a Defensive midfielder.
You realized so far that the roles we gave are meant for the players who are lacking technique, passing skills, and who are generally slow with and without the ball.
If your players have amazing stats then you shouldn't be playing defensively. You should use this FM20 defense guide when you are playing with the teams that lack quality.
What About Those Two Strikers?
Now, we still need to take care of our two strikers. The key figure in our FM20 defensive tactic guide is the Target Man striker. Most of the balls will go to him and he needs to have decent finishing. He is probably tall and lacks speed so your second striker needs to be quick and durable because he'll run for both of them.
Related: Top 10 Target Man strikers in FM20!
Our recommendation for his role is Deep-Lying Forward on a Support duty. He'll stay behind the Target Man and do all the dirty work so he can finally pass the ball to the already mentioned Target Man. He knows his duties so he shouldn`t be selfish and he'll rarely make a shot.
Team Instructions For Your Defensive 442 FM20 Tactic
Now, when we've finished with the player roles and their duties it's time to set up team instructions. This is essential in order for this defense guide to work.
First, we should start with the mentality. It may surprise you but the best you could do is to use a Balanced mentality. If you use a defensive mentality then you'll just kill the game with your bus parked in your box. That`s something one of our favorite football managers is doing in real life, but you shouldn`t.
Plus, if you play too defensively you may never get the chance to score and what's the football without scoring? So keep your mentality balanced and rely on your players to do the defending.
Next stop, pass into space. If you pay attention to the text above you could see that our team will have players with poor stats so it's only natural to play passes into space. Our Wide Midfielder and Roaming Playmaker will be waiting for those passes so they can distribute the ball to our Target Man.
Play for set pieces is the next instruction for your team. This one too is a logical thing to do since the ball will not be too much in your possession. Also, your players are inferior and you will look for your chances through counter-attack and set pieces.
Distribute to Full-Backs. We mentioned before that your Full-Backs will come to a goalkeeper for the ball and that's possible via this instruction. By doing this you are making sure you don't give the ball to your opponents easily.
Following previous instruction, you should tell your players to Slow Pace Down. There's no need to rush things because that way you'll make more mistakes and you don't want that. Play slow and safe, that's your moto.
Regroup – You don't want your players to overcommit when possession is lost. It's much better to have them get back and into position and make it harder for the opposition to break you down.
Use tighter marking – When you instruct your players to use tighter marking, they will be strong in the central area so the only way for the opposition to break you is by making wide crosses from the flanks. Like we mentioned before, your Centre-Backs will only look to kick the ball as far as possible from the goal so this instruction is really good for the defense you are setting up via this guide.
Lower your line of engagement is in accordance to your playstyle. You don't want possession and you don't want your players to chase for the ball on the opposition's half and to expose you to a counter-attack. You will wait for them on your half and try to win the ball there.
Stay on feet is the next instruction for your team. The passive nature of your team should be demonstrated with staying on feet instead of going to ground and make hard tackles. With this instruction, you are likely to make fewer fouls and by doing that you will mostly avoid dangerous free-kicks against you in your own half.
And finally, the last team instruction – Use the offside trap. Since your defenders are so focused on defense it won't be too hard for them to make offside traps.
They will compensate their individual lack in quality by playing as one, as a team and move the defense line right on time to catch the opposition in an offside position.
Conclusion
That's all folks. This defensive tactic guide for FM20 was made after a lot of research and matches played. We really hope it will help you to win a title with your favorite team.
In case you still didn`t choose a club for your next save: Top clubs to manage in FM20!
In case you want to download some of the greatest Football Manager 2020 tactics: Best FM20 Tactics!
If you got your own tips that you want to share with us feel free to do it. Use the comment area below and tell us what you would change/upgrade or anything related to this topic!
We are there for you, cheers!