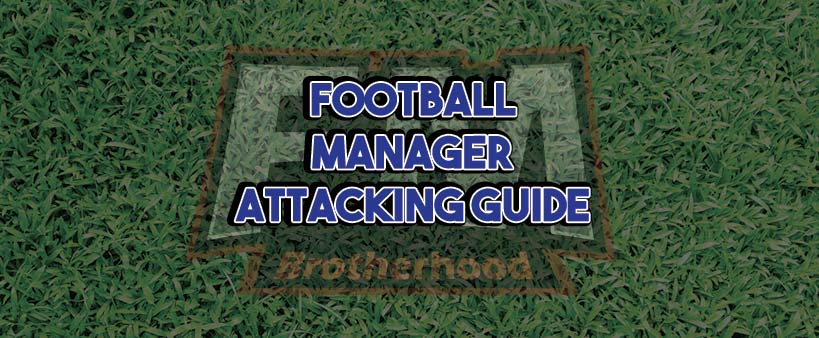 Football Manager Attacking Guide
By spaskecar | October 3, 2018 | 57 Views
Last time, we presented some tips on how to set good defensive roles in football manager. However, in this piece am going to share how to put up a good attacking role in football manager, according to different tactical philosophies. We hope you will love this football manager attacking guide we made.
The attacking roles and duties in FM have different purposes. Therefore, finding the most suitable roles and duties for your kind of tactic can be challenging.
Football Manager Attacking Guide – distinct formations
Almost as we said in the other article, setting good attacking roles depend on the formation and style of football you wish to play. For instance, the roles you select for your attacking positions in a possession tactic aren't going to be the same as the one you set for a counter attacking tactic.
Football has evolved. There are a lot of tactical styles employed. But here, am just going to mention three common styles and better ways to select the appropriate attacking roles. We hope you will see them helpful enough.
Counter Attacking Tactic – Football Manager Attacking Guide
Reputable managers in the game have used this type of style widely. Also, this style is commonly displayed in football manager. However, it has its own advantages when used well, especially when facing a better team. The way you arrange your forwards and set the team instructions will determine how effective this style will be for your team; it can be tricky anyway.
Counterattack tactics requires quick transitioning. Therefore, you have to select an attacking role that best responses to such a situation when it arrives. Moreover, very importantly, you need to have players with great pace and acceleration in this type of football style. Here, the screenshots display three common forward arrangements in FM. The arrangements pictured better suit the counter-attacking styles. You can choose not to include wingers, but wingers are very important for the counter.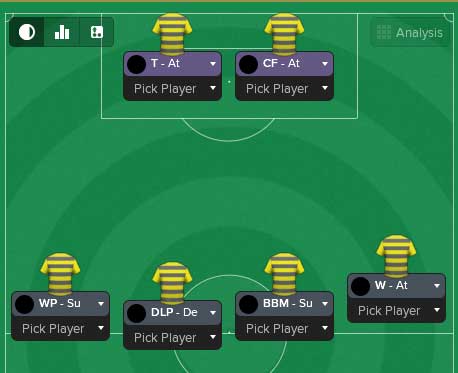 For this arrangement, you can choose to replace the W-At and WP-Su at both sides with IW-At and IW-Su. The inverted winger role is also perfect for the counter. Moreover, for the strikers, you can select the CF role for the two players.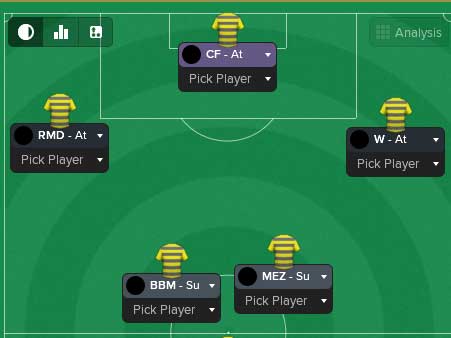 For this arrangement, as you can see, there is a presence of the RMD role. The RMD role is good for any counter tactics because, as described as a space investigator, the assigned player will always find space to punish the opposition. Therefore, once the team initiates a quick transition for the counter-attack, which is why the energetic MEZ role is in the midfield, the RMD will find space in the opposition third to operate.
For the striker, the poacher or advance forward role can also serve well.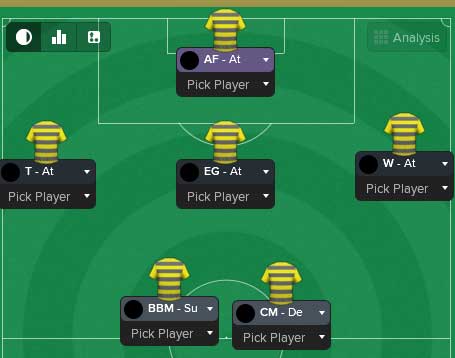 This arrangement can also work. The Trequartista can also serve in both sides if you like. For the AMC position, you can choose the advanced playmaker role (support).
The assigned player will just be there to distribute accurate direct passes to the wide players. He helps in dictating the tempo of the game.
Counter Attacking Tactic Attacking Guide – Team Instruction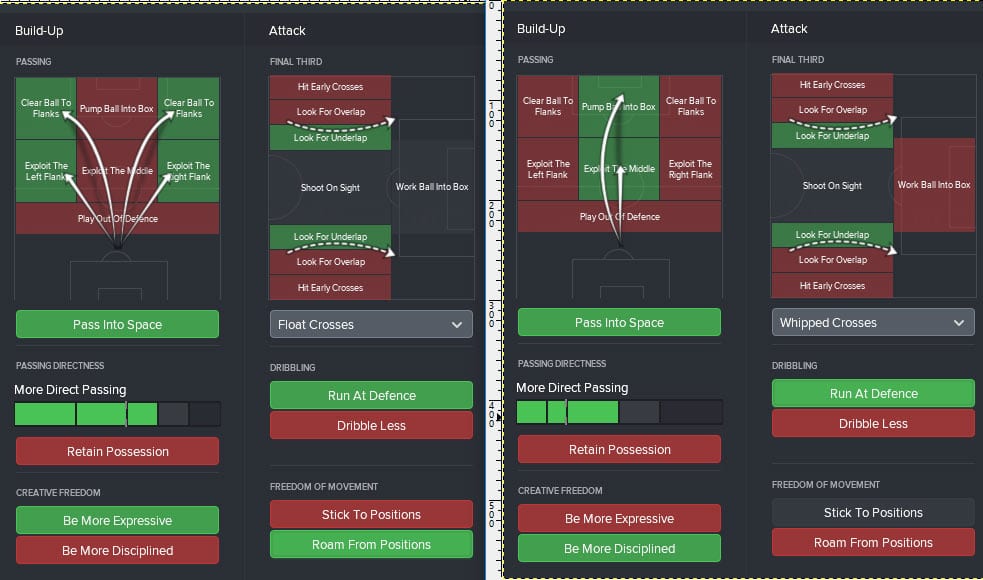 In any style of football, the way you want your team to attack in football manager depends on how you set the build-up and attack sections. The above screenshot displays two possible ways to set the build-up and attack sections for counter-attacking style. However, you can still readjust some areas if you want.
For instance, you can choose to disable pass-into-space and be-more-expressive. You can choose to exploit the middle and pump ball into the box (especially if you have 2 or 3 strikers in your formation). In addition, you can choose to select mixed passing directness.
Possession Tactic – Football Manager Attacking Guide
The possession style is the most attractive style of play in football. But depending on the way you set it in football manager, it can be boring. Your team may find it difficult to score but they will thrive well in holding possession, which can be boring and frustrating. Furthermore, choosing the appropriate formation is indispensable here. The screenshots below show some examples.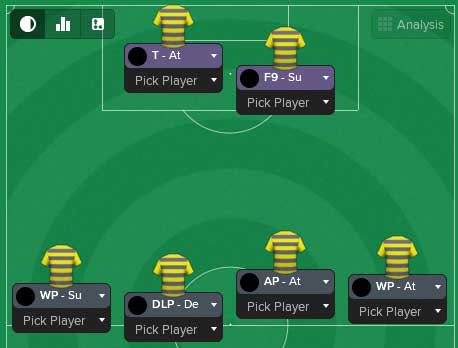 Here, you can choose to install the advanced playmaker (Attack) role in the AML or AMR position.
In general, for any possession tactic, it is best to fill the midfield with playmaker roles. And it requires patience and players with high passing ability and vision. The key for attacking in possession tactic is creation of space. Roles that focus more on creating space are required. The team's overall coordination is also a key factor, but it's optional. You can do that by selection be-more-discipline in the team instructions. Or, you can just allow only the more creative players to operate by selecting be-more-expressive.
Possession Tactic Attacking Guide – Team Instruction
The screenshot below displays three different settings. These are the settings we use while creating any possession tactic. You can do a few adjustments if you like; it depends on the formation you're trying to use.
We use the first settings, from the left, when have more players in the midfield. If you prefer to focus the attacking mentality to come from the wide, with the presence of attacking fullbacks, you can go for the second settings. Finally, if you want the team to make use of anywhere, you could use the third settings.
Long ball Style – Football Manager Attacking Guide
In English football, this style is common. The team's main focus is to lift the ball high into the opposition third. If the team gets the ball in that third, they now push to score.
For your team to do well in this tactic, you need tall players with good balance, physic, jumping reach, and heading attributes. The screenshot below displays three suitable arrangements for the forwards.
As you can see above, all the formation have at least a target man role. The target man role (and wide target man role) has the perfect characteristics required for any long ball tactical styles.
You can choose to fill all the forward positions with the target man role. You can choose to mix things up as we do. Just make sure you have the right players.
Long Ball Style Attacking Guide – Team Instruction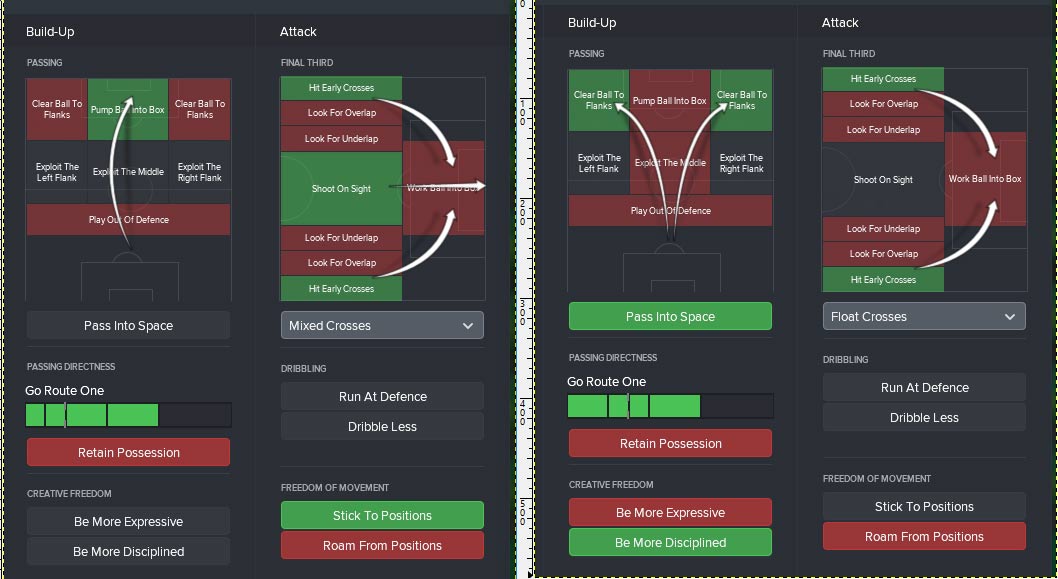 The above screenshot displays two different settings. You can give any of them a try. This is only football manager attacking guide, we won`t beat you to do it 😀
The first one, from the left, is better used when you have enough number of strikers and midfielders; for example, a 4-3-3 narrow formation. However, you can use the second settings if you prefer attacking from wide areas. But you're free to try some adjustments and see how it's going to work for your team.
Give us your opinions – How You Set Your Attack in FM?
In conclusion, you can succeed with any of the tactics and settings mentioned here. But, it is very important to have the right players. Giving them the appropriate training can make the team bend well with your tactical philosophy and the way they attack.
We hope you like this football manager attacking guide, also we hope it was helpful to you. Anyway, feel free to comment it, vote it and share it. We are looking forward to your opinion and how you set your defense/attack in Football Manager. There will be some more FM tips, tricks, and guides soon. Cheers!